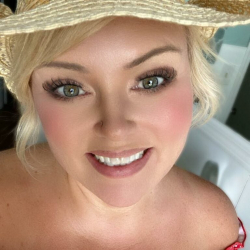 Latest posts by Kristen Swain
(see all)
Morganite is a blush-colored gem with beautiful sparkle and shine; it is an affordable and budget-friendly gemstone ring. So let's find out a little about the gemstone and inspire you to find your perfect morganite ring.
All About Morganite
Morganite was first discovered in Madagascar in 1910. This stone is a rare pink beryl, the same mineral that makes up the more well-known aquamarine and emerald. Morganite is sometimes called Rose Beryle, Pink Beryl, or even Pink Emerald, which are informal jewelry names.
Beryl comes colorless but can have impurities that tint the stone. Colors that are common are Blue, Green, Yellow, Black, and the rarest is Red. The trace element that gives Morganite its blush color is manganese. 
Morganite is a pastel-colored gemstone. The Morganite color varies from soft pink to peach, rose, salmon, and even a purplish pink. Strong color saturation is the best for Morganite, keeping in mind that it is a pastel-colored stone. It is preferred to have a gem that is at least 2 carats in size to get the best coloration of the stone.
While Morganite is not a lab-created stone, it is a mined mineral. And maybe heat-treated or irradiated to increase the saturation of the stone, which tends to push the color into a more pink hue. These treatments are permanent and common, and usually undetectable, but as a consumer, should be disclosed when you buy your gem.
Research on Morganite discovered that it fluoresces an intense red when exposed to x-ray, but the color went away as soon as the exposure to the x-ray stopped. 
Morganite is now the second most popular non-diamond gem after Sapphire to use in engagement rings. The pinkish hue of the gemstone coordinates beautifully with rose gold settings which makes the most beautiful wedding sets. 
Historically
Rose Beryl was discovered in 1910 in Madagascar and was proposed to be named after J.P. Morgan by George Kunz, the chief gemologist for Tiffany and Co. 
Morgan had been a generous donor to both the arts and sciences and had gifted many gems to the American Museum Of Natural History. Kunz proposed that the pink beryl be named Morganite, after the benefactor, to honor his charitable friend. Morgan was considered one of the most important gem collectors of the early 1900s.
One of the largest Morganites ever found, "The Rose of Maine," was approximately 9 x 11 inches and weighed 50 lbs. It was an orange color in the mine that turned pink once it was brought out into the sunlight. It was found in Benner Quarry in Buckfield, Maine. While Morganite was first discovered in Madagascar, and it is still the top quality producer, although most Morganite is now mined in Brazil.
The Popularity of Morganite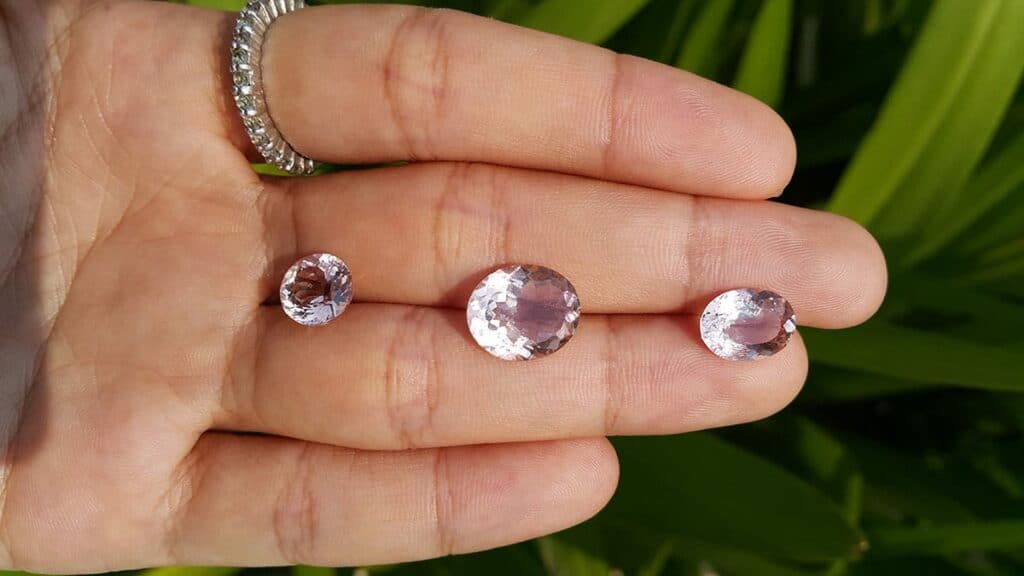 Morganite replacing a diamond in engagement settings is a new trend. It's become the second most popular gemstone to Sapphire in replacing diamonds. 
While it is popular, its hardness on the Mohs scale is about 7.5 compared to a sapphire's 9. That means that everyday wear is going to be harder on the Morganite than on a Sapphire. Both Sapphire and Morganite will need professional cleaning, polishing, and shaping is done to keep the stone sparkling.
Compared to a Diamond or Moissanite, Morganite does not have the same fire or sparkle. But its unique peach pink color is what draws people to it. The mix of the peach-pink of the Morganite stone in a rose gold setting is such a beautiful combination; it's just stunning to see!
Morganite is rarer than diamonds, but it is not as high priced, and quality diamonds are a much higher value than quality Morganite. 
Alternative Gems to Morganite
For your own reasons, perhaps Morganite isn't the stone that you have fallen head over heels for. Maybe the softer stone isn't what you want as a long-term investment. It could be that you just aren't in love with the color. Here are some alternative gemstones to consider.
Salt and Pepper Diamond
A Salt and Pepper Diamond refers to a diamond that has a mix of black and white inclusions. These imperfections give the stone a smokey gray look and are beautifully unique. These diamonds don't have quite the same sparkle that a clear diamond does but are fabulously unique in their look. They lend just the right touch to a vintage-style ring.
Grey Diamond
Grey Diamonds are very rare, so you can expect that you are unlikely to see your style of jewelry on anyone else. Although they are rare, they are priced about the same as a clear diamond, as larger clear quality diamonds are the most valuable. Because each grey diamond has its own pattern of imperfections, they are always totally unique. Grey Diamonds vary in tone from very light grey to fancy dark grey.
Sapphire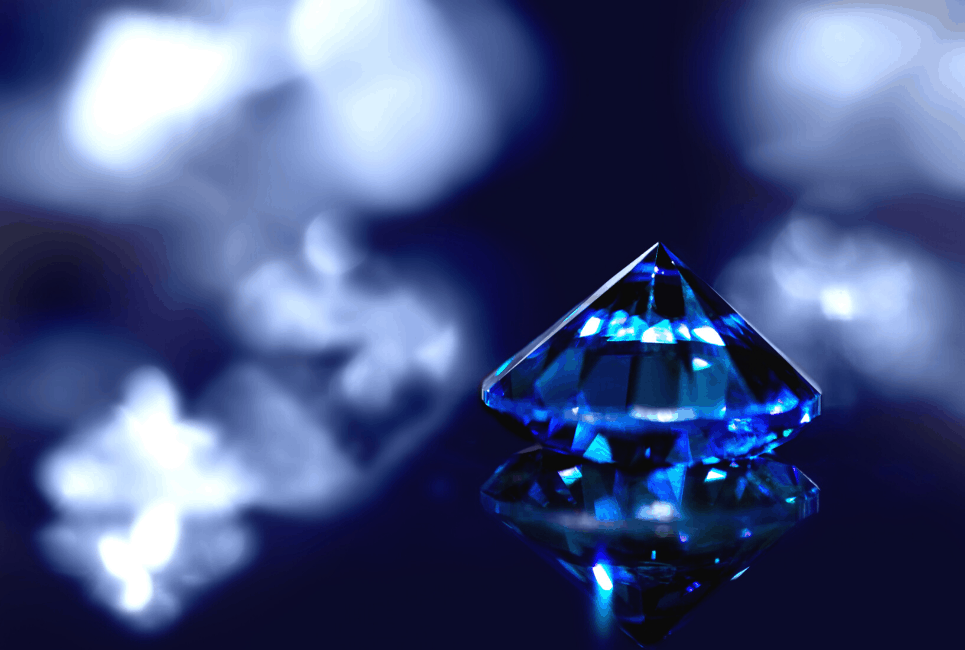 Sapphire is a higher-cost alternative to Morganite, but both stones come in a pink or peach hue. Pink or Peach Sapphire is similarly colored but is a little harder of a mineral. Peach Sapphire will sparkle a little more than Morganite as well.
Moissanite 
Moissanite is an alternative stone to a diamond and has a fire and sparkle greater than a diamond. Moissanite is a colorless stone and is lab-created to have less variety in stone coloration than natural stone. Moissanite is more expensive than Morganite as well. However, it is a stone with beautiful sparkle and brilliance and is less expensive than a diamond.
Rings to Inspire and Desire
Let's take a look at some rings that are available to see the pure beauty of Morganite. These rings are some of the most beautiful Morganite rings I have found. However, it really was hard to pick as there are so many exquisite Morganite pieces.
Statement pieces
Brilliant Earth Morganite Reina Ring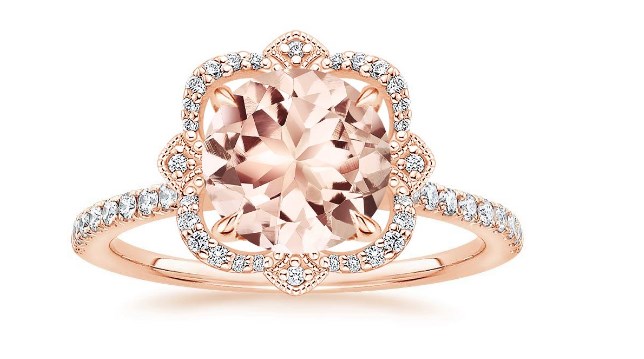 This gorgeous ring is customizable! Pick from around, cushion, or oval center stone. The free-standing diamond halo around the center stone features center points and detailing with diamonds. Additional diamonds decorate the band as well. This super sparkling rose gold and diamond setting will show off the blush-colored Morganite center stone. This is a stunning statement ring.
Brilliant Earth Willow Morganite Ring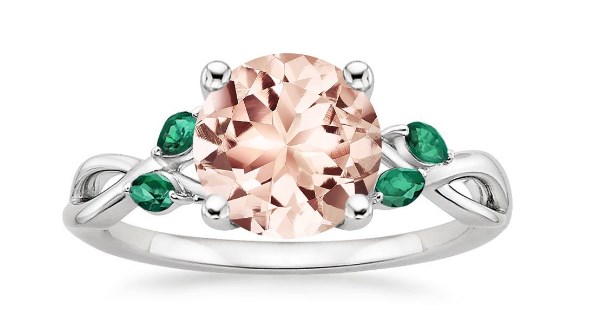 This beautiful solitaire Morganite is set in white gold and is accented with lab-created emeralds. The ring looks like a peach dangling from the vine with sparkling leaves accenting it. The vine-like setting and the green marquise leaf-like gems really add to the overall natural look of this conversation piece. 
Angara Cushion Morganite Ring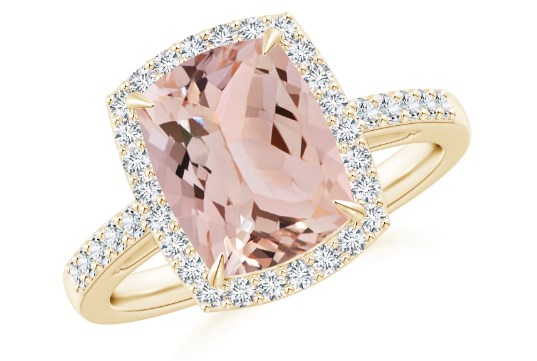 Yellow gold makes this an unusual ring, as most jewelers set Morganite in Rose Gold. The center cushion stone is surrounded by a rectangular halo of gold and diamonds. The cutwork on the shank of the ring is a gorgeous detail. The diamonds along the band will add extra sparkle to the ring as well.
Blue Apple Morganite Floral Art Ring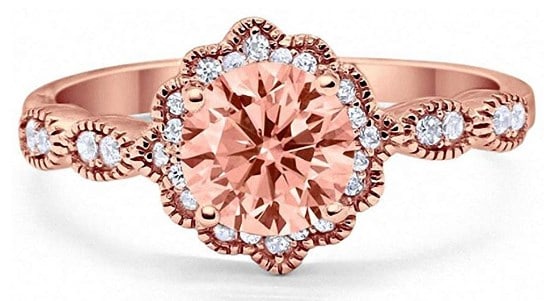 This Art Deco ring really caught my eye. The beautiful simulated Morganite center stone is surrounded by cubic zirconia, and the plated rose gold halo has detailed cutwork that really catches the light and sparkles. Milgrain detailing along with the band also includes several more clear zirconias for sparkle and shine.
Peoria Morganite and Diamond Ring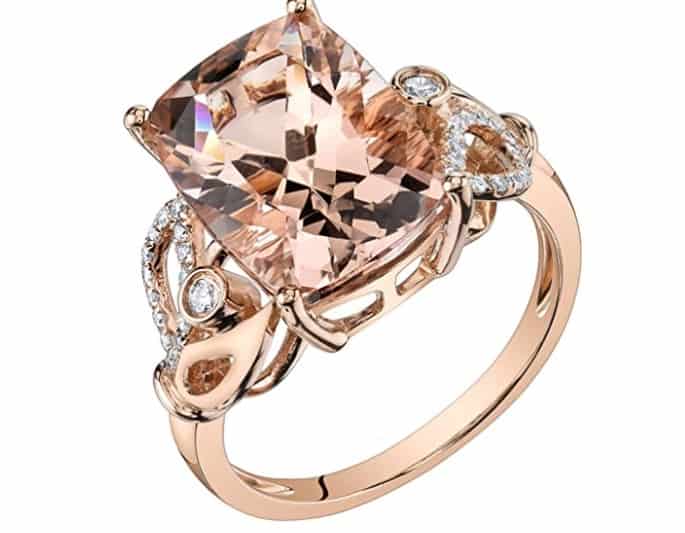 My jaw dropped when I saw this ring; it was gorgeous! A whopping seven-carat Morganite is set in a rose gold setting. Thirty-four accent diamonds adorn the sides of the center stone, which is cut in a Radiant shape. The peach color of the Morganite is showcased perfectly with the rose gold setting. What a statement ring, an absolutely beautiful ring.
Stackable Rings
Jeulia Halo Morganite Ring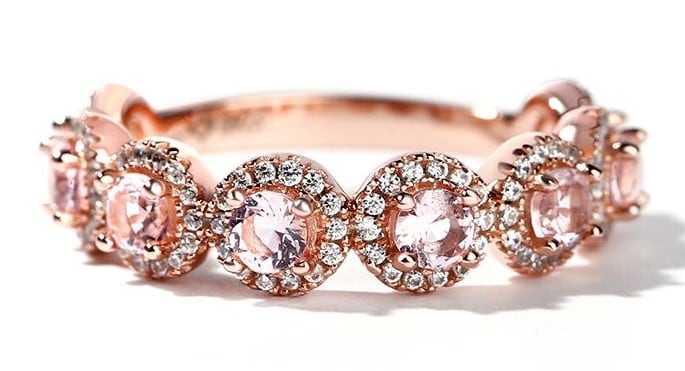 Beautiful vintage charm and styling detail this band. With eight large round synthetic Morganites( Moissanites), each surrounded by a halo of white Moissanites. The rose gold over sterling silver is a lower-cost alternative for a beautiful and sparkling band.
Zales Morganite Row Band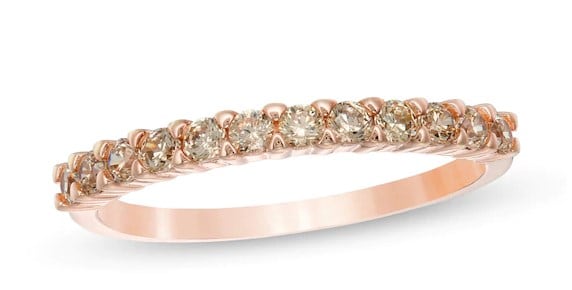 This simple stackable ring features half the circumference of the ring in morganite gems. The setting is 10k rose gold, and although the ring appears simple, it will sparkle and shine. What a beautiful, delicate-looking ring, perfect for stacking or even as a wedding band.
Engagement Rings
Kay Pear Shaped Morganite Engagement Ring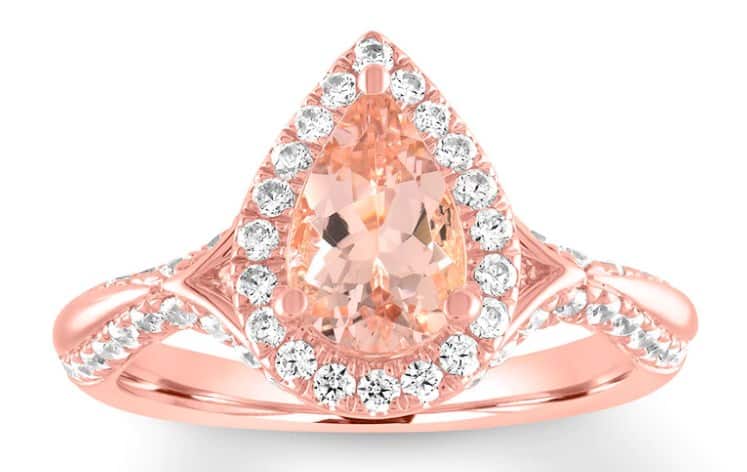 A large pear-shaped Morganite sparkles front and center in this Morganite and Diamond Engagement Ring. The center stone is more peach-colored and matches perfectly with the rose gold setting. Diamonds halo the stone, and more accent diamonds sweep across the band, adding a lot more sparkle to the ring. A beautiful engagement ring, the stone will stand out and get attention.
Dazzling Rock Collection Heart Morganite Engagement Ring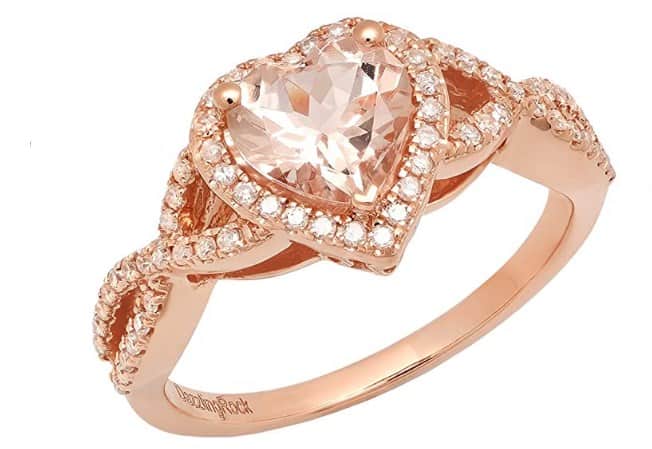 This heart-shaped Morganite solitaire engagement ring is beautiful. What a perfect shape for an engagement ring. This ring features crossed lines on the band that is also accented with diamonds. There is a small amount of detail on the shaft of the ring and cutwork as well to allow light to shine through the gemstone from underneath.
Angara Oval Morganite Engagement Ring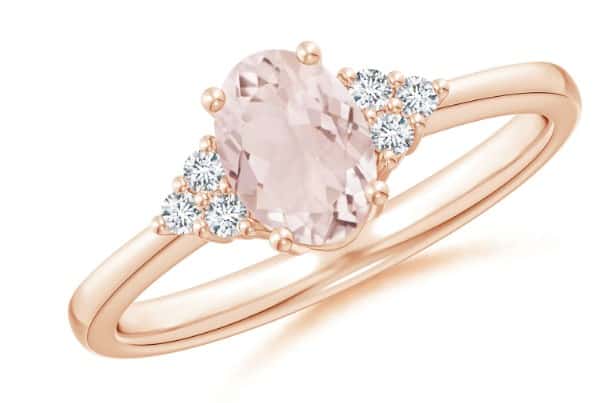 This ring can be customized for your desires. Pick and choose your setting color, gem quality, and carat weight to fit your budget and styling. The oval center Morganite is accented with a trio of diamonds to each side.
Pick Rose, White, Yellow Gold, or Platinum for your setting and create a piece that is as unique as you. Choosing your own allows you to create a beautiful wedding set that can be your dream wedding set. Mix and match colors and stones; white gold and a diamond wedding ring would really let the Morganite center stone be the centerpiece of the set. 
Wedding Sets and Anniversary Rings
Zales Morganite Wedding Set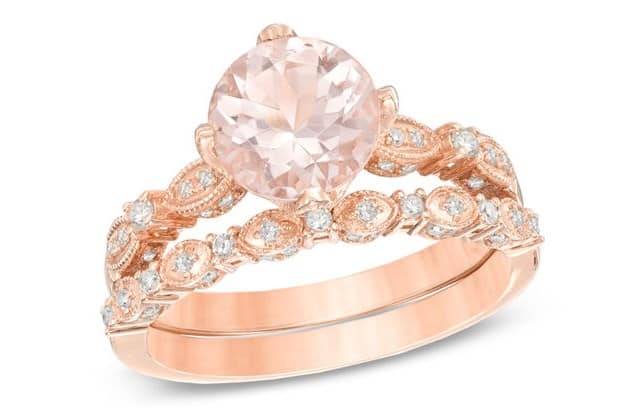 Vintage designs always win my heart! The detailing with this vintage-inspired set has diamonds in the milgrain work on the side of the engagement ring. A whole ⅓ carat of accent diamonds will sparkle in every direction. The gorgeous pink round Morganite center stone shines above the sparkling detailing of the rose gold. 
Ross-Simons Morganite Eternity Band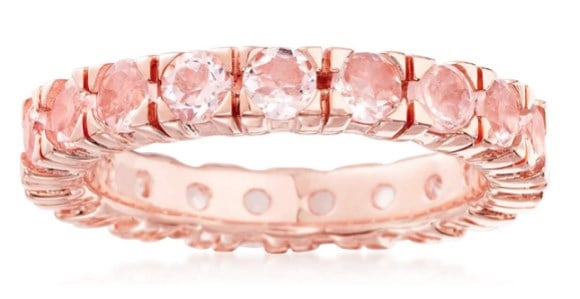 Almost two carats of Morganite adorn the band of this ring. Set in an infinity setting, the ring is decorated with round Morganites in an unending pattern. Eternity bands symbolize never-ending love and are a beautiful addition to a wedding set as an anniversary gift. 
Dazzlingrock Morganite Wedding Set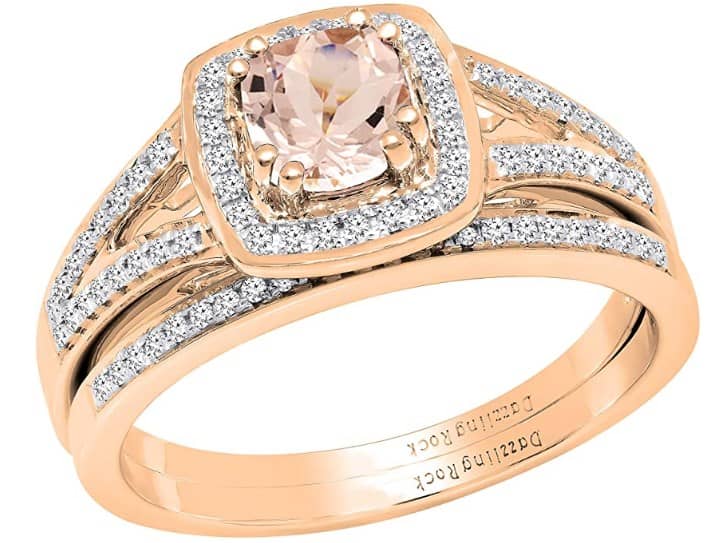 This cushion-shaped stone is the CenterPoint of a gorgeous art deco-looking wedding set. The center stone is ringed with both a halo of diamonds, but also with a band of rose gold. Two bands strike out from the center to meet halfway down the engagement ring band, filled with diamond accents. The matching wedding band also includes diamond accents. A full .25 carats of white diamonds accent this set.
FAQs
Question: What is Morganite's Symbolic Meaning?
Answer: Morganite is known for representing pure and unconditional love. It attracts compassion and maintains love. 
Question: Is Morganite an expensive stone?
Answer: In comparison, Morganite is much less expensive than diamond. Diamonds are about $2000 per carat compared to about $300 per carat for Morganite. 
Question: Is a Morganite engagement ring tacky?
Answer: Morganite is a better alternative to diamonds to many people. Diamonds can have a stigma attached to them from the way they are mined, and some natural stones and lab-created stones are more eco-friendly. Diamond sellers have established this belief so that they could sell more diamonds. 
Question: Does Morganite hold its value?
Answer: The value of Morganite comes from the cut and clarity of the gemstone. The higher the grade of the stone, the more value it holds. Blemishes and inclusions affect the value of any stone. A Morganite should hold the value unless it is damaged with wear.
Question: Does Morganite fade in sunlight?
Answer: Although Morganite is a pastel stone and does look like it would be delicate, it is not prone to fading when exposed to sunlight, and this makes it a good choice for everyday wear, especially in an engagement ring.
Conclusion
Morganite is hands down the prettiest blush gemstone. It is one of the only stones that match Rose Gold, and the combination of the peachy stone and rose gold setting create a combination that is stunning. I highly recommend having at least one Morganite ring in your jewelry collection. It could quickly become one of your favorite pieces, and it will be an eye-catching piece wherever you choose to wear it.