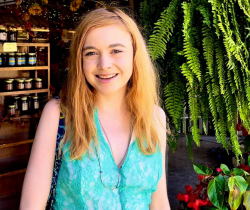 Latest posts by Erin Jamieson
(see all)
From zodiac signs to moon and stars– celestial jewelry is in. And now's a great time to wear this trend with meaningful and enchanting star necklaces.
Star necklaces aren't new– but stars and related celestial themes are getting a boost in 2022. From celebrity influencers like Jessica Alba and Gigi Hadid to personal Instagram accounts and fashion shows, more and more Americans are making personalized statements with celestial necklaces. Even Meghan Markle has sported the look. 
That demand continues to grow, as reported by JKC, a leading news organization focused on changes and trends in the jewelry industry. A recent editorial uncovered how the trend is being presented in new and daring ways, including the new Brent Neale Zodiac jewelry line. 
Gone are the days where there were certain rules about how to wear what jewelry. If nothing else, celestial, zodiac, and star necklaces all point to one thing: a desire for more personal and unique statement pieces. Check out our article about the different Types of Necklaces: A Complete Jewelry Guide to learn more.
But is a star necklace right for you? I'll give you the scoop on everything about star necklaces, from what they symbolize to how to find the best star necklace for you. Plus, I'll give you some of my favorite star necklaces ideas for 2022. 
| Product Image | | Primary Button |
| --- | --- | --- |
| | | |
| | | |
| | | |

What does a star necklace symbolize?
A star necklace, for some, is simply a dazzling accent to an outfit. Others tie it to Zodiac signs, and others, religion. Star necklaces are multifaceted in their meaning– part of the reason they are so popular today. The meaning of the star necklace depends on the particular design and style– hence why a lot of thought often goes into selecting a star necklace. 
What do star charms mean?
Generic star charms are usually tokens of good luck. Star charms on a bracelet or statement necklace symbolize fortune, ambition, self-fulfillment, and a promising future. Of course, star charms are often given as gifts to celebrate an accomplishment or milestone. Charms in general are seen as a token of good luck and are whimsical. Pairing star charms with other charms can also impact the overall symbolism of the jewelry. 
What does a North Star necklace mean?
The North Star serves as the anchor of the sky. Used as landmarks and on compasses, it's said to glow brightly and provide a purpose. It stands apart from other stars in the sky because Earth's axis is always pointing towards it. Hence, that's why it's seen as a reliable source of comfort.
A north star necklace is a beautiful style, with great meaning for many. For most, the North Star is a way to provide guidance, direction, and hope. A north star necklace may be gifted before a journey, both physical and internal. Gifting a North Star necklace is a sign of encouragement– showing someone that their future is bright and that they will have light– or even a higher power– on their side. 
What's the meaning of the Star of David necklace?
The Star of David has many meanings for people of Jewish faith and Jewish nationality. Since 1948, the Star of David has been a symbol of Israel and Jewish heritage. The symbol was first seen in the 19th century and has overlapping design principles with the Christian Cross. It's also seen as a sign of heroism and courage, especially following the tragic events of the Second World War. Some also associate the Star as a symbol of God's power. 
What is the meaning of the moon and star necklace?
A moon and star necklace, however, is tied into astrology. A moon coupled with a star symbolizes the Goddesses Venus and Ishtar. It's seen as a sign of love and a bond between a couple. It also has ties to Islam. Specifically, a crescent moon paired with a star has come to be known as a symbol for Islam and a testament of faith. 
How do I find the best star necklace?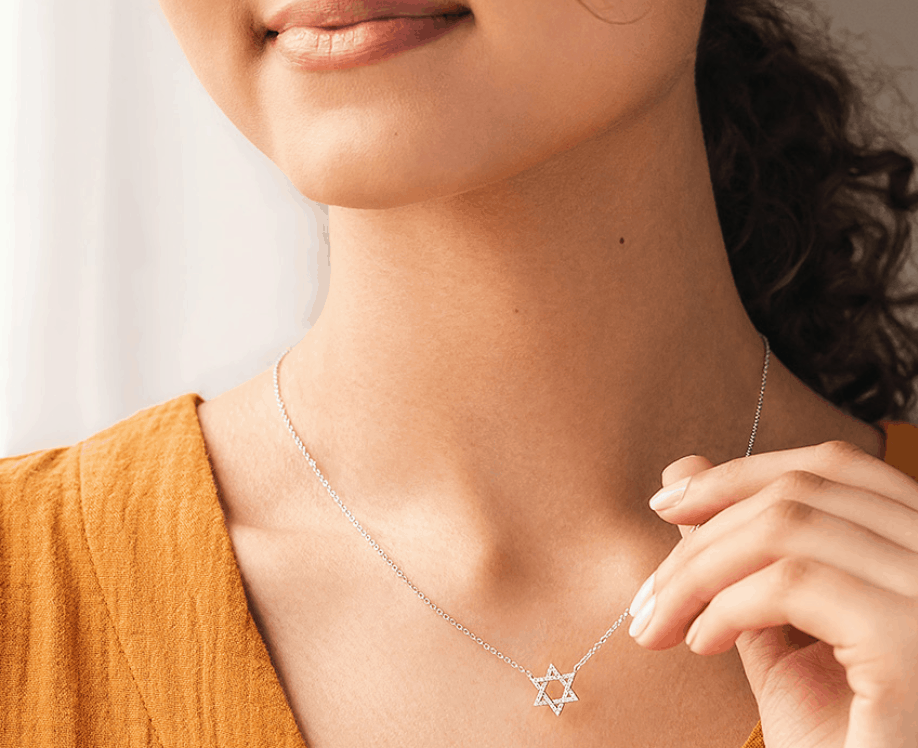 No one can tell you the very best star necklace for you. If you don't align with the symbols of the star necklace designs I mentioned before, you could opt for a simple star, or even a shooting star (which can represent good luck, and a bright future). But there are a few things you need to consider before buying any style of star necklace. 
What type of metal is best for star necklaces?
Sterling silver is a classic option, as it provides a beautiful silver hue– but it can tarnish. Gold plating is likewise a beautiful option, but most gold-plated necklaces last around three years. For a necklace as meaningful as a star necklace, I recommend going for a more durable metal. Stainless steel lasts well– it won't scratch or tarnish.
 For fine jewelry, I recommend opting for palladium, platinum, or 14K to 18K gold. 10K gold is another option, but it has a rather dull surface appearance which doesn't tie well into the motif of a bright star. 
Who should I buy a star necklace from?
Where you buy a star necklace is also important. If you just want a casual necklace, the bare minimum is making sure you're buying from a reputable supplier. If you're buying online, check to make sure the site– especially when you pay– is secure. But I recommend opting for fine jewelers. This is especially true if you're buying a star necklace with diamonds or other precious gemstones. Make sure these are real gemstones, and you should be able to acquire some information about gemstone sourcing. 
The good news is that you have more options in 2022 than ever. I'll be supplying some ideas of my own, too.
Star Necklaces: My Top Ideas
Here are my top ideas for star necklaces. You'll find dazzling, modern, and classic designs. All of these necklaces are crafted in high-quality gold or other durable materials.
 The diamond and gemstone necklaces I've selected come from respected jewelers in the industry, including Brilliant Earth. James Allen, Angara, and luxury designer David Yurman. From fantastical to minimalist, here are some of the brightest star necklace trends in 2022. 
Diamond Star Necklaces
Diamond star necklaces are truly dazzling. These necklaces are occasion-worthy and beautiful. Diamond star necklaces bring stars to life and provide ethereal, magical touches. All of these diamond necklaces include genuine natural or lab-grown diamonds with a color and clarity that provides good to brilliant sparkle– perfect for a star motif.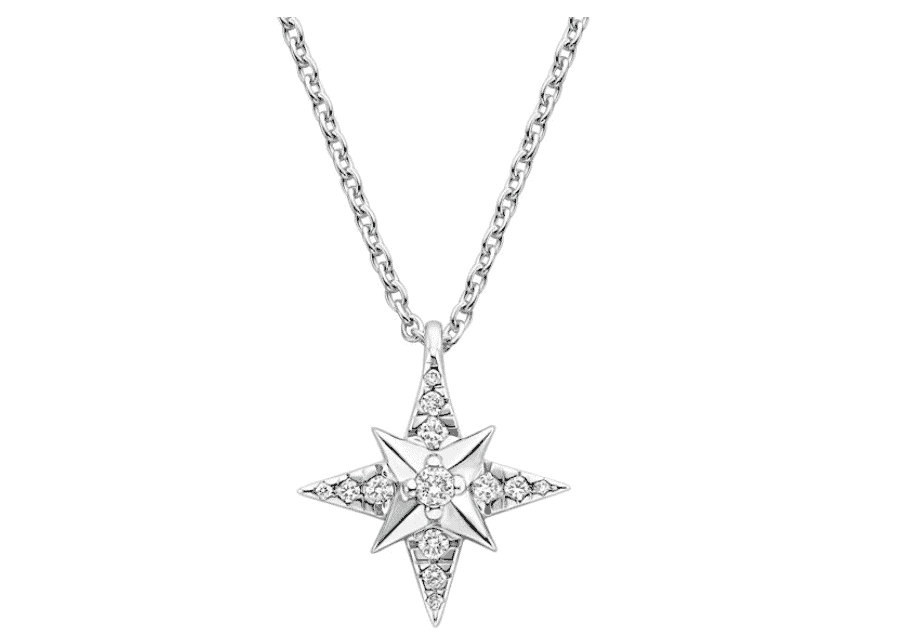 This luxurious diamond necklace captures the brilliance of the North Star. This alluring pendant features pave-set, round-cut diamonds (⅛ carat), and a classic design. These ethically sourced diamonds exude brilliance and are set recycled 14K white gold. Priced at around $650; Buy Here.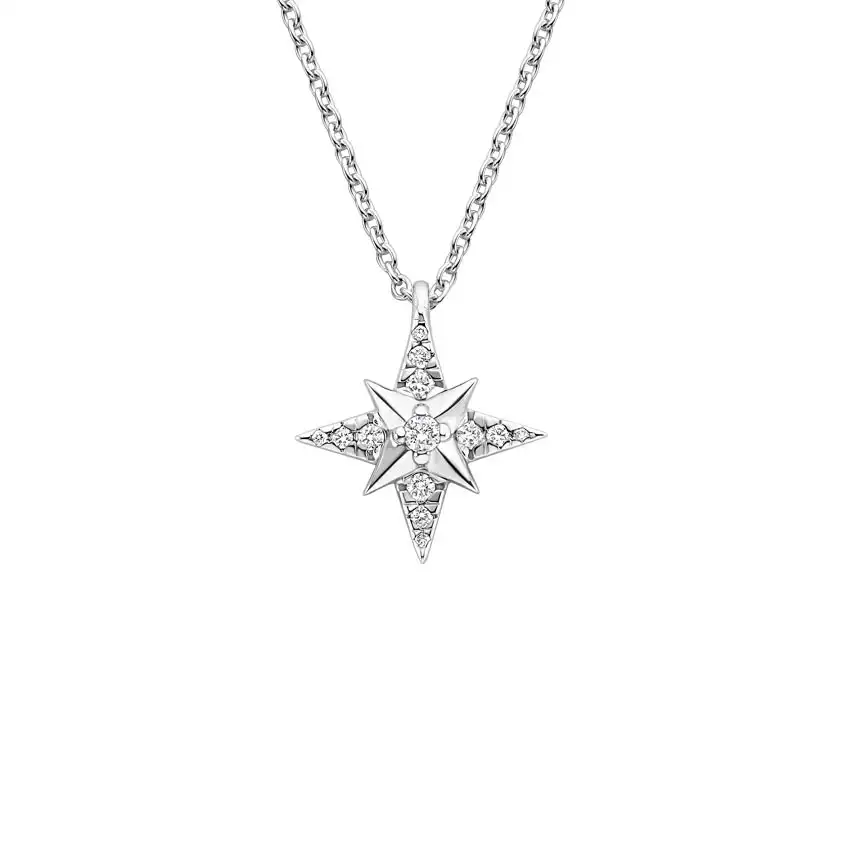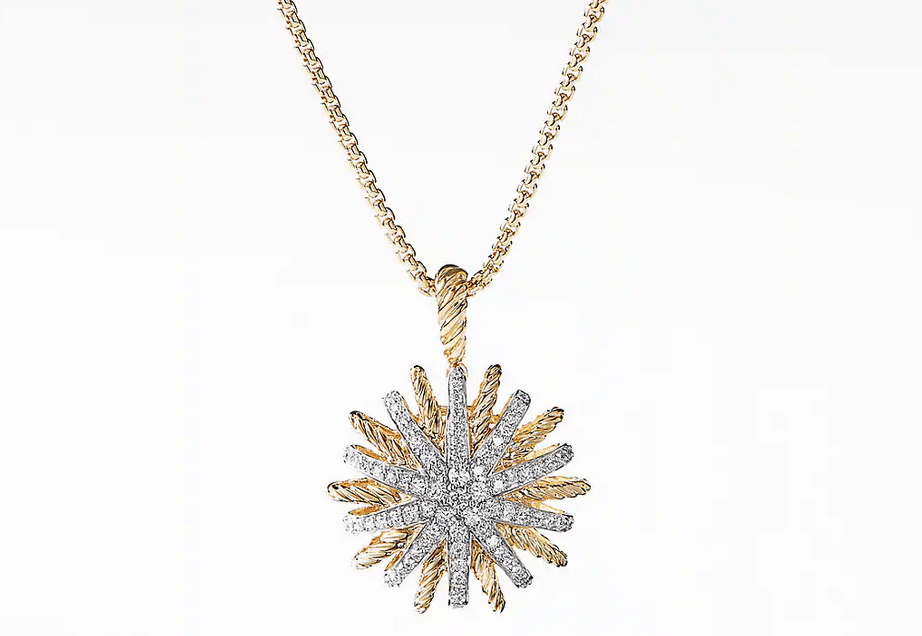 This dazzling David Yurman necklace is a showstopper. A modern take on a star motif, this necklace is crafted in glossy 18K yellow and white gold. 0.28 carats of pave-set diamonds accent the star pendants. Meant to exude the elegance of Paris at night, this iconic diamond necklace doesn't come cheap– but it's also innovative, elegant, and true to David Yurman's best ideas. Priced at around $3,100. Buy Here.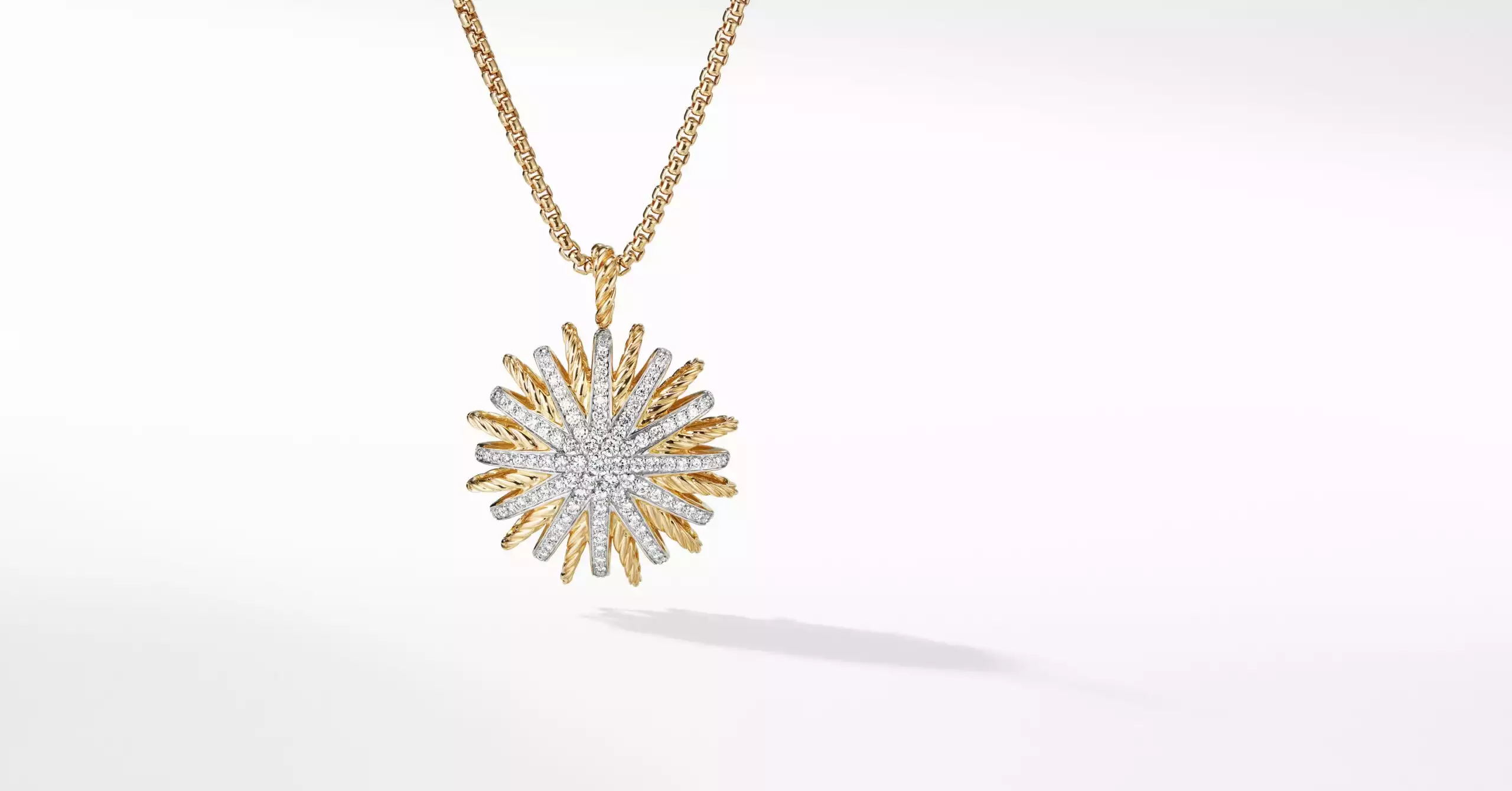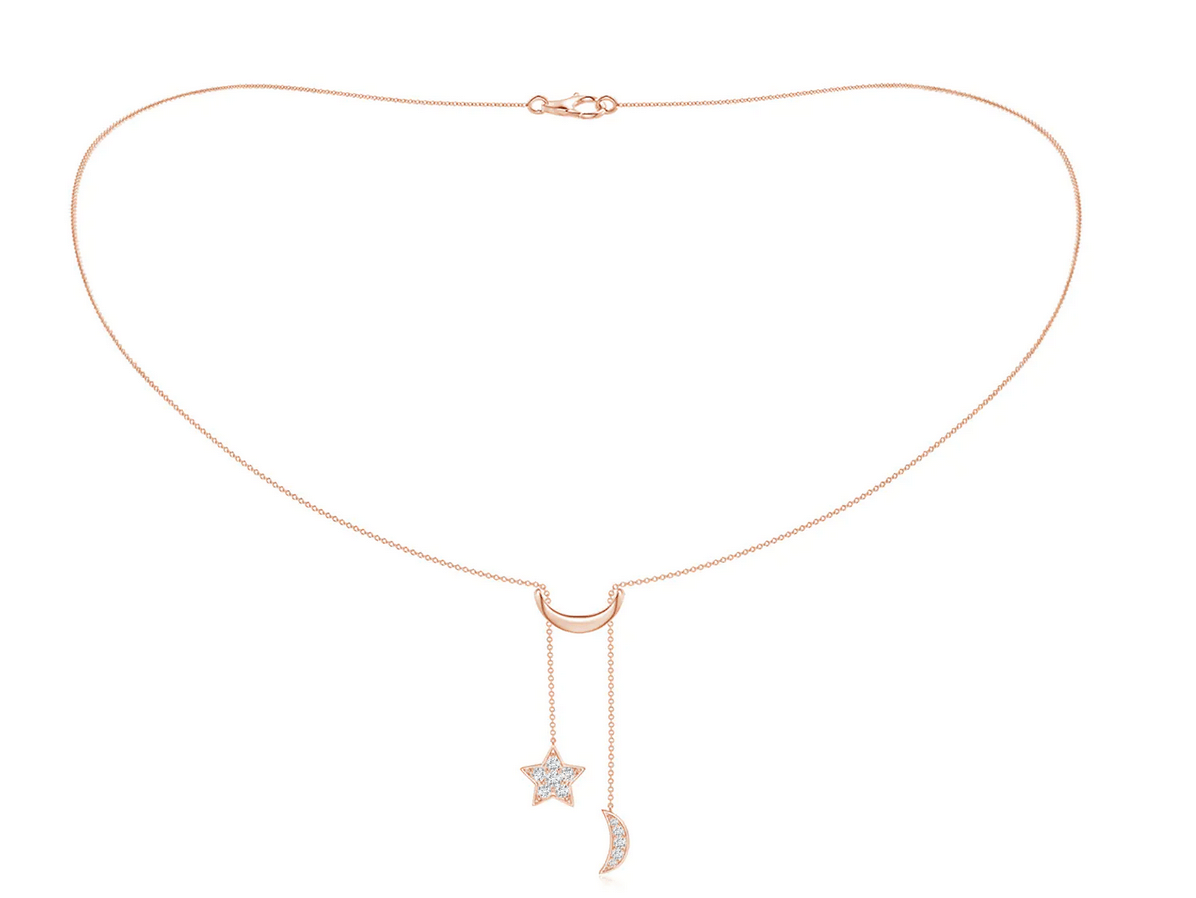 This gorgeous necklace combines two trends: celestial accessories and lariat styles. Two twinkling charms are set on a fine chain. The moon and star charms are accented with pave-set diamonds. The best part is you can choose your diamond quality, as well as from 14K rose/yellow/white gold or platinum. Priced from $479 to $998; Buy Here.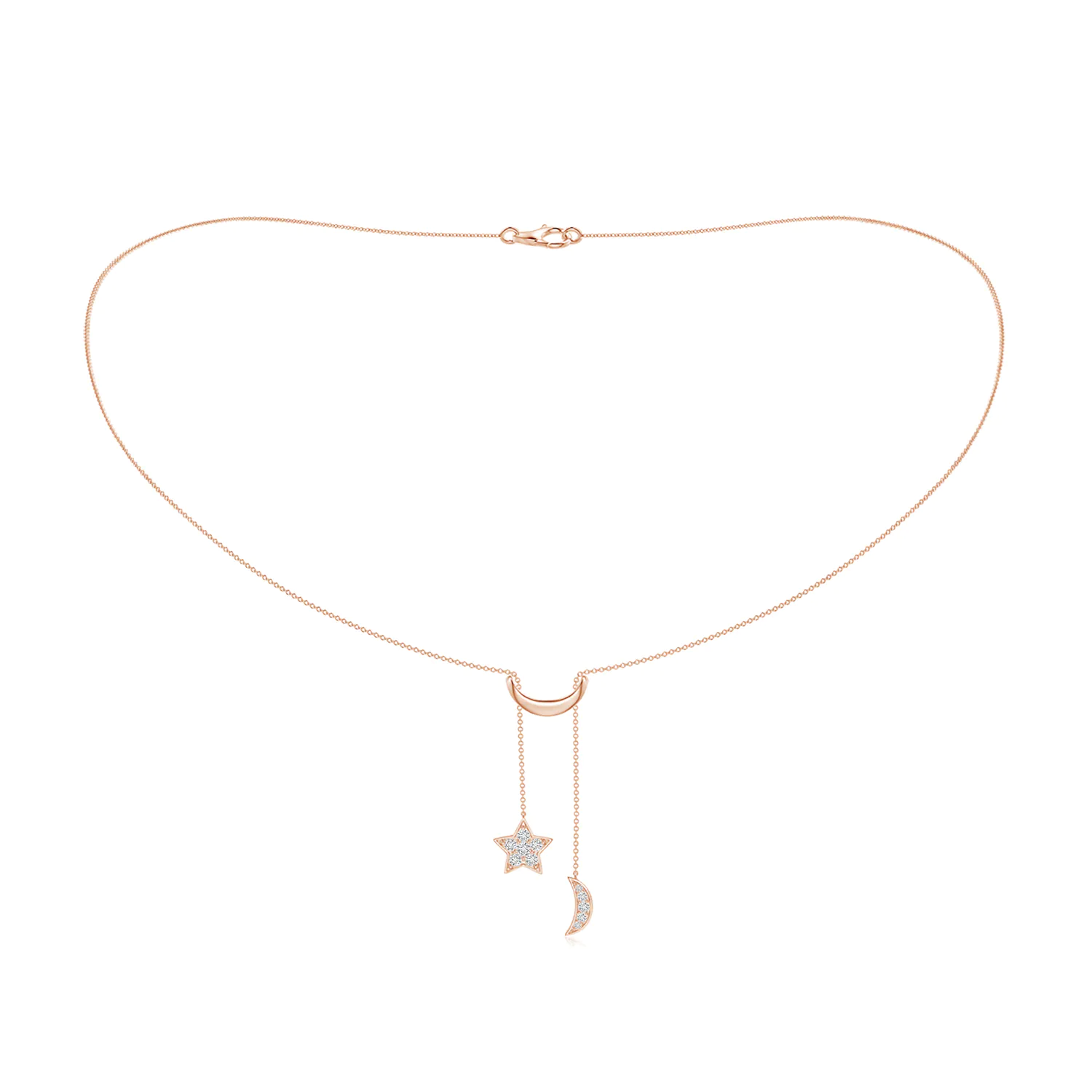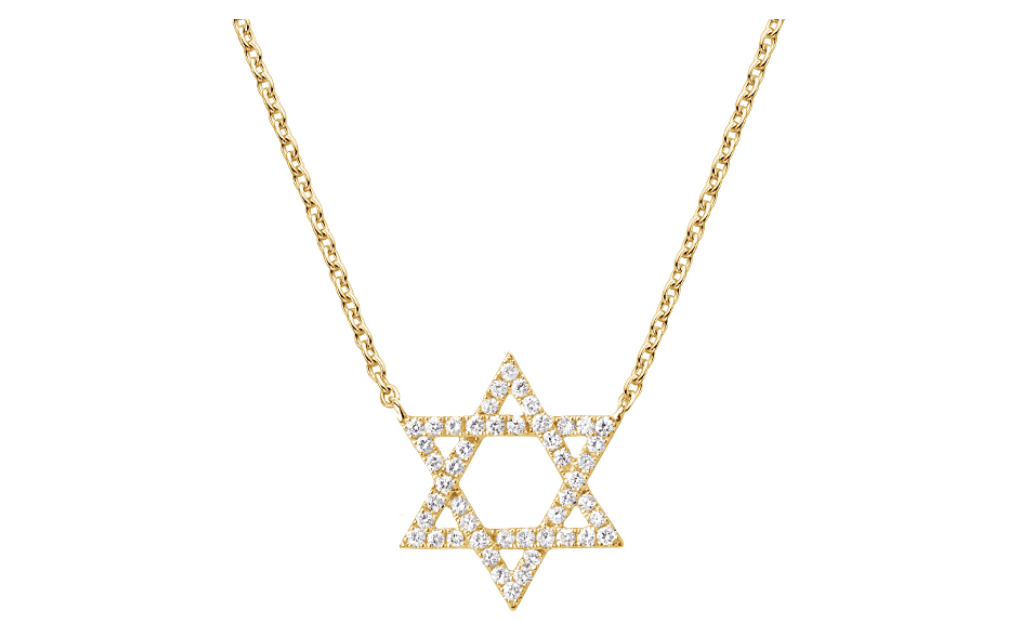 This diamond necklace is both gorgeous and meaningful. The Star of David is crafted with care in 14K yellow or white gold. Micro-pavé set diamonds accent the exterior of the star, for a total carat weight of ⅕. This dainty necklace is understated but bright, priced at around $790; Buy Here.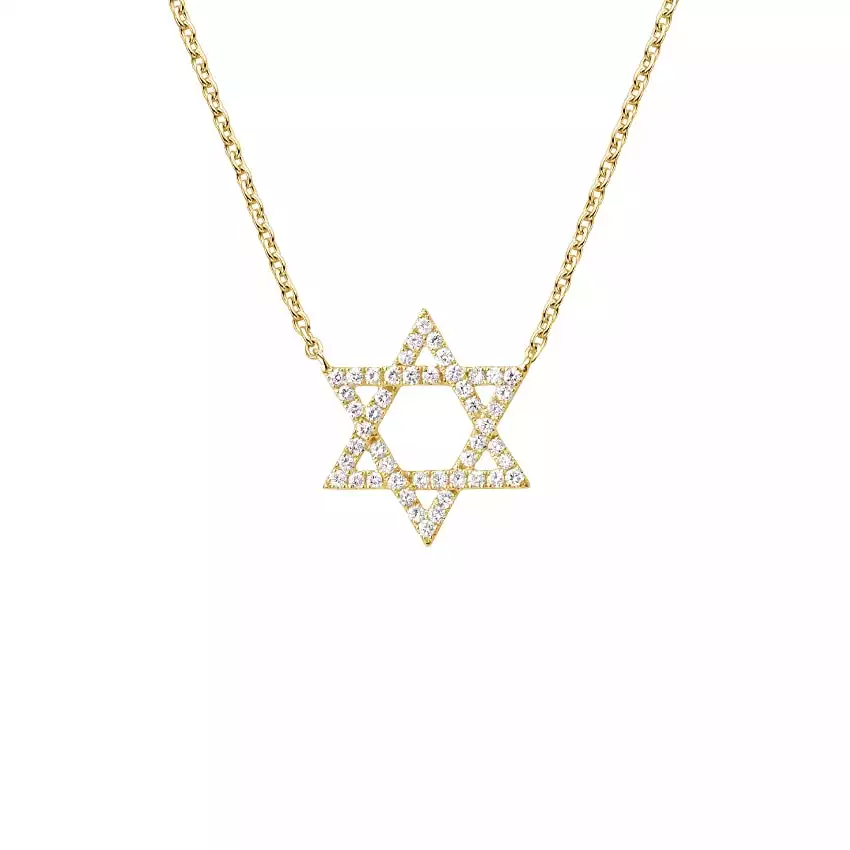 Star Of David Diamond Pendant | Brilliant Earth
Beautiful micro-pavé set diamonds outline the shape of a star in this shining pendant that is perfect on its own or matched with other necklaces for a statement look.
Check Price
We earn a commission if you make a purchase, at no additional cost to you.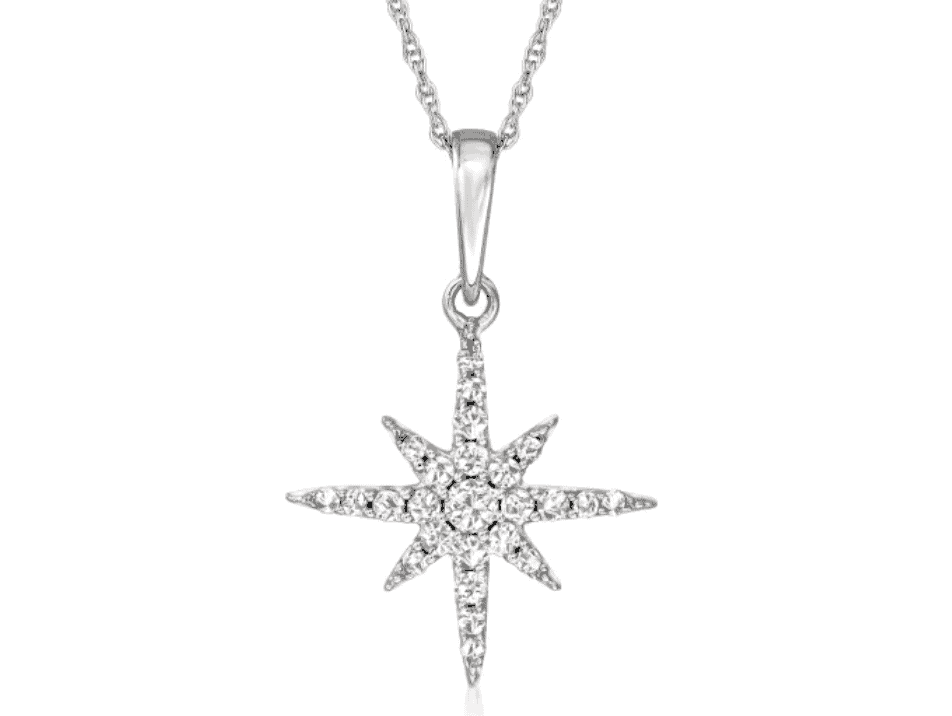 Now on sale for $420, this diamond star necklace is a great option if you want just a touch of sparkle. A quarter carat of round diamonds accents a classic star shape, adding sparkle without overwhelming. The understated sparkle is set on 14K white gold for a cool, brilliant hue. While suited for occasion outfits, it's understated enough you can wear with paired-down looks. Buy Here.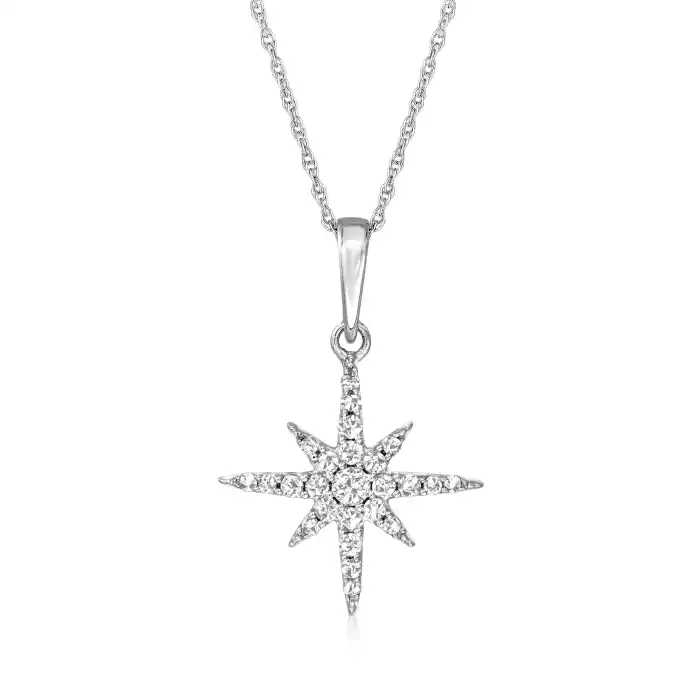 Diamond Star Pendant Necklace | Ross-Simons
A shining star to always guide you home! This scintillating star pendant sparkles with .25 ct. t.w. diamond rounds in polished 14kt white gold on a rope chain.
Check Price
We earn a commission if you make a purchase, at no additional cost to you.

Gemstone Star Necklaces
Who says a star necklace has to be limited to white, silver, or gold? These enchanting star necklaces feature gorgeous, precious gemstones. Just a touch of color adds allure and unexpected modern touch. In many cases, birthstones add meaning to the traditional star motif. All of these gemstone star necklaces also come from renowned fine jewelers. So go ahead, add a pop of color to a star necklace for a unique statement.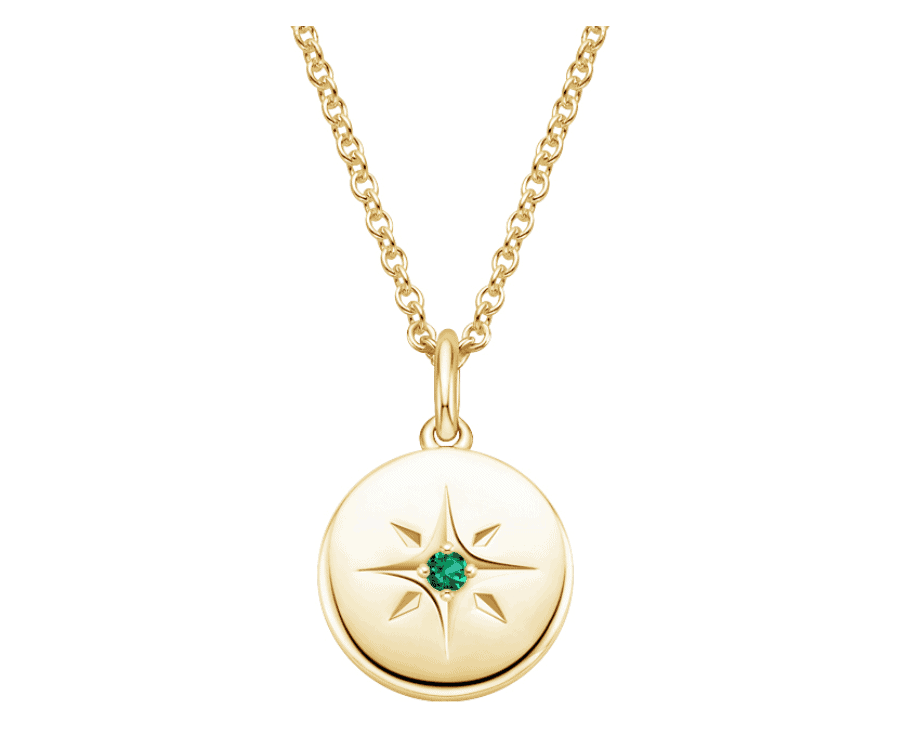 Emeralds are associated with spirituality, love, protection, and wisdom. A beautiful lab-grown emerald is set in a pendant disc for just a touch of color. The 14K yellow gold pairs spectacularly with the green hue and is a modern classic. Consider accessorizing with a simple emerald or gold bracelet. Priced at $590; Buy Here.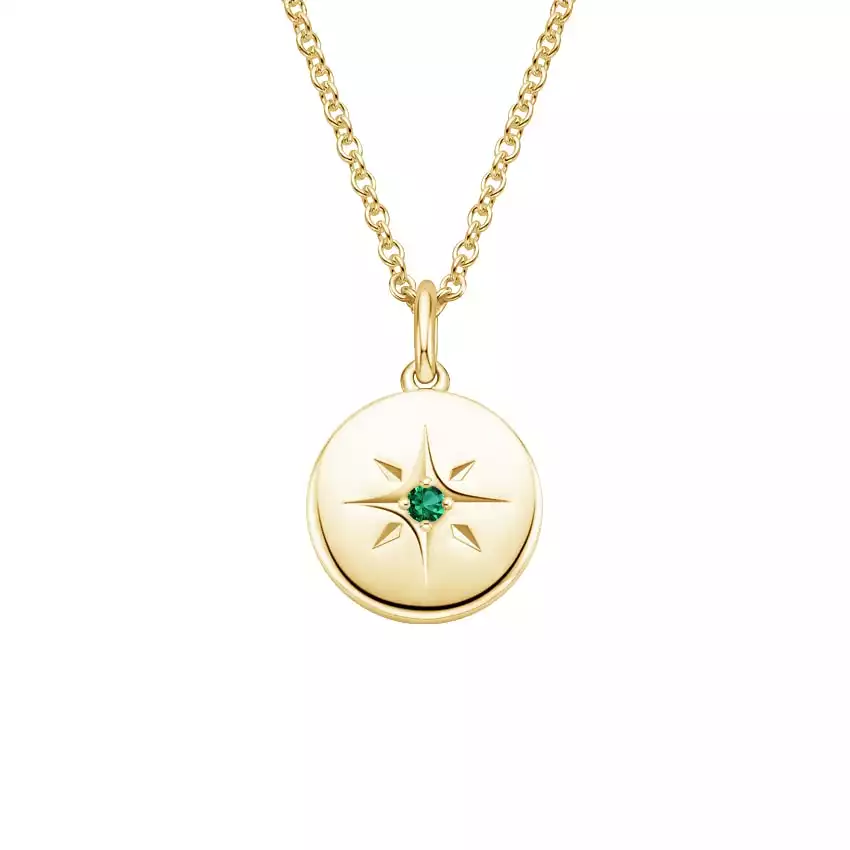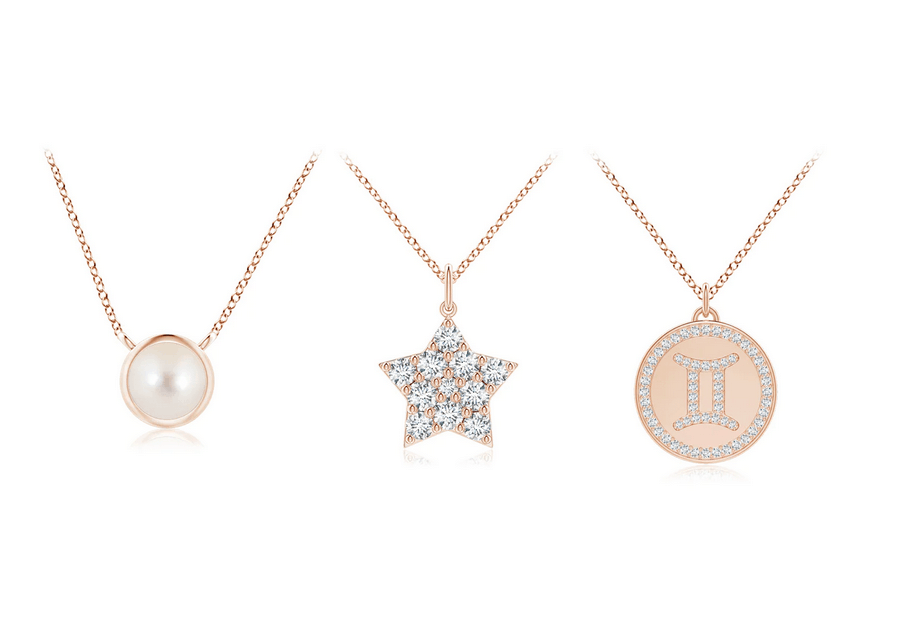 Whether you're into astrology, are a Gemini, or just love a layered look, this is a unique twist on your typical star necklace. This set includes three necklaces with a medallion each for a spectacular, layered look. All are crafted in your choice of 14K yellow, white, or rose gold. The freshwater pearl and diamond-studded star pair with a zodiac medallion. This set of three is priced from $3,464 to $4,481; Buy Here.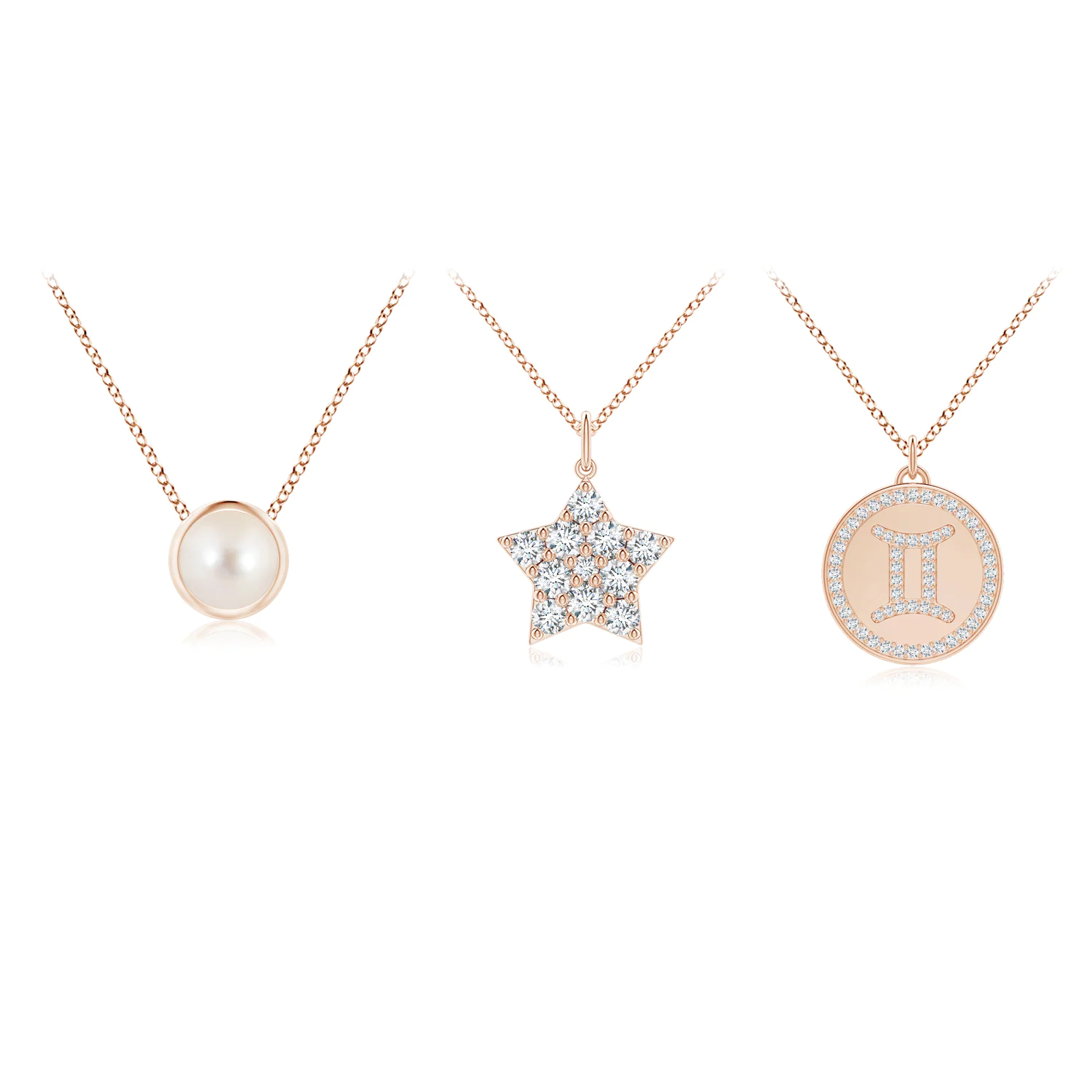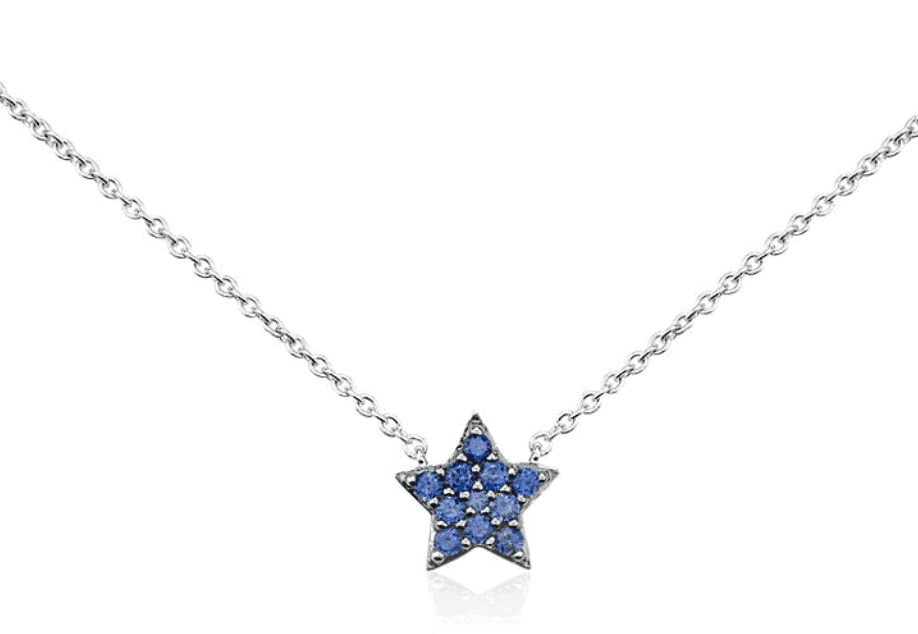 This dainty star pendant necklace brings in the night sky. Medium blue, eye-clean sapphires are set on 14K white gold. The blue and white silver theme is classic but also stands out from other star necklaces. Sapphires are associated with nobility, sincerity, and faith. The mini star design is a subtle touch, perfect if you prefer an understated style. Priced at around $320; Buy Here.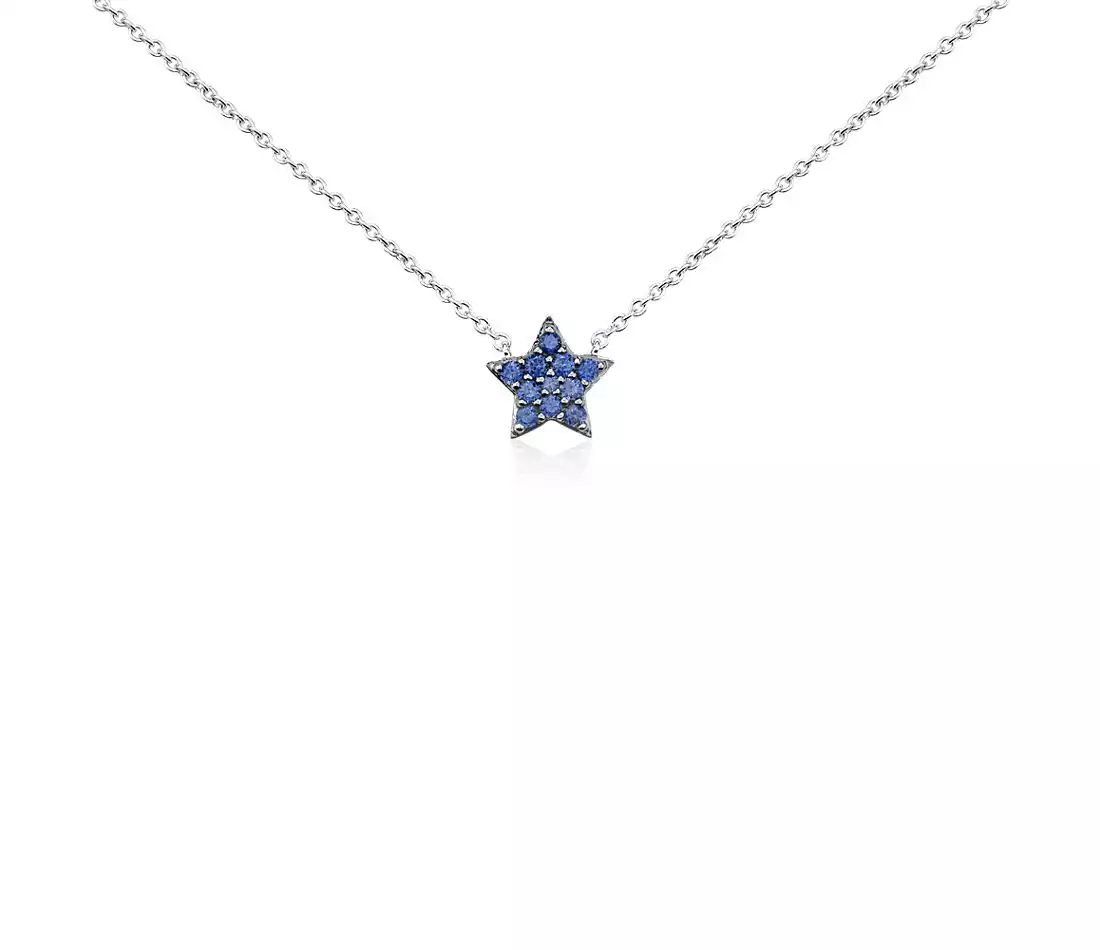 Mini Sapphire Star Pendant | Blue Nile
Let your style shine bright with this dainty star pendant, delicately accented with vibrant sapphire gemstones, suspended from a 14k white gold cable chain necklace.
Check Price
We earn a commission if you make a purchase, at no additional cost to you.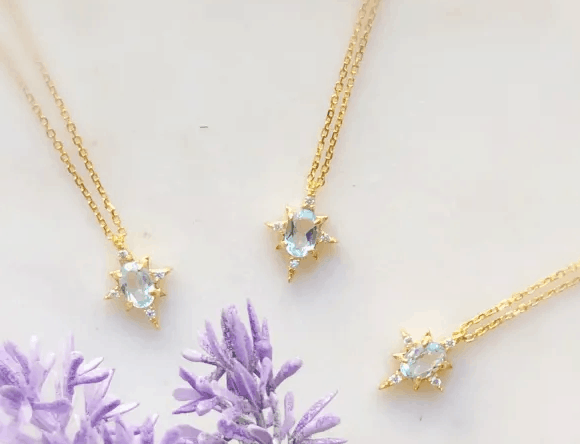 Aquamarine, which happens to be my birthstone, symbolizes peace and tranquility– a beautiful message to combine with a star symbol. This star necklace exudes brilliance, but at a lower cost. Gold vermeil is a form of gold plating– but it's far thicker and more durable than regular gold plating. As a bonus, this necklace supports sustainability and fair labor practices. Priced at around $110; Buy Here.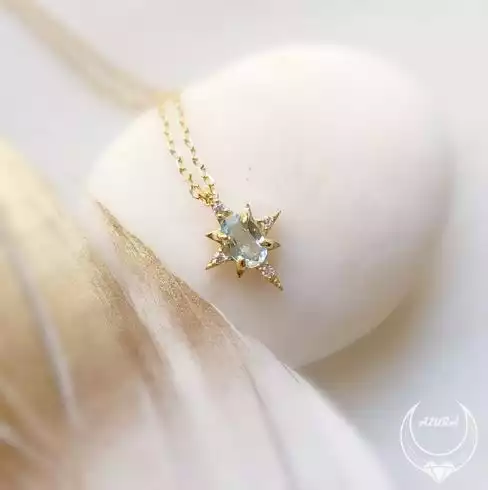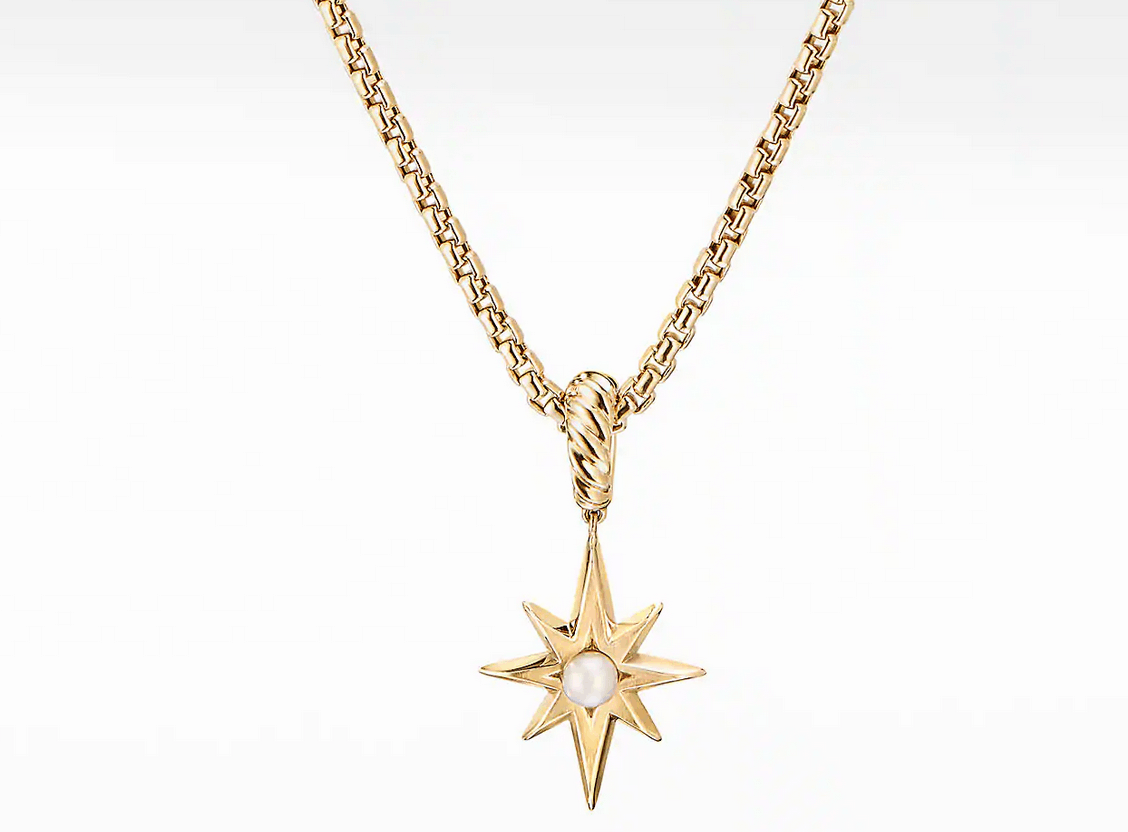 Create your own look with this classic David Yurman necklace. Set in 18K yellow gold, the cable chain carries a modern, North Star pendant. Inside the pendant is your choice of precious gemstone. Choose from a freshwater pearl, amethyst, aquamarine, citrine, emerald, garnet, peridot, pink tourmaline, ruby, blue sapphire, or tanzanite. Priced from $550 to $740; Buy Here.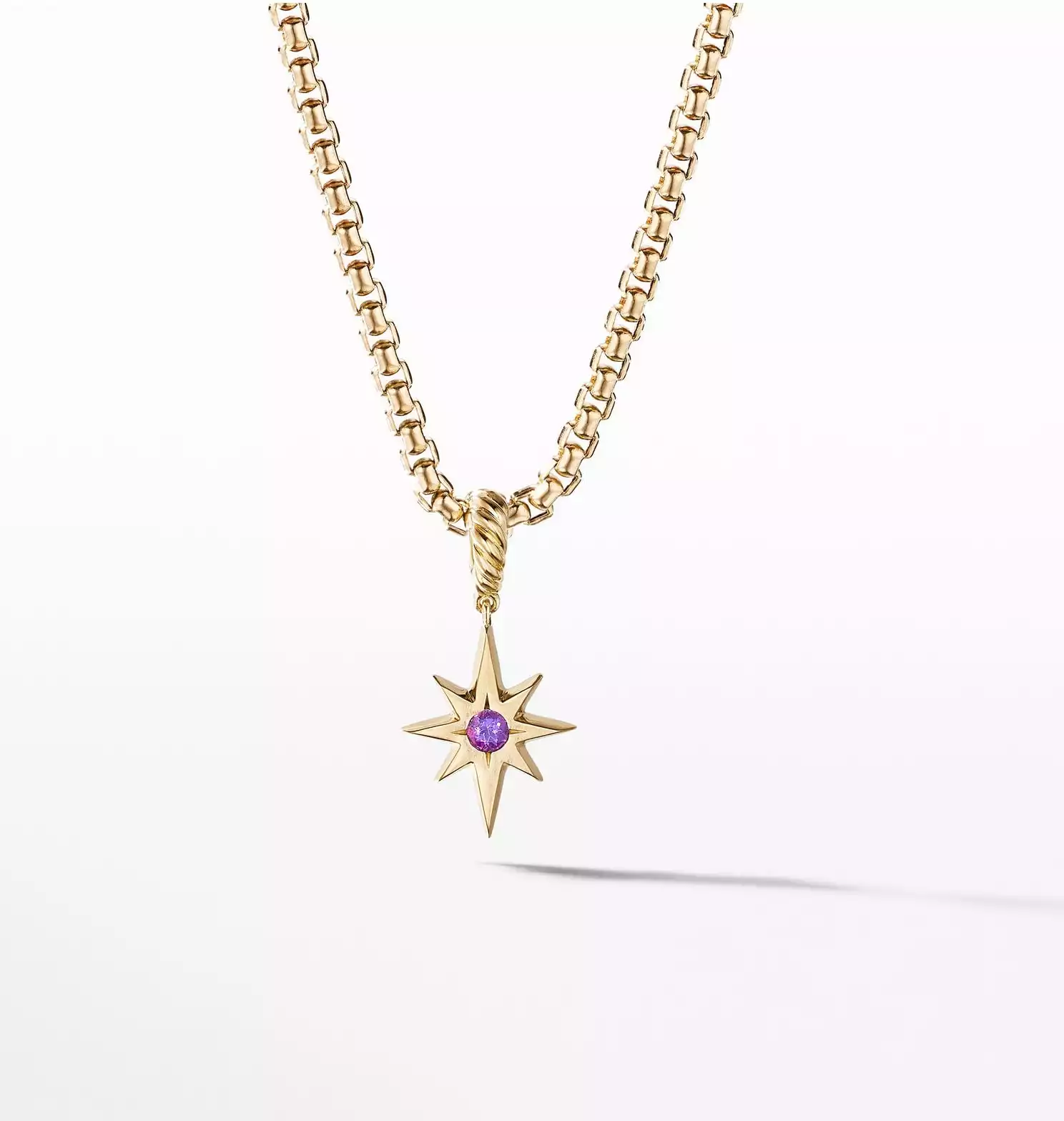 14K and 18K Gold Star Necklaces 
You don't have to have diamonds or precious gemstones for an elegant star necklace. These 14K and 18K white gold necklaces shine on their own accord. Modern, sleek, and classic, the attention to detail with star designs and polished metal make these excellent choices. I also love these necklaces if you're looking for a star necklace that you'll wear every day. 
Triple Gold Star Dangle Necklace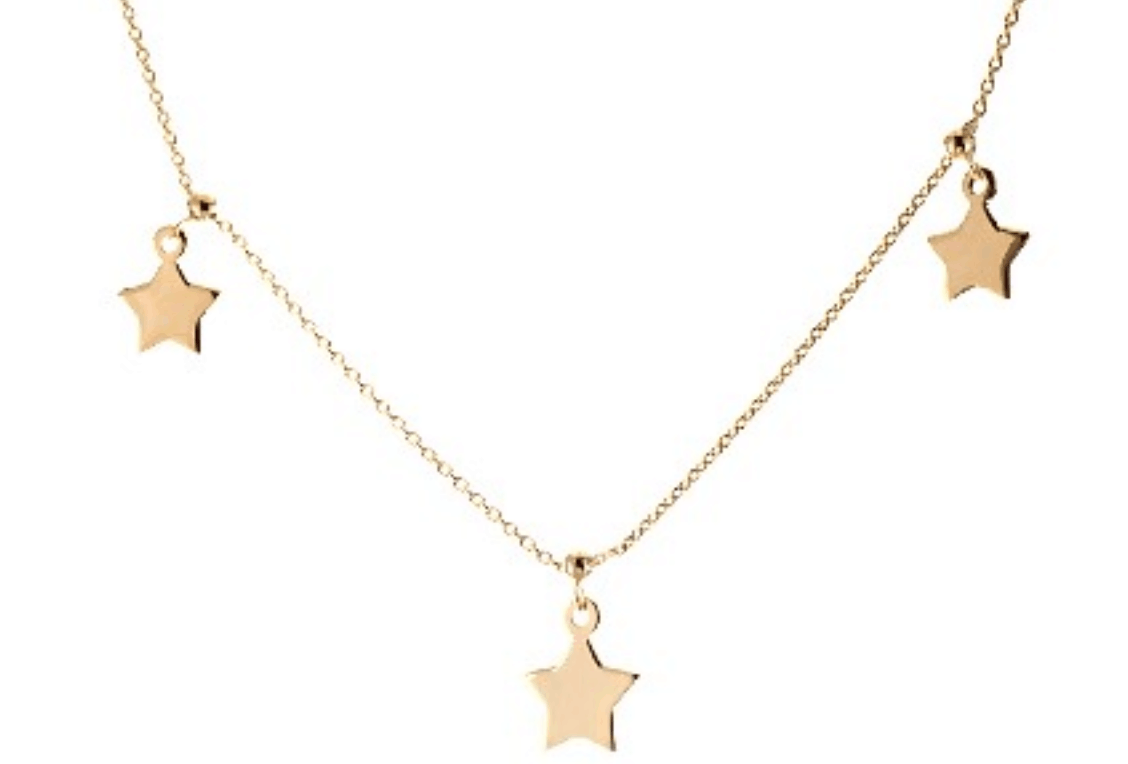 This choker charm necklace is crafted in 14K yellow gold. The choker style is a fun throwback, accompanied by matte star charms. This choker necklace can be layered with a longer yellow gold necklace or a statement bracelet and can be worn with something as casual as jeans and a t-shirt. Priced at around $310; Buy Here. 
Elsa Peretti Star of David Necklace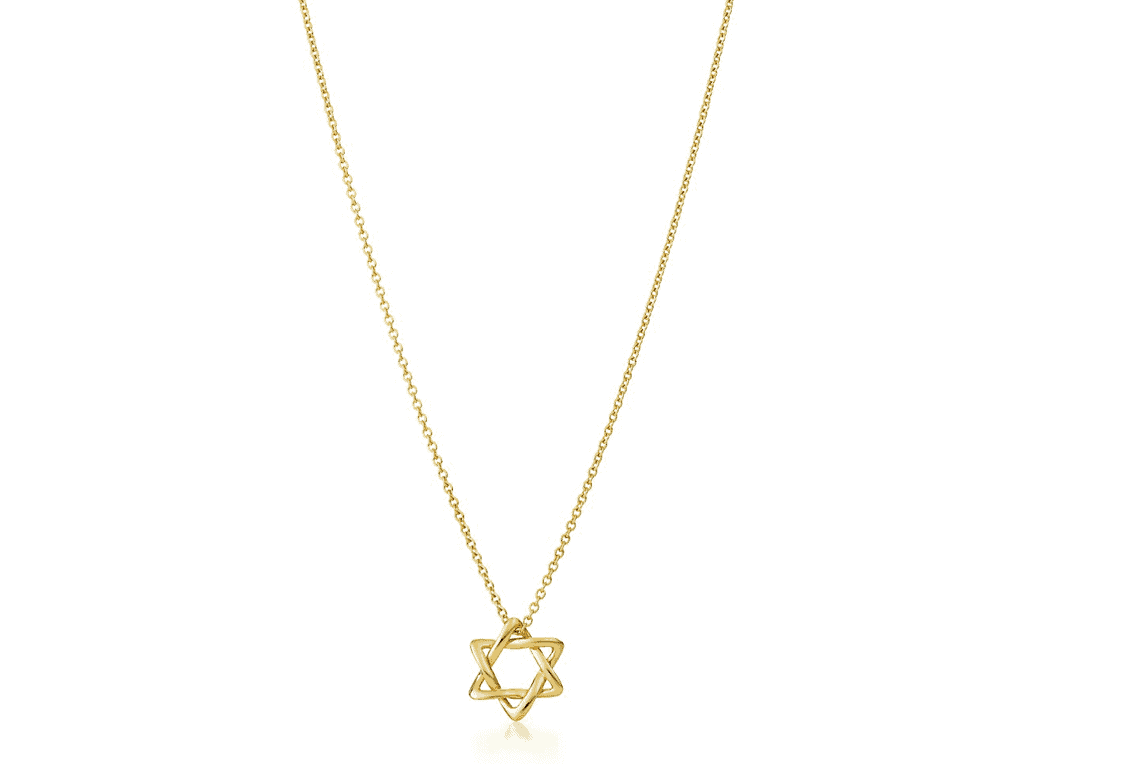 This beautiful Star of David Necklace is modern, simple, and elegant. The timeless look is also minimalist, with a beautifully crafted star pendant. The chain and pendant are crafted in high-quality 14K yellow gold. Sold through Tiffany & Co, this necklace is sophisticated without trying too hard. Priced at around $950; Buy Here.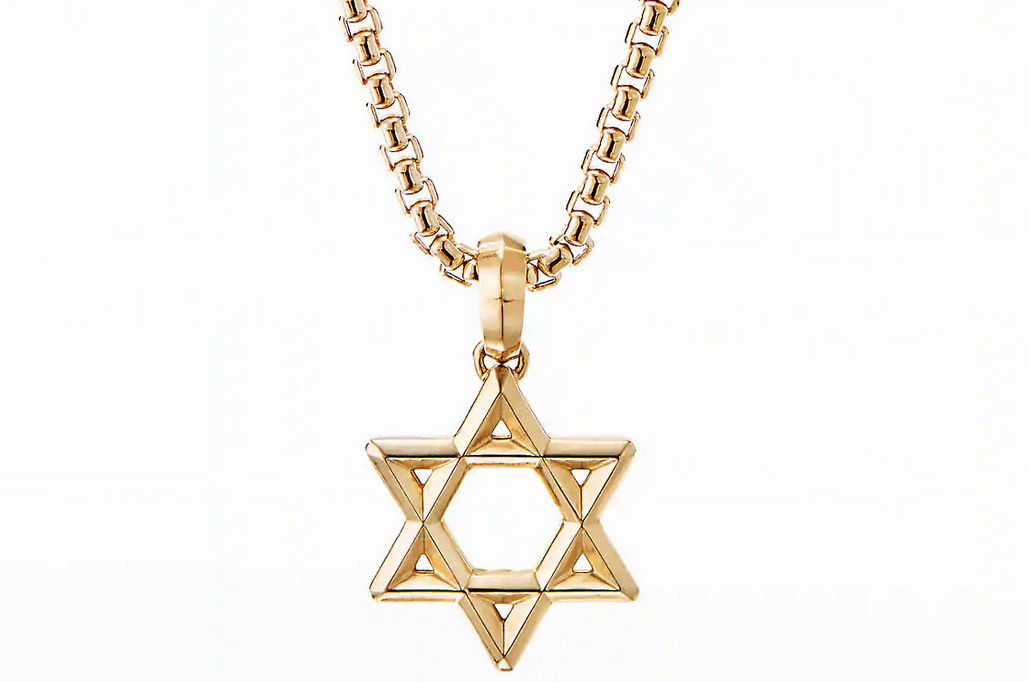 This splendid Star of David necklace is set in 18K yellow gold on a box chain. The bolder style feels modern while staying true and respectful to the original design. The glossy 18K yellow gold is a spectacular statement, especially against blue or gold. As a bonus, box chains are quite popular in 2022. Priced at around $1,100; Buy Here.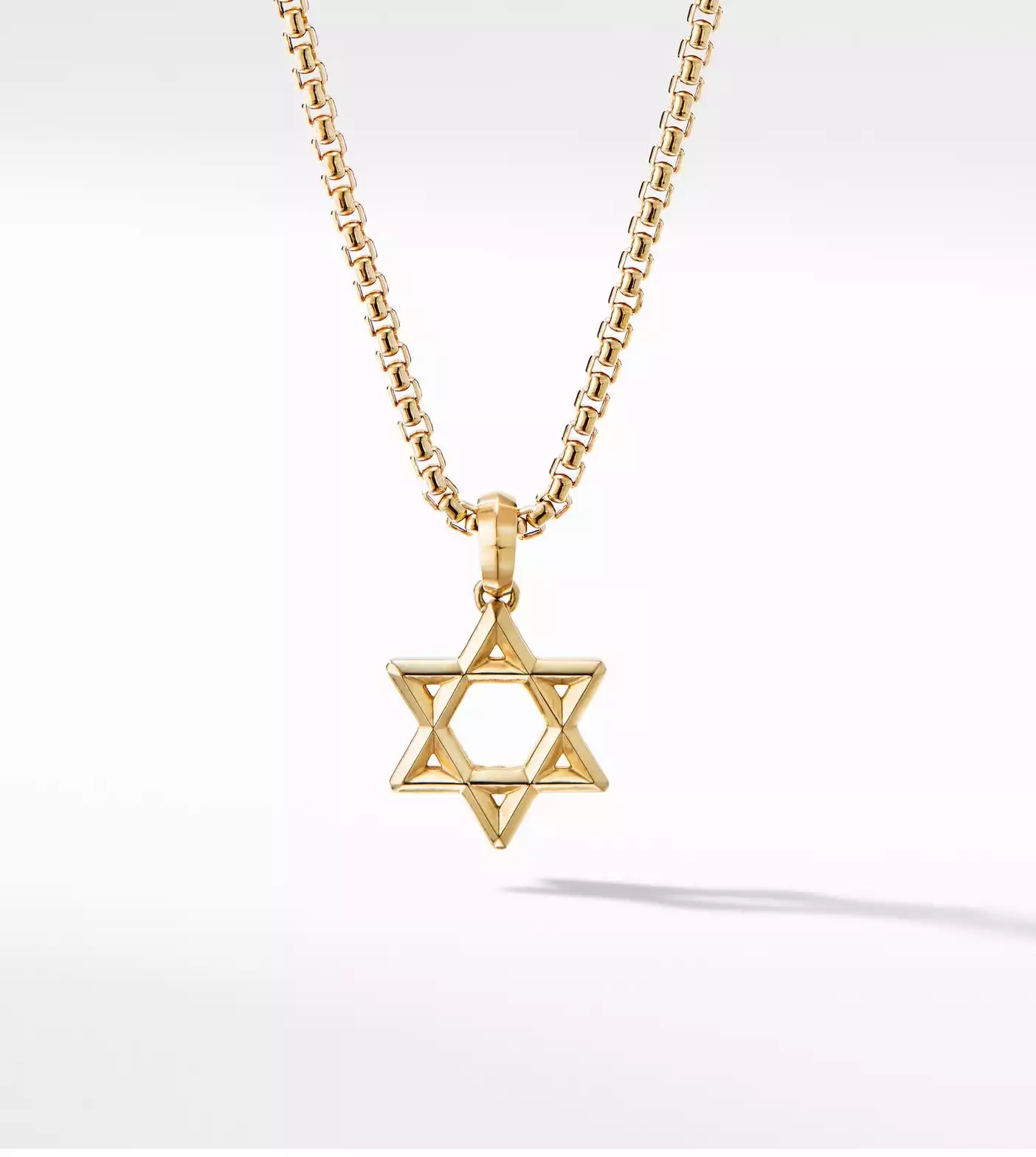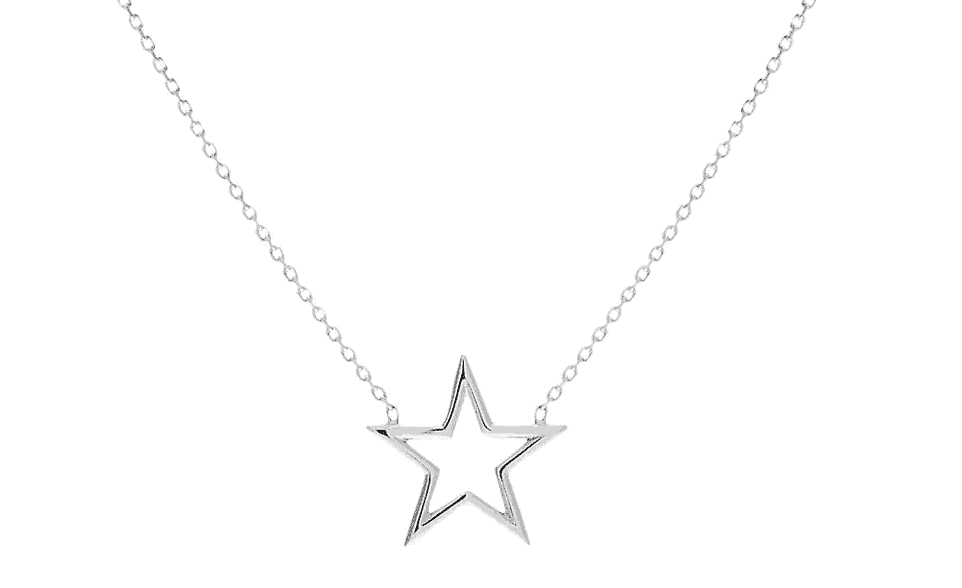 This simple 14K white gold necklace is modern and sleek. Now on sale for around $255 (50 percent off), this delightful necklace could be worn daily. A minimalist design means you can layer this necklace or pair it with other accessories easily. Buy Here.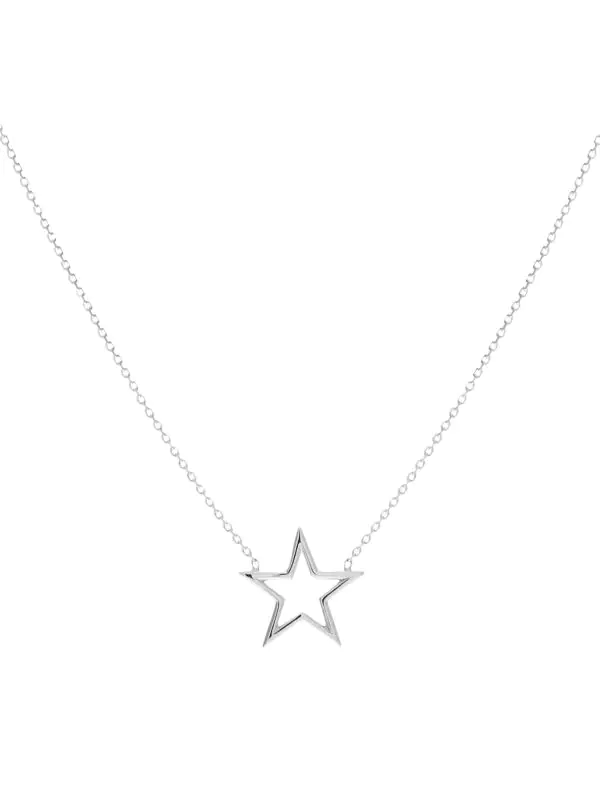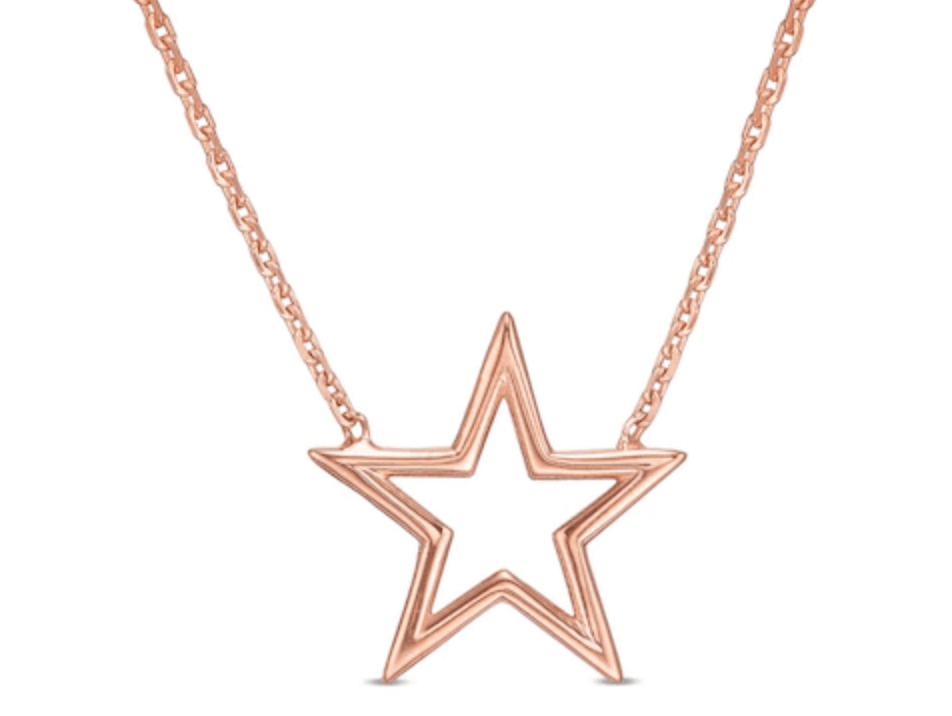 This mini star necklace is playful and versatile. Offered by Zales, one of the companies under Signet Jewelers, this necklace features a 16-inch cable chain and polished star outline pendant, all crafted in 14K rose gold. The look is polished and excellent for casual outfits. Priced at around $379; Buy Here.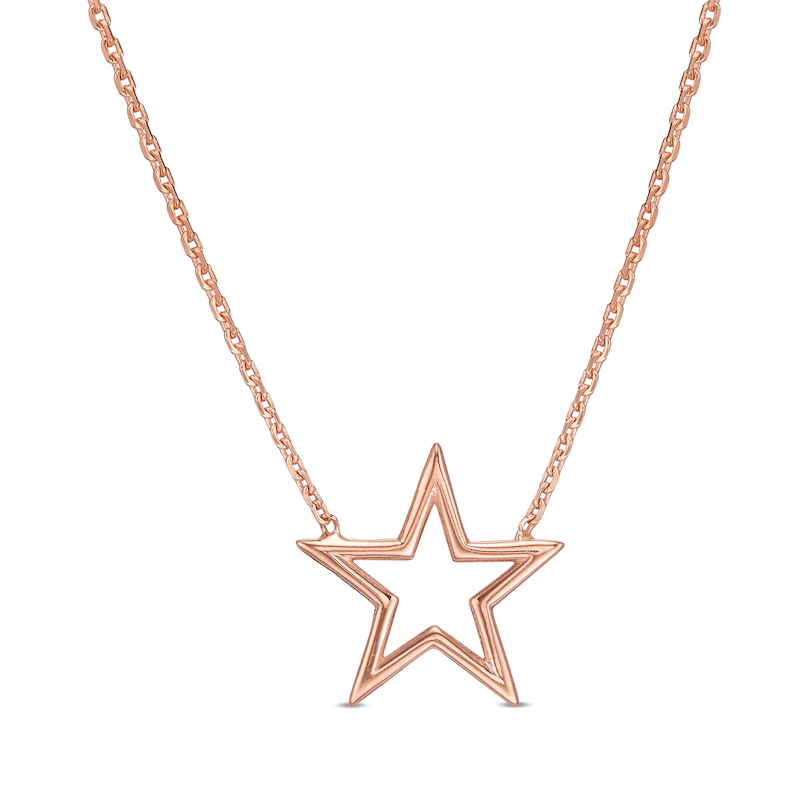 Mini Star Outline Necklace | Zales
This miniature polished star-shaped outline necklace fashioned in 14K rose gold is centered along a 16.0-inch cable chain, with a 2.0-inch extender, that secures with a lobster claw clasp.
Check Price
We earn a commission if you make a purchase, at no additional cost to you.

Frequently Asked Questions
Question: What necklaces symbolize a new beginning?
Answer: A new beginning is often symbolized by a dove. The symbol of the dove is driven from Christian scripture and represents God's love, protection, and hope for a fresh beginning after loss. But star necklaces can also represent a bright future, and thus a new beginning. For instance, a shooting star necklace may represent both a past accomplishment, as well as hope for a bright future. 
Question: What does the sun necklace symbolize?
Answer: Sun necklaces, like star necklaces, are meaningful jewelry that's currently trending. A sun necklace can symbolize life, energy, optimism, clarity, and confidence. Sun also represents power and everlasting presence. In some religions and cultures, it has an association with a higher power. Sun and star motifs together work both as sources of light and hope. They may also represent unity and the cycle of life itself. 
Question: What do the colors of a mood necklace mean?
Answer: Mood necklaces are a trend that goes in and out but is always a playful touch to any outfit. Colors react with your body temperature. Light blue represents a state of relaxation but charged emotions, while dark blue is a body at ease. Purple represents romantic passion or happiness, red represents some form of heightened emotions, pink represents relaxation and contentment, green indicates nervous energy, as does amber and gray. Black symbolizes some form of negative emotions.
Question: Are mood necklaces waterproof?
Answer: Mood necklaces and rings are both not waterproof. Since these necklaces react to changes in temperature and moisture, such exposure can impact the necklace's ability to change. Most of the time, the necklace will be stuck at one color– often black– after significant water exposure.
Final Thoughts 
Star necklaces are dazzling at first glance. At their best, they're also meaningful and can become a new go-to necklace– not just for style– but for comfort. For that reason, I recommend spending a little more on high-quality necklaces that will last. 
Are you on a budget and want a star necklace but don't want to spend quite as much? You can shop for casual star necklaces on Etsy here. 
| Product Image | | Primary Button |
| --- | --- | --- |
| | | |
| | | |
| | | |

Further Read: