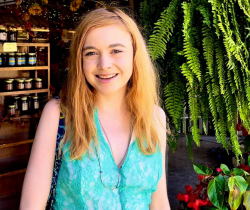 Latest posts by Erin Jamieson
(see all)
Gemstone necklaces may be elegant, and silver necklaces iconic, but there's something to be said for a unique style that expresses your personality. Maybe that's why in 2021, ideas are popping up all over social media for unique styles– including shark tooth necklaces.
Whether you pay attention to them or not, the Golden Globes are always a great time to catch some of the latest design trends. But while you'd expect diamond necklaces and designer gowns, it was 90's accessories that created a buzz. 
The 2021 Golden Globes kicked off with the typical designers: Oscar de la Renta, Valentino, and Gucci, among others. But amongst those trends were 90s accessories. A velvet choker stole the show– and now fashion experts are recommending similar throwback looks– including shark tooth necklaces.
Shark tooth necklaces are perhaps one of the most unexpected trends of 2021– and they aren't for everyone. But they do fit into a larger trend I've been writing about in the last several months.
Accessories are more bold and unique in 2021, with Americans less and less afraid to go beyond the expected. Whether you consider them a throwback to the 90s or a modern statement, shark tooth necklaces are certainly unique.
To help you select the best shark tooth necklace, I'll tell you what you need to know about the style. My tips will help you decide if a real or faux necklace is the best option– and I'll even give you some of my favorite ideas. 
At a Glance: Unique Shark Tooth Necklaces

What's Special About Shark Teeth?
Shark teeth have long fascinated humans for their power and unique abilities. Shark teeth are triangular and can tear through prey. The serrated teeth are either needle or plate-like, depending on their prey. The sheer number of teeth is fascinating as well, as sharks have around 15 rows of teeth on average, while the bull shark has 50 rows. But shark teeth have also become symbolic for many people. 
What is the Significance of the Shark Tooth Necklace?
Shark teeth, naturally, are seen as a sign of strength and protection. This stems from Hawaiian lore. A myth tells the story of a man who battled a sea god, triumphed, and was seen wearing a shark tooth around his neck. Shark teeth are also worn to honor heritage and family members. 
Why Do Surfers Wear Shark Teeth?
Today, a shark tooth necklace is heavily popular in surfing culture and also as an accessory for boho styles. Surfers wear shark teeth as a way to showcase their identity and love for the water. Some believe that wearing a shark tooth necklace brings not only protection but also good luck as they surf. 
How Can You Buy a Shark Tooth Necklace?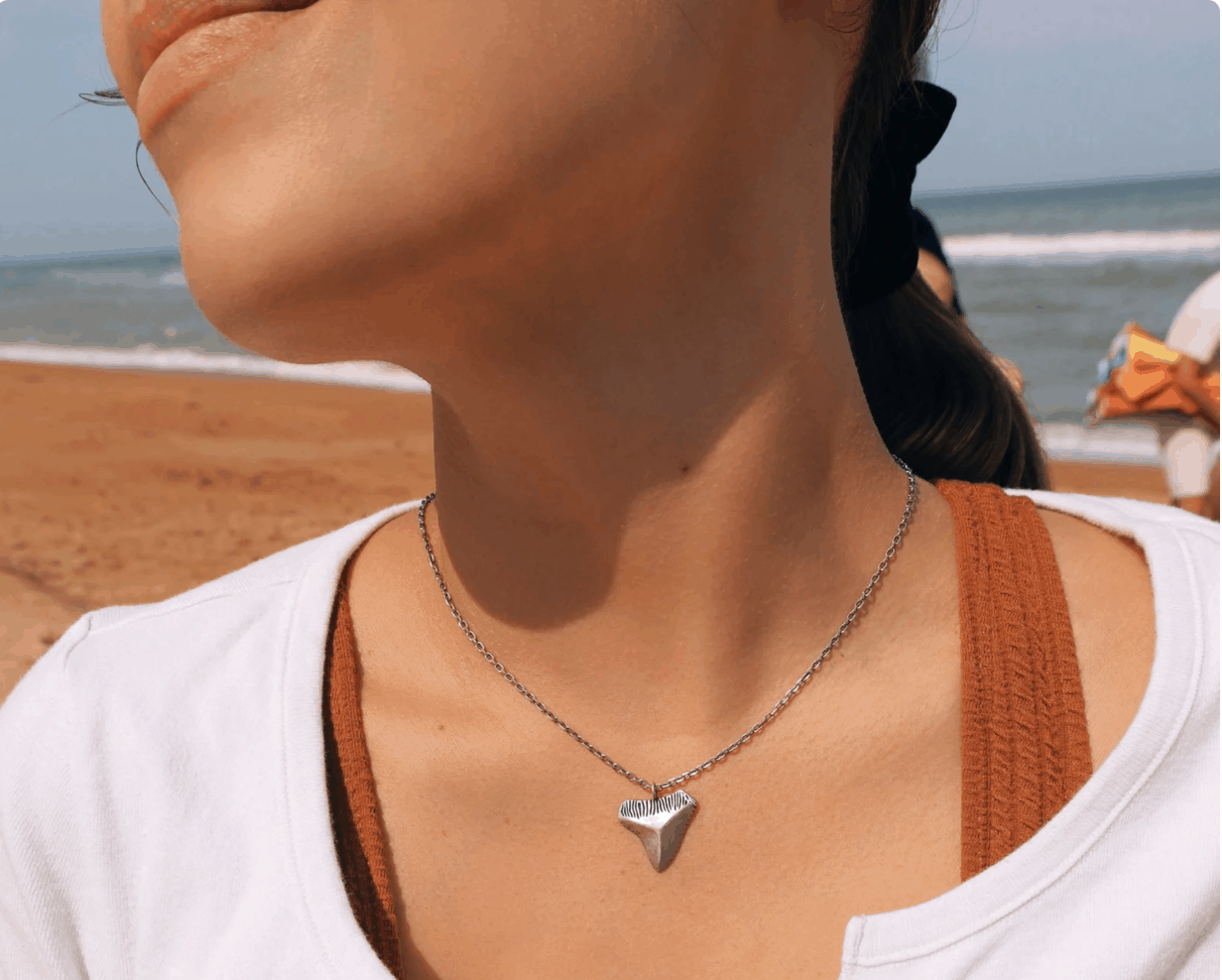 Buying a shark tooth necklace is tricky because there's more to consider than you might think. From real to fossilized to faux shark tooth necklaces, here's what you need to consider before buying. 
How Much Does a Shark Tooth Necklace Cost?
How much a shark tooth necklace costs depends on if it's genuine or not. A real shark tooth necklace can cost a few hundred dollars for the pendant (tooth). A faux shark tooth necklace can cost as little as under $15 for the entire necklace, faux tooth included. 
How Can You Tell if a Shark Tooth Necklace is Real?
The best way to determine if a shark tooth is real is simply by price (see above). If the necklace is cheap, chances are it's a stimulant. 
Is a Real Shark Tooth Necklace Ethical?
Some real shark teeth necklaces are ethical, while others are not. Most of the time, fossilized shark teeth necklaces fall under the umbrella of "ethical." Sharks, like humans, lose teeth and grow new ones over their life– only even more so. The problem is that they're tricky to find, and often, a fresh, natural shark tooth comes from companies or shops that kill a healthy shark for their teeth. That's why it's safer to opt for a fossilized shark tooth necklace.
That said, of course, that doesn't mean all non-fossilized, real shark teeth necklaces are not ethical. You should investigate the company and see if they explain their sourcing if the teeth aren't fossilized. Typically, your biggest issues will run into more pop-up, potentially 'under the table' shops. Certain states in the United States make it illegal to kill most sharks– but the species protected and to what degree varies. 
How Can You Tell If a Shark Tooth Necklace is Fossilized?
If you are looking for a fossilized shark tooth necklace, the good news is that it's easy to tell. Most fresh/ modern shark teeth are white, and they typically are fairly plain. Fossilized teeth are of different colors. Another advantage to fossilized teeth, aside from ethical concerns, is that they're more durable– other teeth tend to be brittle. 
What Should I Look For in a Shark Tooth Necklace?
Ultimately, you need to decide if a real or faux shark tooth necklace is right for you. When I recommend gemstone necklaces, I almost always recommend genuine gemstones. In all the accessories I review, I try to aim for the most durable and finest quality– but I see a shark tooth necklace as a bit different. 
A fossilized shark tooth necklace should come from a reputable company with a history of sales and some description as to its philosophy. Faux necklaces aren't valuable, but they may be the best option for some who feel wary about wearing true shark teeth. The key is to decide what fits your budget and your comfort level. Shy away from any genuine shark teeth necklaces that don't give any information about the shark teeth. 
What Materials are Best for a Shark Tooth Necklace?
Shark teeth necklaces are often worn casually and in the water– which changes the types of materials you'd look for vs fine jewelry. If you do plan to wear your necklace in the water– genuine or faux– make sure the materials used can withstand water.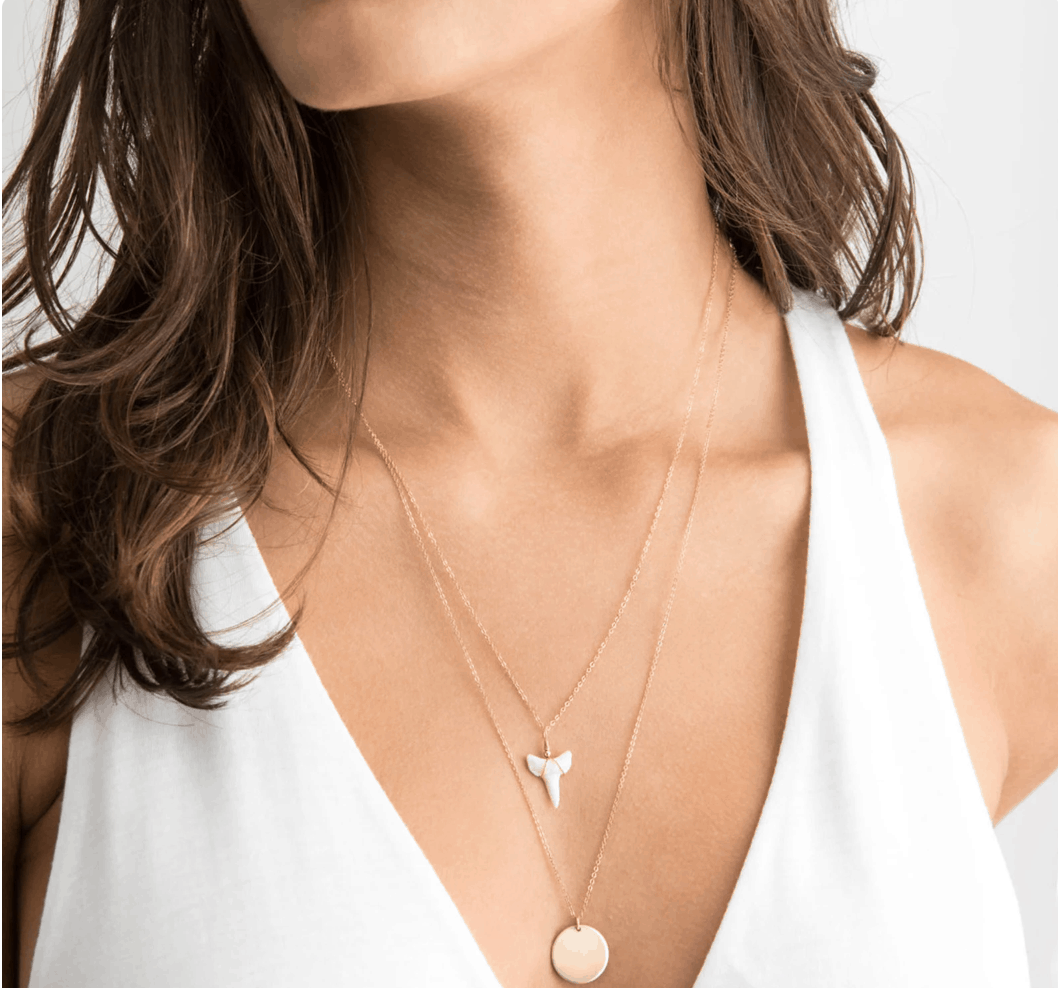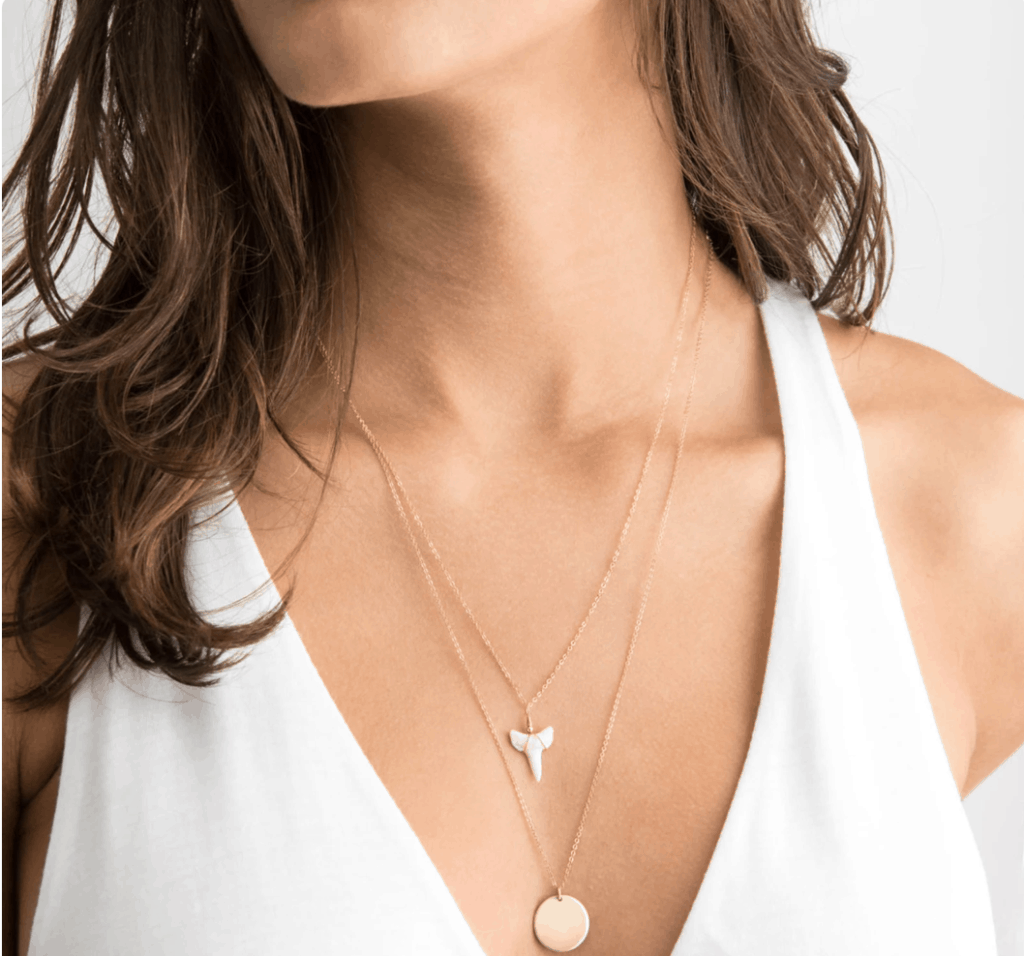 For the Water
Water-resistant fabrics include nylon, vinyl, rubber, latex, ELS cotton, and coated fabrics. Stainless steel, as well as fine gold, will hold up, though prolonged exposure can reduce quality. You may not be able to find a necklace that lasts forever for wear in the water but shies away from metals that easily wear and tarnish. That includes silver, base metals like copper, and any gold plating. If you plan to wear your necklace in the water, I also would lean towards a faux shark tooth necklace. That way, you aren't losing anything valuable– and faux necklaces tend to be lighter. 
For the Land
If you don't plan to wear your shark tooth necklace for surfing or heavy water activities, you can opt for a casual corded necklace or a fine jewelry one for a unique statement. For fine jewelry, opt for 10K gold or up, as well as platinum or palladium. I also love stainless steel as a lightweight material that can be worn in and out of water– but these can be more challenging to find. 
Shark Tooth Necklaces: My Picks
Here are my picks for unique shark tooth necklaces. My picks include both faux and real shark tooth necklaces, from casual to formal. For each necklace, my goal was to provide a great price to value ratio, all from sellers with great reviews or a great company message. This variety should provide ideas for surfing, casual boho, and even dressy looks. 
Faux Shark Tooth Necklaces
Faux shark tooth necklaces are a budget-friendly option and maybe a smart move if you plan to wear your necklace at the beach or even for surfing. While you can find faux shark tooth necklaces from Amazon or other large sellers, I love instead heading to Etsy to support small and independent artists and creators. My picks are mostly priced under $20, with one exception. I've shied away from silver or metals like copper as well as gold plating. Instead, I've opted for lightweight suede, resin, faux leather, and beads for unique looks that don't tarnish as easily.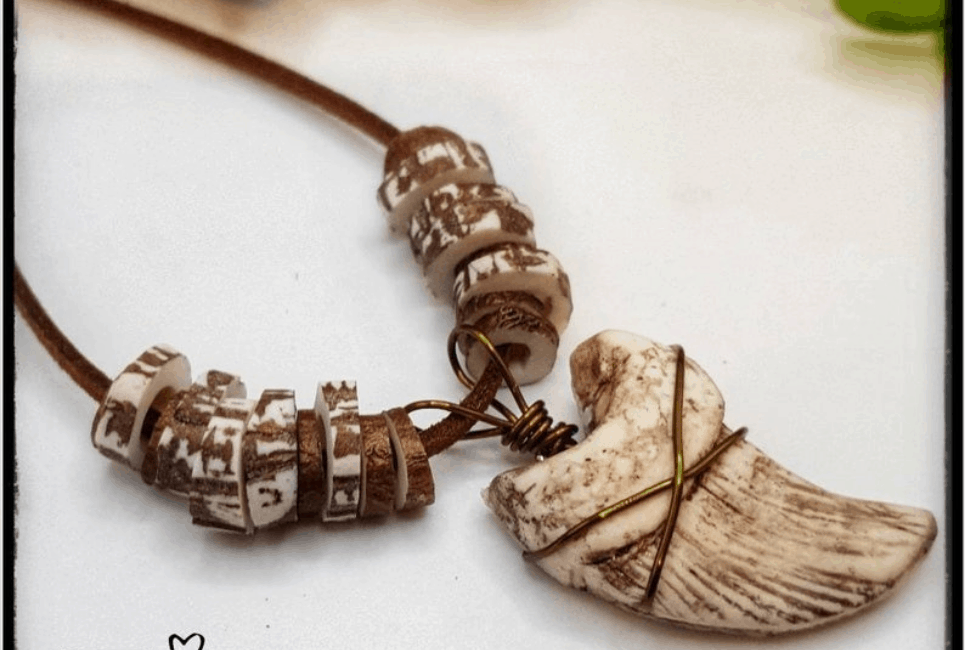 This boho necklace is made with polymer clay. Properly crafted polymer clay can be both lightweight and durable. It's also water-resistant, though too much water can make it more brittle, so dry afterward. The intricate details on this necklace are truly one of a kind and the perfect accessory for a beach or boho outfit. Priced at $12; Buy Here.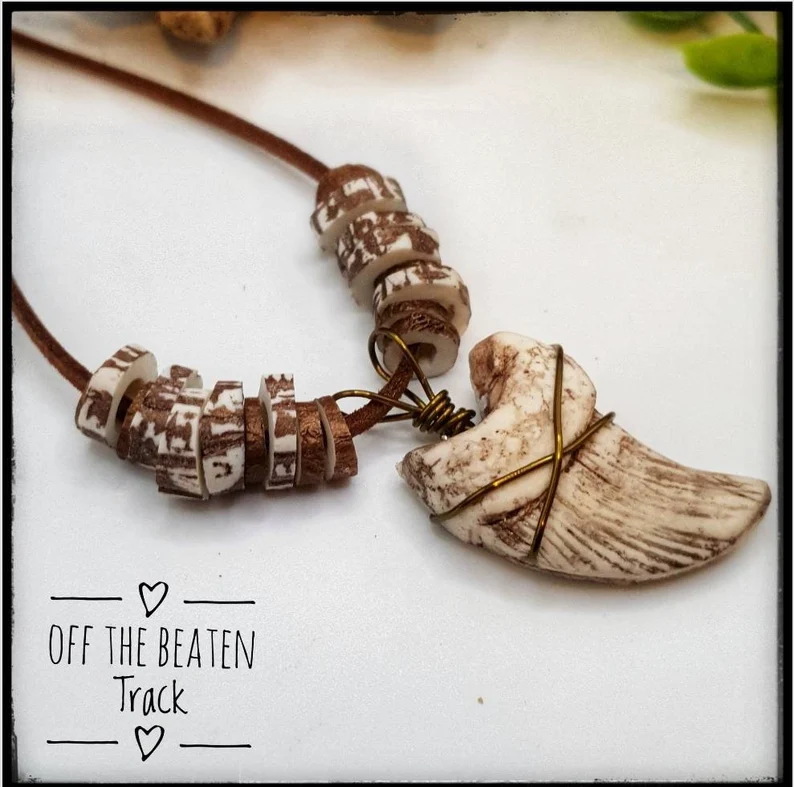 Mens Sharks Tooth Necklace | Etsy
A striking necklace for men, a faux shark's tooth is wire wrapped and hangs from a suede cord with matching beads.
Check Price
We earn a commission if you make a purchase, at no additional cost to you.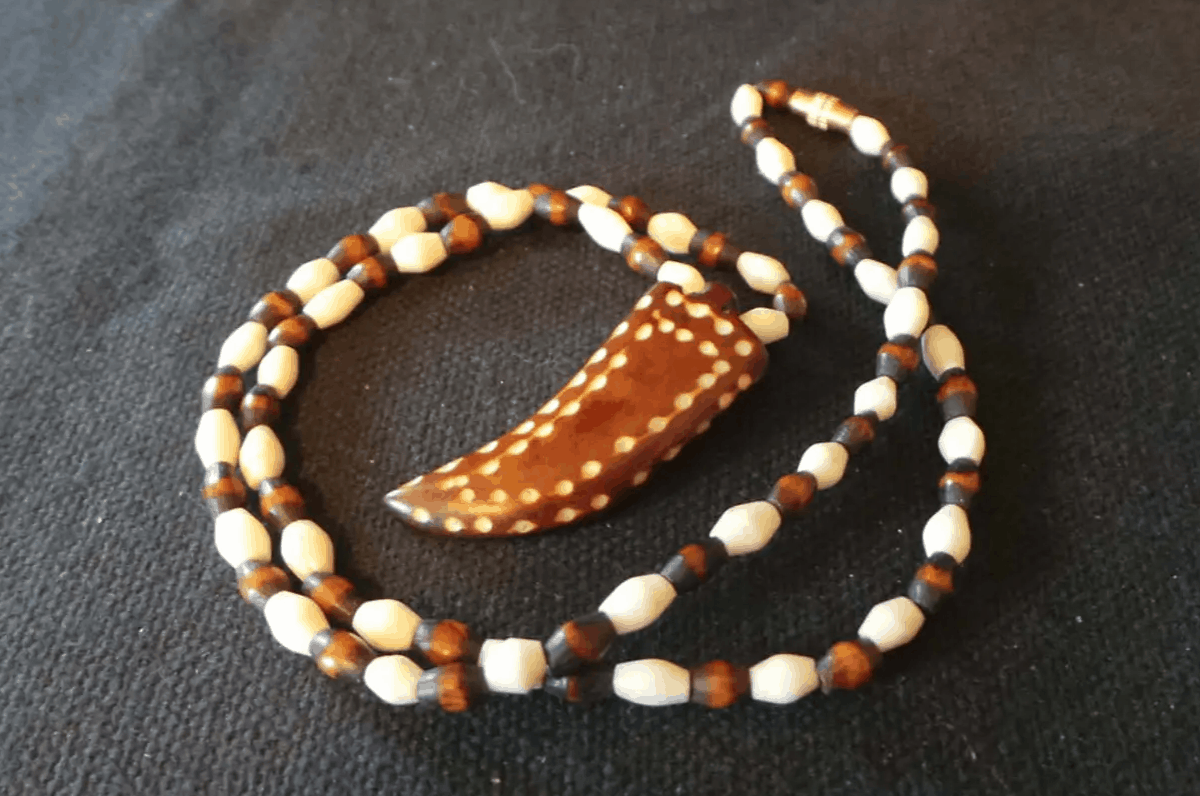 This necklace is one of my favorite picks– and it's only priced at around $5.50. The handmade necklace features wood beams with plastic connectors in cream and brown hues. The faux tooth pendant and beaded style is a classic look that'll stand apart from other shark tooth necklaces. Since it's mostly wood, it'll be durable, but I wouldn't soak it in water. Buy Here.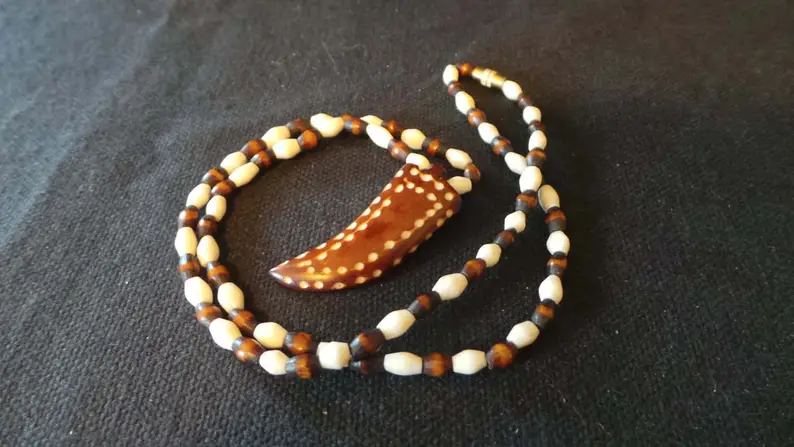 Vintage Faux Shark Tooth Beaded Necklace | Etsy
Vintage beaded necklace with faux sharks tooth pendant. Pendant is made from carved wood. Brown wood and white plastic bead necklace. Barrel clasp. Measures 10 inches long.
Check Price
We earn a commission if you make a purchase, at no additional cost to you.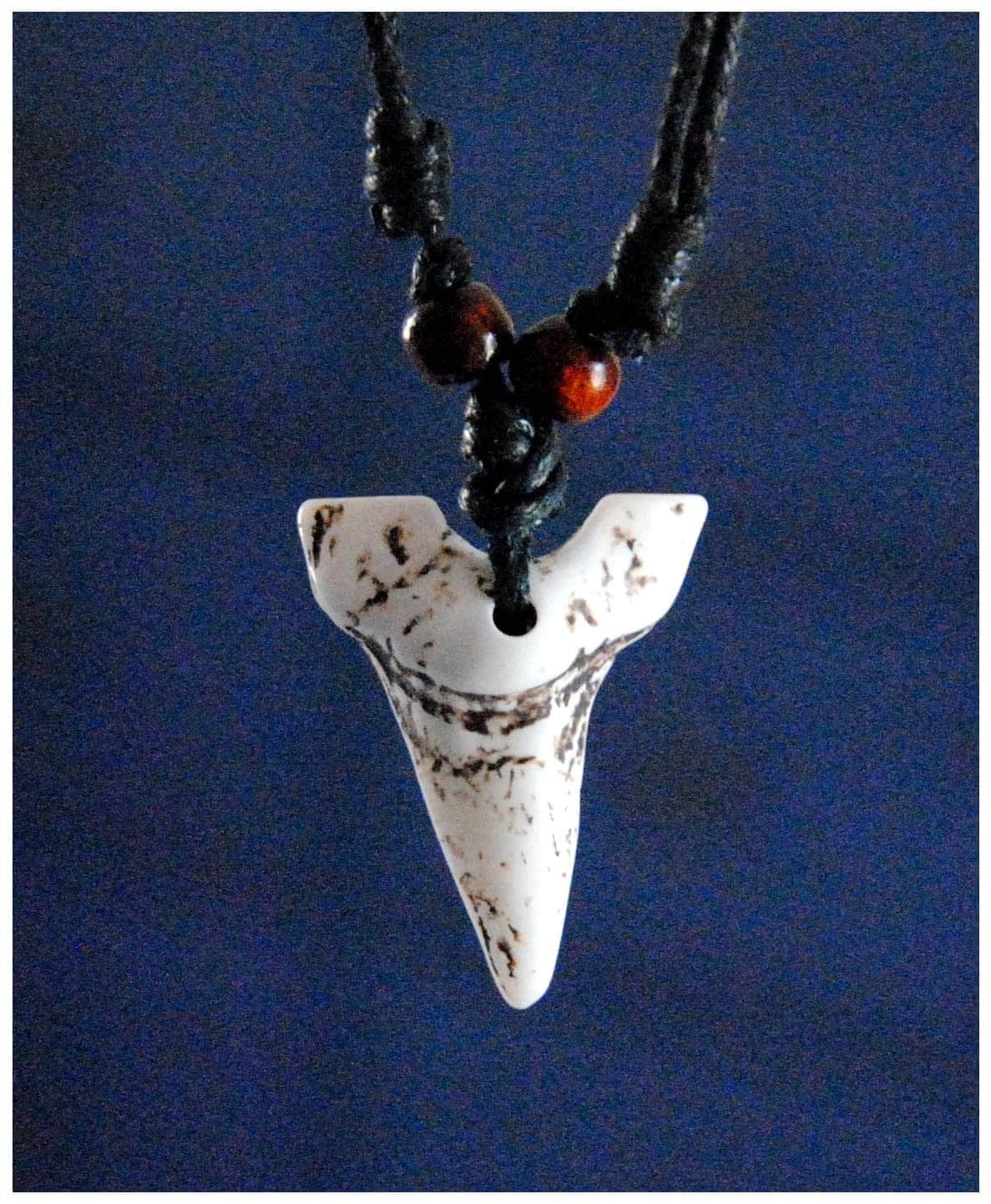 For a carefree shark tooth necklace for a day surfing or at the beach, consider this handmade style, retailing for around $14. The ceramic pendant is an excellent replica of a fossilized shark tooth, set on a simple black vegan leather cord. Comfortable to wear and versatile; Buy Here.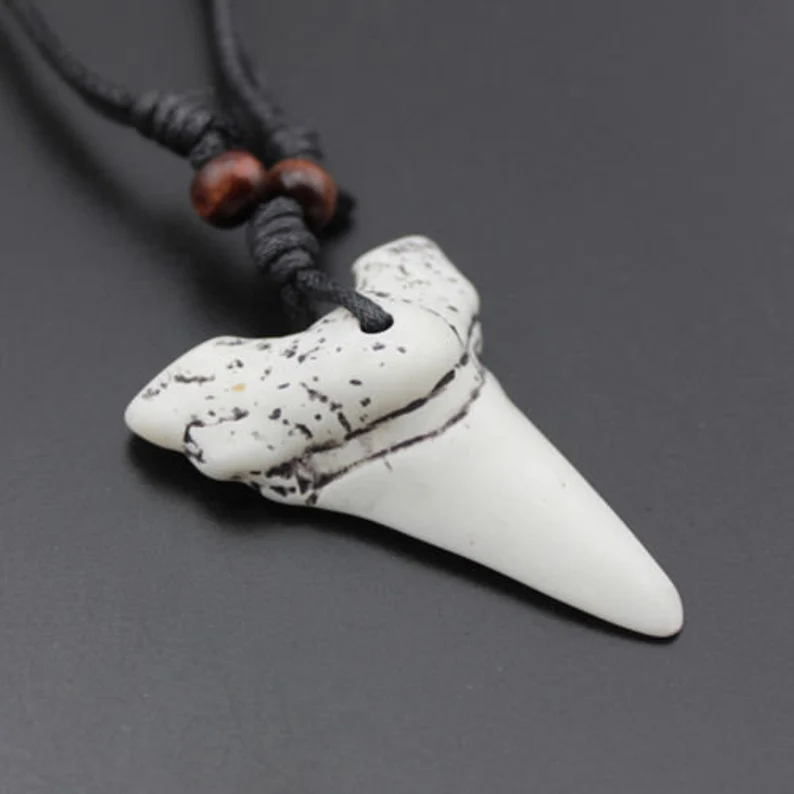 Faux Shark Tooth Pewter Necklace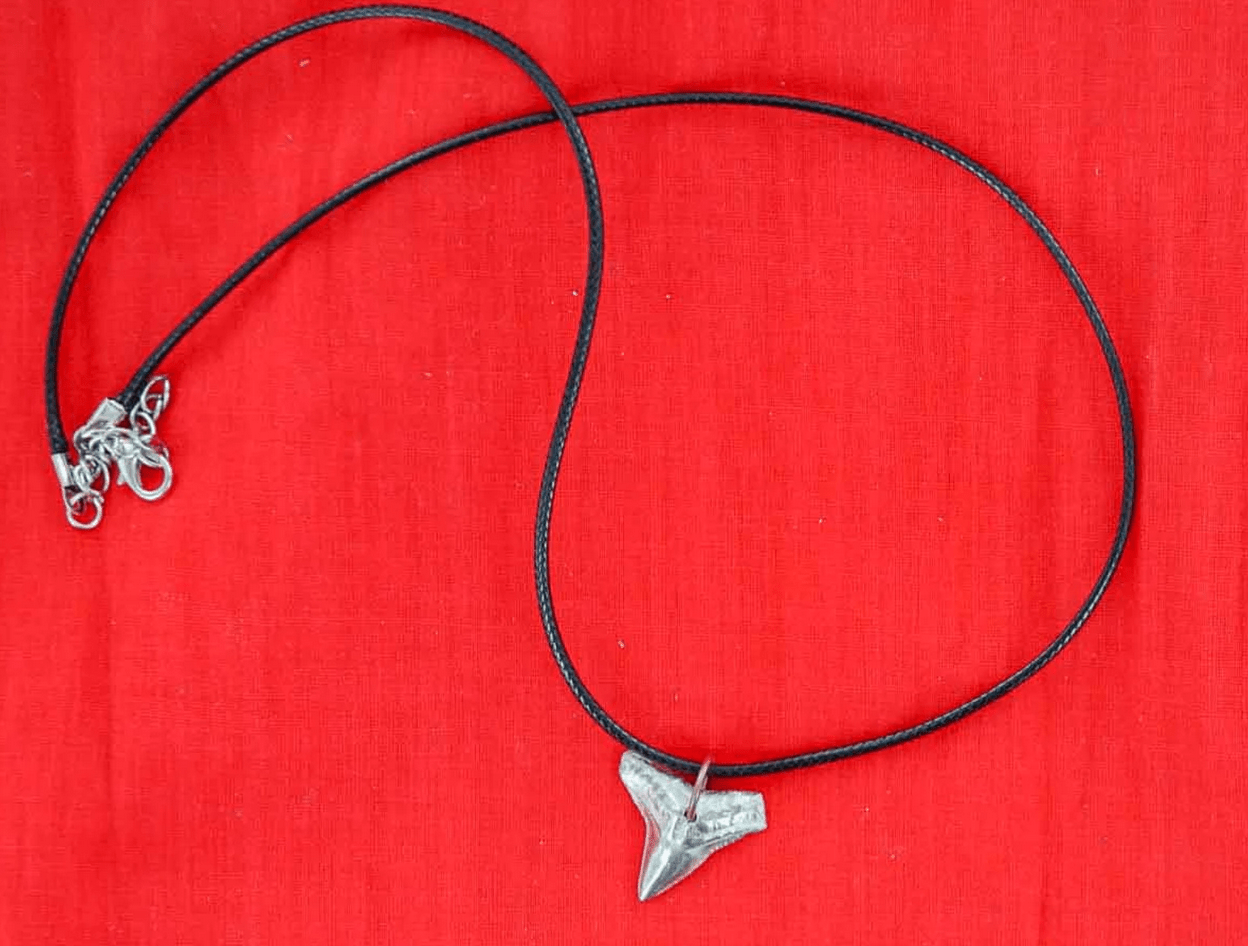 Pewter is an excellent choice because it gives off a silver appearance but doesn't tarnish the way silver does. This handmade faux shark tooth necklace can be worn almost anywhere. The pendant is set on a faux leather chain and secured with a lobster clasp. Around $19.99.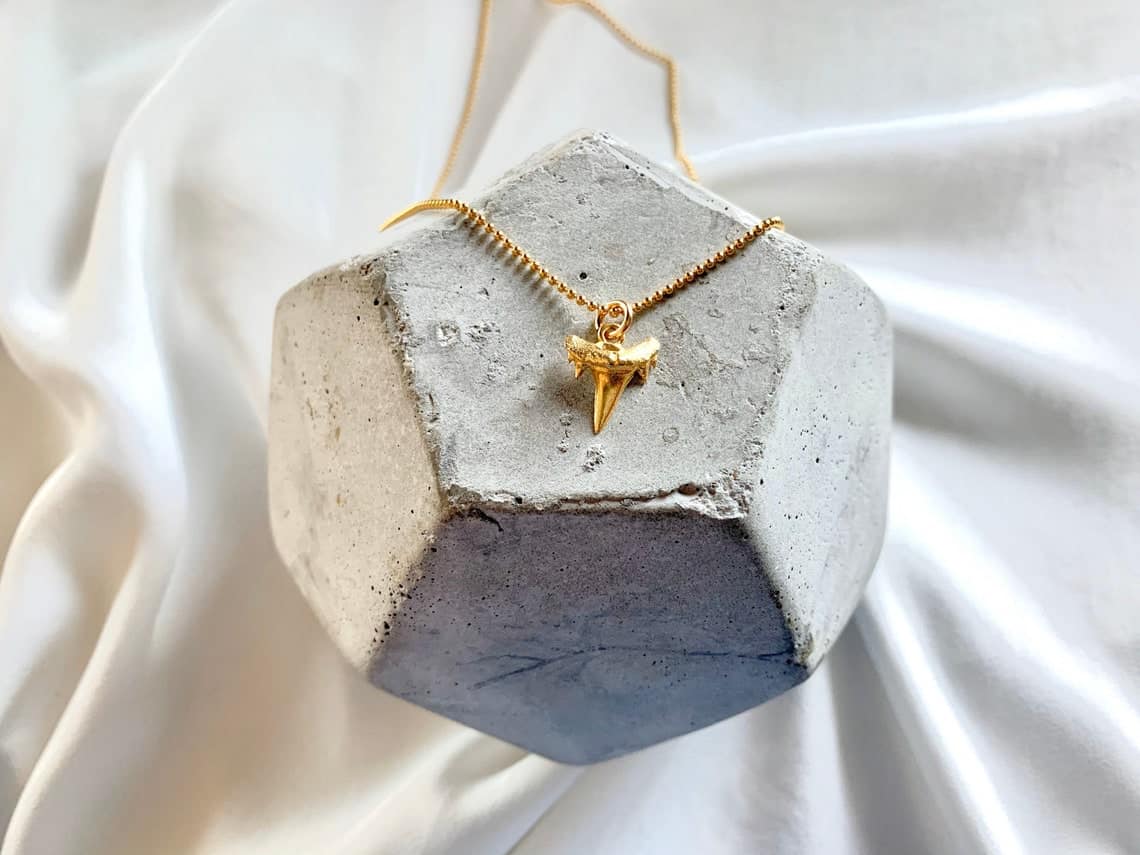 Looking for a truly unique take on a faux shark necklace? This necklace is crafted in glossy 14K gold vermeil. Gold vermeil is a form of gold plating– but it can last you more than twice as long, with a thicker, higher quality form of plating. Wear this as a fun accent outside of the water. Priced from $45 to $51; Buy Here.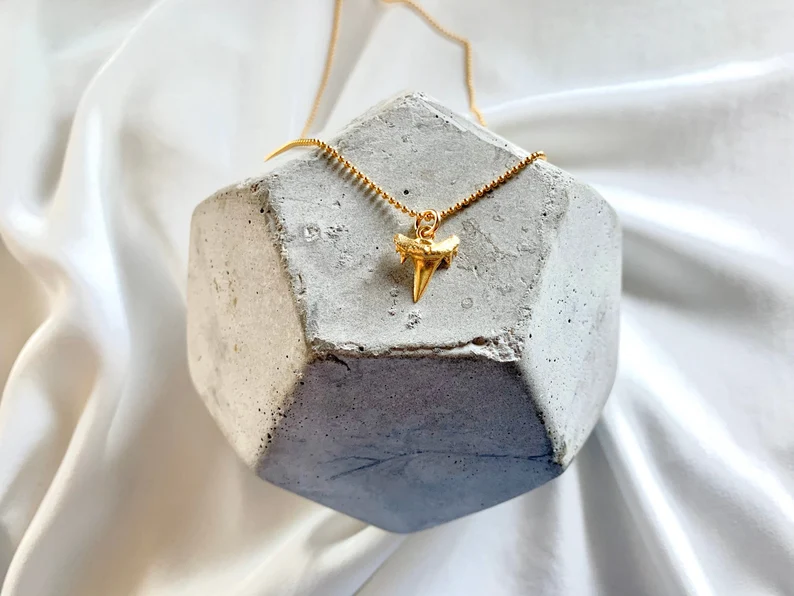 Real Shark Tooth Necklaces
Real shark tooth necklaces are quite abundant– from modern ones to fossilized versions. While you can find many real shark tooth necklaces on Etsy, I prefer to look into companies that have a track record and a specific statement on the shark teeth they're selling. However, your best bet either way is to opt for a fossilized shark tooth if there isn't much information. Only buy from secure sites. With a little digging, here are my favorite collections.
Buried Treasure Fossils- Shark Tooth Necklaces/ Pendants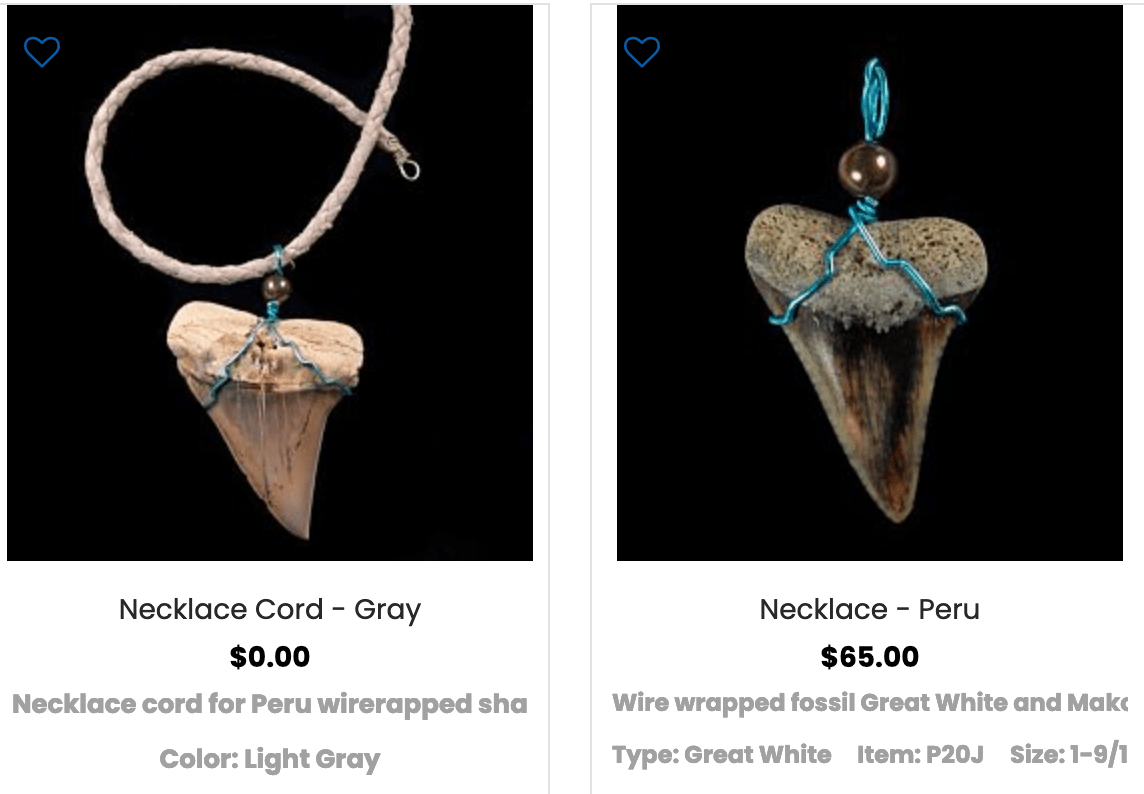 This site is certainly a treasure trove for shark tooth pendants. These authentic shark teeth are all fossilized, meaning you don't have to stress over ethical concerns as you might with other shark teeth. Gray Greaser, the owner, started selling fossils in 2000 and searches for the finest quality possible. The site is accredited by the Better Business Bureau and has high privacy and security standards. 
Choose from 78 shark pendants that are all of excellent quality. Every pendant is wire wrapped and tells you the origins of the tooth. The sheer quality and selection– with great transparency- is impressive. Pendants start at as little as $30 for small shark teeth from Chile, up to $295. All teeth also indicate the quality, so you know exactly what you're buying. Shop Here. 
MegaTeeth Shark Tooth Necklaces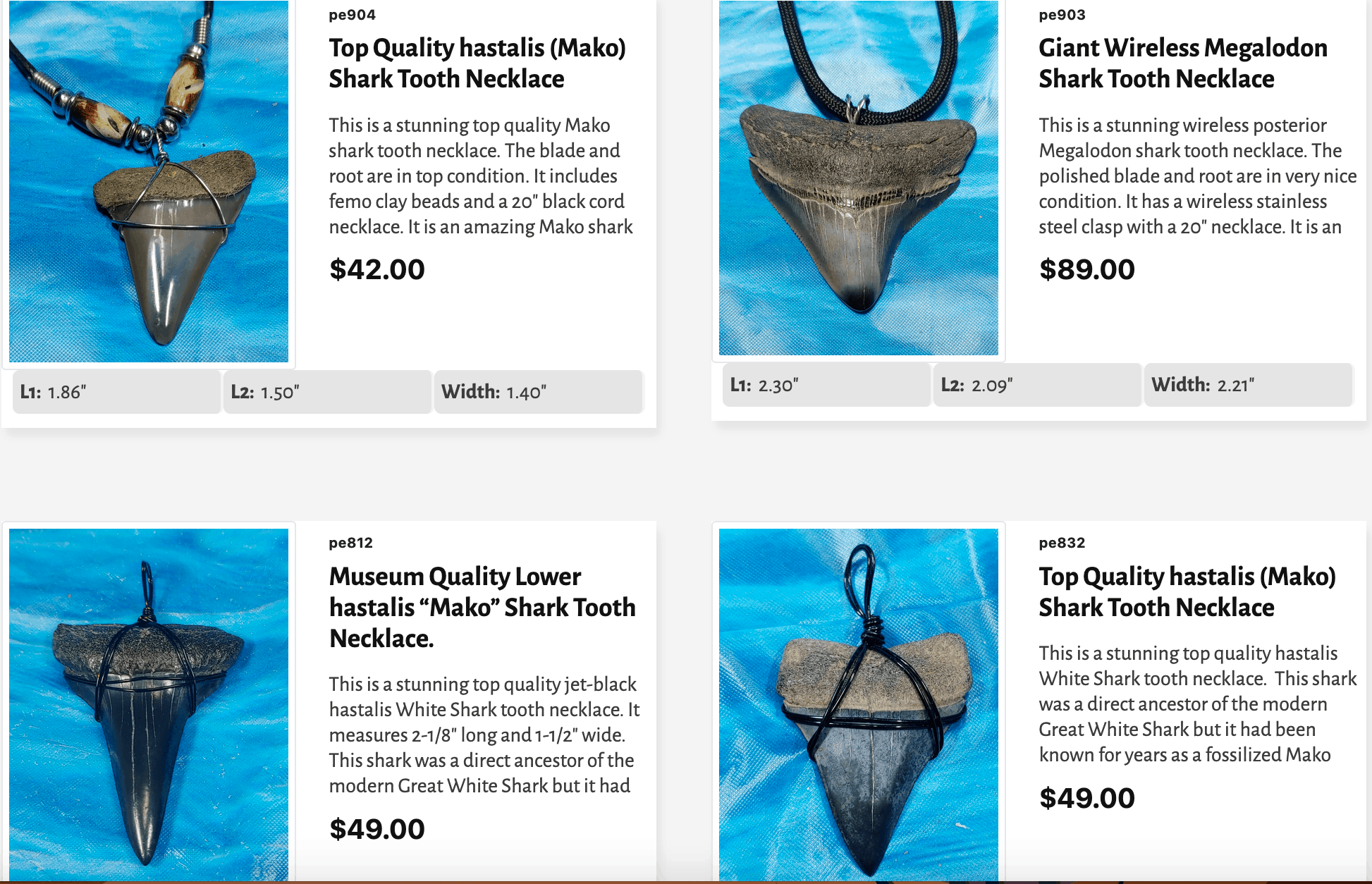 Another excellent source for genuine, fossilized shark tooth necklaces is MegaTeeth. Quirky name aside, this site is well rated by consumers and features genuine shark teeth with the transparency offered by Buried Treasure Fossils.
Bill Eberlein, the founder of MegaTeeth, also began selling fossilized shark teeth out of passion. A scuba diver who collects the teeth himself or with friends supplies information about the quality, color, and where each shark tooth was found. Every tooth or necklace comes with a certificate of authenticity, a display stand, and a complimentary magazine about Mr. Eberlein's diving adventures. 
Necklaces are priced from $24 to $89; Shop All Current Shark Tooth Necklaces Here.
Frequently Asked Questions
Question: Are Black Shark Teeth Rare?
Answer: Black shark teeth are more common because they're likely fossilized and have changed color with age. 
Question: How Do you Put a Shark Tooth on a Necklace?
Answer: If you are so lucky as to find a stay shark tooth, or if you buy a faux shark tooth pendant, you can craft your necklace. The easiest way to do so is to wrap the tooth with wire to form your pendant, then hook that pendant onto a corded necklace. Click Here For a Tutorial. 
Question: What is the Biggest Shark Tooth Ever Found?
The biggest shark tooth found was likely in March 2021 by a fossil hunter in South Carolina. The impressive tooth weighs three pounds and is 6.45 inches long. 
Final Thoughts & Alternatives
A shark tooth necklace is unique and meaningful to many. At the same time, of course, this type of necklace isn't for everyone.
 If you love the idea of a necklace that's symbolic of the sea but aren't sure about a shark tooth necklace, you could also opt for puka shell necklaces. Puck shells are native to Hawaii and are also symbolic, usually worn with boho outfits and swimwear outside of the ocean. 

Further Read: