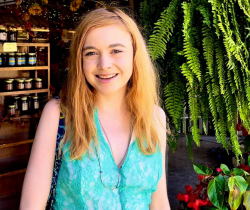 Latest posts by Erin Jamieson
(see all)
If you're looking for a pink necklace, you may think about gemstones like sapphires, morganite, or garnet. But for those who also believe in healing necklaces, rose quartz makes for an elegant and meaningful pick.
Rose quartz has been used for decor and ways to evoke different moods within rooms. But now, celebrities and everyday Americans alike are opting to wear the stone as a necklace– both for its elegance and its unique symbolism.
And now fine jewelers are dipping into the trend. One of the most recent and surprising entries? Jacquie Aiche, a US-Egyptian luxury jewelry company. Their most recent campaign stars Josephine Skiver, the 28-year old Danish Victoria's Secret model. This is not the first time that the designer has collaborated with well-known models and celebrities. Past influencers who donned the brand include Selena Gomez, Rhianna, Katy Perry, and others.
But what makes Jacquie Aiche's collection unique is that not only is it elegant, but it combines precious metals and diamonds with less conventional raw materials, like rose quartz and moonstone. 
While rose quartz is becoming more popular, is this unconventional but elegant option a good choice for you? I'll tell you everything you need to know about rose quartz necklaces, as well as my picks for 2022. 
What is Rose Quartz Good For?
Rose quartz is used for aesthetic purposes, but also some believe it has healing purposes. While there isn't scientific evidence to back up the healing properties of stones, for many it's a meaningful touch–and a big part of the reason they choose rose quartz for a necklace or bracelet. 
Some also claim it helps heal the heart and promote circulation. Again, these claims are not backed up with evidence, but they are meaningful to many who wear rose quartz. 
What Kind of Energy Does Rose Quartz Have?
Rose quartz is a hard, crystalline gemstone made out of silica and one of several that is used in Feng Shui jewelry. It's said that they have the Heart Chakra energy. This is thought to provide both emotional and physical healing. Forgiveness of oneself, acceptance, and self-love are among the main purported healing properties of rose quartz.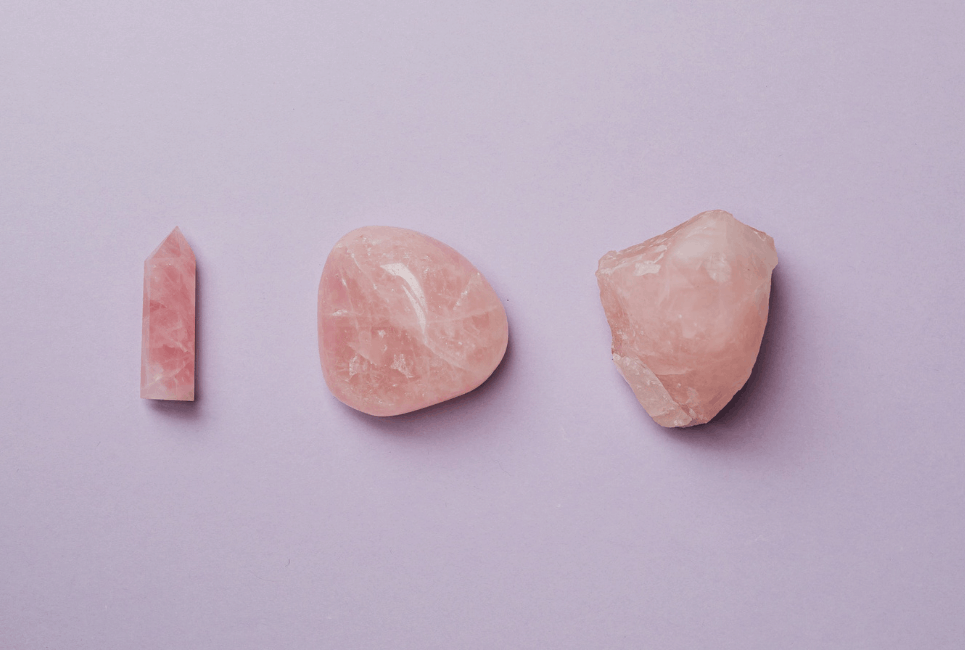 How Do You Use Rose Quartz Crystal for Healing?
People use rose quartz in different ways. Some wear it, in the form of a bracelet or necklace, while others place it within their homes as decor. The belief is that raw/ natural rose quartz should be situated in the southwest corner of the bedroom to attract romance, and elsewhere for healing. 
What Does Rose Quartz Attract?
Rose quartz is said to attract positive energy, but also romance. In fact, rose quartz has been dubbed the love stone. Wearing rose quartz is believed by some to improve your chances for love life, often to attract someone new. 
How Do You Recharge Rose Quartz?
Those who believe in rose quartz having healing energies also believe that those energies need to be recharged occasionally. This is traditionally done by soaking rose quartz for 24 hours in a saltwater solution. However, others place quartz in sunlight or moonlight. This is preferable, as the second method won't damage your jewelry in any way.  
Does Rose Quartz Make Good Jewelry?
Symbolism aside, it's important to understand how to wear rose quartz– and how well it will last. Rose quartz is available in both raw and polished forms and exudes a rose pink, romantic, and elegant hue. It's unique and comes with pros and cons vs other popular pink stones. 
How Much Does a Rose Quartz Necklace Cost?
Genuine rose quartz starts at roughly $100 per carat– more expensive than costume jewelry, but also more affordable than many gemstones. You can expect to pay an average of $80 to $400 for rose quartz necklaces, though some can be much more expensive if they add diamonds. The metal used, as well as the craftsmanship, also plays a role. 
Is Rose Quartz Durable?
If you plan to wear your necklace regularly, there are a few things you should know about rose quartz. Rose quartz has no cleavage, meaning it's hard to break on impact. At a hardness rating of 7 out of 10, it's durable enough for everyday wear, yet soft enough that it can accumulate minor surface scratches even with gentle use. As a whole, the Gem Society rates rose quartz as a very wearable stone. It may not be as hard as some other stones, but it's generally going to last a while.
Is Rose Quartz Shiny or Dull?
Another alluring factor is that, when properly polished and with a great cut, rose quartz can present a great shine. This adds to the elegance and allure of the rosy hue. 
Can Rose Quartz Be Wet?
Another plus is that rose quartz in itself will not tarnish or wear from getting wet. The only reason I'd recommend against soaking it for 24 hours is that some metals for a rose quartz necklace may not fare as well. But you don't need to worry about it becoming damaged if you're caught out in rain. 
 How Do You Pick the Best Rose Quartz Necklace?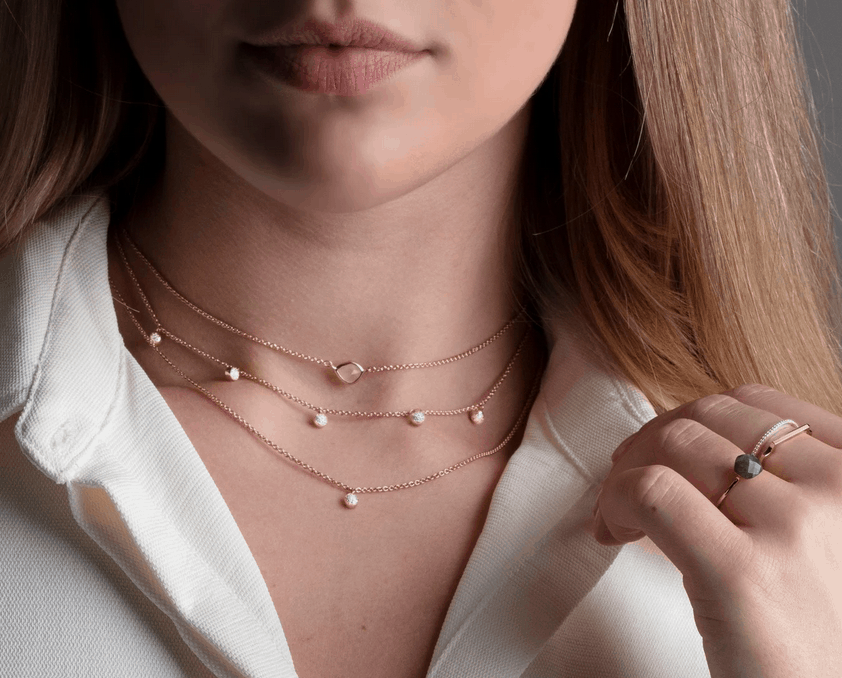 Selecting the best quality quartz necklace is trickier than you might think. The problem is that there are many synthetic options for sale that are both lower quality and not nearly as elegant. But just a little bit of information can help you find the best rose quartz necklace for your money.
How Can You Tell If Rose Quartz is Real?
First, be wary of fake quartz necklaces. Keep in mind that genuine quartz has a bit of shine and luster. Anything that is very dull may not be genuine quartz. 
You should also not be able to see any air bubbles– though other imperfections are common. Finally, check the seller's history. I personally recommend buying rose quartz necklaces from jewelers, so you know that you're buying from a reputable seller. Even some diamond companies, such as Angara and Kay, sell rose quartz. 
What's the Best Cut for a Rose Quartz Necklace?
Look for a cabochon cut or faceting. Both are ideal for enhancing luster and showcasing the beauty of rose quartz. Other great selections include trillion cuts, round cuts, and emerald cuts. 
What Colors Does Rose Quartz Come In?
Rose quartz ranges from medium pink to light rose, with the more light and transparent colors usually the most valued. However, since rose quartz in itself is not exceptionally valuable, I encourage you to select a hue based on personal preference. Instead, focus on transparency. The more elegant and prized rose quartz necklaces have minor inclusions and are nearly transparent. 
What Else Should I Consider When Buying a Rose Quartz Necklace?
Finally, consider the overall craftsmanship of the rose quartz necklace, which includes the metals used. I typically recommend 14K to 18K gold or platinum. You might find that a rope necklace is suitable, especially if you prefer a more casual look for a raw rose quartz stone. But if you're most concerned about durability, genuine gold, and platinum, as well as hypoallergenic steel will last the longest.
Rose Quartz Necklaces: My Picks
Here are some of my favorite ideas for elegant rose quartz necklaces. I've included several necklaces from Angara, as well as one from Kay Jewelers and one from Monica Vinader. All of the necklaces are genuine rose quartz and made with precious metals, so you know you're buying a necklace that's excellent quality and worth your investment. 
These necklaces range from a few hundred to a few thousand dollars. They are not the cheapest rose quartz necklaces you can buy. I want to focus on elegant styles that won't go out of fashion and materials that will last, so long as you take care of them. I included many of my favorite cuts for rose quartz necklaces, but also made sure to include a range of styles to suit different preferences. 
Finally, some of these rose quartz necklaces are plain and sleek, while others are accented with diamonds. In all cases, gemstones and diamonds used are genuine and of reputable to excellent quality. 
Rose Quartz & Lab-Created Sapphire Necklace in 10K Gold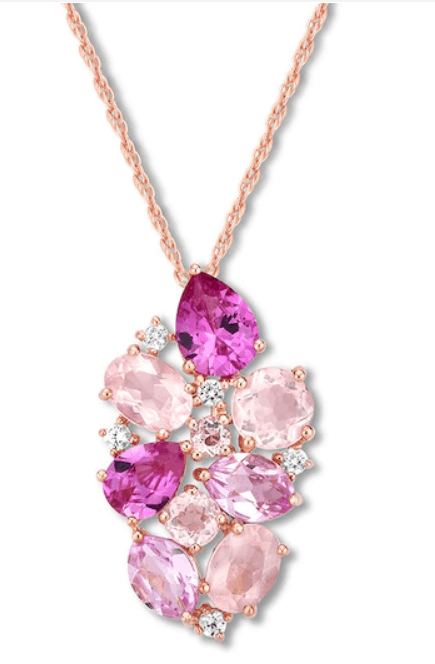 This elegant necklace from Kay Jewelers retails for $599. Rose quartz and pink and white sapphires come together in a dazzling pendant. The array of pink of white hues creates a romantic and artistic aura, complemented by 10K rose gold. 10K gold doesn't have as brilliant a luster as higher karats but it's harder and less prone to everyday wear. Buy here. 
Siren Mini Nugget Rose Quartz Necklace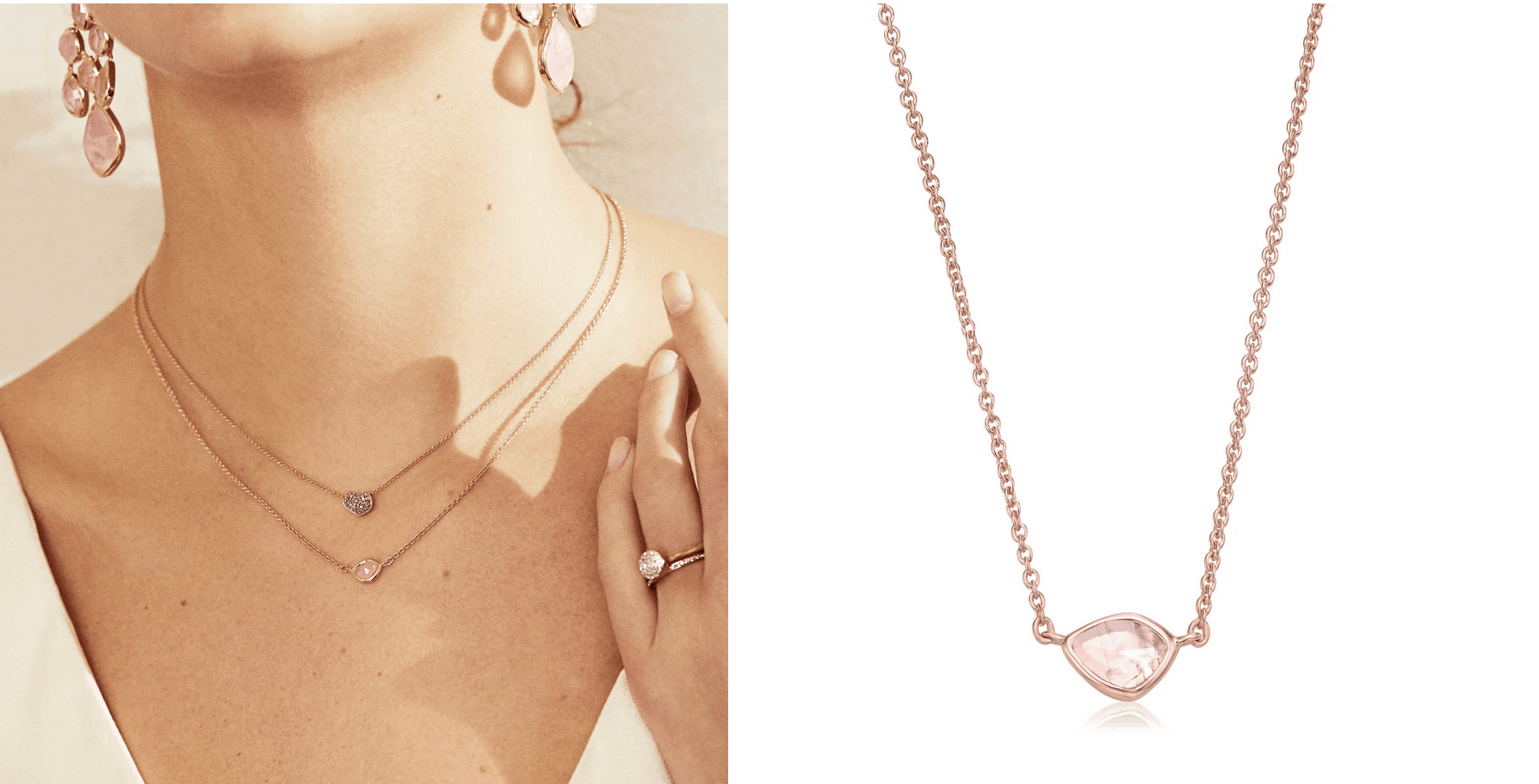 Gold vermeil typically doesn't tarnish and is a cheaper, but relatively durable option vs 14K or 18K gold. This mini nugget rose quartz necklace is priced at $175 and available with a rose, yellow, white gold finish. The metals are made out of recycled materials and the pendant contains beautiful, naturally sourced quartz. The necklace also comes with a free five-year warranty. Buy Here. 
GIA Certified Rose Quartz Pendant with Fleur De Lis Bâle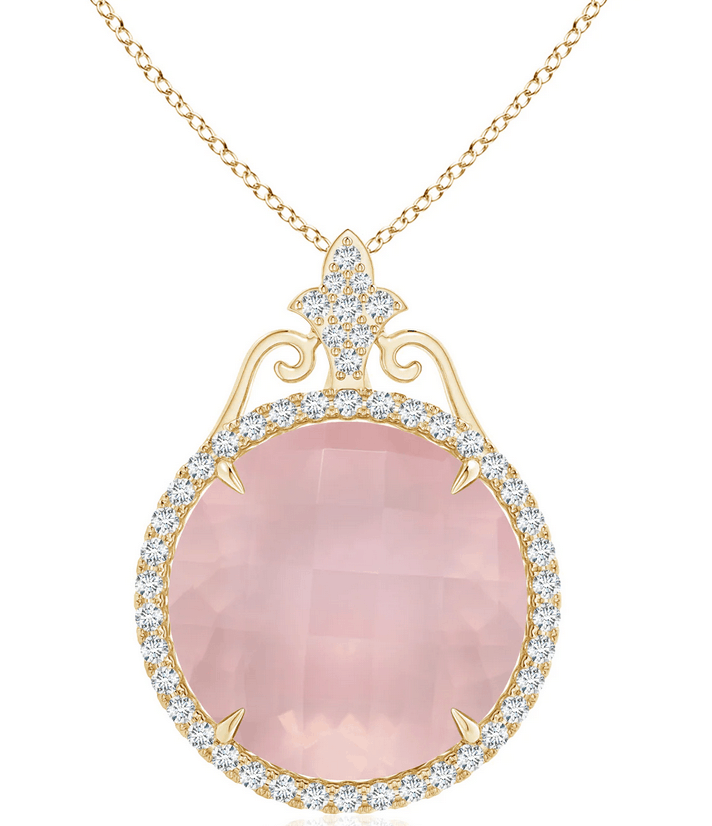 This GIA-certified rose quartz necklace is truly elegant. The breathtaking round quartz is surrounded by a halo of diamonds and accented with a diamond-studded fleur de lis bale. A criss-cross pattern detail and floral cutwork add a unique but timeless charm. Intricate, alluring, and sophisticated, this necklace from Angara is available in 14K and 18K white/ yellow/ rose gold. Priced from $3,347 to $4,022.  It's the most expensive necklace on my list– but undeniably the most valuable. Buy Here. 
Solitaire Round Rose Quartz Infinity Twist Pendant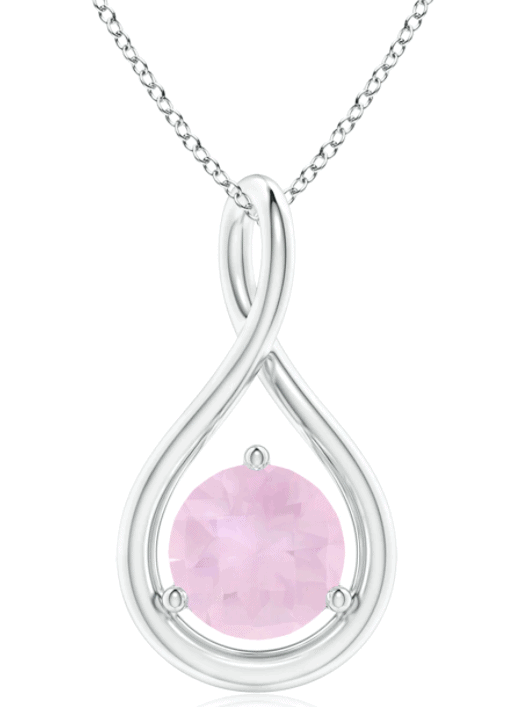 This infinity twist pendant from Angara can be custom ordered. Like many Angara necklaces, you can select the quality of the quartz (from good to heirloom), your choice of precious metal (sterling silver, 14K white, rose, or yellow gold, as well as platinum), and carat size (0,50 to 1.35). The infinity loop offers a touch of graceful elegance and presents with clean elegant lines. Buy Here. 
Claw-Set Round Rose Quartz Pendant with Diamond Halo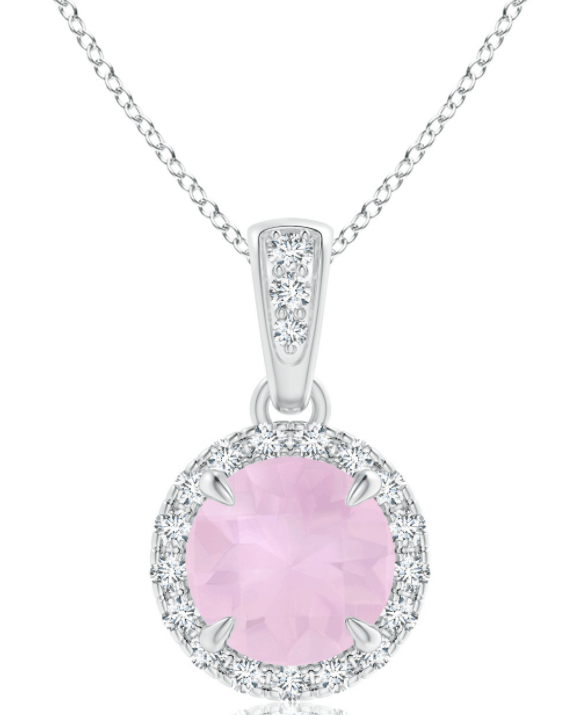 For classic glamour, consider this beautiful claw-set rose quartz necklace from Angara. A round rose quartz is clew-set and features a mystical blossom pink color. Round diamonds surround with a brilliant halo design to add a touch of sparkle for a magical touch. Available in 14K rose/ yellow/ white gold or platinum, this is a necklace you can wear for formal occasions. You'll also be able to select your quality of quartz and up to 1.53 carats. Priced from $521 to $1,889. Buy Here. 
Claw-Set Trillion Rose Quartz V-Bale Pendant Necklace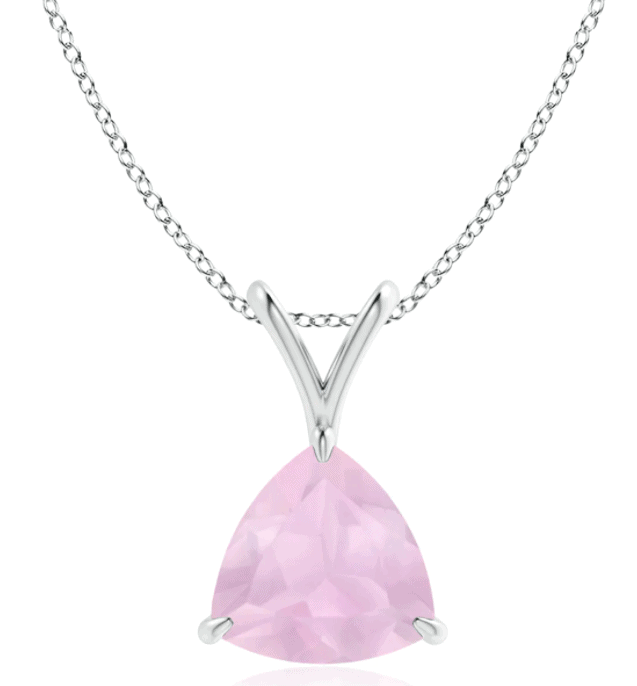 Round cuts are always classic, but trillion cuts are especially ideal for rose quartz. Trillion cuts provide the optimal aesthetic for brilliant luster, making for a pleasing necklace. The solitaire pendant is a classic design, complete with a beautiful V bale. Available in 14K rose/ white/ yellow gold and platinum, the gemstone quality of your choice, and up to 1.55 carats. Buy Here. 
Emerald Rose Quartz Solitaire Pendant with Diamonds 
Emerald cuts are excellent for clarity and complement the beauty of rose quartz. The emerald-cut rose quartz is secured with a prong setting for a clean, modern appeal. A small diamond accent adds just a bit of sparkle without detracting from the rosy hue. This solitaire style necklace will be a great staple for any wardrobe and is available in sterling silver, 14K rose/yellow/ white gold as well as platinum. Select from 1.59 carats or 2.27 carats and the quality of your choice. Priced from $219 to $1,781. Buy Here. 
East-West Bezel-Set Emerald-Cut Rose Quartz Necklace
This unique rose quartz necklace from the Angara features an East-West orientation for a modern appeal. An emerald cut provides the optimal clarity to bring out a light, rose hue, while the bezel setting offers a classic touch. East-West jewelry has been associated with commitment, which ties well into rose quartz's association with romantic love. Crafted with your choice of 14K white, rose, or yellow gold, good to heirloom quality and up to 2.20 carats. Priced from $409 to $701. Buy Here. 
Classic Round Rose Quartz Solitaire Pendant Necklace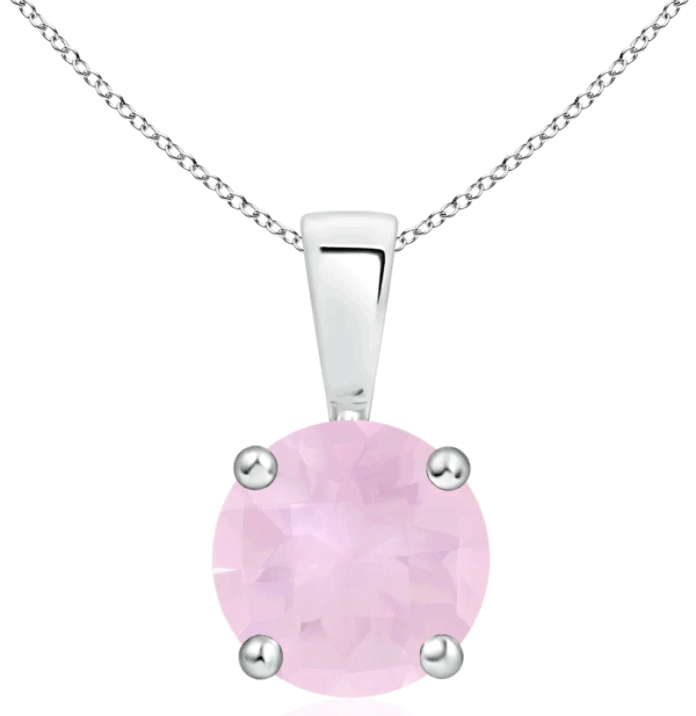 Sometimes you just want something simple, and this Angara necklace is just that. Simple elegance exudes a timeless design. A round rose quartz is set in a prong setting with a plain bale. Versatile and perfect for casual and formal outfits alike, you'll have your choice of sterling silver, 14K rose/yellow/ white gold and platinum. Opt for 0.85 to 1.70 carats and the quality gemstone of your choice. Priced from $149 to $1,475. Buy Here. 
Oval Rose Quartz Solitaire Pendant with Trio Diamonds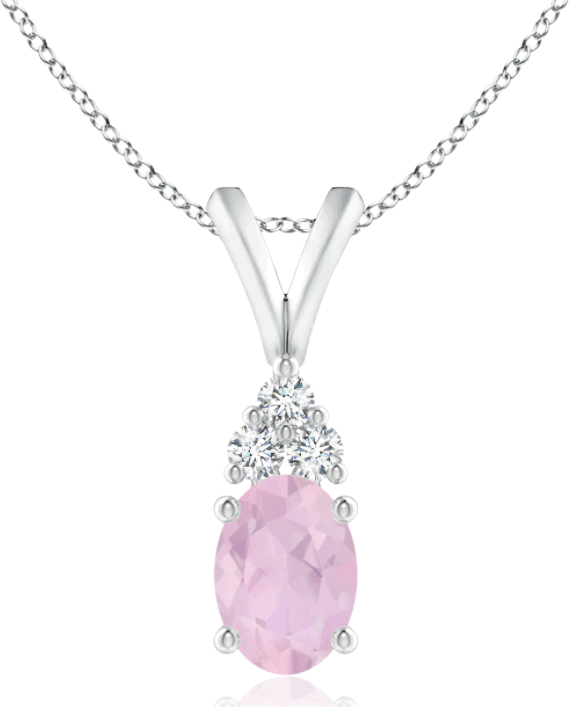 This Angara necklace is truly elegant, with a vintage-inspired appeal. The pendant is accented with polished V-bale. The oval cut adds allure with a classic prong setting. But it's the cluster of trio diamonds that add glamour to the necklace. I especially like this necklace in 14K white gold, but you can also buy it in 14K rose or yellow gold, like platinum. Available in 0.44 to 1.75 carats and good heirloom quality. Priced from $219 to $2,297. Buy Here. 
Frequently Asked Questions
Question: What are the Spiritual Properties of Rose Quartz?
Answer: Rose quartz is known as both a healing crystal and one that symbolizes love, friendship, and self-acceptance. Clear quartz, meanwhile, is also known as a healing crystal that optimizes energy and also releases and regulates different energies. Clear quartz is also thought to promote a clear mind and a healthy immune system. 
Question: Which Finger is Best for Rose Quartz?
Answer: While one can wear rose quartz on any finger, the middle finger is typically the preferred finger for wearing rose quartz. This finger is thought to provide balance and optimize positive energy. This finger is also the preferred finger for wearing moonstone. 
Question: What is the Best Crystal to Wear Daily?
Answer: There is not one crystal that is above others to wear daily, but the most common include quartz (clear and rose), jasper, obsidian, citrine, turquoise, tiger's eye, amethyst, and other stones thought to be bright healing or good fortune. 
Question: Where Should You Wear Rose Quartz?
Answer: Rose quartz can be worn as necklaces, bracelets, and earrings. For bracelets, people prefer to wear rose quartz on their left arm– which is said to amplify the relief for emotional stress. Others wear rose quartz rings on their middle fingers. However, there is no hard and fast rule as to where and how to wear rose quartz. 
Final Thoughts
Rose quartz necklaces are beautiful, and some believe they have healing properties. I recommend only buying from a reputable jeweler to avoid fake, or synthetic rose quartz. While fairly durable, rose quartz can scratch with daily use– and other pink gemstones offer an alluring look.
Morganite is a little harder, at a Mohs hardness rating of 7.5 to 8, and is another great stone to consider for necklaces.