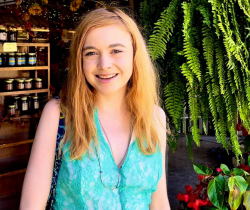 Latest posts by Erin Jamieson
(see all)
2022 is an exciting year for necklace ideas– and especially meaningful designs. Perhaps that's why more people of all genders are wearing hamsa necklaces. 
Every year, industry experts discuss the latest and greatest trends for jewelry. You can almost always expect classics like gold earrings or diamond studs. But one trend that really took off in 2020 and has crept into 2022 is jewelry with meaning, 
That includes hamsa necklaces. In fact, hamsa necklaces have been included in several trend reports as a must-have in 2022. Drawn by the iconic hand style but also the deeper symbolic meaning, it's a sign that more consumers are thinking about what their necklaces say about them.
Another sign hamsa necklaces are popular? Consider Pandora's new Wearability Collection. Pandora has always been known for its charms and symbolic designs– that's a big part of its appeal. So perhaps it's no surprise that they're offering more options than ever, with a range of glittering charms for necklaces and bracelets. 
Of those, you'll find some expected charms, like hearts or leaf motifs. But one of the stand-outs of the collection is a protective hamsa charm. In this case, it's not just about style, but truly being able to express yourself– and wear a necklace or bracelet that's meaningful to you.
Is a hamsa necklace right for you? This guide will cover the meaning of a hamsa, how to style, and some of my favorite designs and ideas you can buy online. 
What is a hamsa?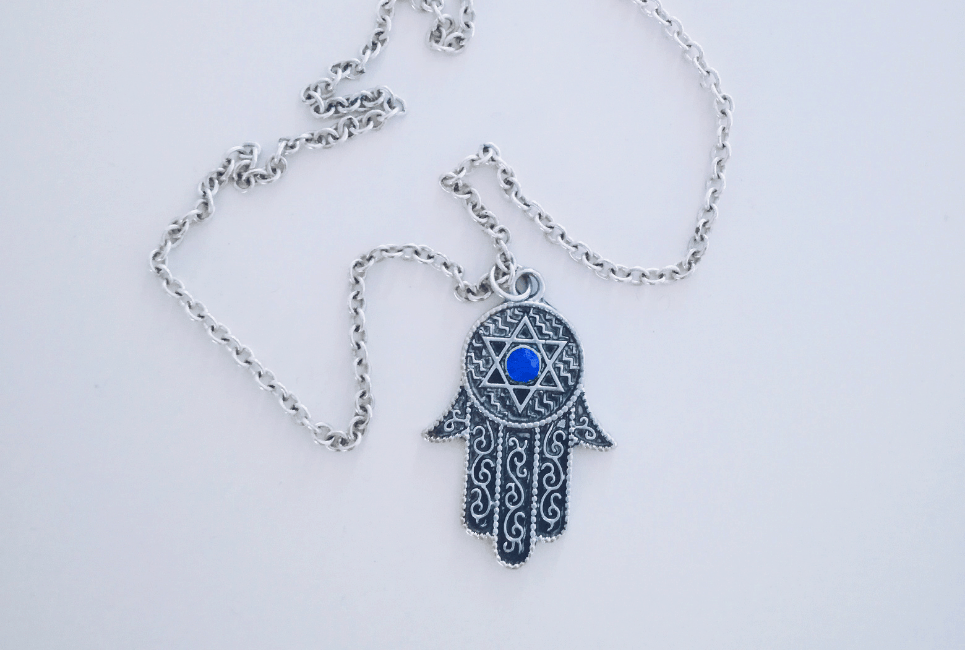 A hamsa is a symbol rooted in symbolism and religious beliefs. The hamsa hand is palm-shaped and can be seen as an accessory but also as a wall hanging within homes. The palm-shaped design has an eye at its center. The open right-hand symbol is said to have first appeared in Mesopotamia (now Iraq), Morocco, and Carthage (now Tunisia). It joins many other hand symbols that are used or were used, as protection against ill will across the world and belief systems. 
What does Hamsa's hand represent?
The Hamsa hand represents a token of protection and good health. Many believe it to bring fortune and fertility. It's also become associated with warding off evil spirits and ill-will or bad fortune. This blessing symbol is seen as a charm that people may ever wear daily. 
Is Hamsa and evil eye the same?
The hamsa and evil eye are often discussed together and for good reason. For one, some pendant necklaces include both a hamsa and evil eye charm. For another, the hamsa does visually look similar. An eye is situated in the middle of the palm, which can be mistaken for the evil eye. 
However, they are not the same. The distinction is rather fine. The evil eye is said to protect against the evil eye itself — that is, bad will and misfortune. The hamsa hand has broader use. It's used to repel bad forces, but also bring balance by increasing positive energy and reducing negative energy. While the evil eye shuns the bad, the hamsa hand combines good and bad. 
Is a Hamsa a religious symbol?
The hamsa hand is not attached to one religion but has come to hold symbolic meaning in many systems of faith. Since it first originated in the Middle East, it'd connection to Islam should come as no surprise. Some Muslims believe that each of the five fingers represents one of the five pillars of Islam. This is true for both Sunni and Shi'ite Muslims, who refer to the Hamsa as "the hand of Fatima " (Mohammed's daughter).
However, the hamsa hand has also been worn by Buddhists, Christians, and those of the Jewish faith. It's the most famous symbol of Buddhism and is used as a good luck amulet, both worn and within homes. Some Christians, especially in the Middle East, see the hamsa as the hand of Mary (Jesus' birth mother). 
In Jewish culture, the hamsa hand is revered. In fact, the symbol can often be seen during important events and ceremonies, including weddings. 
How do I select the best hamsa necklace?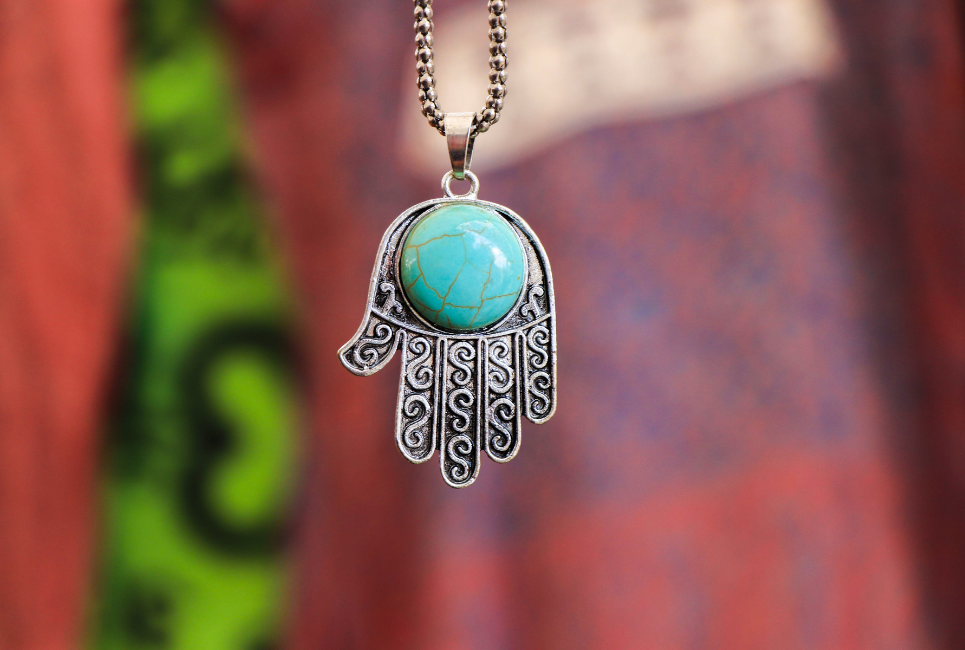 Selecting the best hamsa necklace for you is not the same process as other jewelry. In addition to quality, you may want to consider the symbolism behind your choices. Doing so enhances your purchasing experience and makes it more meaningful for you. 
How do you wear a hamsa necklace?
One of the first things you may notice is the orientation of the hamsa hand. The downward hand remains the traditional and more popular option, exhibiting the original meaning of the hamsa hand. However, you can also wear a hamsa hand upward. An upward charm is said to work more like an evil eye, focused on warding off ill-will. 
What metal type is best for a hamsa necklace?
Normally, I have a few metal types I recommend for durability. 14K to 18K gold are excellent options, as they offer luster and shine but are harder and more resistant to scratches than pure gold. 10K gold appears duller but it is suitable for someone who has less to spend and wants a harder metal. Platinum and stainless steel are also excellent options– more scratch resistant and corrosion resistant, too. Platinum tends to be quite pricey. Stainless steel is a suitable option for someone with metal allergies, but, as you might imagine, there are far fewer options to select from.
One metal I'll add is sterling silver. While it can tarnish, the good news is that there are ways to remove the tarnish– by getting it professionally cleaned and use a soft cloth and warm water solution. The reason I add silver is that it's actually the traditional metal for the hamsa hand. While it's not the best in terms of durability, it is a classic material. 
Where do I buy a hamsa hand necklace?
I'll give you some of my top ideas for where to shop for a hamsa hand, but the rule of thumb is not to buy from someone you can't trust. Make sure whomever you're buying from has a record of sales, as well as a detailed description of the materials used. 
Hamsa Necklaces: My Picks
My top ideas for gemstone, diamond, and gold hamsa necklaces were selected based upon the materials used, the seller, the striking or classic styles, and the overall value. While I've mostly stuck to gold (white, yellow, and rose), I'll also provide some recommendations for sterling silver hamsa necklaces if you want a more traditional feel. 
Gemstone Hamsa Necklaces
Gemstones all are rich in symbolism and add an unexpected pop of color to really bring a Hamsa necklace to life. You'll find unique takes, including beaded necklaces and hues from light to dark. Onyx, turquoise, sapphires, and more add boho hues for a lively statement. All of these necklaces are made with genuine natural or lab-grown gemstones. 
Turquoise Hamsa Beaded Necklace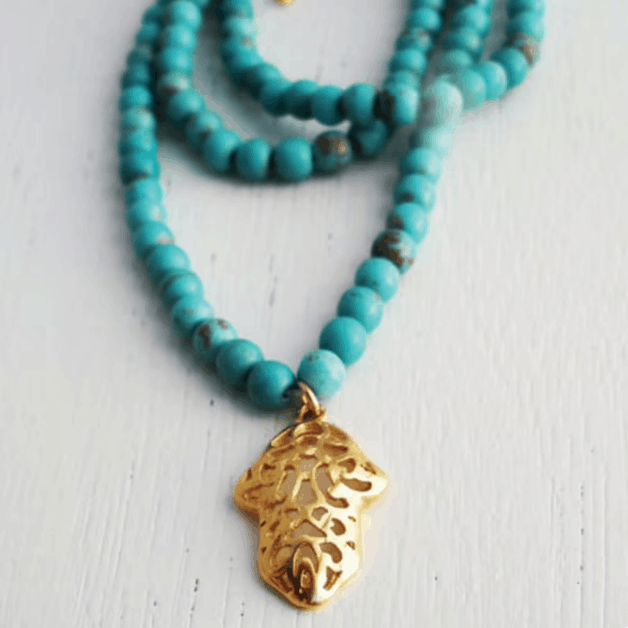 This handmade necklace makes a statement that's perfect for a boho or boho-chic look. The 16-inch necklace pairs genuine turquoise beads with a hamsa pendant. It is gold-plated, so it may not be as durable as other gold types, but the necklace itself is thoughtfully crafted, with a classic design, and from a small creator with rave reviews. Priced at $80. Buy Here. 
Effy Novelty Multi-Gemstone Hamsa Necklace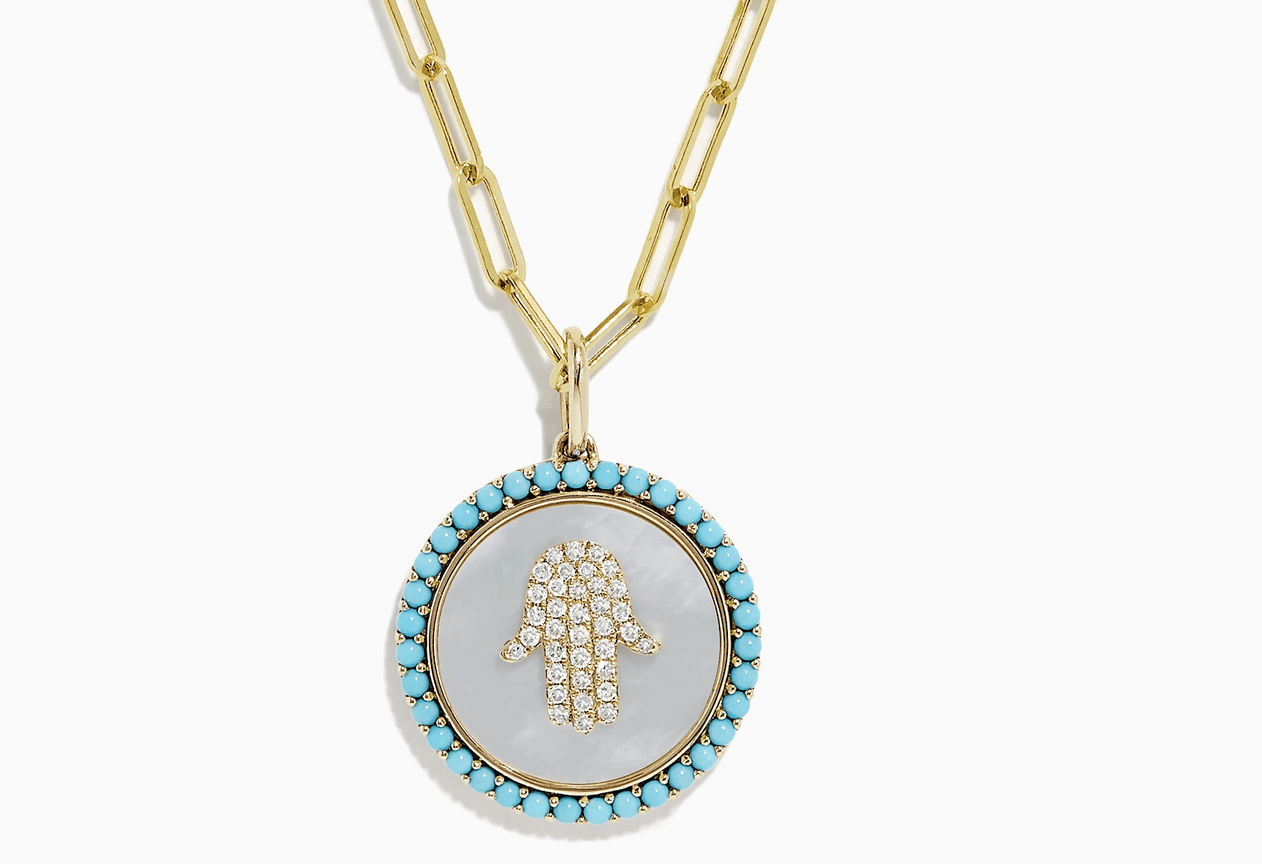 This clever hamsa necklace includes a classic paper clip link chain and a stylish pendant. Crafted in gorgeous 14K yellow gold, an opulent pendant features mother-of-pearl with a halo of round turquoise gemstones. 0.16 carats of round cut diamonds accent this exquisite necklace, priced at $2,096. Buy Here. 
Effy Novelty Malachite and Diamond Hamsa Pendant Necklace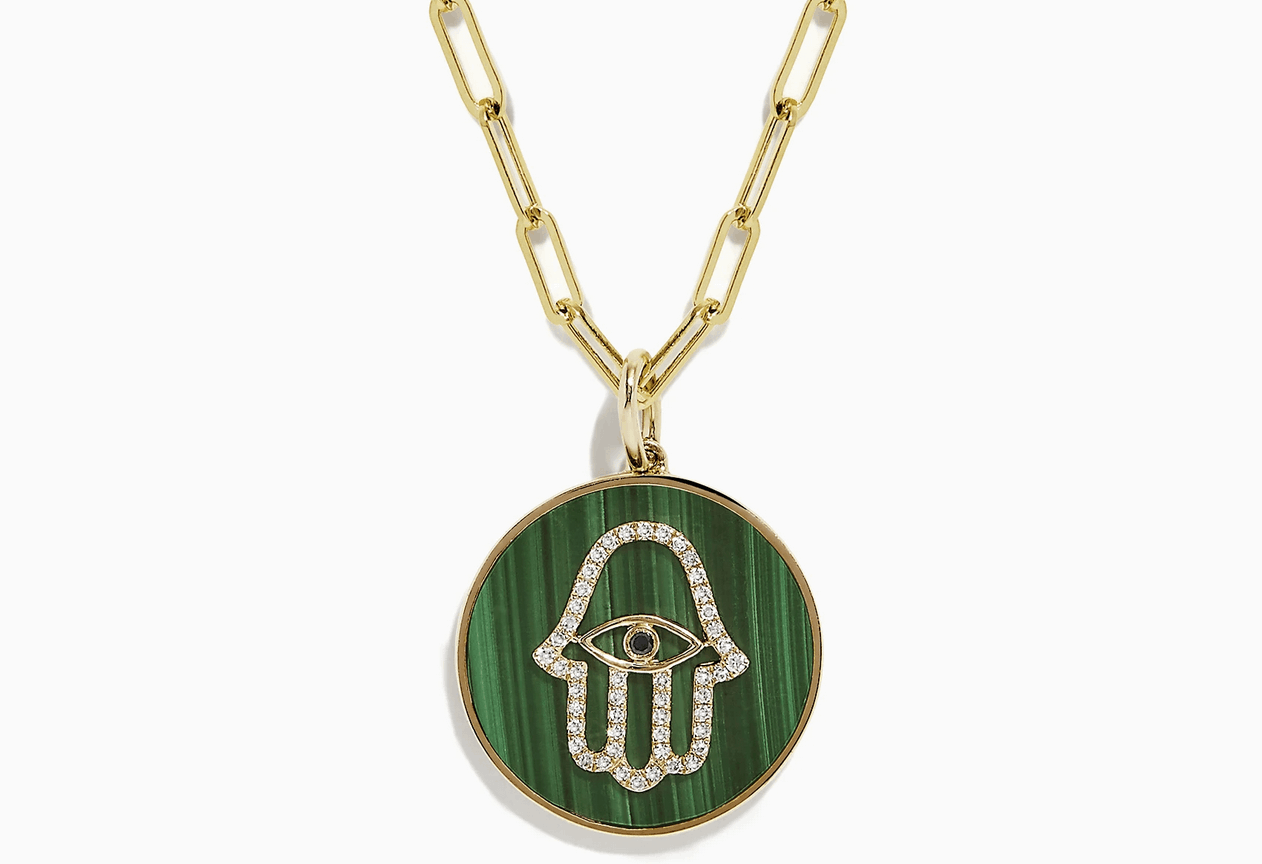 This beautiful hamsa pendant necklace features a nearly 8 carat malachite stone, accented with round cut diamonds. Malachite doesn't just offer a rich, Everest green hue: it's also meaningful. Malachite symbolizes transformation and positive changes– the perfect pairing with the hamsa symbol. The chain is crafted in 14K yellow gold. Priced at $1,606. Buy Here. 
Unstoppable Love Sterling Silver and Sapphire Hamsa Necklace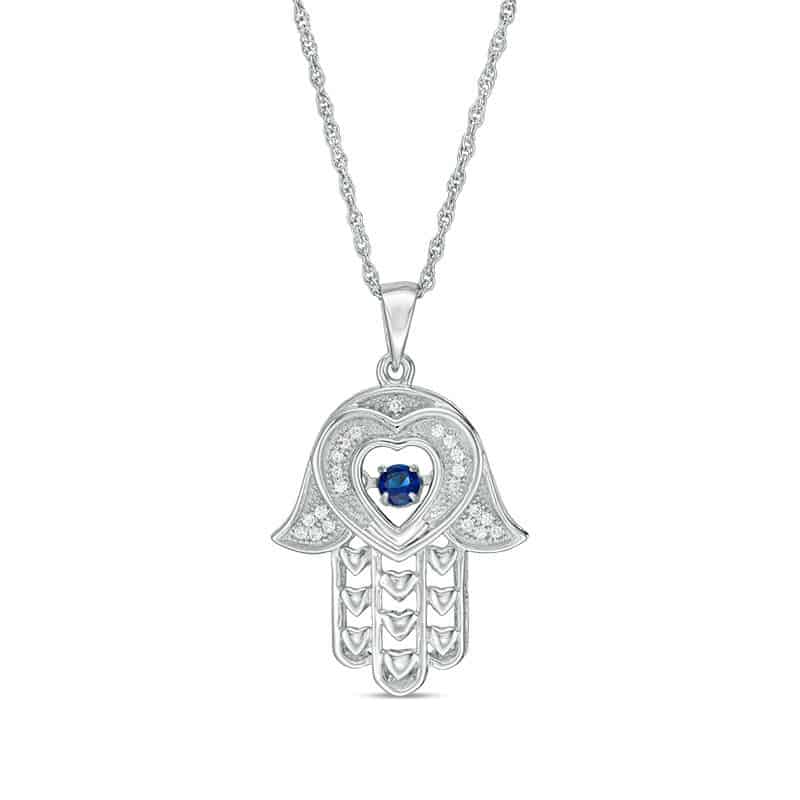 If you do want a more traditional metal, this sterling silver necklace is a solid option. Take proper care of it, and this Zales necklace features a dazzling design. A lab-grown blue sapphire is an elegant accent with sterling silver. Blue sapphires have been associated with hope, faith, spiritual wisdom, and good fortune. Priced at $149. Buy Here. 
Gold Hamsa Necklaces
Whether you long for warm yellow gold, polished white gold, or romantic rose gold, these hamsa necklaces are classic and allow the symbol to stand for itself. Versatile and durable, all of these necklaces provide a traditional feel without overcomplicating the design. Pair with meaningful accents, like charm bracelets, or wear them alone. These timeless necklace styles are a great place to start if you've never owned a hamsa necklace before. 
Saks Fifth Avenue Gold Cable Chain Hamsa Necklace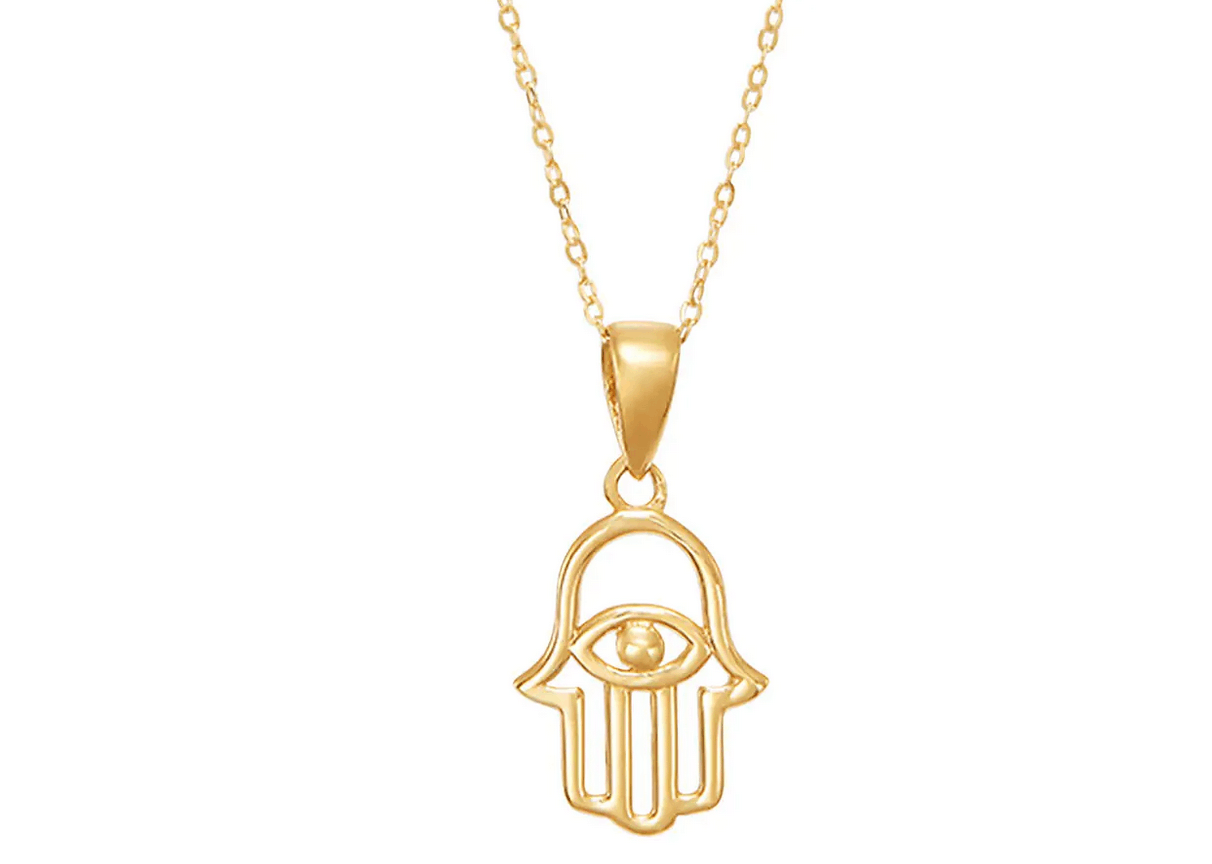 A classic cable chain and rich 14K yellow gold exude timeless charm. This hamsa necklace is priced at $170 on sale, or $340 regular price. The clean design features modern lines, with a classic appeal. It's one of the most versatile options. Buy Here. 
Ordina Hamsa Pendant Necklace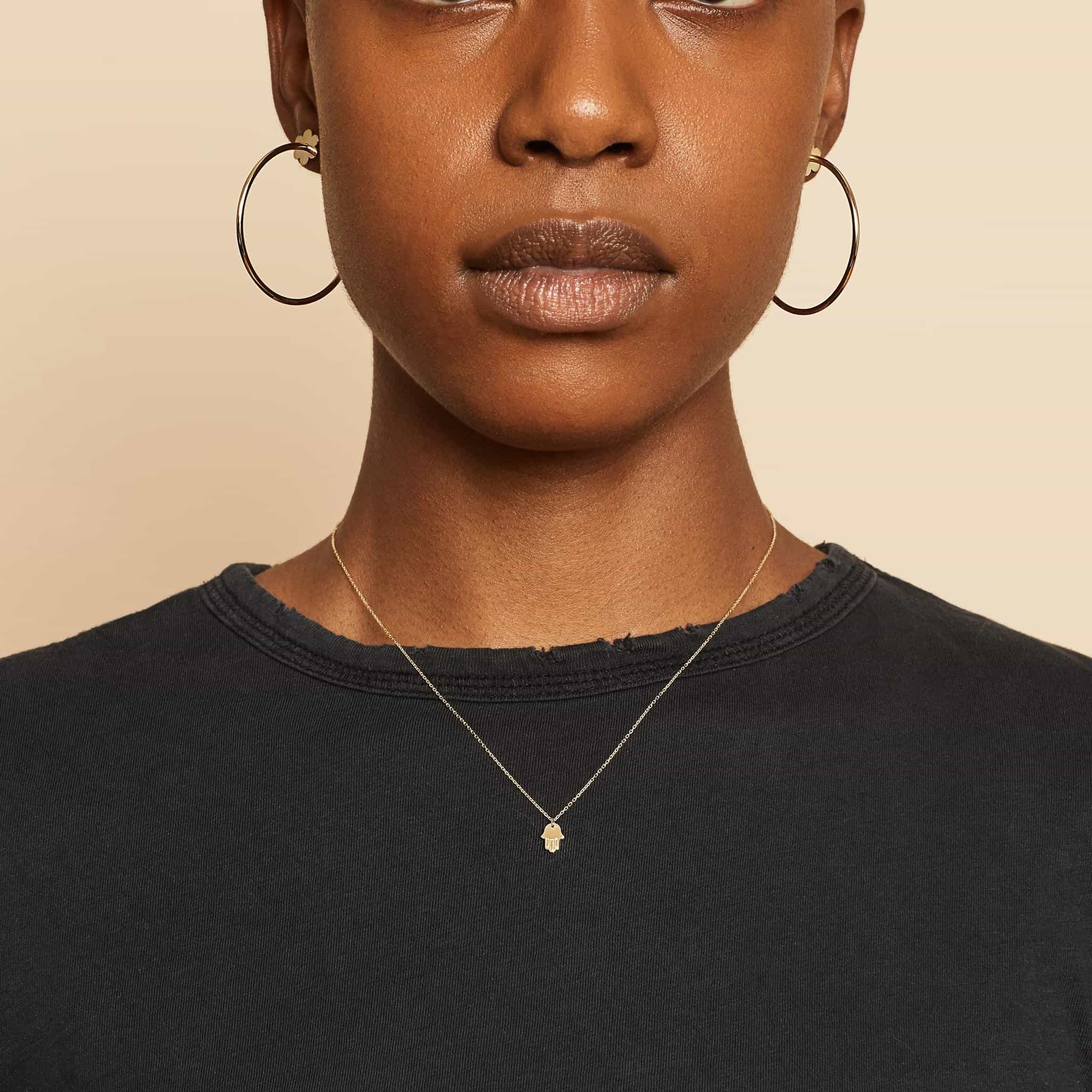 This elegant necklace is understated and a great addition to any collection. The fine chain is adjustable for 16 to 17 inches and carries a minimalist take on a hamsa motif. Crafted in 14K yellow gold, this necklace also comes with a complimentary two-year warranty. Priced at $225; Buy Here. 
Double-Sided Mini Hamsa Charm for Necklace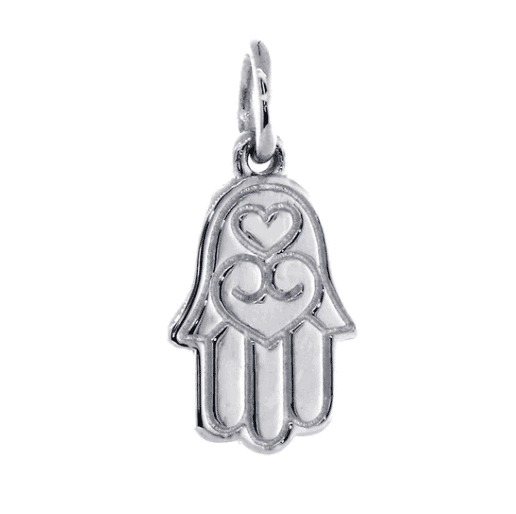 This mini charm adds a dainty style to any chain style. Crafted in beautiful 14K white gold, the double-sided detailing is a unique touch– and could even be seen as added protection. A heart instead of an eye at the center of the hand adds a different meaning to the usual hamsa charm. Priced at $155, but on sale for $108. Buy Here. 
Diamond Hamsa Necklaces
Sparkling diamonds take a hamsa necklace to a more refined style and add an almost magical appeal. Diamonds, which symbolize love, health, strength, and an eternal bond– making this an especially meaningful combination. All of these necklaces are made with genuine natural or lab-grown diamonds for a beautiful accent to your necklace. 
Angara Diamond Hamsa Hand Pendant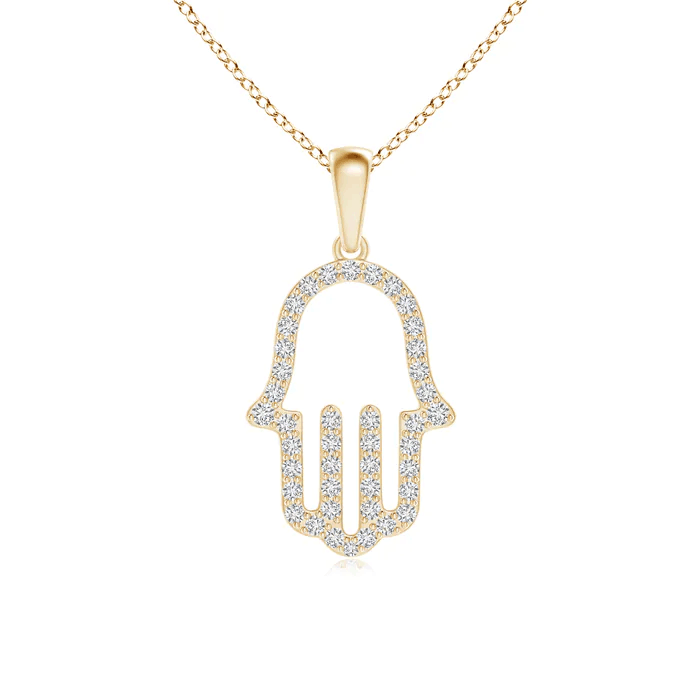 This beautiful pendant is one of my favorite options. What I love about the Angara is that not only are the materials and diamonds excellent quality, but you always have many options. Select from 14K white, gold, or rose gold. ¼ to ¾ carats of sparkling round diamonds (available in different quality levels) sparkle on this classic, modern design. Priced from $458 to $1,034 for the pendant (chain not included). Buy Here. 
Natori X Angara Hexagonal Diamond Hamsa Pendant 
This gorgeous hamsa pendant adds luxurious sparkle and glamour. Available in 14K rose, white, or yellow gold, this pendant features 54 round diamonds (¼ carat) situated around a hexagonal design. The 14K white gold is perfectly suited for sparkling round diamonds. On sale for $1,007. Buy Here.
Kay Jewelers Diamond Hamsa Necklace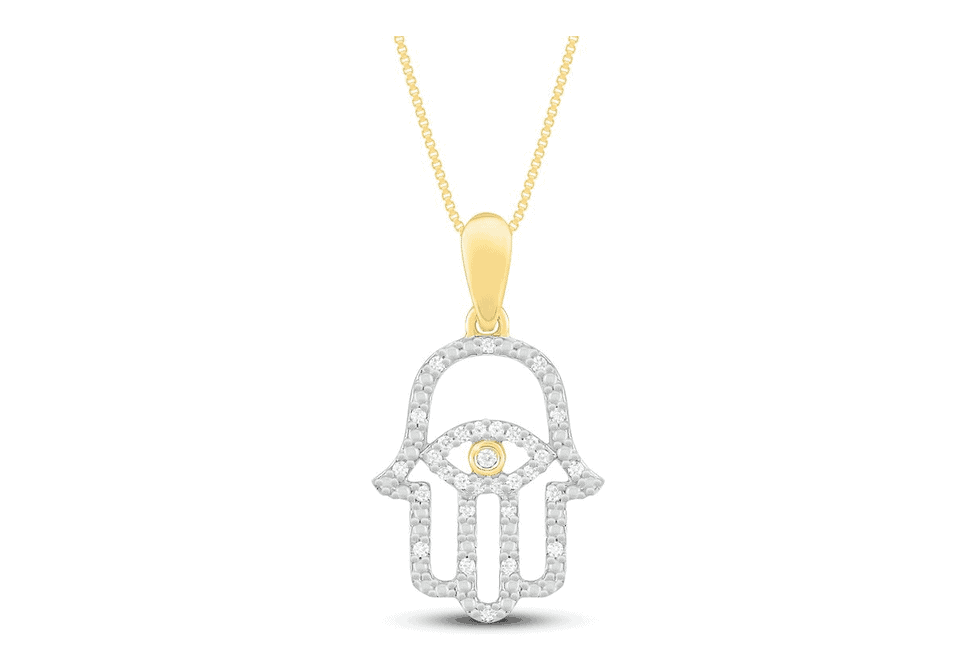 10K gold may not have the same luster as higher gold purities, but it is less susceptible to scratches– making it a choice for some for every day, heavier wear. This playful but classic necklace is covered in brilliant-cut diamonds and set on a 10K rose, white, or yellow gold chain. The classic spring clasp is easy to use. Priced at $420. Buy Here. 
Brilliant Earth Diamond Hamsa Pendant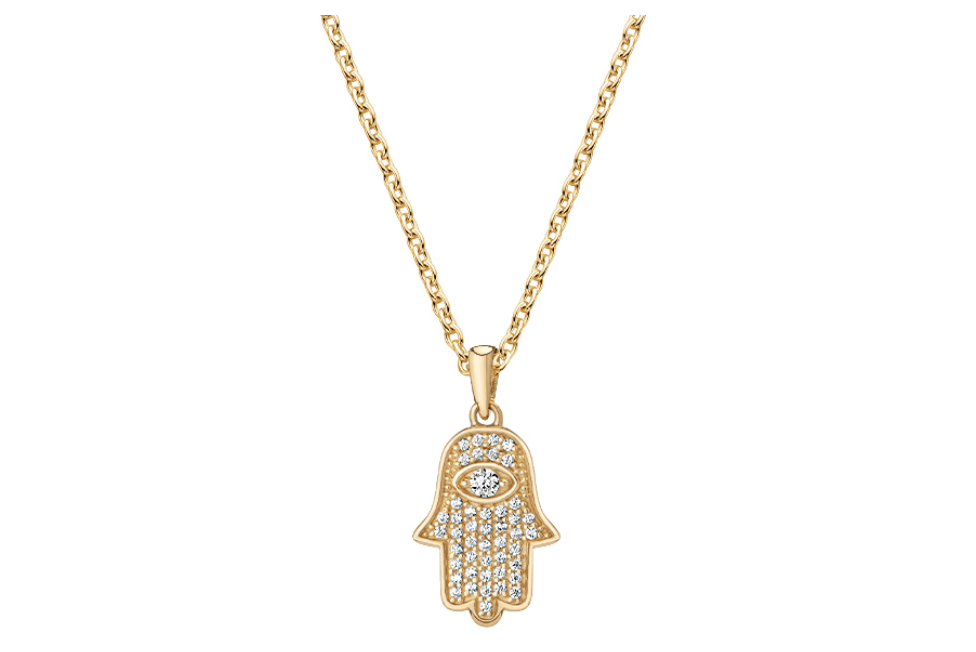 It's not the cheapest, but this is another one of my favorite ideas for a hamsa necklace. This beautiful diamond pendant is made from a leader in sustainable and ethically sourced diamonds. Pavé-set diamonds (⅙ carats) sparkle across the classic palm design. Available in 14K yellow gold (and also sterling silver for $390). The pendant does not include a chain and is priced at $790. Buy Here. 
Anne Sisteron Diamond Hamsa and Evil Eye Hamsa Charm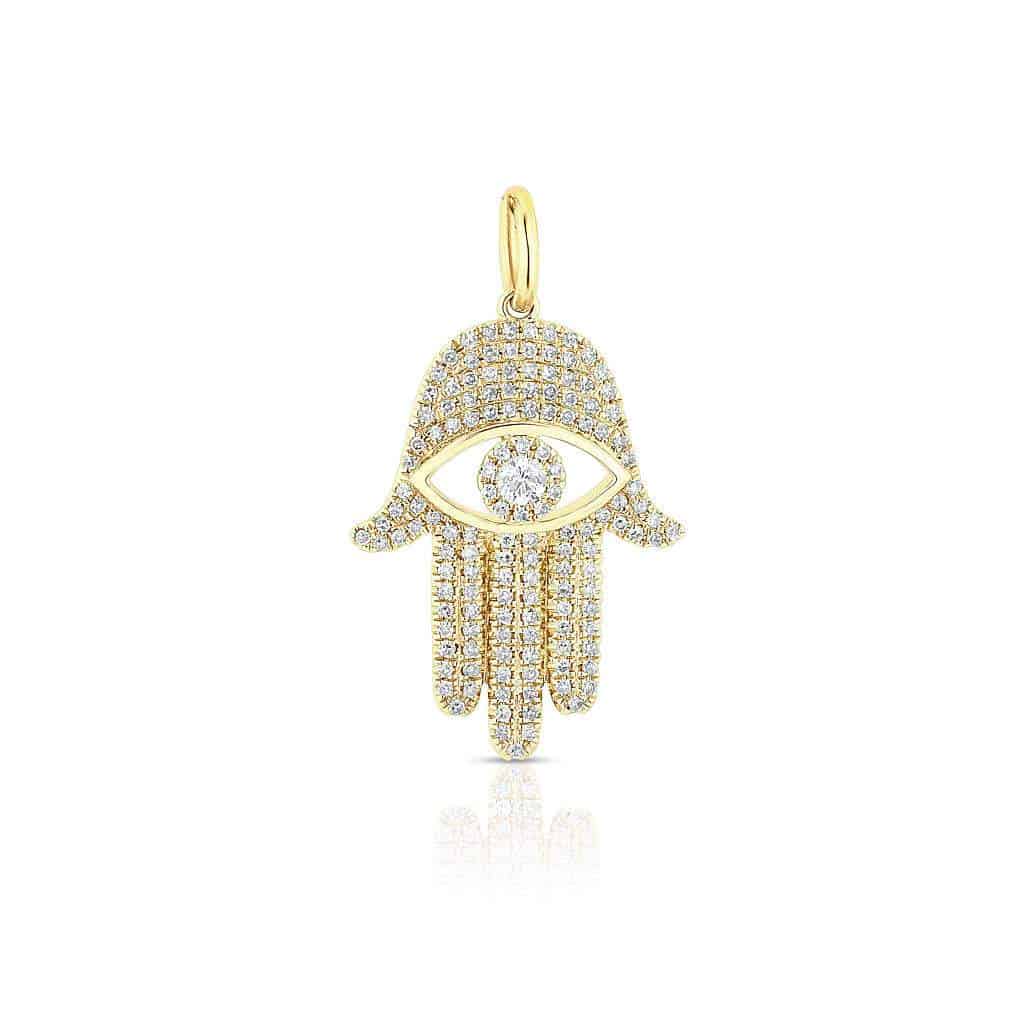 This glamorous option is a show stopper and pairs the hamsa symbol with the evil eye motif. The highly-rated Beverly Hills designer showcases their eye for opulence, with 140 accents diamonds (.48 carats) covering a 14K yellow, rose, or white gold pendant. You can purchase the pendant alone for $1,495, or buy it as a complete necklace. It's a luxury option, but it's undeniably stunning. Shop Here. 
Zeo Lev Asymmetrical Hamsa Necklace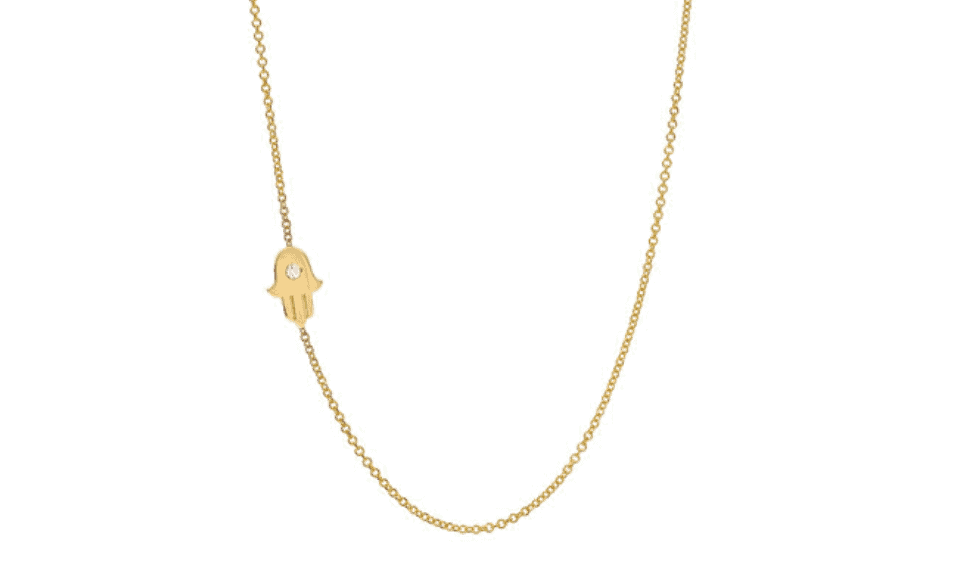 Sometimes less is more. This modern, minimalist hamsa necklace is a beautiful option. Crafted with 14K yellow gold, the asymmetrical design is an updated take on a classic motif. Just a touch of sparkle is provided by an accent diamond in the center of the hand. The look is still timeless, while more versatile than some more traditional designs. Priced at $330. Buy Here. 
Frequently Asked Questions
Question: Where should I hang hamsa?
Answer: A hamsa is either worn or hung inside the house as a good fortune charm. You can place it anywhere you like, although it's often hung in door frames. The idea is that you are bestowed good fortune as you pass through, or that room is protected. Many use it at the front entrance of the house to balance good and bad energies. 
Question: What does Hamsa tattoo mean?
Answer: Many also get Hamsa tattoos. A hamsa tattoo is described as the 'hand of God' and is associated with much of the same things as hamsa amulets. The tattoo is said to symbolize luck, health, and happiness. Often, you'll see an upturned hamsa tattoo vs a downward one. You can see these at petite, subtle designs or elaborate, with multiple colors. 
Of course, some feel it is disrespectful to get a hamsa tattoo, due to the connection with religious beliefs. Ultimately, it's a personal decision and one that is debated but does not have a definitive answer. 
Question: What does the elephant symbol mean?
Answer: Just as hamsa is a symbol of good fortune and fertility, so are elephants. Elephants are seen as a symbol also of wisdom and protection. Many place pictures, decorate other symbols of elephants within their home in hopes of attracting good luck and increase positive energy flow. Elephants with raised trunks are especially popular and used in any room of the house. The elephant is especially prominent in Hinduism and Buddhism. 
Final Thoughts
Hamsa necklaces are becoming more widespread, and are meaningful in several major religions. The iconic design is one of many signs that purposeful jewelry is becoming more popular in 2022. You can also pair your necklace with evil eye bracelets. However you style your necklace, just do it in a way that feels meaningful to you. 
While I included an option or two for sterling silver hamsa necklaces, you can find many options for handmade and unique styles on Etsy. Be careful and investigate the seller. Make sure when you're shopping that you understand what you're paying for. These also tend to be more budget-friendly, and maybe a good choice if you just want a casual necklace.