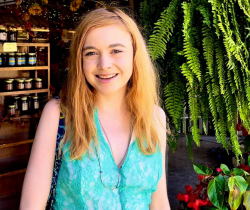 Latest posts by Erin Jamieson
(see all)
When you think of celebrity engagement rings, likely the first thing that comes to mind is a grand carat size. Yet some of the most iconic diamond rings are 1.5 carats. 
Elizabeth Taylor's engagement ring was over 33 carats. Paris Hilton's pear-shaped diamond ring tops 22 carats. But while these rings made headlines, they don't always remain the most memorable. 
Podcast star Hannah Berner is wearing a diamond ring that's estimated to be between 1 and 1.5 carats. Precious star Gabourey Sidibe's ring is an estimated 1.5 to 2 carats. And the trends go beyond carat size. 
Meghan Markle's original engagement ring may have wowed with its flawless clarity, but it was meaningful, too. The diamond ring featured a cushion-cut diamond from Botswana, surrounded by two accent diamonds that formerly belonged to the late Princess Diana.  
While a much smaller carat size than Kate Middleton's ring, it just goes to show that carat size is not everything. 
Is a 1.5-carat diamond ring the right option for you? In this article, I'll tell you what you need to know about 1.5-carat diamond rings, and what to look for to select the best one for you.
How much should one spend on an engagement ring?
Before I discuss the pros and cons of a 1.5-carat diamond ring, it's important to discuss how you should go about selecting a ring. There used to be a rule– sometimes still mentioned– that you had to spend two to three months' worth of your salary. But that rule has been tossed out, and there are some signs that people are spending less and buying more modest carat sizes than you might imagine. 
If you look for answers from jewelers, many will claim "at least two month's salary." The problem? That equates to around $10K for an engagement ring for someone making $60K a year. Not only is that above the average Americans spend, but it's not necessary to spend that high of a proportion of your salary.
The average wedding cost— rings included–was around $19Kin 2020. That was actually $10K less than the year before– likely in part because of the pandemic causing smaller-sized gatherings. All told: weddings can be expensive, and a $10K ring would take up half the average budget. 
Most couples also need to plan for housing or moving expenses, honeymoons, debt, and down payments. At the end of the day, I recommend that you make a budget for everything you plan to spend for the wedding and expenses afterward. That should determine your comfortable ring budget. A larger carat size doesn't make for a more successful marriage. 
How many carats should an engagement ring be?
The same is true for carat size. Carat size is a matter of budget but also personal preference. Interestingly, there is some discrepancy between what we think we know about what carat size most Americans are buying. First, averages aren't the best way to measure what carat size is being bought– as they can include outliers like Paris Hilton's 22-carat diamond ring. For another, it differs depending on the survey. 
According to The Knot, the average carat size is 1 to 1.5 carats. Brides places that average a little smaller, around 1 carat. And around the world, it's smaller, with an average size of 0.6 carats in the UK. 
Truth be told, there is no right or wrong size for an engagement ring. Instead of focusing on so-called averages, focus on the style and budget that makes sense for you. 
Is a 1.5-carat diamond a good size?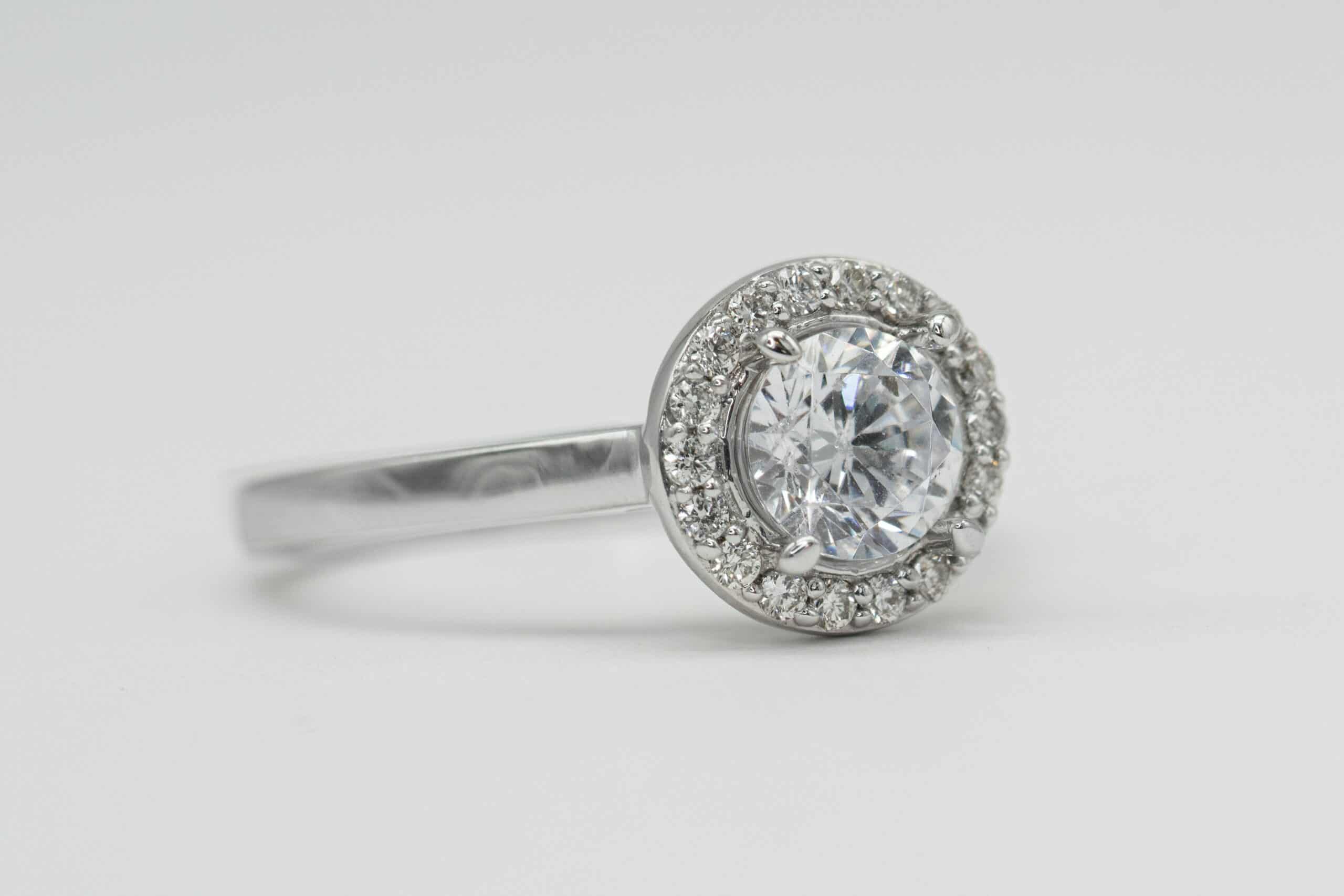 A 1.5-carat diamond is on the larger size of average without entering the extravagant category. If you want a statement diamond ring— rather than a more subtle one– it's considered to be a good choice for overall value. Depending on the cut of stone you opt for, a 1.5-carat diamond can look nearly as grand as a 2 carat diamond for a fraction of the price. Of course, it still doesn't come cheap. 
How much is a 1.5-carat diamond ring?
A 1.5-carat diamond ring, like all diamond rings, ranges in price. A low-quality 1.5-carat diamond ring could start at $3,000 or $4,000 and cost as much as $35K. Those differences may seem enormous, but that's because there are countless factors at hand– including diamond quality, materials used, and craftsmanship. 
Is a 1.4-carat diamond a good size?
In love with the 1.4-carat diamond size but not sure if you can quite swing the price? An off-carat size can save you money. These do need to be custom ordered, but the great thing about going just slightly below a typical carat size is that you'll trim off the price tag– while still giving the impression of the same carat size. 
Is clarity more important than size?
A final consideration: if you can afford a 1.5 diamond but at a lower quality, consider a smaller carat size. I always advise placing color, then clarity, above carat. A large carat diamond of poor quality is not a smart investment vs a smaller carat size of greater quality.
What should I look for when buying a 1.5-carat diamond ring?
That leads to how to shop for the best 1.5-carat diamond ring. When shopping for a 1.5-carat diamond ring, I actually recommend first finding the diamond grade that suits your needs. Then you can get a great sense of what fits your budget, and what your options are. 
Are lab diamonds as good as real diamonds?
If you're buying a 1.5-carat diamond, the first thing you need to decide upon is natural vs lab-grown diamond. Lab-grown diamonds are not stimulants but share the same properties as natural diamonds. They appear the same and are just as durable. They are less expensive– and less valuable than natural diamonds. 
Whether you decide on a natural or lab-grown diamond, make sure it's not synthetic. Your diamond ring should come with an official grading report from the AGS or GIA. For natural diamonds, I like to go a step further and look at diamond sourcing. This is a personal choice, but I prefer diamonds that are sustainably sourced, with minimal impact on the environment. I also like to see conflict-free diamonds. 
What is the best diamond grade?
Diamonds are graded by cut, clarity, color, and carat. For excellent quality, focus first on clarity and color.
What is the best color for diamonds?
Diamond color is the most important. Graded on a scale from D (colorless) to Z (yellow), you want to aim for a diamond from D to F (colorless) or from G to J (nearly colorless). Other diamonds will have a faint to pale yellow tint. 
Which diamond clarity is best?
Diamond clarity impacts the sparkle and shine of your diamond. But the higher carat you buy, the more important clarity is. For larger carats 1.5 and up, I recommend being choosy about diamond clarity. Diamonds are rated based upon inclusions, from flawless to included. 
I recommend typically a value of no less than S12, which is slightly included. You may notice some visible imperfections. However, for a larger carat size, your best bet is Fl (flawless) through VS2 (very slightly included). You can get by with S11, but the larger the carat size, the more notable the clarity grade. For most, very slightly included will be the best value. 
What is the best diamond shape for sparkle?
A round brilliant cut is the most sought after, and best for sparkle. But it'll also run you the most expensive. To save money but still enjoy the resplendent sparkle, opt for cuts that aren't too deep. I recommend princess, radiant, and cushion cuts for the best alternatives. That said, oval, heart, pear, and marquise are excellent choices too if you want something a little more unique or even vintage-inspired.
What type of metal is best for rings?
After you've selected your diamond, it's time to pay attention to the ring itself. The metal of the ring is important for durability. Platinum, palladium (not as commonly offered), and 14K to 18K gold are all excellent options. Those with allergies may need to custom order a surgical steel ring. Avoid metals that can tarnish a ring this expensive (such as silver and copper and anything with gold plating). 
1.5 Carat Diamond Rings: My Ideas
Now I'll give you a few of my favorite ideas for 1.5-carat diamond rings. These include ways to custom design your own rings or buy a premade ring. All of these picks come from respected jewelers and include lab-grown and natural diamonds. I've made sure that there are a variety of styles and price points available, and that no shortcuts are being taken in terms of craftsmanship or materials used. 
Create-Your Own 1.5 Carat Diamond Rings
If you're looking for a diamond ring that's exactly 1.5 carats, your best bet is to design your own. While this option can be a tad pricey, it's not that much more expensive than premade rings. If you have a vision, you can create a ring that's unique and exactly what you want. I recommend having a few diamond cuts in mind before you start. While there are other options, I have three favorites for fine jewelers. Each allows a good level of customization for your dream 1.5-carat diamond ring. 
Shane Co 1.5 Carat Custom Diamond Rings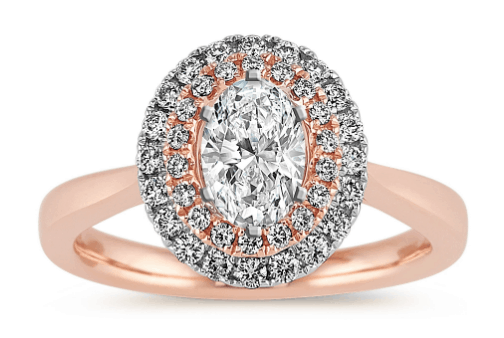 Shane Co is an excellent option if you're not sure where to start. The jeweler has been selling diamonds and precious stones since 1929. All of their gemstones and diamonds are selected for quality, are conflict-free, and exquisite. They carry only natural diamonds and gemstones (no lab-grown). To create your ring, begin with selecting a setting. 
The ring settings range from a modern frame diamond halo to a round vintage diamond setting. You'll find platinum and 14K white, rose, and yellow gold. 
From there, all you need to do is select your 1.5-carat diamond– including cut, color, and clarity. Settings range from $400 to $8,850. Create Your Ring Here.
MiaDonna Custom 1.5 Carat Diamond Rings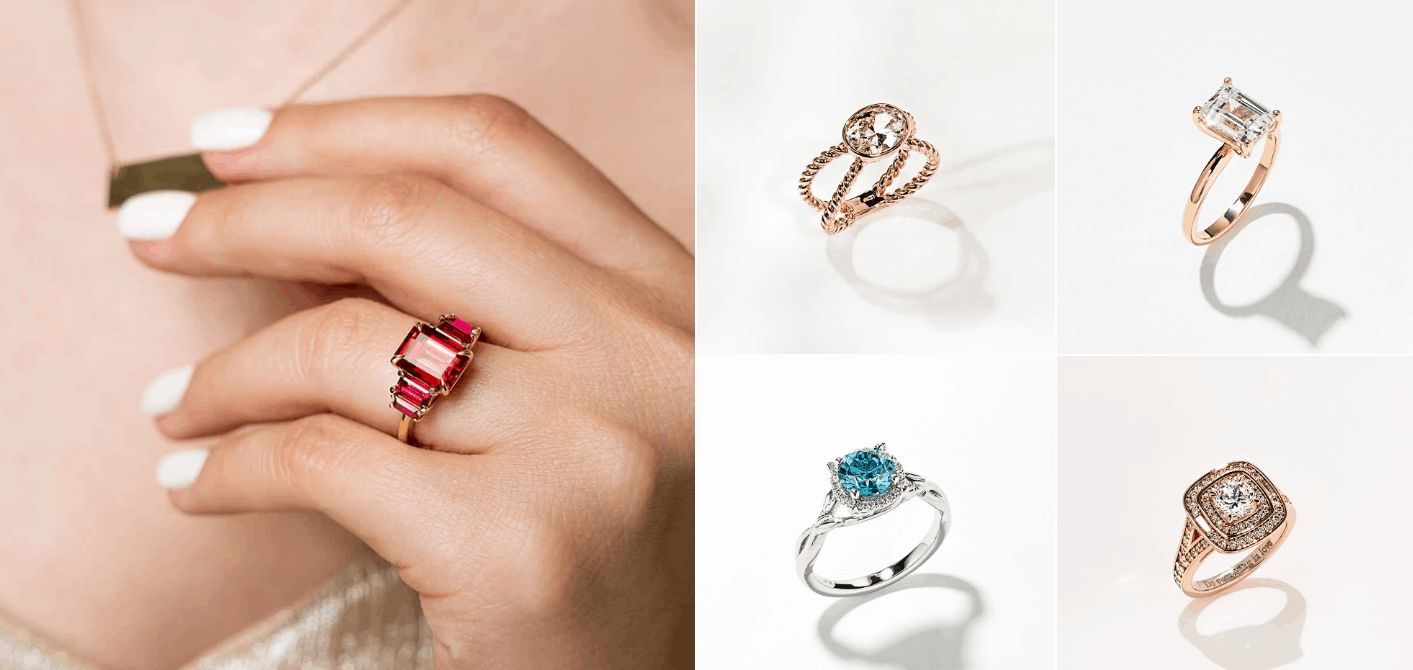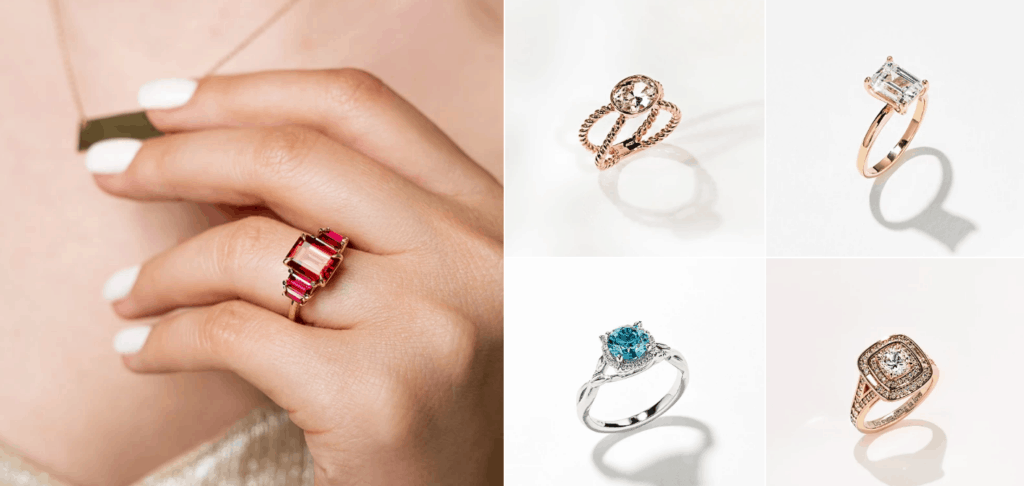 MiaDonna also allows you to customize a 1.5 diamond carat diamond ring, as well as modify existing styles. While Shane & Co offers only natural diamonds, MiaDonna sells exclusively lab-grown diamonds. All their diamonds are handcrafted in New York City, and the metals they use are only precious recycled gold. The sustainable jeweler offers modern and beautiful diamond rings. 
Their design process is a little more personalized but also only for someone with an exact vision. Start by filling out a request form for an estimate based on your design. They do require a 50 percent deposit when you start the process. Next, based upon your requests and visuals, you'll receive a visualization of the final product and be able to provide feedback.
This is a truly customized process and an excellent choice for high quality, 1.5-carat lab-grown diamond ring. Start Designing Your 1.5 Carat Diamond Ring Here. 
Brilliant Earth Custom 1.5 Carat Diamond Rings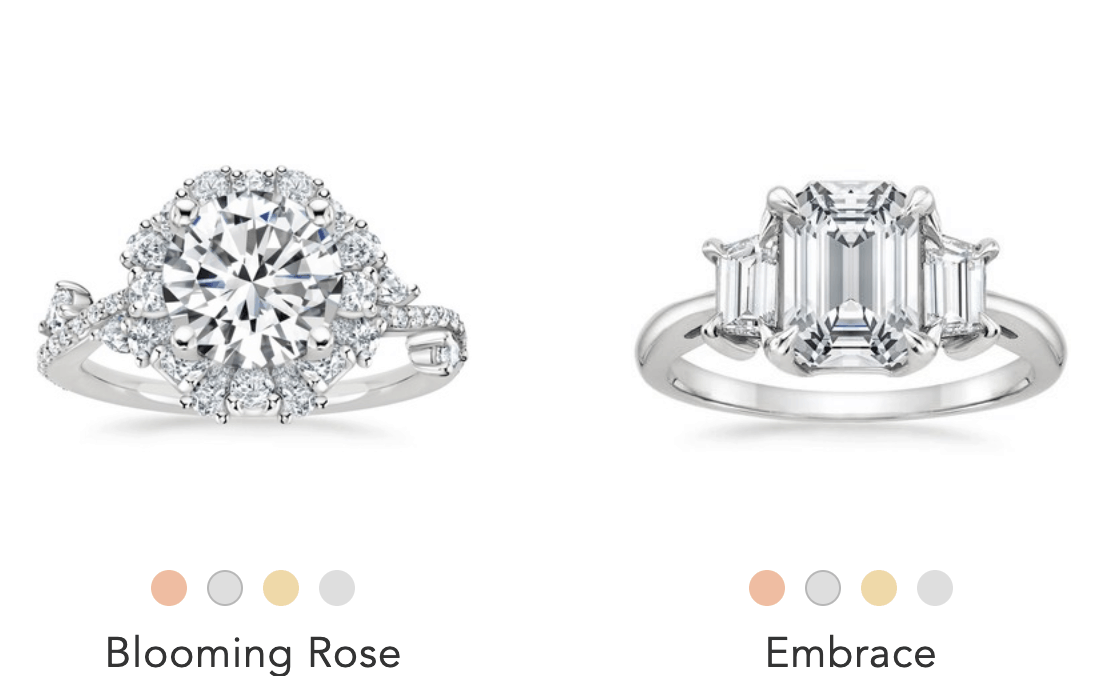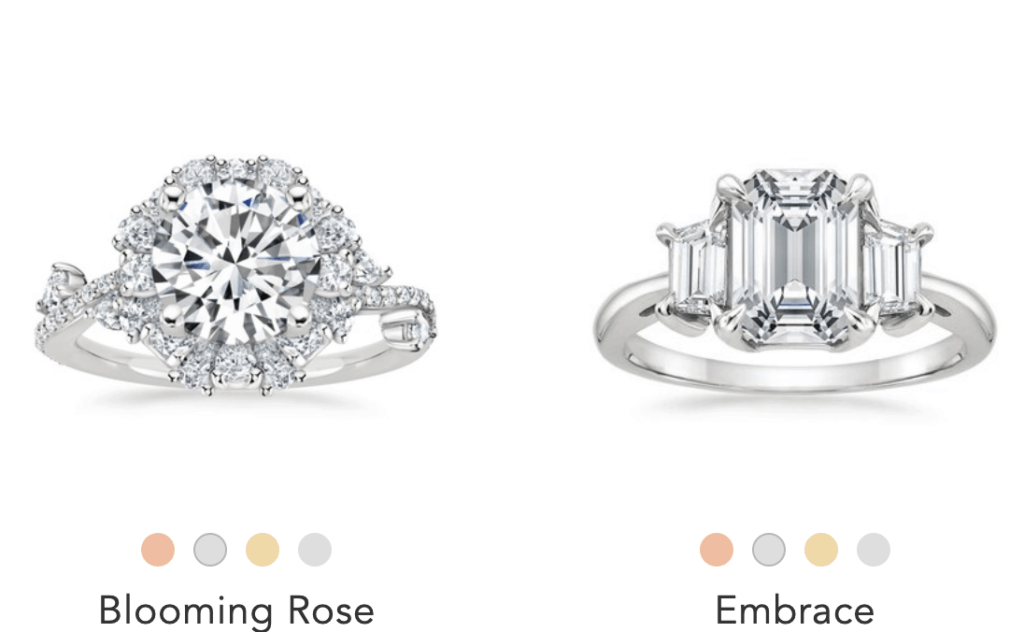 Brilliant Earth's process for creating your own engagement ring is a blend of my previous two ideas. With Brilliant Earth, you get the best of both worlds: both conflict-free, natural diamonds and lab-grown diamonds are options. The jeweler is highly rated and also known for its efforts towards sustainability. 
The process can all be completed online. Start by choosing a setting. Settings are mostly modern or modern-classic and include bestsellers like the Petite Twist, Waverly Setting, and Four-Prong Petite Comfort Fit.  Most are made with 18K gold or platinum for excellent quality bands. Settings are priced from $490 to $5,150.
From there, select a 1.5 carat natural or lab-grown diamond. You have complete control over cut, clarity, and color– and you can see both the price and the visualization of your choices as you select. Start Creating Your 1.5 Carat Diamond Ring Here. 
Premade 1.5 Carat Diamond Rings
That said, designing your own ring may not be the right option for you. If you feel overwhelmed by the thought of designing your own, you can buy a premade ring– or even simply look at some for inspiration.
1.5-carat diamond rings are not as common as whole number carats- like 1 or 2– or diamond rings below 1 carat. You can look at regular jewelers and inquire about more options. Sometimes, you can also find a premade style and request is custom made with different carat sizes. But here are a few ideas for 1.5-carat diamond rings from reputable jewelers. 
Five Stone Radiant Cut  1.5 Carat Diamond Ring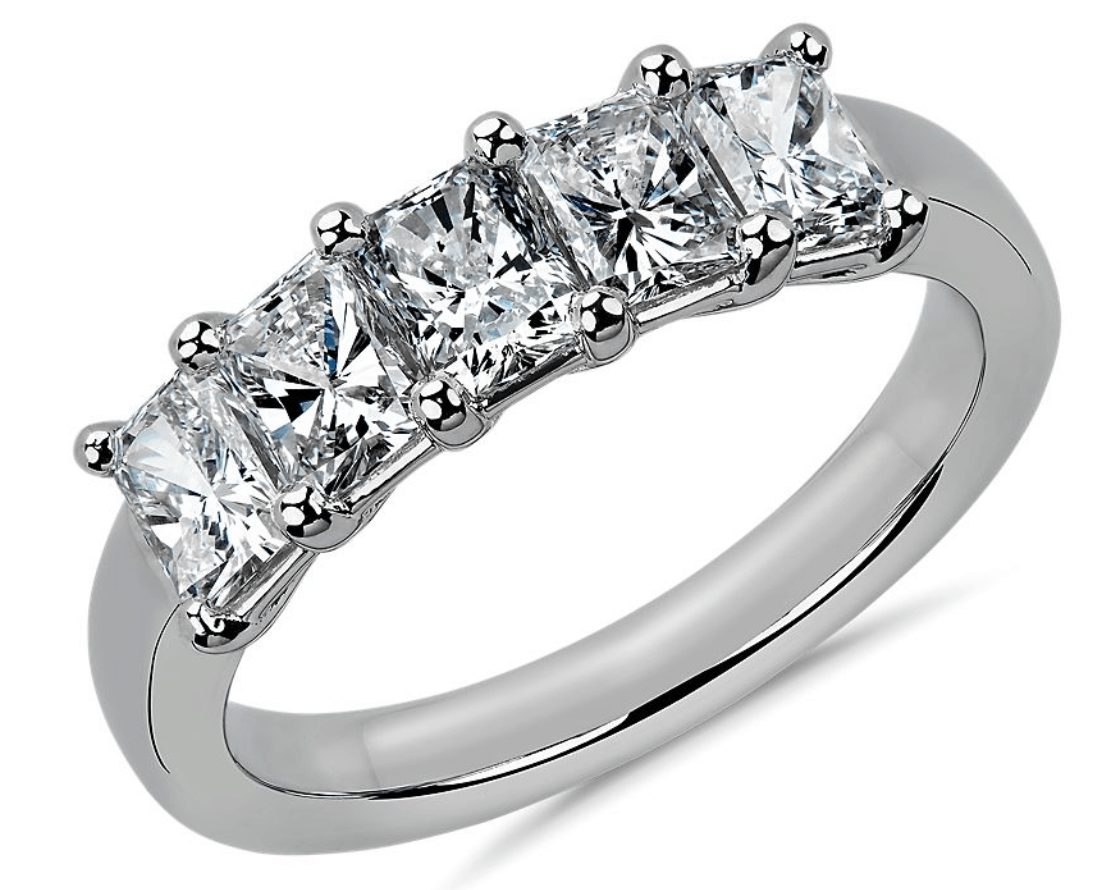 This beautiful 1.5-carat diamond ring features a five-stone style. Five radiant cut diamonds sit high on the gallery of the ring to catch the light. The G, S11 diamonds ensure a beautiful nearly colorless look. Set on a platinum band with a comfortable fit, and specially priced at just $3,645 with a 50 percent discount, this is an excellent deal. Buy Here. 
1.5 Carat Diamond Oval Cut Comfort Fit Ring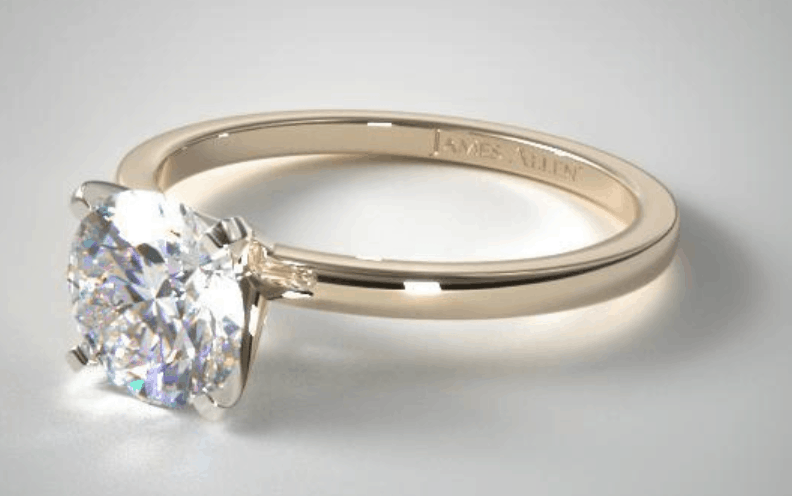 Another comfortable fit, this beautiful 1.5-carat diamond ring features an elegant solitaire style. Crafted in 18K yellow gold, the beautiful luster complements the nearly colorless oval cut diamond. It's a classic, timeless look, priced at $9,200. Buy Here. 
1.5 Carat Eternity Diamond Ring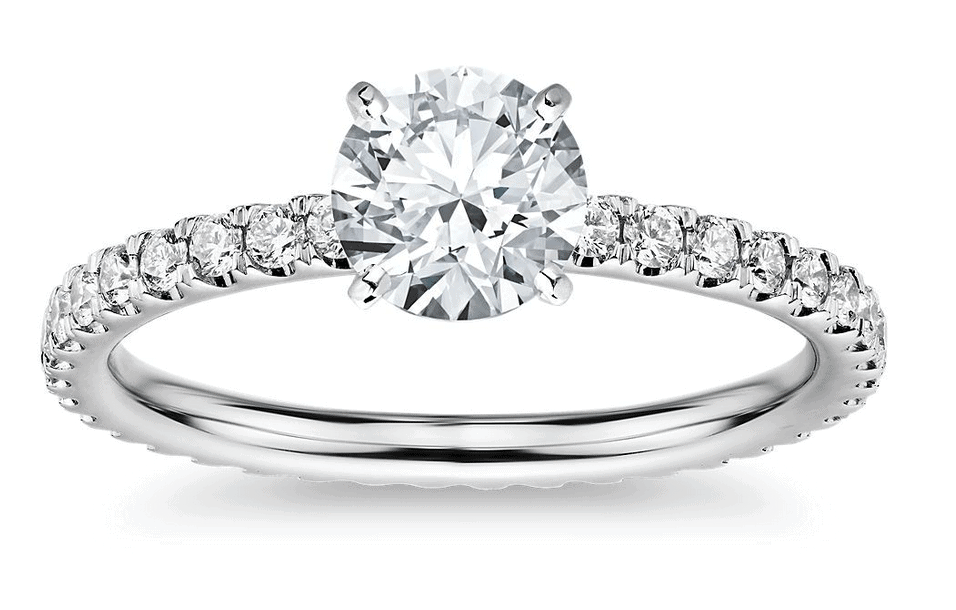 This breathtaking 1.5-carat diamond ring is priced at $14,799. A round, ideal cut provides beautiful sparkle from a nearly colorless, VS2 clarity diamond. The high quality of the diamond center stone is only further enhanced by an additional ⅜ carats along with the band. Buy Here. 
Petite Nouveau 1.5 Carat Diamond Ring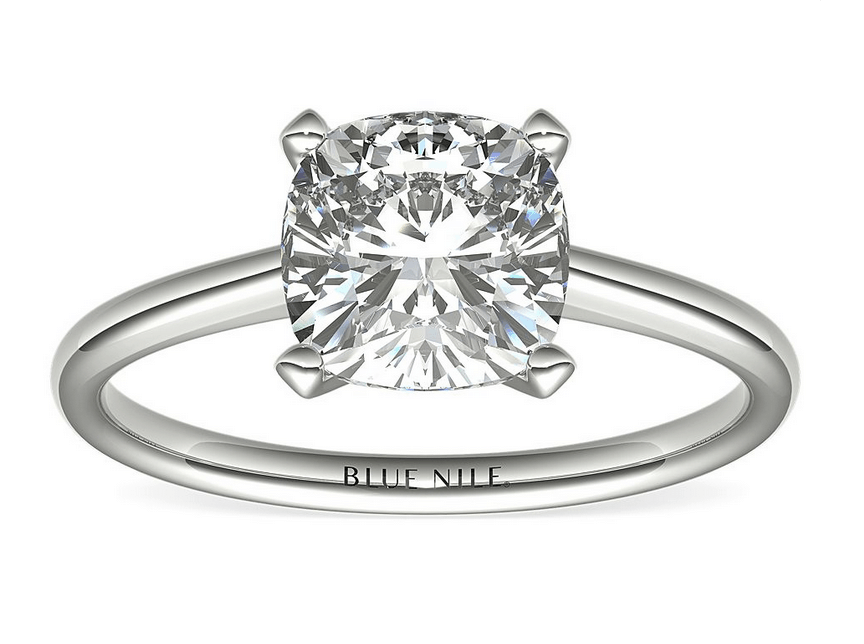 Some of my favorite diamond rings are solitaires with a plain metal band. As this 1.5 diamond carat ring shows, a sleek metal band can allow the 1.5-carat diamond to shine. And shine it does, with an H Color, VS1 clarity, cushion cut diamond. The four-prong style is an instant classic, set on a platinum or 14K white gold band. Priced at $9.628 for white gold or $10,068 for platinum. Buy Here. 
Frequently Asked Questions
Question: How much is a good quality 1-carat diamond?
Answer: You can expect to pay $2,000 to around $25,000 for a 1-carat diamond. A diamond of reputable value will likely hover around $4,000 to $6,000. 
Question: What size diamond is considered big?
Answer: What carat size is considered big is in the eye of the beholder. Generally speaking, anything over 1 carat is a little above average, and two carats is considered a larger diamond. 
Question: What color diamond is the most expensive?
Answer: Colorless diamonds will almost always be the most expensive. Exceptions are for fancy colors that are rare– such as red diamonds or the Blue Hope Diamond. 
Final Thoughts
A 1.5-carat diamond ring is sure to make an impression. If you have the budget, make sure you're buying a suitable clarity and color. If you have to save money in one area, I'd save first by going to slightly lower carat size, then opting for a great cut but an alternative to a round brilliant diamond. By prioritizing, you can ensure that whatever diamond ring you buy will sparkle for years to come.