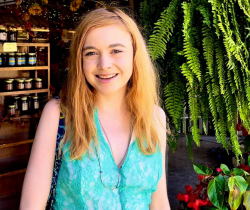 Latest posts by Erin Jamieson
(see all)
Red carpet events are almost always a source of fashion inspiration. And now, after a long year of lockdowns and event cancellations, a 10-carat diamond ring is providing plenty of ideas for fashion in 2022.
Diamond statement pieces stole the show at the Cannes Film Festival. The event was already going to be a dramatic one: 2020 is the only time this festival has been canceled since World War II. And celebrities made the most of it.
Maggie Gyllenhaal wow with a Chopard diamond hoop earring cuff on one side and a matching 42-carat diamond necklace. The dramatic look was paired with a plunging red gown. But that wasn't the only time a glamorous, high carat Chopard diamond appeared.
Jodi Foster also wore Chopped, with diamond earrings and a dramatic 10-carat diamond ring. The ring made an unexpectedly big statement for a star whose style is usually more subdued.
With other stars rocking 10-carat diamonds and above, it's clear that large and glamorous pieces are in style for 2022.
But is a 10-carat diamond ring right for you? Consider this your guide to 10-carat diamond rings. I'll explain all the things you need to consider before buying, and my picks for the best 10-carat diamond rings.
How much should I pay for an engagement ring?
If you're buying a 10-carat diamond ring as an engagement ring, first you need to ask yourself if it makes sense for you and your budget. So before I discuss the particulars of selecting a 10 carat10-carat ring.
The first issue that comes to mind is how much you should spend on an engagement ring. The good news? While there used to be a supposed 'rule' that you should spend two to three months of your salary, in 2022 more and more couples are scrapping that trend.
You should spend what is comfortable for you. Spending more than you can afford on an engagement ring and going into debt isn't going to place your relationship on a good starting point. The average spent on an engagement ring is around $6,000. You should look at your finances, other expenses, and set a budget. Spending more does not mean the ring is better or more meaningful.
What is a good size diamond for an engagement ring?
A good size for a diamond engagement ring is really up to you. I have seen stunning diamond rings that are under 1 carat. A lot of beauty comes from craftsmanship and diamond quality. In other words, if you have an option between a larger carat size with a lesser quality diamond, I recommend scaling down.
Until recently, 1-carat diamond rings were the most popular. However, now some of the most in-demand engagement ring around between 1.25 to 2.0 carats. It certainly is true that large carat diamond rings are fashionable, but they are not affordable for everyone.
Is a 10-carat diamond good?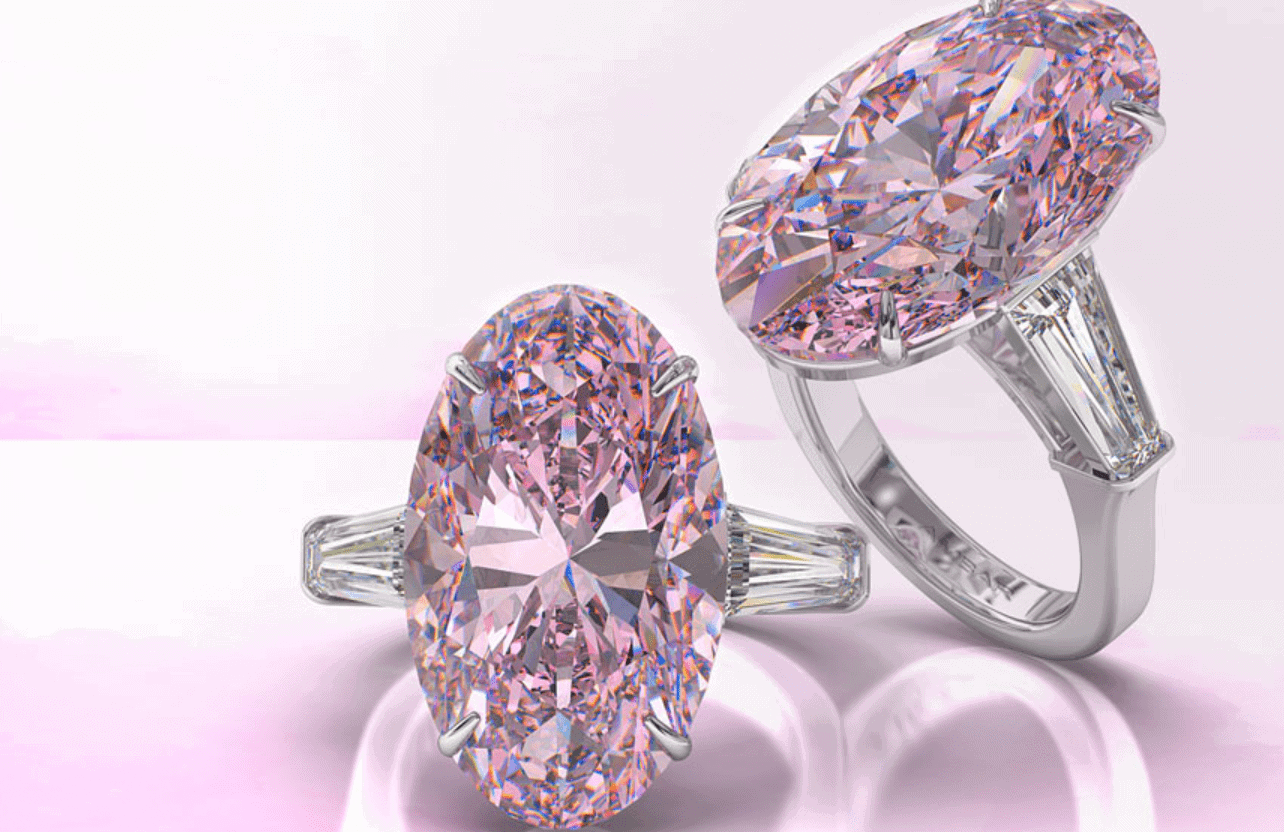 A 10-carat diamond is no doubt a big statement, whether you're buying an engagement ring or even a statement ring for a special occasion. But it's not as simple as being good or bad. Rather, there are pros and cons to buying such a precious stone for a ring.
A 10-carat diamond ring, in the best quality, offers brilliance that's hard to take your eyes off of. It's a loud, glamorous statement, and up to 5 to 10 times larger than the most bought carat sizes in the United States.
How much is a 10-carat engagement ring?
The truth is that there is no one price range you can attach to a 10-carat diamond ring. The price per carat of a diamond is the first factor. The market value of a 1-carat diamond, for instance, can range from $1,800 to $25,00. Clarity and cut play big factors. Lab-grown diamonds cost less than natural diamonds.
Then you have the metal type, craftsmanship, and who made the ring. Platinum is the most expensive metal typically, and sterling silver is more affordable than gold. Expect to pay a minimum of $10,000– and that's a great deal–and there is no ceiling.
How much is a pink 10-carat diamond worth?
While clarity and cut play a role in how much a diamond is worth, different colors of diamonds also will increase or decrease the value. A pink diamond is quite rare, as is the Blue Hope Diamond. Both go for tens of millions of dollars. In 2019, a 10-carat pink diamond was auctioned for around $25 million.
Which Diamond is best for a ring?
Assuming you've decided that a 10-carat diamond ring is worth the price, there are some very important considerations you need to make before buying. The most important factor, of course, is the diamond itself. You need to make sure you're buying an authentic diamond that will produce sparkle. You'll also need to decide on the diamond cut that's right for you.
How can you tell that a diamond is real?
If you're buying a 10-carat diamond online, you have to be especially careful. Anything as big of an investment as a 10-carat diamond requires thought before you purchase. To tell if a diamond is real, the diamond should come with official AGS or GIA certification. These are professional institutes that grade and certify diamonds.
Don't fall for the trap of other certifications. While there are other diamond certifications, they are not held to the same standards. Never buy a 10-carat diamond without certification of authenticity, as well as specific details for carat, cut, color, and clarity.
Which cut of a diamond has the most sparkle?
If you're most considered with sparkle, you'll need to keep in mind that some cuts are preferred over others. The most sought-after is a round cut, also sometimes referred to as a round brilliant cut.
However, if you want to save money, princess, radiant, and cushion cuts are also excellent options for sparkle. All of these cuts reflect light beautifully.
Which diamond shape looks the biggest?
Bigger is not always better, and if you're already buying a 10-carat diamond ring, rest assured any shape will look large. That said, round cuts look larger. This also encompasses oval cuts. Circular cuts are not quite as deep as other cuts. Cuts that are longer also give off the appearance of a larger diamond. These include ovals and marquise shapes.
On the other hand, while a lovely choice for sparkle, a cushion-cut can make a diamond appear smaller than it is. This is because it's a deep cut, and much of the area of the diamond is below the surface.
Which ring metal is best?
If you're going to invest in a 10-carat diamond ring, you also need to pay attention to what metal you opt for. Platinum is considered the most optimal– it's not prone to corrosion, especially durable, and has a polished shine.
Gold is a popular option and comes in 10K, 12K, 14K, 18K, and 24K, which is 100 percent gold. 14 to 18K is often preferred, as it is more valuable than lower carats but also is harder than pure gold.
Sterling silver, specifically 925 silver, is high-quality silver used for rings. While beautiful and refined, it can tarnish.
Other options include tungsten and stainless steel (which is seen as a hypoallergenic option). These are both durable, but also tricky to find.
10 Carat Diamond Rings: My Picks
Now here are my top ideas for 10-carat diamond rings. I've included a few premade rings, a full 10-carat diamond ring collection, and options for making your 10-carat ring. A word of warning: there are some other places you can order a 10-carat diamond ring online, one of which is 1st Dibs. This company has numerous consumer complaints, and a bad track record. If you find a 10-carat diamond ring at an exceptional price, always make sure you understand who you're buying from.
10 Carat Diamond Premade Rings
My list of 10-carat diamond promise rings is small. That's because you'll often find the best option is to custom order. But what I do like about premade rings is that you immediately know how much you'll be paying. Not only that, but these rings could also serve as inspiration for rings styles that you may enjoy.
10 Carat Composite Diamond Cushion Frame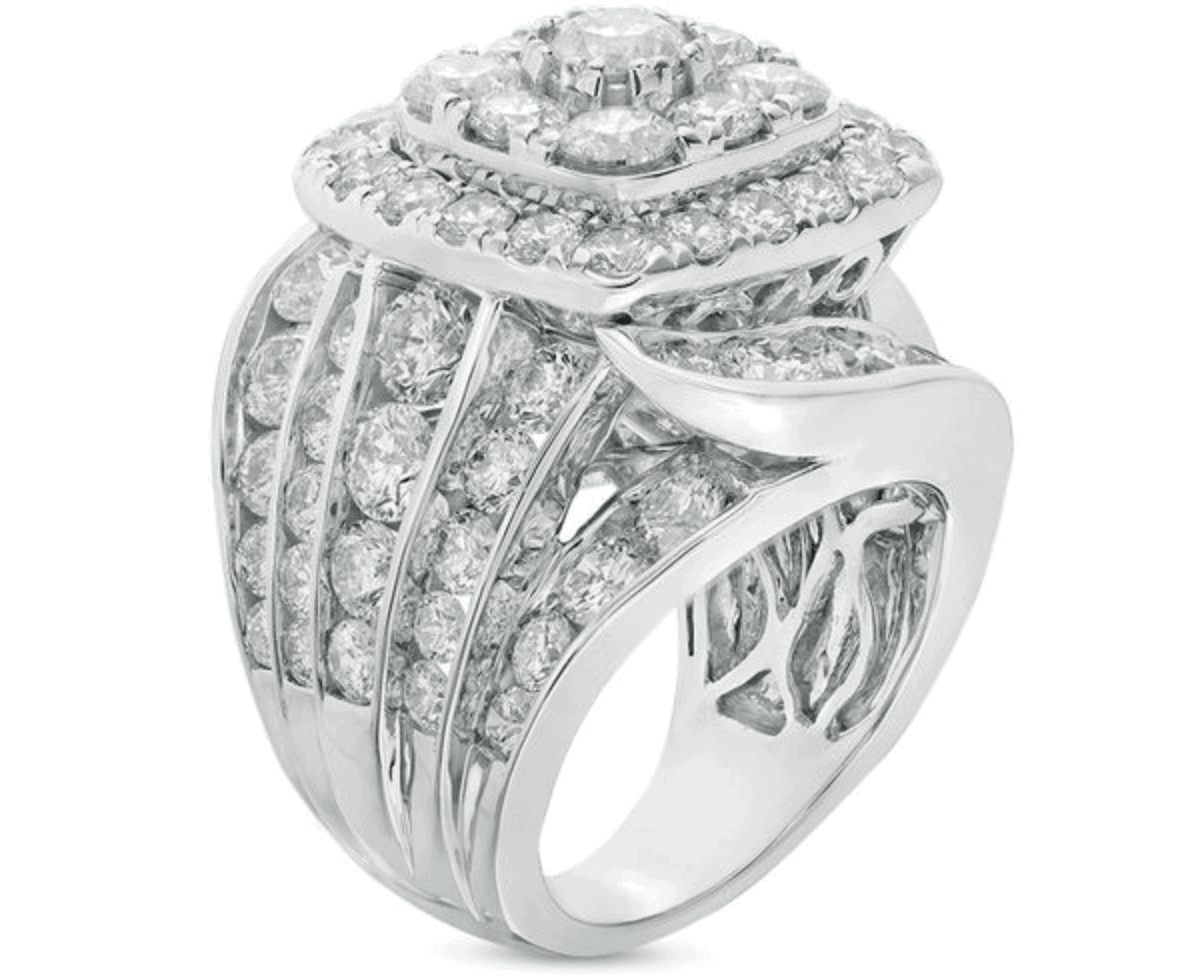 This luxurious 10-carat ring from Zales features striking geometric designs. Brilliance exudes from the wide shank, featuring rows of sparkling channel-set diamonds.
An outer strip of diamonds crosses to the center ⅝ carat diamond. Placed on icy 14K white gold, this $11,334 ring shows you don't need a single 10-carat center diamond to enjoy the modern sparkle. Not only that, but this is about as affordable as you can get a 10-carat diamond ring of suitable quality. Buy Here.
10 Carat Cushion Cut Diamond Ring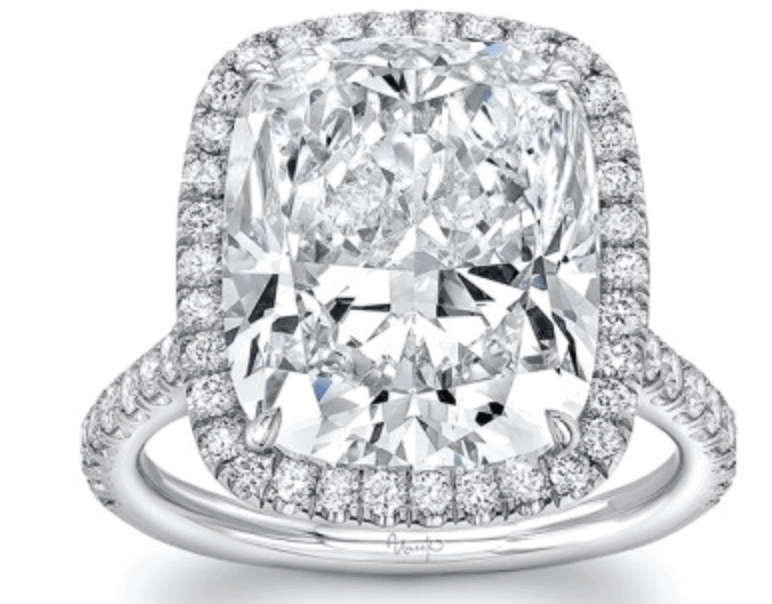 Set on a platinum band, this 10-carat diamond ring features a beautiful cushion-cut diamond. 56 accent colorless round diamonds add both dimension and sparkle to the perimeter. Modern luxury and streamline angles make this ring a beautiful modern style that's sure to wow. You must call for pricing. View Here.
Ice 10 Carat Cushion Cut Diamond Ring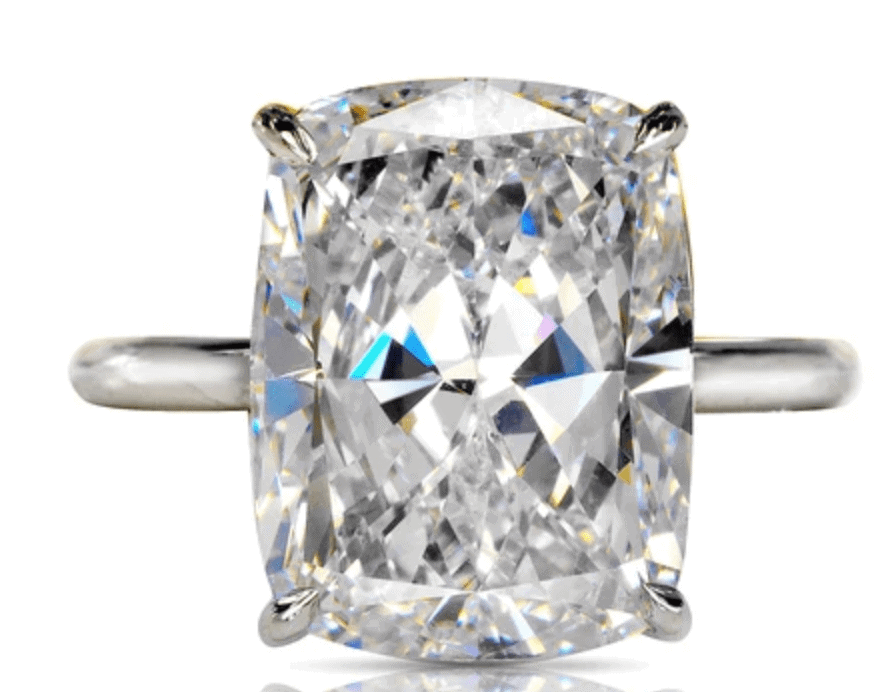 If you want excellent quality, 10-carat center stone, get ready for a hefty price. This beautiful 10-carat cushion cut diamond is set on a solid, minimalist platinum band. With a VVS1 clarity, the center diamond will have a brilliant sparkle. Priced at $350K. Buy Here.
10 Carat Emerald Cut Diamond Ring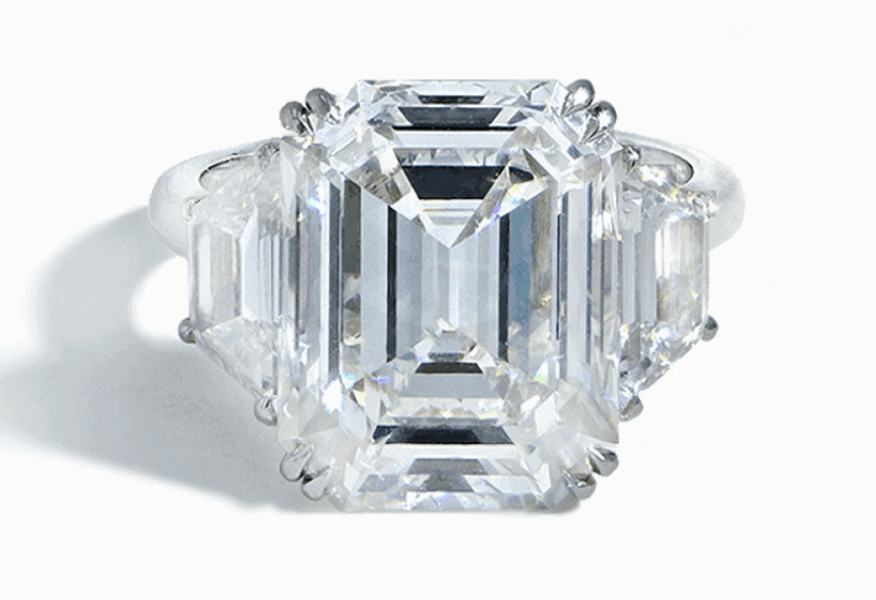 This beautiful diamond ring has vintage appeal with modern nods– for an eye-watering $475K. The private label diamond ring features an I color, VVS2 emerald cut diamond. Two trapezoid accents add dimension to this alluring ring, set on platinum. Buy Here.
10.05 Carat Marquise Cut Diamond Ring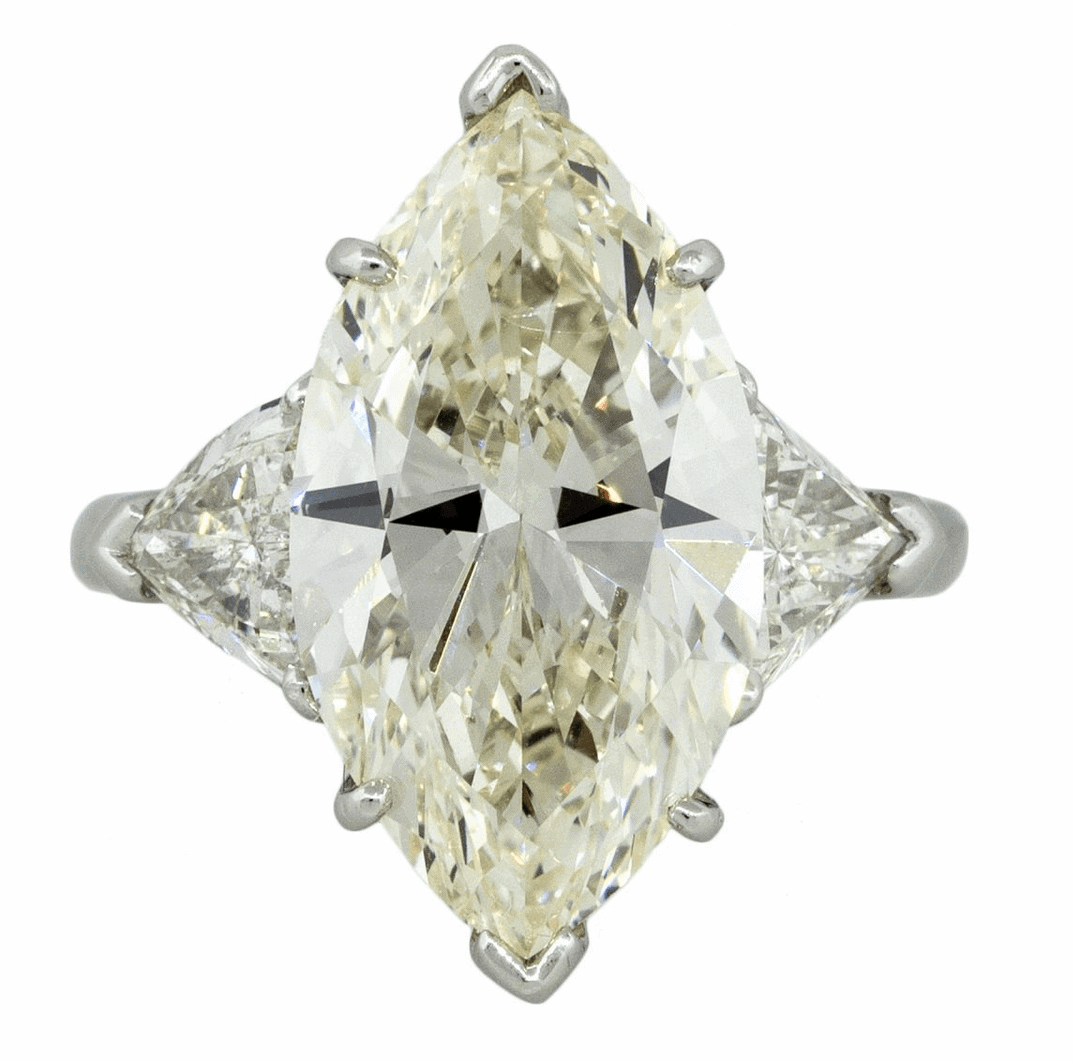 This 10.05-carat diamond ring has an old-world, timeless feel. Set on a polished platinum band, the center marquise diamond is accompanied by trillion cut diamond accents. S1 clarity and a H/I color grading make more of a high-quality brilliance. Priced at $140K. Buy Here.
10 Carat Diamond Ring Collection by Bez Ambar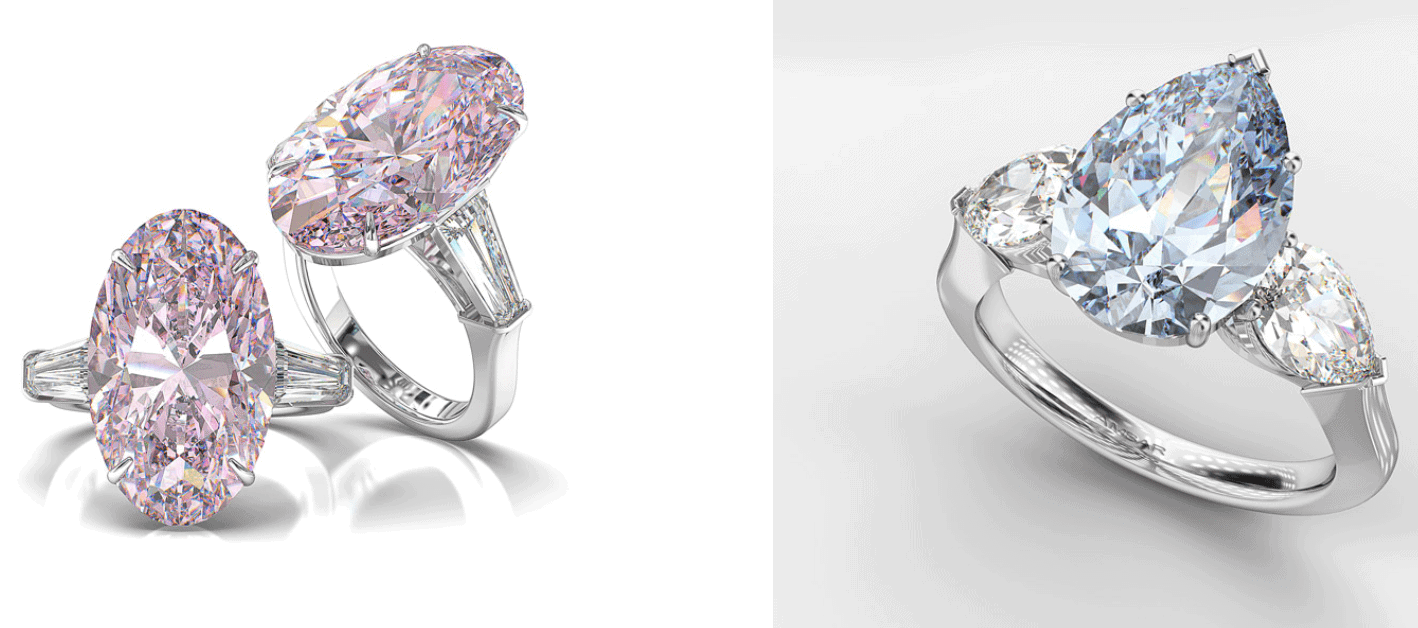 Bez Ambar has been in the fine jewelry business for over 30 years and dazzles with these stunning 10-carat diamond rings. The collection includes radiant, oval, pear, emerald, and princess cuts. Clear but also pink diamonds are available. Each diamond is handpicked and crafted for exquisite quality. Modern, magnificent designs, this collection is worth looking at. Prices upon request. Shop Here.
Create Your Own 10 Carat Diamond Ring
My best idea, however, is to custom order a 10-carat diamond ring. Since there isn't as high of a demand for 10-carat diamond rings from the general population, custom ordering is simply going to expand your options so much more. By customizing your ring, you can select the diamond cut, clarity, and color. You also can play some with style, and, to a certain extent, try to find something within your budget.
Of course, making your 10-carat diamond ring has downsides and limitations as well. For one, making your ring can get expensive quickly. For another, many options may lean more modern vs vintage. It's also true that the most mainstream creates your ring options tend to not feature as daring designs as some premade options.
Brilliant Earth Create Your Ring
Brilliant Earth is my number one pick for where to custom order a 10-carat diamond ring. This company offers your choice of natural and lab-grown diamonds of about any cut you can imagine. But what stands out about Brilliant Earth is its high standards. Rings are made with recycled materials and comply with the Responsible Jewelry Council.
They are Beyond Conflict Free diamonds don't finance civil wars, under the Kimberly Act. But they go a step further, also ensuring that their diamond mining process minimizes environmental degradation, supports community development, and protects against human rights abuses. Make Your Ring Here.
Honorable Mention: Blue Nile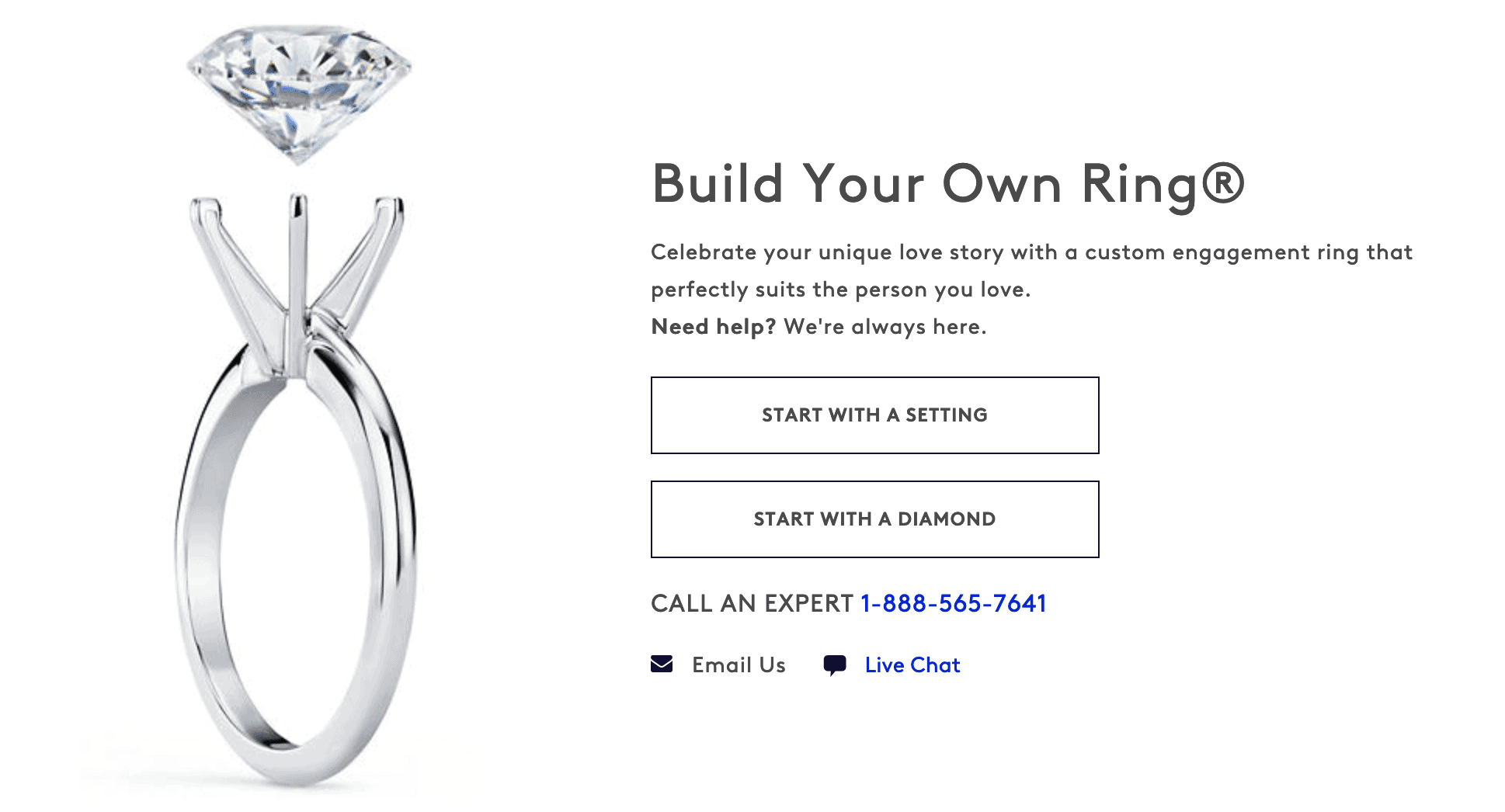 The Blue Nile is another excellent company to work with if you haven't found an option or price that suits your needs through Brilliant Earth. Though the Blue Nile doesn't have all the same standards Brilliant Earth does, they still offer ethically sourced, conflict-free diamonds. The Blue Nile, like Brilliant Earth, offers an array of design options for a custom 10-carat diamond ring and is well-loved by customers. Make Your Ring Here.
Frequently Asked Questions
Question: What is the most expensive diamond ring in the world?
Answer: The most expensive diamond rings are those that are of exceptional quality and rarity. But to date, the Pink Star diamond ring is considered the most expensive ring. This 59.9-carat pink diamond ring was also the largest fancy colored diamond considered internally flawless by the GIA. The auction price was a staggering $71.2 million.
Question: How much is a 1-carat diamond ring?
Answer: 1-carat diamond rings are quite common for engagement rings. You can expect to pay $2,000 to $4,000 for general, commercial rings. However, high-quality 1-carat diamond rings average around $5,000 to $7,000.
Question: Is a $2000 dollar engagement ring cheap?
Answer: A $2,000 engagement ring is below the average an American spends, but that doesn't mean it's a bad idea or 'cheap.' Do know you may have fewer options at this price, but there are many ways to still buy a beautiful ring. Opt for a lower carat size, or consider a durable diamond alternative. I recommend sticking to 14K gold or a suitably durable metal and lowering the carat size. You can also buy a cheaper cut– round brilliant is almost always the most expensive.
In other words: you don't need to have a large budget to buy a gorgeous ring. You just need to consider multiple options and be savvy about how you buy. You can also find deals through reputable outlet stores, such as the Zales Outlet.
Final Thoughts
There's no doubt about it: a 10-carat diamond ring is a glamorous option. Beautiful sparkle and exquisite designs make for a stunning style. As you can see, how much you pay for a 10-carat diamond ring varies greatly– but it's a minimum $10K investment. If it's in your budget, make sure you're buying wisely and fully considering your options before buying.
And never buy anything that doesn't provide official certification from the AGS or GIA. By taking these steps, you'll be able to buy a 10-carat diamond ring and fully enjoy it.