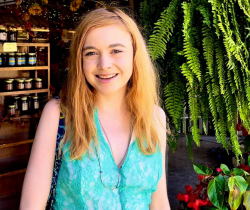 Latest posts by Erin Jamieson
(see all)
Gucci is one of the biggest designers for luxury rings, and part of that is due to their smart marketing and celebrity backing. And the inspiration continues for ring ideas in 2022– this time, from singers Miley Cryus and Harry Styles.
The new advertisement has Miley Cryus front and center. While the advertisement is actually for the Flora Gorgeous Gardenia perfume, it's Miley's rings that are stirring attention.
The rings seem simple on their service: sterling silver engraved rings with initials. In her case, those initials are "M" and "C," of course.
But it wasn't the first time that the Gucci ring was spotted. Harry Styles, who's been known to don Gucci at events and even for daily wear, wore the same Gucci sterling silver rings. Harry's instead has a gold finish.
Of course, Gucci rings aren't just for celebrities. In fact, compared with some luxury competitors, you can find more affordable and trendy rings for your own outfits.
Consider this your guide to the best Gucci rings in 2022. I'll give you my ideas, advice, and hopefully some inspiration so you can buy a ring for yourself or your partner.
Is Gucci Good Quality?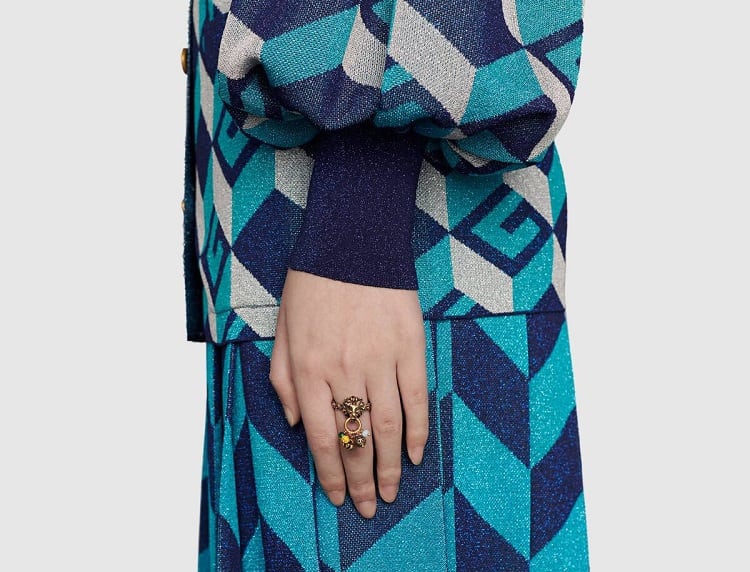 Just because something is popular doesn't mean it's a good idea to buy it. So before you consider buying a Gucci ring of any kind, it's important to look at Gucci as a company.
Gucci is by no means perfect–no brand is. But the designer has taken steps, especially in recent years, to live up to its name in terms of quality and consumer satisfaction. That stems from the materials used, quality craftsmanship, and transparency that goes beyond some of Gucci's main competitors.
Where Are Gucci Products Made?
The bulk of Gucci products are in Italy. Watches are made in Switzerland, while Gucci perfumes are made in France and the UK. Makeup is produced within the European Union, and select eyeglasses are made in Japan.
More importantly, Gucci is changing the way its jewelry and other products are made. Their commitment to more sustainable and responsible sourcing means that they are working more and more towards environmentally and ethically sourced materials.
As of now, they have a ten-year plan to reduce their environmental footprint by 40 percent, attain 100 percent traceability for all materials used (by 2025), among other goals.
Does Gucci Retain Value?
Gucci largely retains–and even increases in value. This is especially true of Gucci handbags, but also their fine jewelry collection. Gucci, as an in-demand brand, also offers great resale value.
And while this is most evident for Gucci bags, it is also true for Gucci fine jewelry that's in excellent condition.
While I never recommend buying purely based upon what degree a product will retain value, I do think it's a good factor to consider if you're buying something pricey.
Should I Buy a Gucci Ring?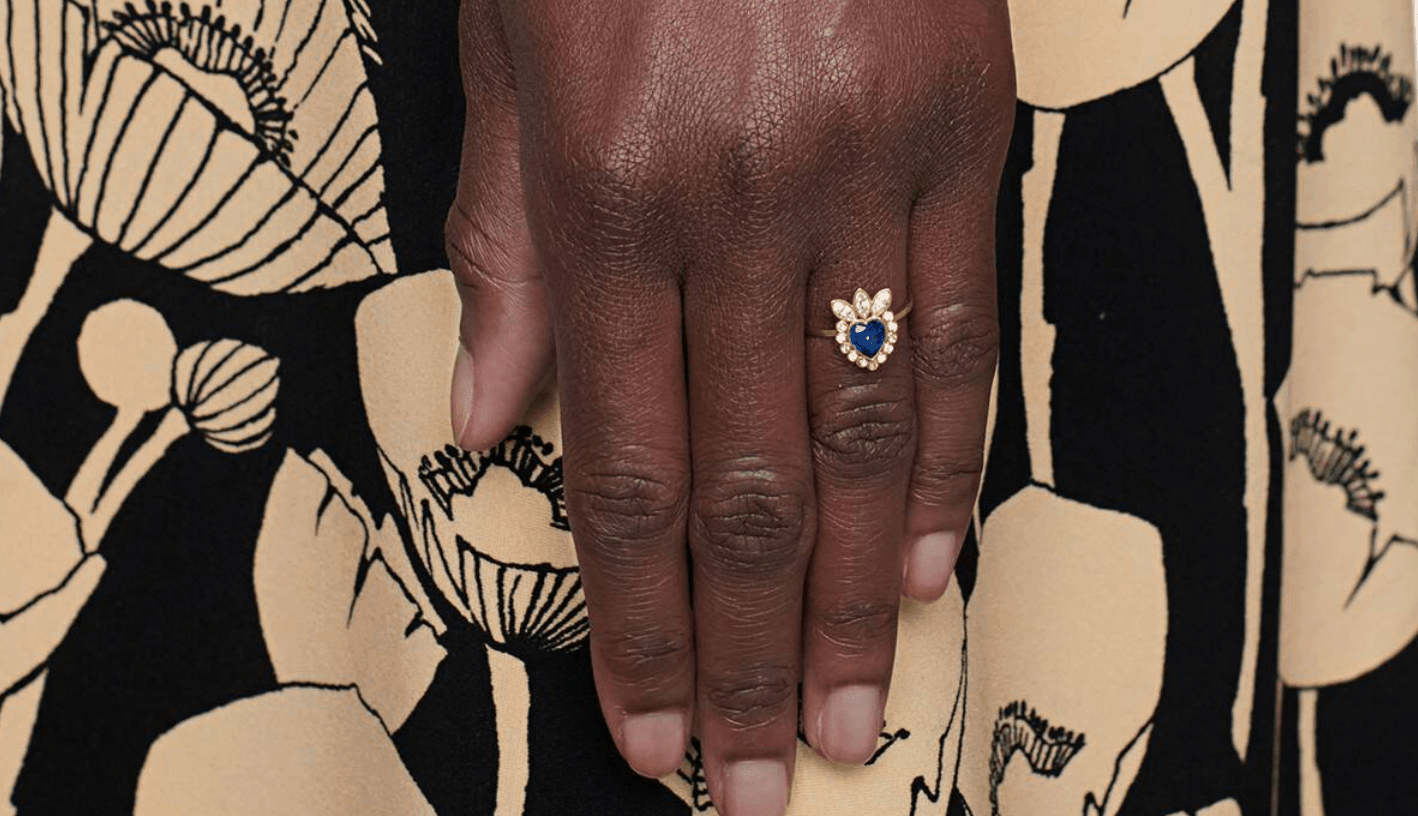 While it's true that Gucci has fairly respectable quality, is a Gucci ring right for you? Here's what you need to know before buying in 2022. Keep in mind your budget, why you're buying a Gucci ring, and what you need to keep in mind for taking care of your new ring.
Are Gucci Rings Real Silver?
Gucci rings are made out of platinum, sterling silver, or solid 18K gold. All of these materials are commonly used for rings and popular options.
Of course, there are certain pros and cons to all three. Rest assured that all Gucci rings are real precious metals– it just depends on what you're looking for that will be most suitable for you.
Sterling silver is a more affordable option, and common for Gucci fashion rings. It is also sometimes given a gold finish with gold plating. The main downside to sterling silver is that it can tarnish. Solid gold has beautiful polish and is valuable, though 18K gold is softer than platinum.
Does Gucci Use Real Diamonds?
Gucci uses genuine diamonds and gemstones for its fine jewelry. These gemstones and diamonds are of high quality and certified conflict-free. Under the Kimberly Act, this ensures that the natural gemstones Gucci uses are not being used to finance civil wars.
Note that for some fashion jewelry options, Gucci does also use some simulant crystals and other materials, such as glass pearls. In these cases, the materials are always well defined, and also well made.
What is The Gucci Heart Ring Made Of?
The Gucci heart ring is one of the most popular rings you can buy. The heart ring is from the fashion collection and is made of 925 sterling silver.
This means you will have to be cautious about humidity and wet environments, as it can tarnish. Nonetheless, the Gucci Heart Ring is a classic, and, at $220, it's not as expensive as some other popular designs.
How do I Take Care of My Gucci Ring?
Of course, even the best Gucci rings require proper and careful care. To take care of your Gucci ring, take it in for a professional cleaning and polish once a year, or more as needed. I recommend removing sterling silver before showering.
For all Gucci rings, avoid harsh chemicals or extreme temperatures. Use common sense and your Gucci ring should last. When you're not wearing your Gucci ring, you should store it in a safe, cool place that won't accumulate moisture.
Gucci Rings: My Picks
Now I'll provide some inspiration for my top Gucci ring ideas in 2022. My picks include both the more casual fashion ring collection, and the more valuable fine ring collection.
Each category will be arranged from most affordable to most expensive. I've made sure to include rings of a wide variety of styles and materials.
At the same time, my selections include what I consider to be the most unique or classic designs that Gucci offers.
Gucci Fashion Rings
Priced from $295 to $580, Gucci fashion rings are perfect for making a statement at an event but also just casual wear. Jewel tone crystals, glass pearls, and crystal-studded accents add points of interest to sterling silver and gold plated rings.
There's a playful and lively feel to this collection. Strawberries, lions, bees, and even an ice cream cone are among the motifs.
And while these rings do lean more casual, you can still find the Double G symbol, without paying the price for a fine jewelry ring. Deep blues, reds, and greens complement gold and aged gold finishes. Shop the Entire Collection Here.
Crystal Heart Ring
Priced at $295, choose from a red or blue crystal for this jewel-toned statement ring. The heart-shaped stone is accented with crystals and set on metal with a gold finish.
Interlocking G's can be seen on the back. This ring looks at home with jeans and casual dresses. You can
Buy Blue Crystal Here or Buy Red Crystal Here .
Lion Head Ring with Double G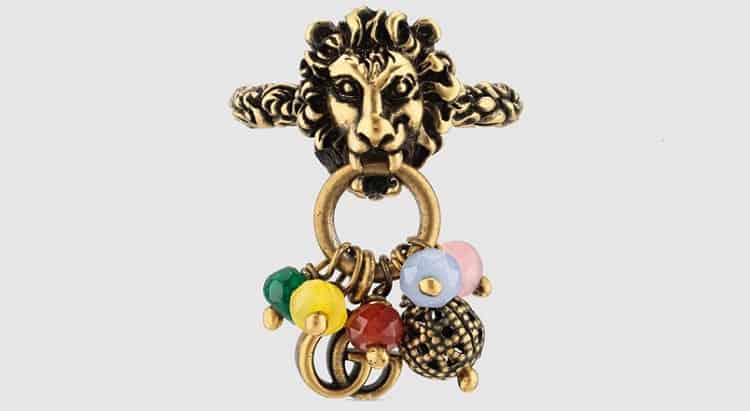 This charm-styled ring is the most affordable lion motif ring you can buy from Gucci. Priced at $350, an aged gold finish well suits the majestic 'King of the Jungle'.
The lion head, long a symbol of Gucci, holds a charm ring of the Double G, cutout gold plated charm and playful color charms. While it's not the most versatile, it's the most budget-friendly for a motif-heavy Gucci ring, and certainly unique. Buy Here.
Pearl Double G Ring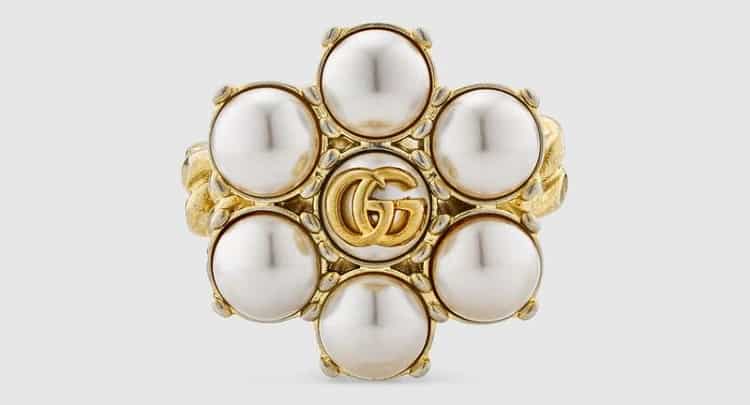 This is my personal favorite pick from the Gucci fashion ring collection. Glass pearls form petals– a nod to the iconic Gucci floral motif. The center of the ring features the Double G, and the gold finish adds a warm tone to this classic look. Priced at $350; Buy Here.
Lion Head Ring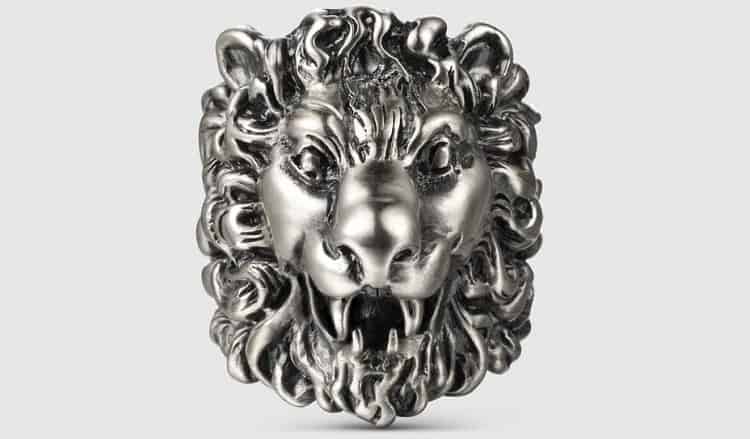 If you want a Gucci lion head ring from the fashion collection, I recommend this option most. Priced at $350, I actually prefer a crystal accent that distracts from the intricate design.
The aged palladium finish is unique and appealing, though it's also available in a gold finish. Buy Aged Palladium Here or Buy Aged Gold Here.
Bee Ring with Interlocking G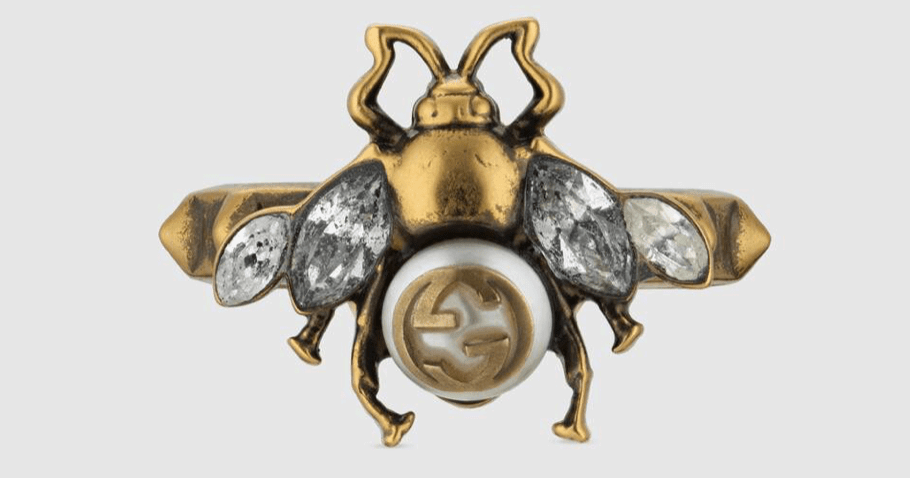 Bees have long been a symbol of hard work, and also have religious or spiritual undertones. For some Christians, bees are associated with Saint Ambrose, a bishop of Milan during the 4th century. Bees were also associated with fertility and goddesses in Greek and Roman mythology. And as a long-standing tradition of Gucci, this beautifully crafted bee is a charming ring. Crystals grace the wings. An aged gold finish accompanies the Double G Logo for a timeless, vintage look. Priced at $390; Buy Here .
Red Crystal Strawberry Ring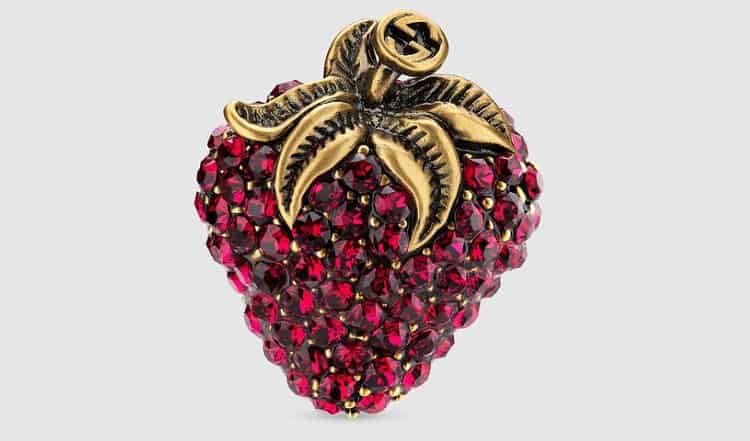 This ring statement is the boldest look from the Gucci fashion collection– and maybe all Gucci rings. Red crystal strawberry is complemented with an aged yellow gold base. The detailed stem and leaf, along with the dazzling red hue evoke a playful and very Gucci style. Priced at $470; Buy Here.
Tiger Head Ring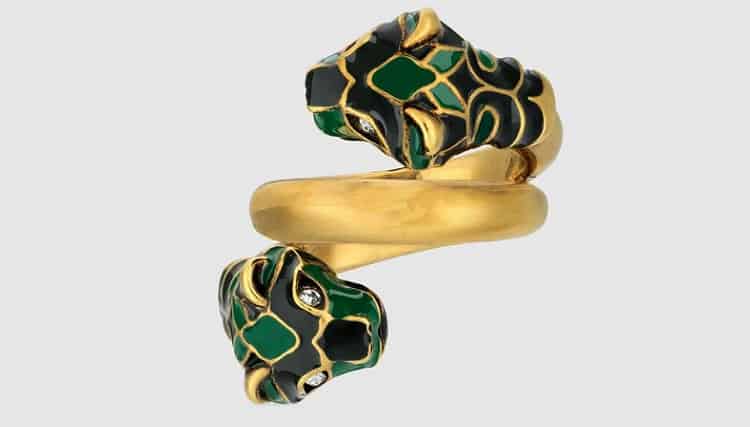 The tiger is another well-known motif for Gucci. Typically, the tiger is a symbol of strength and courage. It is also a spiritual symbol in Hinduism and Buddhism.
Here, Gucci plays with geometry with dual enamel-plated tiger heads that wrap around an aged gold-plated band. Priced at $470; Buy Green Enamel Here or Buy White Enamel Here.
Double G Ring with Crystals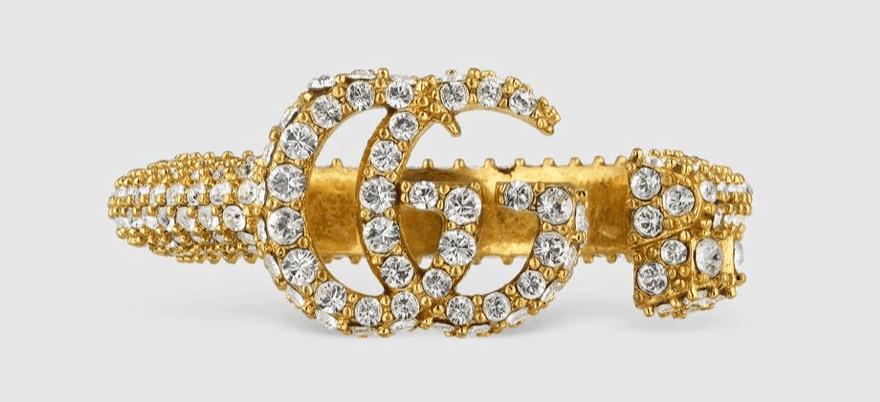 If you're looking for a sparkling and class ring from Gucci for under $600, this $580 ring may be a great idea for you. Take this crystal-studded Double G ring from day to evening. The gold finish complements the crystals and provides classic appeal. Buy Here .
Gucci Fine Jewelry Rings
Solid 18K white, rose and yellow gold, as well as platinum, make for more valuable rings. A sleek polished shine adds sophistication. Diamonds and precious gemstones add scintillation, color, and a luxurious accent to finely crafted bands.
For the most part, these rings lean towards classic or modern minimalist designs. Icon rings, solitaire rings, solid bands, and engraved rings are the most common styles.
While some rings in this collection could work the statement or cocktail rings, often the focus is on the band itself, and gemstones and diamonds are instead beautiful accents.
Prices start at $490, up through $18,900. Over half of the rings retail for under $2,500. Shop the Collection Here.
Icon Band Ring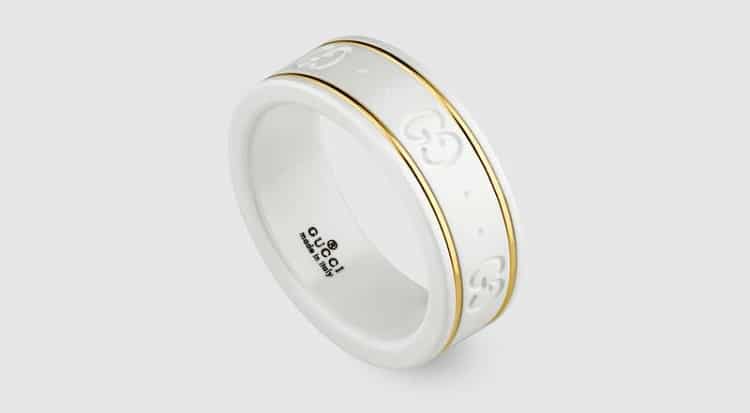 Available in 18K yellow or white gold, this Gucci band ring is the cheapest, as well as one of the most useful fine rings. An option that could even be used as an alternative wedding band, the $490 features the Double G logo and a sleek design.
The black or white finish takes it away from the expected solid metal look. Shop Yellow Gold Here or White Gold Here .
GG Running Ring

This $690-$770 (WG) ring is from the popular line of jewelry; Gucci also sells the Running Bracelet. The small Double G charm dangles from a narrow 18K solid white or yellow gold band.
The guilloche technique adds texture with diagonal stripes. Buy Yellow Gold Here or Buy White Gold Here.
Simple GG Ring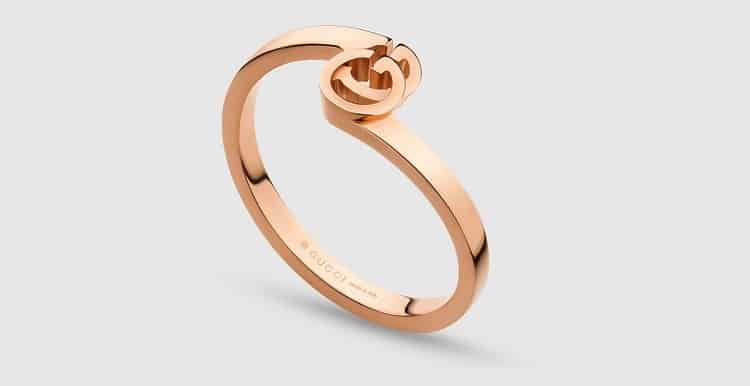 You have numerous options for GG rings, and some indeed have diamond accents and other dazzling features. But there's something to be said for the beautiful, clean simplicity of this $720 ring (or $790 for white gold).
Solid 18K gold provides a sleek, minimalist look with the Double G motif. Buy Rose Gold Here, Buy White Gold Here, or Buy Yellow Gold Here.
Interlocking G Ring with Tourmaline or Beryl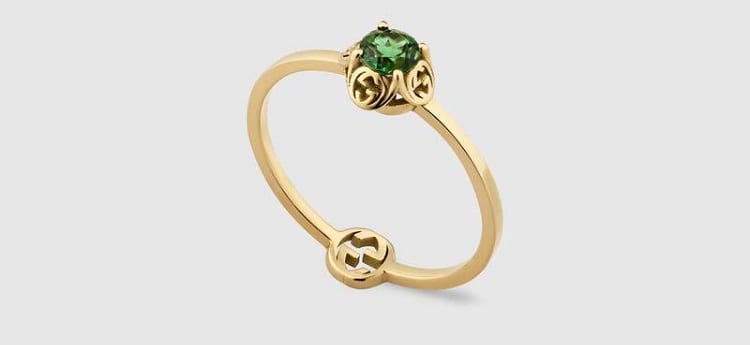 If you're looking for a Gucci gemstone ring, this is the best affordable option. Priced at $850-$890, this ring has a classic solitaire style.
The thin band of 18K yellow gold doesn't distract from the 0.23 Tourmaline or Beryl gemstone. Textured details by the stone add expressive touches. Buy the Tourmaline Ring Here or Buy the Berly Ring Here.
Gucci Linked to Love Mirrored Ring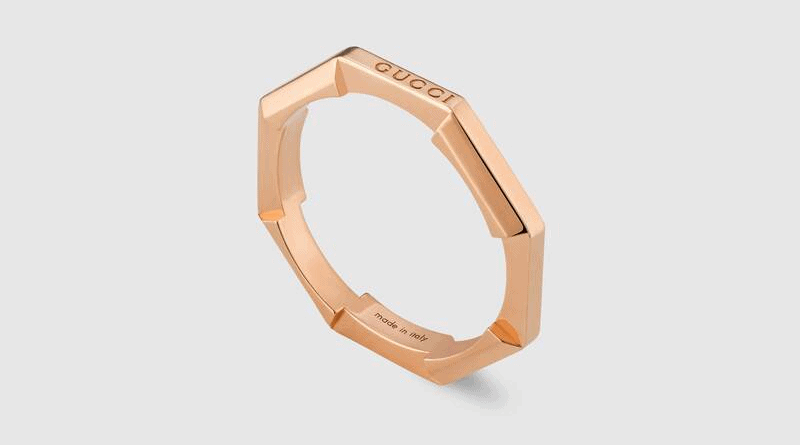 This $890 -$950 ring comes from the new Linked to Love collection, which was made to celebrate all forms of modern love.
In line with the collection, this ring has a modern and minimalist style. Versatile for casual outfits, the thin band can easily be stacked with other rings. This may be the most useful Gucci ring. Buy 18K Rose Gold Here, Yellow Gold Here, or White Gold Here.
Gucci Flora Ring with Diamonds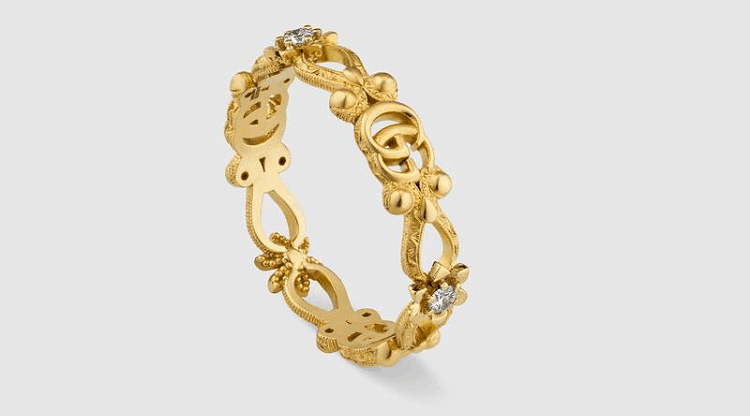 Gucci actually offers several versions of diamond-studded Flora rings, but I actually prefer the most affordable option, priced at $980-$1,050.
While other Flora rings are dazzling, this ring uses diamonds as points of accents, still allowing full attention to the intricate details of this Gucci motif. Buy Yellow Gold Here or Buy White Gold Here.
GG Running X Ring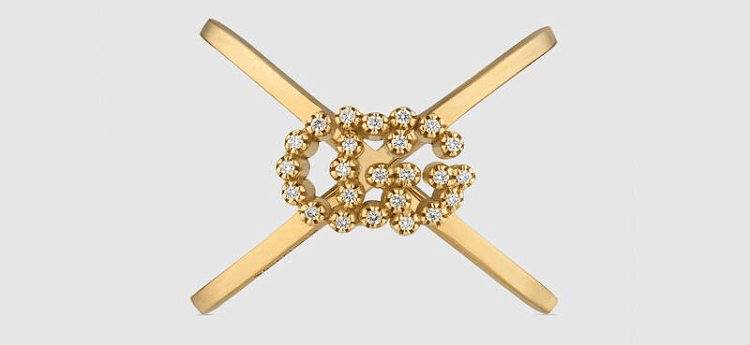 Of all the GG Running rings with diamonds, this $1,450 ring may be your best bet. The unique X shape showcases Gucci's talent for elegant geometry. The diamond-studded Double G in the center is dazzling but also balanced with sleek 18K yellow gold. Buy Here.
Yellow Gold Ring with Interlocking G
This $2,200 ring is unlike any other Gucci ring. If you like etching or engraved styles, you may find this is a great idea for you. Arabesque styled patterns feature prominently on an 18K yellow gold band with an aged finish. The ring also includes intricate G cut-outs. Buy Here.
Lion Head Ring with Fire-Opal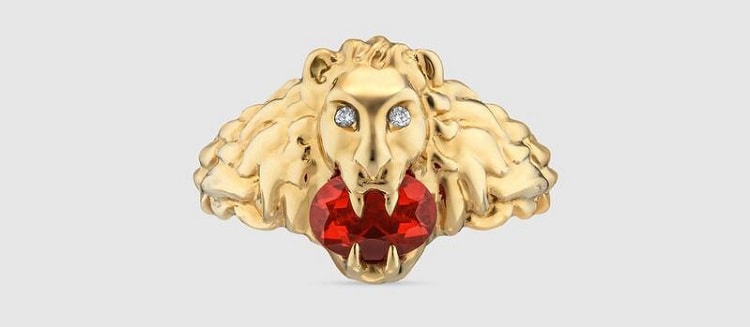 Indeed, this ring isn't for everyone. But it's equally true that this $2,800 is one of a kind and majestic. An 18K yellow gold lion's head is crafted with detail. Diamond accents add sparkle to the eyes, and the lion holds a dazzling red opal in its mouth. Buy Here.
Five Band Diamond Ouroboros Ring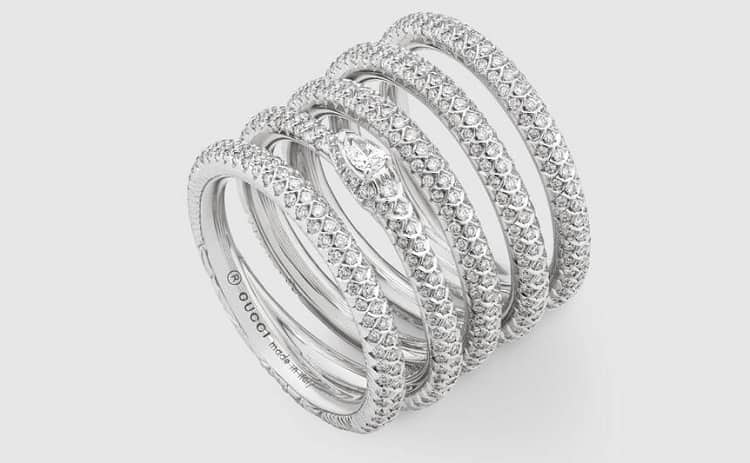 At $18,900, I consider this ring more inspiration than accessible for the average consumer. But it's truly dazzling and showcases the best of Gucci. Winding layers of diamonds make for exquisite sparkle. 548 white diamonds total 1.48 carats on beautiful 18K white gold. Buy Here.
Frequently Asked Questions
Question: How Can I Tell if My Gucci Ring is Real?
Answer: Start by checking if the ring is a style Gucci typically offers. Every Gucci ring should have a Gucci name stamped inside. If it is absent or not spelled correctly, you likely have a counterfeit on your hands. Gucci rings should also say 'made in Italy'. Your best bet is to buy directly from Gucci.
Question: What is Gucci Ring Sizing?
Question: Does Gucci Offer Cleaning?
Answer: Gucci offers cleaning as well as restorative care and replacement services. The cost of services varies. After-sale support, digital gifting, financing with Affirm, express shipping, and eco-packaging are among other Gucci services. Read about Gucci Services Here .
Final Thoughts
Gucci rings range from playful to dazzling. Bold designs, innovative geometry, and excellent quality comprise beautiful collections. You can easily find a ring that's under $2,000 to wear and enjoy from day to evening.