Finding the right bracelet for you can be a battle, there are so many types of bracelets on the market today. Bracelet is an umbrella term covering a wide range of variations. From simple bead bracelet strands to statement cuffs, are a great way to add a pop of color to your outfit. I've broken down the fundamentals on all the various styles of bracelets, whether you're drawn to classics like the tennis bracelet or pearl bracelet, want an edgy leather bracelet, or want to mix and match for a new, chic look.
I have gone through and located the perfect bracelets depending on your style and the material. I'm also here to provide you with useful tips for buying the right bracelet, cleaning your jewelry, and how to style your bracelets. Let's get started!
What To Remember When Buying A Bracelet 
It's not always as simple as going to a store, adding a piece of jewelry to your cart, and then paying for it. You should take your time and think about your purchase. I've compiled a list of things to think about before purchasing a bracelet below.
Consider Your Personal Style
With so many different types of bracelets to choose from, it's worth it to spend some time thinking about your personal style. Is there a particular color, metal, or gemstone you gravitate towards?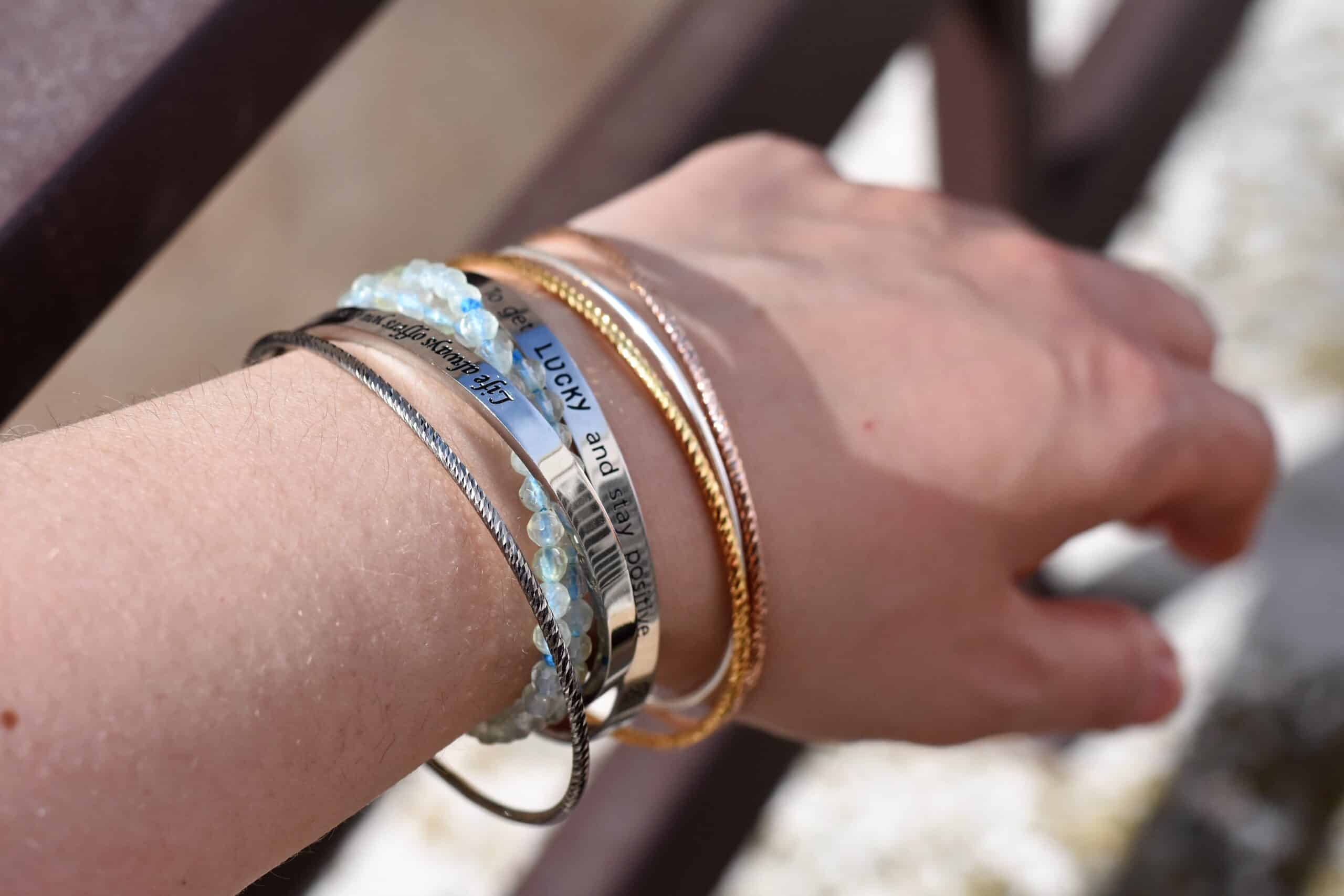 If you're having trouble figuring out what you want, take a step back and think about it. Do you want a dense jade or a simple silver bangle? Do plain gold bracelets make you feel more at ease?
It will be easier to pick a bracelet if you know what you want. Choose pearls, for example, if you want jewelry that radiates charm and refinement. Find a wooden bracelet if you want something special and long-lasting or a rope bracelet if you want something natural and rustic. 
Is It Easy to Style? 
Simple bracelets are the easiest to incorporate into any ensemble as an accessory, but if you just buy plain bracelets, your set can become repetitive and boring. Think about your everyday look when purchasing a bracelet. This will assist you in finding a piece that can be worn with all of your outfits.
Buying bracelets for formal or special events is the same. If you find something simple that complements the formal styles that you tend to gravitate towards, you'll most likely be able to wear it for many occasions. I love the timeless look of a diamond bracelet. 
Think About the Bracelet's Durability
If you purchase a cheap quality bracelet, it's more likely to break. Your bracelet will get tangled in a variety of places. It has the potential to snag the fabric of your outfit, which will be disastrous for all fashion items. It can even get stuck on your bag strap and snap if you pull on it. 
It's unavoidable at times, particularly if you're a busy woman. Bracelets that break will cause a significant and needless dent in your bank account. If the bracelet you broke was new and/or costly, you could be disappointed. 
Instead, invest in high-quality, long-lasting sterling silver or yellow gold bracelets. Be sure you read product reviews before purchasing bracelets. This will assist you in determining how long a bracelet will last. 
Right Fit, Right Bracelet 
Consider how comfortable the bracelet is to wear. Do you like to wear bracelets that are a little loose and can go up and down your arm? Or do you like tight-fitting ones so you don't snag them on things?
The scale and fit of your bracelet are some of the most crucial factors to remember. You try on clothing before you buy it. When it comes to bracelets, the same rule holds.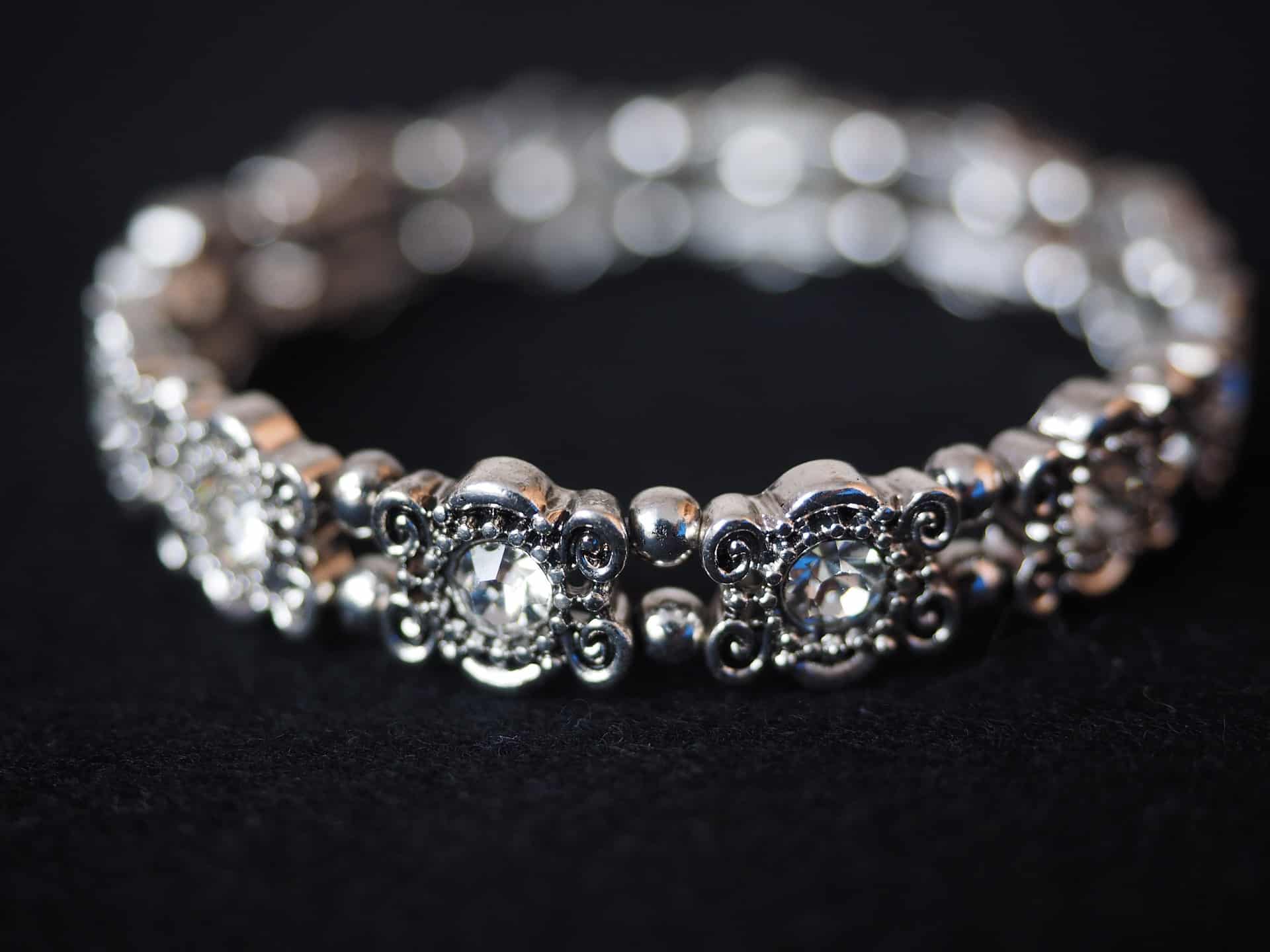 Cleaning and Protecting Your Bracelets
Think about how often you wash your hands. We use our hands a lot, and our bracelets can collect the same amount of dirt and bacteria that your hands do. If you're doing things around the house (like cleaning, washing dishes, gardening) you may want to find a safe place to store your jewelry so that it doesn't get damaged. 
Cleaning Silver Bracelets 
Pick up some silver polish or make your own with tinfoil, baking soda, salt, and water to clean silver jewelry. Aluminum foil, polished side up, can be used to line the bottom of a large disposable tub. After that, arrange the jewelry in the pan so that it is in contact with the foil. In the tub, sprinkle some baking soda and salt. 
The quantity of salt and baking soda you'll need depends on how much water you're using; about one tablespoon per cup of water is a good estimate. After that, fill the pan with boiling water until the jewelry is fully soaked. Allow the jewelry to soak in the solvent until the tarnish begins to fade. After that, strip the jewelry with caution and dry it completely with a lint-free rag. 
Cleaning Other Metal Bracelets 
Cleaning other metal jewelry at home with a tub, a soft-bristle toothbrush, and a DIY solution of lukewarm water and mild dish detergent is the most tried and true, gentle way to do so. In a tub, combine a drop of dish soap with some lukewarm water to make the DIY jewelry cleaner. Soak fine jewelry in the mixture for a few minutes if it is deeply soiled and does not contain any precious gemstones (remember that fragile stones shouldn't be soaked for more than a few seconds). 
After that, buff away some grit and debris with the toothbrush, using a toothpick to gently dislodge soil in hard-to-reach places. Take note of any loose stones or damage that needs to be fixed when you clean the jewelry. If the gemstones are loose, avoid wearing the jewelry until it can be repaired. Before putting the jewelry back into storage, pat it dry and let it air dry fully.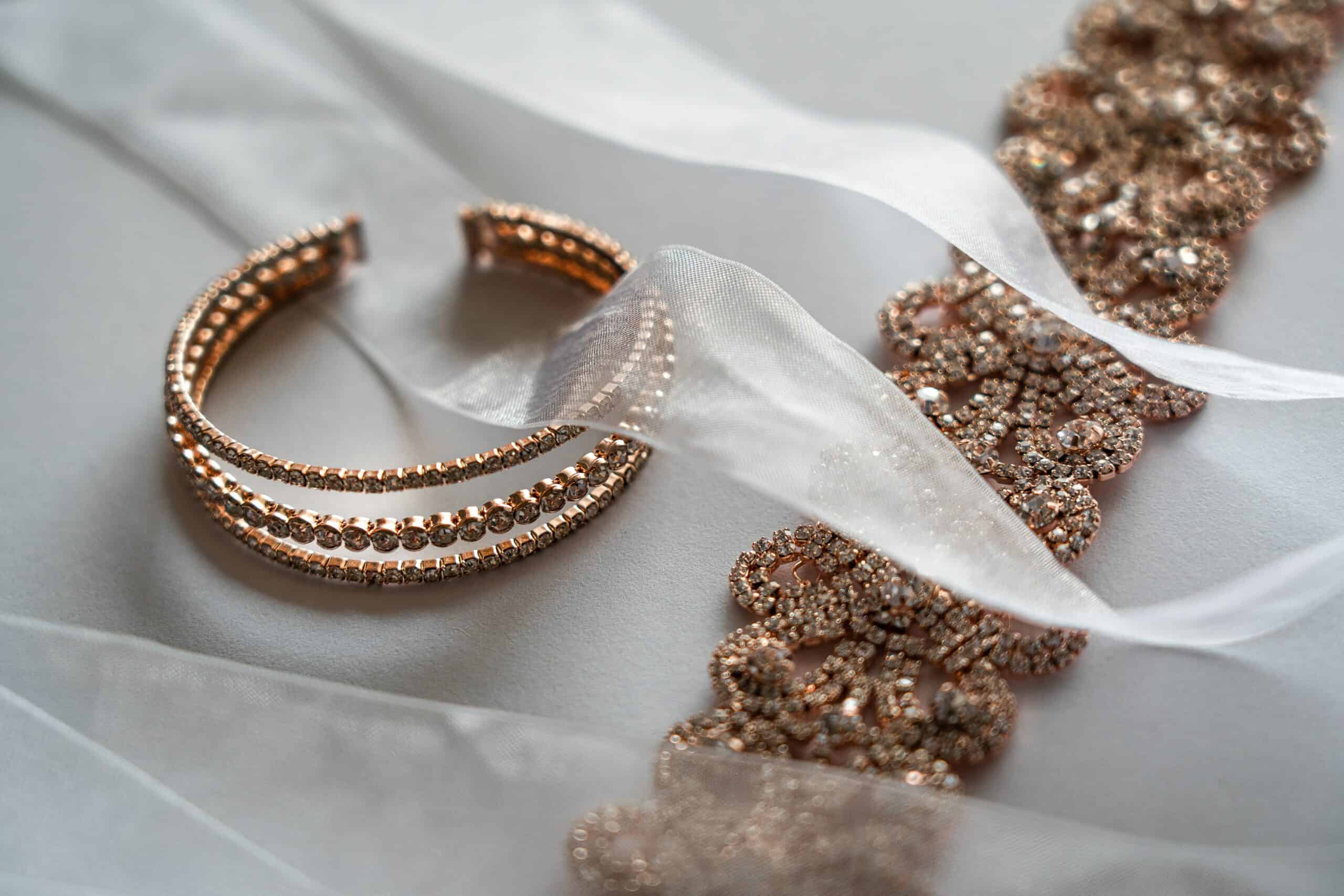 You can always take your jewelry to a professional cleaner if you want!
Protecting Your Bracelets 
When doing chores like gardening, washing dishes, or cleaning, assign a spot in your home to store your bracelets and other jewelry. Many people wear some jewelry, like their engagement rings, all the time, but they should be taken off if they're in danger of getting wet or dirty. Even in the bathroom or while applying hand lotion, it is best to remove your jewelry. 
Residue and water will get stuck in the nooks and crannies of your jewelry and create problems if you don't. Silver should be stored in felt, separate from other jewelry and metals to prevent possible tarnishing. To avoid moisture build-up and tarnishing, store gold jewels in a jewelry box lined with felt.
Types of Bracelets and My Top Picks
Bangle Bracelets
When putting together a bracelet stack, it's almost impossible not to think about the bangle bracelet. While bangles are popular for being slim and stackable, the more rigid bracelet type that slips over your hand and comes in a range of choices is sure to turn heads. Wearing a single big bangle for a streamlined look is also a great option. Bangles come in a variety of metals and fabrics, as well as gemstones and diamonds for a more opulent appearance.
My favorite bangle bracelets include: 
Zorte Bangle Bracelet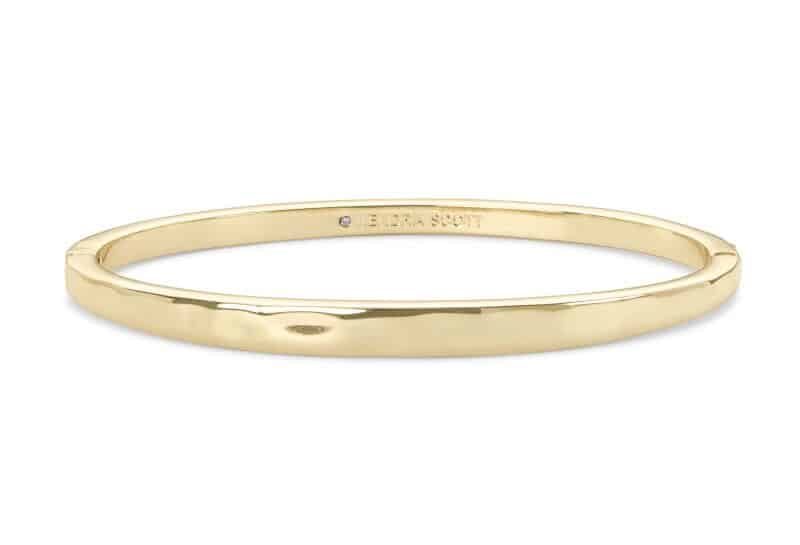 You can pair these super shiny bangle bracelets with pretty much anything. They come in three different colors of silver, gold, and rose gold to fit whatever outfit you wear. 
Price: $58
Givenchy Crystal Flower Bangle Bracelet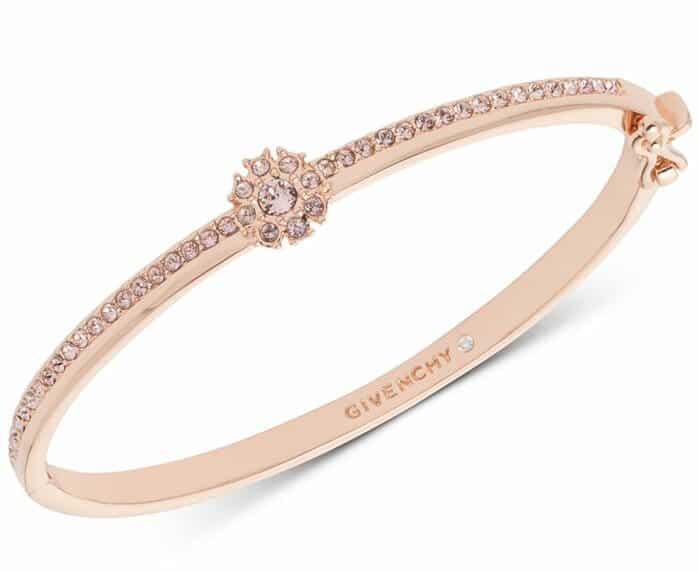 Put on some opulence with Givenchy's beautiful hinged bangle bracelet, which is adorned with sparkling crystals and a floral accent.
Price: $34
Beaded Bracelets
The beaded bracelet is one of the most dependable types of bracelets. Beaded bracelets come in a variety of colors, from fun gems to sterling silver, and can be modeled in a variety of ways to fit your taste. 
My favorite beaded bracelets include: 
Alex and Ani Coastal Beaded Bracelet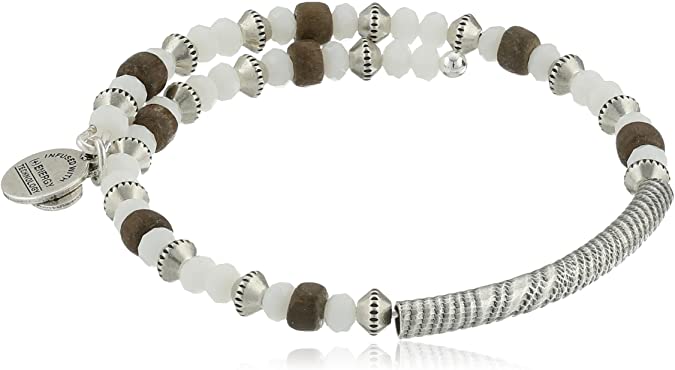 If stacked or worn alone, this beaded bangle adds a touch of the sea to your ensemble! With 6 closely spaced gold circle beads and weathered green sphere beads.
Price: $29
Mint & Lily White Beaded Bracelet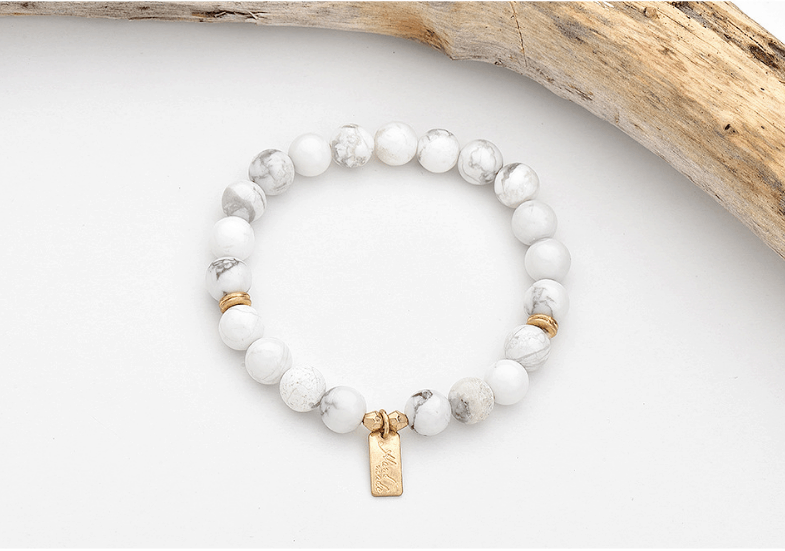 The elegance and appeal of this unique white beaded bracelet are unrivaled. The white beads are gorgeous, and this bracelet would make a meaningful gift that conveys appreciation and affection. 
Price: $29
Chain Bracelets 
A personal favorite, chain bracelets have a timeless appeal that can be paired with anything from a ball gown to a graphic tee. These elegantly basic bracelets come in a variety of metal styles, chain link sizes, and forms, and give a polished look to every ensemble.
My favorite chain bracelets include: 
Kendra Scott Ott Adjustable Chain Bracelet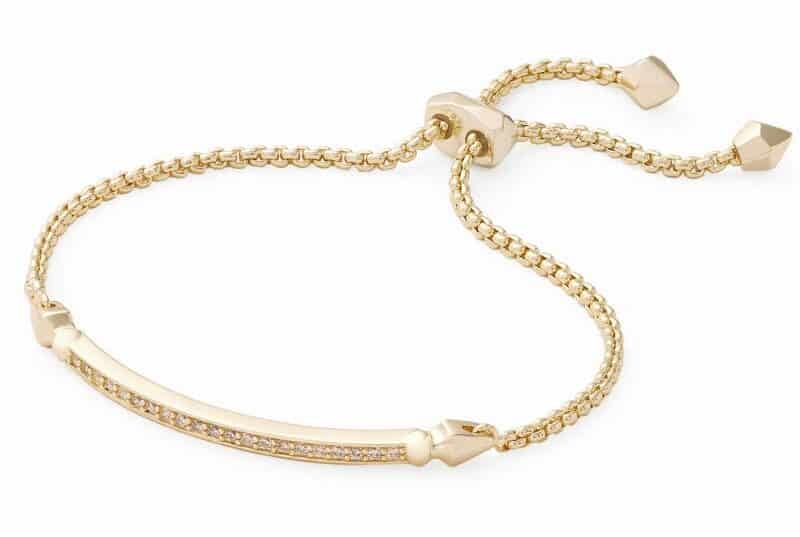 If you're looking for a bracelet to wear every day, look no further. The Ott Adjustable Chain Bracelet is a sleek, minimal bracelet that adjusts to your best match. I love it for its delicate touch of sparkle and easy-to-stack appeal. This chain bracelet's simplistic construction makes it an ideal wear-anywhere accessory. With this bracelet on your wrist, you can't go wrong.
Price: $70
Lauren Gold Gold-Type Basic Flex Chain Bracelet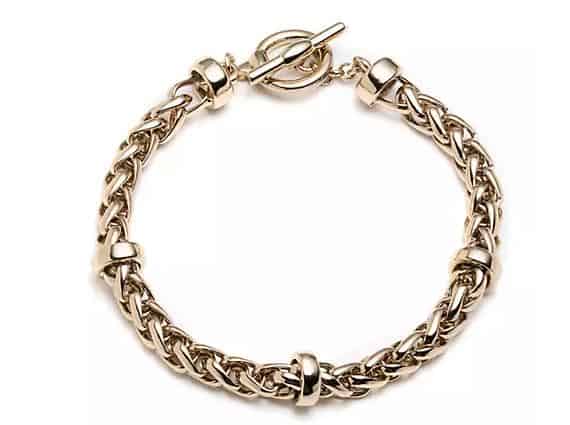 If you're looking for a simple yet intricate piece, you've found it. This bracelet is a gold-toned stainless steel braided chain with sectioned circle accents. It will pair beautifully by itself or in a set. 
Price: $38
Charm Bracelets
A charm bracelet might be exactly what you're looking for if you want jewelry that really represents your personality. Start with a charm bracelet and add a meaningful birthstone charm, an inspiring charm, or a charm to celebrate a memorable experience to personalize your new jewelry staple. There's no wrong way to add charms to your charm bracelet, which is what makes each one special.
My favorite charm bracelets include: 
Gorjana Chloe Mini Charm Bracelet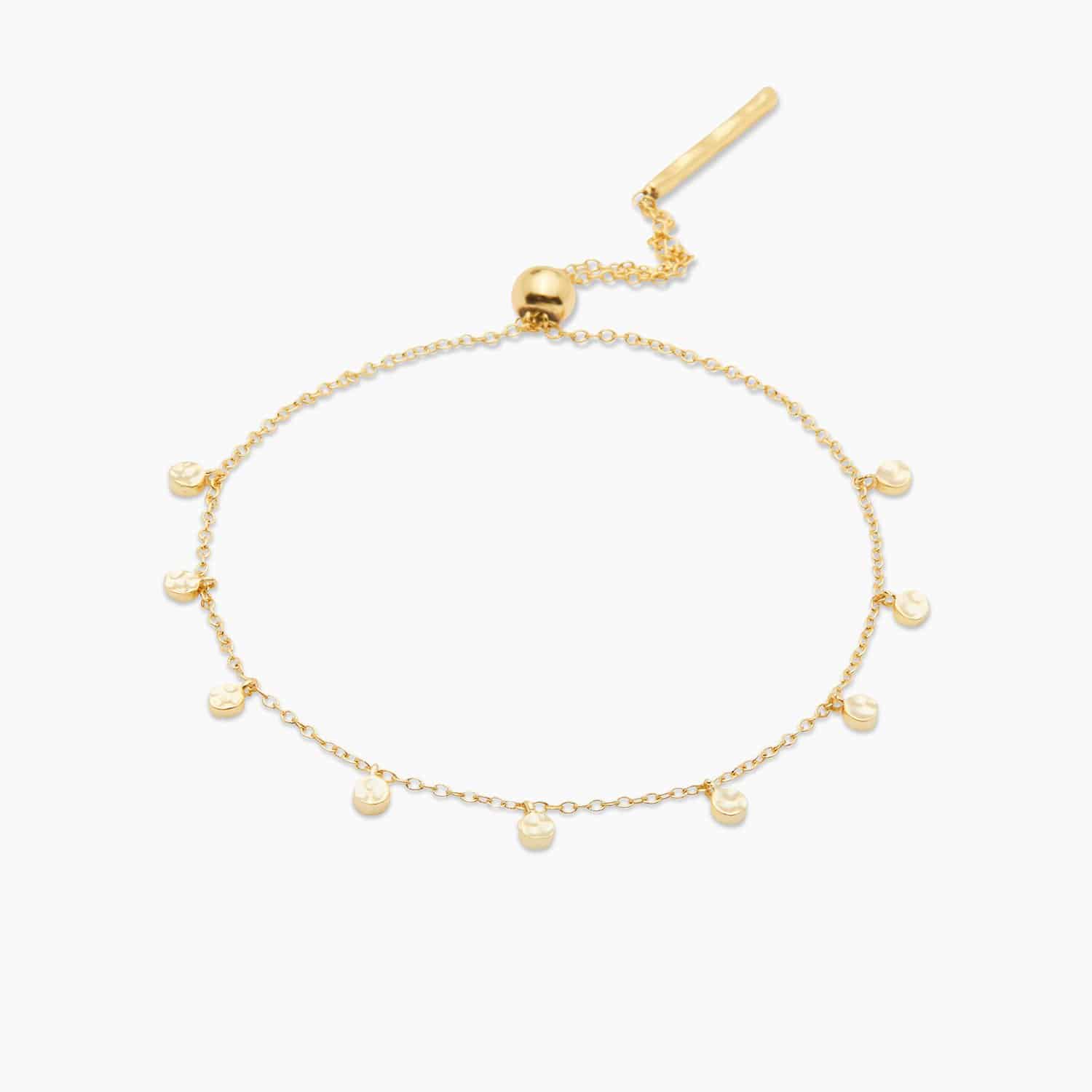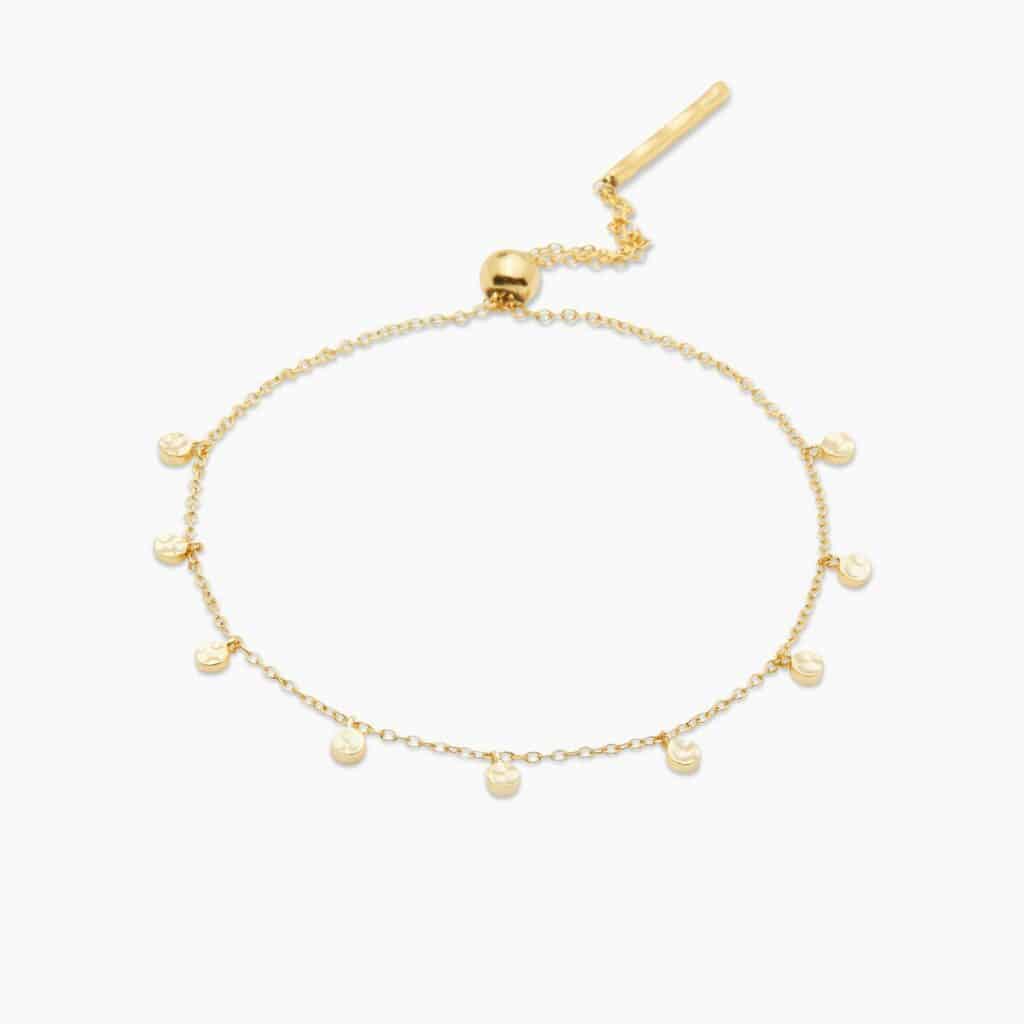 In this flexible item, delicate discs in the traditional Chloe texture flutter over your wrist. Wear it alone or layer it with your other favorite pieces.
Price: $45
Missoma Lena Charm Bracelet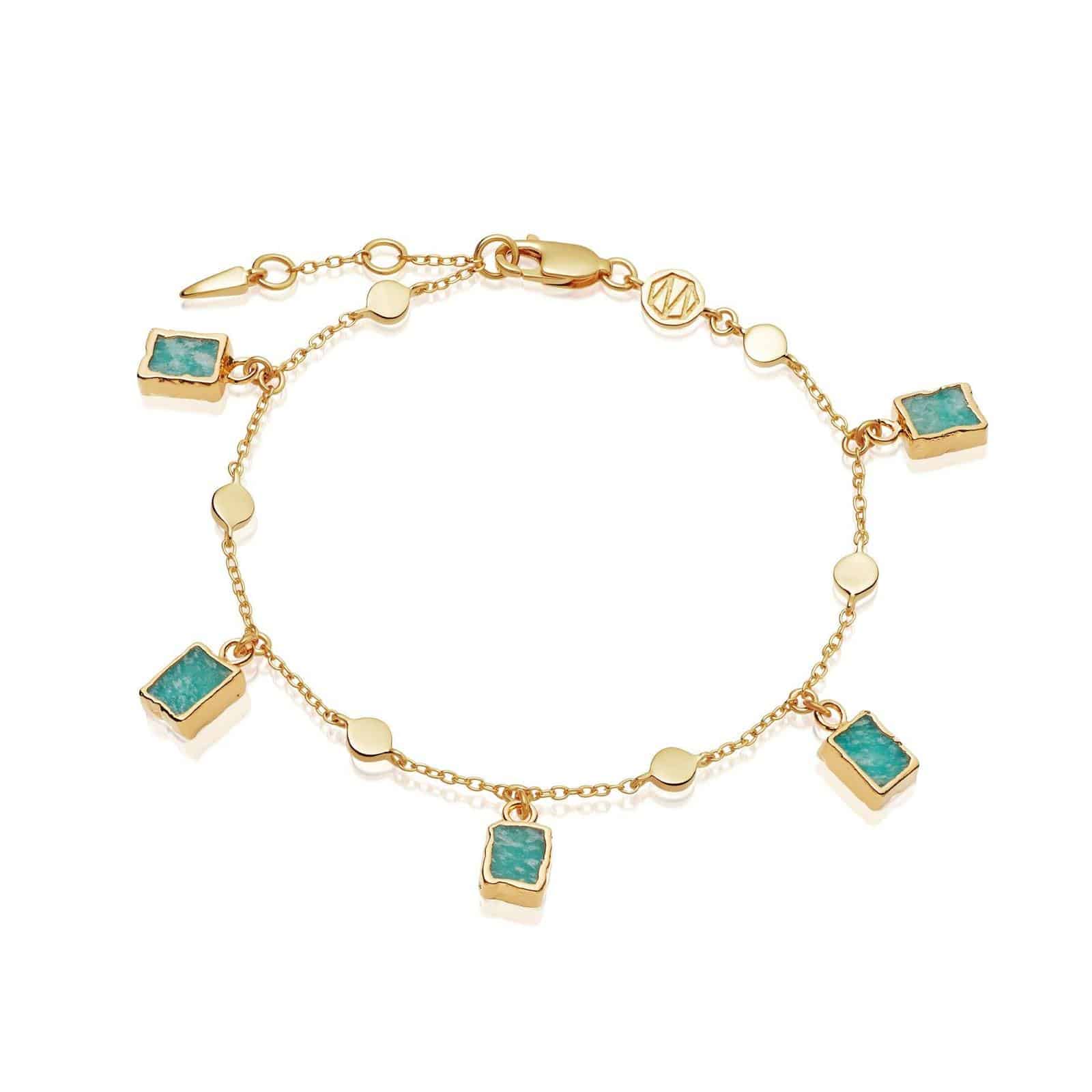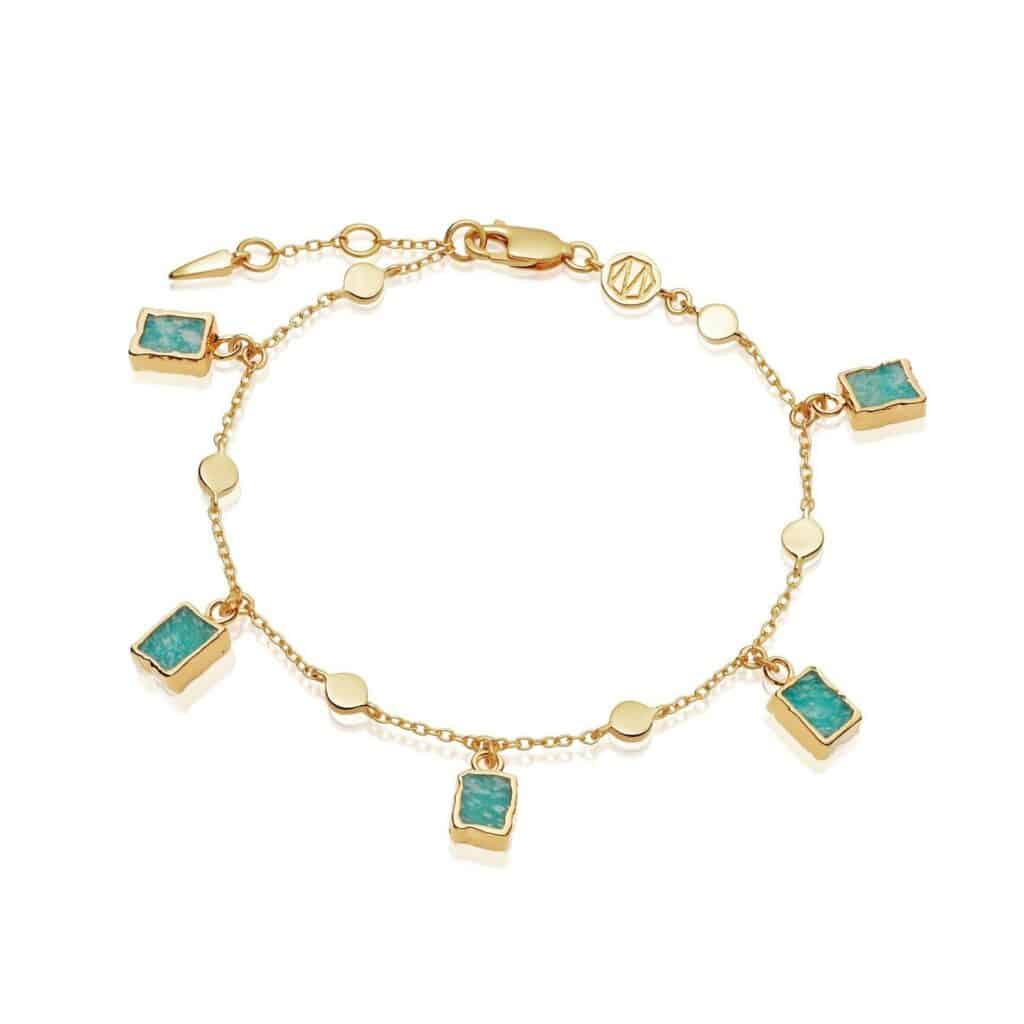 Elevate your arm stack with this best-selling design. Colorful Amazonite gemstones, known for their healing properties, are evenly spaced on this striking bracelet, which is paired with a delicate bobble chain. Wear it alone or layer it with chunkier chains for a more casual look.
Price: $115
Cuff Bracelets 
The cuff bracelet is one of the easiest bracelet styles to put on because it has an opening in the middle that makes it easy to slide on your wrist with a rolling motion. Cuff bracelets, including bangle bracelets, come with a variety of metals and textures. A bright, chic look can be achieved with a large cuff bracelet, whereas smaller cuff bracelets can be worn as an everyday accessory.
My favorite cuff bracelets include: 
Jaxxon the Classic Cuff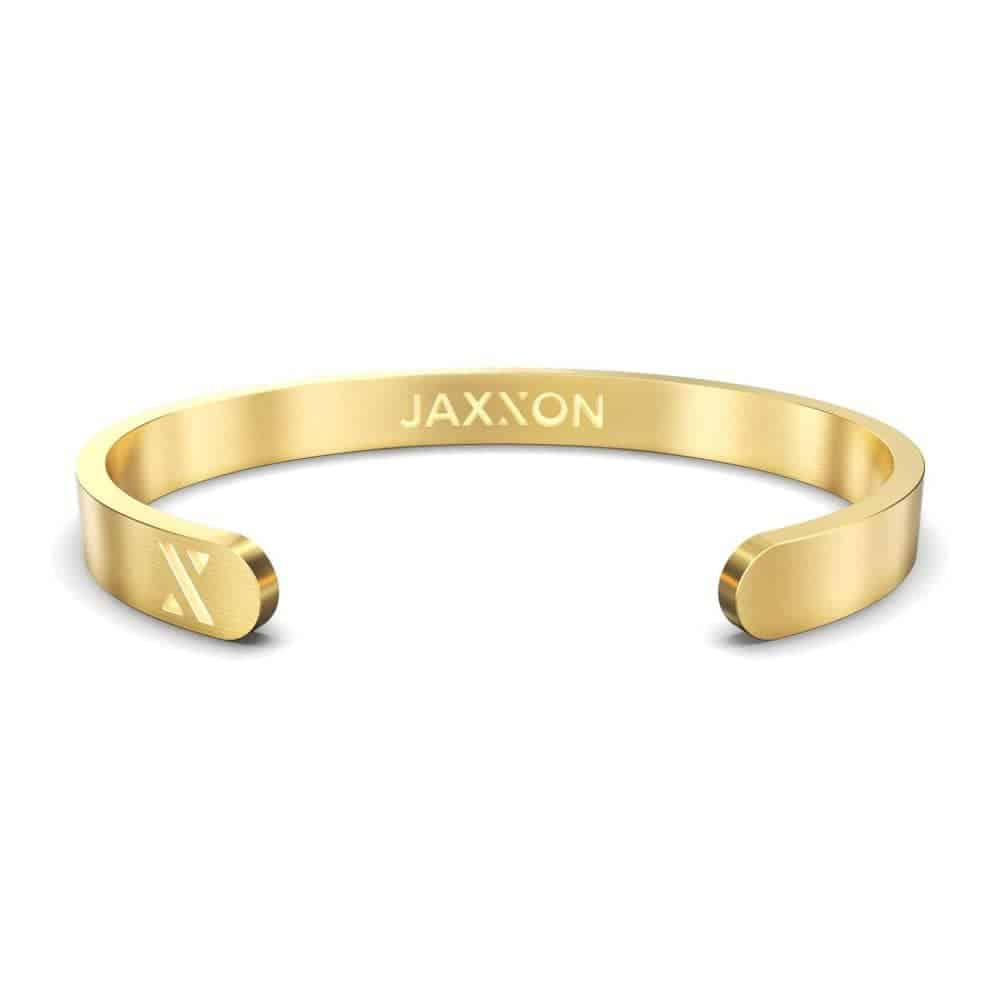 This gold cuff, dubbed "The Classic" for a purpose, is for the minimalist who always wants to stand out. The handcrafted gold cuff bracelet is sturdy and flexible to match any wrist size. The Jaxxon cuff bracelets are a must-have for every wardrobe, and they're suitable for all lifestyles. This gold cuff bracelet is ideal for casual wear, the workplace, or a night out. 
Price: $99
Madewell Crossover Cuff Bracelet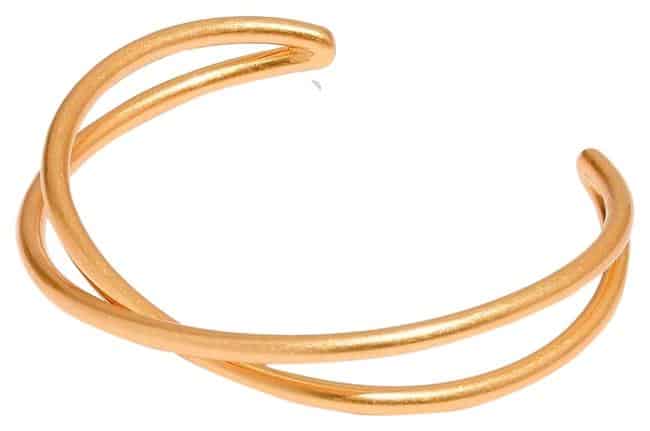 It's not overly gleaming, like other Madewell gold jewelry, which I think is fantastic. One of my favorite features of this cuff is that you can slightly adjust the size depending on how tight or loose you want it. The cuff is understated and elegant. I've worn it regularly as well as for special occasions. 
Price: $35
Designer Bracelets 
Anything with the word "designer" attached to it is usually posh and pricey. There is no exception in this case. Designer bracelets are an all-encompassing bracelet style that refers to high-end pieces of jewelry made from precious metals such as gold, diamonds, and platinum. They're usually made to order by a designer, and the more well-known the designer is, the more expensive the piece will be. 
My favorite designer bracelets include: 
BVLGARI Divas' Dream Bracelet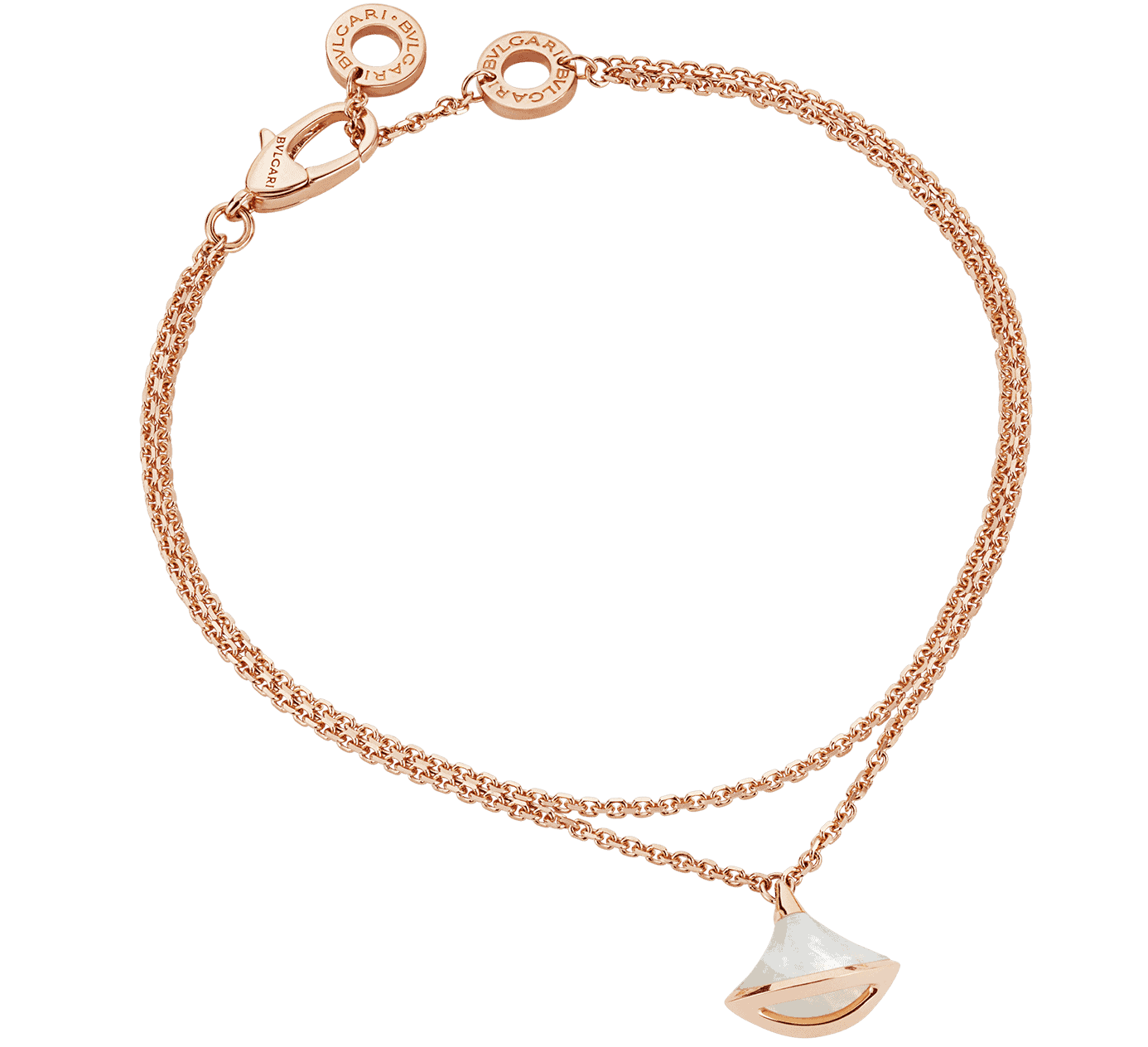 The DIVAS' DREAM bracelet pays homage to the most glamorous divas with an unmistakable Roman spirit and is inspired by feminine elegance and the enchanting allure of the eternal city. The bracelet is sculpted to capture the magnificence of the Caracalla Baths marble as well as the sensual curves of its fan-shaped mosaics, reflecting the very essence of Italian beauty. 
Price: $1,420
Tiffany & Co. Paloma Picasso Olive Leaf Cuff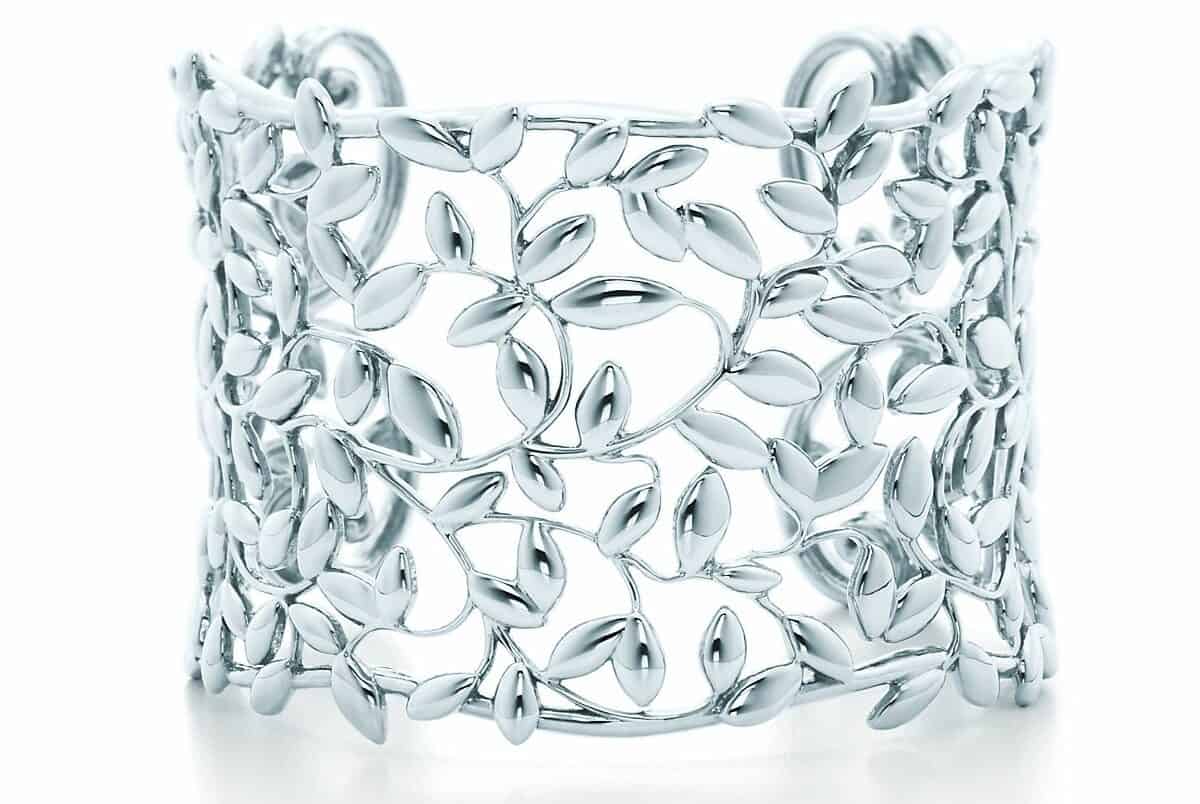 The olive branch, a symbol of peace and abundance, was the inspiration for this design. This beautiful cuff can be worn for an evening event simply by itself and catch everyone's eye. 
Price: $1,425
Friendship Bracelets 
Friendship bracelets are colorful, decorative bracelets that are exchanged between friends to symbolize their bond. These bracelets are usually made of thread or string, and the pattern is woven in a variety of ways. 
My favorite friendship bracelets include: 
Kendra Scott Addison Friendship Bracelet in White Cord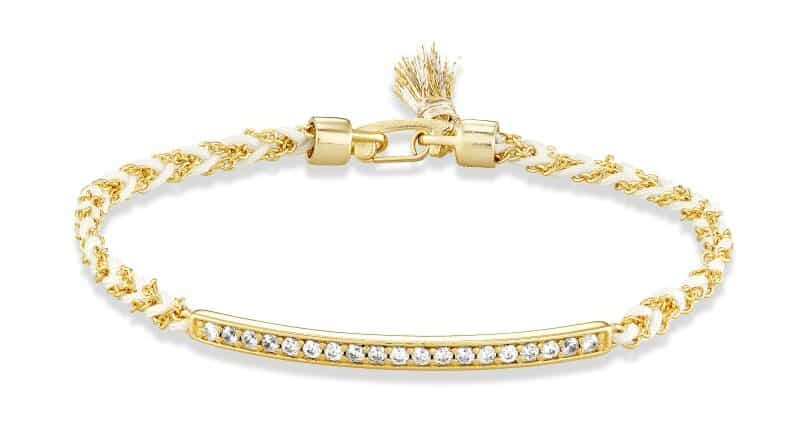 The Addison Gold Friendship Bracelet in White Cord is a wonderful alternative to your wrist, whether worn layered or alone, with a touch of shine, a woven cord, and a flirty tassel. 
Price: $45
Monica Vinader Linear Friendship Bracelet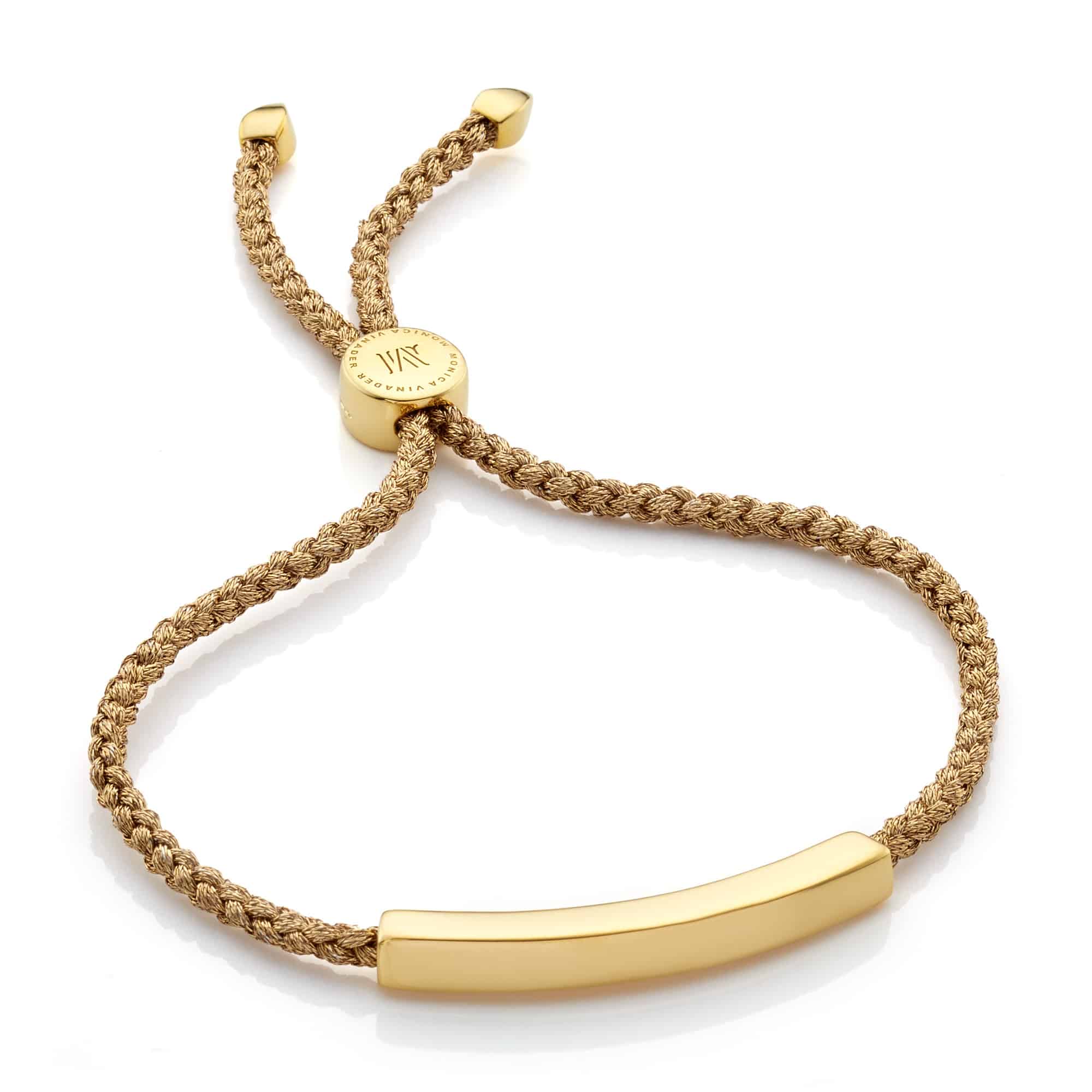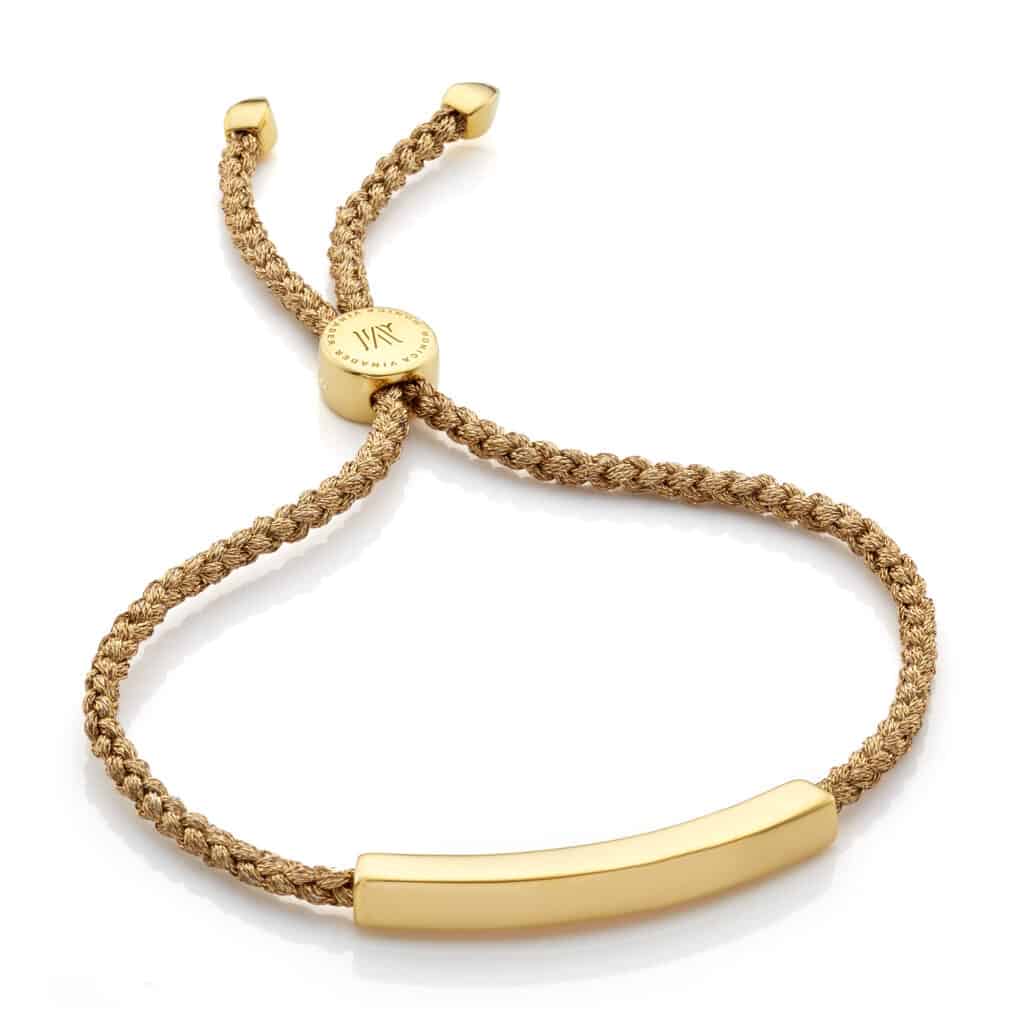 A one-of-a-kind combination of high-quality precious metals. Unlike regular gold plating, gold-plated vermeil has a thick layer of 18K gold layered on top of a sterling silver base (no brass here). 
Price: $175
Pearl Bracelets 
Pearl bracelets are another classic and exquisite jewelry wardrobe favorite. Whether worn alone or stacked, Pearl bracelets have a polished look that never goes out of style. Find a more trendy and futuristic style for a new twist on the evergreen pearl bracelet.
My favorite pearl bracelets include: 
Vanessa Mooney: The Juliet Pearl Bracelet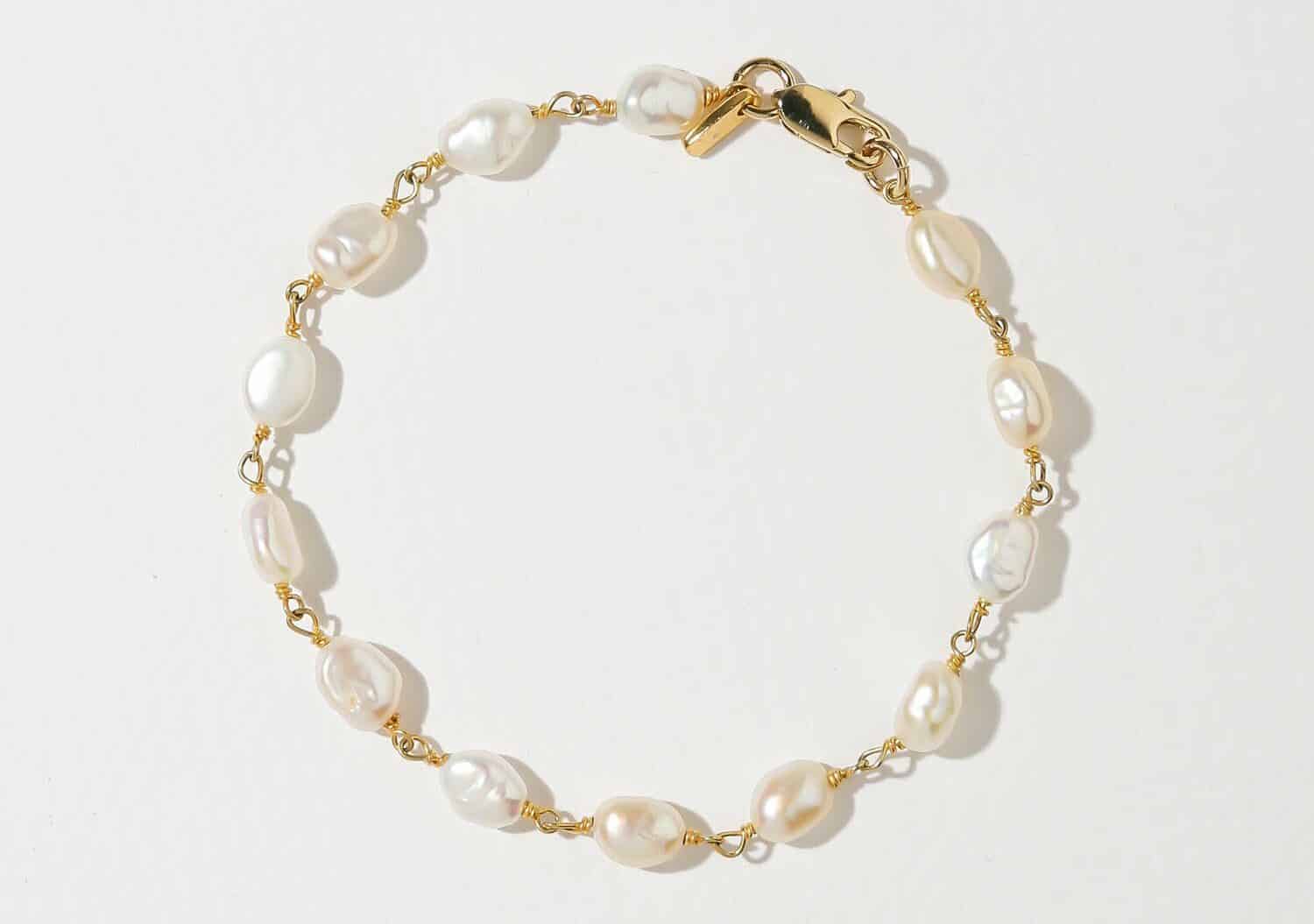 This bracelet is fashionable and suitable for both evening and daytime wear. It's completed with a lobster clasp closure and a feminine chain of authentic freshwater pearls.
Price: $59
Pure Vida Freshwater Pearl Bracelet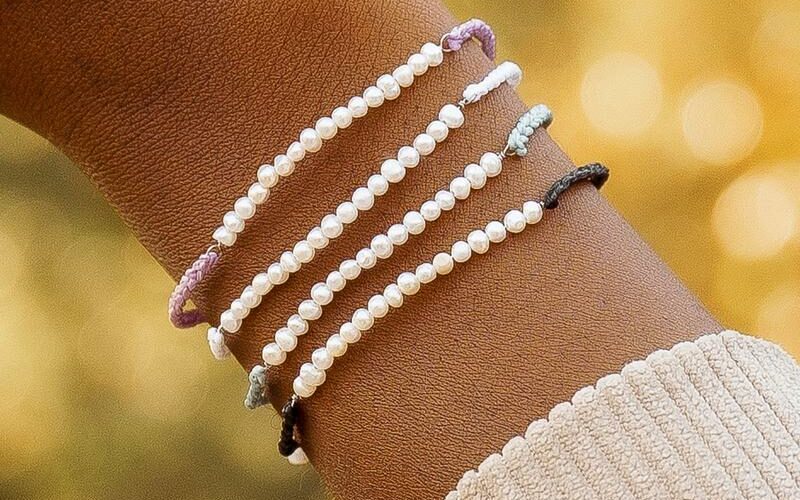 This Freshwater Pearl Bracelet will add a touch of class to any outfit. With a strand of dainty freshwater pearls that are oh so chic, this tiny braid style comes in three-thread shades. Because each pearl is 100 percent genuine, no two are alike, and each bracelet is one-of-a-kind.
Price: $16
Slider Bracelets
Slider bracelets, also known as bolo bracelets, are distinguished by the 'slider' around the bracelet's cord, which makes for a custom fit for either hand. The slider bracelet is one of the simplest and most fashionable bracelet types to wear, and it comes in a variety of sizes.
My favorite slider bracelets include: 
M&G Signature Gold Disk Silk Bracelet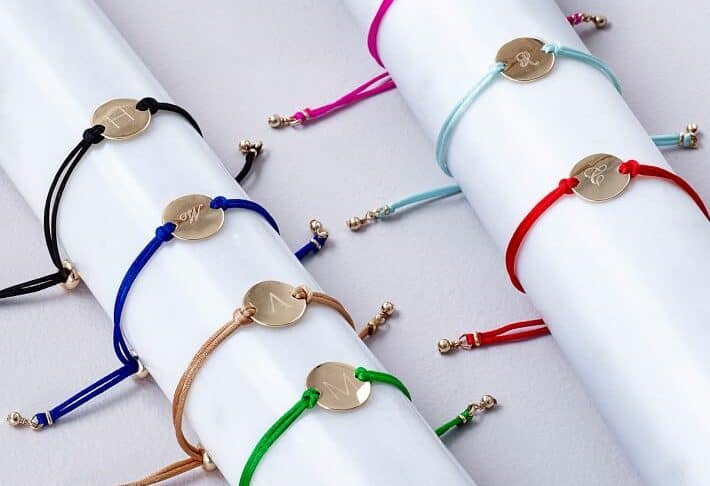 Their Signature Gold Disc Silk Bracelet is suitable for casual wear with a single gold medallion hand-knotted into an adjustable silk cord. Bring a special touch to this lovely present for yourself or a loved one by engraving an initial on the disc.
Price: $29
Jeulia Cluster Flowers Sterling Silver Bolo Bracelet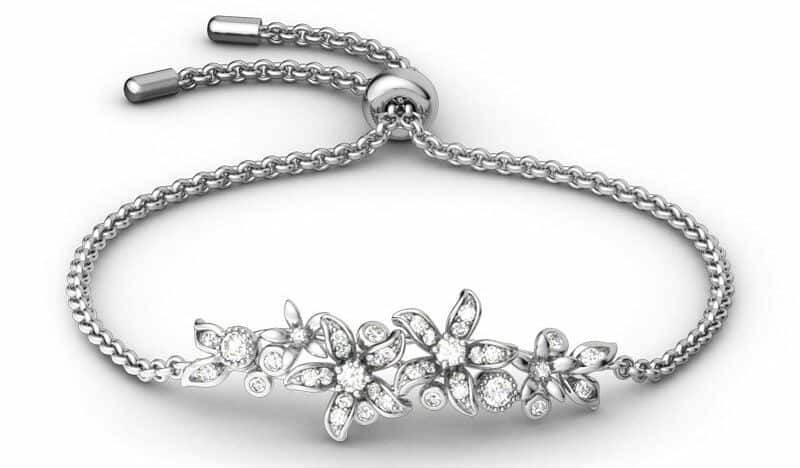 This bracelet is made of sterling silver and features cluster flowers in the center on a classic cross-chain that exudes elegance and sparkle. The bolo bracelet can be easily adjusted to fit your wrist and create different looks.
Price: $125
Tennis Bracelets
Tennis bracelets are a modern classic that is both sleek and durable. While these bracelets can be decorated with any gemstone, the diamond tennis bracelet is the most common. A single tennis bracelet may be worn alone to produce a simplistic but fashionable look; however, they often look fantastic when layered with other bracelets. 
My favorite tennis bracelets include: 
Lavari Cubic Zirconia 925 Sterling Silver Tennis Bracelet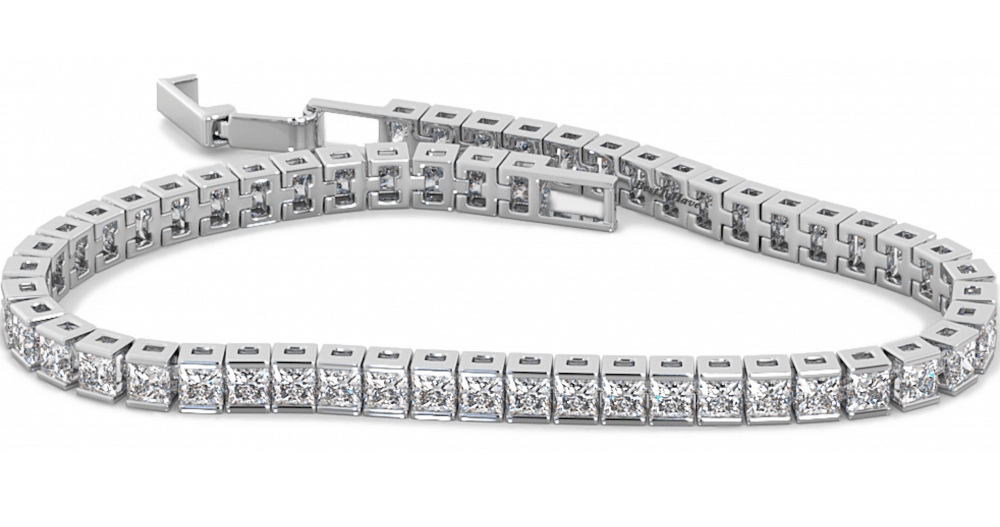 This stunning tennis bracelet is encrusted with glistening cubic zirconia, making it a true show stopper. This bracelet would look great with every ensemble, whether you're playing tennis with your friends or working with customers. 
Price: $50
Berricle Rose Gold Flashed Bar Fashion Tennis Bracelet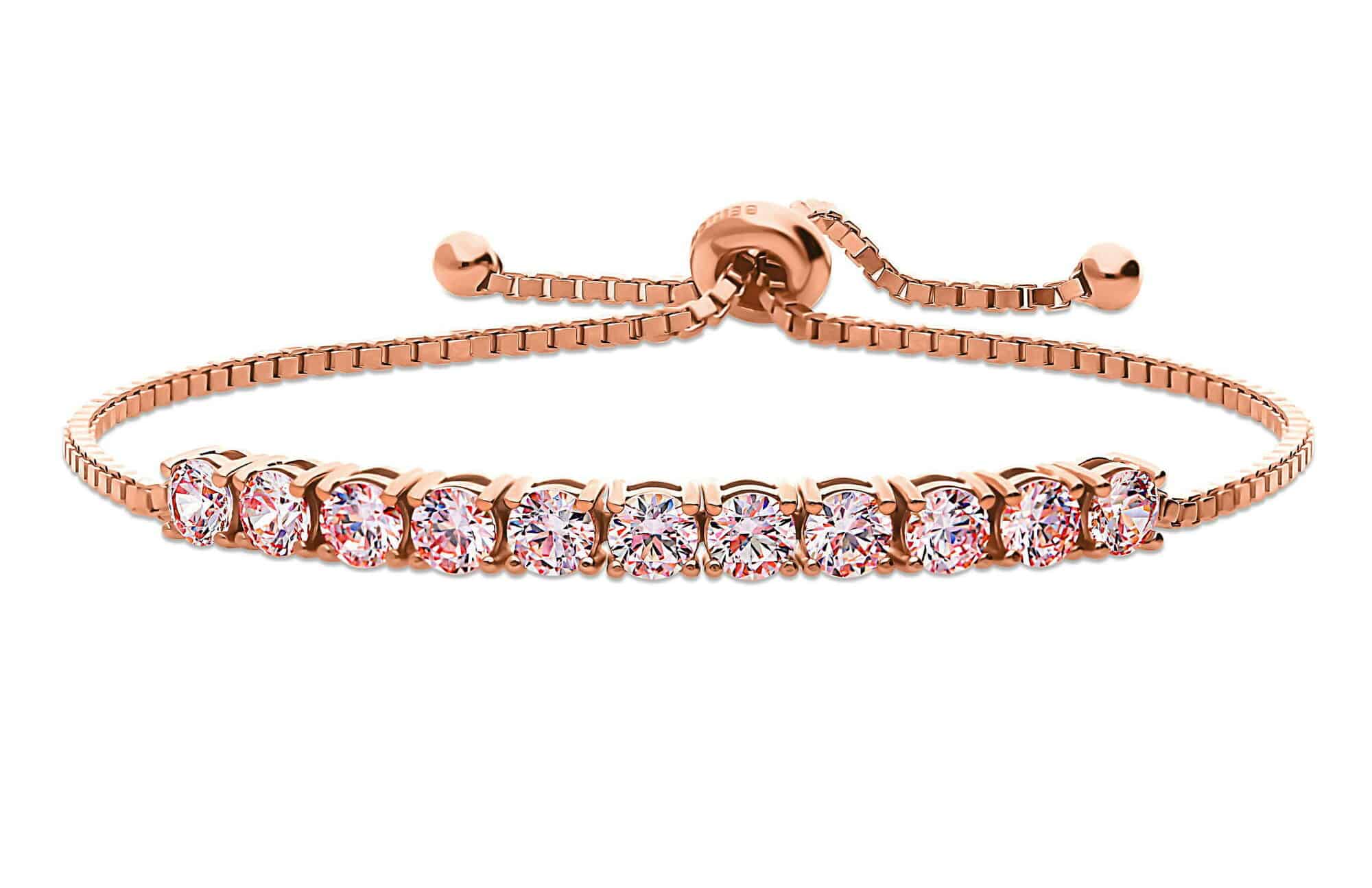 This exquisite blend of femininity and modernism exudes a beautiful sense of classiness in this bar tennis bracelet. The bracelet is adjustable in length, and one size suits most wrists. Sterling silver with a rose gold flash and a 925 stamp. Set with a total of 2.75 carats of dazzling diamonds
Price: $111
Wrap Bracelets 
Wrap bracelets are an excellent way to accomplish the stacked bracelet look without wearing several bracelets. As the name implies, Wrap bracelets have a single clasp and wrap around the wrist several times, providing a layered appearance for only one cuff. These bracelets are known for their warmth and are made from a variety of materials and textures. The clasp is an important part of the design. 
My favorite wrap bracelets include: 
Ricordi Italian Leather Wrap Bracelet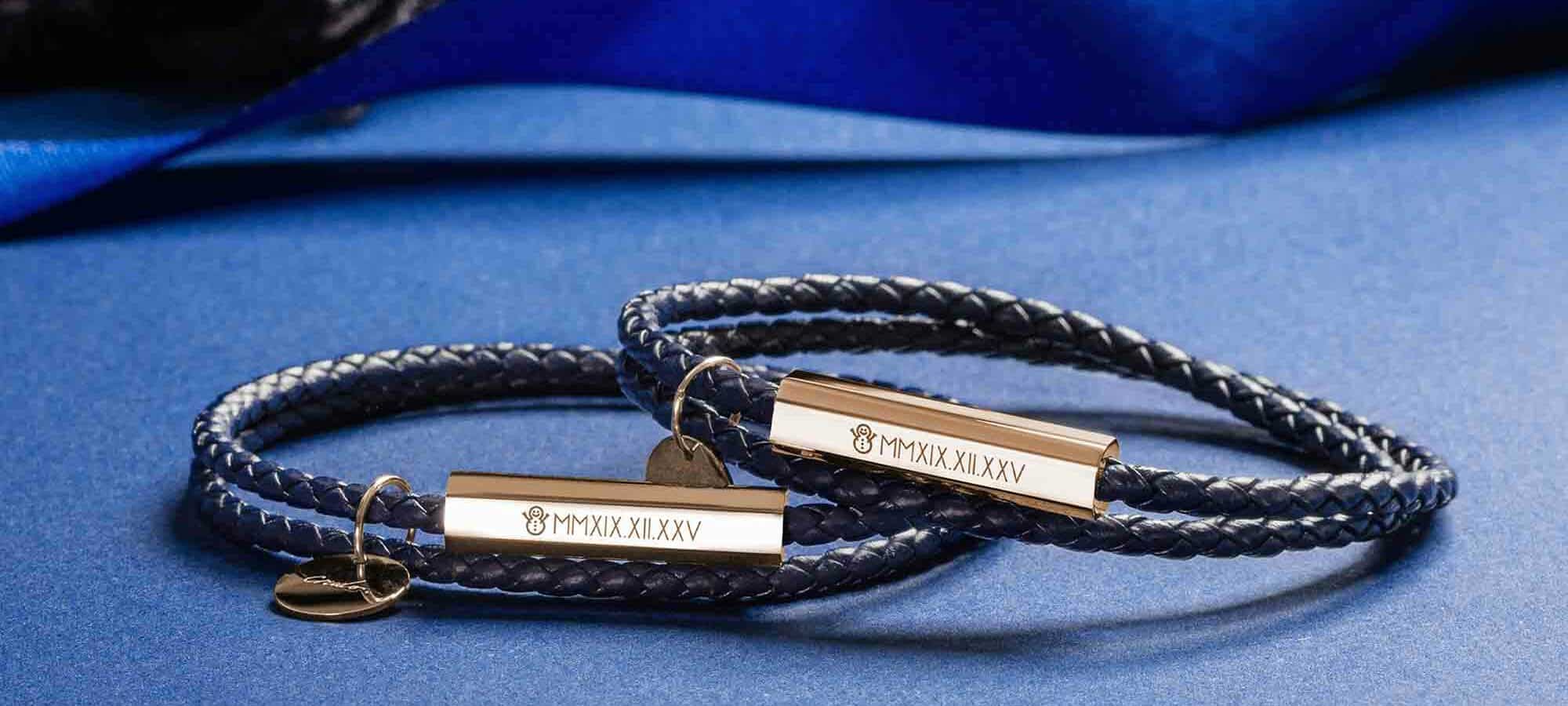 You can select from over 20 fonts and 60 engraving ideas for this leather wrap bracelet. Upgrade to deluxe gift wrapping for free. Made of 316L coated stainless steel and Italian vegetable-tanned cowhide. Color fading and decay are avoided, and the product is very long-lasting. Sensitive skin types will benefit from this product. 
Price: $64
Natural Amazonite and Jasper Stone Wrap Bracelet 
With this lovely wrap bracelet, you may bring peace and safety into your life. Natural Jasper, Amazonite, and Jade are used to create this stunning vegan wrap bracelet.
Price: $65
FAQs
Knowing what to buy when it comes to bracelets can be difficult. Do you still have more questions? I'm here to help!
Question: What do I look for when buying a tennis bracelet? 
Answer: Tennis Bracelet Length: A good tennis bracelet should be likely to migrate easily on your wrist without causing any pain. It should not, though, be too loose to slip down. As a general rule, you should be able to fit one finger between the bracelet and your wrist to verify the fit. 
Question: What is the most expensive bracelet? 
Answer: The Gulf Pearl Parure Bracelet holds the world record for being the most costly bracelet. There are 24 diamonds overall, 12 of which are brilliant cut and the other twelve are marquise cut. 
Question: Which wrist do you wear a bracelet on? 
Answer: It depends on which hand is your dominant. Most people wear them on their left wrist as most people are right-handed. But if you are left-handed, you should wear your bracelet on your right wrist. 
Bracelet Jewelry Guide: Enjoy Styling!
Remember to always consider the type of bracelet you are looking for when buying, there are so many styles and unique looks that it can be hard to keep track of what you want. If you go into the store not knowing what exactly you want, you should keep in mind that it may be worth the money if it is easy to style. You also want a durable bracelet, they are easy to get caught on anything and break if they aren't well made. Get the right fit for your wrist, you don't want it too tight but you don't want it too loose either. 
Clean your jewelry often, a suggested time would be at least once a month if you wear the jewelry often. You can have residue and build-up in your bracelet chain links that will dull the look of the metal. Be mindful of taking your bracelets off when doing chores around the house. 
When you are buying jewelry, look at the material that the bracelet is made of. If you don't plan on wearing it often, look into a silver metal one. If you do plan on wearing it often, look into investing in a platinum metal one. If you have problems with certain metals, your best bet might be platinum or sterling silver, as they are made for sensitive skin with their hypoallergenic properties.