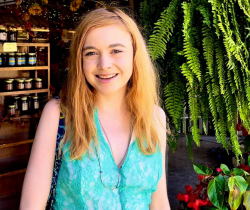 Latest posts by Erin Jamieson
(see all)
Silver hoop earrings may have been big–both literally and figuratively– in the 70s. But now they're coming back in dramatic and classic ways as one of the trendiest earring types in 2022.
The look is being seen both in the United States and abroad. Actress Abigail Breslin turned heads when she arrived at the Cannes Film Festival, dressed in a flowing floral dress. A pair of silver minimalist hoop earrings paired with silver heels. While the dress was the big wow factor, it was the pair of silver hoop earrings that tied the look together.
Across the pond, Kate Middleton, Duchess of Windsor, also wore silver hoop earrings recently. For Middleton, hoop earrings instead added the finishing touch to a casual outfit. Dark rinse jeans and sneakers paired with a fitted blazer.
With silver hoop earrings also showing up on social media platforms, it's clear they're well-loved in 2022. But what's so special about silver hoop earrings? And how can you wear them in 2022?
Consider this your guide to silver hoop earrings. I'll tell you to need to know to find the best silver hoop earrings, guide you to current trends, and where to buy my favorite ideas.
Are hoop earrings in style?
Whether it's gold, silver, or even stainless steel, the nice thing about hoop earrings is that they're never exactly out of style. That said, their popularity fluctuates. 2022 has been a great year for hoop earrings, especially for oversized hoop earrings. You only need to go onto Instagram and Tik Tok to see how hoop earrings have become popular.
That said, hoop earrings aren't just popular now, and they aren't solely in style for Millenials and Gen Z. That's for several reasons, from how versatile they are to how they can save you some money.
Why are hoop earrings so popular?
Hoop earrings are popular for countless reasons. While stud earrings are certainly a classic look, hoop earrings are specifically prone to a spike in popularity for several reasons.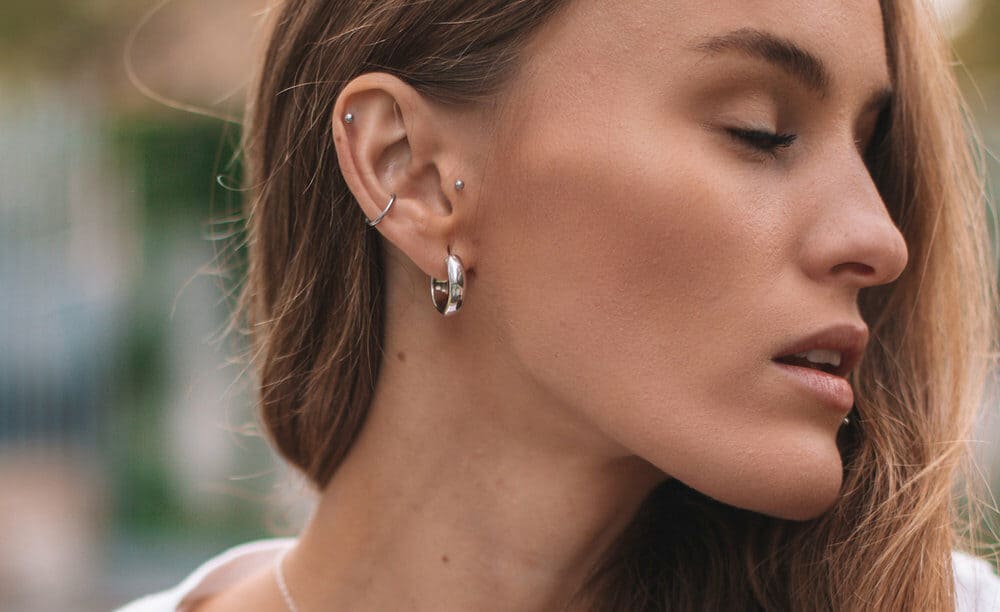 Hoop Earrings are Versatile
Hoop earrings are so popular because they're versatile. Maybe you have one image of what hoop earrings look like. But the truth is that hoop earrings can range from casual to form, and from simple to bold. Hoop earrings, depending on the style, can be paired with jeans, boho skirts, pantsuits, and formal wear. Small hoop earrings can even be suited for professional settings.
And hoop earrings are also easy to take from day to evening looks. Sleek, minimalist hoops, for instance, can easily be dressed up or down. In a way, most hoop earrings allow you to customize and style to your liking in ways that drop or stud earrings don't always.
Hoop Earrings are Empowering
Many ask what hoop earrings symbolize, and this is, in fact, a big part of their appeal. Hoop earrings are seen as a symbol of strength, unity, and wholeness. They have also sometimes been associated with immigrant and minority cultures that are proud of their heritage.
Hoop earrings are seen as a motif for connecting with others and enduring life's challenges.
Hoop Earrings are Affordable
While how much you pay for hoop earrings depends on several factors, including style, materials, and brand, hoop earrings tend to be more affordable than other earring types. There's less room–or need– for high carat diamond and gemstone accents. Many popular trends feature or solid metal bands. Regardless, hoop earrings, even diamond ones, are going to cost less on average vs stud or drop earrings.
What is the Best Silver Jewelry?
If you've decided that silver hoop earrings are for you, you'll need to make sure you're buying high-quality silver, and also understand how to care for your earrings.
Not all silver is equal. While you don't need to stress about a pair of casual, low-cost earrings, if you want to get the best quality, you should pay attention to what type of silver is being used. Since it's not always directed listed, you may have to reach out and ask what type of silver is being used.
.999 Silver
This type of silver is the 'purest form of silver. Used for some fine jewelry, .999 silver is 99.9 percent pure silver.
Sterling Silver
Sterling silver is the most popular silver used for not only hoop earrings, but silver jewelry in general. Here's the trick, though: sterling silver is not all created equal. Some 'sterling silver earrings are actually what I'd describe as silver filled. Silver-filled earrings contain a mere five to ten percent silver, and the rest copper. If you want quality sterling silver, make sure it's labeled as 925 sterling silver. This means that it's made out of 92.5 silver.
What is better sterling silver or silver?
Between fine silver and sterling silver, both have pros and cons. .999 silver has a beautiful luster and is valuable, but it's also less durable. Sterling silver is typically seen as a preferred choice. You'll spend less, have more options, and your earrings will last longer.
However, a big plus for pure silver is that, like gold, it won't tarnish.
What causes sterling silver tarnish?
Unfortunately, sterling silver will tarnish. Exposure to air alone can do so. Moisture reacts with the copper alloys in sterling silver. The good news is that there are some active steps you can take in terms of sterling silver tarnish.
Can you reverse silver tarnish?
While you cannot fully reverse tarnish, you can remove quite a bit of it. You can either have it professionally cleaned, or make a solution yourself. At home, combine ½ cup of white vinegar with two tablespoons of baking soda. Place your earrings to soak for a few hours. This should remove most of your tarnish.

Can you reduce tarnish?
You can also take care of your silver hoop earrings in a way that reduces tarnish. Avoid wearing them in moisture heavy environments as much as possible (of course, if you live in a humid climate that can't be entirely avoided). Remove your earrings before swimming, showering, and don't sleep with them. When you're not wearing them, store them in a cool environment. Some even store them in zip lock bags with a piece of chalk, which helps reduce moisture.
Silver Hoop Earrings: My Picks
Now I'll give you my picks for my favorite silver hoop earring ideas and where to buy them. I've divided my selections by plain, gemstone, a diamond silver hoops. You'll find everything from modern and sleek, to carefree and boho, to sophisticated.
No matter if you're looking for casual earrings or formal ones, here's some inspiration to get you started on your shopping.
Plain Silver Hoop Earrings
You can't go wrong with plain silver hoop earrings. From minimalist to classic, a sleek polished silver provides the perfect final touch to any outfit. Plain silver hoops can provide a boho look when oversized, or modern. Well suited for casual outfits, plain silver hoops are about as versatile as you can get. They're also a great option if you're on a budget. Of course, plainly doesn't have to mean boring, Play wish shapes and different sizes for a unique style.
Asymmetrical Heart Hoop Earrings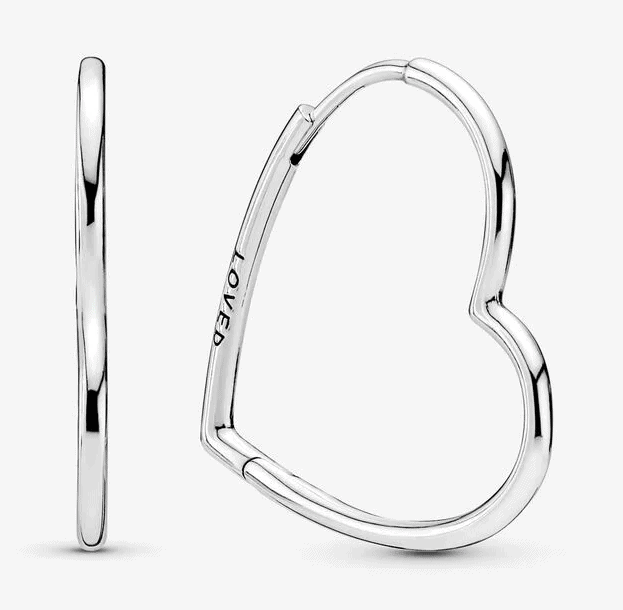 Pandora is one of the hottest luxury brands– in part for its ability to make trendy and sleek jewelry designs. This pair of earrings also hops on the asymmetrical trend, for a casual but modern look. Paired with a heart motif, they're supposed to symbolize the beauty of imperfect love. Priced at $50. Buy Here.
Bamboo Hoop Earrings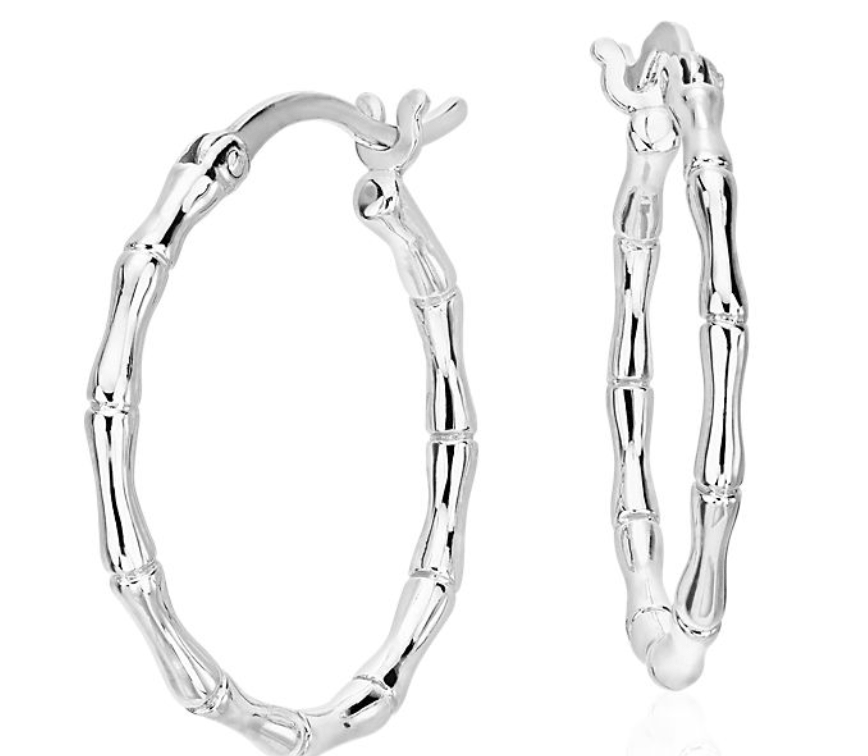 These sterling silver hoop earrings feature a ridged finish that nod nods bamboo. The unique style is refined with a polished finish. These provide an updated, sophisticated look that leans artistic. Pair them with a flowing skirt, dress, or stylish pantsuit. Priced at $75. Buy Here.
Large Hollow Hoop Earrings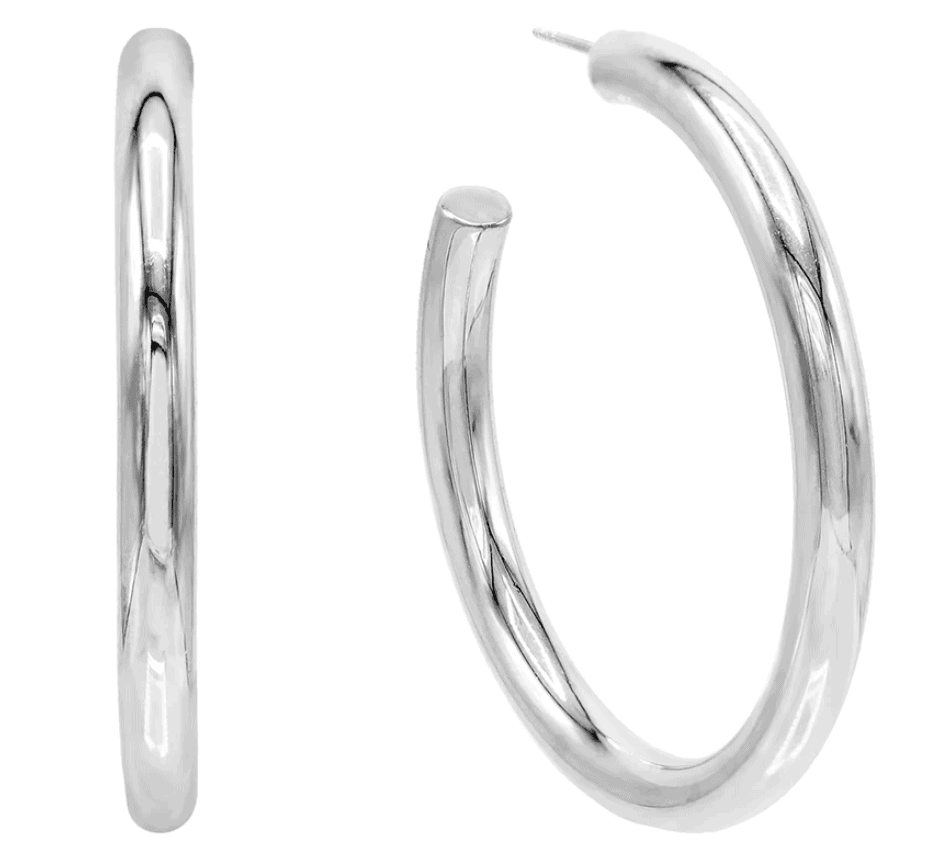 Also available with rose and gold plating, this pair of sterling silver earrings are a modern classic. The hollowed-out design makes for a wider silhouette, with a classic shine for a beautiful finish. The modest size of the hoops allows you to take this from professional to play. Priced at $68. Buy Here.
Zina Sterling Silver Hammered Hoop Earrings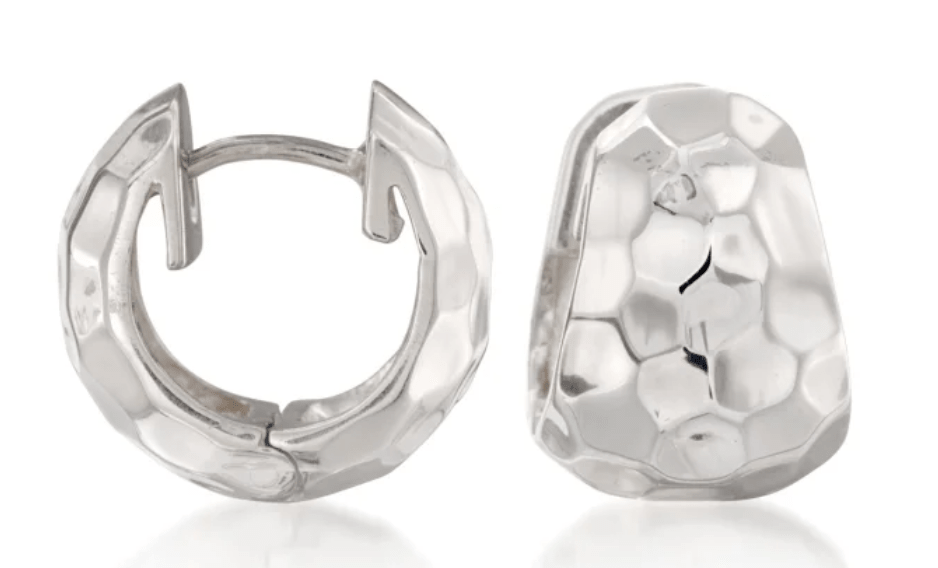 Don't care for gemstones or diamonds but don't love plain hoop earrings? These hammered hoop earrings are far from boring. The eclectic style is meant to evoke wind across a desert landscape, complete with a hinged post and beautiful polish. Priced at $140. Buy Here.
Dynamite Hoop Earrings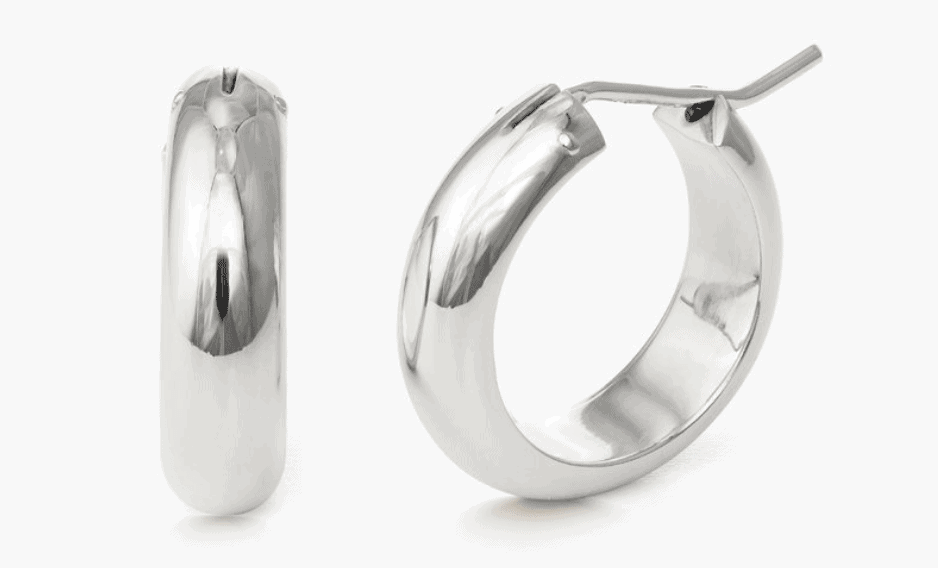 Looking for a classic chunky sterling silver hoop earring? These sterling silver earrings offer sleek shine, a uniform "chunky" hoop, and plenty of versatility. Feel free to pair these with stud earrings, or huggie hoops. Priced at $55 and available with gold plating. Buy Here.
Hinged Hoop Earrings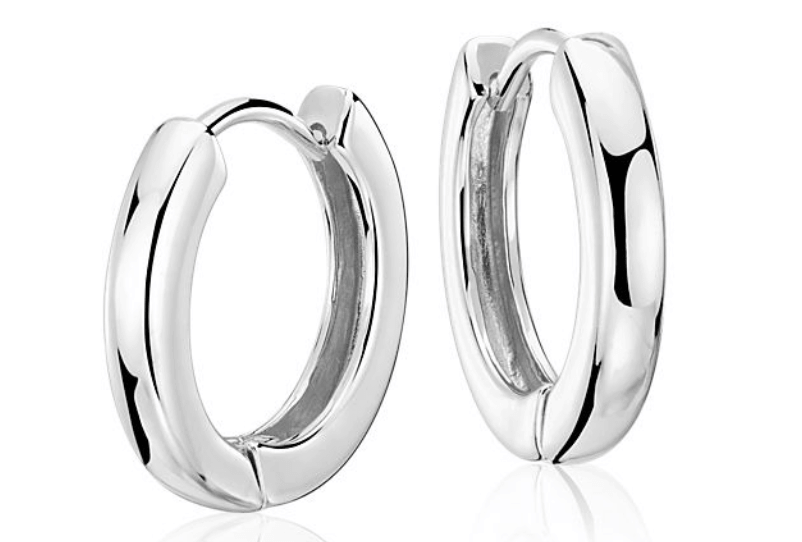 These hinged hoop sterling silver earrings are unlikely to go out of style. The design is sophisticated and subtle, with a classic appeal. Plus, they're cleverly crafted to be lightweight and comfortable for all-day wear. Priced at $75. Buy Here.
Gemstone Silver Hoop Earrings
Add a pop of color with gemstone silver hoop earrings. Statement earrings with bold hues are one of the top trends for 2022, and it's easy to see why. The unexpected color adds sophistication or even whimsy to a pair of silver hoop earrings. And at their highest quality, gemstones can even add a touch of luster to your earrings. Just make sure you select genuine gemstones– whether that's lab-grown or natural.
Lisa Bridge Chalcedony and Agate Hoop Earrings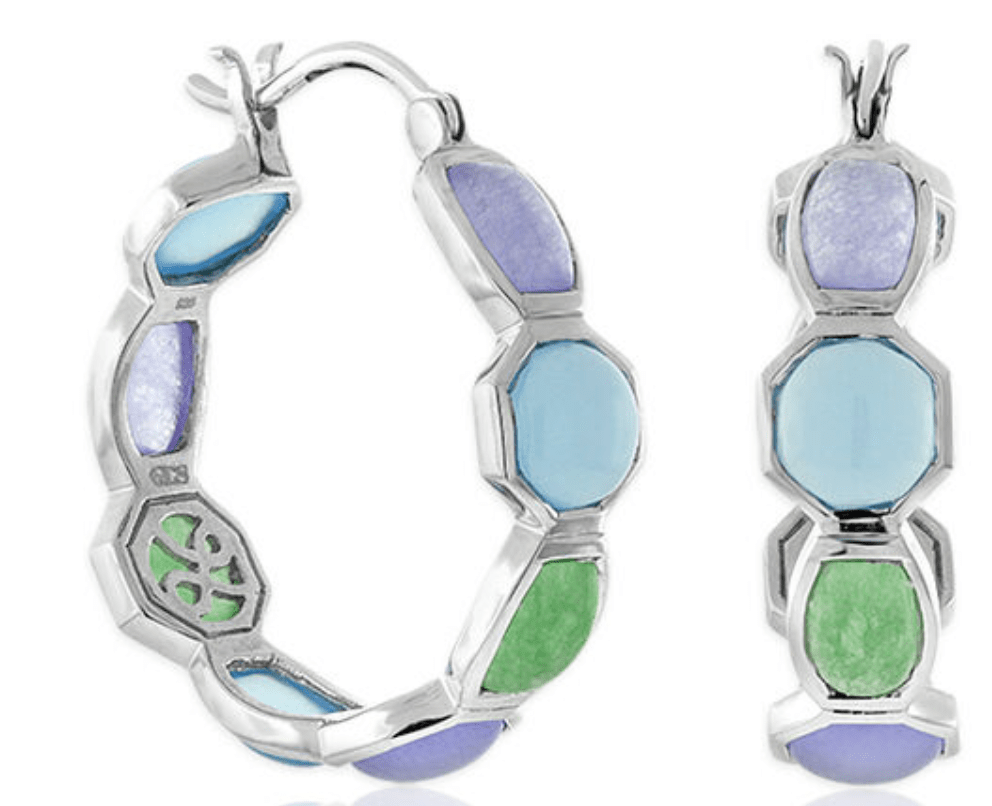 Pastel hues accompany sterling silver, making for boho-inspired earrings. While the lilac, turquoise, and green make for a playful look, the hexagonal shapes add modern add sophistication. Genuine gemstones are treated with color; priced at $279. Buy Here.
Rainbow Eternity Hoop Earrings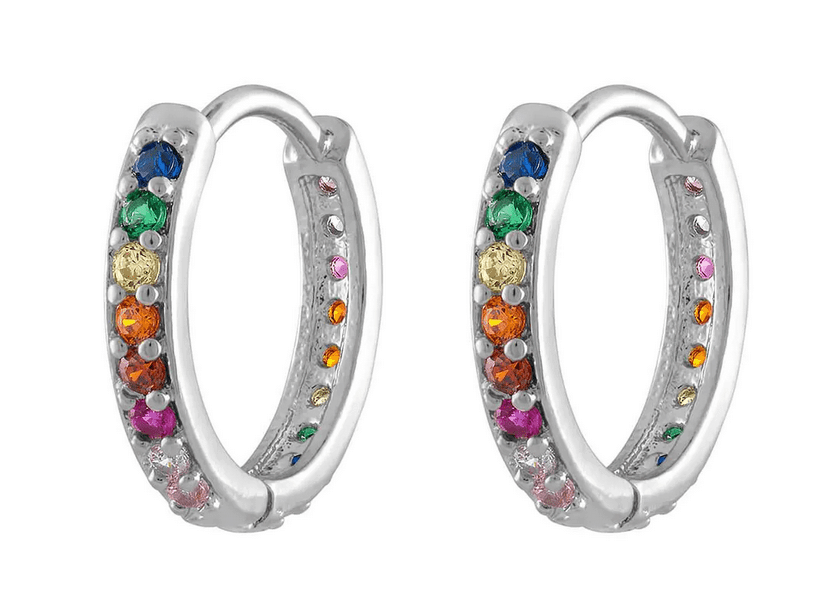 Cubic Zirconia is often used as a more affordable alternative to diamonds, but with Mohs hardness of 8 to 8.5 (diamonds are a ten), they're more durable than you might think. They can become cloudy and do require more cleaning. Here, CZ gets an update in rainbow hues for a proud declaration, set on sterling silver. Priced at $84. Buy Here.
Siren Mini Nugget Hoop Earrings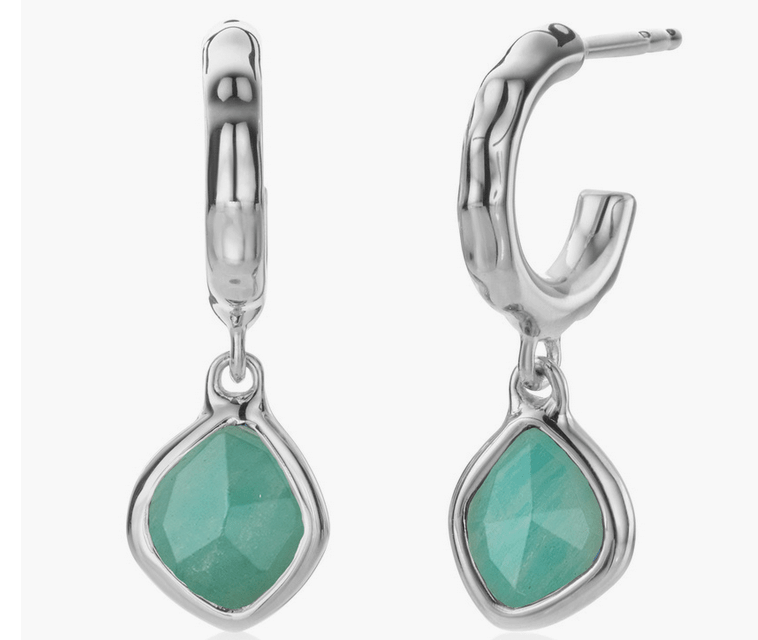 These are my favorite gemstone silver hoop earrings for 2022– mostly due to their thoughtful design. Natural and Amazonite or Kyanite gemstones are set on recycled sterling silver. The earrings are responsibly manufactured, with higher workplace standards, ensuring Fair Trade practices. Elegant but also versatile and priced at $115. Buy Here.
Marilyn Monroe Collection Multigemstone Hoop Earrings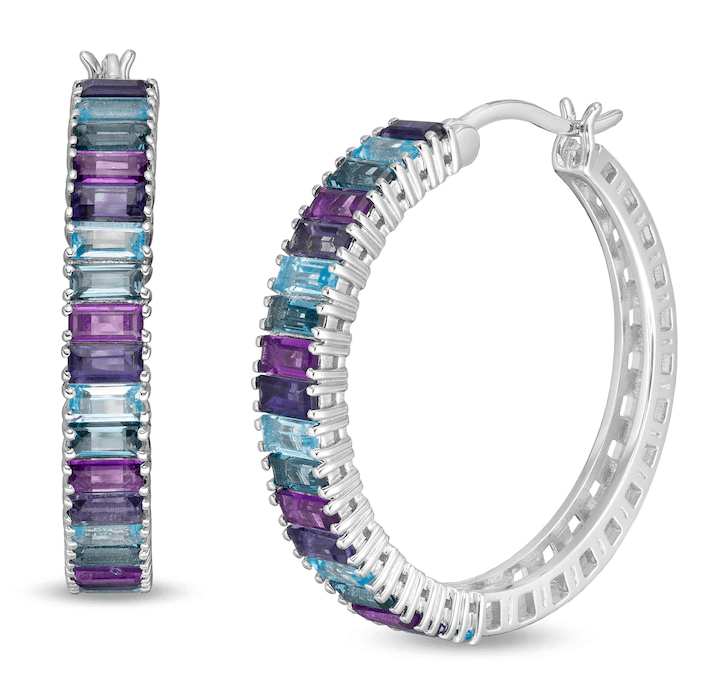 Exclusive to Zales, these delightful sterling silver hoop earrings come from the Marilyn Monroe collection. Baguette-cut London blue topaz, violet iolite, purple amethyst, and Swiss blue topaz add an array of vibrant jewel tones. The finish has an expressive luster for a beautiful statement. Priced at $449. Buy Here.
6.70-carat Mult-Stone Hoop Earrings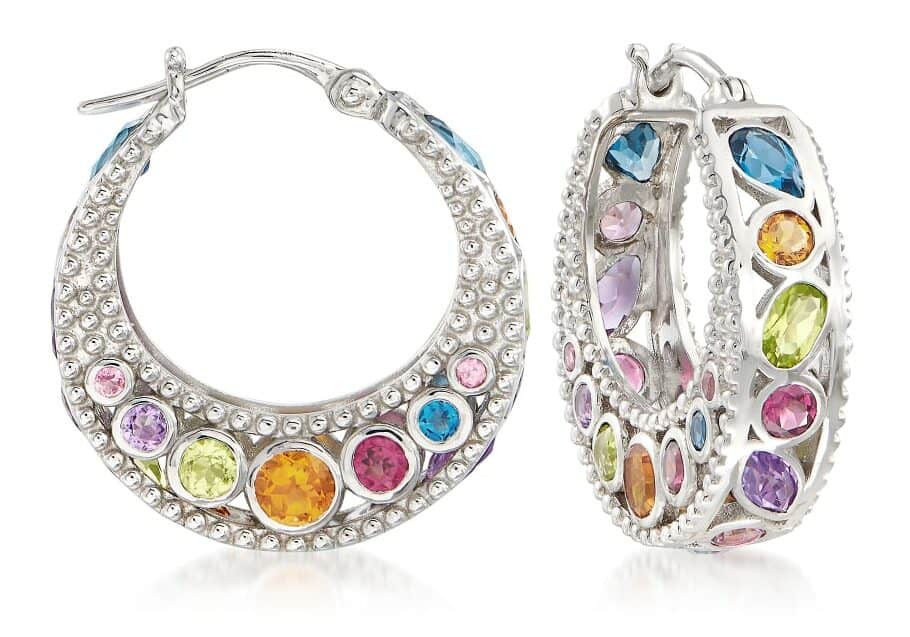 6.70 carats of multi-hued gemstones adorn this pair of $206 earrings. Following the trend of expressive, statement pieces, an array of colors are set on polished sterling silver. Amethyst, citrine, peridot, topaz, tourmaline, and garnet stones wow with pink, red, orange, yellow, green, and blue tones. Buy Here.
Diamond Silver Hoop Earrings
Diamond studded silver hoop earrings make a big statement. While hoop earrings may often be associated with more casual looks, diamond accents elevate any pair of earrings. The silver finish perfectly complements beautiful diamonds or classic sparkle. Like gemstone earrings, make sure you're buying true diamonds.
1.00 carat Diamond Huggie Hoop Earrings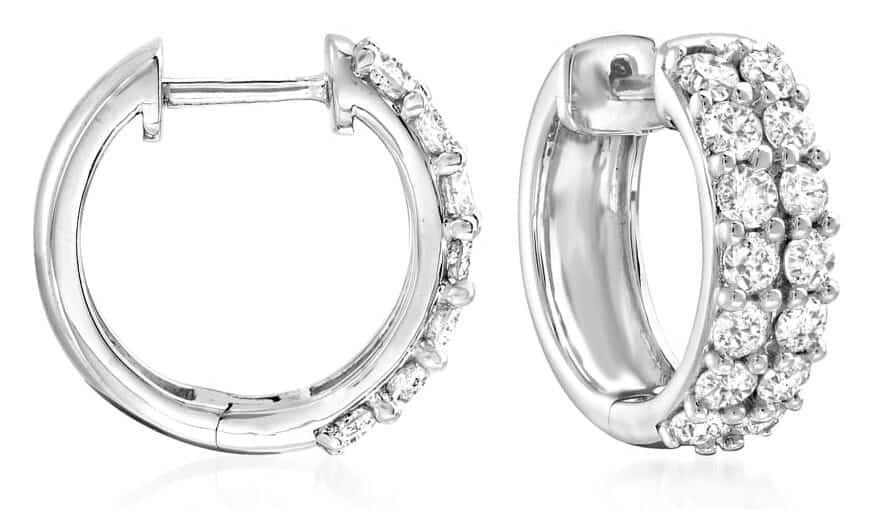 This pair of $399 earrings feature 1 carat of round brilliant cut diamonds. By arranging the diamonds in double rows, you'll enjoy unique brilliance. The sparkling diamonds are set on polished sterling silver, with the popular huggie hoop style that's ideal for layering with other earrings. This is a great price for the carat weight. Buy Here.
Intertwining Round Cut Diamond Hoop Earrings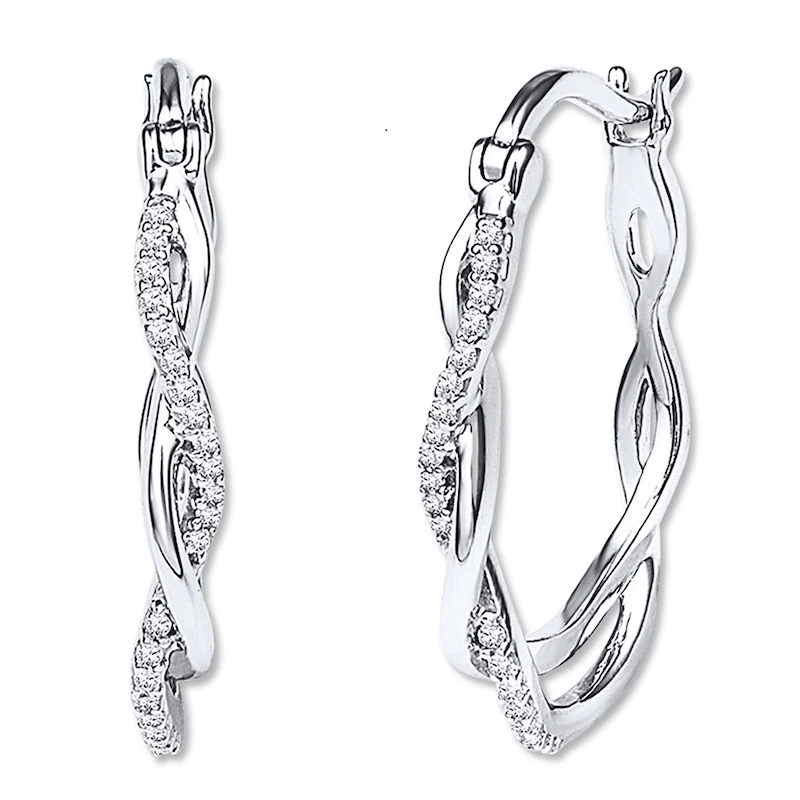 ⅛ carat of sparkling round cut diamond accent these modem sterling silver hoop earrings. Intertwining metal adds a modern, geometric take on a classic look. These earrings are perfect for formal occasions, but subtle enough you can dress them down. Priced at $189. Buy Here.
Effy ENY 0.54 carat Diamond Hoop Earrings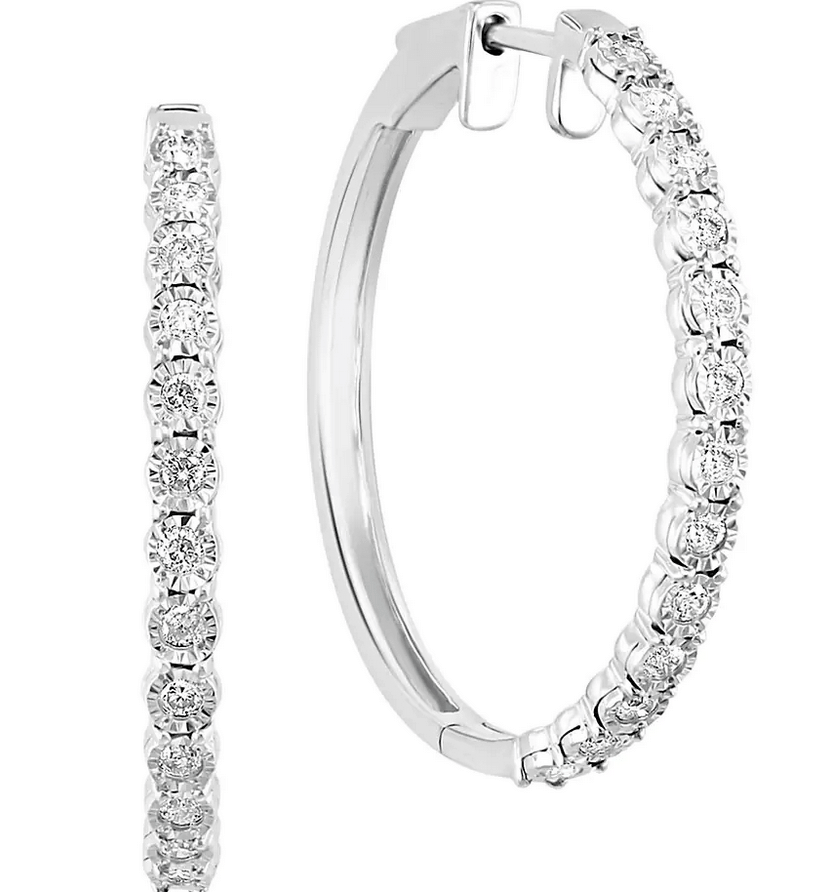 Luxurious sterling silver hoop earrings dazzle with 0.54 carats of high-quality diamonds. These silver hoop earrings provide a classic but updated look that's hard to go wrong with. Originally retailing for $1,100, this pair of earrings now costs just $440. Buy Here.
Lab-Created Chunky Diamond Huggie Hoop Earrings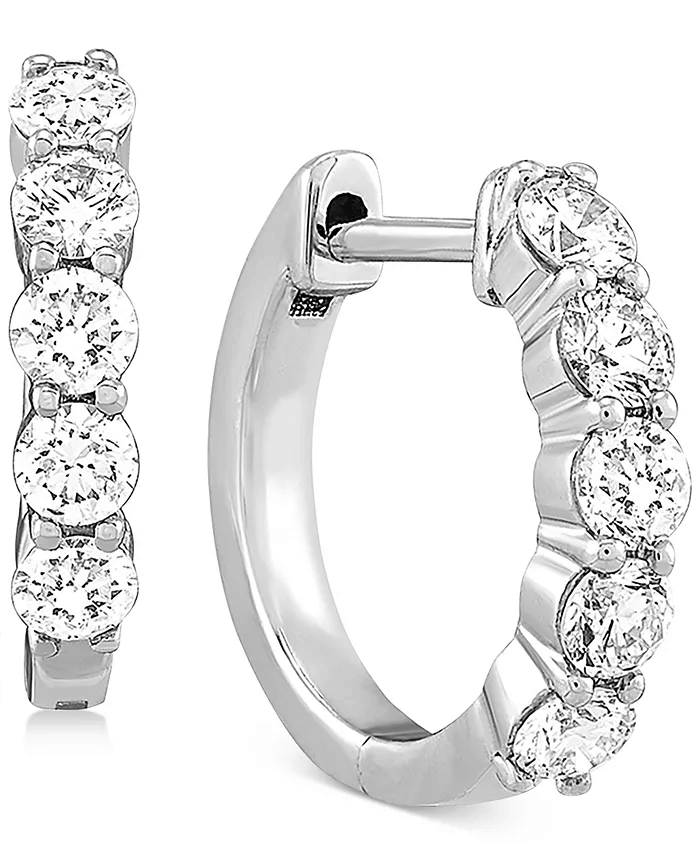 ⅝ carats of lab-grown diamonds accent a thicker hoop for a classic statement. Lab-grown diamonds are becoming increasingly popular, as they are more affordable and just as durable as natural diamonds. Polished sterling silver adds beautiful shine for a balanced, classic but contemporary look. On sale for $300. Buy Here.
Inside-Out Diamond Hoop Earrings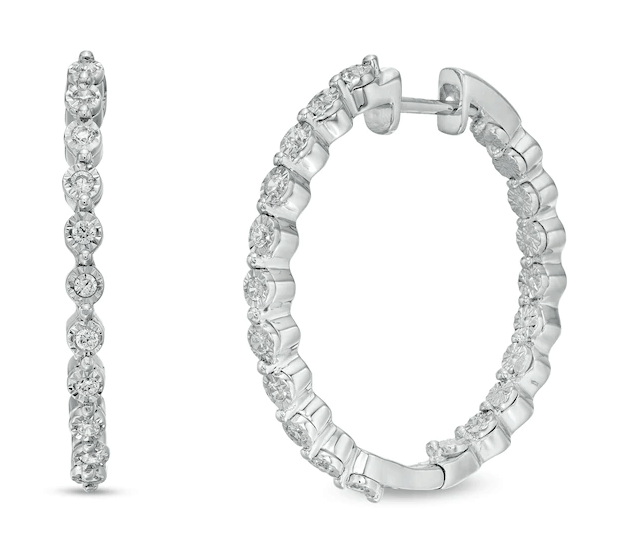 2022 earring trends are about expressing yourself in unexpected ways, and this pair of quirky diamond earrings allow you to do just that. ¼ carats of diamonds sparkle with an inverted design, set on sterling silver. Priced at $297. Buy Here.
Frequently Asked Questions
Question: Why is Tiffany silver so expensive?
Answer: Looking at Tiffany sterling silver earrings or other accessories? You may notice that, even for their plainer options, sterling silver is expensive. In reality, Tiffany is a luxury brand designer, and a popular one at that. Though Tiffany is not as expensive as some competitors, such as Cartier, you are paying in part for the brand name. However, it is also true that Tiffany uses quality sterling silver and offers unique and exclusive designs.
Question: Does Tiffany silver hold its value?
Answer: However, there is an upside to buying Tiffany silver. Tiffany is said to hold its value better than most of its competitors. Not only is Tiffany a well-known brand, but they also offer timeless designs. Tiffany engagement rings are especially known to hold their value.
Question: Is Sterling forever real sterling silver?
Answer: Sterling Forever has become a fairly popular brand for jewelry. They offer a range of products, so it's important to read the description carefully. While they do offer 925, high-quality silver, or silver with gold plating, this does not apply to all of their products. Many options are actually brass, with silver or gold finishes. Brass is cheaper, less valuable, and less durable than sterling silver
Final Thoughts
Silver hoop earrings are expressive and versatile. Silver hoop earrings look great set against black, but also complementary colors, such as dark navy, royal blue, burgundy, and other deep tones. If you opt for plain hoop earrings, consider an accent tennis bracelet. For diamond-studded earrings, keep things simple with the rest of your accessories.
Of course, there are no hard and fast rules as to how to wear silver hoop earrings. The thing that matters most is that you're rocking a style that feels true to you.