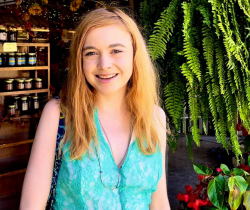 Latest posts by Erin Jamieson
(see all)
2020 was the year of canceled weddings, special events, concerts, and pretty much anything you'd get dressed up for. But it turns out that it was also the year of growth for luxury brands like Chanel.
And now that pandemic boost is lasting– with Chanel earrings considered to be one of the brightest ideas for fashion in 2022.
2020 saw a 30 percent boost in bridal jewelry, and surprising interest in luxury designers. And now that boost is becoming a trend, with consumers buying accessories to attend events that are slowly being rescheduled.
Among the hottest 2022 luxury jewelry trends are statement pendants, colorful gemstones, and unique and even mismatched earrings.
While some of the trends call for bold looks and hues, Chanel, with its ability to seamlessly mix classic designs with an artistic flair, seems to be benefitting. And its earrings remain staples for formal events.
Consider this your guide to the best earrings Chanel offers. I'll provide ideas for who to select your earrings and my picks.
| Product Image | | Primary Button |
| --- | --- | --- |
| | | |
| | | |
| | | |

Why do People Love Chanel so Much?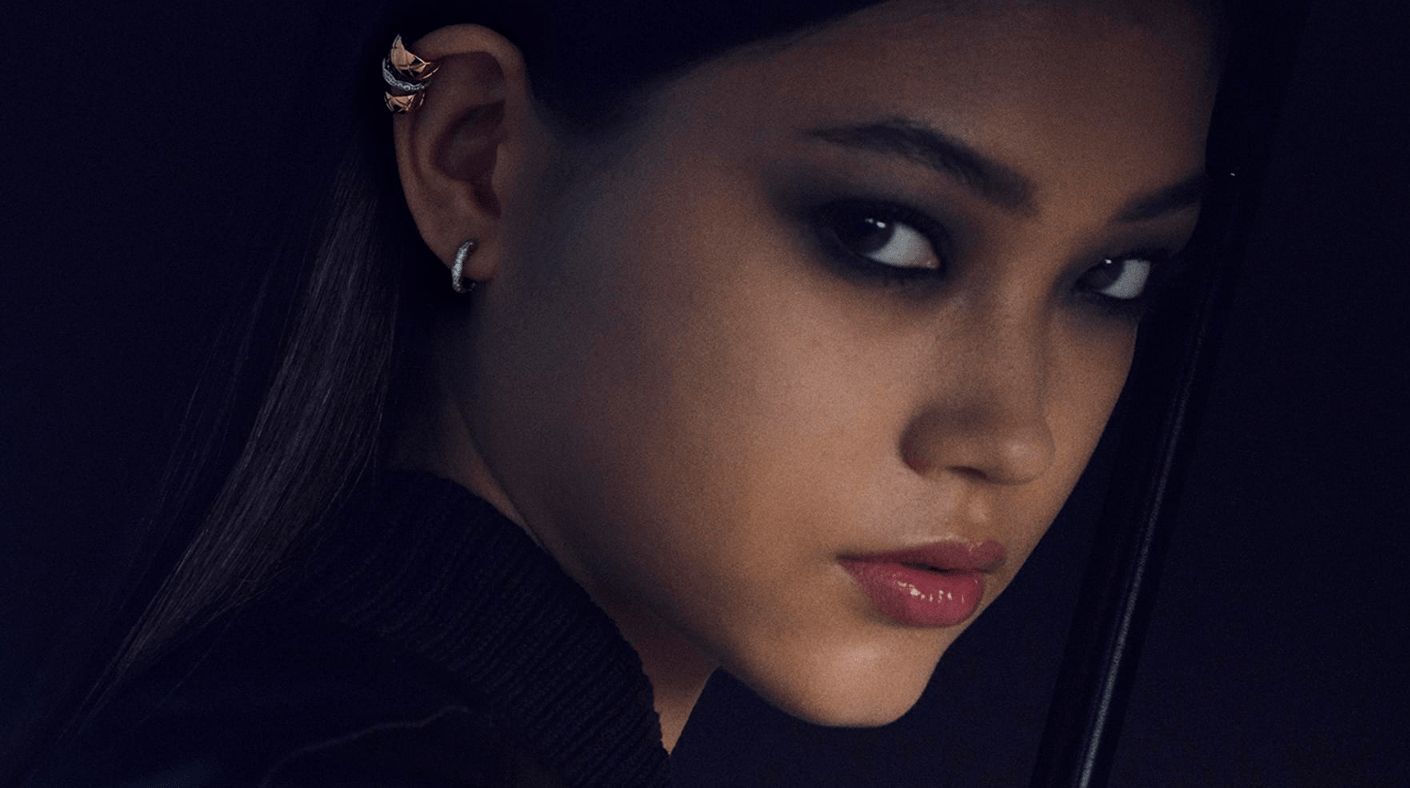 If you've ever looked at luxury jewelry before– and likely even if you haven't, chances are you're aware that Chanel is a popular designer. But you may not be aware why. The truth is that several factors add to both the popularity and value of Chanel earrings.
There's an undeniable elegance, quality, and timeless beauty to Chanel products. Chanel adds new collections to keep things fresh while staying true to its quality designs and time-tested elegance.
When Did Chanel Become Popular?
Chanel first became popular during the 1920s. Under the guidance of Coco Chanel, suits and little black dresses took on classic designs that were meant to not only fit well but complement the wearer.
It was during this decade that the fashion designer pushed past clothing and started dipping into other products, just as perfume, and, inevitably, fine jewelry. A focus on high-quality materials, classic designs, and handcrafted details solidified Chanel's reputation.
Why is Chanel so Exclusive?
Ironically, another factor in Chanel's popularity is likely its exclusivity– which also in part explains why Chanel is expensive. Chanel offers exclusive designs that are sketched out by hand, and then precisely crafted and executed. For instance, some of its handbags take nearly 200 steps to complete.
Are Chanel Earrings Worth It?
Of course, reputation aside, it's always important to take a close look at the product you're interested in. Chanel earrings are by no means the cheapest you can buy, so are they worth the cost?
It's important to consider, first and foremost, the quality. You should also consider factoring in the unique styles and exclusivity of Chanel.
Are Chanel Earrings Real Gold?
Chanel offers a fine jewelry line, as well as a fashion jewelry line. The fine jewelry line uses precious materials, including high-quality solid gold.
Chanel fashion uses a more affordable base, and sometimes with gold plating. Metals used for Chanel fashion earrings include rhodium and stainless steel, which are both durable.
Gold plating is real gold; it's just not as valuable or durable as solid gold. It's a thin layer of real gold used to provide a gold finish at a lower cost.
Are Chanel Earrings Real Pearls?
Fine earrings most often have real, freshwater pearls. For their more affordable fashion line, Chanel uses coated glass to make their faux pearls. The good news is that even the faux pearls are very well constructed, high quality, and durable.
Do Chanel Earrings Hold Their Value?
Chanel earrings hold their value. Vintage Chanel earrings are quite valuable, especially for fine jewelry. Indeed, fashion earrings are not as valuable, but they still are well constructed and age well.
Fashion earrings may be a better choice if you've always wanted Chanel but simply never been able to afford any earrings from their fine jewelry collection.
Do Chanel Earrings Tarnish?
Chanel earrings, when taken care of, are fairly durable. However, know that any jewelry can tarnish some over time. To avoid this for as long or as much as possible, take your earrings in for professional care once a year. The good news is that Chanel mostly uses materials that do not easily tarnish.
Avoid harsh chemicals and soap. I do also recommend not showering or swimming with Chanel earrings, no matter the type of metal. Use common sense, and you'll find that your earrings will hold up.
Do Chanel Earrings Come With an Authenticity Card?
Chanel earrings don't come with an authenticity card. If you purchase Chanel earrings from a third-party site that offers a card of authenticity, this is a sign that you have fake Chanel earrings in your hand.
When buying pre-owned Chanel of any kind, or from a seller that hadn't been authenticated to sell Chanel (such as a department store), make sure you can see the Chanel stamp. Stamps vary by era.
The 1980s has a logo, insignia, and year. From the late 80s to 1990, Chanel has numbers on either side of the insignia.
Since the 2000s, Chanel has shifted to laser printing. Logos should be uniform, stamped precisely, and properly spelled and centered. When in doubt, look elsewhere. Remember, your best bet is to buy directly from Chanel.
Chanel Earrings: My Picks
Now I'll give you my picks for my favorite fashion and fine jewelry earrings you can buy from Chanel in 2022. Recall that fashion earrings are more affordable but less valuable, and vice versa. The good news is that no matter what collection you buy from, you'll be buying a pair of durable and well-crafted earrings.
Fashion Chanel Earrings
Glass pearls, colored crystals, and iconic Chanel symbols abound. This collection of fashion earrings keeps the classic Chanel refinement, but with bolder, fun updates.
You can easily follow current trends of colored gemstones, unique shapes, and bolder statement earrings. Chanel cuts costs by using durable metals like stainless steel and rhodium.
Traditional with a modern flair, this appealing collection starts at $400 and goes up to around $3,700. Countless Chanel fashion earrings retail under $2,000 and even well under $1,000. Shop the Entire Collection Here.
My picks are sorted from the lowest to the highest price, so you can find a pair of fashion earrings that fit your budget.
Gold and Black Resin Stud Earrings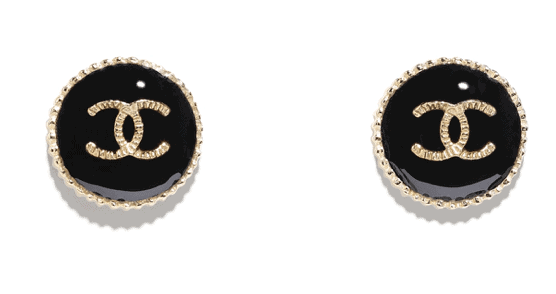 If you want a classic earring from Channel but are on a budget, this pair is the best option. The around $400 stud earrings feature a dramatic contrast of black resin with a gold finish.
The Chanel logo is distinct, and the earrings are easy to wear with everything from jeans to a formal outfit for an understated look. 
Pearl Prong Earring (Single)

Perfect for a cartilage piercing or if you want to follow the mismatched earring trend, this earring is intricately designed and just around $400. The gold finish provides a classic feel, alongside glass pearl backings. An understated Chanel logo finishes the look.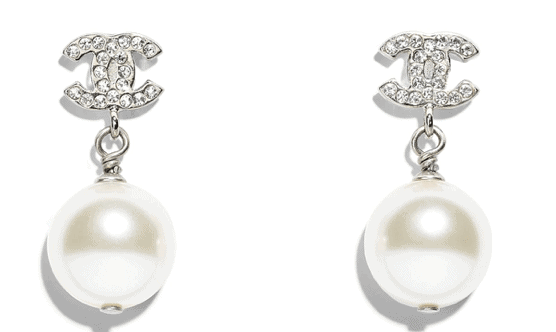 Strass silver is studded with crystals, providing a classic look to these glass pearl drop earrings. These are one of my favorite costume earrings from Chanel. Dress them up with a formal dress, or down, paired with a crisp blouse. Priced at around $425; Buy Here.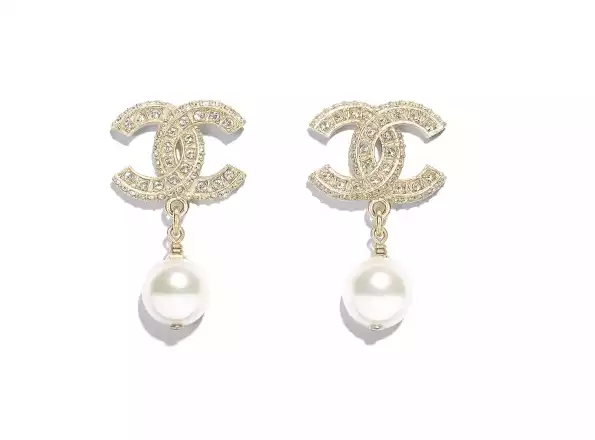 Silver, Gold, and Crystal CC Studs

For fashion earrings, these have a classic and elegant style– and are priced at just around $450. A gold finish supplies a polished look to the Chanel logo, while crystal studding and silver add an elegant contrast. 
Polished Simple CC Dangle Earrings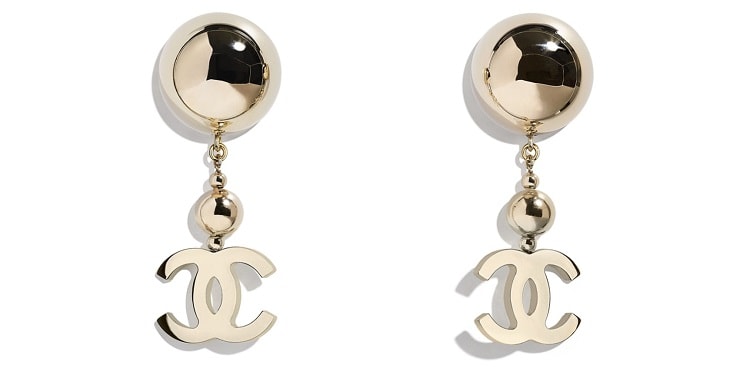 Keep it modern and simple with these versatile earrings. A polished gold finish provides a sleek, updated, and versatile look. Go from day to evening, or from work to a night out. Circular studs and Chanel letters keep things classic. Retails for around $525.
Crystal, Black and Pearl Drop Earrings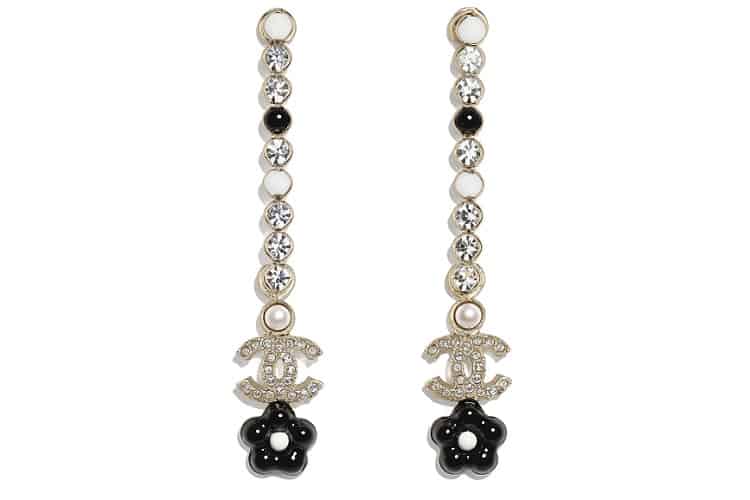 These dramatic $600 Chanel earrings are still refined. Black resin, clear crystals, and glass pearls alternate down the sparkling strand.
Consider pairing these earrings with a lower neckline. With these earrings, I also recommend an understated, solid chain necklace, choker, or even forgoing the necklace. 
Crystal and Orange Drop Earrings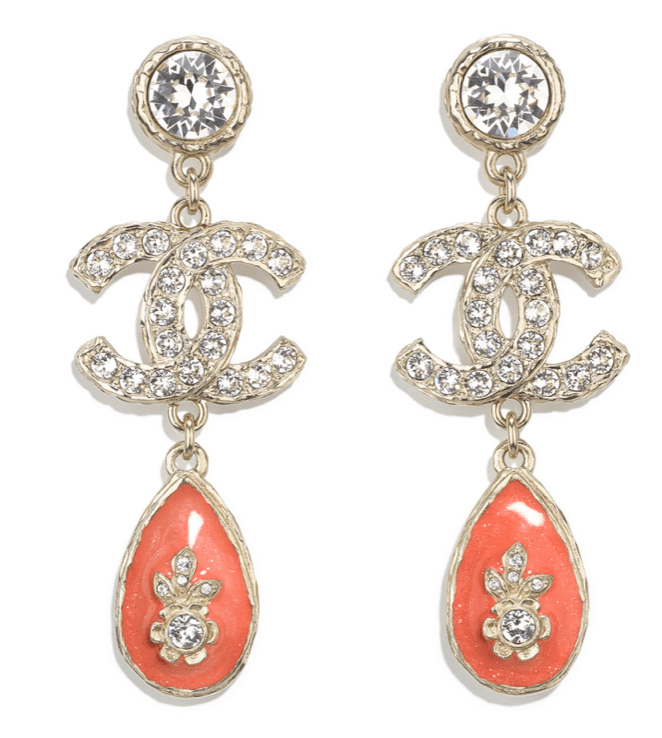 Your choice of orange or black adds some drama to these teardrop-shaped earrings. Retailing for around $725, these earrings are playful, from the unique color to the crystal-studded Chanel letters, and the crystal studs. 
Pearl CC Earrings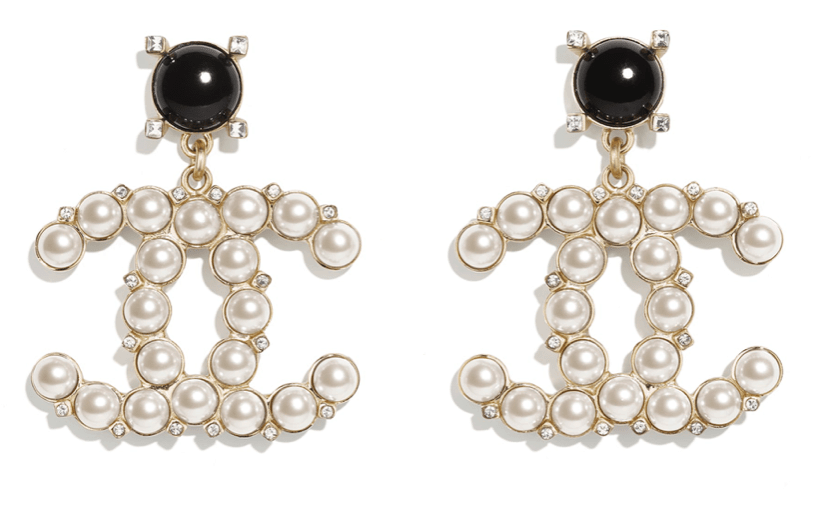 Glass pearls cover Chanel letters for a look that blends classic and modern. The black resin stud breaks up the pearly white, white tiny crystals add dimension to the earrings throughout the design. It's a modern twist on pearl earrings, for around $800.
Metallic Beaded Hoop Earrings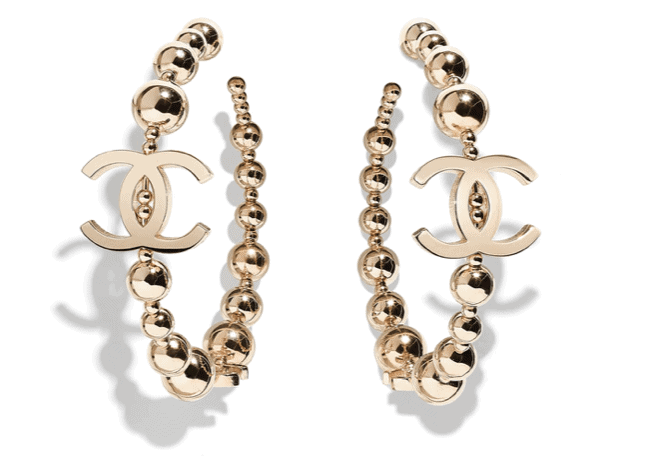 A modern classic, these around $900 hoop earrings feature sleek, polished metal beads. Chanel letters add even more dimension to the earrings. The gold finish has both cool and warm undertones.
Multicolor and Crystal Dangle Earrings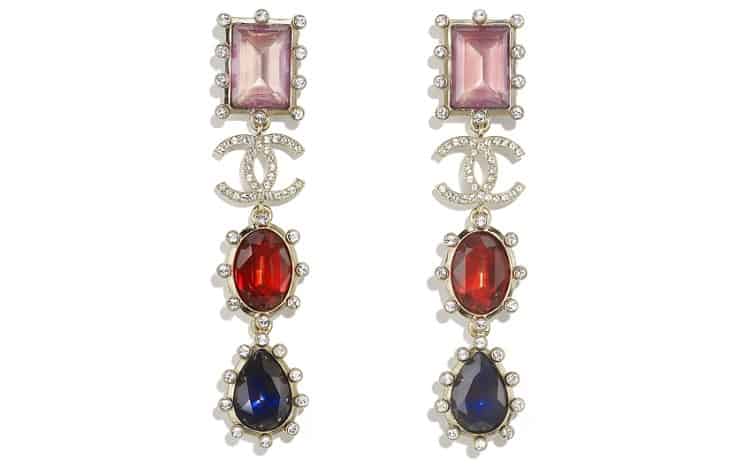 Eclectic, expressive, and unique, these around $1,025 earrings are standouts from the Chanel fashion earrings collection. Following the 2022 trend of multicolor gems, opt for pastels (teal, pink and yellow) or jewel tones (rose, red, and navy). Crystals stud each oval, tear, and square-shaped color.
Crown Crystal Chandelier Earrings
Dramatic flair and gold, crystal, and pearly tones make these around $1675 earrings among the most dramatic in the fashion collection. From the iconic crown symbol to the crystal-studded Chanel letters, these are earrings for making an entrance.
Fine Jewelry Chanel Earrings
Fine jewelry earrings are far more expensive, but also more valuable. While much of the fashion collection has playful touches, Chanel earrings here are more classic, elegant, and sophisticated. Expect solid 18K rose, white, yellow, and beige gold.
Each pair of earrings comes with a distinct artistic vision. Coco Crush earrings play with yellow and white gold contrasts. Camelia Earrings wow with three-dimensional petals, in both rose and white gold. Comete Earrings embrace celestial themes, with comet and star motifs.
For Sous Le Signe de Lion, just one pair of earrings carries a lion motif. Plume de Chanel appeals to bohemian styles, with feather motifs. Finally, Ruban Earrings are diamond forward, with ribbon-like designs.
I'll include one to two of my favorite picks in each collection, starting with the Coco Crush collection and ending with Ruban.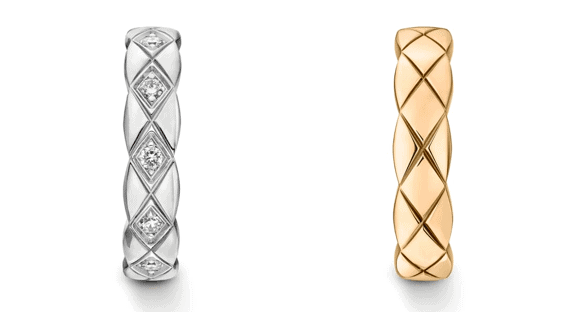 Embrace this mismatched earring trend with classic style. A polished, quilted beige gold earring pairs with a white gold earring with beautiful diamond accents. A play with textures and colors, these earrings surprisingly complement each other. Priced at around $3100; Buy Here.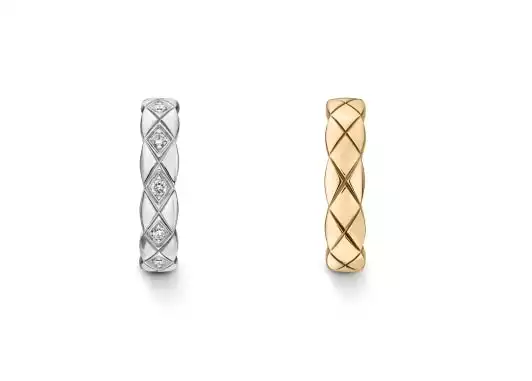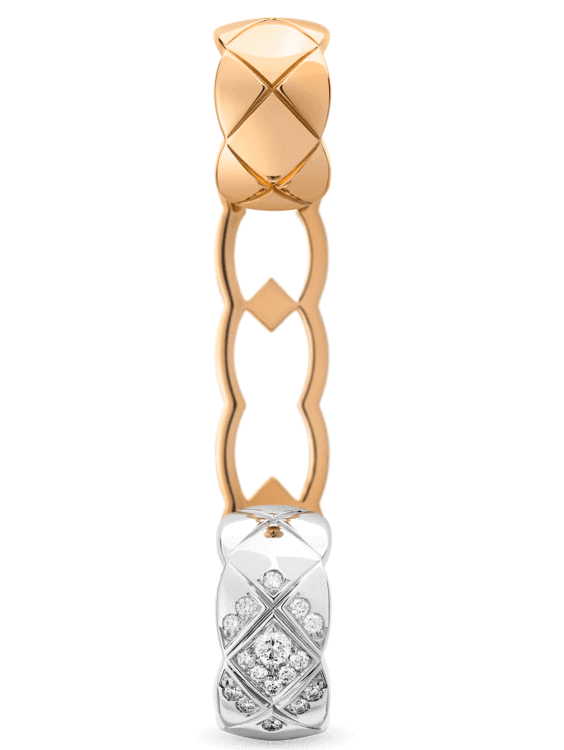 Chanel specializes in classic stud, drop, and some hoop earrings, but this ear cuff is a more rare find. Beige gold pairs white gold gold, diamond accents, and the quilted motif this collection is known for. A modern classic, this ear cuff retails for around $4750. Buy Here.
Coco Crush Ear Cuff | Chanel
16 brilliant-cut diamonds totaling 0.07 carat. White gold with a thin layer of Rhodium plating for color.
Check Price
We earn a commission if you make a purchase, at no additional cost to you.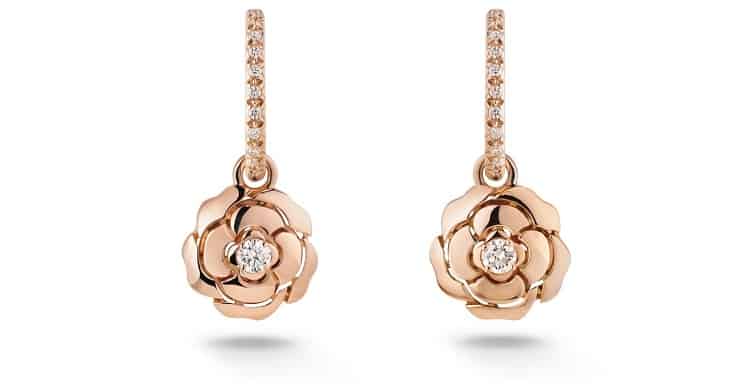 Priced at around $5650, these pink gold earrings are about as affordable as you get from the Camelia collection. But I also find them the most useful in some ways.
A clean but unique and enchanting design features three-dimensional floral petals. Diamond accents are placed in the center of the flower, as well as around the hoops for beautiful sparkle. Buy Here.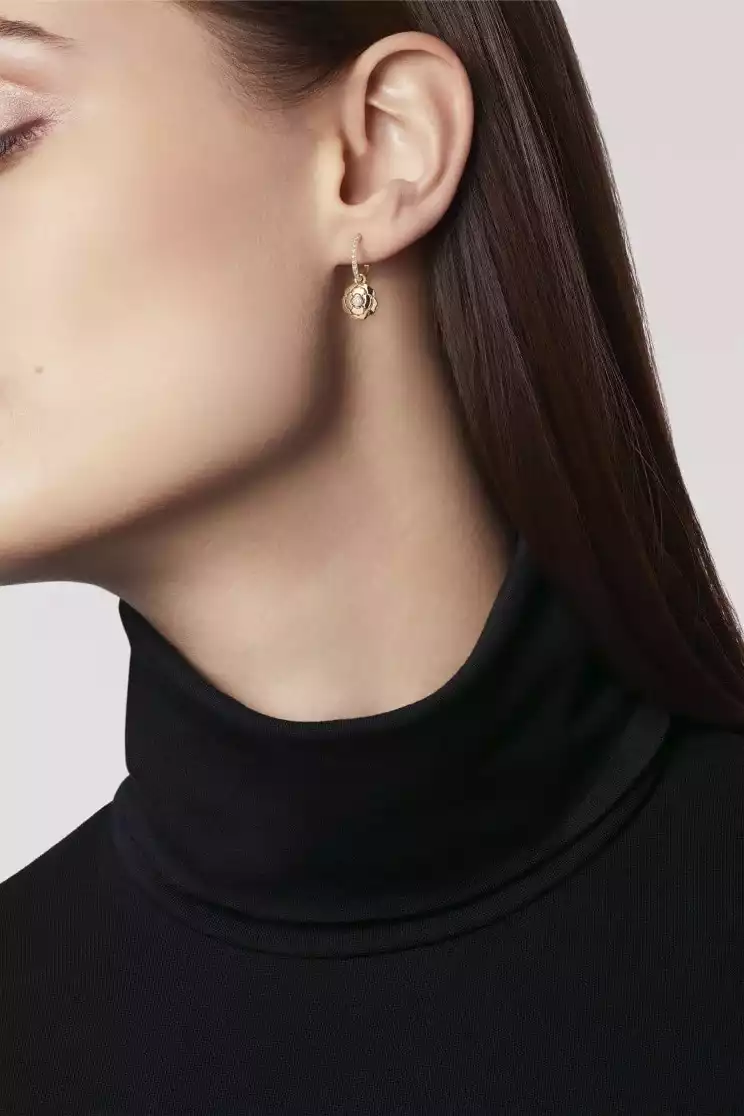 Though these earrings cost around $10,700, they are the most affordable white gold and diamond Camelia earrings. Yet once again, they are easily one of my top picks. Every petal is skillfully crafted, with accent diamonds covering the entire surface. Cool, polished white gold adds modern sophistication. Buy Here.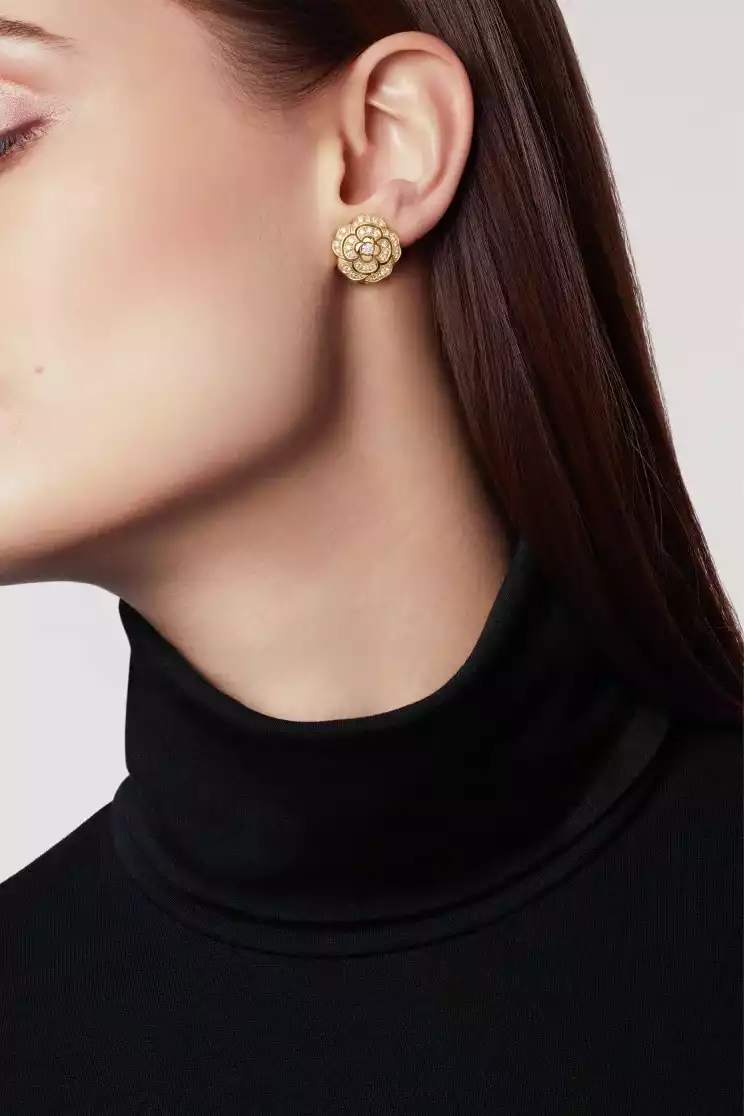 Bouton de Camelia Earrings | Chanel
18K yellow gold, 70 brilliant-cut diamonds totaling 0.79 carat. The earrings are worn on the lobes or remove the posts to wear them at the top of the ears.
Check Price
We earn a commission if you make a purchase, at no additional cost to you.


Keep it simple and on-theme with these festive star earrings from the Comete collection. Retailing for around $5950, these small white gold earrings are perfect for understated sparkle. Diamond accents bring the stars to life for a seamless look. Buy Here.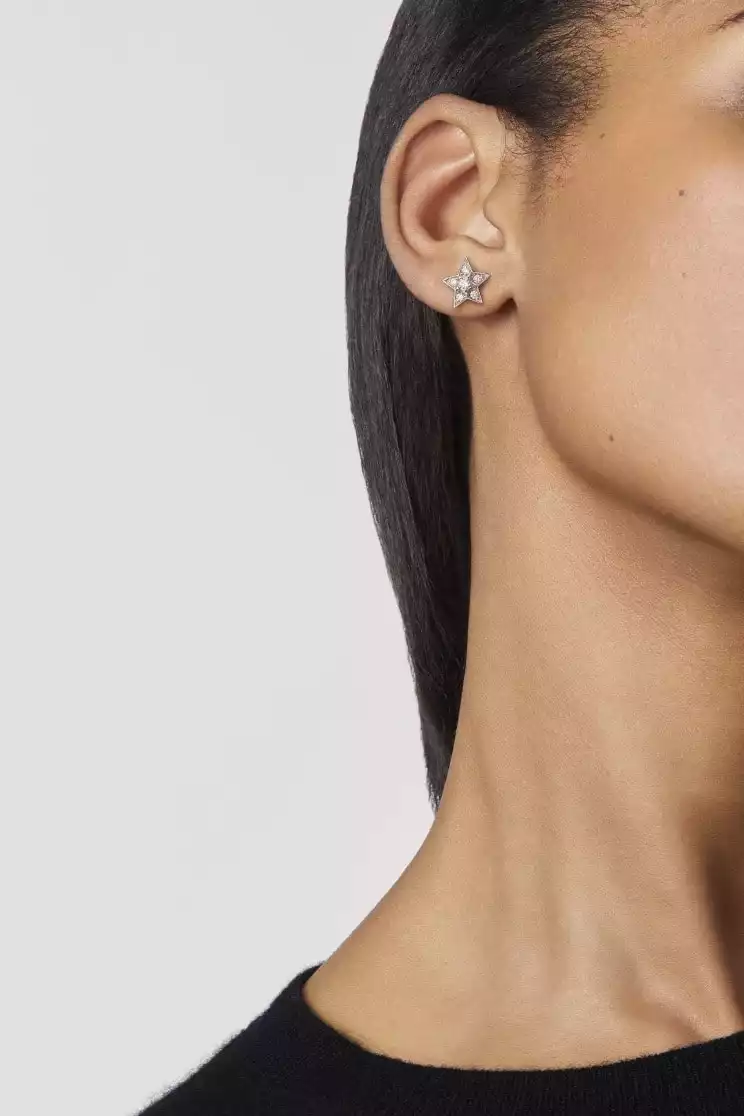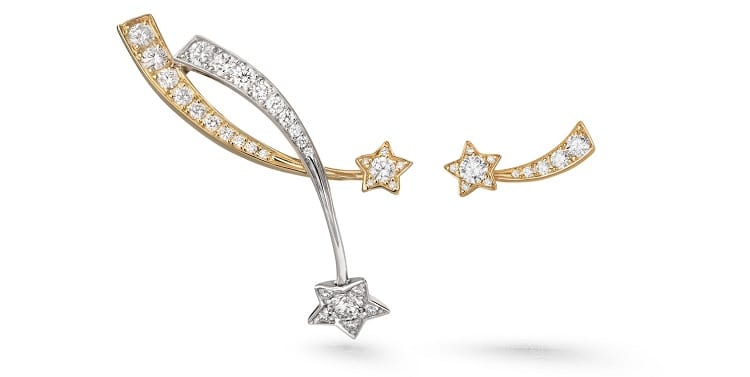 Yellow and white gold are accented with beautiful accent diamonds. The around $10,000 pair of earrings feature colliding shooting stars, with dramatic construction and compelling symbolism. The earrings are at once whimsical and a bit daring. Buy Here.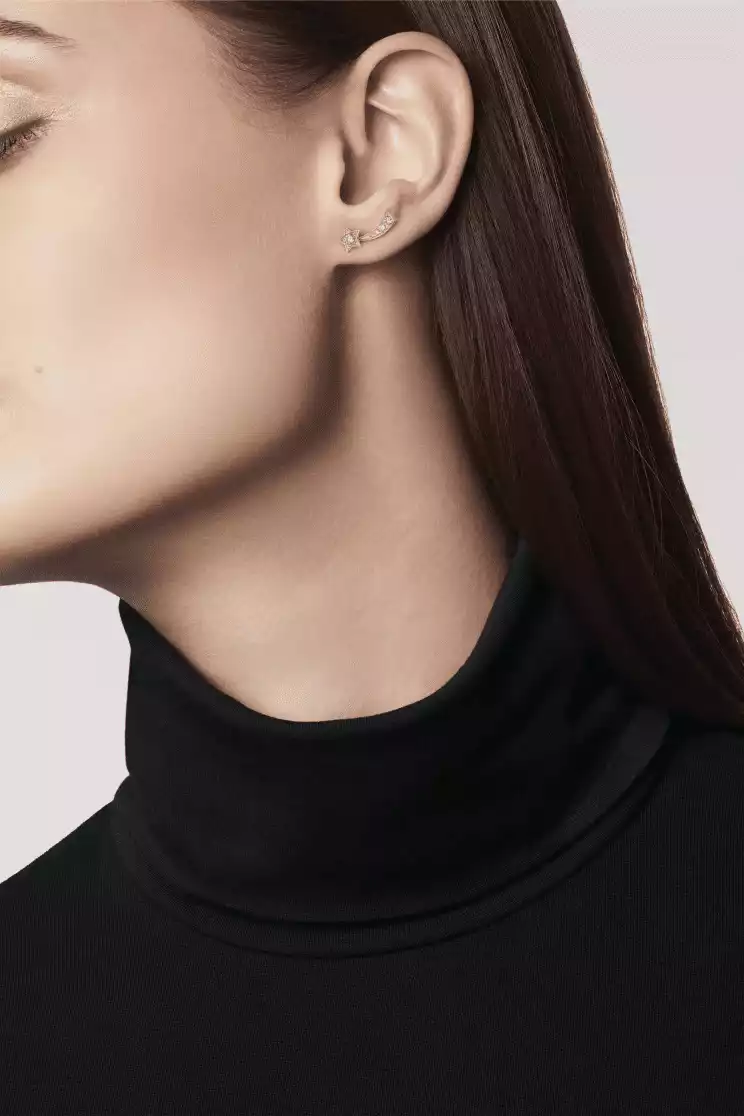 Etoile Filante Earrings | Chanel
18K white and yellow gold, diamonds. Worn as clip-on earrings with locking back for pierced ears.
Check Price
We earn a commission if you make a purchase, at no additional cost to you.


These majestic earrings feature yellow gold, accent diamonds, and deep blue Lapis Lazuli gemstones. Priced at around $12,00, the yellow gold with the deep blue and sparkle from the diamonds is very much in theme with the lion motif. A royal, rich, and uniquely Chanel statement; Buy Here.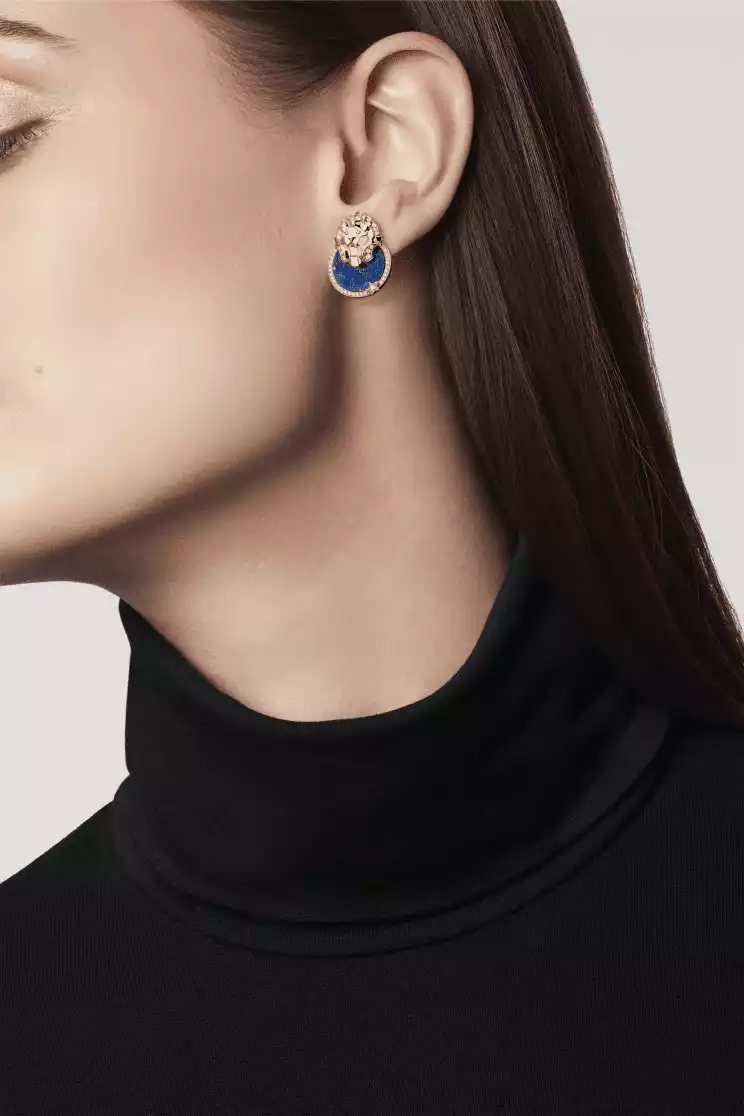 Lion Medaille Earrings | Chanel
18K yellow gold, diamonds, lapis lazuli. Worn clip-on earrings with removable posts for both pierced and non-pierced ears.
Check Price
We earn a commission if you make a purchase, at no additional cost to you.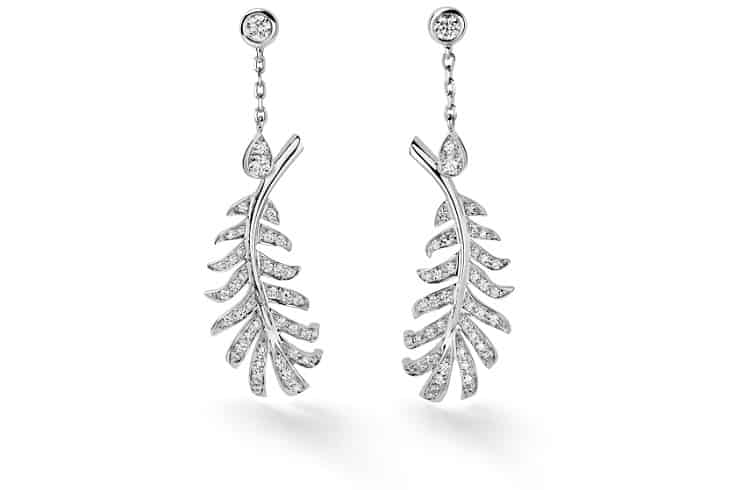 These dazzling feather-shaped earrings retail for $10,600. Diamonds stud the feather motif, set with 18K white gold. Elegant meets bohemian for sophisticated but whimsical earrings. This pair of earrings also showcase Chanel's gift for artistic geometry. Buy Here.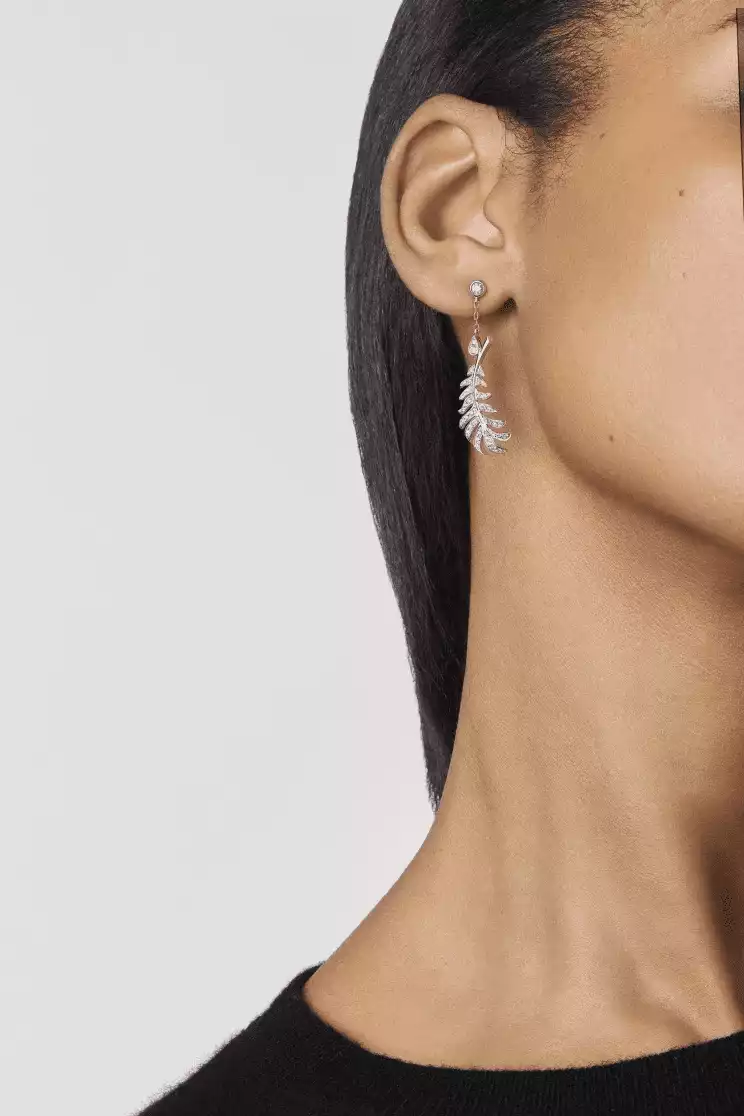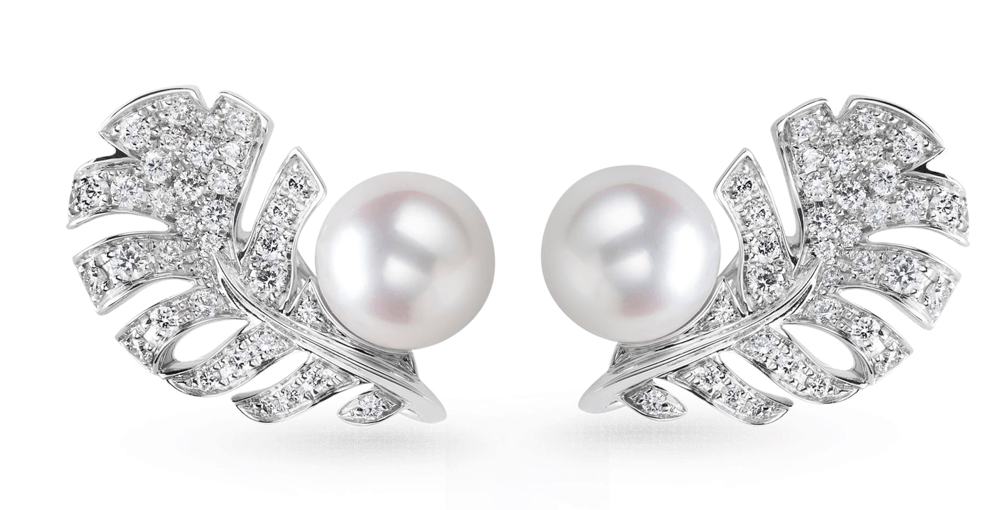 These exquisite earrings retail for $10,950. White gold feather motifs are carried with gorgeous diamond accents. But the real star of this pair of earrings is the set of cultured pearls. The unexpected edition provides a timeless feel. Buy Here.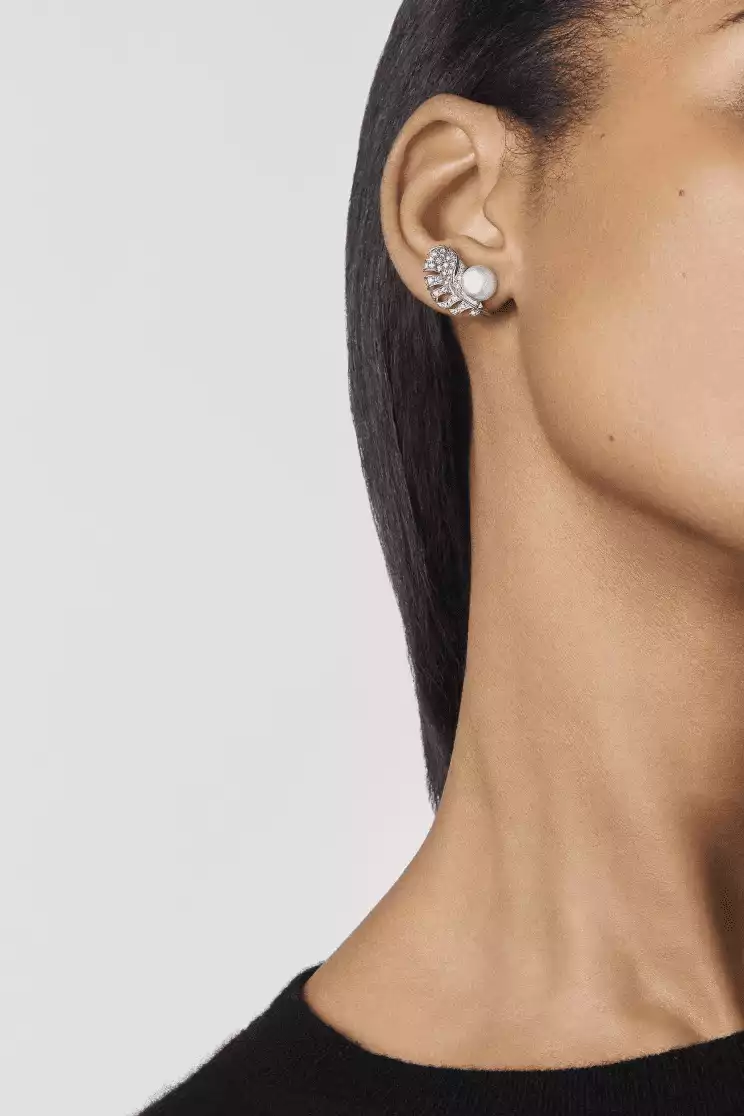 Plume de Chanel Pearl Earrings | Chanel
18K white gold, diamonds, cultured pearls. The earrings are worn on the lobes or remove the posts to wear them at the top of the ears.
Check Price
We earn a commission if you make a purchase, at no additional cost to you.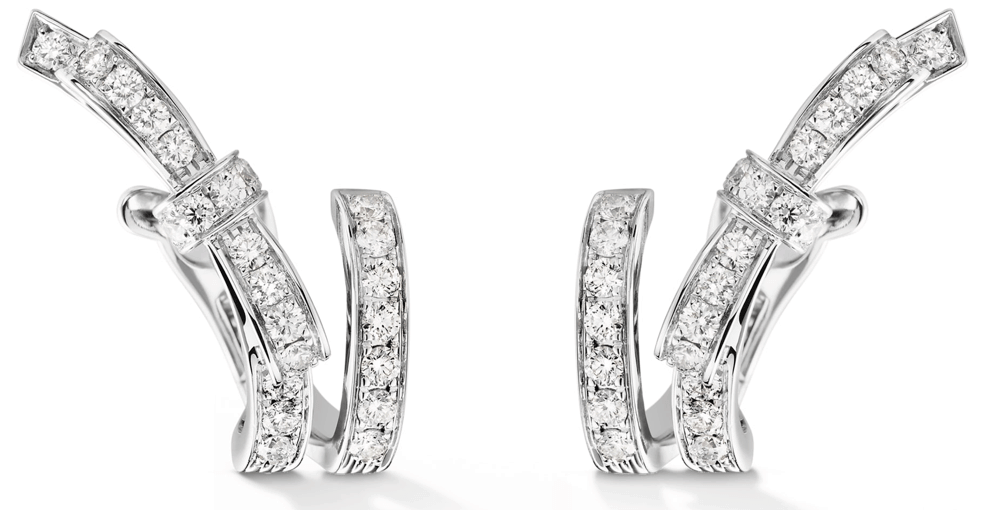 Priced at around $8,850, these earrings are diamond-forward. Unique, ribbon-like geometry and daring angles prove just how much detail goes into Chanel earring designs. These are also the more affordable option from the Ruban collection, and nearly as eye-catching. Expect scintillation from multiple angles. Buy Here.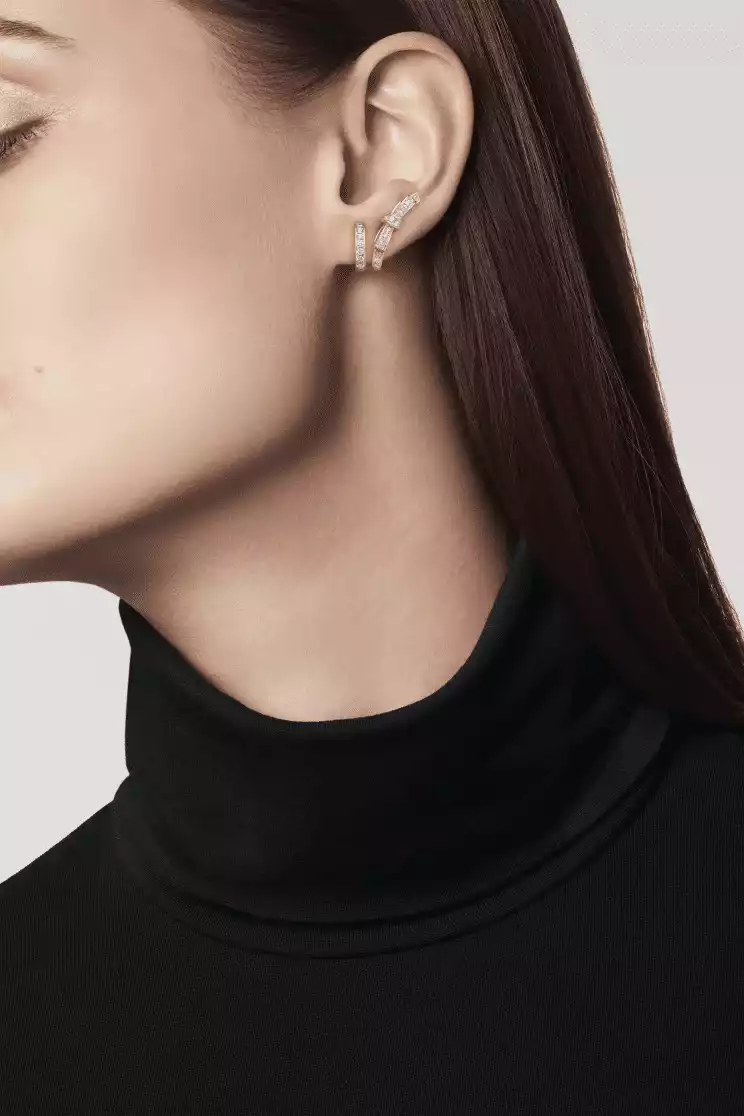 Ruban Diamond Earrings | Chanel
18K white gold, diamonds. Clip-on earrings with removable posts for both pierced and non-pierced ears.
Check Price
We earn a commission if you make a purchase, at no additional cost to you.

Frequently Asked Questions
Question: Who are Chanel's competitors?
Answer: Chanel's competitors include others within the luxury jewelry industry. Main competitors include Gucci, Burberry, Prada, and others. Of course, each luxury designer has a distinct style and draw for different consumers.
Question: Why is Chanel No 5 so Expensive?
Answer: Chanel No. 5 is known as Chanel's most iconic perfume. It's considered the world's best-selling and most popular perfume. You're paying for the brand name, demand, but also how it's made.
Along with being the most popular, Chanel No 5 is the first 'abstract fragrance' that uses multiple layers of scents. Over 80 carefully selected ingredients of excellent quality are used.
Question: What's the Cheapest Chanel bag?
Answer: The cheapest Chanel bag is a clutch, rather than a full-sized bag. While most Chanel bags cost at least a few thousand dollars, a Chanel clutch starts at $1900, and a quilted Chanel clutch starts at around $2400.
Question: Is Chanel cheaper in Paris?
Paris is both the birthplace of Chanel, as well as the place of Chanel headquarters. As such, you can indeed expect lower prices for Chanel– from bags to necklaces, earrings, bracelets, and most all of what Channel carries.
This is also true of other luxury designers who call Paris homes, such as Chloe, Hermes, Celine, Louis Vuitton, and others.
Final Thoughts
Chanel has a certain elegance and refinement that exudes from both its fashion and fine jewelry earring collections.
While fine jewelry earrings may be the better value, in the long run, both collections are thoughtfully made, and even offer a few surprises. Paired with Chanel necklaces or bracelets, you'll have an exquisite look.
Just make sure you stay on budget and think about what type of earrings are best suited for you.
| Product Image | | Primary Button |
| --- | --- | --- |
| | | |
| | | |
| | | |