Latest posts by Erin Jamieson
(see all)
Best Cartier Bracelet Picks and Ideas
Luxury brands like Cartier have always been known for their exclusive styles and trendy ideas. But now Cartier is offering new virtual shopping features to allow customers to buy some of the best bracelets and more picks from the comfort of their homes.
This is all to showcase, too, the new Panthere de Cartier collection, unveiled in June 2021. The collection represents feminine power, defiance, and freedom. Rings, necklaces, and earrings are all being offered. But perhaps the most eye-catching is the new Cartier bracelets. It shows, once again, why so many are drawn to Cartier bracelets.
Consider this your guide to the best Cartier bracelets. I'll tell you why Cartier is still so popular, and how to pick the best bracelets for you. I'll also give you my picks for bracelets you can buy in 2022.
Is Cartier jewelry worth buying?
If you've had your eyes on Cartier bracelets, you may wonder if the hefty price tag is worth it. While undeniably elegant and iconic, here are a few things you should know before making your purchase.
Does Cartier jewelry hold its value?
The good news is that Cartier jewelry holds its value, especially bracelets. Many Cartier prices have increased in value over time. So long as a piece is in good condition, you may find that Cartier pieces will retain– and even exceed their original value.
Is Cartier real gold?
Another plus side is that Cartier uses authentic gold and other fine metals in their bracelets and necklaces. One way to spot a fake Cartier is if it tarnishes.  Solid 18K gold, used for Cartier bracelets, will not tarnish.
Do Cartier love bracelets that scratch easily?
While it is true that some Cartier bracelets can collect scratches over the years, this is not a reflection of their quality. Cartier bracelets are often made with higher carat gold. While this more pure form of solid offers many benefits– such as polish and shine and durability– it is also a little softer than some other metals.
How do I select and wear a Cartier bracelet?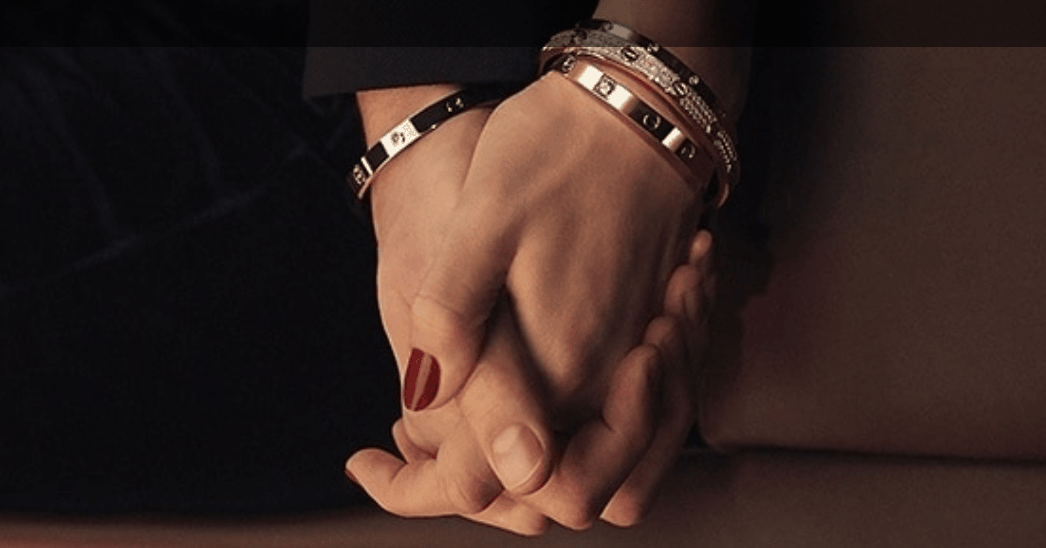 Both selecting and wearing a Cartier bracelet takes some thought. First, you need to be realistic about your budget. And once you buy a bracelet, you need to make sure that you're treating it properly so it retains its value.
How much is a Cartier bracelet?
There's no denying that Cartier is expensive. The high quality of their materials, craftsmanship and iconic design lead to heftier price points. The cheapest bracelets from Cartier typically cost around $4500. If you want diamonds with a bracelet, expect to pay a minimum of $5300. Especially rare diamonds, like a pink diamond, can cost above $50K for a bracelet.
Which Cartier bracelet is most popular?
You should never feel that you need to buy the most popular or expensive bracelet, but some are indeed more popular than others. The Love Collection hosts the most popular Cartier bracelets, and perhaps the most iconic.
How do you take care of a Cartier Love Bracelet?
Cartier offers free cleaning, and I recommend you get your Cartier bracelet professionally cleaned once a year. They also offer other services, such as professional polishing. However, a professional polish can cost around $80.
There are also ways to clean and care for your Cartier bracelet on your own. Use a small, soft brush with lukewarm water and wipe dry with a soft cloth, carefully not to use anything that could scratch your bracelet. If you're not wearing it, store it in a cool place, in its case where it won't scratch against other jewelry.
Cartier Bracelets: My Picks
Cartier offers nine collections under their fine jewelry options. Each collection has a distinct style for its earrings— but all have that artistic touch and timeless feel that's made Cartier so well known. From the iconic LOVE bracelets to the clean industrial feel to Ecrou bracelets, you'll find a bracelet that suits your style.
I'll give you my picks under $10K, then one luxury option for each collection. All of my picks will be ordered from most affordable to most expensive.
LOVE Bracelet Collection
The LOVE bracelet collection is the most popular, the most iconic, and stems from the original bracelet design offered by Cartier. Designed with life in New York in the 70s as inspiration, LOVE represents love and a free-spirited lifestyle. Each bracelet is meant to embody unique love and unique ways of living. Clean lines and careful proportions are central to this collection. Oval bracelets consist of two arcs that are screwed together. Prices start at $1,700 and go up to $59,000.
LOVE Bracelet- B6027100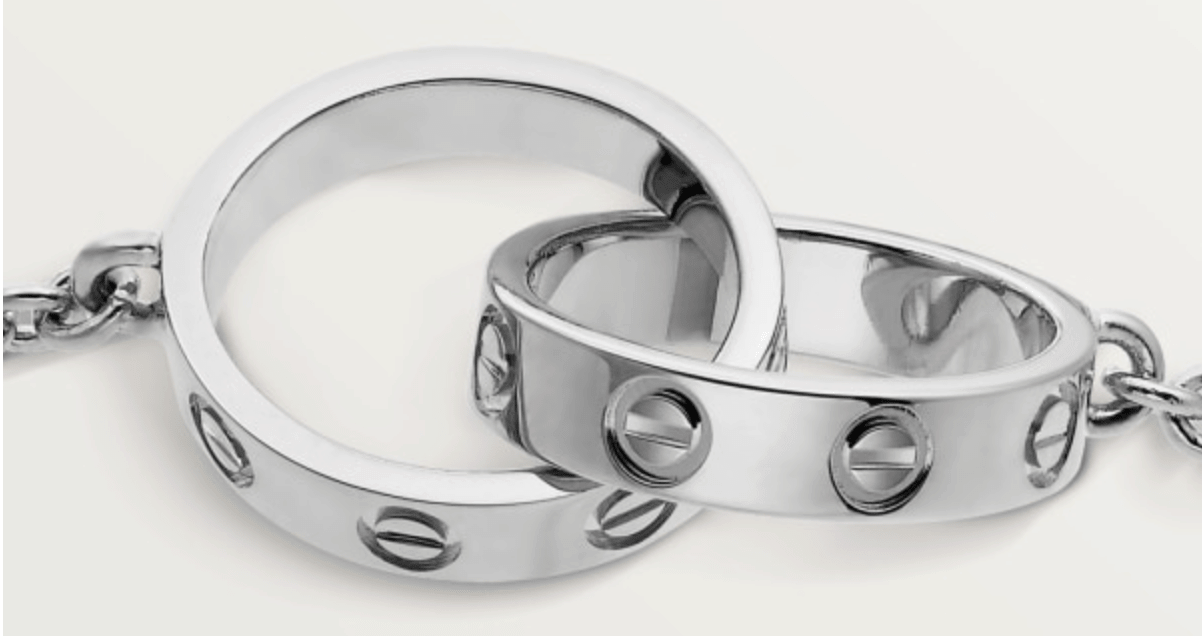 The most affordable bracelet in this collection, with a starting price of $1,700, is an elegant and classic bracelet. A 2.5 mm of 18K solid yellow, white, or rose gold features subtle elegance and screw motifs. Buy Yellow Gold Here; Rose Gold Here; or White Gold Here.
LOVE Bracelet with Diamonds- B6063600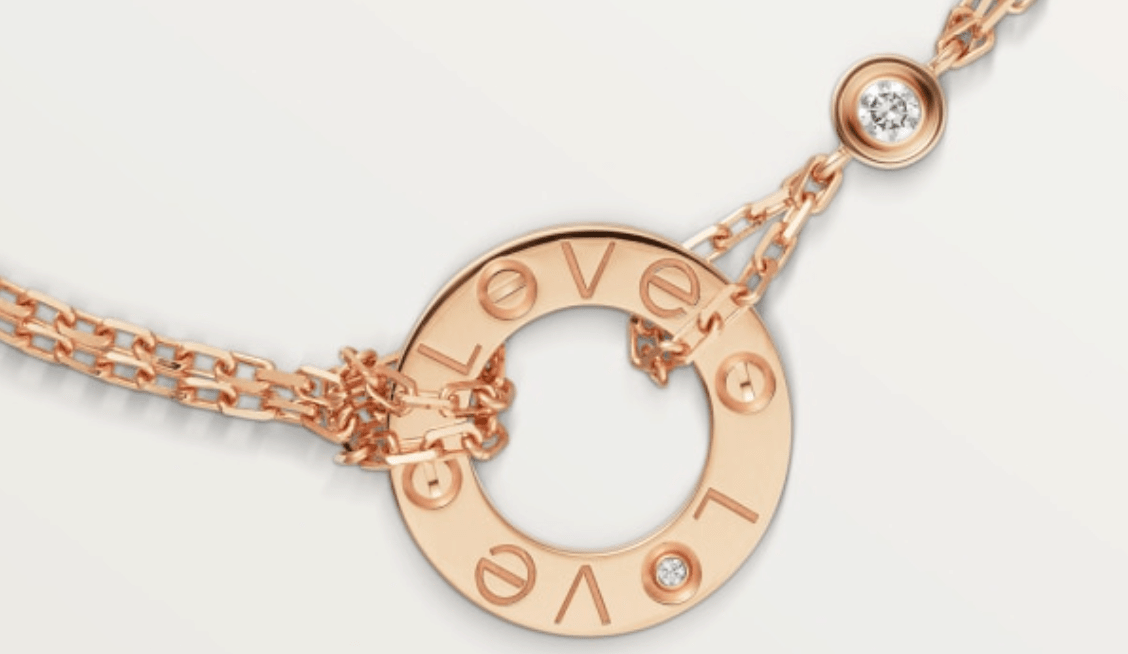 Looking for just a touch of sparkle? This Cartier LOVE bracelet comes in 18K white or rose gold and is accented with two brilliant-cut diamonds, for a total of 0,03 carats. It's a subtle touch, with the Cartier logo pendant. Retails for $2020; Buy Rose Gold Here or White Gold Here.
LOVE Bracelet, Small- B6047517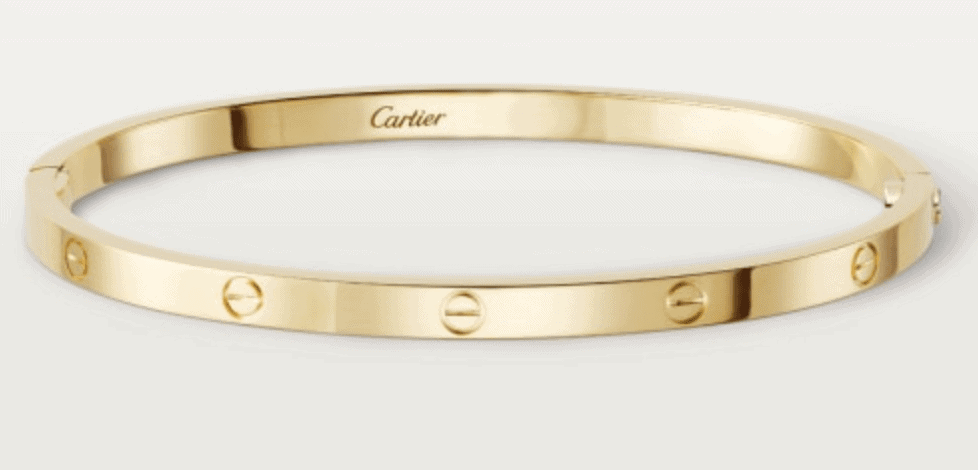 This is a LOVE bracelet portioned for more petite women and under $5,000. Following the iconic design, Cartier is known for, with a slim 18K gold polish band, this may be the best overall value in the collection. Buy Yellow Gold Here, Rose Gold Here, or White Gold Here.
6 Diamond LOVE Bracelet, Small- B6047217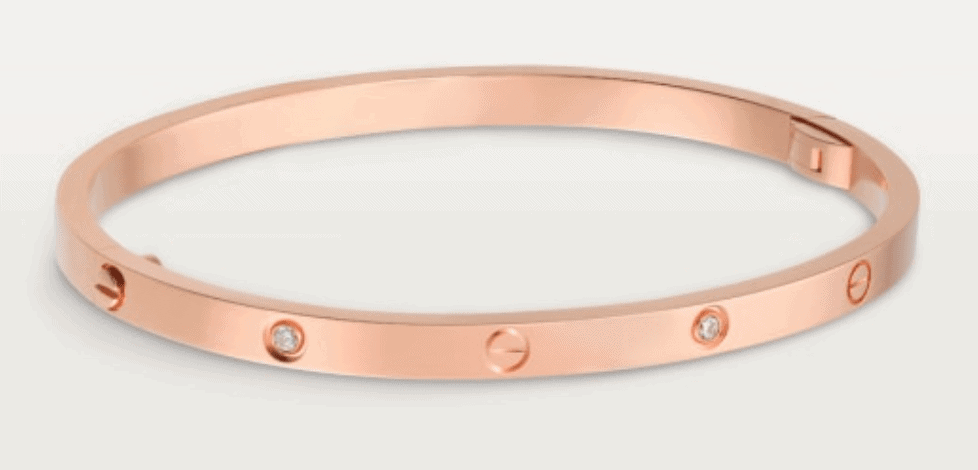 Want more sparkle from your LOVE bracelet but want to stay under $8,000? This LOVE bracelet features 6 dazzling diamonds with a total carat weight of 0.15. The solid 18K gold band and 2.05 mm complements the diamonds beautifully. Priced at $6,250. Buy Yellow Gold Here, or Rose Gold Here.
Luxury Pick: Diamond-Paved Ceramic LOVE Bracelet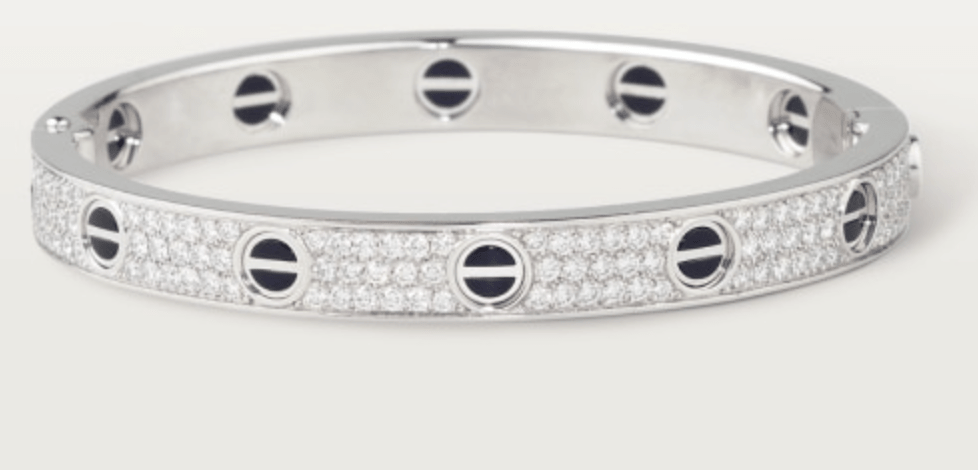 This luxury Cartier bracelet is priced at just under $41K. A dazzling array of 204 brilliant-cut diamonds, weighing 1.99 carats, are evenly distributed for a brilliant shine. Set on a unique 18K white gold and black ceramic band, this is a show stopper. Buy Here.
Juste un Clou Bracelet Collection
While the LOVE collection may be the most well-known, the Juste un Clou collection is also a Cartier classic. Likewise influenced by 1970s New York, these bracelets embody independence and fearlessness.
Combining elements of the Dada art movement and 70s styles, the collection was re-introduced in 2012. Nail-inspired designs, pure lines, and a minimalist appeal do well to highlight the high-quality polish of solid gold. Prices start at $3,200 through $338,000.
Small Juste un Clou Bracelet- B6062617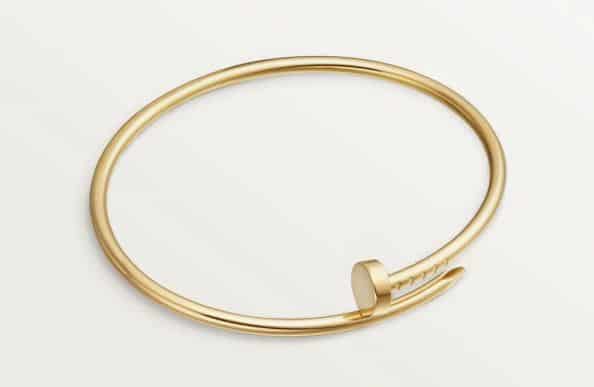 If you want the most affordable bracelet in this collection, here it is. This Cartier bracelet retails for $3,200. A 2 mm thick solid 18K gold band is minimalist, polished, and deceptively simple. With a clean and versatile look, you can get a lot of use out of this bracelet. Buy Yellow Gold Here, or Rose Gold Here.
Juste un Clou Bracelet with Diamonds- B6066117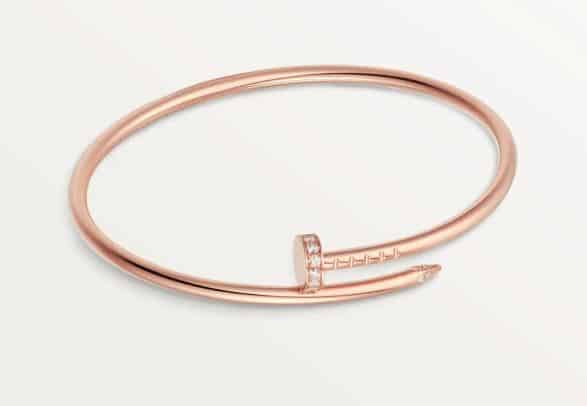 Studded with 20 brilliant-cut diamonds weighing 0.18 carats, this bracelet is perhaps the best value in the collection. Priced at $4,500, the 18K solid gold band features the same iconic minimalist design this collection is known for. Buy Yellow Gold Here or Rose Gold Here.
Sleek Juste un Clou Bracelet- B6048217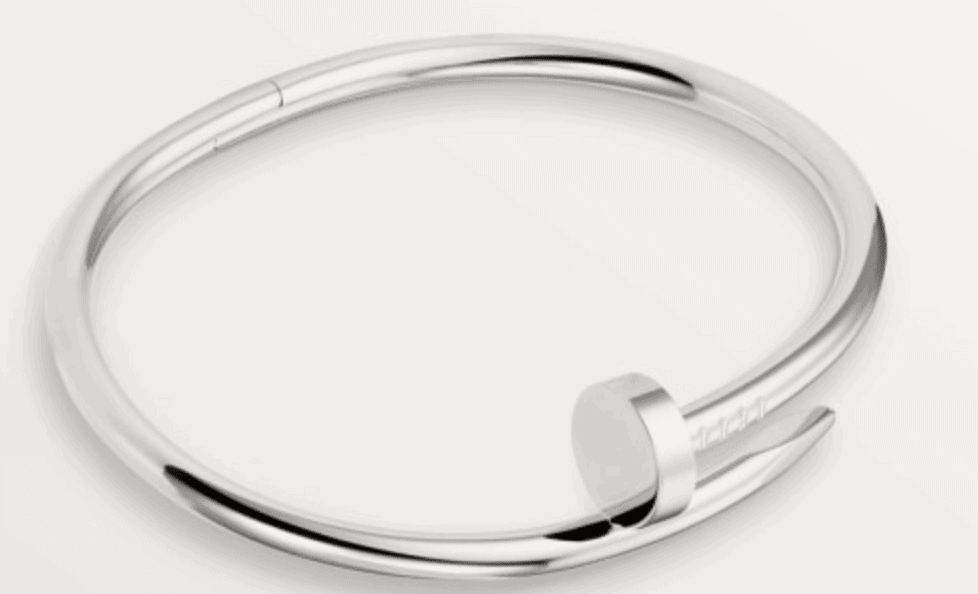 This is a classic, without a doubt. While there are more luxurious, diamond-studded versions in this collection, there's something breathtaking about the polish on this 18K gold bracelet. Clean lines and a minimalist design come through with this $7,100- $7,600 Cartier bracelet. Buy Yellow Gold Here, Rose Gold Here, or White Gold Here.
Luxury Pick: 0.51 Carat Juste un Clou Bracelet- N6708417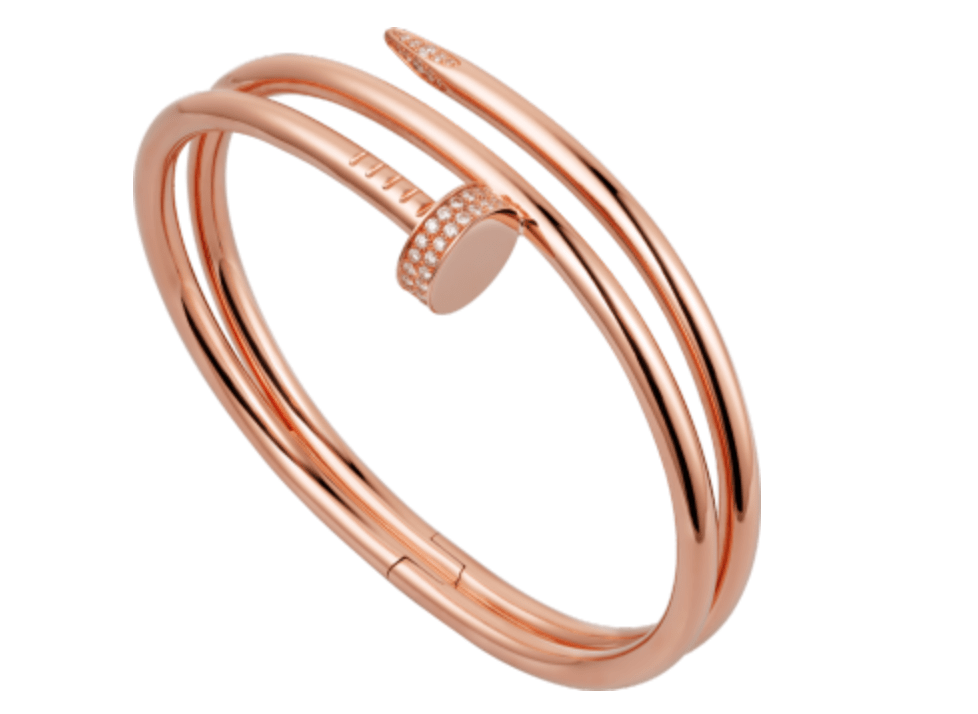 This Cartier bracelet is one of the more affordable options above $10K, priced at a still-hefty $19,000. 62 brilliant-cut diamonds add a beautiful accent to the intricate, but still minimalist, coil design on 18K solid gold. Buy in Rose Gold Here.
Clash de Cartier Bracelet Collection
If minimalism and sleek bands aren't your things, consider the bold Clash de Cartier bracelet collection. Modern spirit, duality, and paradox are the themes behind these designs. Studs, beads, and clouds are set on ribbed mesh for a textured and alternative appeal.
The bracelets are said to take 'mobile form' and embrace a balance of tradition, charm, and liberty. There's a sense of daring but also playfulness in this relatively new collection. Prices start at $6,600 through $5,600.
Clash de Cartier Small Bracelet- B6065117

This studded bracelet retails for $6,600, the starting point for the Clash de Cartier collection. A studded 6.4 mm thick bracelet is at once modern and classic, with beautiful 18K rose gold. The smaller model adds a perfect accent to casual and semi-dressy outfits. Buy Here.
Medium Clash de Cartier Bracelet- N6718717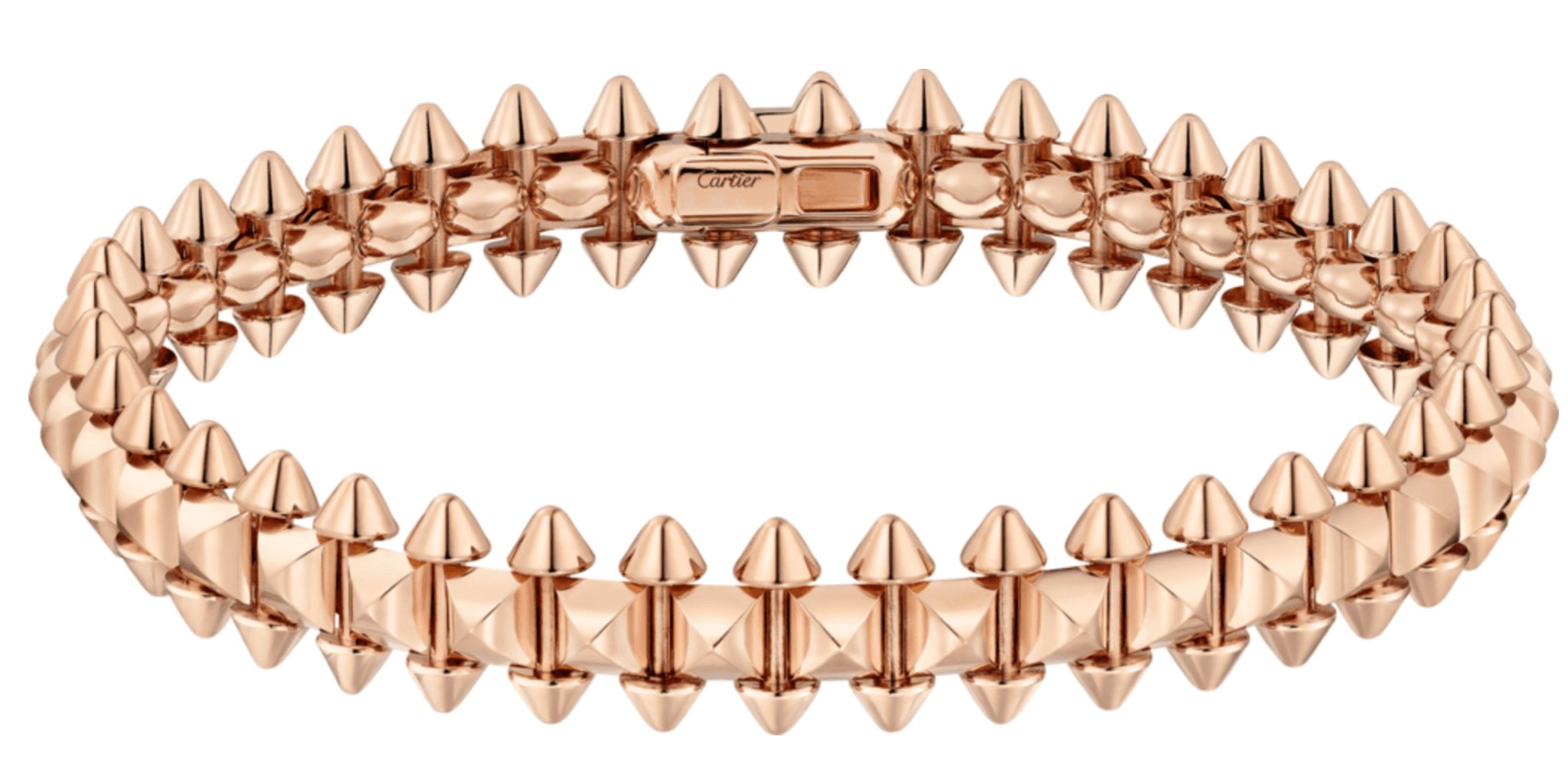 This bracelet features the same duality of contrasts, with studs along 18K rose gold. But the medium-sized model allows those contrasts and details to pronounce themselves. Priced at $8,100. Buy Here.
Luxury Option: Rose Gold and Amazonite Clash de Cartier Bracelet- N6718417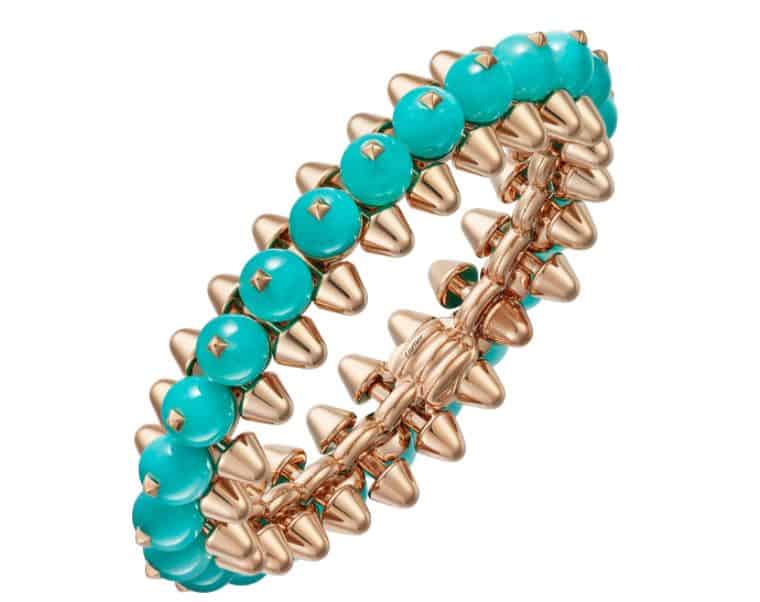 This $56,000 Cartier Bracelet is certainly expensive– but it's also undeniably the most eye-catching bracelet in this collection. The XL model features gorgeous Amazonite round gemstones on a studded 18K rose gold band. Buy Here.
Trinity Bracelet Collection
The Trinity Collection is quite small, with a mere 7 style options. It also has a narrower price range, with bracelets starting at $580 and going up to $28,000– making for an average price of around $4,000. First created in 1924, this collection evokes the trinity of gold bands, and, along with that, love, friendship, and fidelity.
The classic Trinity collection plays with intertwining gold hues but keeps things classic. Madonna and the Duchess of Cambridge are just two of many well-known public figures who've worn these bracelets.
Cord Trinity Bracelet- B6016700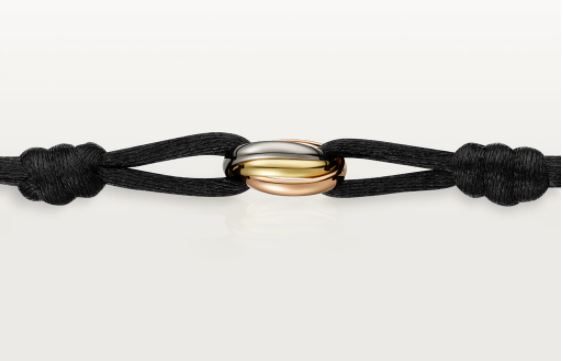 Priced at $580, this is one of the most affordable Cartier bracelets. A pendant of intertwining 18K rose, white and yellow gold is set on a black cord. The bracelet is versatile, with an almost casual feel but still a classic appeal. Buy Here.
Trinity Chain Bracelet- B6036818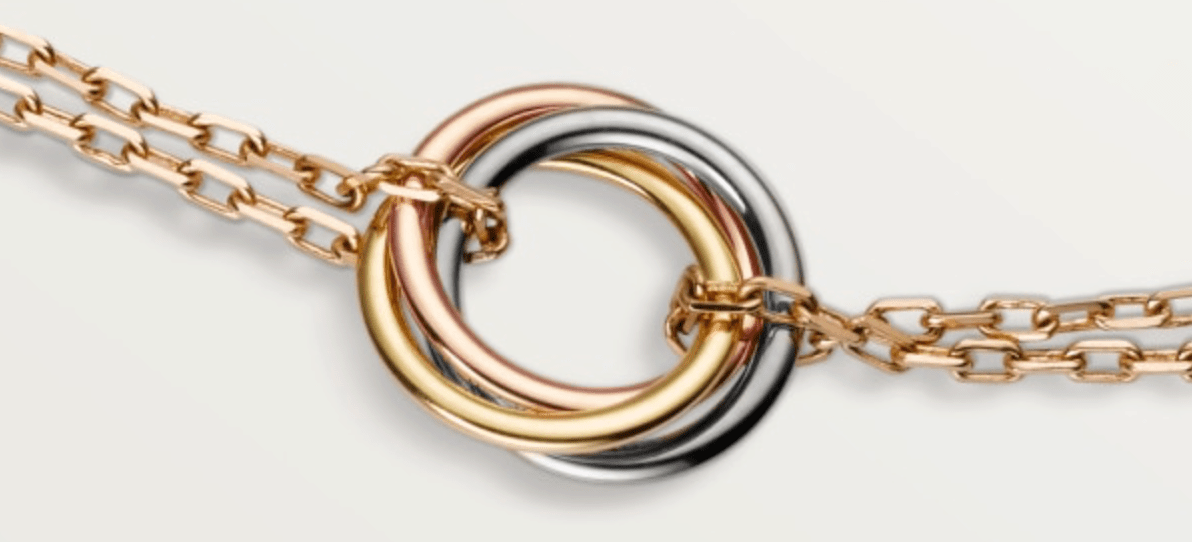 This classic chain bracelet is a nice compromise if you're on a budget but still want a more elegant and classic style. Priced at $1,140, the interlocking rings of 18K gold perfectly complement a solid gold link chain. Buy Here.
27 Diamond Trinity Bracelet- B6059017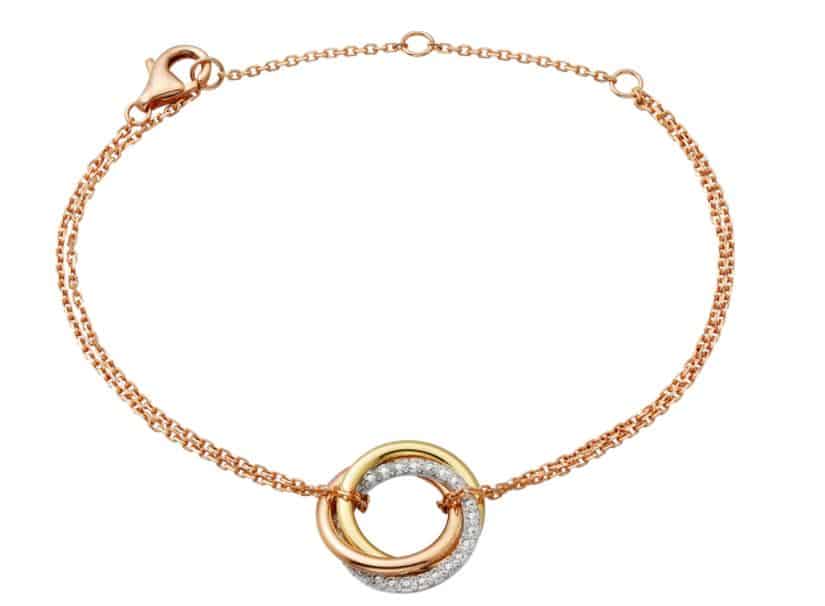 27 diamonds, with a total weight of 0.17 carats, gracefully accent this Trinity bracelet. It's elegant, with a fine solid gold chain and the iconic interlocking gold pendant this collection is known for. Retails for $2,740. Buy Here.
White, Pink and Yellow Gold Trinity Bracelet- Small/ Medium Models- B6050217,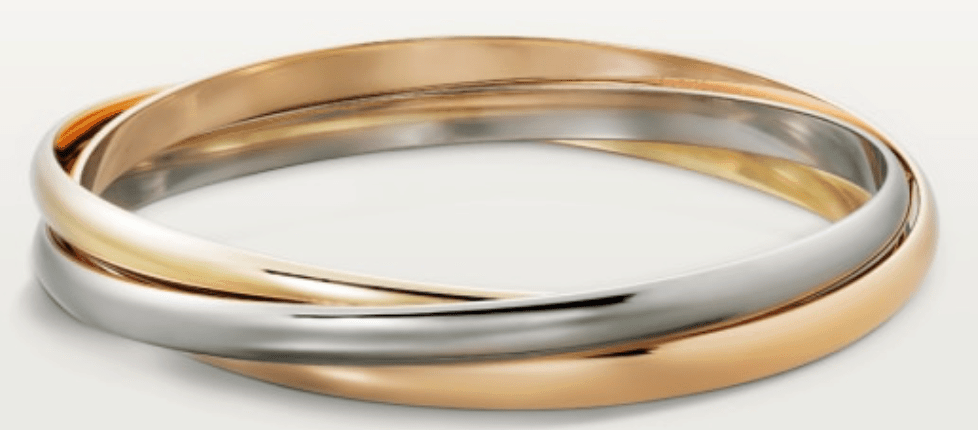 I didn't include a luxury pick for this collection, because I think the value you get from these two bracelets is more worthwhile. Priced at $6,700 and $9,100, these bracelets are simply iconic. Beautiful 18K solid gold is intertwined for a polished band. These bracelets truly exhibit why the Trinity collection remains a classic. Buy Small Here or Medium Here.
Panthere de Cartier Bracelet Collection
This daring collection has been reinvented many times since its introduction back in 1914. Iconic feline designs are featured on open-ended bracelets. Sculptures and abstract silhouettes are embodied with visionary designs.
Gemstones and diamonds add opulence to this collection as well. Three-dimensional designs and classic culture make this collection more than just bracelets but truly works of art. Prices start at $7,600 and go up to $310,000– making this one of the most expensive Cartier bracelet collections. As such, I'll be slightly raising my $10K limit for regular picks.
Onyx and Tsavorite Bracelet- B6067217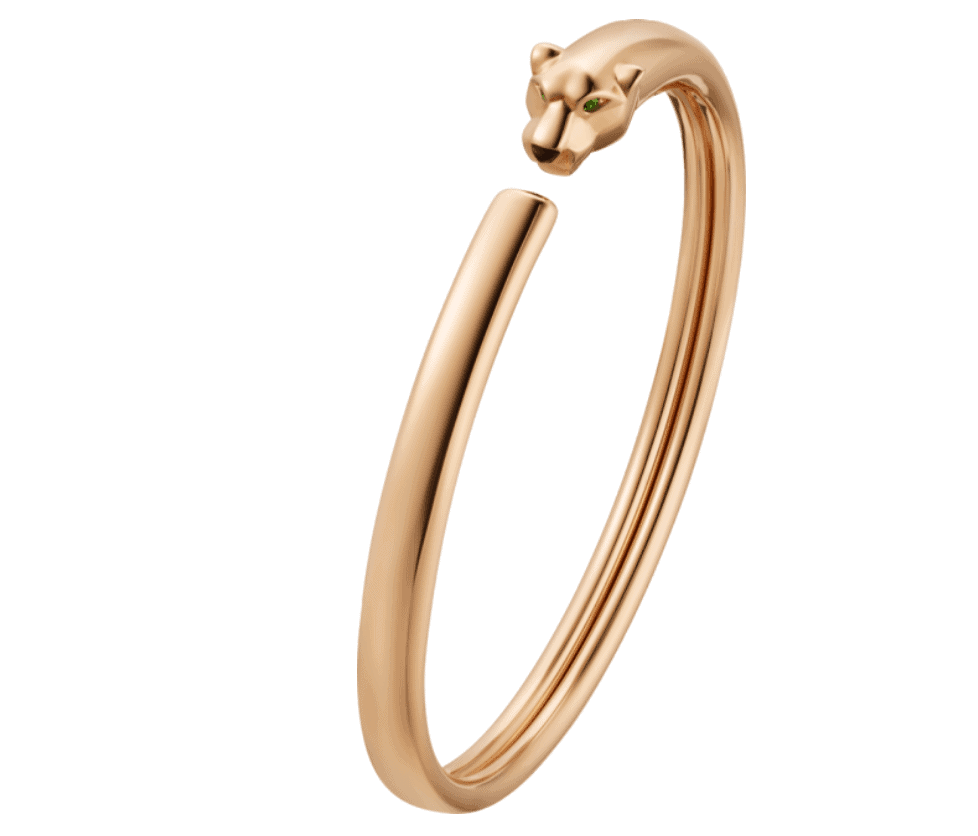 If you want the look of this collection but not the price tag, consider the entry-level $7,600 bracelet, available in 18K yellow or rose gold. Gemstones add liveliness to the carefully sculpted panther. It's a classic, and maybe the best value in the collection. Buy Yellow Gold Here or Rose Gold Here.
Diamond and Tsavorite Garnet Bracelet- B6046516

This bracelet is as affordable as you get in this Cartier collection if you're longing for diamonds. A panther pendant features gemstones and 19 brilliant-cut diamonds, set on an 18K rose or yellow gold fine chain. Priced at $9,100. Buy Yellow Gold Here or Rose Gold Here.
Garnet and Onyx Open Band Bracelet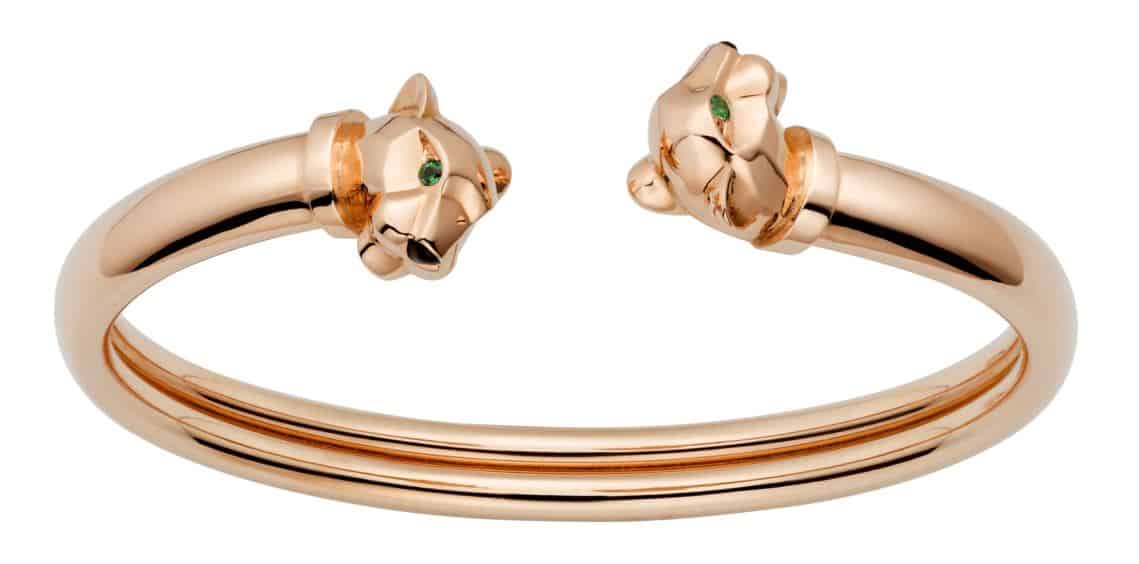 An elegant entry in this collection, this Cartier bracelet retails for $10,900 and is available in 18k yellow or rose gold. Beautifully polished and sophisticated, if you have the budget, this bracelet is a slightly more refined look– and may hold up better– than the chain bracelet options. Buy Yellow Gold Here or Rose Gold Here.
Luxury Pick: 2.55 Carat Diamond Bracelet with Emeralds and Onyx- N6715417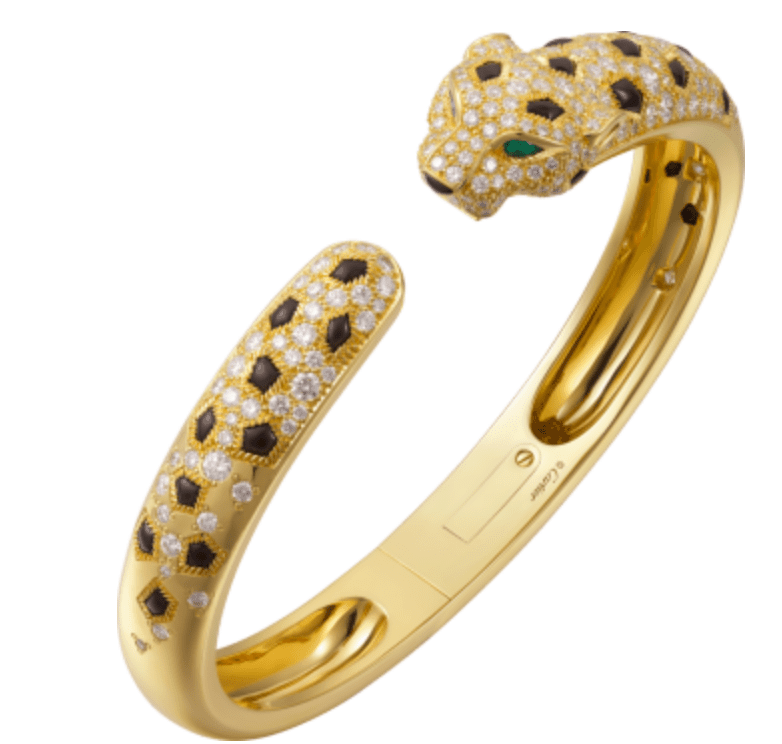 Priced at $53K, this stunning panther-themed bracelet wows with 225 brilliant-cut diamonds, as well as other precious gemstones. An intricate design and utter artistry make this bracelet one of the most unique of all that Cartier offers. Buy Yellow Gold Here or Rose Gold Here.
Ecrou de Cartier Bracelet Collection

Looking for a collection that has a distinct, industrial feel? The Ecrou de Cartier collection may be for you. Meant to push against the expected, sleek and industrial styles are modern and versatile. Craftsmanship details include moveable bolds and ridge bands.
Something interesting about this collection is that it's relatively uniform in design. Aside from a $19K option with diamonds, both price and style are fairly alike from bracelet to bracelet. Because of this, and the small size of the collection, I recommend simply looking at the subtle differences.
Prices range from $6,800 to $7,350– except for the diamond bracelet. Shop Here.
Cactus de Cartier Bracelet Collection (Luxury)

This luxurious collection is certainly not the first bracelet collection from Cartier I'd recommend to the average buyer. However, even just for a look at the artistry, I thought it deserved a mention.
The Cactus de Cartier collection is inspired by both sculptures and, as you probably guessed, cacti. Fascinating, bold hues and authentic beauty radiate from these three bracelets. Emeralds and diamonds add luxurious brilliance, with intricate and opulent designs.
Prices range from $77,00 to $236,000. Shop Here.
Amulette de Cartier Bracelet Collection
This small collection of Cartier bracelets is a great option if you're on a budget and like the look of amulet bracelets. Priced at $1,780 to $2,025, the collection provides an enchanting appeal. Natural gemstones, accent diamonds, and secure padlock designs make for appealing bracelets.
Of course, some feel a spiritual or healing connection to amulets as well. Clean and classic lines make these bracelets easy to pair with everyday outfits.
Mother of Pearl Amulette de Cartier Bracelet-B6044017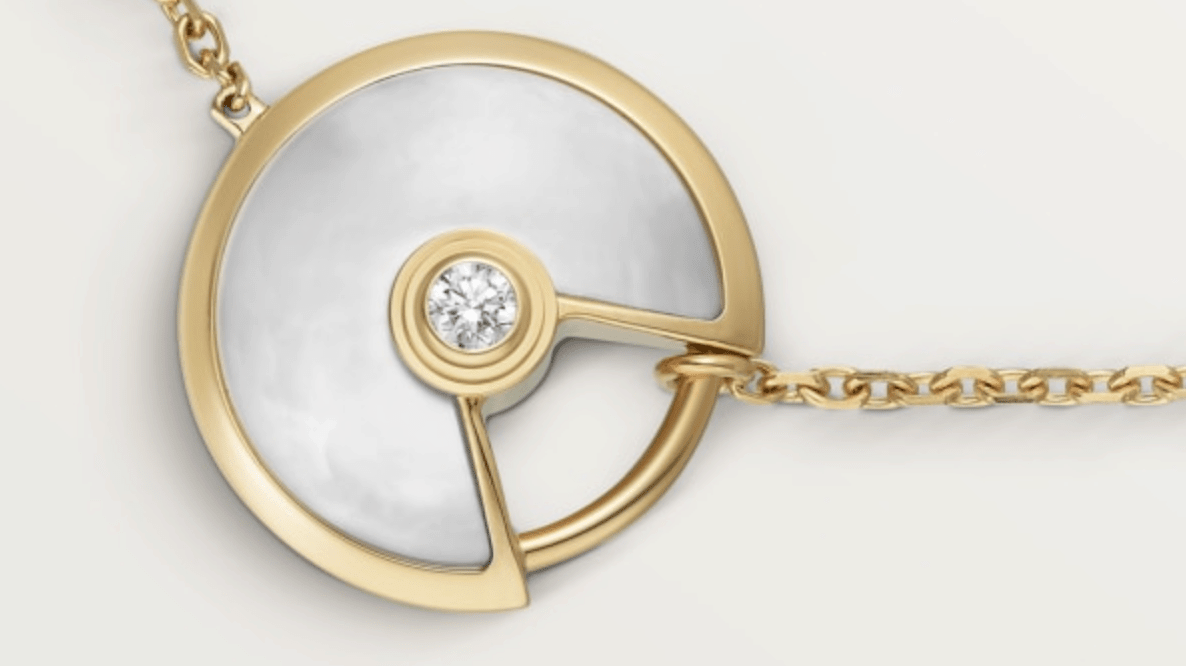 This 18K yellow gold bracelet features 0.02 carats of brilliant-cut diamonds, accompanied by a white mother of pearl with a classic amulet design. Refined, simply, and a good value, this retails for $1,780. Buy Here.
Black Onyx Amulette de Cartier Bracelet- B6044117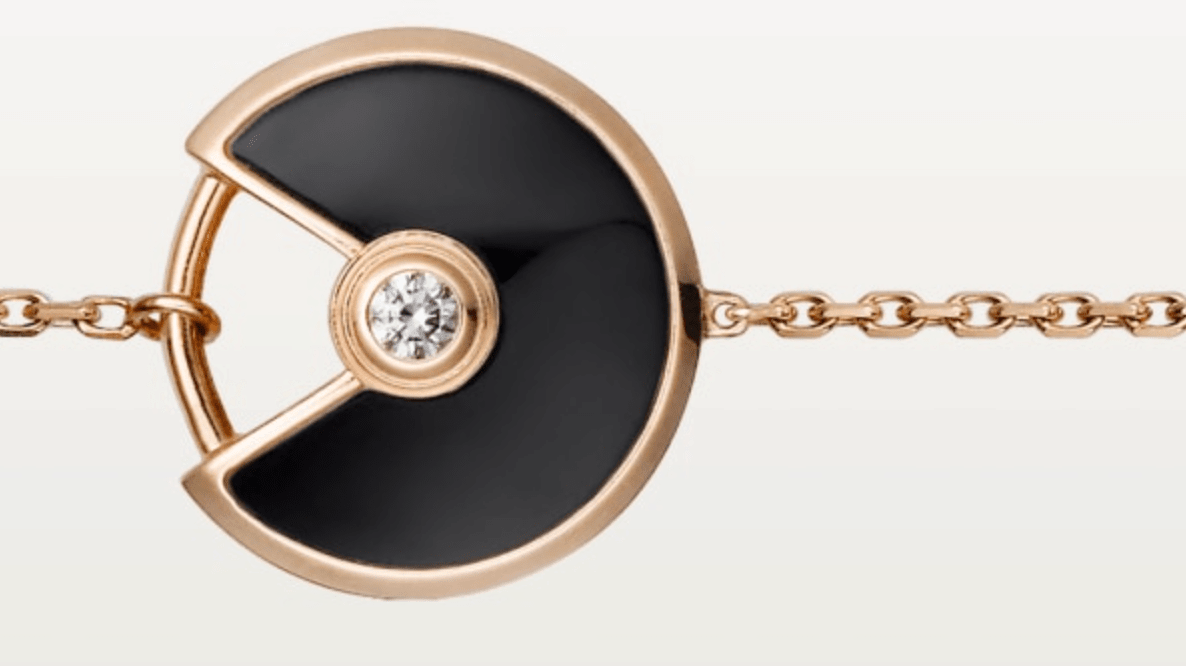 The same refined and classic design also comes in 18K rose gold. Swapping out the white mother of pearl detail for a black contrast, there are the same accent diamonds for a touch of charming sparkle. Also priced at $1,780; Buy Here.
Malachite Amulette de Cartier Bracelet- B6047117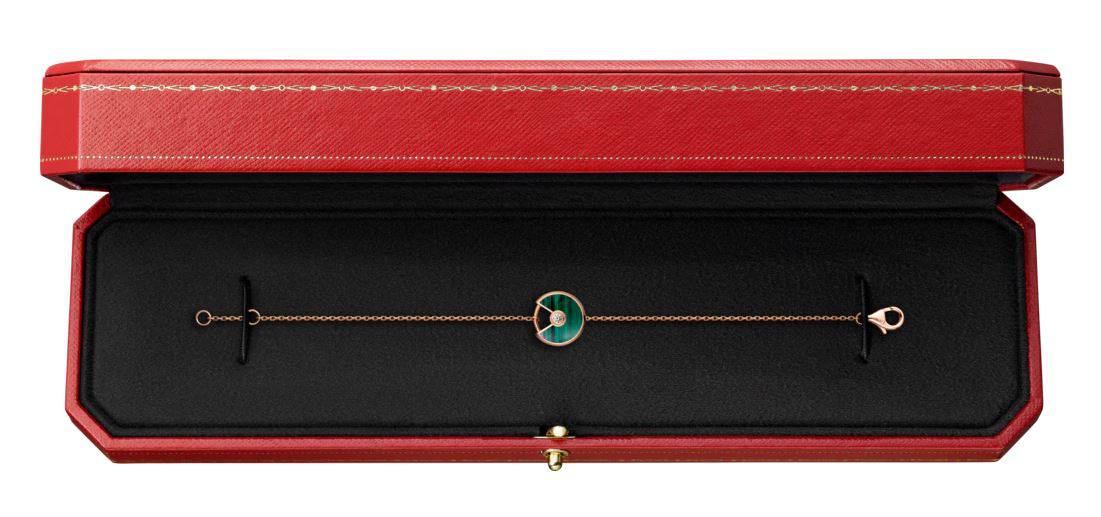 Priced at $2,025, this beautiful amulet bracelet offers a unique turquoise Malachite pendant. Set on 18K rose gold, 0.02 carats of brilliant-cut diamonds add a touch of refined and magical brilliance. Buy Here.
Frequently Asked Questions
Question: What does Cartier symbolize?
Answer: Cartier jewelry speaks for itself, but for many, Cartier exemplifies elegance, timelessness. Cartier self identifies as open-minded, curious, and able to see the beauty in all. Freedom, innovation, creativity, and excellence are all standards for their collection.
Question: Why is Cartier so popular?
Answer: Cartier remains popular, especially for its bracelets. Classic, timeless, and well crafted, Cartier has become an icon even beyond luxury jewelry brands. And while Cartier continues to add new collections, one clever thing Cartier has done is continue its popular classics.
Question: Do you wear your Cartier love bracelet every day?
Answer: Cartier bracelets are made to be durable and can be worn every day. They won't tarnish, and you can even shower or exercise with them on. Some even sleep with their Cartier bracelets. Of course, keep in mind that Cartier bracelets can scratch.
Final Thoughts
Classic and timeless charm and artistic elements are at the forefront of Cartier bracelets. Of course, I have not covered every bracelet Cartier has to offer. While it's true that Cartier bracelets can be expensive, you can find options under $5,000.