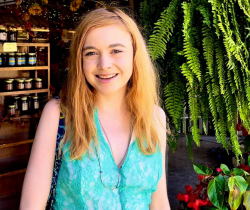 Latest posts by Erin Jamieson
(see all)
Sometimes jewelry is more than an accessory. And when it comes to jade rings, for many, it may be opting for a vintage look– of even connected to one's culture with a family heirloom.
But New York jewelry designer Bliss Lau combines the two concepts– showing how jade can be both steeped in tradition and have a modern appeal.
Bliss Lau, most known for her near-minimalist and geometric jewelry, has collections for everything from bridal to semi-fine jewelry. In her latest collection, arguably the most eye-catching piece is the Harmonious Ring Set, for an 'easy wear' wedding set. But for Lau, it's jade that's the start of the showcase.
Her jade jewelry harkens back to her own Chinese culture; she sees it as a connection to her family history and who she is now. Lau also contends that jade, as a symbol of love and connection, it's her most meaningful in the collection.
But is a jade ring really for you?
In this guide, I'll discuss what you should know about buying jade rings, and ideas for where to buy different jade trends in 2022.
| Product Image | | Primary Button |
| --- | --- | --- |
| | | |
| | | |
| | | |
Best Modern & Elegant Jade
Best Jade Cocktail & Fashion
What is Jade?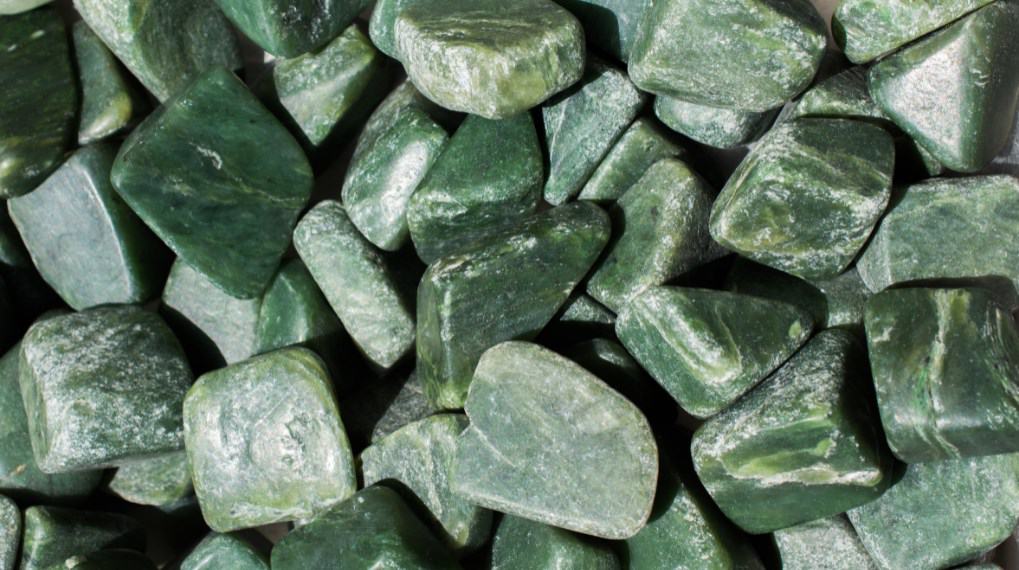 Jade is not one, but two different gemstones: jadeite and nephrite. All Jade is a form of metamorphic rocks, with a strong connection of interlocking crystals. Nephrite consists of calcium and magnesium, while sodium and aluminum make up jadeite.
All forms of jade are found within East Asia, South Asia, Mexico, and Guatemala, especially in the artwork. But Jade is most associated with Chinese culture.
Nicknamed The Emperor's Stone, Jade has been associated with spirituality, health, and wellness– and been used for more than 9,000 years. First mined in China during the Stone Age, it was first used to make beads, buttons, and even weapons. Later, Jade came to be used for furniture, jewelry, and decorations. It also became associated with important religious ceremonies and was worn by the wealthy and powerful.
What Color is Jade?
Jade is mostly known for, and sold, in green tones. Naturally occurring Jade is also sometimes red, yellow, pale purple, and black and white. Still, most Jade you'll find able to buy is green. Nephrite Jade ranges from turquoise to light green. Jadeite is where you see the greatest variety of colors, ranging from turquoise to black.
The color you'll find most often is called Emperor Green. Emperor Green is also the most traditional and typically most valuable. Emperor green is a rich, medium green; turquoise is also a fairly common and popular hue.
How common is Jade?
Jade is both fairly common and rare: it depends on what kind of Jade you're asking about. Nephrite is relatively common, but jadeite is considered both more valuable and rare. Jadeite is the more of Jade that is most steeped in culture and history, and today is still by far both more rare and more valuable. Jadeite is also more popular for its greater range of colors. In fact, Jadeite is mined from just around a dozen locations around the world.
Is Jade a good option for rings?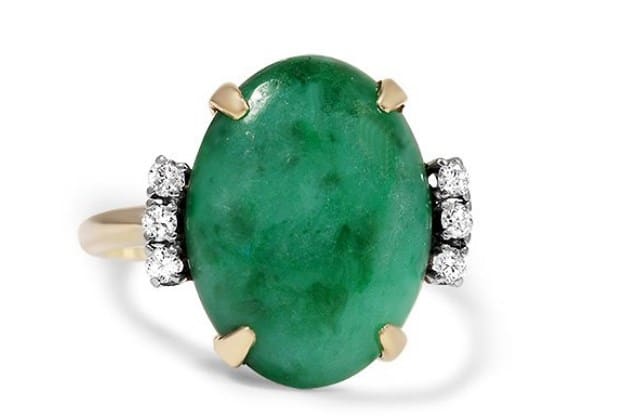 Jade is beautiful, steeped with history, and eye-catching– but is it a good choice for rings, or just a passing trend? Here's what you should know.
Does Jade scratch easily?
How easily a gemstone is scratched is determined by hardness. Gemstone hardness is measured on the Mohs Hardness scales, with 10 (diamonds) being the hardest, and 1 being the most easily scratched. Jade ranges from a 6 to a 7 out of 10. It's considered suited for everyday wear. At the higher end, it's a fairly hard stone, but it's not as hard as other options. With regular use and care, it should be reasonable to use Jade for light to moderate activities.
Does real Jade break or chip easily?
Natural, real Jade does not break easily and is less likely to shatter than something like glass. Nephrite is more likely to break, especially if dropped on a hard surface from a great height, but high-quality Jade does not breaks easily. With proper care, Jade is also resistant to chipping.
Can I wear Jade every day?
Jade is fairly hard, resistant to breaking or chipping, and durable. But there are some other care-related concerns to keep in mind. Jade is sensitive to both extreme heat and warm acid bases. Treated Jade should be fine with everyday household cleaning, and is not known to be sensitive to light. With reasonable care, there's no reason why you can't wear Jade rings every day.
Is Jade expensive?
Jade ranges from very expensive (one of the most expensive gems in the world) to fairly affordable. The most sought-after colors can cost over $1000 per carat, and the very rarest forms can cost millions of dollars. That said, slightly less desirable colors can be bought more at or under that $1000 price point. In addition, lab-grown Jade is much more affordable (but less valuable) and just as durable as natural Jade.
Just be wary of synthetics. If it's very cheap, it's too good to be true. In the next section, I'll tell you how to tell if you have real or fake Jade.
How do I select a Jade ring?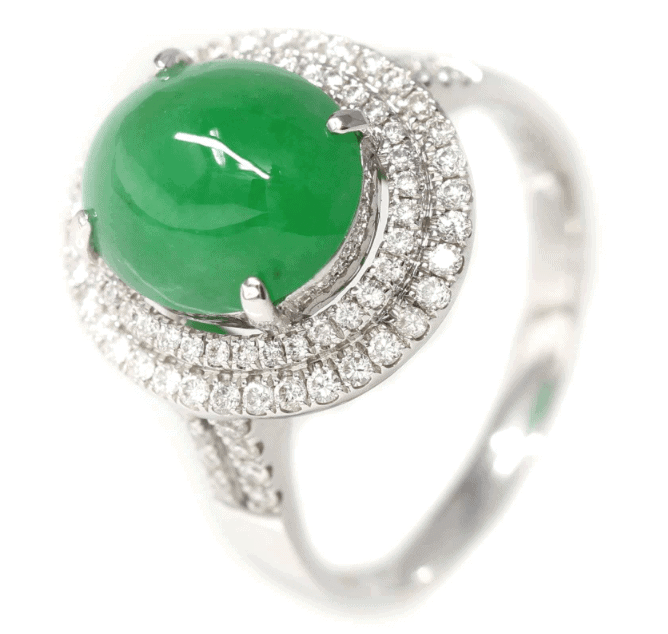 When selecting a Jade ring, you should consider quality — and that comes down to a few factors. It's also wise to consider why styles suit you and the reason you're buying a Jade ring.
What are some trends in Jade rings?
Jade rings– both engagement and fashion rings– are back in style. The trend of Jade rings is seen in a few ways. Larger slabs of Jade make for chunky, bold statements and are a nod to tradition. Michelle Obama, the former First Lady of the United States, has donned a chunky Jade cocktail ring for a bold accent.
On the other hand, Jade engagement rings are being paired with elegant gold metal bands– in ways that combine past and present. While the Jade gemstone may be bolder, there are now many styles accompanied by sleek bands.
Color is also on-trend: while Emperor Green remains the most valued and popular, other colors, including mostly black and turquoise shades, are being worn, mostly for cocktail and fashion rings. The biggest takeaway is that all Jade trends are about combining the past with the present, and finding ways to express yourself– while connecting with the past.
How can you tell if Jade is of good quality?
For the highest quality engagement rings, I recommend opting for Jadeite vs Nephrite, It's harder, and overall a bit more durable. That said, both forms of Jade are suitable for wear.
Valuable Colors
Any color of Jade can be beautiful, and color is in part up to personal preference. But the most valuable colors of green Jade include: Emperor Jade Green, Apple Jade, Kingfisher Jade, and Moss in Snow Jade. Lavender is the second most valued general color of Jade.
Cut and Clarity
The best cut for Jade is some form of a Cabochon cut. This type of cut is different from faceted cut and involves shaping, polishing, and smoothing a gemstone so that it has a flat base. It can be shaped in many ways, but more circular shapes tend to be ideal. The good news is the Jade is suitable for a variety of shapes and cuts. Fine-grained Jade, and smooth as possible, will provide the greatest clarity and luster.
How can you tell if a jade ring is real?
There are a few ways to check if a Jade ring is well. Ideally, you could request an official report either from the AGS (American Gem Institute) or GIA (Gem Institute of America). Another way you can tell is to perform a scratch test using a pair of scissors or needle. If it scratches, chances are you have a fake on your hands.
Where can I buy Jade rings?
Jade rings can be bought mostly from specialty jewelers online. Chances are, much of the Jade you see in department or independent stores may be synthetics instead of real Jade. You can find both modern and antique Jade engagement and cocktail rings.
Jade Engagement Rings
When it comes to engagement rings, modern elegance may be on-trend, but there's still a following for antique and vintage rings, which ties so perfectly into the overall appeal of Jade. If you opt for a smaller carat and slightly less valuable color, you don't have to sacrifice quality for an affordable ring.
Best Antique and Vintage Jade Engagement Rings: Cynthia Findlay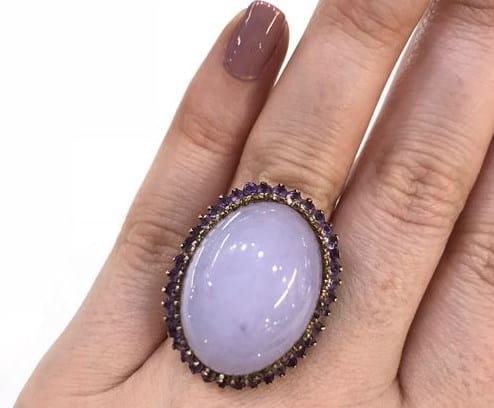 Antique and vintage rings make up this beautiful collection. Colors include teal, light green, medium green, and even lavender. It's a truly exquisite collection, for a unique Jade ring. Prices are in Canadian dollars and range from $565 for a solitaire vintage ring to around $13,500 for a vintage lavender ring.
All told, this is a timeless collection, and surely will help you find an engagement ring that is like no one else's. Shop the Collection Here.
Best Modern & Elegant Jade Engagement Rings: Baikalla Jewelry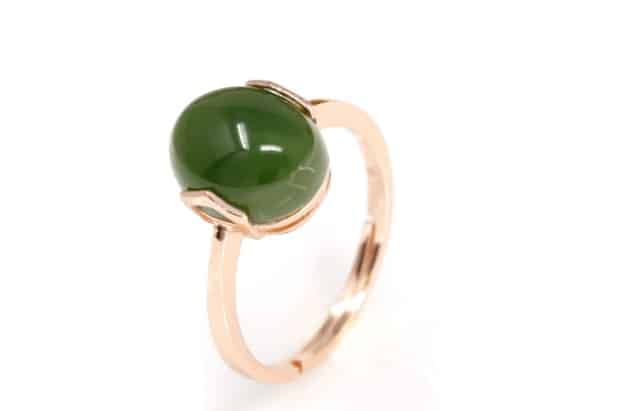 This collection of Jade engagement rings showcases the recent trend of modern elegance, blending a modern appeal while still paying respects to tradition and culture. Featuring Burmese Jadeite and Chinese HeTian Nephrite, this collection is not only green, but also white and black gemstones.
The emphasis is on a smooth, polished cut, to complement quality white, yellow, and rose gold metal bands. Prices start at $100 for a more casual Nephrite Jade green ring on sterling silver, $9,366 for an 18k white gold natural Imperial Green ring with diamonds.
Beautiful hues, smooth finishes, and diamond accents are just a few appeals. Shop Here.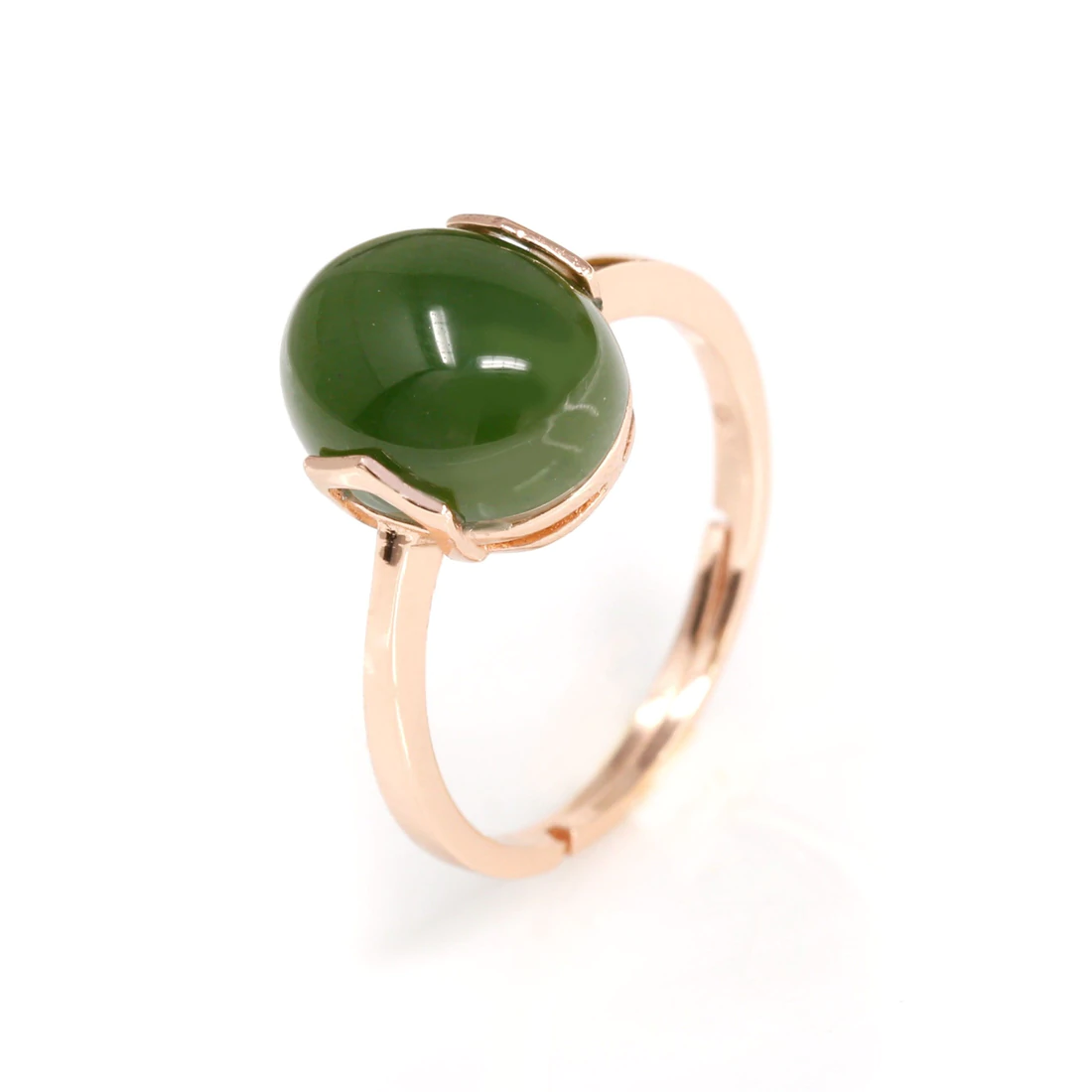 Nephrite Jade Green Ring | Baikalla
This ring is inspired by the simple design of a solitaire, a gorgeous piece of natural nephrite jade that sits on top of durable rose gold plated over the sterling silver setting. This piece is made to last.
Check Price
We earn a commission if you make a purchase, at no additional cost to you.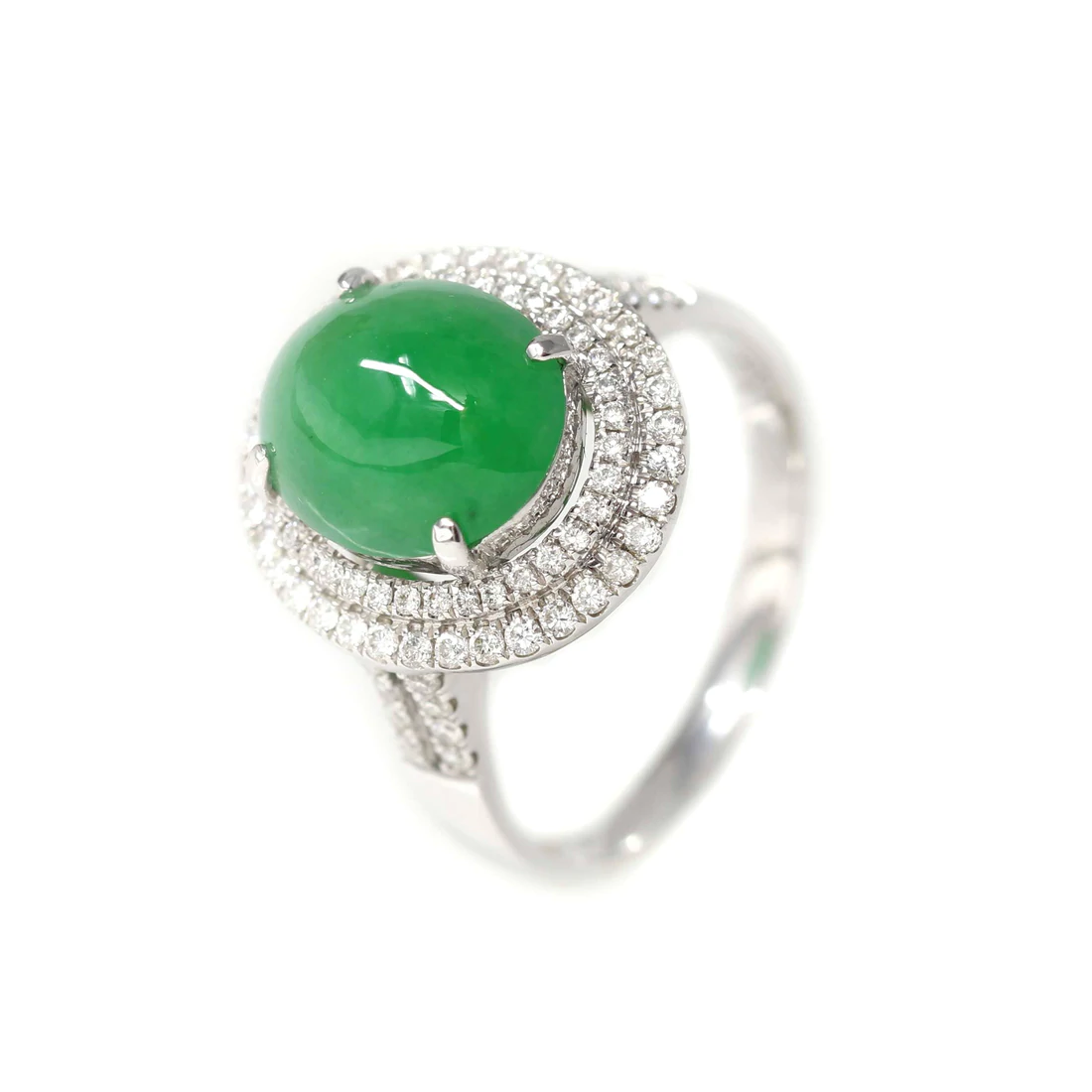 Other Favorite Jade Engagement Rings
Aside from those two collections, there are other beautiful Jade engagement rings you can buy. While many jewelers do not have Jade collections, a trend has been to offer one or two Jade rings alongside other gemstone rings.
Jade Engagement Ring with Vintage Style Band- Staghead Designs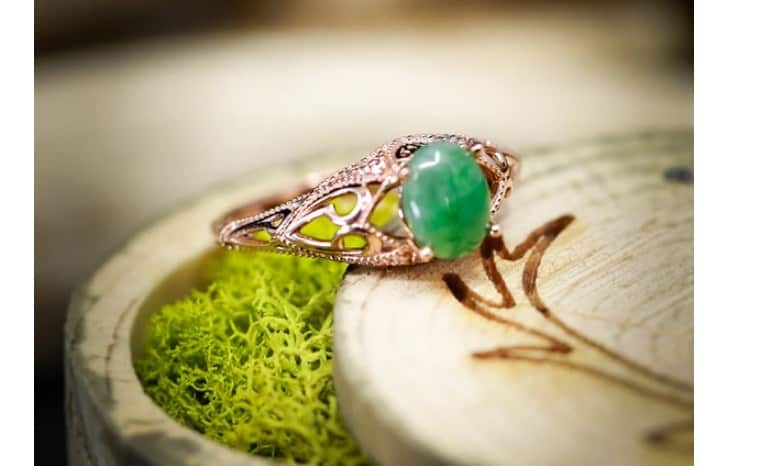 A vintage-style band in 14k rose, white and yellow gold is exquisitely crafted and suits the light green Jade gemstone. Diamond accents add small touches of sparkle without distracting from the beauty of the handcrafted design. Buy Here.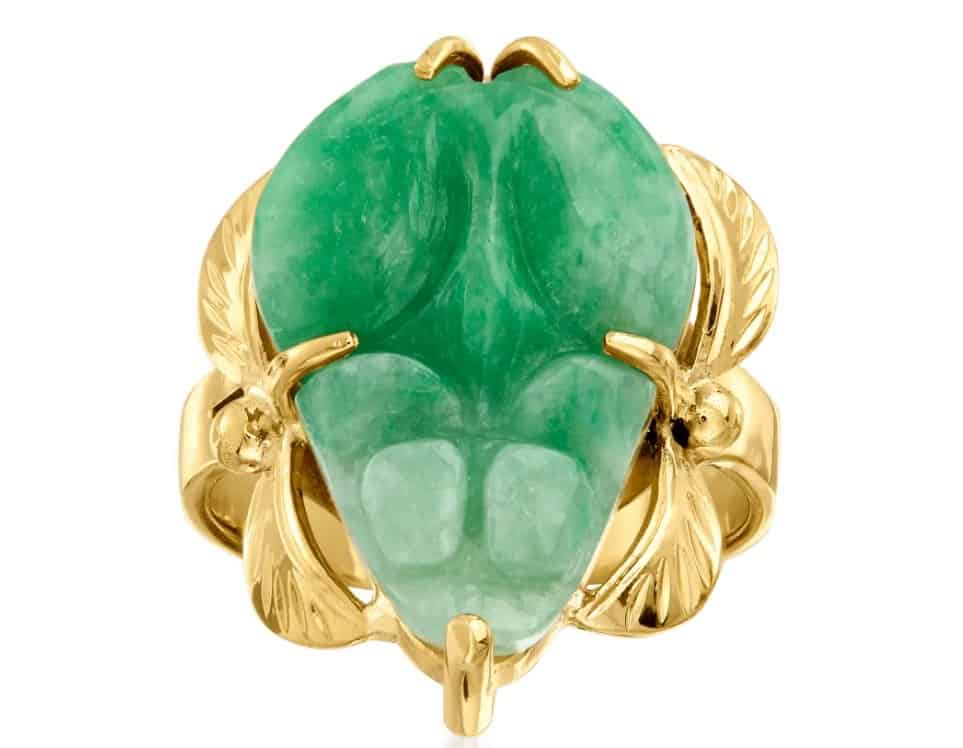 A trusted name in the jewelry industry, Ross Simmons offers this true vintage, 1960 Jade engagement ring. Polished 14k yellow gold is shaped into a leaf design for a nature-inspired look. Buy Here.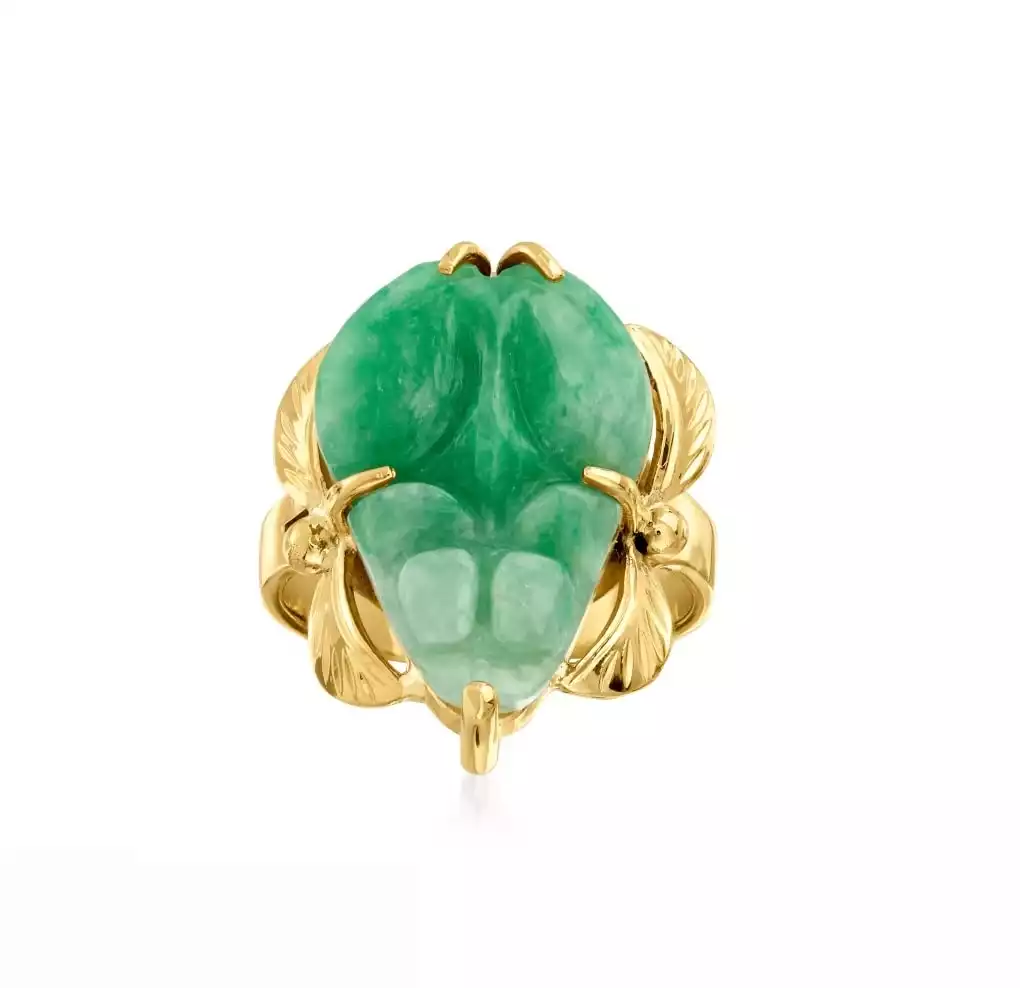 Estate Natural Jade and Diamond Ring- Lang Antiques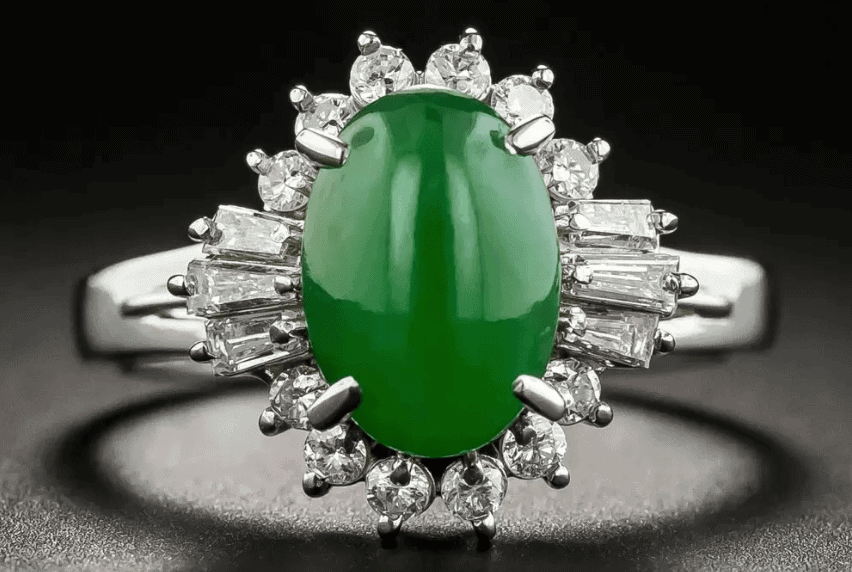 This 2 carats natural Jade ring features an inviting, rich apple-green hue. Baguette diamonds and round brilliant cut diamonds are placed in a platinum mounting. The ring also comes with a complimentary report by the Stone Group Laboratory. Buy Here.
Turquoise Jade Engagement Ring- Alexis Russell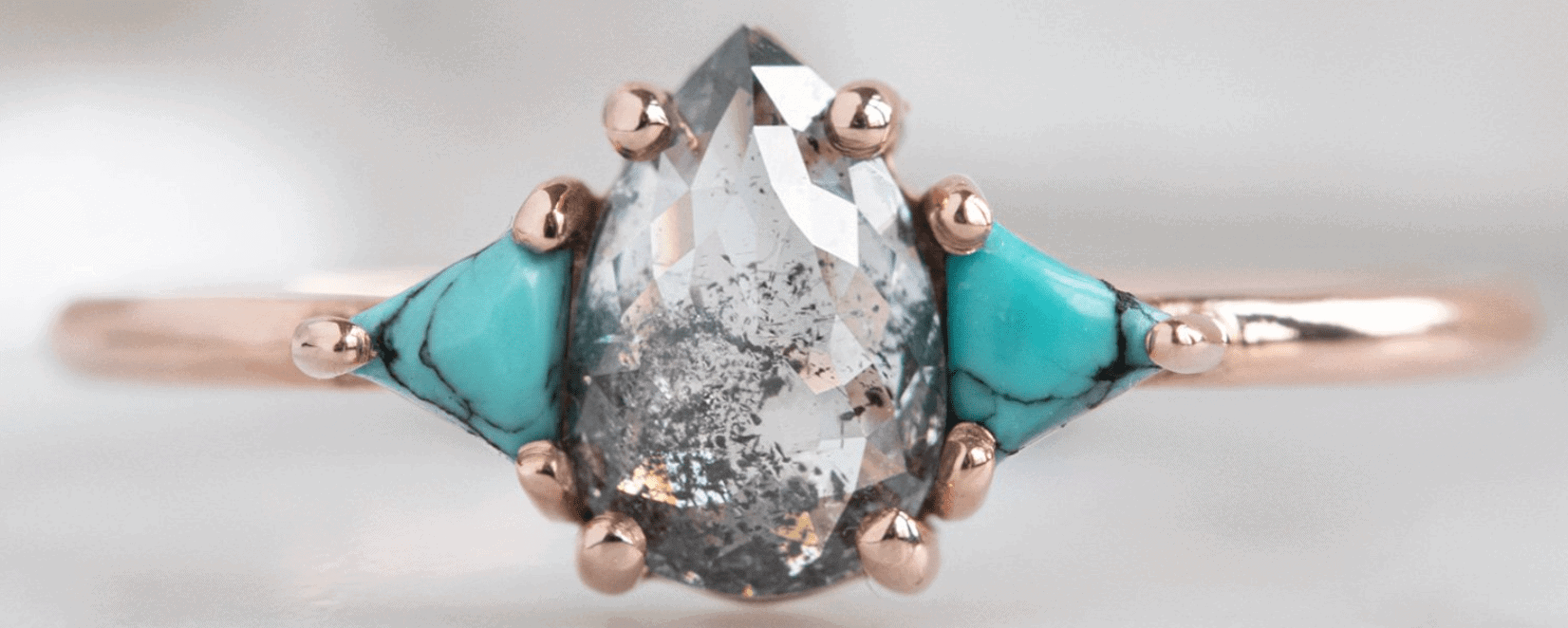 Known for their unique, modern, and quality handcrafted rings, Alexis Russell has a standout Jade Engagement ring. Turquoise Jade is flanked on either side by salt and pepper diamonds and set on a polished gold ring made out of ethically sourced materials. You can even customize and have your own personalized engraving. Buy Here.
Jade Cocktail & Fashion Rings
Whether you're headed to a formal event or just want a stylish ring as an accessory, Jade cocktail rings and fashion rings have risen in popularity. On-trend is artisan rings, modern sparkle, and even some chunky stones with a solid metal band.
Best Artisan Jack Cocktail Ring Collection: Novica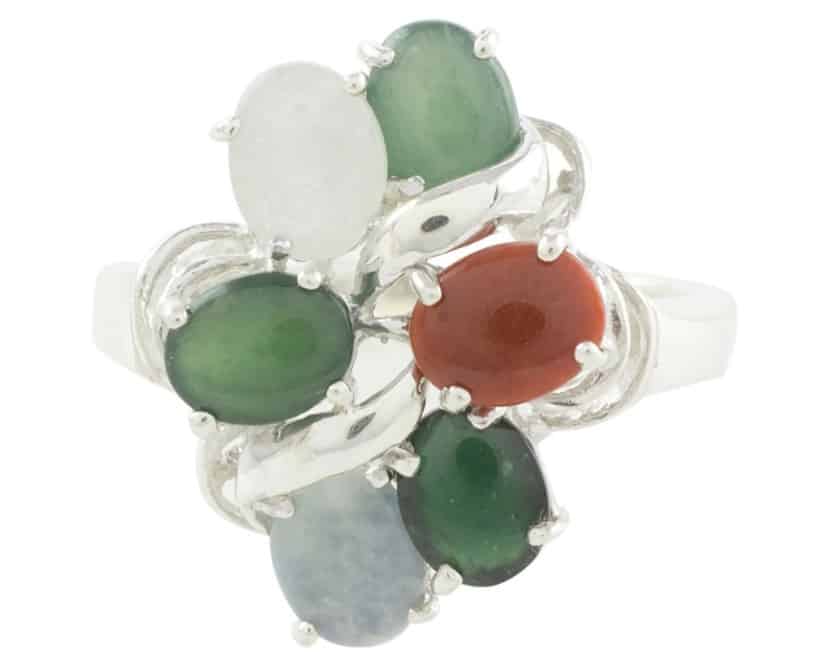 This affordable collection of natural Jade is not only unique but truly special. Novica sells hand-crafted, artisan jewelry from around the world. You'll find black, gray, teal, and lavender hues, with both whimsical and modern designs.
Rings are priced from under $50 to a little under $150 to a multicolored ring. While it's not the most valuable or highest quality Jade available, I like this collection for casual fashion needs, and I also like that it supports independent artisans. Shop Here.
Individual Picks
Aside from that collection, shop around: Jade cocktail and fashion rings are often sold not in collections, but as stand alones. They lean more modern, with a focus on a large center stone and something else for interest, such as a unique band or unexpected diamond accents.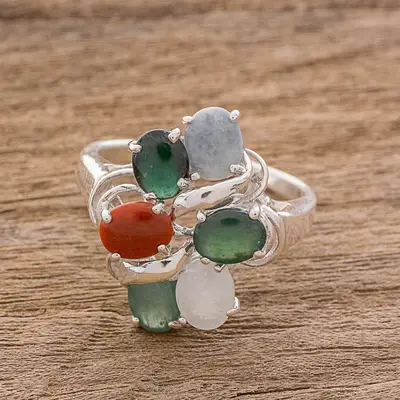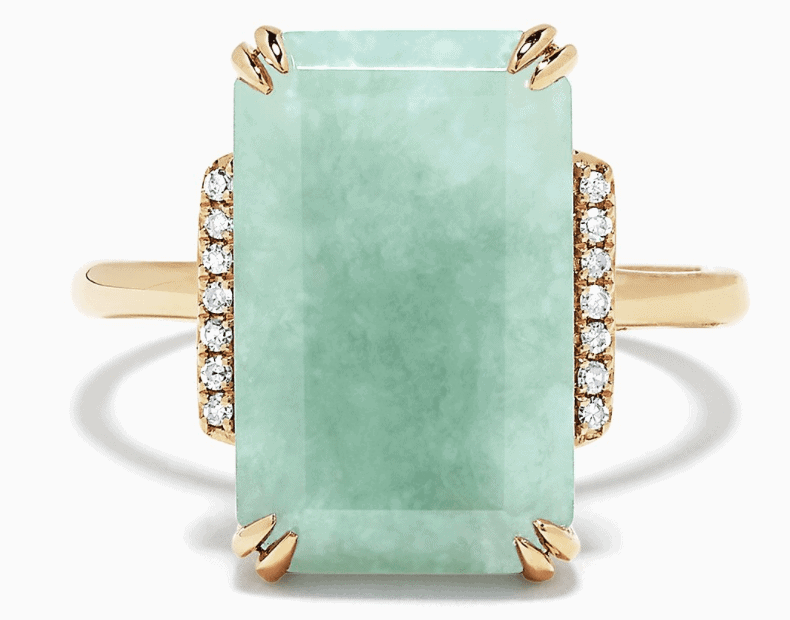 Turquoise, square-cut Jade is set on an elegant 14k yellow gold band. Diamond accents give off just the right amount of sparkle for a semi-formal event. The chunkier stone with the thin band is very much in line with recent Jade ring trends. Buy Here.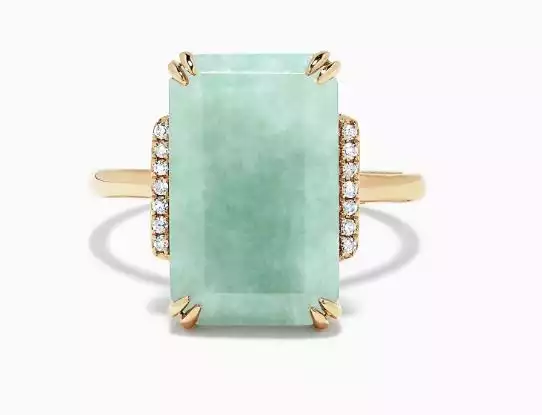 Estate 14K Dragon Hugging Nephrite Ring- AskaArtisanbyLisa (Etsy)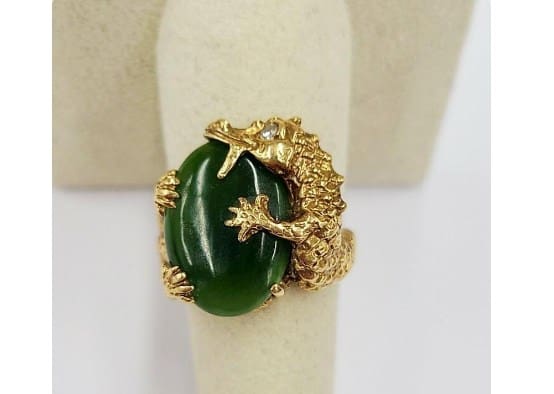 Looking for a bold nod to tradition? This vintage ring dates from the 1970s and will be a true stand-out, with an adjustable Jade oval center and majestic dragon design.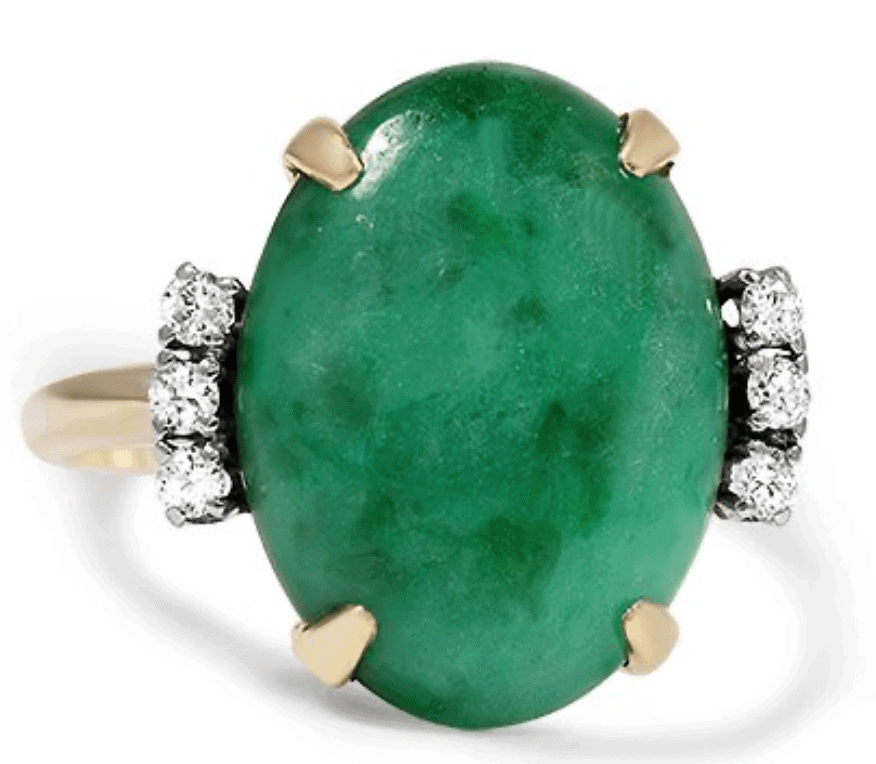 While this ring has been sold, I wanted to show this as an idea to even designing your own– an option that Brilliant Earth offers. You can show this ring and request another be designed just like it. The Sajah Ring features a deep green oval Jade with a cabochon cut and round diamond accents. Learn More Here.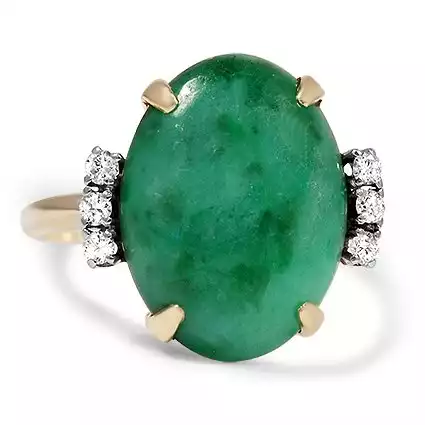 The Sajah Ring | Brilliant Earth
The mesmerizing deep green of an oval jade cabochon is the focal point of this chic 1960's ring. Six round diamonds dazzle alongside the center gem (approx. 0.12 total carat weight).
Check Price
We earn a commission if you make a purchase, at no additional cost to you.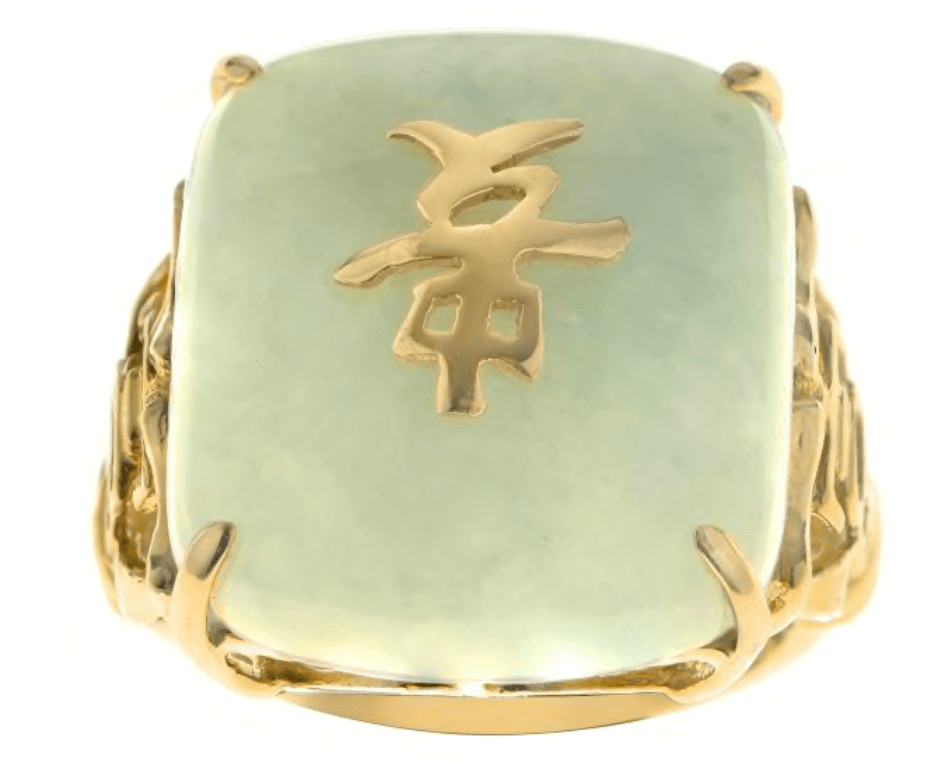 This cocktail ring from Ross Simmons features a modern, rectangular turquoise stone with a cabochon cut and rectangular shape, complete with the Chinese symbol for 'rich'. Buy Here.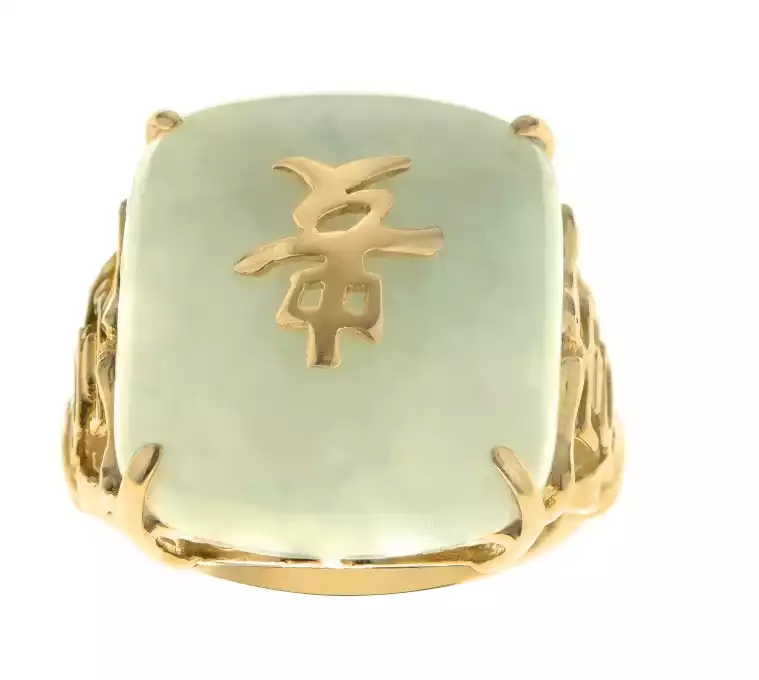 Jade Cocktail Ring in 14kt Yellow Gold | Ross-Simons
This cocktail ring is simply the best. A 20x15mm rectangular jade cabochon takes center stage, topped with the Chinese symbol meaning "rich." Crafted in polished 14kt yellow gold. 3/4" wide. Jade cocktail ring.
Check Price
We earn a commission if you make a purchase, at no additional cost to you.
Frequently Asked Questions
Question: What does a Jade ring symbolize?
Answer: Jade rings are associated with eternity, harmony, love, and community. Steeped in tradition, it's easy to see why Jade is a great option not only for fashion and cocktail rings but also for engagement rings.
Question: What is the significance of Jade Jewelry?
Answer: Jade jewelry of all types, including necklaces, bracelets, and earrings, is steeped in tradition. In Chinese culture, Jade is known as both the Emperor's Stone and also as the Stone of Heaven. All told, Jade is said to symbolize peace, longevity, success, and prosperity. Some believe Jade also brings good luck.
Question: What is the benefit of wearing Jade?
Answer: For those who are interested in Feng Shui jewelry, Jade rings are valued for calming and balance. Some believe that Jade crystals balance energy and encourage emotional health, as well as provide more balance in one's life.
Final Thoughts
Jade rings may be steeped in tradition and culture– but they also are on-trend, with more options than ever. Whether vintage styles catch your eye or more playful modem styles, you can find a ring within your budget. Just make sure you are buying a real Jade ring, and consider your options fully when it comes to color– from soft aquamarine to vivid greens and even expressive lavender.
| Product Image | | Primary Button |
| --- | --- | --- |
| | | |
| | | |
| | | |
Best Modern & Elegant Jade
Best Jade Cocktail & Fashion