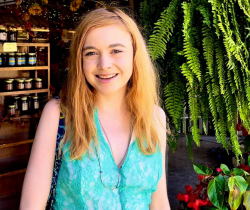 Latest posts by Erin Jamieson
(see all)
From her iconic wedding dress to other stunning outfits, Kate Middleton, Duchess of Cambridge, has been hailed as a style icon. But now Middleton is guiding the fashion world instead of showing how certain types of earrings can make for affordable– and still appealing– jewelry for any event.
Kate Middleton's fashion choices, of course, are not always known to be affordable so much as classic and fashionable. The Duchess has been known to sport designers like Alexander McQueen, Burberry, Jimmy Choo, Prada, and countless others.
But when it comes to accessories, Middleton isn't always wearing diamond earrings. In fact, a recent look included a pair of hoop earrings from ASOS. The earrings, which retail for just ten British pounds, were paired with an Alessandra Rich dress. While the entire look wasn't budget-friendly– and the earrings of the currently sold out–what her look did was perhaps open up some of her followers to the possibility of achieving a beautiful look without a royal or celebrity budget.
But whether you love Kate Middleton, aren't a fan, or can't be bothered one way or another, one thing that's certainly true is that there is more variety than you might think when it comes to earring types and options.
Consider this your guide to the most common types of earrings, and how to wear and find each type.
What are the different types of earring backs or hooks?
While earring backs may not be the first concern, for certain individuals, it can make or break whether that type of earring is suited for them.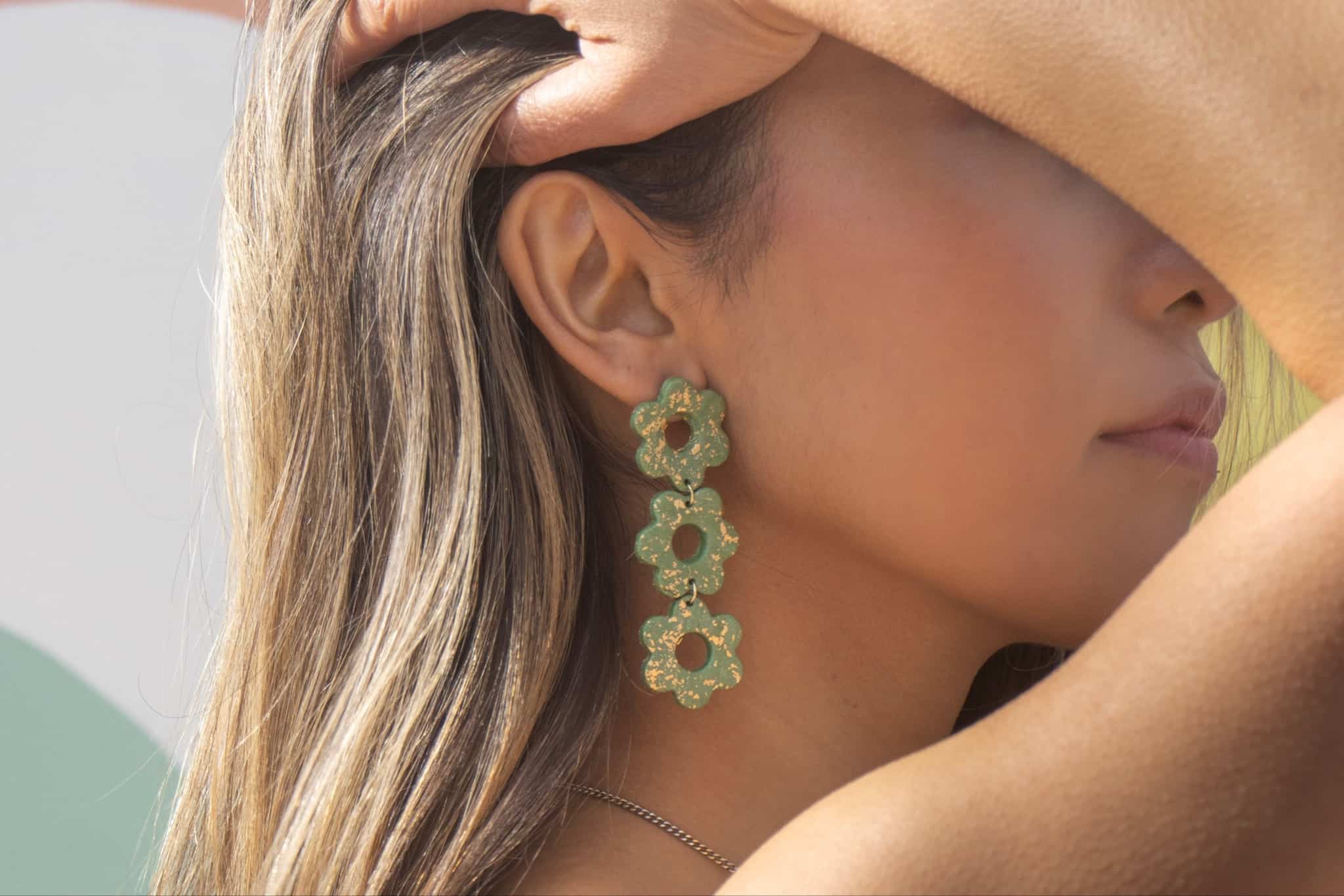 Clip-On
Clip-on earrings are for anyone who doesn't have their ears pierced. Less popular than they were decades ago, these earrings usually feature a simple clip, not unlike a hair clip. While these earring backs are handy for anyone who doesn't have their ears pierced, I don't recommend them for anyone else. They tend to be quite uncomfortable and may cause skin irritation. Cheaper clip one may also easily slip or fall off.
Jumbo Backs
Jumbo backs have generously sized backs, normally in the shape of a disc, and work by flattening your earlobe to secure the earring. They tend to be both comfortable and secure, although people like myself, who have smaller ears, may not love this option due to the weight of the earrings or feeling as if the earrings overwhelm the ear.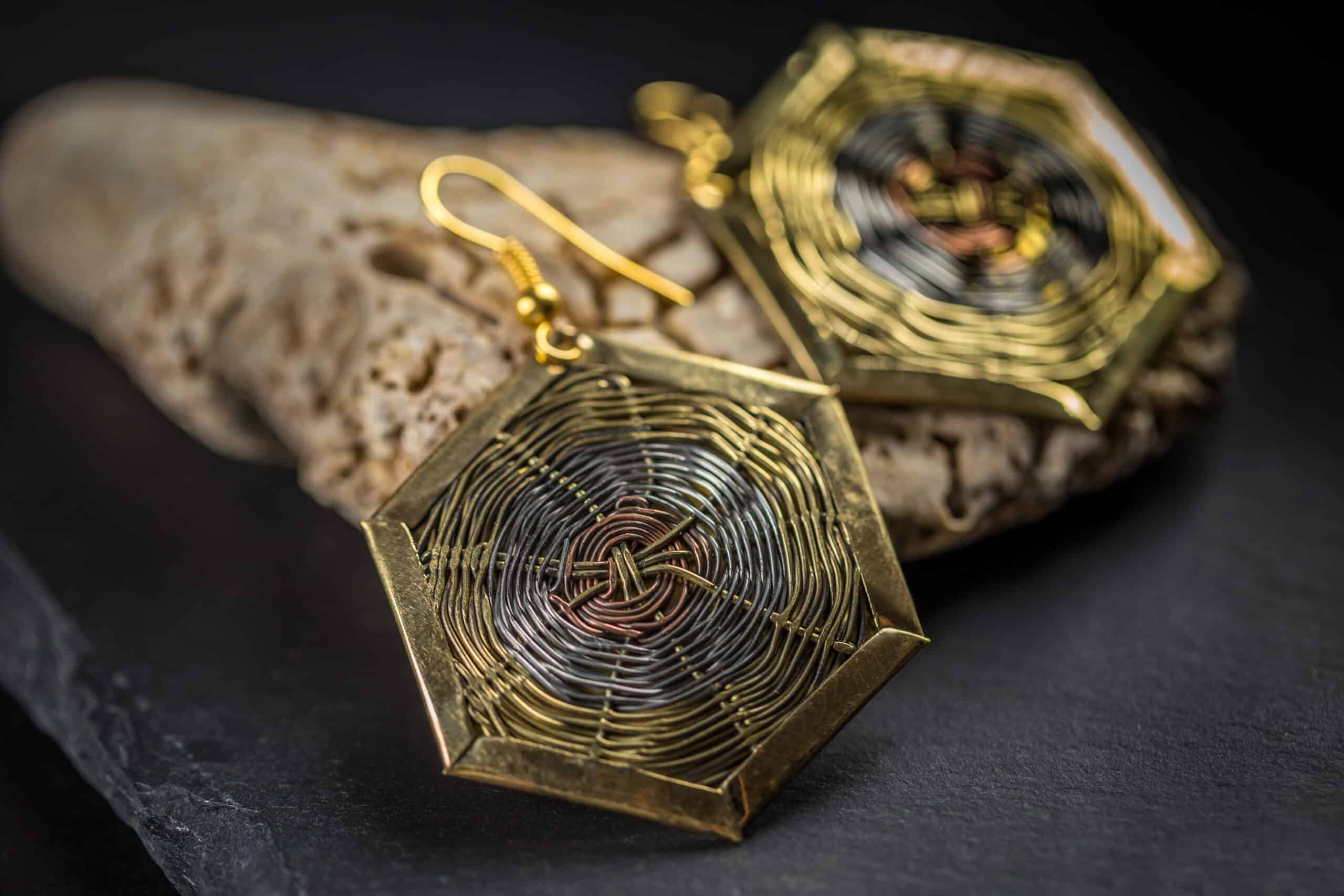 Fish hooks, often used for drop or teardrop earrings, feature a curved hook, usually wire, the secure layered or heavier pieces of metal. They're fairly easy to secure and stay secure throughout your day but are unique in that they don't have a traditional back. The downsides to this hook type are that they can become a bit heavy and are easy to lose.
Ball backs, push backs, screw backs, and latch backs
All of these back types are versatile and popular, used for everything from hoops to studs. Ball backs are popular in that the back does not show at all– making them especially suited for studs, and all three are simple to put on and wear long term. At the same time, all of these earring back types tend to be a bit less secure than other options.
What are different types of earrings called?
While this is not an exhaustive list, these are the most common and popular types of earrings. For each type of earring, you'll also need to consider other factors, including metal type, price point, and whether you want solid metal or gemstone or diamond accents.
Those with sensitive ears might want to consider hypoallergenic metals. The best metal for sensitive ears is titanium, followed by platinum. Nickel-free gold of 14K or higher is also a good choice.
Barbell Earrings
Barbell earrings follow a minimalistic, modern design, created in a way that is also for other piercing types, including tongues. The barbell style consists of a straight piece of metal with threaded balls on both ends and is considered highly versatile.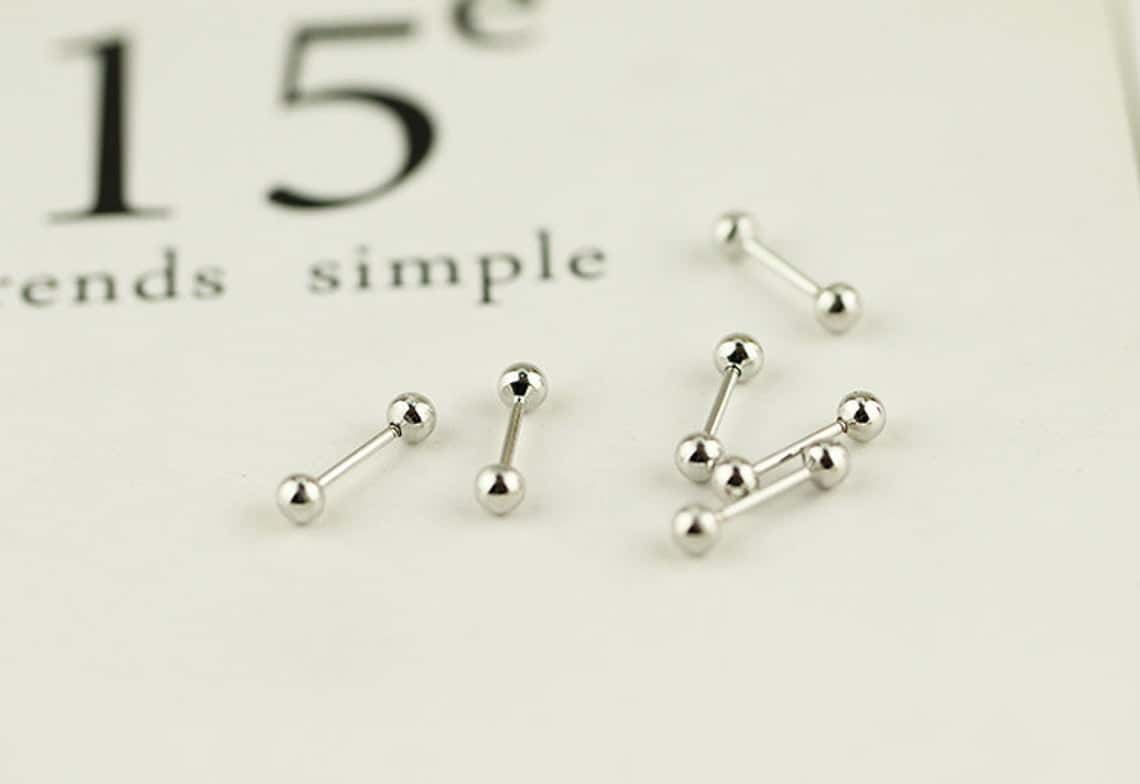 How to Wear
Suited for the minimalist at heart, barbell earrings do well with modern but also alternative styles. Since it's a fairly simple style no matter what earrings you select, opt for either pairing with a texture-rich outfit, or keep your outfit simpler and opt for a pop of color or unique textured shape. Barbell earrings are generally a style more suited for casual and everyday looks.
How to Buy
Barbell earrings are usually fairly inexpensive, so don't worry too much about the top quality. Clean designs are king- but a fun accent can make for a more interesting look. Focus on color and texture and buy from a seller who has a history of positive sales. This may not be the best option if you have sensitive ears and need many metal choices.
Where to Buy
I recommend looking at the Etsy barbell earrings collection— you'll have a great range of choices, from minimalist star earrings to classic surgical steel earrings and more.
Chandelier Earrings
Chandelier earrings are known for their elegance and are excellent options for scintillation– making them an ideal type for diamond earrings. A sturdy section holds the earring at the top and is connected by threads that dangle to the bottom, providing both an elegant and whimsical look that some have even compared to wind chimes. Chandelier earrings fan out at the bottom and have a subtle finish.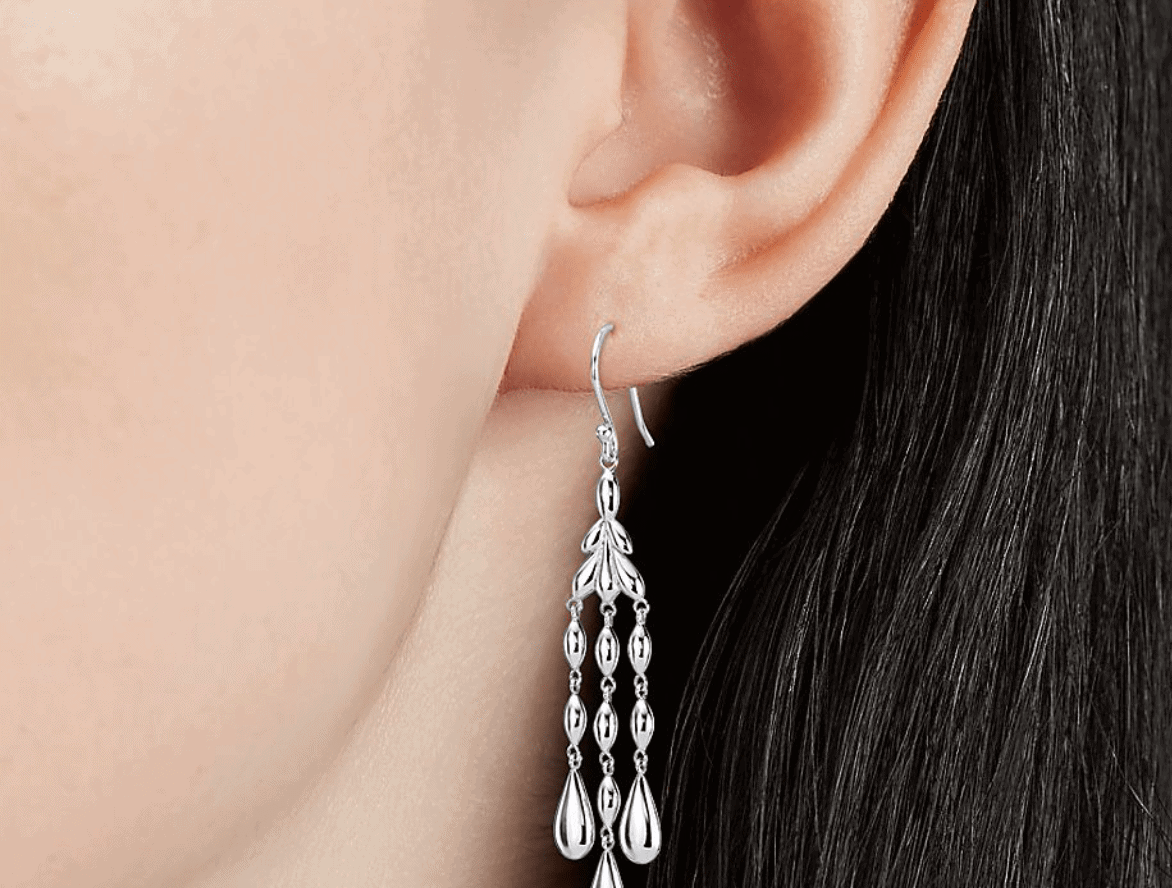 How to Wear
Chandelier earrings are a statement piece, so either wears them as your sole accessory or wear more subdued jewelry, like a pearl necklace. Matching bracelets work well to complete a look, but overall glitzy necklaces for necklines may compete too much. Pair with a classic makeup look and a nice pantsuit or classic dress.
How to Buy
I recommend buying these earrings with either accent diamonds or gemstones to make use of their unique design. Since the bottom fans out, look for options that offer the more ornate or heavier accents at the top and gradually become lighter or more subtle. Sometimes less is more in terms of design: focus on color and shimmer instead of complicated patterns.
Where to Buy
As a popular type of earring, you can find beautiful options from many fine jewelry sellers, such as the Blue Nile and Ross Simmons. Some that caught my eye: diamond chandelier earrings in 14k white gold from Blue Nile; expressive garnet chandelier earrings in 14K yellow gold from Ross Simmons, and vintage earrings from Blue Nile.
Cluster Earrings
Cluster earrings are at once classic and potentially glamorous, with a design meant to allow individual strands of gemstones to capture light. Cluster earrings are designed with a cluster of strands or gemstones close together with a fairly simple top. While cluster earrings have traditionally been known for ornate floral designs, they have also come to include some cluster hoops.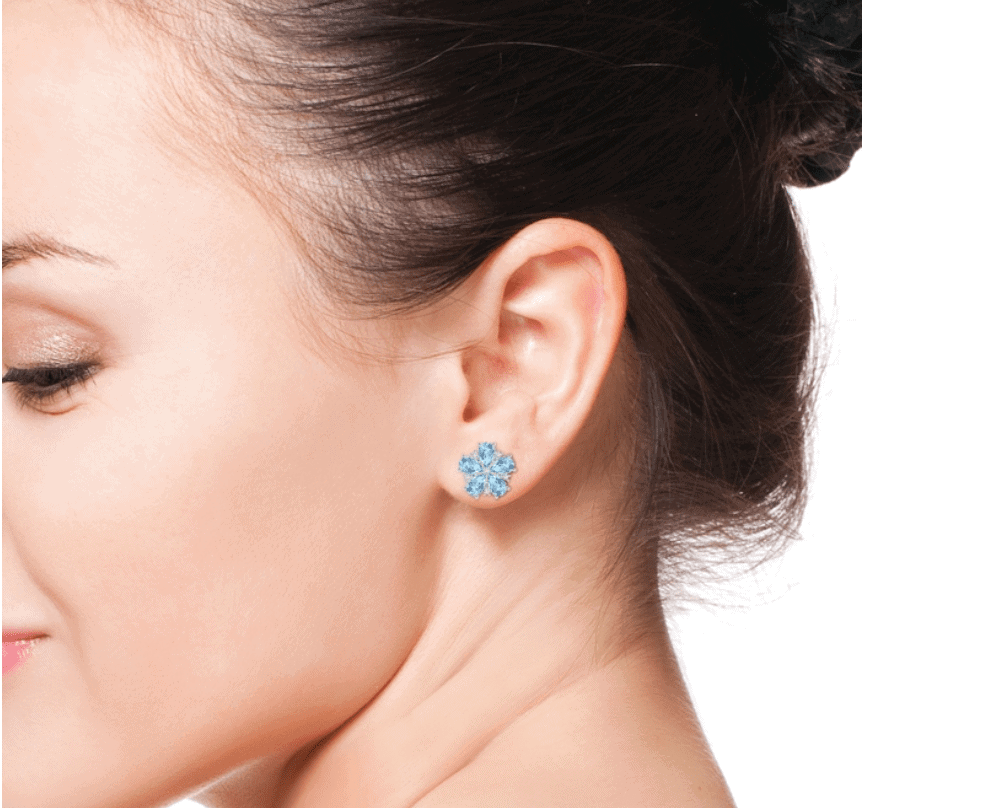 How to Wear
Cluster earrings are a diverse category of earrings and with that comes versatility. Cluster earrings are great jewelry for a black dress or any solid color formal attire. For multicolor cluster earrings, pair with an outfit that has complementary colors, and opts for an outfit with planer textures.
How to Buy
Cluster earrings are at their best in two ways: either vibrant hues in floral patterns or elegance in the form of pearls. High-quality yellow, white and rose gold are excellent options for metals.
Where to Buy
Cluster earrings are likewise quite popular and sold by jewelers like Angara, Ross Simmons, Reeds, and more. Some of my favorite earrings include cultured pearl earrings with diamond accents from Ross Simmons; classic pear aquamarine flower cluster earrings from the Angara; and sky blue topaz, sapphire, and freshwater pearl cluster earrings from Reeds Jewelers.
Dangle & Drop Earrings
Dangle and drop earrings are quite similar, and also share some features of chandelier earrings– but, unlike chandelier earrings, dangle and drop earrings don't fan out gradually. Dangle earrings hang below the ear and provide movement, and can range from relatively short to expressively longer. Drop earrings, meanwhile, hang around the same space but do not move with you.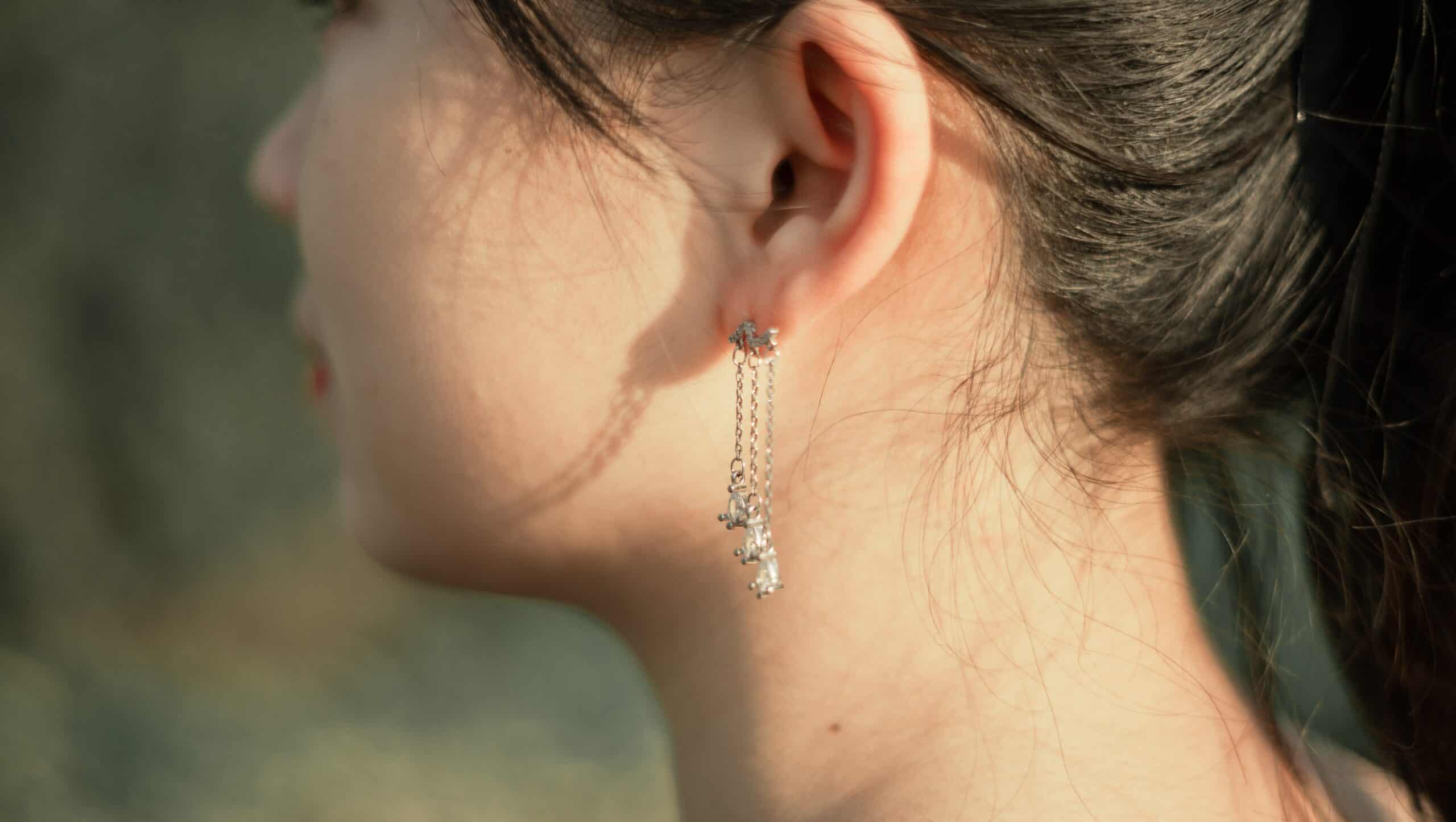 About Tassel Earrings
Tassel earrings are statement earrings that can feature anything from a single strand to multiple tassels, or strands, and are a form of dangle earrings. These modern looks are casual and tend to feature bright, bold colors; you can buy them from the Nordstrom collection here.
How to Wear
Drop and dangle earrings both work with simple formal attire, but are also suited for a more specific purpose, such as pairing with classic bridesmaid dresses. For a formal look that's more patterned or ornate, opt for shorter and simpler dangling earrings. For a low neckline, a longer dangle or drop earring can balance your look.
How to Buy
Diamonds and beautiful gemstones are favorites for dangle earrings– the movement allows these precious gemstones to catch the light and exhibit scintillation in a way unique to this type of earring. For drop earrings, multi-colored gemstones and pearls are classic options.
Where to Buy
Another highly popular type of earrings, you can find these earrings from both fine jewelers and department stores like Nordstrom. For fun, bold and vibrant hues, check out the Nordstrom drop earring collection. For diamonds and pearls, shop Blue Nile, Angara, and Ross Simmons.
Ear Cuffs
Ear cuffs are a notably different type of earring and are often forgotten about. They are typically worn on the outer edge of your earlobe and hug or cuff– which means that someone can wear ear cuffs without any piercings. While often worn on the main cartilage, ear cuffs can also be worn on the lower half of your ear. Consider a more alternative look, ear cuffs are excellent for casual wear but actually have been worn for semi-formal occasions as well.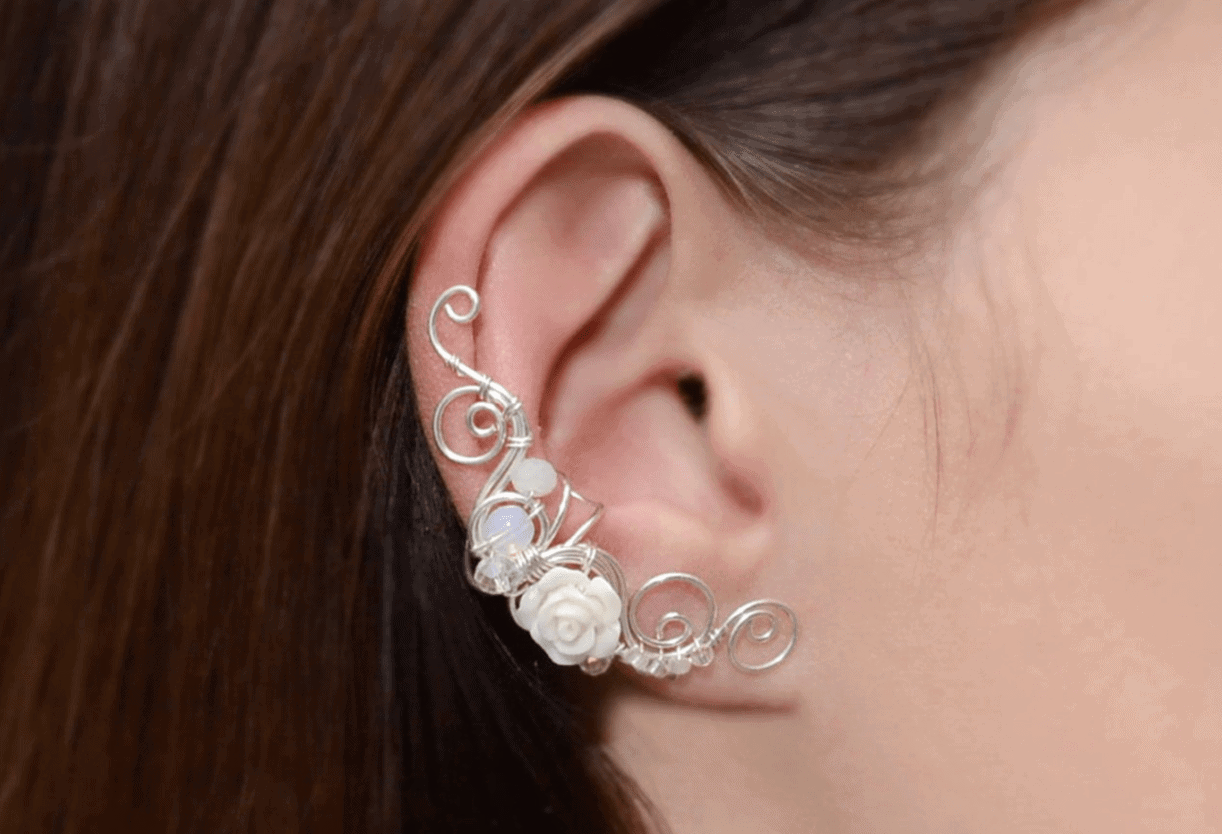 How to Wear
Wear at the top of your ear, bottom, or in-between– ear cuffs call for unique artistic expression and style. Ear cuffs can be paired with stud earrings, but even hoop or drop earrings if placed well. You can also layer ear cuffs and include multiple in a row for a more dramatic look. With classic diamond earrings, a single ear cuff can work as an accent for more formal attire.
How to Buy
Ear cuffs call for expression in terms of style. Nature-inspired ear cuffs, from florals to vines and leaf patterns are all popular. On the other hand, sleek modern looks with a minimalist design are versatile and can be paired with almost anything.
Where to Buy
I'll be honest: ear cuffs aren't sold everywhere, so your best bet is to support independent artists or small stores. I personally like the Etsy ear cuffs collection. Some standouts include leaf-inspired ear cuffs; a minimalistic ear cuff set; ear vine cuffs, and this elaborate white rose ear cuff.
Hoop Earrings
Hoop earrings are among the most ubiquitous earring types– they're everywhere and in about every size you can imagine, from small, subtle hoops to large and expressive hoops. Hoop earrings have simple construction, featuring normally a single hoop that can be wide or thin. Symbolizing both strength and unity, hoop earrings have gone up and down in popularity but recently surged especially amongst immigrants and people of color in the United States and Europe.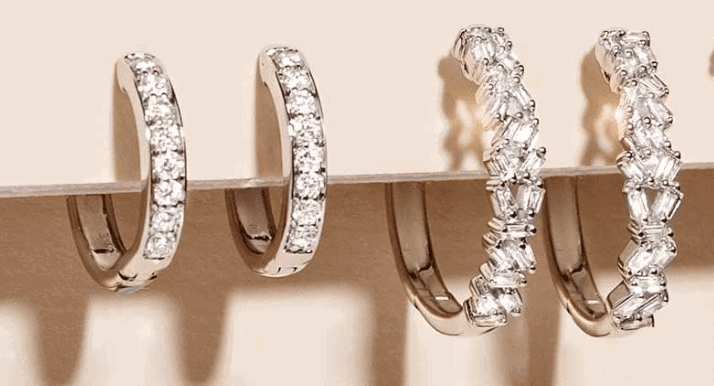 How to Wear
Since hoop earrings come in so many different varieties, there's a lot of looks you can score. For big hoop earrings, opt for a bold makeup look and classic casual or formal wear. Sleek and minimal hoops work well with casual and boho looks. Meanwhile, small and tiered hoop earrings are more elegant and classic.
How to Buy
Focus on quality metal. If you just want a fun, casual look, you can save some money–so long as you don't have sensitive skin. For a durable hoop that you can use time and time again, opt for 14k gold or platinum. Some diamond accents may upgrade the look, but simplicity works well for this type of earring.
Where to Buy
From Macy's to high-end retailers, you can find beautiful and casual hoop earrings just about anywhere. For more casual 12k or 14k gold, check out Nordstrom hoop earrings. For high-quality, conflict-free diamond and gemstone hoop earrings, I recommend Brilliant Earth hoop earrings.
Stud Earrings
Stud earrings will always be a classic earring type, and are both easy to wear and easy to find, with styles ranging from classic to understated glamour to everyday casual. Distinguished by a relatively simple design, stud earrings have a simple back that works with a small, singular piercing in the earlobe. Stud earrings can include one stone, stone clusters, or geometric shapes.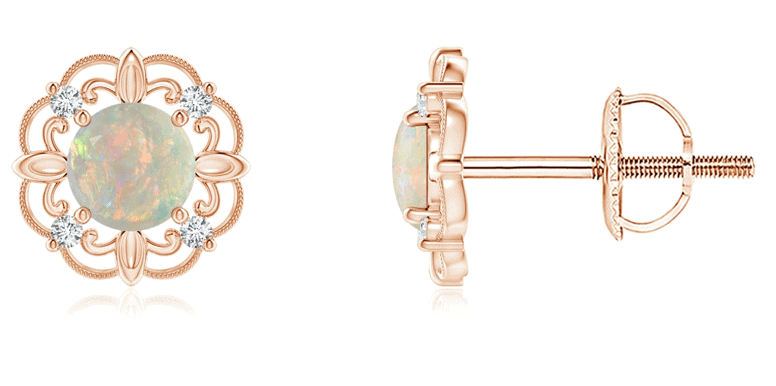 How to Wear
Since stud earrings tend to be more understated, they're the perfect type of earring to pair with a beautiful necklace or even a bold statement or cocktail ring. Florals and geometric shapes are on-trend, as are minimalist designs or solid metal– and all can work both casual and professional outfits. Play with contrasting colors with a bold jumpsuit, and add vintage appeal with lace dresses. The possibilities are endless.
How to Buy
How to buy stud earrings depends on what you're looking for. Looking for versatile earrings you can wear every day, including to work? Opt for a solid metal or simple geometric shape in precious metal. Having a formal occasion? Try either a diamond stud earring or a natural or lab-grown gemstone. Want to show off your personality? Look for a stud earring that has a unique design. Finally, floral and vintage-styled stud earrings are great options that will complete a look.
Where to Buy
As is the case with hoop earrings, you can buy stud earrings pretty much anywhere, but if you want stud earrings that will last, opt for well-known retailers. For formal occasions, some of my favorite options include the Angara, like this vintage style diamond fleur de lis stud earrings; a classic diamond stud earring from the Blue Nile; and alexandrite stud earrings from Brilliant Earth.
Note About Plug Earrings
Plug earrings are only for a select group of people– they are used and meant to stretch ear lobes. Also called an earplug or earspool, they are cylinder-shaped and placed or worn with large gauges. While these earrings are a way to stand out with a unique style, they do deserve a word of warning.
Ear lobe stretching needs to be done gradually and under strict supervision. Ear lobe stretching has a greater risk of infection and trauma. Always consult with a professional first before making this decision.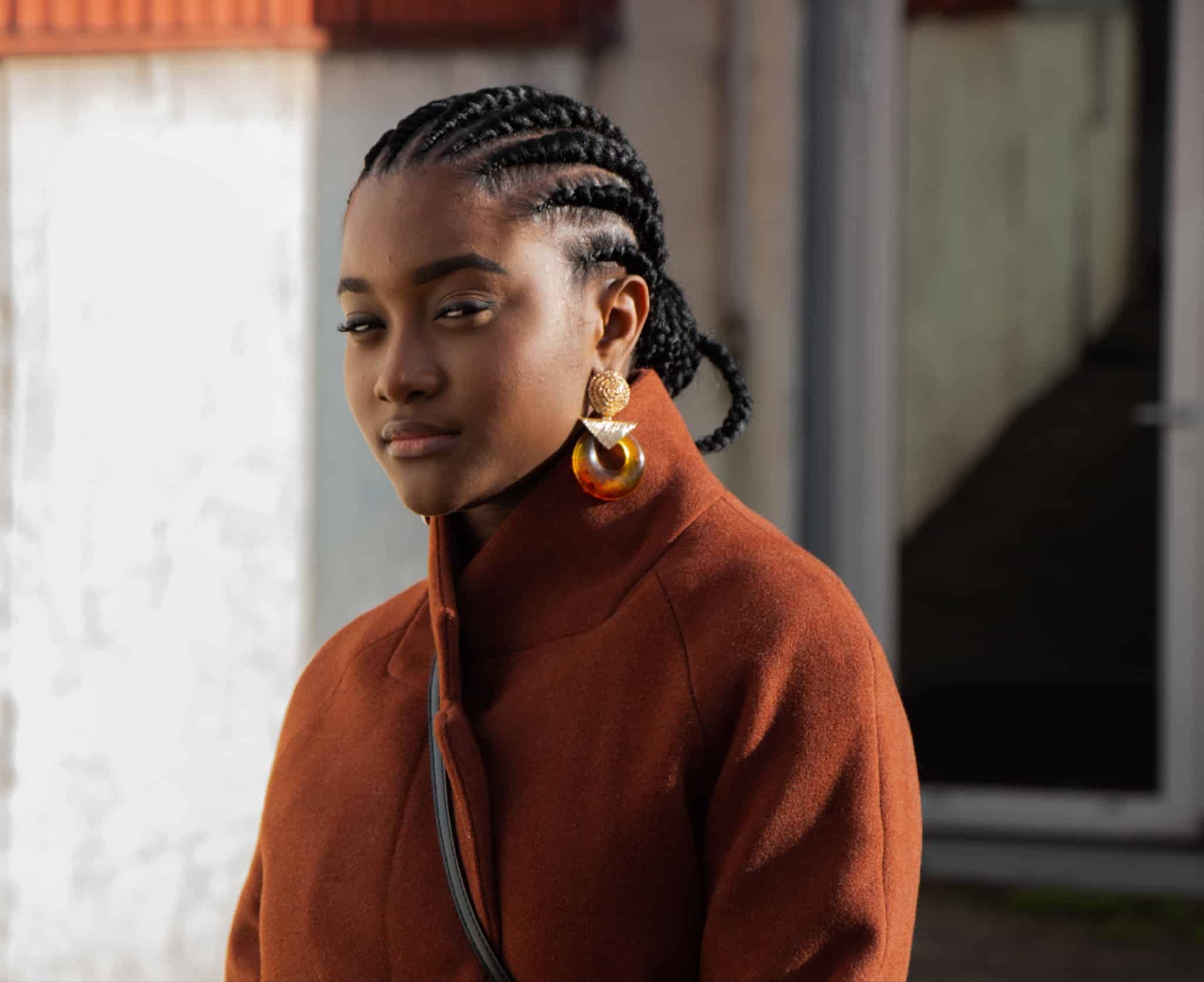 Frequently Asked Questions
Question: What are the most popular types of earrings?
Answer: The most popular type of earrings are stud earrings, hoop earrings, dangle earrings and drop earrings. All can be worn from casual to formal occasions and are relatively easy to find.
Question: What type of earrings are trending?
Answer: Jewelry trends are constantly in flux, which is why classics, like diamond earrings or pearl earrings, are usually safe bets. In terms of current trends, bigger hoop earrings are back in style, as are bold tassel earrings and, on the other hand, minimalist looks.
Question: What are simple earrings called?
Answer: The most simple earring type is stud earrings; they are also the most common earring type and easy to find in a wide variety of styles and options, perfect for any event.
Final Thoughts
With an array of different styles, earrings are a way to complete a look, or even work as an anniversary gift. Set your price point and think about the style that will suit you best.