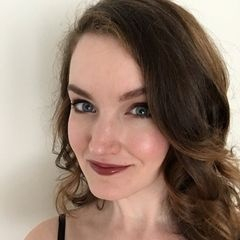 Latest posts by Crystal Schwanke
(see all)
Looking for some gold hoop earring ideas so you can accessorize with ease? Good choice! Gold hoops are a go-to jewelry item that you can wear with just about anything, so they're perfect whether you prefer to wear the same jewelry every day or like to have a few understated pieces for the days you want your clothing or other accessories to do the talking.
We've gathered some of the best gold hoop earring ideas to share with you for styling inspiration. You may also discover new places to shop for timeless jewelry you love.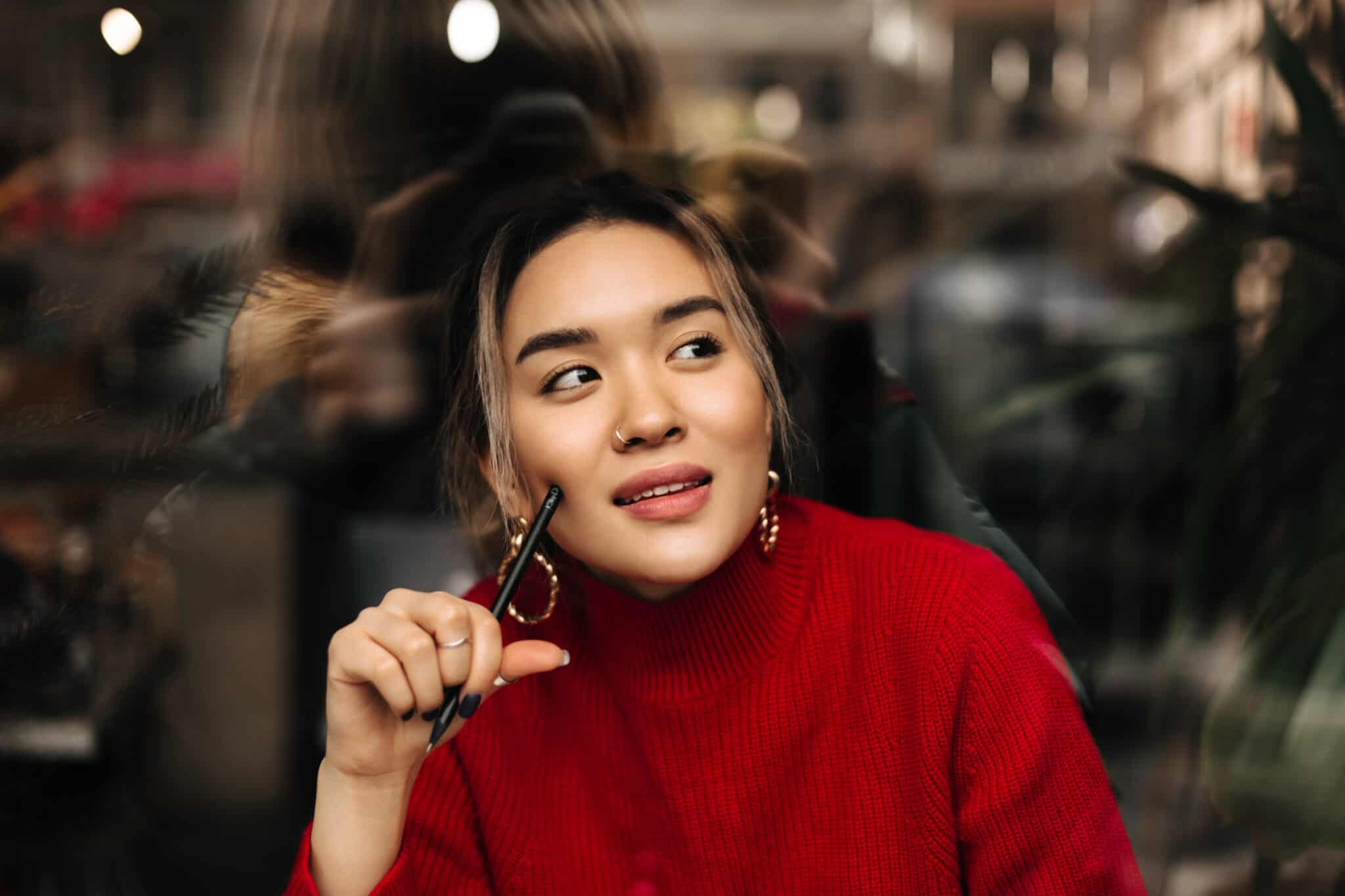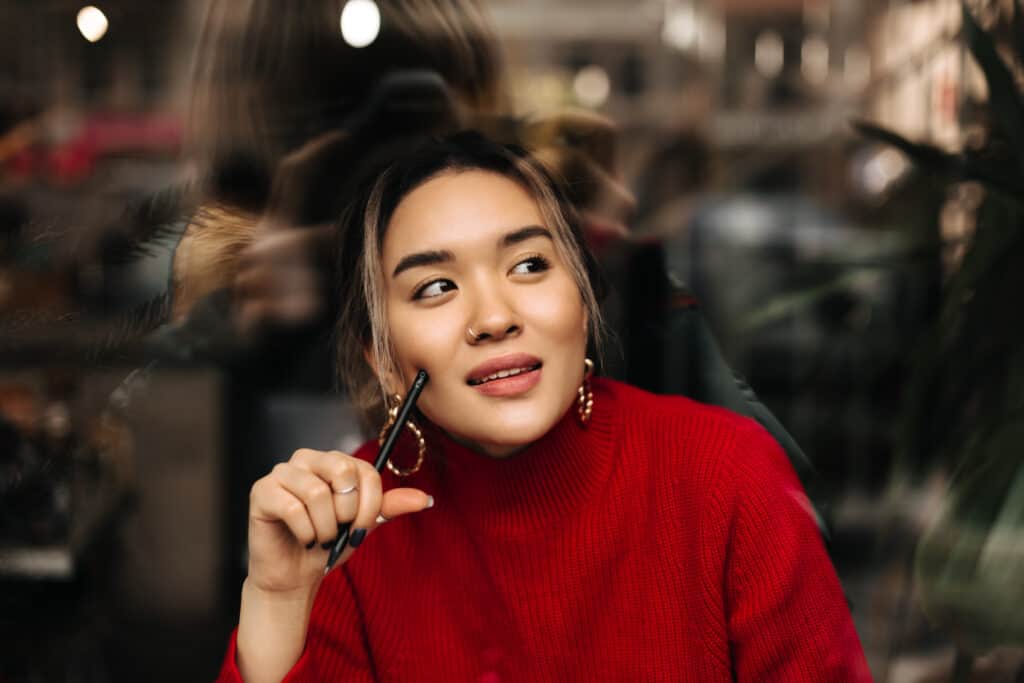 Pros of Gold Hoop Earrings
Do you already love gold hoop earrings? You may like them even more after this. Here are some of the reasons to love gold hoops.
There Are Enough Interesting Styles for You to Show Your Style
Do you love taking classic styles and putting your own spin on them to stand out, but not too much? Gold hoop earrings are perfect for that.
First, you can choose your gold (we tend to think of yellow gold, but there's white gold, rose gold, and even pink gold).
There are several size options, from tiny enough to hug your earlobes to so big they'll nearly touch your shoulders.
Even the shape and texture can be different. Elongated hoops veer just enough away from the traditional to get a second glance.
Textured options (hammered. or twisted, for example) are another possibility. Some even have rhinestones or pearls attached.
They Go with Everything
You can wear some kind of gold hoop earrings with anything. Though not every size will give your outfit the vibe you're going for, you could wear small-to-medium hoops with most things.
Pair larger hoops with understated outfits you want to liven up or use them to accessorize an outfit that's already fun and trendy.
You'll probably want to trade the larger hoops for smaller ones (or studs) if you're wearing a chunky knit turtleneck or scarf, though, just because
They'll Coordinate with Your Other Jewelry
Gold hoops aren't likely to steal the show from your other jewelry, so feel free to mix and match to your heart's content.
Got a statement necklace you want to wear? As long as the hoops are on the smaller end of the spectrum, they won't be competing for attention. If you're comfortable mixing metals, there's really no stopping you from wearing a pair of gold hoops with any other jewelry you own.
Whether you like bold, colorful jewelry or understated pieces, gold hoops will complement the rest of your pieces well.
Size Can Change the Vibe of Your Whole Outfit
Sometimes, something as simple as a pair of hoops can change up the vibe of your outfit.
Picture a basic jeans and t-shirt combination. In your mind, go from no earrings to small hoops (if you've been shopping and comparing, picture hoops that are about one inch in diameter). Just a classic look, right? It's pretty casual, but they're definitely there, so you're making an effort to dress up.
Now, mentally double the size of those hoops. It takes it up a notch to something a little more fun, playful, and maybe even flirty.
Mentally shrink those hoops way down to a size that sits close to the earlobe. This one's got visual interest and will catch your eye, but it's definitely understated, low-key, and laidback, as far as earring choices go.
Cons of Gold Hoop Earrings
Though gold hoop earrings are cute and versatile, they're not for everyone. Even if you like them, they may not be for you all the time. Here are some reasons gold hoop earrings aren't always perfect.
If You're Around Kids, They Can Be Painful
There's something about young children and hoop earrings. They can't resist tugging on them. If you plan to be around kids, you'll probably want to skip the hoops and go for something less tempting. If you are around children a lot but would still prefer to wear hoops, give your earlobes a chance by choosing a pair with a French lock closure rather than a spring closure.
You May Feel Like Collecting Different Sizes for Different Moods
If you like the idea of gold hoop earrings but your style is eclectic, you may feel like you need to spend money on multiple pairs to capture each "mood" since different sizes, textures, widths, etc. can carry completely different vibes.
One way around this is to buy a one-inch to 1.5-inch pair of smooth gold hoops. Those will be the most versatile. If your hair is very short, you may want to go a little smaller; if your hair is very long, you could get away with a slightly larger pair.
Some May Think They're Boring
You don't have to put a lot of thought into your earrings if you have a go-to pair of hoops that go with everything. To some, that's comforting. To others, that's boring.
Even if you like variety, it's hard to go wrong by adding a pair of hoops to the collection. That said, if your earrings are one of the ways you love to express yourself, you'll probably want to wait a while before you add any to your collection.
They Can Be Heavy
The bigger you go with the hoops, the heavier they're likely to be. That can lead to earlobe discomfort and headaches. To get around this while still wearing the size you prefer, choose thinner or hollow hoops (bonus: they'll cost less).
The Best Gold Hoop Earring Ideas
Want to see some of the best gold hoop earring ideas we've found? Check these out: 
Simple and Dainty Hoops in Small, Medium, and Large
These hoops shared on Instagram by simpleanddainty are the kind you could wear day after day, a classic just like the bottle of Chanel No. 5 in the corner of the photo. They have the French hook clasp, so they're easy to put on and take off.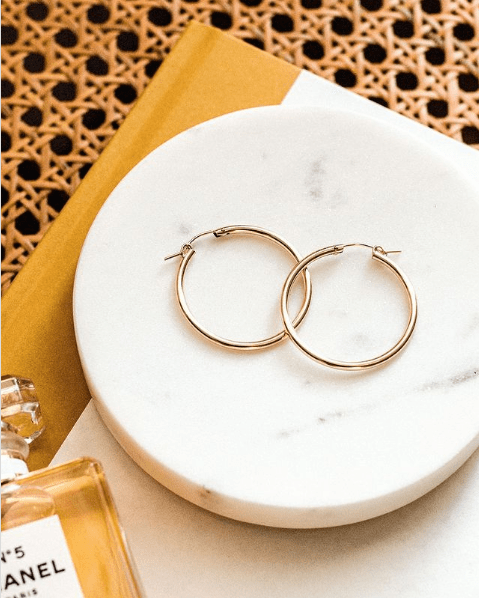 Pros
Inexpensive
Come in small, medium, and large sizes
Hypoallergenic
Cons
Gold-filled, so if you want solid gold hoops, these won't work for you
Untold Stories Large Arlana Hammered Finish Gold Hoops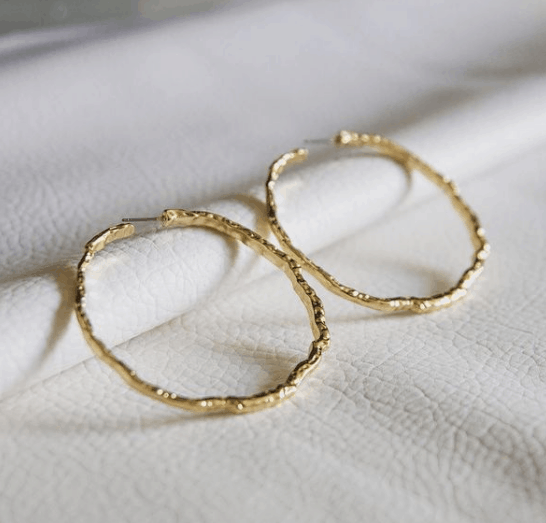 The Large Arlana Hammered Finish Gold Hoops from Untold Stories are inexpensive and have the post backs that studs usually have.
Pros
Will catch the light and sparkle
More interesting than a typical pair of hoops
Inexpensive
Come gift-wrapped
Cons
Bloomingdale's 14K Yellow Gold Round Double Hoop Earrings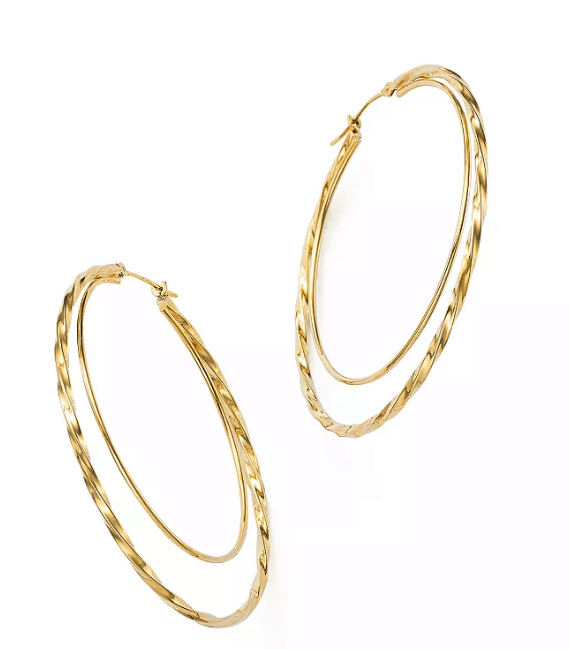 Bloomingdale's has a beautiful pair of 14K Yellow Gold Round Double Hoop Earrings. The larger hoop has a textured, twisted appearance and the smaller one is smooth.
Pros
14K gold, so they're likely to last a long time
Classic design with a twist
Can be worn with most outfits, from a t-shirt and jeans to dresses
Cons
Very expensive
May be larger at 2" than what you'd want in an everyday pair of gold hoops
Shane Co. Hoop Earrings in 14K Rose Gold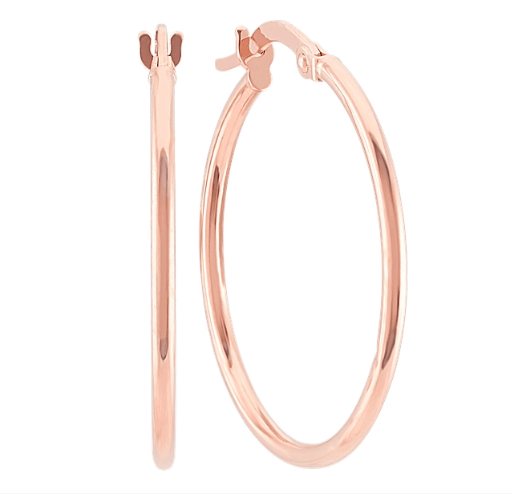 If you want something a little unusual but the textured hoops aren't your thing, what about rose gold, like these 14K rose gold hoops from Shane Co.? They're less common than yellow gold, but still just as versatile.
Pros
Slightly unusual
Reasonably priced
Perfect size to go with anything
Cons
Less of a classic than yellow gold would be
Though reasonably priced for what you're getting, they'll still set you back about $200.00
The Main Differences Between French Lock Closures and Spring Closures
There are two main closures for hoop earrings, the French lock closure and the spring closure. Which one is right for you?
The French lock closure has the post that goes through your ear click into a "fork" on the other side, whereas the spring lock closure has the post slide into a tube on the other end of the hoop earring.
The French lock closure breaks up the simple hoop shape, whereas the spring closure makes it look as if the hoop is a perfect circle with no break.
The French lock closure makes it easier to put the earrings on and take them off (which is why it's better if you'll be around small children who may grab them), whereas the spring closure is slightly more difficult to manage (and is unlikely to have any "give" if a child tugs on your earring).
The French lock closure disrupts the chic, subtle, minimalist look, whereas the spring closure doesn't add much to disrupt an otherwise minimalist design.
Some gold hoops come with regular post-backs, which will make a small gap in the circle.
Bony Levy Essentials 14K Gold Huggie Hoop Earrings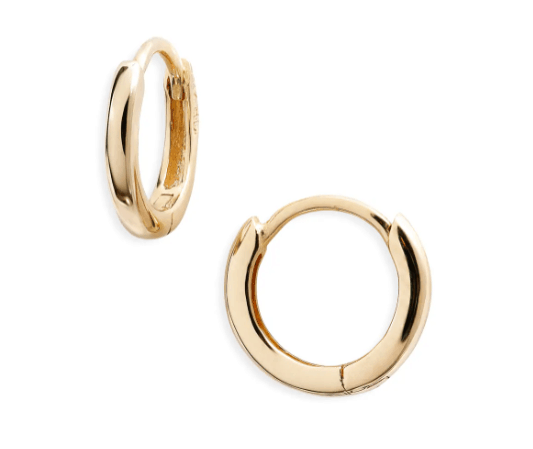 Looking for a small hoop? The Bony Levy Huggie Hoop Earrings may be just what you have in mind.
Pros
Small and understated
Hinged hoops with an uninterrupted circle (it gets smaller at the post but doesn't end)
14K gold
Cons
Somewhat expensive (but not as expensive as some others)
Tips for Styling with Gold Hoops
Once you get past the ideal size for you, hoop earrings don't usually require much thought. They're easy and versatile, generally, and look good on everyone. There are a few things you can keep in mind in order to buy or wear the right pair for your features or the occasion, though.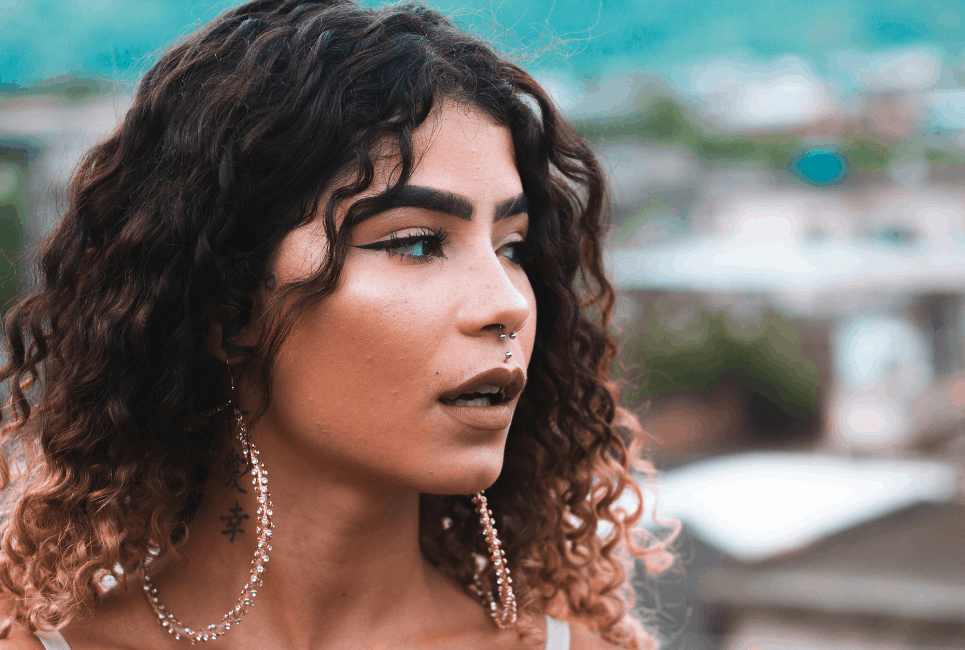 Consider Hair Length
The longer your hair, the bigger the hoops can be without making much of a statement (within reason).
The smaller they are, the more likely they are to get lost in the length. If you have very short hair, smaller hoops will still stand out on you, but don't take that as a "don't wear big hoop earrings" rule. Wear what you love and what you feel comfortable in.
Consider Your Fashion Style
If your overall style is usually pretty classic, a pair of big hoop earrings may throw your look off-balance. If you're in a season of life that allows you to have a lot of fun with your fashion choices, maybe the bigger hoops are exactly the earrings you need to finish your look.
You'll also want to consider how much material you tend to wear around your neck. If you live in chunky scarves in the winter and want to wear your gold hoops then, too, a pair that's smaller in diameter may be the best bet so they won't keep bumping against the fabric of the scarf.
In some cases, a turtleneck or cowl neck would benefit from a smaller pair of hoops simply because there will be too many things competing for attention near your face if you wear large hoop earrings, too. Of course, "too much" is based on an individual's taste, features, and the tops in question, so it's something to keep in mind rather than a fashion "rule."
Where Do You Plan to Wear Them?
Though one of the most frequently asked questions about hoop earrings has to do with whether or not they're trashy and the short answer is no, do keep in mind where you intend to wear your hoops to determine the best size for you.
Are you looking for a pair to wear to your office job where the tone is more serious? Probably not the place for fun-loving large hoop earrings.
If you're usually in more upbeat, playful environments, you could get away with larger hoops, but smaller ones still wouldn't look out of place.
Do You Have Multiple Ear Piercings?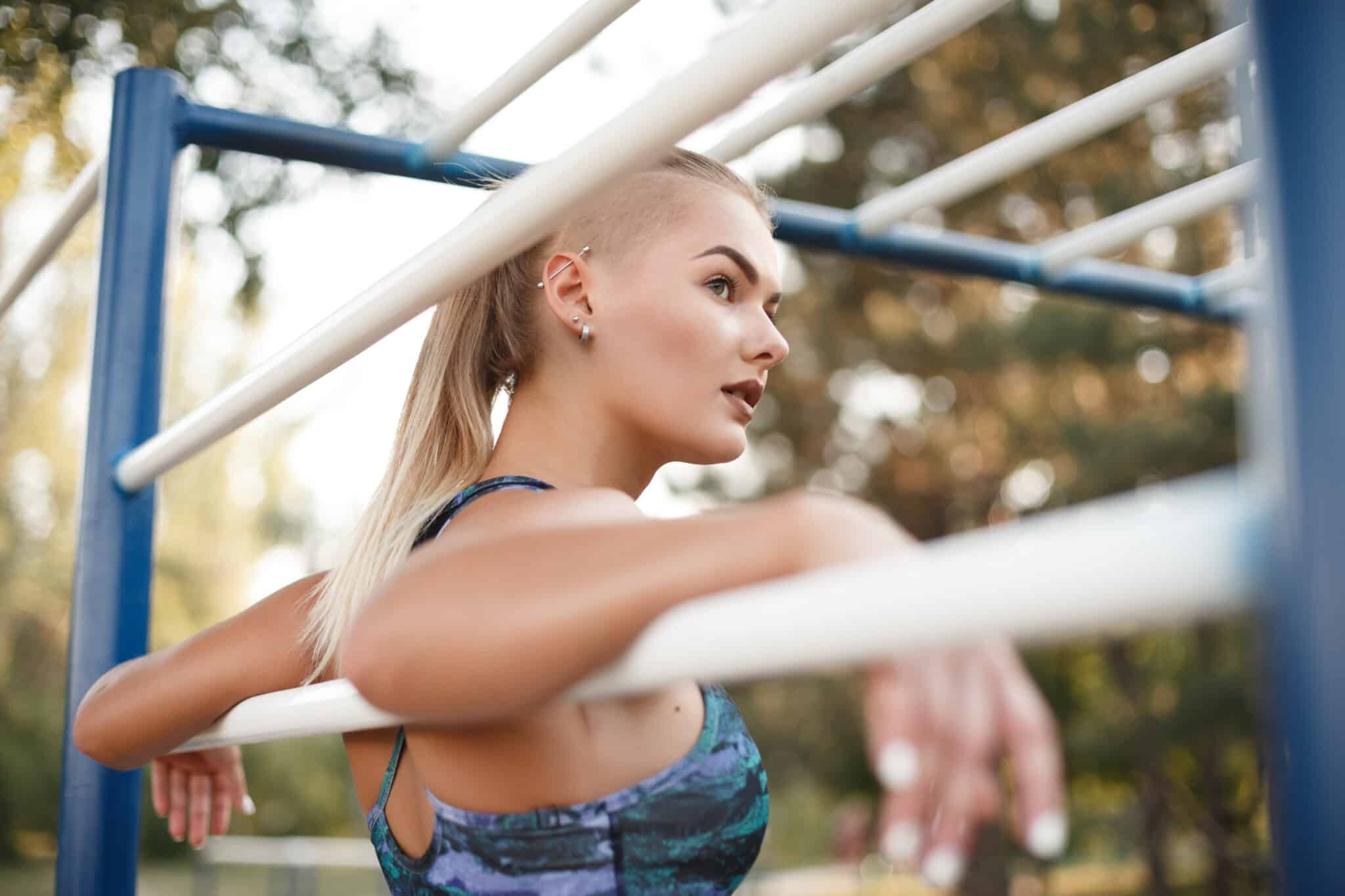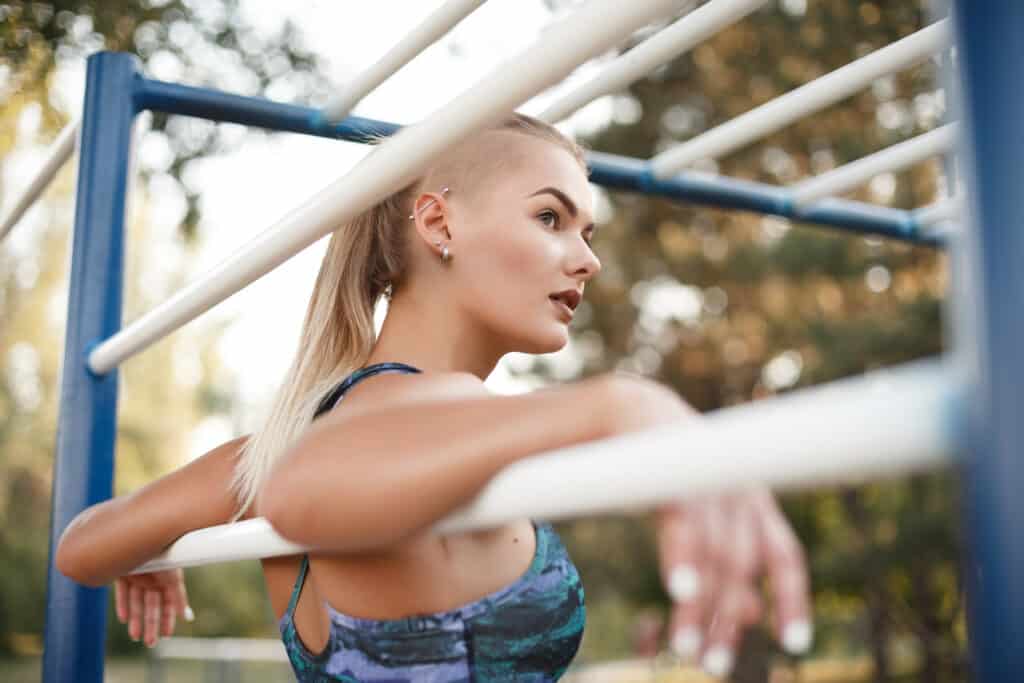 You can either make your hoops blend in with your other earrings by choosing a smaller pair for a streamlined look or have them stand out by choosing a larger pair that grabs the attention first. It's up to you.
Do You Wear Much Jewelry?
If you don't wear a lot of jewelry and want what you do wear to stand out for being a little unusual, though still a classic, consider a textured pair of hoops, a single pair with double hoops, or a set with a charm or other detail (like rhinestone or pearl).
These will dress up any outfit, garner more attention than a simpler pair of gold hoops, and give you a chance to express yourself.
FAQs About Gold Hoop Earrings
If you still have questions about gold hoop earring ideas and which ones you'd like to incorporate into your collection, we're here to answer them.
Question: What do hoop earrings symbolize?
Answer: Roma Designer Jewelry sums it up nicely when they say, "They symbolize strength and international fashion. Being a circle, hoop earrings show unity, infinity, and wholeness."
Question: Are big hoop earrings trashy?
Answer: They're not trashy. They aren't as generally accepted as "classic" as smaller hoops, so they may be in and out of fashion, but they're not trashy. If you love big hoop earrings, wear them!
Question: What does it mean when a woman wears big hoop earrings?
Answer: It means she has good taste and an eye for jewelry that can last her for years and go with almost any outfit. It could mean she's pretty casual with her accessories and likes to choose classic pieces that she doesn't have to think about, or it could mean she's bold and fun-loving. The hoop earrings could mean something, but I don't recommend reading too much into them. They don't necessarily have to mean anything.
Question: Are hoop earrings in style for 2021?
Answer: Hoop earrings are always in style. Choose a timeless style and enjoy them in 2021 and beyond.
Question: Are gold hoop earrings in style?
Answer: Yes. Though the trendy gold (yellow, white, or rose) during any given year will be "most" in style and seen everywhere, you can't really go wrong with classic small-to-medium gold (any gold) hoop earrings.
Question: Are hoop earrings unprofessional?
Answer: No, they can actually complement what you wear to the office but keep them around an inch in diameter (or smaller) to be on the safe side. Large gold hoops maybe a little too much for some work environments.
Conclusion: Why You Should Try Gold Hoop Earring Ideas for Yourself
There's a pair of gold hoop earrings out there for everyone who's even a little interested in wearing them. At first, they may seem like they're all the same, but there are so many shades of gold, sizes, widths, textures, and add-ons that there's a pair (or more) out there for you.
Consider where you'll wear them, the gold tone you prefer most often, what you'll wear them with, the length of your hair, and how much you want them to stand out. You can't go wrong with a small-to-medium pair of smooth gold hoop earrings, but there are plenty of styles to explore that could be perfect for you.