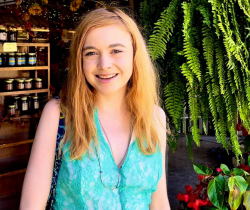 Latest posts by Erin Jamieson
(see all)
From butterfly earrings to simple studs, in 2022 there are more earring options than ever. But for those in need of a hypoallergenic option, surgical steel earrings remain one of the best ideas.
Surgical steel earrings do not have the glitz or excitement around them the sparkling diamond earrings, but they remain a great option.
In fact, Stylecaster has listed surgical steel earrings as one of the important earring types you need to know about.
The trend behind surgical steel earrings isn't just a passing trend, either. In fact, for some, a hypoallergenic earring is a must.
But even for those who aren't seeking a hypoallergenic option, surgical steel earrings have some surprising benefits you may not be aware of.
They also have more options than you might at first think– from simple studs to dramatic hoops and even drop earrings with a bit of color.
Consider this guide to surgical steel earrings. I'll explain what surgical steel earrings are, the pros and cons, and my picks for the best surgical steel earrings that you can buy online.
What is Surgical Stainless Steel?
Surgical steel, which is often referred to as surgical stainless steel for earrings, is actually used for purposes outside of piercings.
Surgical stainless steel in itself is an alloy of iron and used for medical and orthopedic instruments. It contains carbon, molybdenum, chromium, and nickel.
It has also come to be used for a variety of piercings, from earrings to nose studs– I requested a surgical steel stud for my nose piercing.
Economical and an alternative to silver and gold finishes, there's been more interest in recent years as to how surgical steel can be used for jewelry.
What is the Difference Between Surgical Steel and Stainless Steel Earrings?
Search for where to buy surgical steel earrings, and you'll come up with results for stainless steel earrings as well.
While it's understandable to think that they are one and the same, the truth is that there are some notable differences between surgical steel and stainless steel.
The term stainless steel is actually a broader term. Stainless steel is an alloy of iron, chromium, and occasionally nickel.
It's resistant to corrosion and provides a sturdy but sleek look, explaining its popularity not only for jewelry but especially for kitchen appliances.
All surgical steel is stainless steel but not all stainless steel is surgical steel. Surgical steel is a specific type of stainless steel and it is preferred in that it is the most corrosion-resistant.
It's considered safe for dental appliances and other things that make contact with or are implanted into the body.
Stainless steel is less suited for such purposes, can corrode, and is not as durable.
Is Surgical Steel Good for Earrings?
Large Surgical Steel Hoop Earrings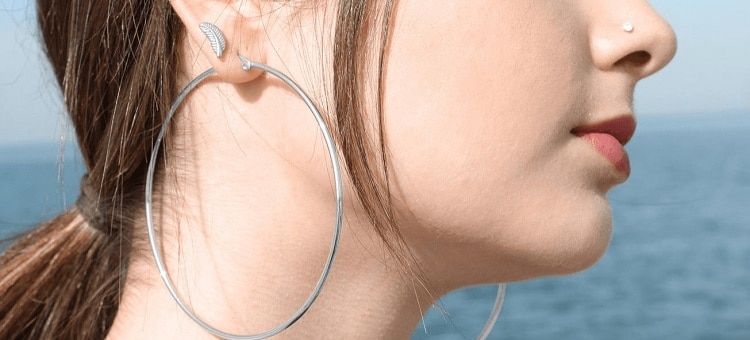 Surgical steel earrings are not all good or bad– like all metal types, there are pros and cons. Before deciding whether or not surgical steel is right for you, you should consider the following advantages and disadvantages of this type of earring.
What are the Pros of Surgical Steel Earrings?
Surgical steel earrings have many advantages.
Cost and Durability
For one, they tend to be less expensive than some other metals, especially solid gold. For another, as they are resistant to corrosion, they will not easily become damaged in the rain or other conditions.
Surgical steel earrings tend to be durable, and are suitable for long-term piercings.
Hypoallergenic
They're also hypoallergenic. If you're purchasing a 316L surgical steel, they are hypoallergenic and of high quality. While not everyone will require this designation, it is important to consider if this is the reason you're seeking out surgical steel.
Anyone with a history of sensitive skin, or reactions to other metals may want to seek this option out.
Modern Appeal
Surgical steel earrings are a natural fit for a sleek, minimalist and strikingly modern style. For this reason, surgical steel earrings are also versatile and work for both casual and formal outfits.
What are the Disadvantages of Surgical Steel Earrings?
Surgical steel earrings aren't for everyone, and by no means are they perfect. Here are some cons you need to consider.
Fewer Options
While there is a variety of styles– including hoops, studs, and even cartilage piercings– it's also true that surgical steel earrings have their limitations.
You'll find far fewer options in terms of styles, and you'll have fewer options where to buy surgical steel earrings vs other earring types.
It's not Always Nickel Free
One interesting thing about surgical steel earrings is that they are considered hypoallergenic, yet they are not entirely nickel-free.
Nickel, present in all gold and silver jewelry, is a common irritant for some. That said, surgical steel is still classified as hypoallergenic because it contains far less nickel.
In almost all relatively sensitive people, it's still a good option. Especially sensitive individuals can still, of course, have some sensitivity to surgical steel, though it is not considered common.
Not all surgical steel contains nickel– aim for the highest quality 316L for the most hypoallergenic option.
Where Can I Buy Surgical Steel Earrings?

(My Picks)
Finding surgical steel earrings can be tricky, which is why I'm providing my picks for some of my favorite surgical steel hoops, studs, dangle and drop earrings.
I've included both high quality and some affordable, more casual options. If you require the highest quality for sensitive skin, always ask the seller what grade of surgical steel they use.
My picks lean towards modern and minimalist, but I have also included a few more surprising ideas to give your further inspiration. Without further ado, here are some of my picks for surgical steel earrings.
Surgical Steel Hoop Earrings
From dainty hoops for a subtle appeal to oversized hoop earrings for a bolder look, hoops perfectly match the sleek and modern look of surgical steel.
Hoop earrings are perfect for casual outfits, but they can even be used to elevate a black dress or pantsuit.
Blue Topaz Surgical Steel Hoop Earrings- LittleGemsJewelShop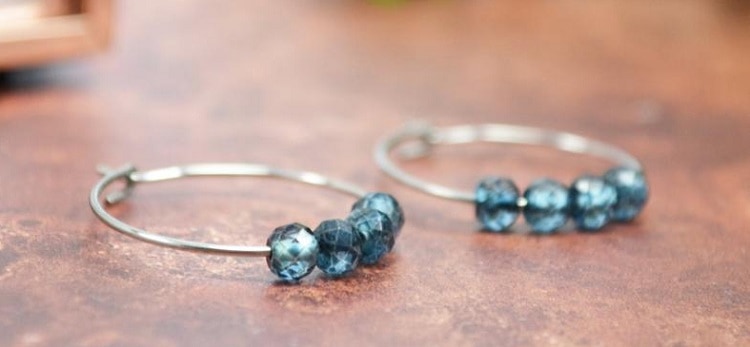 These handmade earrings prove that surgical steel hoop earrings don't have to be plain. Faceted blue topaz gemstones add a bit of sparkle to medium-sized, hypoallergenic hoops.
The look is dressed up and sophisticated. The earrings even come in an eco-friendly package and a hand-tied silver ribbon. Buy Here .
316L Surgical Steel Ball Hoop Earrings- Lotka Art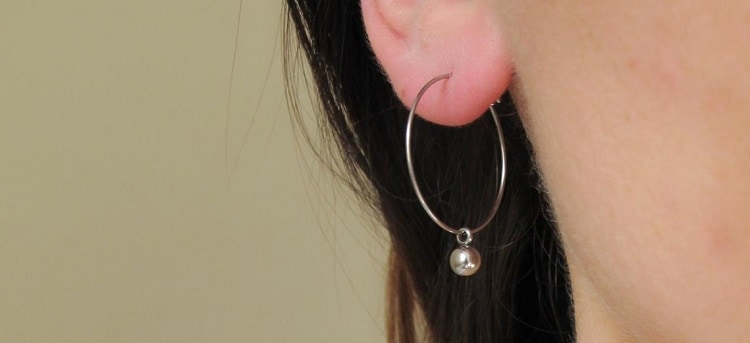 For anyone with especially sensitive ears– and who wants more than a simple hoop earring– consider this option.
These handmade hoop earrings feature a sizable but slim hoop, with a ball detail for a minimalist look that will go with just about anything. Buy Here .
Surgical Steel Hoop Earrings- Fashion Hut Jewelry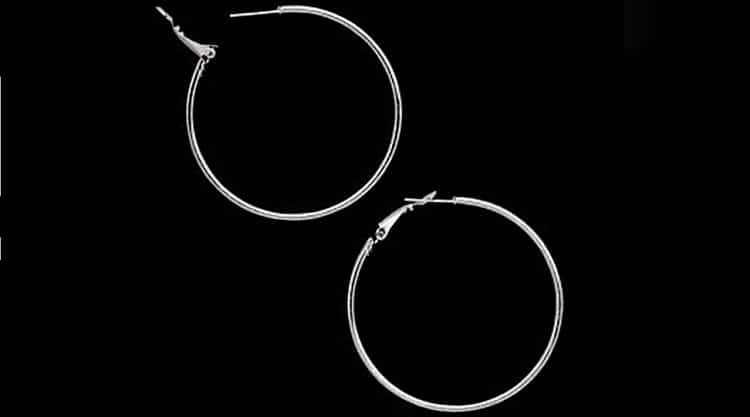 A simple statement can go a long way. These simple and minimalist hoop earrings retail for just $15 and offer the versatility to go from day to night. Buy Here .
Small to Large Surgical Steel Silver-Tone Hoop Earrings- JezebelAccessories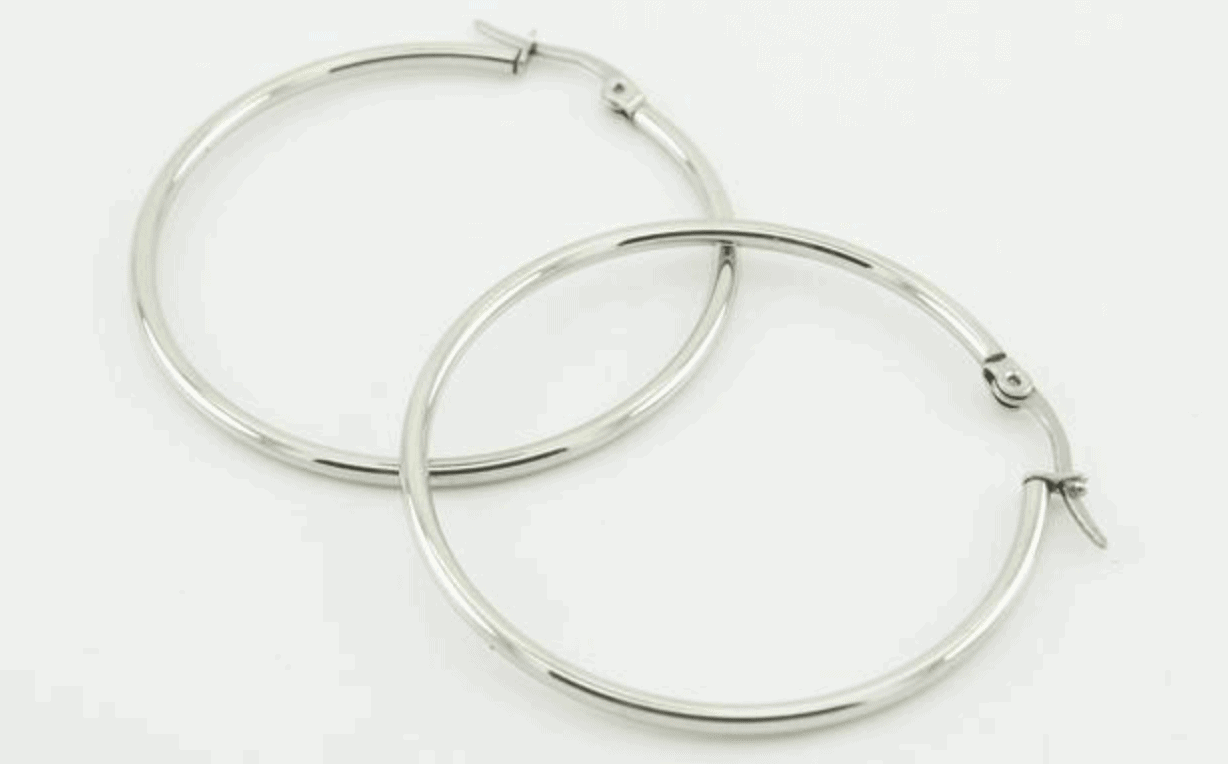 For a boho feel, these surgical steel earrings are finished with a silver look, and can be purchased in small but also oversized hoop earrings. Lightweight and able to be styled in many ways, they retail for just $16. Buy Here .
Surgical Steel Silver Crystal Cartilage Ring- Lovisa

This cartilage hoop earring features a sleek surgical steel band with small crystal details around the perimeter. Buy Here .
Surgical Steel Drop and Dangle Earrings
Drop and dangle earrings are excellent options for both short hair and updos. Surgical steel drop and dangle earrings also work with more elegant touches to a boho style.
Handmade Round Resin Blue Wren Surgical Steel Earrings- ResinateDesigns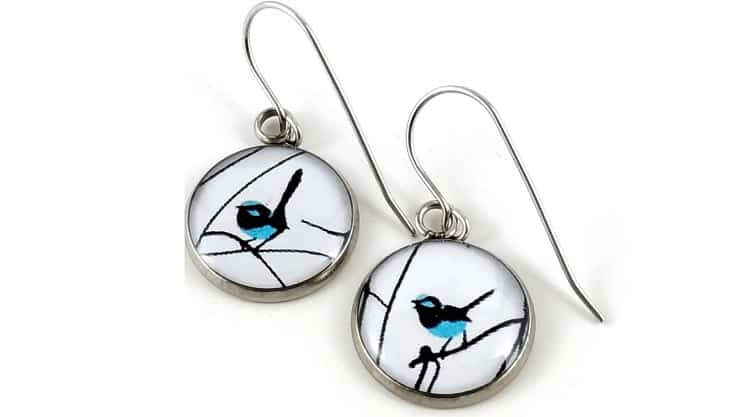 These nature-inspired surgical steep drop earrings are truly unique. Handcrafted in Melbourne, beautiful blue wrens are set on surgical stainless steel, with rubber stoppers on the back to ensure a secure fit. You can even request a matching necklace or bracelet to be custom-made to order. Buy Here .
Surgical Steel Teardrop Earrings- Lotka Art
These dainty surgical steel earrings feature a classic teardrop shape. The handmade, minimalist style is made with high quality 316L surgical steel and has a polished shine to the finish. Buy Here .
Surgical Steel Birthstone Drop Chain Earrings- StudioVy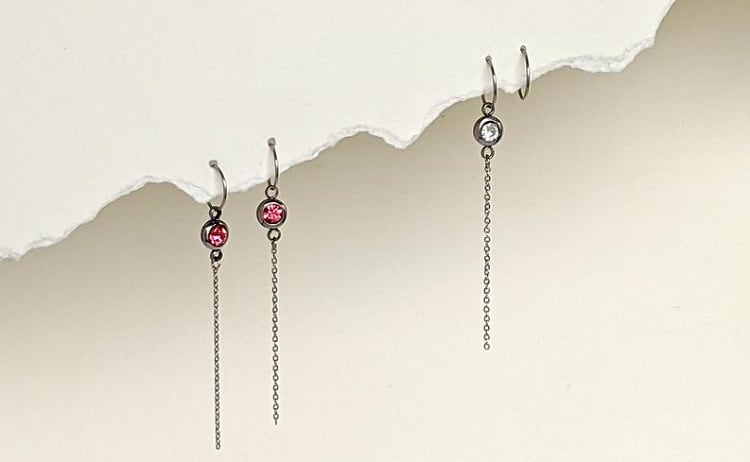 Choose from the birthstone of your choice (including Garnet, Amethyst, Aquamarine, Diamond Emerald, Ruby, Peridot, Sapphire, Topaz, and others). These unique surgical steel drop earrings can be bought as a single pair, and be worn on the cartilage or earlobe. The look is modern minimalist, with a personal touch. Buy Here .
Surgical Steel Star Earrings- Lotka Art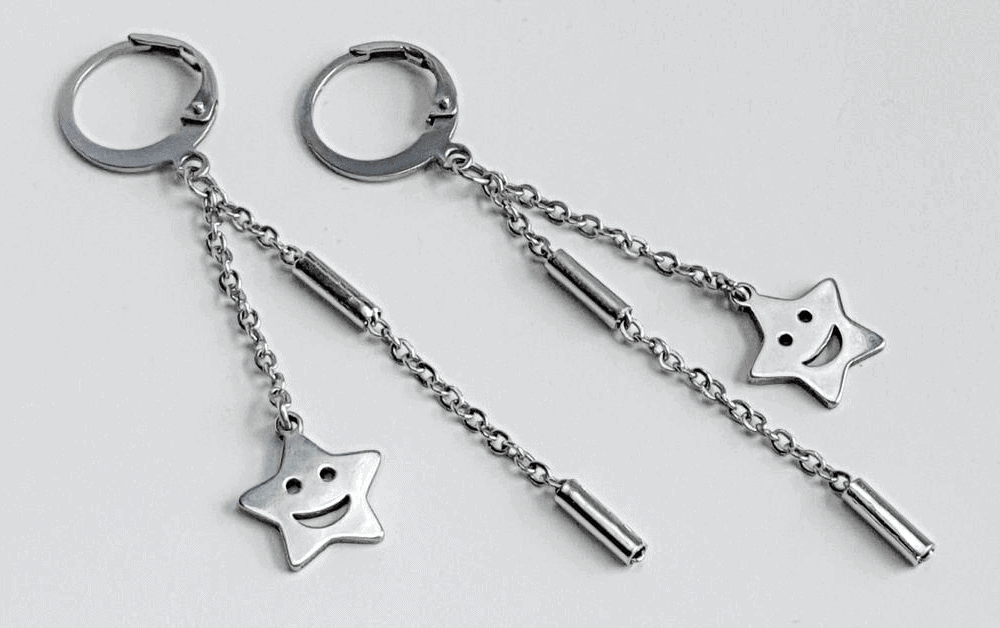 Ideal for a kid, or maybe the young at heart, these star earrings feature smiling star pendants, made with 316L grade surgical steel. The Look is both sleek and minimalist, with a fun and unique addition. Buy Here .
Opal Surgical Steel Threader Earrings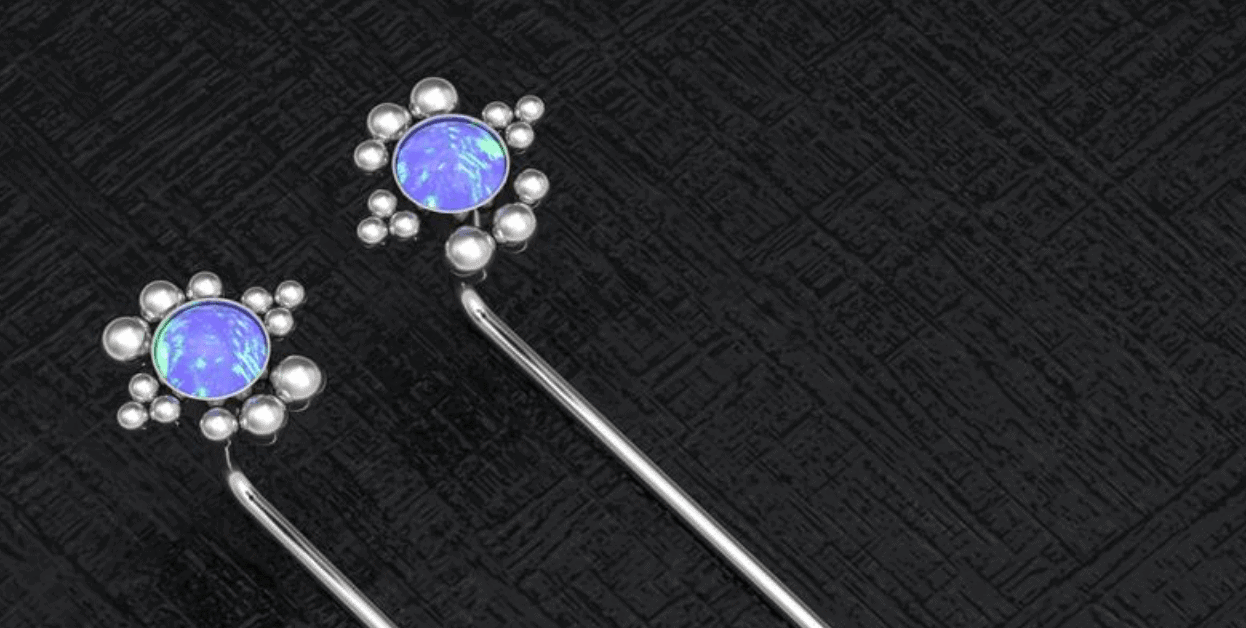 Also available as studs, these dramatic earrings add an unexpected splash of color. Handmade, 316L surgical steel accompanies and opal gemstone. You can purchase in three finishes: plain steel, gold plating, and rose gold. Buy Here .
Blue Turquoise Nugget Surgical Steel Drop Earrings- RusticMidwesternCharm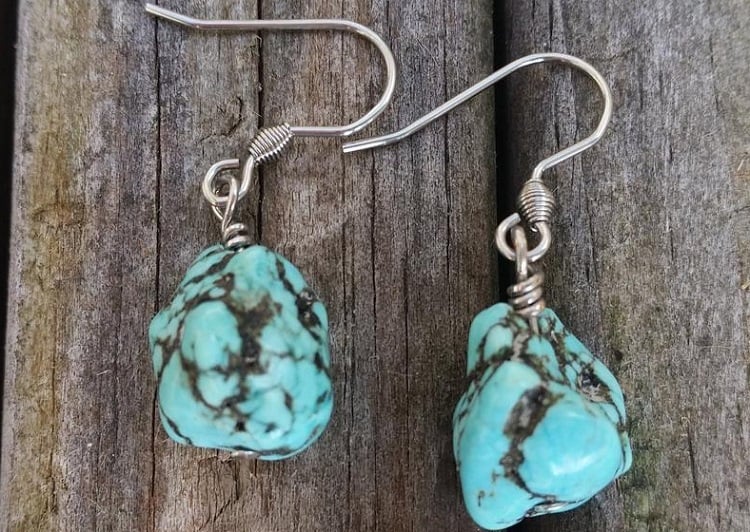 An unique, rustic option, these surgical steel earrings are certainly one of a kind. Turquoise nuggets feature a beautiful hue in an effortlessly boho style, with quality surgical steel hooks. Every order comes packaged in an organza drawstring bag. Buy Here .
Triangle & Bar Drop Surgical Steel Earrings- MyTwinkleBox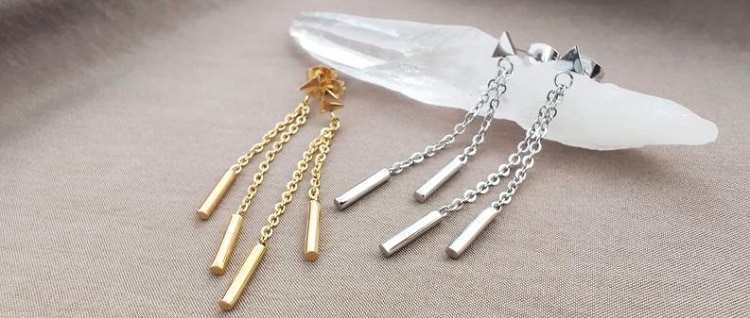 This handmade surgical steel earring features a butterfly enclosure and has an edgy, alternative feel. Minimalist chains and a geometric design set this apart from other surgical steel earring options. Buy Here .
Silver Leaf Surgical Steel Dangle Earrings- EllaRuthDesign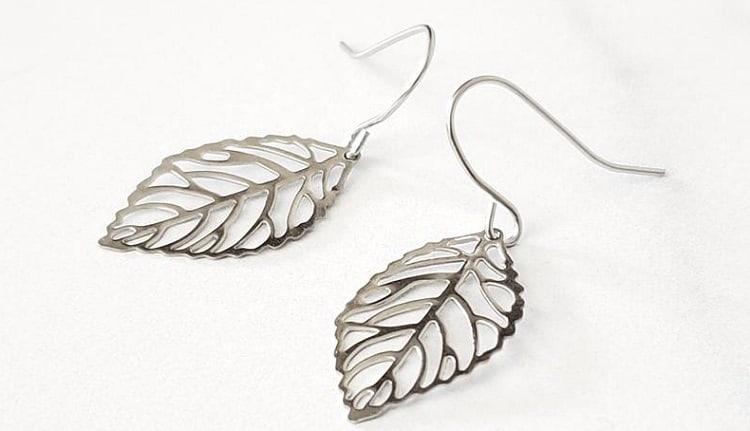 These nature-inspired earrings are elegant, with a detailed leaf design that's still modern and versatile. Handmade and nickel-free, with an ear wire enclosure, they also a natural pairing with a boho-styled outfit. Buy Here .
Surgical Steel Feather Earring Set- Uniek'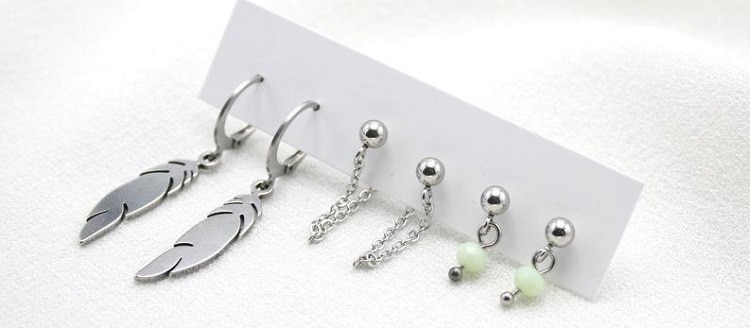 This three-piece set is a free-spirited and fun change to what you'd typically associate with surgical steel earrings. Made out of 316L surgical stainless steel, the set includes a dangle earring with a feather, as well as a hoop chain and stud. Buy Here .
Surgical Steel Stud Earrings
Stud earrings have a good deal of versatility: they can be casual or formal, and pair with a wide variety of outfits and necklines.
I've made sure to include surgical steel stud earrings for all kinds of outfits and styles– showcasing that there are more choices than you might originally assume.
Purple Zirconia Surgical Steel Stud Earrings- RebelsMarket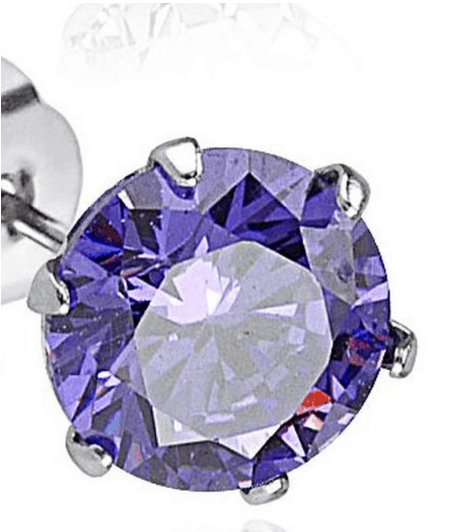 High-quality surgical 316L steel makes for a hypoallergenic option, while the purple sparkle of the cubic zirconia is both affordable and fun. It may not be the most valuable set of earrings (retailing for under $10) but they're great for a fun occasion. Buy Here .
Frosted Silver Surgical Steel Stud Earrings- Kurti Designs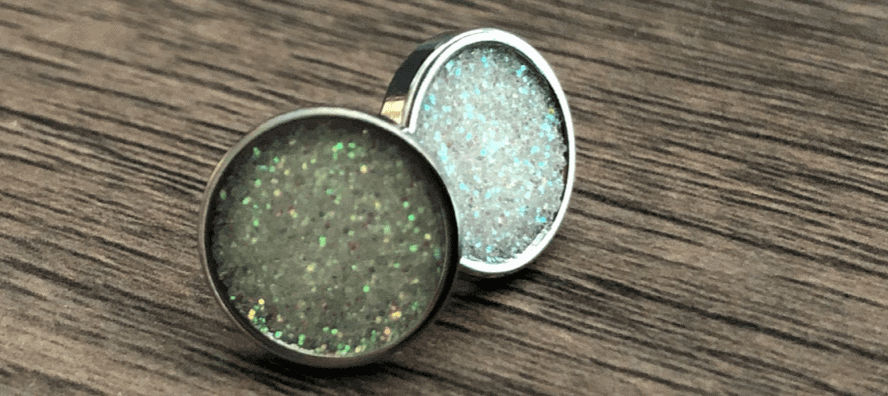 These festive surgical steel earrings would look at home at a holiday event. Silver and white tones add sparkle and glitter to nickel-free earrings. They're available in three sizes to ensure a great fit, plus secure rubber backings. Buy Here .
Geometric Triangle Surgical Steel Stud Earrings- Elisilverdesigns

Yellow gold plating over surgical steel adds warmth to these modern, geometric stud earrings. The artistic design of these stainless steel earrings feels at once modern and unique and would work with a casual or semi-dressy outfit. Buy Here .
Pink Animal and Circular Surgical Steel Stud Earrings for Kids- Perfice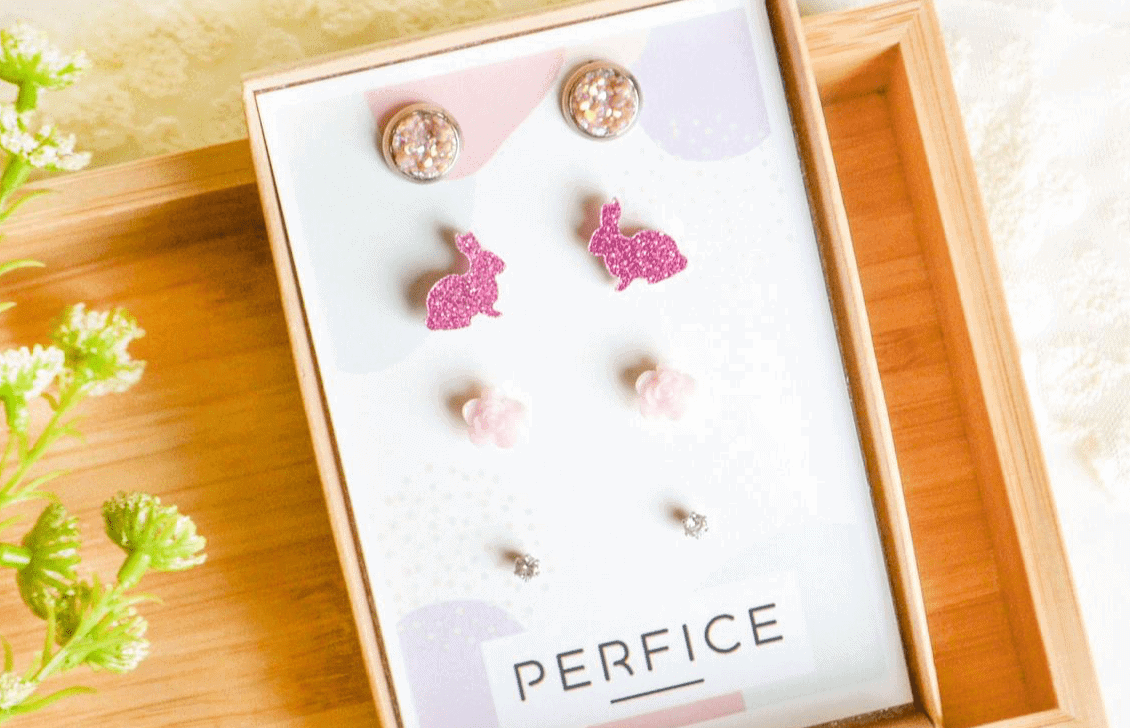 This charming set of four surgical stud earrings is made just for kids. The rabbit shape and complementary studs make for a fairytale, whimsical feel– but you can also pick other styles, including; mermaid, pineapple, mini mouse, a pineapple, heart, or unicorn.
Made out of surgical steel and cubic zirconia, you can even customize your order. Buy Here .
Purple Marbled Flower Stud Surgical Steel Earrings- Little Acorn Designs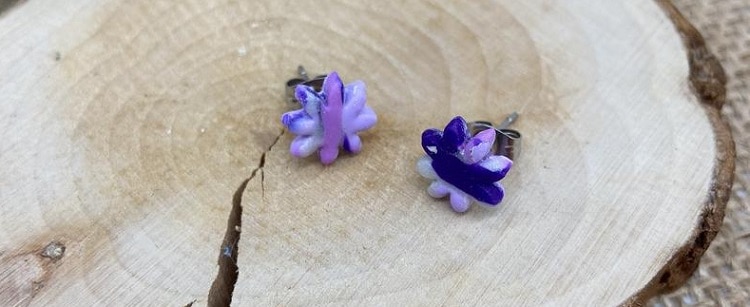 These handmade surgical steel earrings feature three shades of purple with a marbled pattern. The gloss glaze, UV resin, and butterfly backs provide a unique and detailed look. Earrings are shipped in eco-friendly packaging. Buy Here .
Space Galaxy Surgical Steel Earring Studs- myBeltBuckle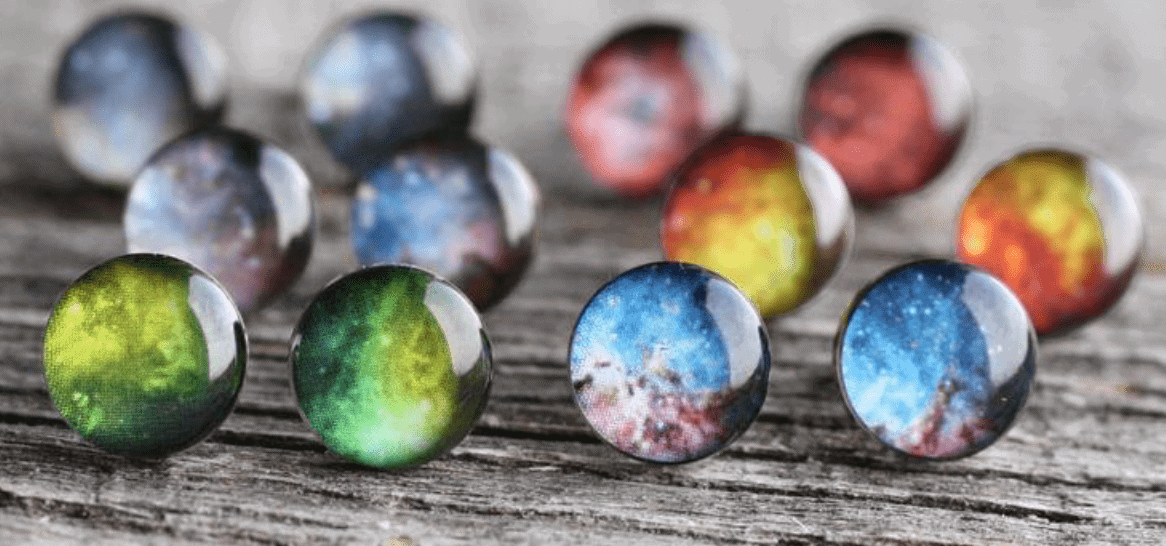 These dazzling surgical steel studs include high gloss resin for durable but lightweight earrings. Printed images of a wide range of hues, from violet and slate blue to sunset orange and yellow. Buy Here .
Natural Citrine Surgical Steel Stud Earrings- TheAladdinsCave

Also available in titanium and white gold, these earrings are perhaps the most elegant option for surgical steel from my picks. Citrine gemstones complement many outfits and have a beautiful accent. Buy Here .
Tiny Opal Stud Earrings- TitaniumFashion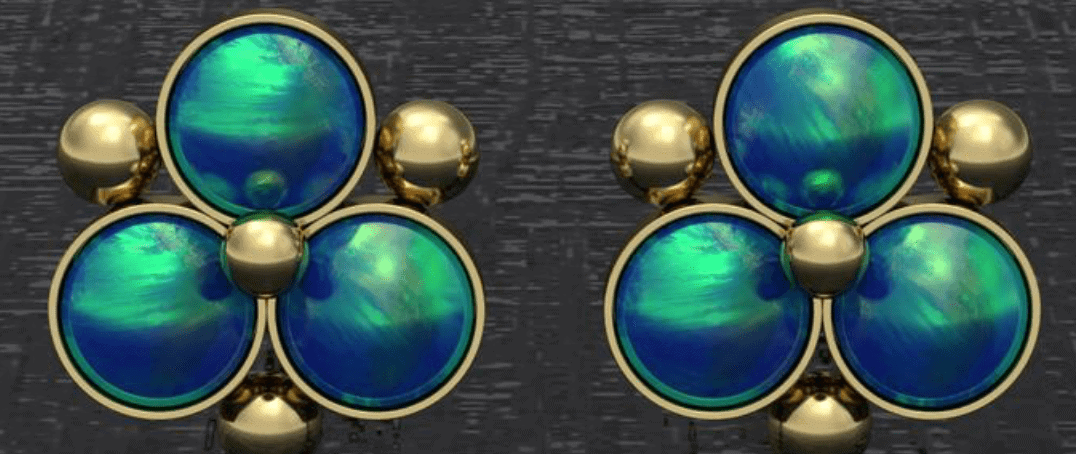 These stunning earrings are shaped like a flower and feature a blue green hue from opal gemstones. The surgical steel has a push back, minimalist closure. Buy Here .
Ornate Semi Circle Surgical Steel Stud Earrings- Elisilverdesigns

A geometric design with black and polished surgical steel accents, these studs are modern and versatile. The patterned design is crafted in Australia. Buy Here .
Frequently Asked Questions
Question: Is Sterling Silver or Surgical Steel Better for Piercings?
Answer: While sterling silver is a beautiful look, surgical steel is the preferred choice, especially for new piercings. Surgical steel is also more durable than sterling silver, as it will not oxidise or corrode.
Question: Are Surgical Stainless Steel Earrings Safe?
Answer: If you're concern about skin sensitive, opt for surgical steel 319-grade. This surgical steel is high quality, hypoallergenic, and can be safely used for piercings.
Question: Why do Stainless Steel Earrings Turn Black?
Answer: Stainless steel earrings turn black when they've become tarnished. This can happen over time and with exposure to elements that make them corrode.
Sterling silver must be kept dry and carefully cared for, though it is not uncommon for it to tarnish from age. Stainless surgical steel, however, will not tarnish.
Final Thoughts
Surgical steel is an excellent option for anyone with sensitive skin– but also for someone who doesn't want to worry about caring diligently for their earrings.
Affordable, durable, and modern, it's no wonder why surgical steel earrings remain a favorite hypoallergenic option.
Just be sure you ask about the grade of surgical steel if this is your main concern, and be willing to branch out where you buy to include independent businesses.