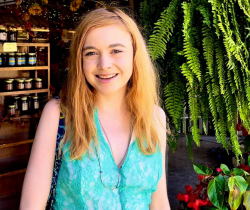 Latest posts by Erin Jamieson
(see all)
From romantic heart-shaped diamond rings to signature gemstone vintage looks, rings come in many shapes and sizes– and now, a certain type of ring, outside luxury diamonds, is guiding the world of jewelry and fashion.
The ring type in question is about as far from fine jewelry as you can get– in fact, bubble rings are celebrated for their versatility, expression, causal look, and 'ugly cute' appeal.
The bubble ring trend has gone in and out of the spotlight, but was most recently on showcase when pop singer Ariana Grande wore a space-style bubble ring, or what is sometimes called finger charms. The ring, featuring a futuristic shape with a blue gemstone, of course sold out almost immediately.
But Grande wasn't the only celebrity to show off the bubble ring trend. Swapping glitzy rings for bright and expression bubble rings, the trend has also been seen on model Bella Hadid, singer Dua Lipa, and has also been spreading amongst Tik Tok influencers.
But whether you're in love with this eclectic ring style or you're into more elegant jewelry, what the trend undoubtedly shows is that there are countless types of rings for every event– and countless ways to express yourself–or even show someone else how much they mean to you.
In this guide, I'll cover the main types of rings– from anniversary bands to trends like bubble rings, and some tips for selecting each type.
What are the Different Styles of Rings?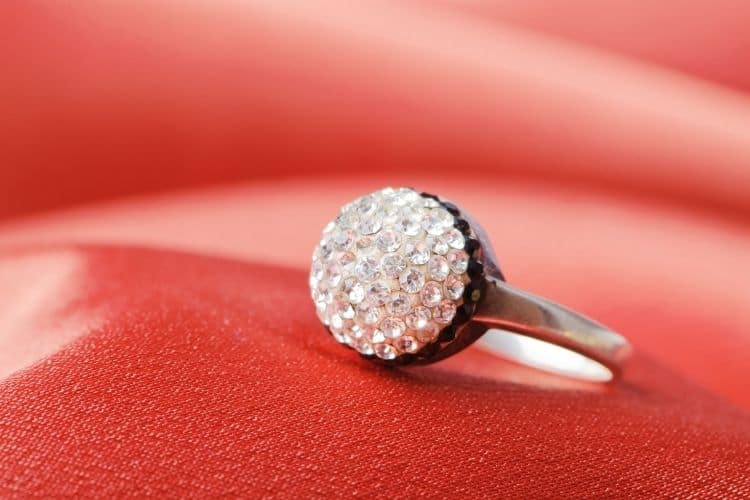 For this article, it's important to distinguish between types of rings vs styles of rings. Types of rings refers to the use, purpose or occasion for the reason– and will be the primary focus of this guide. While there is some overlap between style and type, when most ask about styles of rings they are asking in terms of options for a type of ring.
For every type of ring, there is a degree of different styles. Styles include the following factors:
Metal Type
Metal type – or material used for the band differs depending on the ring type and purpose. Gold, silver and platinum are the most common types of precious metal, though synthetic materials (such as silicone-which I will include as a type of ring) are also used, as well as tungsten, titanium, and palladium.
Gold comes in yellow gold, white gold, and rose gold, and silver and gold are typically sold in 10k to 18k, with 18k being more durable.
Stone & Cut
There are many rings that have no stone at all, but the stone or stones used is a defining feature of many rings. From red gemstone rings to diamonds, simulants and more, many ring types have a central stone, accent stones, or even side stones. Those stones are then further defined by cut, clarity, carat and color– the 4 c's of diamonds and gemstones. Popular engagement ring styles include solitaire, three stone, pave, princess, and cathedral.
Band Style
Along with metal type and stone– or lack thereof — all types of rings are also defined by their band style. Bands can be plain and uniform, such as for solid metal wedding rings or even wooden wedding rings. But they can also include overlapping bands, as seen, for instance, for infinity rings.
Formal vs Semi Formal vs Casual
Finally, ring types are situated as jewelry by event— in other words, some rings are meant to be worn with anything, while others are suited to mark a special occasion or meaning. Casual rings can be worn anywhere and as a fun accessory; engagement rings have an obvious purpose, and cocktail rings are perfect for semi-formal occasions.
What are the Most Popular Types of Rings?
This list is not exhaustive– one of the exciting aspects of jewelry fashion is that it's constantly evolving, and also that there are nearly endless possibilities. That said, for this list, I'm providing an overview of the most popular ring types, a brief description of each, and my buying tips.
Anniversary Rings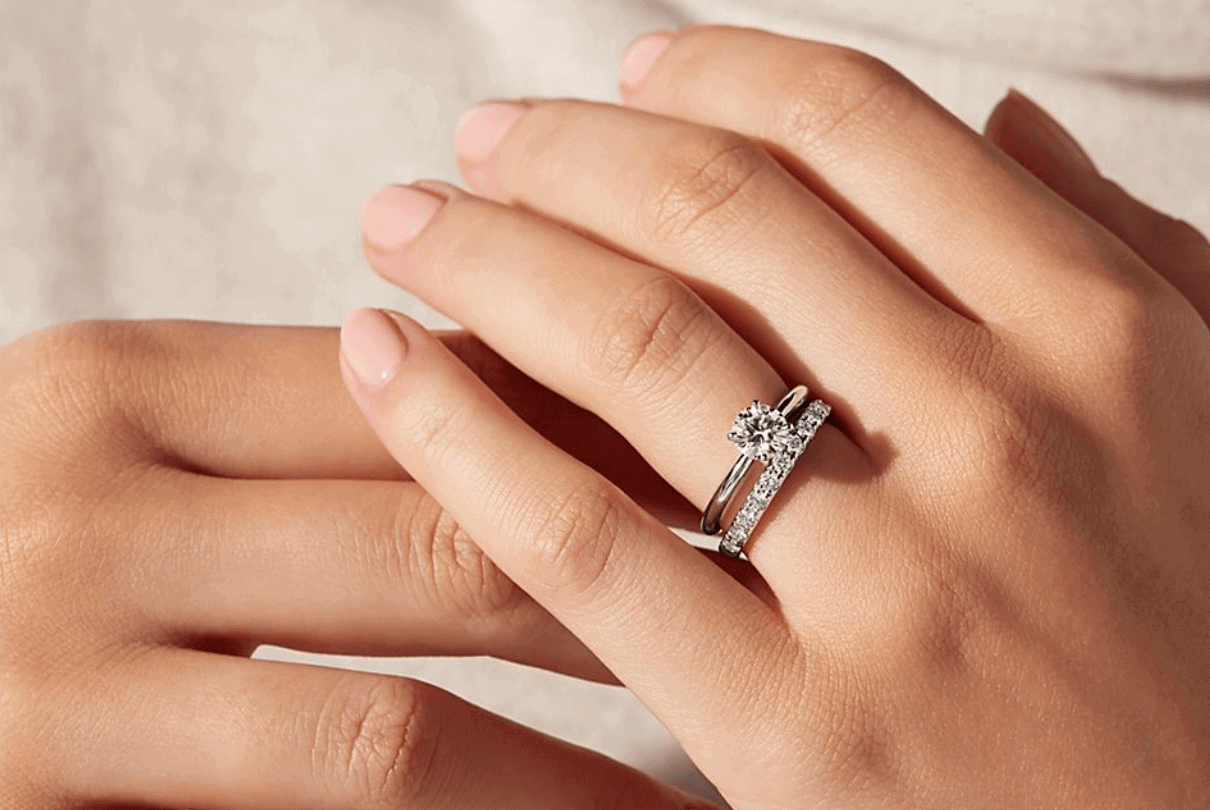 Anniversary rings are typically given to celebrate a milestone wedding anniversary– 10, 15, 20 years or more. Unlike engagement rings, anniversary rings don't always include diamonds or gemstones, nor do they have to match, as wedding rings typically do. In fact, sometimes only one partner has an anniversary ring, given as a surprise gift.
Anniversary rings are versatile and open to interpretation, though they are still usually bought in a precious metal from a fine jewelry store. In addition, anniversary rings range from glamorous to subdued. Check out our top pearl ring ideas.
How to Wear
Anniversary rings can be worn anywhere, but most couples opt to wear anniversary rings on the right hand finger beside the pink. This is so it doesn't compete with either the engagement ring or wedding ring.
How to Buy
To buy the best anniversary ring, first set a budget. Next, determine what style you want to go for. I recommend not worrying about matching wedding rings– but instead complementing them. You should aim for the same general style and metal type as your wedding ring– but also make it different so it's distinct.
For instance, a vintage engagement ring will go better with a vintage inspired or classic anniversary ring. That said, the good news is that there are no rules for what an anniversary ring needs to look like.
Where to Buy
You can buy anniversary rings from nearly any fine jewelry store that also sells wedding rings and engagement rings. For conflict free diamond rings, try Brilliant Earth anniversary rings. For beautiful and ethically sourced gemstone rings, shop Blue Nile anniversary rings.
Birthstone Rings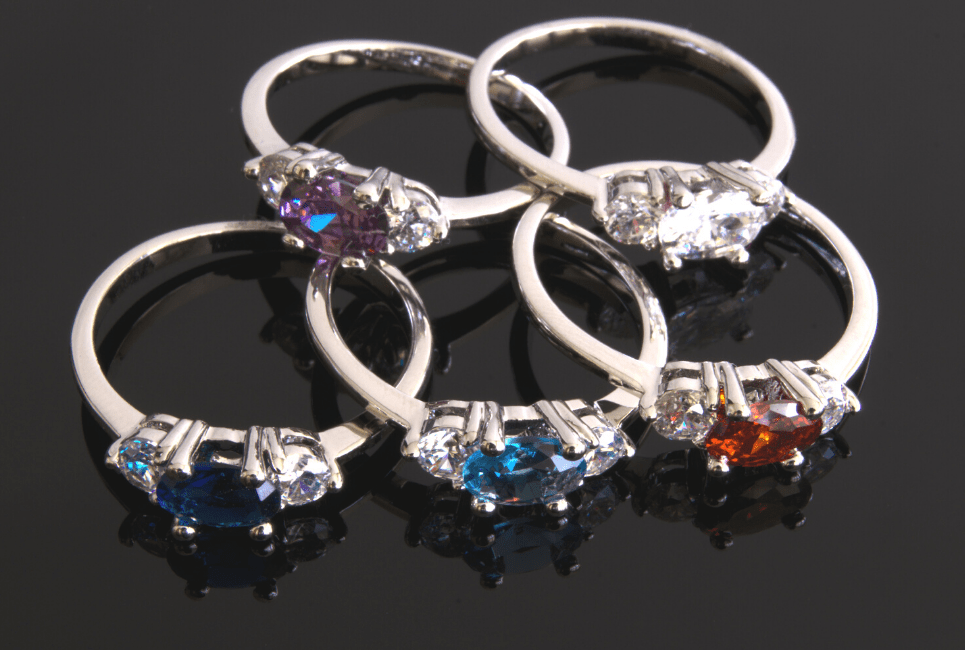 Birthstone rings are great birthday gifts for a friend or family member. Interestingly. Birthstone rings are increasingly popular– but not just as birthday rings, but even as a diamond alternative for modern brides.
When used for engagement rings, they do not always correspond with one's birth date, though this is obviously the original attention: a stone that reflects the month you or a loved one was born.
While there are some variations, the general birthstones by month are as follows: Garnet for January; Amethyst for February; Aquamarine for March; Diamond for April; Emerald for May; Alexandrite or Pearl for June; Ruby for July; Peridot for August; Sapphire for September; Pink Tourmaline or Opal for October; Topaz for November, and Blue Topaz or Tanzanite for December.
How to Wear
You can wear a birthstone ring anywhere you like, though the right hand is most common. If you have an engagement ring, I recommend wearing it far enough away so that they don't compete.
How to Buy
For a birthstone ring, make sure you understand what you're buying, and the care involved. Before you buy, check to see if a stimulant, natural gemstone, or lab-grown gemstone is being sold.
For lab-grown and natural gemstones, there should be some information about the 4 c's as well as an official report from the AGS or GIA. If you're concerned about durability, aim for platinum or bands of 14k gold or greater. Play a bit with color: you'd be surprised how much variety there is for one gemstone.
Where to Buy
A ring doesn't need to be specifically labeled as a birthstone ring to work as one–if you feel like your options are limited, search instead for rings featuring that month's gemstone. That said, if you do want to shop a collection, I recommend Angara birthstone rings, for their beautiful designs and high quality.
Bubble Rings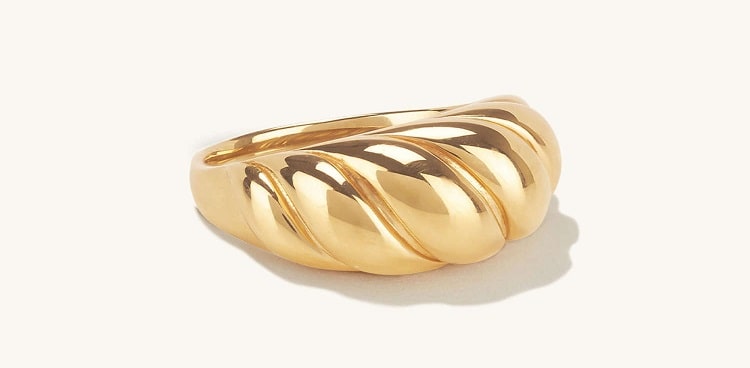 Bubble rings are the most casual ring type on this list– and certainly not for everyone. Clunky and modern, these rings tend to not be very expensive and have a futuristic look, with a band that's thickest at the top and curves inward.
Bubble rings can come in almost any materials and any hue, and are meant as fun, bold additions for pretty much any casual wear. Taking a step away from minimalism, which has been popular more recently, bubble rings bring back a trend that was popular in the 90's. They are sometimes also referred to as dome rings.
How to Wear
If any ring has next to no rules attached to it, it's a casual ring like a bubble ring. Bubble rings can be worn on any finger, and are popularly worn with many bubbles rings of different hues at a time. The more the merrier–feel free to express yourself in any way you like with bubble rings– and don't worry too much about durability as they are meant to generally be inexpensive.
How & Where to Buy
You can find bubble rings from wholesale retailers like Amazon, but if you want a more upscale option in a precious metal, check out this Alexis Bittar oblong bubble ring or gold Mejri ring. You can also shop bubble rings on Etsy for bright and playful hues.
Cocktail Rings
In between the casual style of bubble rings and the formality of an engagement ring, cocktail rings are designed to be worn at parties and other occasions that call from semi formal to formal attire, and can range in style and price just as much as engagement rings.
However, some even wear cocktail rings on a daily basis, especially less ostentatious styles. Cocktail rings may either be gemstone based or diamond cocktail rings and are the perfect way to glam up an outfit.
How to Wear
Cocktail rings are another type of ring that don't have a strict way to wear them, but traditionally, they are worn on a middle finger. The idea is to accessorize a formal outfit and add normally a splash of color or sparkle.
How to Buy
For cocktail rings, you'll be spending a little more, so make sure you're buying from a reputable seller. If you only plan to wear for an occasion here or there, you can opt for a slightly more affordable metal to cut costs. Don't be afraid to go bald and big– cocktail rings are also known as statement rings for a reason. Bright hues and unique designs added interesting appeal.
Where to Buy
You can buy cocktail rings from nearly anywhere, but I recommend opting for a fine jewelers who also specializes in engagement rings. You don't have to go expensive for a cocktail ring, so do what fits your budget, but some of my favorite options include these gorgeous, multicolored Blue Nile cocktail rings which range from colorful to classic, as well as statement cocktail rings from Zales, which even include some floral-inspired looks.
Engagement Rings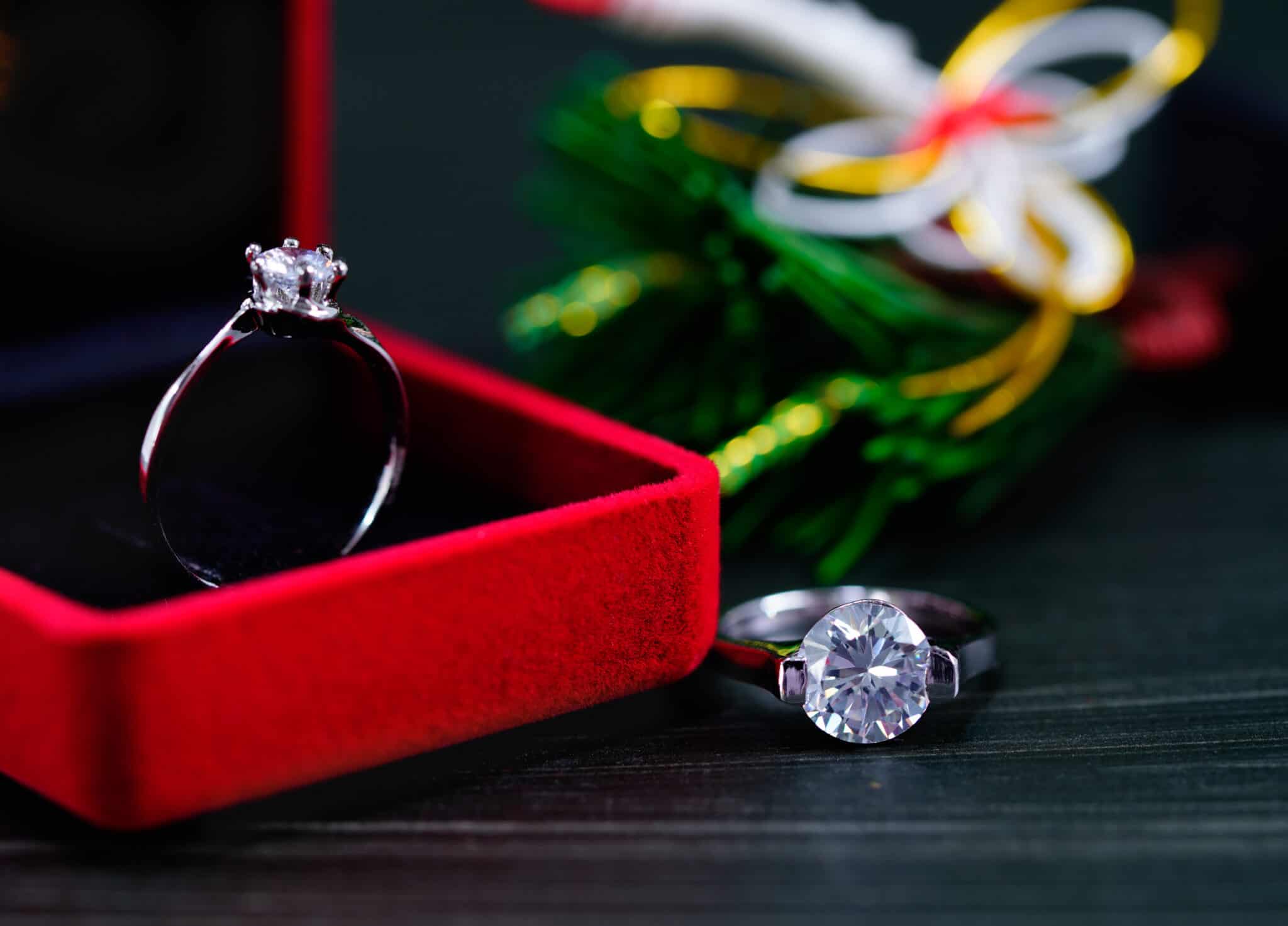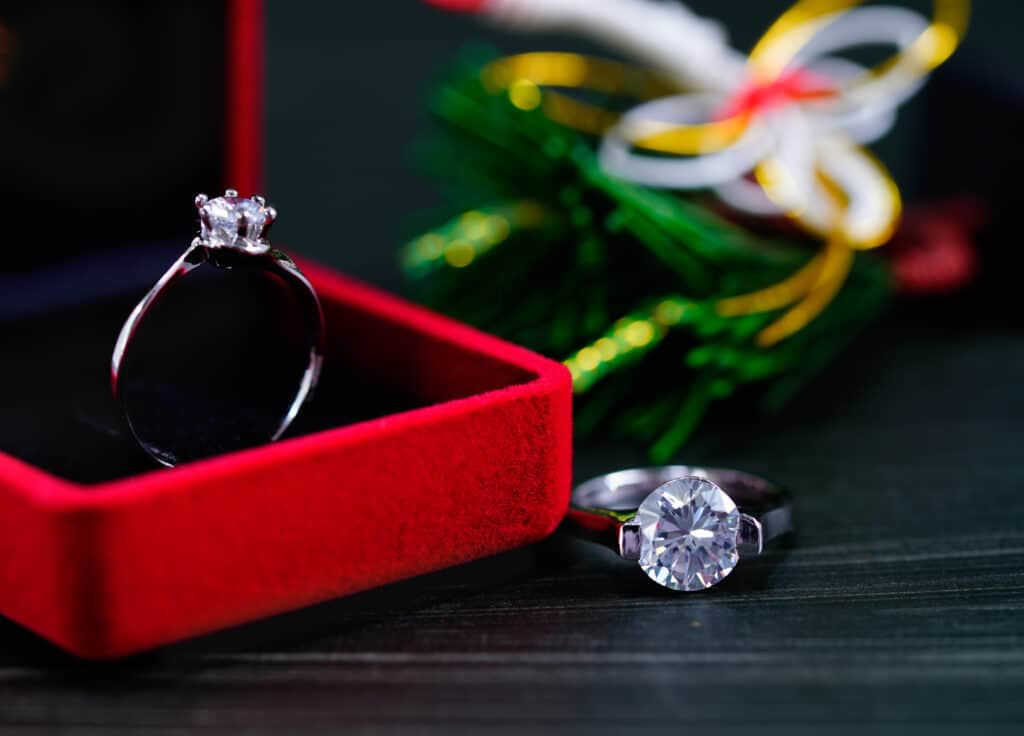 This type of ring doesn't need much introduction, but I do want to add a few comments. While it's been tradition to give a woman an engagement ring, same sex couples, and shifting and more freeing roles mean that there's no reason why both couples can't have an engagement ring, or a man have one.
Also, while diamond engagement rings are undeniably classic, there are so many alternatives, from gemstones to even wooden engagement rings.
How to Buy
Engagement rings are in about every style you can imagine: check out our guides for floral style engagement rings, nature inspired engagement rings, vintage engagement rings, and tips for finding men's engagement rings. I recommend starting by setting a budget: gone are the days where you're "required" to spend three month's salary.
In fact, I recommend setting a lower budget and leaving room for wedding planning and other expenses. Once you set a budget, decide on traditional, vintage, or modern styles. From there, decide on your setting: gemstone or diamond, or something like an eternity ring, with accents.
Finally, select a retailer that is respected in the industry and has a great history of customer service. Be sure to check all our reviews out to decide what is best for you. Here's our complete list of the best pre engagement ring ideas.
Where to Buy
It's more like where not to buy: from diamond simulant companies to diamond retailers, it's more difficult to narrow it down. That said, for overall excellence, customer satisfaction, beauty and sourcing, some of my favorite collections are from Blue Nile, Ritani, Brilliant Earth, and James Allen.
Friendship/ Best Friend Rings/ Promise Rings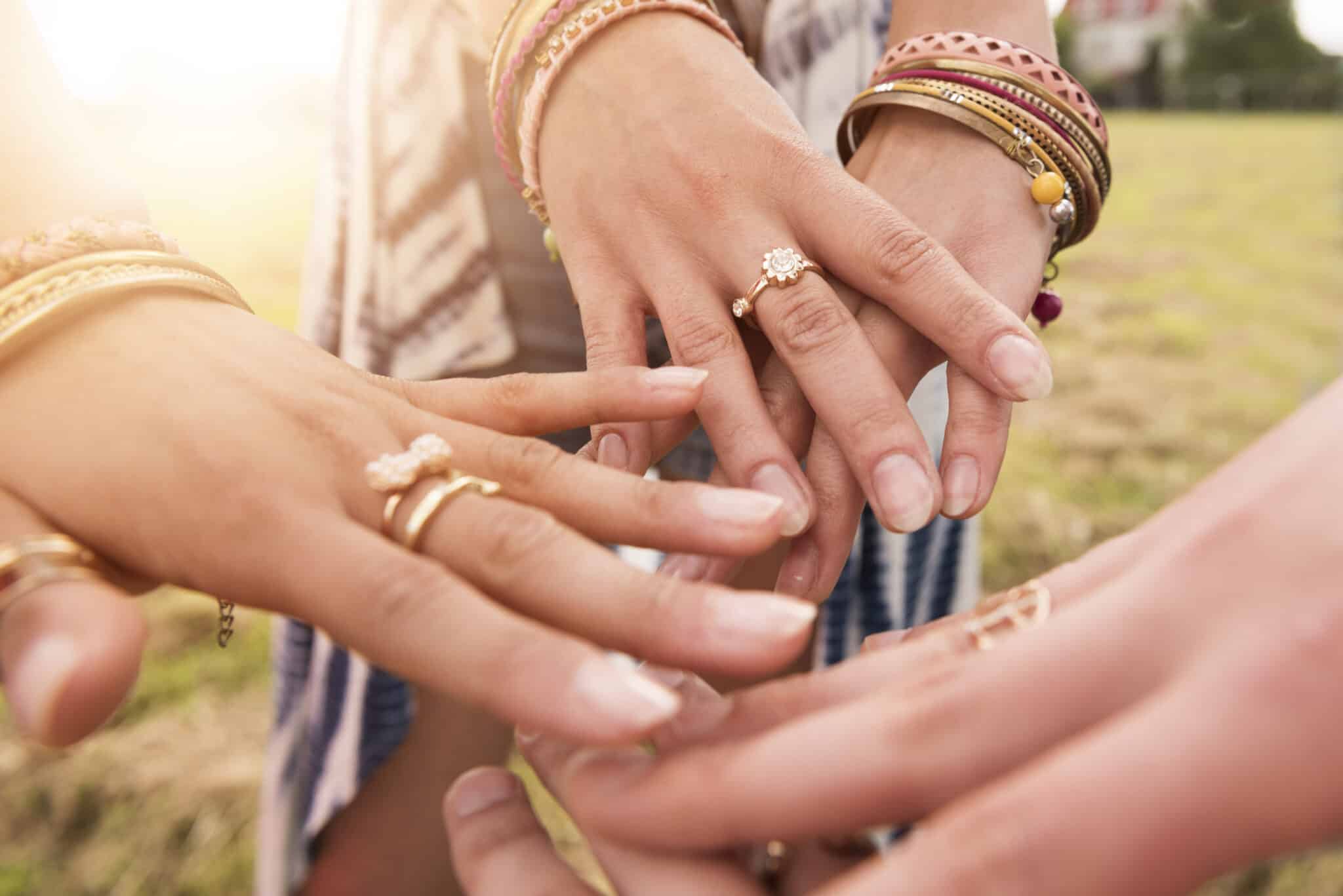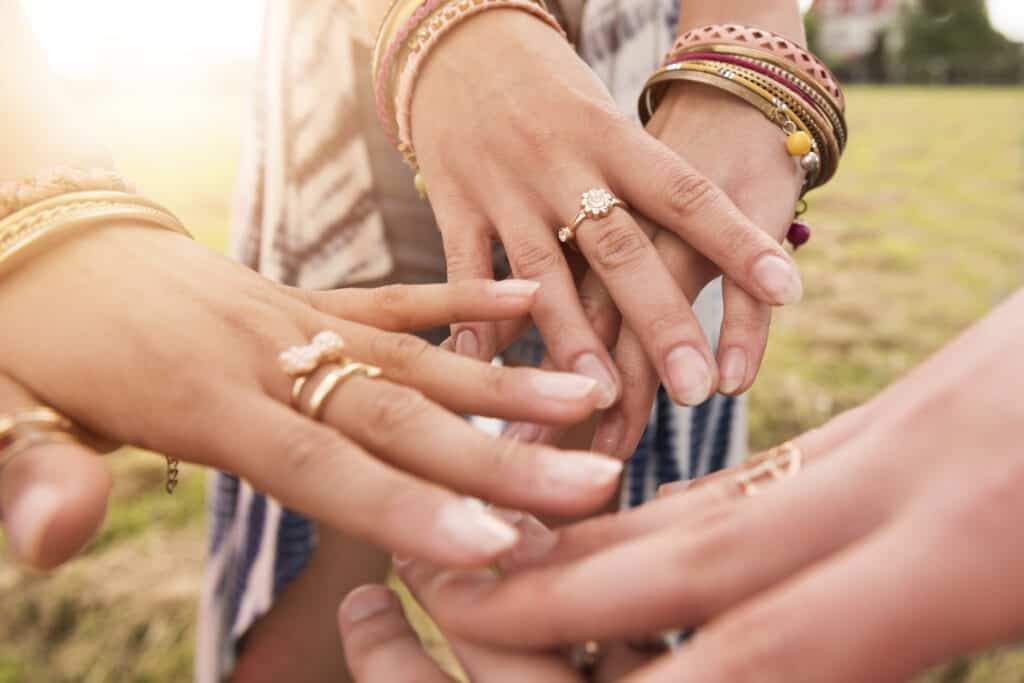 Friendship rings have become more common in recent years, though many are still discovering the trend. Meant to be given as a gift for a dear friend, most friendship rings, aside from woven ones, are actually diamond best friend rings.
That's likely because diamonds symbolize a strong bond– which can also be applied to the long lived nature of a close friendship. This is also a special gift to give perhaps a maid of honor– but can be tricky if you also have bridesmaids. It's best to give only a dear friend, someone who has done something for you or been there for you in ways others have not.
Promise rings of course are intended for a couple that plan to one day get engaged– but aren't ready yet. They've declined in popularity and are more common amongst religious couples.
How to Buy
You can actually find best friend rings by looking up 'promise rings.' Though different in meaning, best friend rings and promise rings are used interchangeably. Go for subtle but classic.
Styles include heart shapes, interlocking hearts, engraving, and Claddagh rings. Don't worry too much about carat size, and focus more on a unique style. Subdued is also preferred so they can wear their ring with almost anything. Check out these Morganite rings for more ideas.
Where to Buy
Zales promise rings are a great mix of classic rings with a good range or price points and styles. On a tighter budget? Check out the Zales outlet collection.
Mood Rings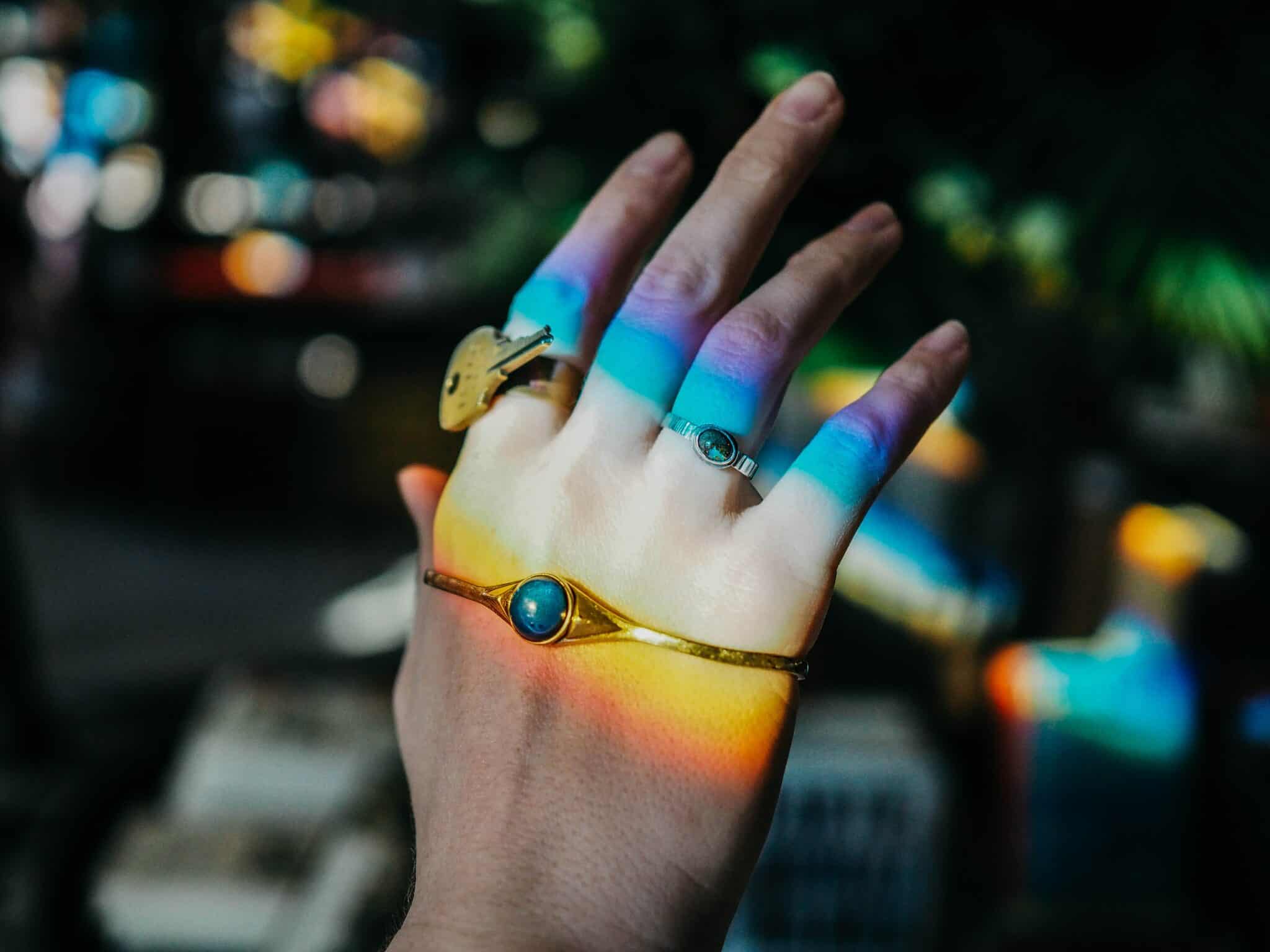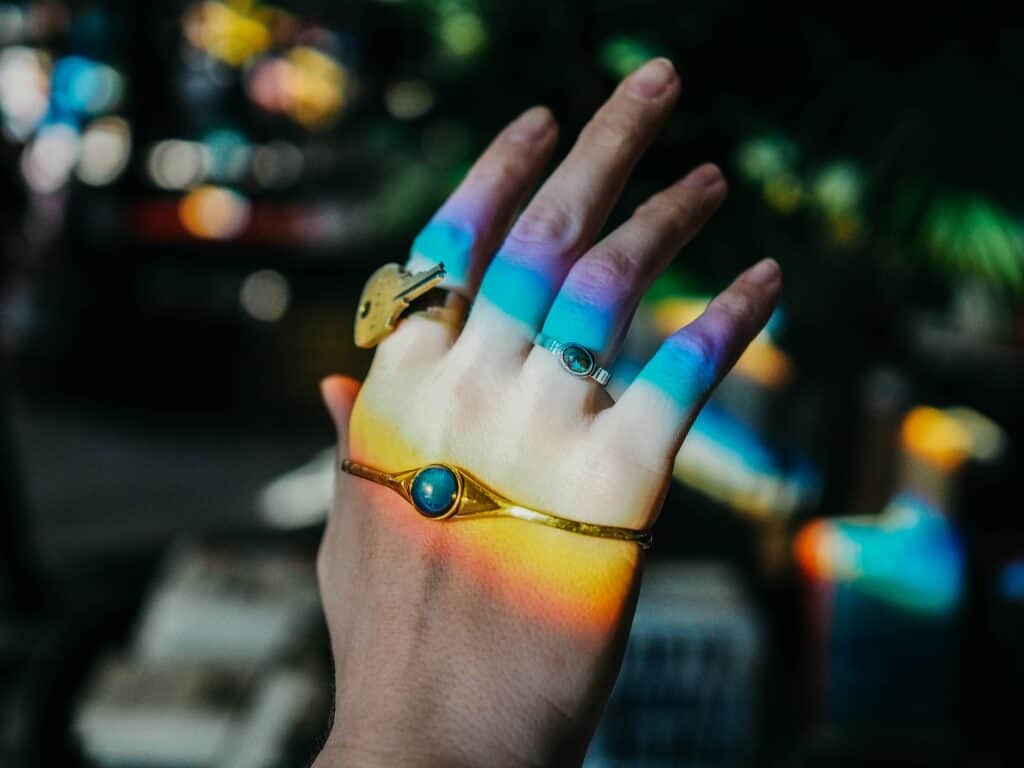 Mood rings are a type of ring that you've likely been familiar with for a long time– I myself have one. The idea behind them is that they change hue depending on your mental state– normally tense, happy, passionate, sad, pondering, or of some variation of those.
Many ask if mood rings actually work. They don't work by reading your mood, but rather changing based upon body temperature. Often quite inexpensive and not especially durable, mood rings are a fun gift for kids, but even as a whimsical gift for bridesmaids.
How to Buy
Mood rings are meant to be affordable and fun– the nice thing is, this is one ring I wouldn't recommend you stress over in terms of quality or how durable it is. Buy from a seller whose design pleases you and select the proper ring size and you're good to go.
Where to Buy
Fine jewelers don't tend to sell mood rings (though Blue Nile sells some). Instead, you can find them at wholesale retailers. But I prefer supporting independent sellers. Check out this Etsy mood ring collection to find something you like.
Wedding Rings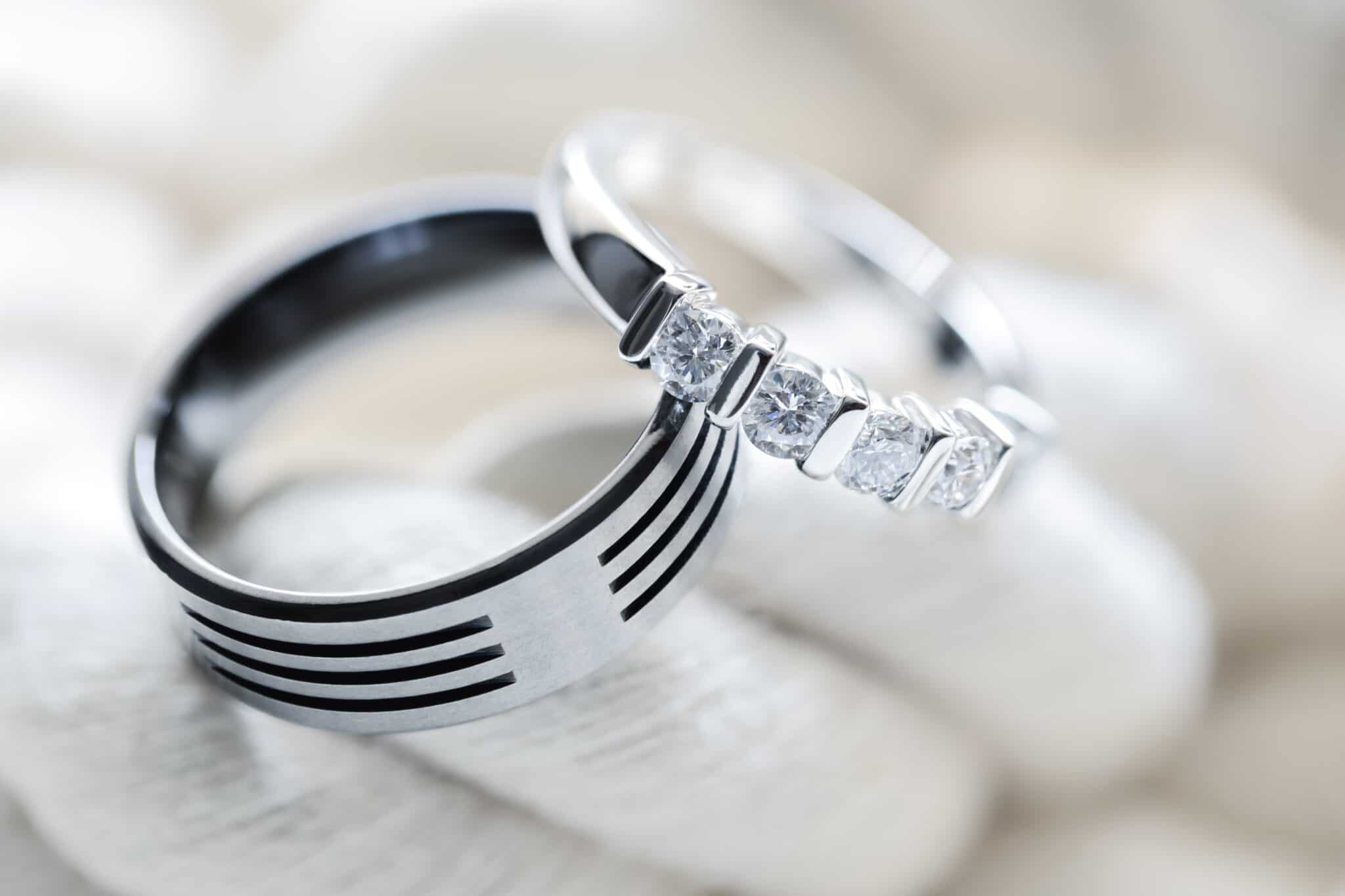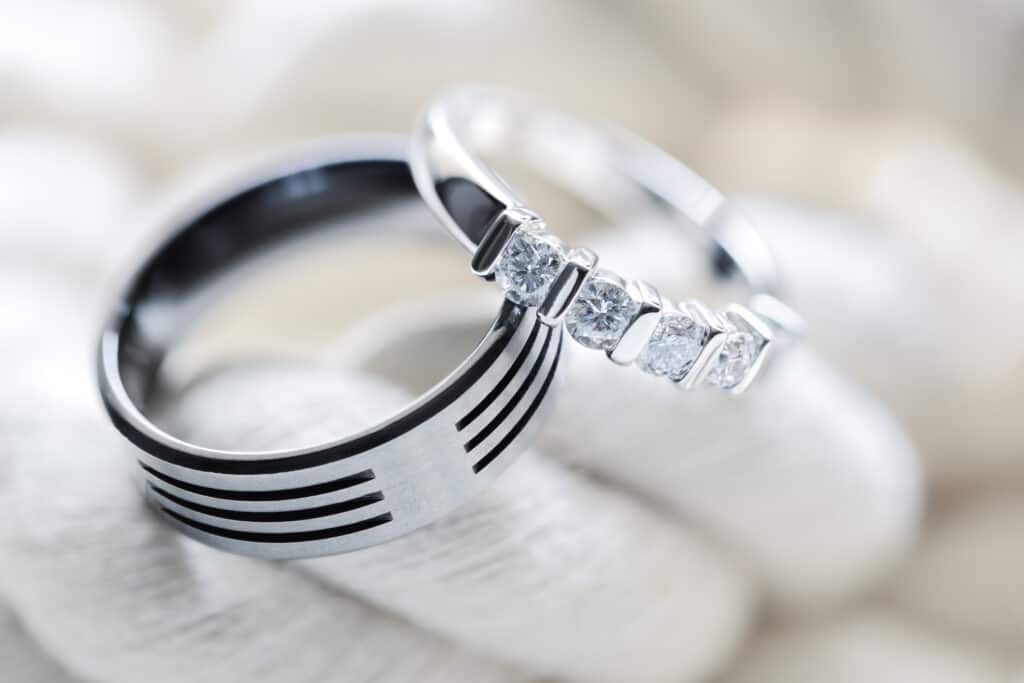 Of course, wedding rings need no introduction. As the most iconic type or ring, wedding rings have been traced back to the Ancient Egyptians, who saw rings as a sign of eternity.
However, it was when the Greeks, under Alexander the Great, conquered the Egyptians that the practice of exchanging rings with a lover started to become practiced.
Wedding rings are typically matching for the two partners and symbolize eternal love. Usually less glitzy than engagement rings, wedding rings are typically given during a ceremony. Here's our tops picks on the best Cartier ring ideas.
How to Buy
Start by narrowing down the general wedding ring style you're interested in. Do you want a solid metal band? Accents? Side stones? A center stone is less common, but not unheard of. Popular wedding ring styles include: solitaire, cluster, pave, halo, shank, and bezel.
Diamonds are the most common option, but you can go with a diamond alternative like moissanite. Decide on a modern or traditional style, metal type, and select your budget. For metal types, I recommend 14k gold (yellow, white or rose), or platinum. Avoid sterling silver, which does not hold up well for daily wear.
For someone who has a job in construction, manual labor of any kind, or works with strong chemicals or cleaning agents, I recommend also buying a silicone wedding ring for while at work.
Where to Buy
Wedding rings can be bought from just about everywhere, but here you want to make sure the focus is on durability. Even a plain band can look splendid. For precious metal wedding rings, consider all my suggestions above for engagement rings, as well as Cartier wedding rings, and, if you want a silicone wedding ring, Qalo wedding rings.
Frequently Asked Questions
Question: How many rings are there in a relationship?
Answer: There are a few rings to symbolize different stages of a relationship: best friend rings, promise rings, engagement rings, and wedding rings. Promise rings and best friend rings are technically the same, but one implies a romantic relationship and the other a close friendship.
Question: What do 3 rings symbolize?
Answer: 3 rings symbolize, or a tri stone ring style, represents a harmony of friendship, love, and fidelity. Such styled rings also indicate past, present and future– a life together.
Question: What is a Halo Style ring?
Answer: A halo-style ring consists of smaller pavé diamonds or gemstones surrounding a central stone. Halo rings are known for overall scintillation. Halo rings are still popular for traditional diamonds, though an interesting twist would be replacing a typical central diamond with a salt and pepper diamond.
Final Thoughts
There are countless ring types for nearly every occasion, and these range from casual to formal. Branch out and try something new and discover new styles. Already have an outfit planned? Check out our tips for the best jewelry for a black dress.
Further read: