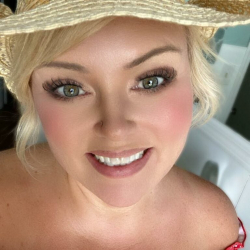 Latest posts by Kristen Swain
(see all)
Engaged to Be Engaged- Let's talk Pre-engagement Rings.
You and your partner are seriously discussing marriage and getting engaged. Let's talk pre-engagement rings and see what inspires you!
What does Pre-Engagement Mean?
Pre-engagement means that as a couple, you have decided to work towards a future together. That future involves an eventual marriage. This is a pledge that you both take of that commitment to one another. 
This commitment comes without a time constraint, on either the marriage or the engagement. It is simply a promise of fidelity and commitment to a long-term future of being together forever. 
The Difference Between a Promise Ring and a Pre-Engagement Ring
Pre-engagement rings and Promise rings are similar but different. Pre-engagement means that you have decided to commit to an eventual marriage. Promise rings are the promise of a long-term relationship that may not lead to marriage.
Both rings can be thought of as a start to eventually being replaced with an engagement ring. Whatever choice that you as a couple decides to label the ring is a personal choice. 
One idea could be that a couple could pledge the beginning of their love with a Promise ring, which could be replaced with a Pre-Engagement Ring and then on to the eventual Engagement Ring and Wedding Set. 
One difference between the two rings is that they can be worn on different fingers. The Promise ring should never be worn on the left-hand ring finger but it can be worn on pretty much any finger that you chose. Typically though, the Promise ring is worn on the right-hand ring finger.
The Pre-Engagement ring is worn on the left ring finger as a place-holder for the eventual Engagement ring. 
One reason the Pre-Engagement rings are often used is that time may be needed to save for an Engagement ring. The financial reason is why Pre- Engagement rings may be worn, agreeing to the commitment of eventual marriage.
Promise and Pre-Engagement rings are usually much less expensive than Engagement rings. An Engagement Ring would be thought to cost at least several thousand dollars and sport a large gemstone. However, a Pre-Engagement ring would typically cost only a few hundred dollars or even less.
History of Pre-Engagement Rings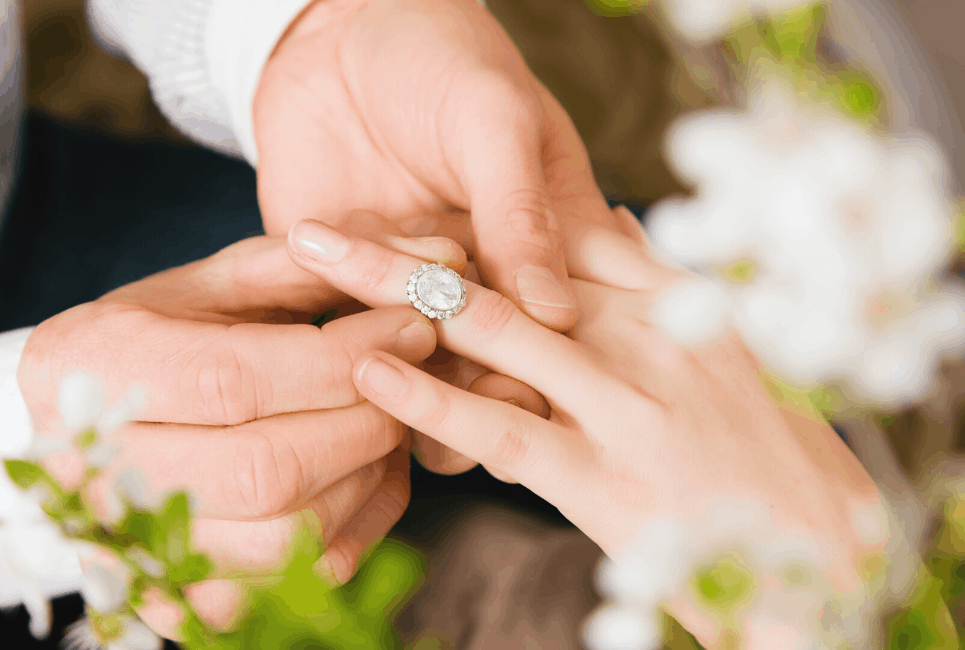 Since as far back as 15th Century England, Pre-Engagement rings have been popular. At that time, the rings were known as Posey rings and were engraved with poetry and decorated with gemstones.
When the Posey ring became less popular, the Acrostic ring became the newest Pre-Engagement ring. Made up of gemstones that represented a certain letter for each gem, they would spell out a word.
The word "DEAR" would be spelled out with diamond, emerald, amethyst, and ruby. This was considered a secret message from the giver to the wearer. 
The Promise ring came into fashion in the 1970s. At that time, it was popular for high school sweethearts to give a ring as a 'going steady' sign.
Choosing the Right Ring – What Should a Pre-Engagement Ring Feature?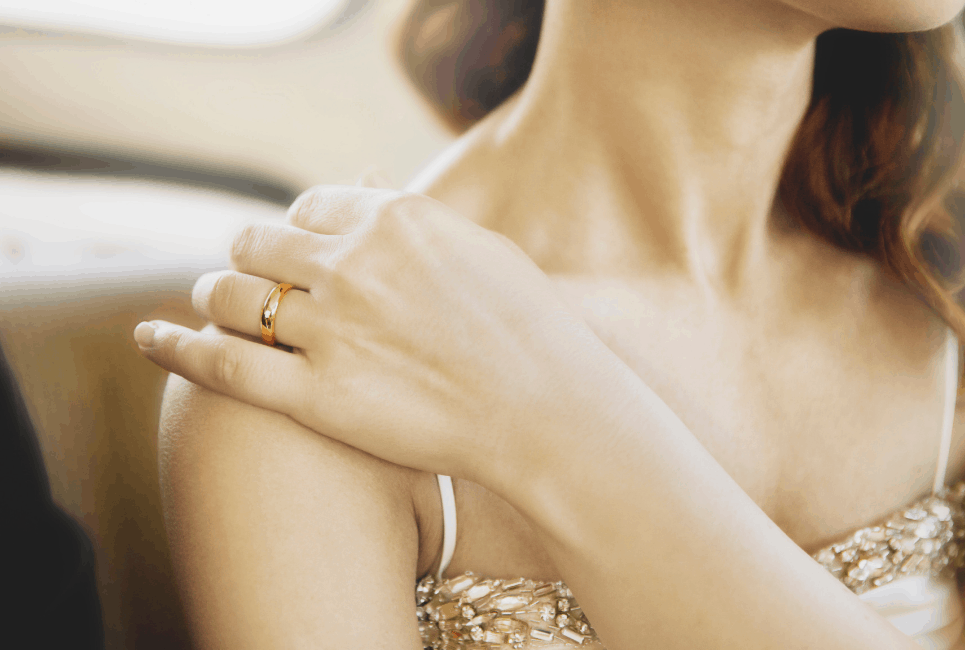 Depending on the intent, your choice will be Pre-engagement or the less promising Posey Ring; The intent is to give your significant other a gift to show your commitment to each other, that a monogamous relationship is your future plan.
A pre-engagement ring is almost endlessly open to style and size. It's as unique as you. However, a few standards will help you to decide the styling. Often the stones in a Pre-engagement ring are smaller; not the usual large single solitaire featured diamond.
Keeping the stone size below ¼ carat weight is best. Usually, the metal in a pre-engagement ring is not as high quality as one would purchase in an engagement ring. 
Birthstone rings are a beautiful idea for a pre-engagement ring. This would allow the wearer to still cluster the pre-engagement ring with the engagement ring without outshining the engagement ring. 
Also, a thicker band ring would be a beautiful way to engrave a poem or message, speaking words of love. Hidden from view inside the band or a sculpted ring with a single word or phrase might interest you.
Cluster or stackable rings make it easy to continue wearing the ring, creating a look with several rings. Easy to combine with the Wedding set if one chooses to continue wearing each ring that comes into the relationship.
Various Bands and Their Meaning
Promise Rings – More for the younger generation, most Promise rings are given in high school as a sign of 'going steady.'
Commitment Rings – A ring with on the timeline, a commitment ring can be to signal a couples' commitment to each other without the concept of marriage.
Pre- Engagement Rings – Pre-Engagement Rings signify a commitment to eventually get engaged and eventually marry.
Engagement Rings – A commitment to marry within a set time frame; engagement rings are the beginning of a marital relationship.
Wedding Bands-  The band given at the marriage ceremony to wear along with the engagement ring. 
Anniversary Bands-  Bands that signify special anniversaries, added along to a wedding set, but can be worn on the right hand as well.
Eternity Bands-  A particular style of band usually with stones that are the same size and shape that encircle the entire band; these are meant to show a commitment of marriage for life. 
Alternative Ring Ideas
What can you give instead of a pre-engagement ring? Here are a few his and her ideas that can replace the pre-engagement ring.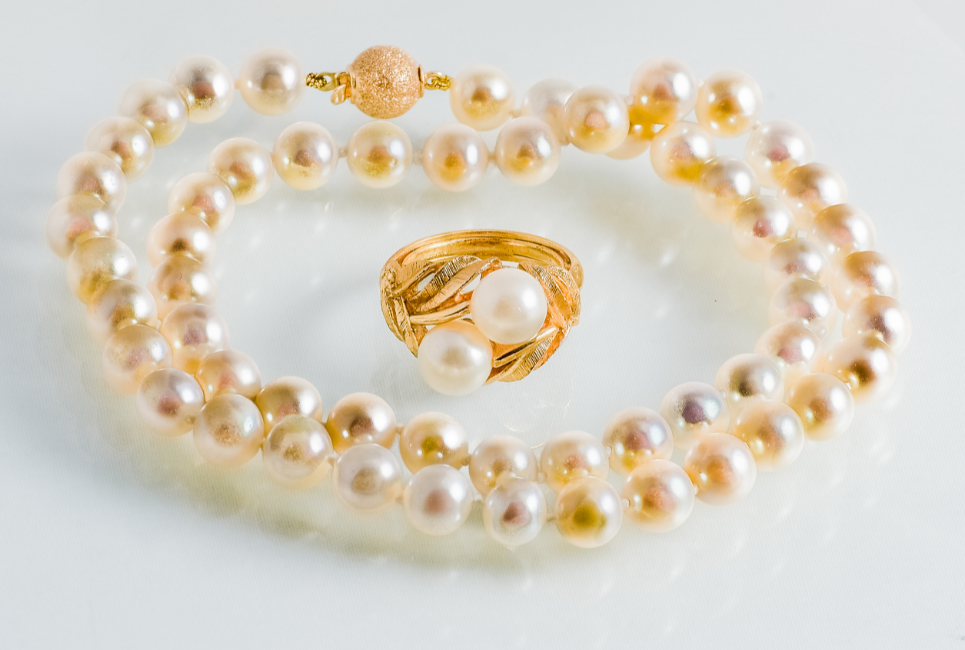 Matching necklaces, perhaps a set that nestles or interlocks when placed together.

Matching watches

Etched wine glasses

Engraved keychain

Engraved Bracelets
Top Ring Ideas
Here are three ring styles to consider for your Pre-Engagement ring.
Birthstone Rings
The Birthstone ring can be her birthstone or both of her birthstones combined onto the ring. Add in a namesake engraving for more personalization.
Solitaire Princess Cut Ring with Twisted Split Shank and Accents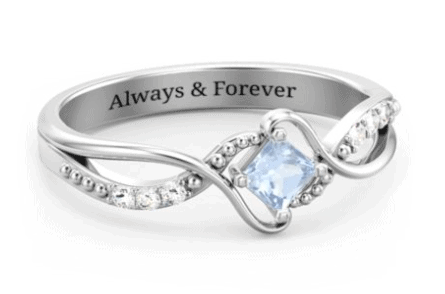 This white gold birthstone ring features cubic zirconia that could be changed to diamond for an extra cost. This sweet ring also features an Always & Forever engraving inside that is the perfect sweet touch for a couple. 
LaFonn December Birthstone Ring
Platinum-plated with simulated diamonds , this little gem of a ring is a tiny solitaire that has a small halo of diamonds around the birthstone. This is a very simple yet stunning ring that would look perfect as a middle finger ring. 
Color Stone Family Ring

Perfect to bring back the Acrostic Ring ; This style allows you to pick and choose up to five stones for a word acrostic ring. Just find the right word for you, and your secret word ring is a beautiful symbol of your loving relationship.
Lab-Created Opal Solitaire Ring Sterling Silver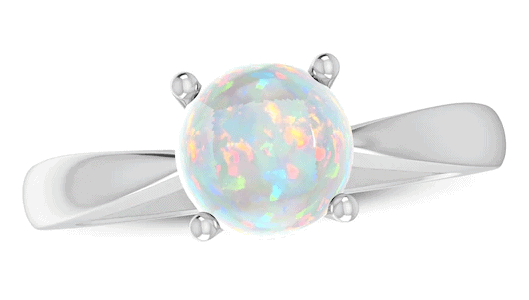 I love this simple ring. A single solitaire with a reverse wing-shaped band, holding your birthstone. A pretty ring by itself, or stackable. The silver band keeps it more affordable but durable.
Sterling Silver Engagement Ring Promise Ring For Her 2 Heart Birthstones 2 Names & 1 Engraving Customized & Personalized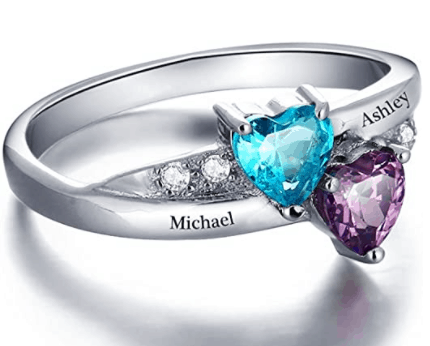 The two hearts clustered on this ring look like they are hugging each other. Perfect for a birthstone duo set with name engravings. Additionally, you can also record the inside of the ring with a word or short phrase. What a sweet ring for your sweetheart!
Love Jewelry Personalized Mothers Infinity Ring with Simulated Birthstones 2 Round Engagement Promise Rings for Women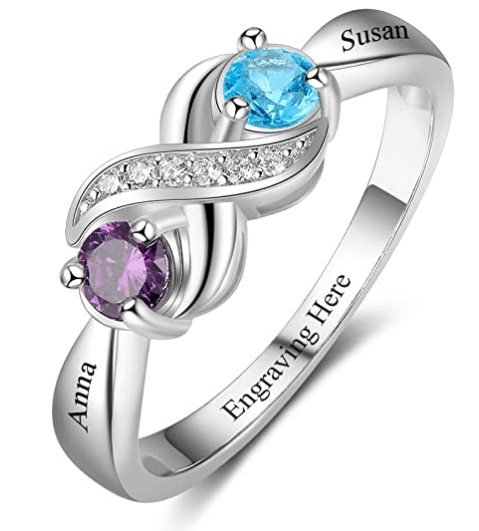 This ring features two birthstones in an infinity setting. The birthstones outlay the sides of the infinity symbol, and the part of the cross is the small row of diamonds in the center. Made of sterling silver, this ring can also be engraved with names, and the inside is available to engrave a date or short wording.
Stackable or Cluster
I love the idea of ​​stacking one of these rings behind the engagement ring and adding a matching wedding band on the other side of the solitaire so that you have an entire set.
Diamond Stackable Ring 1/8ct TW Round-cut 10K White Gold

The ring that is so sweet you might get a cavity! This darling little diamond bow is just so pretty. This perfect little ring will enhance any bridal set, and although it's not a birthstone ring, the ⅛ carat weight white gold ring will look good on any finger.  
Petite Twisted Vine Eternity Diamond Ring (1/5 ct. tw.)

Pave diamonds twist in ribbons around the vine-looking setting on this Rose Gold ring. This ring is more of an eternity-style band but would pair well in the future with a wedding set. Twisted craftsmanship combines with beauty in this ring.
JewelryPalace 14K Gold Plated 925 Sterling Silver Rings for Women, Cubic Zirconia Promise Rings for Her, Stackable Wedding Bands Rings for Women Infinity Forever Love Knot Stacking Ring

Another bow ring, this bow is a bit larger. The tied bow symbolizes a promise to be kept. The sterling silver will be sturdy enough for daily wear while being easy to clean and stay shining. The bow is accented with several cubic zirconia in an open weave pattern. A simply sweet ring to wear on any finger. 
Personalized
Whether through engraving or even having a shaped ring made, bring your love together with a special word or date to celebrate your relationship.
Fanery Sue Personalized Ring for Men Women Custom Engraved Name Promise Ring Wedding Band Valentines Mothers Gift

Here is a simple stainless steel ring with endless wording options. Create a short poem, add in your special date, or just simply go with names and create this most sentimental Pre-Engagement ring. This durable stainless steel and engraved design is sturdy and will be perfect for wearing daily. 
VNOX Customize Personalized 6MM/8MM Tungsten Carbide/Stainless Steel Simple Matte Brushed Finish Wedding Band Engagement Rings for Men Women, Size 5-14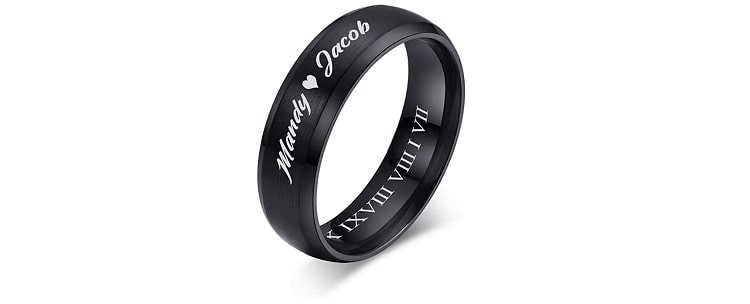 The various color choices available for this ring caught my eye . Go for a super bold look with black or blue steel. Customize with your names and special date.
Or keep it simple and stick with traditional jewelry coloring. Choose a font that has icons and add shapes to your engraving, as shown in the product photo. 
PERSONALIZED CUSTOM WORD RINGS – STERLING SILVER NAME RING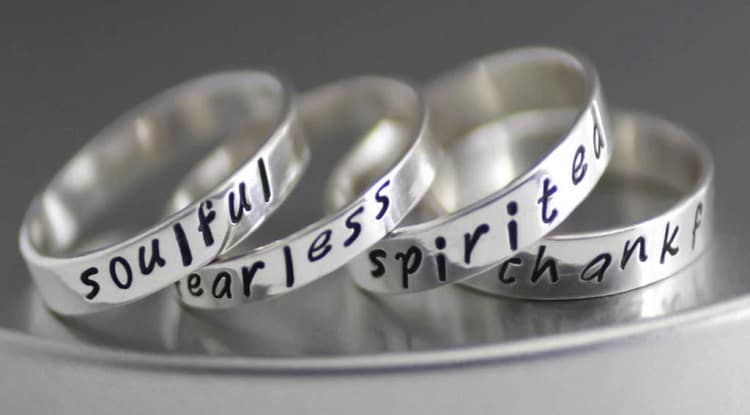 These cute little rings are perfect for a promise ring or a less formal pre-engagement ring. Be bold and choose a word that is meaningful to your relationship, or choose your beloved's name. These stamped little rings will stack well and look amazing with anything that glitters.
Custom Wedding Commitment Raised Letters Word Phrase Ring

Words float out of the darkness of the background of this ring. Although the ring is a little wider than a delicate Pre-Engagement ring might often be, the uniqueness of the personalization will be more meaningful.
Made with sterling silver but also available in 14k gold, this ring can be a poetic verse for your love.
FAQs
Question: How Long Should You Be in a Relationship Before You Get a Promise Ring?
Answer: A promise ring is a pre-engagement gift given in the pretext of continued commitment. Promise rings are usually given when a couple has been dating in the span of six months to a year. 
Question: Do You Kneel When Giving a Pre-Engagement Ring?
Answer: Although there is no need to kneel and make such a grand ceremony when giving the Promise or Pre-engagement ring, do make an effort to create a moment that will remain unforgettable. 
Question: How Serious is a Pre-Engagement Ring?
Answer: Any commitment should be marked with a seriousness of meaning regardless of society's feelings toward it. Although the Pre-engagement ring is not a marriage proposal, it is meant to be a heartfelt representation of a commitment of love. 
Question: What Was Given Before Engagement Rings?
Answer: Long ago in Ancient Rome, rings that were made of copper, iron, ivory, bone, and flint were given to women to show love and mutual affection. Sometimes it was also to signify a business contract with a woman.
 
Question: Are Solitaire Pre-engagement Rings Boring?
Answer: Any kinds of engagement ring are never boring; however, make sure that your pre-engagement ring doesn't outshine your eventual engagement ring. 
Solitaires are classic and stunning, and no one can say a diamond is boring. 
Conclusion
If the burning question is, should I get a Pre-engagement ring? Then the answer is yes if it means something to you. That meaning should be equal to what you would be willing to spend. Do not buy a ring simply because it's thought of in society as the right thing to do.
However, if it makes you happy and the thought is what seems right to you, then, by all means, make the purchase, give it on a special night and enjoy the occasion.
I love the idea of ​​a ring with the couple's birthstones, either with a center stone of diamond to signify love or just the two stones, in a simple band. What a special ring to denote a relationship.
I would absolutely choose a ring that pairs with an eventual wedding set so that the bands all work together into a stackable ring setting.