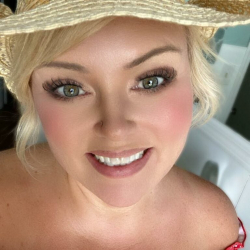 Latest posts by Kristen Swain
(see all)
Have you decided that a big, bold, and glamorous diamond ring is your next jewelry purchase? Learn about diamonds and choose the best Three Carat Diamond Ring for you. 
| Product Image | Primary Rating / Price | Primary Button |
| --- | --- | --- |
| | | |
| | | |
| | | |
| | | |
| | | |
08/03/2023 10:45 am GMT

All About Diamonds
We have all heard some information about Diamonds. Diamonds are pure carbon and were created hundreds of miles under the earth by heat and pressure to become one of the most valuable minerals on the planet. 
Diamonds are the hardest mineral on earth. It takes diamonds to cut diamonds. That's right; only diamonds are hard enough of a mineral to cut through other diamonds. Diamonds are a ten on the MOH scale of mineral hardness, a diamond being the only mineral that is a ten on this scale.
 Mining for industrial diamonds is much bigger than diamond mining for jewelry. Roughly eighty percent of the diamonds mined in the world every year are for industrial use. In Russia, the largest diamond mine is owned by the Alrosa Group and mines roughly a third of the overall diamond production in the world every year. However, in Botswana, The DeBeers Group mines the world's richest diamond mine and mines about twelve million carats of jewelry quality diamonds per year.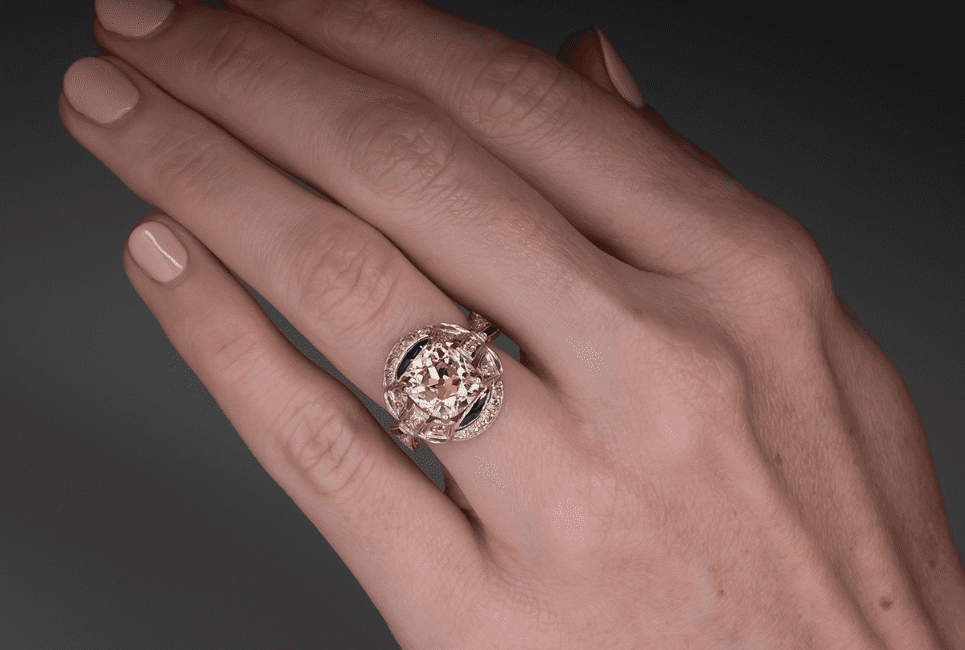 Diamonds are a girl's best friend, and Diamonds are forever. Diamonds are the best gemstone for most people. The Diamond industry marketed Diamonds well and did create a great market for Diamond Engagement Rings and Wedding Rings. A Diamond in a ring will withstand almost all of the bumps and knocks that a daily worn ring might endure. Diamonds don't need to be recut or repolished to continue to sparkle as bright as the day they were polished. This is why the term Diamonds are forever is applicable, as well as suggesting that when given a Diamond ring, a marriage will then also last forever. 
Diamonds are millions of years old. Carbon lay underground, and a combination of super high heat and pressure from billions of pounds of earth and rock above it combined to create diamonds. These diamonds were formed millions of years ago, and it took volcanic eruptions to move the diamonds from thousands of feet below the earth's surface to close enough to the top to be found and mined. It's pretty stunning to think that all of that had to happen in a perfect balance, including the luck of the mining company to find it, to become the diamond on your hand. 
All about Lab Created Diamonds
Lab-created has gotten a bad name because simply, lab-created isn't as valued as much as natural diamonds. The term synthetic has been used in reference to lab-created diamonds, implying that they are fake diamonds and not real. These are real diamonds; there is no difference in the chemical structure; the difference is in where they were created. 
Lab-created diamonds are seeded with real diamonds, very small ones, then put into a chamber, and the same conditions that created diamonds in the earth are then put into the chamber. It takes only a matter of a few weeks to create Diamonds that are equally brilliant and with the same fire as a natural Diamond.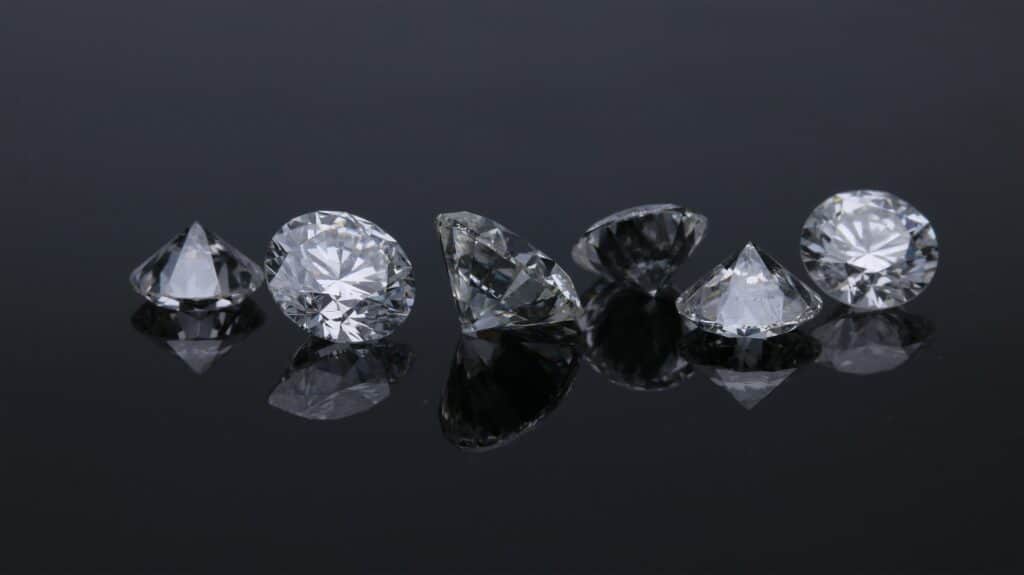 There are some positives about owning lab-created diamonds over natural diamonds. Lab-created diamonds do not have the ecological impact as mining for natural diamonds does. For every jewelry quality, a one-carat diamond that is mined, approximately 100 square feet of land is disturbed, and over six thousand pounds of mineral waste is created. Lab-created diamonds don't have the natural flaws or inclusions as a mined diamond would. High-quality lab-created diamonds are now currently at about twenty-five to fifty percent of the cost of a natural diamond. The resale value of 
The only difference between lab-created and natural diamonds is that natural diamonds have little nitrogen in their chemical makeup. A jeweler would only be able to tell the difference with highly specialized equipment and would have to look at the inclusions in the gemstones in order to tell the difference between lab-created and natural diamonds. 
All About Colored Diamonds
Diamonds come in every color of the rainbow including, black, white, and grey. Diamonds that have a coloration that is beyond clear to very light yellow or brown fall in a range called Fancy. Fancy Diamonds are any bright coloration that is not the typical clear color that is so valued in a diamond. 
Some colored diamonds are exceptionally rare, so their value is high, especially when compared to a smaller clear diamond. The rarest Diamonds are red and blue colored. The most famous blue diamond in the world is the Hope Diamond, a forty-five and a half-carat diamond that has a broad and unusual history. 
Colored diamonds are rare; only one in every ten thousand diamonds is a fancy colored diamond. However, because the demand for them is so high, lab-created colored diamonds are available.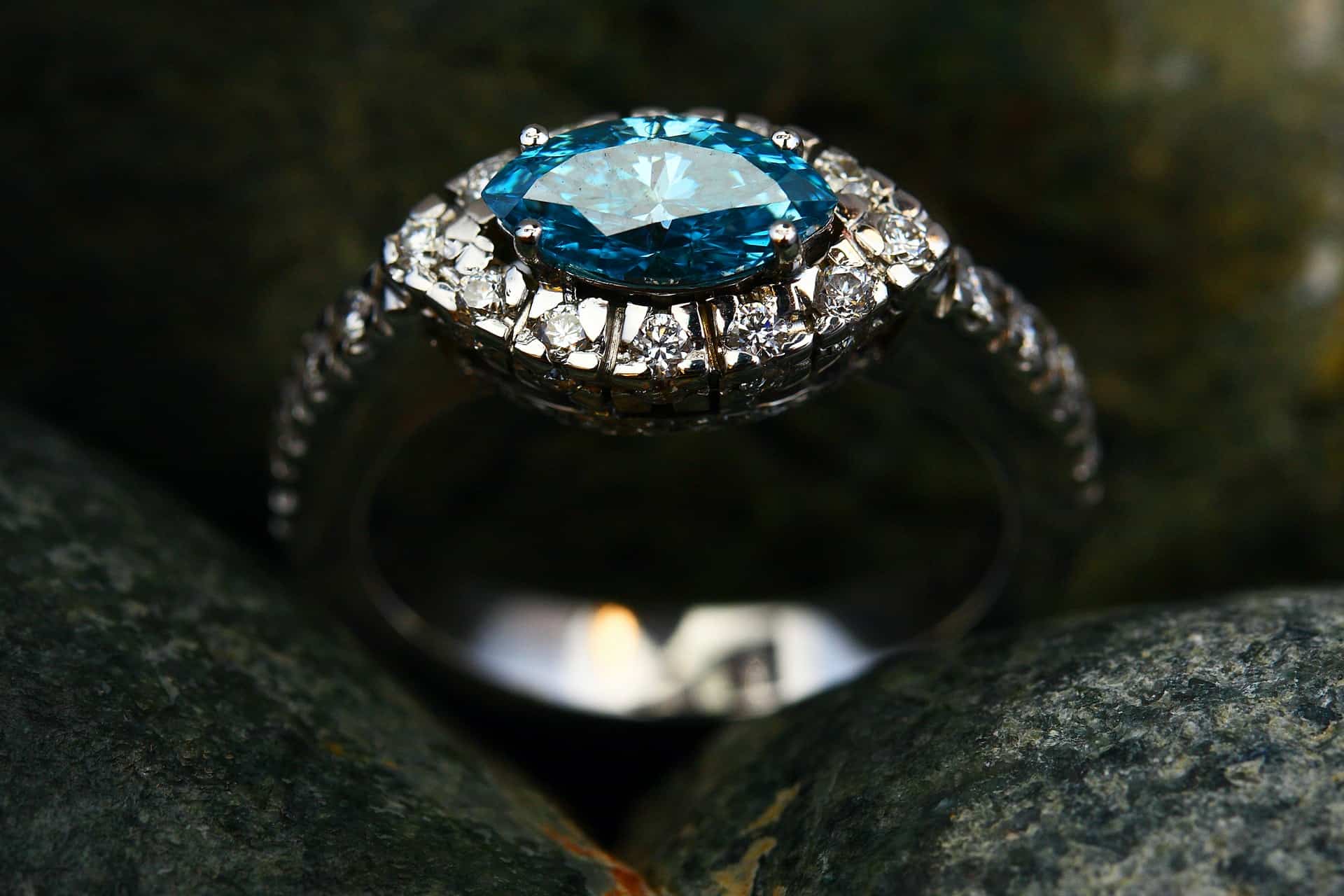 Occasionally the coloration of a diamond isn't pleasing and doesn't make the prettiest gemstone. When a stone isn't colored in the best manner, it can be irradiated to become a better color. So a brown or yellow dissatisfactory color can turn into a black, blue, green, or bright yellow color.
Sometimes the less in-demand colors of diamonds come with a lower price point. Colors such as black, salt & pepper, grey and brown aren't as popular, and there is an abundance of these colors, so the cost of them can be quite low. Black and Salt & Pepper diamonds have so many inclusions that they are low in refraction; they do not sparkle as many diamonds do, so their price can be very low. 
Sometimes treated diamonds and lab-created diamonds are around the same price, simply because the value is set by rarity. A natural diamond without treatment in a fancy color could be much more expensive, but a treated diamond is valued at much less; it can cost about the same as a lab-created diamond. 
Alternatives to Diamonds
Moissanites- Moissanites are all lab-created; this beautiful gemstone is actually a brighter stone than diamonds. The sparkling Moissanite also has fire similar to a diamond and is fast becoming one of the most popular alternatives to diamond. With a 9.25 MOH scale hardness, the Moissanite is perfect for daily wear. In comparison to a Diamond and Lab-Created diamond, a Moissanite is by far less expensive than either diamond. 
White Topaz- This colorless Topaz is the purest form of the mineral. White Topaz is a good, inexpensive alternative to diamond and has become a popular stone in engagement rings. White Topaz is not as hard as a diamond and does need some maintenance, including polishing and shaping when the stone begins to dull. 
White Sapphire- White Sapphire is the most popular alternative to diamond in engagement rings at the moment. White Sapphire is a colorless Corundum mineral. White Sapphire is rare; most White Sapphire has been irradiated to have less color than its natural state. Treated gemstones are always valued at less than naturally colored stones, even if they are treated to lose coloration and add clarity. 
White Quartz- White Quartz is less likely to be a quality alternative to diamonds, although one form, the Herkimer Diamond, is prized for its clear quality, although it does not sparkle as much as many other diamond alternatives. Quartz is a softer mineral and isn't recommended for daily wear as much as other diamond alternatives.
The Best Diamond Rings
These diamond rings are the best rings for cost comparison, style, availability, and value. 
Three Carat Natural Diamond Solitaires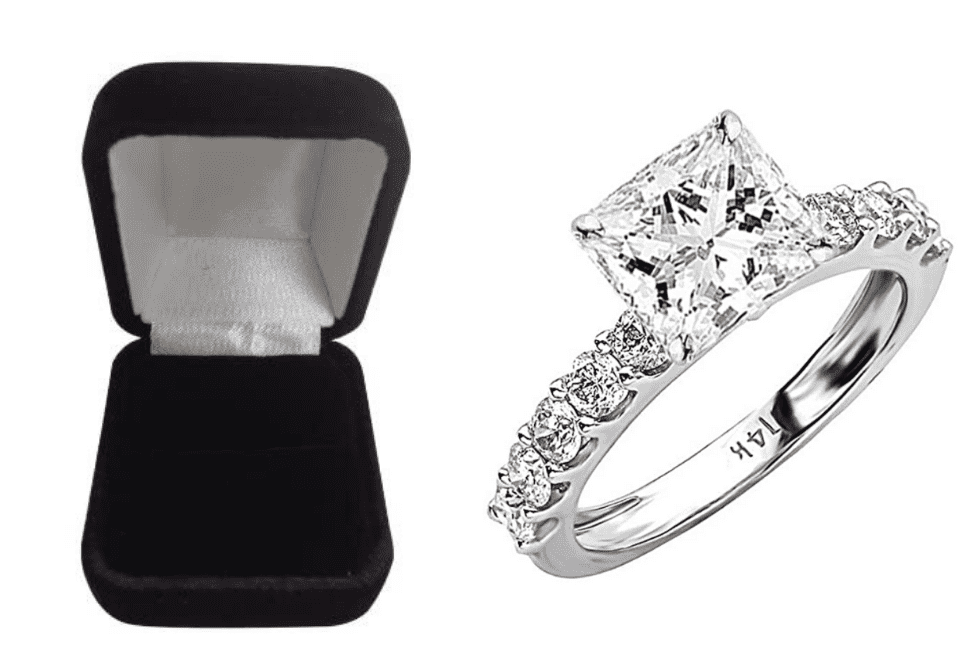 This platinum setting three-carat Princess Cut solitaire features a stunning three-carat square-shaped Princess cut solitaire. The natural diamond is then accented with an additional one carat of Brilliant-cut round diamonds on both shoulders of the setting. The almost thirty thousand dollar price tag guarantees this ring to be a magnificent investment. The clarity of the stone is almost perfect quality, and this brings the value of the stone up quite a lot. The sparkle of this ring would be outrageous; what a beautiful and valuable piece.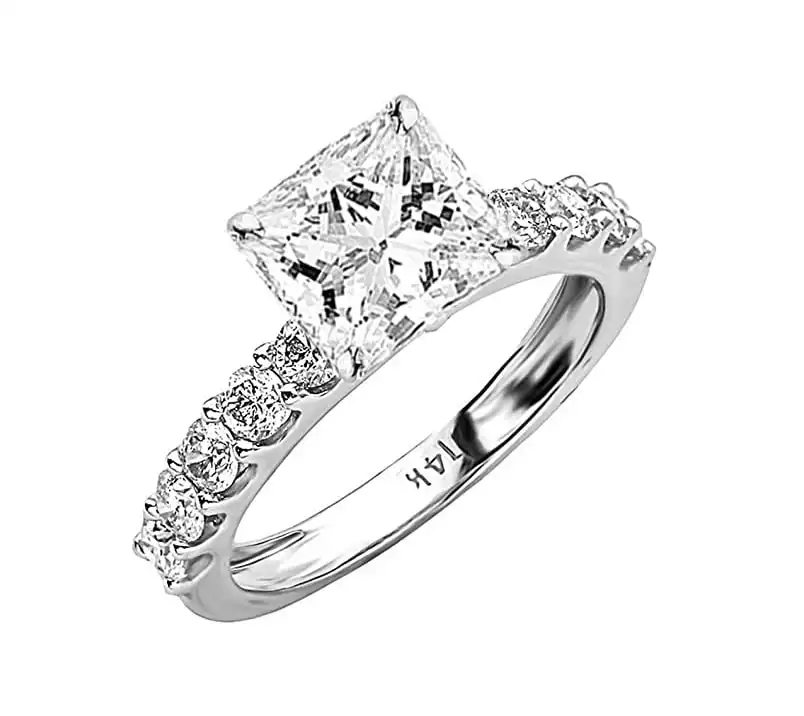 Houston Diamond District | Amazon
4 carat 14K white gold classic side stone prong set GIA certified princess cut diamond engagement ring (3 Ct H Color VS2 Clarity Center Stone).
Buy at Amazon
We earn a commission if you make a purchase, at no additional cost to you.
08/03/2023 10:45 am GMT

3.25 Carat J-SI2 Cushion Cut Diamond Pavé Halo Diamond Engagement Ring (Cushion Emerald, Radiant)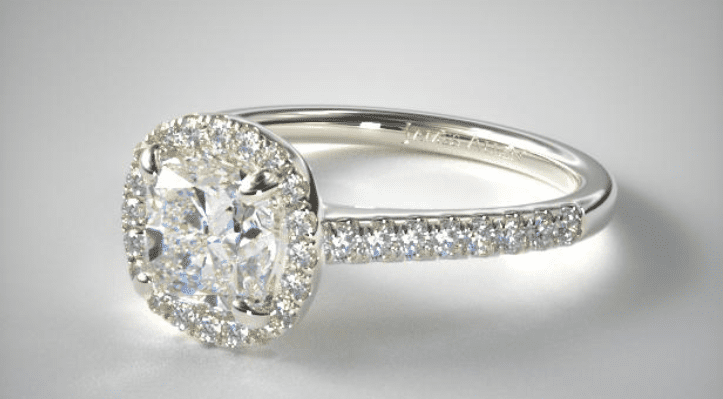 This ring caught my eye because of the amazing fire displayed in the diamonds. Rainbow flashes can be hard to photograph, so I can only assume the fire in these diamonds is brilliant and bright. This three-carat ring has a large cushion-cut center stone, surrounded by a pave diamond halo. The shoulders of the setting are pave diamonds embedded into the platinum ring. The center stone is just over three carats, and the additional pave diamonds are about a quarter carat total weight in additional diamonds. The cushion-cut allows the multiple facets to show off the amazing sparkle in the best lighting conditions. 
Multiple Stone Three Carat Natural Diamond Rings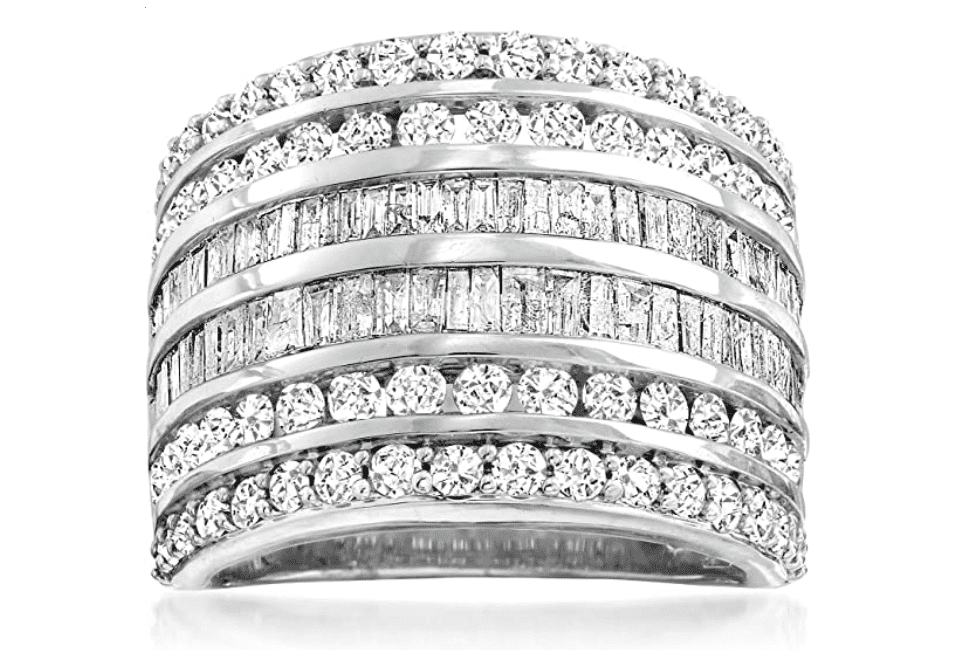 There are so many beautiful, small, sparkling diamonds in this thick statement ring; the glitter of this ring would be amazing to see. Six rows of small round and baguette-cut diamonds have thousands of facets to catch the light. This half an inch plus ring is still small enough to layer with additional rings if you really want to have a sparkling hand. Three carats of diamonds for less than a thousand dollars! This really is a great budget ring. It would make a wonderful anniversary ring or stunning wedding ring. Layer with a large solitaire to have an amazing large wedding set.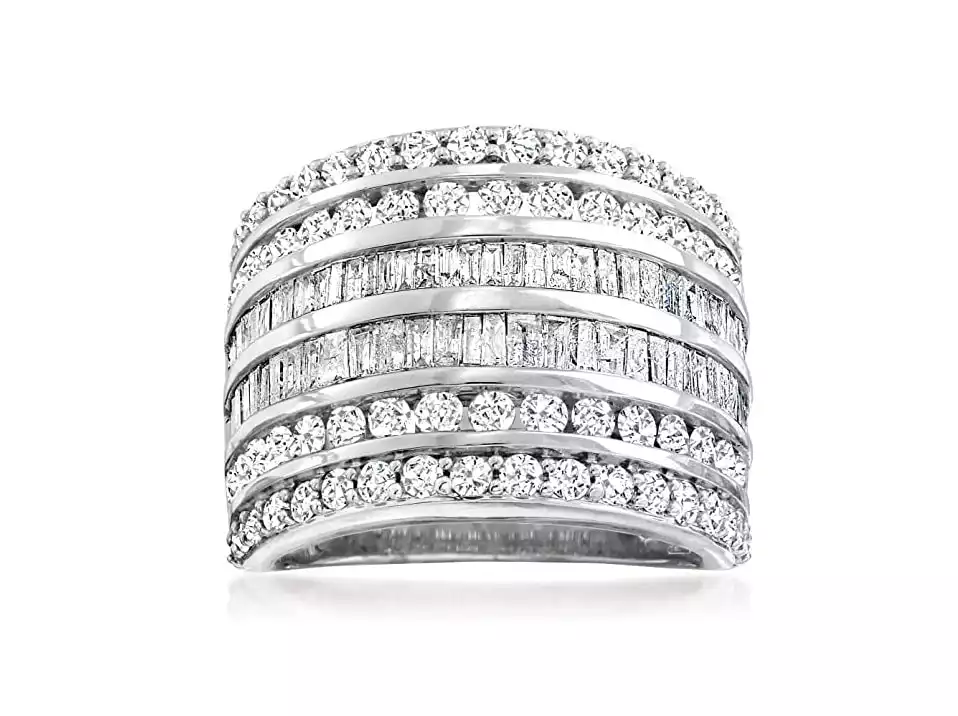 Halo with halo with halo is how I would describe this ring. The center stone is surrounded by three increasing halos that are set in diamonds. The first halo has diamonds similar in size to the center solitaire; then, the second and third are set with smaller accent diamonds. The shoulders of the band are set with even more glittering diamonds, with different-sized stones set along three rows on each side. This ring screams sparkle. The sterling silver setting allows the setting to melt into the background as it matches well with the color of the diamonds. This ring is on sale for about twenty-five hundred dollars which is a fantastic price for a ring that is just going to stand out on your hand.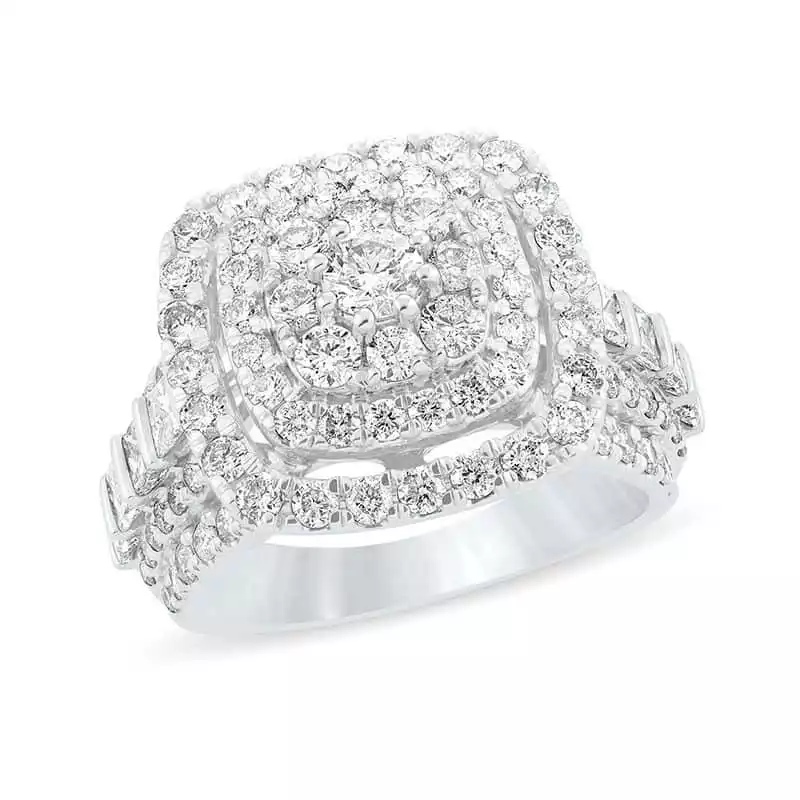 Diamond Triple Cushion Frame Multi-Row Engagement Ring | Zales
Ask for her hand with this exemplary diamond engagement ring. Crafted in cool 10K white gold, this dazzling design showcases a sparkling 1/5 ct. diamond wrapped in three stepped cushion-shaped halo frames of diamonds.
Check Price
We earn a commission if you make a purchase, at no additional cost to you.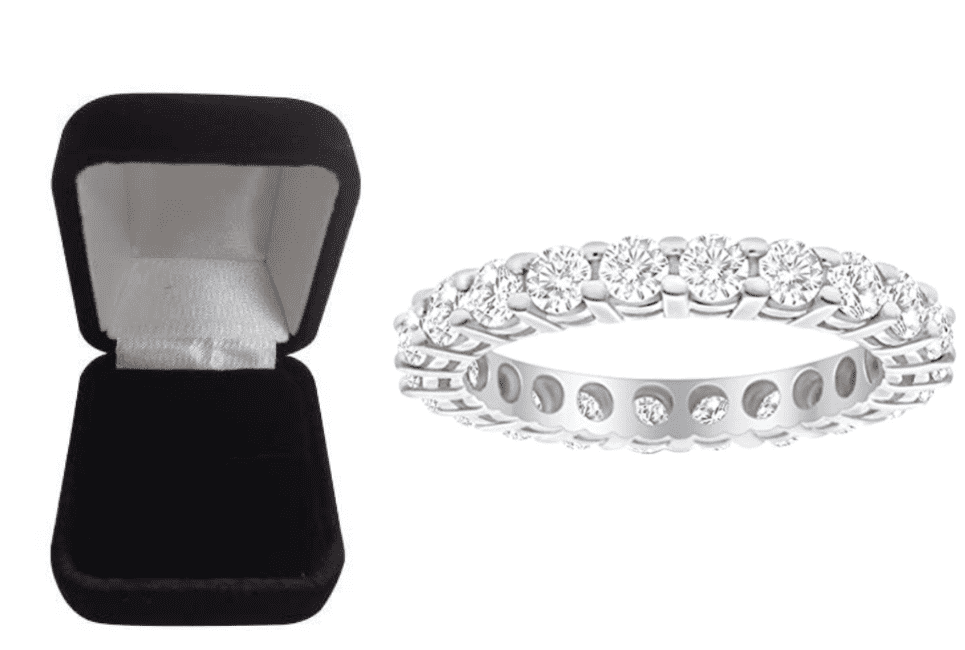 You can pick your favorite setting metal for this ring; my preference is to go with the white silvery-colored metals, like platinum, white gold, or sterling silver. Yellow gold and rose gold look better with colored stones, and the white-colored metals allow your gemstones to stand out from the ring instead of competing with the metal setting. Twenty-two brilliant-cut round diamonds adorn this ring, circling the ring in an unending loop. The stones are prong set and are about a seventeenth of a carat in size for each stone. This beautiful and ageless eternity band makes the perfect wedding band or anniversary gift.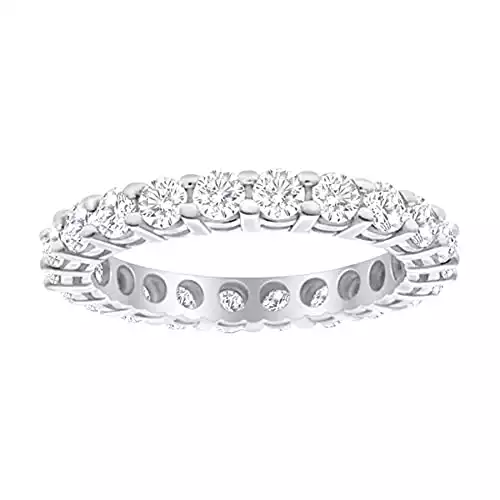 The Best Lab-Grown Diamond Rings
Three Carat Lab-Created Diamond Solitaires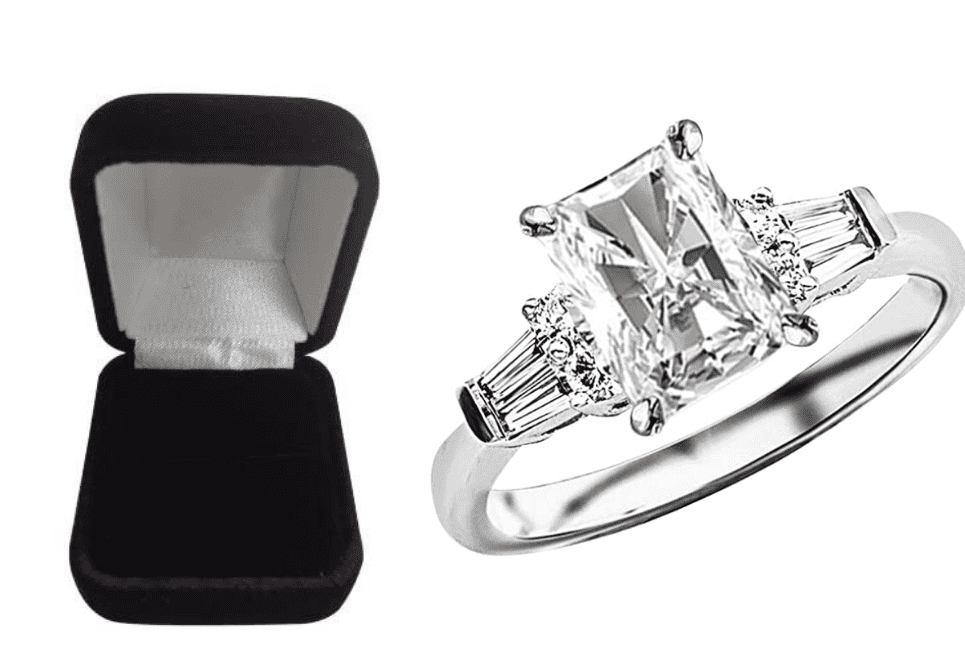 A blend of natural and lab-created diamonds, this stunning ring is a beautiful engagement style ring. The lab-created center emerald-cut stone stands above the white gold setting. The two shoulders of the ring feature two baguette diamonds and two brilliant round cut diamonds to glitter prettily from slightly under the large center stone. The four-prong setting holds the center diamond without suppressing any of the brilliance of the stone. This is a gorgeous engagement ring that is moderately priced with the addition of the lab-created large center stone.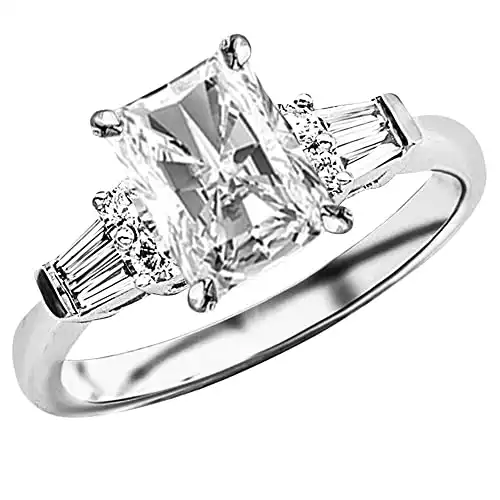 14K White Gold 3.5 Carat Diamond Engagement Ring | Amazon
This piece is a perfect gift for a birthday, anniversary, holidays like Valentine's or Mother's Day, or a "just because" gift simply to celebrate your loved one. Send a surprise to a special person in your life to remind them how much you care.
Buy at Amazon
We earn a commission if you make a purchase, at no additional cost to you.
08/03/2023 08:59 am GMT

3ct Lab Grown Diamond Engagement Wedding Cushion Halo Gold Wedding Ring Set EX3 (H/I, I1-I2)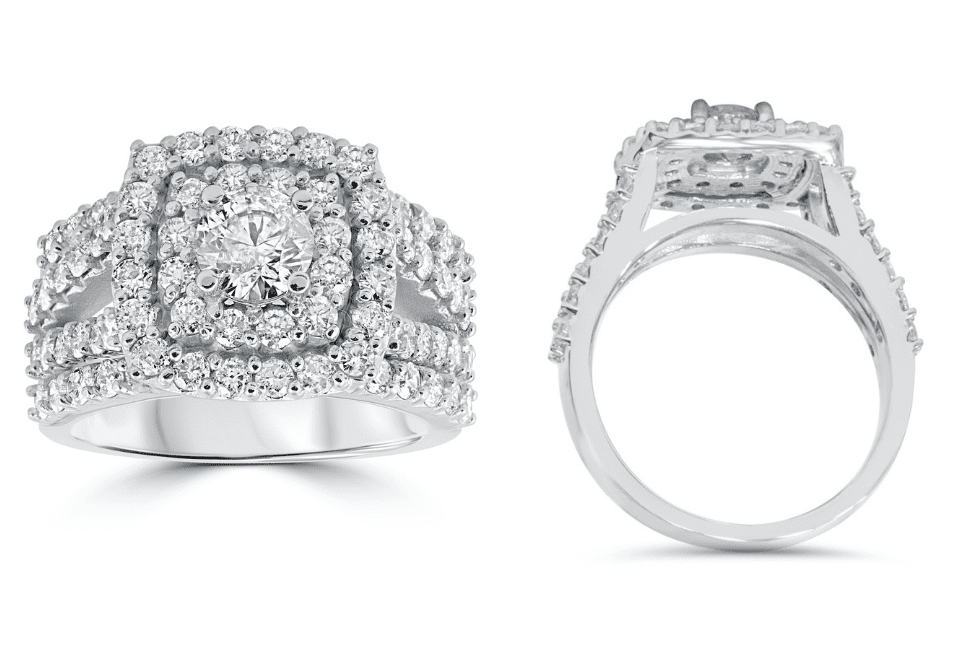 I honestly would love to see the sparkle of this ring in reality. Dripping with diamonds, it is absolutely covered in bright, beautiful diamonds. The perfect wedding set, the engagement ring incorporates the wedding bands so seamlessly into the set so perfectly an observer might not even notice there are multiple rings. Eighty-nine bright diamonds accent this ring set. The center solitaire stone is surrounded by a double halo of diamonds and set into a ten-carat white gold setting. This ring is about a half-inch in width, a really chunky size for a ring, but it does have three rings to the set, so it doesn't need additional rings to stack for a heavyweight look.
Multiple Stone Three Carat Lab-Created Diamond Rings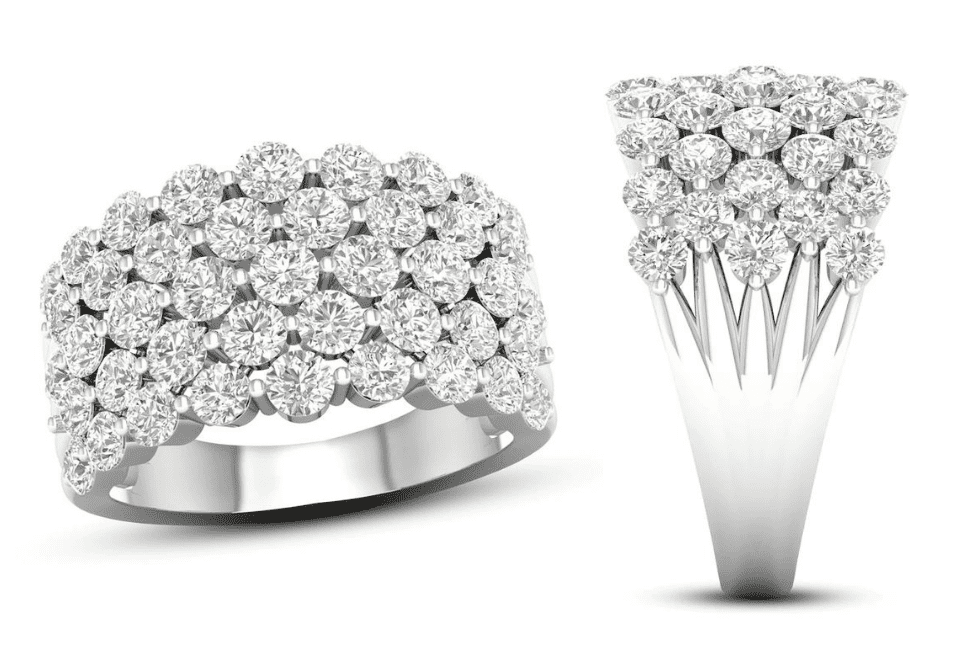 Five gorgeous rows of glittering, sparkling diamonds are the beauty of this ring. An extraordinary forty-three lab-created diamonds adorn this ring. Each diamond contributes to the total weight of three carats gem weight. The setting metal is fourteen-carat white gold, and the micro setting holds the brilliant-cut round diamonds without multiple prongs covering the sides of the diamonds. This moderately priced ring is a beautiful cocktail-style ring that is going to beam bright flashes when you wear it.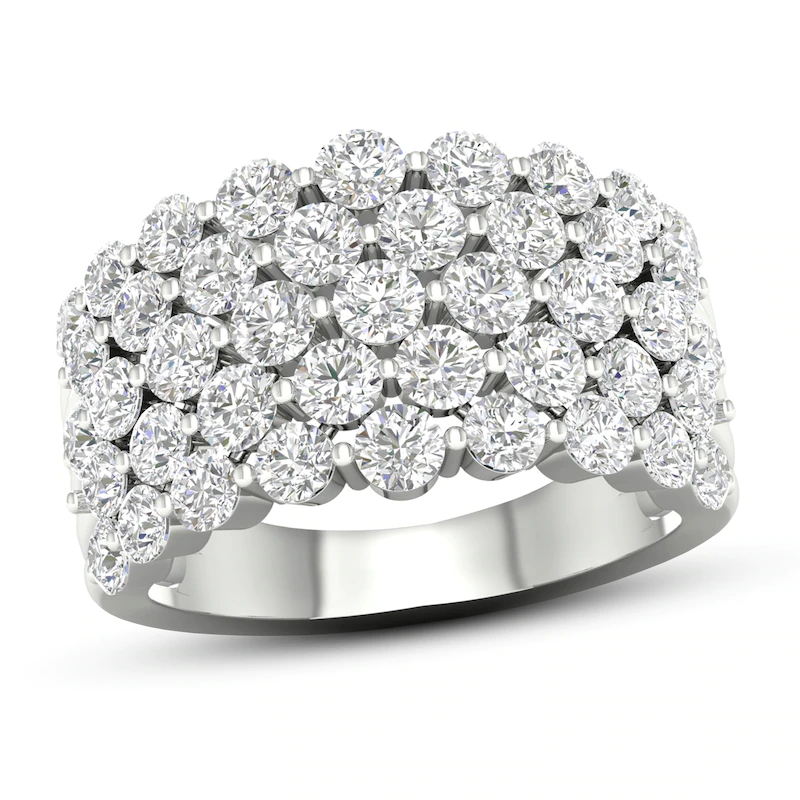 Lab-Created Diamond Ring | Jared
Brilliant lab-created diamonds envelop the top of this extraordinary women's ring, fashioned in 14K white gold.
Check Price
We earn a commission if you make a purchase, at no additional cost to you.

3.16CT Round Cut Three-Stone Filigree Engagement Ring In 14K White Gold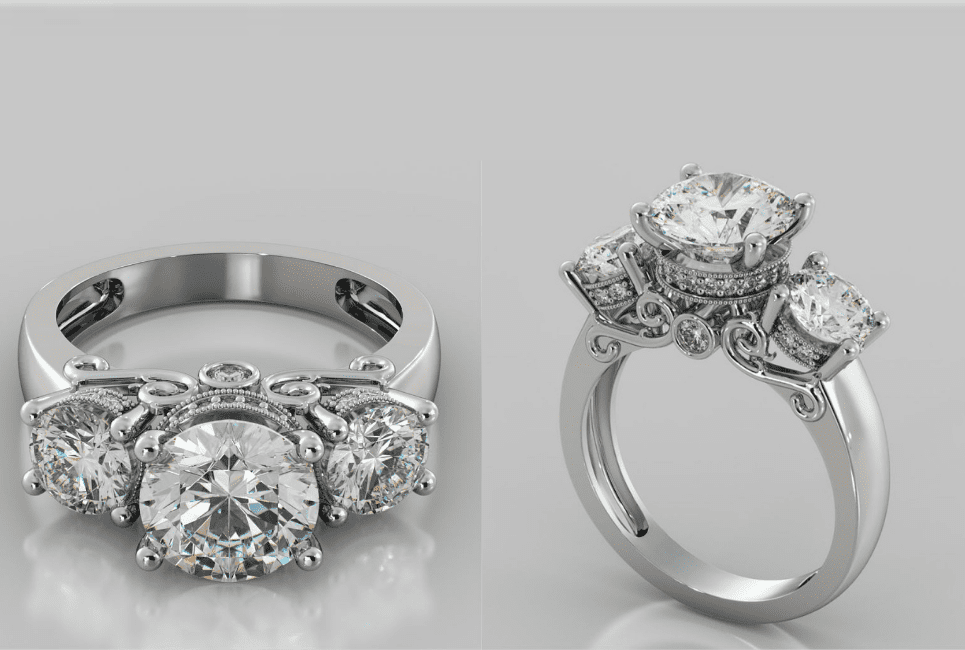 The detail on this ring makes me want to look at it for hours just to take it all in, from the milgrain detailing, the filigree scrolls, diamond side stone, the intricate prong setting, and the gorgeous large lab-created gems. There is honestly so much to look at on the sides of this ring. The detailing is really incredible. The top is just as beautiful to look at, with the three large stones, including the two-carat center stone. I love rings like this; as much as they display the stones, the side detailing is much more personal; it is truly decorated for the wearer. 
The Best Colored Diamond Rings
Three Carat Colored Diamond Solitaire Rings
3 Carat Cognac Diamond with Pave Halo Engagement Ring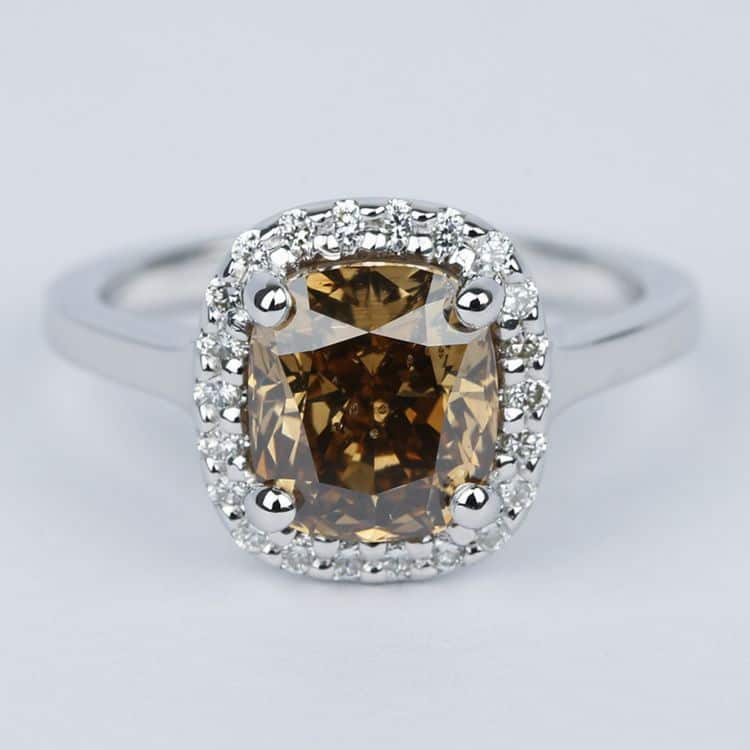 This is the epitome of cocktail rings, this gorgeously colored brown diamond is surrounded by a halo of white pave diamonds. A full three carats, the rare cognac coloration is clear without visible flaws. The ring is made with fourteen-carat white gold, and the setting offsets the color of the cushion cut brown diamond to make it stand out. The pave diamonds in the halo around the solitaire add a bit of white sparkle to the yellow tinted sparkle from the diamond.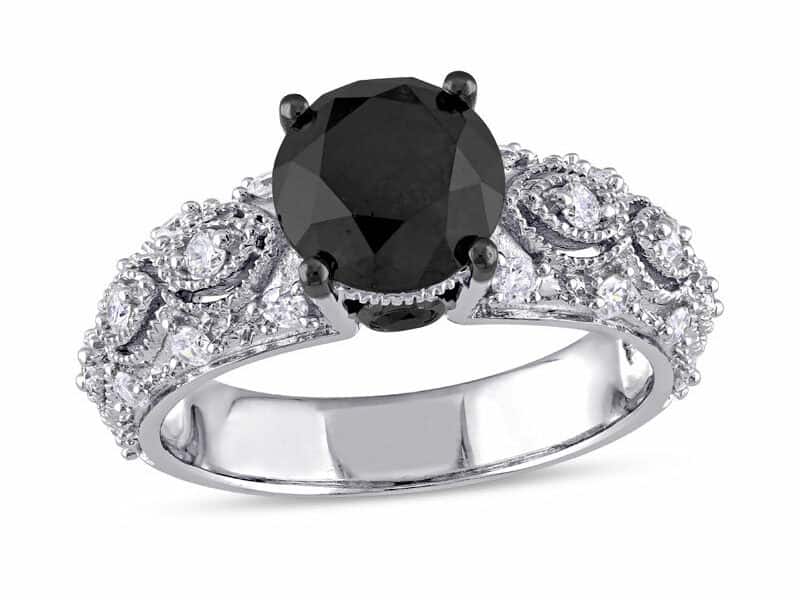 Buying a black diamond allows you to purchase the hardest gemstone on earth while keeping your costs minimal. The large two-and-a-half-carat center stone is adorned with an intricately detailed setting. Two smaller black diamonds are centered on the head of the ring along each side of the center diamond. There are openwork marquise shapes and milgrain detailing as well as small accent white diamonds. This is a highly detailed ring with a great price tag for a quality engagement ring.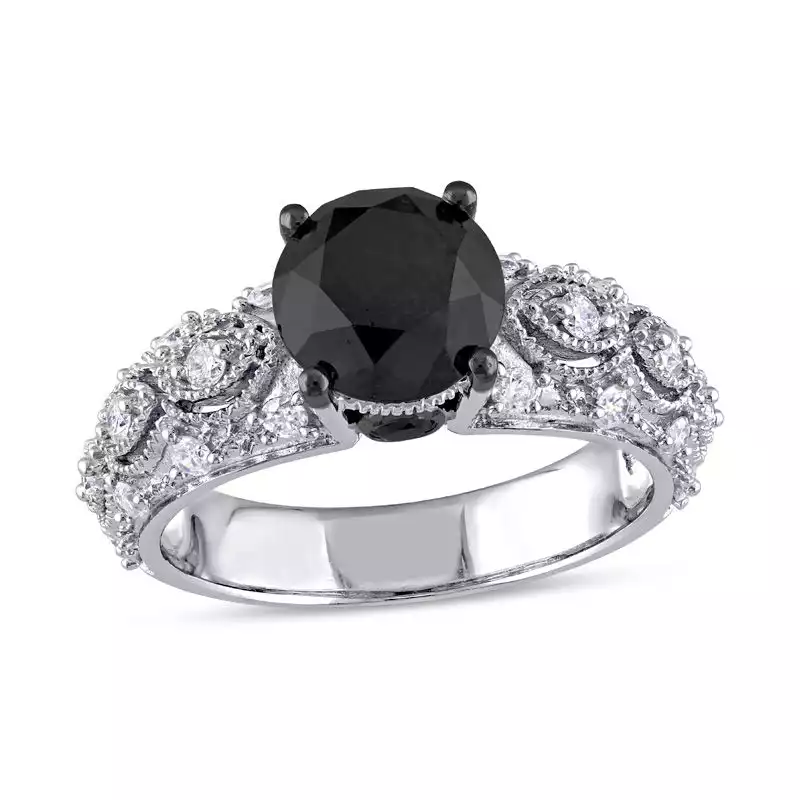 Multiple Stone Three Carat Colored Diamond Rings-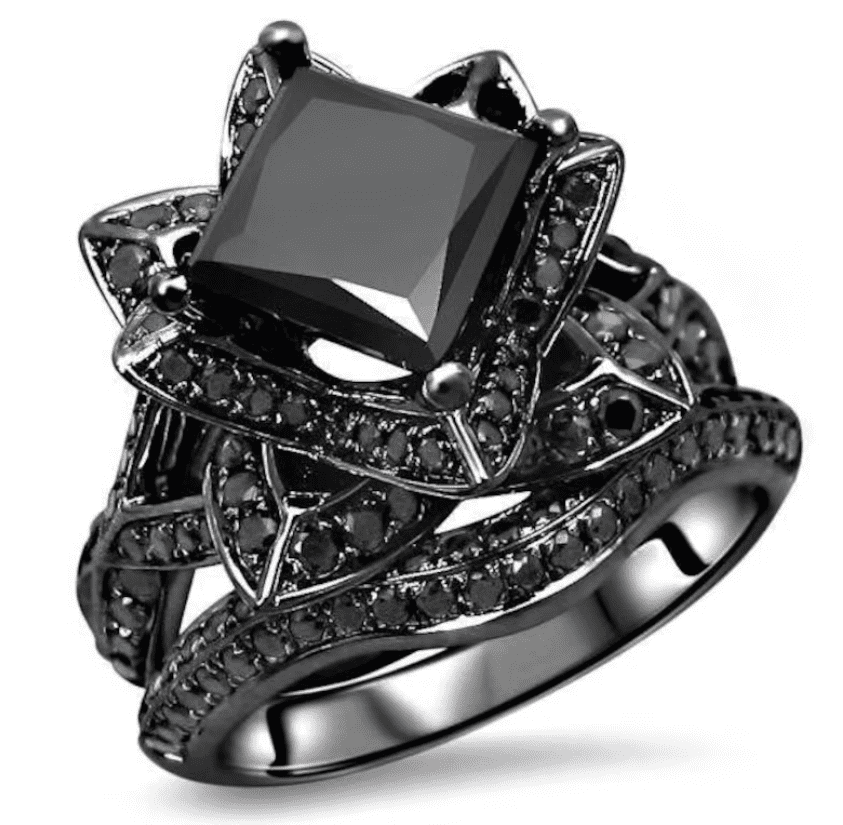 Superlative Black, this lotus flower ring features an almost two-carat black diamond. Surrounding the solitaire is a setting shaped into a lotus flower with pave black diamonds on black rhodium coated white gold setting. A square petal halo surrounds the center stone and is also, in turn, embraced by another set of petals of pave black diamonds. The shoulders of the ring are twisted in a vine-like detail that is also pave black diamonds. The bottom of the ring is the only part that isn't detailed with black diamonds. This is a really unique and beautiful ring. 
Black Diamond Lotus Flower Engagement Ring | Etsy
This Beautiful Black Diamond Engagement Ring and band set features a 1.90ct Princess cut Black Diamond in its center and is surrounded by 1.10cts of round black diamonds on the ring and band.
Check Price
We earn a commission if you make a purchase, at no additional cost to you.

Eragem 3 CARAT ANTIQUE CUSHION DIAMOND ENGAGEMENT RING 3.85CT U-V/SI2 GIA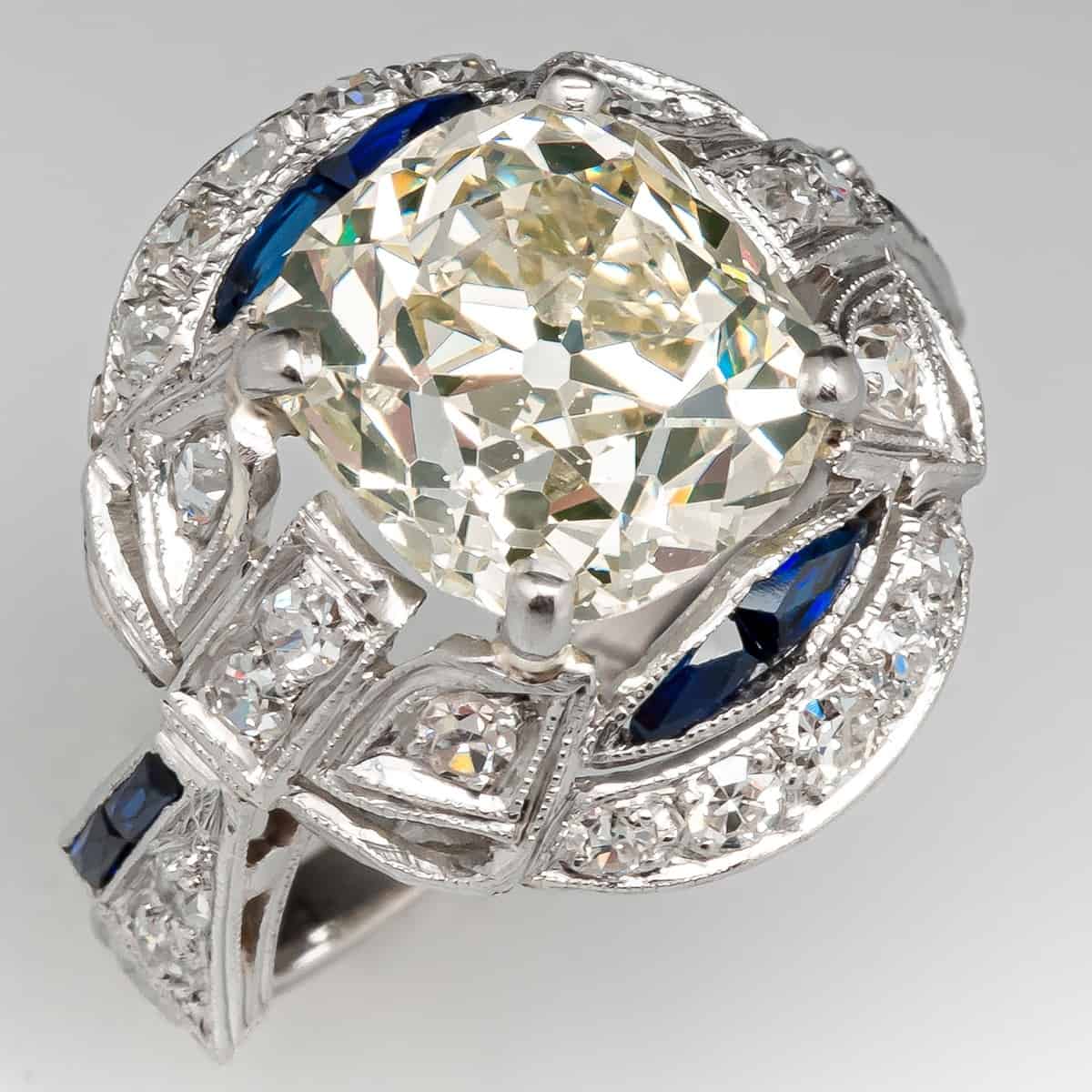 This antique and unique yellow diamond ring is stunning. The art deco style is popular again. The lemony yellow diamond is a natural diamond and weighs close to four carats. The solitaire is surrounded by a halo with multiple diamonds and includes two caliber cut sapphires. Additional caliber cut sapphires are also included on the shoulders of the ring, as well as additional diamonds. The cushion-cut diamond solitaire has bright flashing and sparkle and is an antique diamond lover's dream. 
FAQS
Question: What Color Diamond is the Cheapest?
Answer: Black diamonds can be some of the least expensive diamonds, as well as grey and salt & pepper. Other colors that can be stunning in sparkle but not in coloration are brown and yellow colors. These stones aren't among the most popular clear diamonds, and cut, clarity, brilliance, and weight all matter when it comes to determining the value of a stone. 
Question: Are Champagne Diamonds Worth Anything?
Answer: As in all diamonds, color, clarity, weight, and cut matter very much in determining the value of a particular diamond. Champagne is a form of yellow-brown coloration and is not always the most valued of diamonds. A champagne-colored diamond can be exquisite, and two very highly valued diamonds, the Golden Pelican and the Golden Jubilee are both estimated to be worth between five and twelve million dollars. 
Question: Are Colored Diamonds Bad for Engagement Rings?
Answer: Colored gemstones are becoming more popular for engagement rings, as individual tastes and representation are becoming more popular. Individualism and symbols of marriage are not changing meaning, but no longer are white diamonds the exclusive gemstone to be worn for either engagement or wedding bands. By choosing a colored diamond, the symbolism of a forever commitment and lasting love is still represented, but the cost and unique flair are also part of the choice. Keep in mind that colored diamonds should be viewed in person to see the full effect of the gemstone in various lights, as multiple lighting conditions will impact how the naked eye interprets the colors of the stone. 
​​Question: Can Lab Diamonds Pass Diamond Tester?
Answer: Lab-created diamonds are real diamonds, chemically, and they will test as a true diamond when using a mechanized testing tool. They are made of the same carbon as natural diamonds but are grown in lab conditions. However, some may test as Moissanite or non-diamond because there can be impurities in the lab-created diamond. Using a testing tool as a beginning tool is fine, but if you are valuing your diamond, make sure to have several tests done to verify the quality of your diamond. 
Question: Do Lab Diamonds Get Cloudy?
Answer: Lab-created diamonds do not get cloudy. They are true diamonds chemically and will react the same as a natural diamond. A Diamond would only turn cloudy if it was damaged in the same manner a natural diamond would turn cloudy as well. Chemicals most likely would be the culprit in that situation. If your gemstone turns cloudy, it isn't a real diamond, natural or lab-created. 
Conclusion
Natural diamonds are beautiful and a wonderful investment if you are purchasing a diamond to resell or to pass down to younger generations. These are the best reasons to purchase a diamond. If you are buying a diamond ring for wearing as an engagement ring, wedding ring, or anniversary ring, consider investing in lab-created diamonds. They are ethically sourced, more environmentally friendly, less expensive, and widely available. The cost of lab-created or colored diamonds is far less than a natural diamond and might be a better choice being so budget-friendly. My choice would be to buy a gorgeous Champagne-colored diamond as I think they are the epitome of elegance. I also love clear diamonds and would definitely consider purchasing a large lab-created diamond over a small natural diamond. Consider small cluster rings as well, as multiple small diamonds are far more sparkling than a single solitaire. Take into consideration the reasons why you are choosing diamonds and make the best choice for yourself.
| Product Image | Primary Rating / Price | Primary Button |
| --- | --- | --- |
| | | |
| | | |
| | | |
| | | |
| | | |
08/03/2023 10:45 am GMT

Recommended Reads: