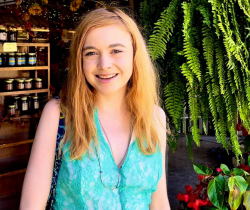 Latest posts by Erin Jamieson
(see all)
Jewelry trends come and go, but some looks are iconic– which may explain why, going into 2022, black diamond rings still provide unique fashion inspiration.
Nearly colorless diamonds are still the most popular for engagement rings, but a fancy colored diamond ring makes for an unique alternative. And now, there are more black diamond engagement, wedding, and cocktail rings than ever.
One of the biggest moments for a black diamond ring? The finale of the Sex and the City 2 series. Mr. Big proposed to Carrie Bradshaw with a 5 carat black diamond engagement ring. When Carrie asked her soon-to-be-husband why he chose a black diamond, he replied, "Because you're not like anyone else."
But black diamonds are limited to TV shows and movies. In fact, some consider black and other fancy colored diamonds as one of the hottest trends. Unique, at times exquisite, and exuding with elegance, black diamond rings are perfect for stepping out with your unique style– while keeping a classic look.
In this guide, I'll tell you everything you need to know about black diamond rings and provide a little inspiration. I'll also tell you where to buy my favorite ideas for cocktails, weddings, and engagement rings.
Are black diamond rings popular?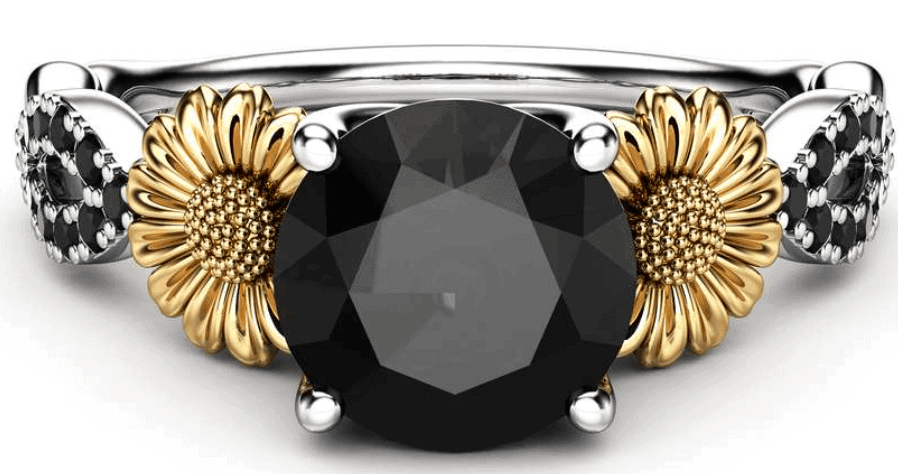 Black diamonds are considered one of the most popular fancy colored diamonds. While fancy colored diamonds still trail colorless diamonds, they've incrementally increased in popularity, especially over the past 5 to 10 years. Considered a hit trend, black diamond rings are no longer startling, but they still stand out.
But popularity–and even acceptance– of black diamond rings wasn't always this way. In some ways, black diamonds are a testament to how jewelry has trended away from conventions and towards self-expression.
How have black diamonds changed through history?
It's nearly impossible to say when the first black diamond was discovered, but many cite Portuguese settlers in Brazil in the 1840s. Gemologists suggest that the first black diamonds may have been formed as far back as over 3.8 billion years ago.
They were not always prized. Many considered black diamonds flawed diamonds, suited for industrial use. For some time in India, black diamonds were said to be cursed, associated with spider eyes.
But other cultures gradually saw the beauty and value of black diamonds. Italian culture came to see the black diamonds as a charm to save a couple's marriage. In France, black diamonds entered the scene when Louis XVIII was the first to own a black diamond ring.
While other notable figures did wear black diamond rings (the Duke of Brunswick, purportedly Nadia Orlov, a Russian princess), it took a while for them to be worn by mainstream populations. Jewelry makers considered black diamonds hard to work with.
By the 1990s, however, black diamond rings became more widespread. Their new popularity took off in the next millennium, as fashion continued to shift away from tradition and more towards expression.
Is a black diamond ring right for me?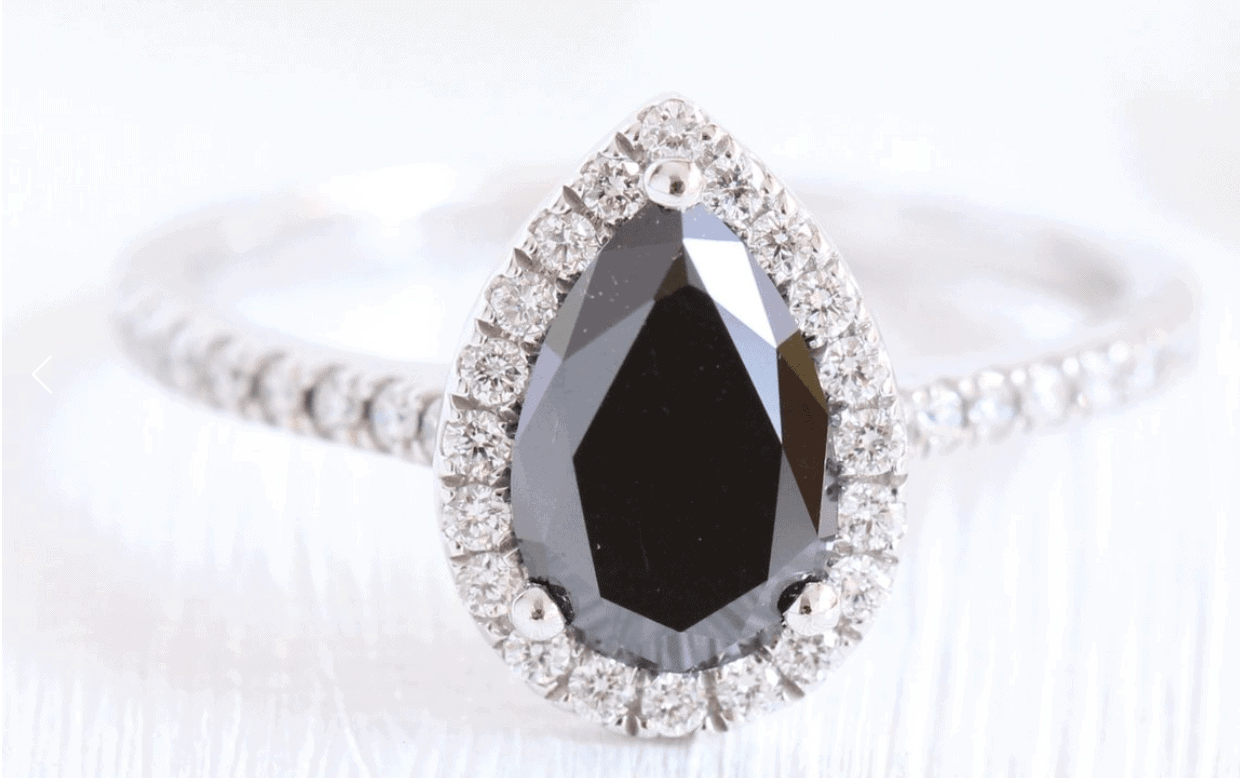 Buy this Pear Black Diamond Halo Engagement Ring Here.
To decide whether or not a black diamond ring is right for you or your partner, there's a lot to consider– from price point to selection and unique characteristics that both overlap and are distinct from colorless diamonds.
How rare is a black diamond?
Natural black diamonds are especially rare, but they actually don't cost as much as many colorless diamonds. The average price for a black diamond ring that's natural and GIA certified is $2,500 to $3,000 per carat.
Buy the Natural Black Diamond in 14k Gold Sunflower Engagement Ring Here.
That said, many black diamonds on the market are either lab-grown or natural diamonds that have been superheated to a black hue. Even with these options, you'll certainly have less choice than you would have for colorless diamonds. Still, many fine jewelers, such as the Angara, now sell a small selection of black diamond cocktails, engagement, and wedding/ infinity rings.
Do Black Diamonds sparkle?
One of the main reasons that colorless diamonds are sought after is for their sparkle and scintillation. It makes sense that the value– one of the 4 C's– of a diamond is in part determined by color. With the exception of some rare fancy colors (such as a Blue Hope diamond), the more clear the diamond, generally the more valuable it.
But black diamonds do, in fact, sparkle– just in a different way than traditional diamonds. Instead of the refractive sparkle we know, black diamonds have a softer, metallic sparkle.
Are black diamonds durable?
Despite the difference in hue and sparkle, black diamonds make for just as durable rings as traditional diamond engagement rings. They share the same chemical properties otherwise, with a mohs hardness rating of 10 (out of 10). Black diamonds, like other diamonds, are able to withstand temperature fluctuations and everyday wear.
Are black diamonds real diamonds?
Black diamonds are real diamonds– so long as you make sure the seller isn't offering diamond simulants. Before you purchase a diamond, you should always ask if it can be appraised by a professional gemologist, or if they partner with the AGS (American Gem Institute) or GIA (Gem Institute of America). There are black natural diamonds available, though much of what you see is either lab-grown diamonds or colorless diamonds that have been heating treated.
Both lab-grown and heat-treated black diamonds are as durable as other diamonds.
How do I select a black diamond ring?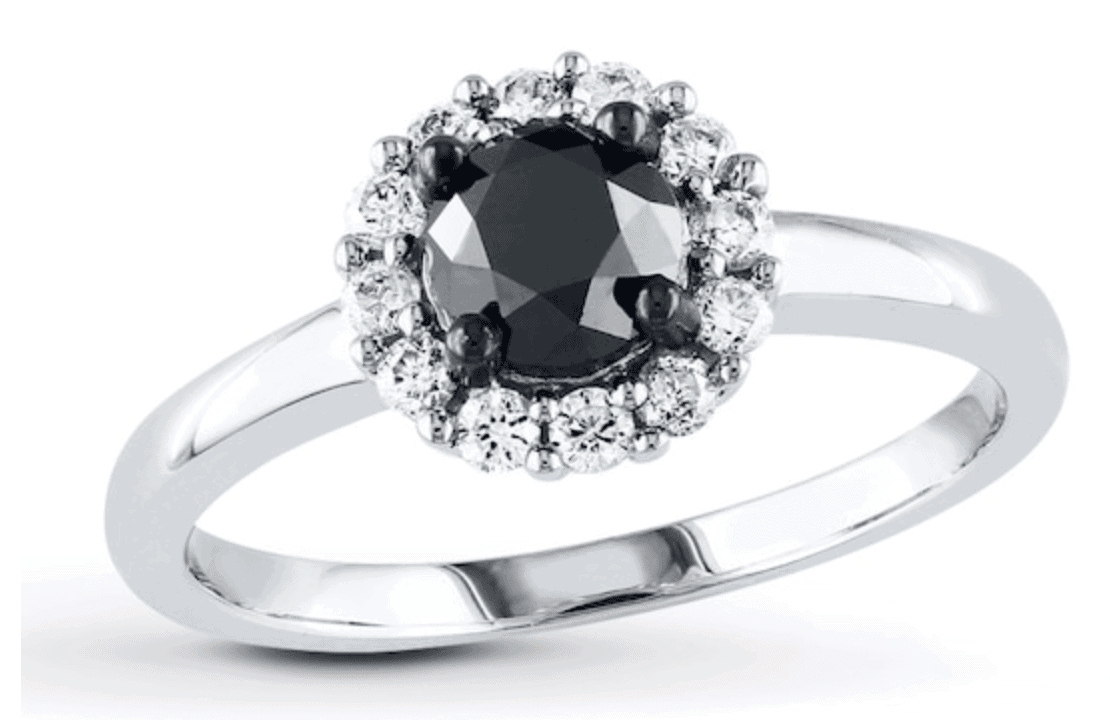 Buy this Jared Black Diamond Ring in 10k White Gold Here.
Whether you're looking for an engagement or wedding ring, or even a fashion ring for formal occasions, selecting a black diamond ring isn't too different from other diamond rings. To select a black diamond ring, you'll need to consider the 4 c's of diamonds, as well as a few other factors.
4 C's
The 4 C's of all diamonds include cut, color, clarity, and color.
Cut & Carat
Cut determines how the diamond interacts with light. Cut be a matter of preference, and includes popular cuts such as brilliant (best for scintillation), princess, cushion, oval, marquise, emerald, and more. It's best to pay attention to the cut rating, using ratings from poor to ideal.
Carat refers to the weight– or 'how big a diamond is. Obviously, the larger the carat size, the more expensive it.
Clarity & Color
Here is where it's a bit different for black diamonds. Clarity is actually among the most important factors for a black diamond. Black diamonds naturally have many inclusions ( 'flaws' or coloration), but the type of inclusions matters.
You want to make sure that the inclusions are inside the gem, and that the gem's exterior is smooth. This allows for the greatest clarity and a beautiful black hue. For color, looking for a color rating but mostly making sure the color is even around the surface/ inside of the diamond is key.
Metal Type
For a cocktail ring, you can get by with slightly less durable metal, but, since you'll be spending a few thousand on most black diamond rings regardless, invest in the quality metal. I recommend 12K gold at minimum, preferably 14 or 18K. You can also opt for platinum or titanium. Tungsten is durable but comes with some cons.
Price
When it comes to price, I love a good deal as much as anyone, but you should be wary if you find a ring that's too good to be true– chances it is. Keep in mind that a GIA black diamond should cost a minimum of around $1,000 per carat. If it's selling wildly below that, chances are it may not be a real diamond.
Style and Selection
This is all up to you. You can find fashion rings, engagement rings, and infinity rings featuring black diamonds. Styles range from modern vintage. Just keep in mind you may have fewer options, but there are also places that will allow you to make custom rings.
Black Diamond Ring Ideas
To provide a little inspiration to get you started searching for your black diamond ring, I'm giving you a few of my favorite ideas for black diamond engagement, infinity, and cocktail rings. These black diamond rings are all stunning in their own right. I've included a selection of fine jewelers, and, for less expensive and more casual rings, some independent Etsy makers.
Hopefully, one of these gorgeous rings will catch your eye and sell you on the black diamond trend.
Black Diamond Engagement Rings
Thinking of purchasing a black diamond engagement ring? In this category, it's very important that you understand who you're buying from and check the company's reputation. Black diamonds make for beautiful and unique engagement rings that exude elegance but also unique glamour.
Best for Budget Black Diamond Rings: Kay Jewelers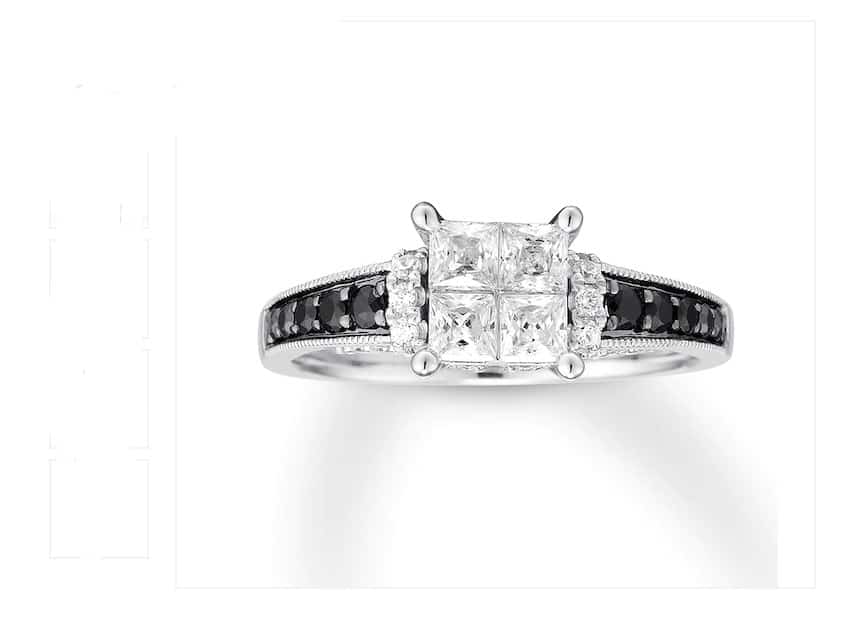 Looking for a one-stop shopping experience for inexpensive black diamond engagement rings? Kay Jewelers may be the best option.
Offering one of the most sizable collections for black diamond engagement rings you can buy online, Kay has affordable options. The popular company also has traditional storefronts across the country, meaning you also shop in person. (Keep in mind storefronts may not have black diamonds on hand).
Prices range from under two hundred dollars for a simple quarter carat ring on sterling silver, to $2,000 for ¾ carat on 14K white gold. You won't find any luxury rings here, or large carat sizes– so this collection is suited for someone on a budget or who prefers a smaller carat. Stick to white gold for your metal. One thing I don't love is that many come in 10K white gold, so I'd pay the extra for better metal, if possible.
My favorite rings include: this black and white diamond engagement ring on 14K white gold; an elegant 1 carat round cut black diamond ring, and this stand-out 14K rose gold and black diamond ring.
You can shop the entire collection here.
Best for Nature Inspired Black Diamond Rings: Camellia Jewelry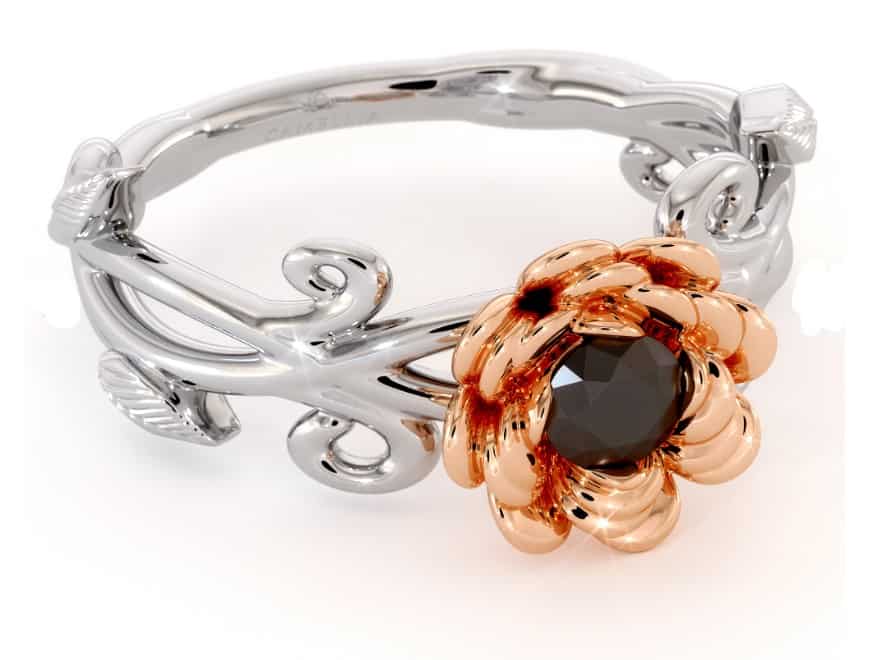 Looking for exquisite black diamond engagement rings? This collection is stunning, featuring elaborate craftsmanship inspired by flowers in bloom, undulating vines, and all the beauty of Spring and Summer.
From a rose gold floral engagement ring to a unique growing leaves ring, and a vintage, nature inspired rose gold ring, there are many standouts. Many lean vintages, though there are few more sleek designs. The focus is on craftsmanship. Rings range from around $2,000 to $4,500 and come on 14K rose, white, and yellow gold.
You can shop the black diamond engagement ring collection here.
Best for Modern Black Diamond Rings: Angara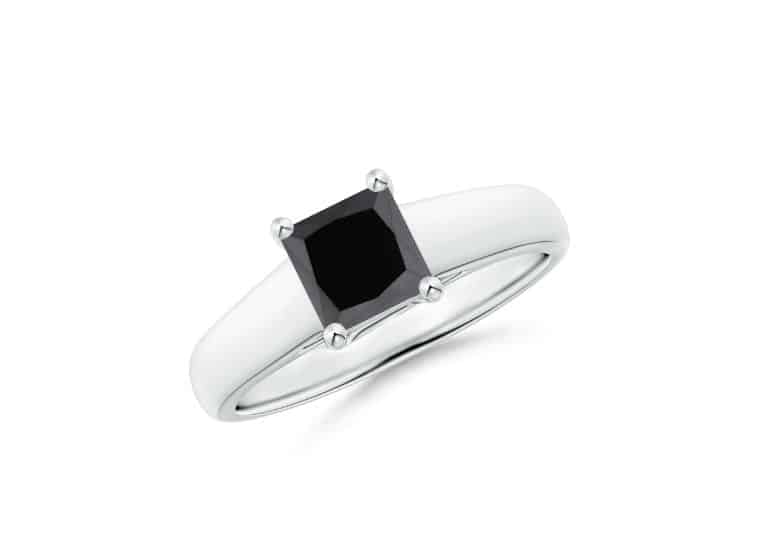 If nature-inspired black diamond rings aren't your style, consider this collection by the Angara. Sleek, modern, and minimalist looks are on offer, all in a variety of cuts. These black diamond rings are not so modern, however, that they stand out. Think of them as elegant, modern classics.
Since the Angara does organize all of its black diamond rings together, you'll find both engagement and wedding rings in this collection. Rings are priced from around $400 for a ¼ carat princess cut solitaire ring on 14K white gold to around $1300 for a three-stone round black diamond ring on 14K gold.
As such, these are also pretty affordable options as a whole– just a little more expensive than Kay. You can shop the collection here.
Best for Custom Diamond Engagement Rings: Alexis Russell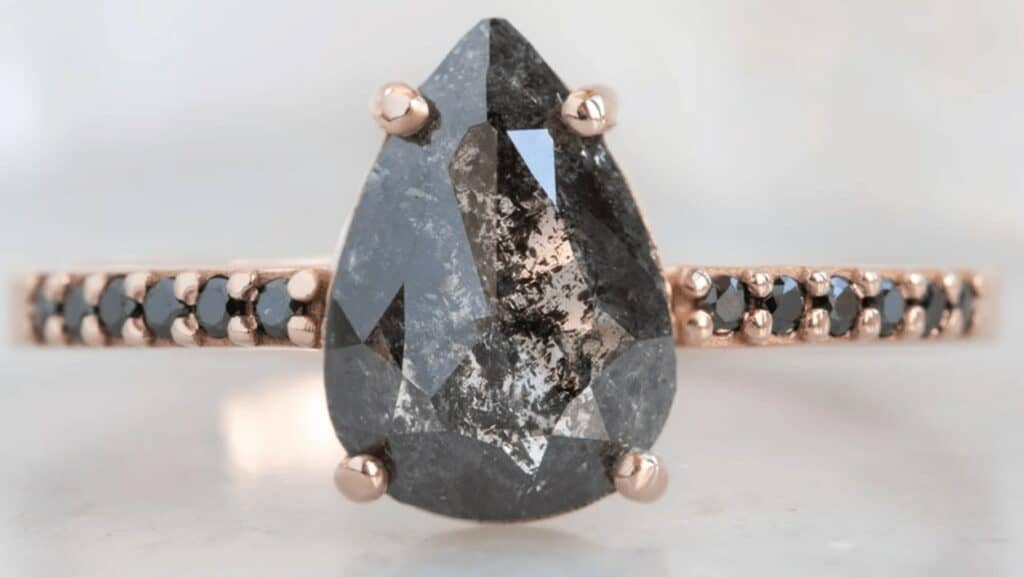 If you can't find a black diamond ring you like or are just looking for a signature and unique option, Alexis Russell is a possibility.
As one of the very few who offer custom black diamond engagement rings, Alexis Russell offers modern and beautiful rings. You'll be able to select by diamond grade, metal type, stone setting, halo setting, and size. Learn more Here.
Black Diamond Wedding and Infinity Rings
Looking for a band that can work as a wedding ring? Black diamond rings can be a beautiful compliment to a black diamond engagement ring. Just keep in mind you don't have to have a black diamond ring to wear a black diamond wedding or infinity ring. Keep things cohesive by sticking with the same metal type.
Best For Men's Black Diamond Wedding Rings: Jared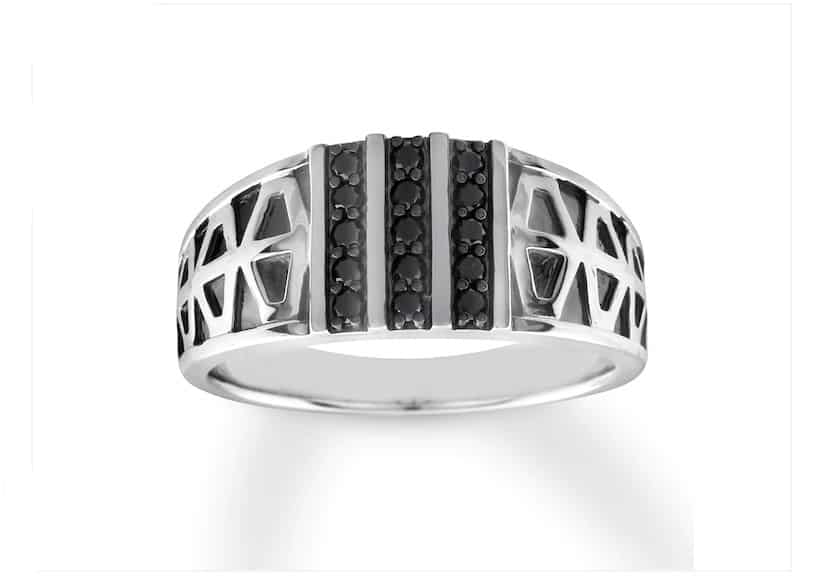 Jared is a great go-to for women's black diamond wedding rings as well- but it's one of the few options if you want a selection for men. The truth is, it can be challenging to find black diamond wedding rings for men, and this modern collection offers quality rings at affordable prices.
The downside is that options do include 10K gold, which isn't quite as durable. Still, with proper care, these are handsome rings, priced at $850 to $1200. Some of my favorite options include this unique black diamond men's band, a ¾ round cut men's black diamond ring and a black and white diamond ring.
You can shop the black diamond bands for men collection here.
Best for Women: Angara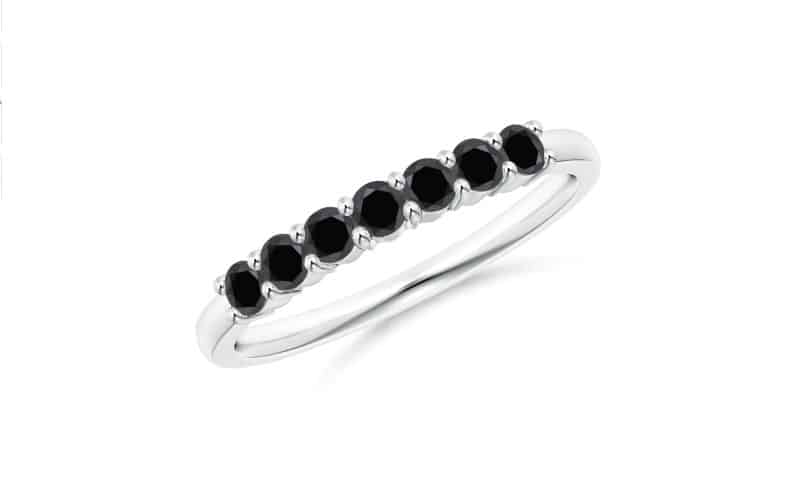 The Angara was one of my top places to buy black diamond engagement rings, but it's also a great go-to for women's wedding bands. You'll find the greatest selection here, with both modern and classic styles, all well crafted and reasonably priced. Prices start at a little over $600 for a .5 carat eternity seven stone black diamond wedding band on 14K gold, to a little over $1200 for a round black and whire diamond infinity twist ring.
You'll have a choice of carat size and metal type (14K white/yellow/rose gold or platinum for most). Some of my favorites include: this elegant Natori x Angara Hexagonal Black Diamond and Diamond Eternity Band; a Floating Black and White Diamond Semi Eternity Wedding Band, and for true black diamond fans, this Prong Set Round Black Diamond Eternity Wedding Band.
You can shop the entire Angara black diamond ring collection here.
Black Diamond Cocktail & Fashion Rings
Cocktail and fashion rings are rings that aren't technically engagement rings or wedding rings. These rings are worn for special occasions and events and are also referred to as statement rings.
The center stone– in this case, a black diamond– is often front and center. For those rings, it's great to buy something of high quality, but it doesn't have to be held to the same standards as a ring you'd wear every day. A fun accessory to anything outfit, a black diamond, in particular, is highly versatile and a classic option.
There is not one place to buy cocktails or statement black diamond rings. Etsy, and independent sellers, offer unique options that'll make your look feel like one of a kind. Traditional sellers do have options as well, but you'll just have to shop around. To get you started, here are a few of my favorites.
Fancy Black Diamond Cocktail Ring Vintage Style- Garo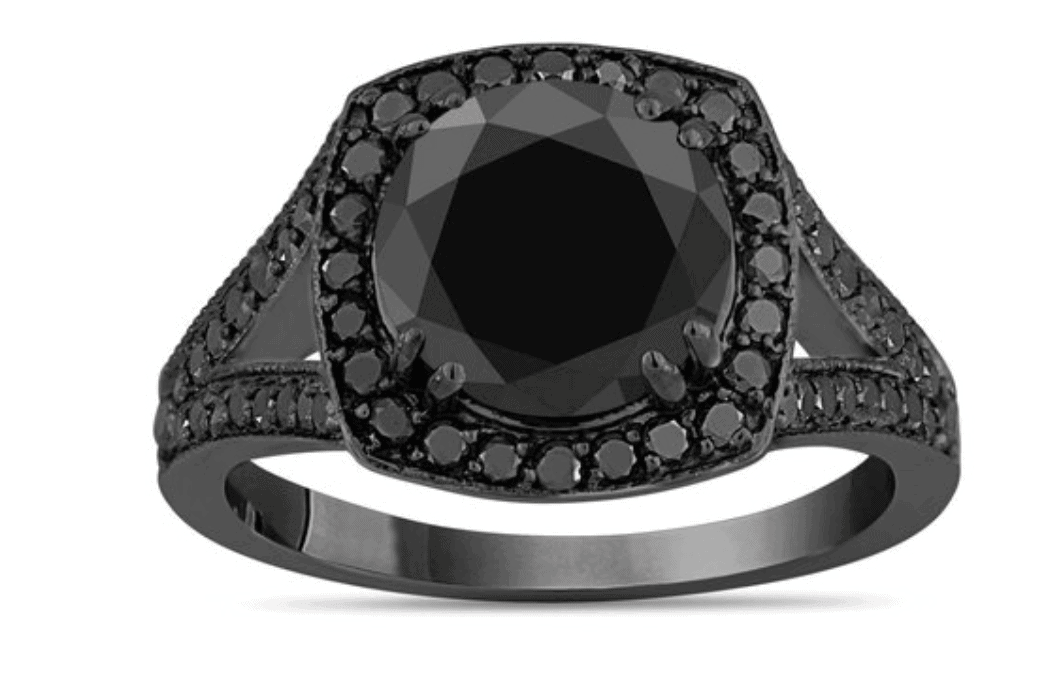 Go bold with this all-black vintage-style black diamond cocktail ring on 14K black gold. A deep black hue makes a statement with a round-cut diamond with excellent clarity. Buy Here.
1/4 CTW Round Black Diamond Cocktail Ring- MajestyDiamonds (Etsy)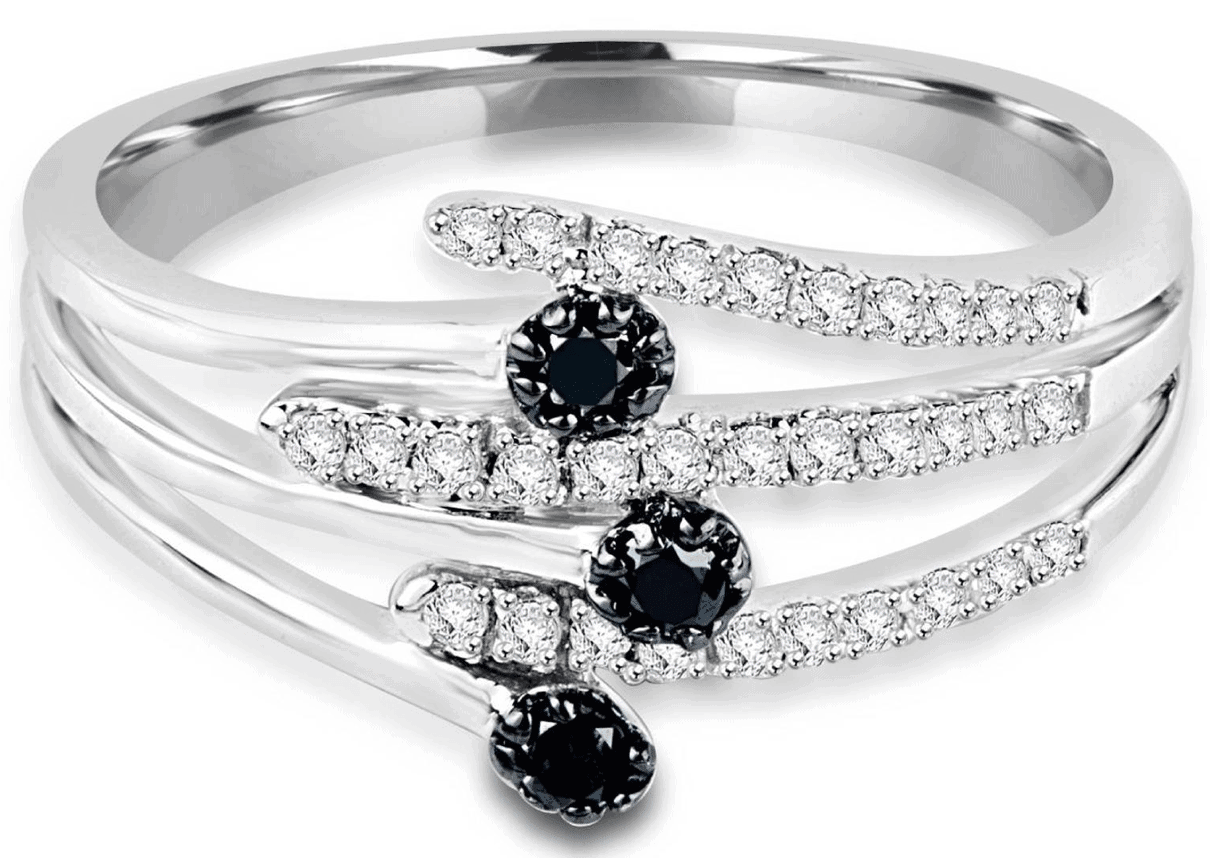 Intertwining 14k white gold features black and white diamonds. It's a classic and updated look, one that's both versatile and elegant. A more subdued cocktail ring style, this is a great option to wear as a guest to a black-tie wedding. Buy Here.
3/5 CT Round Black Diamond Solitaire Cocktail Ring – MajestyDiamonds (Etsy)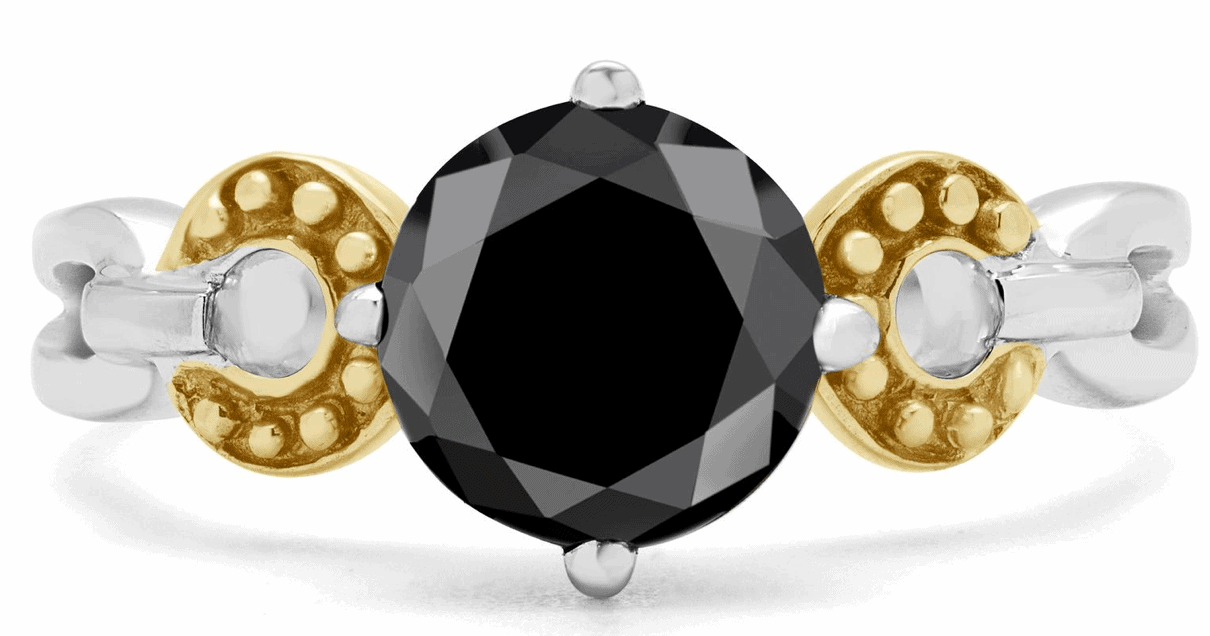 This beautiful solitaire diamond ring exudes elegance and unique refinement. Available on 14K white gold and handcrafted, this is eye-catching but not overly bold. Buy Here.
Black Diamond Cocktail Ring- Catherine Angiel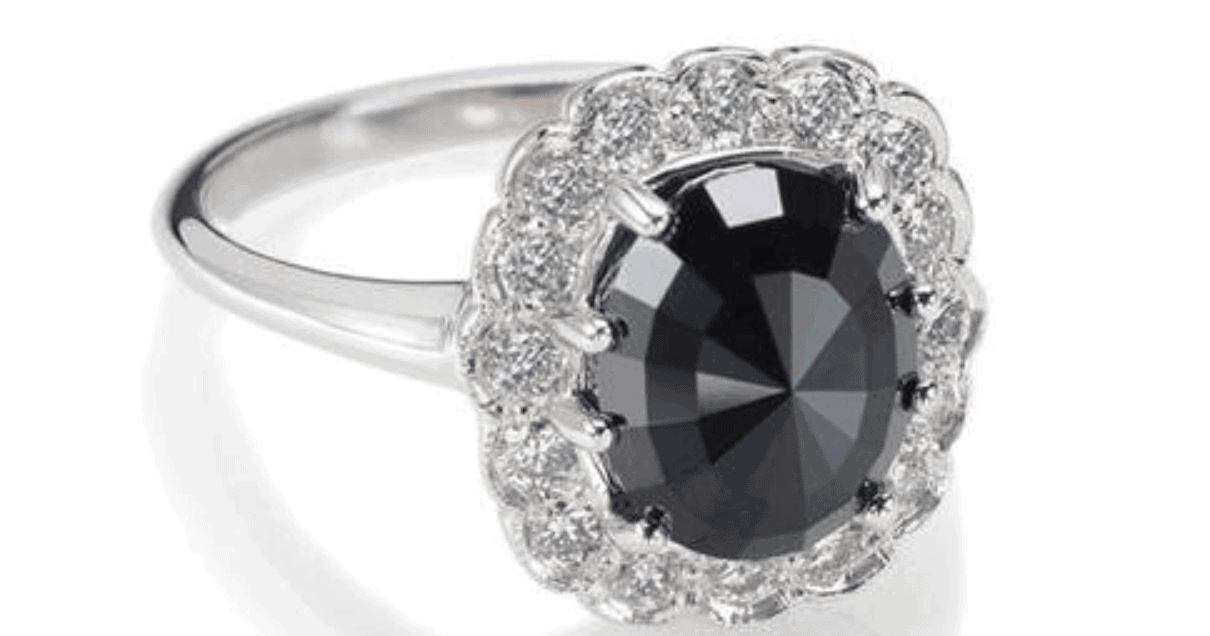 If you have a larger budget, this exquisite ring is sure to make a statement. A 2.09 carat, rose-cut diamond sits beside a cluster of white diamonds. Available in 14k white or rose gold, this is a beautiful black diamond statement ring that's nothing short of breathtaking. Buy Here.
Frequently Asked Questions
Question: What does a black diamond ring mean?
Answer: Diamonds in general symbolize the deepest bond possible, eternal love, and flawless devotion. Black diamonds share this symbolism, but also have a unique meaning. They also stand for inner strength, justice, and confidence, especially for women.
 
Question: How can you tell if a black diamond is real?
Answer: The best way to tell if a black diamond is real is to have it assessed, or buy one that comes with a complimentary assessment, by the AGS or GIA.
Question: Do Black Diamonds scratch easily?
Answer: Black diamonds are just as durable as colorless diamonds. Like all diamonds, natural and lab-grown black diamonds are rated at a 10 out of 10 on the Mohs hardness scale, making them the hardest of all gemstone types. They do not scratch easily with daily wear.
Final Thoughts
Black diamonds were once thought of us not as desirable– and now they're sought after for their elegance, unique hue, and custom looks. No matter what type of ring you're looking for, a black diamond setting or black diamond accents can help you stand out from the crowd.