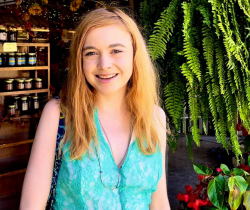 Latest posts by Erin Jamieson
(see all)
As all jewelry experts know, ring trends come and go. But one trend that's projected to age well? Big, bold 18K gold rings, now with gorgeous picks that will last and still prove one of the most fashionable ideas years down the road.
JCK Magazine follows the every-swinging pendulum of ring ideas and trends from season to season. But 2022's focus on "bold gold" rings, in particular, has been touted as a trend that'll last well beyond this calendar year.
While minimalist rings and sleek platinum styles dominated for a few years, 2021 and 2022 began a move towards more expressive and daring accessories. That's now translating to glossy 18K god– yellow especially– as the setting of choice for a cocktail, wedding, and engagement rings. 
The bold trend focuses on high-quality gold with more substantial ring bands. "In" styles for diamond cuts include cushion cuts, step-cuts, marquise cuts, and, of course, round-brilliant cuts. The idea is that some consumers aren't focusing so much on diamond carat size– and more on quality. And the argument is that such styles are more versatile and easy to wear in the future.
But is 18K gold the right option for you? In this article, I'll touch on the pros and cons of 18K gold rings and give you my picks for where to buy them.
What karat gold is best for a ring?
If you're settled on a gold ring– whether that's for an engagement ring, wedding band, or even a fashionable cocktail ring– you'll need to decide on the karat. The type of gold you select impacts the durability and beauty of your ring, and there is no one right answer. The most common options you'll be presented with are 10K, 14K, and 18K gold. 24K gold, which is pure gold, is less common since it's such a soft (and expensive) metal.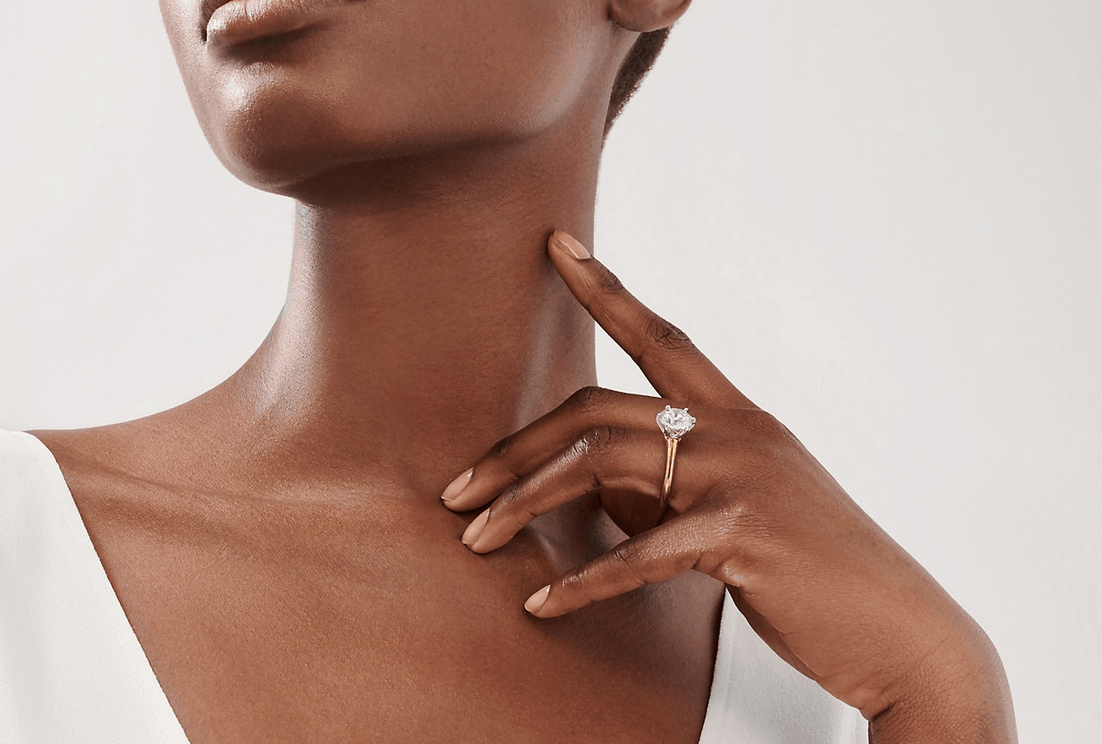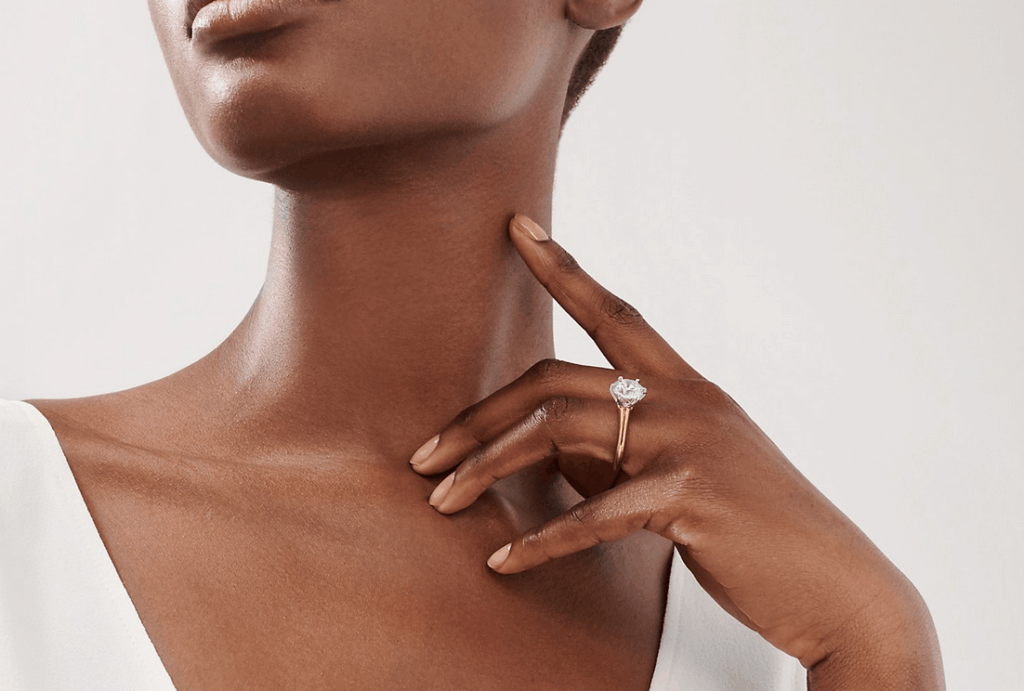 Is 10K or 14K gold better for a ring?
Of the two, 10K gold is actually more durable. That's because gold is a naturally soft metal– hence, the higher purity, the easier it is to scratch. That said, 14K gold is still considered quite durable and suitable for everyday use. 
10K gold, which is rarely used with fine jewelry (though some companies like Kay Jewelers do sell 10K rings), has a dull appearance. The lowest purity of gold sold that's labeled as gold, 10K gold consists of around 42 percent gold and 58 percent alloys. 14K gold, in comparison, is decently more valuable and expensive and made with around 58 percent gold and 42 percent alloy. 
Of the two, I personally recommend 14K gold for a fine jewelry ring. It's the best bet for a balance of durability and beauty. 
Is 14K or 18K gold better?
Between 14K and 18K gold, it gets a little more difficult to decide. These are two metals I often recommend for rings. 18K gold consists of 75 percent gold and 25 percent alloy (such as copper and silver). It has a beautiful luster and is gorgeous in the sunlight. 
It comes down to lifestyle. If you tend to be rough with your accessories and especially active, 14K gold may prove a more practical choice for a wedding or engagement ring. For cocktail rings (rings you will wear on occasion) 18K gold will make for a more dramatic and eye-catching statement. If you're careful with your accessories, 18K gold may work just as well for you.
I personally, for instance, would opt for a 14K gold ring for everyday use, and 18K gold for rings I'm wearing for a special occasion. But neither choice is bad, and both have a decent price per value ratio. 
How do I find the best 18K gold rings?

Is 18k gold a real ring?
18K gold, as I have stated, is 75 percent pure gold. But whether or not it really depends on the seller. If it's marked as 18K gold and from a reputable seller, then you can expect it to be real. I recommend only buying from either a fine jeweler or, if you're buying from a site like Etsy, check out reviews and the detailed description for the product being sold. Words like "gold tone" or "gold plated" are signs it's not exactly what you think. 
How long does an 18k gold plated ring last?
One tempting option you may come across is 18K gold plating. On the surface, 18K gold plating seems like an excellent choice. You'll see the same beautiful luster of regular 18K gold at a fraction of the cost. The problem? Most gold plating lasts an average of just three years. Gold plating is what it sounds like: a fine layer of gold alloy (18K in this case) is plated over another metal. The plating can wear, fade and tarnish. 
How long does 18K Vermeil last?
Vermeil is another type of plating, but it's a far better choice because it's made out of thicker, higher-quality plating. I don't recommend this material for an engagement or wedding ring, but I do think it can be an option for a ring worn on occasion, like a cocktail ring. You can expect these cheaper rings to last longer than gold plating– up to several years or as much as over 10 years– but it still won't last as well as a regular 18K gold ring. How do I select a diamond ring?
If you want an 18K gold ring with a diamond or precious gemstone, you also, of course, need to pay attention to the gemstone quality. For both, consider cut, clarity, color, and carat. For diamonds, color is the most important– prioritize this first, the clarity, then cut, and whatever budget you have leftover, in my opinion, should determine the carat size. 
How do I select a diamond ring?
By checking these factors, you'll also ensure that the diamond you're buying has details about quality. All diamond rings should come with a certification of authenticity, as well as official ratings from the GIA or AGS.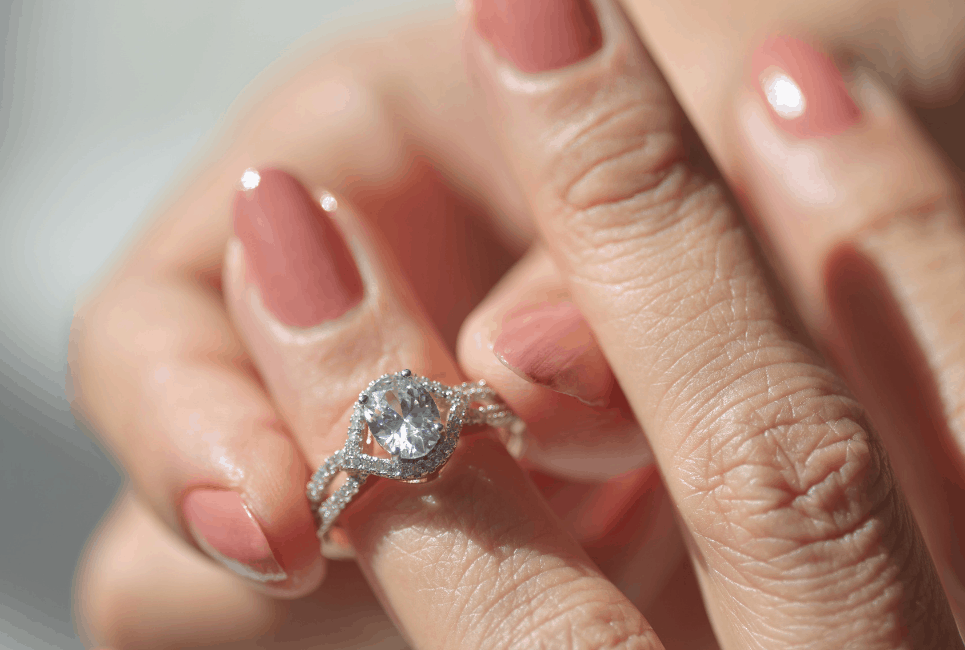 Color
Color greatly impacts the look of your diamond. For diamonds, colorless and nearly colorless are the only options you should consider (aside from fancy colors). Colors are rated on a scale of D to Z. Aim to buy a diamond that's colorless (D to F) or nearly colorless (D to J). Starting at K, diamonds will have a faint yellow to a medium yellow hue. These actually are sold by well-known jewelers– including the Signet Jewelers Group. 
Clarity
The second most important factor is the diamond's clarity. Clarity is determined by the inclusions (flaws) and impacts how light interacts with the diamond. If you've selected a great color, you can be a little less picky about clarity– it's less noticeable. The only clarity you want to avoid for sure is included (I1, I2, and I3) which have noticeable flaws. Internally flawless diamonds (FL, IF) are quite expensive, rare, and may not be worth your money. 
If you opt for a large carat size, you may want to aim for very very slightly included to very slightly included (VVS1, VVS2, VS1, VS2) over slightly included (SI1, S12). Slightly included is noticeable, but fairly subtle with smaller carats (1 or under). With larger carats, however, the inclusions may be visible enough it's worth going up a clarity rating. 
Cut
The round brilliant cut is the most expensive and provides the greatest brilliance. But after that, there are many excellent cuts. Choose from cushion cuts, oval cuts, Asscher cuts, marquise cuts, princess cuts, emerald cuts, pear cuts, and heart cuts. 
For Other Gemstones
Gemstones with color are a tad different. Color is sometimes rated from poor to heirloom. Saturation plays a large role: the more vivid the color, the more valuable it is. You should always ask for a social GIA rating to determine the quality of individual gemstones. 
Should I buy a lab-grown or natural gemstone ring?
Lab-grown gems have the same physical properties as natural gemstones. They are less precious, and thus less valuable– but just as durable. If you want to save money, I recommend opting for lab-grown over natural. If you do buy a natural gemstone, see if the company supplies any information about gemstone sourcing. Gemstones ideally should be conflict-free and better yet if they're mined sustainably. 
18K Gold Rings: My Picks
Here are my picks for high-quality, gorgeous 18K gold rings. From striking cocktail rings to elegant engagement rings and classic wedding bands, all of my ideas are crafted with care. Genuine 18K gold accompanies precious gemstones, all from respected jewelers. I've made sure to select 18K gold rings that are worth your money and will make an impression for years to come. 
18K Gold Cocktail Rings
18K gold is a splendid match for cocktail rings. The glossy, high shine finish is simply splendid when paired with gorgeous gemstones. Cocktail rings, also known as statement rings, tend to be a bit bolder than engagement rings and range from contemporary to vintage-inspired. Meant to make a statement accessory, cocktail rings often feature more unique cuts or styles. Here are just a few ideas.
Ippolita Triple-Bangle 18K Gold Cocktail Ring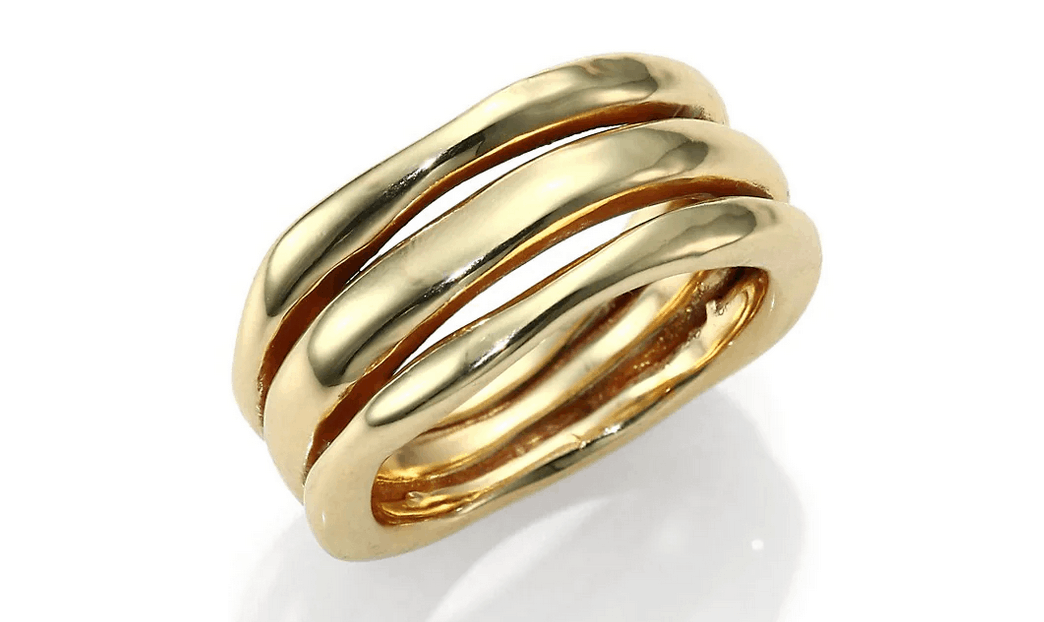 Most of the time when I recommend cocktail rings, they include large gemstones. But they don't have to. This cocktail ring, crafted in 18K yellow gold, is versatile enough you'll wear it time and time again. Italian designer Ippolita Rostagno continues her modern luxurious designs. You can see the influence of her work as a sculptor with the undulating, fluid, organic movement to this ring. Priced at $795; Buy Here. 
Monica Rich 18K Gold Cocktail Rings (Collection)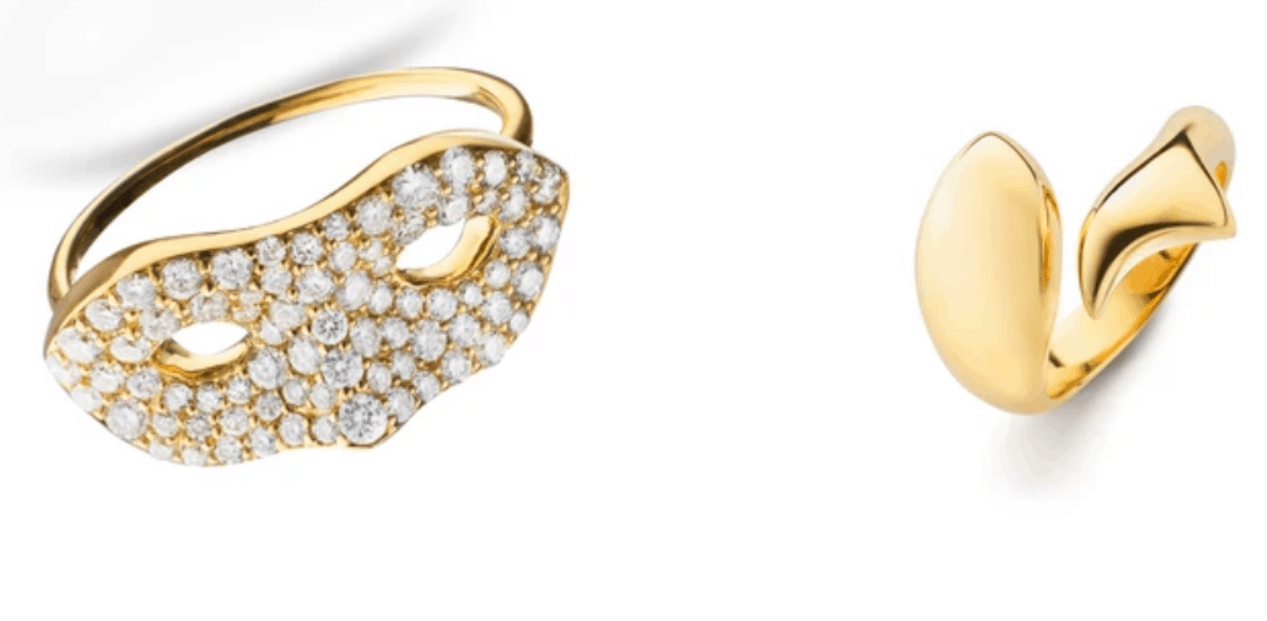 Your best bet? Shopping an entire collection of 18K gold rings. This delightful collection of 18K gold rings comes from a jeweler who partners closely with their manufacturing sites, uses only ethically sourced diamonds, has been labeled as a sustainable company, and carries collections that go towards charitable causes. 
Of this collection, my favorite rings include: the playful Unmasked Diamond Ring, the elegant "World is Your Oyster" Stackable Pearl Ring, and the geometric "Perseverance" Fish Ring. The collection is priced from $74 to $3,250. Shop All Here.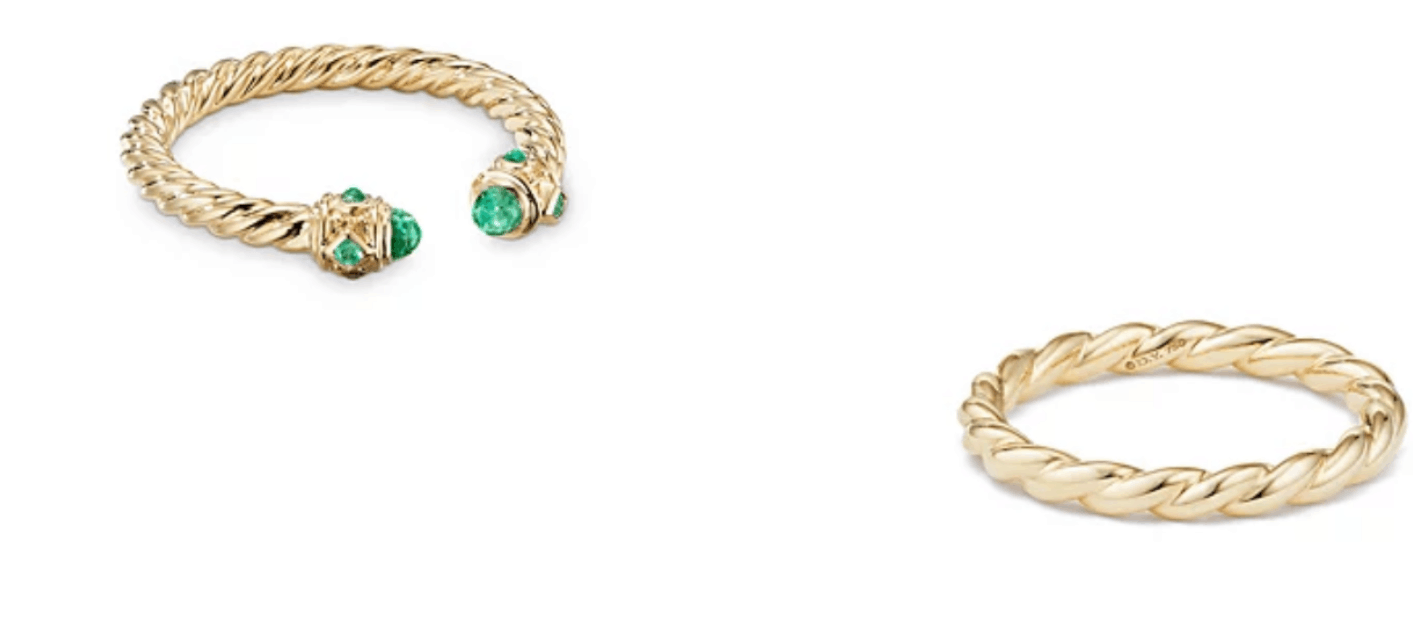 Want rings that you can wear every day but that still feel modern and unique? The small collection of David Yurman's rings at Bloomingdale's may fit the bill. Some are classified as engagement rings, but they have the allure of a modern cocktail ring.
Consider the Renaissance Ring, which is crafted with 18K gold and features genuine emeralds at the clasp ($875), or the Petite Helena Wrap Ring, which exudes elegance with a cable twist band, 18K yellow gold, and sparkling diamond accents ($975). You can shop at Bloomingdale's Here. 
18K Gold Engagement Rings
For 18K gold engagement rings, you'll want to buy from a reputable jeweler. Many jewelers you may know to sell far more 14K than 18K– so you have to get creative. Brilliant Earth, Tiffany &Co, and Robbins Brothers are all excellent choices. These companies provide gorgeous craftsmanship, quality materials, and have a great reputation. 
Brilliant Earth 18K Gold Engagement Rings

I minion Brilliant Earth often, but for good reason. The company provides alluring, elegant, and modern rings with excellent craftsmanship. They're known as a leader in the diamond industry for sustainability, ethical sourcing, and customer satisfaction. Their 18K gold engagement ring collection doesn't disappoint.
Through their create your own ring process, you can choose from 270 18K gold settings. From there, you determine the exact quality of your center diamond stone. You simply can't go wrong with these ring settings. 
Some of my favorite styles include the Luxe Sienna Halo ($2,990) for overall glamour; the Summer Blossom Ring ($2,050) for romantic, vintage-inspired touches; the Alden Ring ($1,490) for a chunky band style and the Four-Prong Comfort Fit ($490) for a classic, comfortable, and more budget-friendly solitaire setting.
The collection is priced from $490 to $5,150 for ring settings– the total price will be determined when you select the center stone. Start Designing Here. 
Robbins Brother 18K Gold Engagement Rings

Robbins Brothers carry several 18K gold engagement rings, but not all are equal. While none of the rings I saw features any diamond quality that was below acceptable, I did find some excellent ring settings. 
These include the Sims G 18K Gold Engagement Ring (in white and yellow; H color and VS2 clarity, $2,200); the elegant Tacori 18K Rose Gold Engagement Ring (G color, VS2 clarity, $4,790), and the luxurious solitaire setting of the Michael M Engagement Ring (G color, VS2 clarity, $2,150). Shop All Gold Rings Here (includes 14K). 
Tiffany & Co 18K Gold Engagement Ring Setting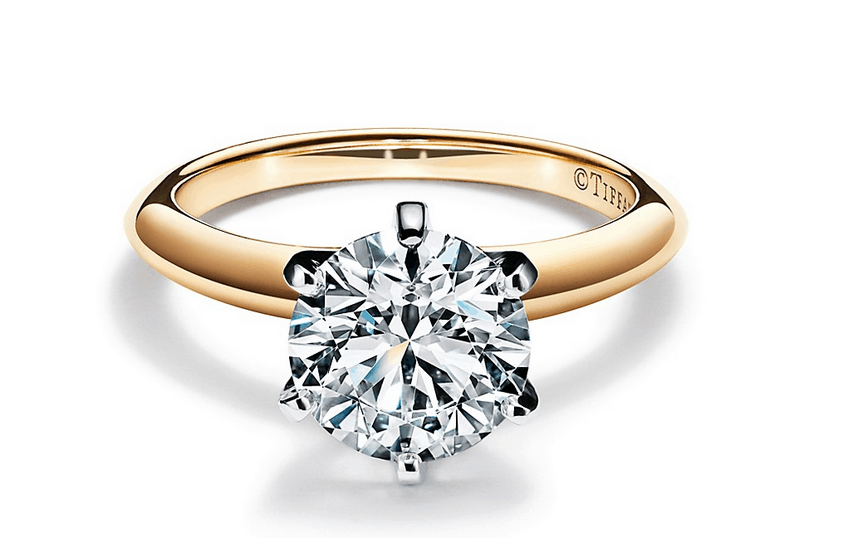 Feeling overwhelmed? Sometimes a simple, classic, solitaire setting is the way to go. Luxury designer Tiffany & Co is iconic and simply timeless.  A sophisticated 18K yellow or rose gold band with a six-prong setting is perfect for a round brilliant diamond. There, you'll select the color, cut, clarity, and carat of your center diamond. You must call to request a price, based upon your selection. Shop Here. 
18K Gold Wedding Rings
From diamond-accented to plain bands, 18K gold– especially yellow gold– exudes elegance and makes for a beautiful wedding ring. Modern, versatile, and classic, my picks come from Blue Nile, Brilliant Earth, and Charles & Colvard. 
Matte Beveled Edge Wedding Ring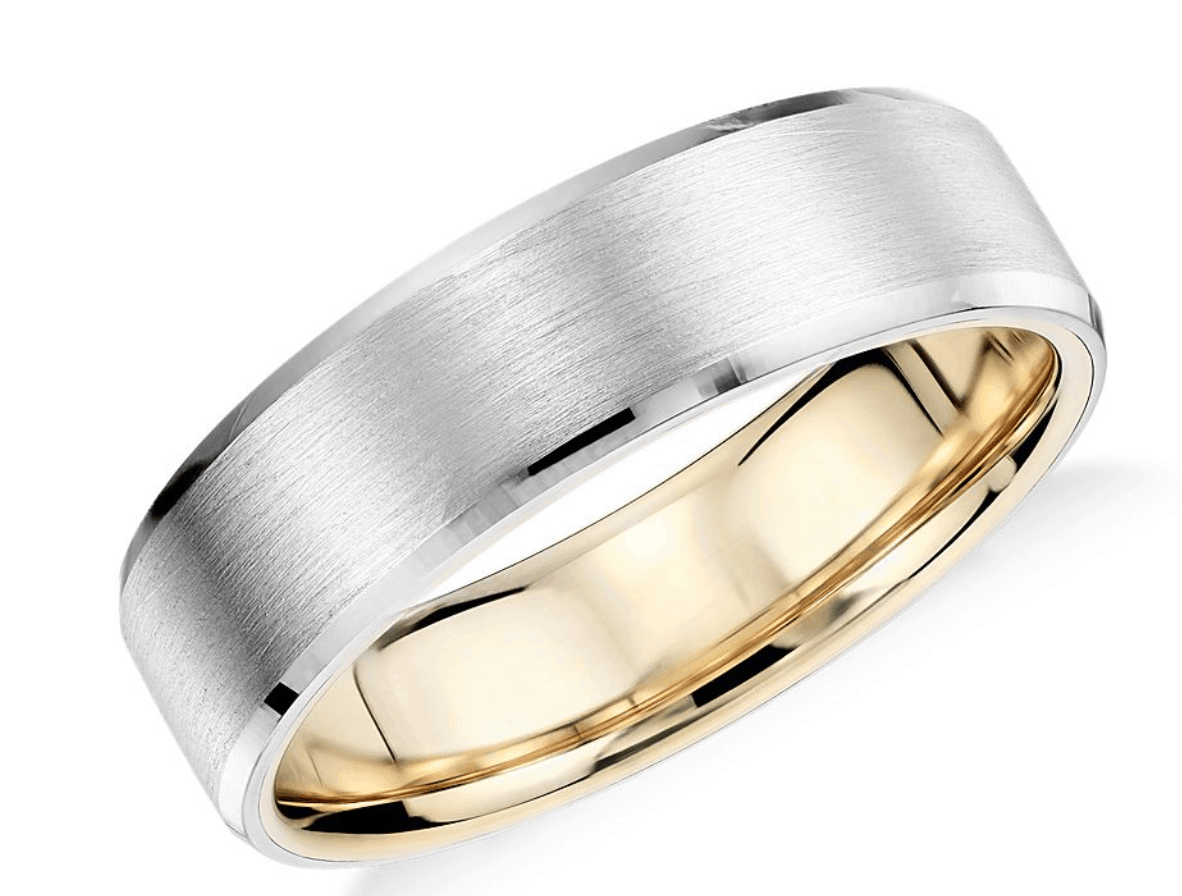 Can't decide between 18K gold or platinum? You don't have to, with this modern wedding ring from Blue Nile. A platinum exterior is accented with a glossy 18K gold interior. The matte and polished finishes add dimension with this 5-star reviewed, solid wedding band. Priced at $1,490; Buy Here.  
Brilliant Earth 18K Gold Weddings Bands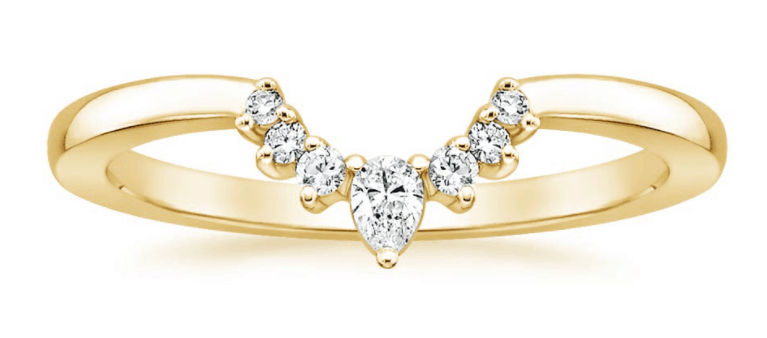 While I love Brilliant Earth's 18K gold engagement ring collection, I may admire their wedding band collection even more. From petite twist rings to unique geometric designs, as seen with the Lunette Diamond Ring or Winding Willow Ring, the collection is both elegant and modern. You'll find rose, yellow and white gold rings. 
There are also modern rings with vintage touches, such as this 18K Gold Tiara Diamond Ring. Elegant craftsmanship, ethically sourced diamonds, and alluring designs are all parts of this collection. They do have a handful of 14K rings in the mix, so read carefully. Shop the entire Brilliant Earth Engagement Ring Collection Here. 
Charles & Colvard Eternity Wedding Rings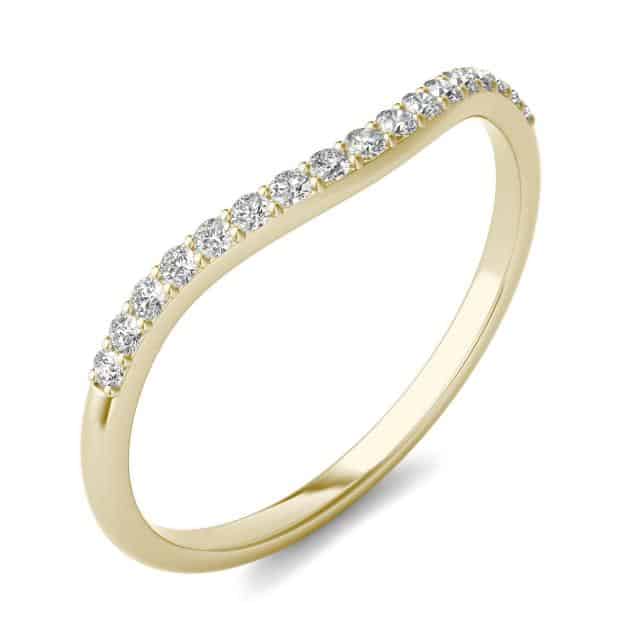 If you love the look of an eternity band, consider Charles & Colvard. Their collection of 18K white, rose and gold rings are made with sparkling lab-grown diamonds. A bit more affordable than some competitors, the styles are timeless. Even better, many of their diamonds feature excellent cut grades, nearly flawless clarity, and exquisite craftsmanship. You should, of course, read the details of diamond grading for each ring.
Standouts from the collection include the Cadian Rings, such as this 2 Carat Eternity Band ($1,879 and this modern 1/6 Carat Cushion Curved Band.
18K rings are priced from $469 to $1,879. Shop All 18K Wedding Rings Here. 
Frequently Asked Questions
Question: Does 18k gold turn skin green?
Answer: Genuine 18K gold usually doesn't turn your skin green if treated with care. The green color comes from oxidation over time. It's not harmful; all alloys with copper and nickel can do this, but it's not common with high-quality rings. 
Question: Will 18K gold plated jewelry fade?
Answer: Not only can 18K gold plating fade over time, but it will fade. This is part of the wear you can expect after a few years. 
Question: Can you wear an 18k gold ring every day?
 
Answer: 18K gold is suitable for everyday use, but I do recommend wearing it with caution. Don't wear your ring while using harsh chemicals and I also recommend removing your ring during high levels of physical activity, especially combat sports. Keep in mind that 18K gold is a bit soft and can scratch. 
Question: Can you shower with an 18k gold ring?
Answer: You can shower with an 18K gold ring, but it's still a better idea not to. The concern isn't with the water, but with any shampoo or body soap you're using. Over time, this can dull precious gemstones. 
Final Thoughts
18K gold rings, at their best, are gorgeous and timeless. If you are looking for a slightly more scratch-resistant ring, you could go down in karat (to 14K) though it won't have as rich of luster. If you have a big budget and like a more white-silver look, platinum rings are an excellent choice– they're more durable and even more valuable. 
Further Read:
7 Best 1.5 Carat Diamond Ring Ideas For The Perfect Ring