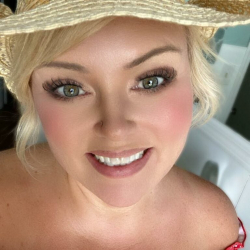 Latest posts by Kristen Swain
(see all)
There are many stunning uncommon gems to adorn your jewelry, and the green Moldavite gem is one of the rarest on Earth. Let's learn about the uniquely beautiful Moldavite and get inspired to go ring shopping. 
What is Moldavite
Moldavite is from outer space! A truly extraterrestrial gemstone, it was formed from a giant meteorite that fell approximately 14.7 million years ago in what is now the modern-day Czech Republic.
Moldavite is specifically found in Bohemia. Small amounts have been found in other areas of Bohemia, Moravia, Germany, and Austria.
Moldavite is truly one of the rarest gemstones on Earth, and scientists have estimated there are only about 275 tons of it in existence. Moldavite is becoming increasingly rare as supplies of it are becoming harder to find. The mines where it is found are running out of this gemstone. 
The coloring of Moldavite is mostly mossy green, forest green, or blue-green. It is most similar to glass in its chemical properties and can be translucent or transparent.
It typically has bubbles and swirls and often has long thin strand inclusions. Moldavite often has wrinkles and folds on the outermost parts of the gem. 
Moldavite is classified as tektite, a gravel-sized glass that is formed from earth debris that is expelled from meteorite impacts. They have pittings and wrinkles on their surfaces that are not from the action of water but instead are a characteristic of markings on meteorites.   
As far as hardness goes, Moldavite is between 5.5 and 7 on the Moh scale. It is a bit of a fragile gem and can be broken if hit against a hard object or dropped. While it will hold up to daily use, it is a gem that care should be taken with. 
History of Moldavite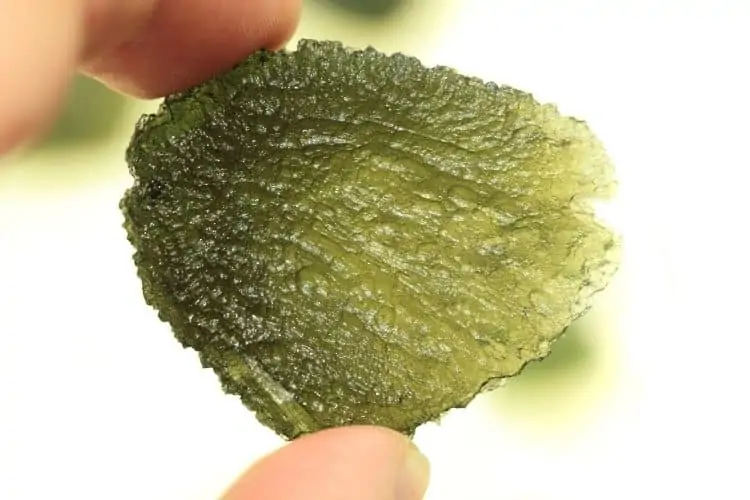 Moldavite was introduced in 1786 in a lecture at Prague University. These stones formed when materials were sprayed in the air during the meteorite impact hardened before they fell back to Earth.
When the stone melted at impact in the intense heat, it was flung into the air and formed glassy-looking gemstones. 
The gemstone is named after the river it was discovered close to, the Moldau River. In the Czech Republic, the gem is also called Vitamin. It is popularly known as the Stone of Greatness.
Symbolism of Moldavite
Moldavite is popular as a mystical gemstone. It is popular with witches, healers, and mystics. Mystically it is considered a high vibrational crystal, and the term "Moldavite Flush" was coined after the warm rush of energy that many people experience when first holding the gem. 
In spiritual terms, Moldavite is considered a very powerful stone with powerful healing energies. Even those who normally do not react to crystal powers have felt the energies of this substantial gemstone. 
Overall, it is considered a healing crystal but is especially a transformation stone. Once you wear this gem, you will be able to learn your deepest desires and affect great changes in your life.
Moldavite's metaphysical properties allow us to wear the stone and feel protected while allowing us to heal our well-being by letting go of bad behaviors, thoughts, and feelings. 
Inspirational Moldavite Rings To Wear the Healing Energy of Moldavite
Moldavite is set in both natural state or polished and cut to gemstone quality. It will be your choice to decide on a ring that looks more refined or 
Cocktail Pieces
A Journey Through Art – Trillion Cut Moldavite Ring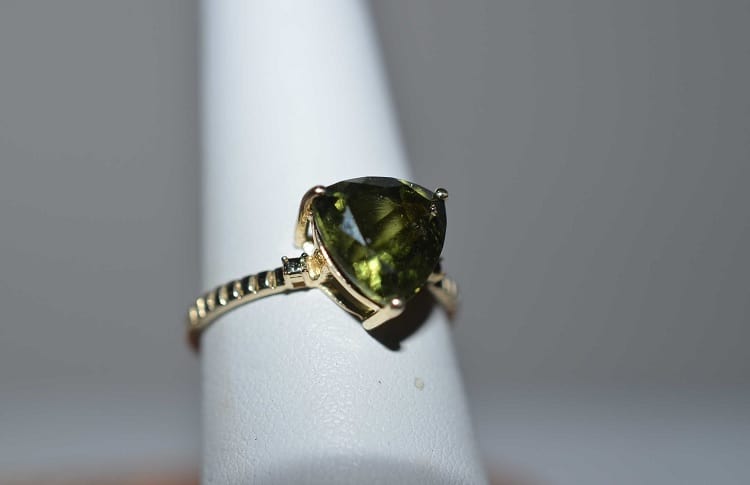 Gorgeous in its simplicity, this trillion-cut ring features and only showcases the large olive Moldavite stone in a way that shows off the inner beauty of the stone. The 10K gold setting is simply beautiful and coordinates with the deep green of the stone. 
Klenot Moldavite and Diamond Ring in Yellow Gold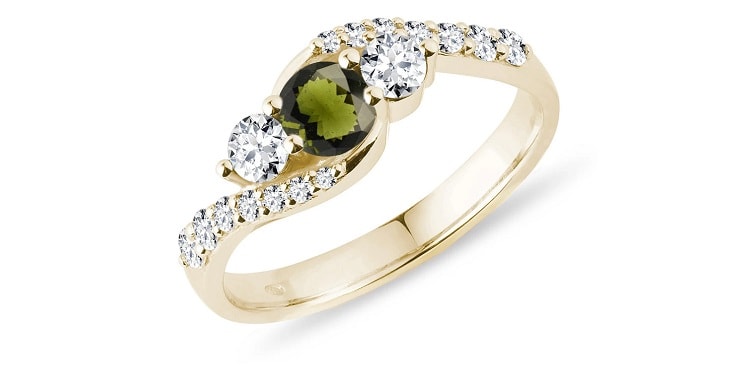 The swirling setting of this Moldavite ring enhances the swirls in the Moldavite gem. Two large diamonds sit as accents on either side of the Moldavite center stone. The two sides of the band stretch outward to one side of the diamonds, creating a stunning swirl look.
Heavenly Treasure Moldavite Gemstone Rings in White Gold with Diamonds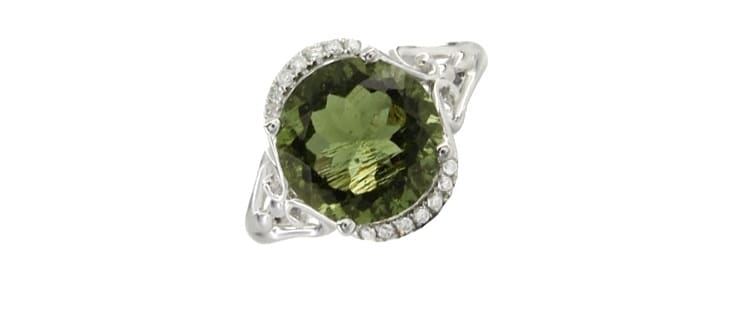 This huge 3.15 carat Moldavite is amazing! The center stone is accented with two semi-circles of diamonds on the top and bottom of the stone. The large faceted stone is gloriously enormous and is a real show stopper. The white gold setting is lightly detailed to show off the deep mossy green Moldavite.
Best Cut Gems – Moldavite Oval Ring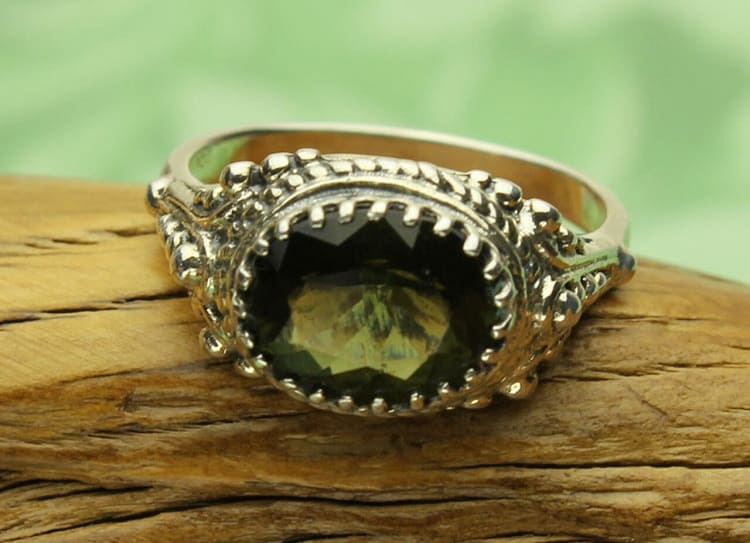 This large 2 Carat oval stone is a stunning set in an antique-styled setting. The .925 silver setting has an old-style look with some deeper coloration inside the nooks of the ring. The oval cut of the stone allows you to see the genuine imperfections within the stone while still having the sparkle of a polished and cut gem.
Everyday Rings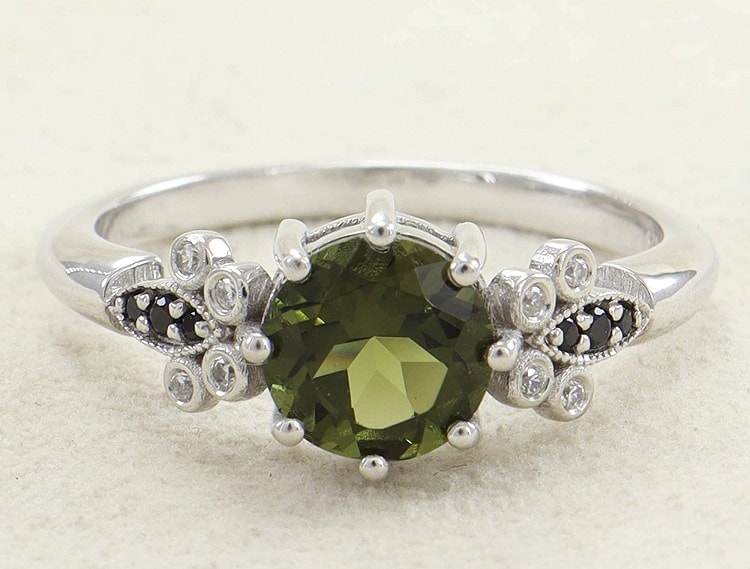 This sweet little Moldavite ring is detailed with two leaf shapes that hold three small Onyx gems and is decorated with four White Zircon round gems as well.
The ring is reminiscent of a flower with leaves. The gorgeous round Moldavite is highlighted well in the ring. This beautiful ring is perfectly designed for everyday wear.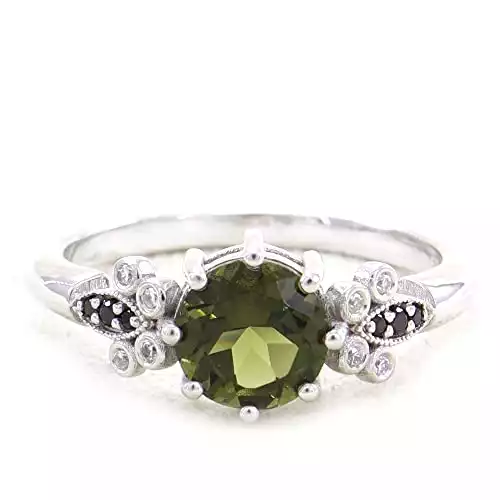 JTV Green Moldavite 10k Yellow Gold Ring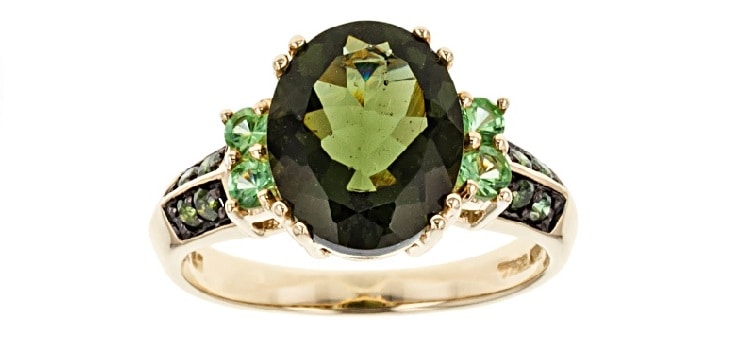 This Moldavite center stone is accented with unique green garnets and green diamonds. While the garnets are stunningly bright green, the Moldavite and diamonds are a matching olive green. Set in a yellow gold setting, this beautiful piece is elegant and stunning.
Faceted Moldavite Ring Triple Knot Triquetra 925 Sterling Silver

Celtic Knot rings are such beautiful pieces and stand out uniquely against most modern-day designs. This triple knot ring includes two-knot pieces to either side of a Moldavite marquee. The only color setting that would be right for this piece, the silver setting, is slightly antiqued to perfection.
Engagement Rings
Klenota Moldavite Ring in Yellow Gold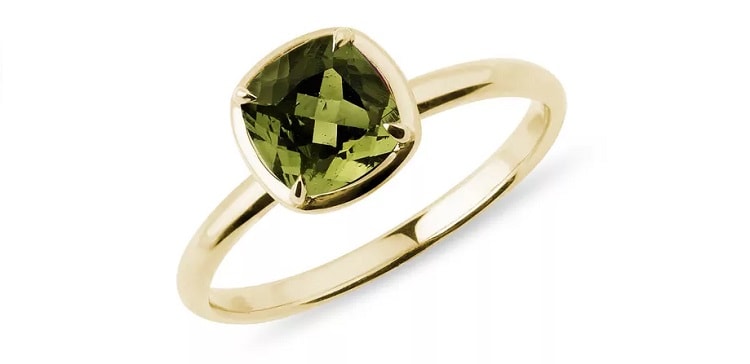 The cushion-cut stone in a 14k gold simple setting makes this Moldavite ring stand out. It could absolutely be an engagement ring and has a total wow factor to it. One big mystical factor to Moldavite is its ability to attract not only love but soul mates. 
Jewelry By Johan – Moldavite and Meteorite Platinum Engagement Ring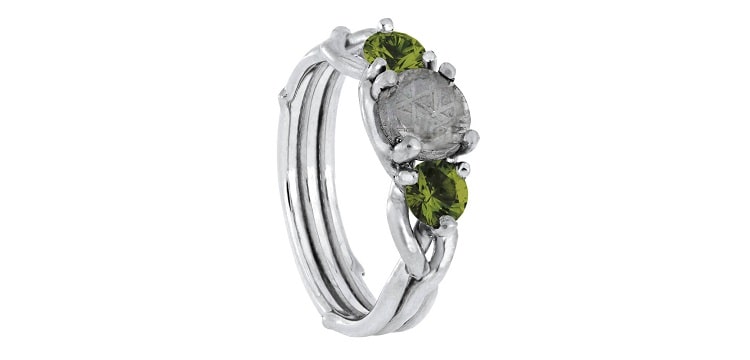 This is by far the most unique and awesome ring ever! A genuinely out-of-this-world engagement ring. Both stones are extraterrestrial and show a love that is so very special and unique.
The Moldavite stones support the stunning meteorite center stone, surrounded in a platinum setting. This engagement ring is truly a conversation piece.
Klenota Moldavite Engagement Ring with Diamonds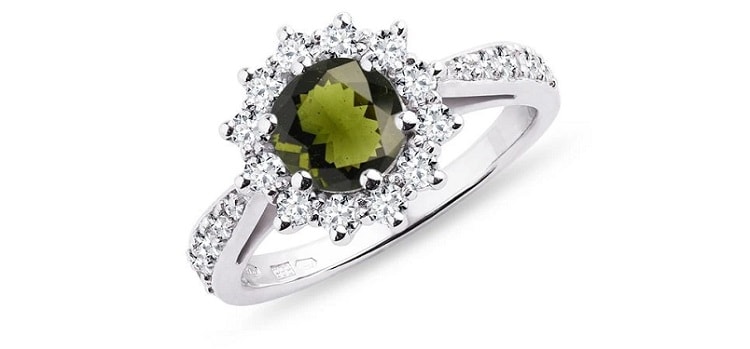 The halo of diamonds around the center stone resembles a flower in design in this unique Moldavite Ring .
The white gold blends well with the diamonds to add sparkle without color and helps to make the deep olive green Moldavite shine. There are also diamonds along the band to add more sparkle to this beautiful ring. 
Natural Stone Rings
Raw Moldavite Ring Us – Sterling Silver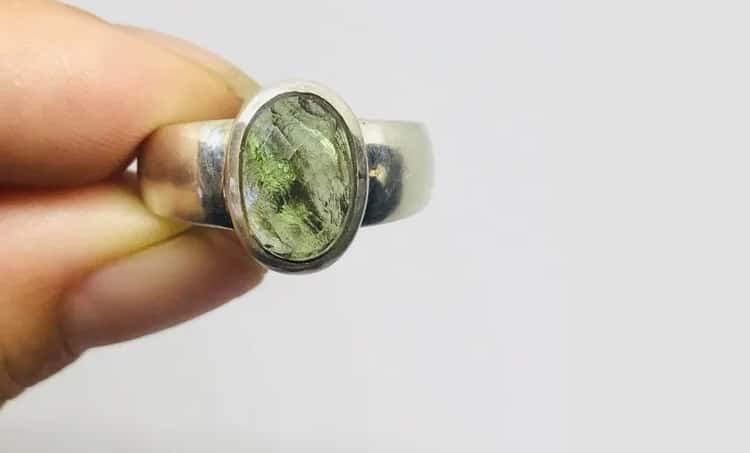 Chunky and gorgeous , this ring shows that we can wear a unique and decorative gemstone without sacrificing style. Enrobed on the edges with silver, the gemstone is secured with a ring of silver.
Deep in the Moldavite, you can see inclusions that make up the real Moldavite. The stone looks much like the wavy river on the top and is very nature reminiscent. 
SunnyCrystals Genuine Moldavite Ring Sterling Silver High Vibration Spiritual Energy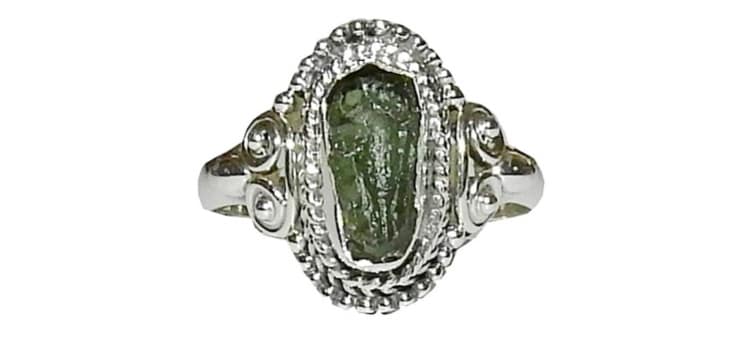 This natural gem ring is cradled in its setting with a genuine Moldavite gem. It is glued into the setting, then ringed with silver to keep it in place.
The natural look gives you the opportunity to showcase the swirls and dips of the Moldavite. The ring is enhanced with beading and swirls of silver to accent the amazing Moldavite gem.
Temple of Crystal Moldavite Ring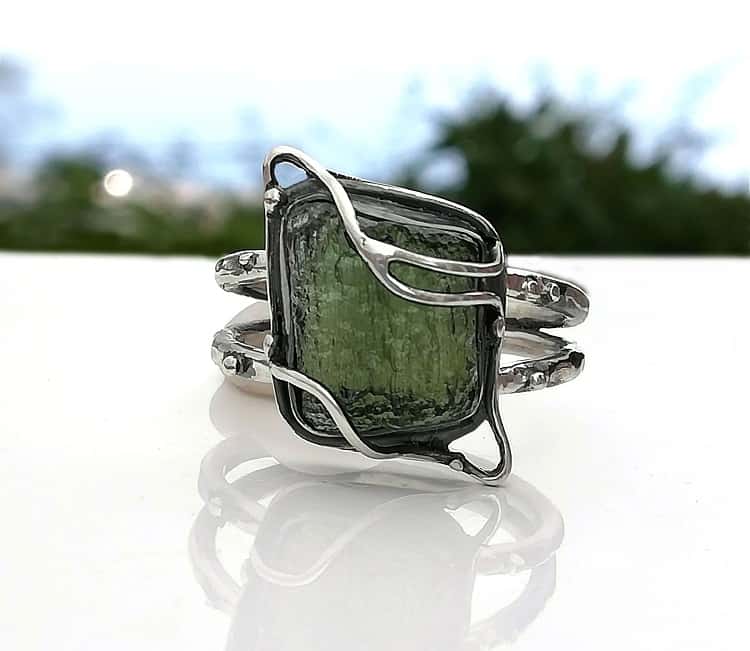 Held in place with a decorative swirl, this beautiful Moldavite piece has little bubbles of silver that decorate the swirls and ring band. This ring showcases the lovely rectangular stone without covering too much of the sides of the stone.
Alternatives to Moldavite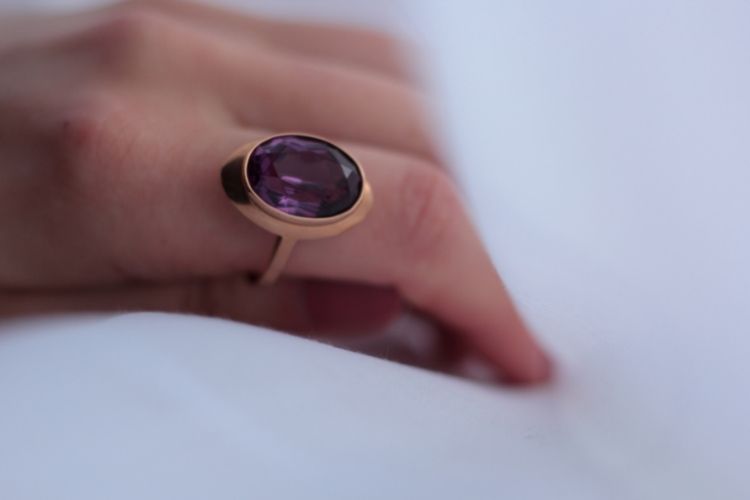 Moldavite is rare, and a jeweler's polished gemstone could be quite expensive. However, there are other stones that are similar and may replace the Moldavite in your gemstone jewelry. 
Amethyst
The purple quartz stone has been worn back as far as Greek times. This February birthstone is inexpensive and comes in various shades of purple.
Clear Quartz
This is the most recognizable crystal and is the most commonly thought of when people think of crystal gems. Clear and white colors are the most common colors of this stone. The green-colored version of this crystal can be very similar in color to Moldavite. 
Aventurine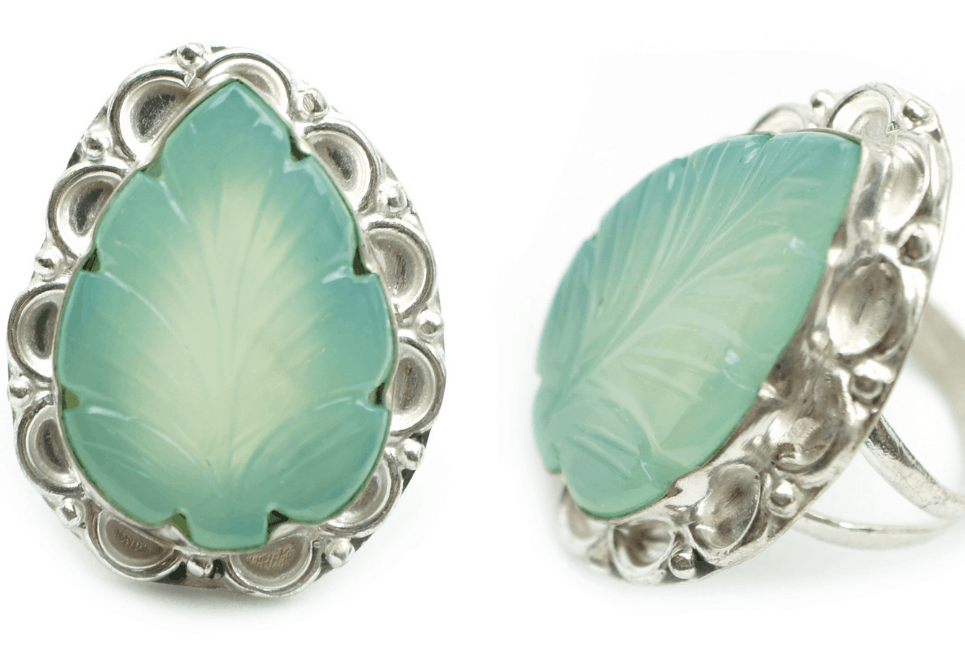 This stone most commonly comes in shades of green; it is a soft pale jade color with some layering of shimmer. Though not transparent, it is translucent to opaque and very affordable.
Desert Glass
Another glass gemstone, the coloring of Libyan Desert Glass is often lime or yellow toned. This is also a rare and beautiful crystal that originates from one region in the world. 
Labradorite
This opaque stone is typically multicolored with a play-of-color in shades of blue-green. There are specimens of Labradorite that display a rainbow spectrum of colors, and you can get stones that have singular or dual coloring.
FAQs
Question: Can You Wear Moldavite to Sleep?
Answer: Crystals that can overstimulate you should not be kept in your bedroom; two examples of those are Turquoise and Moldavite.
Question: How Can I Tell a Fake Moldavite?
Answer: Counterfeiters are using genuine Moldavite to create molds in order to fake the gemstone. However, real Moldavite always has inclusions such as bubbles, as well as long thin strands of Lechatelierite.
Fake Moldavite is often a bright green as counterfeiters melt down old green glass bottles to make the fake stones. Low-priced, flawless, wet-looking stones will indications of fake stones as well. 
Question: What Stone is Similar to Moldavite?
Answer: Desert Glass is known as a sister stone to Moldavite. It has energies that are similar but not as intense as Moldavite and it helps the wearer to connect with their true identity and that outward unapologetically.
Question: How do you activate crystals?
Answer: Activate a crystal by lending some of your energy to it. If the stone feels overweight or heavy compared to how it should feel, it may need activation. Sing, speak or breathe on it to reenergize your crystal.
Question: What Happens When You Wear Moldavite?
Moldavite is known for its healing powers, but it will also help you move past difficult areas in your life so that your life force and energy will flow more freely.
Conclusion
Moldavite is a beautiful deep olive green glass gemstone that is literally out of this world. It is a true space gem that we get to touch here on Earth. That alone makes it worth investing in.
Metaphysically, this stone can help you find your deepest desires and awaken your heart to change, and for that reason, I think Moldavite ring is a worthwhile investment.
Add in that this gemstone is rapidly disappearing due to the shortage of newly mined pieces, and of course, you should have one in your jewelry box.