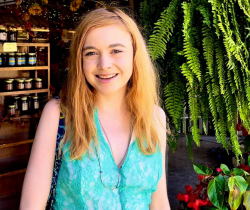 Latest posts by Erin Jamieson
(see all)
Increasingly rarer every year, one gemstone– with roots as far back as Ancient Egypt– is more alluring than ever. In 2022, turquoise rings add expressive blue hues to designer and fine jeweler's collections.
Turquoise, a natural gemstone, is in higher demand. That's for several reasons. For one, the natural gemstone is rarer than ever. For another, the expressive hue follows the trend towards more colorful, unique gemstone accessories for 2022. 
Turquoise was the center of attention for some statement pieces at the 2022 Las Vegas Jewelry Week. Colorful gemstones, including turquoise, were set in gold and other precious metals for a dazzling look.  Several designers, including Laudia Yambala, are focusing on colorful and meaningful gemstones, including turquoise. 
And for rings? There's been a trend for many years for more unique styles. A 2017 report by CNBC found this extended to engagement rings. Many couples are opting for diamond alternatives, including bright colors. 
But is a turquoise ring right for you? In this short guide, I'll tell you what you need to know about turquoise rings– including buying tips. Plus, I'll include my favorite ring ideas and picks for 2022. 

What's So Special About Turquoise?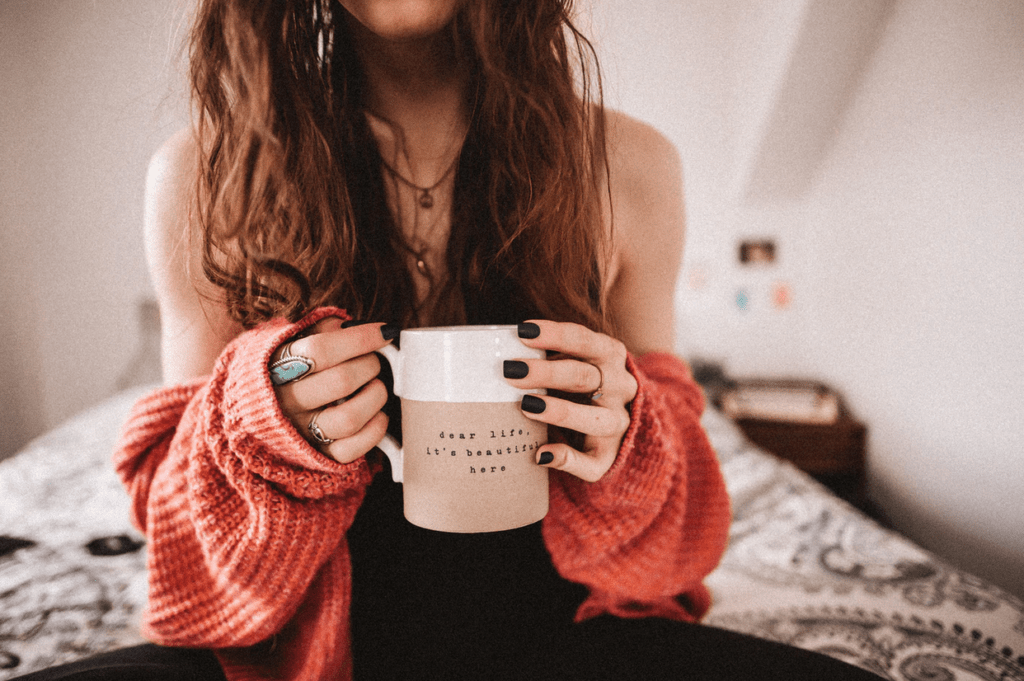 Turquoise is a unique gemstone with an expressive hue. Even more, it's rich with its history, symbolism, and cultural significance.  Turquoise may have been the first gemstone mined, dating as far back as 6000 BC.
Turquoise has held significance in Egypt, Iran, Turkey, and the Aztecs. Turquoise has been found buried with mummies as well. Today, it holds great significance amongst the Zuni and Navajo people. 
What is the Symbolism of Turquoise?
Turquoise is a symbol of wisdom and good fortune. Many also connect turquoise to hope and connection with the natural world. In the ancient worlds and amongst indigenous people, it's often used for protection and believed to bring forth positive energy and unconditional love. 
How do You Use Turquoise for Healing?
Another beautiful symbol of turquoise is that some see it as a healing stone. In Feng Shui, turquoise both aligns and balances energy. It's been said to relieve depression, anxiety, and burnout Some have also associated turquoise with creative thought.
Is a Turquoise Ring Right for Me?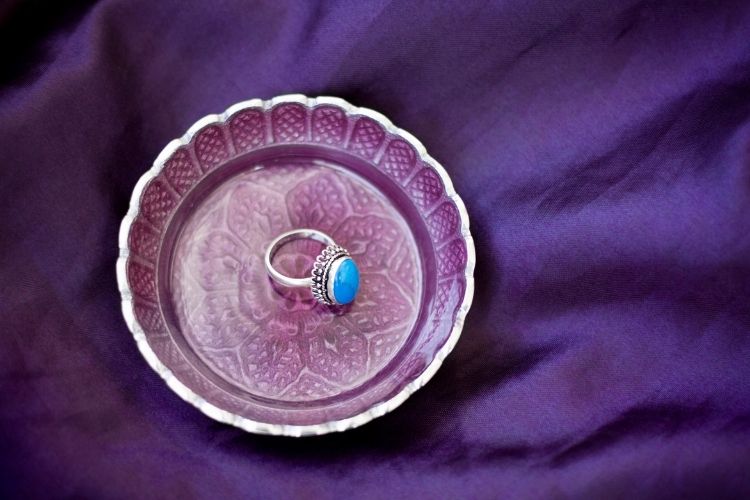 A turquoise ring is a stunning, unique option– but is it right for you? Here are some factors you need to consider before buying any kind of turquoise ring.
Is Turquoise a Natural Gemstone?
Turquoise is a naturally occurring gemstone, but there are also lab-grown turquoise stones being sold. A mere 3 percent of turquoise sold is natural.
The good news is that lab-grown turquoise has the same physical properties and is the same quality as the natural gemstone. While not as valuable, lab-grown turquoise may be a smart alternative to natural if you want more options and a less expensive ring. 
Is Turquoise Gemstone Expensive?
Though rare, the price range for turquoise varies from as little as $0.05 per carat to around  $1000 per carat. The price point is largely dependent on the type (lab-grown vs natural) and quality. Highly a highly revered stone, the actual value of turquoise or a turquoise ring varies even more than the value of many other gemstones. 
Can a Turquoise Ring be Worn Every Day?
The durability of a turquoise ring should also be considered. Many do opt for a turquoise ring for everyday wear– but this is a tricky situation. The Mohs Hardness Scale rates how prone to scratches and scuffs gemstones are and is rated from 1 to 10, 10 being the most durable (diamonds).
Turquoise ranks at a 5 to 6 on the hardness scale, making it a softer gemstone. While acceptable for wear, it can scratch with normal wear. In other words: you can wear turquoise rings daily, but expect wear. You also should not wear a turquoise ring during bouts of extreme physical activity or contact sports. 
Does Turquoise Break Easily?
The good news is that turquoise is much tougher than it is hard. Toughness measures how brittle, or how easy a gemstone is to break. Since turquoise is tougher, it can also be shaped more easily than some other gemstone. So, while you may experience surface-level scratches, it's much harder to break or truly damage turquoise. 
Is a Turquoise Ring a Good Investment?
What type of turquoise ring you buy depends. A high-quality, natural turquoise ring is a good investment — in fact, today natural turquoise is considered amongst the most valuable colored gemstones (though, of course, gems like rubies have a much higher value).
Turquoise's value has increased on average by 30 percent in the past few years. Lab-grown turquoise is not as valuable and I wouldn't necessarily look at it as an investment. 
How do I Buy a Turquoise Ring?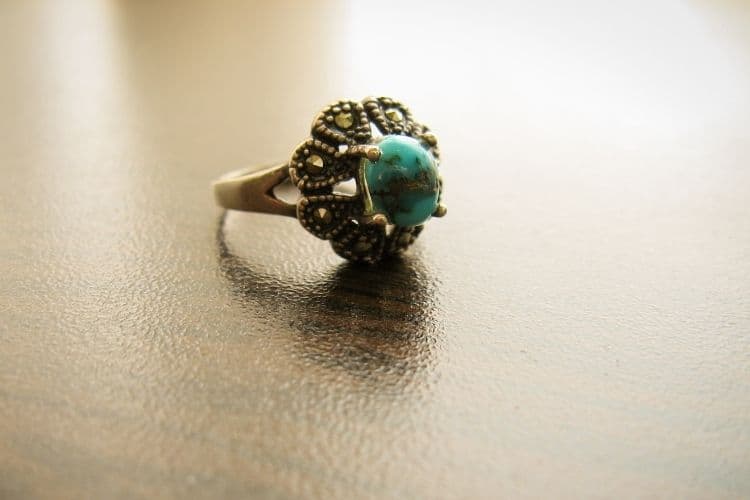 Whether you're opting for a lab-grown or rare natural turquoise ring, make sure you go into the buying process with clear criteria. Here are the guiding principles I use when shopping for the best turquoise rings. 
What is the Best Turquoise to Buy?
The quality of turquoise is graded by color, pattern, and cut, all of which I'd value before carat size. 
What is the Best Turquoise Color?
Turquoise comes in a variety of blue and blue-green hues. The saturation and hue of turquoise play a big role in how valuable it is. If you're looking at lab-grown or natural turquoise, generally the more vivid, saturated hues, the more valuable. The most valued colors are intense blues– think sky blue or robin's egg blue.
You may also see the term "Persian" blue. Green hues are less valuable, but that doesn't inherently mean that they aren't a good purchase. 
Another great option is Sleeping Beauty Blue. This is a beautiful light blue high and also sought after- just not as rare as Persian Blue. 
What is the Best Turquoise Pattern?
The pattern is a unique metric that the GIA uses to determine turquoise quality. While translucent or opaque turquoise plays into quality, so does the pattern.
Some turquoise is deeply spotted, and others have veins, or matrices running through. You may also see spider web patterns. It's a matter of personal preference, but the more mottled and the more veins, typically the less valuable. 
What's the Best Cut for a Turquoise Ring?
The favorite cut for turquoise– for any jewelry– is cabochon. A cabochon cut allows the color of turquoise to exude, especially when polished. Asscher, baguette, emerald, heart, marquise cushion, oval, pear, princess, and trillion cuts are acceptable alternatives, depending on your taste.
However, round cuts are my favorite next choice. They provide the illusion of a larger gemstone, allow the beautiful color to shine, and a natural pairing for many ring styles. 
What is a Raw Turquoise Stone?
Raw turquoise stones are not often used for rings, but sometimes are for an authentic, natural, or boho look. Raw simply means the stone is not polished and cut precisely. Rather, it's a raw chunk. This natural, earthy style is generally less valuable.
How Can You Tell if Turquoise is Real or Fake?
Be cautious when buying a turquoise ring. The truth is, there are many fake turquoise rings. These stimulants tend to be not only less valuable but not durable and will have a different appearance.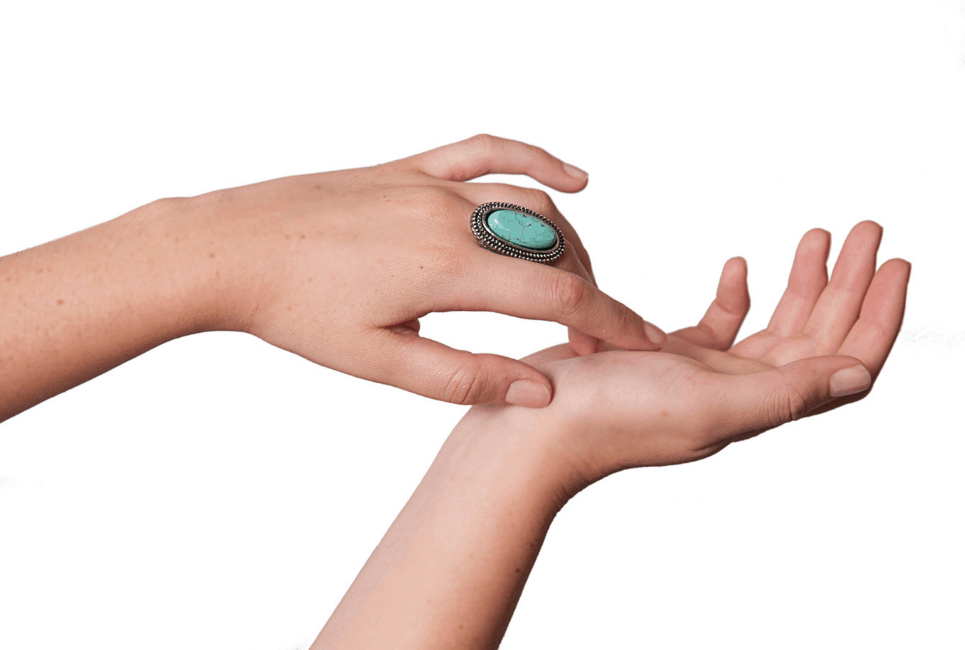 The most common substitute is Howlite. Howlite is very easy to scratch. With turquoise, you have to make some effort- but Howlite will scratch against almost anything. Other signs are rings are dirt cheap prices– especially if that low price is matched with a stone with little to no pattern. 
What Type of Metal is Best for Turquoise Rings?
Popular ring metals for fine jewelry include gold, sterling silver, platinum, and palladium. Costume jewelry uses base metals, such as copper, and sometimes adds gold plating. For sensitive skin, a nickel-free, durable metal like stainless steel is a great option. In truth, you may have to customize your ring if you're picky about metal type.
The complement is turquoise and for a ring that will last, I recommend gold (10K is a bit dull but durable, preferred 14K-18K) or platinum. Sterling silver is a pretty option for a casual ring. Just know that it will tarnish. As such, expect it to last less long, and make sure you keep your ring stored in a moisture-free environment. 
Turquoise Rings: My Ideas
Here are my ideas for some of the best turquoise rings in 2022. These rings come from three collections: Angara, Southwest Silver Gallery, and independent sellers on Etsy. All of these rings feature beautiful styles, crafted with high-quality materials. I've made sure to also consider the price for the value of the ring. 
Angara Turquoise Rings
Of the three collections, Angara is my favorite for a genuine, elegant turquoise ring. One of the few fine jewelers to sell turquoise rings, Angara holds an A+ rating with the Better Business Bureau. Every ring is customizable– so you can select a turquoise ring in the quality and price point that suits you.
Modern craftsmanship, and one of the largest collections of fine rings, there are countless reasons why I love Angara for its turquoise rings. All rings are crafted in your choice of platinum, silver, or 14K gold, all with a polished finish.  
I recommend only buying rings in 14K gold or platinum, and medium to higher quality gemstones. Rings are priced from $249 to $3,989. Shop All Here.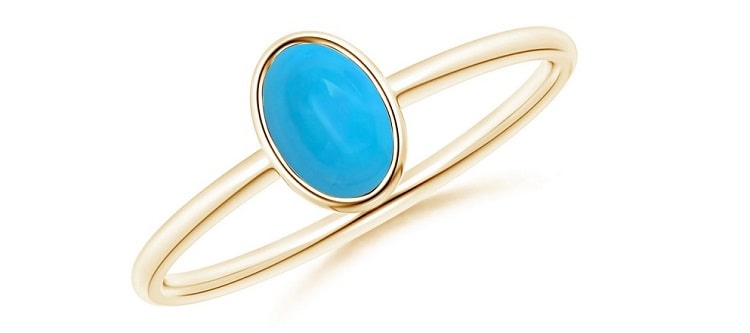 There's something to be said for simplicity. This ring, priced from $319 to $585, is one of the most affordable options from Angara– and also the top seller. An oval cut, sky blue turquoise ring is crafted with a pleasing solitaire style. Simple but elegant, this ring is versatile. Buy Here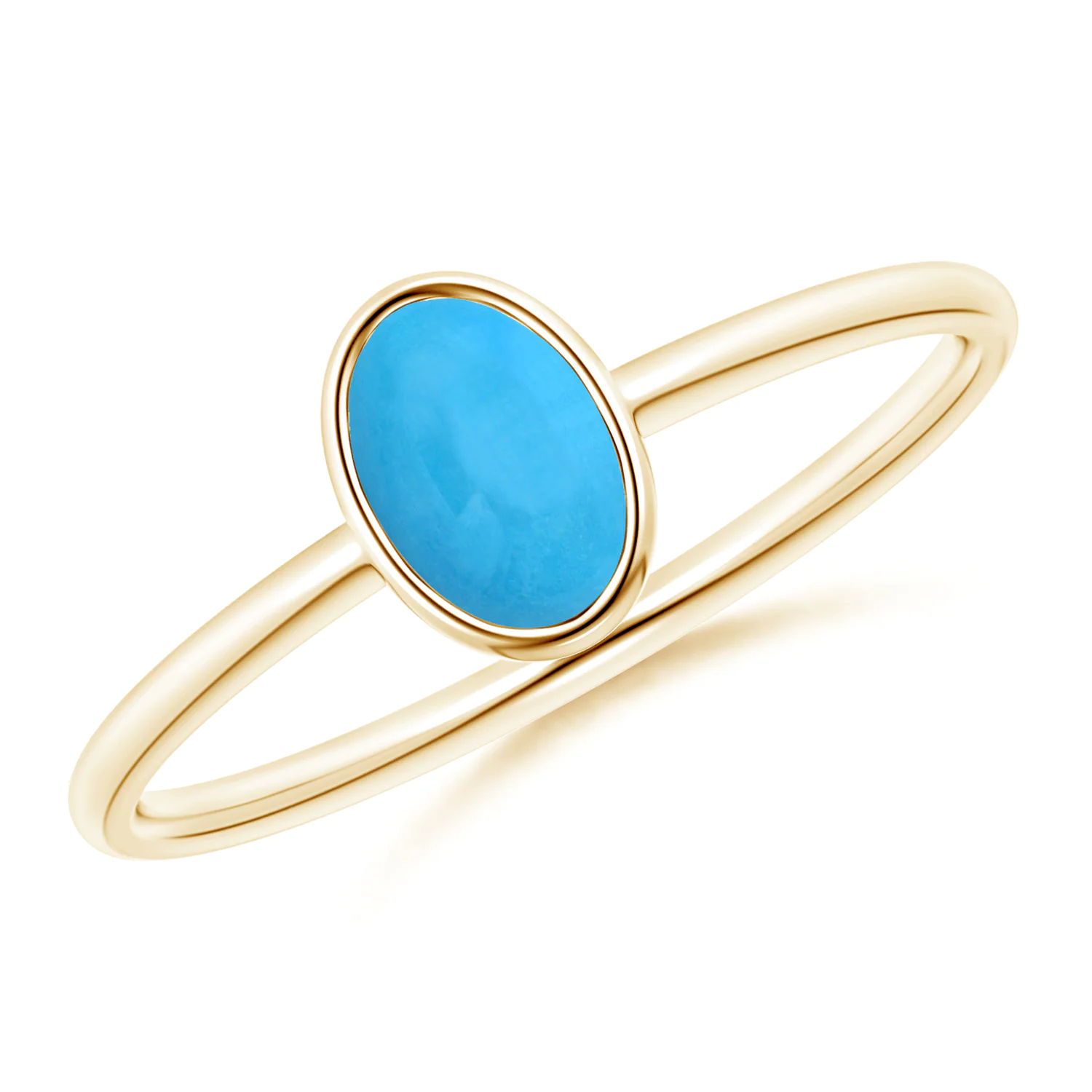 Classic Bezel-Set Oval Turquoise Ring | Angara
Mounted on a sleek band is the oval turquoise in a bezel setting that draws the eye with its striking blue hue. This 14k yellow gold classic solitaire ring looks splendid in its simple yet stylish design.
Check Price
We earn a commission if you make a purchase, at no additional cost to you.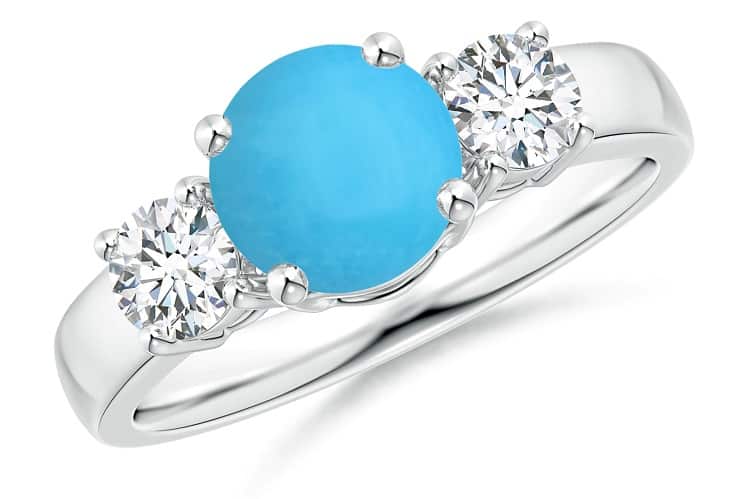 This gorgeous ring is especially beautiful in 14K white gold. A dreamy blue round turquoise stone is set with a classic four-prong style. Two round-cut diamonds flank the turquoise stone on either side. Available in 0.61 to 2.34 carats and priced from $575 (silver) to $5,930; Buy Here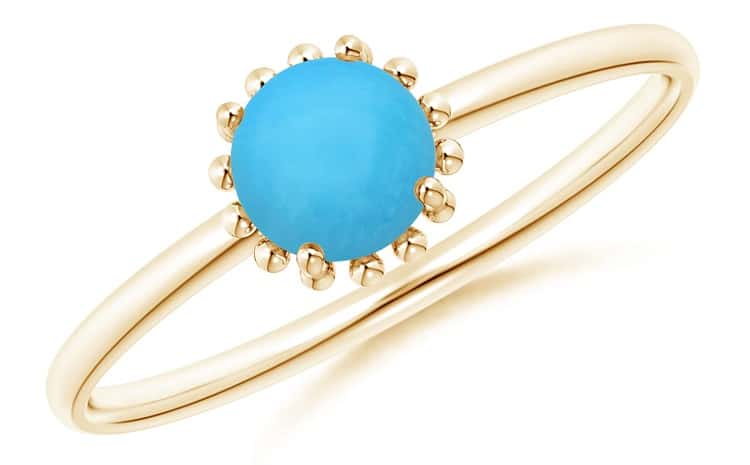 This delightful turquoise ring is at once elegant and playful. The brilliant blue of the round-cut turquoise gemstone is complemented with a unique design. The beaded halo provides an elegant take on a boho style, finished with a polished band. Priced from $319 to $521;  Buy Here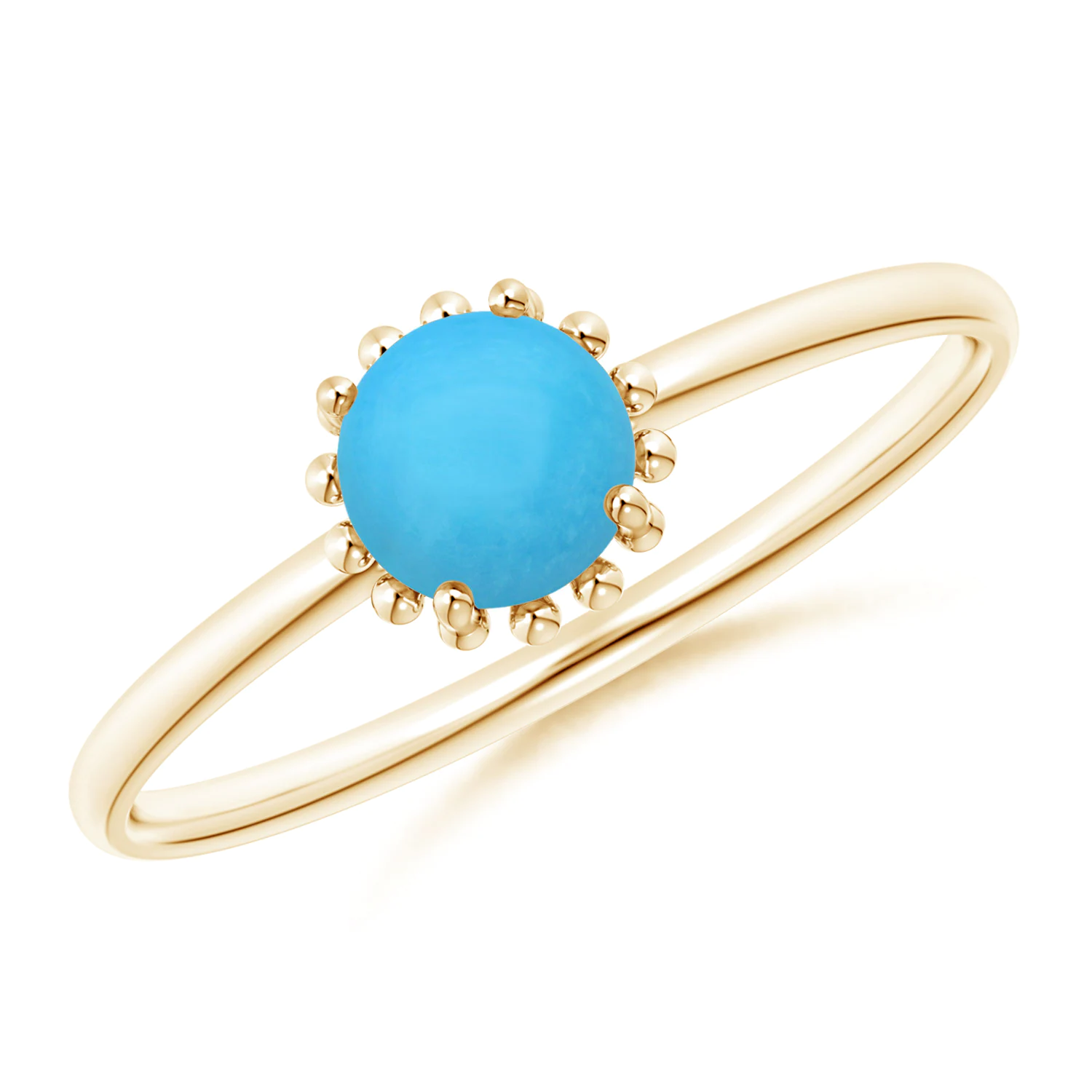 Solitaire Turquoise Ring with Beaded Halo | Angara
The prong-set round turquoise exudes a beautiful blue hue. An intricately beaded halo surrounds the solitaire gem and accentuates the overall allure of this 14k yellow gold ring.
Check Price
We earn a commission if you make a purchase, at no additional cost to you.

This exquisite turquoise ring shows how stunning this gemstone can be. A classic solitaire style is accompanied by a halo of glittering diamonds. Diamonds also awe around the entire perimeter of the band. This elegant ring is a show stopper, available 0.54 carats to 1.39 carats. Priced from $701 to $1,970: Buy Here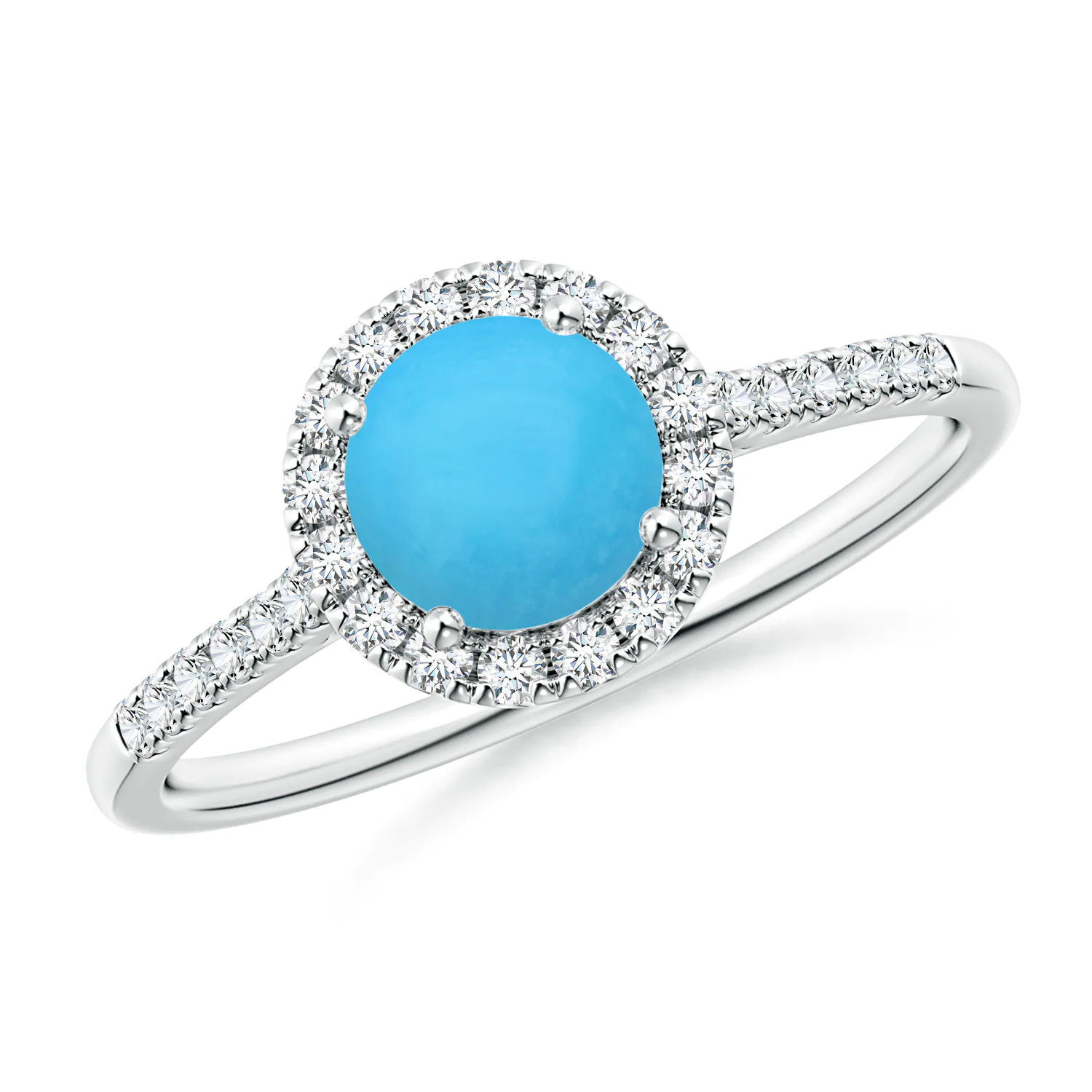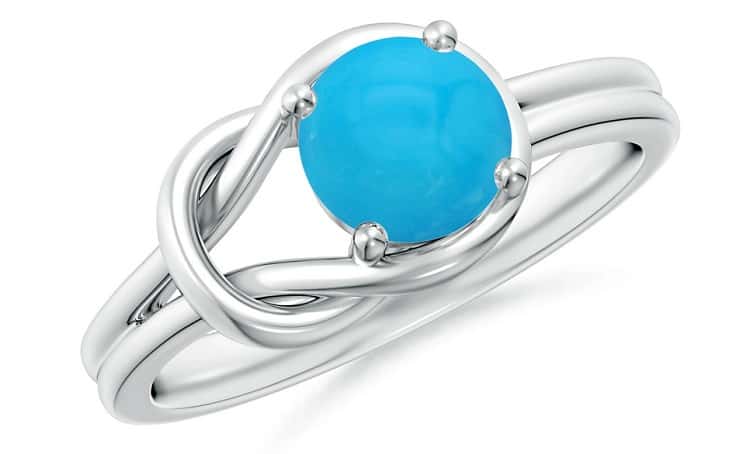 The infinity knot is a meaningful symbol– and crafted beautifully for this turquoise ring. A symbol in several religions, the infinity knot is said to show the interconnectedness of wisdom and compassion that is both unconditional and limitless. Available in 0.29 carats to 0.69 carats, priced from $249 to $1,466; Buy Here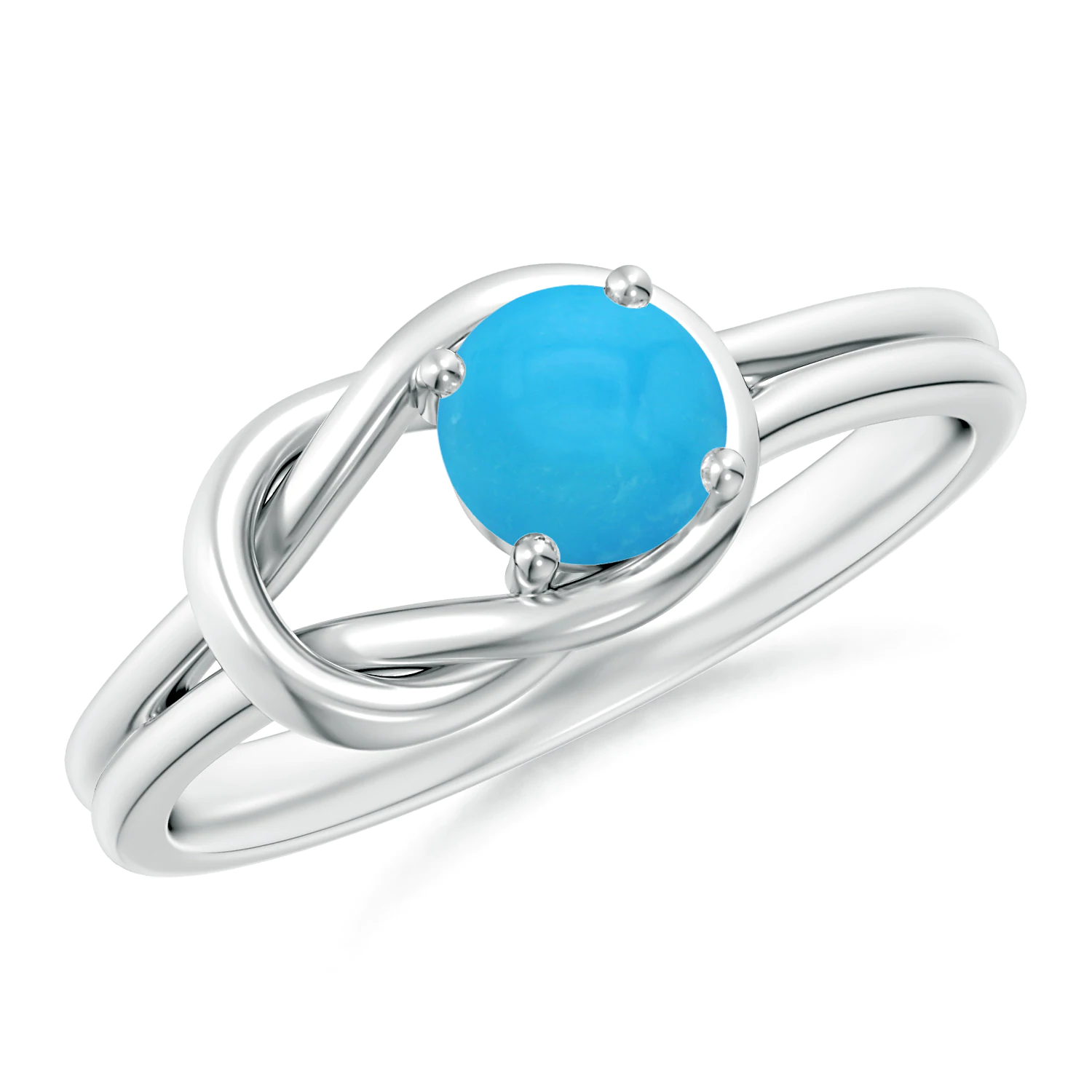 Solitaire Turquoise Infinity Knot Ring | Angara
Designed in the shape of an infinity knot, this ring symbolizes eternal love and commitment. The solitaire round turquoise is beautifully prong-set amid the frame and exudes an enchanting hue.
Check Price
We earn a commission if you make a purchase, at no additional cost to you.

Southwest Silver Gallery Turquoise Rings
Southwest Silver Gallery is a unique, beautiful collection of pieces made by local tribes in the Southwestern United States. All pieces are artisan-crafted by Navajo, Zuni, Hopi, and Santo Domingo tribes and go towards supporting independent artists. While they carry other gems, they specialize in high-quality turquoise especially. 
The downside is that, as the name suggests, most rings are crafted in sterling silver. These are budget-friendly rings– but do know you'll have to take care of them, keeping them away from moisture to reduce tarnish. These turquoise rings border between fine and more casual rings and are priced from $66 to $725. Shop All Rings Here
Collections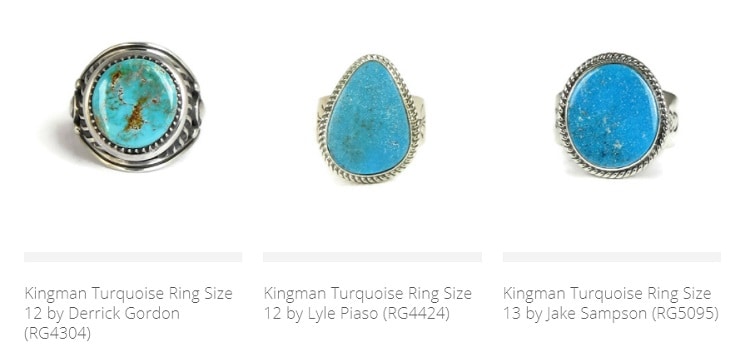 Since the website does not permit links to individual rings, I'll point you to their main ring collections. Kingman Rings feature dramatic, vintage-style bands. You'll find intricate detailing framing the gemstones for a royal allure. Royston Rings are my least favorite– they include "muddied" turquoise hues for a unique but less valuable look.
My favorite collection is the Sleeping Beauty Collection, which offers classic sky blue and more valuable hues. The turquoise rings here are less patterned and beautiful. You can also find some rings crafted with 14K gold and silver. 
Etsy Turquoise Rings
Etsy, of course, needs no introduction. The best part about shopping for turquoise rings on Etsy is that you'll see a beautiful variety of options, from casual to glamorous. I also love the idea of supporting small businesses and individual artisans. Of course, you have to be cautious when shopping on Etsy.
I recommend buying from sellers with a history of sales- ideally more than 500 or 1,000– and reviews with detailed descriptions. As you can imagine, Etsy is a resource for many turquoise rings, so I've narrowed it down to rings that are from well-rated sellers and are made with high-quality materials.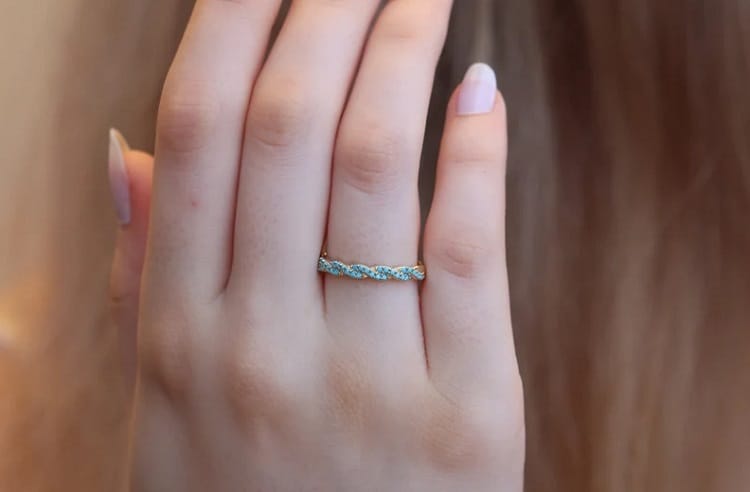 This beautiful turquoise ring can be worn with anything. The more casual style features a dainty, minimalist band accented with tiny blue turquoise gemstones. Crafted in your choice of 14K or 18K white, rose, or yellow gold and priced from $199 to $239; Buy Here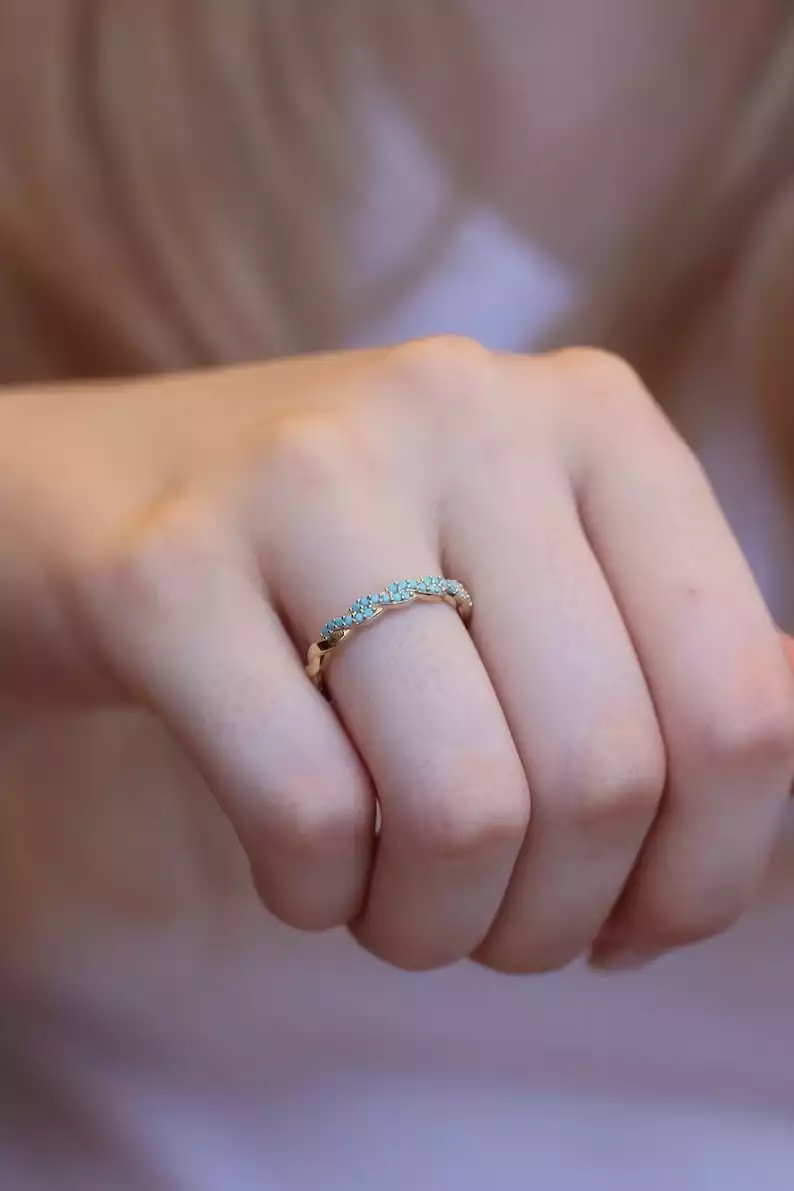 Another option for a turquoise ring without a center stone, this handmade ring is priced at just around $198. The dainty band is crafted in 14K gold and features trios of tiny turquoise stones, accompanied by a sparkle. The ring is handcrafted with a protective coating for everyday wear. Buy Here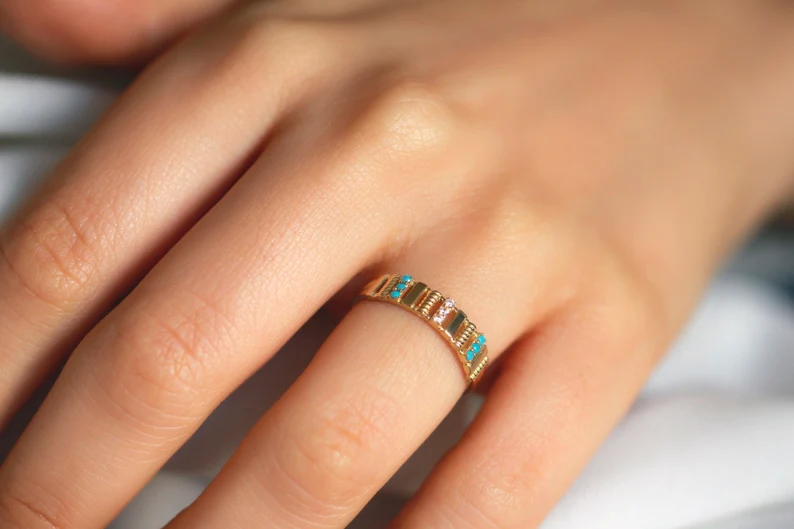 14K Gold Turquoise Promise Ring | Etsy
This 14k Turquoise Ring is a suitable gift for a girlfriend, mom and her. You can even buy it as a birthday gift for your friends or anniversary gifts, If you want to add a special note we can write for you and put it inside the package.
Check Price
We earn a commission if you make a purchase, at no additional cost to you.

Solid Gold Boho Turquoise Ring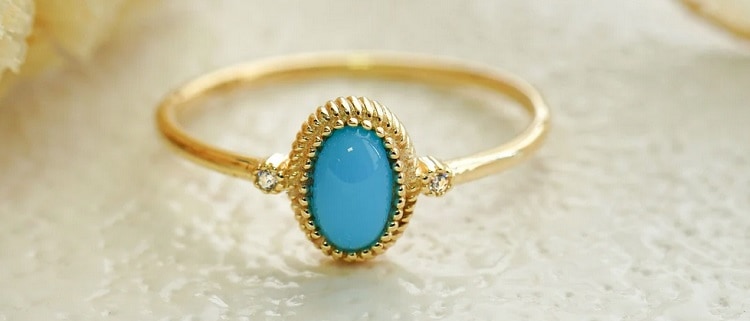 Boho but also elegant, this ring could even be worn for formal occasions or dressed down. A flattering oval cut brings out the flawless turquoise gemstone. Handcrafted in Los Angeles, accent cubic zirconia adds sparkle without the cost of diamonds. Crafted in your choice of 10K or 14K yellow, rose or white gold, priced from $119 to $145.
This gorgeous eternity turquoise ring is truly elegant. Beautifully crafted in 18K white, rose, or yellow gold, these gemstones are sourced from Arizona. The natural Sleeping Beauty hue is among the most popular and is truly beautiful with an eternity style. Priced from $350 to $450; Buy Here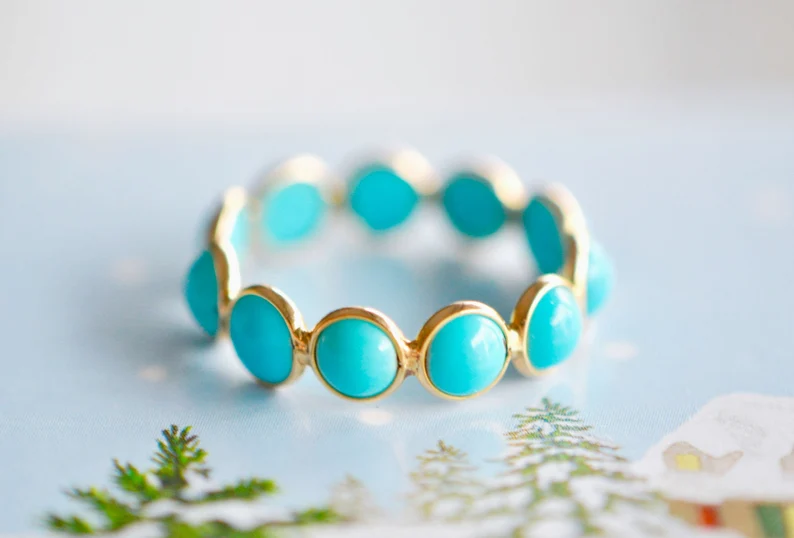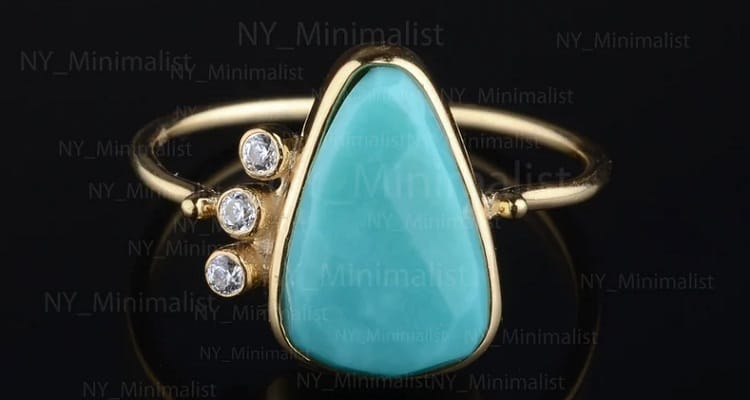 This unique turquoise ring features an artistic pear shape. The natural turquoise gemstone is sourced from Arizona beside high-quality diamond accents. The gorgeous ring is stylized in a Victorian fashion and can be customized. Available in 14K yellow, white or rose gold and priced from $287 to $305; Buy Here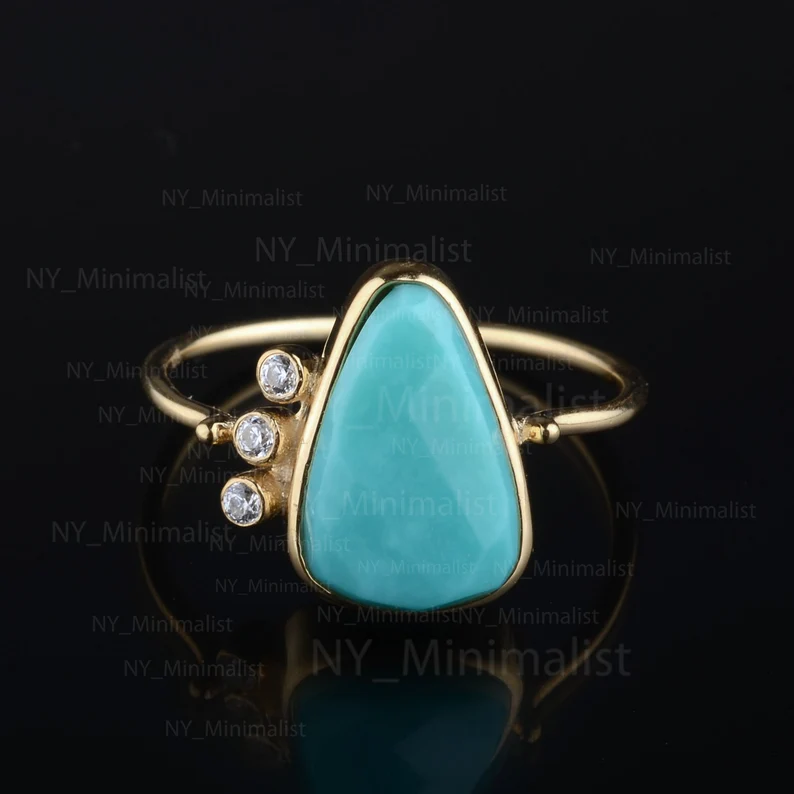 Frequently Asked Questions
Question: What Turquoise Has Gold in it?
Answer: Cripple Creek is a unique form of turquoise. It was first discovered during gold mining and has a light green to blue hue with ripples of gold. 
Question: What is Nugget Turquoise?
Answer: Nugget turquoise is low-quality turquoise in its raw form. Block turquoise is compressed nuggets that have been crafted into a block. Both are not polished and are not considered valuable, or suited for fine jewelry. 
Question: What is the Rarest Type of Turquoise?
Answer: Though some of the most valuable turquoise stones are almost free of any veins or patterns, there is an exception. Lander Blue Spiderweb Turquoise is considered the rarest form of natural turquoise.
You should never buy this form of turquoise from anyone outside of the professional industry or without a way of verifying its authenticity. 
Final Thoughts
Turquoise rings are gorgeous and unique. With demand increasing, they're also popular. Take the time to check your criteria before buying. And if you simply love the hue of a blue gemstone but aren't sold on turquoise, you might also like aquamarine stones, or, for a deeper tone, blue sapphires. 

Further Read: