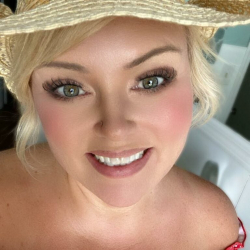 Latest posts by Kristen Swain
(see all)
With its stunning blue-green color, crisp clearness, and inexpensive price-per-carat, the Aquamarine has caught your eye. Let's learn about this ocean blue gemstone and get inspired to find the perfect Aquamarine ring so that it may also win your heart. 
What is Aquamarine?
Aquamarine is a mineral of the Beryl family, the same mineral that makes up Morganite and Emeralds. The name is derived from Latin- aqua marina- to mean 'seawater,' the signature blue-green coloration that the stone is known for. 
Aquamarine is mined in Brazil, the US, Africa, and South America. It is known for large clear carat sizes with very little inclusions and bright coloration. Aquamarines are so well known for their stunning clarity that in really large carat sizes, the price simply stops going up for the largest stones. Smaller quality stones are more desired so that Aquamarines over twenty-five carats are the same price as smaller examples of the stone. 
Aquamarines are priced according to clarity and color. Deep blue to teal is the ideal coloration for Aquamarine. The gemstone's finest coloration is typically a blue-green color, but the deep blue gemstones are very valuable.
This gemstone grows in large six-sided crystals, with some stones being over 12 inches long. The largest Aquamarine ever mined was over two hundred and forty pounds. 
Aquamarine is the birthstone for March and is considered the nineteenth wedding anniversary gemstone. Its hardness on the MOH gemstone hardness scale is between 7.5 and 8. This means it is a relatively hard and sturdy stone, which makes it a good daily-wear gemstone.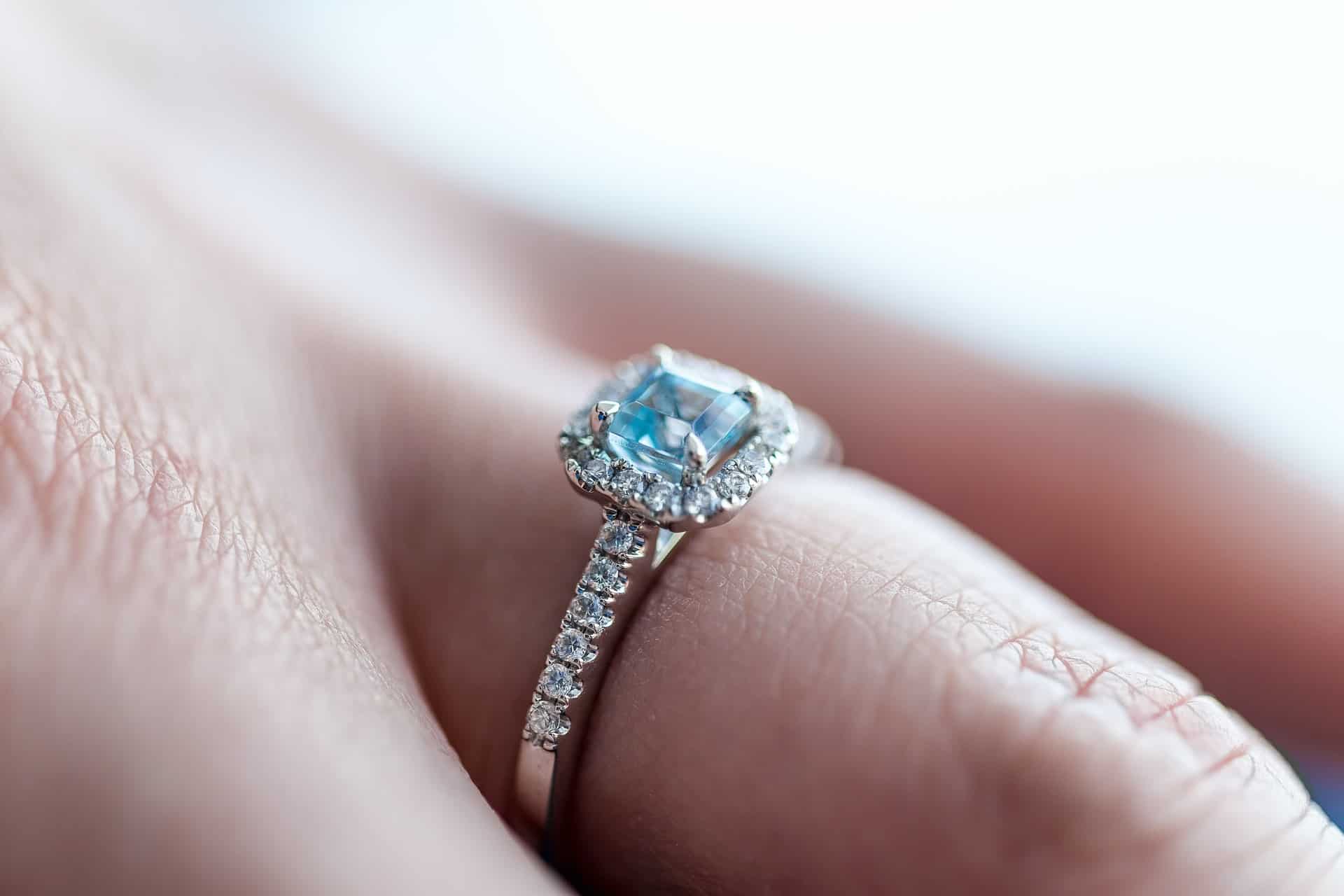 Aquamarine in History
The Romans used Aquamarine while on their boats and under their pillows as it was thought to protect against travel dangers. They also felt it was lucky to help them procure their catch, being thought of as a lucky stone. 
It has been well regarded by Roman Physicians as protection against bloating and for overindulgence of food. The Romans also regarded Aquamarine as a cure for laziness.
In Ancient Egypt, Aquamarine beads were discovered in the sarcophagus of mummies to ensure that the deceased would have a successful journey into the afterlife. They wore Aquamarine beaded jewelry and carved Neptune figurines from the blue-green stone. 
In Greece, several thousand years ago, Aquamarine was so revered that the Greeks carved Intaglios into Aquamarine. Intaglios are carvings on a coin or stone, often depicting a ruler or Greek god. 
Spiritual Meaning of Aquamarine
Because of its namesake (of the sea), Aquamarine is closely associated with spiritual cleansing. In close connection to that, it is also associated with trust and openness in communication. 
Above all, it has long been considered to be a protector stone for those who are traveling, especially over or around water. 
The color of the Aquamarine stone is a color to soothe, to help with balance and harmony, to bring joy. Playfulness is also attributed to the coloration of the stone.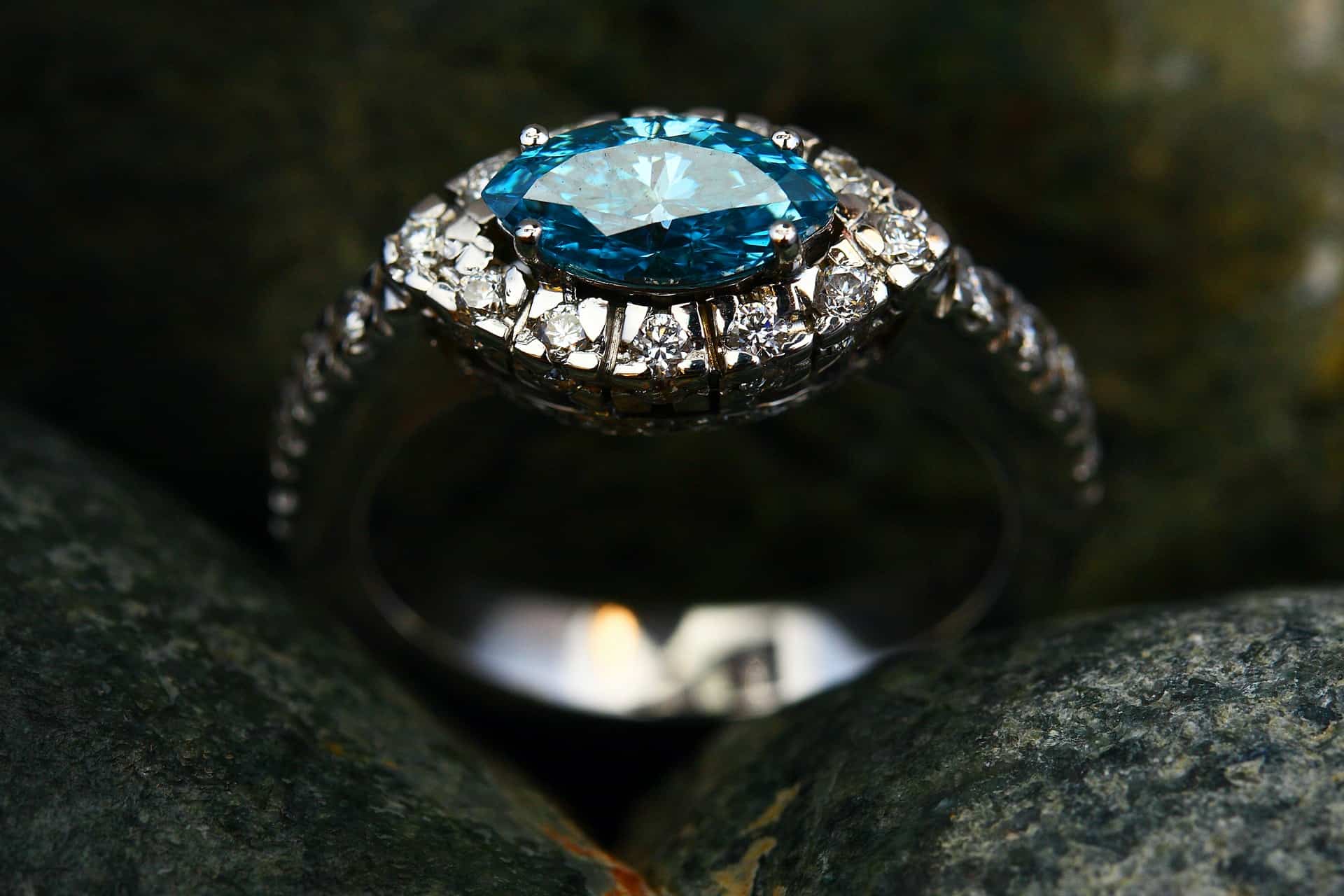 Clarity of thought and calmness are effects that come with wearing Aquamarine, as it helps to ease the mind when worn during difficult times. 
Aquamarine Alternatives
Apatite
This gemstone is rarer in jewelry but is available in translucent, opaque, and cat's eye varieties. The pricing is similar to Aquamarine, and the gemstone is very alike in blue-green tones. However, Apatite is only a five on the MOH hardness scale and is considered to be a delicate stone. The variety of Apatite is wide-ranging in coloration and has many hues from greens, to aqua, to blues.
Turquoise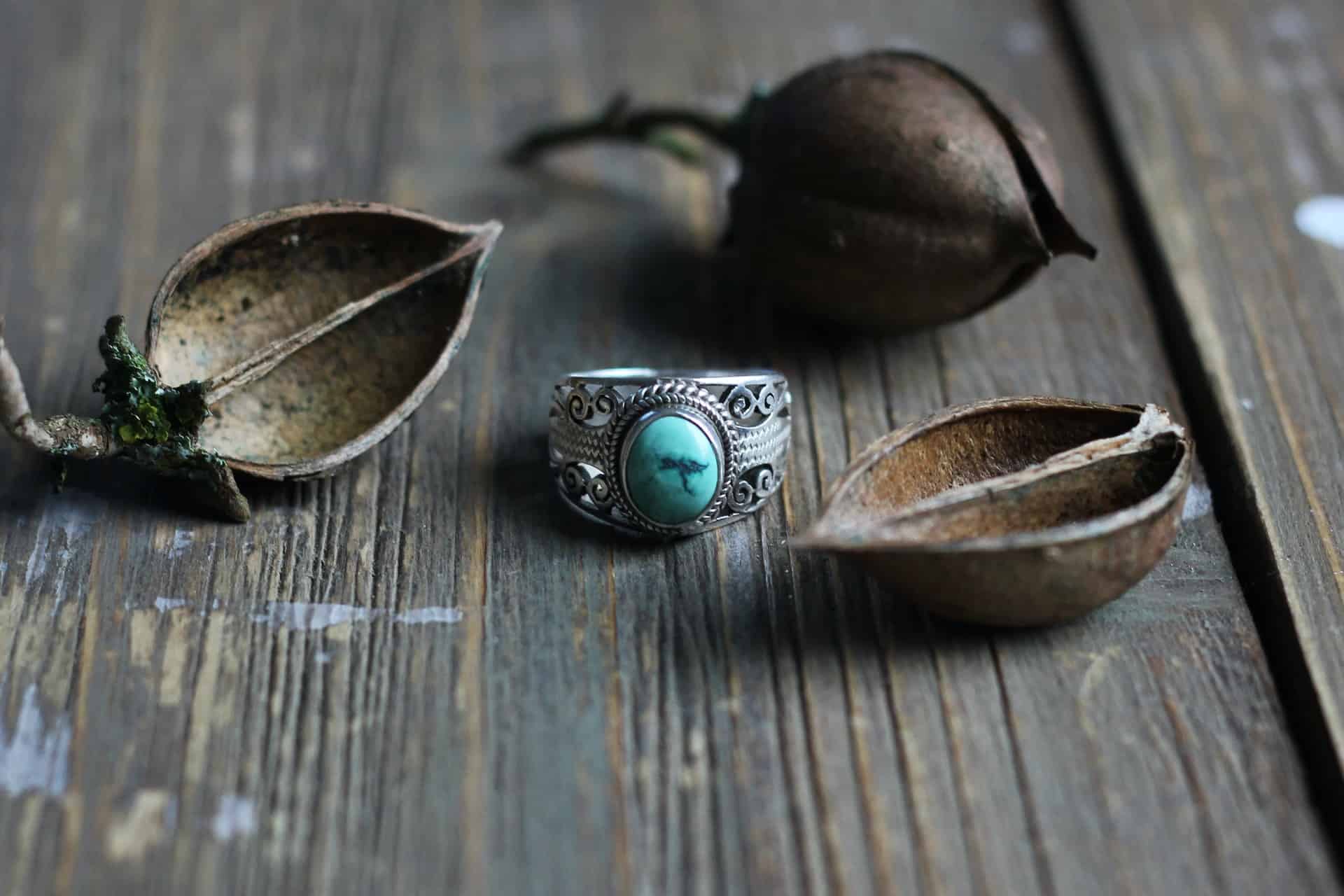 This blue-to-green opaque stone is known for its mottled blue-green appearance. Turquoise is an iron ore mineral, getting its coloration from the copper content of the ore. This valuable stone varies in coloration from sky blues to blue-green; Turquoise is valued for the detailed patterns from veining. Turquoise is an opaque stone and is not typically faceted but is carved and polished into cabochons and beads. 
Chrysocolla
This green-blue stone is very similar in appearance to Turquoise as both gemstones are from ores of iron. Chrysocolla is usually layered alongside White Quartz. This gemstone is between two and four on the MOH hardness scale and is not as recommended for some jewelry. 
Amazonite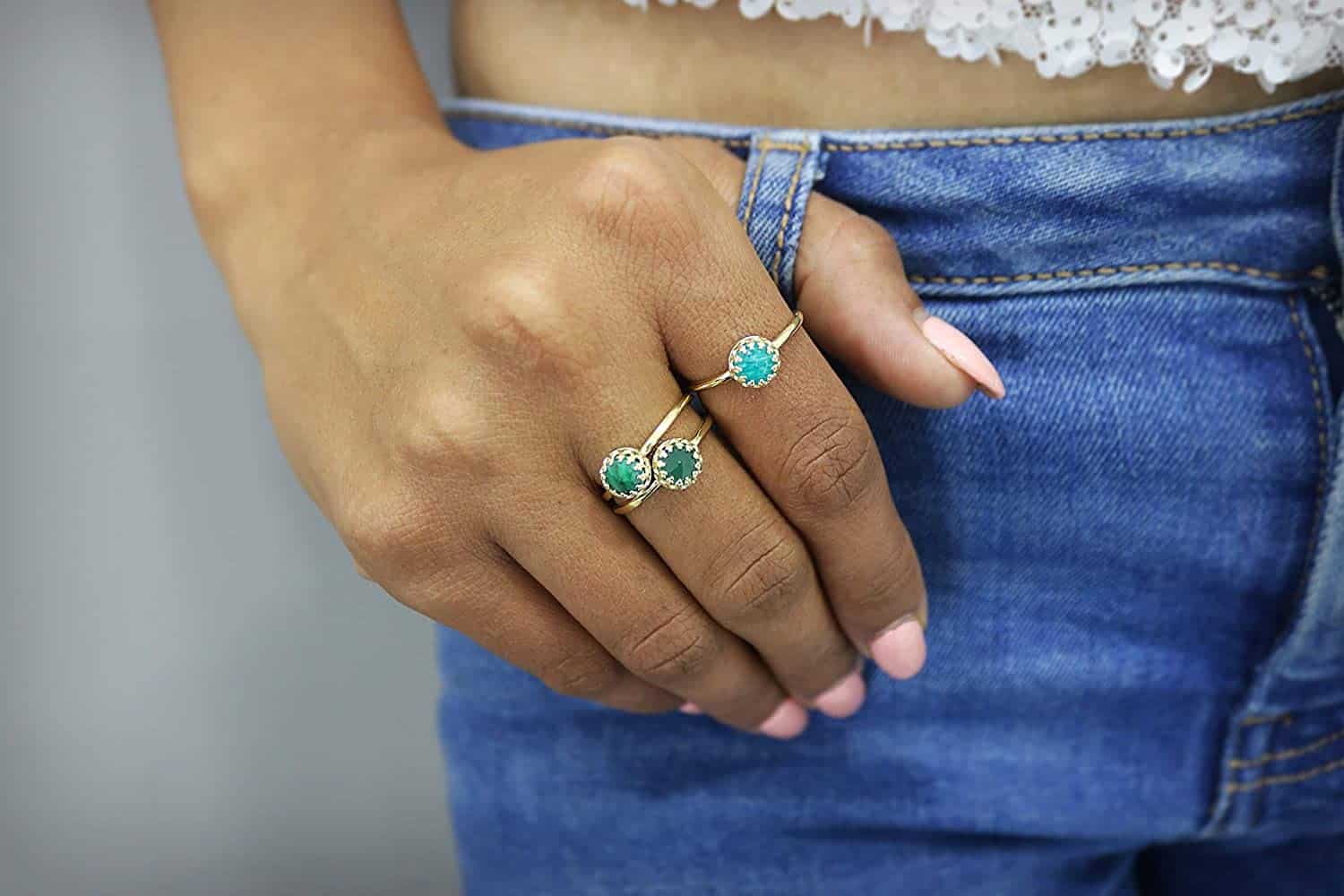 Amazonite is another gemstone with a green-blue hue. It is similar in appearance to Turquoise and Chrysocolla with a greener color tone. The MOH hardness of Amazonite is between six and six and a half, making it a good jewelry stone. However, Amazonite can leach lead if swallowed by a child, so this stone should only be kept around older children and adults. 
Fluorite
This stone is available in multiple colors, and the teal coloration often has touches of purple. Classified as peacock coloration, the teals of this gemstone are reminiscent of deep ocean hues. The cost per carat of Fluorite is extremely low, and both the quality and clearness of stones are very good. 
Aquamarine Top Picks
Unique Aquamarine Rings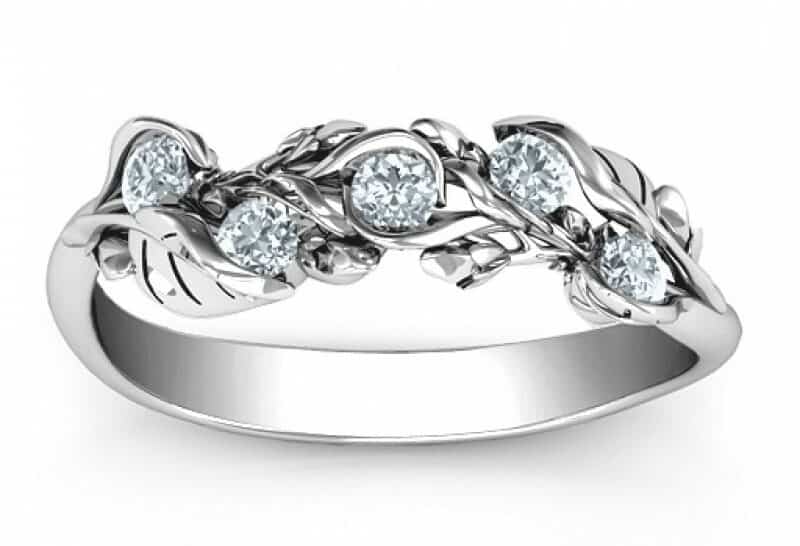 Meant to be a family ring, this five-stone ring can be customized with birthstones for each individual of the clan. However, it can also be a custom Aquamarine ring with five small light teal gemstones or a mix of stones as you choose. These five stones are nestled into a swag of leaves. The undefined leaf shapes rest in various directions yet are still tight to the band, not allowing the ring dimensions to be spread out. Engraving is also available for a secret message to the recipient of the ring. 
Unique and interesting, this simulated drip ring has a teardrop Aquamarine dangling from the edge. Looking like molten silver, this Sterling ring features bubbles and drops and drips in a double row. The almost four-carat Aquamarine teardrop is looped through an eyelet on the outside of the ring to dangle onto your finger, catching the light and sparkling like a water droplet.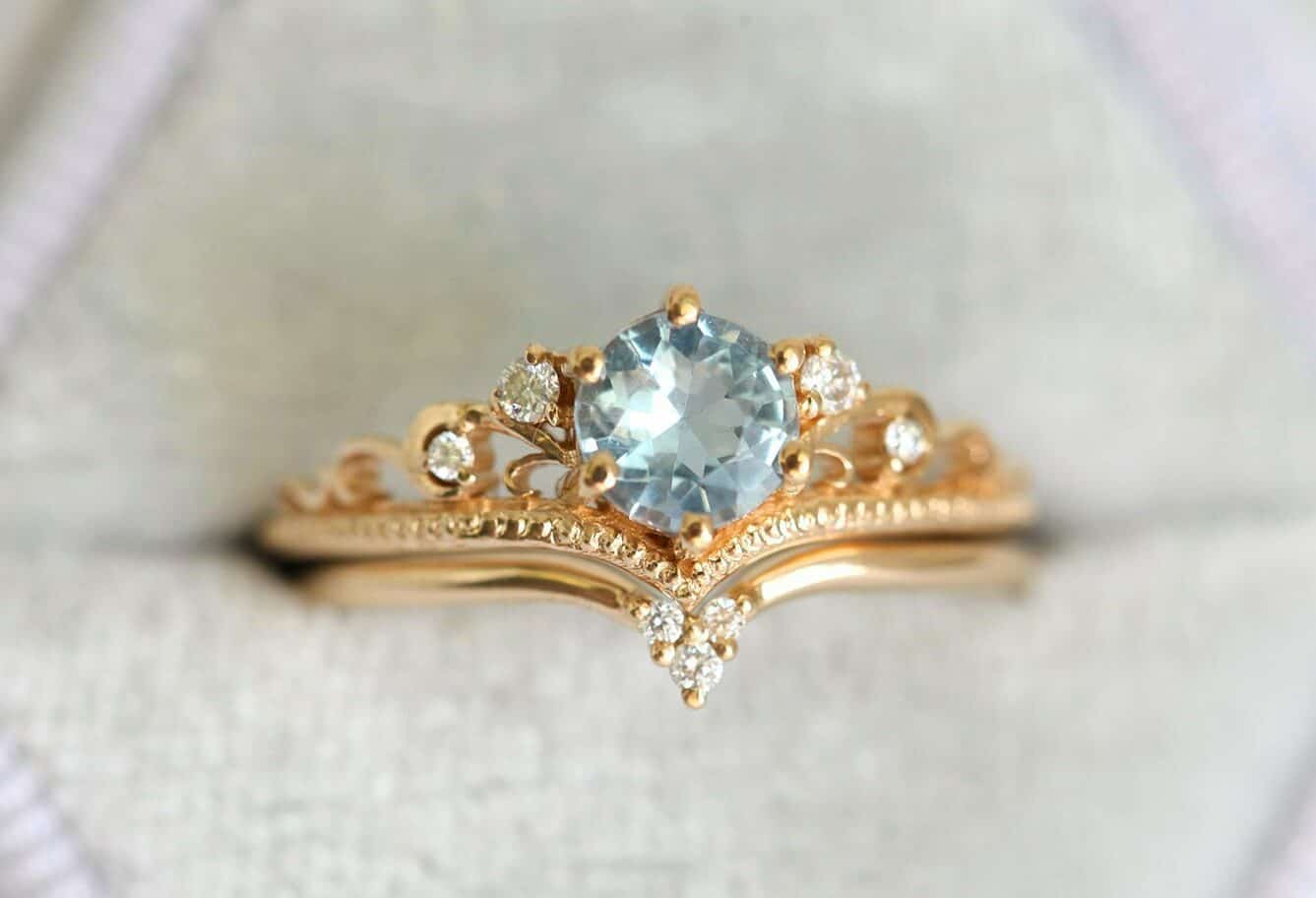 It's unusual to see this sea-blue gemstone paired with the warmth of rose gold metal. The center stone in this engagement ring is approximately a half-carat light blue Aquamarine. The scrollwork on the sides of the center stone holds white diamonds of descending sizes, and the wedding ring holds a small accent trio of diamonds as well. The millwork on the ring will allow for some sparkle and shine from the metal itself. 
Aquamarine Engagement Rings
Three large emerald cut light blue Aquamarines set into pave diamond halos in this beautiful engagement ring. The trio of gemstones can represent each part of the couple, and the larger stone represents the two together in one union. Each part makes the whole all the better. The side of the ring has fleur-de-lis cutwork to allow light to enter the ring from the side. The sterling silver setting allows the diamonds in the halos to sparkle enticingly while still allowing the three aquamarines to be the standout stars of the ring.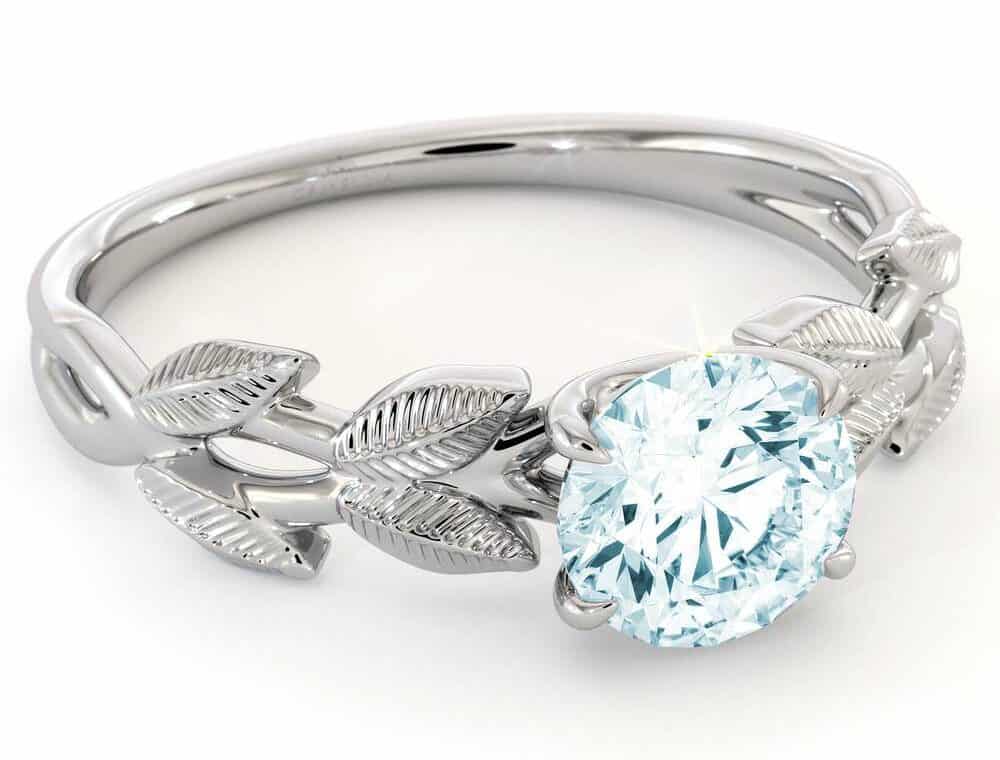 Nature represented in jewelry is always eye-catching. This Floral designed ring features the one-carat aqua blue aquamarine in the center while being adorned with white gold leaf motifs. The band has a unique openwork criss-cross that is reminiscent of vines or stems. This would make a really unique floral-looking engagement ring, perfect to represent a growing or blossoming life. The brilliant-cut round one-carat stone is a light teal shade, representing clarity and light in the forthcoming marriage.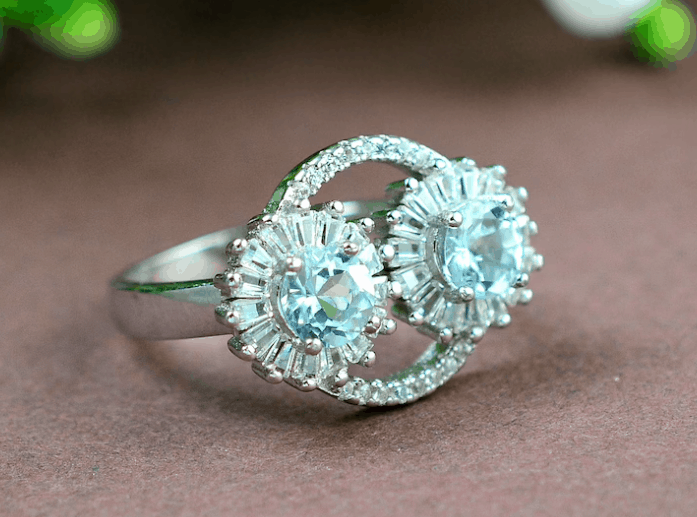 Two brilliant round cut Aquamarines, in dual circular halos of emerald cut Aquamarines, intertwined within a halo circle of small round pave aquamarines. The stones combined are almost a carat in weight. With all the facets and different cuts, this ring is sure to have an immense sparkle. The unique look is different as most rings focus on a single stone; typically, having two stones with the same decoration is unusual.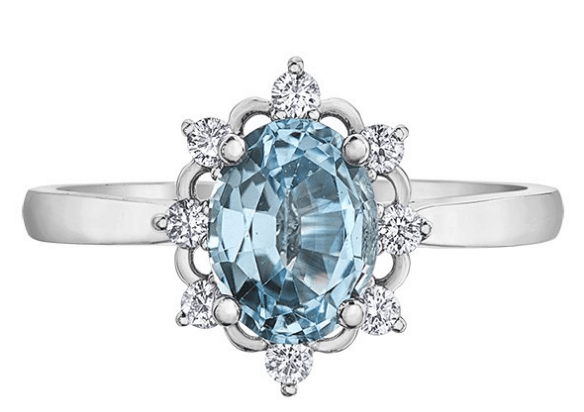 This over one-carat oval Aquamarine solitaire is centered in an heirloom corona-shaped frame. It is accented with eight white accent diamonds at the inner points of the ring. The white gold setting is simple without being plain, and the subtle glitter of diamonds will accent the Aquamarine without overshadowing the inner beauty of the gem. This multifaceted oval stone is a rich medium teal color. 
Aquamarine and Other Stones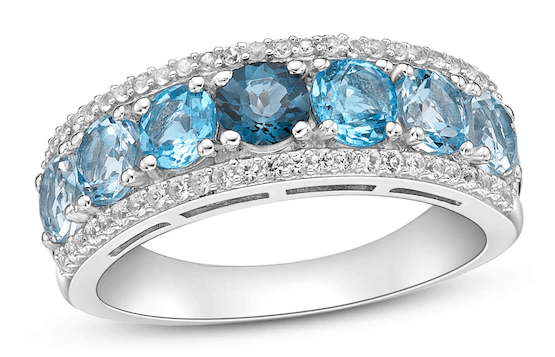 Ombre is all the rage this year, and this ring embodies that feeling. From the center deep teal Aquamarine to each descending shade of blue topaz, this eternity-style ring lightens as the stones move toward the underneath of the band. The blue gems are aligned with two rows of white sapphires that give a diamond look without the diamond cost.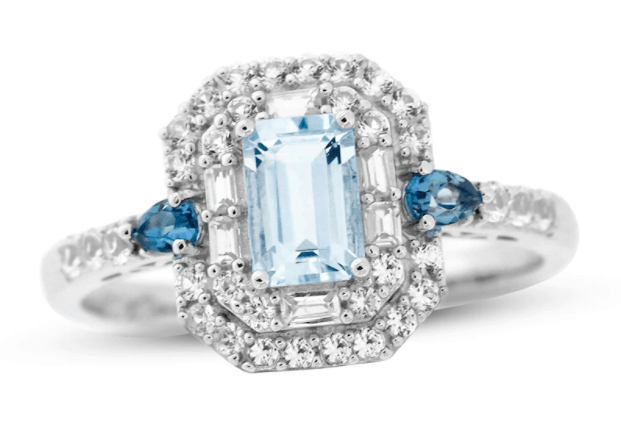 This beautiful ring features a half-carat emerald-cut Aquamarine with a double halo of white sapphires. On either side of the double halo are two deep teal tenth carat Blue Topaz teardrop stones. The first halo around the Aquamarine solitaire are baguette-cut sapphires, and the second halo is paved round cut stones so that when the light hits the ring, the stones will sparkle differently because of the differently shaped facets. The shoulders of the ring also hold three round sapphires, and this will ensure that the ring sparkles at every angle it is viewed.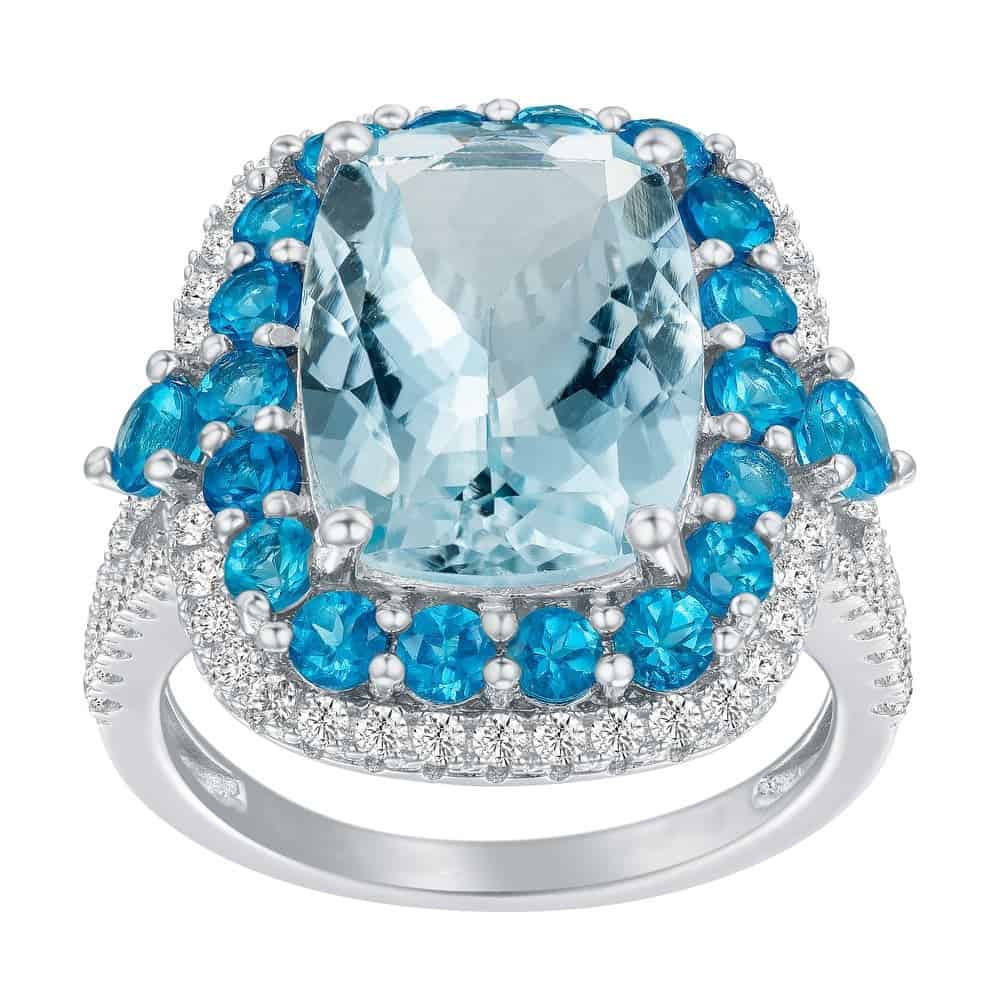 A gorgeous over five and a half-carat cushion cut light teal Aquamarine, with almost a carat of deep teal Apatite halo with over a half-carat of White Zircon secondary halo, this stunning ring is a beautiful mixture of multiple gemstones. Matching the tonal colors of the Apatite and Aquamarine allows for both gemstones to stand out, while the White Zircon adds touches of sparkle and glimmer. The Sterling Silver setting also compliments the stones by giving a white metal base to show off the beautiful coloration of the gems. 
FAQs
Question: What is the rarest Turquoise?
Answer: One of the rarest Turquoise is named Lander Blue Turquoise. It is valued so high because of its rarity and the high demand for it. It can take an experienced gemologist to differentiate true Lander Blue Turquoise from Spiderweb Turquoise. 
Question: Is there a Cat's Eye Aquamarine?
Answer: Yes, although they are somewhat rare, there are Cat's Eye Aquamarines that are colored in shades of blue. These stones are considered collectible stones and are rarely set in jewelry.
Question: Is Aquamarine an expensive stone?
 
Answer: Quality stones of any gemstone will run at a higher cost than low quality, and in Aquamarine comparison, a good stone will run about $200 to $250 per carat. These stones are valued for their exceptional clarity and blue-green coloration. Lab-created and treated stones will be less expensive.
Question: Is Apatite rare?
Answer: Apatite is rare enough that it is not well known as a gemstone. It typically isn't in sizes much larger than one carat. Madagascar, Brazil, and Mexico are the best areas to produce quality Apatite.
Question: Why are gemstones cut?
Answer: Gemstones are cut to show off the inner light of the stone. This manner of cutting and grinding the stones down is a long process that requires great skill. When cut into facets, gemstones reflect light out from the inside of the gem, and in jewelry terms, this is called fire. The brilliance of a gem is how clearly the fire is reflected out of the stone.
Bottomline
Gemstones and gemstone jewelry are always a personal choice. Color, quality, use, and cost always play a role in decisions on what item to purchase, if at all. Aquamarine is a beautiful stone with sparkling beauty and is inexpensive for a clear and large stone. The color is exquisite, and the beauty of the stones is a must-see. If Aquamarine is your birthstone, you should own one just to indulge in the spirituality of that gemstone. If you love and adore aqua as color and want to decorate every finger with a different ring, then Aquamarine is the perfect gemstone ring for you.