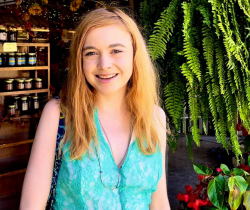 Latest posts by Erin Jamieson
(see all)
From dazzling bracelets to iconic rings, Cartier has long been a leader in luxury jewelry. But if the new Cartier High Jewelry collection is any indication, 2022 may be the best year yet for ring ideas and inspiration.
The new Cartier Sixième Sens collection plays with textures, geometric shapes, and colors to go above and beyond. Optical illusions, playful patterns, and more make for a jaw-dropping mix of modern and classic designs.
But perhaps the most eye-catching pieces in this collection are the new rings. The first is the Phaan ring, an 8.20-carat ruby that's placed above a 4.01-carat diamond. Triangle shapes diamonds and cabochon rubies add brilliance uniquely and luxuriously, unparalleled by most rings on the market.
The next ring of note? The Art-Deco-inspired Perhelia ring. With a 21.51-carat cabochon sapphire, this ring was always going to be eye-catching. But it's the added circles of radiant cut diamonds that create an incredible effect. With the way the light catches, it's almost as though the ring has a life of its own.
But dazzling as this collection is, it's just a snapshot of the artistry Cartier offers in its ring collection. From engagement rings to wedding bands to statement rings, here's your guide to the best Cartier ring ideas for 2022.
| Product Image | | Primary Button |
| --- | --- | --- |
| | | |
| | | |
| | | |
Best Wedding Band for Her
Best Wedding Band for Him

Is Cartier Good Quality?
Carrier is one of the most popular luxury jewelry brands, but is it good quality and worth the cost? Cartier is known for its high-end, exclusive designs, many of which have been worn by notable public figures such as Grace Kelly and the Duchess of Windsor.
Is Cartier Real Gold?
Cartier uses solid yellow, white, and rose gold, as well as platinum. The metal is always real, precious, and polished for a beautiful shine. 18K gold and 950 platinum are used to ensure quality and value, consistent for Cartier bracelets, necklaces, and rings.
What Diamonds does Cartier use?
Cartier uses genuine gemstones and diamonds. For its diamonds, Cartier is selective. Cartier only offers D and H color grade diamonds, which are colorless.
Not only are colorless diamonds more valuable than other grades, but they also are optimal for brilliance and scintillation. They also are focused on diamond clarity: all diamonds are highly rated for clarity, at a VS2 or better.
A downside is that Cartier's diamond sourcing is unclear. Cartier doesn't directly disclose where it sources its diamonds from. That said, all of Cartier's diamonds are certified conflict-free. Via the Kimberley Act, this ensures that diamonds are not being used to finance wars.
Does Cartier Jewelry Hold its Value?
Another great aspect of Cartier is that almost all of their products are made to hold value over time. That comes not only from quality materials but also from exclusive designs. While the price point is high to start with, rest assured that Cartier does retain, or even exceed, its original value, so long as it's in good condition.
Is a Cartier Ring Worth the Money?

Standards and revered names aside, you might wonder if Cartier is worth the money. A Cartier ring is expensive due to the quality of its materials, exclusive designs, but, admittedly, also because of its reputation. Whether or not it's worth the money depends on why you want a Cartier ring, and how you'll wear it.
How Much Does the Cartier Ring Cost?
Cartier rings start at around $2,000 but quickly go up in price after that. You can find Cartier rings for several thousand, and up to hundreds of thousands of dollars.
In general, Cartier rings are a bit pricey, but it's also true that you can find many options between $2,000 and $6,000. Keep in mind that the average price of an engagement ring is around $6,000 for Americans.
Do Cartier Rings Scratch Easily?
Cartier rings are made out of 18K solid gold and platinum. Both are considered high-quality materials and are commonly used for rings.
Platinum is not highly prone to scratches, but it is important to note that higher carat solid gold can scratch. Though suited for everyday wear, you'll still need to be both careful and cautious with a solid gold ring.
Can I Wear my Cartier Ring in the Shower?
Cartier rings are made of 18K solid gold and platinum, which can both be worn in the shower. These types of metals won't turn your finger black or tarnish, either.
Still, use common sense when wearing a Cartier ring, as you would for any fine jewelry. Avoid harsh chemicals, extreme fluctuations in temperature, and bring your Cartier ring in for professional cleaning once a year.
What's So Special About Cartier Rings?
The biggest factor concerning Cartier rings is the designs. From floral motifs to animal motifs, Cartier offers some exclusive designs you can't find anywhere else. Of course, there are also classic Cartier rings, from solid metal to grooved. If you're getting a fairly plain Cartier ring, it's up to you to decide whether or not it's worth the cost.
You should be buying partially because you care about the Cartier brand, too. It never hurts to compare shops when you're unsure.
Cartier Rings: My Picks
Now I'll give you my picks for the best Cartier rings. My picks include engagement rings, men's and women's wedding bands, and statement rings for special events. All of my picks for Cartier rings are either useful classics or iconic and unique designs. Please note that for many rings you have to call to ask for the price.
From diamond-studded rings to solid metal bands, here are my picks for the best Cartier rings in 2022.
Cartier Engagement Rings
Cartier engagement rings feature exclusive and elegant designs, Cartier engagement rings are ultimately classic and timeless. Understated elegance exudes from the Solitaire 1895 collection. The Ballerine collection expresses artistic elegance, while Cartier Destinee stuns with scintillating diamonds. Shop All Cartier Engagement Rings Here.

The signature solitaire design features a polished platinum band with a brilliant-cut diamond. Select the size of your choice. The center diamond can be ordered in 0.23 to 5.99 carats, or 0.4 to 0.44 carats in rose gold. It's a beautiful, classic look that will never go out of style. View Here or View Rose Gold Here.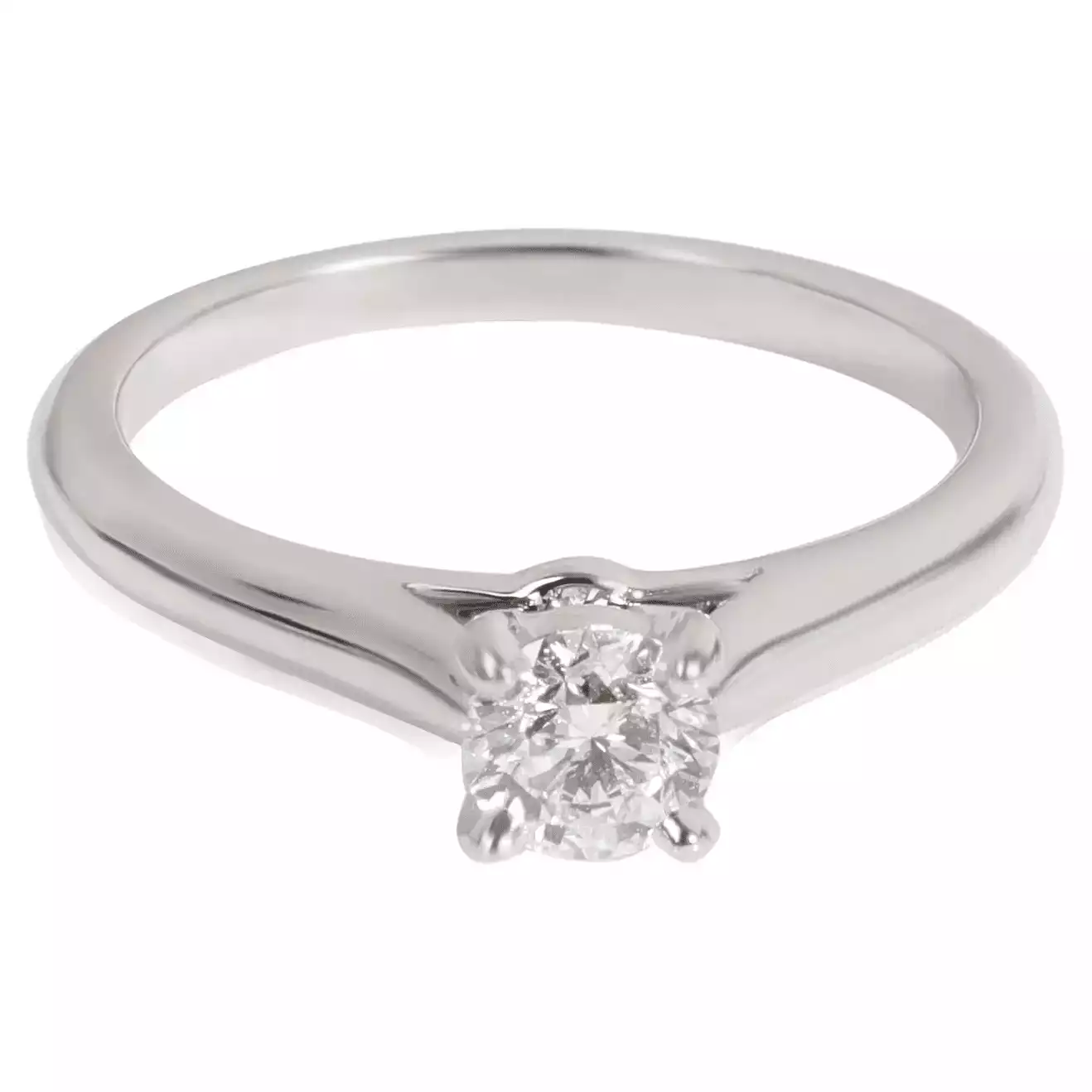 Solitaire 1895 Platinum Emerald / Ruby/ Sapphire

The Solitaire 1895 also has a few options for gemstone rings and beautiful ones at that. Your choice of Emerald, Ruby, or Sapphire is set on a platinum band with brilliant-cut pave diamonds around the perimeter.
Sapphire center stones are available in 1.00 to 3.49 carats; Emeralds or Rubies in 1.00 to 1.99 carats. View Sapphire Here, View Emerald Here, or View Ruby Here.
Cartier Destinee Rings

All diamonds in this collection are halo style, brilliant-cut, and set on platinum bands. Dazzling and ideal for anyone who wants to make sure their engagement ring sparkles, there's exquisite craftsmanship in these glamorous designs. Center diamonds are available in 2.00 to 5.99 carats. View the Collection Here.
Cartier Love Solitaire Diamond Rings

The Cartier Love collection remains among the most popular and iconic, and it's easy to see why. This small collection of solitaire-style rings is inspired by living in New York in the 70s. A symbol of free-spirited love, the screw motif also exhibits the close bond between two people.
Choose from a solid rose gold band, white gold band, or a diamond-studded rose gold band. It's a fun, youthful take with classic appeal. Shop the Collection Here.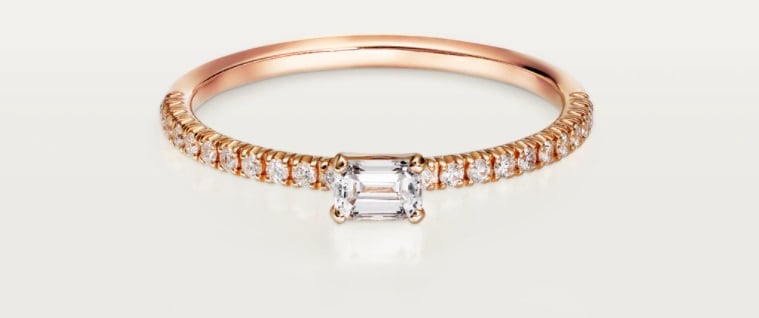 These rings are a great option if you want a classic look for under $4,000. Not only is this collection priced well below the average price of engagement rings in the US, but it's also one of the few engagement rings from Cartier that you don't have to call to request the price.
These are fairly small diamonds, at around 0.18 carats, but the brilliant-cut ensures beautiful scintillation. There are also .10 carats of accent diamonds around the slim, modern band. Available in rose gold, yellow gold, and white gold. You have to call for platinum. Shop Here.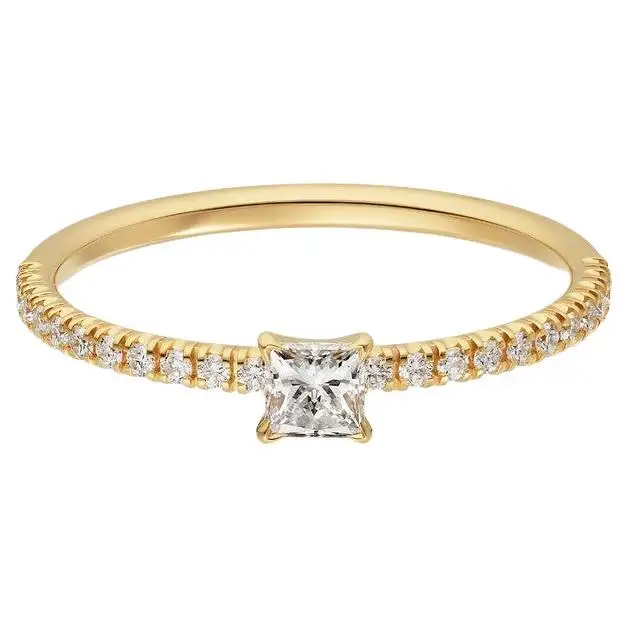 My last recommendation for Cartier engagement rings includes two rings, from the Ballerine collection. As the name suggests, the designs take inspiration from the world of ballet, with balance and grace. Delicate details are paired with 0.23 to 0.49-carat center diamonds on platinum. View the Collection Here.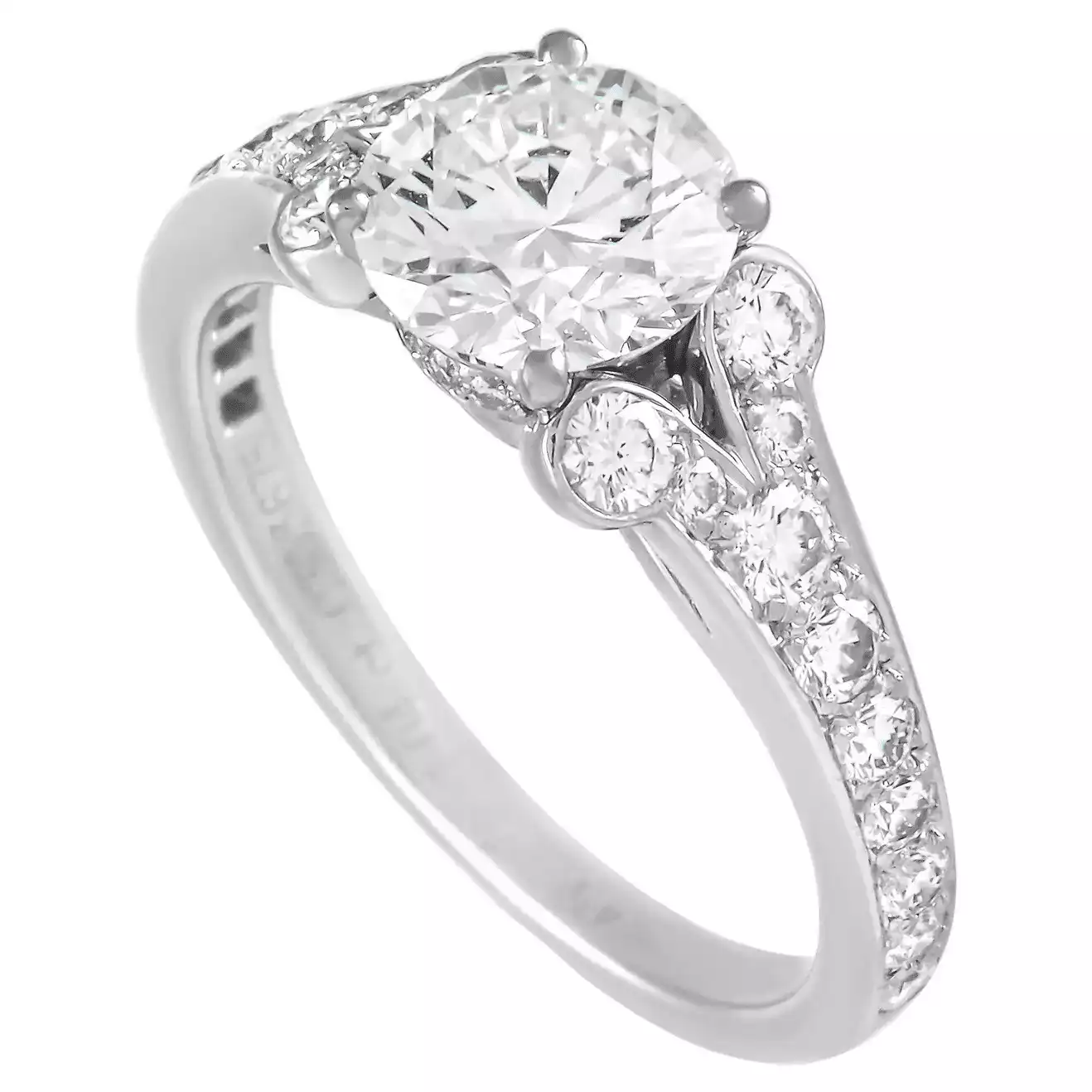 Cartier Ballerine Rings | 1stDibs
The name of this solitaire evokes the world of dance, harmony and balance. The setting provides a delicate, feminine backdrop to the diamond.
Check Prices
We earn a commission if you make a purchase, at no additional cost to you.

Wedding Bands for Her
Wedding bands include plain solid bands and exquisite diamond accents. While every Cartier collection for women's wedding bands has its unique style, there's a streamlined classic feel to all Cartier wedding bands. Shop All Women's Bands Here.

Priced at $760 for rose or yellow gold, and $980 for platinum, these solid bands feature a smooth, polished metal finish and can also be engraved upon order. Classic and easy to pair with anything, this is as practical and simple as you get. Shop Platinum Here, Rose Gold Here, or Yellow Gold Here.
1895 bands as a whole are the better deal for solid bands– other Cartier collections for solid bands are more expensive.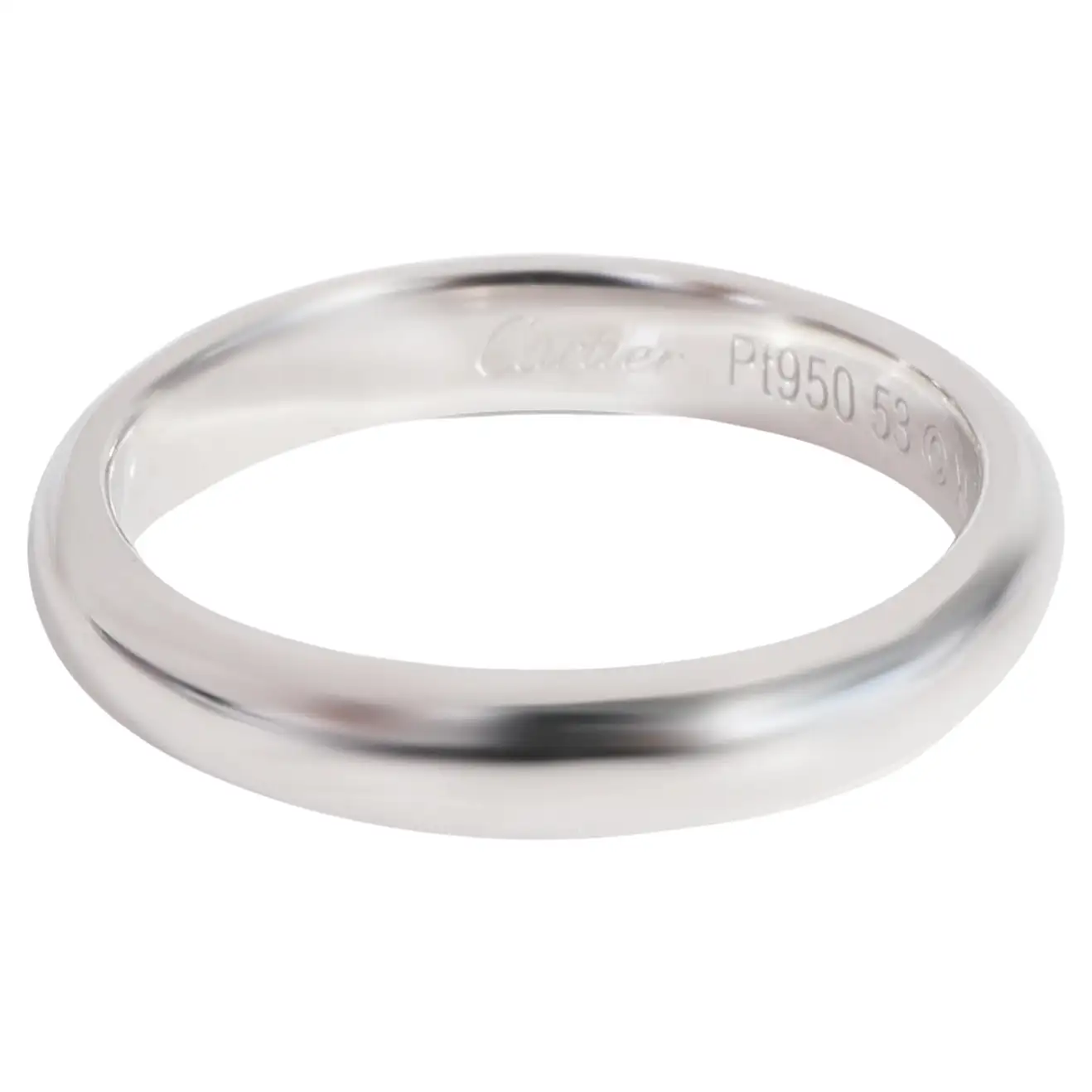 Cartier 1895 Wedding Band | 1stDibs
Cartier 1895 Wedding Band in Platinum. In excellent condition and recently polished. Ring size is 6.25. Comes with a box.
Check Price
We earn a commission if you make a purchase, at no additional cost to you.


That said if you want a high-quality solid wedding band but with a unique take, consider this platinum Cartier wedding band. From the Ballerine collection, there's a refined elegance but creative take with a signature shape, and, of course, the Cartier name. Priced at around $1,600; Shop Here.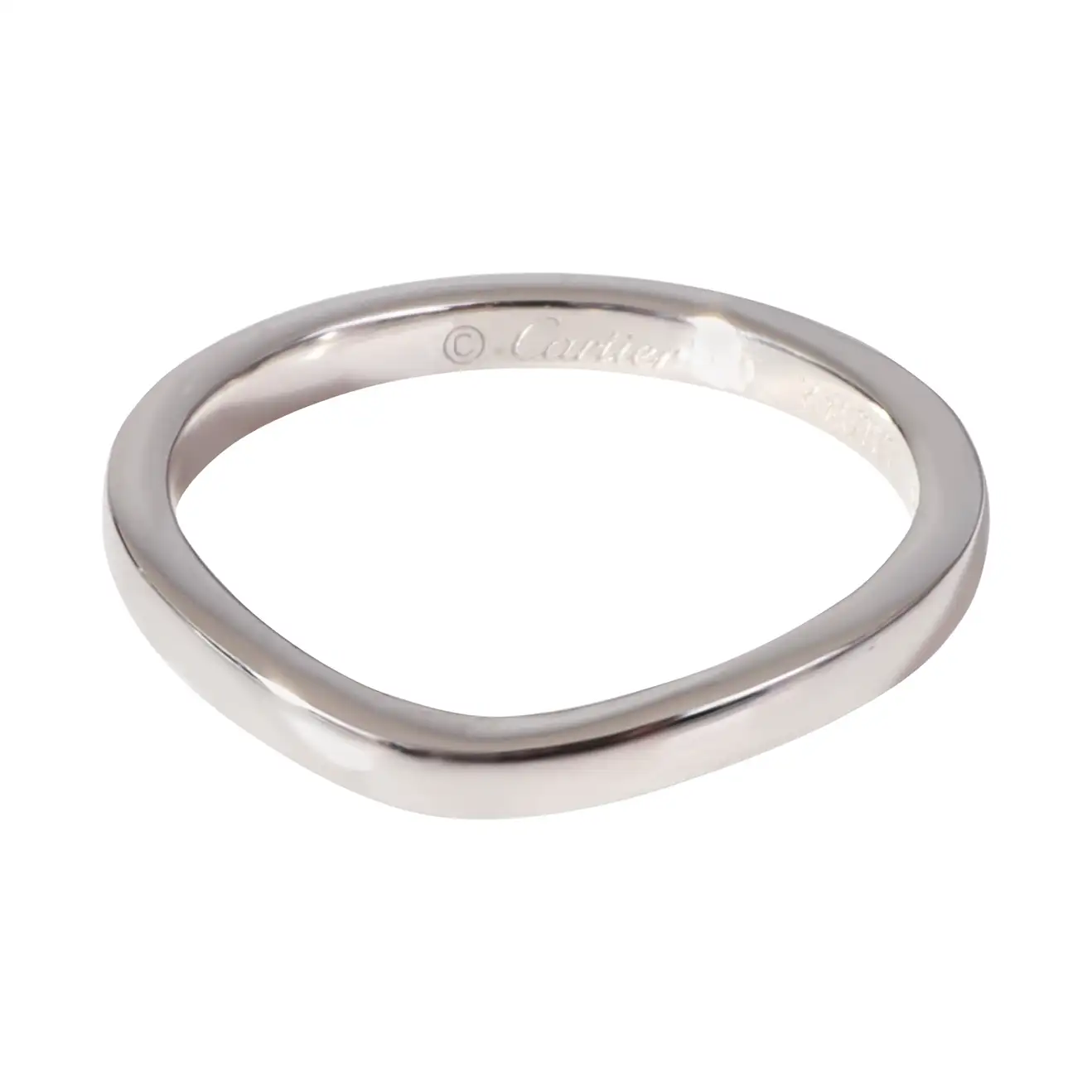 Étincelle de Cartier Bands

This collection is modern with a timeless appeal. Pave diamonds add an exquisite touch to sleek platinum, as well as rose, yellow and white gold. While there's an emphasis on diamonds, my personal favorite is this sapphire and diamond band for around $4,850.
The style of this collection is consistent from ring to ring. You pay more based upon total carat size. Bands are priced at $2,840 to $8,450. Shop the Entire Collection Here.

A halo of brilliant-cut diamonds dazzles with pink gold or platinum bands. Meant to evoke a constellation of diamonds, there's something almost magical about these wedding bands.
The total weight is 1.34 carats; priced at around $10,700 for rose gold or around $11,700 for platinum. These wedding bands certainly make a stunning impression, though you may want to pair them with a more subdued engagement ring.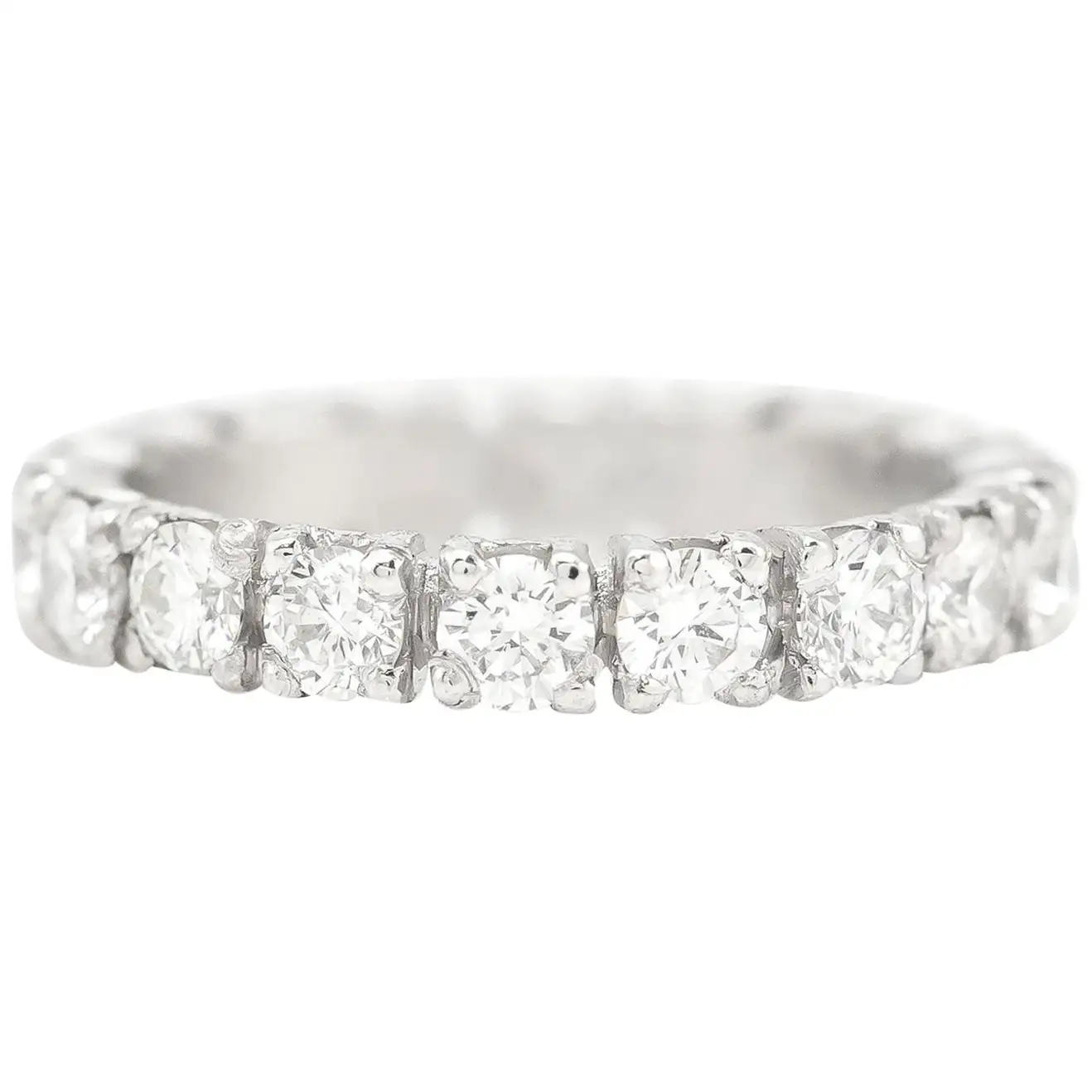 Broderie de Cartier Bands
Looking for a truly unique ring? Broderie de Cartier wedding bands for her feature single or double strands of diamonds with a link chan-like style. Modem but also refined, this collection includes white, yellow, and rose gold. Priced from $6,400 to $18,100. Shop Here.

Louis Cartier first created the Trinity Ring in 1924, and it lives one with this collection of women's wedding bands, priced from $1,020 to $4,350. Pink gold, white gold, and yellow gold are intertwined to symbolize both harmony and a spirit of mystery. It's a unique take on a solid band. Choose from plain or with accent diamonds. Shop Here.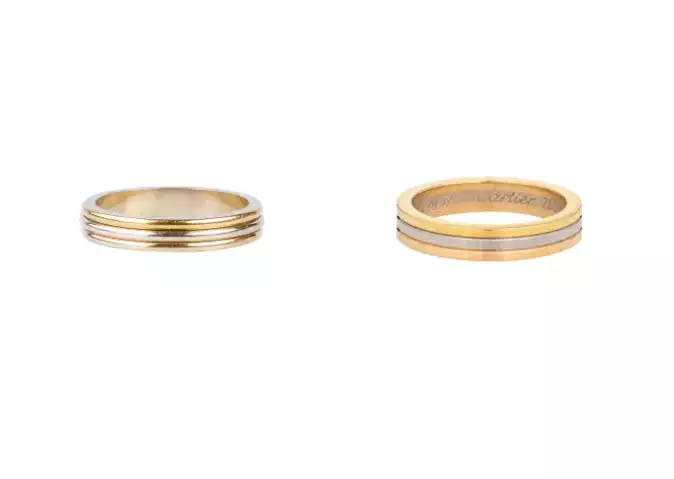 Vendome Louis Cartier | 1stDibs
Love. Fidelity. Friendship. Conceived by Louis Cartier in 1924, the Trinity collection has become a symbol of life's most paramount relationships.
Check Prices
We earn a commission if you make a purchase, at no additional cost to you.

Wedding Bands for Him
While there are many different options for women's bands, Cartier has a relatively small selection of 19 bands for men. Polished metal bands are styled from classic to modem, with a sophisticated appeal. Available in white, yellow, and rose gold as well as platinum, men's bands are priced from $760 to $3050. Shop All Men's Bands Here.
1895 Men's Band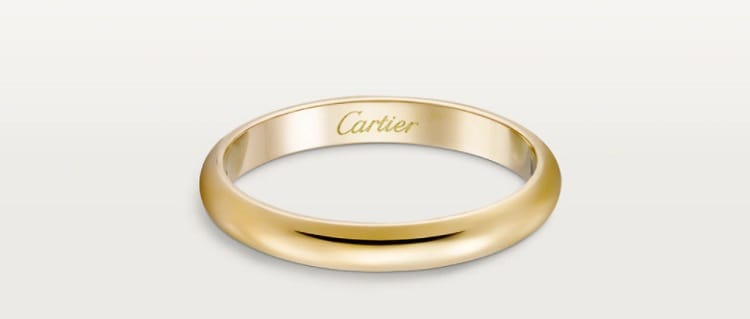 You can't go wrong with a classic. Just like the women's version, you can buy the 1895 classic style in yellow gold, platinum, or pink gold. Refined, stylish, and about as classic as you can get, this is a go-to wedding band.
VendÔme Louis Cartier Men's Band

A trinity of white, yellow, and rose gold make for a classic modern take on a solid band. This wedding band is eye-catching, with no diamonds needed. Priced at $1,420. Buy Here.

A collection first designed in 1938, Cartier D'Amour continues to wow today with slim and sleek platinum bands. This men's wedding band is a modern take that would suit just about anyone. Prices range from $1340 to $3200. Shop Here.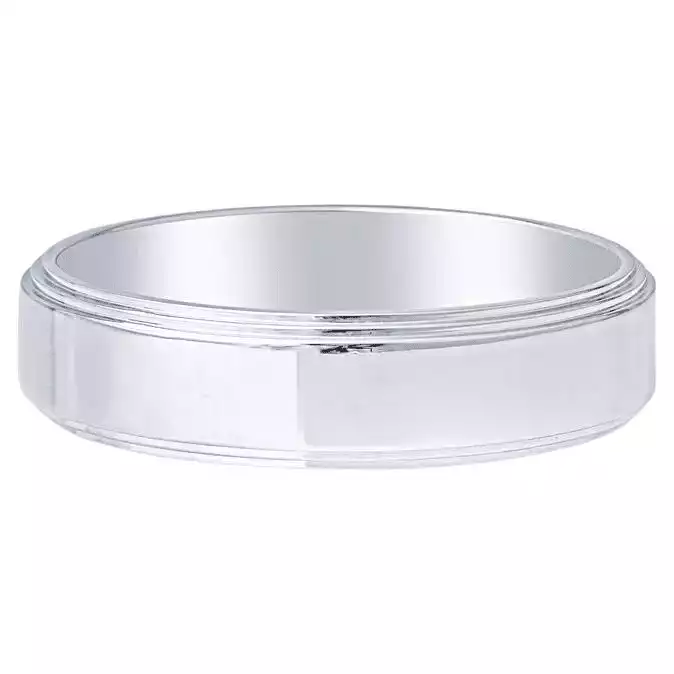 Cartier D'Amour Men's Wedding Bands | 1stDibs
With Cartier d'Amour, the Maison reinterprets a model from 1938 to create a classic symbol of love. Shimmering diamonds are amplified through closed settings and slim platinum or rose gold bands, resulting in the purest expression of feelings.
Check Prices
We earn a commission if you make a purchase, at no additional cost to you.

Cartier Fashion Rings
Cartier truly shines when it comes to its fashion rings. While there's no doubt that Cartier stuns with its elegance in its wedding collections, fashion rings allow Cartier to show its more innovative and artistic side. Modern to glamorous to animal motifs, you can find everything from simple and sleek to elaborate, with precious gemstones.
Cartier groups their rings by collection, so I won't be pointing out rings that overlap, or are very similar, to wedding bands and engagement rings. Instead, I will point out the most unique options that don't fit into any wedding category.
Pink and Gold White Diamond Love Ring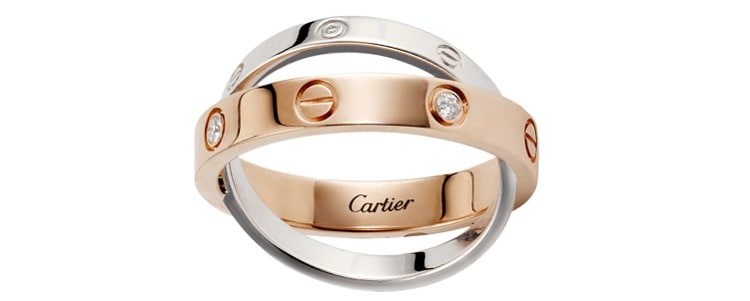 While I'd argue that this ring actually could be used as a unique take on a wedding band, it stands out with its modern appeal and design. Polished rose gold overlaps with a polished white gold band, with a romantic appeal and 6 accent diamonds. Priced at around $3,850; Shop Here.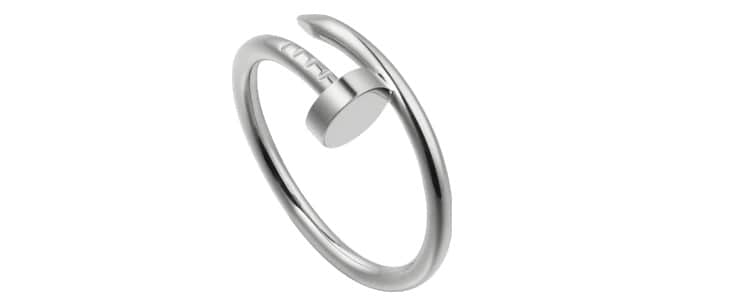 With a matching Cartier bracelet available, this ring features a screw-shaped design and a minimalist, versatile style. While not a statement ring, it's the type of ring you could wear any day, with about just any outfit. Priced at $1240 to $1320; Buy Yellow Gold, White Gold, or Rose Gold.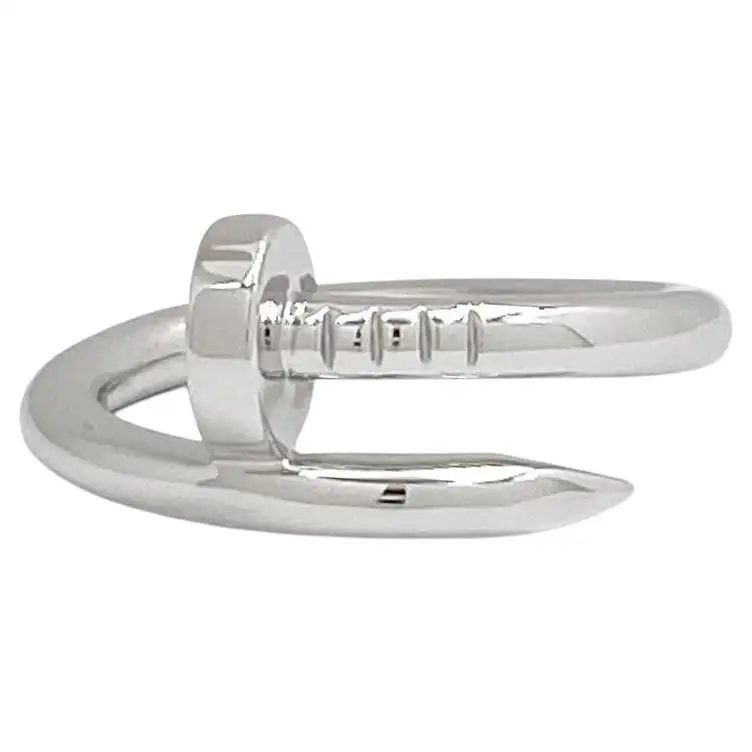 Clash de Cartier Amazonite Ring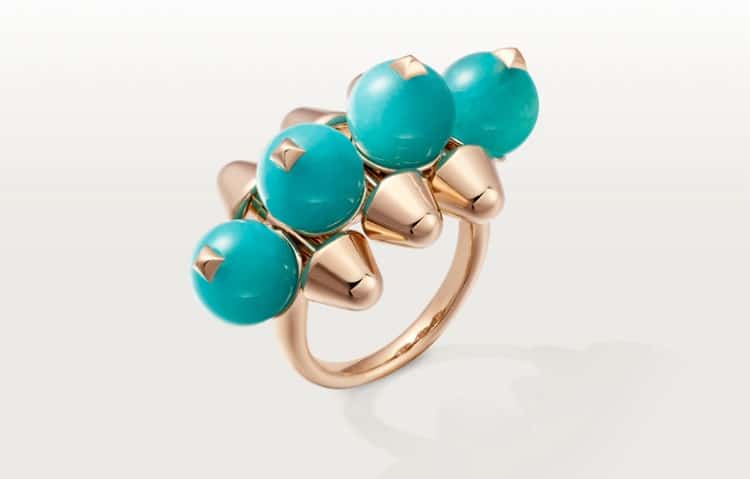 This is one of my favorite Cartier fashion rings for its stand-out style. This daring style features real Amazonite stones, set on sleek rose gold. It's a play of textures and hues for a ring that's sure to make a statement. Priced at $13,200. Buy Here.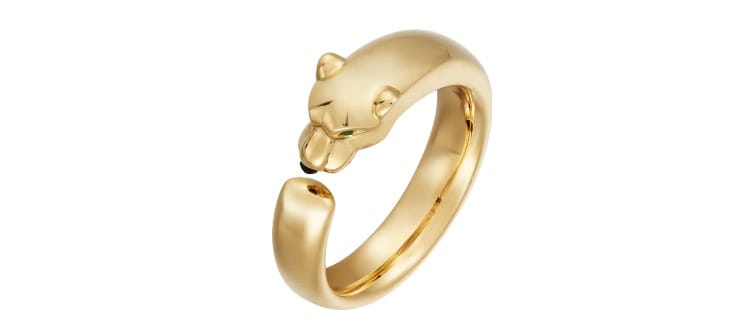 The most affordable ring you can buy if you want an iconic panther motif, both the yellow gold and rose gold are stunning options. Onyx and Garnet gemstones add signature touches to the artistic design Cartier has become known for. Priced at around $3,450; Buy Yellow Gold Here or Buy Rose Gold Here.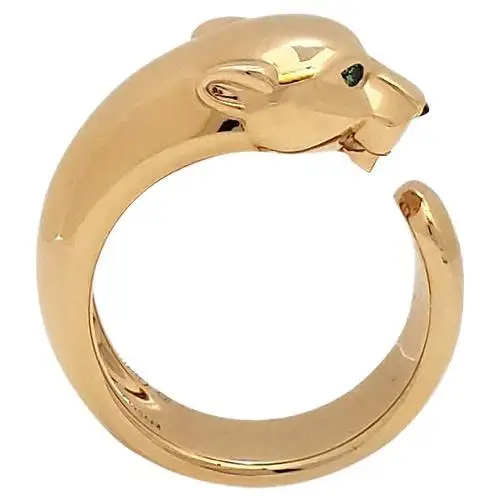 Panthere de Cartier Onyx and Garnet Ring | 1stDibs
Authentic Panthère de Cartier ring crafted in 18 karat yellow gold. The panther head motif is set with tsavorite garnet eyes and a carved onyx nose and measures 11mm in width. Size 56, US 7 1/2.
Check Price
We earn a commission if you make a purchase, at no additional cost to you.

Panthere de Cartier Diamond and Emerald Ring

If you love the panther motif but want to add some sparkle, your best bet is this Cartier ring design, available in white and yellow gold. Precious emeralds add life to the eyes, paired with dazzling accent diamonds along the body. Priced at $11,600 for white gold and $10,900 for yellow gold.
Caresse D'orchidées par Cartier Ring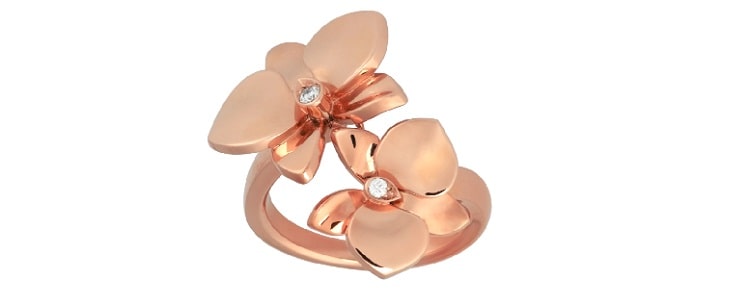 Priced at $4,400, this rose gold ring features an elegant design of florals, with accent diamonds for a touch of sparkle. This beautiful ring proves you don't need a huge diamond to make a big statement. Buy Here.
Les Oiseaux Libérés Ring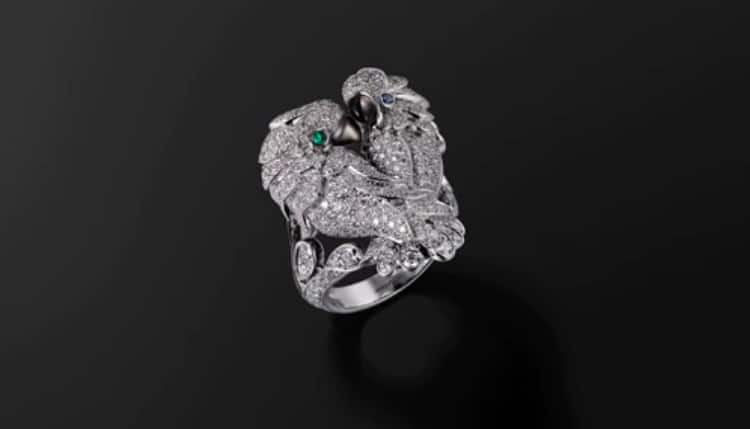 At around $74K, this is by no means a ring that's within budget for most of us, but I wanted to showcase it for inspiration– and just how talented Cartier is with intricate designs. The pair of birds are brilliantly crafted with diamonds, sapphires, emerald, mother-of-pearl, and set on white gold. Buy Here.
Ecrou de Cartier Ring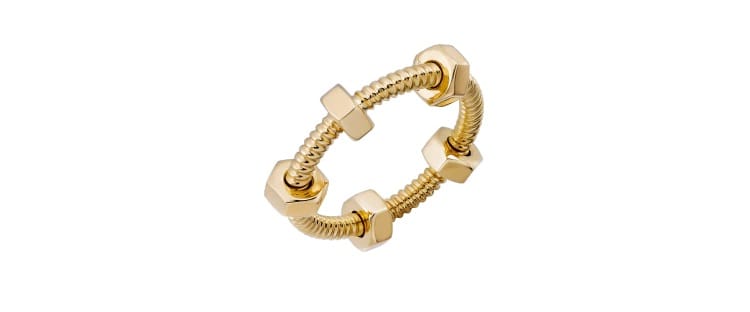 This playful ring features solid gold bolt details, with a ridged band. You can easily dress this ring up or down, meaning you'll get a lot of use out of it. Priced at $2,430 for yellow gold and rose gold, or $2,600 for white gold.
Cactus de Cartier Ring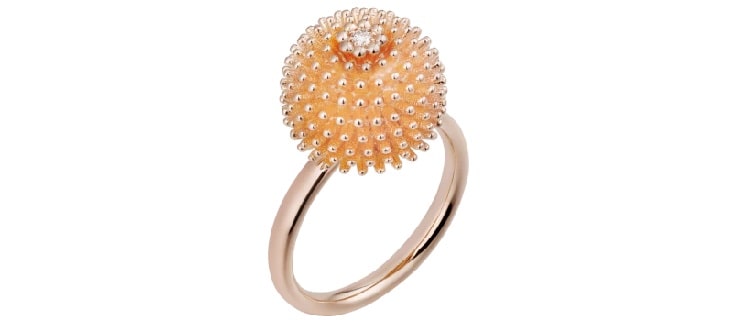 The most affordable Cartier ring out of its cactus-influenced collection, this option is sure to make a statement. Playful textures, orange hues, and accent diamonds are set on a rose gold band. Priced at $4,800; Buy Here.
Pluie de Cartier Ring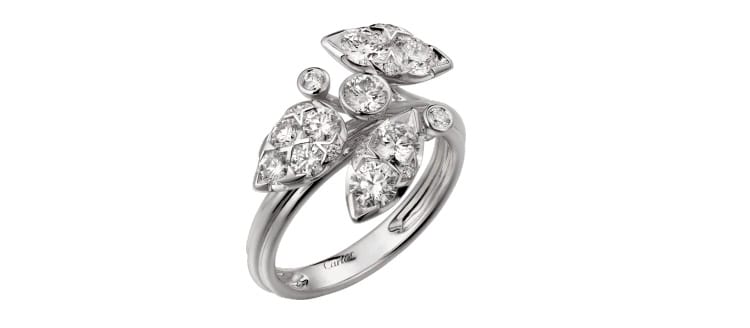 Taking inspiration from nature, this modern classic Cartier ring is set on a white gold band. Diamonds add beautiful accents to the leaf design. While it makes for a stunning statement ring, it could even work as an offbeat engagement ring. Priced at $12,300. Buy Here.
Frequently Asked Questions
Question: Does Cartier Authenticate Jewelry?
Answer: Cartier no longer offers authentication for jewelry, including the popular Cartier LOVE bracelets. To make sure you're not buying a fake, it's best to buy from Cartier directly.
Question: Is Cartier Jewelry Cheaper in Paris?
Answer: Cartier has headquarters in Paris, and you can in fact score deals if you're shopping in the City of Light. This includes discounts not only on Cartier jewelry but also handbags and other accessories.
Question: Can you Negotiate Cartier Jewelry?
Answer: Cartier does not offer regular sales or discounts. You truly cannot expect to negotiate price points, either. What you see listed on their website, or the price you're quoted, is the price you'll pay.
Final Thoughts
While Cartier rings can be pricey, you can also find countless options under $5,000 or $10,000. Cartier excels with its unique designs and high-quality materials.
That said, in my opinion, the best value is their fashion rings, as these appear the most distinct, while their engagement and wedding rings are more classic.
| Product Image | | Primary Button |
| --- | --- | --- |
| | | |
| | | |
| | | |
Best Wedding Band for Her
Best Wedding Band for Him

Want more options? Shop All Cartier Rings Here.