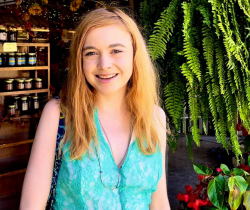 Latest posts by Erin Jamieson
(see all)
In May 2021, Pandora made a dramatic announcement: not only were they introducing the new Brilliance ring line, but they were also ending the sales of all mined diamonds.
As one of the first major jewelers to announce an eventual switch completely to lab-grown diamonds, many didn't know how this bet would pay off. Yet Pandora, for many, remains one of the best luxury brands for modern ring ideas. 
While the Brilliance ring line, which will include all lab-grown diamonds, is continuing to be developed, the announcement shows Pandora hedging a bet: that millennials are more likely to be interested in how their diamonds are sourced.
Yet Pandora's collection of rings right now has little to do with diamonds– which may make the announcement all that more confusing. 
The question is: are Pandora rings worth it? And how do you find the best Pandora ring possible for your money? In this guide, I'll tell you everything you need to know about Pandora, its rings, and my top ideas if you plan to buy one. 
Why is Pandora jewelry so expensive?
Let's start by tackling a common concern: why Pandora jewelry is so expensive. To be fair, Pandora is actually quite affordable when compared to some of its luxury competitors, including Tiffany & Co. And at first glance, the current Pandora rings collection actually seems incredibly affordable. Still, considering the materials, they may be pricier than some want to spend. 
Is Pandora a luxury brand?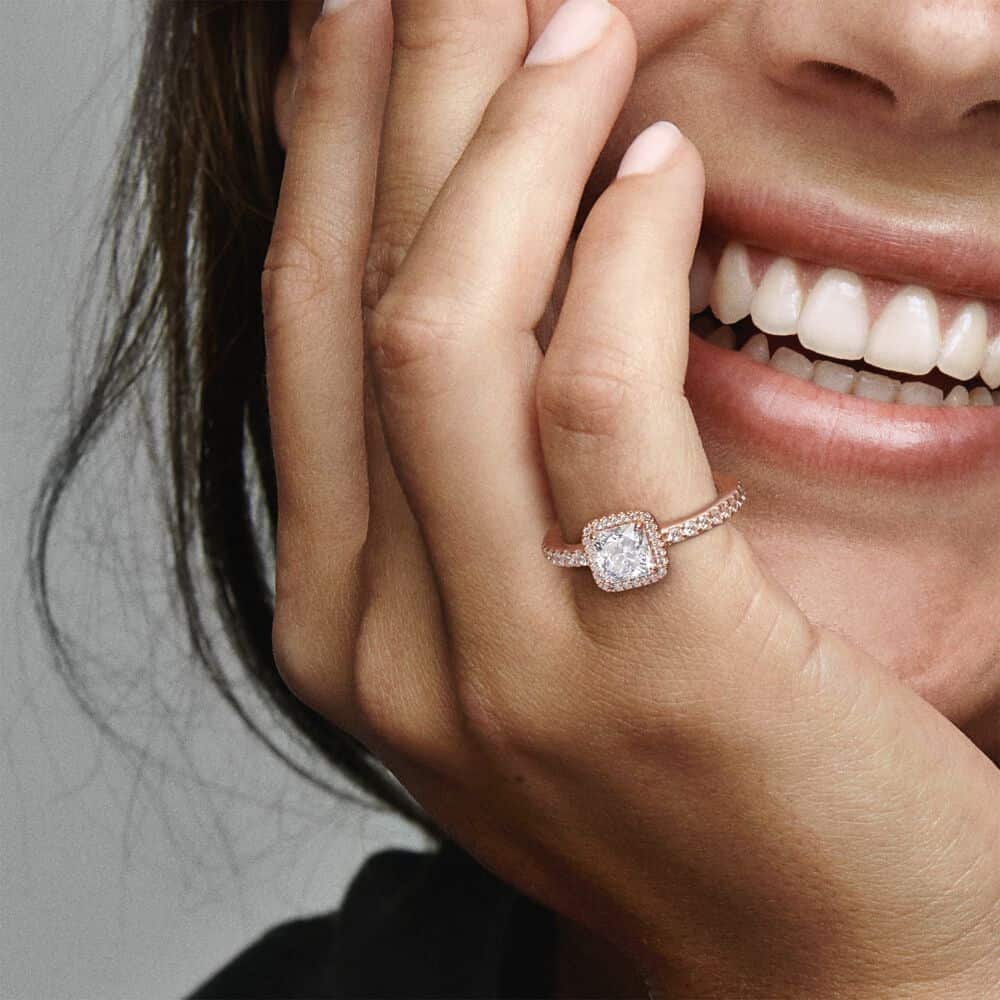 The first reason why Pandora is expensive is simply that it's a well-known brand and a luxury brand at that. You're paying in part for their name, the recognition, and the popularity it's earned. Luxury brands are also distinguished usually by featuring exclusive styles, and, sometimes, by the materials being used. 
How do you spot a fake PANDORA ring?
Before I discuss whether or not a ring from Pandora is worth your purchase, it's important to tackle a common issue: people buying fake Pandora rings by accident.  Unfortunately, there are many sellers out there offering fake Pandora rings for a fraction of the price. Not only are they fake and less valuable, but they may be made with cheaper materials– making your purchase even less worthwhile. 
Are Pandora rings on eBay real?
I like saving money as much as anyone else, but most of the time, you're going to be best off buying directly from Pandora. Items bought from eBay and other third-party sites are at your own risk. That isn't to say they are all fake, but some of them are. At the end of the day, it's up to you to discern if it's worth the risk. 
How do I know if my Pandora ring is real?
Study the designs offered by Pandora. Pandora uses fine metals, and there should be some heaviness to them. Lightweight Pandora rings may be using cheaper materials. You should also check for the Pandora inscription. It should be printed neatly and clearly, and match the stamping you see on the Pandora website. And unless it's a heavily used Pandora ring, be wary if it's being offered at an unbelievable price. 
Are Pandora rings worth the money?
Pandora rings are actually more affordable than you might imagine. In fact, many are likely astonished when they see sparkling rings from under $150– and many under $100 and even under $50. Stylish, modern, and alluring designs make them pleasing at first glance. 
Are Pandora rings good quality?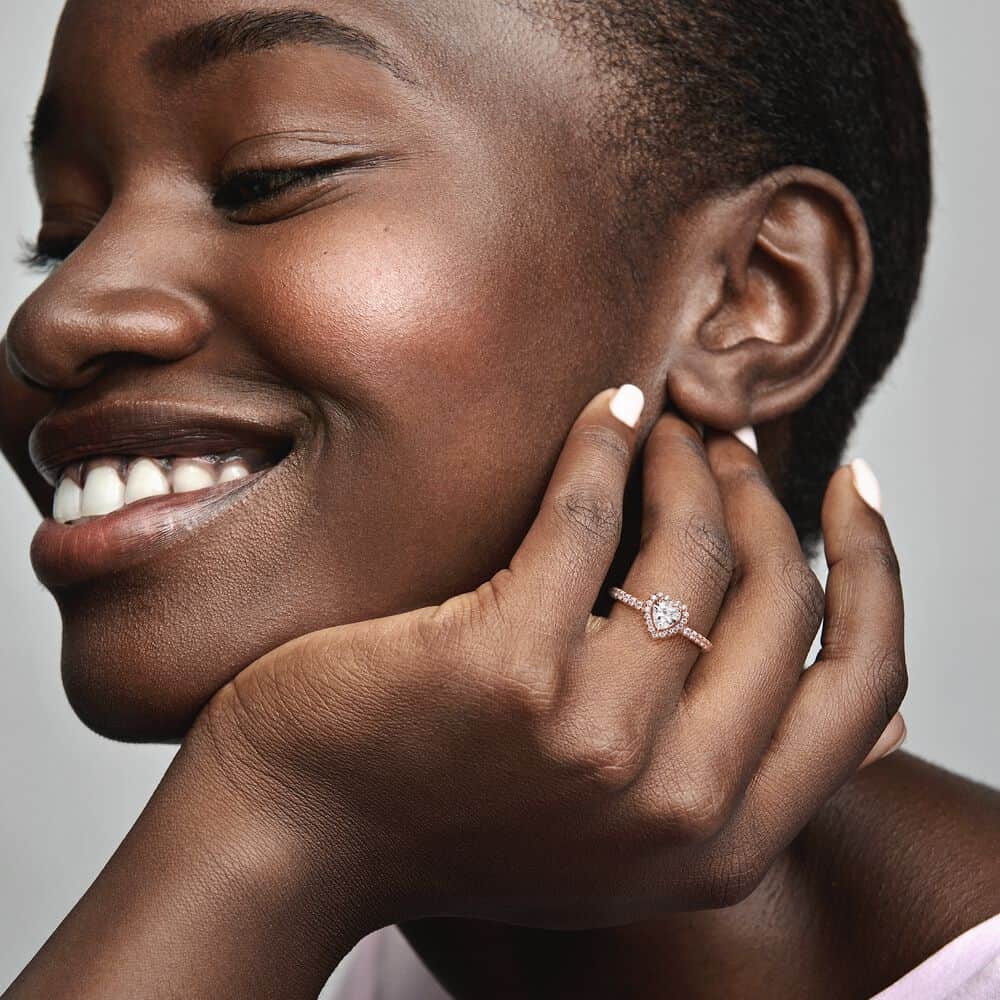 The first thing to consider is craftsmanship. Pandora rings are made in Thailand (not China as is commonly assumed) and are manufactured by a team of nearly 6,000 workers. Gems are smoldering together. The actual materials being used are also important to pay attention to. 
Are Pandora rings real silver?
Pandora mostly sells sterling silver and silver with gold plating, as well as just two 14K gold rings. All Pandora silver rings are 'real' silver. They use 925 silver, which is the industry standard. This means that the metal is 92.5 percent silver, combined with base metal alloys. 
925 Sterling Silver Rings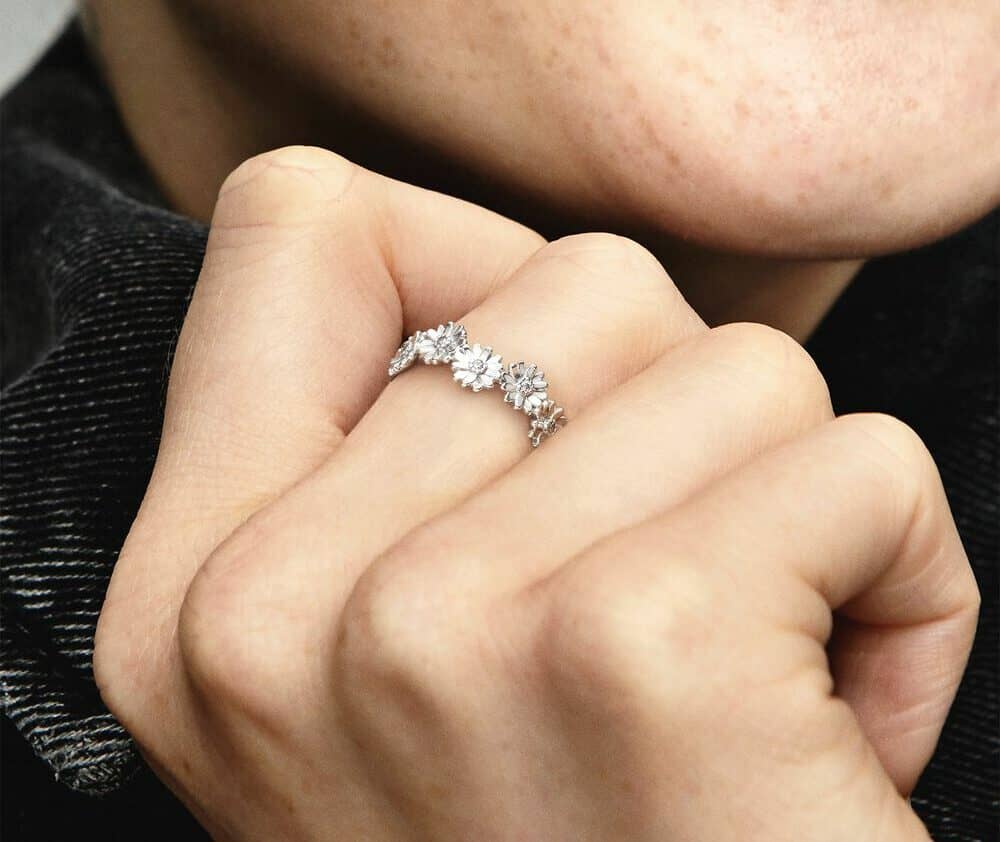 Sterling silver is acceptable for fine jewelry, but it can tarnish over time, and/or when exposed to moisture. When treated well it can present a beautiful shine and is more affordable than white gold. It does tend to be soft and can be scratched. I recommend storing silver Pandora rings in a container of their own. Some even opt for a Ziplock bag with a piece of chalk to reduce moisture. 
Gold Plated Rings
Gold plating is genuine gold that's been pounded into a fine layer and placed over another metal– in the case of Pandora rings, sterling silver. Gold plating tends to be affordable and will provide the same luster as regular gold of the same karat. Gold plating, however, can peel or tarnish with wear. 
14K Gold
The most durable and valuable option that Pandora currently offers is regular 14K gold. 14K gold is commonly used for fine jewelry, and provides elegant luster, is not prone to tarnish, and is a great option for those who don't have metal allergies. 
Are Pandora diamonds real diamonds?
Pandora currently uses cubic zirconia, not diamonds, for its rings. The diamonds they do sell are for a few select charms and are genuine, natural diamonds that comply with the Responsible Jewelry Council. The upcoming Brilliance line will feature lab-grown diamonds, which are still real diamonds, but produced in a laboratory vs naturally mined. But when you're selecting a Pandora ring, for now, cubic zirconia is your option. 
Cubic Zirconia
Obviously, cubic zirconia is not as valuable as diamonds. It's commonly used for more affordable jewelry due to its sparkle and low cost. Cubic zirconia has a Mohs hardness rating of 8 to 8.5 out of 10. This means it's more susceptible to chips and scratches vs diamonds but still considered to be quite suitable for daily wear. 
CZ must be cleaned more regularly, and it will become cloudy eventually– usually within 3 to 5 years, so you can't expect any of these rings to last a lifetime. CZ sparkle is actually rainbow-hued, vs bright white as you'd see with diamonds. All told, it does not look exactly like a diamond by any means but is a fun low-cost alternative to diamonds that should last several years with proper care. 
Pandora Rings: My Picks 
Now I'll give you my favorite ideas for Pandora rings. I've selected the most unique or versatile styles, and what I feel are the best rings in terms of value vs price point. By arranging them based upon price range (least expensive to most expensive), you can find a ring that suits you and your needs. 
Pandora Solitaire Ring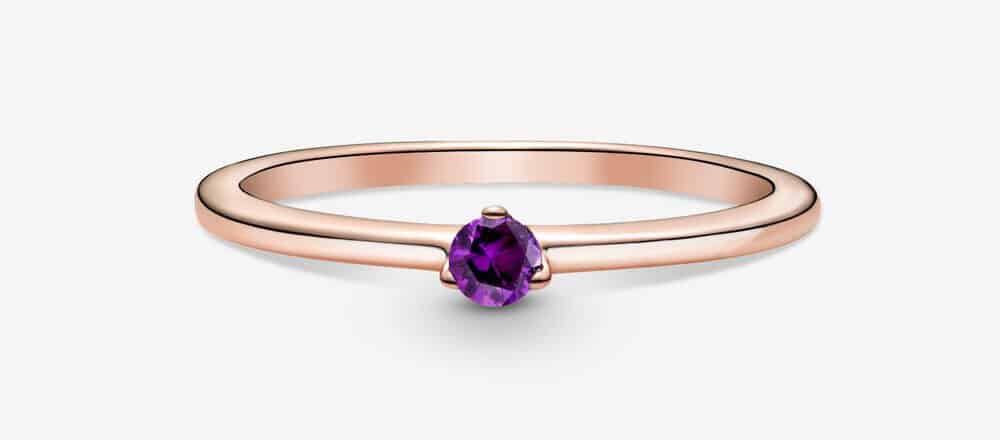 This bestselling Pandora ring is available in six colors and is simple and pleasing. Priced at just $45, this sterling silver ring is finished with glossy 14K rose gold plating for a romantic hue. A prong-set single cubic zirconia crystal sits stylishly on the side. A modern and effortless look, this Pandora ring would look great with something as casual as jeans and a t-shirt. Crystal colors include green, light blue, deep blue, pink, purple, and red. Buy Here. 
Pandora Polished Wishbone Ring

A wishbone symbolizes good luck, fortune, and a happy future, making this clever Pandora ring a great gift. Priced at $45, this sleek but geometric design is about as versatile as it gets. The 14K rose gold plating adds a warm allure to the sleek and polished aesthetic. Buy Here. 
Pandora Sparkling Seashell Band Ring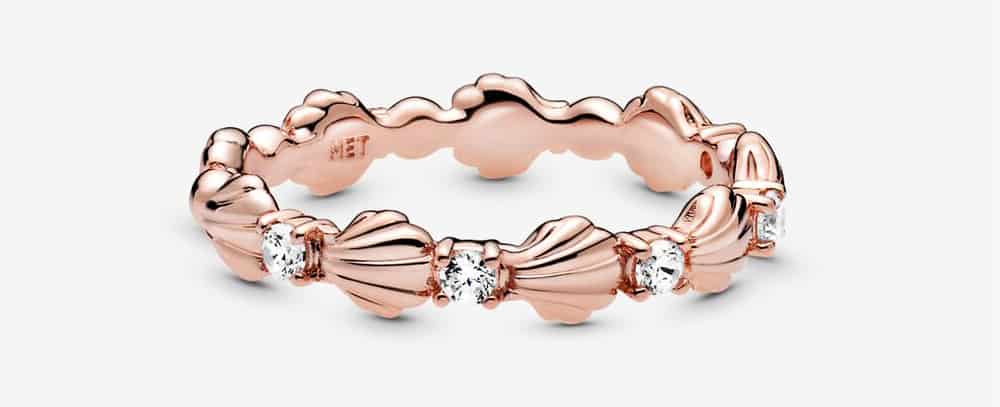 This $55 Pandora ring features a sea-inspired design and 14K rose gold plating. Playful seashell details provide texture around the perimeter of the ring. Five cubic zirconia stones sparkle with a brilliant round cut. Even better, this whimsical style pairs well with Pandora's other sea-inspired accessories. It's one of my favorite rings from them for under $100. Buy Here. 
Pandora Band of Hearts Ring

Heart jewelry–from rings to necklaces and even earrings–is more popular than ever in 2022. This stylish Pandora ring is finished with 14K rose gold plating and features a hand-finished, open-heart design. The open heart can be a symbol not only of romantic love but openness to others and oneself. This meaningful ring is priced at $55. Buy Here. 
Pandora Simple Sparkling Band Ring

Available in sterling silver or with 14K rose gold plating, this Pandora ring is simple– and that simplicity is where its beauty lies. The metal is hand-finished and polished for a high shine, accented by tiny cubic zirconia crystals. While it's stylish alone, it's also the perfect type of ring for stacking. Priced at $55 to $65; Buy Here. 
Pandora Sparkling Daisy Flower Crown Ring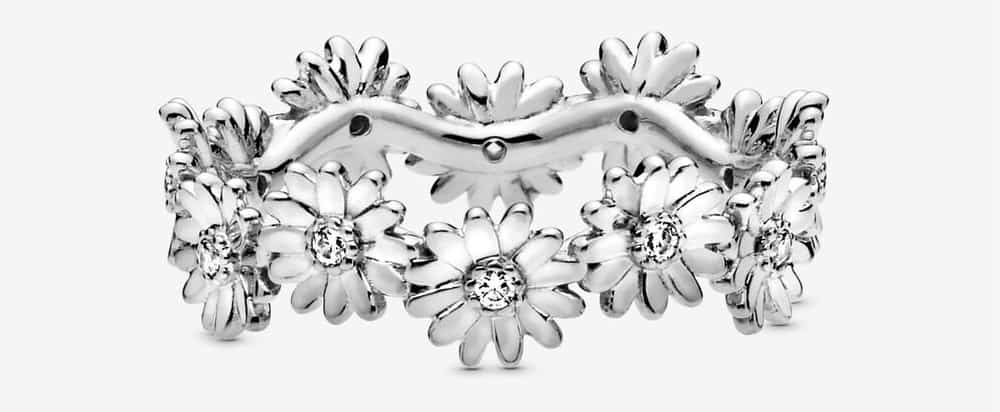 Floral themes never go out of style, and this Pandora ring would be perfect for boho-chic outfits. A band of intricate daisies is accented with small cubic zirconia accent stones for touches of sparkle. The waved ring style adds texture, and is crafted in plain sterling silver or with 14K rose gold plating. A symbol of freedom and growth, this stylish ring retails for $65 to $95; Buy Here. 
Pandora Square Sparkle Halo Ring

It's easy to see why this Pandora ring is a bestseller. A square-cut sparkling cubic zirconia gemstone is accented with smaller crystals and exudes vintage-inspired glamour. Crafted with sterling silver or 14K rose gold plating, it can be worn alone as an affordable cocktail ring. Priced at $75 to $115; Buy Here. 
Pandora Sparkling Elevated Heart Ring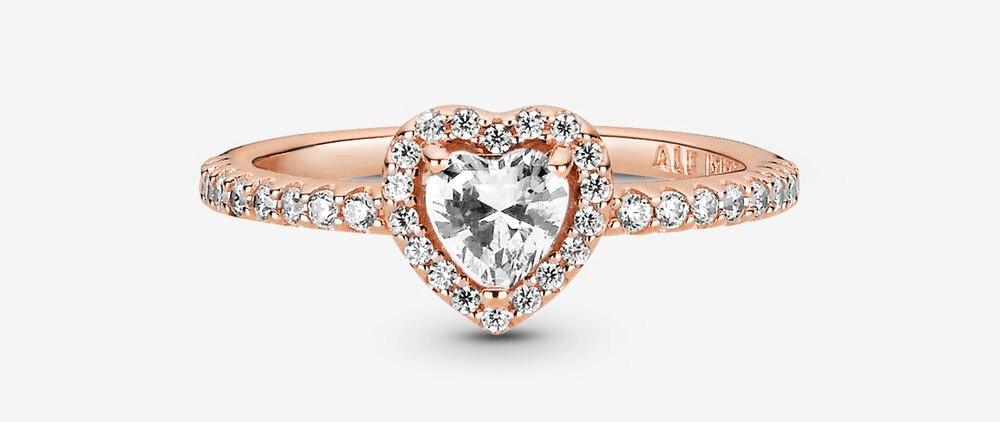 This bestselling Pandora ring retails for $75 to $115. Drawing inspiration from the Pandora Timeless Collection, this heart-shaped ring adds plenty of sparkles to make a playful statement. A heart-shaped center cubic zirconia stone is elevated and surrounded by a halo of accents crystals. Choose from a clear or colored center stone, and from plain sterling silver or with 14K rose gold plating. Buy Here. 
Pandora Pink Sparkling Crown Ring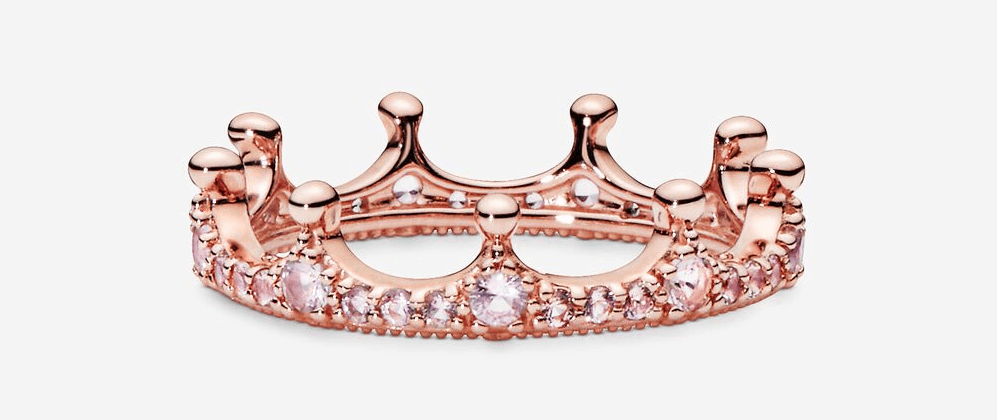 The crown symbol can be seen for about anything Pandora sells, from charms to bracelets and rings. This iconic symbol is crafted in 14K rose gold over sterling silver. The pink cubic zirconia stones add warm sparkle all over the unique ring. It may not be the most versatile style, or suitable for everyone, but it sure is eye-catching. Priced at $115; Buy Here. 
Pandora 14K Gold Square Sparkle Halo Ring

Have a higher budget? This $425 Pandora ring is only one of two crafted in 14K gold, instead of sterling silver. It's also only one of precious few choices if you prefer yellow gold. If you love the rainbow sparkle of cubic zirconia, chances are this ring will suit your style. The halo-style ring is faceted for extra sparkle, with a center stone (CZ) and accent crystals. A unique metal blend technique with 18K gold plating adds extra surface-level shine. Buy Here. 
Pandora 14K Gold Elevated Heart Ring

Your second choice for a yellow gold ring? This Pandora ring features a heart motif with a design meant to place sparkle on full display. Priced at $495, it's the most expensive ring Pandora offers, but it's also the most valuable, and the most durable. No gold plating here– just 14K yellow gold for a durable, classic ring, accompanied by sparkling accents and a heart-shaped center cubic zirconia. Though it's quite expensive compared to other rings, I'd argue it's the best in terms of the overall value that Pandora currently offers. Buy Here. 
Frequently Asked Questions
Question: Which is better quality, Swarovski or Pandora?
Answer: A common comparison to Pandora jewelry is Swarovski's collection. Both are luxury designers that are considered to be relatively more affordable than high-end jewelry designers like Cartier. That said, there are substantial differences. Swarovski crystals are made out of a blend of non-precious glass lead. Pandora uses mostly cubic zirconia. Pandora's gems are more durable, and actually more valuable than what Swarovski uses. 
Like Pandora, Swarvoki sells many gold-plated sterling silver products, but they also include rhodium plating and other base metals. Pandora, on the other hand, does have a few 14K gold options and does not use copper or other base metals. Plus, Pandora is actually cheaper on average. Pandora is the better quality and value, for most people. 
Question: Which Pandora charms are rare?
Answer: One draw to Pandora, of course, is collecting charms. Some charms are much rarer than others. Some of the rarest charms include Two-Tone Dragon, Canadian Maple Leaf, Christ Heart Charm, Royal Church Charm, Holy Grail Charm, Blue Primrose Path Charm, and Le Forever Paris charm. 
Question: Do Pandora charms increase in value?
Answer: While most Pandora jewelry holds its value reasonably well, it truly depends on the condition of your jewelry. One issue is that many of Pandora's accessories, including charms, are made with either sterling silver or with gold plating. Both can wear and potentially lose value due to that wear. In other words: don't buy Pandora– whether that's charms, rings, or other products– purely in hopes that the value will increase. 
Final Thoughts and Alternatives 
Pandora rings are not nearly as expensive as some may think, but they also are not as durable as some other rings. There's no denying that something is charming and alluring about their ring collection, and I applaud the ability to balance modem designs with attention to detail. The transparency in terms of the materials used is also helpful and makes shopping easier. I most recommend either going for a low-cost ($50) ring for fun or opting for a true 14K gold ring if you want it to last beyond a few to several years.
If you love the modern styles and whimsical details of Pandora rings but want more options, there are some great alternatives. 
Olivia Burton
These rings are very similar in terms of both price and materials, but go a bit bolder and more colorful. Click Here to Shop.
Tiffany & Co 
These rings are exquisite, with that modern luxury design appeal. They're made of more durable materials but also come with a hefty price tag. You'll find rings suited for everything from parties to engagements. Click Here to Shop.