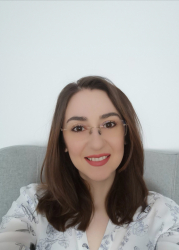 Latest posts by Alexandra Gavrilescu
(see all)
Chakra bracelets aren't your regular accessories. They mean so much more than just an embellishment item that makes your wrist look pretty. They are said to bring you spiritual benefits such as love, peace, meaning, and more. For that reason, a lot of people buy and use them as healing objects.
In today's article, I will list and detail some of the best chakra bracelet ideas available out there. Moreover, I will tell you the most important benefits of these accessories, and the way they work.

Best Chakra Bracelet Ideas and Inspiration – Top 7 Choices
I have picked the most popular chakra bracelets I could find and research online but I haven't listed them in any specific order.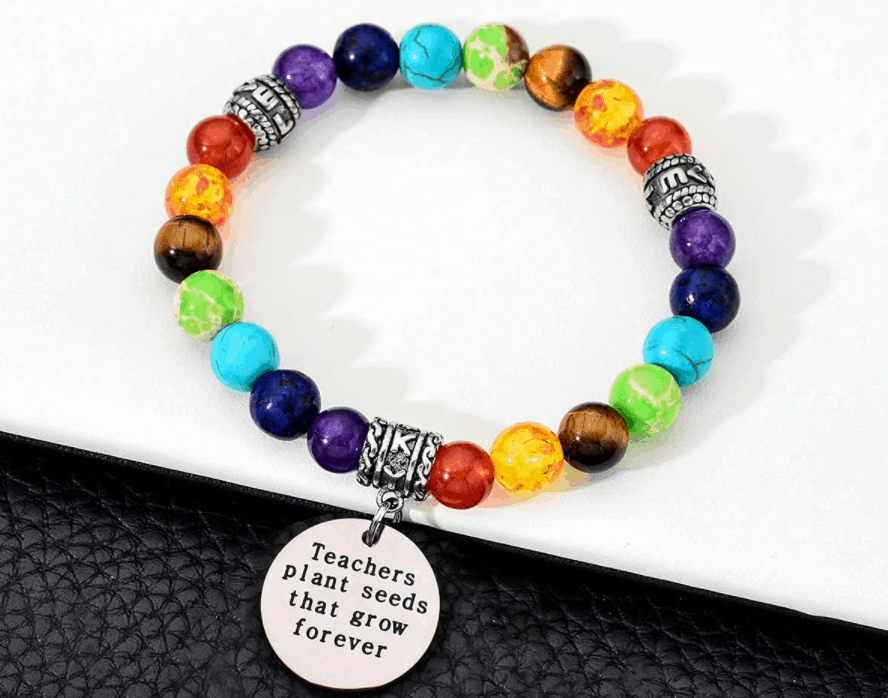 This chakra bracelet is a great gift for your children's teachers as a token of their gratitude. It's made of colorful stones and metal. All these natural stones represent the 7 body chakras that can lead to rebalancing one's health and well-being. It's a stretchy bracelet and the elastic that keeps the chakra beads together is a high-quality and durable one.
The bracelet comes in a pretty velvet gift bag and its natural chakra stones are supposed to make one feel more relaxed, confident, and mindful.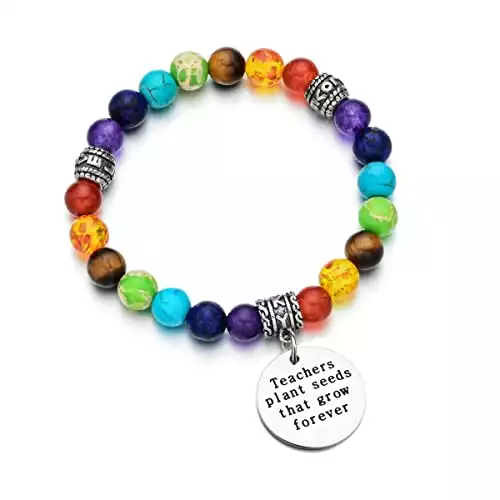 Pros
It is a beautiful chakra bracelet that also features a little engraved metal disk;
It's a versatile accessory that can work with numerous outfits;
The chakra natural stones are said to improve the mood and the well-being of those who wear them. 
Cons
One customer said that, although the bracelet looks good, it feels a bit cheap;
Another reviewer said that the engraved disk is a tad big and could become unpractical if one was to wear the bracelet all day long.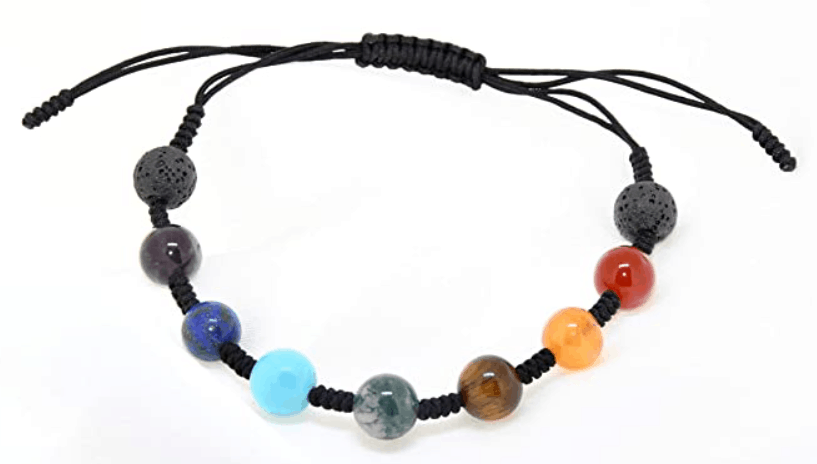 The Leiahin chakra bracelet features 9 colorful beads placed on a black rope. All the beads are made of natural stones sourced from lava rocks. The feeling of these stones could alleviate symptoms of stress and anxiety. You can also use this accessory as a diffuser bracelet for essential oils. This chakra bracelet consists of the following components: two lava rock beads, one red agate, one tigers eye stone, one lapis lazuli, one yellow agate, one amethyst, one moss agate, and a synthetic turquoise bead.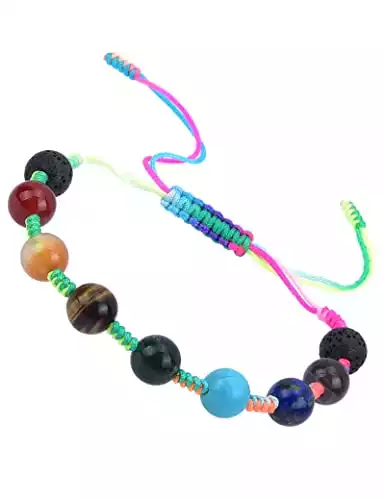 Leiahin Chakra Bracelet | Amazon
Leiahin Chakra Bracelets are designed for women and men. They use 100% natural stones. They can balance your mind, give you positive motivation, relieve stress, and anti-anxiety.
Buy at Amazon
We earn a commission if you make a purchase, at no additional cost to you.
08/03/2023 06:22 am GMT

Pros
This beautiful chakra bracelet features colorful stones and the size is adjustable;
The design is an innovative one and the materials used to create this jewelry are of high quality;
It comes in a small pouch that's placed in a jewelry box – so, it's ready to be offered as a gift. 
Cons
Most clients were more than happy with this bracelet. One reviewer said that the bracelet she received had two small defects: the surface of one of the stones wasn't smooth and another bead was a smaller size compared to the rest of the stones. 
This Manifo crystal bracelet has exquisite crystal beads as well as a token that symbolizes the tree of life. It works through Reiki and crystal healing, and the gemstones can also be used during meditation or yoga when you want to calm yourself down and balance chakras for inner peace. There are three available options to choose from and all of them are delicate and elegant: rose quartz, amethyst, and green aventurine.
The same seller also markets a multi-color version of this chakra bracelet that comes with an engraved metal disk with the message "Believe in yourself."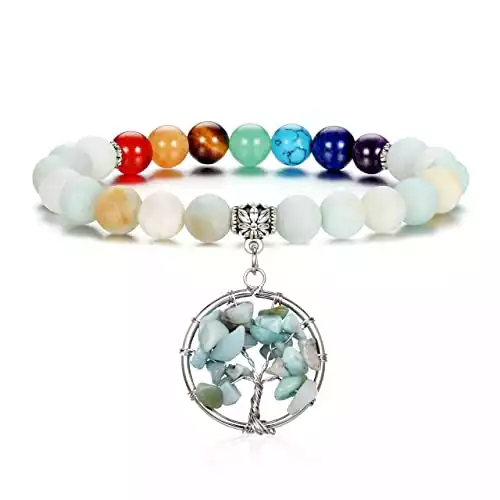 Pros
This bracelet is supposed to restore, open, and rebalance your body chakras;
It is an item full of spiritual symbolism that can be worn or offered as a thoughtful gift to someone you love;
It comes in a cute velvet pouch;
This product could be used by people who deal with anxiety symptoms. 
Cons
I found a few negative reviews but all of them were referring to the fact that this bracelet can become a bit uncomfortable to wear if you're working a lot with your hands because of its dangling token.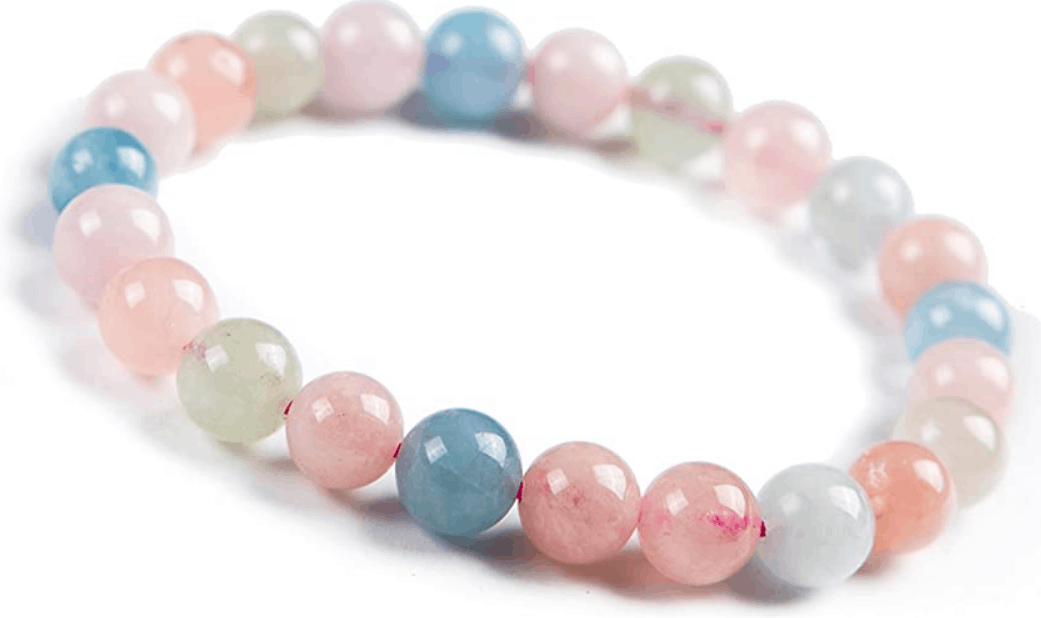 The gemstones featured on the Juneaux chakra bracelet resemble little marble stones and they come in a wide range of color options. My favorite pick is the one with amazonite stones but you can also choose to buy this bracelet with black lava stones, blue denim lapis lazuli, grey jasper, black onyx, tanzanite, tourmaline, and more.
This product is made with high-quality and durable materials and the metal detail is made of 18-carat gold. All the semi-precious stones are hand-selected and handmade. They're also natural grade A stones. The bracelet's string is made of fine yet durable elastic.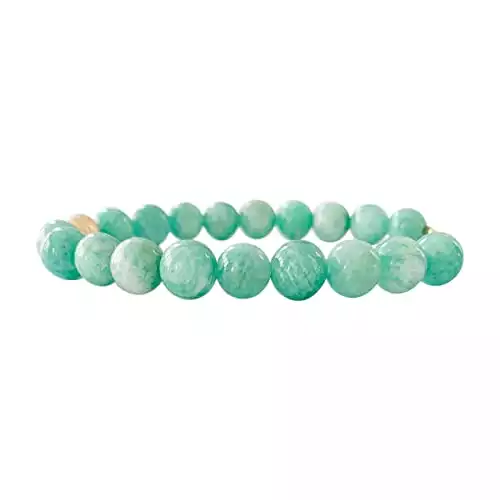 Pros
These chakra healing bracelets are delicate and sophisticated;
They're made in the US, with premium materials;
The company applies a satisfaction guarantee policy;
These crystals have healing properties. 
Cons
I could only find one single negative review that came from a client who said that her bracelet broke after a while but she didn't say under what circumstances that occurred.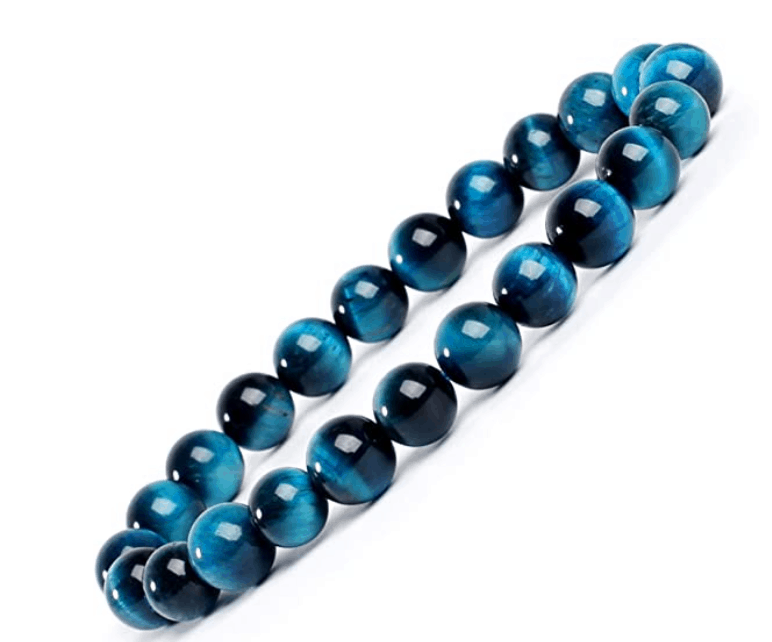 The Serirtire chakra bracelet is a gorgeous accessory beaded with semi-precious stones. It's a unisex product so both women and men can wear it. Each chakra stone has a diameter of 8mm. Not only is this bracelet very pretty but it's also affordable. You can choose from the following color and stone options: amethyst, blue veins, apatite, fluorite, quartz, morganite, silver, and serpentine.
All these gemstones are natural A-grade stones and each stone features a unique pattern. It's an adjustable bracelet so it will fit the wrist of most people. This accessory is made of durable and odorless materials. All the stones are both lightweight and low-density. When you keep this bracelet in your hand during your meditation or yoga practice, it could help you calm your mind and unwind.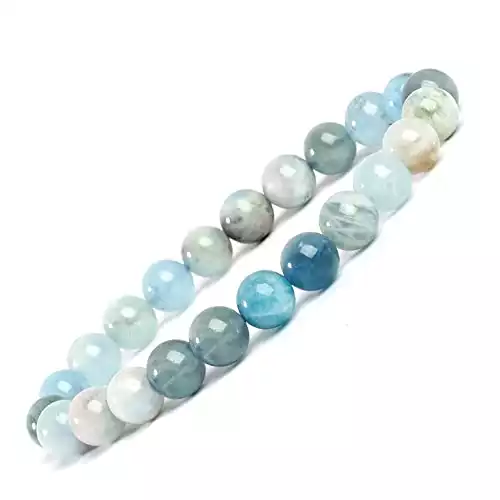 Pros
This pretty chakra bracelet is made of real stones and it's used to relax you;
It's a healing chakra bracelet that could be the perfect gift for someone you love;
The company offers a money-back guarantee available for 30 days since the purchase;
This product comes in a delicate velvet pouch. 
Cons
I simply couldn't find any negative reviews about this bracelet. It seems that it's a durable and solid chakra healing accessory.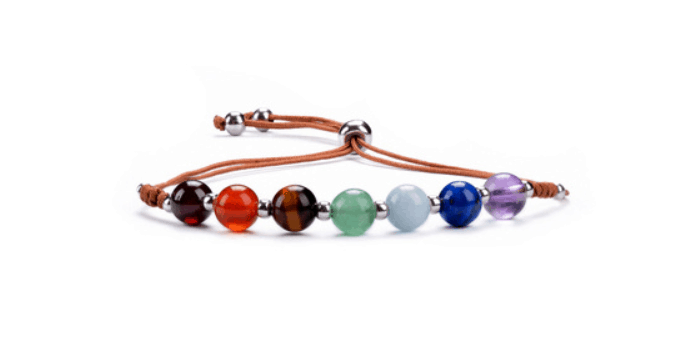 The Cherry Tree chakra healing bracelet is one of a kind. Its design is beautiful, simple, and elegant. The cord is doubled and adjustable for your comfort and each bead measures 6mm in diameter. It is made and marketed by a company that has over 10 years of experience in the jewelry industry. Its representatives guarantee that you, as a client, will be completely satisfied with this product.
The adjustable bracelet fits even the smallest wrist which I love because I have very thin wrists and I often have issues finding bracelets that fit well. Another thing that I love about this product is represented by the numerous choices available to pick from in terms of colors and stones: black tourmaline for the root chakra, amethysts for the crown chakra, aventurine for the heart chakra, aquamarine for the throat chakra, red agate for the third eye chakra, rose quartz, and many more.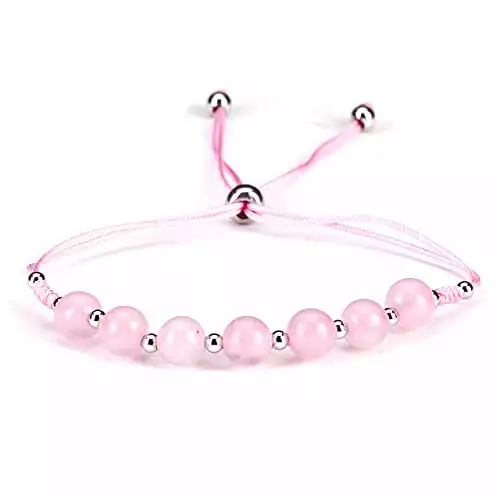 Cherry Tree Chakra Bracelet | Amazon
Red garnet is a strong Root Chakra stone. Red garnet clears negative thoughts and helps to facilitate creativity.
Buy at Amazon
We earn a commission if you make a purchase, at no additional cost to you.
08/03/2023 12:06 pm GMT

Pros
All chakra bracelets made by Cherry Tree look fabulous and they're affordable;
These bracelets are made of high-quality materials;
There are many available versions to opt from;
The bracelet is adjustable and the gemstones are real and said to have healing effects. 
Cons
One client wasn't pleased with this bracelet, saying the beads are pretty small and the cord is quite thin;
Another client considers this bracelet a tad overpriced.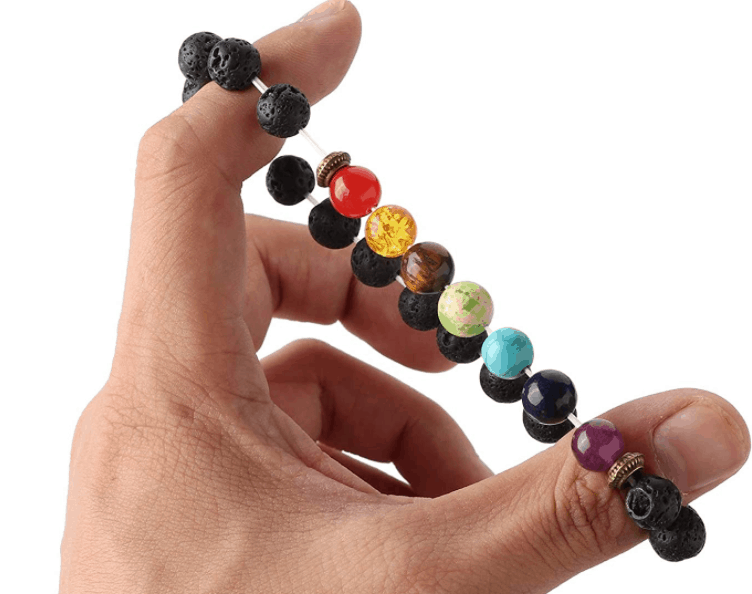 The LoyalLook chakra bracelet is made of natural gemstones and lava stones. Each bracelet is colorful and has calming and healing properties. These bracelets are a bit more expensive than other similar items but one order provides you with an entire set of 6 to 12 pieces. Therefore, you will be able to wear more than one single bracelet at a time.
This chakra bracelet also works as a diffuser for essential oils which comes in handy when you're trying to relax through meditation or yoga. The bracelet features a number of healing stones such as amber, amethyst, turquoise, and more. Each stone targets a specific chakra, from the crown chakra to the umbilical area, and beyond.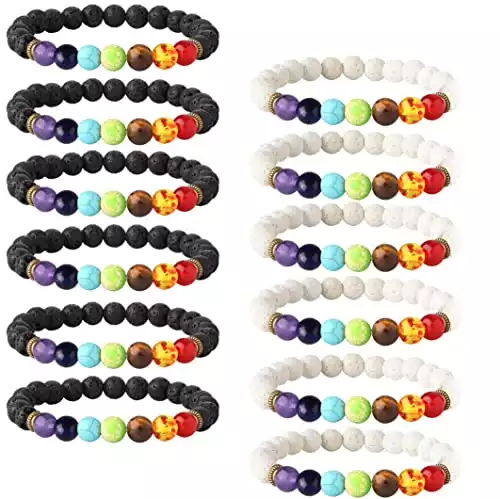 Loyallook Chakra Bracelet | Amazon
Lava bead rocks are porous making them perfect for absorbing and diffusing essential oils.
Buy at Amazon
We earn a commission if you make a purchase, at no additional cost to you.
08/03/2023 11:37 am GMT

Pros
The company offers a money-back or exchange guarantee available for 90 days;
The elastic band is versatile and can suit the wrists of both men and women;
You can use it as an essential oil diffuser as well;
It offers good value for the money. 
Cons
The stones aren't real stones, according to a reviewer;
Another client said that her bracelet broke pretty quickly;
One reviewer said that the size of the bracelet doesn't suit her wrist because it's too big. 
Best Chakra Bracelet Ideas and Inspiration – Main Benefits
The main purpose of any chakra bracelet is to balance the energy level of your body. But, chakra bracelets can offer you many other benefits as well. Here are some of the most important ones that you should know about.
Using a Chakra Bracelet as a Healing Tool
More and more people turn to meditation and other mindfulness techniques as an alternative form of healing. It's strongly believed that too much stress leads to a number of health problems. Through meditation, you can eliminate some of that stress. During meditation, your mind becomes more aware and conscious of your mental state and reprograms itself to become calmer.
To improve the outcome of your meditation, you should use chakra bracelets, a chakra necklace, or chakra stones to help you maintain your focus and get in contact with your deeper self. The stones will feed your organism with energy that your body uses to release positivity.
Wearing a Chakra Bracelet to Avoid Negative Thoughts
It's said that chakra bracelets could help your mind avoid negativity. As long as it's an authentic chakra bracelet, it will drive away all the negative energy that could be revolving around or inside of you. As an outcome, you will become more relaxed. Your mind will become able to enjoy inner peace and a sense of tranquility.
As you can see, these accessories would be the ideal gift for your loved ones, especially for those who love yoga, meditation, and mindfulness. When your mind isn't overwhelmed with negative energy, it will focus more on the beautiful things in life which will further make you a happier person.
Using Chakra Bracelets to Boost Your Mental Focus
Chakra bracelets are said to improve your mental focus because they will provide you with a state of calmness. That way, you will become able to focus more on essential things and let go of the things you cannot control. This great accessory seems to allow the brain to focus and concentrate better on one's life events.
It's said that these bracelets are meant to help you make all the right decisions you need, especially those related to your future. This kind of item helps you prioritize your most important decision-making processes.
Additional Benefits
Here are some more perks that you can benefit from when purchasing and wearing a chakra bracelet:
Parity – the sones reverberate their own vitality that further communicates with your chakras. Therefore, they can soothe any tension and negativity your soul and mind have gathered;
Purification – chakra bracelets can even purify the atmosphere and your surroundings. With these bracelets, the environment that encompasses you will become more balanced because it will attract any negative feelings that you might deal with inside;
Edification – the spiritual vitality generated by these stones will eventually lead you to illumination. These bracelets are much more than arm ornaments. They help your brain free itself from negative thoughts and they will facilitate activities like yoga and meditation by refocusing your brain's attention;
Revitalization – low energy and laziness often come from chakra imbalance. Many people feel lethargic and don't have the motivation to initiate certain tasks because of that. Chakra bracelets have the power to eliminate all those vitality-related obstructions.
The 7 Chakras and Their Meanings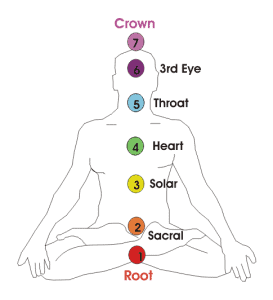 Chakra bracelets are made of one or more stones that represent each of the seven chakra that you can find on your body. You can combine these spiritual stones to open the chakras you want to be opened. Or, you could also focus on the properties and effects that a particular chakra has.
Root Chakra – Muladhara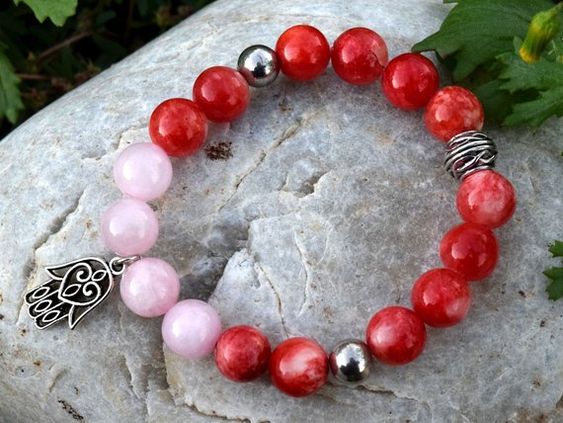 Also called the base chakra, this chakra represents imperativeness. It also symbolizes endurance, physical health, self-assurance, and security. It is located at the base of your spine and the focus of its vitality is represented by the adrenal organs. When the root chakra isn't properly balanced, certain health issues can occur such as hypertension, loose bowels, and more.
To balance and open this chakra, you should wear a bracelet with red quartz, red jasper, or garnet stones.
Sacral Chakra – Swadhisthana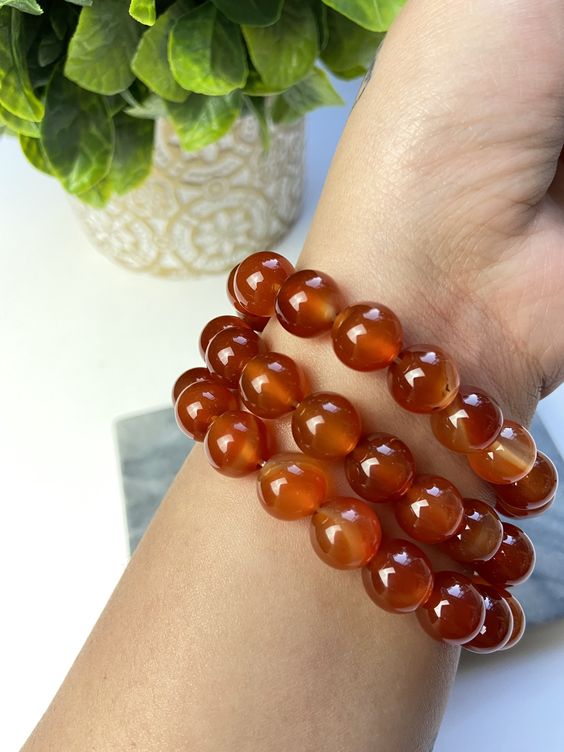 This chakra is all about adaptability, water, flow, and modification. It's located in the lower part of your stomach, right where the area that focuses on unwinding propensities is. When the sacral chakra is vitalized, you experience feelings of joy, satisfaction, creativity, and certainty.
Wear orange quartz or carnelian chakra bracelets to sustain this particular chakra.
Power Chakra – Manipura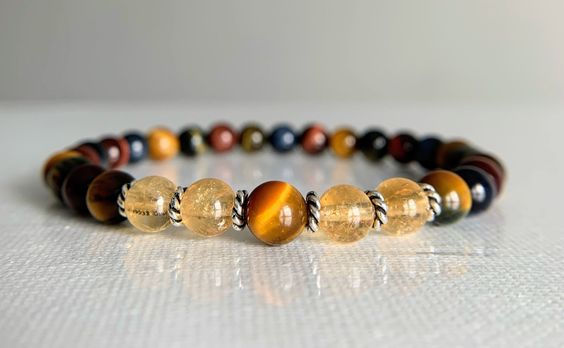 The main focus of the power chakra is one or many of the following aspects: fearlessness, strength, clearness, quality, and astuteness. You will find it right beneath your ribs. It's also known as the chakra for the solar plexus. Its role is to balance the spleen, digestive system, liver, and abdomen. If and when obstructed, this chakra could lead to diabetes, ulcers, and other issues.
Wear yellow quartz or citrine bracelets to support this chakra.
Heart Chakra – Anahata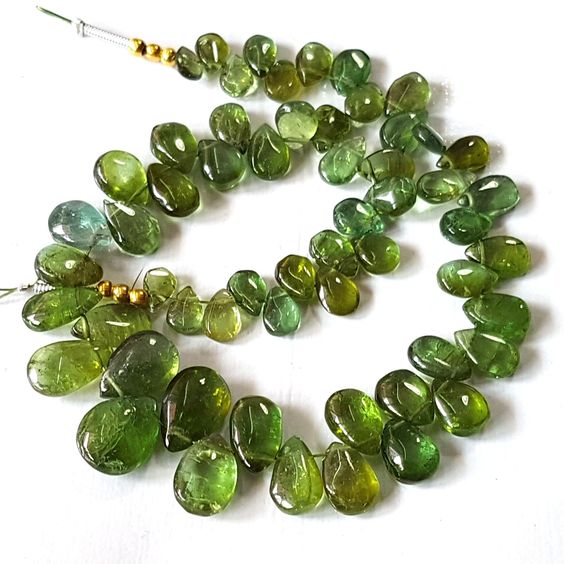 Self-esteem and affection are two things that the heart chakra is in charge of. But, beyond that, this chakra represented the profound connection between the lower chakras, also known as physical ones, and the upper chakras, the etheric ones. A well-balanced heart chakra will allow you to offer and receive unconditional love. You will also acquire compassion by feeling and manifesting sympathy and empathy.
Wear a chakra bracelet that features green tourmaline gemstones for the heart chakra.
Throat Chakra – Visudda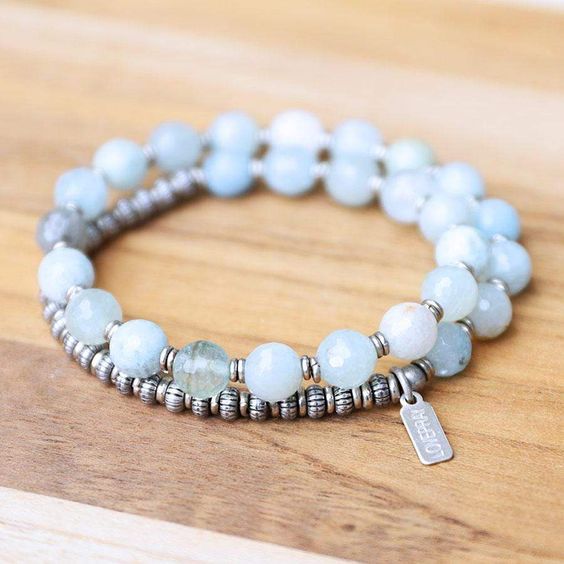 Innovative articulation, communication, and discourse are all represented by the throat chakra. It's located around the collarbone area. Its vitality focus goes in two directions: purification and cleansing. The vitality of the physical world that surrounds you is easily seen in this chakra. When this chakra is in harmony, you are able to express yourself authentically and become imaginative.
The best choice for this area is a light blue aquamarine bracelet.
Third Eye Chakra – Ajna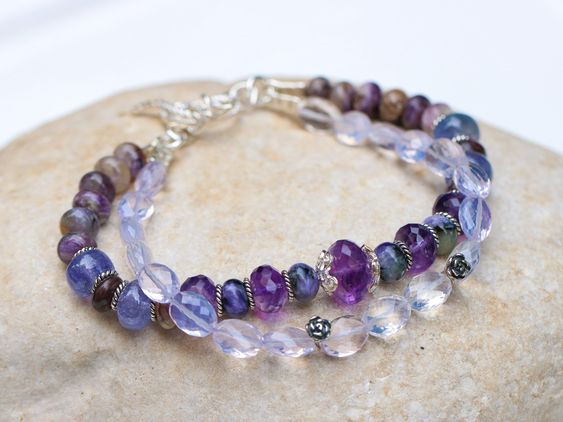 The third eye chakra focuses on comprehension, instinct, and magic. It revolves around the lower part of your head as well as the eyes and sinuses. When unbalanced, this chakra leads to higher levels of stress. If you suffer from headaches, eye problems, ear issues, or sinus infections, it might mean that this chakra is imbalanced.
A well-balanced third eye chakra allows us to understand nonverbal language and make more vivid choices. The best chakra bracelet for this area is one that has blue and purple amethyst stones.
Crown Chakra – Sahasrara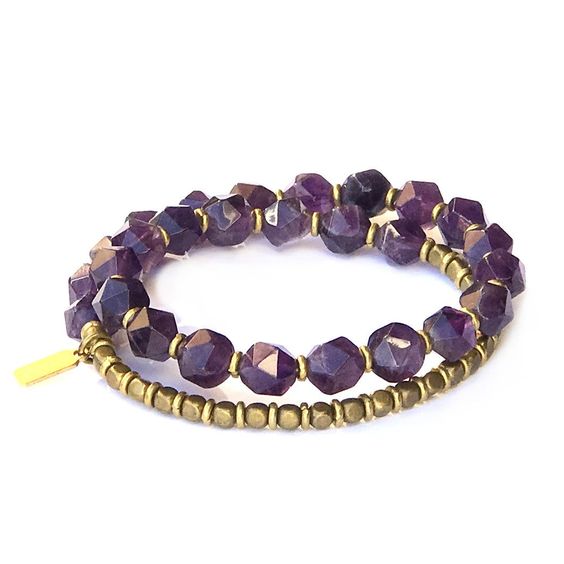 This is the last of the chakras and it's all about innovativeness, excellence, enlightenment, and motivation. It represents the base of the entire spiritual body. If the crown chakra is well-adjusted, you will feel better and have more trust in those around you and life, in general.
In other words, you will discover the very sense of being. For this chakra, you should wear purple quartz bracelets, to avoid tension and exhaustion.
Best Chakra Bracelet – Frequently Asked Questions
Question: What Are Chakras?
Answer: There are 7 different chakras located on your body and each one of them is responsible for a specific trait or aspect of your inner and outer self. The word "chakra" comes from Sanskrit and it means "wheel" or "disc." Each chakra refers to a type of energy that flows through your body and each chakra is located in a well-defined body area.
All your chakras must be opened or well-balanced for you to function properly. If one or more chakras become blocked, you will start experiencing certain unpleasant symptoms and even develop health issues in time.
Question: What Are the Main Types of Chakras?
Answer: As I said, there are 7 different chakras – listed below, from the bottom to the top:
Root chakra – basic trust; I AM;
Sacral chakra – creativity and sexuality; I FEEL;
Solar plexus chakra – power and wisdom; I DO;
Heart chakra – healing and love; I LOVE;
Throat chakra – communication; I TALK;
Third eye chakra – awareness; I SEE;
Crown chakra – spirituality; I UNDERSTAND.
Question: What Occurs When Your Chakras Are Blocked?
Answer: It depends on which chakra is blocked because each one of them manifests differently and targets different organs. Underactive chakras could show as a form of insecurity or depression. If chakras have too much energy, they can transform a person into someone who doesn't feel fear anymore and makes all kinds of decisions without taking the necessary precaution measures.
Question: Do Chakra Bracelets Work?
Answer: Yes, they seem to work or so most of the people who have tried them say. They gather positive energy and help you become calmer while also eliminating some of the stress and negative energy you've accumulated.
Best Chakra Bracelet Ideas and Inspiration – Final Thoughts
All the chakra bracelets presented above will look amazing on your wrist. But they are more than simple accessories. They will bring you many spiritual benefits such as calm and peace. They are said to balance your body chakras that further lead to a more joyful life. These areas of body energy are connected to your organs and they discourage negativity.
Of all the products listed above, my favorite one is the Serirtire Healing Chakra Bracelet due to the fact that it features real stones and it comes with a full-refund return policy. But, you could also opt for a bracelet that combines gemstones to target multiple chakras at the same time.

Further Read: