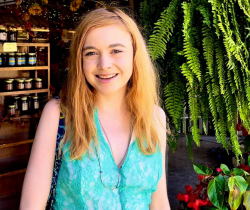 Latest posts by Erin Jamieson
(see all)
Diamonds will never go out of style, but in 2022, diamond bracelets are becoming more accessible than ever. Once associated with the very wealthy and those of celebrity status, diamond bracelets are becoming more affordable, and one of many great classic ideas to add a touch of glamour to any outfit. 
Some of the latest diamond bracelet styles were indeed touted by celebrities– from Cardi B's stack of diamond bracelets for her daughter to Jennifer Lopez's diamond bracelet which was purportedly given to her by Ben Affleck nearly two decades ago. 
But the bigger story is Pandora's comeback. The luxury brand recently made sales above its average before the pandemic. In fact, from mid-April 2021 to June, the brand hit a 7 percent increase, while its stocks hit above 30 percent of previous benchmarks.
While stimulus checks are cited as one of the reasons for the surge, another reason was Pandora's investment in lab-grown diamonds. Increasingly seen as a more affordable and even more ethical option than natural diamonds, lab-grown diamonds are being used to make accessories like diamond bracelets more accessible to the average consumer. 
And it's not just Pandora that's seeking to appeal with more options. In 2022, you can find both lab-grown and natural diamond bracelets in more options than ever– which also means you can be more selective than ever before.
What is a Diamond Bracelet Called?
A diamond bracelet actually comes in many forms. The most commonly recognized diamond bracelet is a tennis bracelet, which is the most glamorous and the most expensive, but there are a few other options as well. 

What Are The Four Types Of Bracelets?
In addition to tennis bracelets, you can also buy charm and bangle bracelets, as well as chain bracelets. For my picks, I'll be focusing on charm, bangle, and tennis diamond bracelets. All offer a distinct style and fit. 
What Is a Diamond Bangle?
Bangle bracelets are ring-shaped and made out of solid material and also referred to as cuffs. While bracelets tend to lean more delicate, bangle bracelets are usually a bit more substantial and on the "chunkier" style side. Bangle bracelets are modern or classic, and a great option for going from day to night. They typically are less easy to break or lose than your average bracelet. 
What Is a Diamond Charm Bracelet?
A diamond charm bracelet is a great option if you want just a bit of sparkle, or even if you have a smaller budget. A charm bracelet usually consists of a delicate strand with charms attached– usually, diamonds accent the charms themselves and are paired with solid precious metal. 
What Is a Diamond Tennis Bracelet? 
Simply referred to as a tennis bracelet, this accessory first became popular through well-known tennis players and remains a beautiful option. Worn for casual and formal occasions alike, diamond tennis bracelets consist of diamonds around the entire perimeter for ultimate scintillation. 
What Should I Look For When Buying a Diamond Bracelet?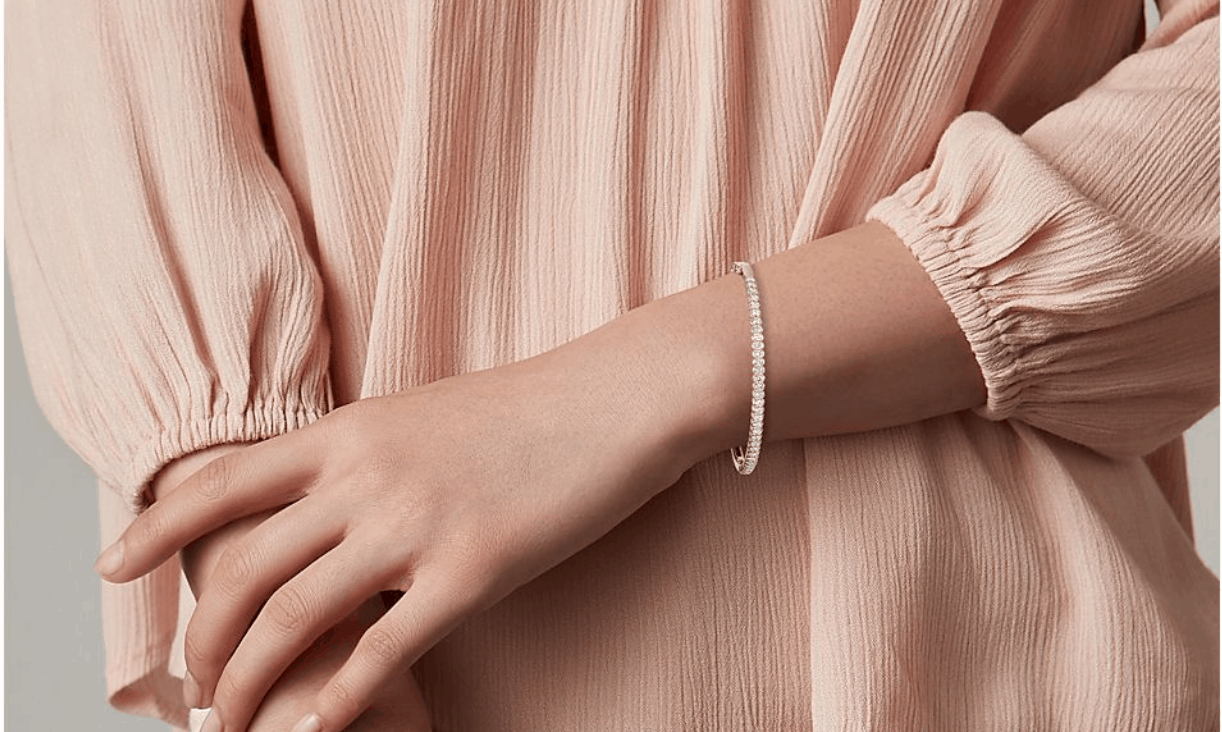 A diamond bracelet, even the most affordable ones, is still a sizable investment.  The last thing you want is to spend money on something that doesn't last, is poor quality, or even a fake diamond bracelet. Here's what I consider when looking for the best diamond bracelets– and much of what guided me to my top ideas for 2022. 
How Much Does a Real Diamond Bracelet Cost?
Real diamond bracelets range from a few hundred to hundreds of thousands of dollars. The price varies greatly depending on if natural or lab-grown diamonds are used, the quality and carat of those diamonds, and the brand, style, and quality. If you see a diamond bracelet under $100, chances are you're looking at diamond simulants, which are not valuable or durable like real diamonds. 
Are Lab-grown Diamonds as Good as Natural Diamonds?
If you're hoping to save money on a diamond bracelet, consider lab-grown diamonds. Lab-grown diamonds have the same physical properties as natural diamonds and are just as durable. They're not as valuable, but will save you money and are still 'real diamonds." Both are excellent options, but if you do buy a natural diamond bracelet, check to see if the company explains its sourcing process and standards.
All diamond bracelets should have some information about diamond quality and inquire if nothing is listed in the item description. 
What Is The Best Clarity and Color For Diamonds?
While you may opt to be a little less selective for a diamond bracelet than you would be for a diamond engagement ring, clarity and color do indeed matter. The most prized diamonds are colorless, except for fancy colored diamonds. Measured by the GIA, colors are rated on a scale of D (colorless) to Z. The closer to closer, the greater the scintillation. However, you don't need the greatest color for a beautiful diamond bracelet— you just want to make sure you're not buying diamonds with a yellowish tint.
Clarity also matters for brilliance and the appearance of your bracelet. For diamond bracelets greater than 2 carats, you may want to be choosier. S11 is generally the lowest still-great quality clarity diamonds, while those with a clarity rating of VS2 or better are of excellent quality.See the color and clarity scale for diamonds here. 
What Is The Best Cut For Diamonds?
Diamond cut matters, too, but for a diamond bracelet, I'd prioritize color, clarity, and construction most. For brilliance, consider round brilliant, cushion, princess, and emerald cuts. Marquise, oval, pear, Asscher, radiant, and heart shapes are also classic and beautiful diamond cuts. 
What Metal Is Best For Diamond Bracelets?
If you're spending money on high-quality diamonds, then you also need to make sure you're selecting precious metals that suit your purchase. I recommend 14K to 18K gold or platinum. Platinum is a bit more durable, but also much more expensive. Pure gold can be soft and prone to scratches, while 10K gold won't have some beautiful luster– though it may be an option for someone needing to save money. 
Diamond Bracelets: My Ideas Under $10K
Now I'll give you my top ideas for bangle, charm, and tennis diamond bracelets in 2022. From glamorous to casual, these diamond bracelets all come from esteemed but relatively affordable jewelers, including Blue Nile, Brilliant Earth, Ross Simmons, and a few other options. You can rest assured that these diamond bracelets feature genuine diamonds, crafted with care, and in styles that won't go out of style anytime soon. 
All of my selections are under $10K. 
Bangle Diamond Bracelets
Bangle bracelets often can be stacked and layered– just be careful with a diamond bangle bracelet. A classic look is a bangle bracelet paired with a formal watch. Blue Nile, Brilliant Earth, and Ross Simmons all have beautiful options for diamond bangle bracelets that are sophisticated, modern, and still timeless. 
Classic Rose Gold Diamond Bangle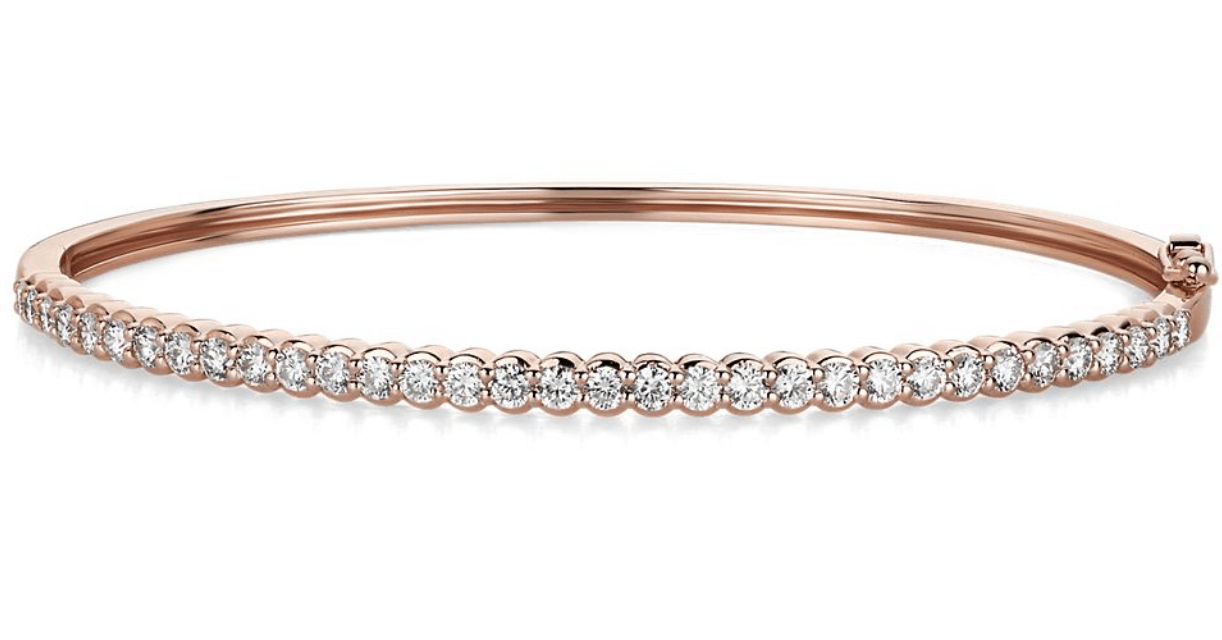 This stunning diamond bangle is crafted with 14K rose gold and retails for $2,925 (with a 25 percent discount). This 5-star Blue Nile bracelet 1.50 carats of pave-set diamonds for beautiful sparkle. The rose gold adds unexpected warmth and a romantic hue. Buy Here. 
Diamond Open Bar Flex Bangle

Only have $700 to spend? For just under that price, you can buy this elegant diamond open bar bangle from Blue Nile. If you're like me and have especially narrow wrists–or even wider wrists– you'll appreciate the adjustable design. 0.11 carats of sparkling diamonds add understated sophistication, set on 14K white or yellow gold. You can easily wear this bangle bracelet for casual and formal occasions alike. Buy Here. 
Floating Sapphire and Diamond Bangle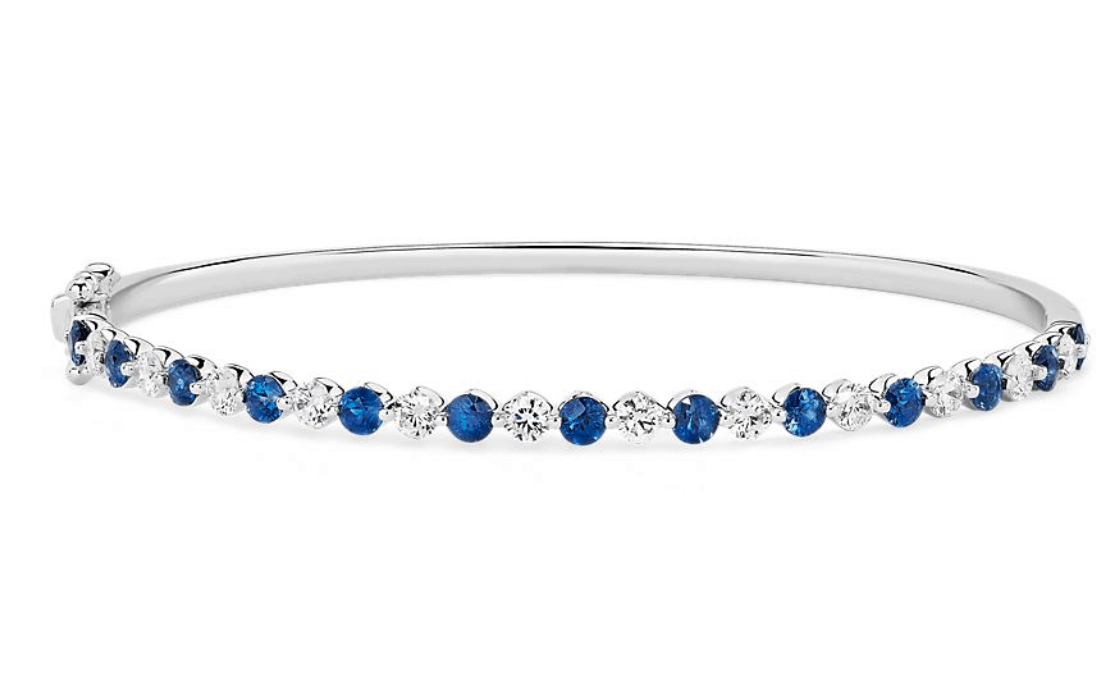 Some of the most beautiful diamond bracelets add a touch of color. This Blue Nile diamond bangle bracelet pairs alternating round brilliant cut diamonds (0.96 carats) with center round blue sapphires, set on polished white gold. Priced at $4,750; Buy Here. 
Whisper Diamond Bangle Bracelet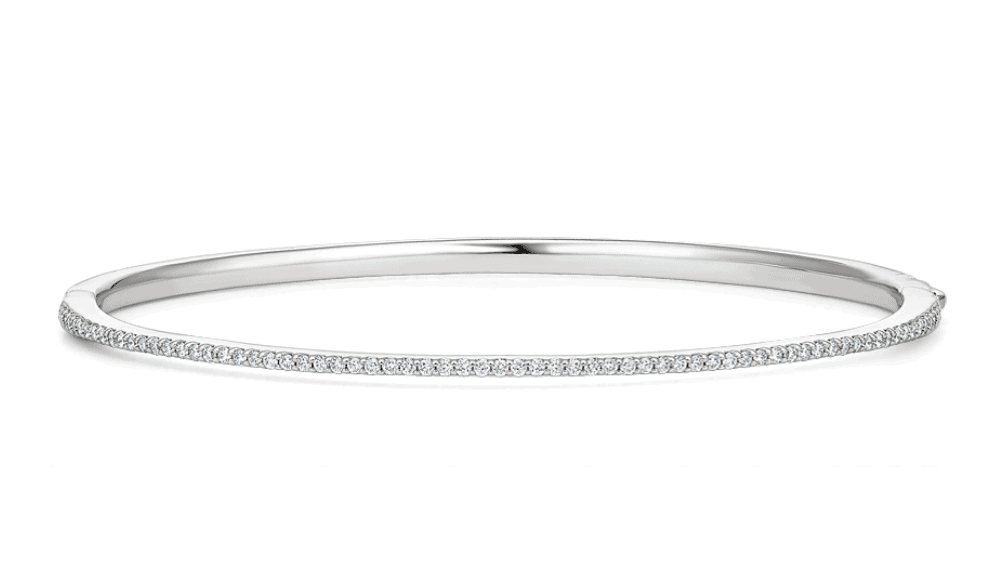 This bestselling diamond bracelet from Brilliant Earth retails for $1,690 and is crafted in beautiful 18K yellow, white, or rose gold. ⅜ carats of round cut diamonds of excellent quality embellish the slim, minimalist bands. These natural diamonds are ethically and sustainably sourced and of excellent quality for elegant sparkle. Buy Here. 
Biarritz Diamond Bangle Bracelet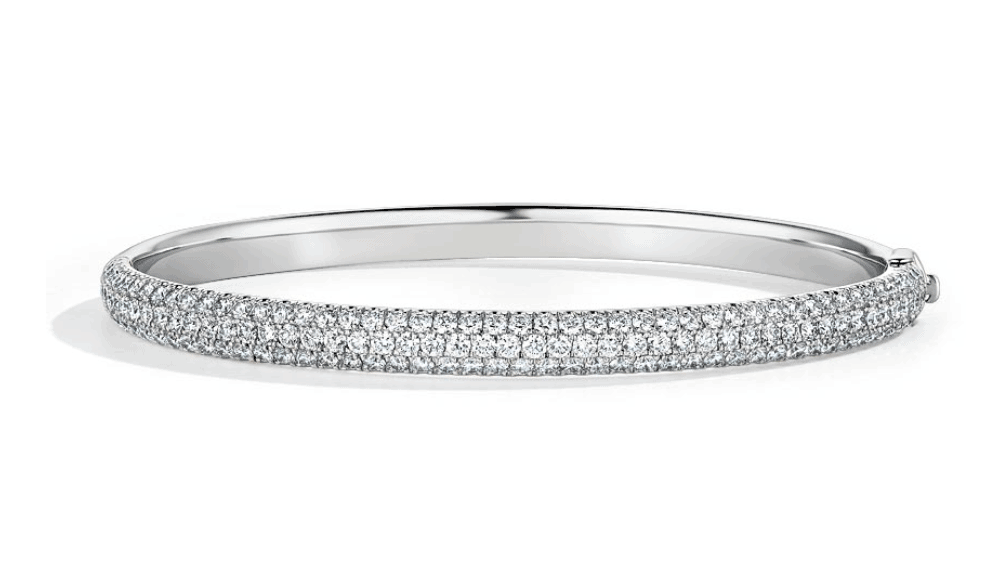 This $7,450 rollover diamond bracelet showcases Brilliant Earth's talent at crafting iconic but updated styles. 2.95 carats of round cut natural diamonds stun with a prong setting and 18K white gold. This is a great style for anyone who loves the feel of a bangle bracelet, but the glitz of a tennis bracelet. Buy Here. 
Nola Diamond Bangle Bracelet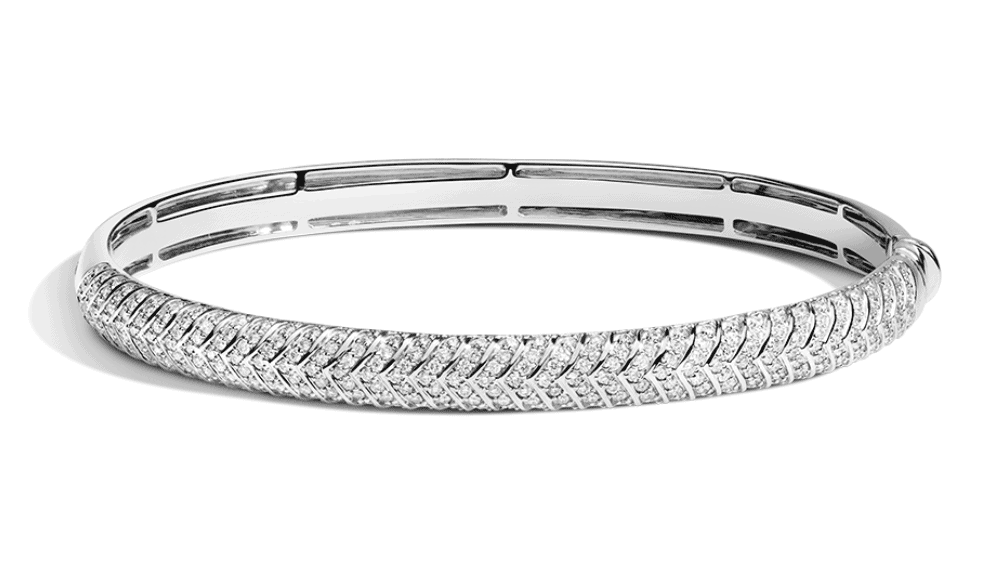 Chevron patterns "wow" with this Brilliant Earth diamond bangle. At once playful and elegant, this diamond bangle features 0.72 carats of round-cut, pave set diamonds on 18K white gold for a classic look. Priced at $3,990. Buy Here. 
Diamond Bangle Bracelet in Two-Tone 14K Gold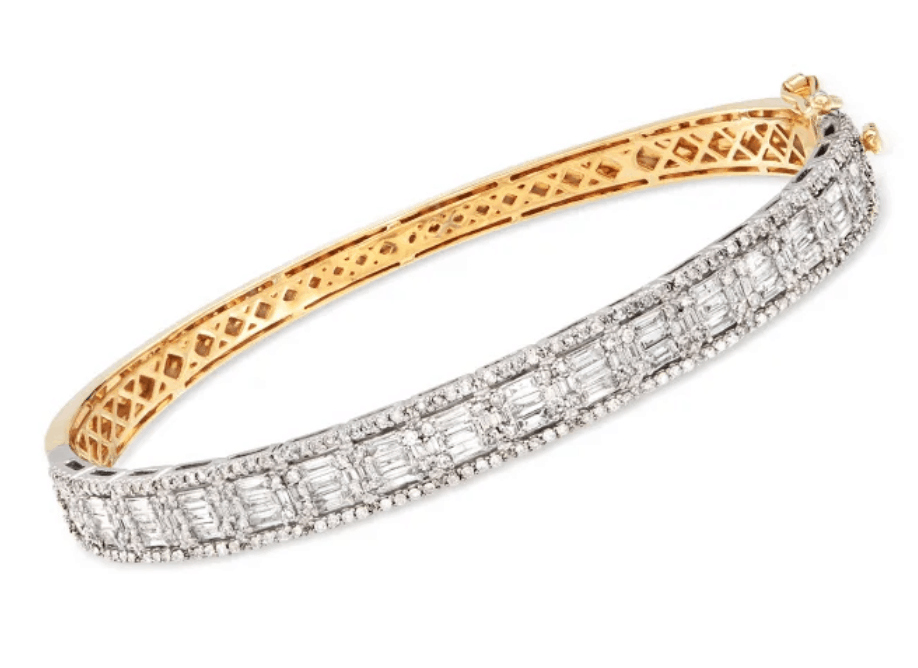 Who says you have to decide between white and yellow gold? This bestselling Ross Simmons diamond bangle bracelet is crafted with 14K white and yellow gold for a stylish appeal. Meanwhile, 2 carats of baguette and round cut diamonds provide a vintage touch. Priced at $3,495; Buy Here. 
Floral Bangle Bracelet with Black Rhodium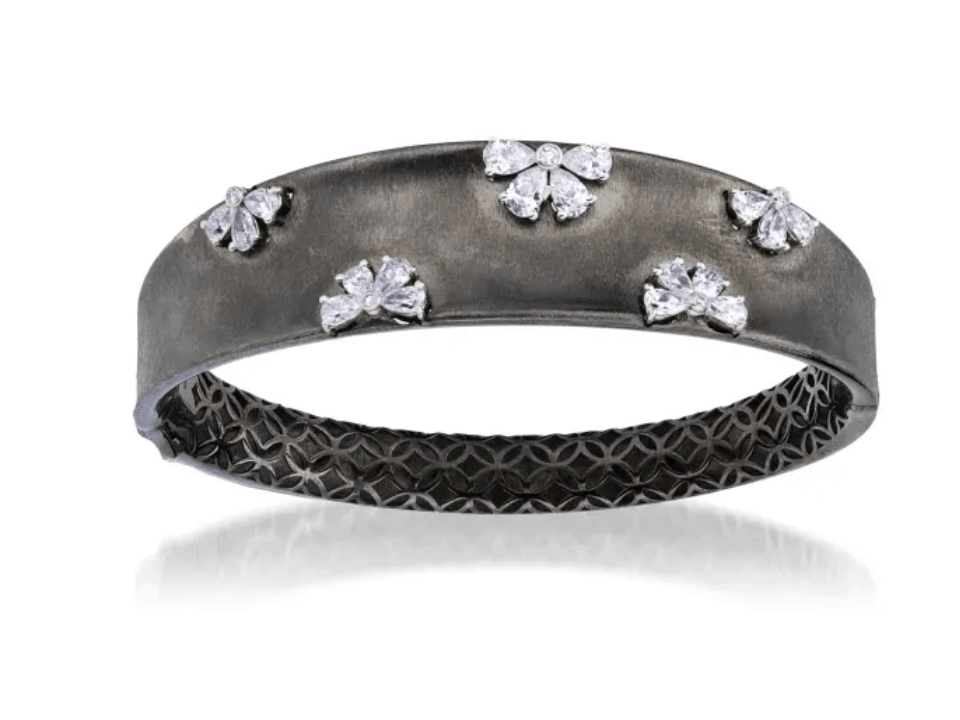 Truly unique, this Ross Simmons diamond bangle bracelet comes just under $9.500 on sale. 18K white gold is paired with black rhodium for an alternative look. 2.39 carats of sparkling diamonds form modern, alluring floral accents. Buy Here. 
Charm Diamond Bracelets
Charm bracelets feel more personalized than your average diamond bracelet. These whimsical styles make them perfect for special gifts. I also love these options if you want a diamond bracelet but aren't obsessed with carat size. Sometimes just a small diamond accent can add that touch of sparkle that elevates your bracelet. These charm bracelets are whimsical and in style for 2022. 
Diamond and Star Charm Bracelet in Two-Tone Gold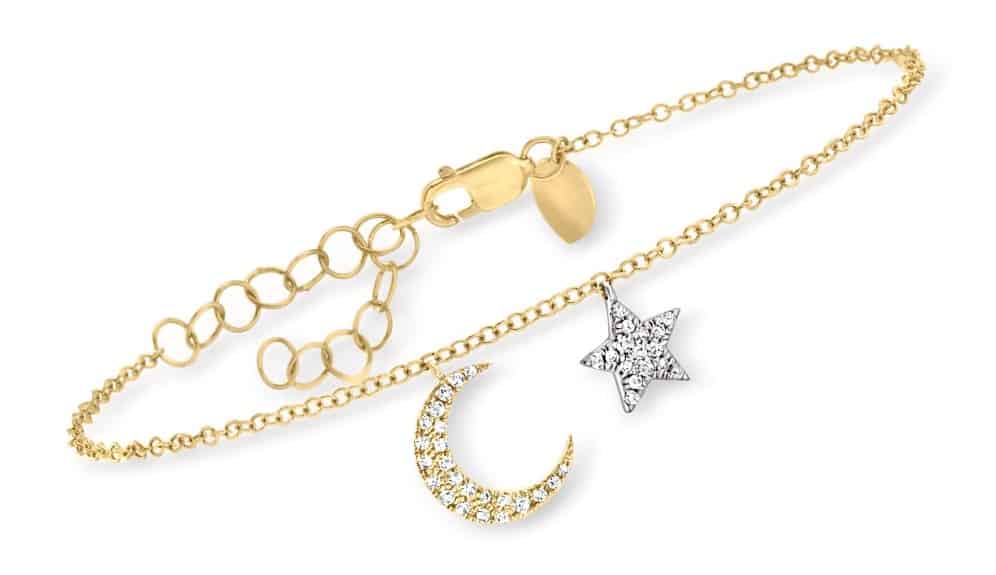 Ross Simmons delivers on a two-tone gold bracelet again with this whimsical charm style. Following a popular celestial theme, .12 carats of round cut diamonds add sparkle to the moon and star charm. Crafted with 14K white and yellow gold and priced at $746 on sale, this is a delightful charm bracelet you can wear with anything. Buy Here. 
Diamond Accented Heart Bracelet in Two-Tone Gold
This Ross Simmons charm bracelet features just a touch of sparkle with a petite, diamond-studded heart charm. Just a touch of sparkle (0.08 carats) adds an enchanting touch to the 14K white gold, set on a sleek 14K yellow gold, beaded chain. Priced at $937 on current sale; Buy Here. 
BVLGARI Rose Gold and Diamond Bracelet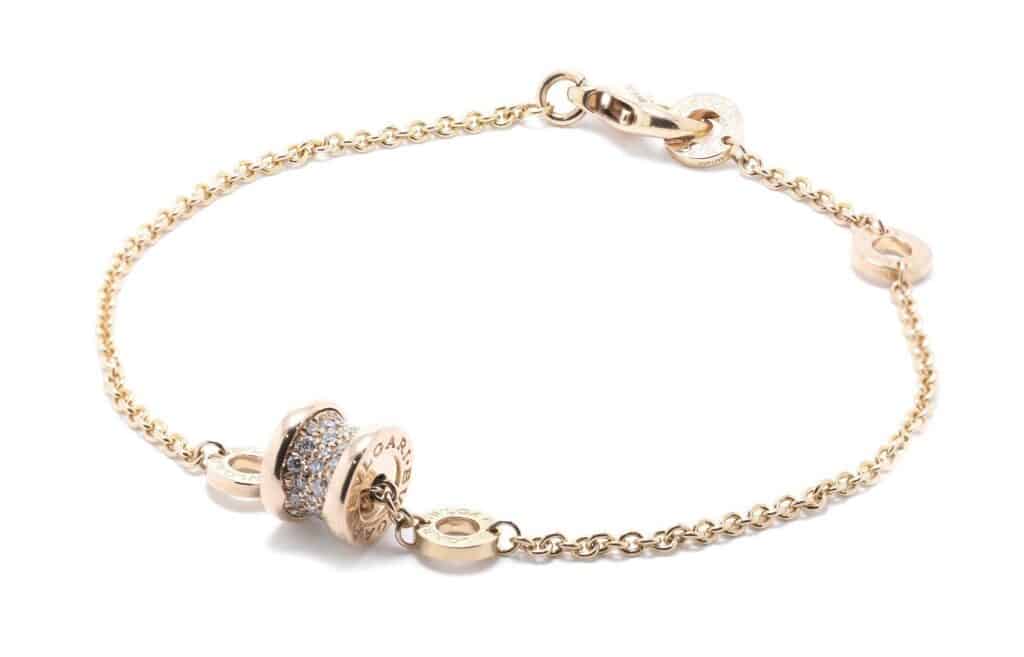 This designer diamond charm bracelet is understated and versatile. Priced at $3,850, beautiful 18K rose gold is paired with a classic charm, accented with 0.31 carats of pave-set diamonds. If you're not quite as choosy about details about diamond sourcing and are looking for a stylish, luxury look, the sleek lines and harmony of the design provide the modern allure. Buy Here. 
J.R. Dunn Create-Your-Own Diamond Charm Bracelet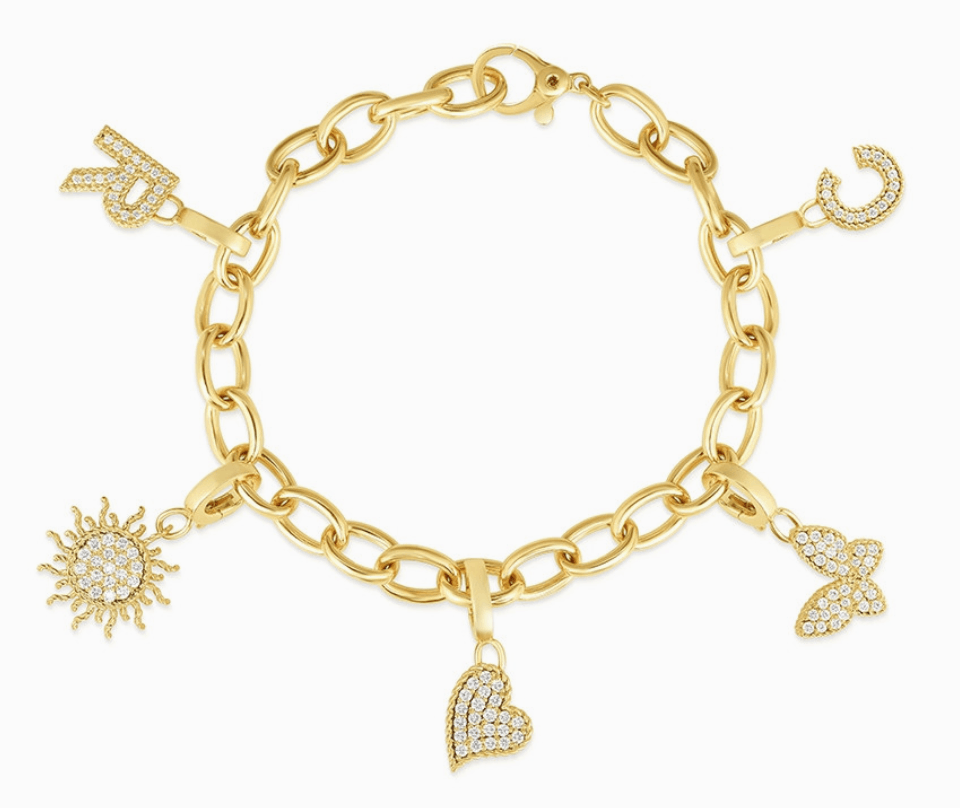 Select from butterfly, heart, flower, sun, n letter pendant for a personal and playful charm bracelet. This J.R. Dunn bracelet is crafted with an 18K link chain and retails for $1,800 without charms. Add $1250 to $1650 for charms, each studded with accent diamonds and crafted with care. It's a formal take with lively motifs. Buy Here. 
Tennis Diamond Bracelets
Tennis diamond bracelets are quite popular, and there are no signs of that stopping anytime soon. Diamonds around the perimeter of a bracelet make for a breathtaking statement, which can be styled down with something as simple as a crisp white shirt, or styled up with a formal dress or suit, along with a statement ring or diamond necklace. Tennis bracelets will cost you the most, generally speaking, of diamond bracelet types. 
Tennis bracelets do not vary as much in style, but more about the diamonds used, as well as carat size. Here are some collections listed below that I recommend. 
Brilliant Earth Tennis Bracelets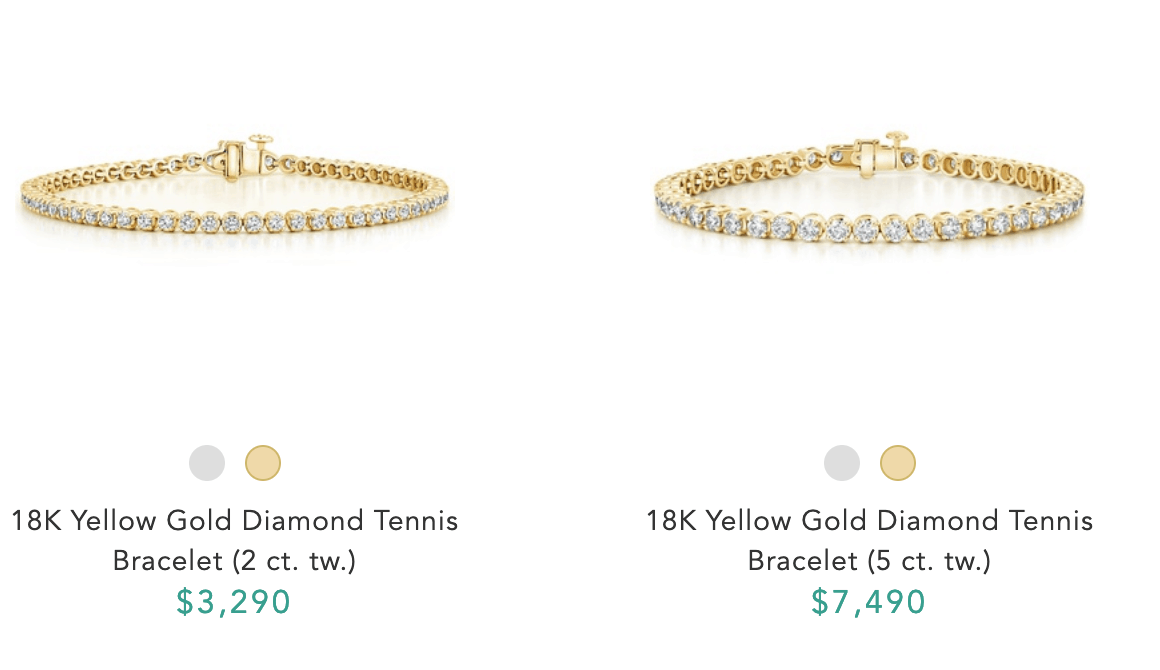 Brilliant Earth is undoubtedly one of my favorite collections for diamond tennis bracelets. Priced from $1,990 to $18K, this is a small collection, with 60 percent (3) offered at under $10K. Recycled 18K gold, ethically sourced diamonds, and classic, elegant designs are some of the key features. Alluring, elegant, and a great option for most. Shop All Styles Here. 
Blue Nile Tennis Bracelets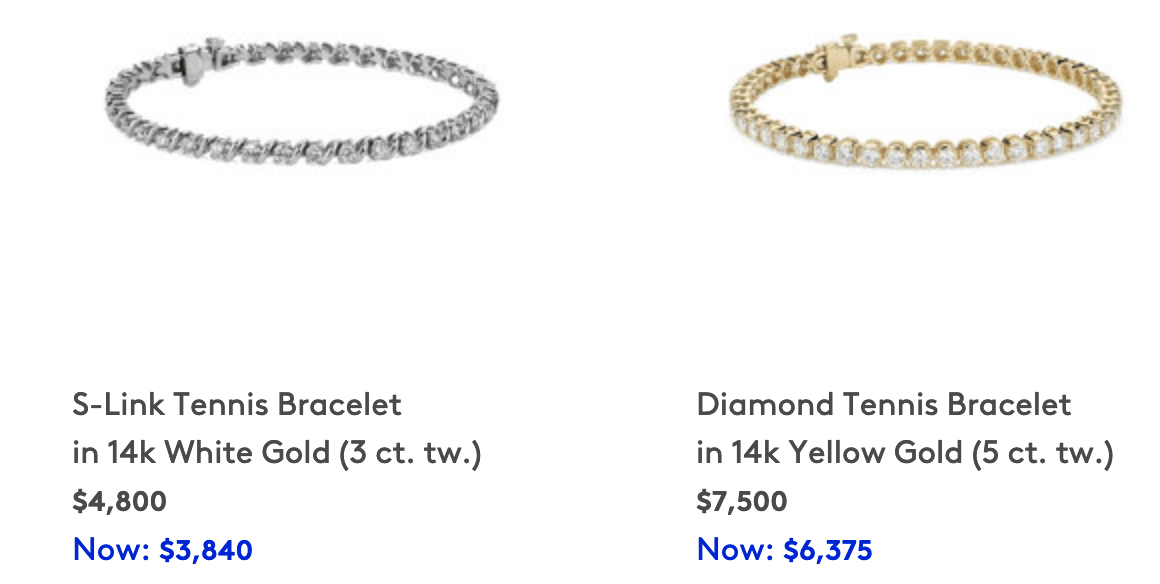 The Blue Nile offers a far larger collection of tennis diamond bracelets– for a total of 64 unique options. Priced from $1,760 to $69,000 this collection does offer many styles under $10K but also luxury bracelets. You'll find bracelets in 14K and 18K gold as well as platinum, and about any diamond cut, you can wish for, including ideal cuts. For $2,200, one of my favorite picks is this 1-carat diamond tennis bracelet. It's elegant, versatile, and more affordable than other options. Shop All Styles Here. 
Ross-Simons Tennis Bracelets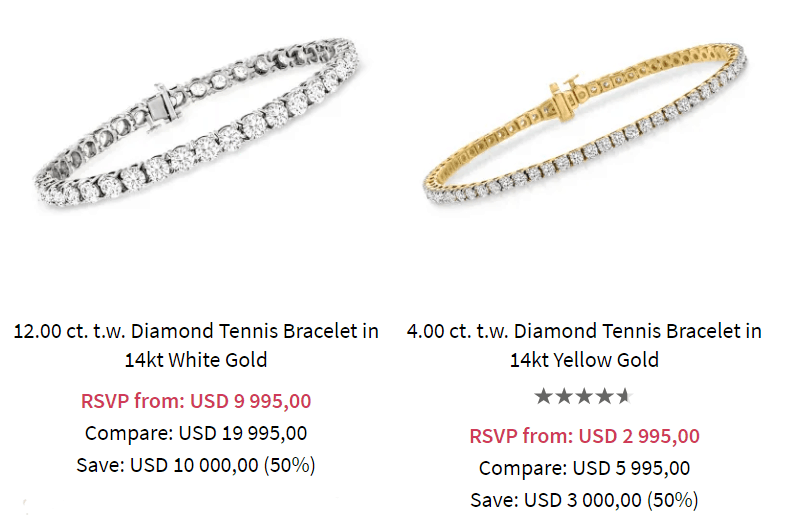 Another large collection of excellent quality diamond tennis bracelets comes from Ross Simmons. If you expand your search, you can also buy tennis bracelets in sterling silver, but I recommend following my link below for 14K and 18K white and yellow gold tennis bracelets. While you'll find many classic styles, there are some unexpected options, like this black diamond tennis bracelet. Gold tennis bracelets are priced from $895 to $44.9K– ranging from morse casual to luxurious. Shop All Gold Tennis Bracelets Here. 
Frequently Asked Questions
Question: Can you wear a diamond bracelet every day?
Answer: Like diamond rings, if you buy a genuine, reputable quality bracelet, you should be able to wear it every day. Both lab-grown and natural diamonds are durable when cared for well. However, I do recommend removing your diamond bracelet when swimming or easy harsh cleaning products. I also don't recommend sleeping with diamond bracelets. 
Question: What is the most expensive diamond bracelet?
Answer: One of the most expensive diamond bracelets in the world is the Gulf Pearl Parure bracelet. To be fair, the worth of $31 million also includes accessories it was sold with. The iconic bracelet is made with the most expensive pearls in the world and contains 12 brilliant-cut and 12 marquise cut diamonds. 
Question: Why do they call it a diamond tennis bracelet?
Answer: First popularized by tennis star Chris Evert and tennis players after, the tennis bracelet was so-named because it became a trend to wear while playing tennis. Today, tennis bracelets have expanded to tennis necklaces as well, and have become popular outside the world of tennis. 
Final Thoughts 
Stack diamond bracelets, pair them with statement earrings, or even stunning cocktail rings. The styling possibilities are endless. Just be cautious when buying diamond bracelets– many claims to be selling diamond bracelets, only for them to be made from stimulants. Seek out a jeweler and ask if the diamonds used have been AGS or GIA certified.