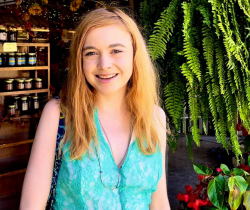 Latest posts by Erin Jamieson
(see all)
While other luxury brands like Chanel are embracing minimalism, Gucci is going the other way with maximalist braces and other pieces.
Gucci delved deeper into the world of "decadent maximalism" with additions to Hortus Deliciarum, their high jewelry collection. Inspired by the Biblical "Garden of Delights," known commonly as the Garden of Eden, romance, and even a touch of Hollywood makes for a stunning collection.
The campaign for the new collection showcased a total of over 130 pieces. From glamorous pumps to dazzling necklaces and bracelets, Gucci isn't shying away from color. In fact, the collection has been said to have a "kaleidoscopic palette."
From glamorous colors to bold statements, it's no wonder that Gucci bracelets are still sought after in 2022. But, at the same time, Gucci also keeps some classic options– showing how the brand is able to branch out and keep a classic name for itself.
New collections aside, I'll tell you everything you need to know about Gucci bracelets. I'll also provide tips for my favorite bracelet picks in 2022.
Why is Gucci so popular now?
Gucci, despite some missteps, is still popular in 2022 for a few reasons. The foremost reason is that Gucci has established its name as a global brand. In fact, it's considered the 18th most famous brand in the world, according to YouGov.
And while Gucci has established itself as a classic brand in some ways, it's never shied away from innovation– both for better and worse. Gucci has been seen as a trendsetter, especially on the runway.
But beyond that, Gucci has become a status symbol, and that extends beyond jewelry. Gucci has beat out some competitors by tackling beyond the fashion world, in sectors as diverse as furniture and automobiles.
Is Gucci jewelry good quality?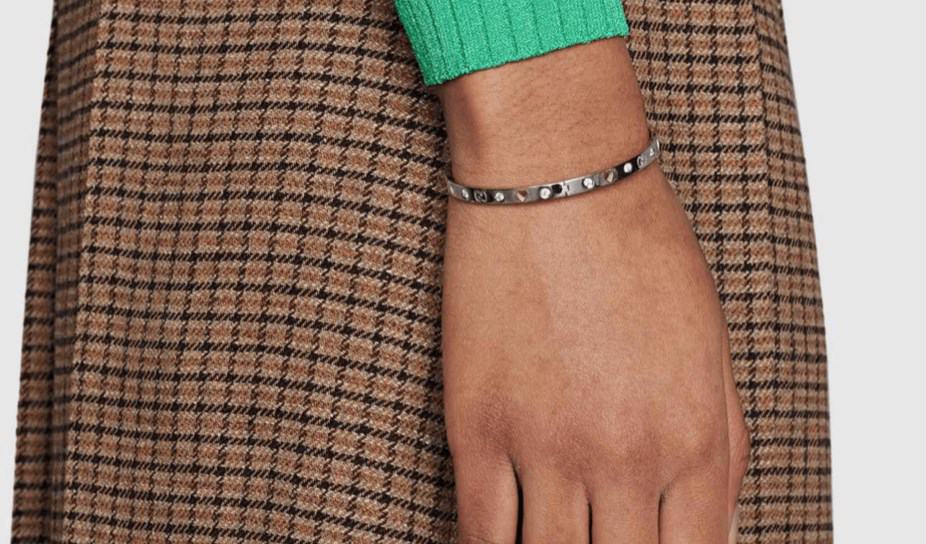 Gucci actually has two lines of jewelry: fashion and fine jewelry. Generally speaking, pieces are made with care and with high-quality materials.
Their fine jewelry line consists mostly of 18K solid gold and genuine diamonds and gemstones. Their materials are sourced sustainably and certified with the Responsible Jewelry Council. They also have other precious metals, such as platinum and sterling silver.
Gucci is also distinct in that they are manufactured in Italy, with their main headquarters overseeing all production. Quality control and attention to detail make most pieces exceptional quality. It is true that fashion pieces do not always use high-quality materials, but overall the production and quality are excellent.
Are Gucci diamonds conflict-free?
All Gucci diamonds are not only authentic but also conflict-free. This means that they are ethically sourced, in compliance with the Kimberley Act, and that no funds are used to finance civil wars.
Do Gucci bracelets tarnish?
Sterling silver, from even the best brands, can tarnish. So if you buy a Gucci bracelet that's sterling silver, you can expect the possibility that it may tarnish over time. That said, you can either buy a bracelet that's not sterling silver or do things to delay tarnish.
Sterling silver bracelets should be kept in a safe place, free of moisture and by themselves. You should also avoid excessively harsh conditions– but that's also true for solid gold, which is susceptible to scratches.
How do I select a Gucci bracelet?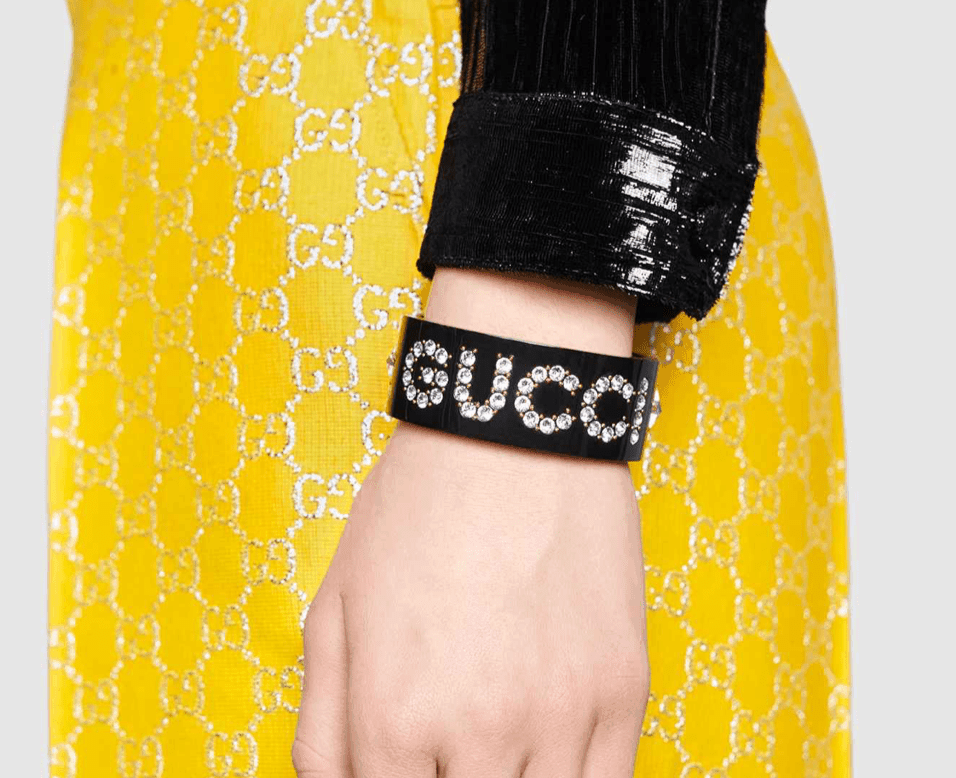 Before you purchase a Gucci bracelet, you need to consider cost, style, and, of course, make sure that you're buying a real Gucci bracelet.
How much is a Gucci bracelet?
Gucci bracelets, while not cheap, are perhaps more affordable than you might think. Fashion bracelets start at around $260, while fine jewelry bracelets start at around $980. The most expensive fashion bracelets retail for $2,100 while the most expensive fine jewelry bracelet retails for $7,100.
In many ways, for a designer luxury brand, Gucci is one of the more affordable options for bracelets.
How can I tell if my Gucci bracelet is real?
If you're buying directly from Gucci, rest assured that it's real. But if you're looking for a deal and buying through a third-party seller– or even in another store in person– you should be careful. Gucci knock-offs are quite common.
To avoid that mistake, I recommend first checking the Gucci catalog to see if they are currently, or ever have, sold a product with that design. If that's not possible, examine the bracelet to find the Gucci logo and compare it to a genuine listing on the Gucci site, The name should be clearly printed and spelled correctly.
All Gucci products should at least have 'GG' somewhere. Likewise, they all should indicate that they were made in Italy. Finally, ask if the store in question has been authorized to sell Gucci, or do your research. If it's a very good deal, chances are you may have a fake.
Should I buy fashion or fine jewelry Gucci bracelets?
Selecting from the fine vs fashion line of bracelets from Gucci is a decision that requires weighing pros and cons. The fashion line is cheaper and it's also more suitable for everyday wear, with casual pieces, including leather buckle bracelets.
If you're concerned about the overall value or looking for fine occasion wear, the line of fine bracelets may be more suitable. I also recommend fine bracelets if you're interested in gemstones or diamonds. Ultimately, the decision depends on why you're buying a bracelet.
Gucci Bracelets: My Picks
Here are my picks for the best fine jewelry and fashion bracelets you can buy from Gucci. Compared to other luxury competitors, Gucci has a relatively modest collection of jewelry– but nonetheless many excellent options for both casual and formal occasions. My picks will be arranged from the least expensive to the most expensive for both collections.
In my selections, I've made an effort to include a variety of styles for different occasions to suit different tastes. While of course, it is possible to find some of these selections elsewhere, all of my links of where to buy will be directly connected to the official Gucci website.
Note that some bracelets can be bought online, while others can only be purchased in-store. Gucci offers a store locator for any bracelet that must be purchased in-store.
Fine Jewelry Bracelets
The fine jewelry bracelets from Gucci are elegant, sophisticated, and classic with a modern twist. While you will find a few simple bracelets, the most distinct bracelets feature pendants and unique textures.
More understated and classic than the fashion collection, these bracelets work well for casual to semi-formal events. 18K solid gold is used for all of the bracelets in this collection. Priced from $980 to $7,100.
GG Running Cuff Bracelet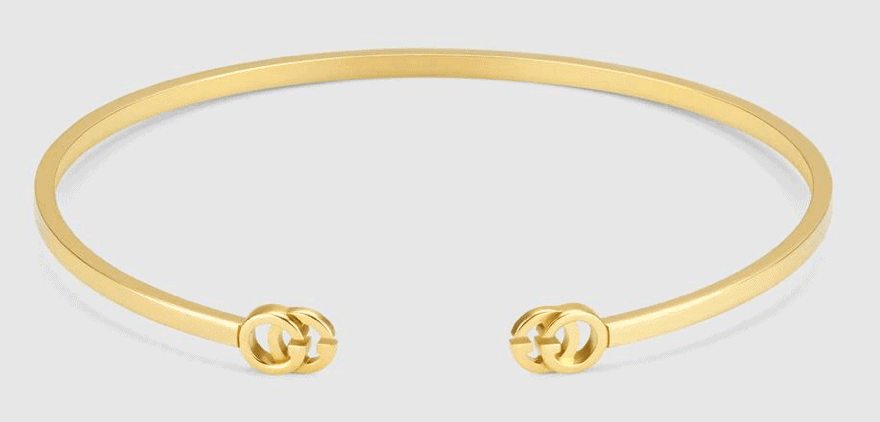 There are more affordable bracelets, but this is my pick for the cheapest fine jewelry Gucci bracelet. More distinct than the Link to Love bracelet, this beautiful but simple bracelet retails for $1,230. The iconic double G logo is placed on either side of the bracelet cuff. Made with polished 18K yellow gold, this bracelet may not make a loud statement, but it's the perfect type of bracelet to stack with others. Buy Here.
Interlocking G Bracelet with Opals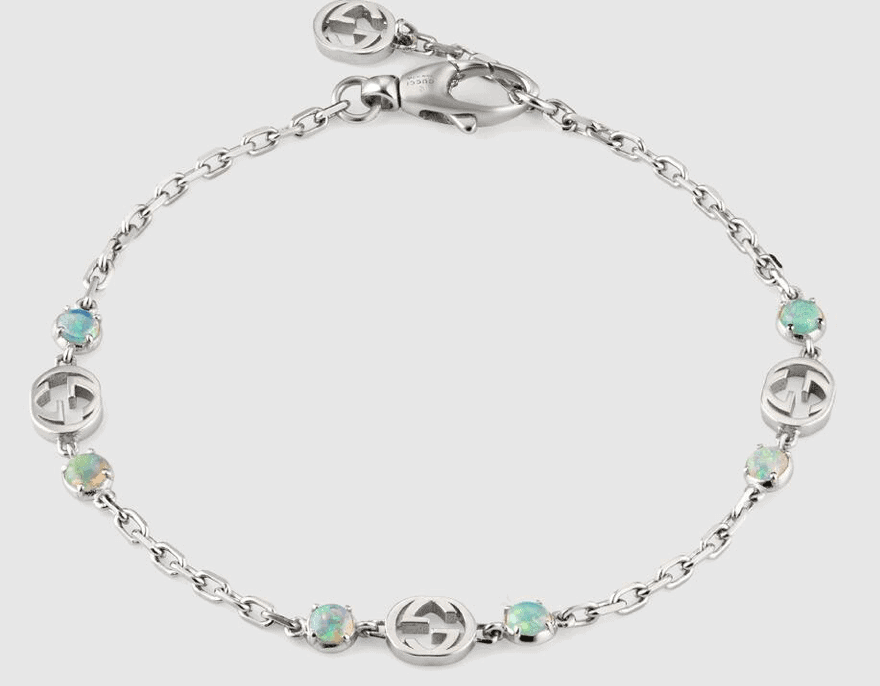 At $1,790, this is the most affordable bracelet with genuine gemstones from this Gucci collection. But that's not the only reason why I like this bracelet. This beautifully crafted 18K white gold bracelet features 6 white opals, along with interlocking G details. At once elegant but also just a little daring, this bracelet could be worn daily. Buy Here.
GG Running Bracelet with Diamonds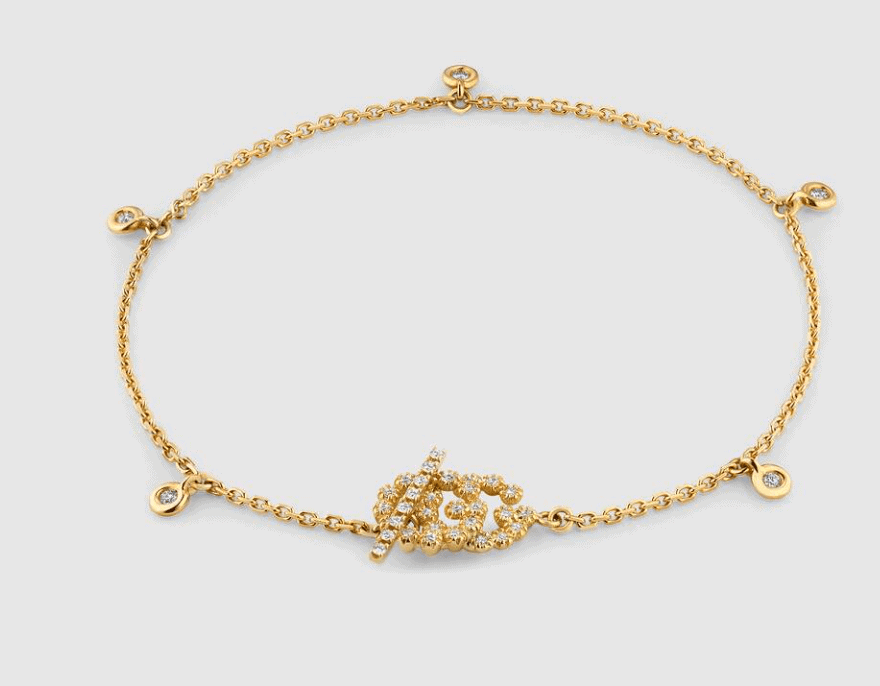 If you're longing for a fine jewelry Gucci bracelet with diamonds but don't have an endless budget, consider this bracelet. Priced at $1,790 for both 18K yellow and white gold, a GG logo, and fine chain is enhanced with 37 diamonds weighing 0.20 carats. This charm-style bracelet pairs well with a cuff bracelet. Buy Here.
Le Marché des Merveilles Bracelet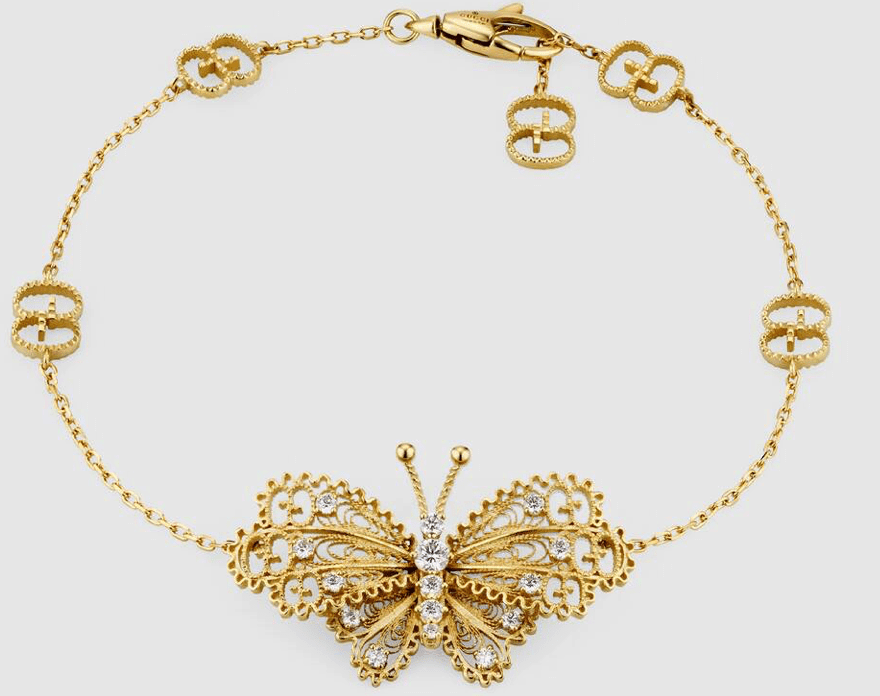 Gucci shines with this bracelet– in a way that I'd argue is not as obvious with other bracelets in this collection. While the fine jewelry bracelet collection remains more refined than distinct, with this butterfly bracelet we see Gucci embracing its newer push towards maximalist designs.
An oversized butterfly is made of 18K yellow gold and white diamonds. Diamond studded GG details added iconic touches. While not as versatile, this bracelet is one of my favorites that Gucci offers. Retails for $1,980; Buy Here.
Gucci Flora Bracelet with Diamonds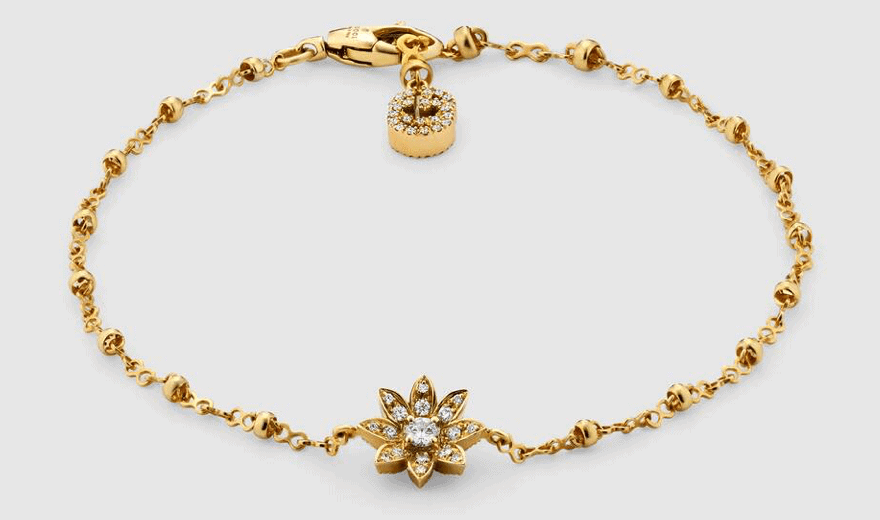 Looking for a nature-inspired bracelet but an oversized butterfly isn't for you? This floral Gucci bracelet retails for $2,900 and is a bit more formal and understated. 64 diamonds totaling 0.22 carats are evenly distributed along an 18K yellow gold chain. The bracelet design was inspired by Italian artist Vittorio Accornero and appeared on a scarf made for Princess Grace of Monaco during the 60s. Buy Here.
Icon Stars Bracelet with Diamonds/ Icon Hearts Bracelet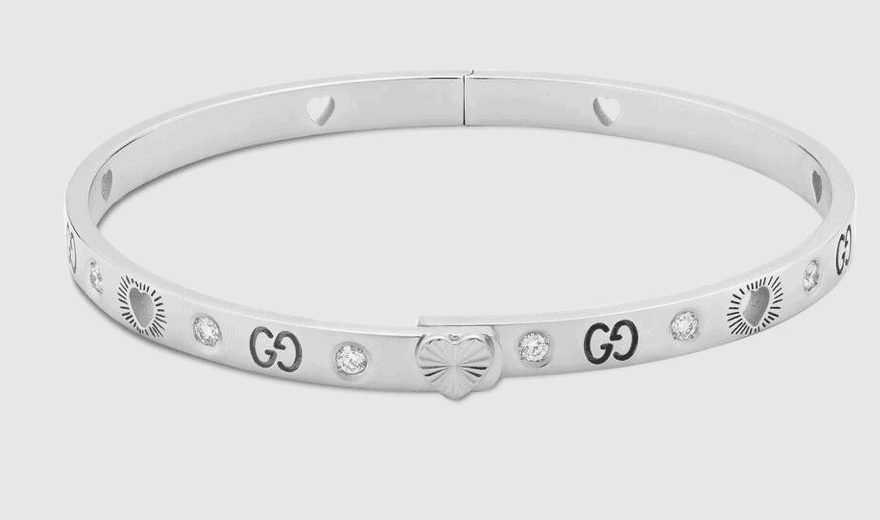 If you're mostly interested in a bracelet that boldly declares itself as Gucci, the star-studded or heart- imprint bracelets do just that.
Cut-out stars or hearts and encrusted white diamonds (0.54 carats) are set on a gorgeous 18K yellow or white gold band. Of course, the iconic GG symbols are evenly dispersed around the perimeter. Priced at $6.600 (YG, stars) and $7,100 (WG, hearts). Buy Yellow Gold Here, or Buy White Gold Here.
Gucci Fashion Bracelets
There's no doubt that fine jewelry Gucci bracelets are more valuable– and will likely hold their value more with time. That said, I actually prefer the fashion collection for Gucci bracelets. Bold, modern, and chunky– these styles are of the moment and a bit daring, making them more distinct.
You'll find everything from leather buckles to multicolor beaded bracelets, and, of course, the GG symbol proudly displayed. From fun to a bit glamorous, Gucci's fashion bracelets are certainly eye-catching. Prices range from $260 to $2,100.
Engraved Double G Leather Bracelet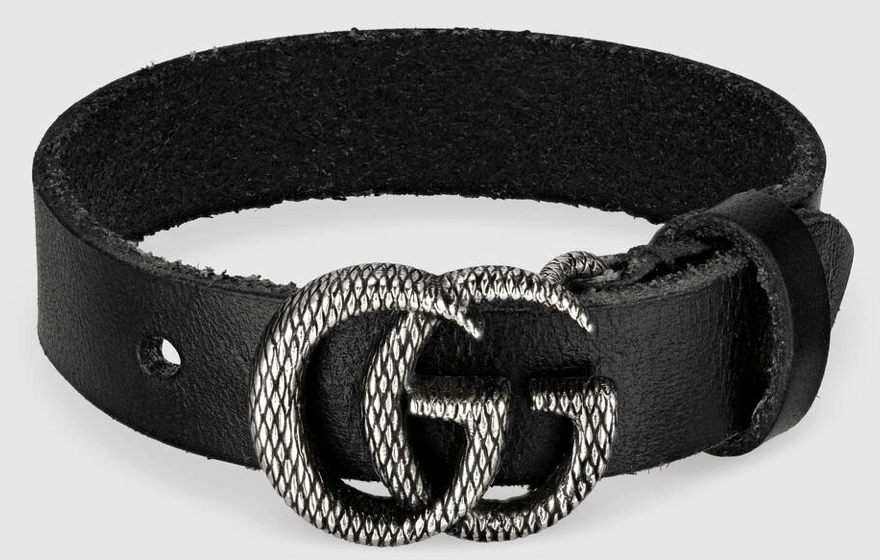 Retailing for $270, this is the second cheapest bracelet Gucci currently sells. The iconic GG symbol is set on a brass buckle with a palladium finish. The polish is sleek, set on black or brown leather. Pair this bracelet with jeans, a pantsuit, or even a maxi skirt. Buy Black Here, or Buy Brown Here.
Interlocking G Flower Pearl Bracelet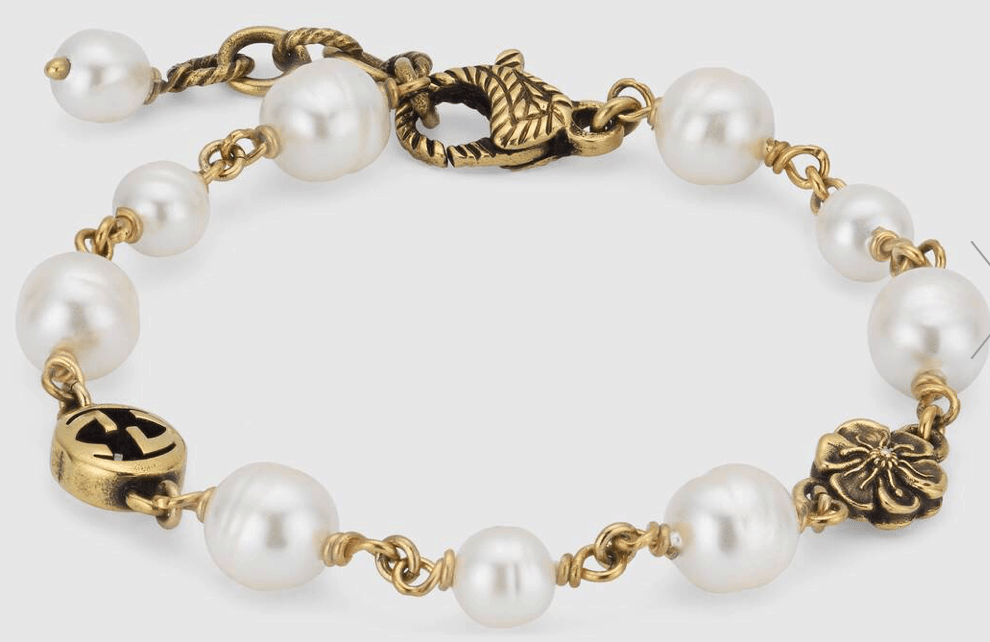 While there are several bracelets that I'm skipping, price point-wise, this is the next most distinct Gucci bracelet, priced at $460. Offering the look of pearls without the hefty cost, the bracelet is meant to celebrate a connection to the natural world. The floral is iconic for much of Gucci's creations. Glass pearls are set against G logos on a chain with a gold plating. Buy Here.
Lion Head Leather Bracelet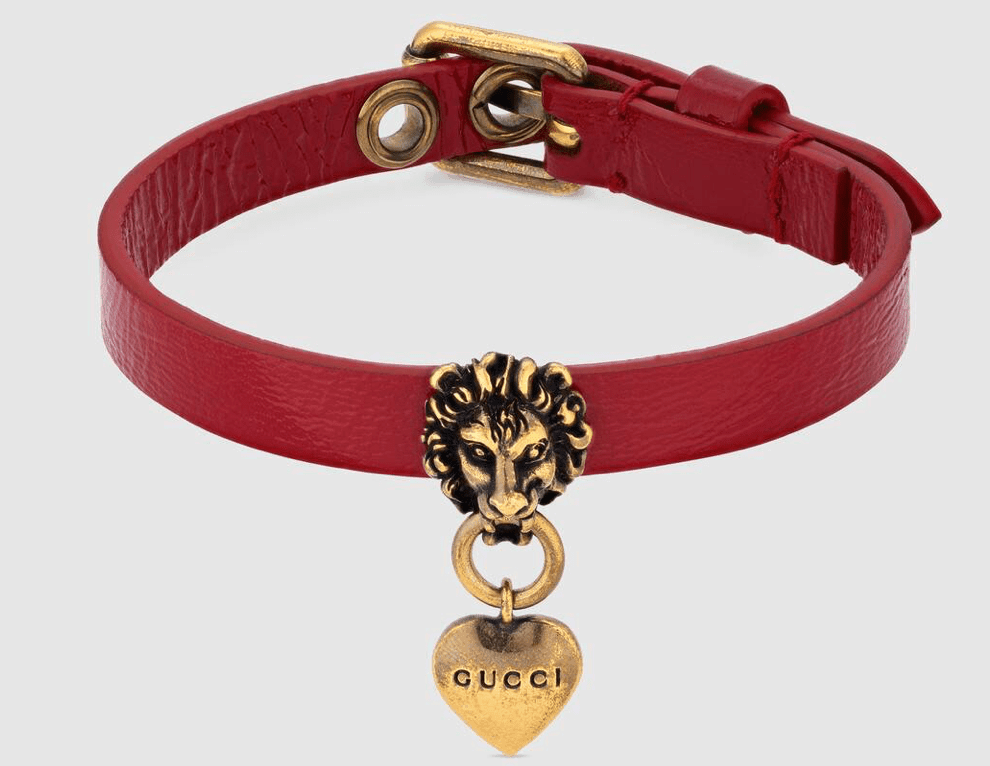 Retailing for $460, this iconic Gucci bracelet is available in red or black leather. The lion pendant holds a Gucci engraved heart– a design from the original Alessandro Michele collection. A buckle enclosure and gold finish make for a versatile and immediately recognizable bracelet. Buy Red Leather Here, or Black Leather Here.
Lion Beaded Bracelet with Heart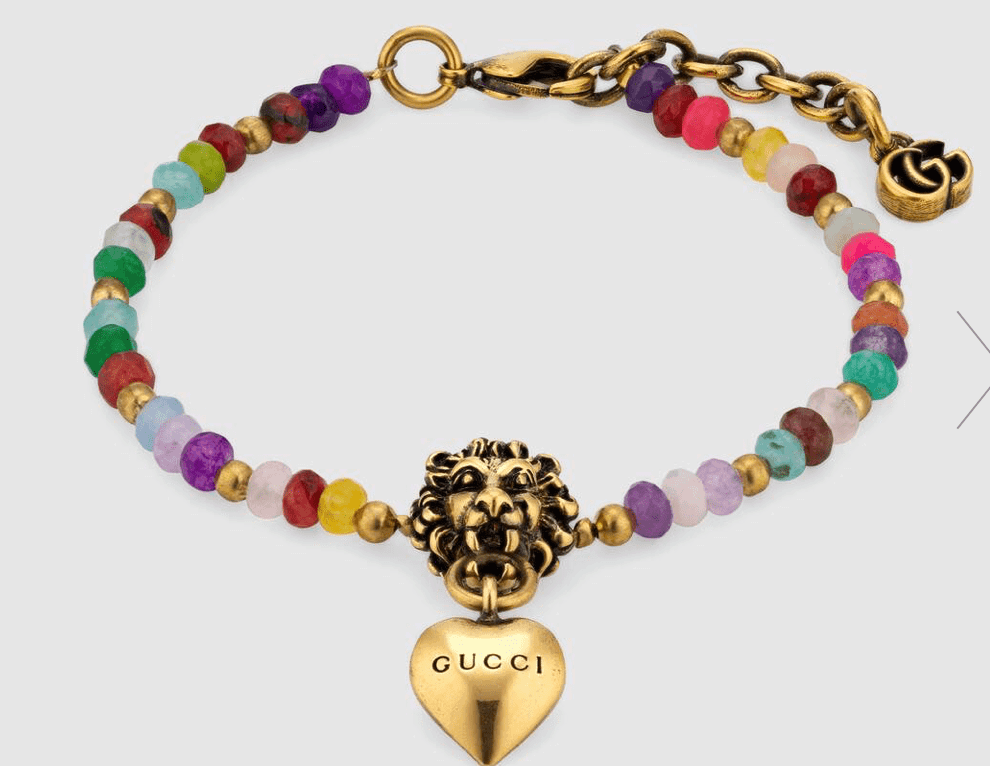 If you're looking for the lion and heart symbol, but don't like the look of leather, this colorful beaded bracelet is a great alternative. Priced at $490, multicolor stone beads are set on a band with an aged gold finish. The clasp enclosure features the GG symbol. It's a fun, vibrant bracelet, with a boho-inspired style. Buy Here.
Crystal Gucci Cuff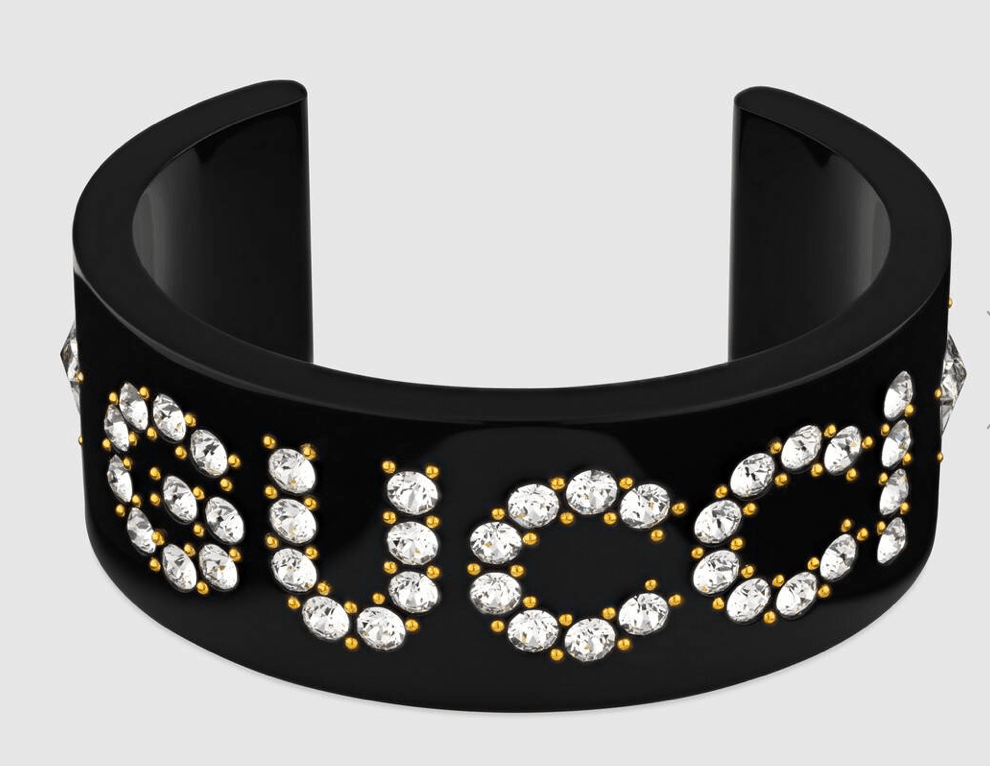 Bold and embracing a more maximalist style, this Gucci bracelet is pure fun. Crystal studs form the Gucci letters on a black resin cuff. While not genuine leather, resin does not easily break or crack and is environmentally friendly. Retails for $490; Buy Here.
Pearl Double G Layered Bracelet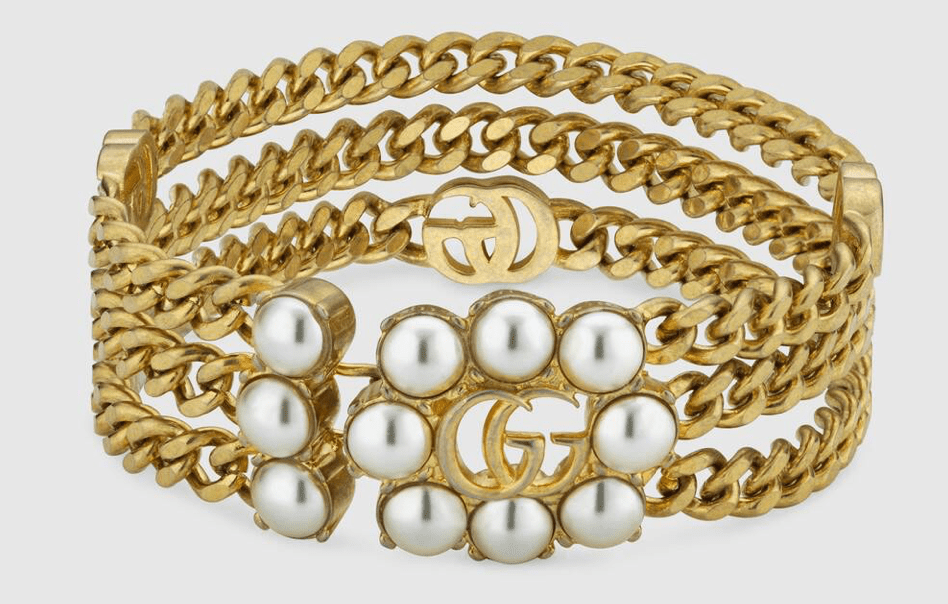 If you have $650 to spend, this bracelet manages to be playful, innovative, and even a bit elegant. Their tiers of metal with a golden finish are layered with GG symbols and glass pearls. The warmth of the gold finish against the pearly white beads is classic, while the layering and textures make this bracelet uniquely Gucci. Buy Here.
Lion Head Bracelet with Crystals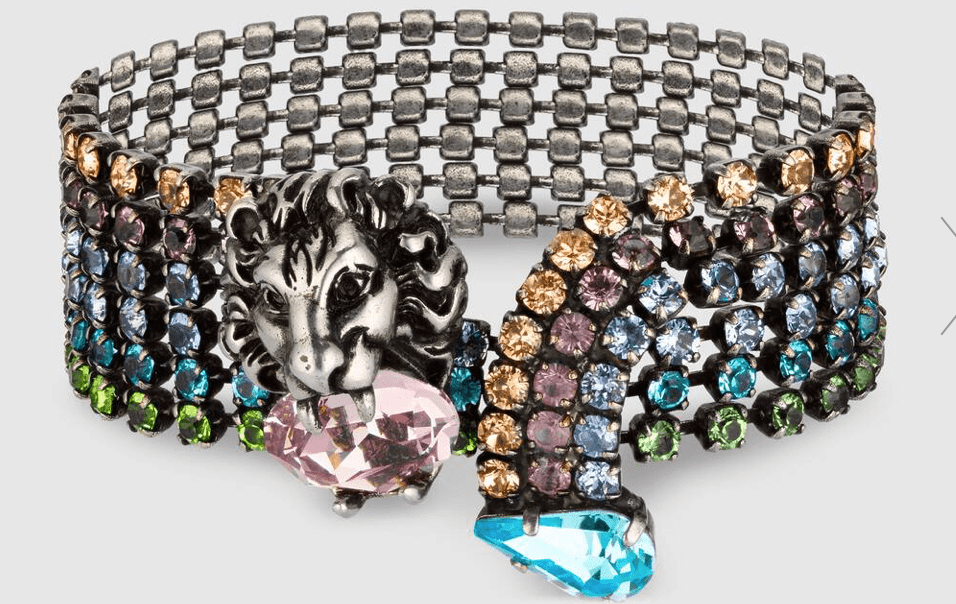 Priced at $1,150, you could buy a fine jewelry option instead–and it'd likely be more valuable. That said, the intricate design and bold details make this Gucci bracelet stand out. Metal with a palladium finish is accented with iridescent, peach, and aquamarine crystals. A lion head boldly points to the iconic brand. Meant for the daring fashionista in mind; Buy Here.
Frequently Asked Questions
Question: How much do Gucci slides cost?
Answer: Gucci slides are comfortable, slip-on casual shoes that have come to be a status symbol. You can expect to pay $350 to $980 for the women's collection, and $290 to $690 for men's slides. Most slides are around $400- $500 when bought directly from Gucci.
Question: Does Gucci ever go on sale?
Answer: You won't find discounts on current Gucci products on their website, but you can find Gucci products for less through other outlets. Look for sales on Gucci products through official stores and stores that carry authentic Gucci (see their site). The Mid and late season, as well as holidays, are the most likely times for sales.
Question: What is Gucci's most expensive item?
Answer: While Gucci is always introducing new products, the most expensive item ever sold is the Gucci Stuart Hughes Belt, which features genuine leather, the GG symbol, and diamond accents. It sold for an astonishing $250K.
Question: Where does Gucci sell the most?
Answer: Gucci is one of the most well-known and popular brands in the world. According to a 2029 revenue report posted on Statista, 44 percent of Gucci sales are made in Asia- Pacific nations, making this region of the world the most lucrative for Gucci. North America and Western Europe each comprise 22 percent of Gucci sales, while Japan accounts for 7 percent of Gucci sales. The final 5 percent of sales are not concentrated in a single region but made around the world.
Final Thoughts
Gucci bracelets range from more understated to bold and dramatic. While fashion bracelets are less valuable, they are also a bit more unique. If you happen to be in California, there is also a physical Gucci Outlet, which offers past-season products at a lower price. See below for information on the Gucci Outlet
Gucci Outlet
48650 Seminole Drive, Suite 228, Cabazon, California, 92230, United States
10:00 a..m. – 8:00 p.m. (Monday-Sunday)
Phone: (951) 849-7430
Email: [email protected]