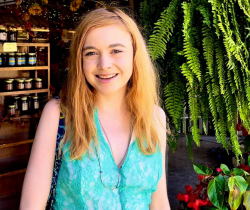 Latest posts by Erin Jamieson
(see all)
For some, finding the best jewelry is a matter of fashion. But one of the biggest emerging trends is about bringing balance to one's life by wearing Fen Shui bracelets.
Luxury jewelry is often associated with designers like Louis Vuitton and Chanel. But now the first luxury jewelry house dedicated to Feng Shui bracelets and necklaces has entered the scene. And that's just one indication as to how Feng Shui jewelry has become more widespread.
Hoseiki, the first luxury designer for Feng Shui pieces, was inspired by the founder's trip to the ancient temples of Kyoto in Japan. While the house seeks to stay true to its roots in Chinese Metaphysics and traditional cultures, they also seek to do something else.
In hopes of reaching a wider audience and changing the perception of Feng Shui as old-fashioned, the jewelry house has in-house designers. Each of their pieces has traditional roots, but with modem details.
They also don't just sell products, but also offer Feng Shui consulting services, so that long-time followers of Feng Shui and new customers alike can find the best Feng Shui bracelets and necklaces.
Of course, you don't have to opt for a luxury jeweler to find some great Feng Shui bracelets. Consider this your guide to Feng Shui bracelets in 2022. I'll tell you what Feng Shui bracelets are used for, how to wear them, and my picks for Feng Shui bracelets you can buy online.
What is Feng Shui and what is its purpose?
Before I discuss Feng Shui jewelry, it's important to understand what exactly the practice of Feng Shui entails.
Feng Shui is meant to create balance in one's life through a sense of order. In Chinese, "Feng" means wind, while "Shui" translates as water. The idea is you become more deeply connected to your surroundings and the natural world around you.
Most known in its practice for home and office decor, Feng Shui principles are propelled by the belief that certain arrangements can manipulate energy flow. The goal is to balance energies to provide more harmonious living situations.
What are the 5 elements in Feng Shui?
Critical to Feng Shui practices of any kind are the 5 central elements of Feng Shui. The five elements include wood, fire, earth, metal, and water. Each of those elements has specific energies tied to them.
Wood elements are said to inspire creativity and growth. Fire elements promote leadership and bravery. Earth elements promote strength and stability. Metal provides focus and order, Finally, water is said to be tied to emotions and provides inspiration.
What is Feng Shui jewelry?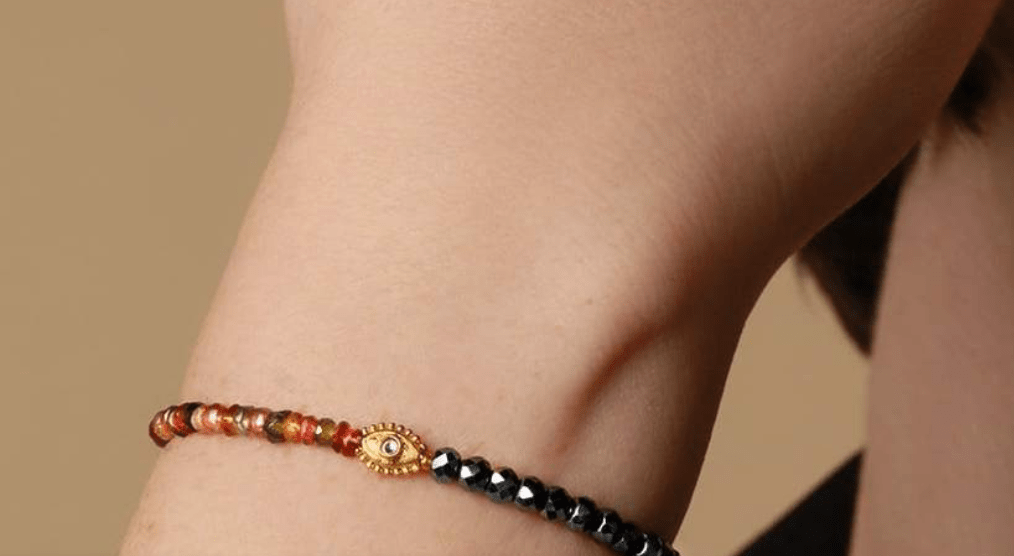 That said, the practice of Feng Shui is not limited to how one arranges to live and workspaces. Rather, Feng Shui is also practiced by what we wear and how we wear it.
That's where Feng Shui jewelry comes in. Feng Shui jewelry is a little bit different than the practice of Feng Shui for living or working spaces. Feng Shui jewelry is mostly focused on either providing a form of protection or boosting certain types of energy.
Some also believe that some Feng Shui jewelry can be used to improve health conditions–such as pearl necklaces. Rose quartz is believed to attract love. All in all, the idea is that Feng Shui jewelry is meant to enhance and bring fortune to your life.
What is the meaning of a Feng Shui bracelet?
The meaning of a Feng Shui bracelet depends on the type of bracelet. The most popular kinds include Black Obsidian bracelets, Tiger Eye bracelets, and Black Tourmaline, all of which are thought to protect against external or internal harm or negative energies– not unlike how people wear Evil Eye bracelets.
Other Feng Shui bracelets include pearl bracelets to promote healing and quartz for a better love life. Pixie bracelets, which are a certain style of Feng Shui bracelets, may use different materials but are said to promote good luck and fortune.
Where should a Feng Shui bracelet be placed?
The other thing to consider is how you wear your bracelet. No matter what kind of Feng Shui bracelet you decide to wear, it's generally believed that you should wear it on your left hand.
The left hand is favored for Feng Shui bracelets because your left hand is your receiving hand. Your receiving hand is the hand where you take energy in. Your right hand is thought to be the giving. Following this logic, that would mean bracelets worn on the right hand would be thought to have energy and benefits directed towards others. Wearing on your left hand is thought to allow you to receive that positive energy.
Do Feng Shui bracelets work?
Feng Shui bracelets are said to work as crystals work. They are supposed to align your body with attracting positive energy. In a way, Feng Shui is a system of culture, traditions, and beliefs. To date, there is no firm scientific evidence to "prove" that Feng Shui works. Rather, many experience positive effects based upon their belief. It's up to you to determine whether or not you believe Feng Shui will bring something positive to your life.
On the other hand, even the belief that something can have a positive effect on our mental or even physical health. While not the same thing, for instance, some studies have suggested that having spiritual beliefs is correlated with longer and more fulfilling lives.
And even if you're a Feng Shui skeptic, consider this: Feng Shui jewelry is unique and rich with symbolism. That alone can add a more personal touch to an outfit.
My Picks: Feng Shui Bracelets
Now that you know what Feng Shui bracelets are and how they're used, here are my picks for Feng Shui bracelets you can buy. I'll show you some ideas for Black Obsidian, Tiger Eye, Black Tourmaline, and Rose Quartz bracelets. Pearl bracelets are fairly easy to find, but I'll also provide some resources for where to buy them and some tips.
Without further ado, here are some of my favorite Feng Shui Bracelet ideas for 2022.
Black Obsidian Bracelets
Black Obsidian is meant to protect against bad fortune and usher in wealth. Natural black obsidian should be handled with care, as, at a Mohs hardness of 5.5, it is prone to chipping or scratches. The good news is that it's also a very abundant, and thus, affordable, material.
Obsidian Chakra Protection Bead Bracelet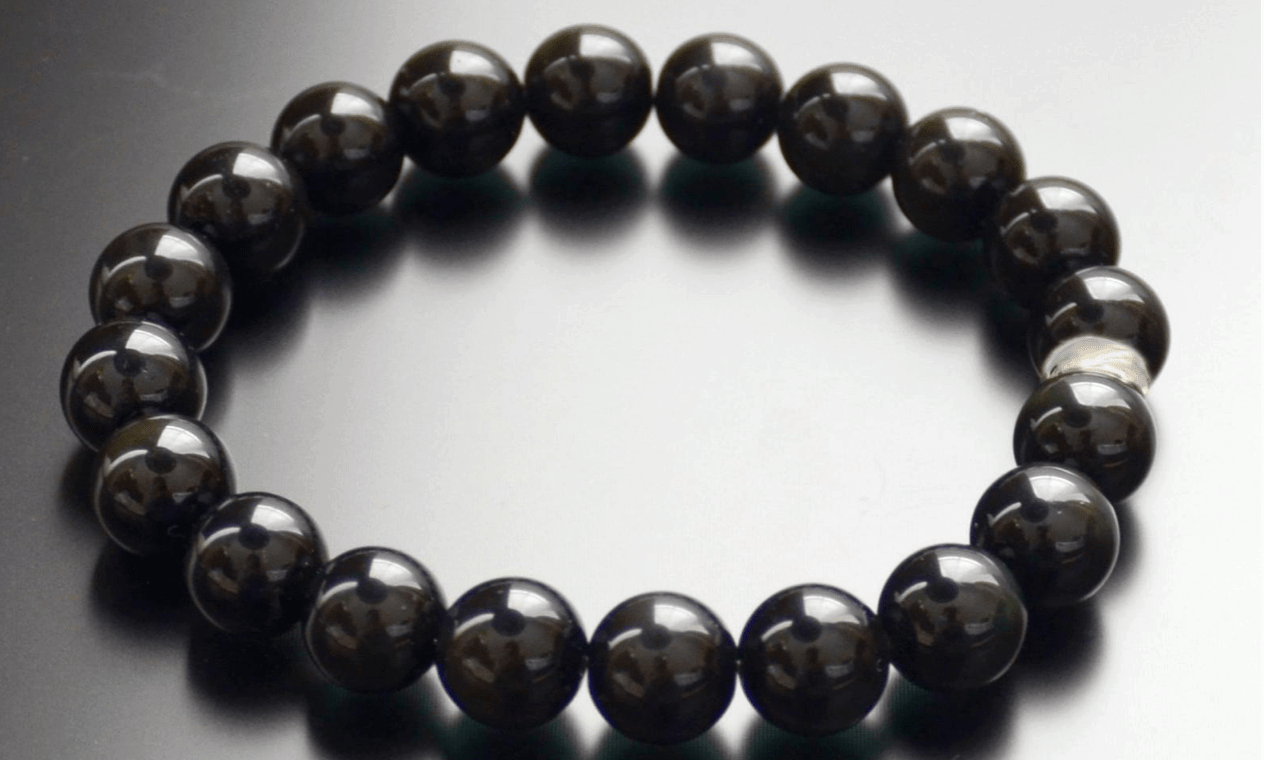 This simple black obsidian bracelet is versatile and priced at just $11.99. This best-selling, handmade piece of jewelry is a Chakra bracelet. Chakra bracelets are meant to keep energy levels balanced, specifically by promoting optimistic thoughts and diminishing pessimistic thoughts. Buy Here.
Pi Xiu Obsidian Bracelet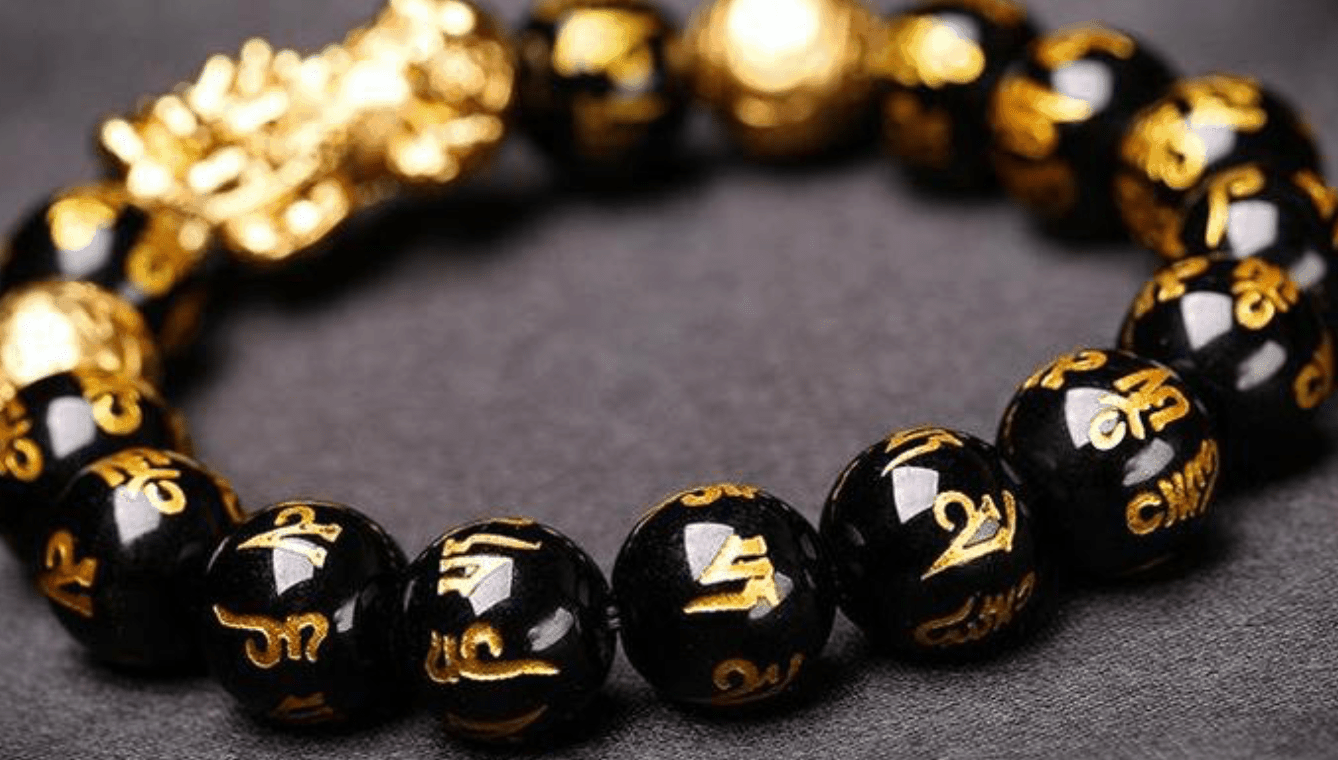 This is one of my favorite black obsidian bracelets for Feng Shui. Pi Xiu, or Pixui bracelets, are used to promote good fortune and wealth. Like this bracelet, they also include details like Chinese characters and even traditional Chinese motifs. The combination of black and gold tones makes this a more eye-catching way to wear black obsidian. Handmade and priced at $12.50; Buy Here.
Health and Wealth Black Obsidian 24K Gold Bracelet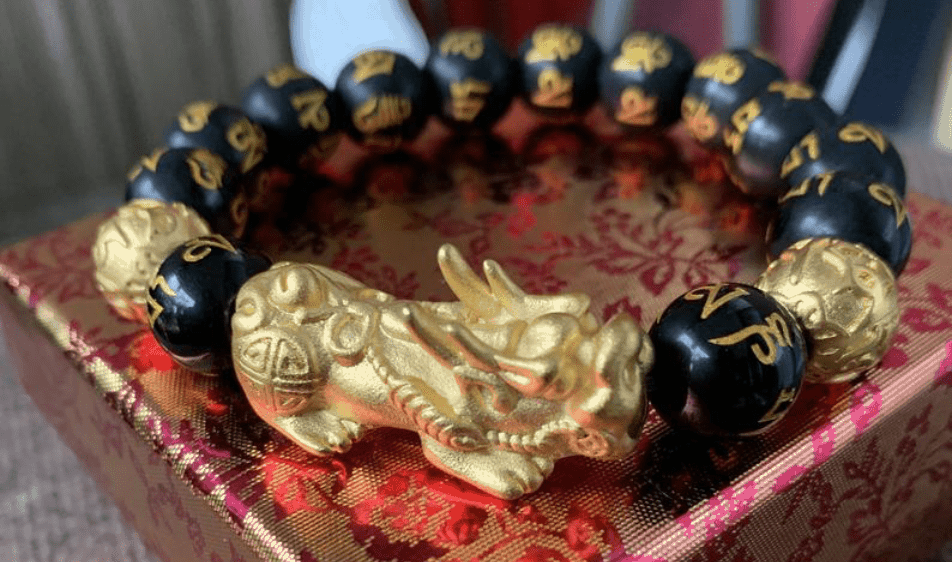 If you love the idea of a black obsidian Pixiu bracelet but want something a little more refined, consider this $111.99 bracelet. Black obsidian is complemented with Chinese characters and motifs in 24K yellow gold plating for an elegant look. Do still be cautious when wearing; gold plating is real gold, but not as durable as solid gold. Buy Here.
Malachite and Black Obsidian Bracelet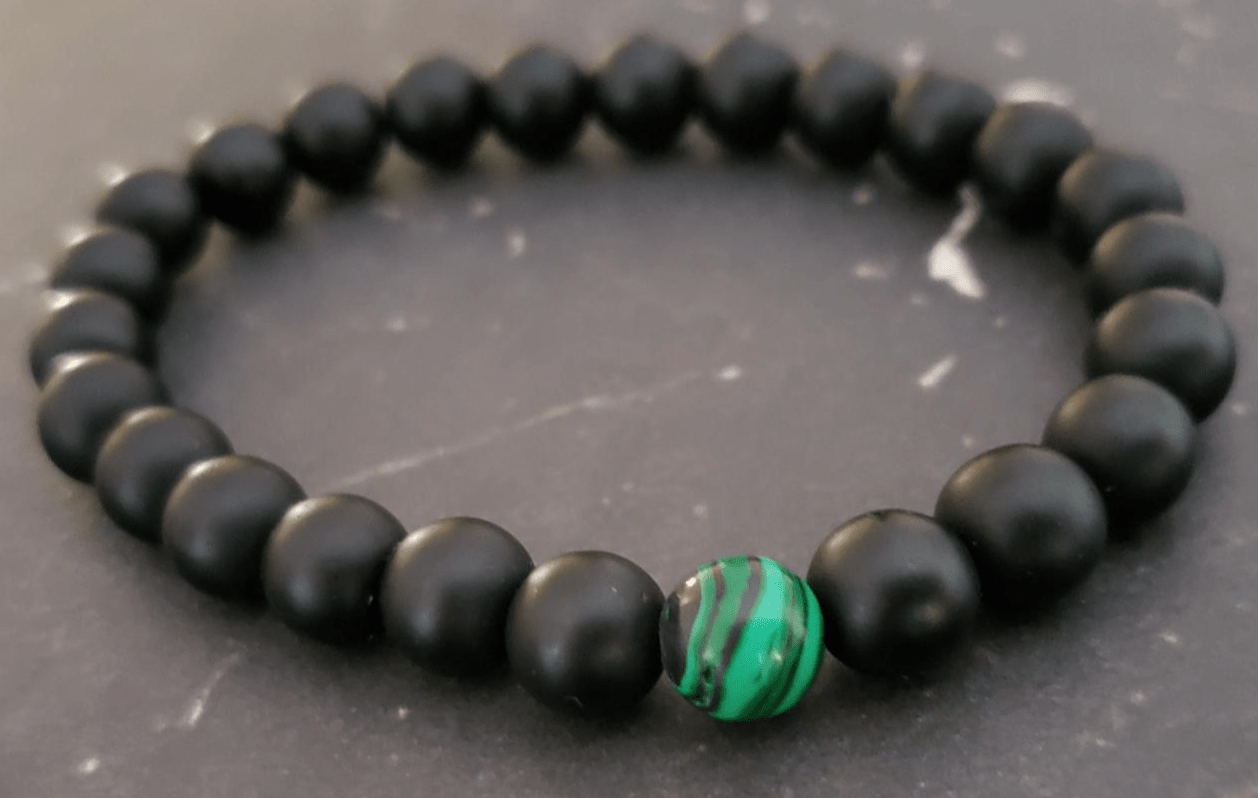 This Feng Shui bracelet has a boho style, setting it apart from other black obsidian options. The combination of minty green Malachite is a fun and expressive touch, but it's actually more than that. In Feng Shui, Malachite is associated with better energy and protection. Priced at $13; Buy Here.
Labradorite Obsidian Bracelet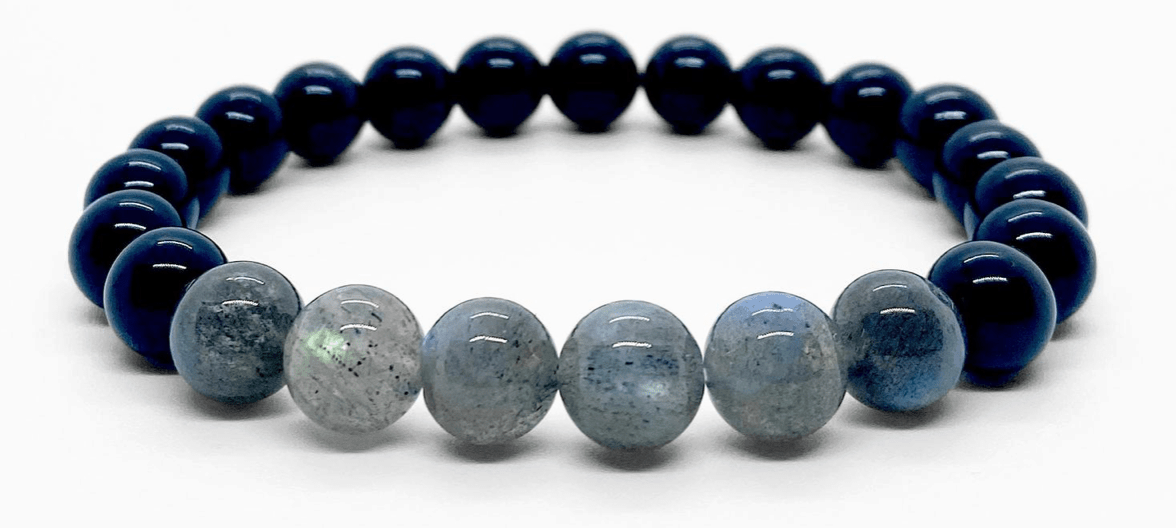 This obsidian bracelet is notable for its beautiful handcrafted design and signature polish. Casual but refined, you can wear this beaded bracelet from day tonight. It also makes a great Feng Shui gift. Priced at $23.99; Buy Here.
Obsidian Gold Plated Bracelet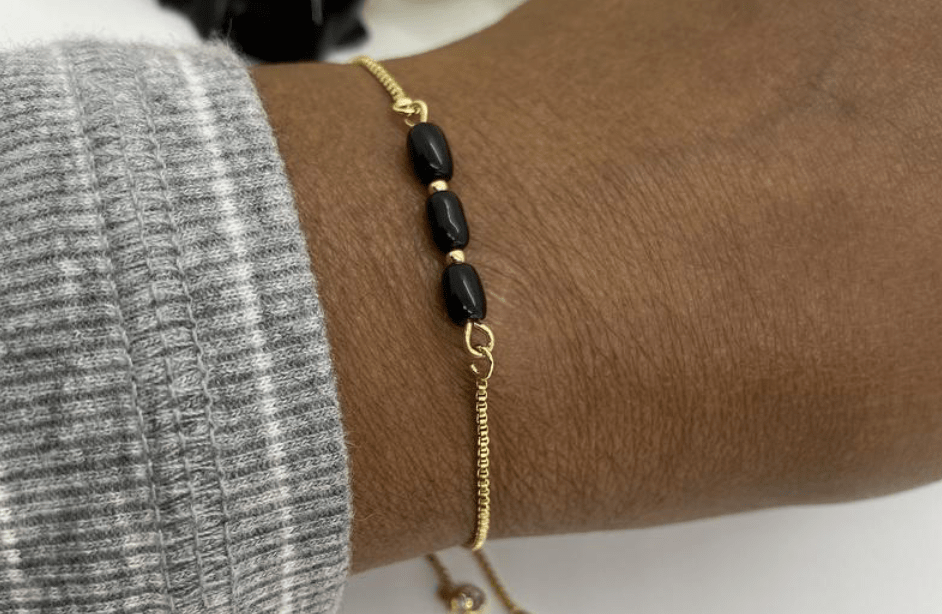 Want a daintier look? The Feng Shui bracelet features a few black obsidian stones, set on a fine 18K gold plated chain. All materials are hypoallergenic. This bracelet is an unexpectedly refined and elegant look for black obsidian, and also suits minimalist styles. This handmade bracelet retails for $21. Buy Here.
Tiger Eye Bracelets
In Feng Shui, Tiger's Eye is also a protective stone, meant to bring good luck and fortune. It's also been associated with greater focus, concentration, and improved mental clarity. Some have even said to use it when grappling with anxiety and depression. It's actually a form of quartz and has a Mohs hardness rating of 6.5 to 7. While not as durable as some stones, it's considered fairly wearable and more durable than obsidian.
David Yurman Tiger's Eye Spiritual Beads Bracelet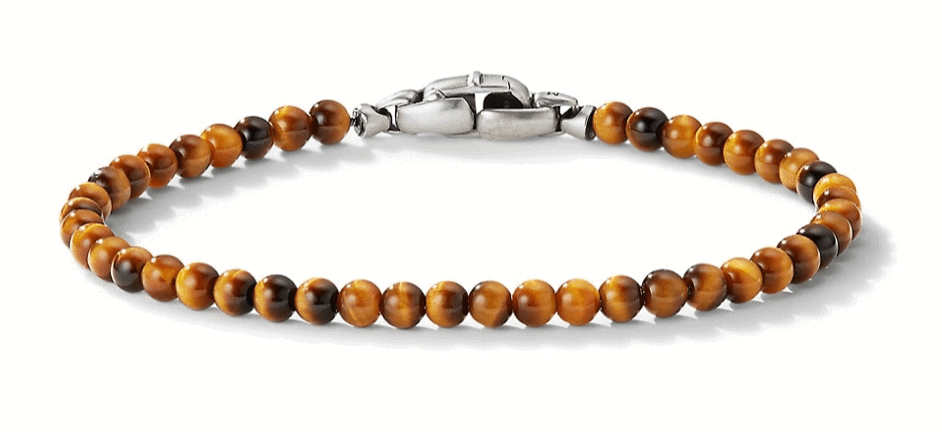 This bracelet is from revered designer David Yurman. The luxury designer delivers with an occasion-worthy Tiger's Eye bracelet, set on sterling silver with a push clasp. It's a beautiful combination– just make sure to keep it moisture-free, as silver can tarnish. Priced at $300;
Corded Sterling Silver Bracelet with Brown Tiger's Eye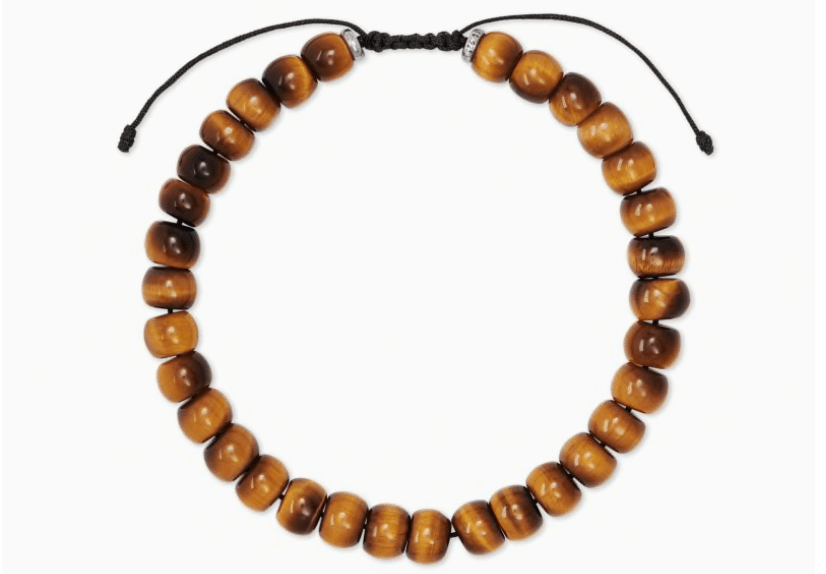 If you love the sterling silver and Tiger's Eye combination but don't have a few hundred dollars, consider this $78 bracelet from Kendra Scott. An adjustable closure ensures a great fit, and the polished stones complement the sterling silver chain. Buy Here.
Tiger's Eye Protection Wrap Bracelet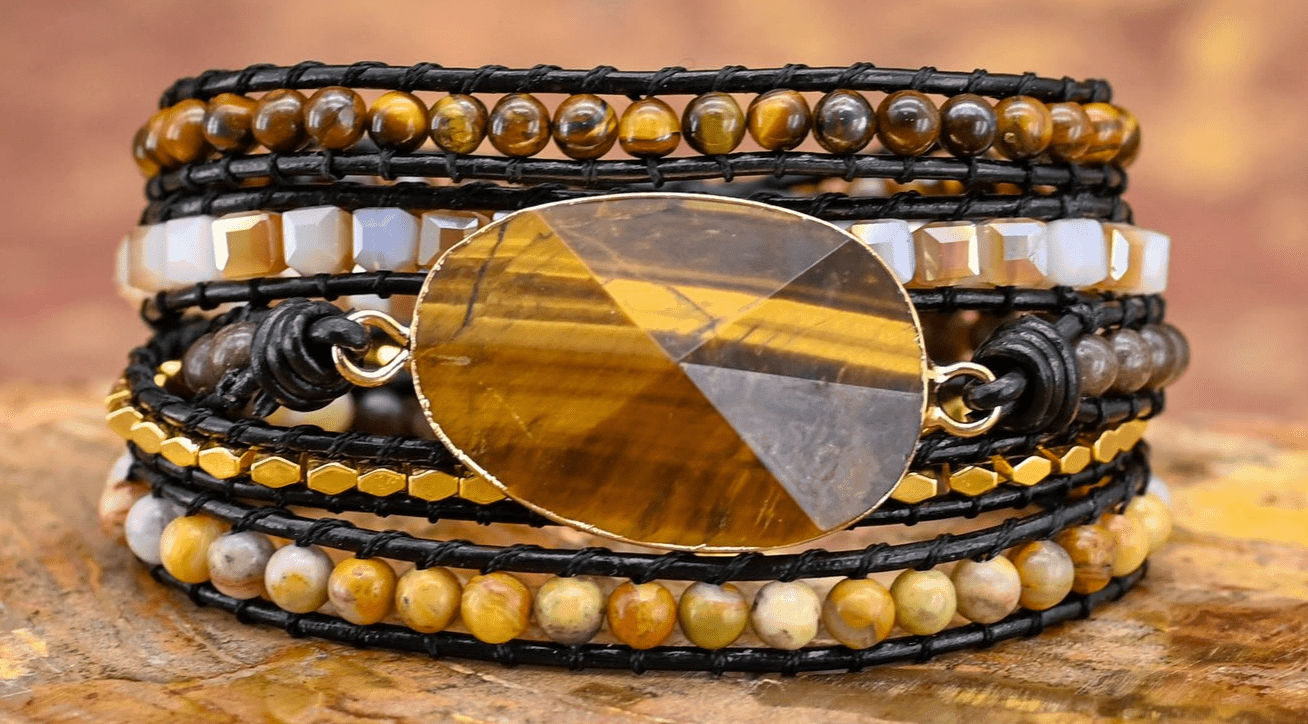 This is my favorite idea for a Tiger's Eye Feng Shui bracelet. The unique wrap style blends colors and textures for a casual but compelling style. Tiger's Eye, Yellow Jade, and Alloy beads are set on genuine leather. The handcrafted bracelet includes a stainless steel clasp and three closures for additional adjustment. Priced at $39.95. Buy Here.
Courageous Soul Tiger's Eye Bracelet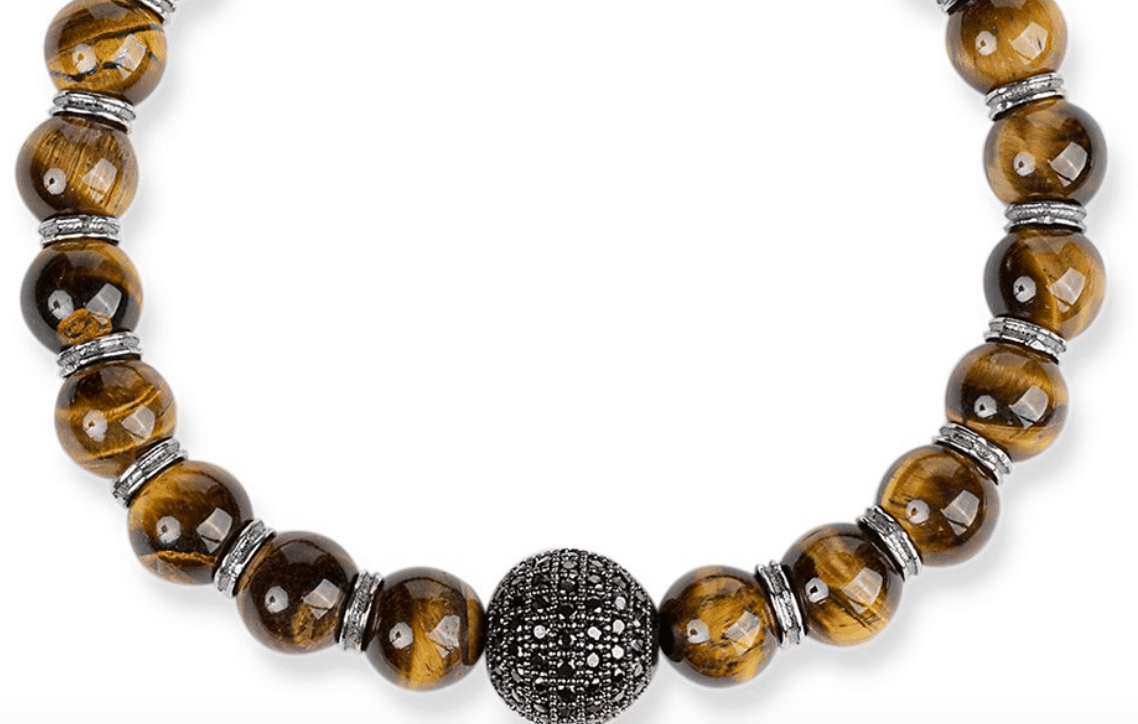 This dazzling Tiger's Eye bracelet was handcrafted in Asia with Feng Shui principles in mind. Meant to provide the wearer with strength and courage, Tiger's Eye beads are set on sterling silver, with cubic zirconia for a bit of sparkle. Priced at $99; Buy Here.
Tiger's Eye Infinity Charm Bracelet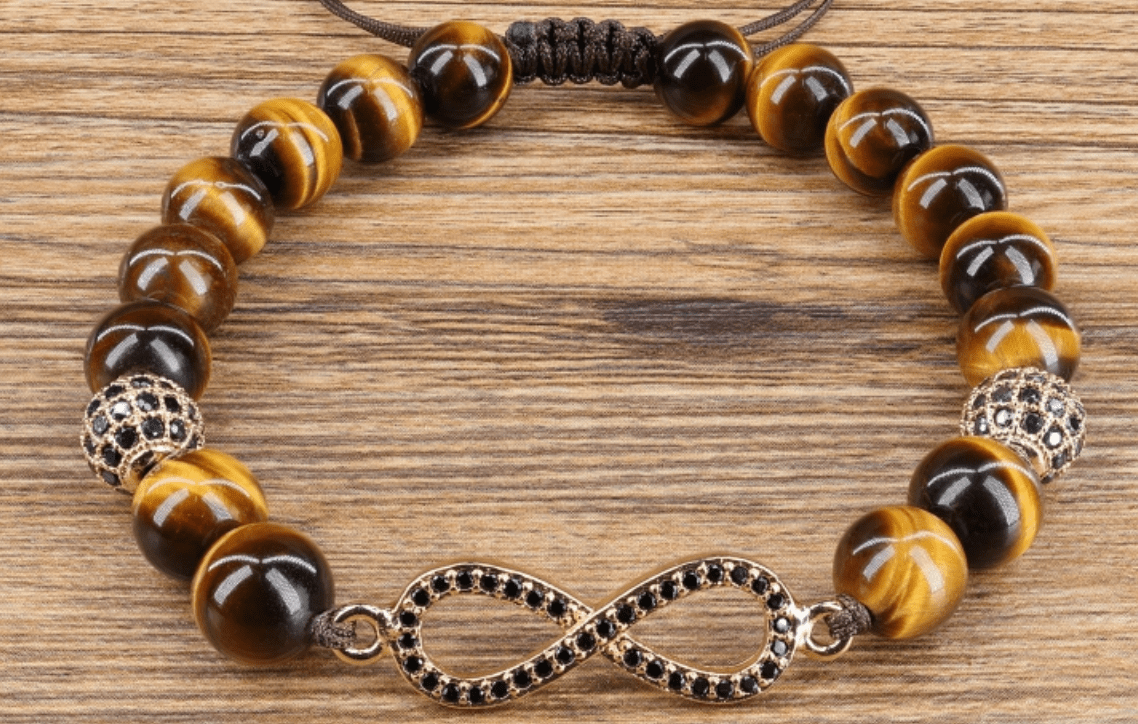 This charm bracelet is said to bring harmony and mental clarity. Beads are set on a charm-style bracelet, with an infinity pendant. The infinity pendant implies everlasting protection and also adds a nice metallic accent. Priced at $45; Buy Here.
Saks Fifth Avenue Sterling Silver & Tiger's Eye Beaded Bracelet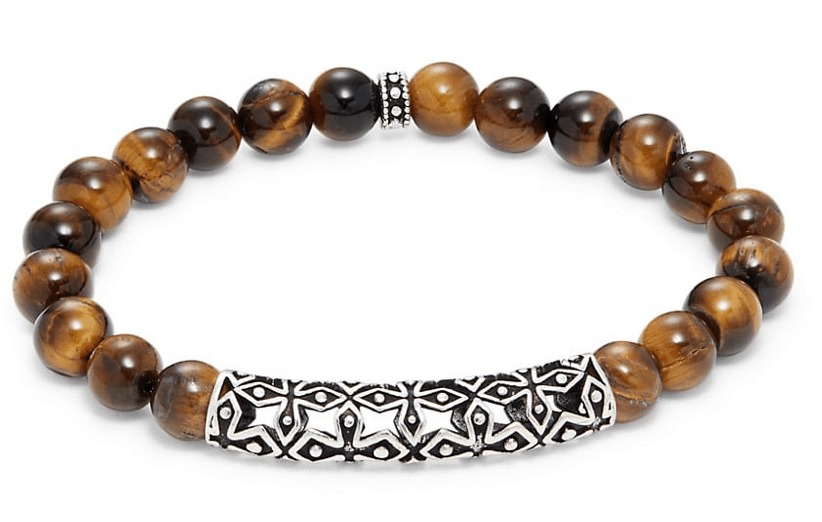 This Feng Shui bracelet is comfortable and easily versatile from casual to more formal outfits, with a unique sterling silver detail and an elastic slip-on fit. Priced at $72.50 with the current half-off sale. Buy Here.
Tourmaline Bracelets
Black Tourmaline is used in Feng Shui as a protective stone. Specifically, it's meant to protect against attacks of fear and self-doubt and, subsequently, boost self-confidence. Overall, it's used for alleviating stress and promoting balance. At a 7 to 7.5 on the Mohs hardness scale, it's a durable option and also provides beautiful luster when polished. Some other hues of tourmaline have also been used in Feng Shui.
Evil Eye Tourmaline Hematite Bracelet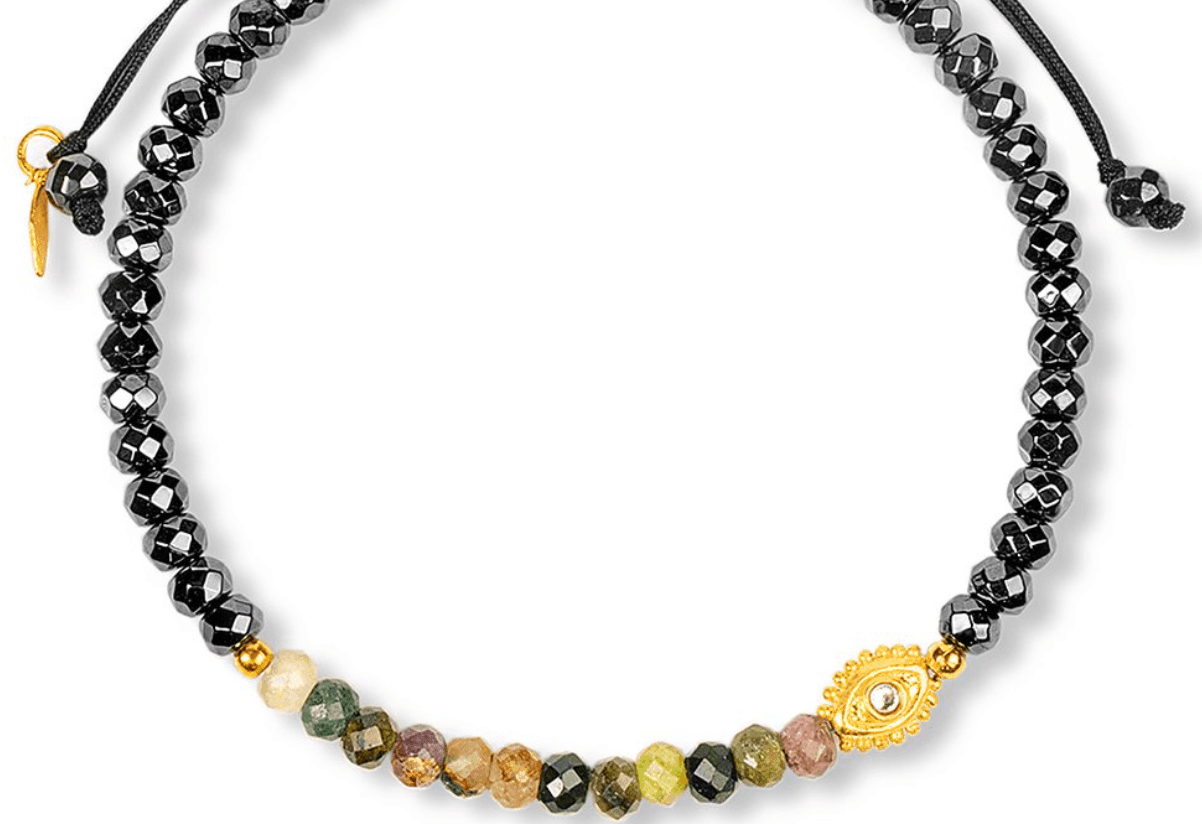 Blending Feng Shui and Evil Eye protection, this $59 bracelet is Fair Trade certified and set on sterling silver. An Evil Eye charm is meant to deflect negativity. Hematite stones are used for grounding and mind-clearing. The gold plating details, along with multicolor beads, also make this unique and stylish. Buy Here.
Simple Black Tourmaline Bracelet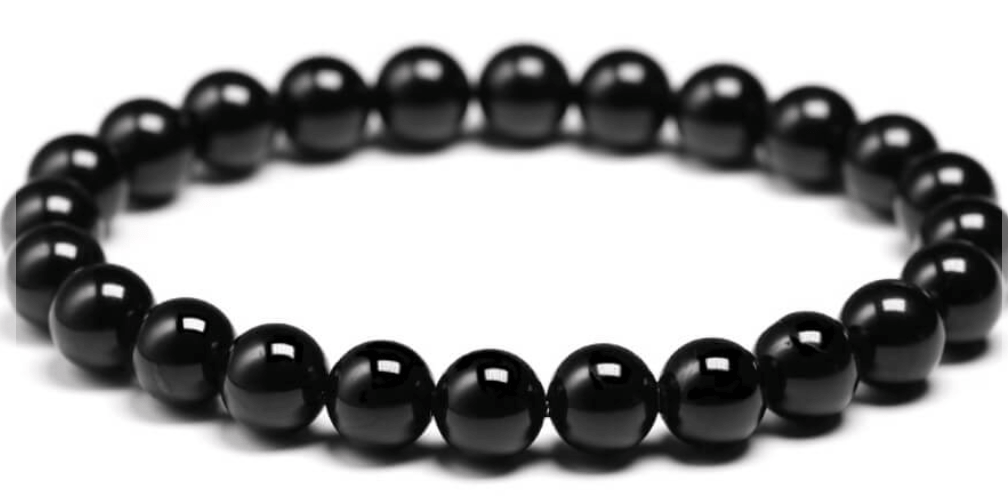 Priced at just $19, this simple bracelet features polished gemstones. Arranged on a stretchable band, you can easily slip it off and on. It's simple enough that you can easily pair it with other Feng Shui accessories. Buy Here.
Vivid Peace Hamsa Tourmaline Wrap Bracelet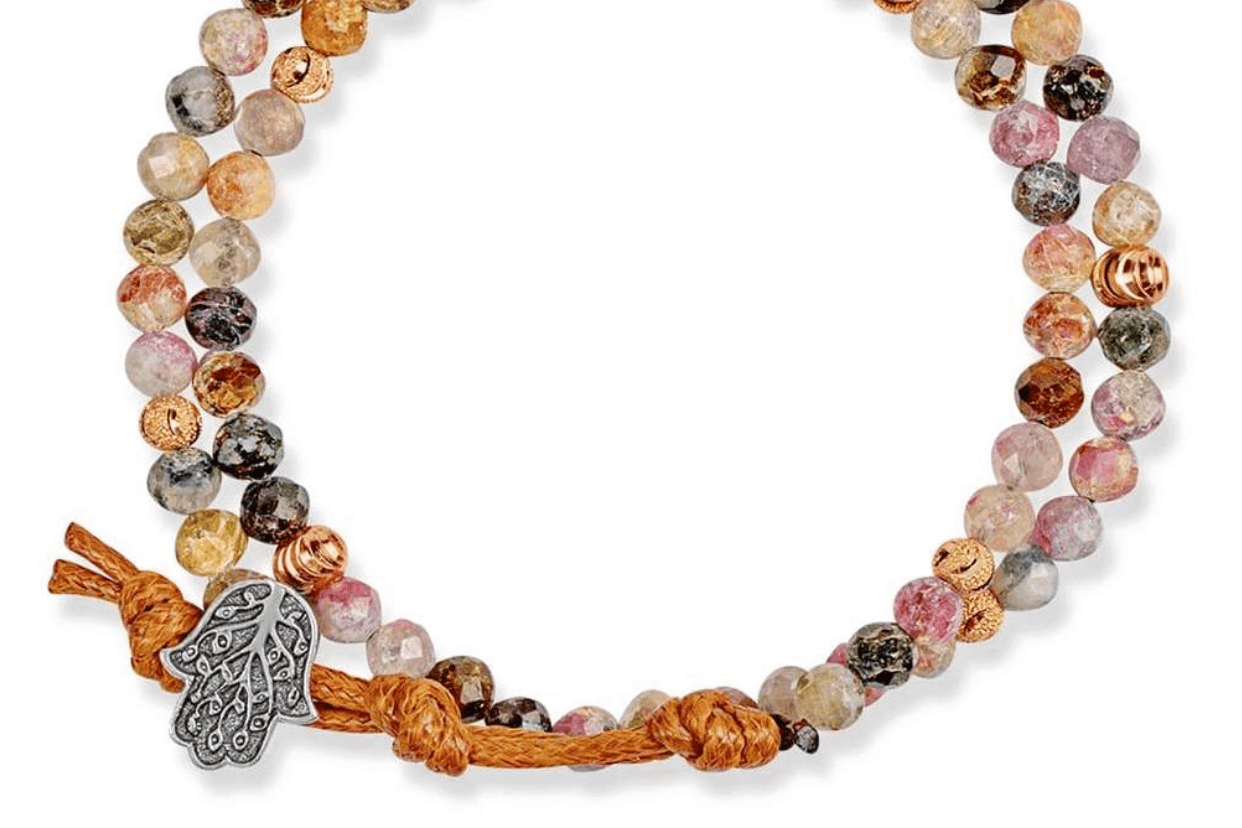 This $69 Fair Trade is one of my favorites for all Feng Shui bracelets. A handcrafted Hamsa hand charm is meant to serve as an additional form of protection. Instead of black, watermelon-hued tourmalines are added for love, self-reflection, and balance. Marked as an energy shield against negative forces; Buy Here.
Black Tourmaline and Gold Bracelet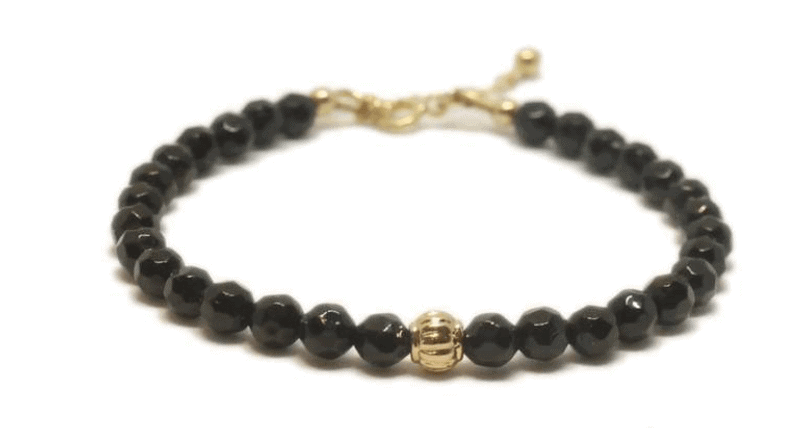 A simple strand of beads is accompanied by 14K gold accents. It's a refined but understated Feng Shui bracelet. It's also hypoallergenic and resistant to tarnishing. Priced at $40;
Native Black Tourmaline Wrap Bracelet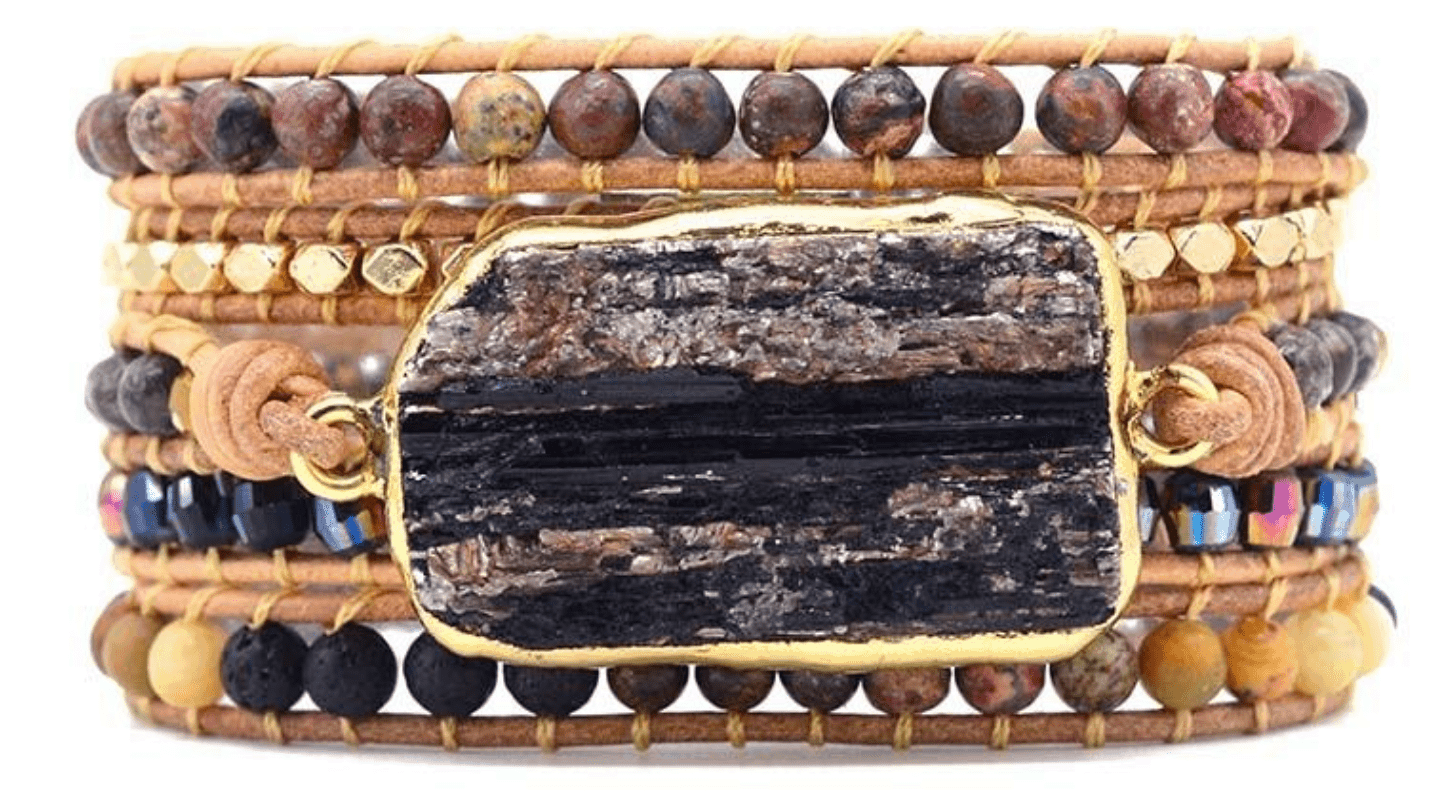 This wrap bracelet combines Agate and Tourmaline for double protection. Handcrafted and set on copper alloy, it's an intricate bracelet. Agate is meant to provide support and stability, which combines well to reduce fear and anxiety. Priced at $39.95; Buy Here.
Tourmaline Bracelet with Protective Pendant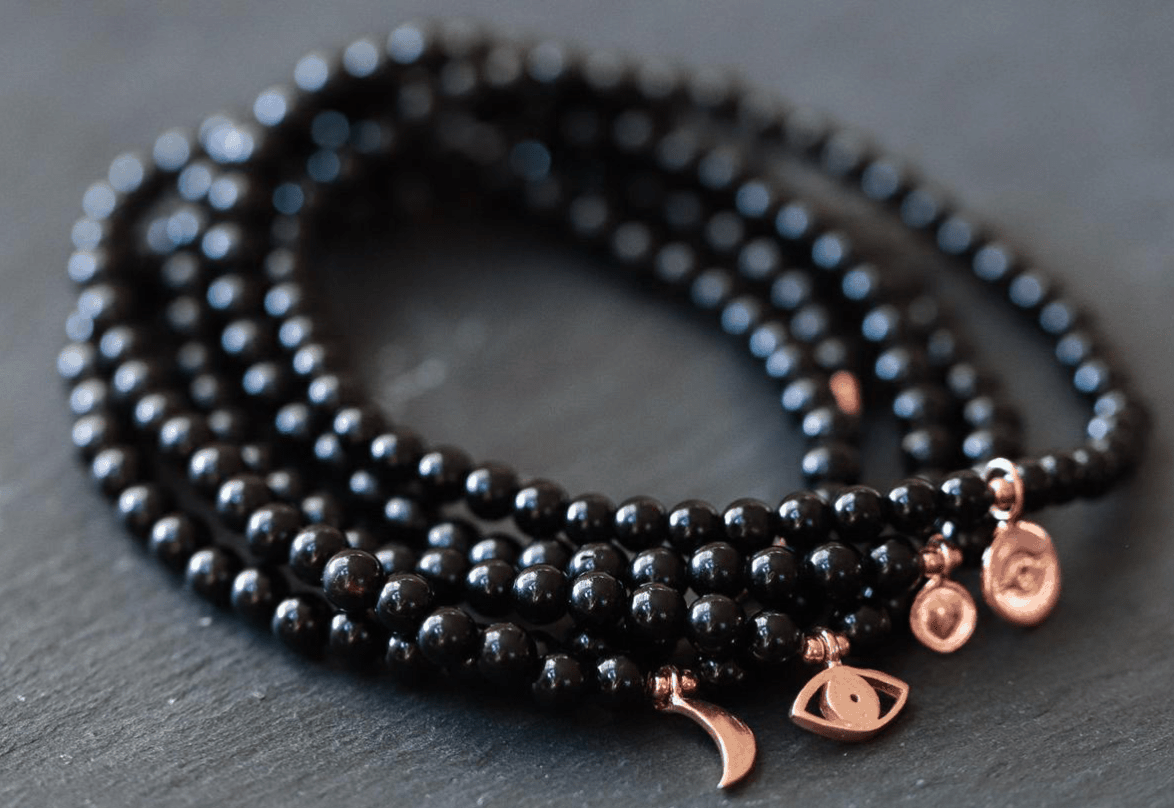 Tourmaline beads are set on a sterling silver chain with your choice of Evil Eye, crescent moon, or heart pendants. In Feng Shui, the moon represents feminine energy. Handmade and priced from $27.67 to $36.06. Buy Here.
Rose Quartz Bracelets
Rose Quartz is used in Feng Shui to promote love but also healing and serenity. This form of quartz is also associated with female energy and is more strongly aligned with notions of enhancing or improving relationships. With a Mohs hardness of 7, it's considered suitable for daily wear. While it can scratch, it does not do so easily.
Rose Quartz Stretch Bracelet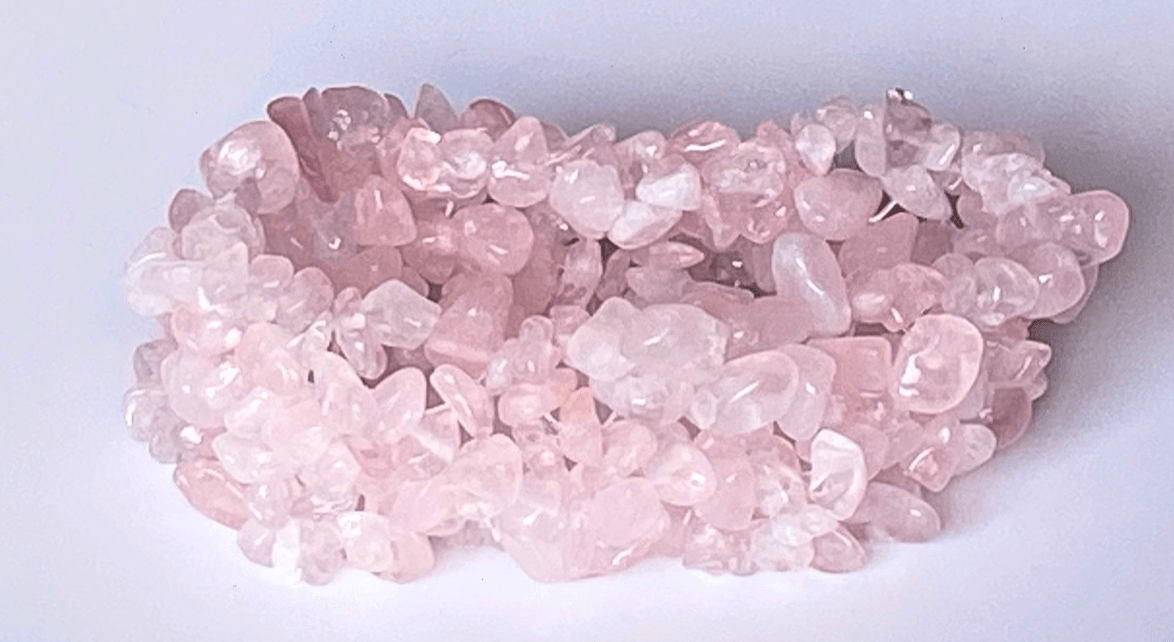 This quirky Feng Shui bracelet costs under $10 and showcases quartz in its natural form. The unexpected 'raw' look is placed on an elastic band for a close fit and can easily be slipped on and off. Buy Here.
Gold Plated Rose Quartz Bracelet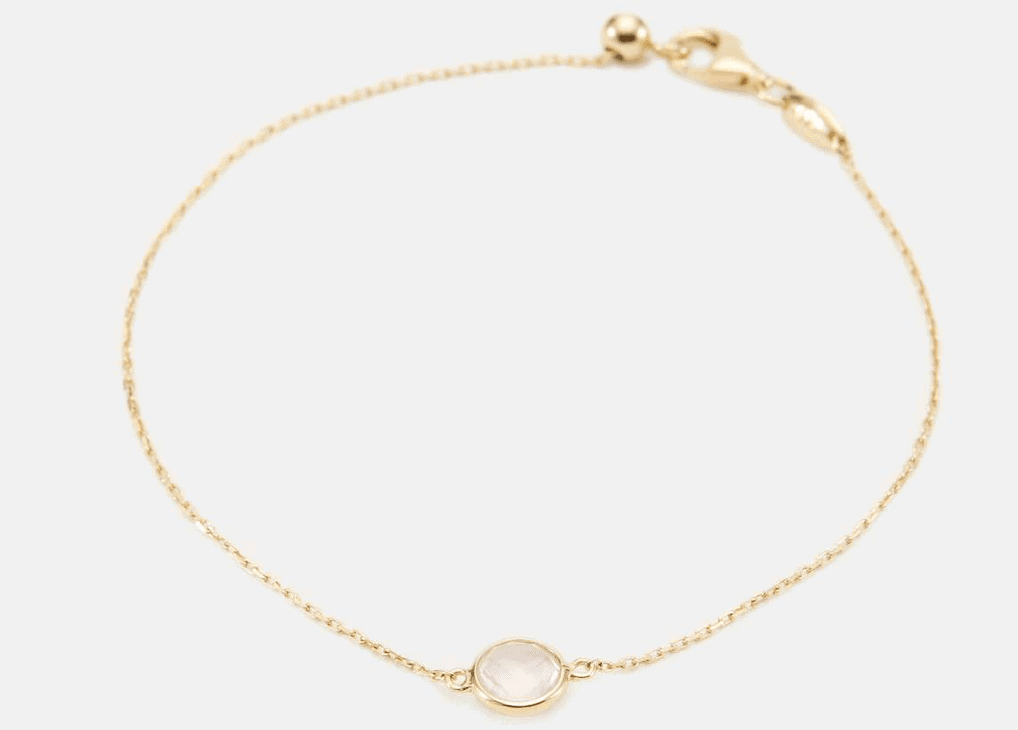 On the opposite side of the style spectrum, this minimalist bracelet features a petite quartz pendant, set on a sterling silver chain. 14K gold plating adds a stylish and more formal, minimalist look. Priced at $56.10 (on sale); Buy Here.
Rose Quartz 18 Rose Gold Plated Tennis Bracelet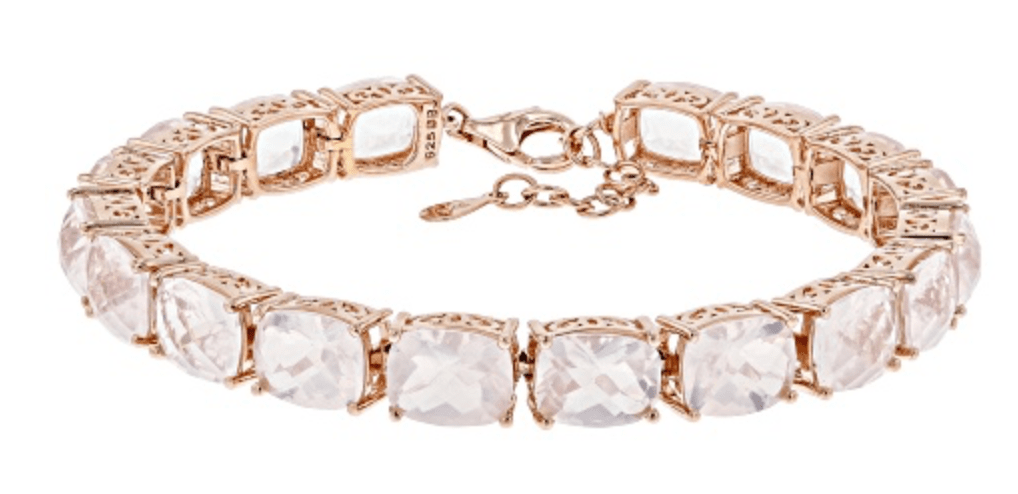 Tennis bracelets have gained popularity in the past 5 years, and this showcases their elegance. This unique tennis bracelet features rectangular-shaped, cushion cut quartz. The sterling silver chain is plated with 18K rose gold for a gorgeous compliment. Priced at $203.19; Buy Here.
Rose Quartz Evil Eye Charm Bracelet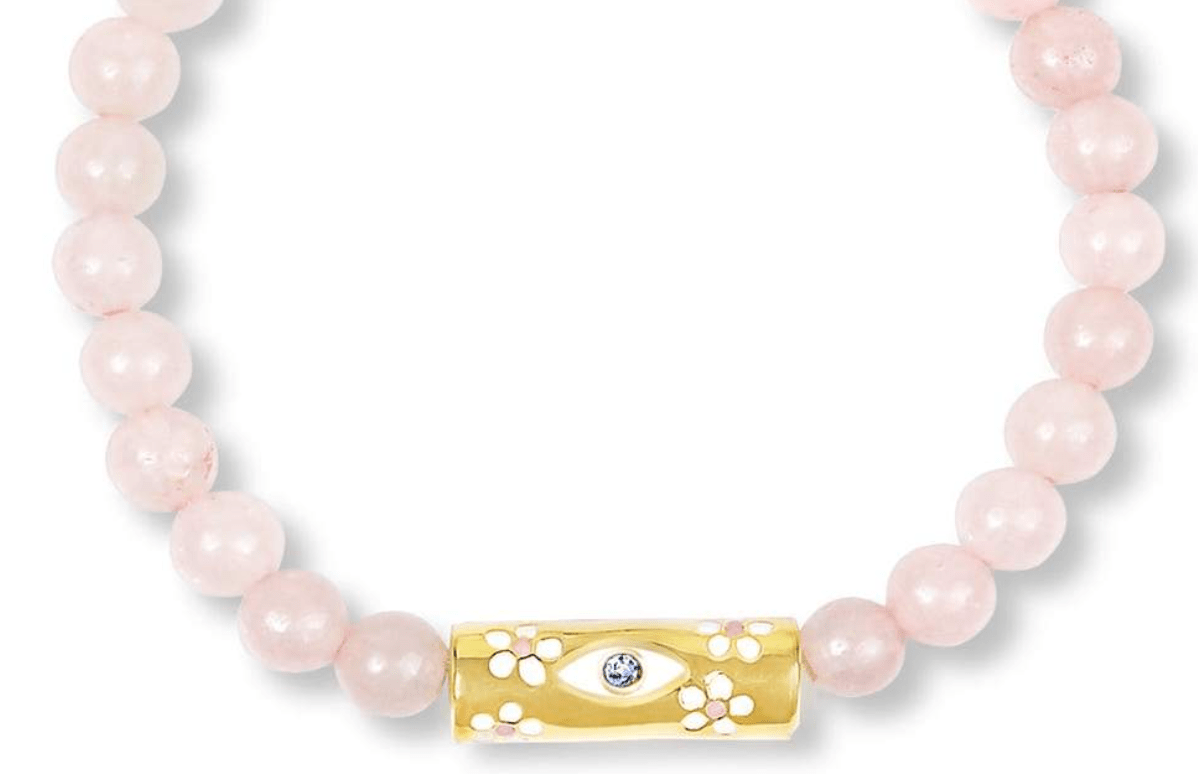 This beautifully designed, Fair Trade bracelet retails for $199. Rise Quartz beads are set on a gold-plated, sterling silver band. An Evil Eye charm wards off negativity and misfortune, while the daisy motif is meant to evoke innocence and a playful spirit. It has a flexible stretch fit and a diamond chip. Buy Here.
Classic Rose Quartz Linear Tennis Bracelet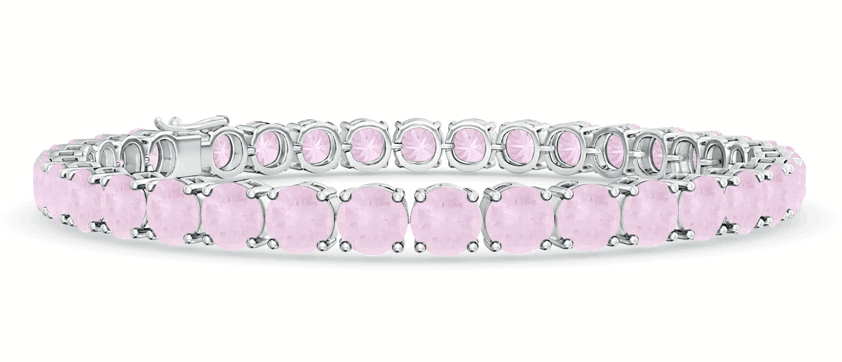 If you like the look of a Feng Shui tennis bracelet but have a higher budget, I recommend this bracelet from the Angara. The Angara is revered for its diamonds and gemstones, and here you have the option to buy the highest quality quartz. Select from Good to Heirloom quality stones, set on a sterling silver band with a traditional bracelet clasp. Priced from $881 to $1,637; Buy Here.
Frequently Asked Questions
Question: Where can I buy freshwater pearls?
Answer: Pearl bracelets are also used in the practice of Feng Shui. Often you'll come across synthetic pearls, but it's certainly not impossible to also find real freshwater pearls. Fine jewelers, such as Brilliant Earth, Jared, and others offer freshwater pearls.
Question: How do you activate Feng Shui bracelets?
Answer: For Pixui Feng Shui bracelets, many follow a series of steps believed to activate the bracelet's powers. Place your bracelet in a sterling silver bowl filled with gems, gold, silver, or other valuables. Most regularly switch out items for each 'activation.'
Question: How do you clean a black obsidian Feng Shui bracelet?
Answer: Clean any Feng Shui bracelet with care, as you would any bracelet. If you buy a bracelet with a metal that can tarnish, such as sterling silver, you'll need to make sure you keep the bracelet moisture-free and dry it completely. If you want to practice cleansing for Feng Shui– thought to restore the bracelet's energy– leave it either in moonlight or sunlight to recharge.
Final Thoughts
The practice of Feng Shui is all about balance and promoting positive energy in your life. Whether you fully ascribe to Feng Shui principles or not, these bracelets are steeped with symbolism and a meaningful accent to any outfit.