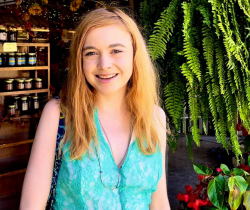 Latest posts by Erin Jamieson
(see all)
From statement rings to engagement rings and glamorous Cartier necklaces, diamonds are the most sought-after gemstone. But in 2022, ankle bracelets are providing plenty of fresh ideas for diamond accessories.
Diamond ankle bracelets have appeared on multiple fashion news outlets as a must-have-trend for 2022. And we've seen that in public too, with celebrities like Rhianna wearing diamond ankle bracelets to go from day to night with her look.
Some outlets are going so far as to claim that diamond anklets are the one accessory to focus on for the warmer months. At the same time, luxury jewelry designers and designers focused on sustainability are dipping their toes into the trend by offering their diamond ankle bracelets.
But while there's little doubt that many are considering diamond ankle bracelets, is the trend right for you? Consider this your guide to the best diamond ankle bracelet ideas for 2022. I'll tell you what to consider for buying, then provide links for where to buy some of my favorite picks.
What are ankle bracelets?
An ankle bracelet, otherwise known as an anklet, may seem like a modern trend, but it dates back to the Ancient Egyptians. You may also come across other names, such as an ankle chain, or, more uncommonly, an ankle ornament.
Ankle bracelets are simply bracelets that are worn around the ankle. They're most commonly silver, and sometimes other precious metals, such as gold. Casual anklets are sometimes made with rope or other fabrics.
What does wearing an anklet mean?
Anklets have different meanings and use based upon the culture and region of the world. In modern Egypt, anklets are no longer commonly worn, except for dancers, as is also the case in Sri Lanka.
However, anklets are common in India, as well as Bangladesh– both by dancers and as a fashion statement. Anklets are meaningful in India as symbols of marriage and used for weddings. In the Middle East in general, anklets are sometimes used as indicators of social status.
The United States and Europe
Anklets have become popular fashion statements, and many simply wear them for that purpose. That said, some associate anklets as indicators of relationship status. An anklet has sometimes been associated with being open to relationships, or even to non-committal relationships.
That said, these associations aren't commonly known or practiced in the United States, and you shouldn't feel you can't wear a diamond ankle bracelet if you don't feel the associate applies to you. In fact, in some cultures, an ankle bracelet can mean that you're married.
How do I wear an ankle bracelet?
Even if you're interested in the trend, there's some confusion about how to wear an ankle bracelet, regardless of the style you're opting for. So here's a quick guide to wearing and styling your ankle bracelet.
What does it mean to wear an anklet on your right ankle?
If you are concerned about the symbolism, typically a left ankle bracelet is associated with being open to relationships, while a right ankle bracelet can indicate that you're married. Yet not many people are aware of this.
Is it OK to wear anklets on both ankles?
You can certainly wear anklets on both ankles. Symbolism aside, there is nothing wrong with wearing them as you like. If you do opt for anklets on both ankles, I recommend pairing them with some plain heels or flats.
Where should I wear an ankle bracelet?
Ankle bracelets are typically worn for getting together, but not for work situations. The most popular places to wear ankle bracelets include festivals, vacations, parties, and other more casual events. Of course, a diamond ankle bracelet is a bit more formal, so you could easily wear it for cocktail attire events.
What should I wear an ankle bracelet with?
Ankle bracelets are typically used to add accents to classic and solid color outfits. Mini dresses, bodycon dresses, and even boho styles pair well with ankle bracelets. Some even pair with sundresses or leggings. For shoes, keep things simple and draw attention to the anklet.
How do I decide on what diamond anklet to buy?
Before you buy a diamond ankle bracelet, there are several things you should consider. Beyond deciding whether or not the diamond ankle bracelet trend is right for you, you need to know how to select the right one for you, your budget, and your expectations.
How much does a diamond anklet cost?
As is the case with any diamond jewelry, a diamond anklet's cost varies quite a bit. Cost depends upon the overall carat weight of the diamonds, as well as aspects of the diamond's quality (color, cut, and clarity). Another factor includes the metal type and the jewelry maker.
Expect to pay a minimum of around $90, and up to over $1,000. It's hard to find many diamond ankle bracelets, though, that is far above the $2,000 price point. Look for sales too: I find that ankle bracelets are often on sale from reputable brands.
What should I look for when buying a diamond anklet?
Think about the factors that go into the price point of a diamond anklet. I am less choosy when buying an anklet vs a diamond ring for a few reasons. One, you're likely to wear it less, and two, you simply have fewer options.
That said, make sure you're being offered a fair price for what you're getting. There should be some information about the diamond cut and clarity (which impacts both value and brilliance). For materials, sterling silver is more affordable and perfectly suitable. That said, make sure it's 925 sterling silver, and do be aware it can tarnish. Solid gold and stainless steel would be more durable.
How can I tell if my diamond anklet is real?
The greatest concern when buying a diamond anklet is making sure you're buying a genuine diamond anklet. First, make sure you're buying from a reputable seller. You should be able to find some information about them outside the website. If they have a Better Business Bureau profile, I recommend buying only from companies that have a B+ rating or above.
Next, read the descriptions carefully. Lab-created diamonds are real diamonds, as are natural diamonds. But anything that says simulant, or has fine print, beware that you might not be buying a real diamond anklet.
If you've already bought your anklet, you could have it sent off for an official evaluation from AGS or GIA. An easier test? If you spot a circular reflection in the diamonds, it's fake. Also, diamonds reflect clear and white light. They should not have multicolored scintillation. When in doubt, don't buy. Sometimes your gut instinct tells you, and if something is much cheaper than you'd expect, they may likely be using something like Cubic Zirconia instead.
Diamond Ankle Bracelets: My Top Picks
Now I'll give you my favorite ideas for diamond anklets in 2022. These include charms, fine chains, and more. From whimsical to classic to refined, here are my recommendations for the best diamond ankle bracelets. Hopefully, they'll provide some inspiration for your shopping.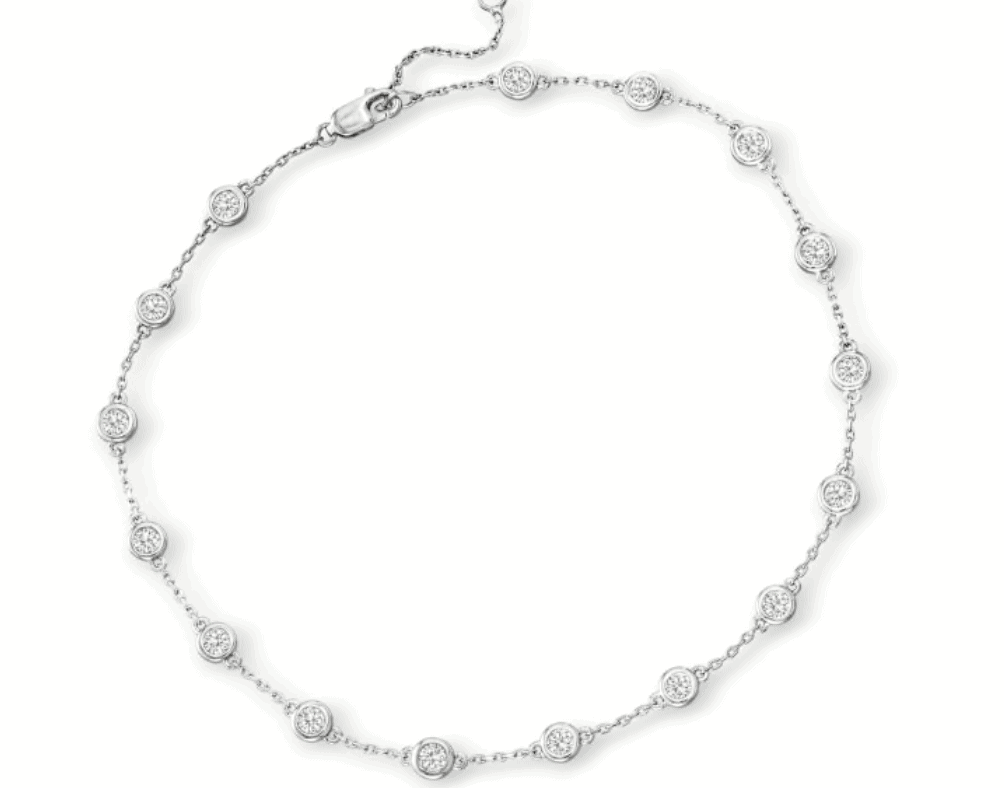 A station anklet consists of accents or adornments, evenly spaced out, most often on a delicate chain. This beautiful around $469 Ross Simmons anklet features 1.25 carats of round brilliant cut diamond for extra sparkle, set on a polished sterling silver chain. Buy Here.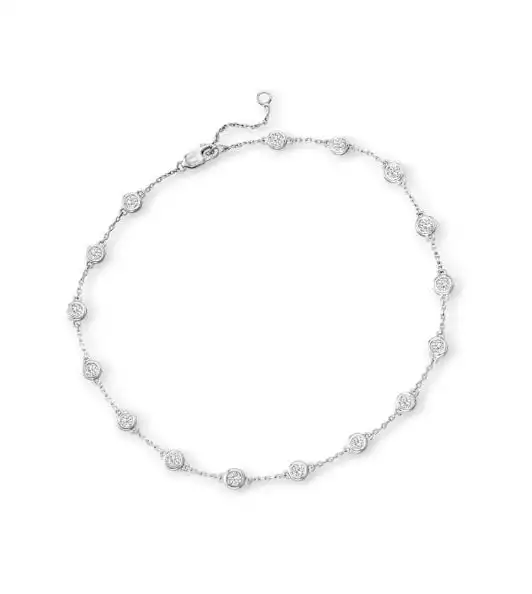 Bezel set diamonds may appear a bit smaller, but they've become popular for a few reasons. They're especially practical for ankle bracelets, offering not only a clean, modern look but also more security and easier cleaning. This bezel set anklet bracelet retails for around $974 and has a total weight of 0.5 carats. The 14K white or yellow gold also makes for a more durable option. Buy Here.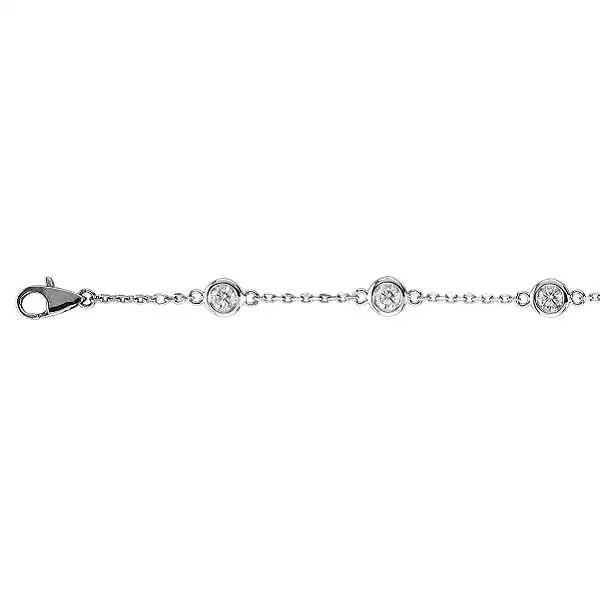 Diamond Anklet Bracelet Bezel | Allurez
Add some dazzle to your step with this timeless diamonds by the yard bezel-set anklet which consists of 7 glittering round cut diamonds with a total weight of a half-carat.
Check Price
We earn a commission if you make a purchase, at no additional cost to you.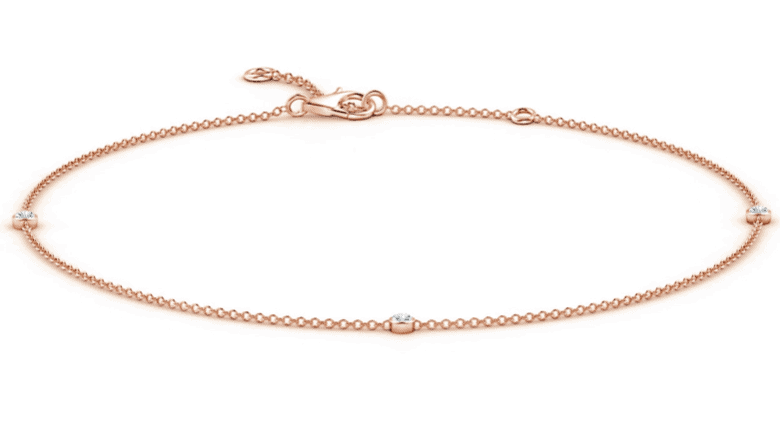 If you love the look of a station anklet and the modern appeal of bezel-set diamonds, consider this option. Angara is one of the leaders in the jewelry industry, and here you can see why. Select from the diamond quality of your choice, and 14K white, rose, or yellow gold. The total carat weight is 1/10, making for a more subtle sparkle. Priced at $692- $872; Buy Here.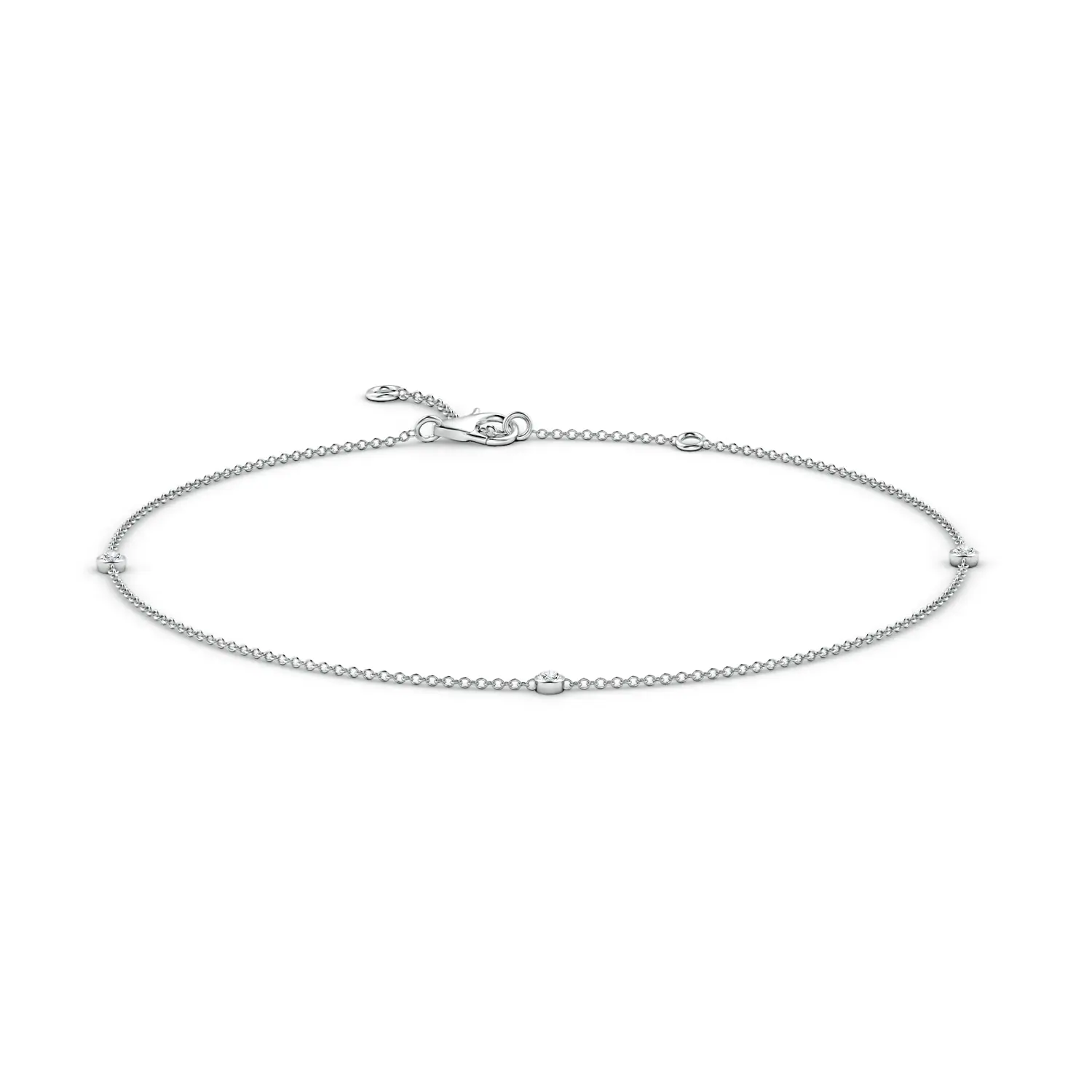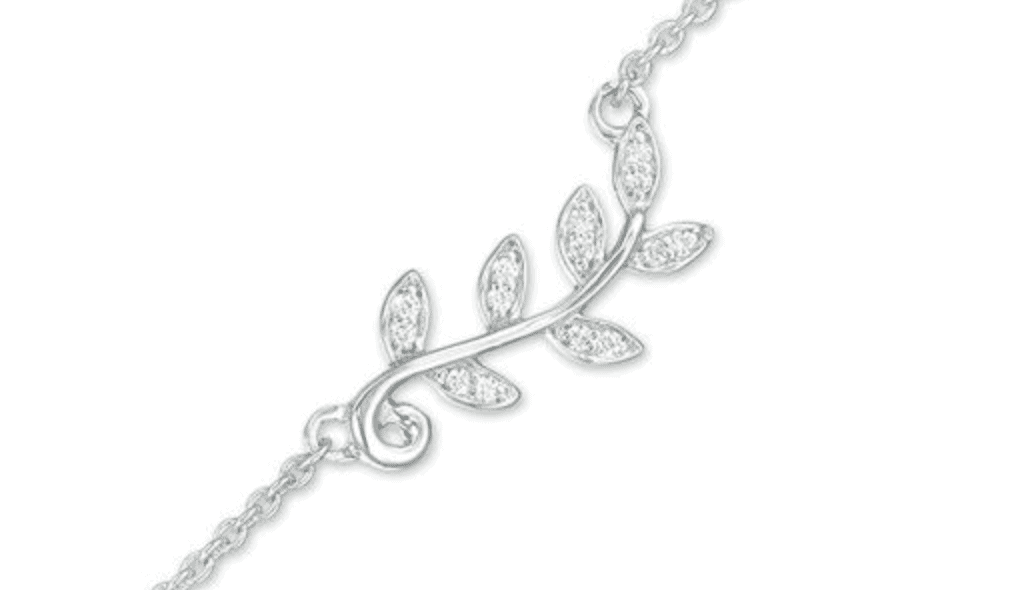 Zale, another leading diamond manufacturer, brings forth a playful pendant ankle bracelet. 1`/.20 carats of diamonds accent a leaf pendant, set on a delicate sterling silver chain. This look is not unique, but it's also a great option if you want a more casual ankle bracelet without too much sparkle. Priced at around $99. Buy Here.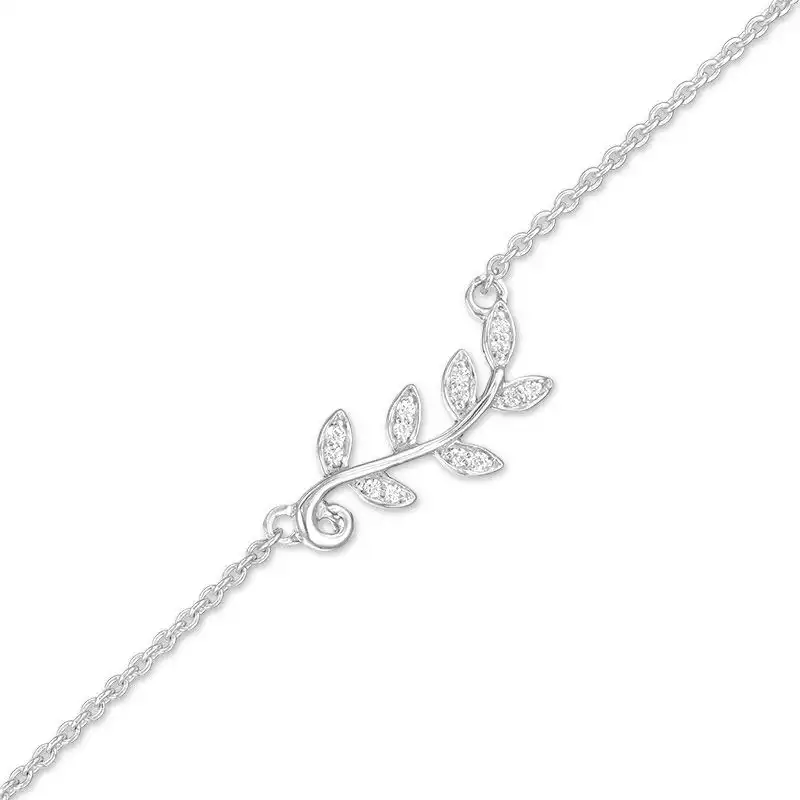 Diamond Leaf Anklet | Zales`
Delight her with this nature-inspired diamond anklet. Crafted in sterling silver, this charming design features a sculpted curved branch adorned with shimmering diamond-touched leaves.
Check Price
We earn a commission if you make a purchase, at no additional cost to you.

If you've ever looked at diamond rings, chances are you've at least heard of Jared. This modern and classic style shows what the brand is known for. Three circular pendants are accented with 1/10 carats of diamonds and set on a sterling silver chain. It's a modern and versatile look. Retails for around $179.99; Buy Here.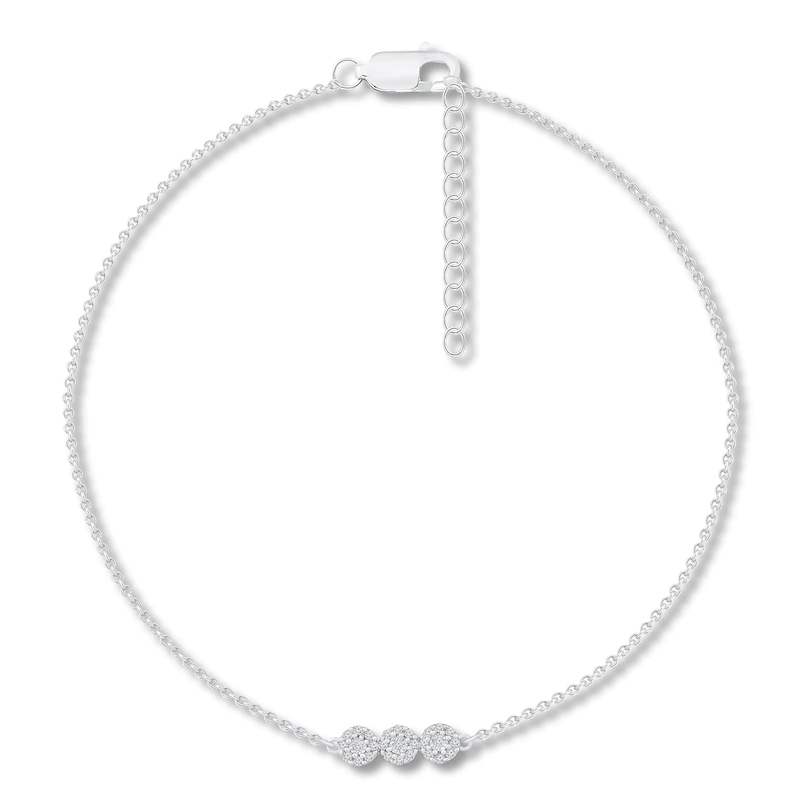 Three Circle Diamond Ankle Bracelet | Jared
Three brilliant clusters of round diamonds form the chic center of this stylish women's anklet. Crafted in sterling silver, the total diamond weight of the anklet is 1/10 carat.
Check Price
We earn a commission if you make a purchase, at no additional cost to you.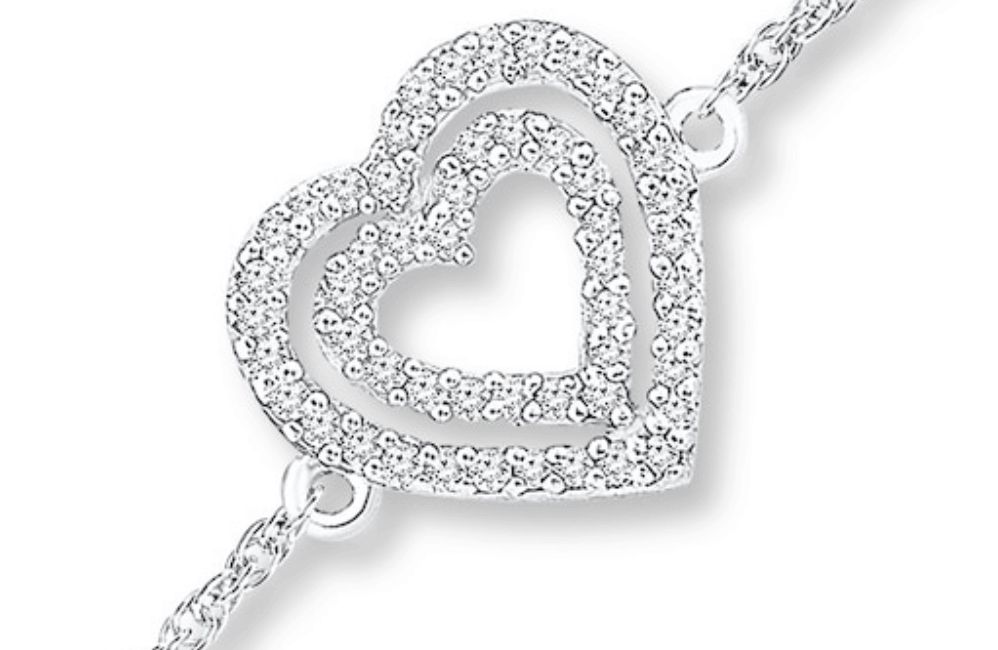 Kay Jewelers is under Signet Jewelers– the parent company of Jared, Zales, and other well-known names. This delightful heart ankle bracelet is for the young or romantic at heart. 1/10 carat of diamonds accent a heart pendant and are set on an elegant sterling silver chain. Priced at around $189; Buy Here.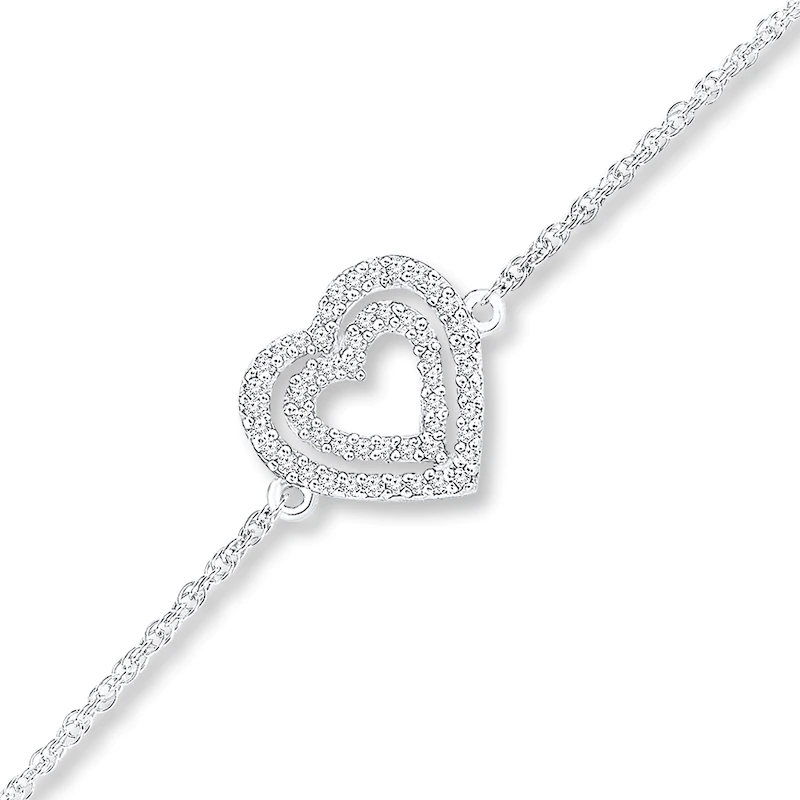 Diamond Heart Anklet | Kay Jewelers
Rows of diamonds totaling 1/10 carat form a heart in this lovely anklet for her. Fashioned in sterling silver, the 9-inch rope chain secures with a lobster clasp.
Check Price
We earn a commission if you make a purchase, at no additional cost to you.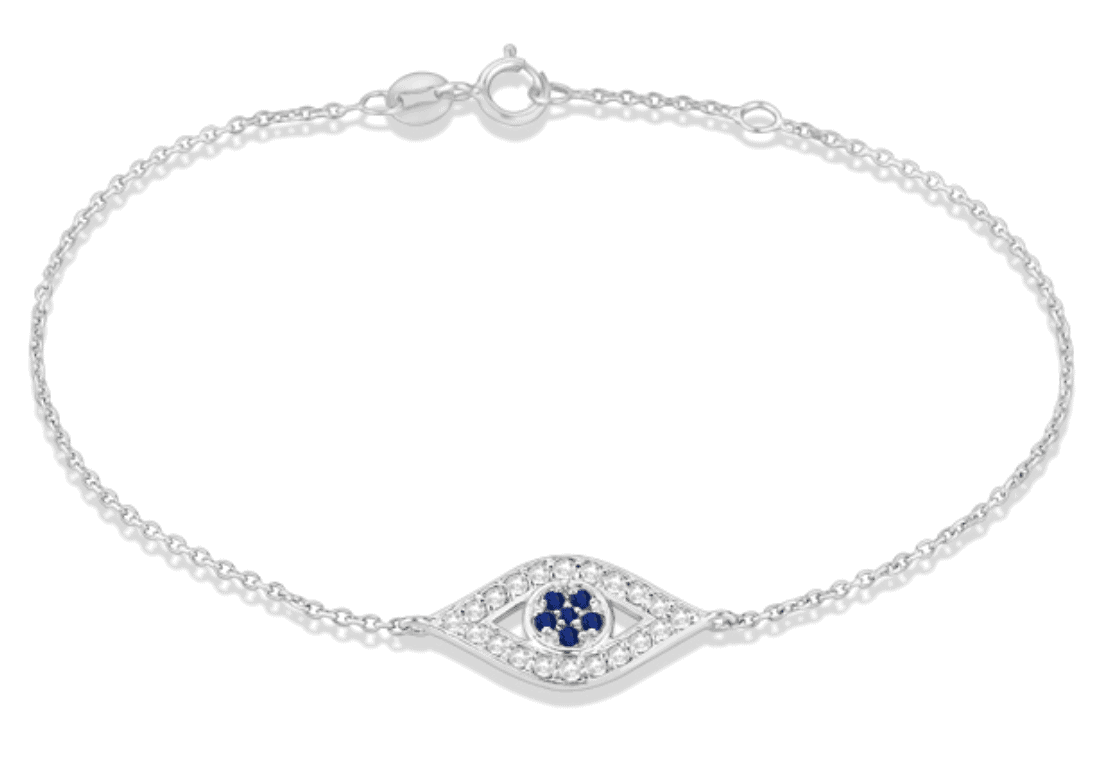 No doubt the most eye-catching ankle bracelet on this list, this look is for the bold. Evil Eye jewelry has become more popular amongst the general population, but it's also steeped with meaning. The Evil Eye is thought to protect the wearer and ward off ill-fortune. The blue sapphire stone is accented with diamonds, for a total carat weight together of 042. Select from 14K white, rose, or yellow gold. Retails for around $837; Buy Here.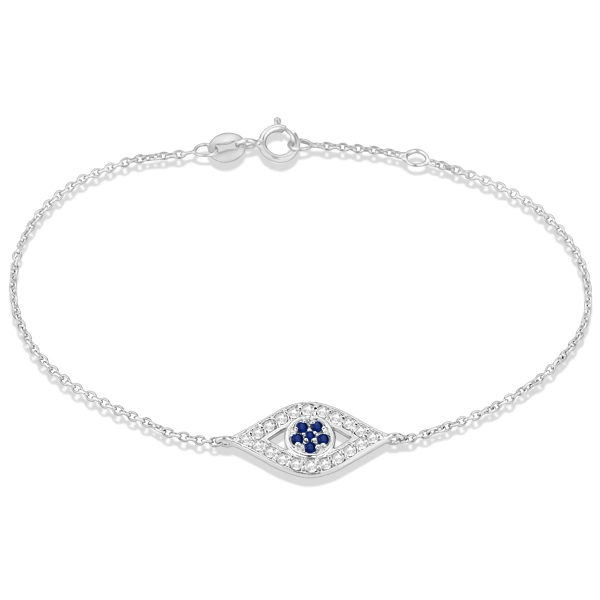 Blue Sapphire Evil Eye Diamond Ankle Bracelet | Allurez
Featuring a magnificent collection of gemstones and diamonds with 6 delightful blue sapphires totaling a profound 0.42 carats. The pave set stones twinkle along with the 14k white gold finish and will get you all the attention you deserve.
Check Price
We earn a commission if you make a purchase, at no additional cost to you.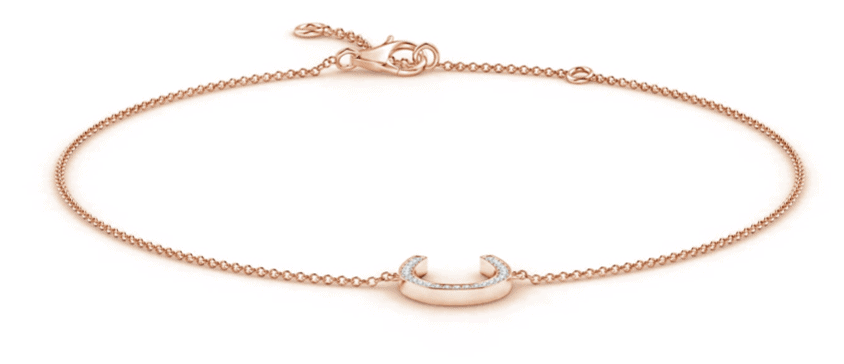 This Angara diamond anklet is the most expensive on my list, priced at $1,898 to $2,222. That said, the unique designs (that will especially appeal to horse lovers) doubles as a 'good luck charm and dazzles with 0.005 carats of round cut diamonds. Choose your diamond quality, and from 14K rose yellow, or white gold. Buy Here.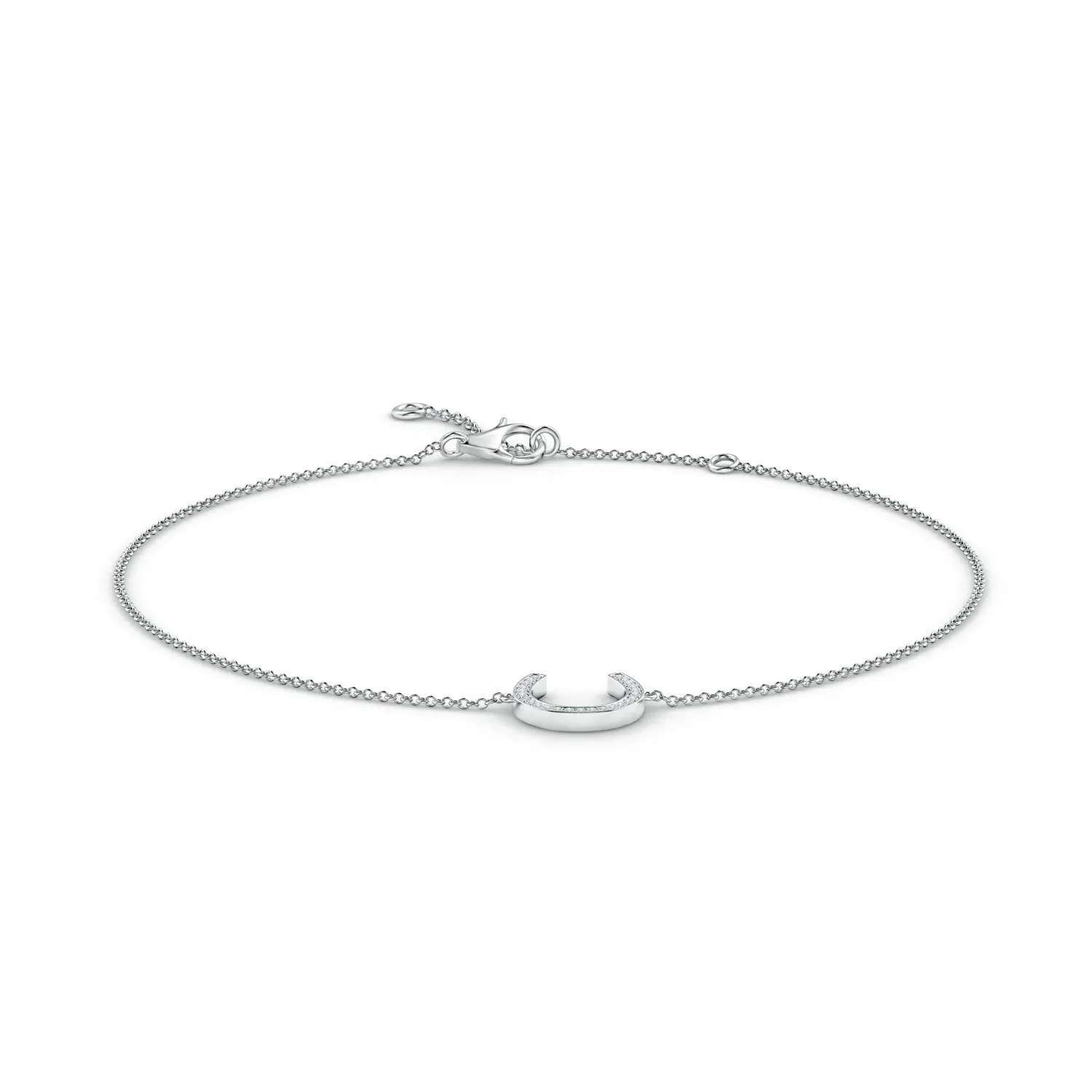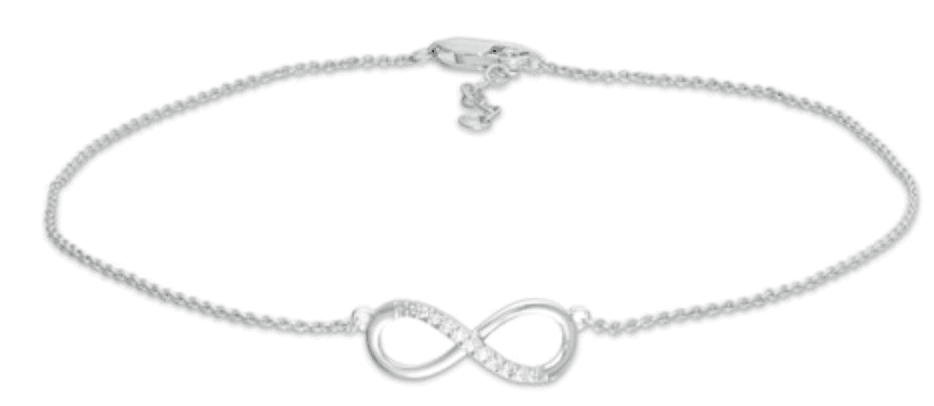 Infinity jewelry symbolizes something that will last forever, usually relationships– both romantic and platonic. 1/20 carats of accent diamonds stud a polished sterling silver pendant for a clean, modern look. Priced at around $109.99. Buy Here.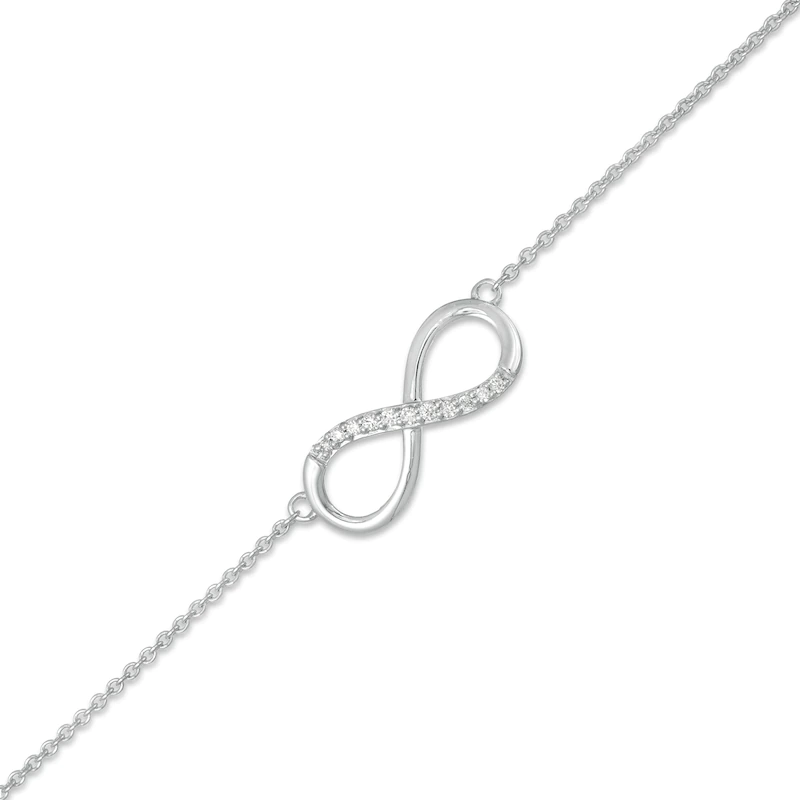 Diamond Infinity Anklet | Zales
So chic, this diamond infinity anklet is the perfect summertime accessory. Crafted in sterling silver, this effortless look showcases a sculpted infinity symbol shimmering with diamonds along the center.
Check Price
We earn a commission if you make a purchase, at no additional cost to you.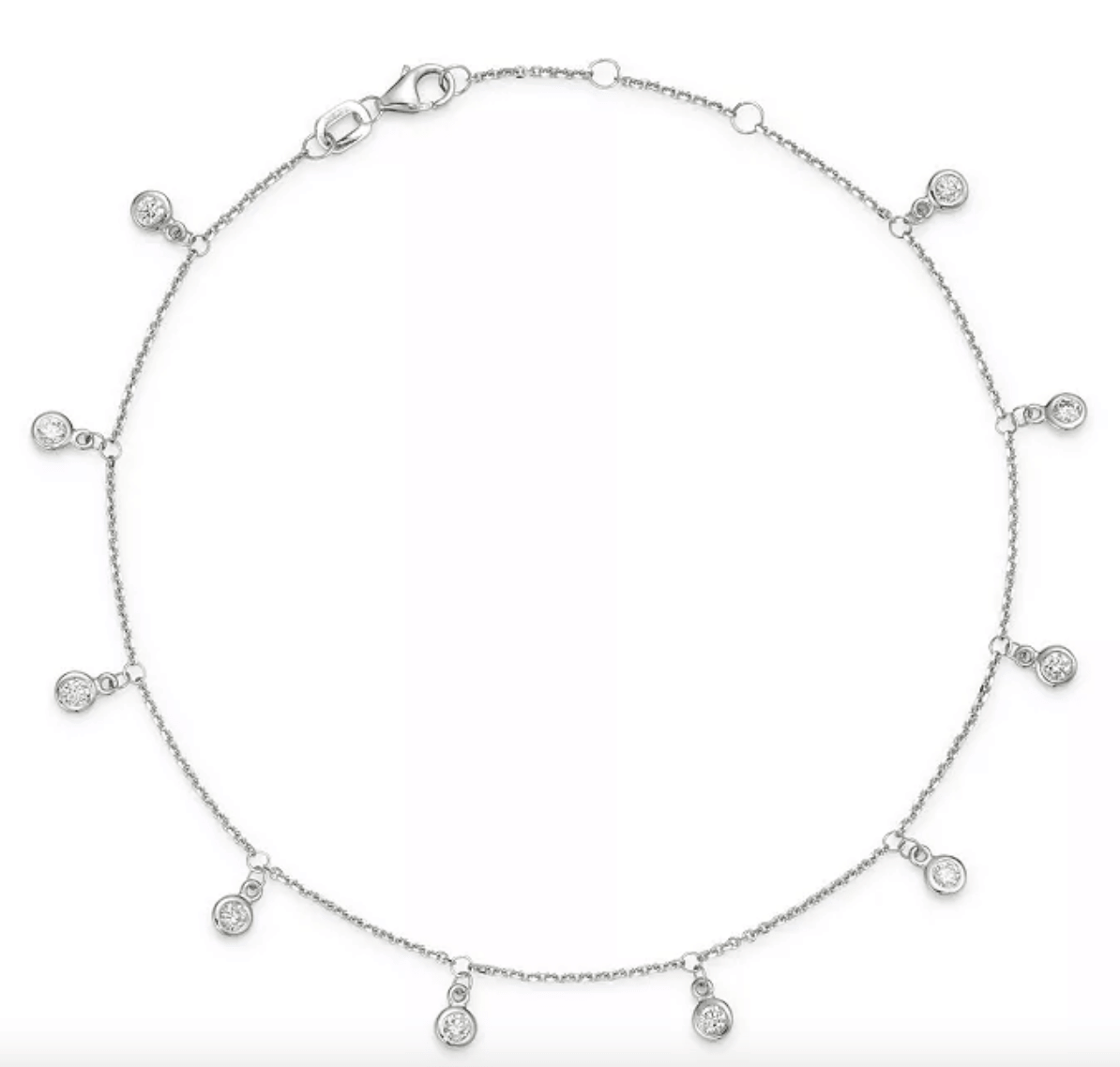 A Bloomingdale exclusive, this dazzling diamond anklet features 0.05 carats of sparkling diamonds. The bezel droplet style is modern, spirited, and a bit glamorous. Set on 14K white gold, with a lobster clasp closure; priced at around $2,200. Buy Here.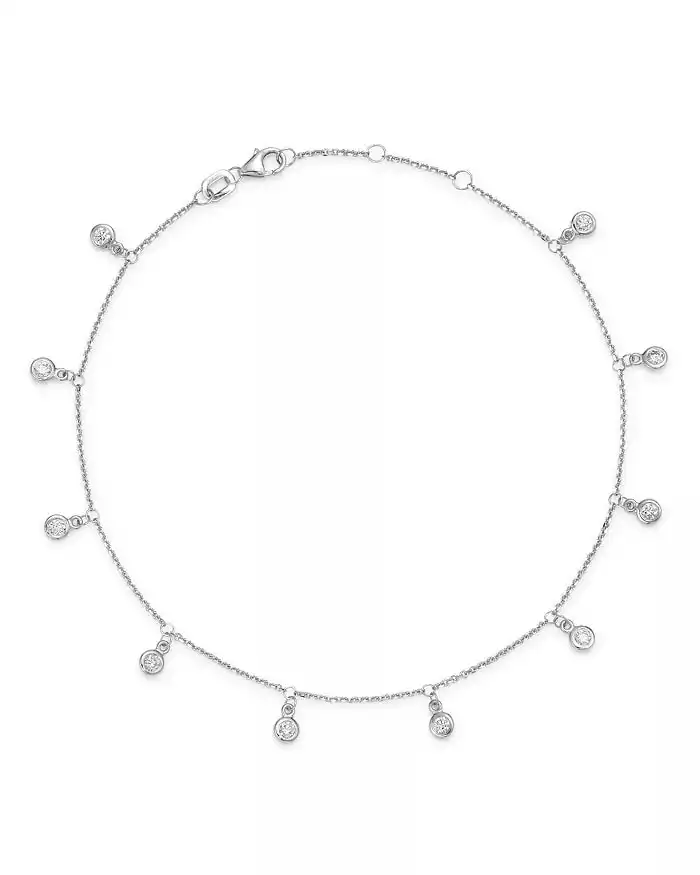 Diamond Bezel Droplet Ankle Bracelet | Bloomingdales
Sparkling bezel-set diamonds are dropped along the length of a white gold ankle bracelet. Almost all gemstones and blue and black diamonds have been treated to enhance their beauty and require special care.
Check Price
We earn a commission if you make a purchase, at no additional cost to you.
Frequently Asked Questions
Question: Are Kay Jewelers diamonds real?
Answer: Kay Jewelers uses real diamonds. However, they are not held up to the same standards as some of Kay's competitors. That explains why Kay tends to have more affordable diamond options. Companies like James Allen always sell GIA or AGS-certified diamonds. Kay, on the other hand, uses IGI certified diamonds. IGI has looser standards. As a whole, you can expect real diamonds from Kay, but they are not of the highest quality. For diamonds of exquisite quality and are also both conflict-free and sustainable, I recommend Brilliant Earth.
Question: Can you sleep with an ankle bracelet on?
Answer: While there is no official reason or rule against sleeping with an ankle bracelet on, I don't recommend it. A diamond or gemstone-based anklet especially can be uncomfortable. You're also more likely to damage your ankle bracelet. I also recommend removing your ankle bracelet for swimming or showering, especially if you buy a sterling silver chain or anything that can tarnish.
Question: Do guys wear ankle bracelets?
Answer: Ankle bracelets are most associated with women, but guys can wear ankle bracelets. While still not common, it is no longer unheard of to see an ankle bracelet on men. In the Middle East, the practice can be a sign of social status. In the United States, sometimes men style ankle bracelets with casual shoes or bare feet, on beaches. Ankle bracelets for men tend to be casual, rope or leather-based bracelets.
Question: Where is the best place to buy a diamond tennis bracelet?
Answer: Some ankle bracelets mimic the look of tennis bracelets. Tennis bracelets include symmetrical diamonds, set on the precious metal. Known for their classic sparkle, they can be pricey but also a beautiful accessory. In fact, many now wear tennis bracelets with casual and formal wear alike. I recommend buying diamond tennis bracelets from diamond specialty stores. These include Brilliant Earth, Angara, and James Allen, among others. You can also find diamond tennis bracelets from luxury designers.
Final Thoughts
Diamond ankle bracelets are an unexpected way to add a touch of sparkle to your look. If you're wearing a diamond anklet, you can opt for a more understated look, forgoing the necklace and bracelet. Of course, there is no one way to style an anklet. Have fun with it, and buy an anklet that fits your budget and expectations.