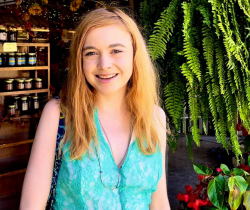 Latest posts by Erin Jamieson
(see all)
Gucci has had some missteps, most notably from a 2019 fashion decision that caused controversy on the Runway and off. But now it's using a new jewelry collection, including signature necklaces, to promote equality and identity.
Coming off of controversy, the luxury brand installed a diversity and inclusion team and began to try to make strides to reshape the Gucci image. And in 2022, that image is looking bright, with the brand as popular as ever, and doing more than just talking about representation.
Link to Love is a new Gucci collection featuring fine jewelry that's gender-neutral. A focus on minimalist styles makes it incredibly versatile for all. In some ways, of course, the sleek metal and geometric shapes also nod to competitors like Chanel, who have mastered the art of geometric sophistication.
Of course, this collection is also uniquely Gucci, with the brand name stamped on rings, bracelets, and necklaces. The necklaces feature minimalist chains, with the Gucci logo stamped across metallic bars. It's understated, modern, and very on-trend.
But Gucci of course has many necklaces to choose from outside the new collection. The question is: are Gucci necklaces right for you? And how do you find the best ones?
Consider this your guide to Gucci necklaces ideas. I'll tell you all you need to know, then give you my picks for the best necklaces you can buy in 2022.
At a Glance:
Best Gucci Necklaces

What does Gucci stand for?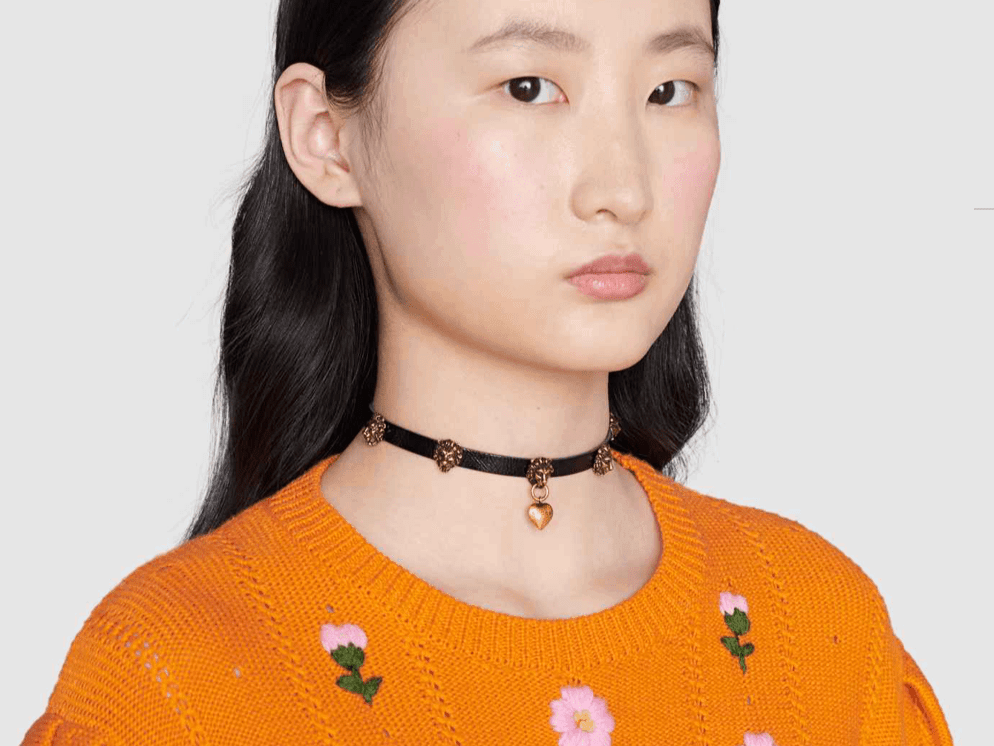 Gucci's main mission is to remain a leading luxury designer. Gucci sells jewelry, handbags, and other lifestyle items. That extends to footwear, makeup, perfume, and even home decor. Founded in Florence, Italy in 1921, Gucci has become one of the most well-known luxury brands in the world. They are now making efforts to commit to more sustainable sourcing.
By 2010, Gucci had established itself as a 'geek-chic brand and now has over 480 storefronts. Even with some missteps, Gucci is incredibly popular, for both its fashion and fine jewelry options.
Is Gucci jewelry good quality?
Gucci jewelry is not as uniform in durability as some luxury brands, mostly because it has different collections to cater to different consumers. The good news is that the overall quality is quite good. Gucci has unique designs, attention to innovation, and many styles that appeal to a wide range of consumers.
But all the materials they do use are of good quality. Materials used include platinum, solid gold, sterling silver, and leather. All of their diamonds are both authentic and conflict-free. Another thing that I do like about Gucci is that they oversee all of their production. That's a bit different than Pandora, which outsources all of its production in Thailand.
Even better, Gucci is continuing to work towards making all of its products sustainably sourced, and the bulk of its materials already are.
The main thing to stress here is that there is fashion jewelry and fine jewelry. While all Gucci products can hold value and are thoughtfully constructed, the fine jewelry options are both more valuable and are usually made with more durable materials. Of course, they are also more expensive and more suited for formal occasions.
All told, the bulk of Gucci jewelry is made with respectable quality materials.
How do I select the best Gucci necklace?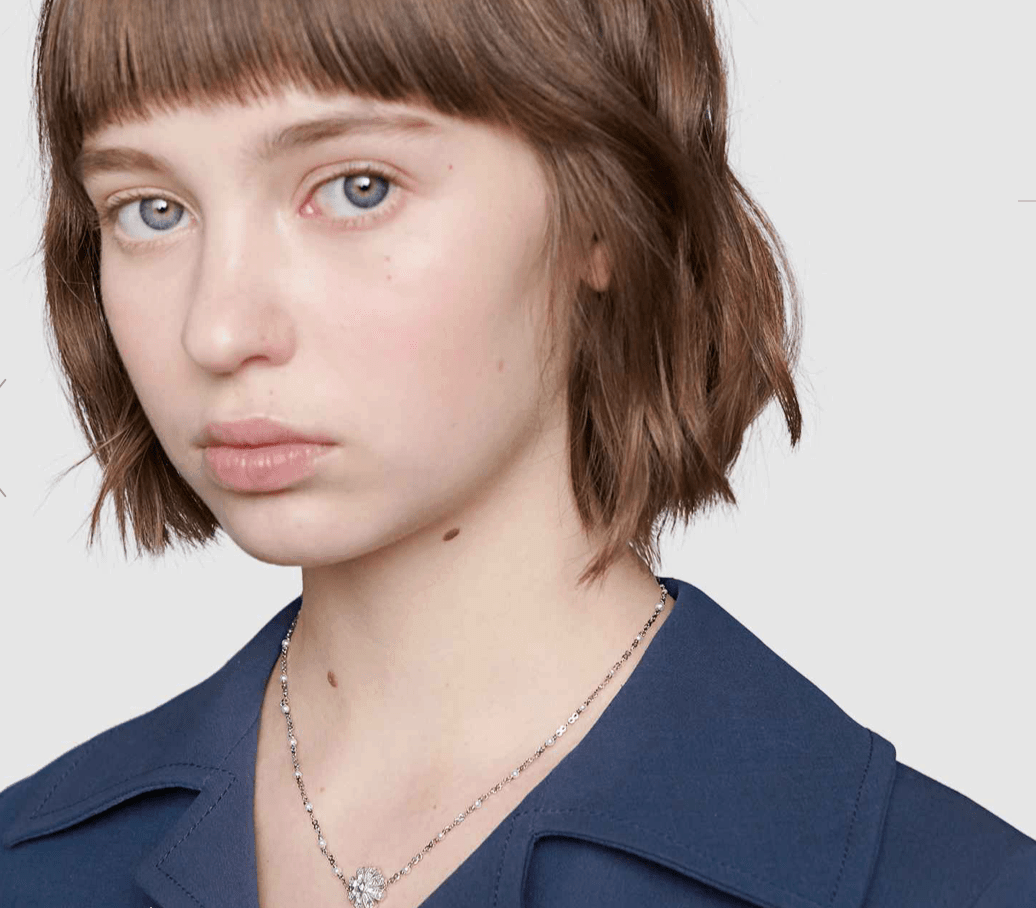 Before you buy a Gucci necklace, you likely have questions about the quality, how to care for them, and how to decide if a Gucci necklace is worth the price. Here's what you need to know before you buy.
Are Gucci necklaces real gold?
Gucci necklaces, like most of their jewelry, fall into two categories: fine or fashion jewelry. Gucci steers more toward solid gold– usually 14 or 18K– for its fine collection. For fashion collections, some necklaces have gold plating.
Both gold plating and solid gold are real gold, but they are different. Gold plating is a thin layer of real gold that covers another metal. This gives off a similar finish as solid gold, but it's not as valuable or durable.
Still, Gucci always uses both real gold and real silver for all of its necklaces.
Do Gucci necklaces tarnish?
Some Gucci necklaces are sterling silver. Sterling silver can tarnish over time, or when exposed to certain environments. To keep your Gucci necklaces at their best, store away any silver necklaces in a moisture-free environment and be careful not to shower with them on. For their solid gold necklaces, however, you shouldn't have to worry about necklaces tarnishing.
How much does a Gucci heart necklace cost?
If you're considering a popular necklace option, think about the Gucci heart necklace. It's an affordable option, costing as little as $299, depending on where you buy it. The Gucci heart necklace features the trademark Gucci name on a heart-shaped pendant on a sterling silver chain. It's a casual fashion option that's also sold through other retailers.
How can I tell if my Gucci necklace is real?
Granted, seeing as I mentioned other retailers, it's important to likewise address an important issue: how to tell if your Gucci necklace is real. If you're not shopping directly online from the Gucci official website, a physical storefront, or through a Gucci-approved seller, then you need to understand that Gucci fakes are widespread.
Avoid buying a fake necklace by first checking the price. It is far cheaper than listed in the store, that's a bad sign. Look carefully to make sure Gucci is spelled properly and professionally stamped. You should also see a "Made In" designation. Since all silver is produced in Italy (with a few in Switzerland), other countries listed are a sign it's a fake necklace.
Gucci Necklaces: My Picks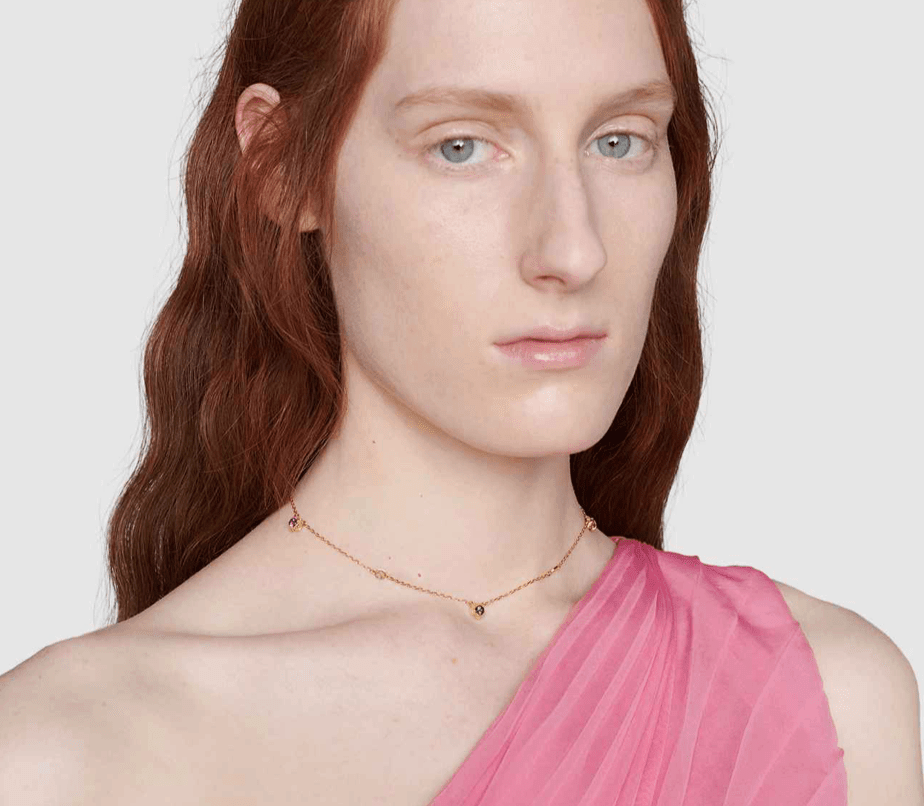 Whether you decide on a fine or fashion/costume necklace from Gucci, you'll have plenty of options. For my picks, I went for the most eye-catching, unique, or versatile from each collection. I've also made sure to include necklaces at as wide of a range of price points as possible, from relatively affordable to luxury.
All told, Gucci has a collection of necklaces that carry Gucci's reputation, but also offer a few surprises, for 2022 and beyond.
Gucci Fashion Necklaces
Priced from $290 to $2,950, with nearly 90 percent under $1,000, Gucci fashion necklaces are about as affordable as you can get from a luxury brand. These fashion necklaces also strike me as casual and approachable.
Most of the necklaces in this collection would not look out of place paired with jeans– but can also be dressed up. Playful animal and floral themes, chunky pendants, and crystal embroidery are the main highlights. Both sterling silver and sterling silver with a gold finish is widely used, so if you do buy one of these necklaces, take diligent care to reduce tarnishing.
Leather Choker with Square G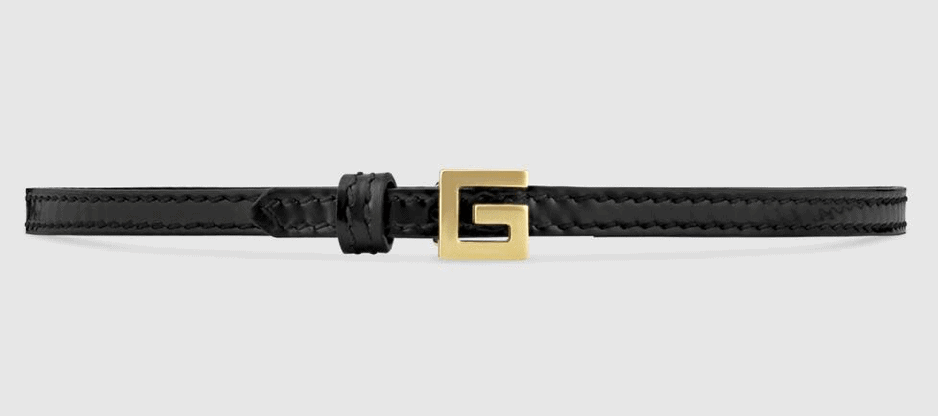 Choker necklaces are resurgence in popularity as a retro throwback and this necklace is quite practical. Priced at around $290, a polished G symbol is brushed with gold and set on patent black leather. The buckle is fully adjustable, ensuring a great fit. You can also buy a silver crystal version, though the matte gold finish is more understated for everyday wear. Buy Here.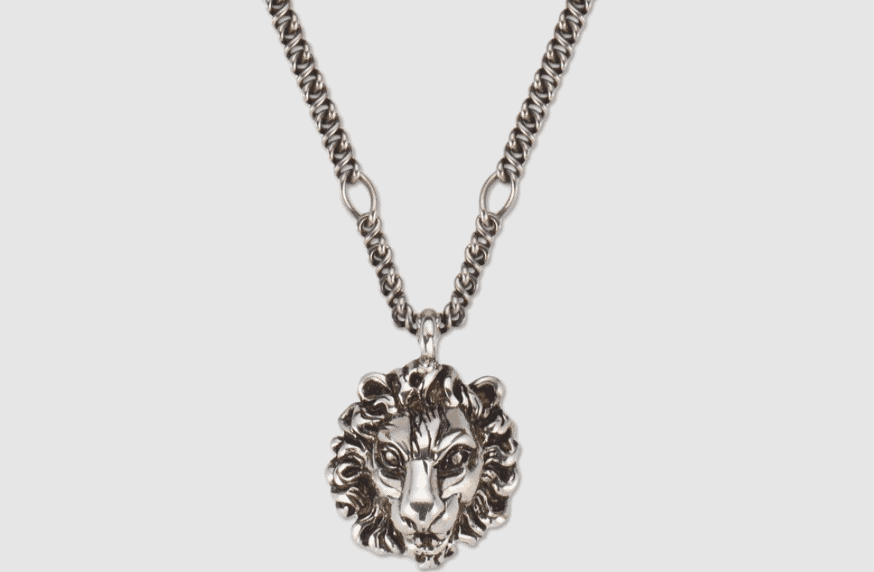 One thing Gucci is known for is its heavy emphasis on animal motifs. One of those recurring animal motifs is the lion, as you can see in this playful pendant necklace.
The lion is known as the king of the jungle and represents power and strength. Set on a hypoallergenic chain with a palladium finish, it's a well-crafted and spirited necklace. You can also bush a gold finish or lion head necklace with a crystal. The plain version, though, draws the most attention to the signature lion symbol. Priced at around $330; Buy Here.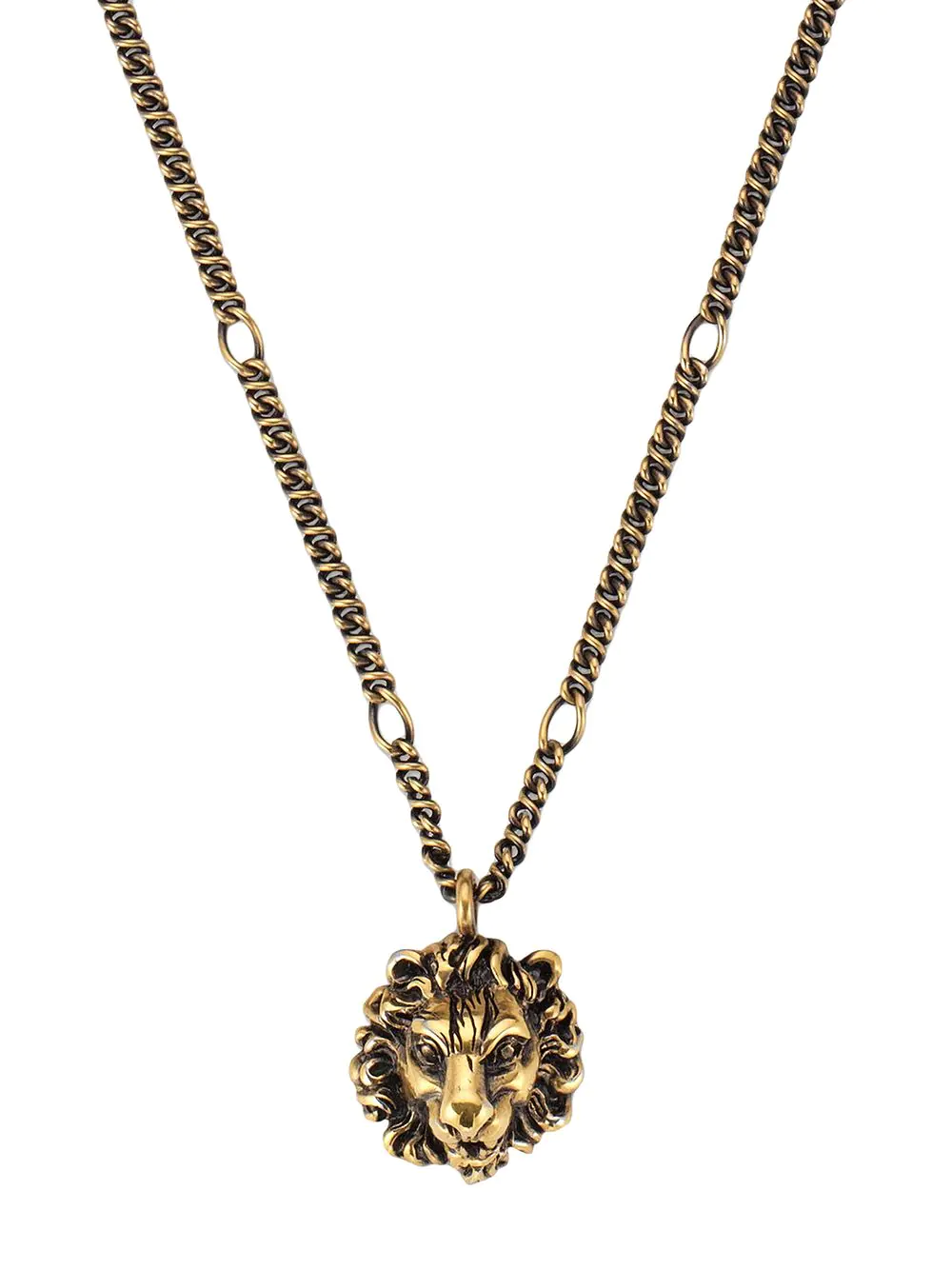 Anchor and Heart Necklace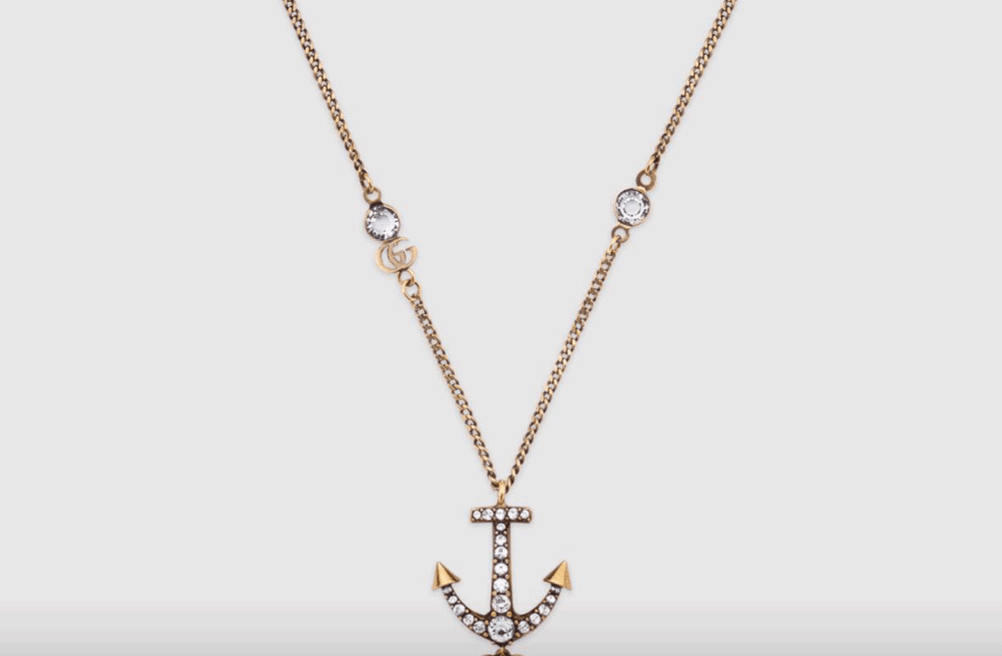 The nautical-themed necklace is at once playful and well designed. Coming from the Ouverture Collection, the anchor symbol has also been a Gucci symbol for a while. Crystal details draw attention to the anchor and interlocking G heart. The chain and pendant have an aged gold finish to mimic an antique look. Priced at around $550.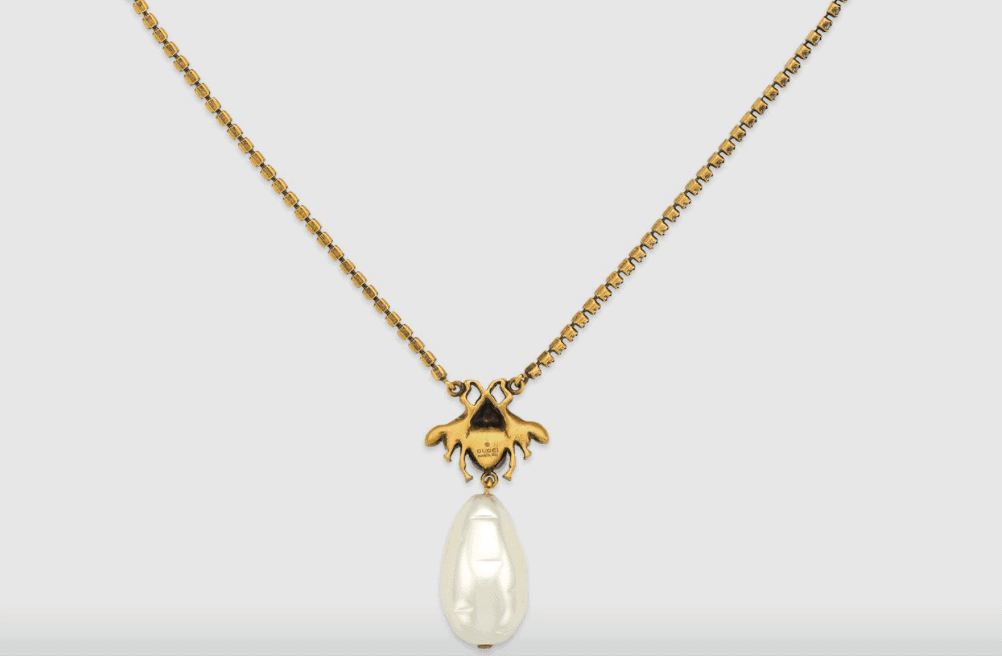 Since the 1970s, the bee has been a Gucci symbol. Bees, known for their hardworking nature, determination, loyalty to the hive, and more– bring a sense of energy to this necklace. Aged gold metals are enhanced with aged crystal accents and a cream-hued resin bee. The bee pendant accompanies the G symbol. Priced at around $550; Buy Here.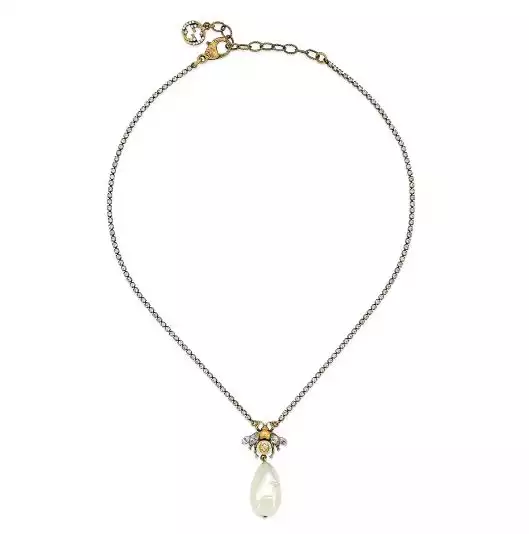 Bee Necklace with Pearl | Nordstrom
A glossy imitation pearl trails behind a bee with crystal wings and a thorax detailed with the recognizable interlocking Gs on a crystal-studded chain necklace.
Check Price
We earn a commission if you make a purchase, at no additional cost to you.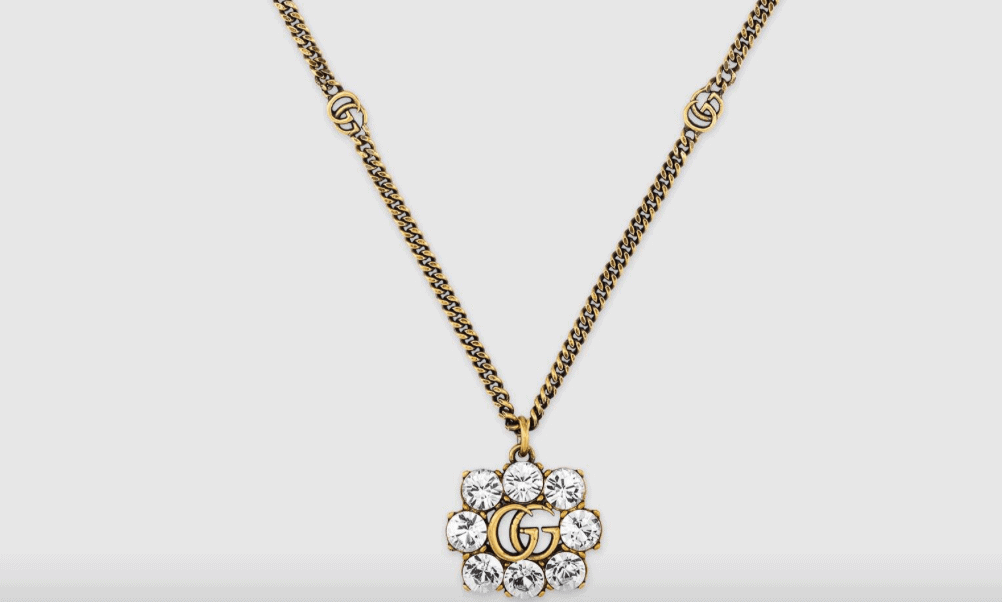 Retailing for around $650, this necklace is a good idea for anyone who wants a bit of glamour with the Gucci symbol, but without the high price point. Clear crystals surround the iconic Gucci symbol, set on an aged gold-finish chain. While eye-catching, it's subtle enough that it's versatile. Buy Here.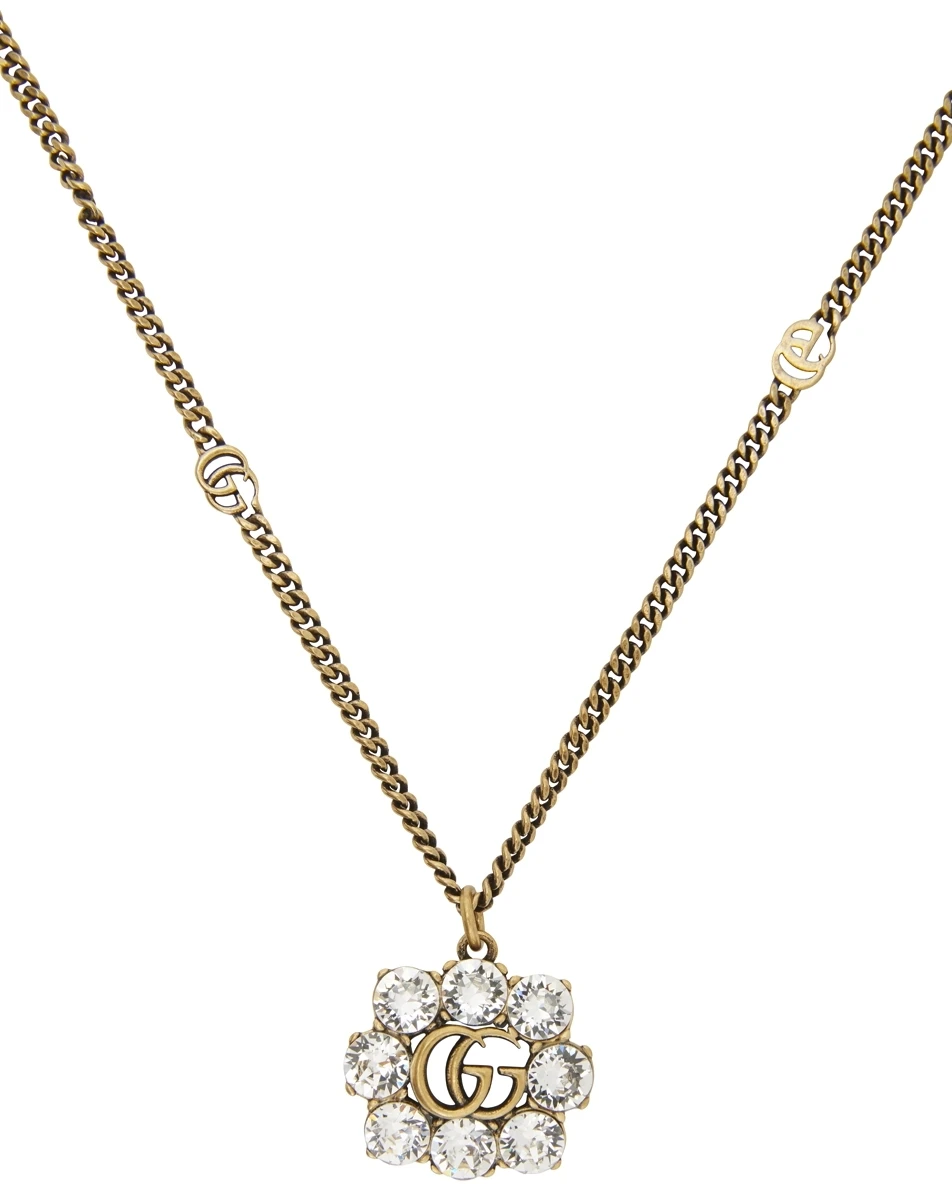 Crystal Double G Necklace | SSENSE
A signature emblem of the House, the initials of its founder Guccio Gucci define this necklace's pendant. Adding a refined feel, clear crystals frame the logo crafted from metal with an aged gold finish.
Check Price
We earn a commission if you make a purchase, at no additional cost to you.

Lion Head Leather Necklace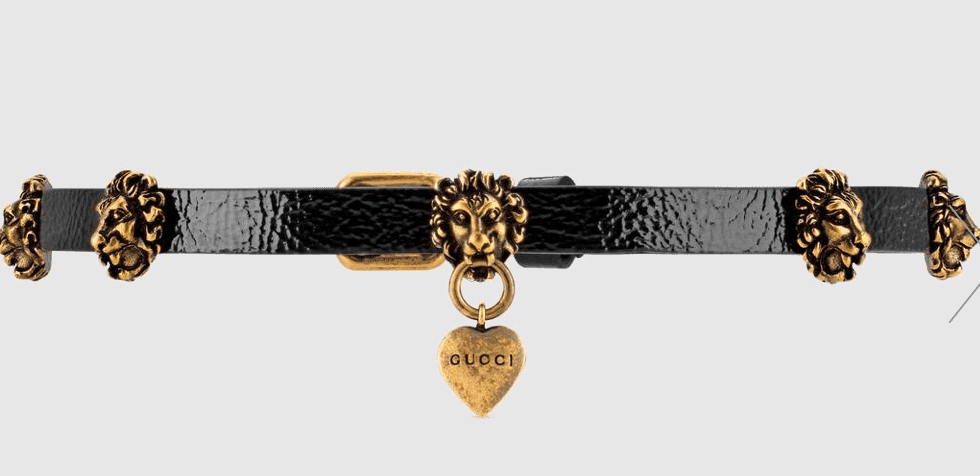 This leather necklace offers an alternative but sophisticated look. The lion head Gucci symbol motif is repeated around the perimeter. An aged gold finish provides contrast to the black leather. Priced at around $690; 
Flower Necklace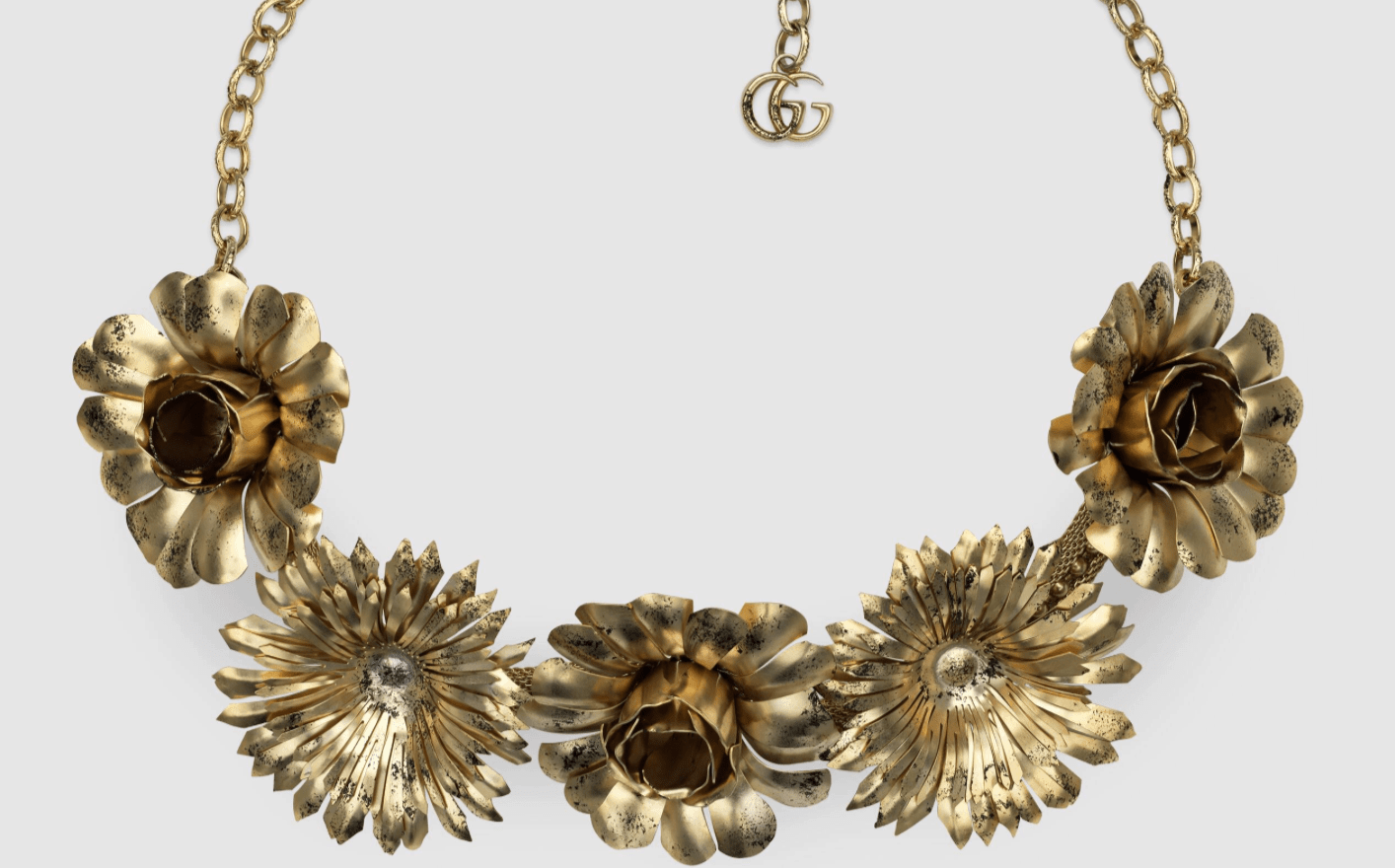 Embrace a maximalist look with this statement around $1590 necklace. Meant to evoke a garden in full bloom, oversized flowers are crafted with an aged gold finish. The florals also provide a bold vintage style, that would even look at home with a boho-inspired outfit.
Fine Jewelry Gucci Necklaces
In a relatively small collection, you can expect solid yellow, white, and rose gold chains. While Gucci fashion necklaces favor maximalist and more bold looks, these styles lean towards classic and refined. Diamonds, topaz, and pearls accent finer chains.
You'll also notice a heavier emphasis on the G symbol vs other motifs. Any of these necklaces are possible picks for semi-formal and formal outfits. Prices start at $670 (so some entry-level necklaces may be a better overall value here vs more expensive fashion necklaces) and go up to $7,300. However, the bulk of necklaces in this collection are priced between $980 to $2,900.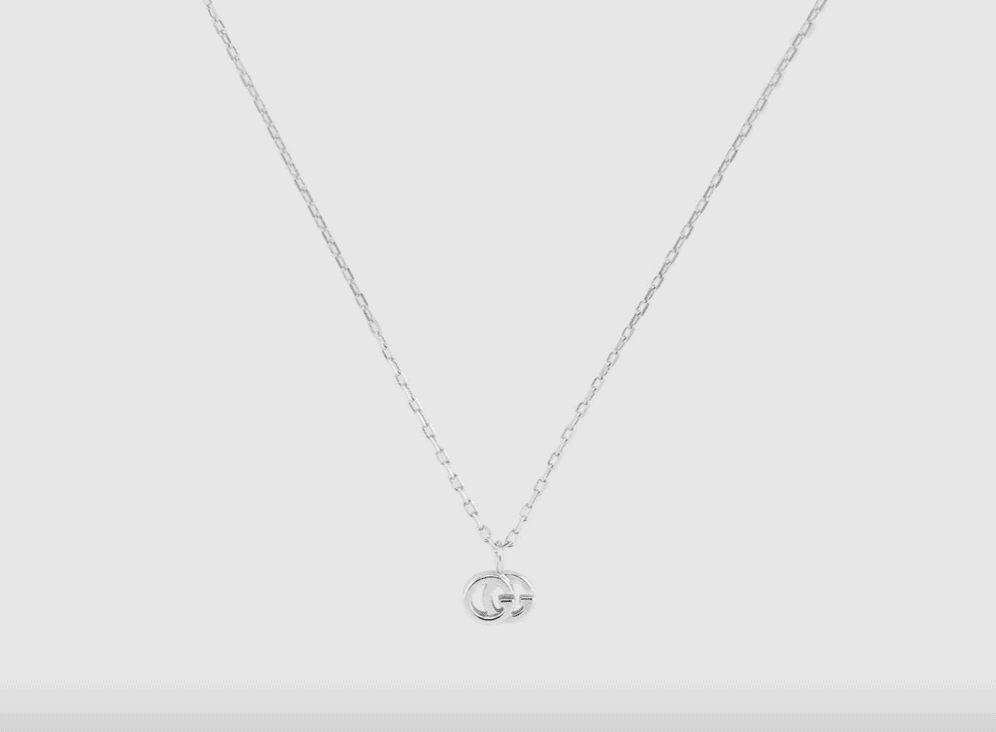 Priced at $980- $990, the GG Running necklace is a classic if you just want a go-to, for under $1,000. While not the most visually impressive, this necklace is the one I'd recommend most if you've never bought Gucci before. Available in 18K yellow or white gold, the Double G Logo is set on a fine chain. The look is exemplified with the yellow gold option with a small topaz accent. Buy Here.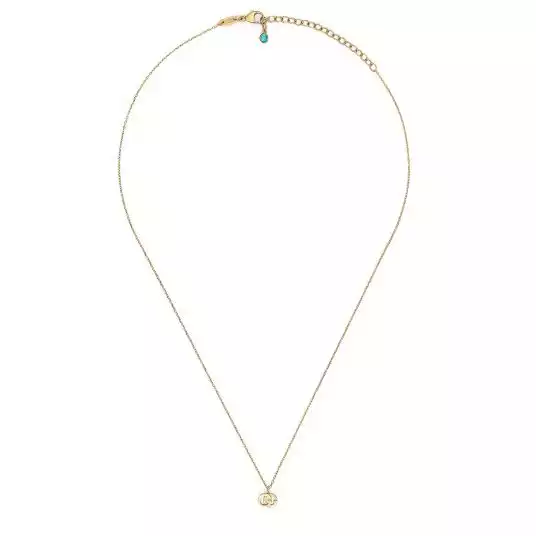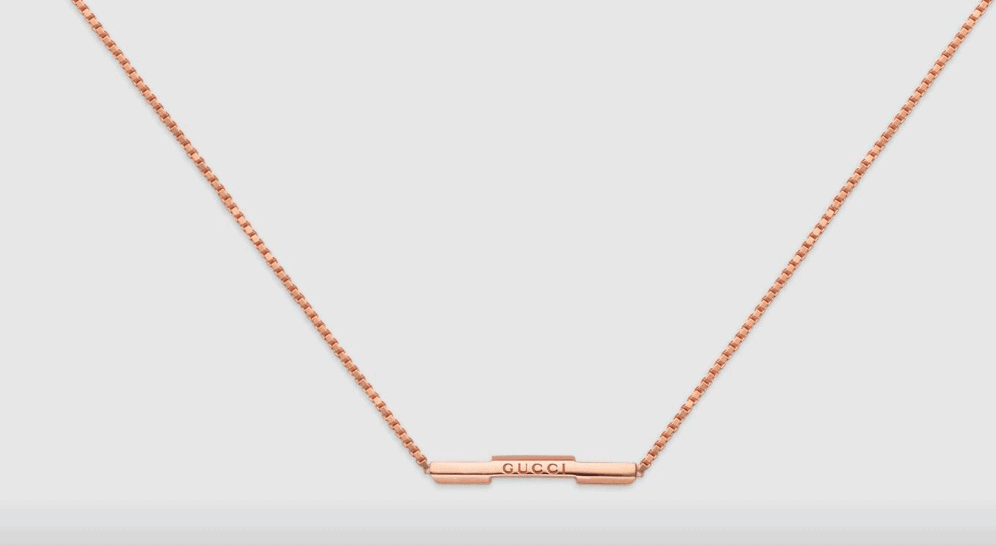 Retailing for $1390, this necklace is available in 18K rose or yellow gold. This is also an excellent necklace if you're looking for classic Gucci that you can wear with anything and wear anywhere. From the new collection, Link to Love, the designs are meant to explore all forms of love and modern romance. Easily layered with other necklaces and fully adjustable, I can see this necklace becoming a classic in the future. Buy Here.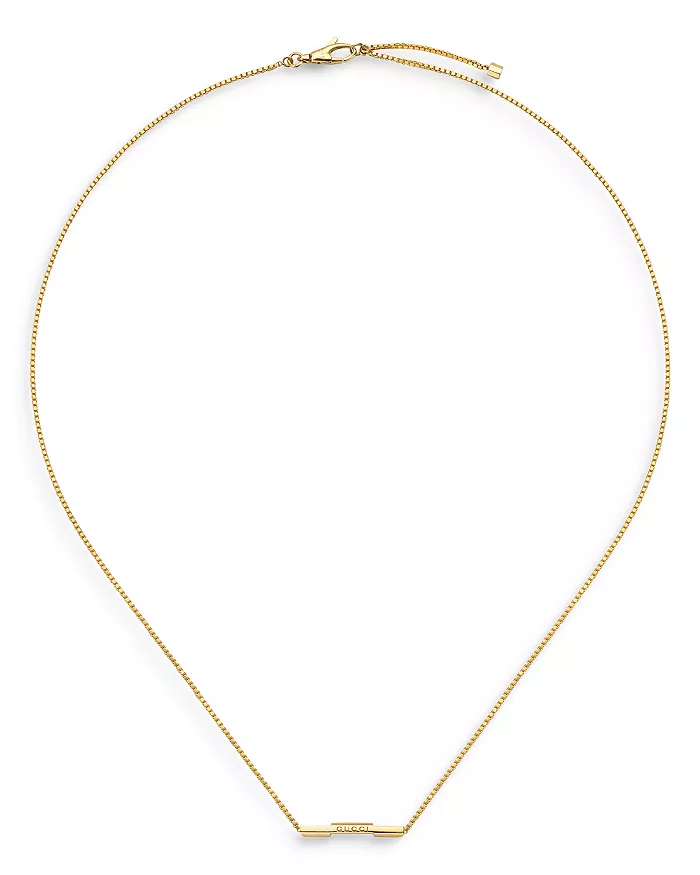 Le Marché de Merveilles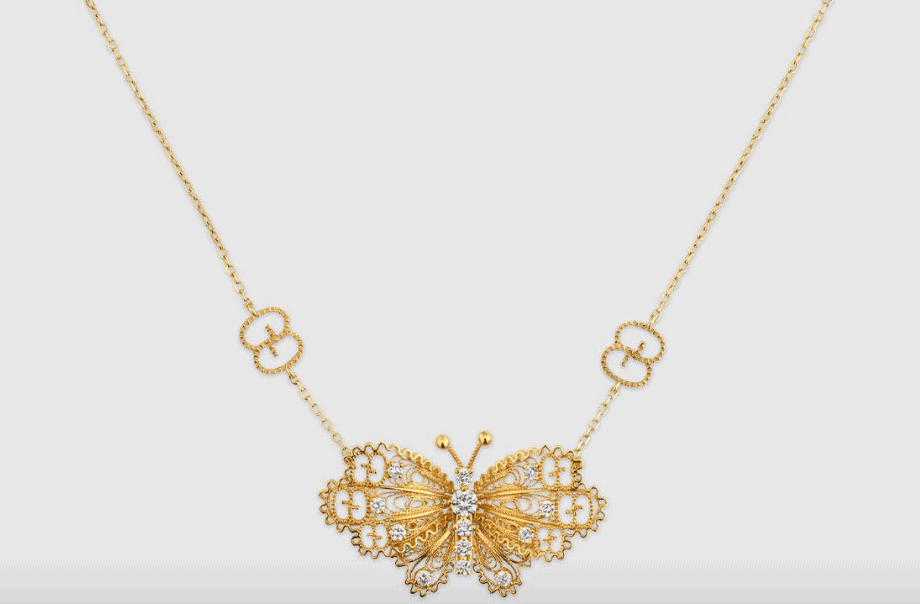 This charming around $2150 necklace features a solid gold butterfly pendant. Set on an 18K yellow gold chain, this necklace shines with GG symbols and small white diamond accents. A modern classic, there are enough details to keep the necklace interesting and alluring, but not so much that it distracts from the butterfly motif. Buy Here.
Interlocking G Necklace with Gemstones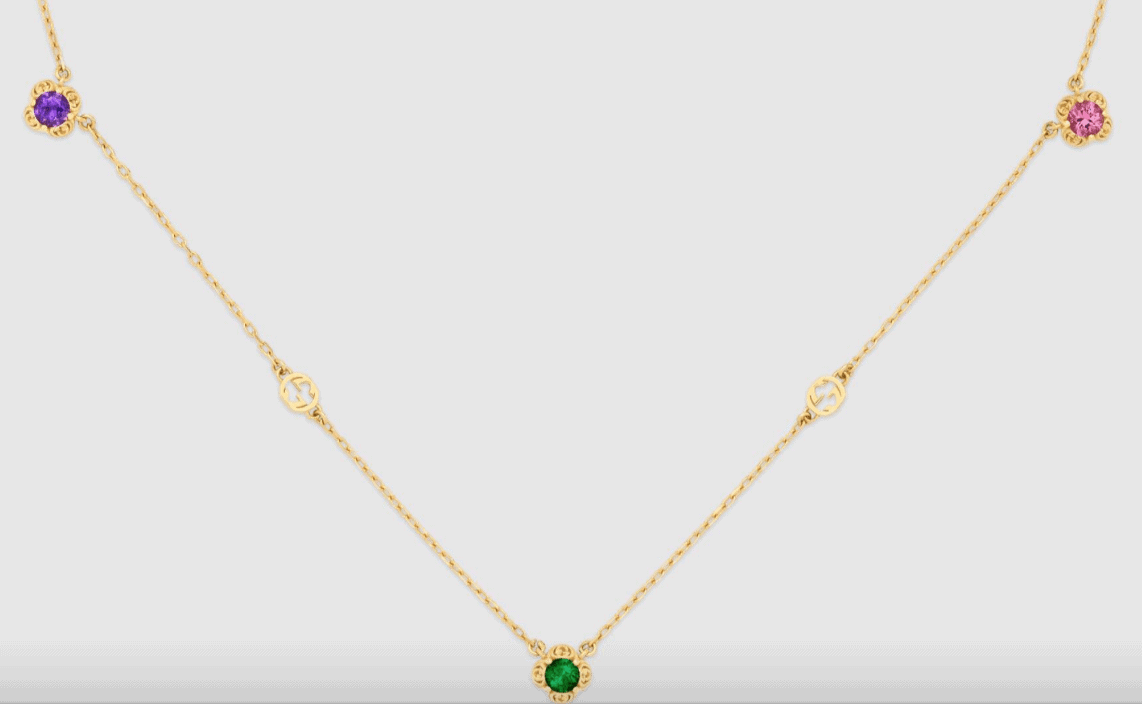 This eye-catching Gucci necklace is perfect if you're looking for pops of elegant colors. Genuine Berly, Tourmaline, Citrine, and Amethyst gemstones weigh a total of 1.08 carats. The beautiful shine to the 18K yellow gold chain is perfectly paired for a unique but sophisticated style. Priced at around $2,250; Buy Here.
GG Running Necklace with Diamonds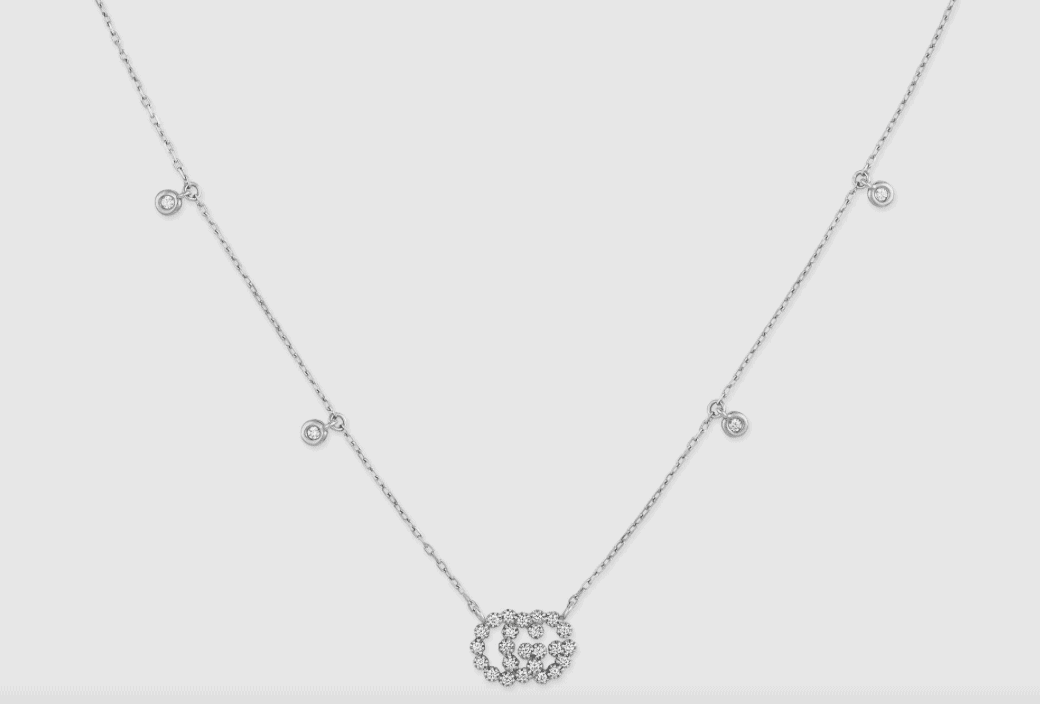 Love the look of the GG necklace but are looking for overall sparkle? This 18K white gold Gucci necklace exudes brilliance. A fine chain is encrusted with diamond accents and GG logos around the perimeter. It's a classic, elegant look that could even be layered with a short or choker necklace. Priced at around $2,750; Buy Here.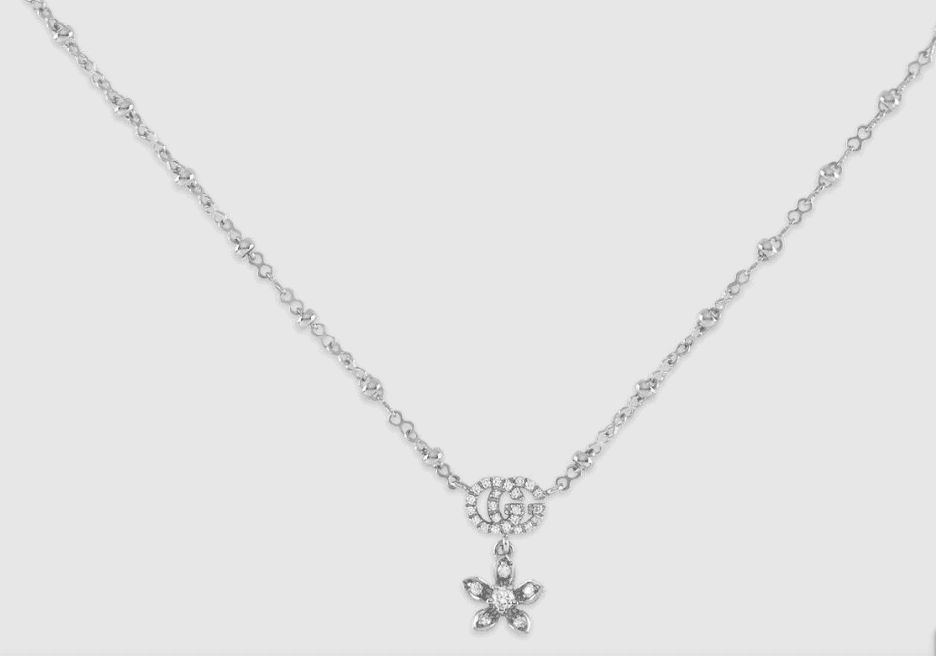 31 accent diamonds add just a little sparkle to this 18K white gold necklace. Evoking the original Floral print by Italian artist Vittorio Accornero, there's a 60s vintage but classic style. The flower is encrusted with diamonds and complemented by a GG logo. The clasp has a small floral charm. Priced at around $2800; Buy Here.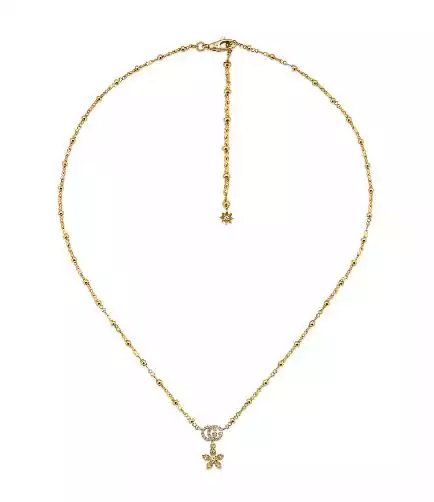 Flower Necklace with Diamonds and Pearls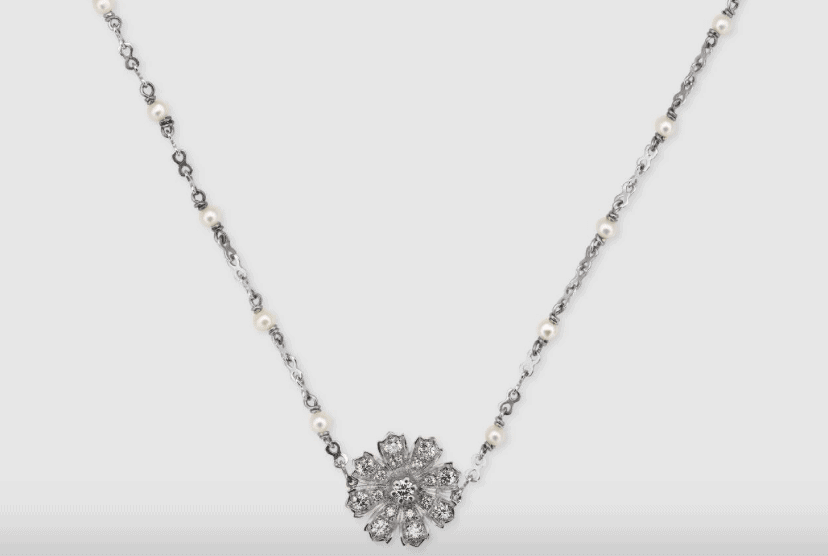 This around $4950 Gucci necklace is my most expensive pick but among my favorites. Featuring the iconic floral motif and delicately balancing pearls and diamonds, it's an elegant but stylish option. White pearls and accent diamonds accompany a floral pendant and a Double G charm. There are 64 diamonds, for a total of 0.49 carats. 
Frequently Asked Questions
Question: How long is the Gucci ghost necklace?
Answer: One Gucci necklace that has garnered some interest is what some refer to as the Ghost Necklace. This is a long drop pendant necklace in sterling silver, from their fashion necklace collection. At 19.5," it's best suited for lower necklines, as well as a sweetheart and V necks.
Question: Is Gucci cheaper in Italy?
Answer: One downside to luxury brands like Gucci is they make it a rule to not have official sales. Gucci is indeed cheaper in Italy. That's because Gucci products are made in Italy– but you wouldn't save so much that it'd be worth the cost for a trip for the bulk of Gucci products.
Question: Why are Gucci bags so expensive?
Answer: Gucci bags are expensive for a few reasons. First, you are partly paying for the Gucci name. You're also paying for exclusive designs and quality, genuine materials. That said, you can find Gucci mini bags that aren't quite as expensive. Gucci bags are also not the most expensive luxury brand bags.
Final Thoughts
Gucci is not as well known for necklaces as handbags, but they're worth a look. Much more affordable than necklaces from some competitors, such as Chanel, there are both casual and formal looks to choose from. While I love the playful styles of the fashion collection, I do think a lower-cost fine jewelry necklace provides the best overall value.
Keep your necklaces looking at their best by taking them in for cleanings and polish. Avoid harsh chemicals or extreme heat. I also recommend storing sterling silver necklaces by themselves in a low moisture setting. All of this can add to the durability and beauty of any Gucci necklace.
Want to shop more Gucci necklaces?
Shop All Gucci Fashion Necklaces Here or Shop All Gucci Fine Necklaces Here.