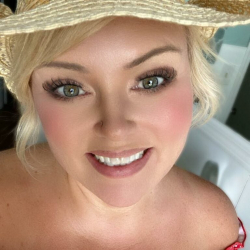 Latest posts by Kristen Swain
(see all)
Amethyst Necklace Ideas and Inspiration- Royal Purple is in fashion.
Amethyst is a beautiful translucent purple-toned crystal and fashions well into fine and unique jewelry. Gather some information here about Amethyst and get ideas and inspiration for an Amethyst necklace purchase. 
| Product Image | Primary Rating / Price | Primary Button |
| --- | --- | --- |
| | | |
| | | |
| | | |
| | | |
08/03/2023 01:47 am GMT

All about the Amethyst
Amethyst is a variety of quartz that is purple-toned. The color does vary; it can be from very violet tones all the way through to the lightest shade of lavender. It is a seven on the MOH or hardness scale and is hard enough to be worn daily.
Amethyst can be found in North, South, and Central America and can be found in mines on six continents. Zambia is the current largest exporter of the gemstone, but Uruguay is known for producing the best quality Amethyst in the world. 
Amethysts began life inside porous rocks called basalt that absorbed water that contained ferric iron and silica. Gamma irradiation begins the process of forming crystals, and over millions of years, these geodes formed Amethyst on the inside of the walls of the rock. Agate forms first, then the quartz forms on top of the agate, and different minerals present to determine the color of the crystal.
All amethyst crystals form from lighter in color to darker at the tips of the crystals. The coloration of the crystals is determined by chemical irradiation and the purity of the iron absorbed into the cavity.
The coloration of the stone can vary from deep purple to lavender. The most valuable color is a deep reddish-purple of solid coloration. The stone must still be translucent and have red and blue flashes. The Amethyst should also not be so dark that it would look black in low lighting. 
Pale lavender or "Rose de France" Amethyst is gaining popularity as a pastel stone yet is still quite inexpensive. Amethyst is valued in quality of coloration then into carat sizing. 
Besides being a birthstone for February, Amethyst is also an Anniversary wedding gift. Both the sixth and the thirty-third wedding Anniversaries can be celebrated with a gift of Amethyst.
This purple gemstone is also the state gemstone of South Carolina. There are several South Carolinian Amethysts on display at the Smithsonian Museum of Natural History.
Historically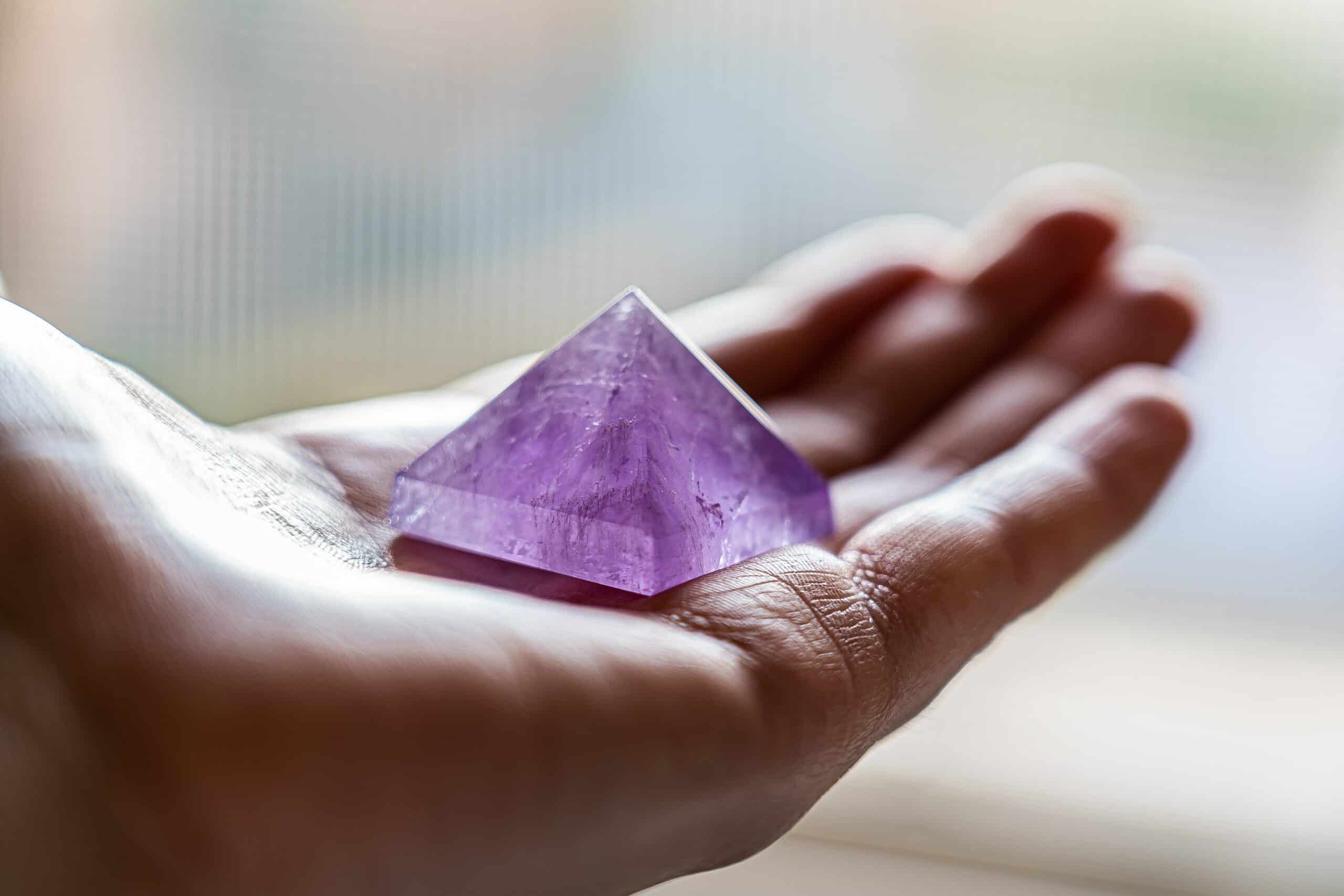 Amethyst is well known throughout history. In Ancient Greek, the name means 'not intoxicate.' The stone was thought to help prevent drunkenness, and many vessels were carved from the gemstone to help prevent the owner from overconsumption. 
Ancient Egyptians valued the stone for its power to give courage to the wearer. Cleopatra was said to have worn an Amethyst ring.
Until the 18th century, when large deposits of Amethyst were discovered in Brazil, it was considered a rare and valuable stone. The purple stone was grouped along with ruby, emerald, diamond, and Sapphire. 
The rarity and the purple coloration made Amethyst the gemstone of Royalty. It was once more valuable than diamonds. 
There are many 'famous' Amethyst pieces in history. One such Amethyst scarab was found in the tomb of King Tut. And in China, the stone is important in the art of Feng Shui for the ability to clear away negative energies. 
The Royal families of Europe have many necklaces, tiaras, earrings, and brooches made with large Amethyst stones and regularly wear them to important occasions. One of the oldest surviving crowns is the "Iron Crown of Lombardy," set with four Amethysts.
How to Tell a Fake Amethyst
Lab-created Amethyst is common, and you should know the differences between lab-created vs. natural stones.
One type of lab-created stone is heat-treated to change coloration. This means that in a lab setting, a lesser quality Amethyst is heated to either darken or lighten to a more commercially viable coloration.
The second type is lab-grown Amethyst created in a lab environment with modern machines to create a quartz stone, then colored using an environment and pressurized machine to grow the purple quartz. 
Lab-created is obviously not as highly valued as natural stones but does have value as inexpensive stones that may meet a need for you, whether through cost or sturdiness.
Authentic stones can be determined by their imperfections. Coloration in most Amethyst is not going to be uniform throughout. There should be small inclusions and could have cracks or bubbles inside.
A fake Amethyst will be solidly colored throughout the stone and will not reflect red or blue flashes. Lab-grown Amethysts are the same in chemical makeup, but their structures can be identified differently by a gemologist. 
Spiritually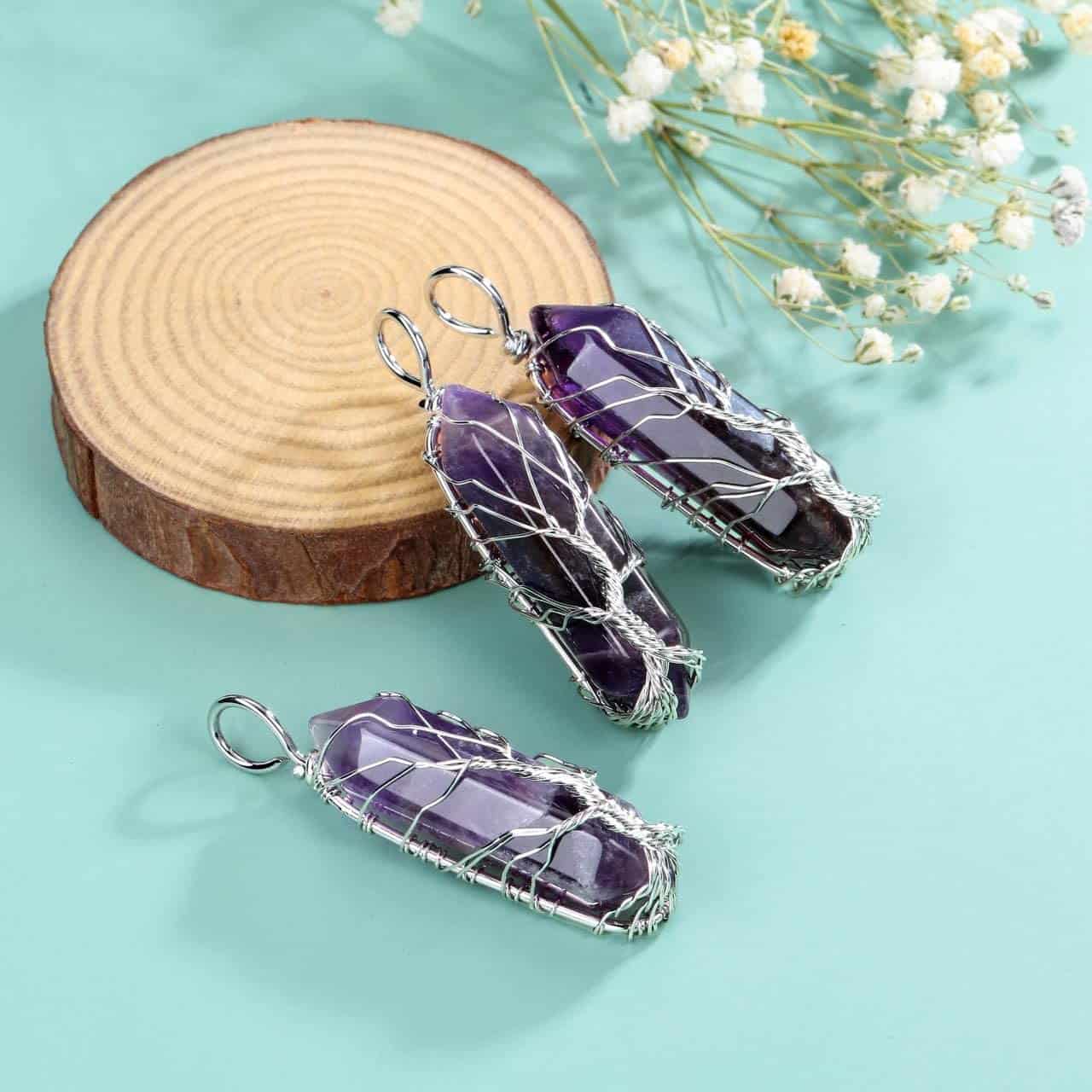 Spiritually, Amethyst is considered one of the most powerful stones. Metaphysically, it is known to cleanse negative energies and create a calm and peaceful atmosphere. Hold or wear the stone around your head and feel your mind gather peace and tranquility. Keep it in your bedroom to remove bad thoughts and dreams. Wear Amethyst on your left side to receive healing energy.
However, you should not wear Amethyst and Ruby together as the stones have opposite effects and will cause turmoil when worn. 
Other Stones like Amethyst
Quartz

– this crystal is what Amethyst begins as, with a variety of color choices.

Ametrine-

a variety of gemstones mixed with colors of Citrine and Amethyst. This stone has the rare quality of both purple and yellow-orange coloration.

Alexandrite

– this color-changing gem has both purple-red and blue-green coloration.

Sapphire

– available in deep blue-purple shades, Sapphire is a harder gemstone than Amethyst, perfect for daily wear.

Iolite-

 this blue-violet transparent stone is the closest match to Amethyst stone but can have more of a blue tone than the quartz gemstone.

Charoite-

 this purple gemstone is opaque marbled with black, white, and shades of purple.

Tanzanite-

 this blue-purple toned translucent gem is rarer than diamonds and may just be the extra special purple stone you desire
Inspiration and Idea Pieces
Fine Pendant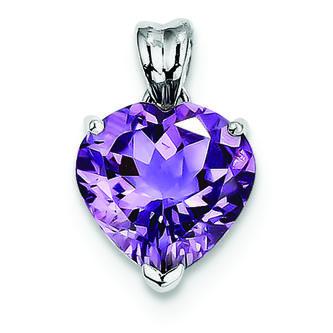 This sweetheart necklace pendant features two heart-shaped Amethysts on a silver heart shape. There is detailing on the heart to add sparkle without the added cost of additional gemstones. Heart pendants are perfect for a February gemstone, Valentine's gift. 
Costco Amethyst and Diamond 14kt White Gold Pendant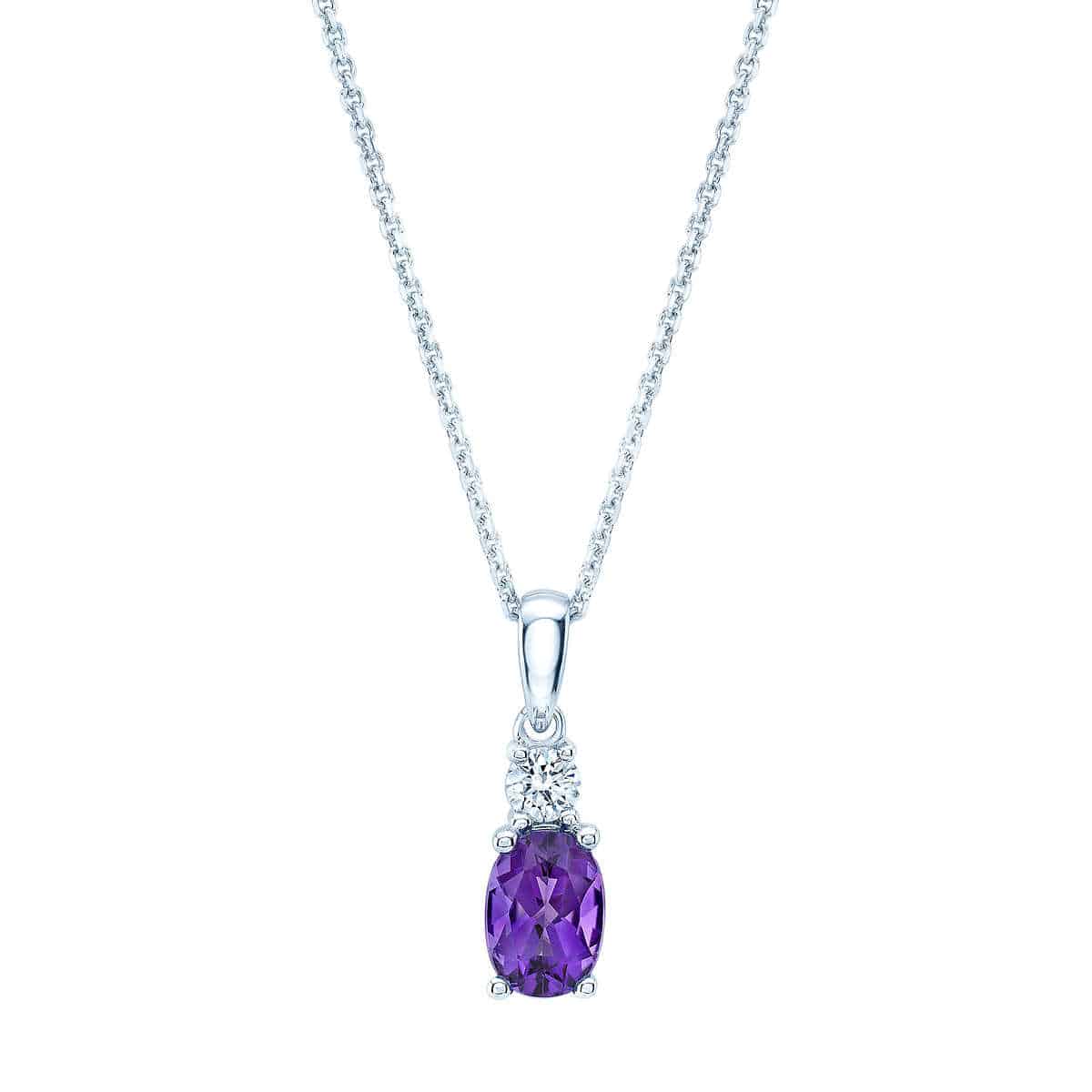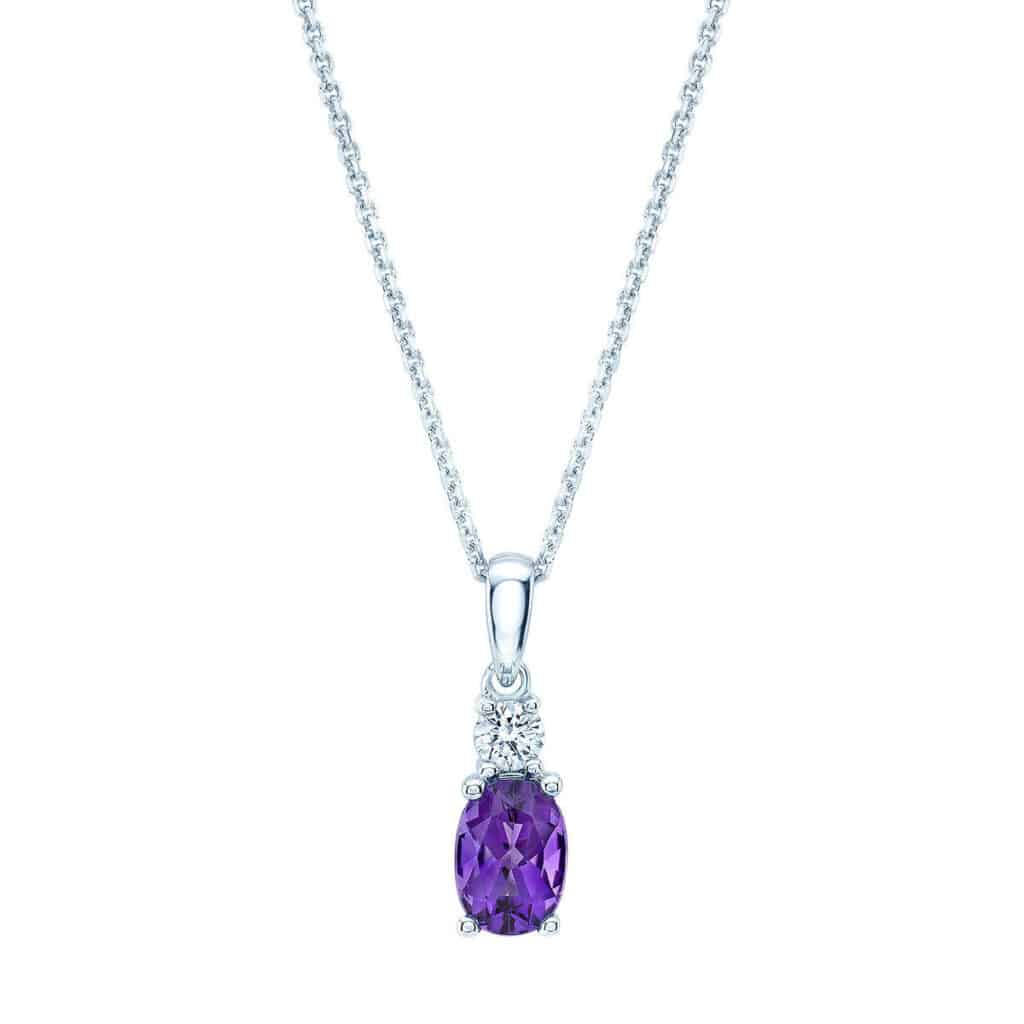 Sometimes a small pendant is exactly the right size. This oval Amethyst is topped with a small diamond. The white gold is a twinkling setting that allows the Diamond and Amethyst to shine. The eighteen-inch chain allows the Pendant to rest lower than the collar bone.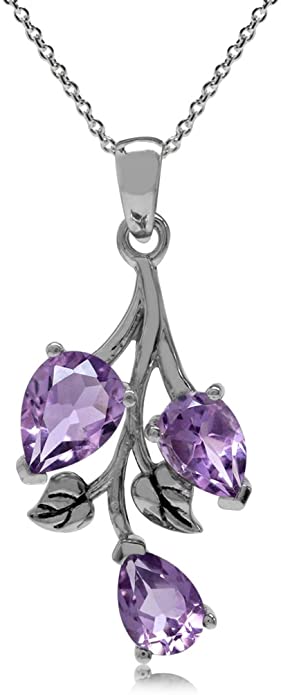 The unusual floral design of this Pendant is a must-see. Set in sterling silver, the three gemstones represent flower buds with accompanying double leaf and vine. This Pendant dangles from the bale and is free-swinging, allowing the stones to glitter in the light.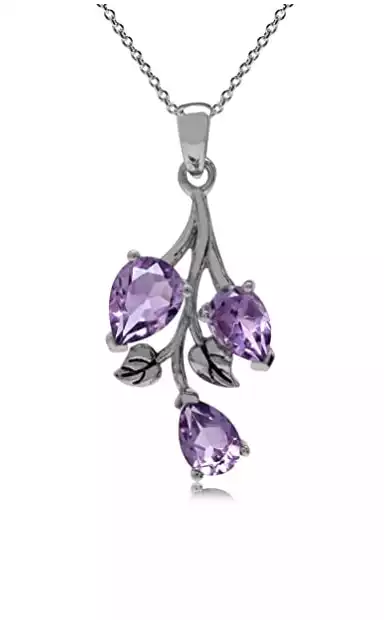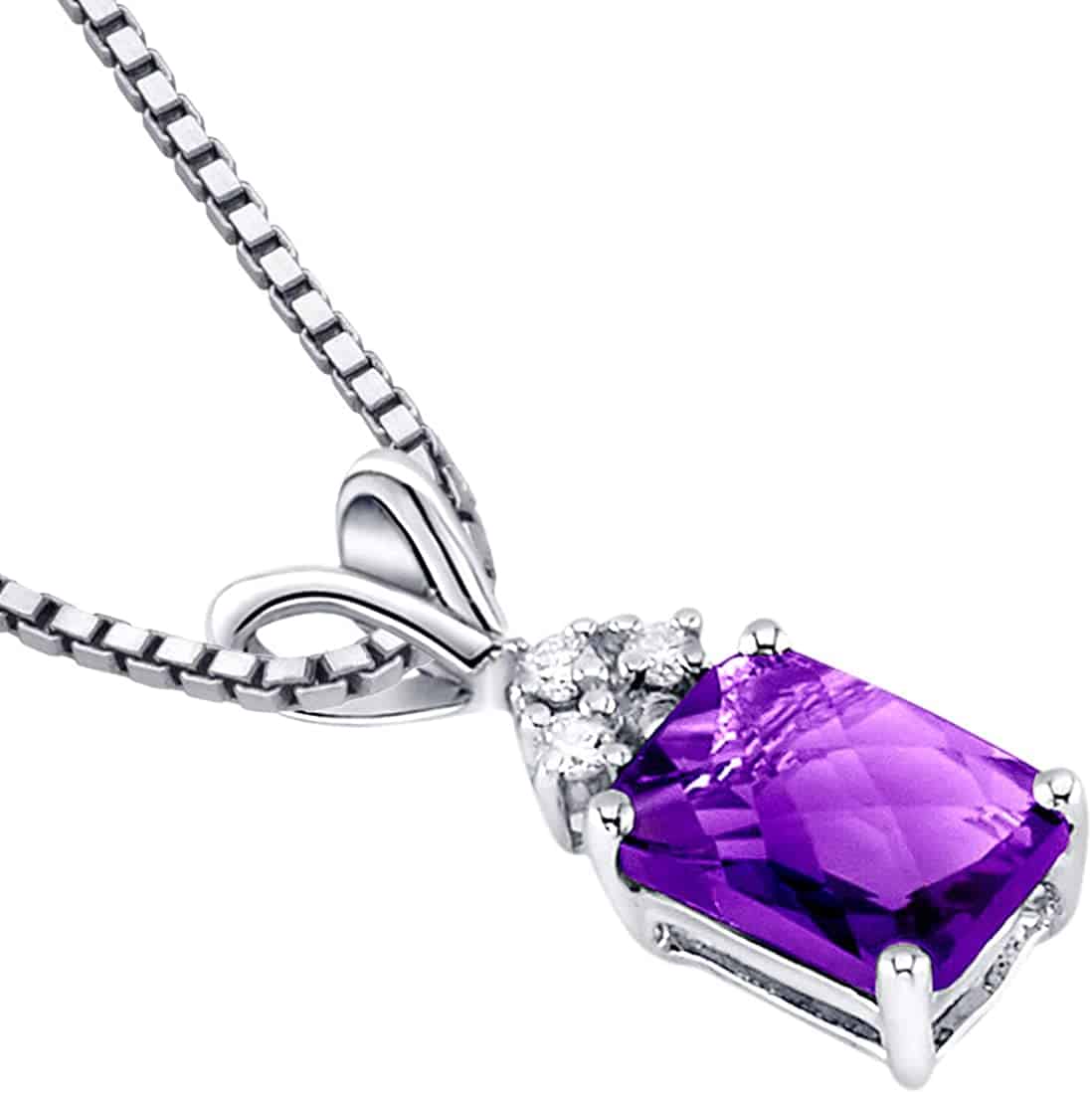 This yellow gold radiant cut Amethyst necklaces double bale will allow the Pendant to hang squarely. The trio of tiny diamonds will glitter prettily in the setting without taking away from the red flashes from the Amethyst.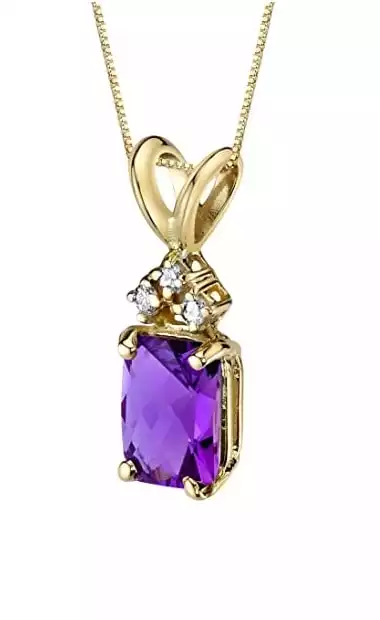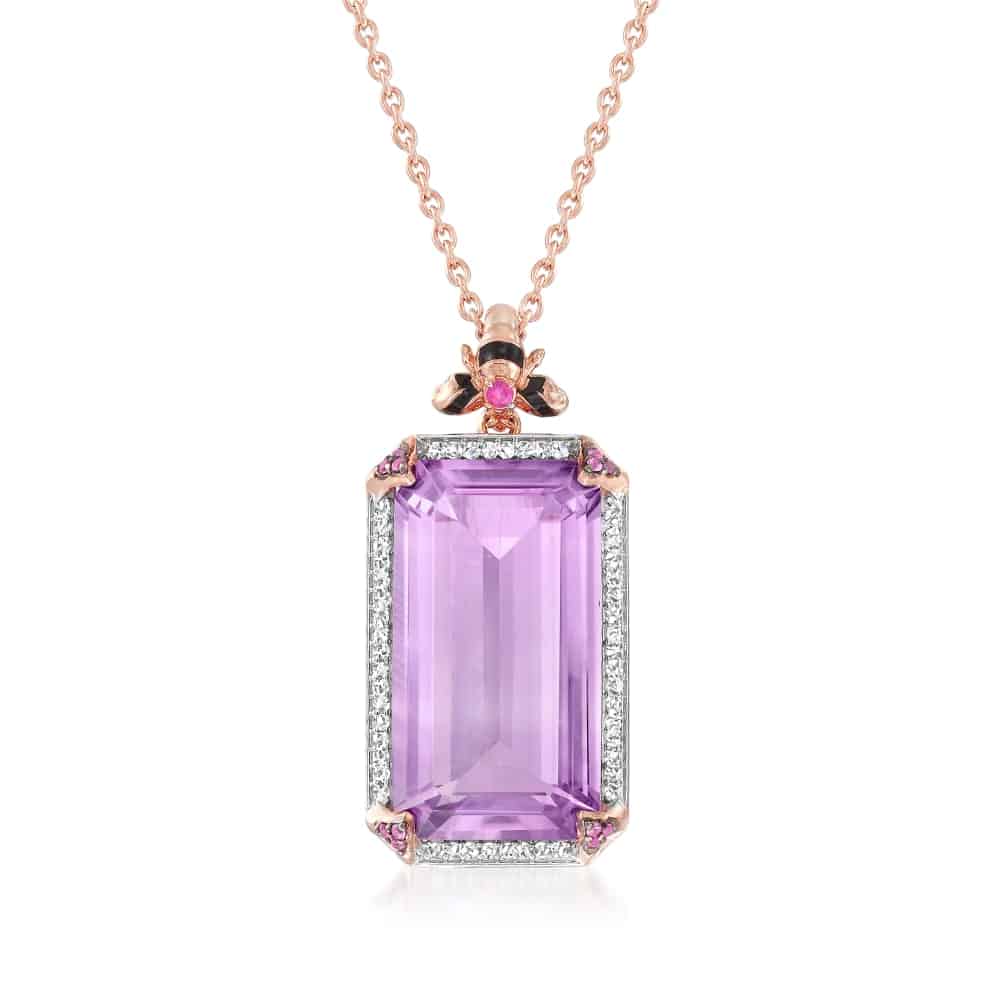 Lovely pink and lavender combine on this large Pendant. The bale is a surprisingly tiny little bee with a small Pink Sapphire. Each corner of the large Lavender Amethyst is adorned with Rose Gold and a cluster of additional Pink Sapphires. The gem is also framed White Topaz for a little more bling.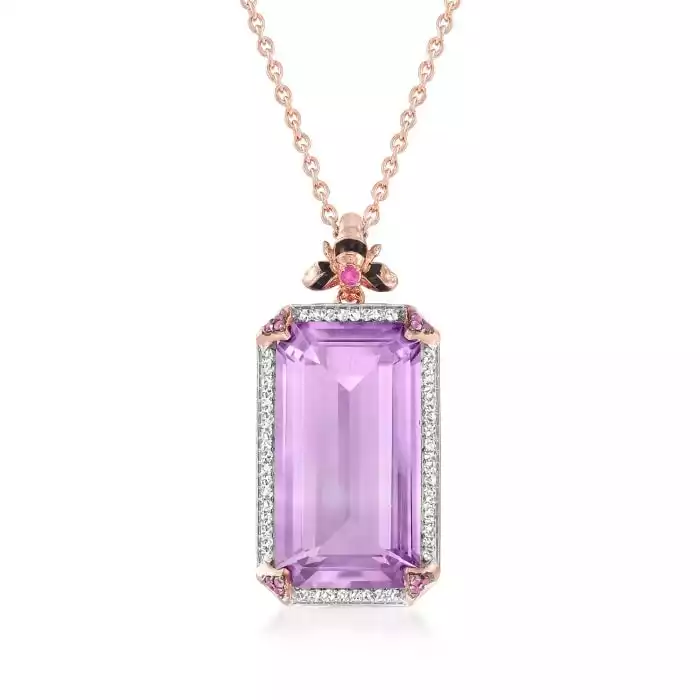 Crystal Pendants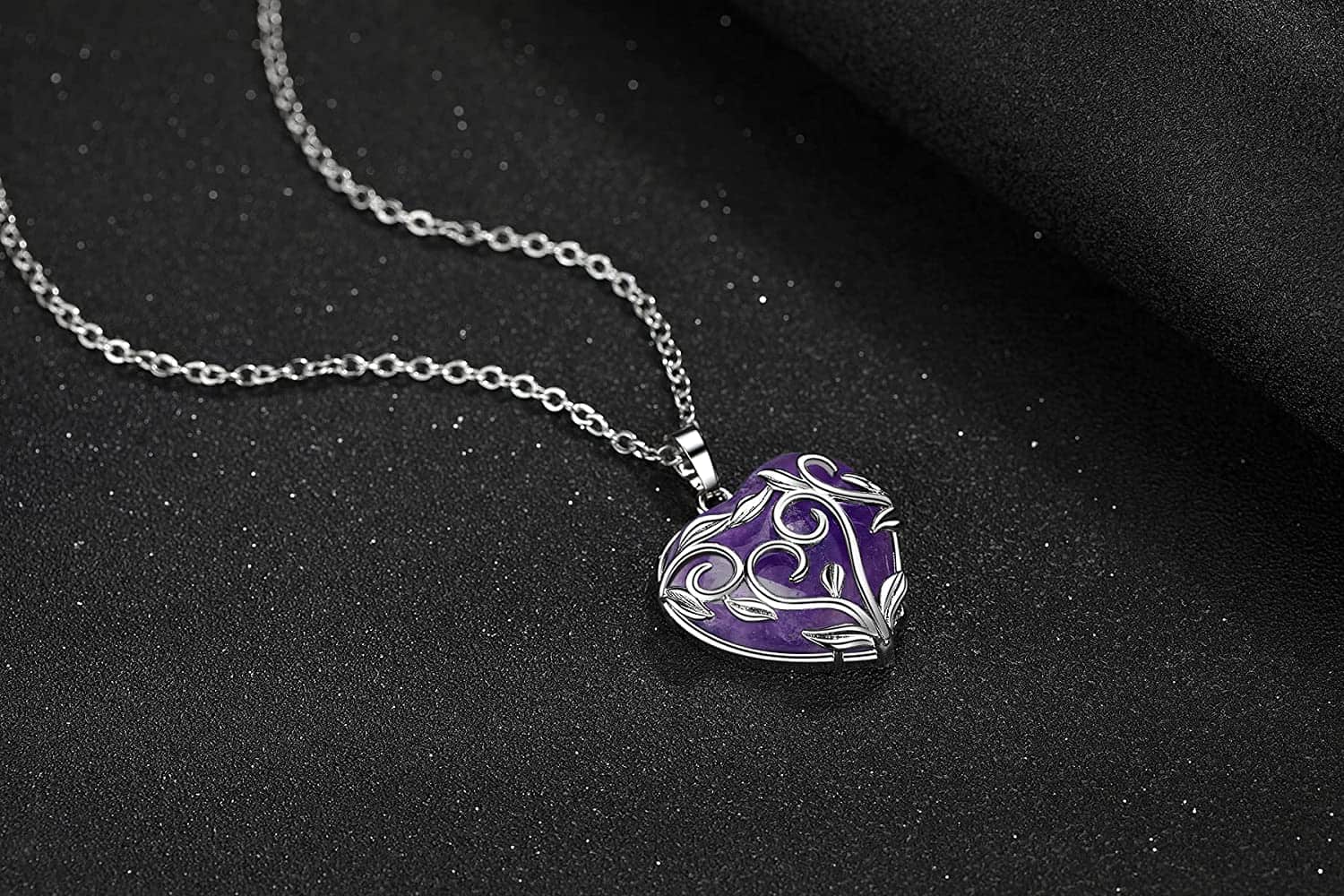 This large Amethyst heart pendant is wrapped in a sterling silver frame of vines. The frame hangs from the bale for movement as you move your body. Not really a sparkling pendant, this purple stone amulet will share its metaphysical calming properties with you as you wear it.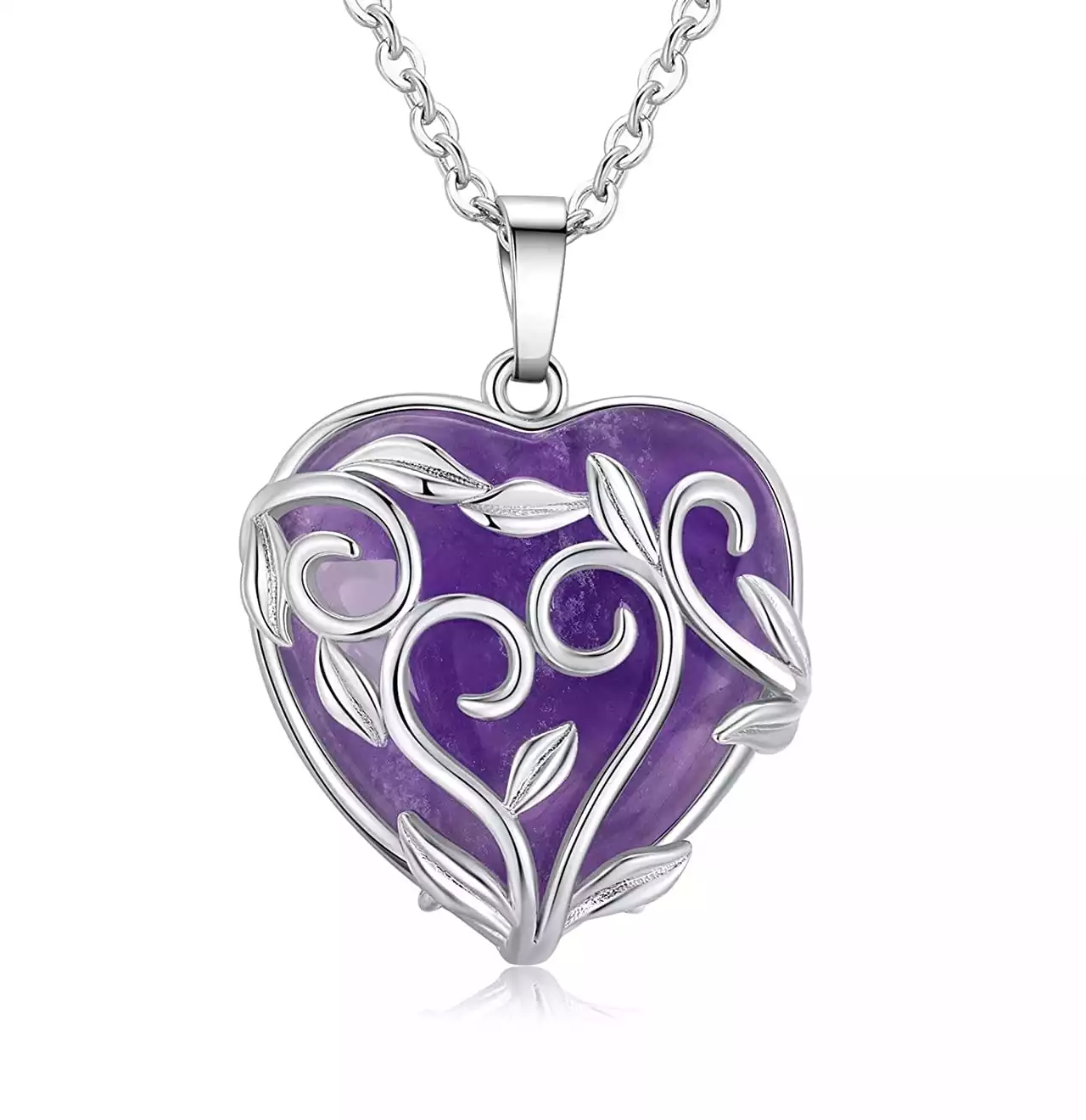 This wire-wrapped crystal pendant caught my eye as the wire is also shaped into a tree of life. Most crystal pendants are wrapped at the top, and this Pendant begins wrapping at the bottom, forming the trunk of the tree. The twenty-four-inch included chain ensures that the amulet will hang down on your chest.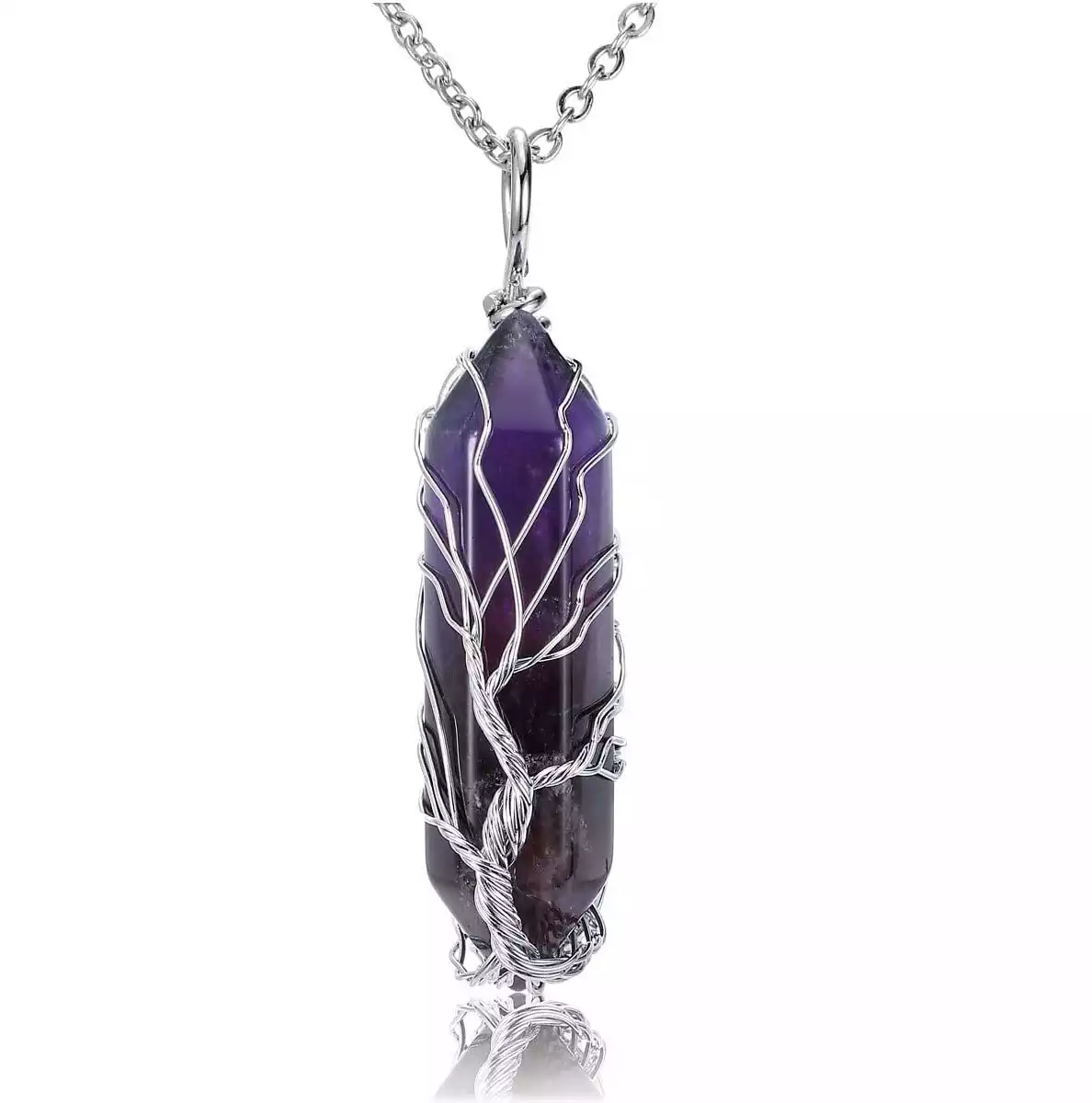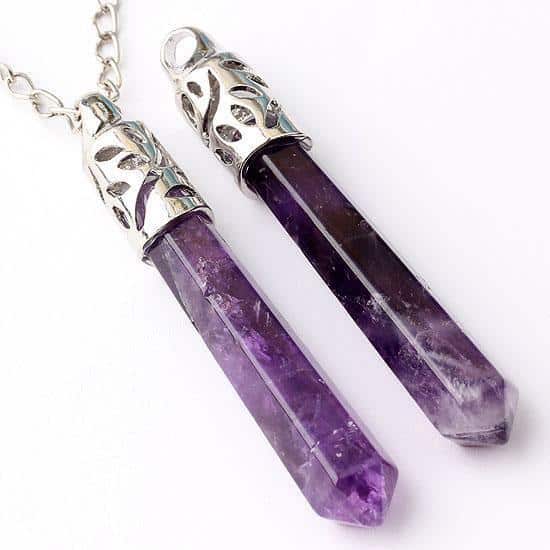 This crystal pendant features a band topper instead of a few strips of metal. The silver topper and bale feature cutouts in a leaf design. The Pendant alone is included in this sale, allowing you to find a chain with a length that you prefer. Crystals are usually about an inch or so in length and, this Amethyst stands out as being almost two inches.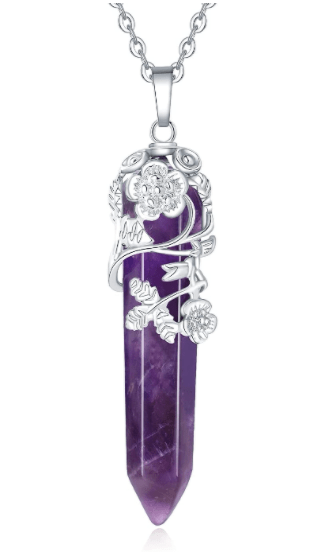 This enchanting topper grabs attention with the floral design that wraps around the crystal shape, formed with flowers, leaves, and winding stems. This sparkling topper holds a pointed crystal Amethyst.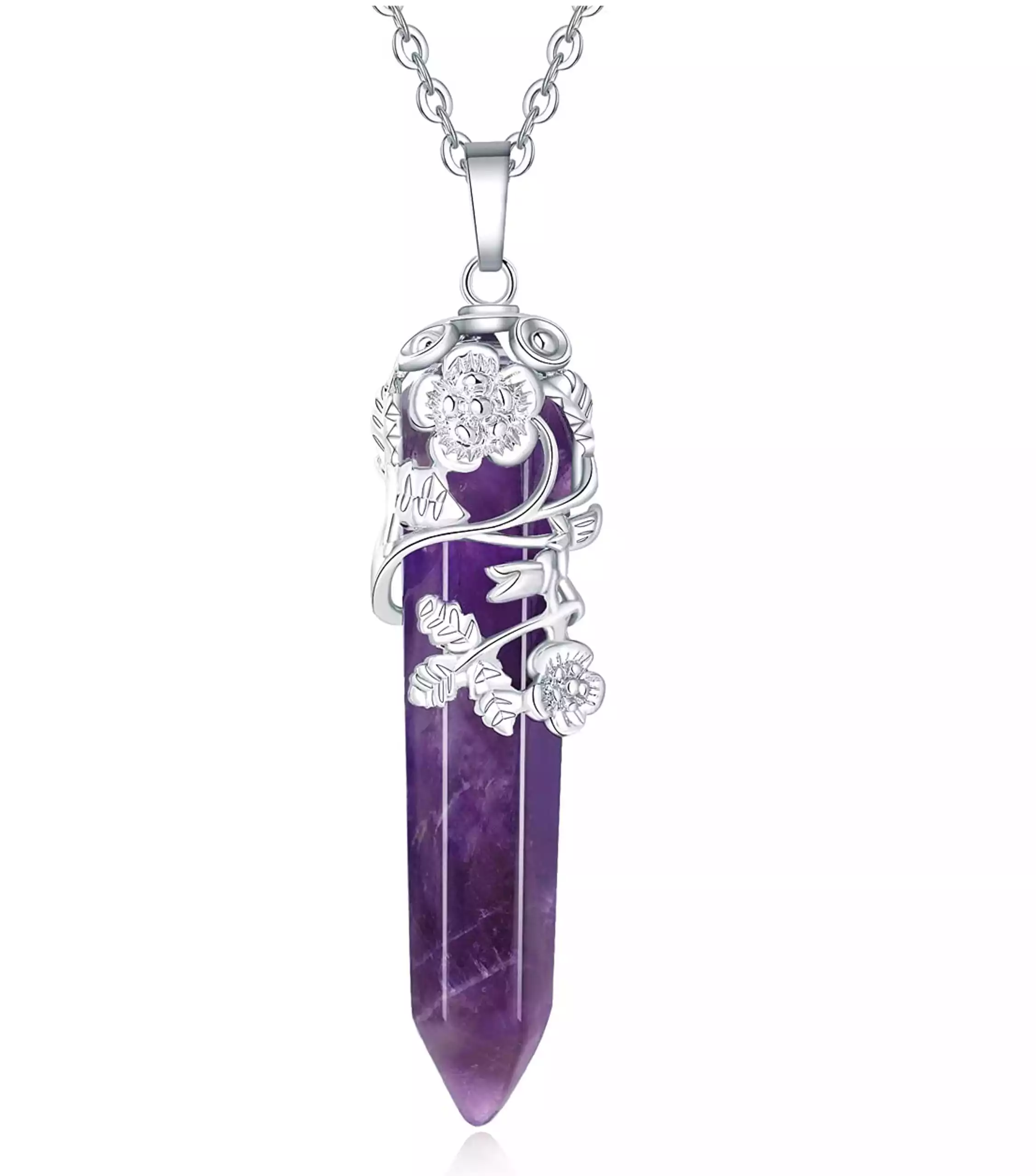 Flower Wrapped Crystal Point Pendant Necklace | Amazon
Natural Crystal Point Necklace, dainty flower wrapped amethyst necklace, the healing quartz jewelry suits for mom, girlfriend, wife; a good gift choice for birthday, Christmas, Mother's Day, Valentine's Day, anniversary and etc.
Buy at Amazon
We earn a commission if you make a purchase, at no additional cost to you.
08/03/2023 09:47 am GMT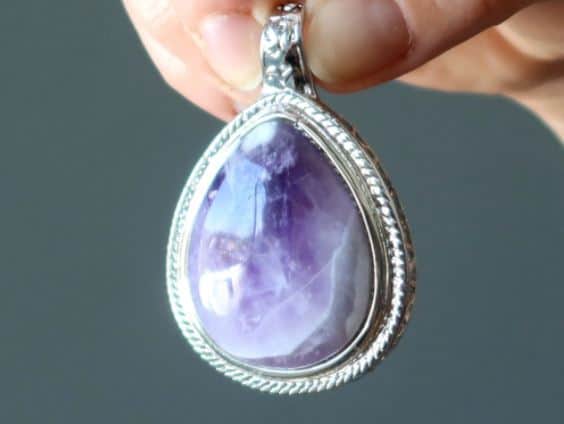 A cabochon Amethyst adorns this large teardrop-shaped Pendant. The roping frame surrounding the Amethyst is very bright and shows off light well. This is a large crystal stone that will be useful for calming. The Amethyst is marbled with white and, while not transparent, does have some translucent qualities. 
Multi-strand
This toned-down multi-strand necklace features a whopping 55 carats of Amethyst. The gold chain looks very pretty, adorned with smooth oval gemstones. The chain around the neck is a single strand that links to the lower multi-strand grouping.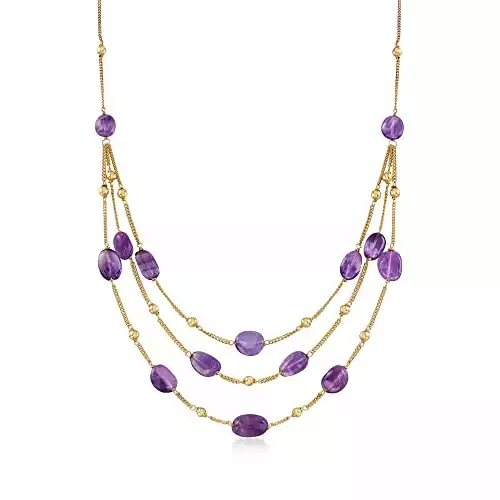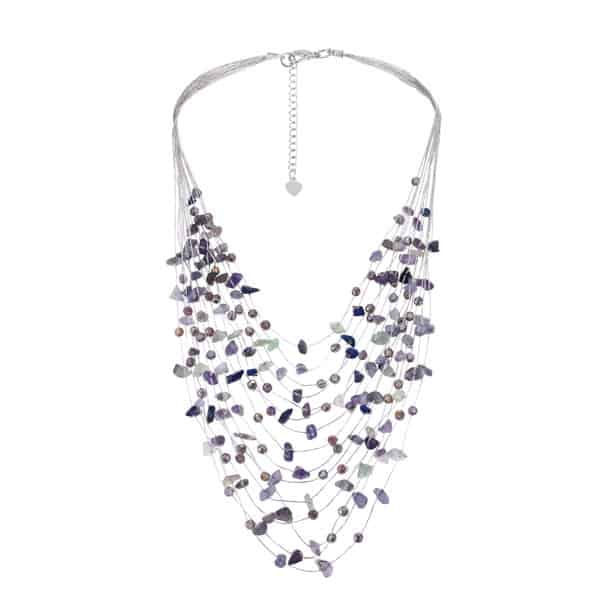 Suspended on silk threads, these natural-looking Amethyst stones float along your neckline. Light and airy-looking, this multi-strand necklace has various colors of stone. Perfect for day-to-night looks, this necklace is a blend of casual and fancy.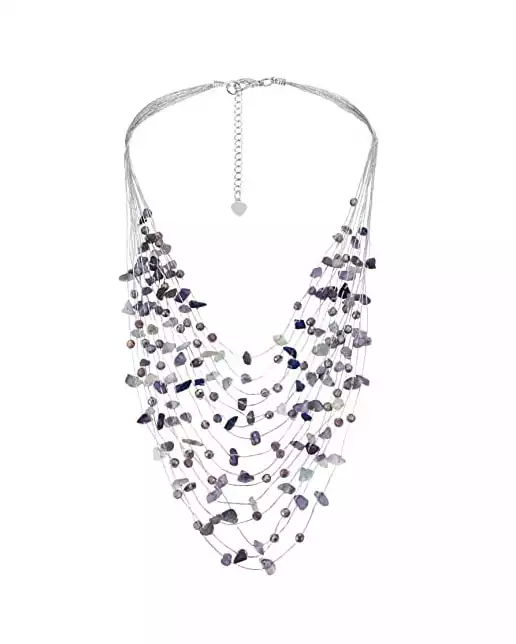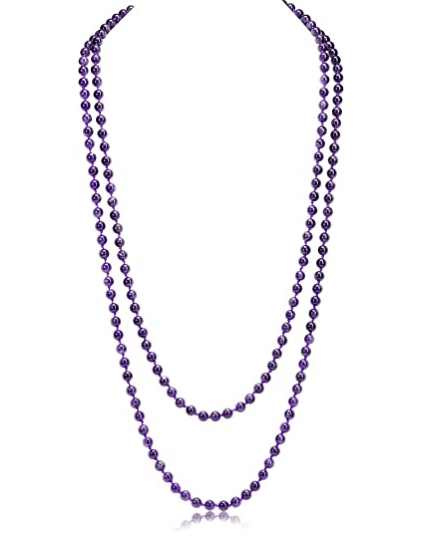 Although not a multi-strand necklace, looping this necklace several times to make it into a multi-strand or leaving it as a single long strand works to show off the hand-knotted beads. Made of dozens of small Amethyst beads, this pretty necklace with matching purple knotting can be dressed up for dinner out or dressed down with your favorite jeans.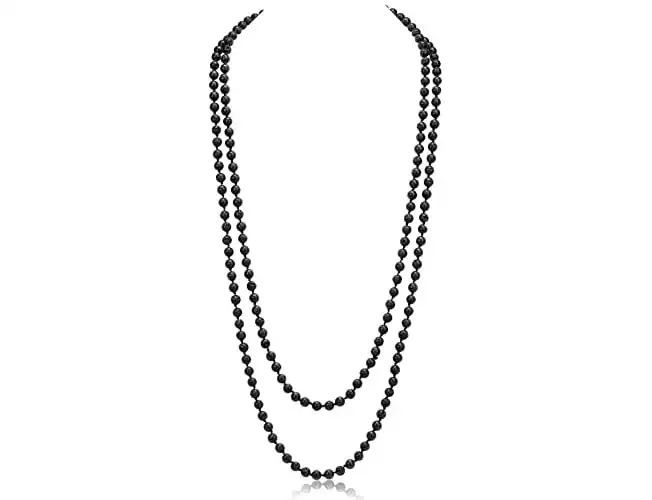 Statement
Amethyst Statement Necklace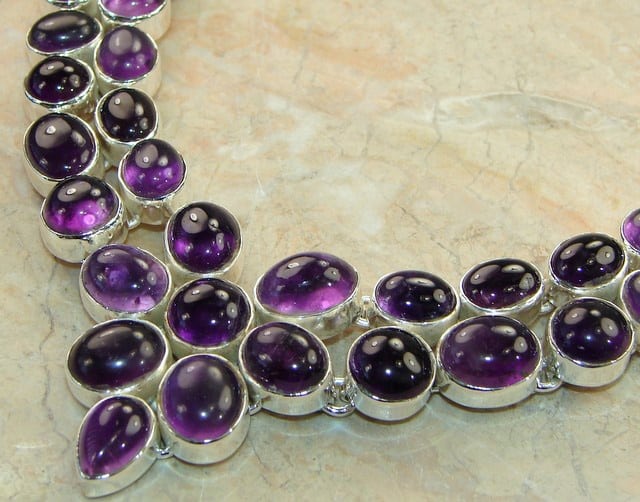 Wow, them with this Amethyst bib necklace. The silver and Amethyst grouping is one solid piece that is linked to an around the neck chain. There are 58 carats of Amethyst in oval and pear-shaped cabochons. The light reflects like cat eyes in these beautiful purple gems.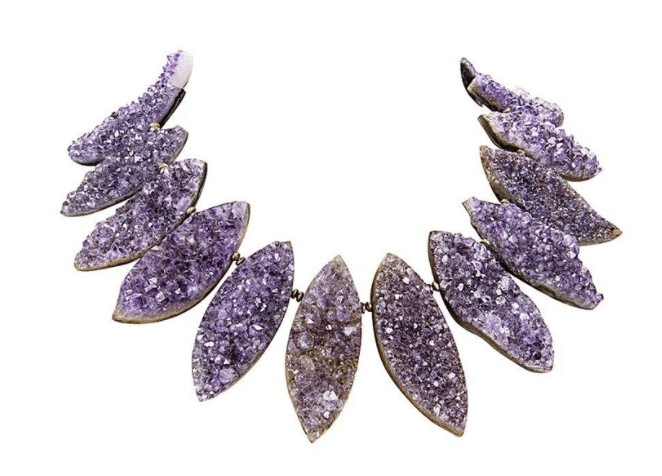 The sparkle and glitz of this necklace are unmistakable. Petals of geode form this necklace, lifting upwards from the neckline. Seventeen geode Amethysts to adorn your necklace, the backs polished to make it extremely comfortable to wear.

This is another Tree of Life wire-wrapped Pendant, but this necklace is hung on a strand of Amethyst beads. There is a current trend to wear multiple beaded strands together, and this necklace would stand out in a grouping. The wirework on the pendant forms a tree of life which serves as a reminder of the connection to Mother Earth.

FAQs
Question: Who should wear Amethyst gemstone?
Answer: Unlike Opals and other gemstones, Amethyst can be worn by anyone. Although it is best worn by those born in February, it is thought to channel affection, love, and courage. It can also channel prosperity and happiness.
Question: Is there a blue amethyst?
Answer: Yes, Amethyst can be blue, as well as pink. However, blue is rarer than the usual purple and lavender tones of the gemstone. 
Question: What is the symbolism of Amethyst?
Answer: This gemstone produces calm energy and is thought to soothe dreams; it is a good stone to have in your bedroom.
Question: Are geodes rare?
Answer: Geodes can be filled with Opal, Quartz, Rhodochrosite, Calcite, Pyrite, and other crystals. From the outside, the geode looks like a common rock, but when broken open, it reveals the crystal formations inside. 
Question: How do you identify a geode?
Answer: Geodes look just like rocks; however, if you are in an area known for geodes, look for a rounded rock that isn't pointy or narrow. Tap your potential geode rock on the ground or gently with a second rock and listen for a hollow sound. Geodes are hollow inside, so you should be able to hear resonant sounds.
Conclusion
Amethyst is a pretty gemstone and is the color of Royalty. You can purchase transparent stones and more opaque stones, depending on your desired design. Cabochon Amethyst makes for great amulets to create calmness around you. Go for a necklace with some style, something unique but totally you, as there are plentiful styles to choose from. You can choose from natural stone or something that has been polished to a shine; just make sure that your necklace feels like it belongs to you. 
| Product Image | Primary Rating / Price | Primary Button |
| --- | --- | --- |
| | | |
| | | |
| | | |
| | | |
08/03/2023 01:47 am GMT