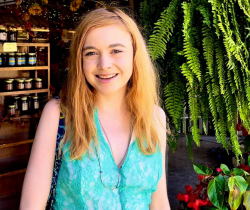 Latest posts by Erin Jamieson
(see all)
For some, inspiration for bracelets is all about coordinating with an outfit. But for others, the best bracelet ideas are tokens of good luck. And in 2022, Evil Eye bracelets are more popular than ever.
For one Stowe, Massachusetts jewelry, Evil Eye jewelry is the inspiration for her entire collection. It's also a symbol with personal meaning for someone who found her calling as a jeweler in a time of need.
Christine Lorenzo, now the owner of SariBlue, fell on hard times as many did, during the 2008 recession. While in the past she'd toyed with the idea of making jewelry, nothing had come of it. But when she was laid off from her day job, she gave it one final try.
That try blossomed into SariBlue, a name inspired by her husband's Turkish heritage and a nickname shared by the couple. But it was her upbringing that influenced the focus of her jewelry. Her Evil Eye bracelets and other products are the heart of her online store.
By including the Evil Eye in her designs, she's sharing her heritage and passing along good fortune to others.
But is the Evil Eye bracelet trend right for you? Consider this your guide to Evil Eye bracelets. I'll tell you about the symbolism behind the Evil Eye and my ideas for the best Evil Eye bracelets in 2022.
| Product Image | | Primary Button |
| --- | --- | --- |
| | | |
| | | |
| | | |
| | | |

What does an Evil Eye Bracelet Mean?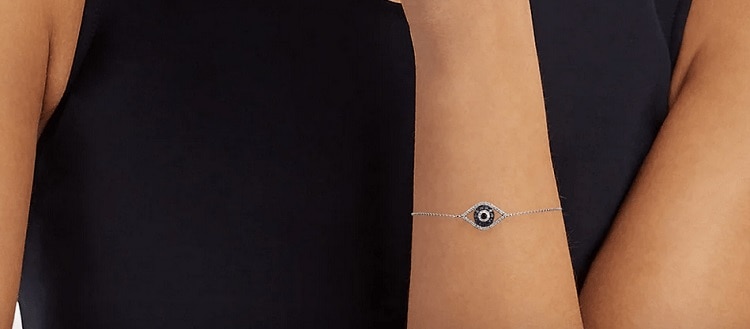 Maybe you simply like the unique style of an Evil Eye bracelet. It's certainly an alluring style and one that is distinct from countless types of bracelets. But before you buy an Evil Eye bracelet, it's good to know a bit about what it means.
Even if you don't believe in its symbolism, you'll understand what message you may be sent to others by wearing an Evil Eye bracelet.
The Evil Eye is thought to have originated during the Upper Paleolithic Age, though the first recorded use of an Evil Eye was around 5,000 years ago. It is now a symbol around the world, most notably in Greece, the Caribbean, Turkey, Ethiopia, Pakistan, Senegal, Italy, Brazil, Spain, Latin America, India, and the United States.
What does the Evil Eye Mean Spiritually?
The basic meaning of the Evil Eye is that it's a stare, sometimes to interpret harm on others. However, it has come to symbolize a form of protection. The Evil Eye is said to ward off ill will and misfortune for the wearer.
Spiritual meanings encompass several different religions.
In Islam, the Evil Eye stems from the belief that some have the power of a malevolent stare towards others, and it's seen primarily as a form of protection.
In Judaism, Evil Eye bracelets form to represent the opposite of the "Good Eye" (which bestows good luck and fortune) and are used to ward off ill will. In Christianity, the Evil Eye links to the idea of an eye as a form of Divine Protection.
What is the Blue Eye Bead used for?
The Evil Eye does not always have to be blue– there are also green, and, less commonly, other colors such as pink. But the iconic blue bead is likely from the origin of how Ancient Egyptians first depicted the Evil Eye.
Experts believe that the color blue is from the Egyptian's use of glazed mud, which contains oxides that give off a blue hue when heated. The meaning here is still that the Eye is used as a form of protection, to ward off ill will and misfortune.
Is it Bad Luck to Buy Yourself an Evil Eye Bracelet?
Contrary to what some believe, it is not considered bad luck to buy yourself an Evil Eye bracelet. The meaning of the Evil Eye bracelet remains the same, regardless of how you acquire it. That said, some do believe that you'll enjoy greater protection if someone gives you an Evil Eye bracelet.
How do I Wear and Use an Evil Eye Bracelet?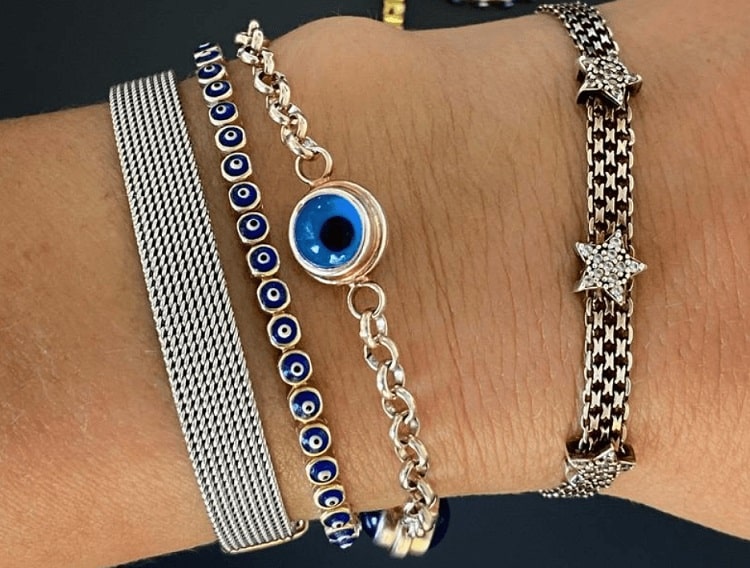 When it comes to selecting and wearing an Evil Eye bracelet, there's a bit more nuanced than you might be used to. Of course, the bottom line is that you can wear and style the Evil Eye bracelet how you'd like. In the United States especially, many wear Evil Eye bracelets merely as an accessory, and that's become a widely accepted practice.
Which Hand Should You Wear an Evil Eye Bracelet?
You may wear an Evil Eye bracelet on either hand or even both hands. However, many prefer wearing Evil Eye bracelets on their left hand. The left hand is associated with emotions and some see it as a way of connecting more deeply.
How do You Bless an Evil Eye Bracelet?
If you're buying an Evil Eye bracelet for a form of protection, you should know that there is a procedure to bless the bracelet. This ensures, according to followers, that you'll receive full protection.
To bless an Evil Eye bracelet, you should hold it in the palm of your hand and recite a cleansing ritual. Notably, however, many cultures do not recite such a ritual and consider the Evil Eye ready to protect you.
Can you Shower with an Evil Eye Bracelet on?
I don't recommend showering with an Evil Eye bracelet, especially for practical reasons. Many Evil Eye bracelets are made from materials that don't fare well in water. If you buy a solid gold or stainless steel bracelet, then it is safe to do so. But especially if you buy sterling silver, copper, brass, or nickel, you should avoid showering with the bracelet on.
Can I Sleep with my Evil Eye Bracelet?
So long as it's comfortable and you're not an especially restless sleeper, it's fine to wear an Evil Eye bracelet to sleep with. From a symbolic stance, the Evil Eye never 'sleeps' so it will continue to protect you at night.
Evil Eye Bracelets: My Ideas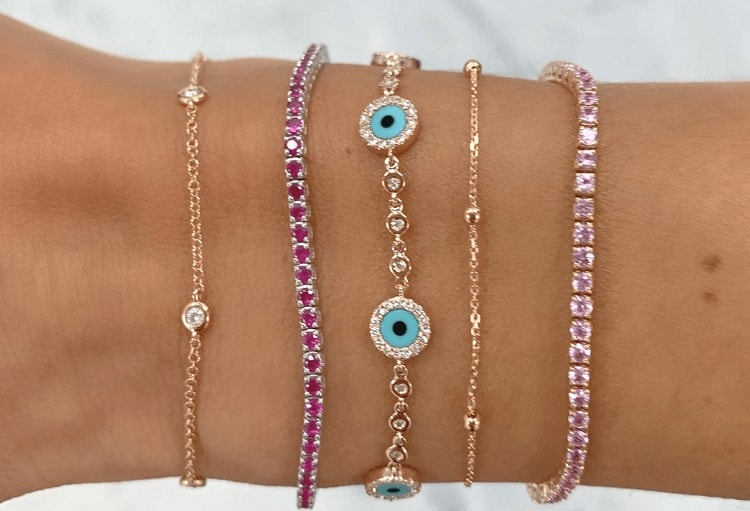 Now I'll give you my top ideas for Evil Eye bracelets and where to buy them. From bangles to whimsical charms and even dazzling tennis bracelets, I've included some of the most popular styles for 2022. You'll find both casual and formal options, with a wide range of price points. Consider this your inspiration for buying an Evil Eye bracelet.
Evil Eye Bangle Bracelets
Bangle bracelets are trendy right now for their versatility and sleek, modern look. For an updated take, pair an Evil Eye bangle bracelet with single strand bracelets in complementary or meaningful colors. This stacking style extends your look. Bangle bracelets are quite popular to wear with pantsuits, dresses, and skirts.
Lito Green Evil Eye Diamond Bangle

A light green Evil Eye is meant not only as a form of protection but to promote success. This $3,350 Evil Eye bangle may not be within everyone's budget, but it's a stunning idea for a durable and polished formal look. The wide green Evil Eye is set with a black diamond. 14K yellow gold is studded with accent diamonds. 
Halcyon Days Evil Eye Midnight Bangle

Midnight blue enamel and 18K gold plating provide a majestic contrast on this $230 Evil Eye bangle. The light blue Evil Eyes are said to promote peace and broaden your perspective. This bangle presents as sleek and modern– just be aware that, since the base metal is brass, you'll need to keep it moisture-free. Buy Here.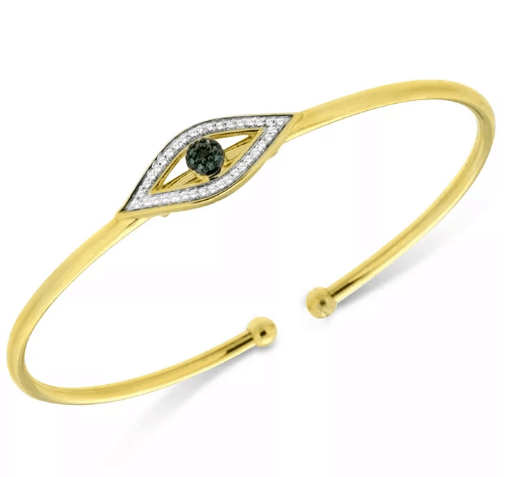 This $450 Evil Eye bangle bracelet provides subtle elegance. The Evil Eye is crafted with black, blue, and white diamonds. Set on sterling silver with 14K gold plating, there's a polished shine. The wrap design makes for a more customized, comfortable fit. Buy Here.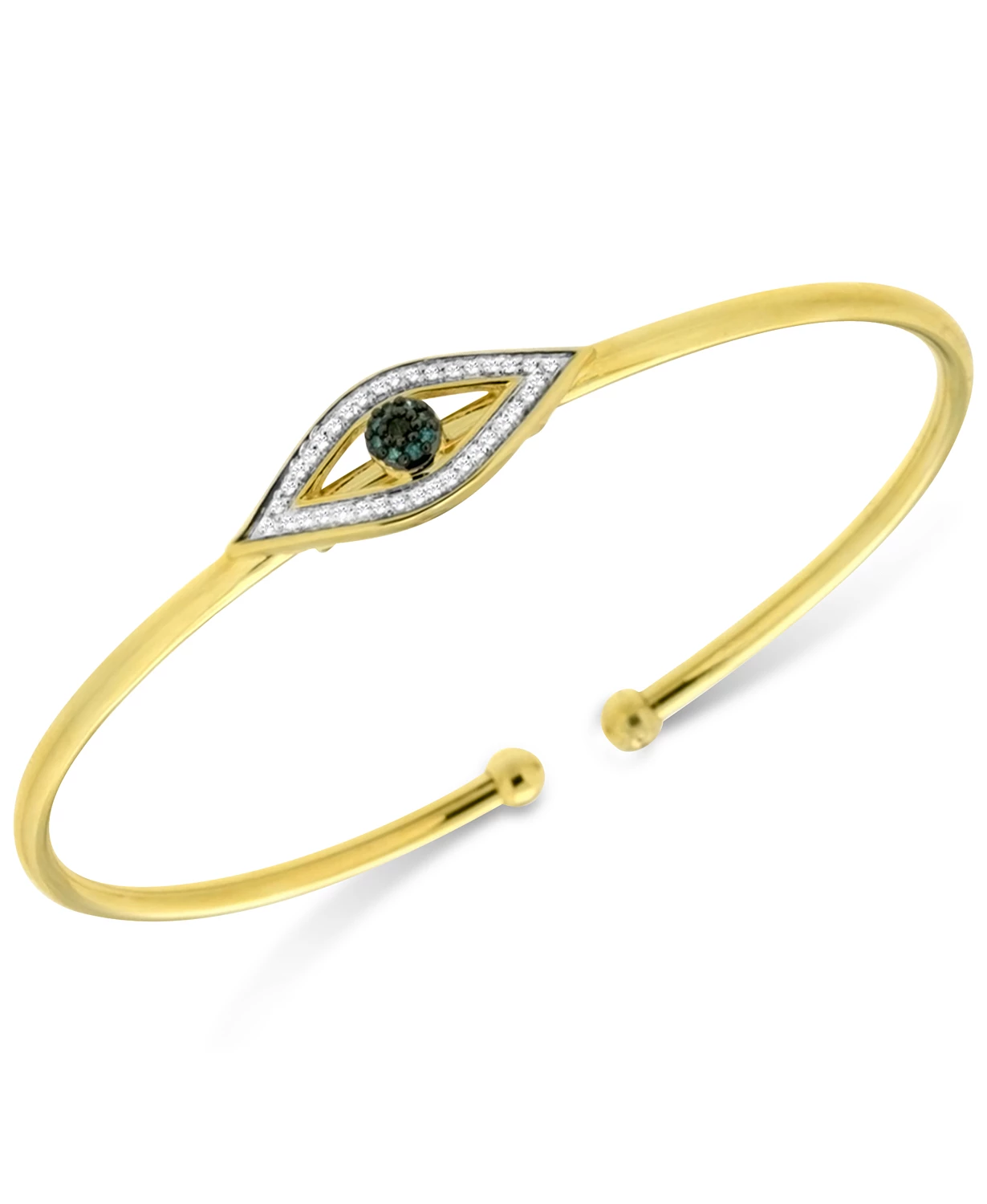 Diamond Evil Eye Flexie Bangle Bracelet | Macys
The evil-eye goes glam with this fabulous round-shape diamond flexie bangle bracelet (1/6 ct. t.w.) designed in 14k gold-plated sterling silver and featuring white, blue and black diamonds.
Check Price
We earn a commission if you make a purchase, at no additional cost to you.

Cascading Diamond Evil Eye Bangle

½ carat of round cut diamonds adds sparkle to this Evil Eye bangle bracelet. 10k polished gold may not be as valuable as metal, but it's fairly durable– meaning you can wear it to semi-formal events.
The cascading design of all-diamond Evil Eyes creates a unique scintillating effect. This $1,499 bracelet is also suited for someone who wants an Evil Eye bracelet that's a bit more versatile. Buy Here.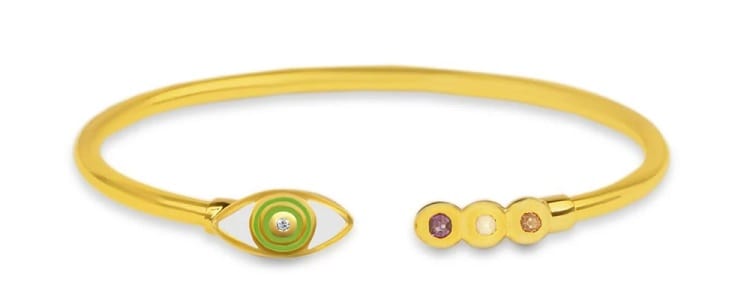 This $159 bracelet is my favorite idea for an Evil Eye Bangle. Following both Feng Shui and Fair Trade principles, the green Evil Eye is accented with healing stones. Rose quartz is said to promote friendship and unconditional love.
Tourmaline provides a space for self-reflection, and amethyst provides calming energy. The band is crafted in 925 sterling silver with 18K gold plating. Buy Here.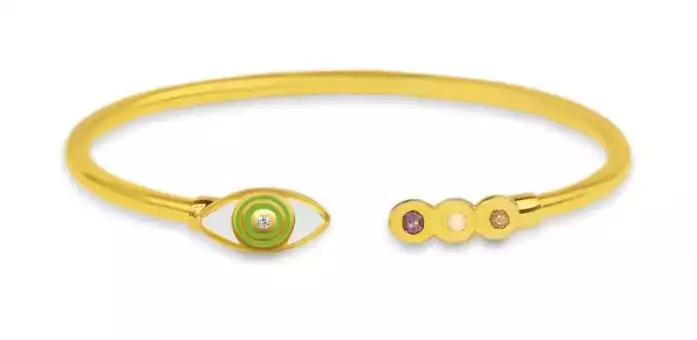 Enamel Diamond Evil Eye Bangle | Karma and Luck
This one-of-a-kind "Absolute Peace - Enamel Diamond Evil Eye Bangle" helps you ward off malicious intentions from your surroundings and protects you from harm, injury, or bad luck.
Check Price
We earn a commission if you make a purchase, at no additional cost to you.

Casual Evil Eye Bracelets
Not everyone wants, needs, or has the budget for a fine jewelry option. One of my favorite bracelets I've ever owned is a casual Evil Eye bracelet, purchased at a local Greek festival. Casual Evil Eye bracelets may be the most popular to this day.
More affordable than other categories, they can also be worn with pretty much anything. They may not be the most valuable bracelets, but they sure are a lot of fun.
Black Spinel Evil Eye Bracelet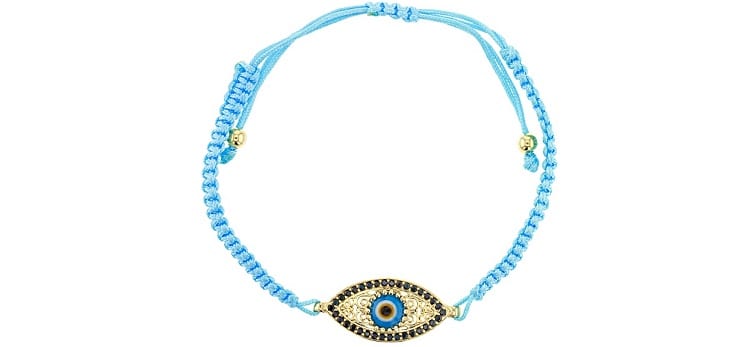 This silver cord bracelet retails for $55.24 and is a lively blue hue. The Evil Eye is made with black spinel and Turkish glass beads, set on an 18K gold plated silver medal. The look is casual, with interesting contrasts for a unique style. Buy Here.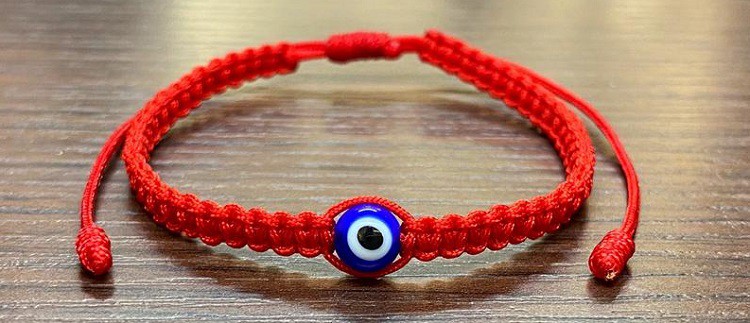 Looking for a budget-friendly and waterproof option? This Evil Eye bracelet costs just $5.50 to $6.90, is handmade, and a bestseller on Etsy. A glass bead is set on a nylon cord for a comfortable fit. Select from a wide range of colors, including black, red, blue, green, white, pink, and beige. Buy Here.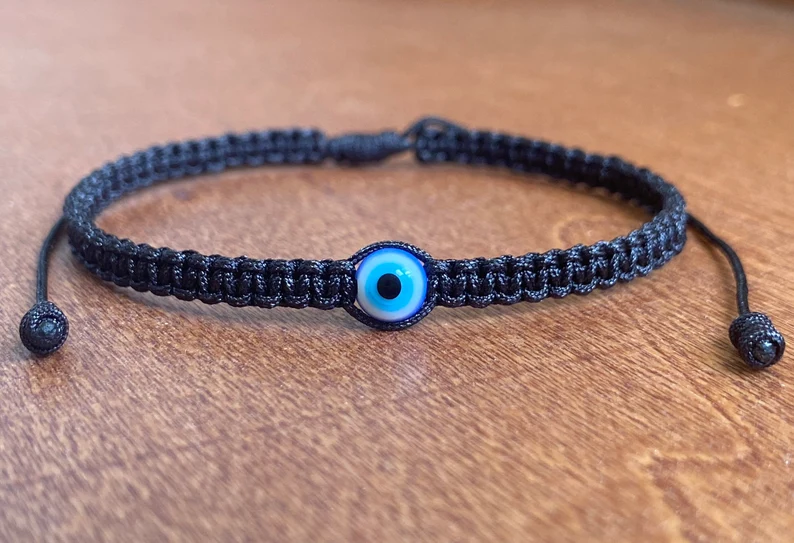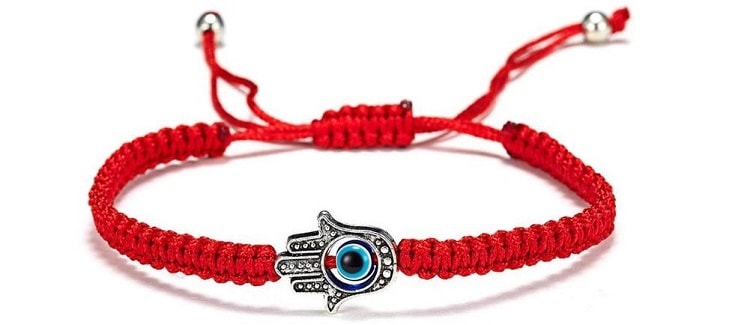 This bracelet also retails for around $6 but offers a different take on the Evil Eye. The Evil Eye is not seen alone but on a Hamsa charm. Popular in the Middle East, the Hamsa is a sign of Divine protection. Made with recycled nylon; select from red, white, blue, or black. Buy Here.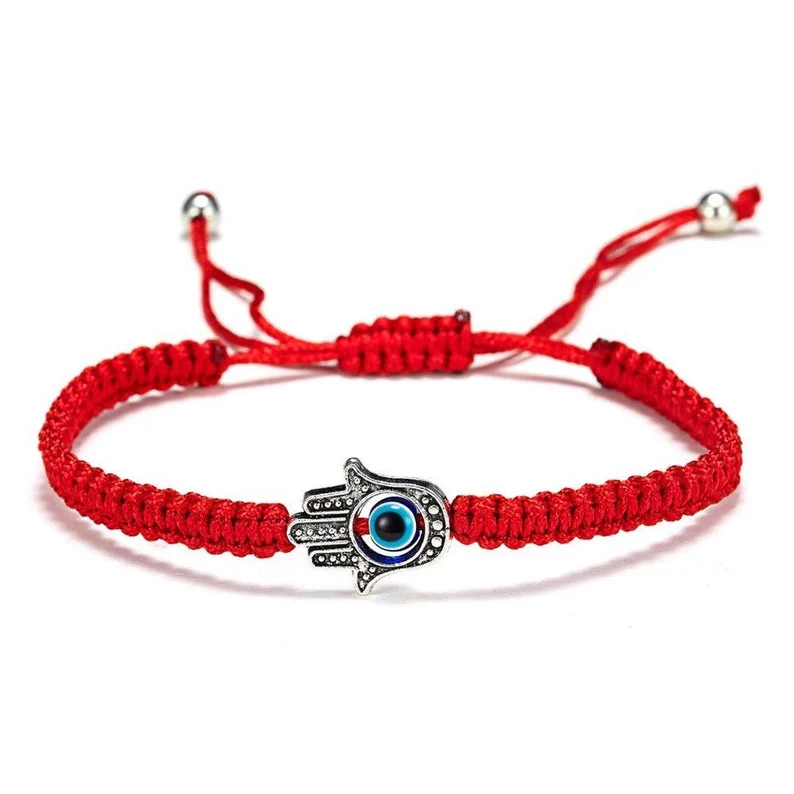 Mens Womens Evil Eye Hamsa Red Protection Bracelet | Etsy
Hamsa is a talismanic symbol that people believed to protect them from harm against evil forces. It is a talismanic symbol that people believed to protect them from harm against the evil eye and bring them goodness, abundance, fertility, luck, and good health.
Check Price
We earn a commission if you make a purchase, at no additional cost to you.

Glass Bead Evil Eye Bracelet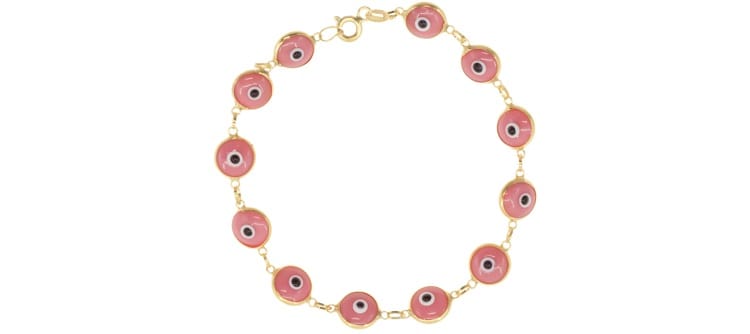 This $49 Evil Eye bracelet is my favorite idea for a casual option. Stradling dressy and informal, glass beads are set on a sterling silver chain (also available with gold plating). Select from prink, white, green, turquoise, and multicolor glass beads. Buy Here.
Evil Eye Jade Bead Bracelet

This $45 Evil Eye bracelet is hard to go wrong with. A classic blue and white combo with silver accents are not only versatile but also immediately recognizable. Jade is set with white beads and a silver base. Buy Here.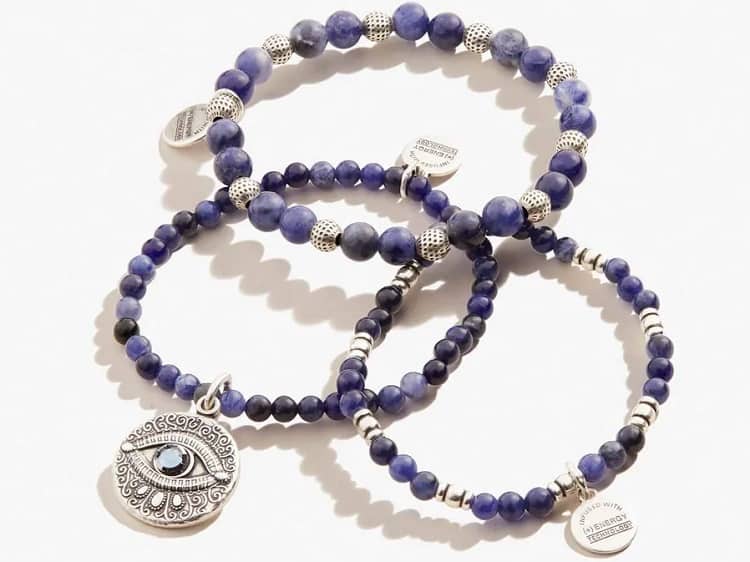 This set of three Evil Eye bracelets costs just $54.60. Set with a nickel-free, silver finish, these stretch for comfortable wear. Sodalite gemstones and crystals add touches of luster. The Evil Eye is a playful addition to the purple and lilac beads. Buy Here.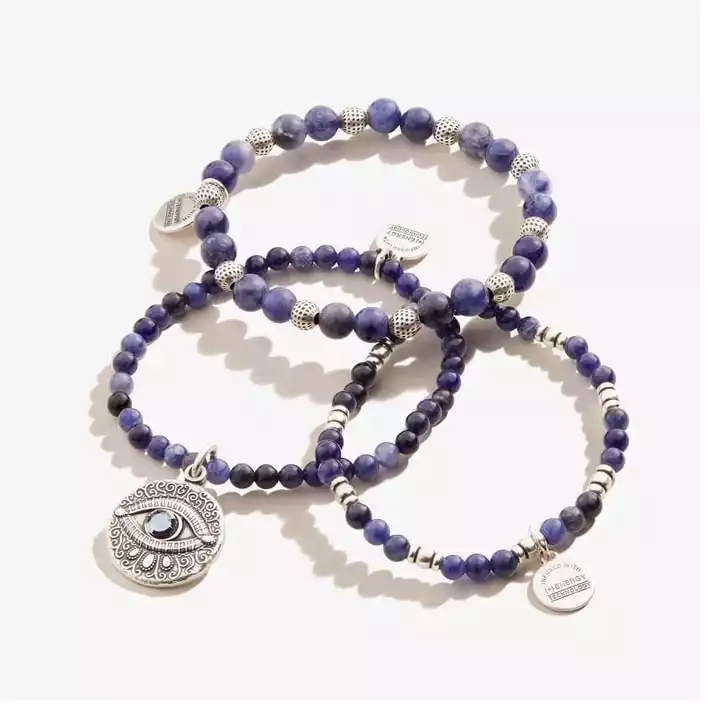 Evil Eye Charm Bracelets
Charm bracelets never truly go out of fashion. Charm bracelets are even the main draw of some designers like Pandora. Whimsical and more personal, these bracelets also make excellent gifts for a friend or loved one. With charm bracelets, you can easily wear them alone and skip statement rings or other bracelets.
Enchantée Diamond Evil Eye Bracelet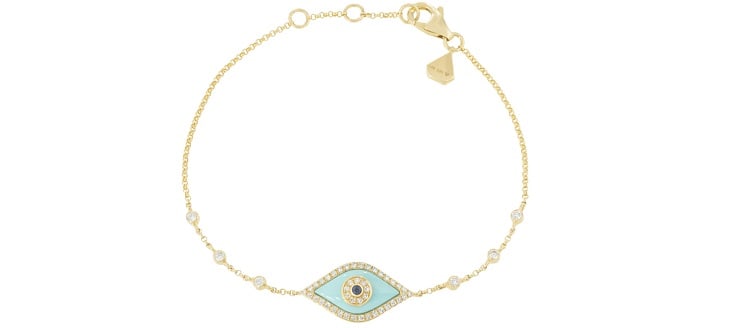 This is indeed an enchanting Evil Eye charm bracelet. Priced at $955, a 1.47-carat turquoise gemstone is accented with .28 round cut diamonds and a tiny sapphire stone. The turquoise and deep blue hues are beautifully complemented by the 14k gold chain. Buy Here.
Evil Eye Enamel Charm Bracelet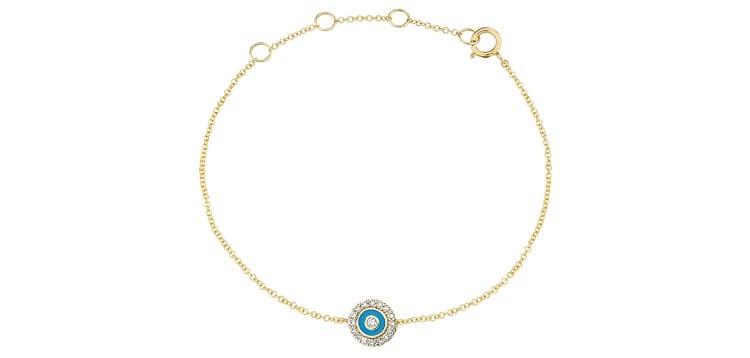 This $445 Evil Eye charm bracelet features just a hint of sparkle from 0.093 carats of accent diamonds. The subtle look is set on 14K yellow gold and is perfect for pairing with bangles or with other accessories.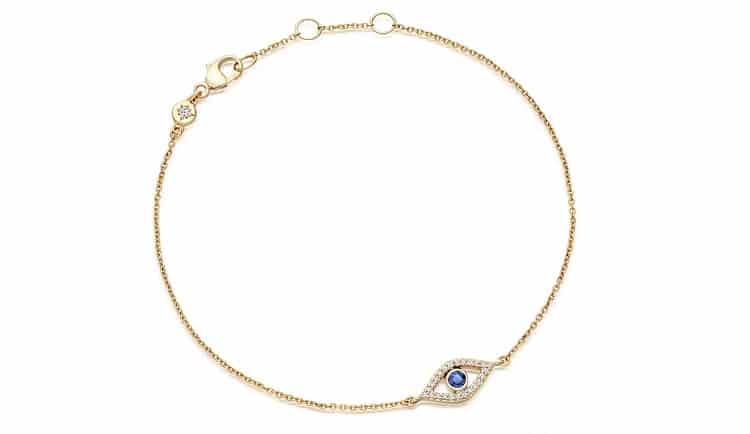 Sapphire and diamonds create a stunning look for this $670 Evil Eye charm bracelet. 0.057 carats of white diamonds accompany 100 percent recycled 14K yellow gold. This is a refined look, drawing attention to the Evil Eye with expressive subtlety. Buy Here.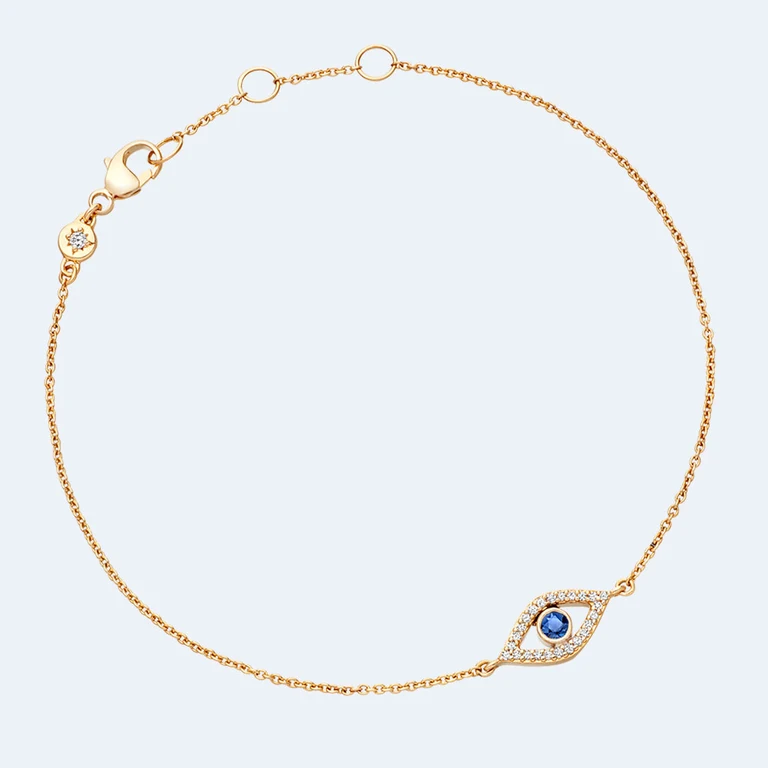 Evil Eye Fine Biography Sapphire Bracelet | Astley Clarke
From our Fine Biography collection, this Astley Clarke bracelet features our iconic evil eye symbol at its center, crafted from single-cut diamonds and blue sapphire, beautifully set in 14-carat yellow gold.
Check Price
We earn a commission if you make a purchase, at no additional cost to you.


This fine jewelry charm bracelet is my favorite pick in this category. Now on sale for $547.50, the 14K white gold provides a beautiful backdrop. A 0.28 natural sapphire stone is accented with white and black diamonds. Beautifully crafted and an excellent option for a bracelet that should retain its value; Buy Here.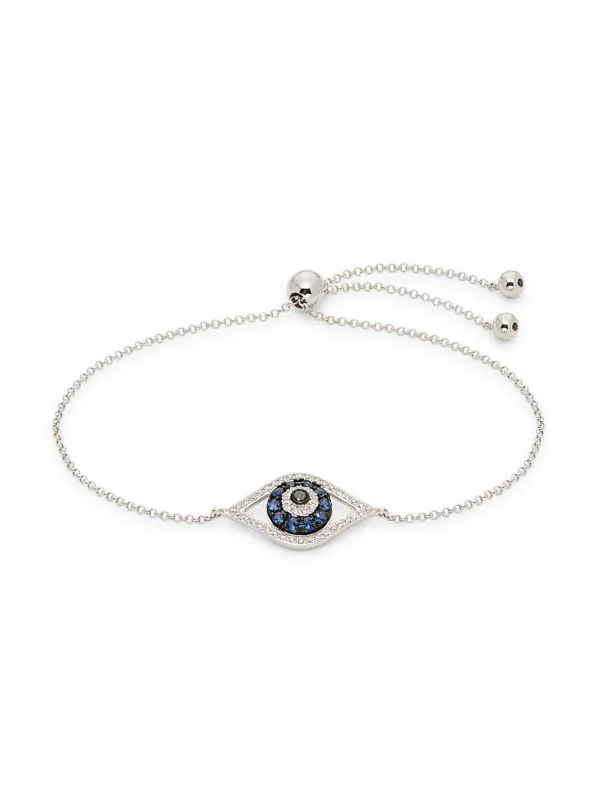 My final pick for Evil Eye charm bracelets comes from Angara. A beautiful bezel-set, the round blue sapphire gemstone is surrounded by 0.22 carats of high-quality diamonds. You'll have your option of 14K yellow, rose, or white gold, as well platinum. You can also select gemstone quality. Priced from $419 to $3,149. Buy Here.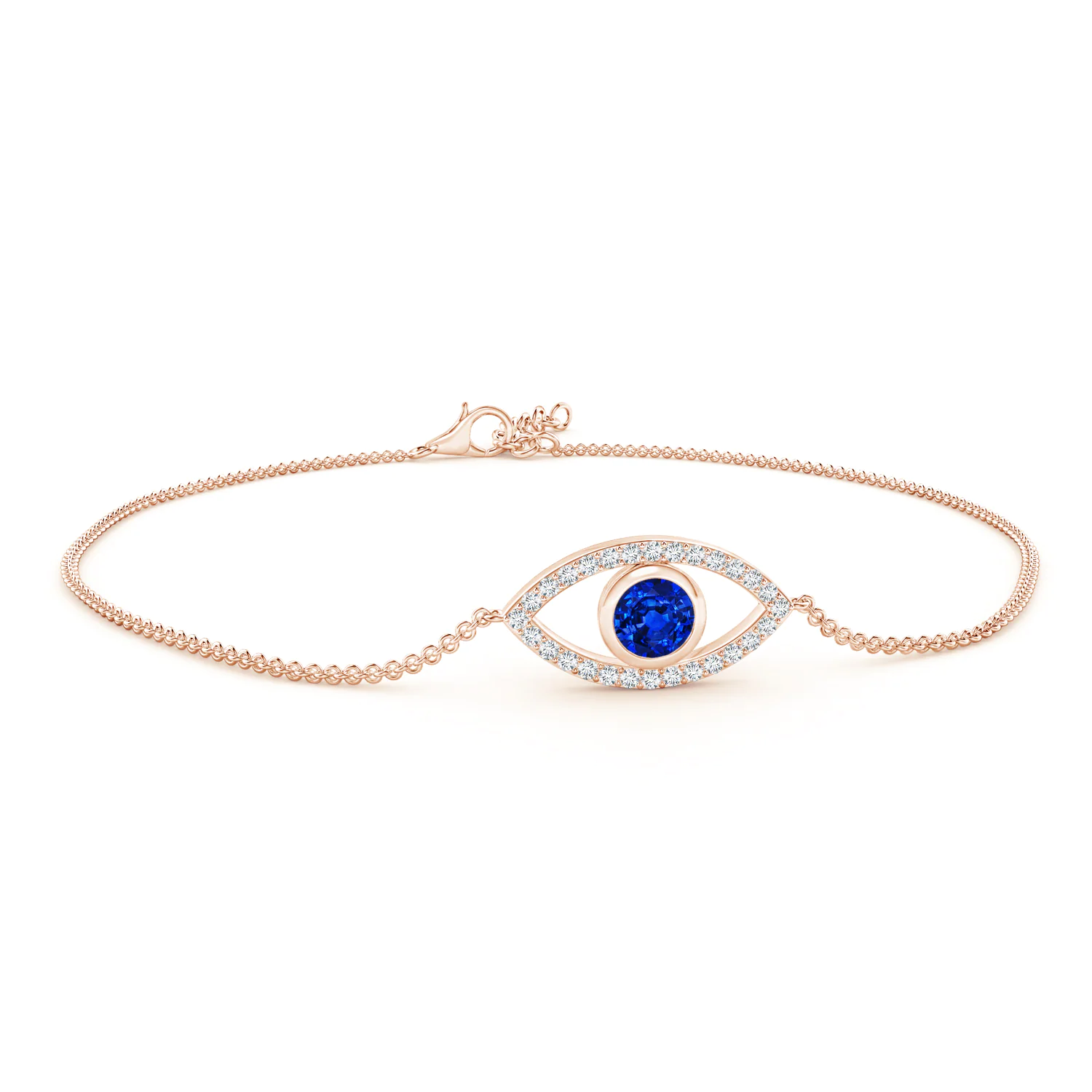 Evil Eye Tennis Bracelets
Tennis bracelets have been popular for quite some time, but the last few years have seen a surge in popularity. That's because these diamond-studded bracelets are no longer worn only for formal occasions. Tennis bracelets are now being worn even with jeans. The emphasis on diamond brilliance adds a magical look to the Evil Eye.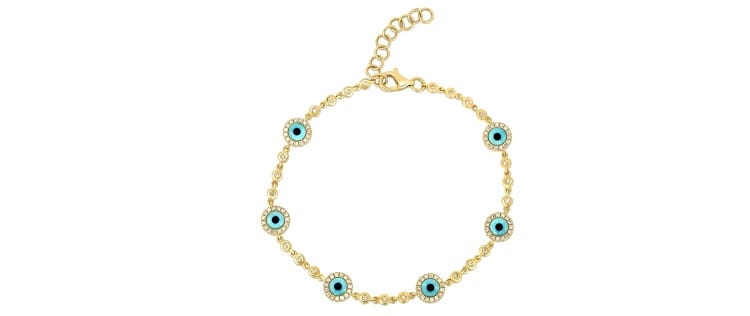 113 white diamonds, for a total weight of 0.34 carats are accompanied by 0.81 carats of turquoise stones and 0.13 carats of onyx. With your choice of 14K yellow, white, or rose gold, this style provides the refined beauty you'd expect from a tennis bracelet. Priced at around $1,250; Buy Here.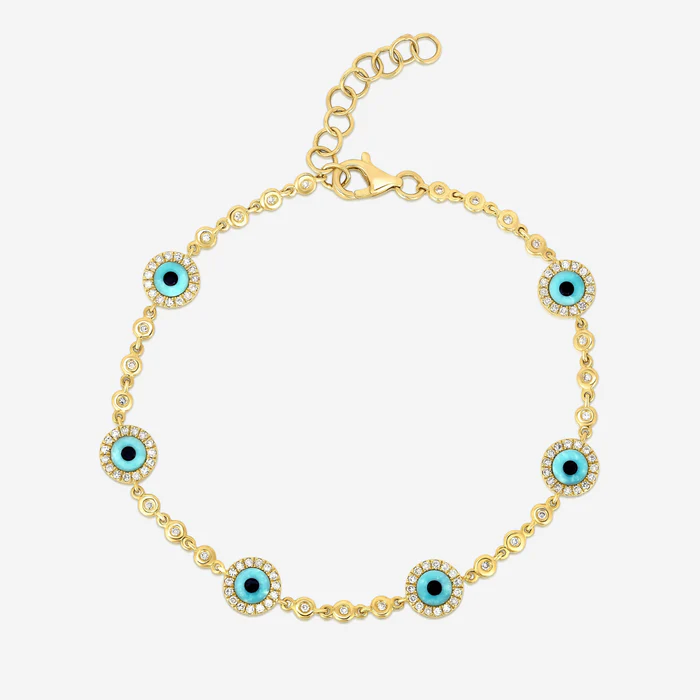 18K Gold Evil Eye Tennis Bracelet

If you have the budget, this around $2,198 Evil Eye tennis bracelet is truly beautiful. Crafted in 18K white, yellow, or rose gold, the design is certainly eye-catching. 1.11 carats of high-quality diamonds accent the soft turquoise hues of the eyes. Buy Here.
Affordable Evil Eye Tennis Bracelet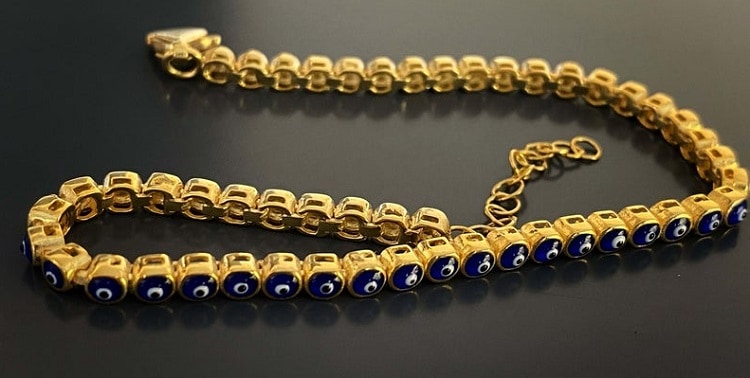 Typically, a tennis bracelet is surrounded by diamonds, but this affordable option keeps the same design and instead focuses on Evil Eyes. Priced at around $115, this tennis bracelet is handcrafted in 925 sterling silver with 24K gold plating. It's a bold and artistic take on the tennis bracelet.
Sydney Evan Evil Eye Diamond Bracelet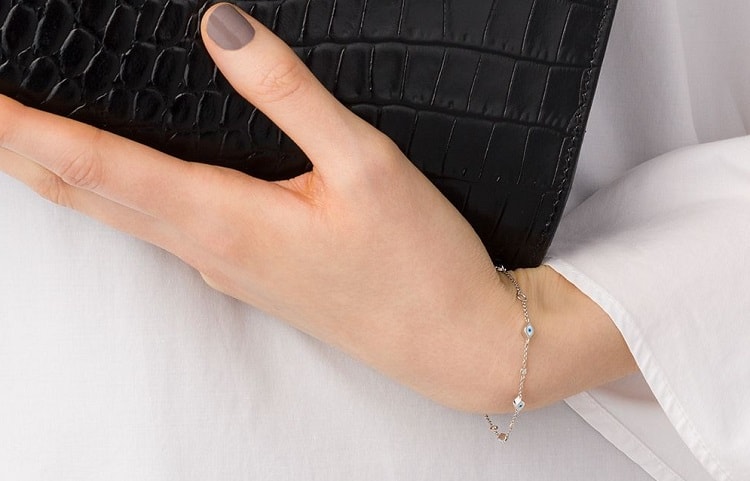 My final idea for Evil Eye tennis bracelets is this around $1,894 option. Crafted in 14K white gold, There's a sense of timelessness. A delicate chain is accented with 0.08 carats of pave set diamonds. It's a look that will likely never go out of style. 
Frequently Asked Questions
Question: Where do you put the Evil Eye bracelet?
Answer: You can place your Evil Eye bracelet anywhere you like when you're not wearing it. If you practice Feng Shui, some like to place their bracelets in a metal bowl with other valuables to 'recharge' energy.
However, this is not typical for Evil Eye bracelets. If you've bought a bracelet in a metal that can tarnish, such as silver, make sure you're storing it in a low moisture environment.
Question: Can you take off your Evil Eye bracelet?
Answer: You can certainly take off your Evil Eye bracelet. In fact, for any Evil Eye bracelet that's prone to tarnish, you need to take it off when you're showering or swimming.
Question: Does the Evil Eye have to be blue?
Answer: While blue is a classic color, and the first, to be associated with the Evil Eye, there are many other colors, each with specific meanings.
Orange is said to attract happiness and creativity; dark green promotes balance and freedom; red increases courage and reduces anxiety; brown provides a connection with nature; purple bolsters imagination; yellow protects the health and improves concentration; grey protects against sorrow; white represents purity and focus, and pink protects relationships.
Final Thoughts
The Evil Eye is meant as a form of protection, but it's also deeply linked to culture and tradition. Today, Evil Eye bracelets are worn by just about anyone and are popular, from glamorous diamond tennis bracelets to casual beaded bracelets.
| Product Image | | Primary Button |
| --- | --- | --- |
| | | |
| | | |
| | | |
| | | |