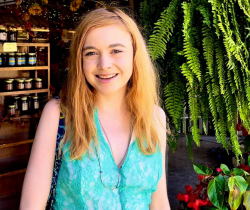 Latest posts by Erin Jamieson
(see all)
Styles come and go, but one trend that never really goes out of fashion? Meaningful accessories that contribute towards charitable causes. And Lokai is one of the hottest brand bracelets with added meaning.
An estimated 73 percent of Americans at least consider charitable giving when making a purchase, according to research by Mintel. And that's likely only increased since that survey, with the impact of a global pandemic and many more aware than ever how important it is to preserve the health of ourselves, loved ones, and the environment.
That's why a company like Lokai continues to have a bright future, tapping into a consumer desire to not only find fun or fashionable bracelet but one that makes a difference. Lokai bracelets, in many ways, are shaping what fashion means in 2022. 
While fine jewelry and luxury brands continue to thrive, Lokai is a formidable force, with new collections being introduced every year– and more money being donated to more causes. 
If you came across this article, you're likely curious about Lokai, but may not understand what's so special about the brand, or the different types of Lokai bracelet. This guide will tackle all of that and provide you with Lokai bracelet ideas to make the purchase that suits you most. 
What's so special about Lokai bracelets?
What really sets Lokai bracelets apart from other casual bracelets? At first glance, you may not think much about them– especially if you're looking at a solid color design. Different types of Lokai bracelets represent different causes, and all of their bracelets go towards funding some sort of cause. 
10 percent of profits are donated towards various non-profit organizations, from cancer research to endangered species protection and more. It's a good enough reason to purchase a bracelet as it is, but many also love the playful designs and flexible, comfortable fit. 
Does Lokai actually donate?
To date, Lokai has given over 8 million dollars across various charity partners and non-profit organizations. Not only that, but Lokai has allocated that money to make a substantial impact across the globe. 
With this 8 million dollars, Lokai has contributed towards: over 7,000 animals being rescued, over 201,00 trees planted, 4 schools built, 98 water wells built, 5 research grants, 26,000 doses of life-saving medicine, 70 wishes grant for the Make-A-Wish foundation, and a year's worth of mental health hotline support. 
Are Lokai bracelets still popular?
Lokai bracelets are still popular, and there are no signs of that changing anytime soon. After the Livestrong bracelet suffered a dip in popularity due to circumstances surrounding Lance Armstrong, Lokai bracelets essentially filled the space left for a casual bracelet brand, focused on charitable giving. Lokai has over 1.4 million followers on Instagram alone and is sold in 160 countries to date. 
Are Lokai bracelets good quality?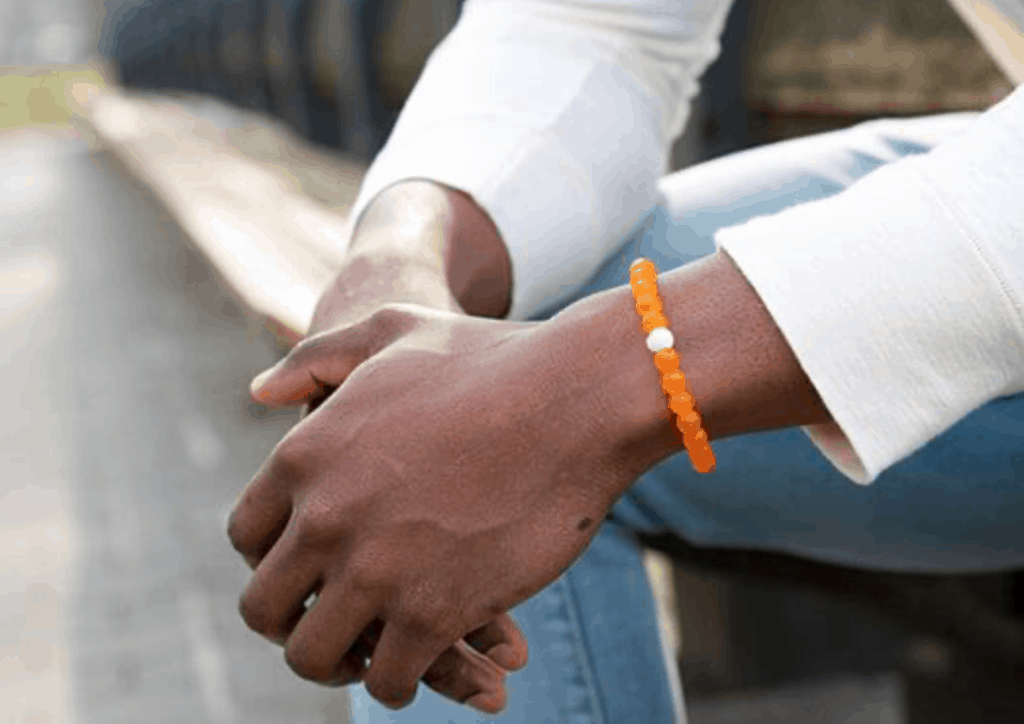 Lokai bracelets are made out of a few materials. The most well-known Lokai bracelets are made out of silicone, but they do sell a handful of bracelets made with other materials, including black onyx, pink quartz, turquoise, tiger's eye, aventurine, white lava stone, and glass beads. 
Do Lokai bracelets break easily?
Lokai bracelets do not break easily. They're flexible but only break if you're buying a fake or stretching it constantly. Their beaded bracelets are fairly sturdy as well. Another plus of silicone is that it's not only durable but biodegradable, which is why it's a favored alternative to plastic. For reference, silicone is a common ingredient in sealants, which can last up to 2 decades in bathrooms. Your bracelet might not last that long, but it is meant to be durable and can be worn daily.
Rose quartz and some other gemstones they use are considered wearable by the Gem Society. While turquoise has a hardness of only 5-6, most stones they used have an average hardness rating of 7, meaning they can be scratched with wear but are generally durable. 
Are Lokai bracelets safe?
Silicone is considered safe for daily wear and tends to be gentle and comfortable even for sensitive skin. For most people, they're casual and easy-going bracelets that can be worn from day to night. 
Can you shower with a Lokai bracelet?
All silicone Lokai bracelets are waterproof, so technically you can wear them to shower. Water will not mar any of their silicone bracelets, so it's a nice assurance if you find yourself caught in a rainstorm. 
Do Lokai bracelets have a warranty?
Another thing I love about Lokai is their warranty. You get a one-time replacement for any Lokai bracelet. This may not seem that generous, but it's unusual to offer for a bracelet priced under $50. 
How do I pick a great Lokai bracelet?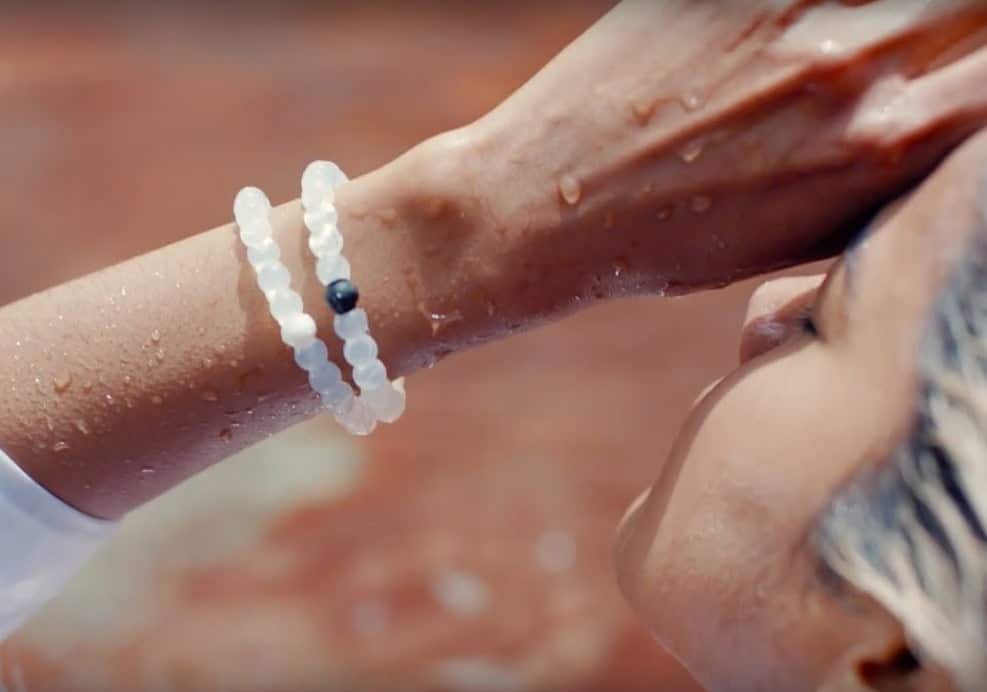 Picking a Lokai bracelet isn't like picking a typical bracelet. Normally, I'd recommend focusing on the quality of the materials used, craftsmanship, and unique design. But with Lokai you have three categories: themed (such as Marvel or Disney), dressy (such as pink quartz), or bracelets that are linked to charitable causes. All Lokai bracelets do donate towards a charitable cause– just some of them are targeted towards specific initiatives. 
How much is a Lokai bracelet?
All Lokai bracelets are priced under $50. Silicone bracelets average $18 to $22, and gemstone bracelets hover around $45 to $48 each. 
They do also offer the option for a Live Lokai membership. A Live Lokai membership costs $20 per month and provides an additional 10 percent off the retail price. Membership fees and purchases still go towards (10 percent) charitable causes. Personally, I think for most people membership isn't going to be that helpful unless you really love Lokai bracelets or want to indirectly donate to charities. 
What size Lokai should I get?
Most Lokai bracelets come in five standard sizes: x-small, small, medium, large, and extra-large. They recommend smalls for adolescents and women with small wrists. Medium fits the average woman and teenage boys, and large fits the average man. To ensure the best fit, I recommend consulting the Lokai Sizing Guide before purchasing. 
What do the Lokai bracelet colors mean?
Each Lokai bracelet has a unique color and meaning. The colors and patterns are meant to symbolize the causes or themes that they represent. Thus, when you're looking at the color of a Lokai bracelet, you aren't simply shopping for styles.
Each bracelet also features a white bead and a black bead. The white bead is made with water from Mount Everest, which is the highest point on Earth, and the black bead is made with mud from the Dead Sea, the lowest point on Earth. These two beads are meant to represent balance. 
Lokai Bracelets: My Picks
Now I'll show you some of my favorite Lokai bracelets that either support a specific, meaningful cause or are fashionable and stand out from the collection. Keep in mind that all bracelets do go towards supporting some form of charity. 
Lokai Silicone Cause Bracelets
These types of Lokai bracelet all have either solid or patterned colors and art designed to support a specific cause. Each color is symbolic and versatile. I love these bracelets because they can truly allow you to show a cause you care about while being offered in playful hues. Bright hues add a lively touch and make you even more inspired to support the causes you care about. These bracelets are mostly priced at $18, with occasional sales for half off ($9). If Lokai is known for anything, it's these iconic bracelets. 
Uplift & Unwind Lokai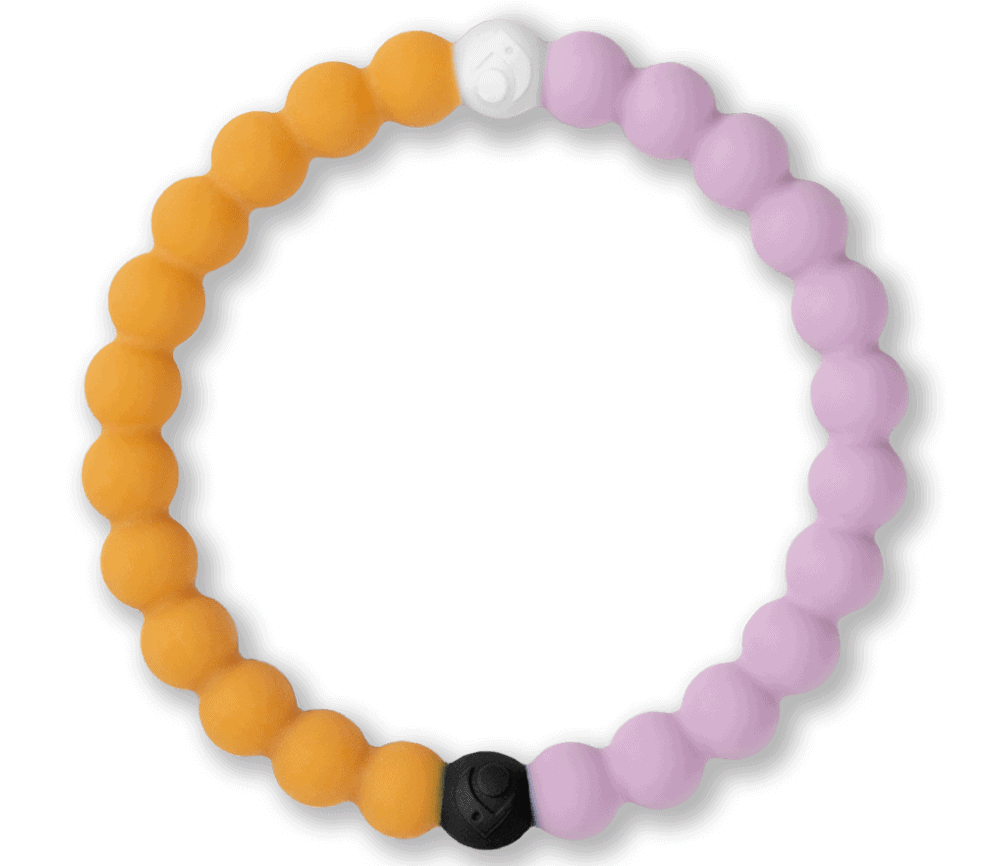 From the Elements collection, this Lokai bracelet was inspired by the hardship– and need for hope–during the pandemic. Sorbet orange and petal pink pair together for a smooth, hopeful color, meant to symbolize the ups and downs of life. The bracelet brings a message of hope and finding balance, as well as internal peace. The Unwind design promotes relaxation and comes in a light sea blue and aqua hue. Neither goes towards a specific cause, but I feel these are important bracelets to consider in a time when mental health and life balance are more important than ever. Buy Here. 
Animal Rescue Lokai Bracelet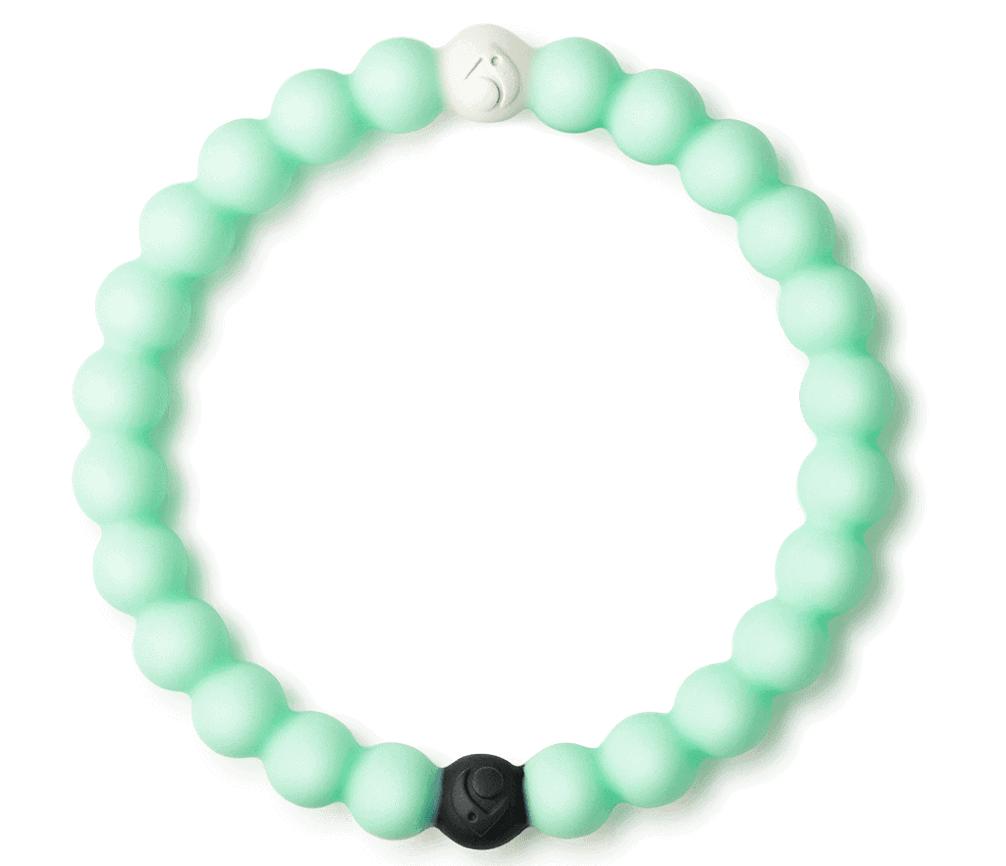 Light mint green beads will stand out from other bracelets. Thus a playful Lokai bracelet is donated to the Humane Society. Donations go towards fighting puppy mills and rescuing animals from natural disasters or poor living situations. Buy Here. 
Veterans Lokai Bracelet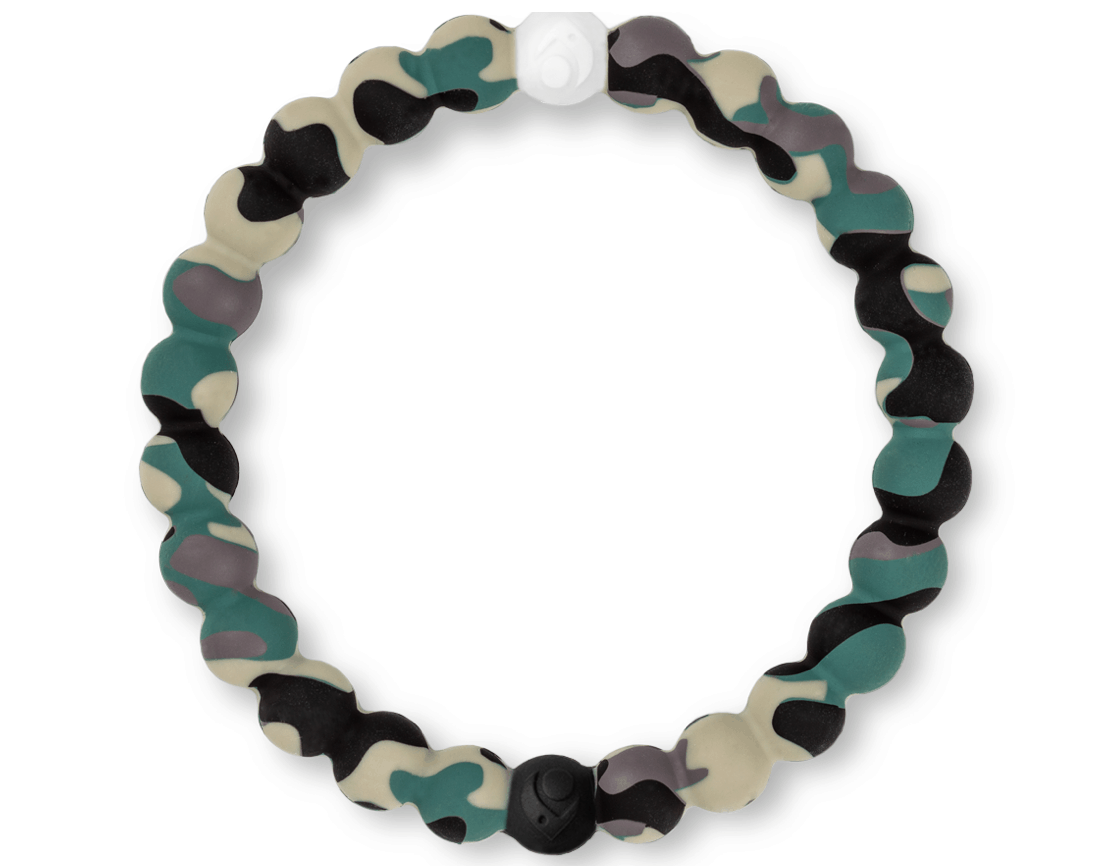 A unique camo print bracelet makes a bold statement, with a cause to match. This Lokai bracelet donates a portion of profits towards the Headstrong Project. The Headstrong Project provides mental healthcare to veterans– an often neglected area of care. The design is also meant to embody the highs and lows of the earth– and all the possibilities. Buy Here. 
No Kid Hungry Lokai Bracelet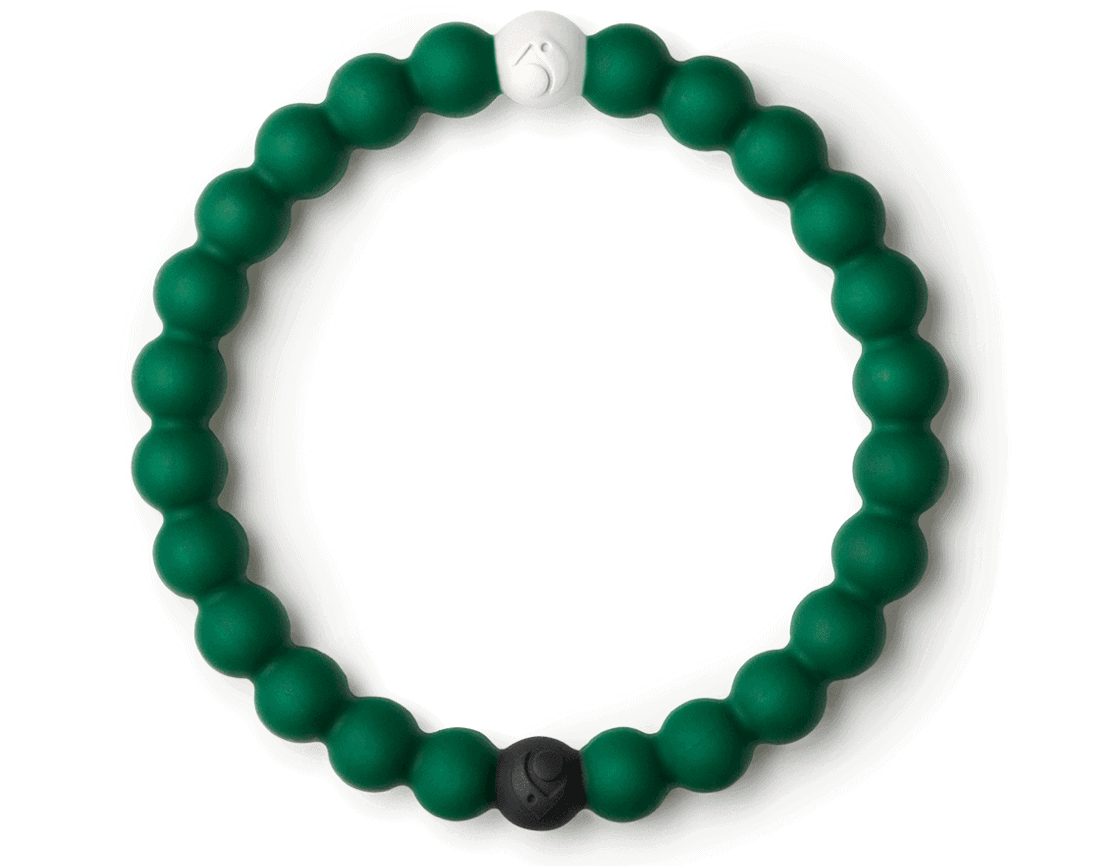 Created in response to the impact of the pandemic, this special Lokai bracelet features a deep green hue. Proceeds go towards No Kid Hungry, a program that provides free meals to children during school closures. Buy Here. 
Stigma-Free Lokai Bracelet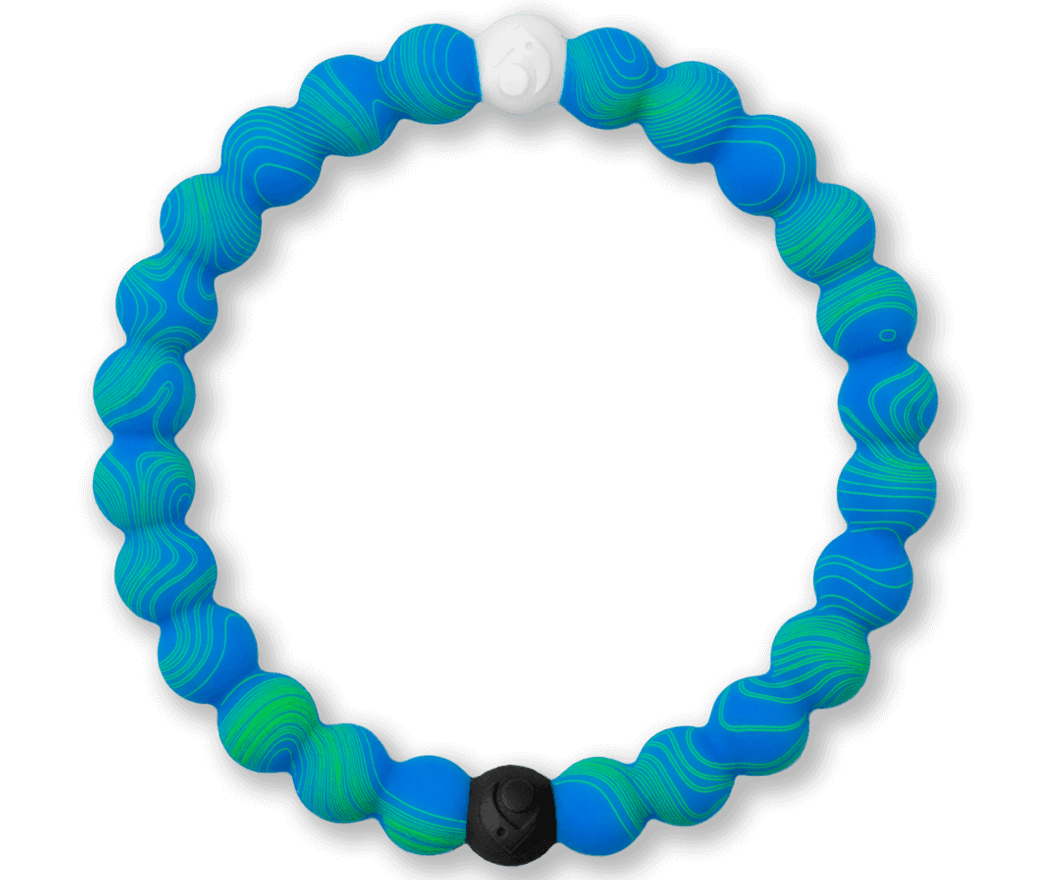 As someone who has suffered from mental health issues, and has seen many loved ones also touched, this bracelet is especially meaningful to me. The Stigma-Free bracelet is donated to NAMI (National Alliance of Mental Illness), a nonprofit organization meant to support families impacted by mental health and advocate for awareness and reduced stigma. The swirled blue and green design is calming and also artistic. Buy Here. (You can also check out the Mental Health Lokai in orange). 
Diabetes Lokai Bracelet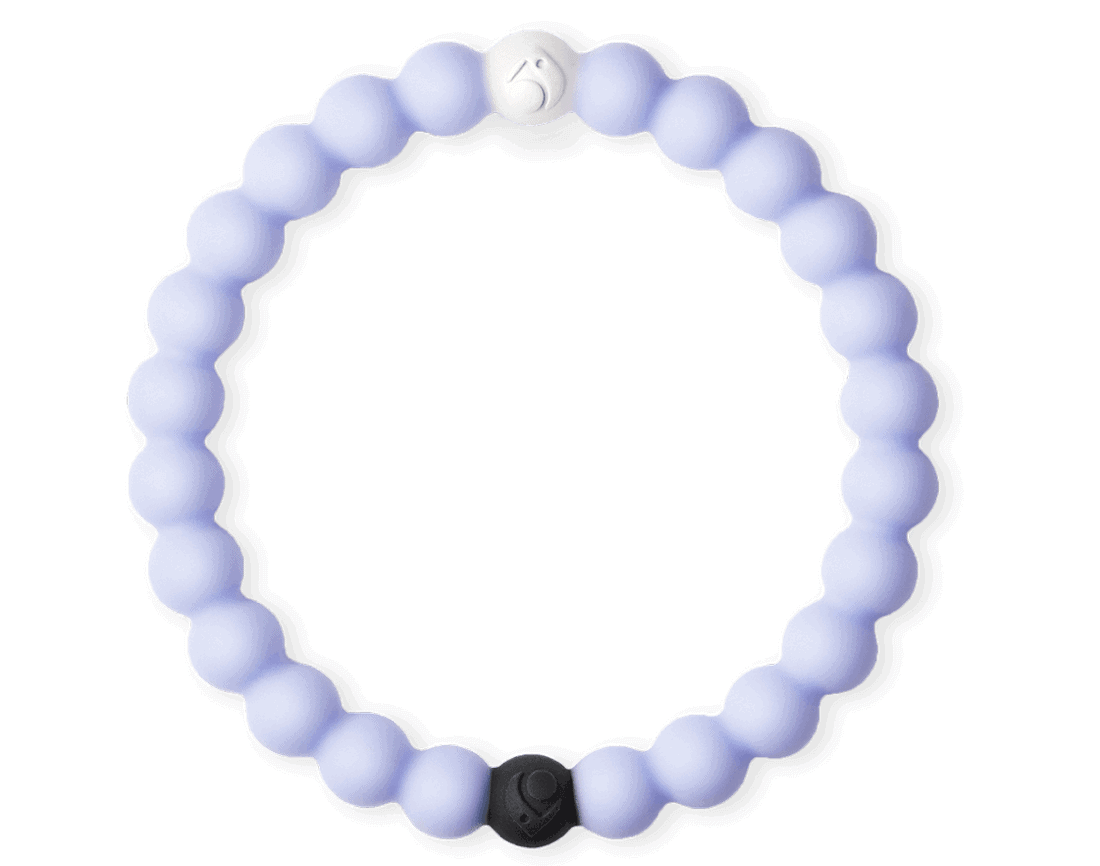 A pale lilac hue makes this bracelet pretty and stylish while supporting diabetes treatment. Diabetes is one of the most common and serious conditions Americans face– over 30 million live with the illness daily. Proceeds go towards research for Diabetes Type I.  Buy Here.
Breast Cancer Lokai Bracelet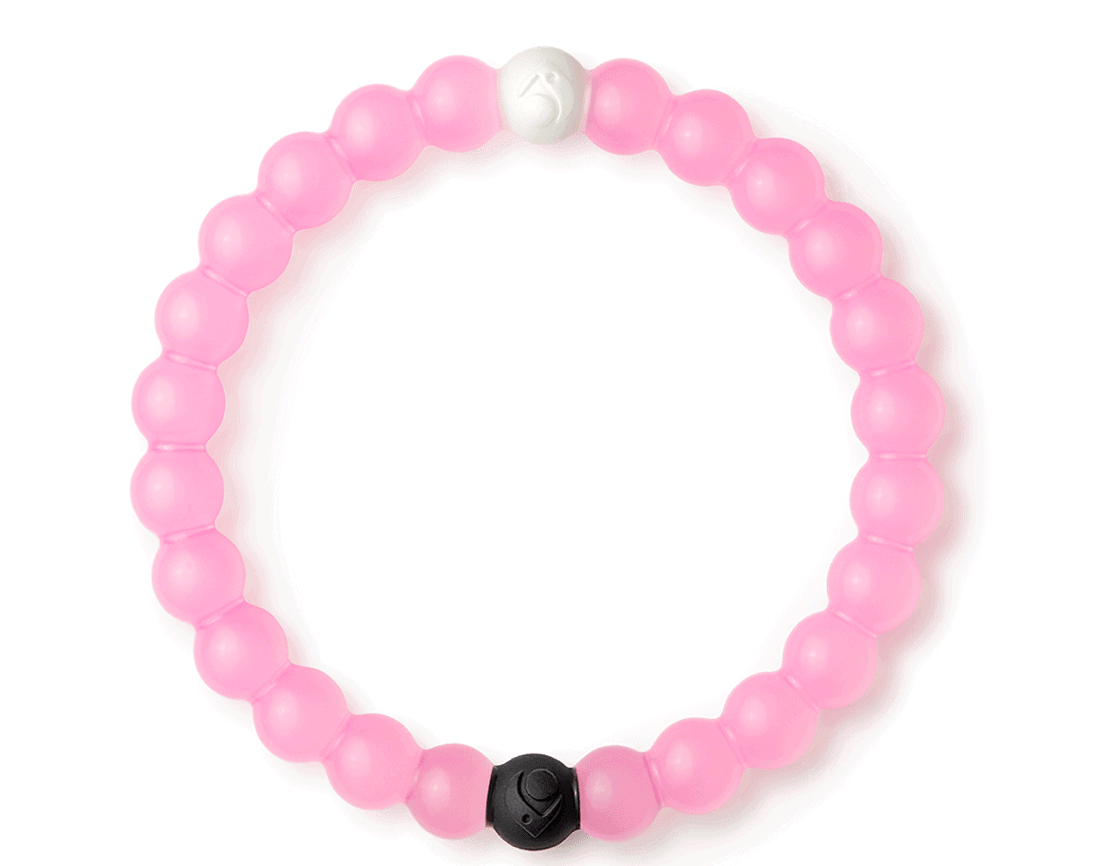 The expressive pink hue is a classic representation of breast cancer awareness. These Lokai bracelets support The Breast Cancer Research Fund, which is critical for developing innovative treatments for one of the most common forms of cancer. Buy Here. 
Alzheimer's Lokai Bracelet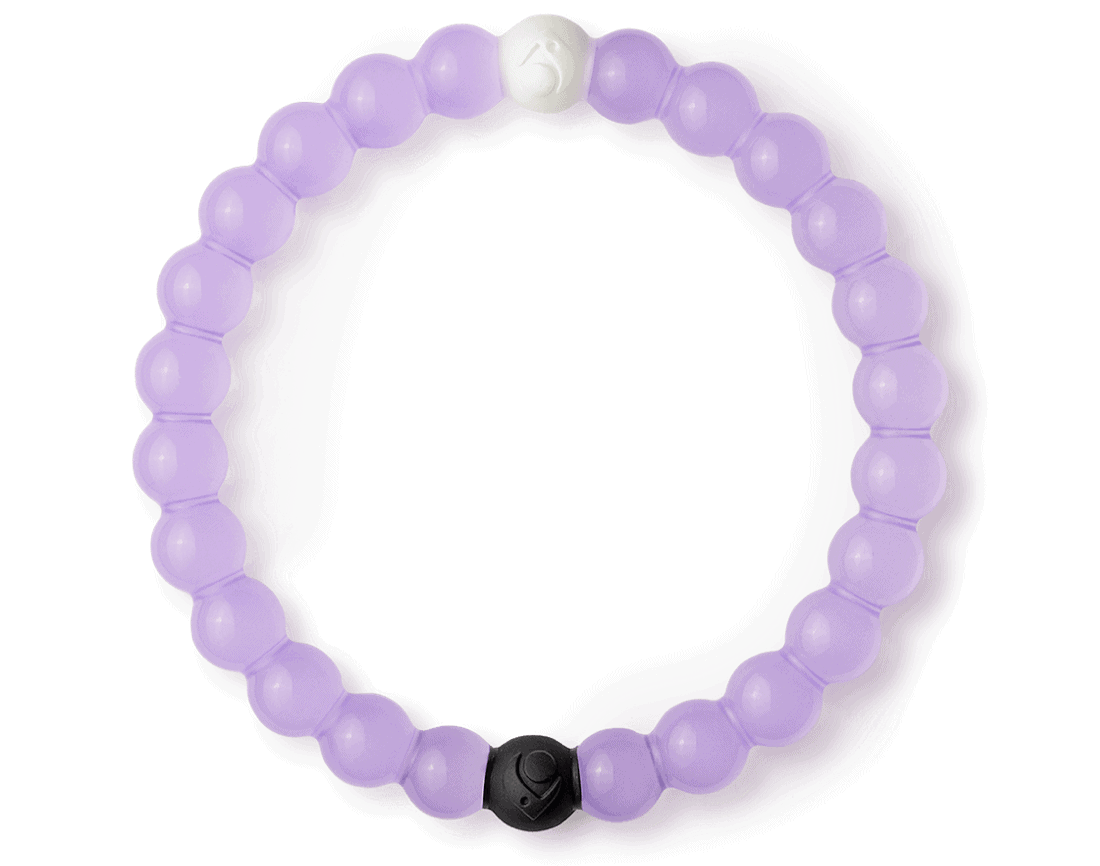 An estimated 1 in 9 people aged 65 or older currently suffer from Alzheimer's. This illness impacts both patients and families and can take a true toll. The Lokai bracelet features a lilac hue and funds research undertaken by the Alzheimer's Association. The design is meant to remind the wearer of taking life's ups and downs with grace. Buy Here. 
Autism Lokai Bracelet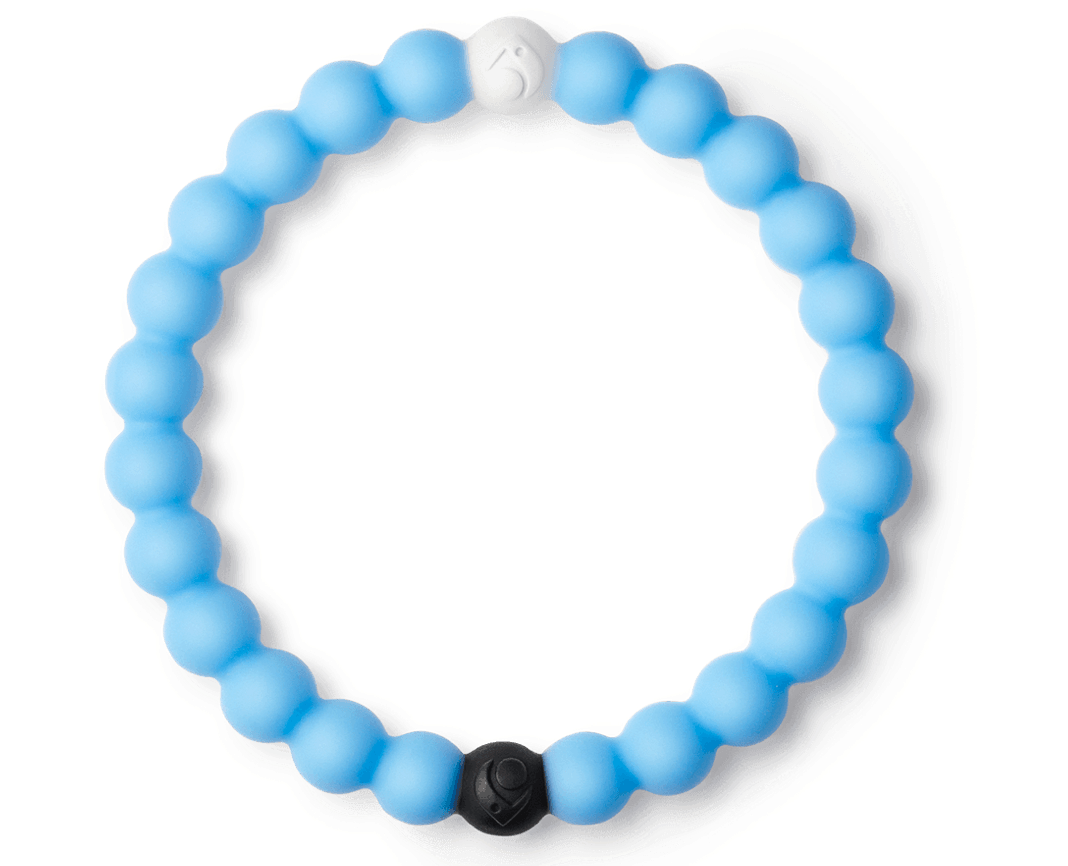 Autism comes in many shapes and sizes, and it's important to recognize that. This baby blue Lokai bracelet funds Autism Speaks. Autism Speaks is a multifaceted non-profit organization that supports research, advocacy, and education efforts for the spectrum of autism. Buy Here. 
Pediatric Cancer Lokai Bracelet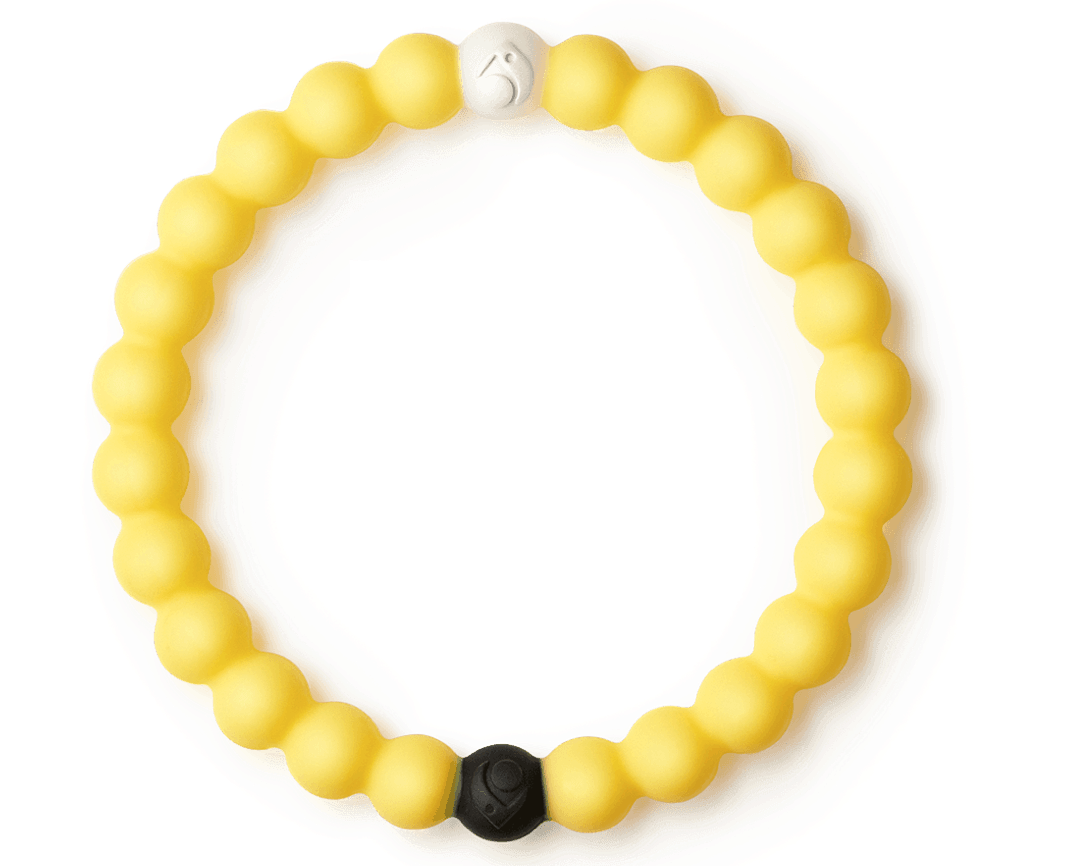 The bright yellow bracelet is sure to catch someone's attention and offers a much-needed burst of cheer. This bracelet supports the National Pediatric Cancer Foundation, which supports research and clinical trials to prevent and treat cancers that impact so many families. Buy Here. 
Make-A-Wish Lokai Bracelet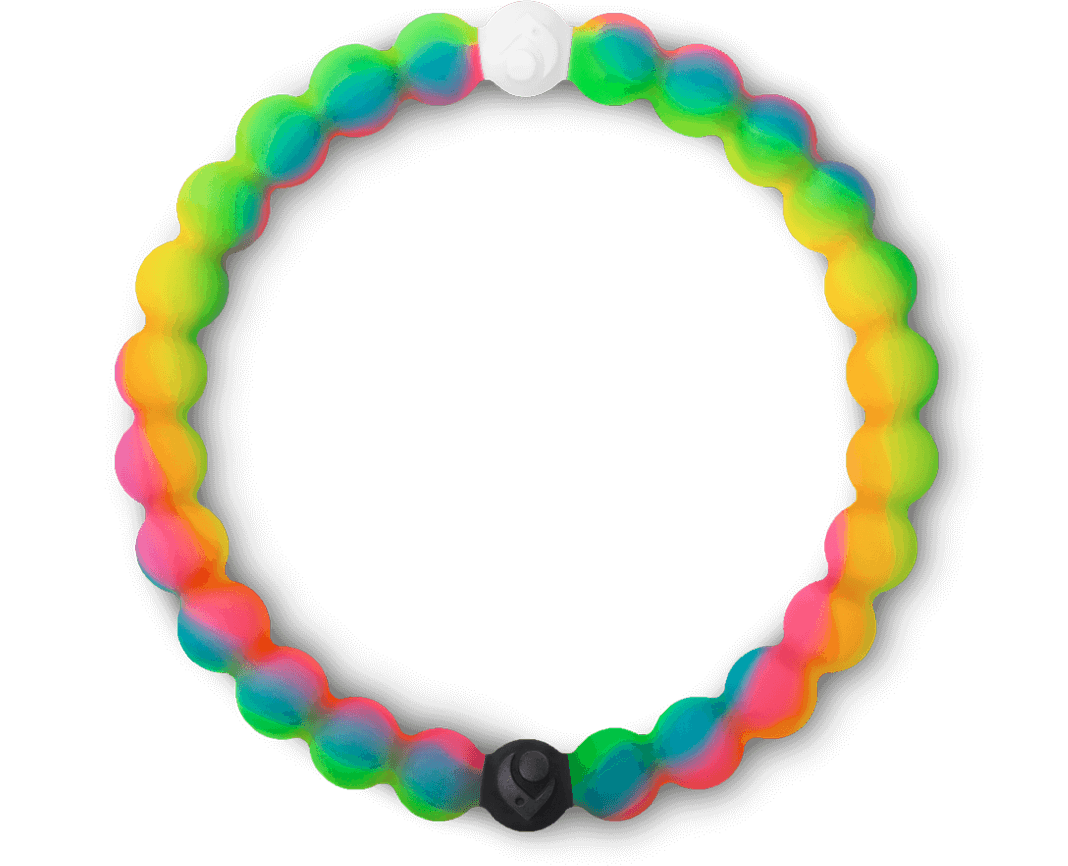 This rainbow-hued bracelet has a tie-dyed effect and an almost magical appeal. That perfectly suits the non-profit organization it funds: Make-A-Wish. The Make-A-Wish Foundation grants dreams for children with terminal illnesses and has made dreams cover true for over 300.000 children to date. It's hard to estimate just how much this organization has touched so many lives. Buy Here. 
Multiple Sclerosis Lokai Bracelet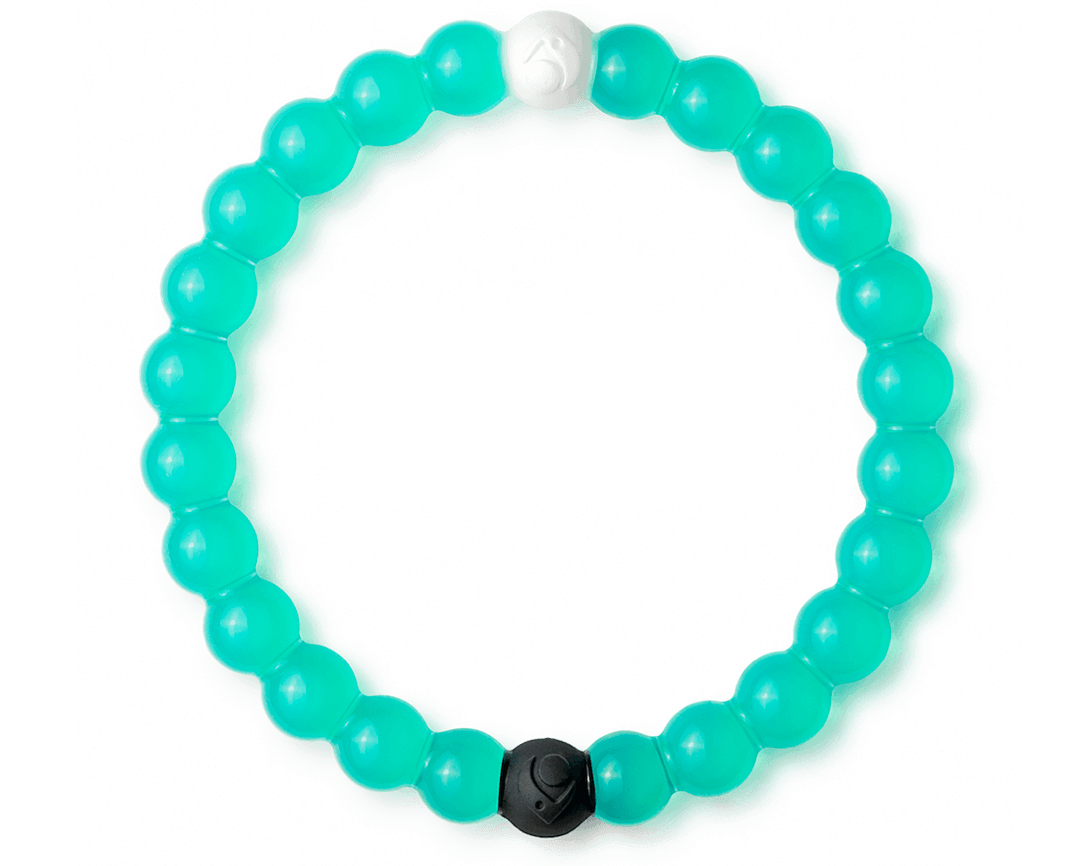 MS is a truly challenging illness, but it doesn't have to mean not living a full life. The teal-colored Lokai bracelet supports the Can Do Multiple Sclerosis Jump Start Program. The program provides educational support to families touched by the disease to help all life as healthy and fulfilled lives as possible. Buy Here.
Pride Lokai Bracelet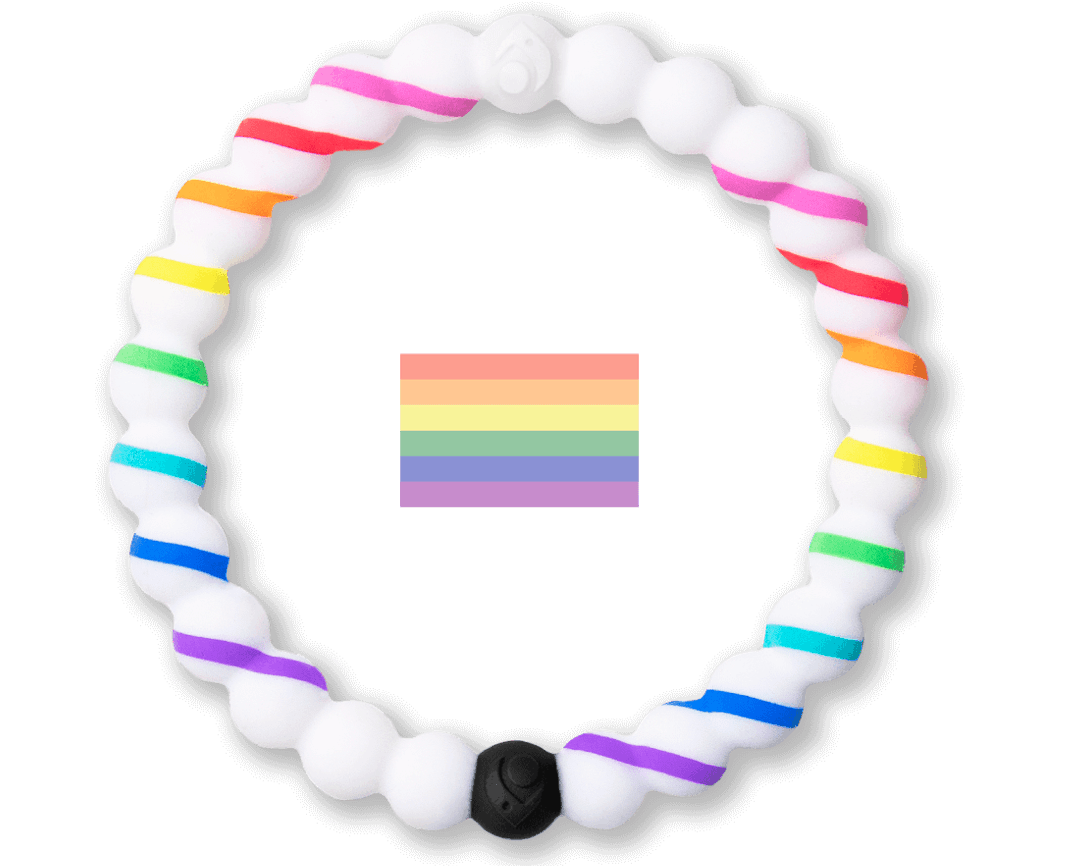 The colorful bracelet is a bold statement of support for the LGBTQ+ community. White is striped with all colors of the rainbow and supports the Trevor Project. The Trevor Project's mission is quite important: to raise awareness about mental health and suicide ideation in the LGBTQ+ community, as well as provide resources for suicide prevention. Buy Here. 
Shark Lokai Bracelet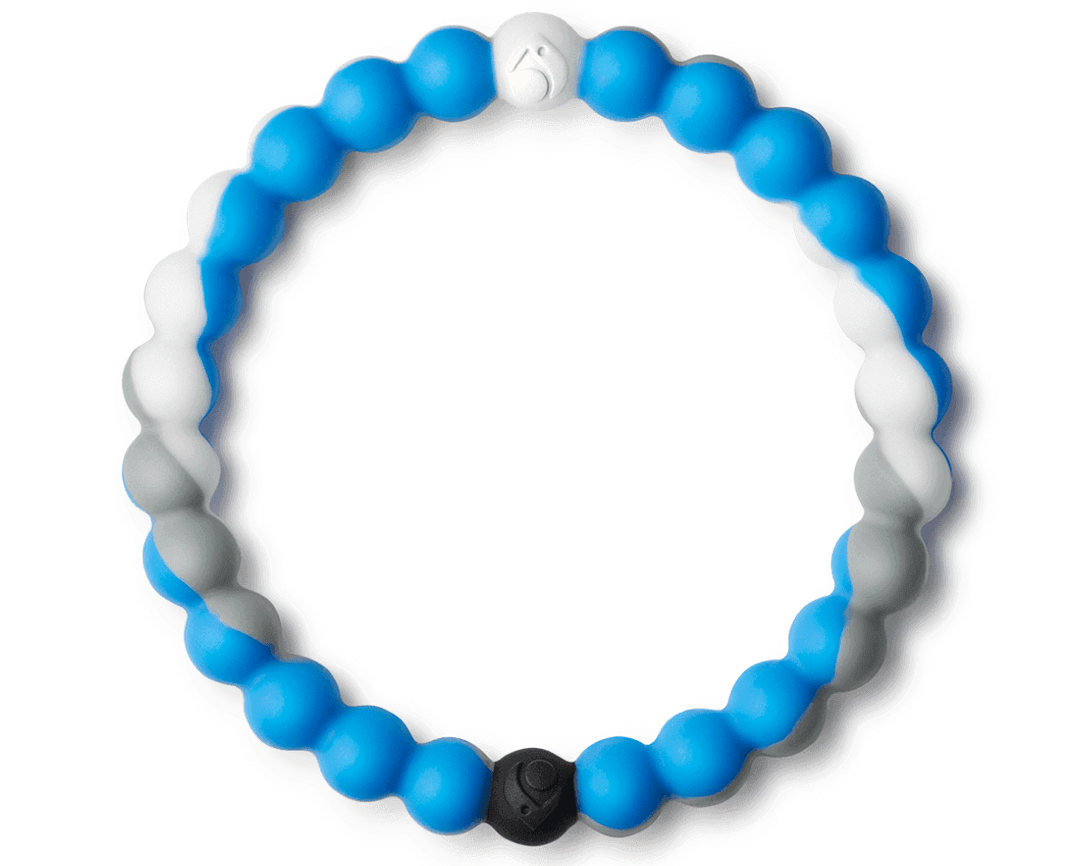 Many sharks are at risk today due to commercial fishing practices. This blue, silver, and white Lokai bracelet is donated to Oceana. Oceana seeks to balance necessary fishing practices while reducing the harm to shark populations. Buy Here. 
Save the Children Lokai Bracelet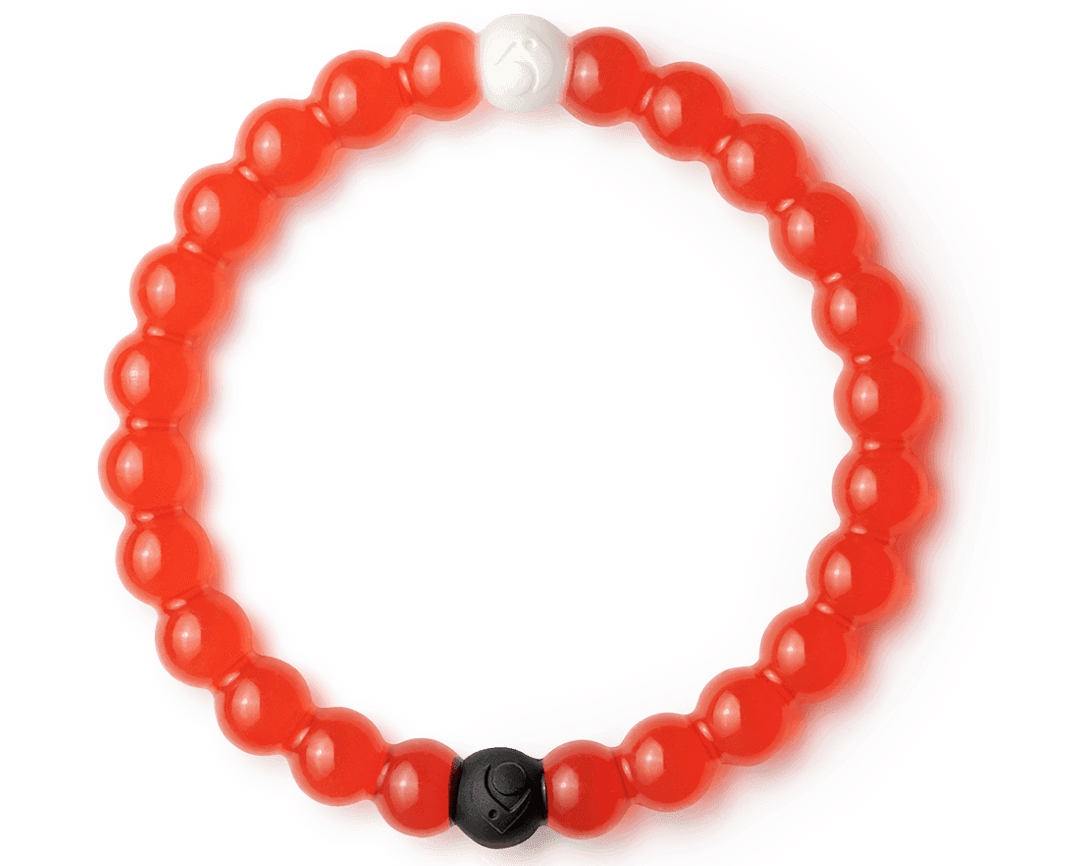 The vibrant, citrus orange bracelet supports children around the world. The Save the Children organization has helped over 157 million children in 120 countries in need. The goal is to ensure children have access to proper housing, care, and a safe and loving environment to grow up in. Buy Here. 
Water Lokai Bracelet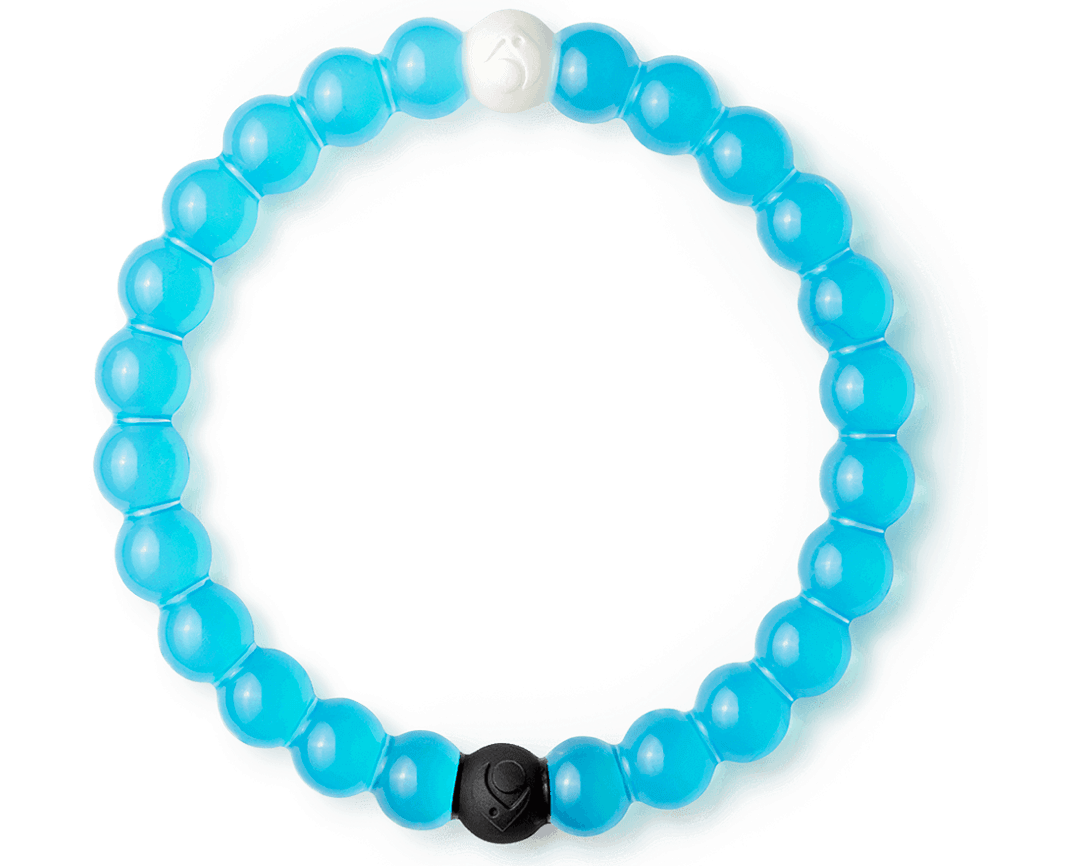 Over 660 million people live without access to clean water around the world– a startling and troubling statistic. This light blue, calming bracelet supports the construction of safe drinking wells around the world for those in need. Buy Here. 
Wings For Life Lokai Bracelet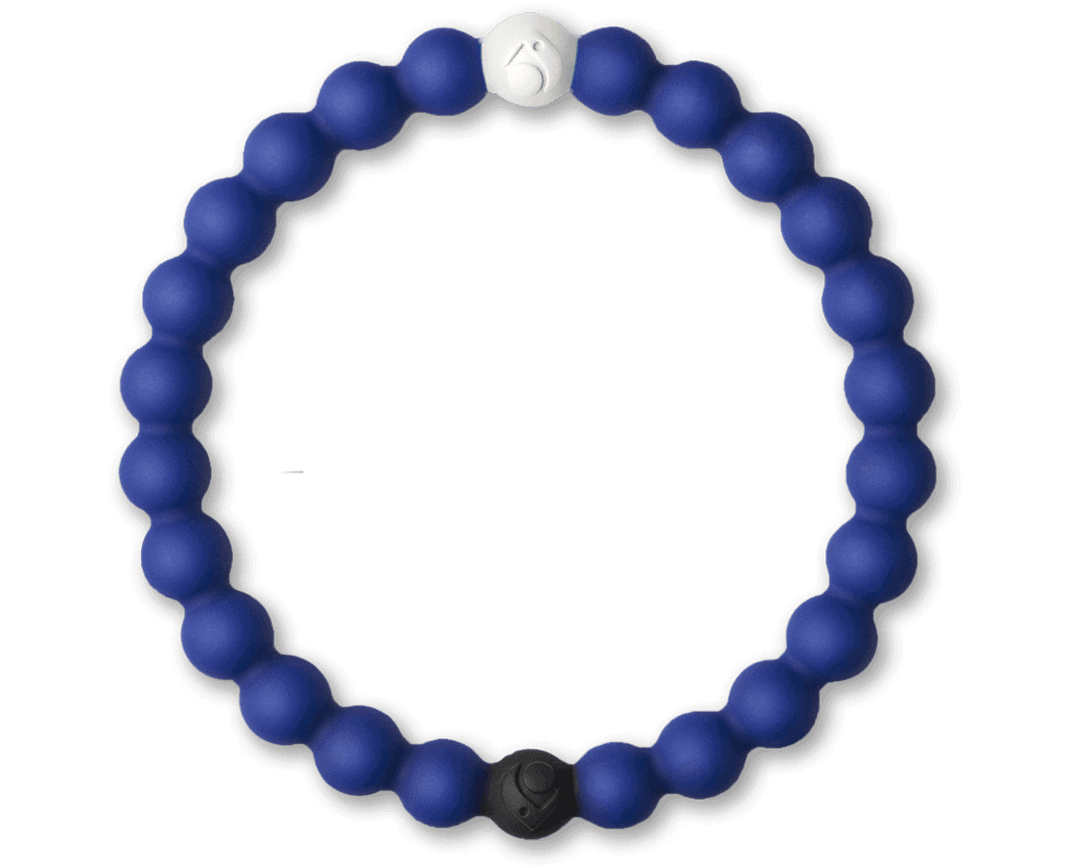 This deep blue Lokai bracelet provides respect and support for those impacted by spinal cord injuries. Wings For Life is a substantial provider of groundbreaking research and treatments, with a potent message of never giving up hope. Buy Here. 
Red X Lokai Bracelet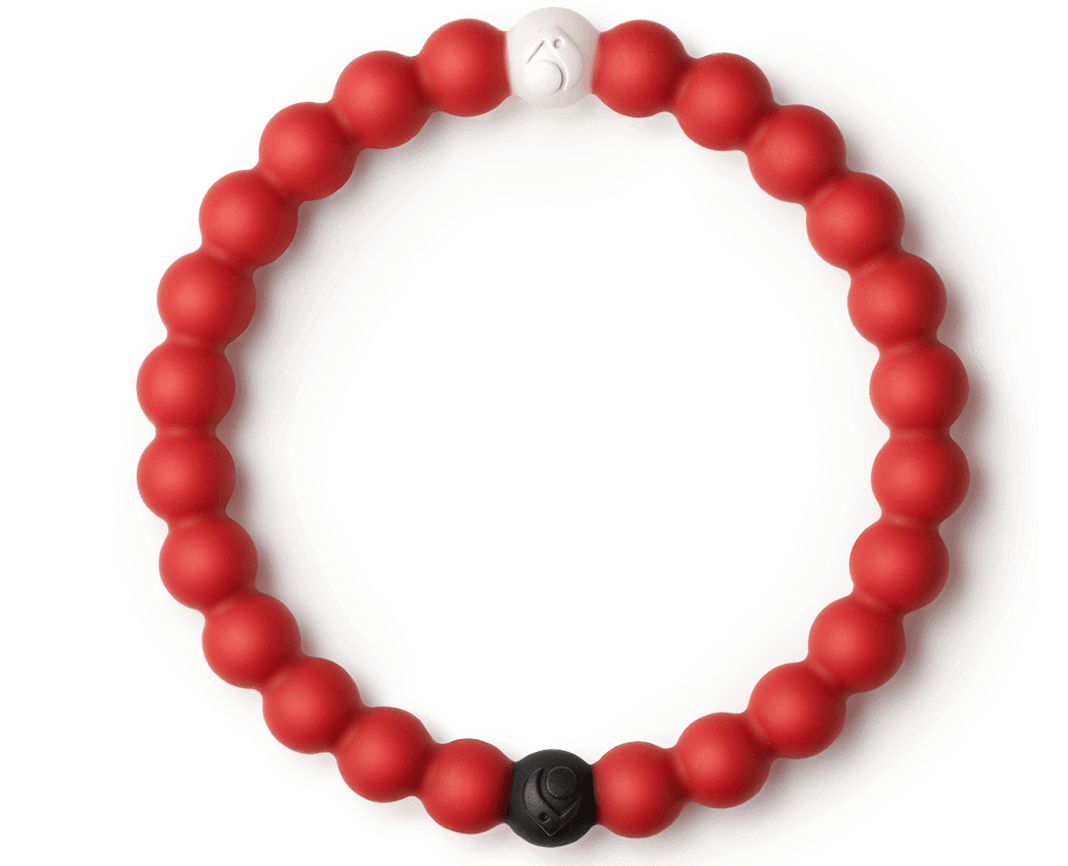 Treatment, awareness, and less stigma have all been hopeful signs for those living with HIV. Yet, there is a long way to go. This vibrant red Lokai bracelet supports medication and important support for those diagnosed with HIV, as well as advocacy to continue to reduce its spread. Buy Here. 
Wild Lokai Bracelet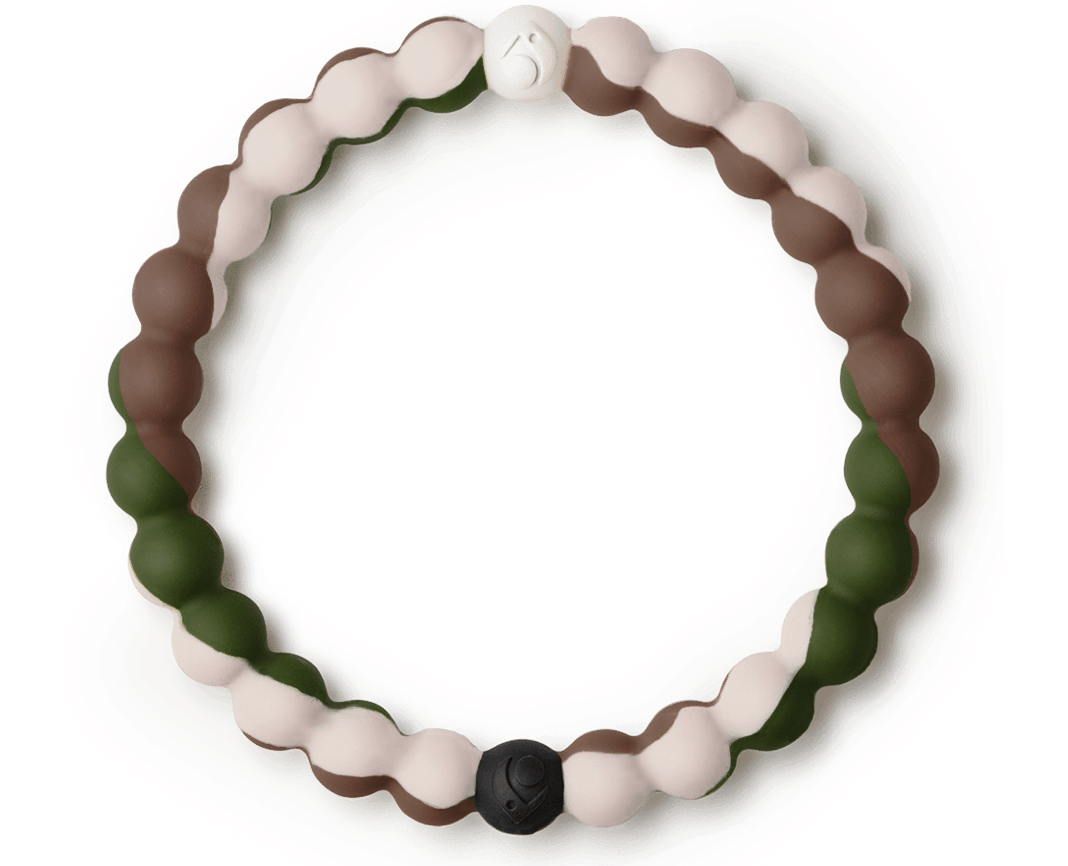 This brown, green, and white camouflage bracelet makes for a fun but also the meaningful bracelet. The Wild Lokai bracelet supports the World Wildlife Fund. This fund has spent the past 5 decades in collaboration with over 100 countries with efforts to conserve species and support the diversity of wildlife all over the world. Buy Here. 
Wear Your World Lokai Bracelet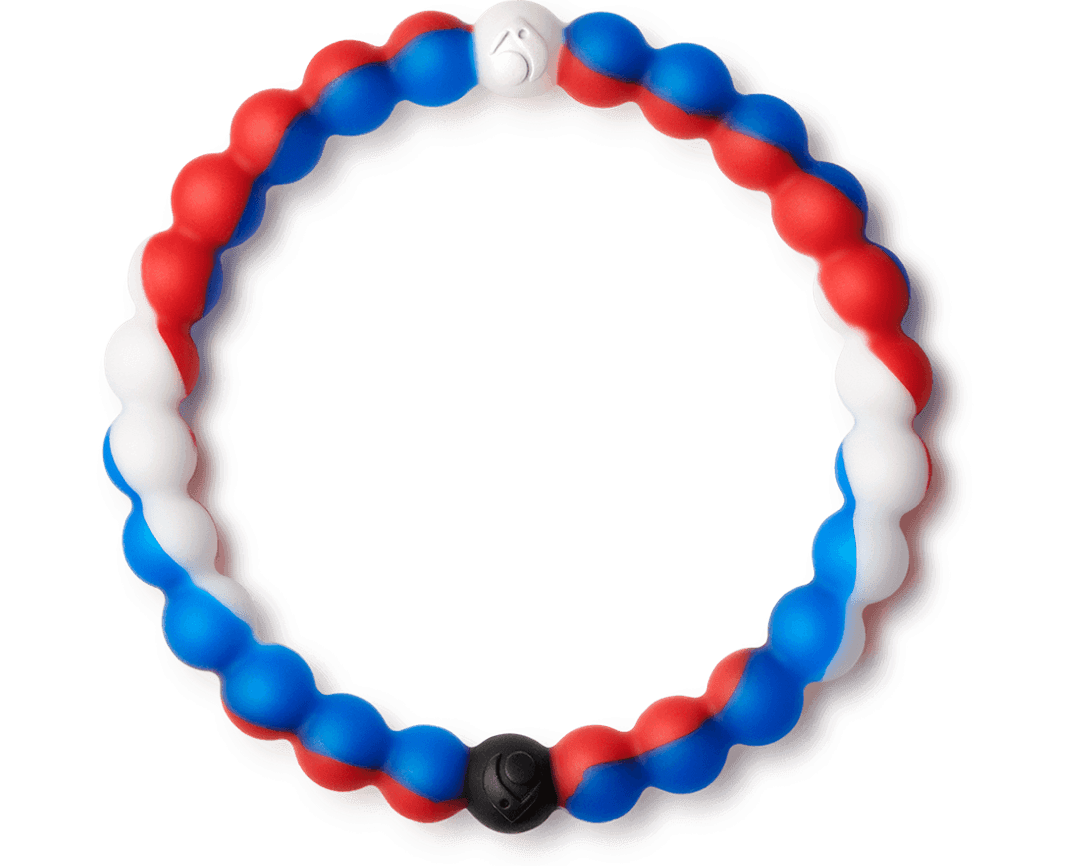 Civil wars, government unrest, and natural disasters impact lives around the world. This patriotic-themed bracelet supports refugees displaced by war and disaster. To date, Lokai has donated $150K to the International Rescue Committee. Buy Here. 
Environment Lokai Bracelet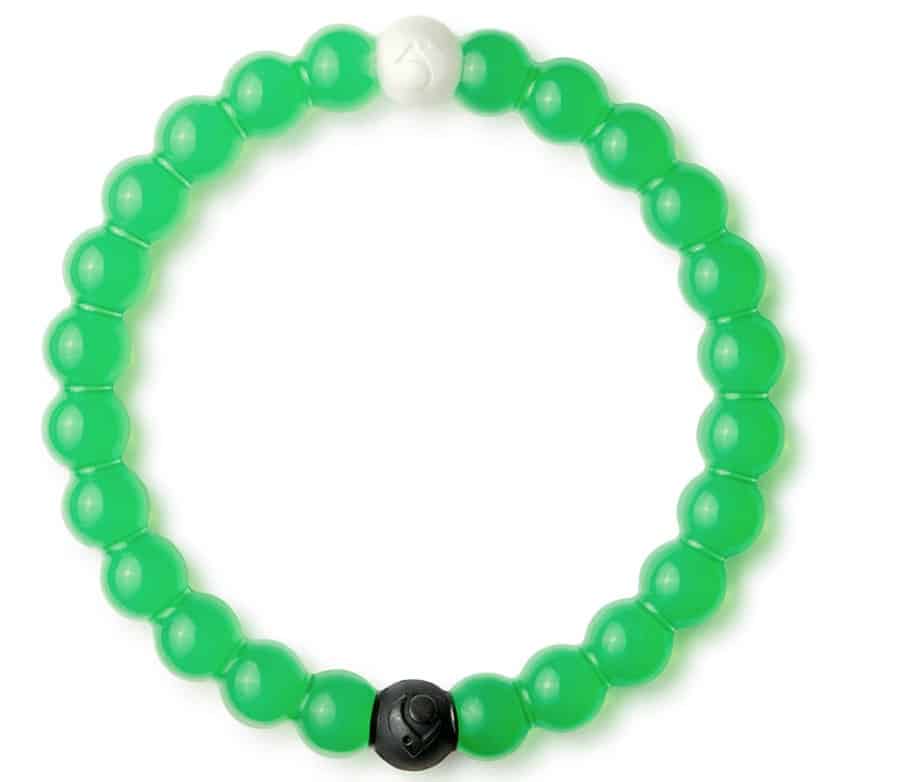 This lime green bracelet supports an equally green mission. Proceeds go towards the National Conservancy, which has protected natural resources for over six and a half decades. The main initiative is to plant trees to restore the balance of our natural resources. Buy Here. 
Lokai Silicone Equality Bracelets
You can find patterned bracelets for your favorite teams, limited edition bracelets, as well as bracelets that honor historical or public figures. But I've highlighted a few dedicated to current causes. The patterns are a bit bolder and flashier than your average Lokai bracelet and still provide that durable and comfortable fit that Lokai is known for. 
Women's Empowerment Lokai Bracelet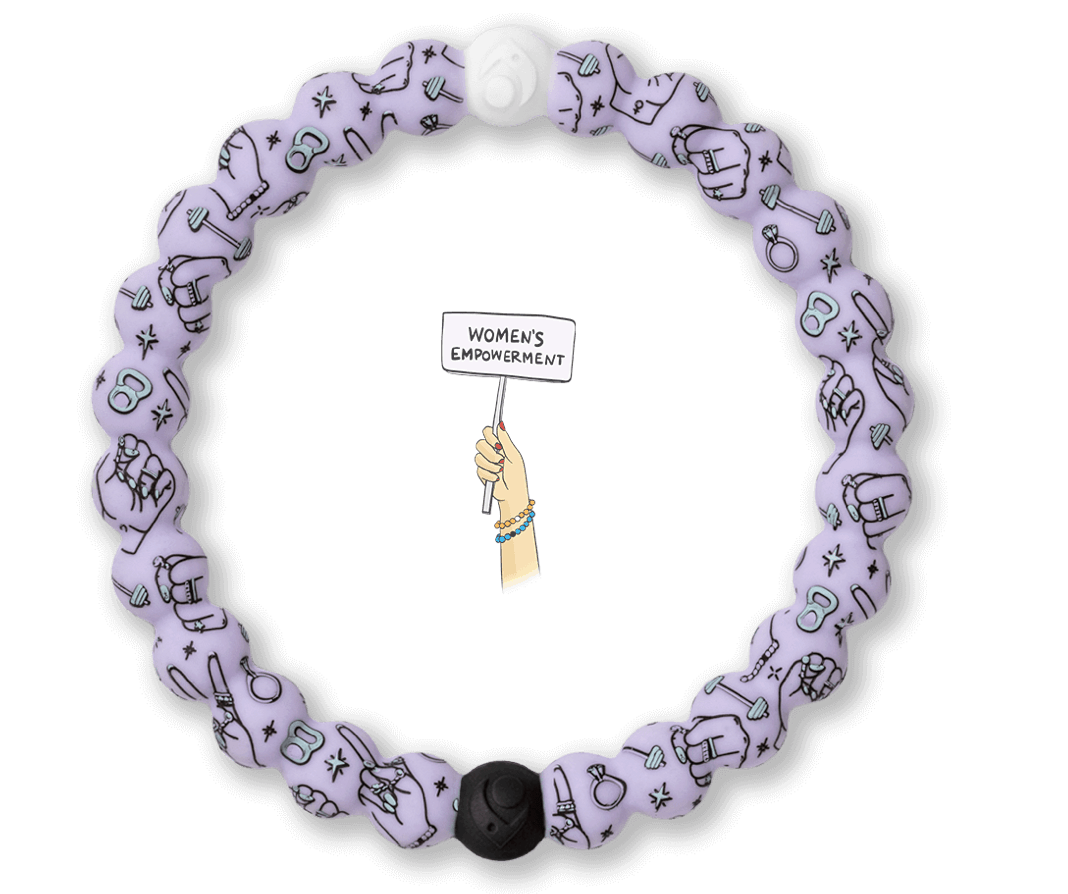 This fanciful bracelet features a lilac hue and unique designs meant to inspire and empower. The energy brought to the design matches the innovation and industry of women in the workforce– and just how much females can accomplish. Profits support the Global Fund for Women, dedicated to equal opportunities for women around the world. Buy Here. 
Black Lives Matter Lokai Bracelet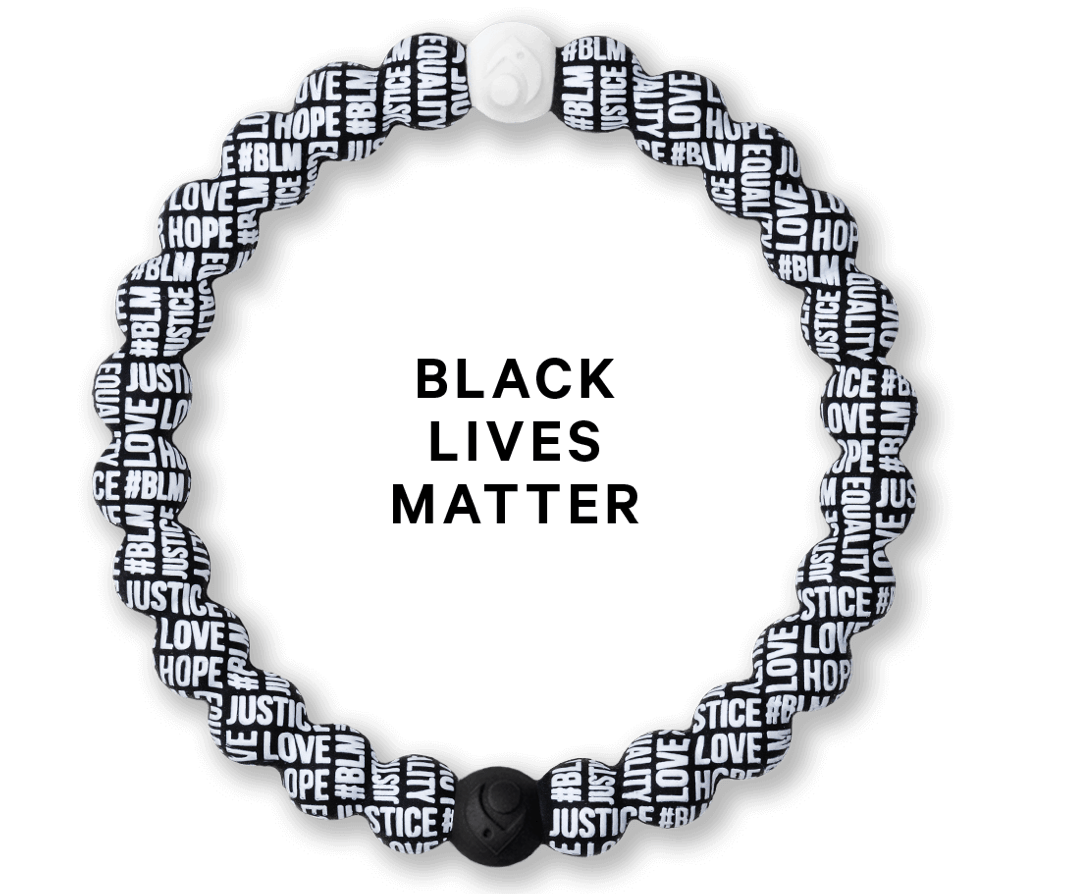 This bracelet needs no explanation. A modern print design clearly states the cause and allows one to proudly declare their support. Proceeds support Black Lives Matter, an organization focused on racial justice and equality, as well as raising awareness about police brutality. Buy Here. 
Gemstone Lokai Bracelets
Lokai also sells gemstone bracelets. These are a bit more dressy, and less focused on specific causes. Instead, most of these bracelets just generally go into the pot towards donating toward any non-profit organization. These cost about double of regular Lokai bracelets, and are made of generally durable gemstones (7 hardness rating on average). 
Options include Tiger's Eye, Black Lava Stone, White Lava Stone, Onyx, Pink Quartz, Lapis, White Turquoise, and Green Aventurine. 
Frequently Asked Questions
Question: Who owns Lokai bracelets?
Answer: Steven Izen founded and owns Lokai. The company is based in New York and markets itself as a socially responsible brand, committed to charitable donations through thoughtful sourcing. The bracelets are mostly made in China, but many materials are sourced from well-known sites, including the Dead Sea.
Question: Are Lokai bracelets vegan?
Answer: As of 2015, Lokai bracelets have been considered cruelty-free and 100 percent vegan. That means no animal products or animal testing is used to create any Lokai bracelets. 
Question: How do you shrink a Lokai bracelet?
Answer: Technically, silicone bracelets can be shrunk. This is done by placing your bracelets in boiling water for around 10 seconds– longer means that your bracelet will shrink even more. However, it's best to follow Lokai's sizing guidelines and order accordingly. 
Question: Are Lokai bracelets unisex?
Answer: Lokai bracelets and sizing are all unisex. That said, the sizing guidelines make it easy to find what will fit you best. Bracelets are offered in standard sizes, from x-small to x-large, and don't have to fit perfectly. 
Final Thoughts 
Lokai bracelets are one of many signs that, in 2022, consumers are looking for more out of their accessories. Lokai bracelets aren't fine jewelry, but are quite suitable for wearing every day– at least their branded silicone bracelets. Giving back to the community with charitable causes makes them stand out from countless other brands.
If you love the idea of a socially responsible jewelry brand but need a fine jewelry bracelet, I recommend Brilliant Earth for precious gemstones and diamonds. For fair trade, unique bracelets, and other products, I love shopping online and in person at Ten Thousand Villages.