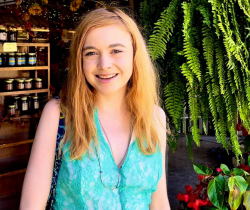 Latest posts by Erin Jamieson
(see all)
What began as a travel goods store in Paris has blossomed into one of the most well-known names in the luxury jewelry industry. And now Louis Vuitton not only has more products than ever– but is using iconic bracelets and other goods to make a positive impact.
One of the biggest trends in jewelry is buying jewelry that gives back. Perhaps that in part inspired Louis Vitton's recent move to donate $380K to UNICEF.
UNICEF, short for the United Nations Children's Fund, is a nonprofit organization dedicated to supplying humanitarian aid worldwide. The organization currently operates in more than 190 countries around the world and has promoted social welfare and educational programs for children in need.
Louis Vuitton's recent donation is aimed at funding educational programs in Ghana. But the brand didn't just supply a one-time donation. In fact, the Silver Lockit bracelet was designed to last year specifically to raise funds for Generation Unlimited, a program in Ghana that supports youth employment and entrepreneurship.
It just does show that luxury bracelets aren't always a status symbol, but can be used to support a greater cause.
But the Silver Lockit bracelet aside, Louis Vuitton has an impressive collection of both fashion and fine jewelry bracelets. I've put together this guide to the best Louis Vuitton bracelet ideas, because if you're looking for Louis Vuitton designer bracelets, you want them to be the best. 
Is Louis Vuitton jewelry worth it?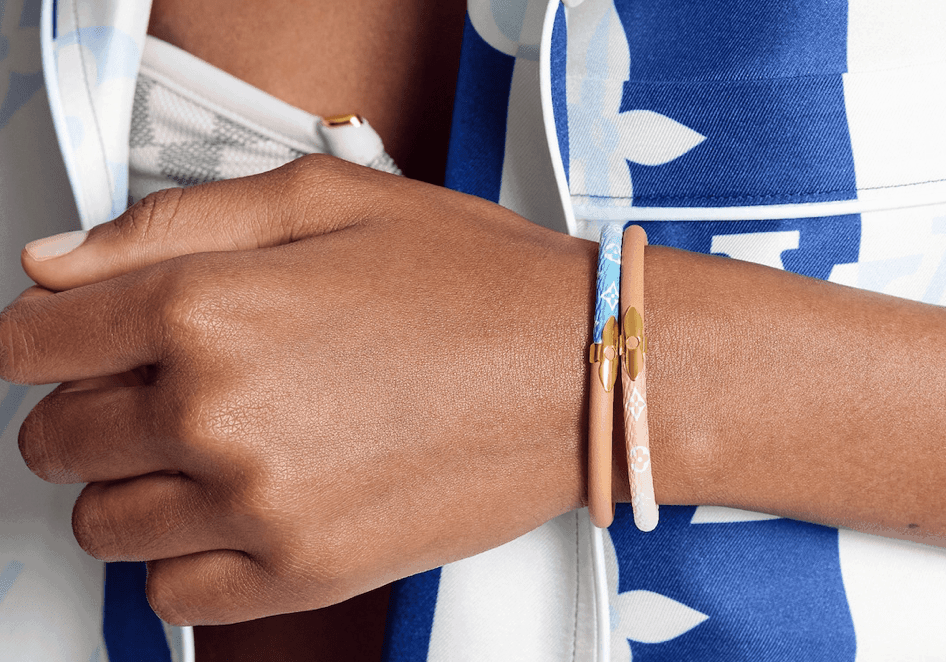 Louis Vuitton has come to be seen as a status symbol, as the 31st most famous designer for fashion worldwide. Louis Vuitton is so popular for a few reasons. Established in its name, it's known for elegant and timeless designs– while being adaptable to the changing needs of LV's consumer base.
In addition, by focusing on clean and classic craftsmanship, Louis Vuitton ensures that much of its jewelry does not easily look outdated. Exclusive designs and attention to detail in terms of materials and vision are other factors. Of course, there are pros and cons, depending on what you're looking for in a bracelet.
Does Louis Vuitton Jewellery hold value?
Most luxury brands hold their value over time, but it depends on the brand itself and also what you're buying. A fine jewelry option will likely hold up its value over time, while a fashion option may or may not. Louis Vuitton bracelets hold their value reasonably well, though perhaps not quite as much as Cartier bracelets.
Is LV jewelry good quality?
Louis Vuitton is careful in how it sources its products. In fact, LV sources raw materials with transparency and the environment in mind. Currently, around 70 percent of their raw materials are in the process of certification in terms of responsible and sustainable sourcing.
LV has also made a commitment to have 100 percent of raw materials responsibly sourced by 2025. While Louis Vuitton isn't perfect, it stands out as having higher standards than many of its luxury brand competitors in terms of the quality of what they source and their commitment to transparency.
Leather
LV leathers are all in compliance with the Leather Working Group and hold an official certification. This means that they are sustainability sourced, and are the highest standard of their kind.
Gold
Not only does LV carry solid gold, but it's sustainably and thoughtfully sourced. All gold used for their watches and jewelry has held Responsible Jewelry Council certification since 2012.
Diamonds and Gemstones
LV uses real diamonds that are certified ethically sourced through the Kimberley Process. 75 percent of their sourced gemstones have passed through a 2019 audit for adequate working conditions via the Colored Gemstones Working Group.
Should I buy a Louis Vuitton Bracelet?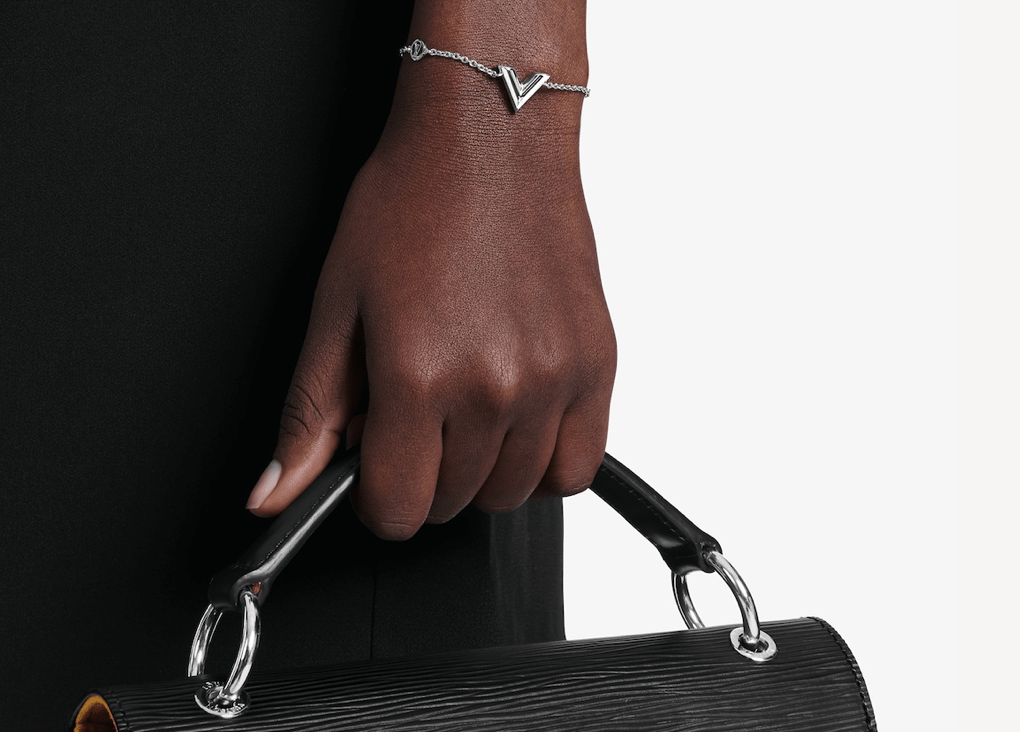 Whether or not buying a Louis Vuitton bracelet is right for you is in part a personal choice. While generally well made, they are expensive. You also need to make sure you're buying a genuine bracelet, and understand how to properly care for it.
Are Louis Vuitton bracelets real gold?
Louis Vuitton uses a few different types of gold for its bracelets. There's solid 18K gold, which is real gold, and valuable. They also offer high-quality alternatives, like platinum, which is actually more durable than solid gold. Some products do have a gold finish.
A gold finish or gold plating uses real gold, but it isn't the same as solid gold. Gold plating features a thin layer of gold that is placed over typically a cheaper metal. It provides the same look like solid gold but isn't as valuable or expensive.
Do Louis Vuitton bracelets tarnish?
Solid gold bracelets won't tarnish, and there's even good news for LV fashion bracelets. Fashion bracelets are made out of brass, instead of sterling silver. This means they won't tarnish on their own as easily as sterling silver.
That said, brass bracelets should not be worn in humid or wet conditions, as this can cause them to tarnish.
Can Louis Vuitton bracelets get wet?
If you're buying a brass-based fashion bracelet, you should avoid getting it wet. Any jewelry from the fashion collection should be removed before showering or any wet activities. Solid gold from the fine jewelry collection is not at the same risk of tarnish, but it's still not the best practice to swim or shower with a bracelet you could easily take off.
Do Louis Vuitton leather bracelets stretch?
LV, like all leather bracelets, can stretch as you wear them. For that reason, you want to buy your leather bracelet slightly more snug than you might otherwise wear. After a day or two of wear, your bracelet should stretch just a bit. With proper care, you should be able to keep your leather bracelet in good condition and the same fit for quite a while.
How can I tell if my Louis Vuitton bracelet is real?
I love a good deal, so I can understand wanting to buy an LV bracelet from elsewhere, but you must be careful. To ensure you aren't buying a fake bracelet, check to ensure that there's at least a date code. Not all LV bracelets have serial numbers. If you find an LV bracelet that has a serial number but no date code, then it's certainly a fake.
Of course, the safest bet is buying directly from Louis Vuitton. That can be online, through a storefront, or a store that has been authorized by LV to carry their products.
Louis Vuitton Designer Bracelets: My Picks
For my picks for the best Louis Vuitton bracelets, I'll be showcasing the most eye-catching or iconic pieces from both the fashion and fine jewelry collection. I've opted for looks that either stand out or offer a timeless look.
I've divided my ideas by fashion vs fine jewelry bracelets and arranged them from least expensive to most expensive.
LV Fashion Jewelry Bracelets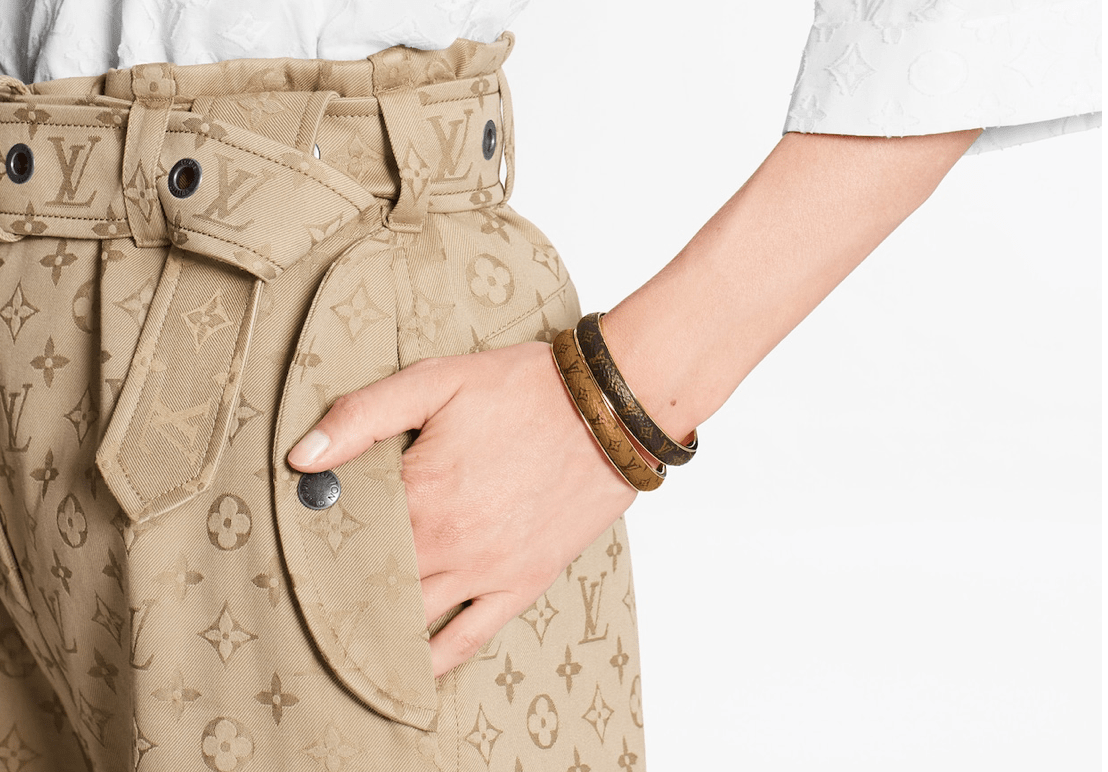 LV fashion bracelets have a sense of playful timelessness. Canvas bracelets, charm bracelets, and maximalist metal links are the main draws of this collection. Not exactly daring and pushing beyond classics, this collection is highly versatile and most bracelets can be worn with everyday looks.
Another theme is self-expression, which you can see from monogram options. Prices range from $265 to $935, with the bulk of bracelets priced from $400 to $600.
Daily Confidential Bracelet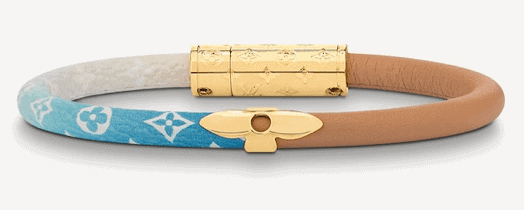 Priced at around $370, this is one of my first notable recommendations for the best LV bracelets. Select from a misty blue or rosy red finish, for a colorful splash on a smooth leather and monogram brand. Perfect for layering, the blend of plain and patterned materials is complemented with LV motifs. It's a subtle but fun statement. Buy Here.
Petite Malle Charm Bracelet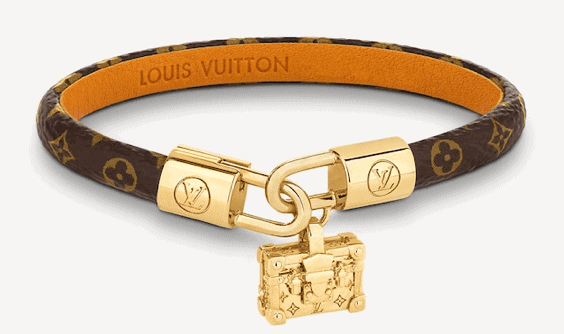 While Louis Vuitton sells many canvas bracelets, this is one of my favorites. The around $370 bracelet is not as expensive as some, but more expressive and versatile than a few cheaper options. The charming pendant is a miniature Petite Malle bag finished with gold plating and set on a monogram strap. Buy Here.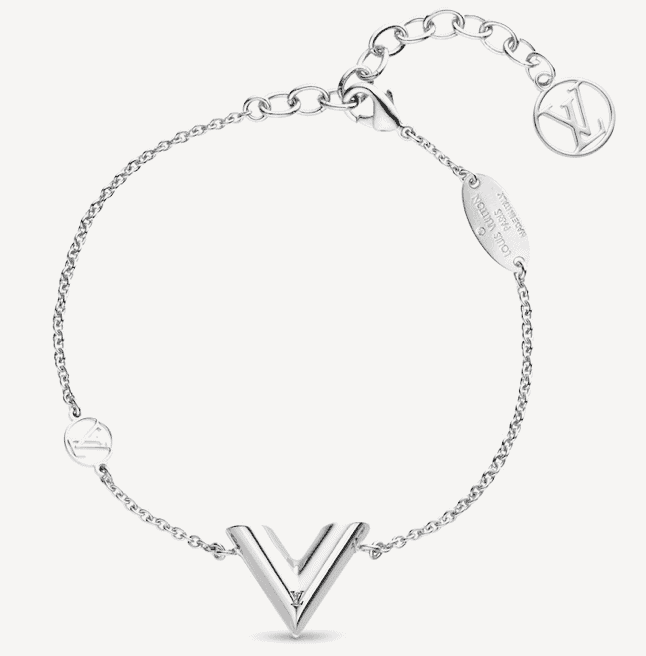 You might think there is just one Essential V necklace– but there are actually several, from plain to diamond-encrusted. That said, I actually like this around $400 bracelet best. Without the accents, the iconic V logo speaks for itself, and you may actually get more use out of it. It's by no means entirely plain: you'll get both the V and LV initials, along a refined chain. Brass is given a palladium finish for a crisp and polished look. Buy Here.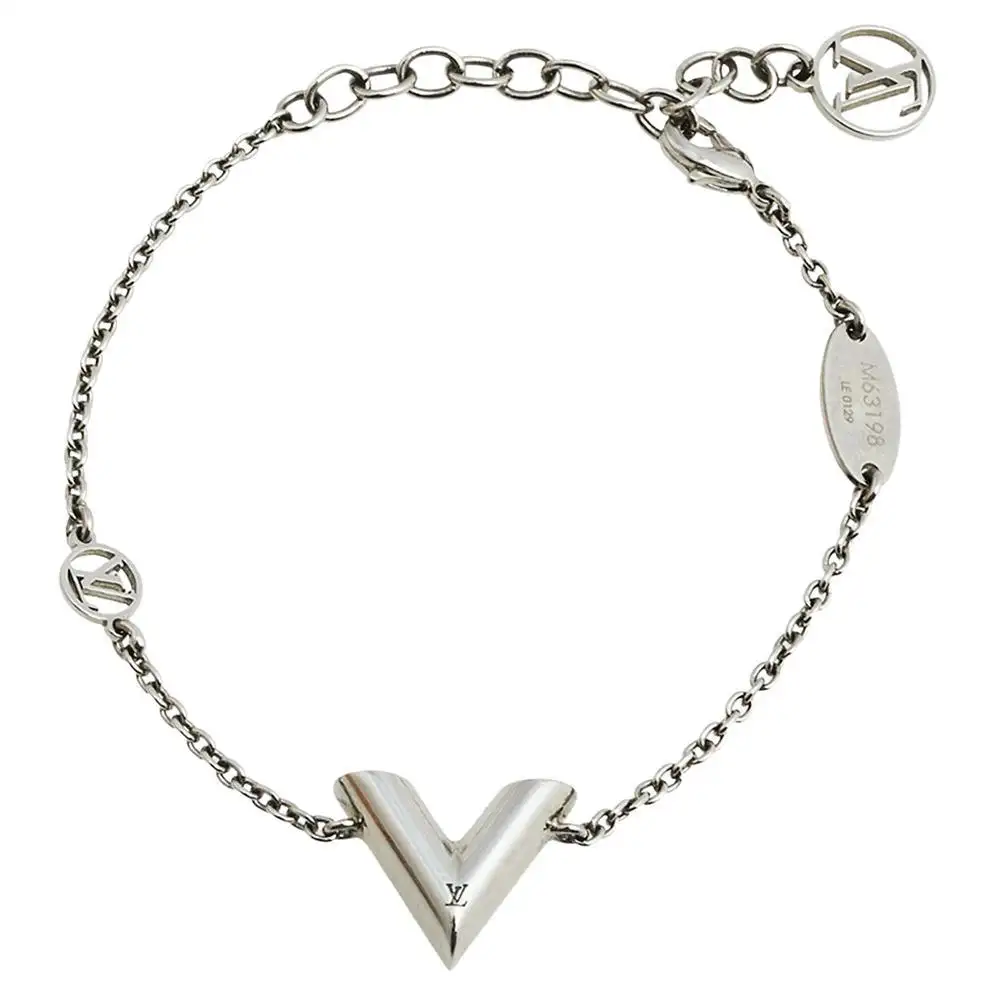 Forever Young Bracelet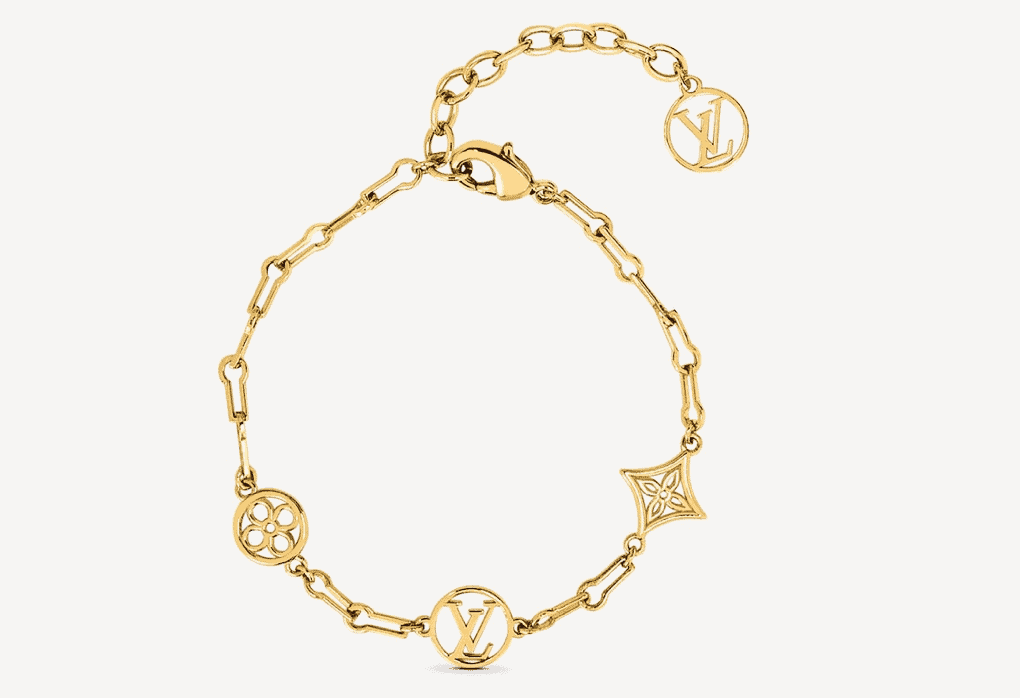 The name for this around $470 Louis Vuitton bracelet well exhibits why I love this pick. Lively and playful, there's still a timeless charm that means this bracelet pairs with casual and formal outfits alike. Based upon the original LV Lock Chain, the bracelet has a gold finish, the LV logo, and delicate floral charms. Buy Here.
Blooming Supple Bracelet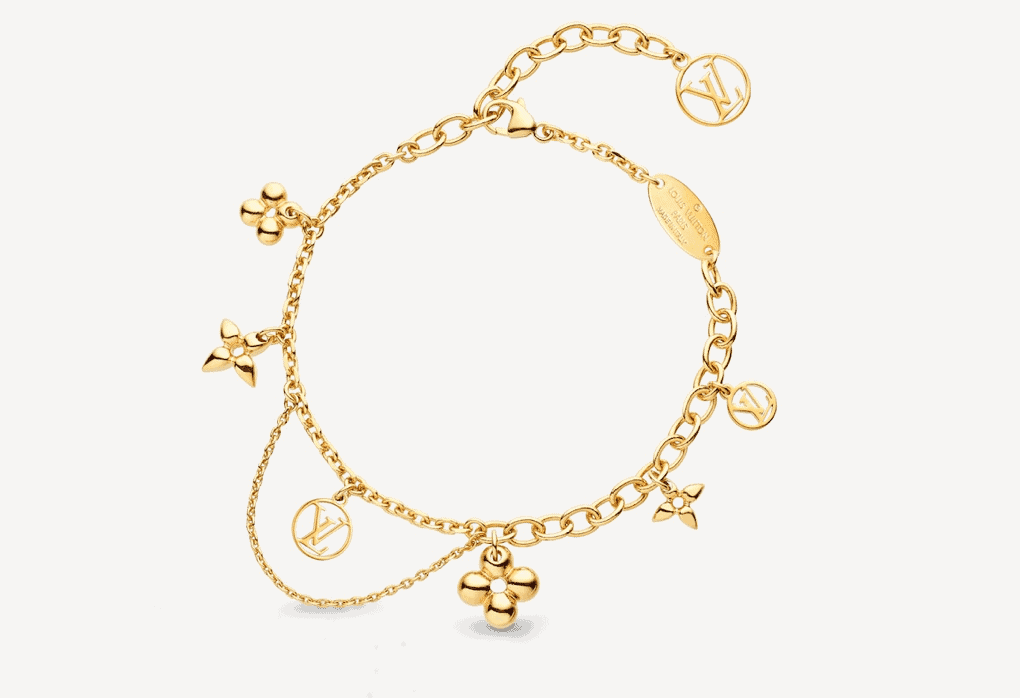 Retailing for around $520, this bracelet showcases how LV makes both classic and youthful designs in one. Blooming charms add a new twist to the LV Circle and Monogram flowers. The gold finish to the brass chain gives it a warm shine. This is an inviting bracelet that gives a nod to the LV name, but in a way that doesn't feel overdone. Buy Here.
Monogram Sweet Dreams Bracelet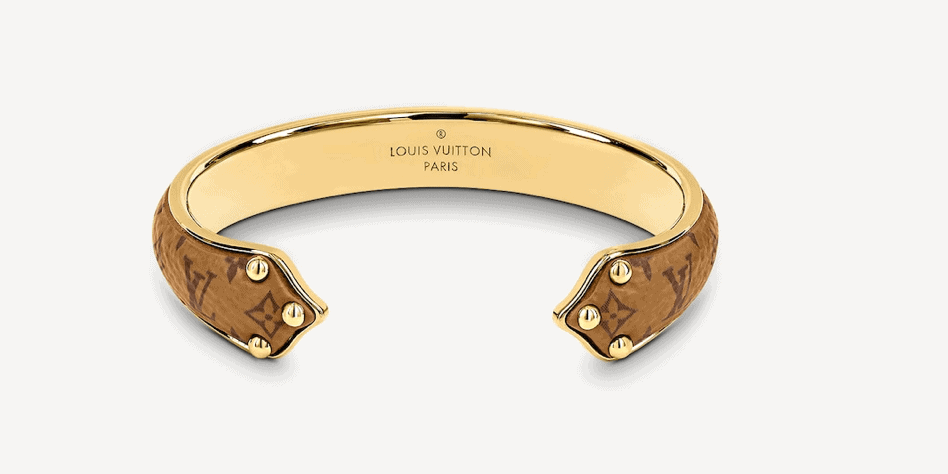 This around $585 canvas LV bracelet is one of my favorites of its kind. Monogram canvas is set on polished brass. Inspired by the iconic Leather Goods collection, this bracelet showcases refined craftsmanship, with details like shaped ends and accent studs. Buy Here.
LV Crown Reversible Bracelet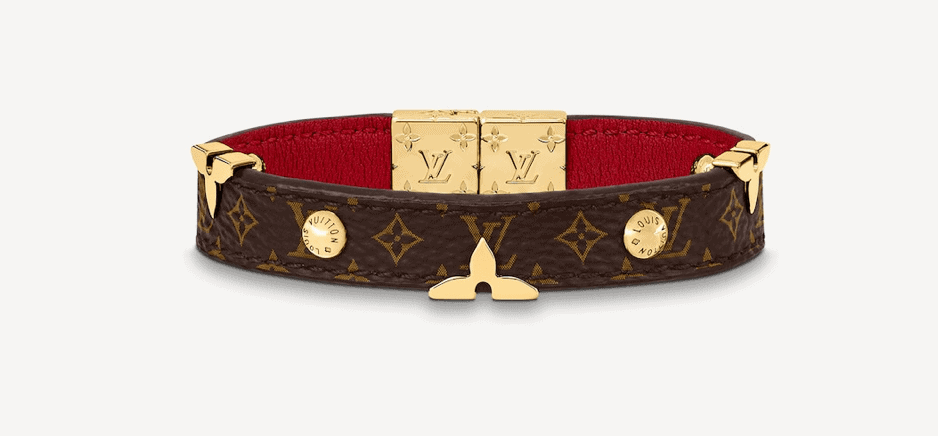 This around $600 bracelet was always going to make the list. Reversible bracelets are rare enough as it is, and even more rare from a luxury designer like Louis Vuitton. Get twice the use out of this bracelet, with monogram canvas on one side and well-crafted genuine calfskin leather on the other. The canvas comes in pink or red hues. Not only will you get a lot of use out of this bracelet, but it's also one of the more affordable options if you want calfskin leather instead of all canvas. Buy Here.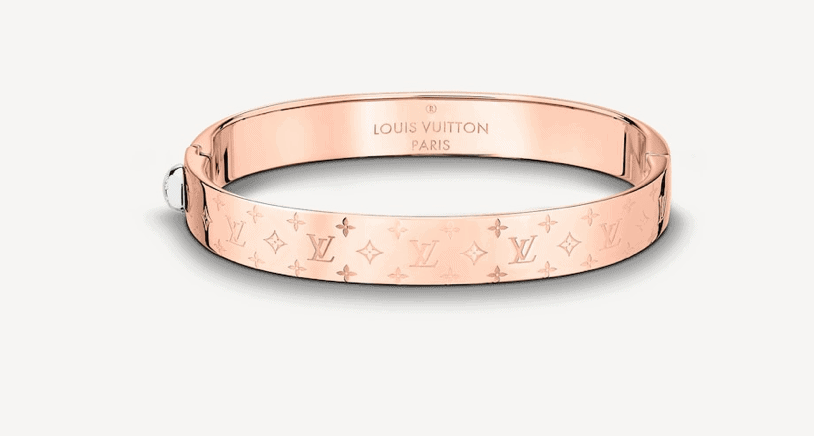 Priced at around $715, this LV cuff bracelet is an elegant and versatile entry for the fashion collection. Perfect for mixing, matching, and layering, the cuff bracelet features a monogram pattern and rose gold finish. Refined enough for a formal outfit, it also looks natural paired with something as informal as jeans. Buy Here.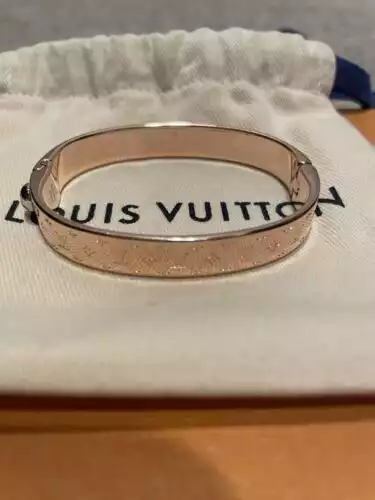 Louis Vuitton Nanogram Cuff Rose Gold | eBay
Bound to sit around your wrist and exude beauty, this Louis Vuitton is a great buy. It is made from rose gold-tone metal and engraved with the brand's signature monogram — a pattern well-known and loved by fashion lovers around the world.
Check Price
We earn a commission if you make a purchase, at no additional cost to you.

LV Zip Bracelet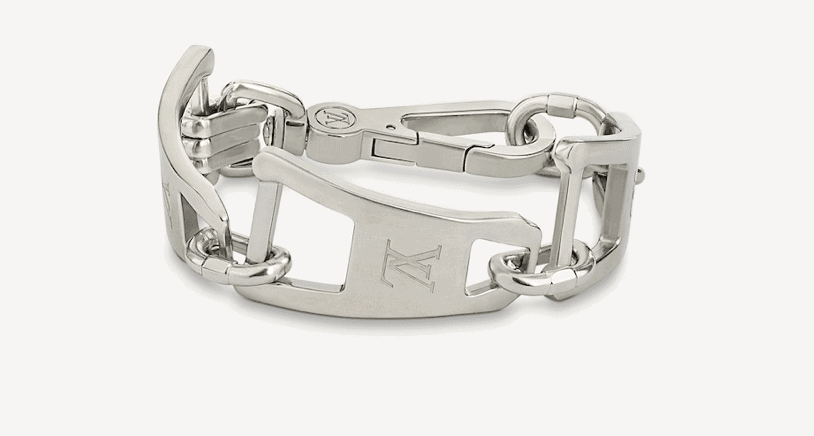 This around $860 bracelet is a surprising design. LV almost translates into an industrial look, with a chunkier link style that's gained popularity from just a few brands– including competitor Gucci. Yet there's a refined timelessness. That's likely because this bracelet was designed with the Leather Goods Collection in mind. Each zip pull is engraved with LV initials, for a modern, bold but useful bracelet. Buy Here.
2D Bracelet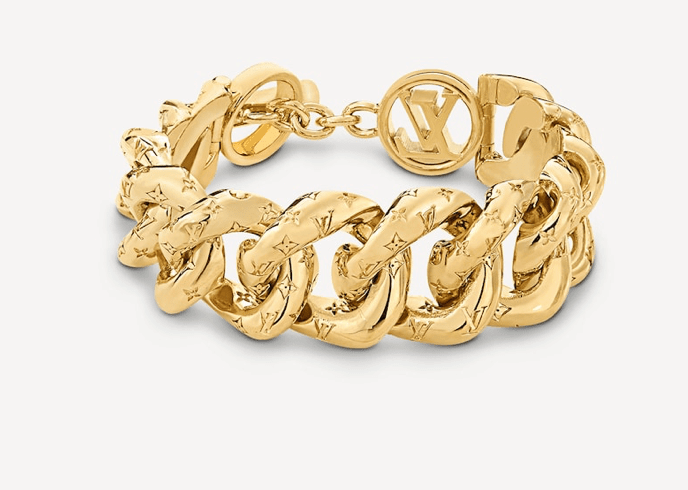 At around $960, this is my most expensive bracelet pick from the fashion options. This innovative and alluring bracelet is fully reversible. One side is textured with the Nanogram pattern and the other is smooth and polished. LV Circle links and an LV signature engraving on the clasp add those special touches to this gold-finished bracelet. Buy Here.
LV Fine Jewelry Bracelets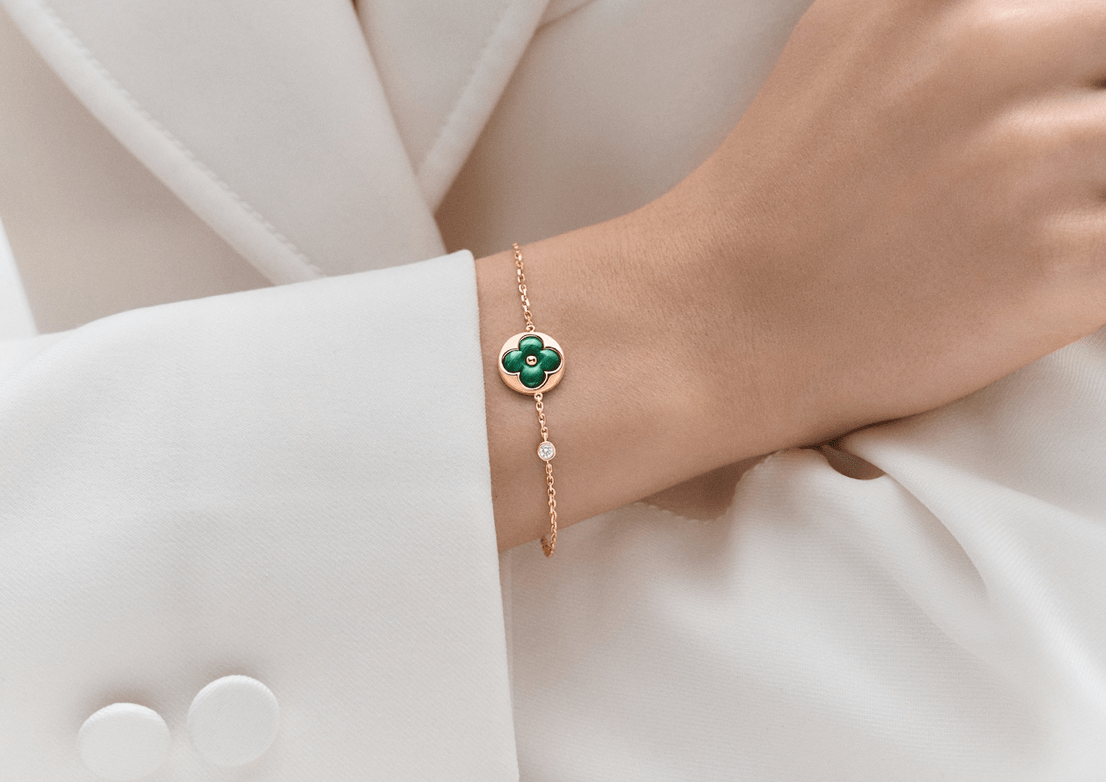 The fine jewelry collection leans more towards minimalist designs, and there's a classic, effortless appeal to their bracelets. Trading gold plating for solid 18K gold, this more valuable collection also features diamonds and precious stones.
The luxury collection also is where you'll find iconic and newly iconic bracelets, including the Silver Lockit Bracelet (which funds educational programs through UNICEF). Prices range from $250 to over $59K. While there are several options around or above $10K, rest assured there are many options that are under $5,000.
Silver Lockit X Doudou Louis Bracelet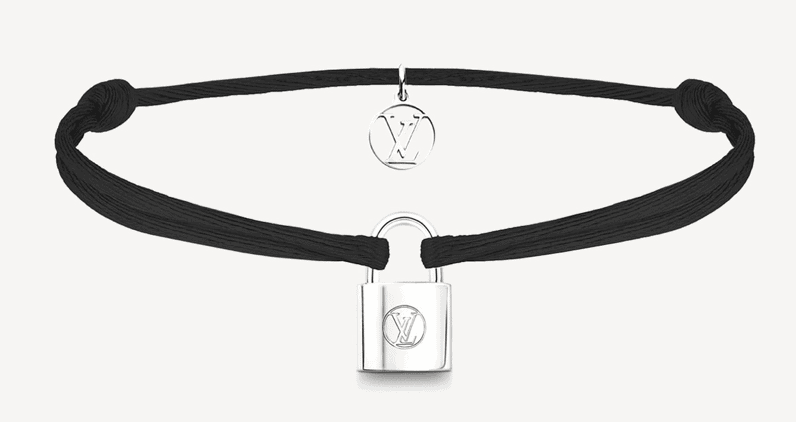 While this around $460 bracelet doesn't have the same refined or formal look as other bracelets in this collection, it is the most meaningful bracelet. Used to fund UNICEF education programs in Ghana, it's also sustainably made. Recycled silver is set on an organic cotton cord, with an LV padlock and LV charm. It's an easy-to-wear bracelet that will go with just about anything. Available in Celadon, Blue, Black, and Pink; Buy Here.
LV Volt Upside Down Bracelet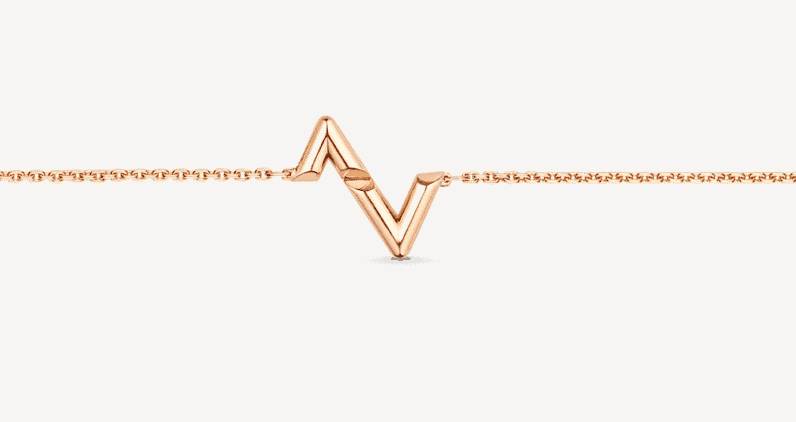 Simple, classic, and a notable entry, this bracelet retails for around $2,370. A delicate 18K rose gold chain carries the carefully crafted LV initials. It's easily adjusted so you can find your perfect fit and has a timeless appeal. Buy Here.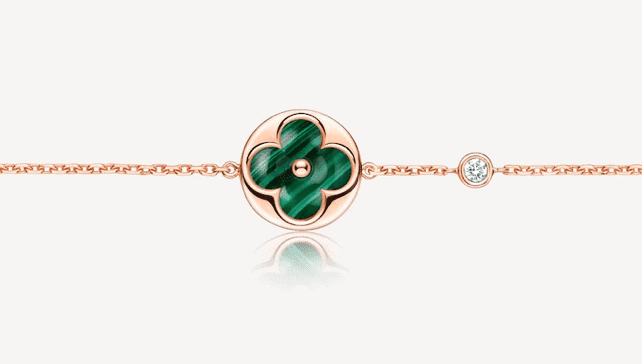 Priced at just under $3,000, this bracelet is one of the more affordable fine jewelry options if you want the LV monogram flower. The 18K pink gold chain carries a beautiful floral pendant, complete with Malachite gemstones and a 0.04-carat diamond. Buy Here.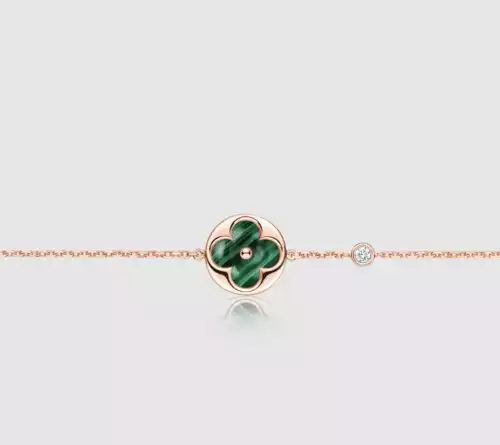 Color Blossom BB Sun Bracelet | eBay
Color Blossom BB celebrates the Monogram flowers, created in 1896 by Georges-Louis Vuitton. The flower blooms in a small format in carved Malachite and is set into pink gold highlighted by a diamond.
Check Price
We earn a commission if you make a purchase, at no additional cost to you.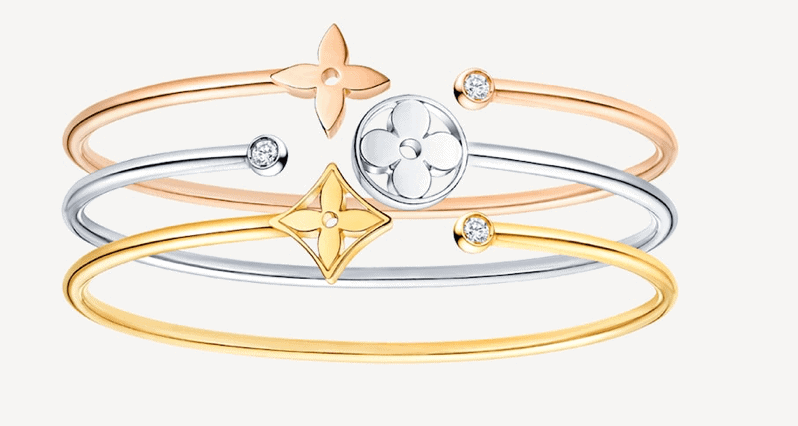 This $3,600 to $3,750 bracelet is refined and almost minimalist, offering a sleek accent to your outfit. This bracelet has 'shape memory' which offers flexibility and easy wear. Choose from 18K white, yellow, or rose gold. A diamond accent adds just a touch of sparkle. Buy Here.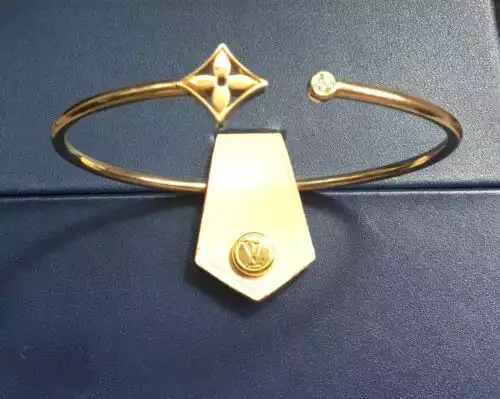 Idylle Blossom Charms Bracelet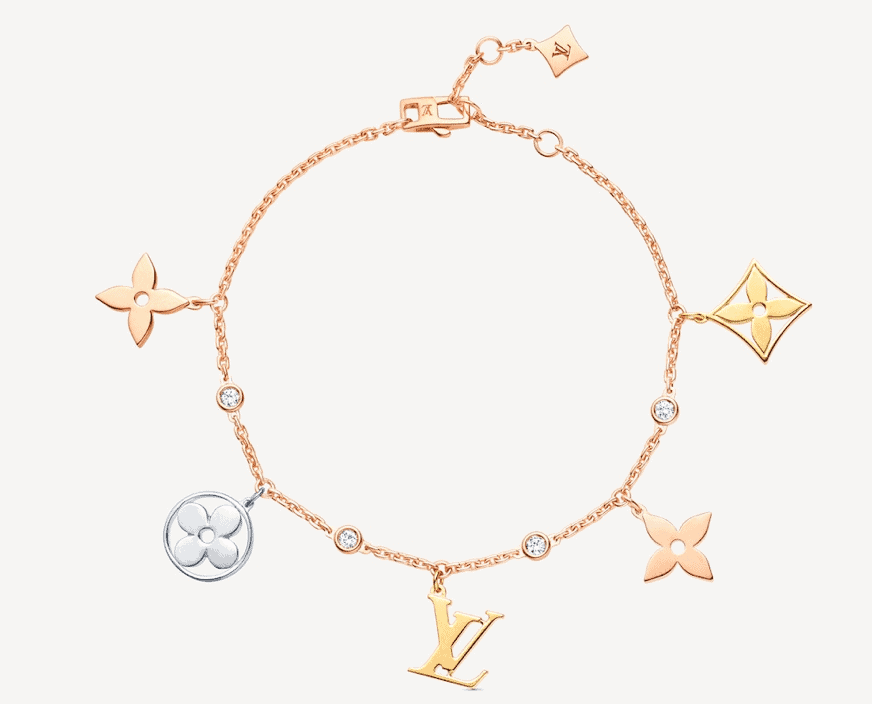 Proving that a charm bracelet can be elegant, this jewelry piece costs around $5,600. The pink, white, and yellow 18K gold chain is adjustable, with three-link settings. Diamonds accents monogram floral accents and LV initials. Dress it up with a diamond necklace or earrings, or down with something more casual. Buy Here.
B Blossom Open Bangle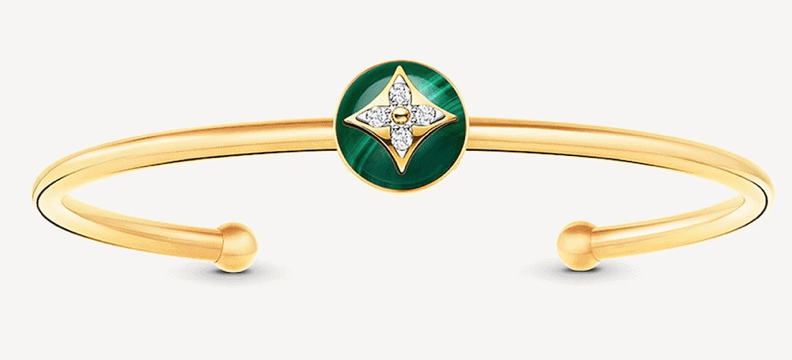 LV carries several bangle styles, but this around $8,000 bracelet stands out. Featuring a Malachite central stone and four accent diamonds, it's a beautiful and sleek style. Polished 18K gold carries off a modem but timeless feel. This is a great idea if you're looking to accessorize day to evening looks. You could even paint it with a cuff bracelet. Buy Here.
LV Volt Multi Bracelet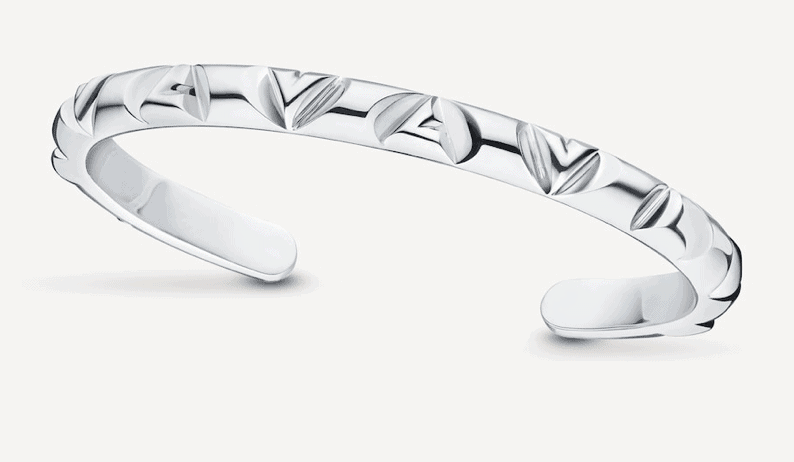 This bracelet may not have diamonds, but it's eye-catching regardless. The 18K gold bracelet features L and V engravings, with smooth and textured sections. Versatile, artistic, and modern, it's a style that will likely endure for years to come. Retails for $8,300 to $8,800. Available in white gold and yellow gold; Buy Here.
Dentelle One Row Diamond Bracelet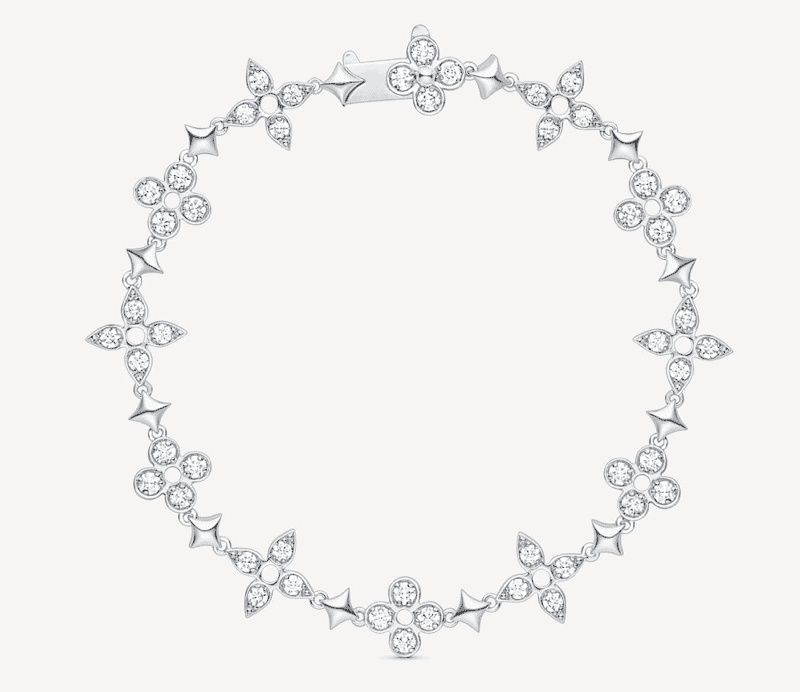 At around $17,400, this LV bracelet is not exactly affordable for most consumers- but it's the best bag for your buck if you want a diamond-centered bracelet. With many diamond LV bracelets costing twice as much, and even more, this is refined, elegant, and dazzling. 48 ethically sourced diamonds (1.2 carats) cover floral motifs on a beautiful 18K white gold chain. It's classic elegance, unique to Louis Vuitton. Buy Here.
Frequently Asked Questions
Question: What's more expensive, Louis Vuitton or Gucci?
Answer: It depends on what you're shopping for, but generally speaking, Louis Vuitton is known to be more expensive than Gucci. This is typically true for jewelry, with bracelets, as well as for handbags.
Question: Why is Louis Vuitton jewelry so expensive?
Answer: LV jewelry uses some higher quality materials than competitors. Their exclusive design, iconic name, and increasing commitment to sustainability and ethical sourcing all add to the higher price point.
Question: What is the cheapest LV handbag?
Answer: If you're looking for a brand new handbag from Louis Vuitton but don't have thousands to shell out, there are a few options. The Pochette Accessories bag is under $800, and the Speedy 25 and Petit Noe handbags are under $1,500.
Final Thoughts
Louis Vuitton bracelets can get very expensive– but you can find countless fine jewelry options under $10,000 and many fashion bracelets under $5,000.
And beware of anything claiming to be a Louis Vuitton Outlet, as they do not exist. To learn more, read Louis Vuitton's official statement here.