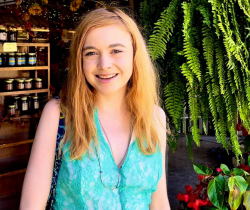 Latest posts by Erin Jamieson
(see all)
If I had to declare one sweeping trend for 2022 accessories, it's bold, personal, and expressive. In fact, it may be one of the best years in a while for modern but daring looks, including ideas from some of the best Swarovski bracelets. 
After 2020 forced jewelry makers to improvise– both by investing more in their online stores and finding new ways to attract customers–2022 is a year of innovation. The uptick is that many collections are steering away from the minimalist looks that have been popular for years and embracing all-over sparkle with playful touches.
One example is Swarovski's new Millennia collection. As Grazia Magazine aptly describes, the collection is a blend of cool, trendy, and glitzy. Maximalist crystals draw inspiration from geometry. Clear crystals add signature glamour, while rainbow hues are expressive.
The great thing is that Swarovski is entering a new space with more alluring bracelets than ever– while still keeping a collection of classic tennis bracelets and eclectic charms. 
But are Swarovski bracelets right for you? In this article, I'll guide you through Swarovski as a brand, what bracelets they sell, and how to find the best bracelets for your money. 

Why is Swarovski famous?
If you've heard the name Swarovski, you'll know that their crystals are in high demand. The Austrian-based jewelry company has been operating since 1892 and is known for its precise cuts and exquisite attention to detail with its designs. Over the years, Swarovski has been worn by celebrities, including Marilyn Monroe. 
What does the Swarovski logo mean?
The Swarovski logo is a swan, although it didn't always use to be. Originally, the company started with an Edelweiss flower which reflected the country's origins in Austria, as well as the 'purity of their glass crystals.
 It was only in 1988 that the company introduced the swan we know today. The symbol of that swan represents elegance, purity, and sophistication. 
Why is Swarovski so expensive?
Part of the consequence of fame and high status is often a higher cost. You'll pay more for Swarovski crystals than you would other glass crystals like it. But there's also precision, especially in some of the more elaborate designs. That said, not all of Swarovski is expensive, and you can find bracelets at a range of prices. It's also not expensive compared to a typical luxury brand. 
Are Swarovski bracelets a good option for me?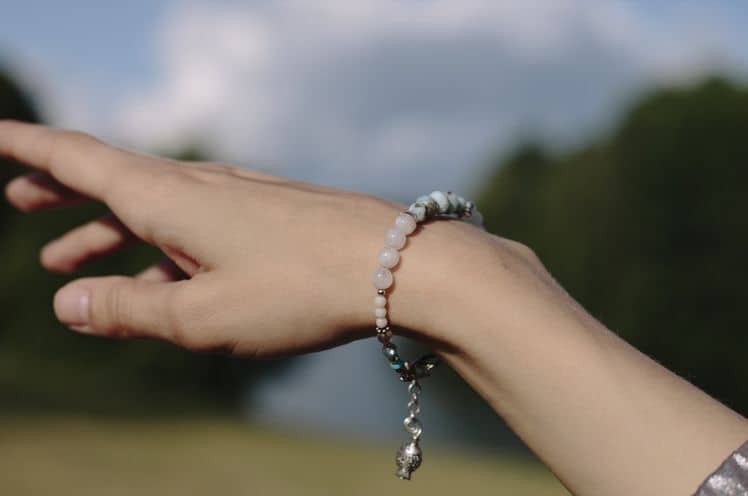 Swarovski bracelets offer glitz and modern designs, and they've only innovated more over the years. But before you buy a bracelet from Swarovski– or any company– I highly recommend you investigate the materials used. This can give you a sense of both durability and value. By no means do you need to buy the most expensive and valuable bracelets, but you should know if you're getting a fair price– and understand how to wear your new jewelry to extend its life. 
What types of bracelets does Swarovski sell?
Swarovski actually sells its products through two bracelet collections, though many don't know it. The crystal bracelets, which lean more bold and maximalist, are sold directly from Swarovski. Swarovski lab-grown diamonds with precious metals are sold through MiaDonna. This collection leans a bit more minimalist. 
Are Swarovski diamonds real?
Swarovski sells lab-created diamonds through their sister company, MiaDonna. These diamonds have the same physical properties as natural mined diamonds but are less expensive. The good news is that these diamonds are rated by gemologists and can be bought in excellent quality. 
The downside is that these diamonds are limited to only a few bracelets— the focus is on engagement rings. Of course, they are not as immediately recognizable as Swarovski crystals, either. And while both are true, if you've considered bracelets made by Swarovski, you should not pass up this collection. They're excellent quality, fine jewelry bracelets that are stunning in their simplicity. 
Are Swarovski crystals worth anything?
But when you're thinking about Swarovski bracelets, I'm guessing you're actually thinking about their crystal bracelet collection. First, it's important to understand what these crystals are. Swarovski crystals are made out of non-precious glass, which does include lead. It has under a certain percentage of lead that has been deemed acceptable for use in most states– though some states, like California, are pushing back. 
The crystals don't have much intrinsic value– most of the value is tied to the Swarovski name and the beautiful craftsmanship. 
Can you wear Swarovski every day?
Swarovski's sister company, MiaDonna, has bracelets that can be worn every day. That's due to the precious metals used, as well as genuine lab-grown diamonds. Buying Swarovski crystal bracelets needs to be worn with care. If worn regularly, the clarity can fade, and you can wear out your bracelet before its time. 
Are Swarovski bracelets waterproof?
Swarovski crystals don't fare well with consistent exposure to water. There are also the metals used to consider. In the regular Swarovski collection, base metals and gold-plating both do not last well with water exposure. Plating can peel, while base metals can corrode. 
Swarovski Bracelets: My Picks
Now I'll give you my picks for the best Swarovski bracelets. Of course, the best is a subjective term– especially when it comes to Swarovski. For best value and durability, I highly recommend spending the extra money, if you can, and opting for the MiaDonna collection, which sells lab-grown diamonds from Swarovski with fine, precious metals.
But if you came to this article interested in buying the recognizable, iconic Swarovski glass crystal bracelets, then there are still ways to get the best value. While they may not last as long, there are a few bracelets that offer exclusive designs and are thoughtfully made. 
For these reasons, I've included a few picks from both collections to give you ideas for whichever bracelet type suits your style and budget preferences most. I've also priced my picks from least expensive to most expensive, so you can quickly find a style within your budget. 
MiaDonna Bracelets (Swarovski Lab-Grown Diamonds & Natural Diamonds)
MiaDonna offers bracelets with Swarvoksi made, lab-grown diamonds. This small collection includes elegant, fine jewelry bracelets with timeless designs. It does also include some natural, ethically sourced diamonds as well. You'll find 14K and 18K gold, as well as 950  pure platinum– all made from recycled materials for an eco-friendly approach.  Shop the rest of the collection here, which includes natural diamond bracelets (not supplied by Swarovski).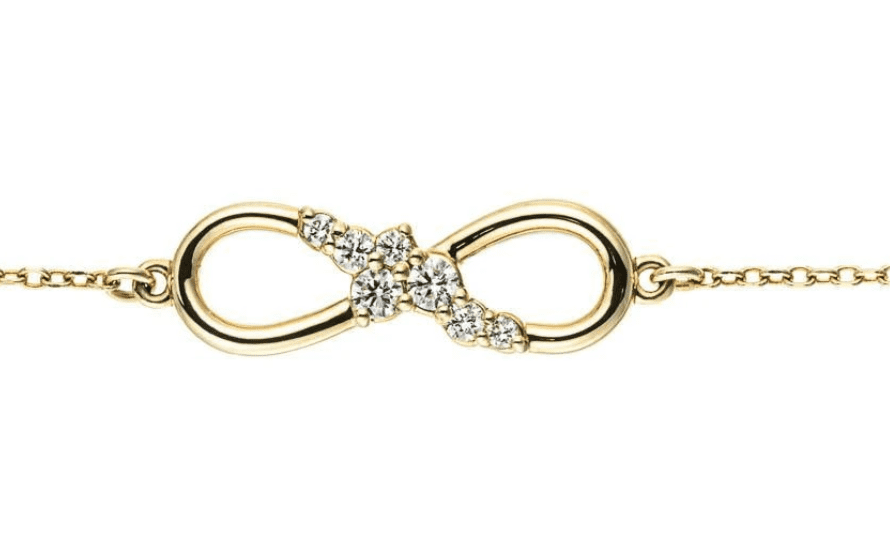 The infinity symbol represents an eternal bond, love, and connection. Infinity bracelets and necklaces have become more popular over the years, and this bracelet is a sleek, modern take. Recycled 14K white, yellow, or rose gold offers a beautiful, polished luster. ).13 carats of petite accent diamonds add just a touch of sparkle on the infinity symbol. If you're interested, I'd also inquire about the diamond color and clarity.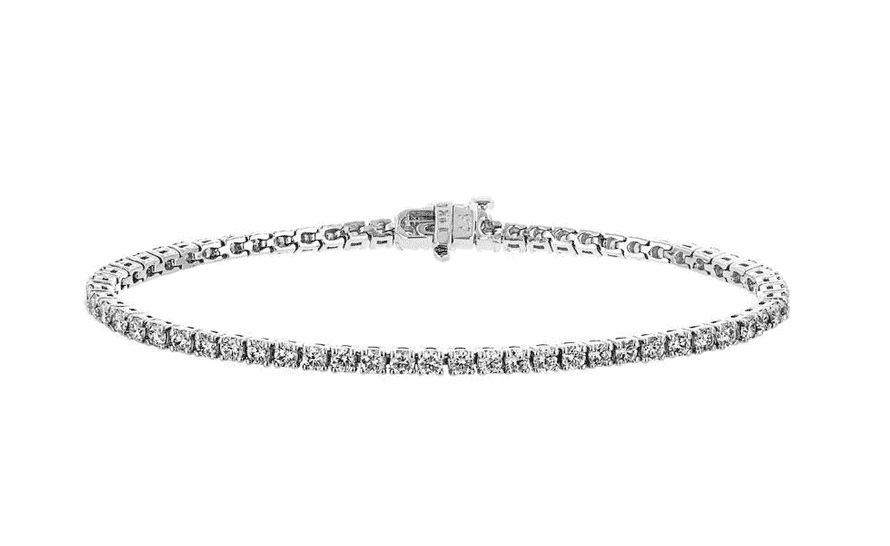 Tennis bracelets were first popularized by American professional tennis star Chris Evert. Since then, the classic design has remained, but tennis bracelets are now among the most popular bracelet styles you can buy. Diamonds add sparkle around the entire perimeter of the bracelet. This tennis bracelet features sparkling round-cut diamonds with your choice of 2 to 8 carats. Available in 14K white, yellow, or rose and gold.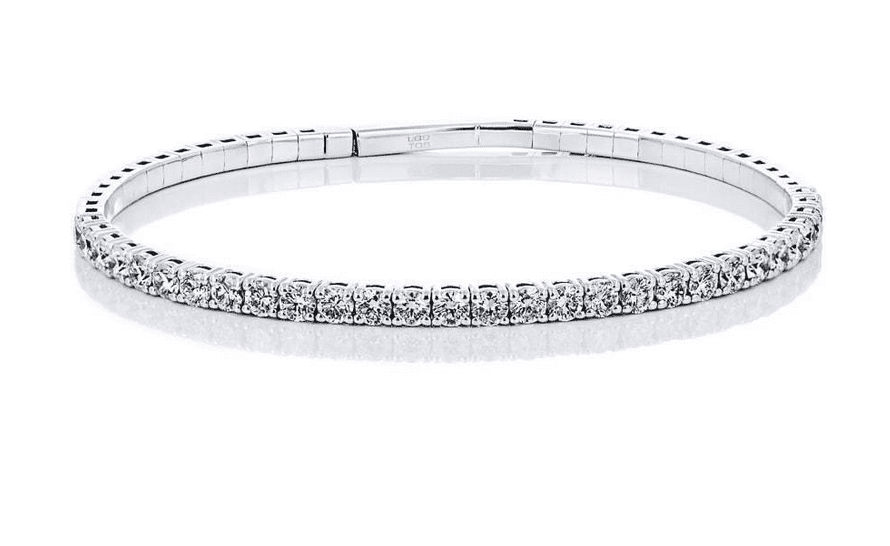 A play on the tennis bracelet design, this bangle is meant to dazzle– but still be comfortable to wear. 3 carats of round cut diamonds sparkle on 14K white gold. The look is elegant but modern and versatile enough to be worn with many outfits. 
Swarovski Crystal Bracelets
Swarovski crystal bracelets include bold styles, including chinky cuffs, splashy bracelets from the Millennia Collection, and iconic charms. You'll also find tennis bracelets. All of these are made with Swarvoski's glass crystals and a variety of materials– from cotton to base metals, often with rhodium or gold plating. Make sure to wear these with care and occasionally. It's a large collection, so I've selected what I consider the most worth your money. Note that the entire Mllenai collection is currently out of stock. Shop the entire collection here.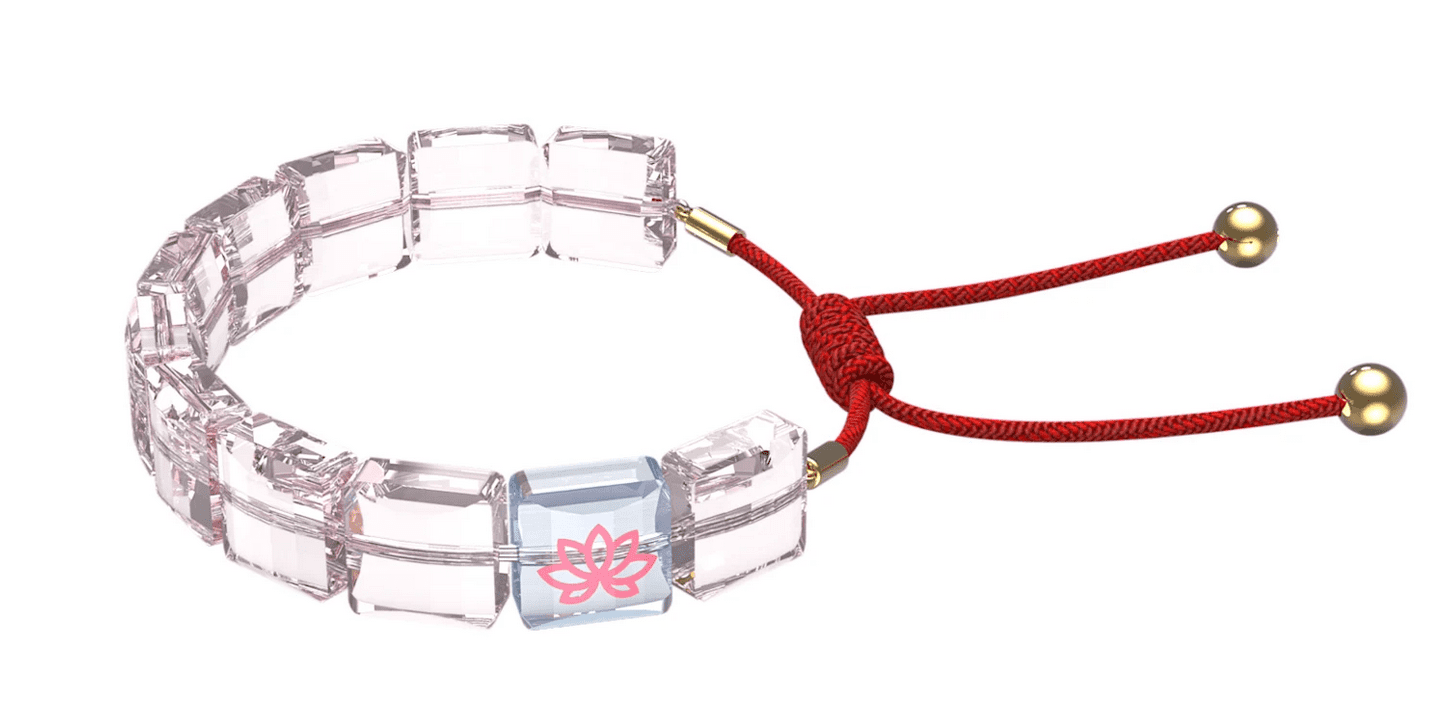 This is the most affordable Swarovski bracelet you can buy. It's a casual style, meant to be worn with t-shirts, jeans, and everyday clothes. From the Yin Yang collection, this bracelet is meant to appeal to those interested in the idea of Feng Shui accessories. Square cut crystals are set on an adjustable cotton cord, featuring motifs to inspire everything from peace to passion to personal growth. Available in 10 unique colors and patterns.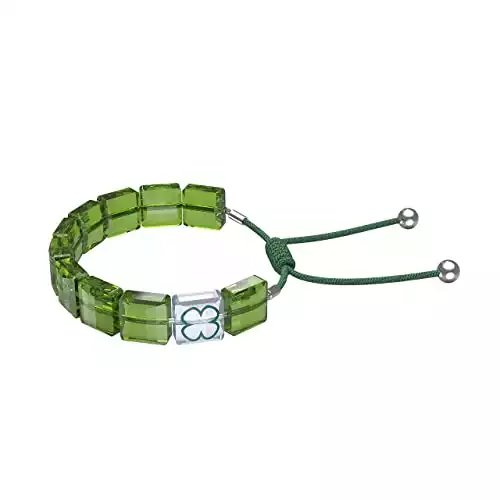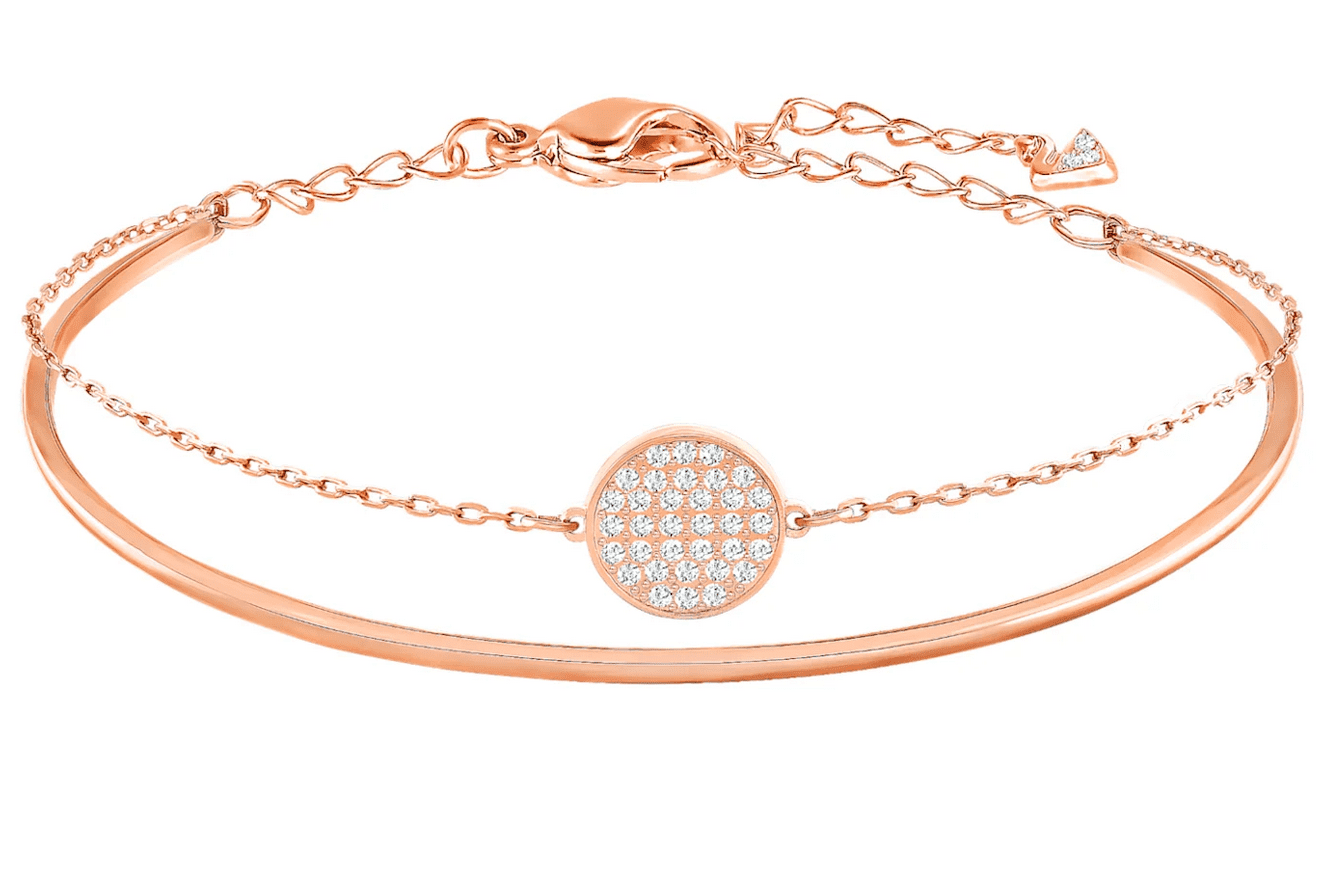 Looking for a classic, simple option? This versatile bracelet can ease the transition from day to evening. Available in white (with rhodium plating) and rose-gold tone plating, the bangle pairs a rigid sleek metal band with a more delicate chain accented with a crystal pave pendant.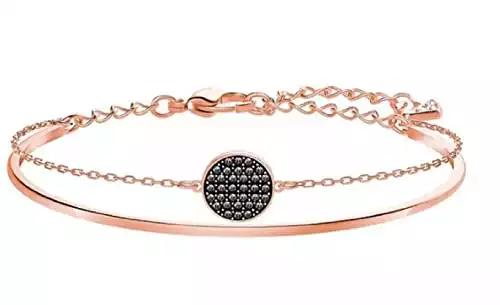 Swarovski Ginger Bangle | Amazon
Give any outfit a boost with this rose gold-plated bangle from our bestselling Ginger line, with a disc of crystal pavé for that classic Swarovski sparkle.
Buy at Amazon
We earn a commission if you make a purchase, at no additional cost to you.
08/03/2023 02:28 am GMT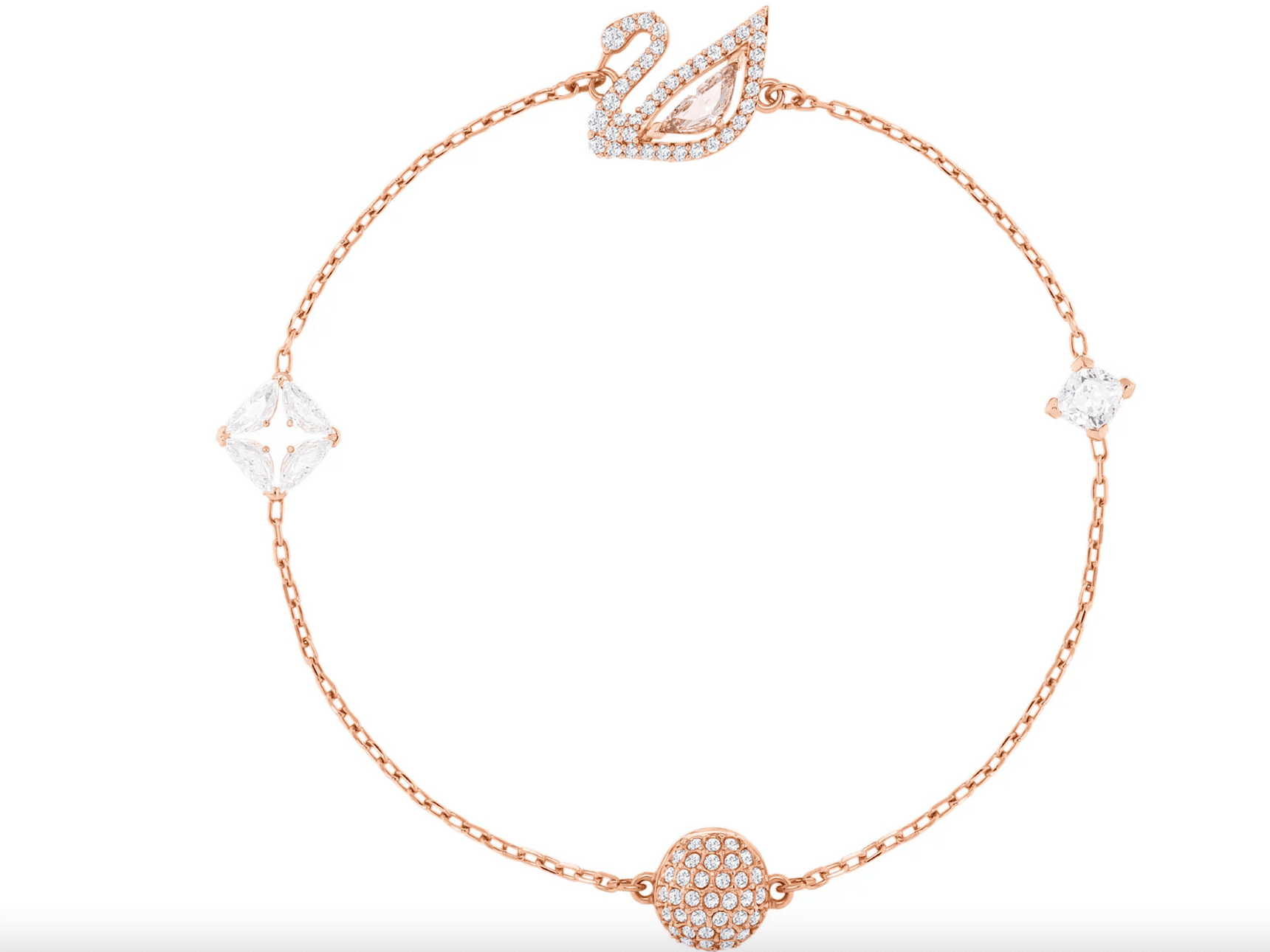 If you're interested in a bracelet with the swan motif, this option is about as affordable as it gets. Subtle glamour is at the heart of the design, with a delicate gold-plated chain and crystal-studded swan motif. The bracelet also features a magnetic closure and can easily be paired with other Swarovski accessories.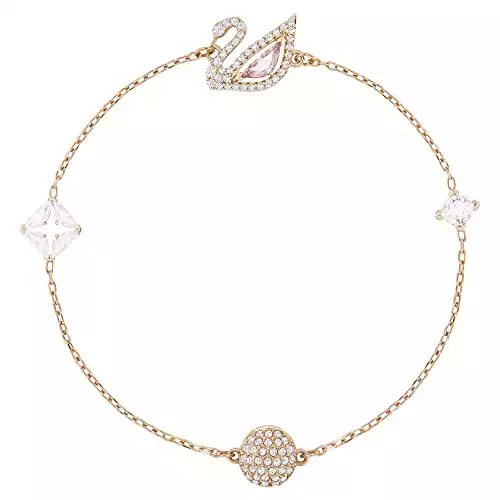 Swarovski Dazzling Swan Bracelet | Amazon
The Dazzling Swan bracelet combines precision and quality of brilliant crystals with touches of cool romance and a rose-gold tone plated finish, a classic Swarovski design.
Buy at Amazon
We earn a commission if you make a purchase, at no additional cost to you.
08/02/2023 11:36 pm GMT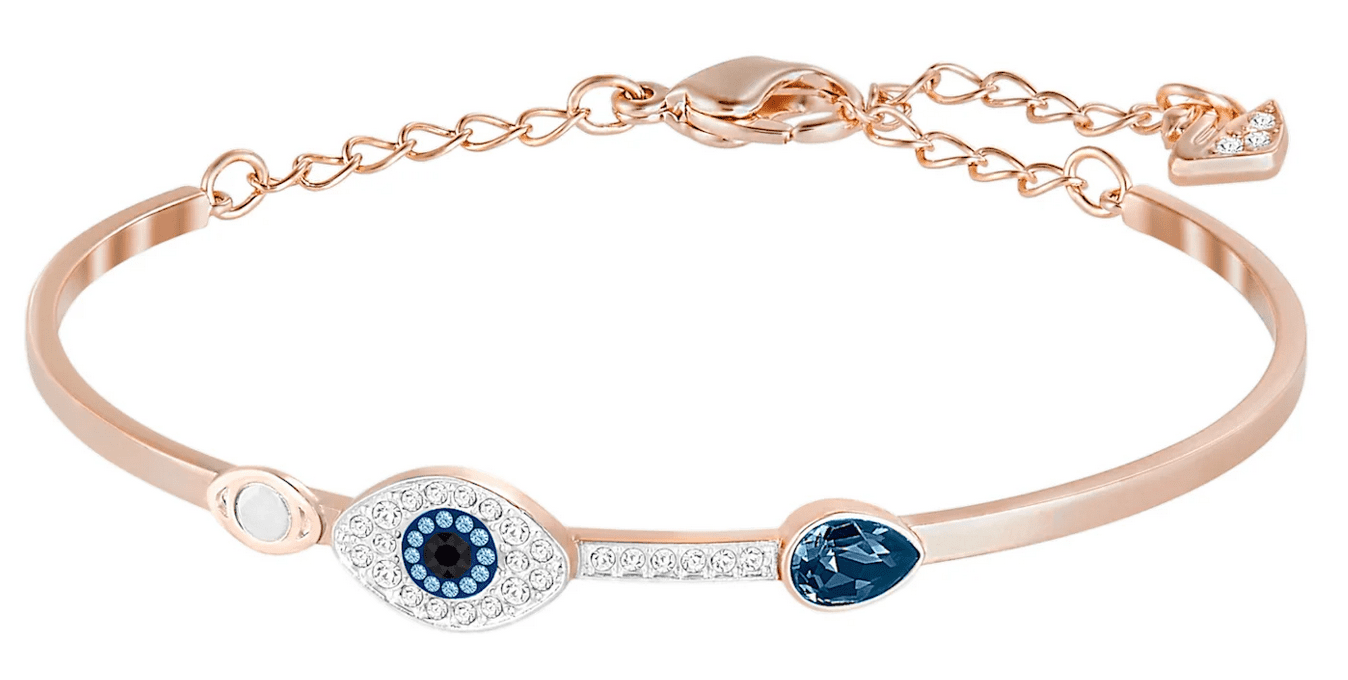 The Evil Eye is a talisman for warding off ill will. Many wear it as a symbol of protection and fortune, and blue is the most classic color. Swarovski offers quite a few Evil Eye and related designs, but this one offers a classic design for less. The mixed metal bangle balances cool and warm hues, complete with blue and white crystals for a seamless, classic style.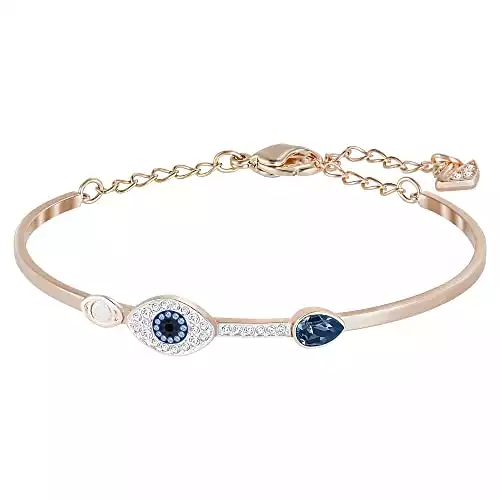 Swarovski Symbolic Bangle | Amazon
This stunning mixed-plated bangle offers a striking contrast between rose gold-plated metal, crystal pavé, and blue crystals.
Buy at Amazon
We earn a commission if you make a purchase, at no additional cost to you.
08/03/2023 12:34 pm GMT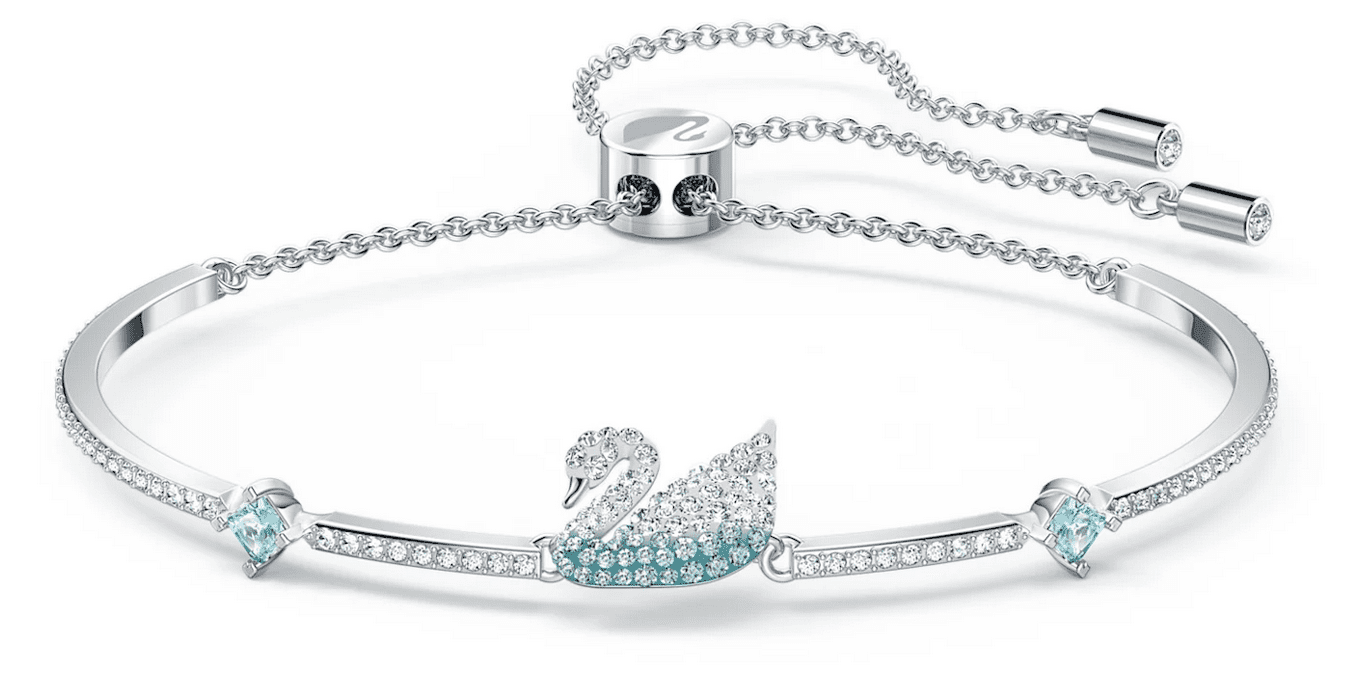 This Swarvoski bangle is one of the more eye-catching swan motif bracelets. The timeless design features a swan crafted with white, green, and blue Swarovski crystals. Square blue crystals on either side of the swan add sparkle. The closure allows you to adjust for a comfortable fit.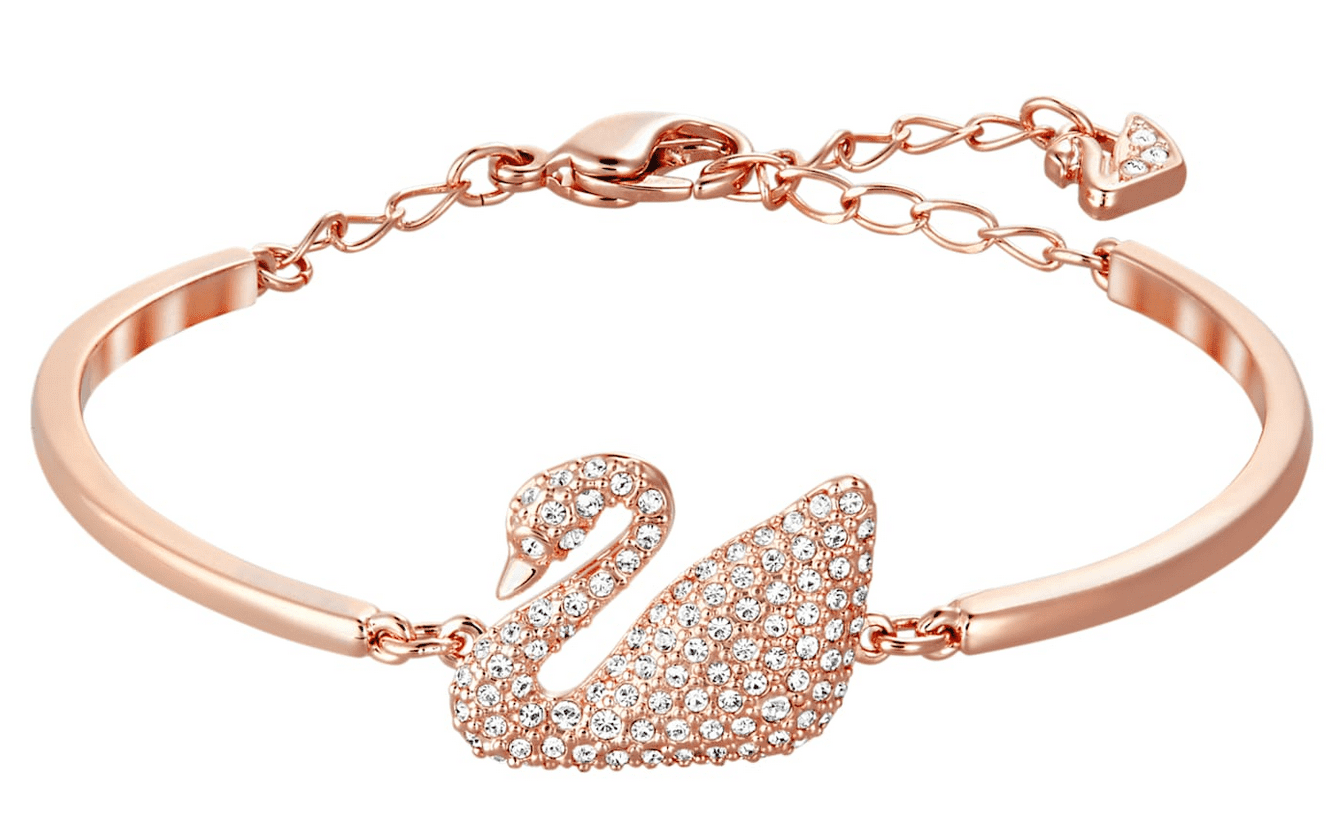 For a warm tone, consider this rose gold-tone bangle. This Swarovski bracelet is unlikely to go out of style anytime soon. The swan is studded with white crystals for an elegant contrast with the sleek but warm rose-gold metal finish. It's an instant classic that looks excellent with black, navy blue, white, and even deep red or purple hues.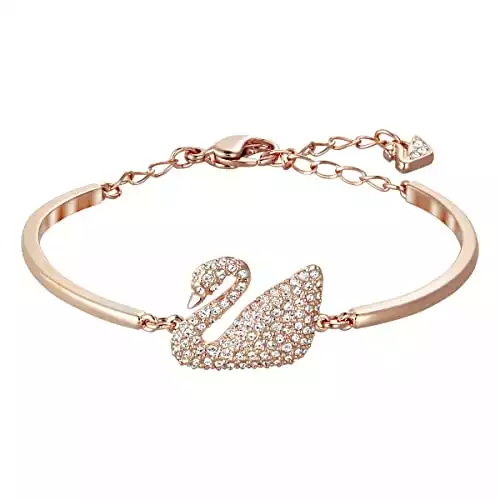 Swarovski Classic Swan Bangle | Amazon
This elegant rose-gold tone finish bangle combines the precision of sparkling Swarovski crystals with a timeless design, for a touch of glamour fit for every occasion.
Buy at Amazon
We earn a commission if you make a purchase, at no additional cost to you.
08/02/2023 09:47 pm GMT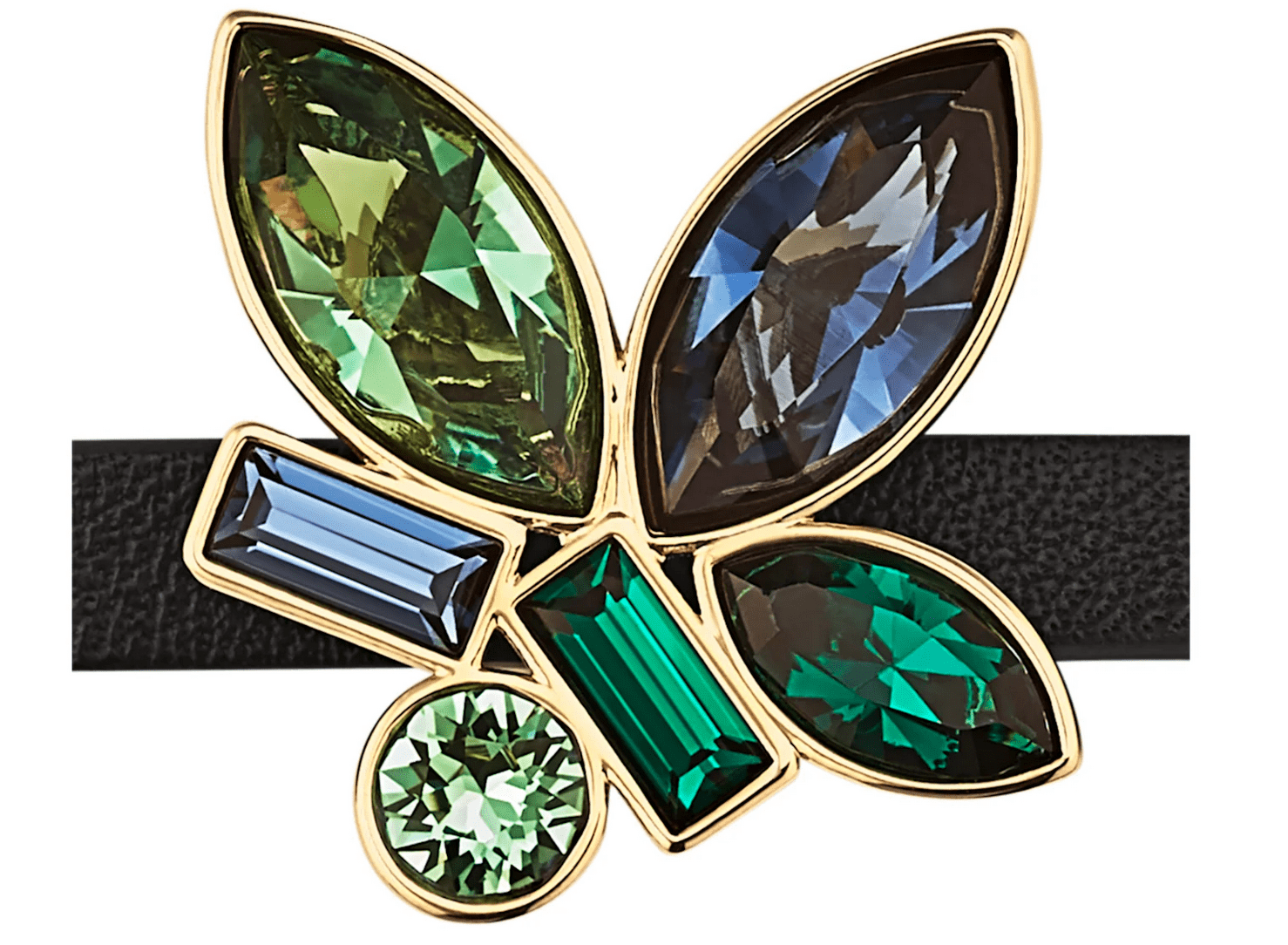 This Swarovski bracelet is not only a stand-out but also meaningful. Susan Rockefeller is a conservationist and jewelry designer and partnered with Swarovski to offer a nature-themed collection. The collection takes inspiration from the panda, along with its natural habitat. The goal is to promote awareness to project species or generations to come. The wrap style bracelet is crafted with a bamboo motif and accents with green crystals—gold plating pairs with an adjustable leather strap.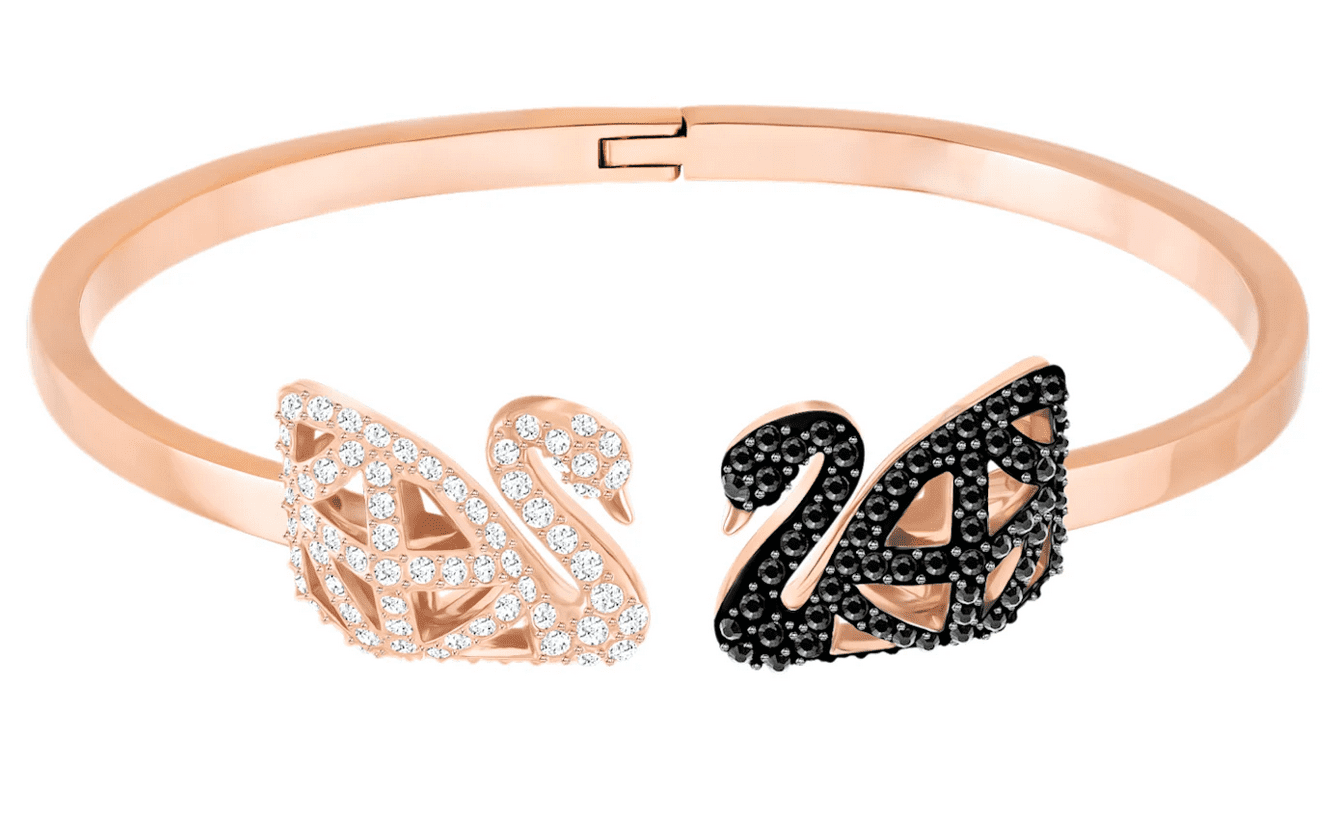 Can't decide on a color? This modern take on the swan motif makes for a striking, elegant, and modern statement. Set on a rose-tone bangle, two swans sit on opposite sides, each studded with crystals. The classic pairing of white, black, and gold hues makes this striking but also easy to accessorize with other Swarovski products.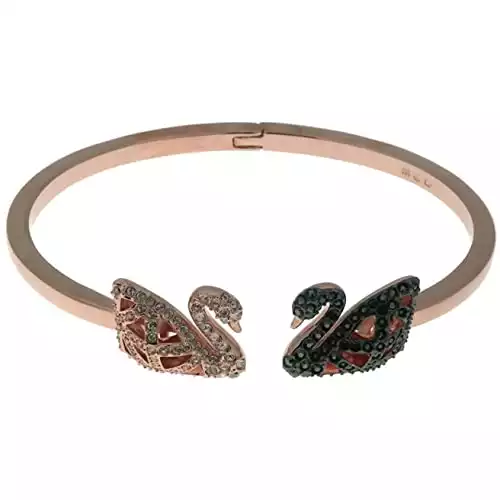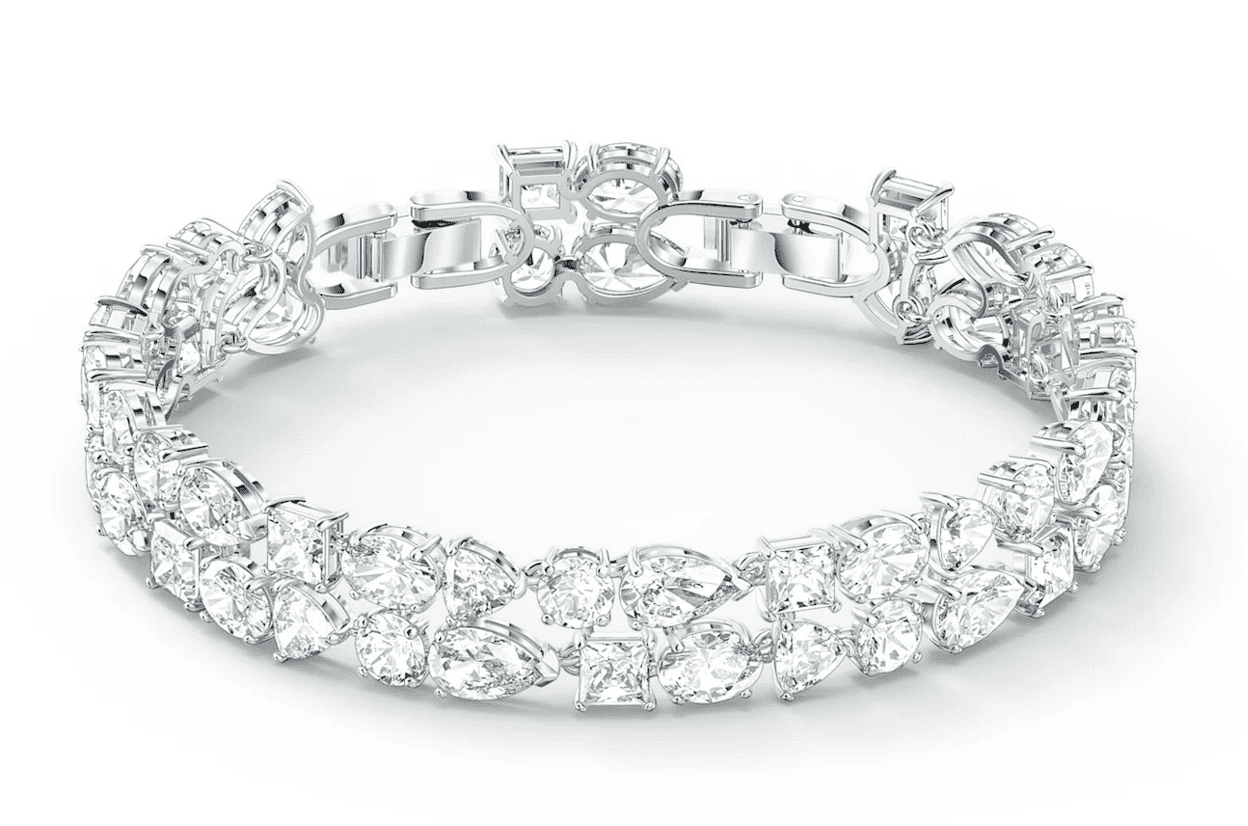 If you love Swarovski for its crystals alone, this bracelet fits the bill. This white, rhodium-plated bracelet is elegant and playful at the same time. Two rows of faceted white crystals offer drop, round, square and oval shapes for geometric dimension. Trillian shapes add sparkle and close with a foldover clasp.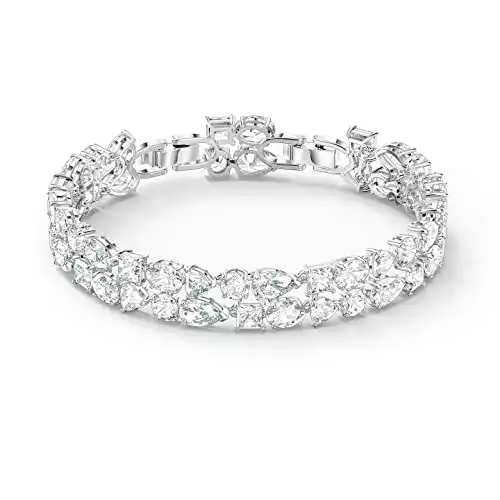 Swarovski Tennis Deluxe Bracelet | Amazon
Capture the attention of many wearing the Swarovski Tennis Deluxe Mixed Bracelet featuring a rhodium-plated metal bracelet with two rows of geometric white faceted crystals.
Buy at Amazon
We earn a commission if you make a purchase, at no additional cost to you.
08/03/2023 12:36 am GMT

Frequently Asked Questions
Question: Is Swarovski a luxury brand?
Answer: If one considers the lab-grown diamonds used with the MiaDonna collection, Swarovski is connected with luxury jewelry. But its main collection is technically not considered a luxury. Luxury brands typically must use precious metals and/or gemstones, of which most Swarovski products do neither. That said, in terms of consumer reputation, Swarovski is frequently compared with luxury brands. 
Question: Which is better, CZ or Swarovski?
Answer: Swarovski crystals are made with precision and admirable attention to detail. That said, compared with cubic zirconia, cubic zirconia is actually more worth your money. CZ is more durable than Swarovski (though it can be cloudy with wear) and less likely to chip, scratch or break. Of course, CZ and how it is used varies greatly, so this is a generalization. 
Question: Is Swarovski better than Pandora?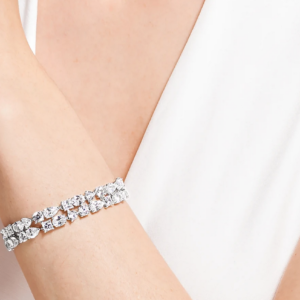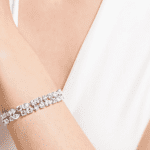 Answer: Pandora and Swarovski are quite popular for their jewelry collections, but they're also quite different. Swarovski arguably has more immediately recognizable motifs and more detailed pieces. However, Pandora uses precious metals, while Swarovski mostly does not. In addition, Pandora uses CZ crystals, which, while not valuable, are more wearable (durable) than Swarovski crystals. 
Question: Does Swarovski go on sale?
Answer: Swarovski does go on sale. In fact, some accessories get as much as a 50 percent off discount. However, you'll have to look carefully, as they don't typically collect all sales items together. If you have your eye on a Swarovski necklace or bracelet, consider bookmarking and checking back in a while to see if it goes on sale. 
Question: How do you know if Swarovski crystals are real?
Answer: One risk of buying Swarovski accessories outside of their official site is buying a fake. One thing Swarovski is prized for is its level of clarity and high gloss finish. Lower quality knock-offs tend to have a duller surface and may contain imperfections, such as scratches, dents, or nicks. 
Final Thoughts 
Swarovski bracelets certainly have earned their status– and the crystals do offer beautiful clarity. If you want a bracelet or necklace with an enchanting look, they are beautiful when taken care of. To properly care for your Swarovski bracelet, make sure to remove it before swimming, bathing, or using cleaning products. Perfume, hairspray, lotion, and hand sanitizer are common products that also may harm your bracelet. 
To keep your Swarovski bracelet shiny, polish it with a soft cloth that doesn't have any lint. Lukewarm water can be used, but you should avoid soaking your bracelet or using cleaners. Make sure to dry your bracelet completely before wearing it. 
If you do like the look but want something a bit more durable, Pandora Bracelets are an excellent alternative. 

Recommend Reads: