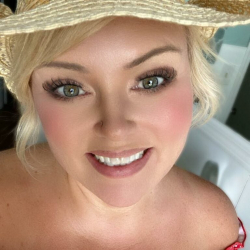 Latest posts by Kristen Swain
(see all)
Jade Bracelet Ideas – Make Them Green with Envy
Beautiful Jade, the green gemstone, is often represented in jewelry with an Asian flair. Explore the mineral, Jade, and learn about the luminous gem so that you can be inspired to shop for a jade bracelet. 
What is Jade?
Confucius said that Jade is virtuous, and the brightness of Jade represents heaven. Jade is a common term used to describe either Jadeite or Nephrite.
The two materials are so similar in appearance that it is difficult to tell the difference between the two, so they were thought to be the same stone up until the 1860s. 
An experienced gemologist can determine the stone differences through their refractive qualities and specific gravity. Jadeite is a harder, denser stone, determined to be easier to work and polished up to a brighter shine.
This stone primarily came from Myanmar and was highly sought after by Chinese artisans. 
The Jade with a fine translucence and uniform color is termed 'imperial Jade.' Once only allowed to be owned by the Emperor, Imperial Jade can now be owned by anyone. The price of fine Jade can run higher per-carat than quality diamonds.
History of Jade
Jade has been used throughout the centuries; it was first used in tool making, making axes, weapons, and scraping tools. When Jade breaks, it breaks with a sharp edge, so it was used often for cutting tools and weapons. However, because it was so durable, it was also used for hammer-type tools. 
It was then noticed that some of the Jade was beautifully colored and that the stone could be polished to a beautiful shine. Jade then became a gemstone that was used for jewelry and other treasured decorative objects.
Jade is a generalized term for what most people imagine as the deep green stone, but Jade comes in almost every color of the rainbow, including lavender, black, gray, and white. 
Chinese Jade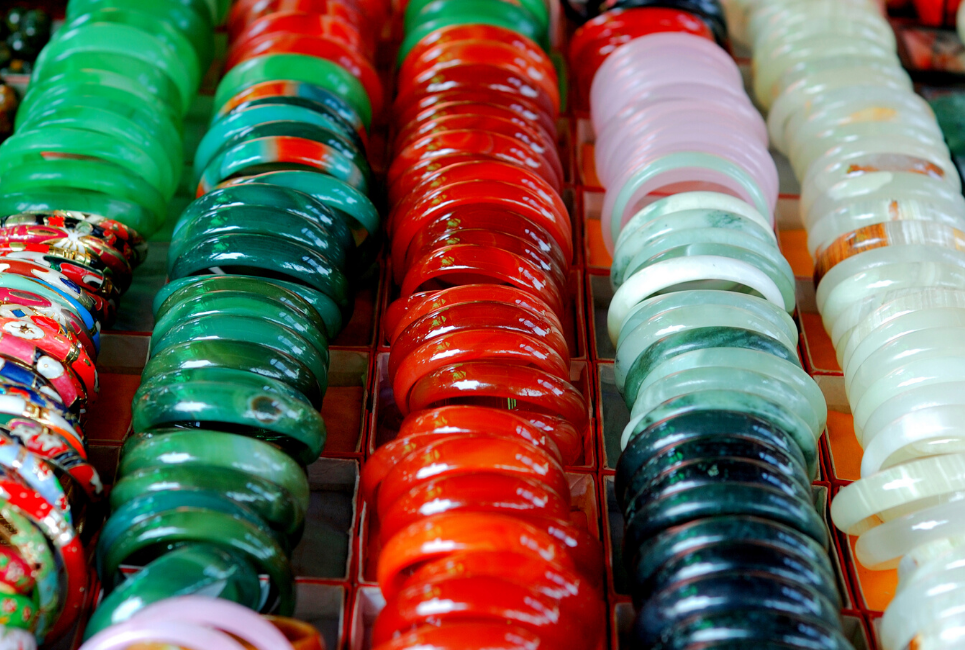 Historically and Culturally, Jade has always been significant in Chinese culture, more so than anywhere else in the world. To this today, it continues to be more valued than any other gemstone.
Although Jade has been found in many countries, Chinese Jade has been in use since the Neolithic era. It is considered a symbol of influence, power, and wealth.
The Chinese consider Jade to be a stone that possesses virtues, those of loyalty, wisdom, courage, compassion, and honor, and several other virtues, a total of eleven. 
Jade was used in burial sites and ceremonies throughout time in China. The body of a Han Dynasty prince was dressed in a Jade suit, made of over 2400 pieces of Jade held together with golden thread. 
The Chinese have a saying- Gold has value, but Jade is invaluable. 
Alternatives to Jade
These well-known Jade imposters, plastic, and glass are all readily available in the markets. Know your jewelry dealer, and make sure that the piece of Jade you are purchasing is true Jade. 
Chrysoprase Chalcedony– A bright green chalcedony, Chrysoprase can be cut into cabochons or small beads that resemble Jade. It is a quartz crystal that comes in a variety of the same colors as Jade does. 
Serpentine- Serpentine is a translucent stone that comes in a bright green or yellow-green color. It is much softer than Jade but comes from the same regions that Jade is mined. 
Vesuvianite- Vesuvianite is so similar to Jade that it must be destroyed in order to differentiate without scientific machinery to test it. The only way to tell the difference outside of a lab is to break the rock, as its hardness on the MOH scale is 6.5 compared to Jade's 7. 
Maw Sit Sit- Maw Sit Sit is a gemstone that has often been confused with Jade because it is composed of Jadeite with two other minerals. Its coloration is a bright chrome green and, when cut into beads or shaped into cabochons, is very similar in appearance to Jade. 
Hydrogrossular Garnet- The Hydrogrossular Garnet is so similar to Jade that it is known as Transvaal Jade. It is a variety of Garnet that is green with black markings. 
Aventurine- Aventurine is sometimes confused with Jade when the inclusion of the mineral Fuchite in the stone colors is a light to dark green. Aventurine does have a typical sparkle in the stone, which differentiates it from true Jade, but it's so well known as an alternative it can be called Indian Jade.
Jade Bracelet Inspiration –
Bangles and Wraps 
Vitality Jade Bracelet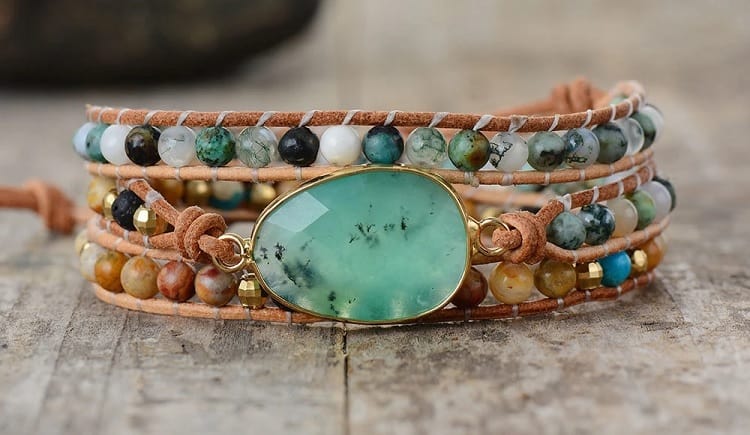 Jade combined with Onyx, African Turquoise, and Lava stones combine with leather and silver to make this beautiful rustic-looking bracelet. Each stone stands out in the mix of stones because they are all various colors.
One strand holds the earthy brown colors, while the other strand shows off the green and white jade colors. Both bracelet strands meet to hold the African Turquoise bezel in the center of the wrap. It is finished with a Sterling Silver button for an easy-to-use closure. 
Jade Bracelets For Woman – Etsy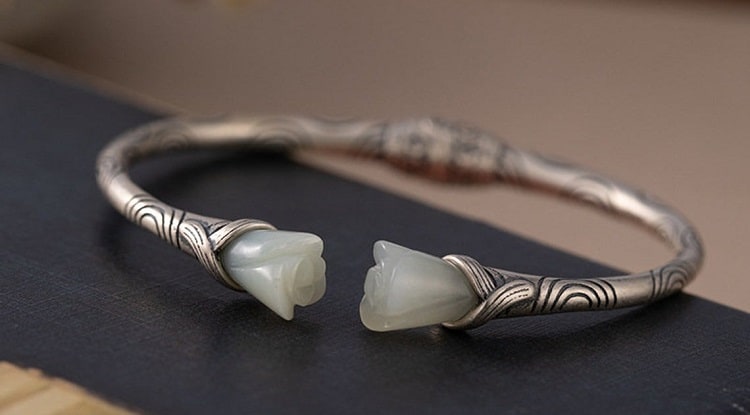 Two beautiful flower buds come peeking out of the ends of this silver bangle. The Jade pieces have been carved delicately into flower buds and inserted into the art deco style silver bangle. The creamy, soft pistachio green Jade is so light in color it is almost white. 
Beautiful swirls and circles are engraved into the bangle and add a touch of unique flair. 
Jade Bracelet Inspiration –
Beads
Maya Bead Bracelet

I don't know what is prettier, the soft sage green jade or the mix of tones of the green Jade in this bracelet. The sweet little silver ball bead is a beautiful addition, as well as the name-brand silver bead.
The sizing on these jade beads is just right for not being too large or heavy and will mix well if you add several other bracelets to blend well as a collection. 
Jade Bead Stretch Bracelet with 14kt Yellow Gold Personalized Disc Charm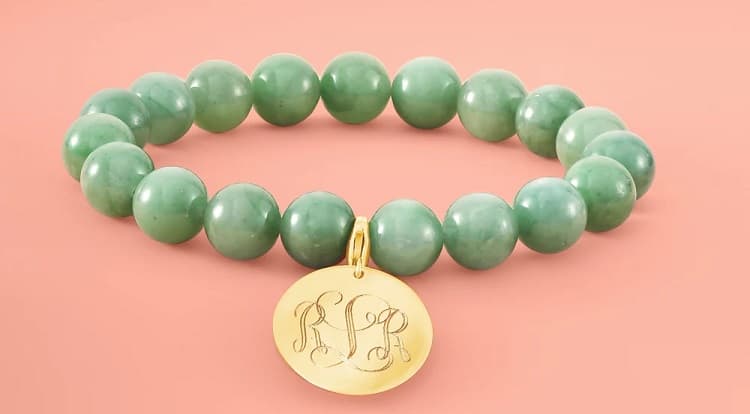 What better way to personalize your jewelry than to own a piece that is beautiful but has been monogrammed with your initials.
This stretch band bracelet has nineteen 10mm green jade beads. The gold initial disc that will be personalized with your initials comes with a lobster claw clasp that is removable. You can choose to wear the bracelet with or without the monogram. This signature piece will make a statement worn on your wrist that will catch every eye. 
Minimalist Jade Bead Bracelet – Etsy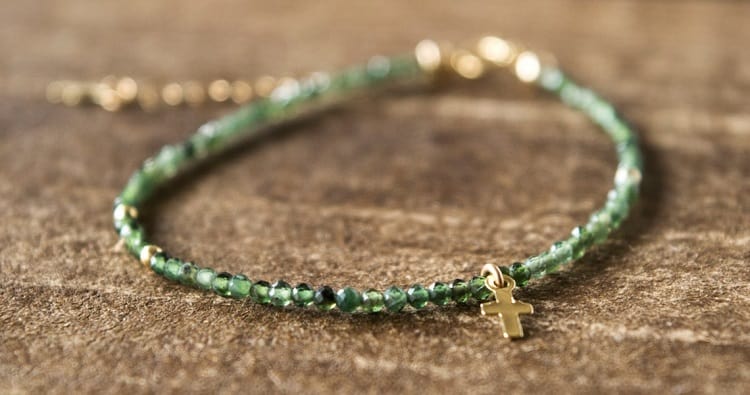 This fine, thin beaded bracelet is beautiful and delicate. With a gold cross-shaped charm on the bracelet and another that dangles from a chain at the clasp, this single bracelet will sit daintily on your wrist.
The spring clasp holds the delicate piece securely on your wrist. The Jade beads are a mixture of deep greens with a few gold beads, translucent Jade, and opaque Jade beads are intermixed on a beading cord then finished with gold clasp and beading. 
Canadian Nephrite Jade Bead Bracelet-2208 – Bracelet – Green Jade
This bright shamrock green bracelet has beads of Jade with black marbling inside them. Several Silver beads accent the Jade pieces; two long rectangular round and three small beaded silver beads break up the bracelet with a variety of tones.
The gorgeous Abalone toggle clasp coordinates with the Jade by having some of the same green tones in the rainbow coloration, as well as being a beautiful decorative element.  
Chinese Jade Bracelet – Etsy

Simple is so powerful. This singular bead cord bracelet is adorned very basically with a few beads and a beautiful round Jade bead.
This little bracelet is customizable and oh so affordable; you can own several in different color combinations to make a set. It is the perfect start to your Jade jewelry collection if you want to start small and work your way up to more expensive or larger pieces. 
Jade and Silver
Round Jade Link Bracelet from Guatemala, "Sunrise in Antigua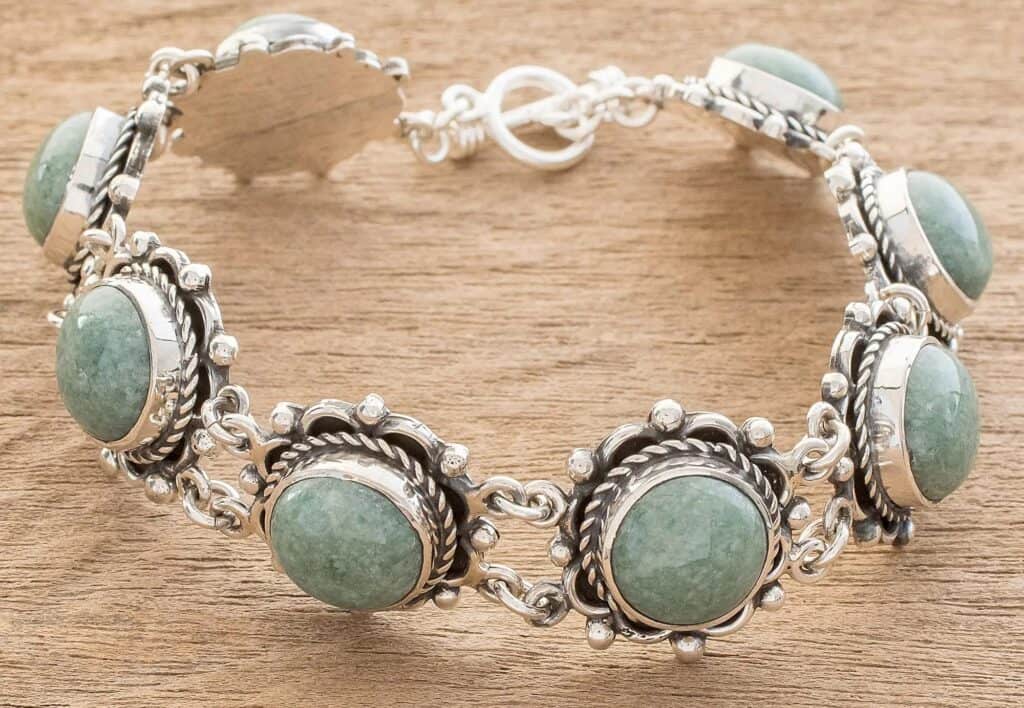 Individual Jade cabochons are set into Sterling Silver bezels that are deepened with black to showcase their intricate engravings.
This lovely bracelet has eight matching cabochons of Jade linked together and finished with a toggle clasp. This is such a lovely way to display the soft sage green coloration of Jade in this Guatemalan-made design. 
Jade Tennis Bracelet in Sterling Silver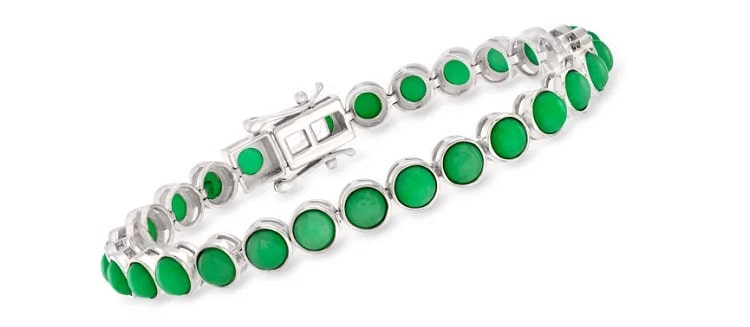 Make them green with envy with this gorgeous Jade tennis bracelet. Approximately twenty-eight round Jade gemstones are encircled in polished Sterling Silver. Each Jade piece is coordinated to look as similar in color as the other Jade pieces, but there are minor variations in color. The box clasp will safely keep your bracelet secure on your wrist while allowing an easy to put on closure. 
Green Nephrite Jade Bracelet with Zirconia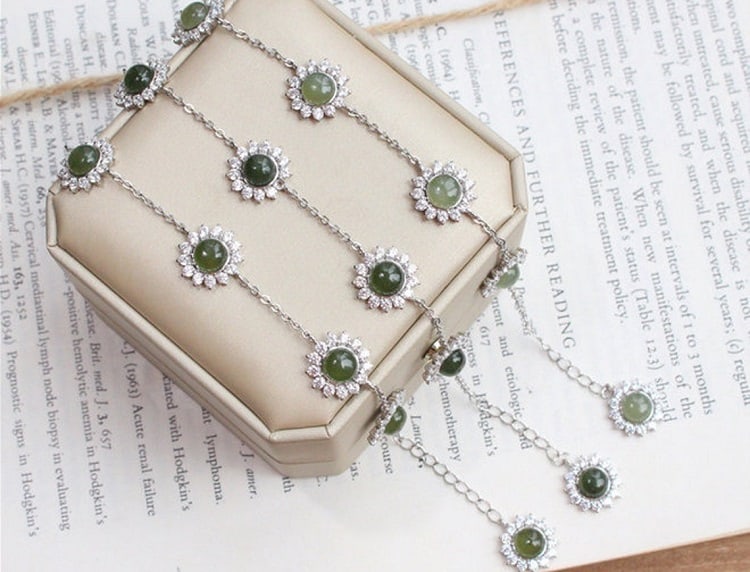 Five Jade and white zirconia flowers adorn this chain bracelet. The four large flower charms are attached to each other with a silver chain, and the last charm dangles prettily from an extender chain.
The clasp is an easy-to-use lobster claw clasp that attaches to the extender chain to give you the option of a tight or loose bracelet. Thirteen leaf-shaped Zirconias encircle each round Jade cabochon for an unusual sparkling look for a jade bracelet. 
Other than Green Jade
Pink Jade "Good Fortune" Bracelet in Sterling Silver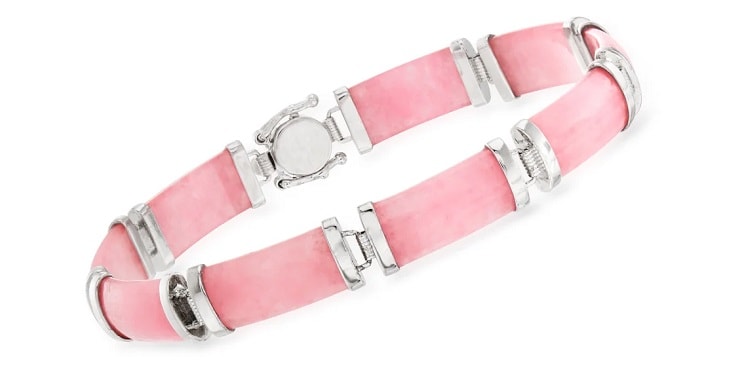 The astonishment at the uniqueness of a pink jade highlights how beautiful this bracelet is. Each curved rectangle of pink Jade is trimmed with a silver cap to connect with the next piece.
The intricate clasp is also an emblem that has the Chinese character for good fortune embossed on it. The mottled coloration of this pink Jade only highlights the beauty of the stone. 
HARMONY WHITE JADE BRACELET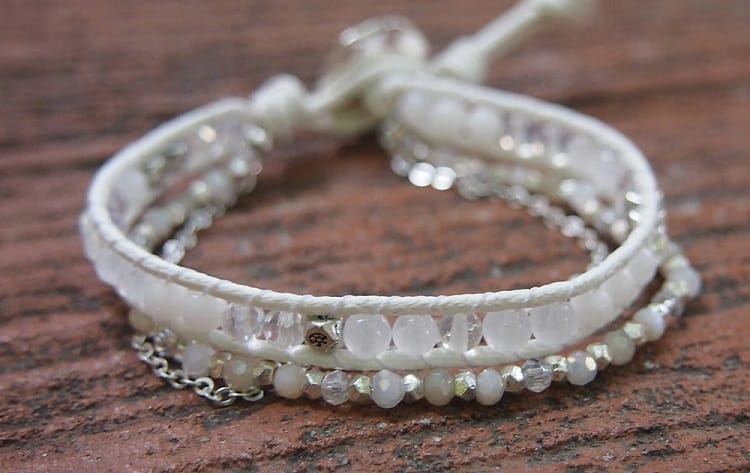 This delicate wrap bracelet is almost angelic in coloration and daintiness. Three strands allow for a multiple bracelet look with the ease of one closure. The silver button closure makes it easy to clasp the bracelet on without struggling with a small hook.
The white Jade is opaque and translucent, giving an ethereal quality to each strand of this bracelet. Wearing this bracelet will help focus the mind on full-body harmony.
Emerald Jade Stone and Agate Bracelet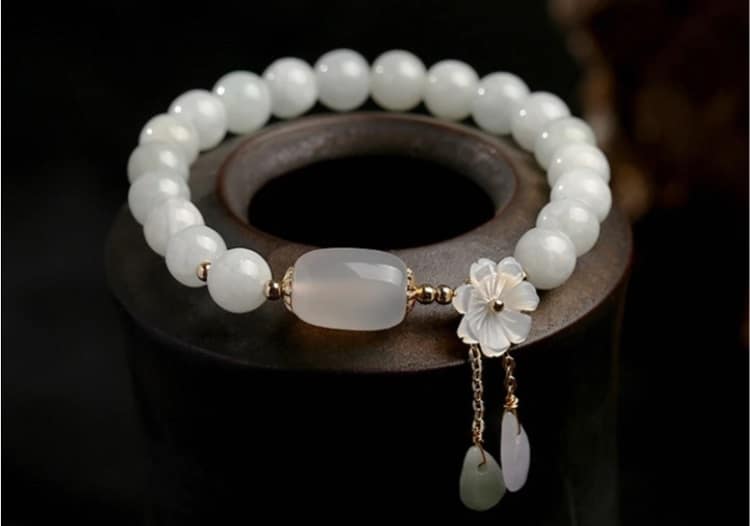 This luminous-looking bead bracelet has the softest green tint to the beads that almost looks white. Against a white background, these beads are a light tea green color throughout the bracelet.
In addition, the little white sweet pea sea shell flower and rectangular agate bead add a touch of flair, as well as the two dangling jade petals. This very feminine bracelet will coordinate with most outfits and be a stand-out piece of jewelry. 
Bali Jewelry Handcrafted 925 Sterling Silver Pink Jade Bangle (53.8g)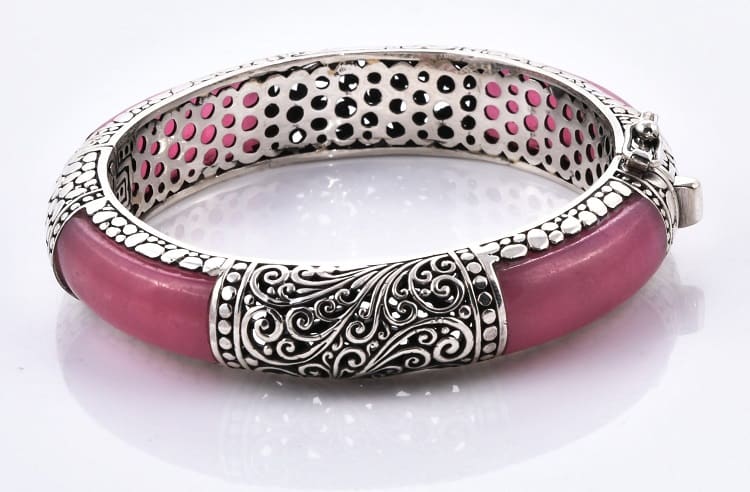 This bangle is completely Sterling Silver with pink Jade accents. Adorned with four accent curved rectangles of pink Jade, the bracelet is also interspersed with engraved silver pieces.
These pieces are black painted for the engraving to stand out; the swirling details are intricate and beautiful. The underside of the bracelet is an open weave to allow light to pass through the jade stones to see the coloration of the stone.
FAQs
Question: Is it Bad Luck to Buy Jade for Yourself?
Answer: In some cultures, it was considered that each piece of Jade is embedded with a spirit, and therefore buying or creating a piece for yourself was considered bad luck as it would anger the spirit within the stone. Today it is more common to buy a piece for yourself. 
Question: What Hand do You Wear a Jade Bracelet On?
Traditionally the left wrist is the hand to wear a Jade bracelet. This is because the left wrist is the traditional way to have balance and wellness as it is closer to the heart on that side. 
Question: What are the Benefits of Wearing a Jade Bracelet?
Answer: Jade has many mystical properties, including benefits of the adrenal system, creating calm and restful energy, and prophesying dreams. Wear Jade for longevity, attracting and building love relationships, as well as for prosperity.  
Question: How Can You Tell Jadeite from Nephrite?
Answer: Coloration is the best way to tell the difference between the two minerals, although you will find them generally marked under the term Jade. Jadeite is more valuable than Nephrite. Jadeite can be many colors, including deep blue, pale green, pink, lavender, and white. 
Question: What is Natural Hetian Jade?
Answer: Hetian Jade refers to a high-quality Nephrite Jade. This Jade is comprised mostly of tremolite, one of the largest minerals that combine to make Nephrite. Hetian Jade comes in several colors, including teal, light green, white, dark green, yellow, and red. 
Conclusion
Jade is a translucent, green-toned gemstone. The properties it accentuates are many, but it does create calming energy for the wearer and can also help with wealth and the wearer's health.
You must be careful of hard hits or bumps with this gemstone, as it is easy to damage. Not everyone cares for these deep green gemstones, but there are several colors that make a choice easy to wear.
This nostalgic stone has been in use in cultures for centuries; if early societies loved it and cherished it, then we should be adding it to our own as well. A daily wear piece may not be your dream piece, but consider all your options and find a beautiful jade piece that you adore.