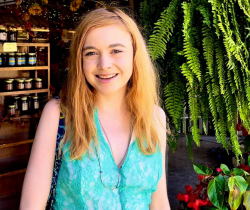 Latest posts by Erin Jamieson
(see all)
In 2022, some of the hottest jewelry trends harken back to Summer camp days. 2022 may be one of the best years yet for playful ideas. And of the must-haves is a gold ankle bracelet.
The Summer camp jewelry trend features a more lighthearted approach to jewelry, after a year where lightheartedness is much needed. Rainbow and pastel hues, warm metal tones, and playful looks comprise the most popular accessories, worn amongst celebrities and influencers alike.
Self-expression, whimsical touches, and retro styles are all at the heart of some of the most in-demand accessories. Beaded choker necklaces, resin rings, and friendship bracelets are all making appearances. But perhaps the most unexpected? Ankle bracelets.
Ankle bracelets, which were especially popular during the 70s in the United States, are now being seen in any style. From beaded to bedazzled, ankle bracelets are coming back in a big way. And gold is the metal of choice for many.
In this article, I'll guide you through the gold ankle bracelet trend and give you my ideas for the best picks for 2022.
| Product Image | | Primary Button |
| --- | --- | --- |
| | | |
| | | |
| | | |
Best Gold Charm and Station
Best Diamond and Gemstone

Why do ladies wear anklets?
First of all, anklets can be worn by any gender. While it's true that ankle bracelets are more tied to feminine styles traditionally, there are ankle bracelets now for everyone.
But more importantly, ankle bracelets are a fun and unexpected way to accessorize an outfit. In some cultures, an ankle bracelet can have meaning. For instance, in India, wearing your ankle bracelet on your left or right side can indicate your relationship status. In other cultures, sometimes ankle bracelets are worn by dancers, or even as an indicator of social status.
But in much of the United States and Europe, ankle bracelets are now simply worn as a way to style an outfit, from the beach to a night out.
Are ankle bracelets in style in 2022?
It isn't just celebrities and influencers who are wearing ankle bracelets in 2022. Ankle bracelets are one of 2022's most delightfully unexpected trends, and it's easy to see why. Ankle bracelets have a way of mixing up an expected look with a charming touch.
From the beach to casual to a night out, ankle bracelets are very much in style in 2022. A more lighthearted approach to fashion, greater emphasis on self-expression, and playing with conventions are all reasons why ankle bracelets are back in fashion.
What foot are you supposed to wear an anklet on?
You may wear a gold ankle bracelet on either foot or even both! A great aspect of ankle bracelets is that they can be layered and styled to your preference. For instance, I love the look of two fine-strand ankle bracelets layered together, but you could even mix it up and pair a chunkier cuff ankle bracelet with a fine chain one.
How do I wear an ankle bracelet?
Ankle bracelets are usually worn barefoot, with sandals, or some form of heel. That said, you can even see ankle bracelets worn with tennis shoes. The one rule that must follow is that ankle bracelets are seldom worn with hose. Hose detracts from the ankle bracelet, and it simply isn't practical.
For a casual type of ankle bracelet, beach attire and boho clothing are both natural fits. For gold anklets, however, you can consider pairing with a semi-formal to formal dress or skirt or even cropped pants and pantsuits. Solid color stilettos and sandals pair excellently with gold ankle bracelets.
To complete your look, add a statement ring or necklace. Some even like to add a toe ring for informal occasions. No matter what, the rule of thumb is that there are no hard and fast rules about how to wear ankle bracelets. Wear them in a way that suits you, and your style.
Are gold anklets pure gold?
If you decided that you love the look of an anklet, one of the most popular trends is a gold ankle bracelet. But not all gold is created equal. Before you buy any gold ankle bracelet, you should understand what you're buying, as well as what's the best option for you.
Which gold is the best?
You'll come across several types of gold anklets. Each has its pros and cons, and while there is no one best gold for all situations, you'll have to weigh the pros and cons of durability, everyday wear, and appearance.
Gold Plating
Gold plating also referred to as gold finish, is real gold, but not equivalent to gold used in fine jewelry. Gold plating is a thin layer of gold, set over another metal. Usually, this is done to reduce costs and still give you that gold appearance. As such, you need to pay attention to the durability of the metal it's covering.
Gold plating lasts an average of 2 years before it starts peeling off. However, on the brighter side, gold plating is typically harder than solid gold options and may be less prone to everyday scratches.
Gold Vermeil
Gold Vermeil is gold-plated jewelry but there are tighter qualifications. Also known as "silver-gilt," high-quality sterling silver must be used. The gold plating also needs to be 10K gold or greater and must be a certain thickness. Because of this, vermeil may be more durable than some gold-plated options. However, some gold-plated options are not specifically labeled as such but fit these requirements.
Gold Filled
Gold Filled is a bit more durable than some gold-plated options, but you won't find many anklets in this category. Gold-filled ankle bracelets must have at least 5 percent pure gold and are made by pressurizing layers of 14K gold over high heat. This is a great middle option if you want something that lasts longer than gold-plated options, but isn't as pricey as karat gold.
10K, 12K, 14K, and 18K Gold
The higher the carat, the more valuable the gold, and the deeper hue and shine. At the same time, the higher carat, the softer the gold. That means that, while beautiful, you'll have to be more careful with higher carats. 24K gold is 100 percent pure gold. 10K gold is the lowest carat gold used for jewelry that's real gold and is instead just 41.7 percent gold, and 58.3 percent alloy. While less valuable, 10K gold can be easily worn every day.
Gold Anklets: My Picks
Now I'll give you my picks for the best gold ankle bracelets in 2022. I've stuck mostly to 10K and 14K gold options, but that doesn't mean you can't go for some gold plating. Remember that if you plan to wear these to the beach, or anywhere else where your anklet may get, that sterling silver will tarnish.
I've included some of the most popular styles, from cuff to chain to charm and even diamond gold anklets. With links to buy each style, hopefully, you'll get some ideas for yourself.
Cuff and Chain Gold Ankle Bracelets
Cuff ankle bracelets consist of a thick band that's usually a solid finish and a bold statement. Gold ankle cuffs can be paired with just about any other accessories and are a fantastic way to draw attention to the leg and a statement shoe.
Chain ankle bracelets also have a "chunkier" look but are a bit more casual. Chain ankle bracelets look great with something as casual as jeans.
18K Gold Anklet Cuff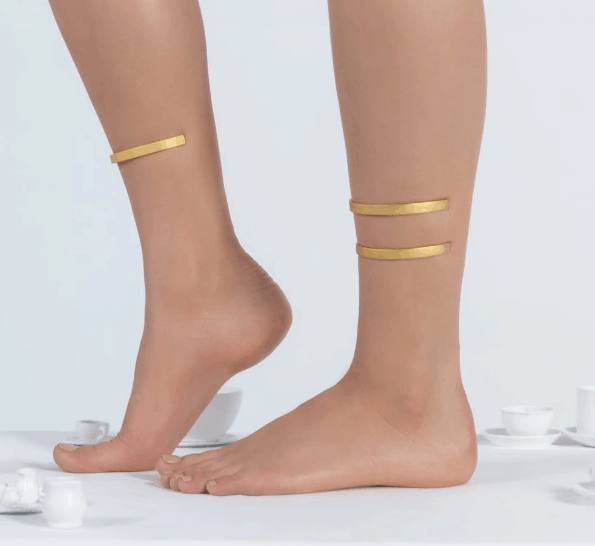 If you're looking for a sophisticated, sleek gold ankle bracelet, this cuff style may be for you. Retailing for around $120, the anklet features 18K gold plating and is hypoallergenic. This should be worn for formal occasions and sits high up on the ankle. The same company also makes spiral ankle bracelets (scroll down the page). Buy Here.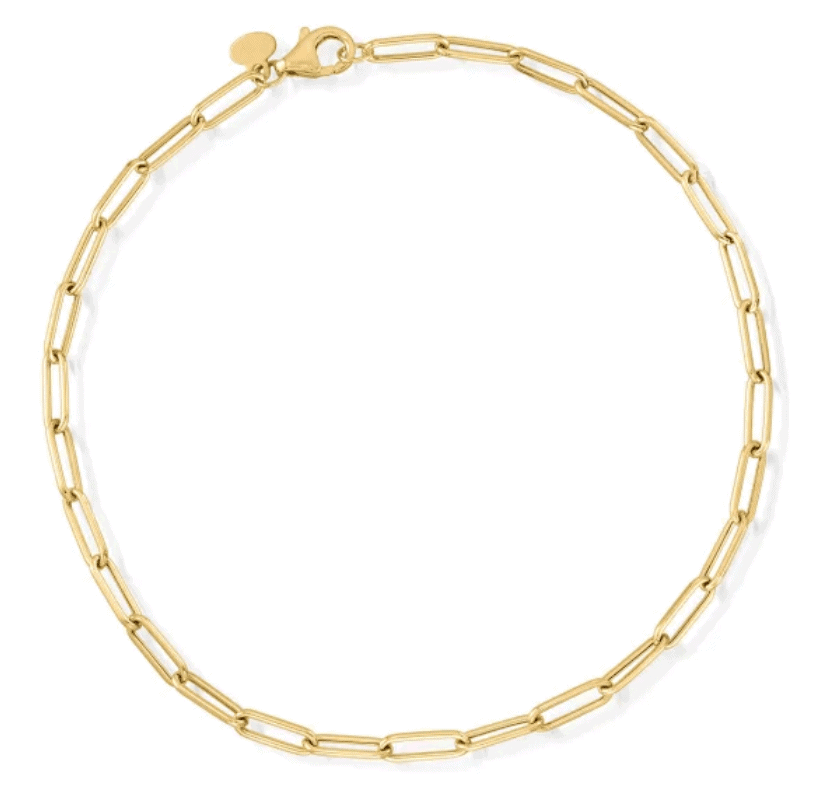 This around $206 Ross Simmons anklet is a beautiful option for a fine jewelry anklet. Follow the quirky paper link trend, this is a modern take on the chain anklet. There's a playful yet refined look to this anklet, which can be styled with casual and formal wear. Buy Here.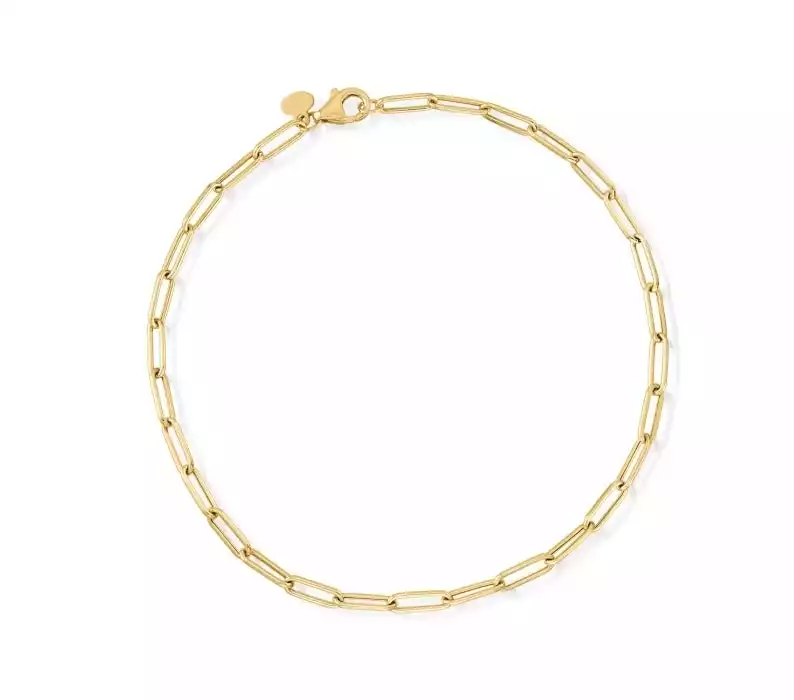 Italian 14kt Yellow Gold Paper Clip Link Anklet | Ross-Simons
A must-have trend: the paper clip link anklet. Chic and minimal in its design, this 14kt yellow gold paper clip link anklet from Italy is contemporary and versatile -- the perfect piece to show off your effortless style from head to toe! Lobster clasp, 14kt yellow gold paper clip link anklet.
Check Price
We earn a commission if you make a purchase, at no additional cost to you.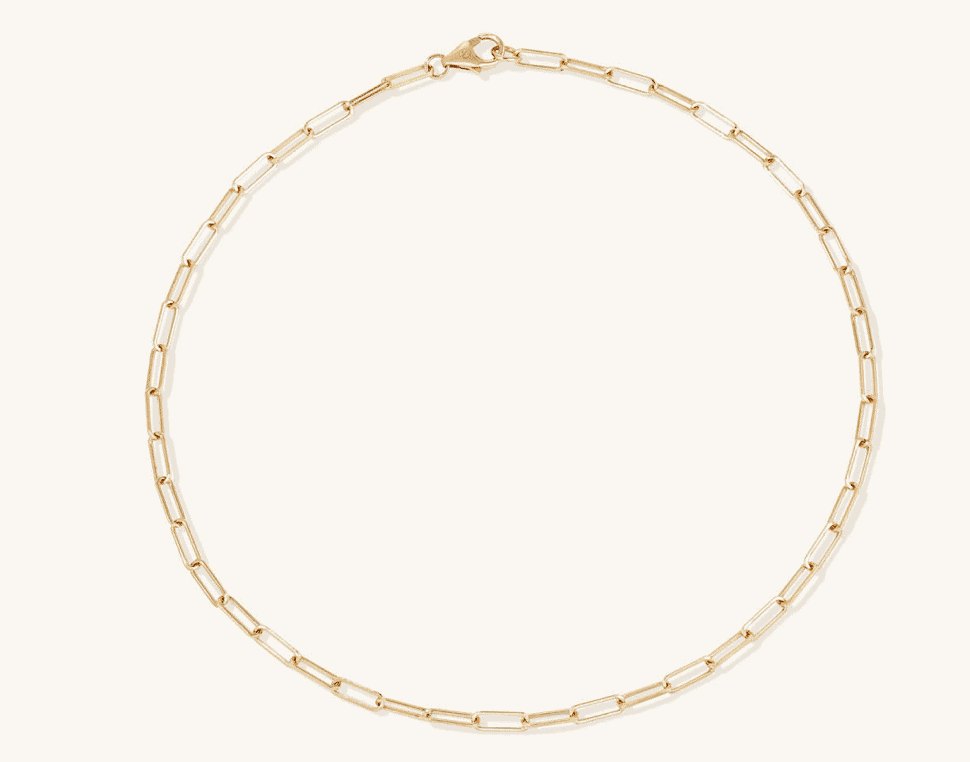 Available in four sizes, this bold and modern gold anklet comes with a two-year warranty, making the around $195 price easier to justify. Beautiful 14K solid gold and an updated look make this anklet ideal for pairing with cropped pants and even sneakers. Buy Here.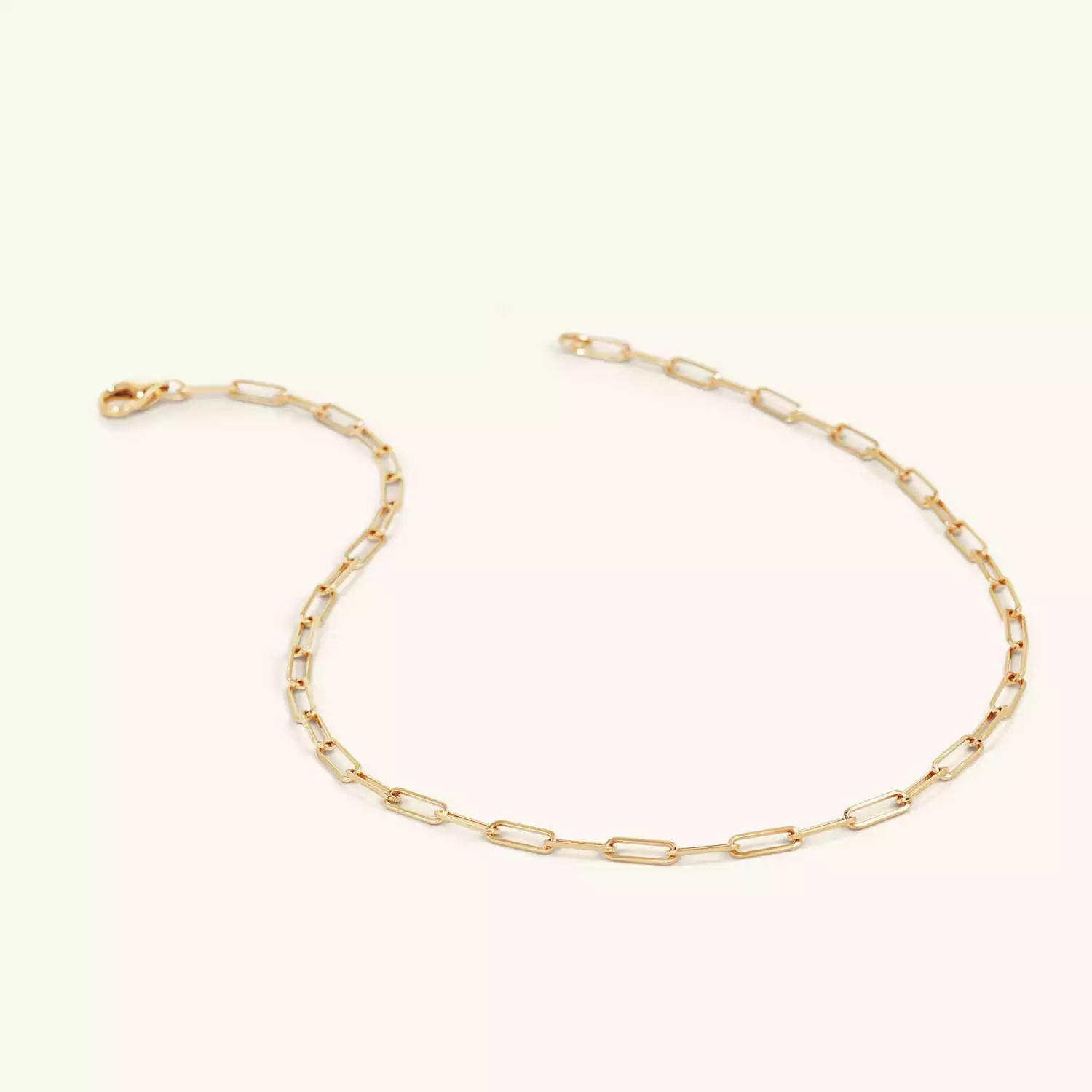 Boyfriend Bold Chain Anklet | Mejuri
Your boyfriend denim just found its match with the anklet version of one of our most popular chains. Handcrafted in 14k solid gold, so you can wear it every day—whenever, wherever.
Check Price
We earn a commission if you make a purchase, at no additional cost to you.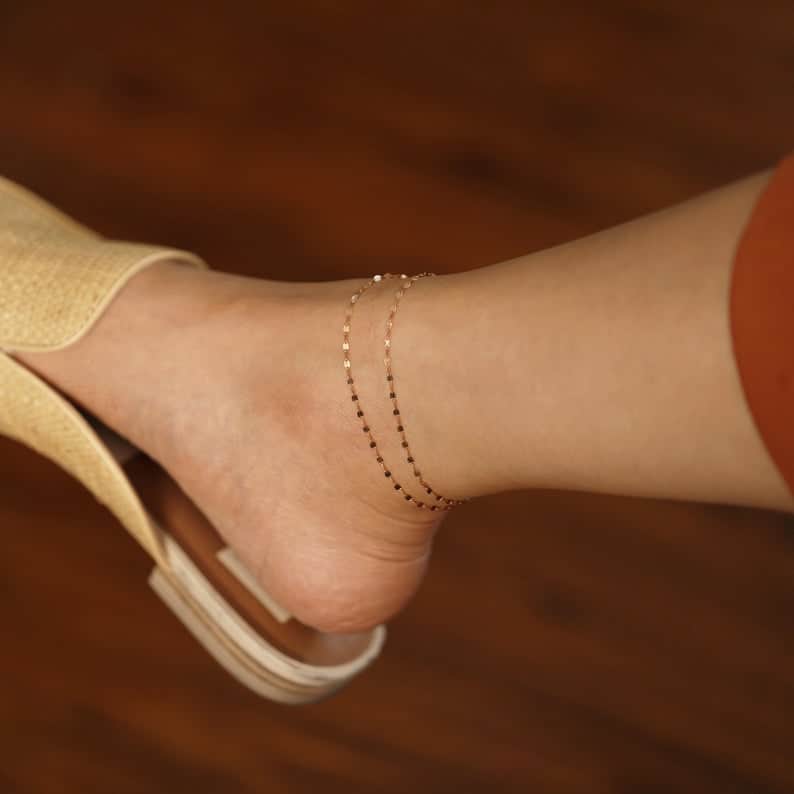 This handmade glitter chain anklet features an unexpectedly delicate look, with a carefree but minimalist appeal. Choose from 14K yellow, white, or even rose gold. Handmade and made to order, it's easy to see why this polished anklet is a bestseller. Priced from $163 to $180. Buy Here.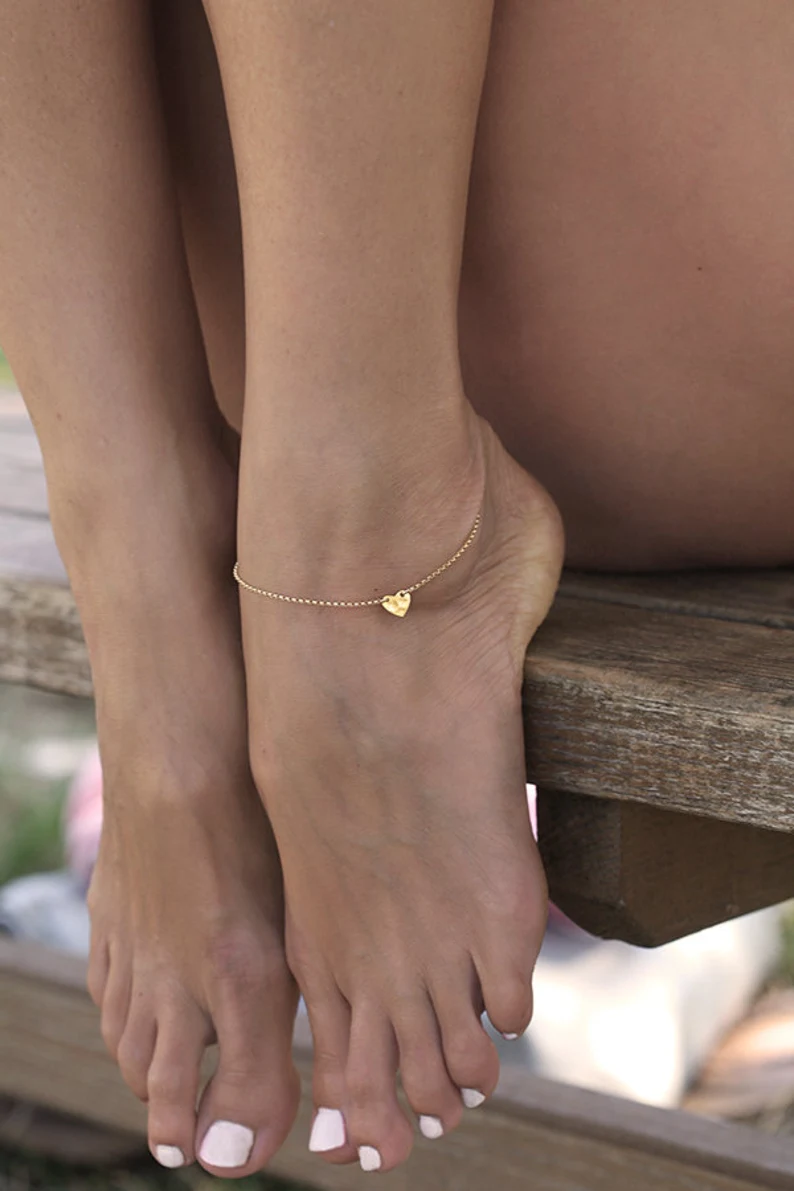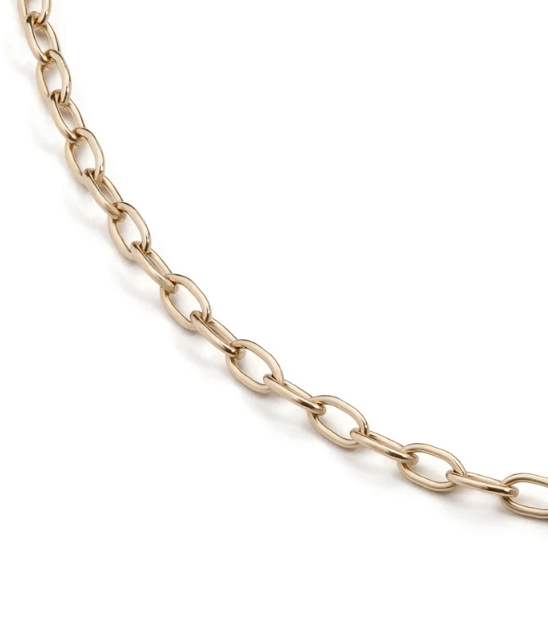 Jennifer Fisher's most popular anklet is this 14K gold chain style. It's about as versatile as you can get, with a chunky look that nods to the Cuban chain link trend. Available in yellow rose, or white gold, this is a carefree look that can be worn with jeans or even athletic wear. Priced at around $250. Buy Here. '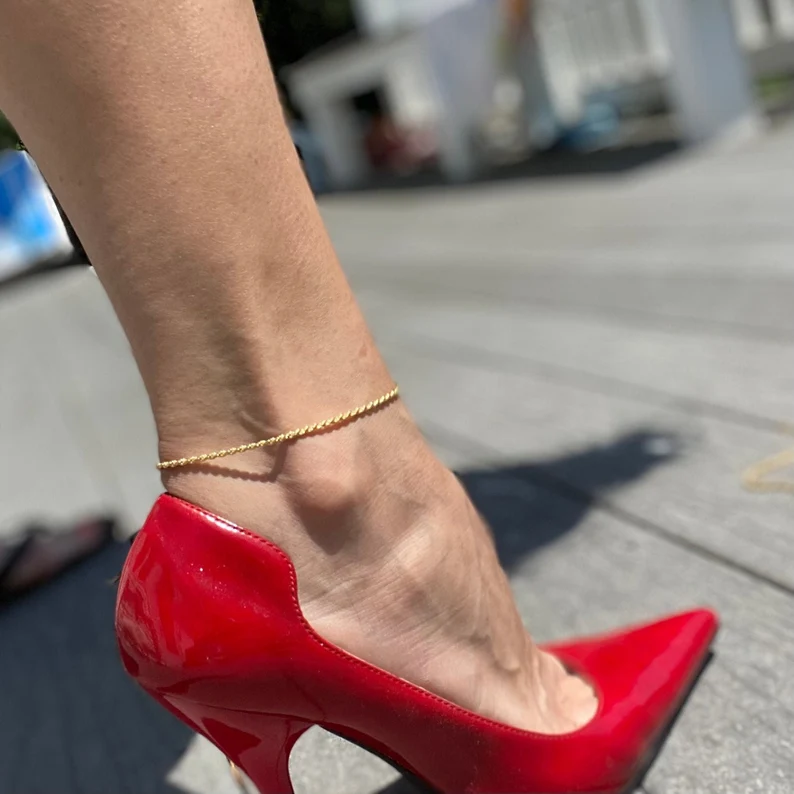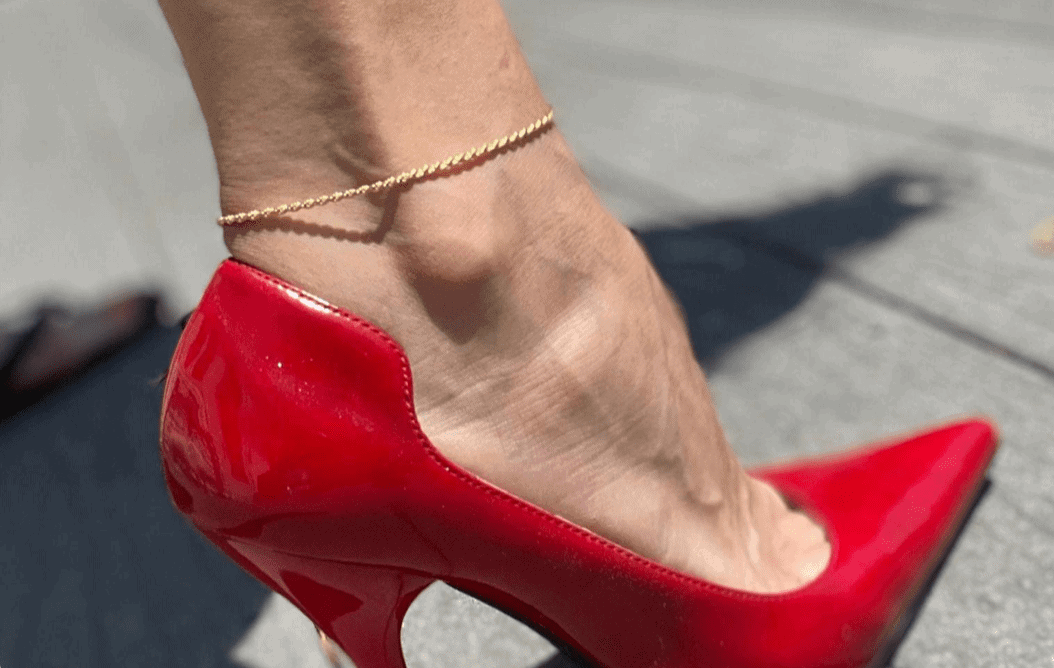 A dainty take on a chain, this handmade anklet is priced at around $71.20. 14K yellow gold vermeil is suited for everyday wear, while still supplying a refined finish. The fine rope details add a subtle touch of formality. Consider pairing this ankle bracelet with a pair of colorful heels. Buy Here.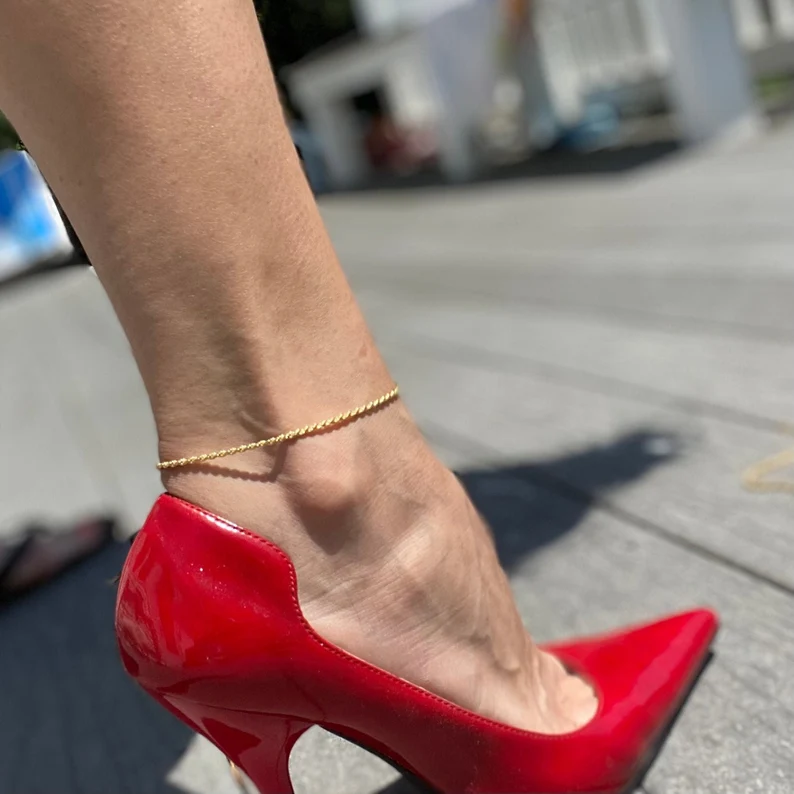 Gold Charm and Station Ankle Bracelets
Charm anklets and station anklets both have a whimsical appeal. A gold finish adds an inviting, warm finish and polished shine for what can be either casual or semi-formal. Playful, these types of ankle bracelets are among the most popular. They also make for great gifts and make for fuss-free styling.
While they have much in common, a station anklet is distinguished by a repeating charm or motif, evenly spaced around the perimeter. Charm bracelets, on the other hand, may feature multiple types of charms, and sometimes at uneven intervals. For this reason, station ankle bracelets are a bit more formal, while charm anklets lean more casual.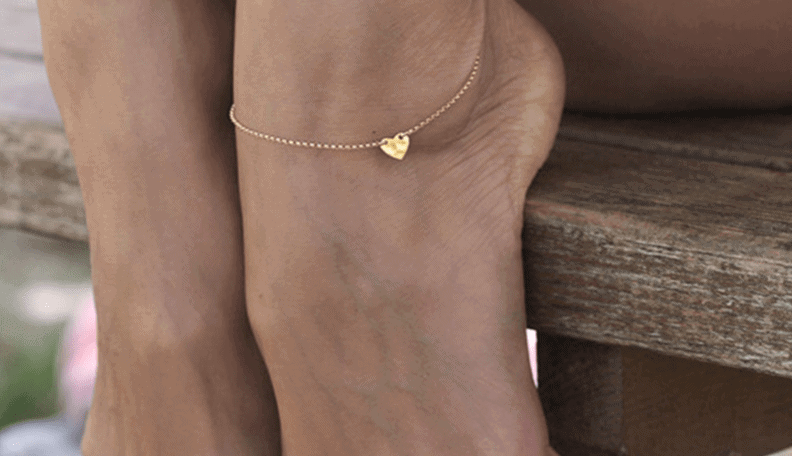 The reason why this handmade ankle bracelet is my favorite idea of its kind is how much you can customize your order. Choose from 6 different lengths and the metal of your choice: rose, yellow, or white gold-filled or 14K gold. A minimalist rolo chain carries a hammered heart charm. You can even order custom initial engravings for the charm. Priced at $60 to $440. Buy Here.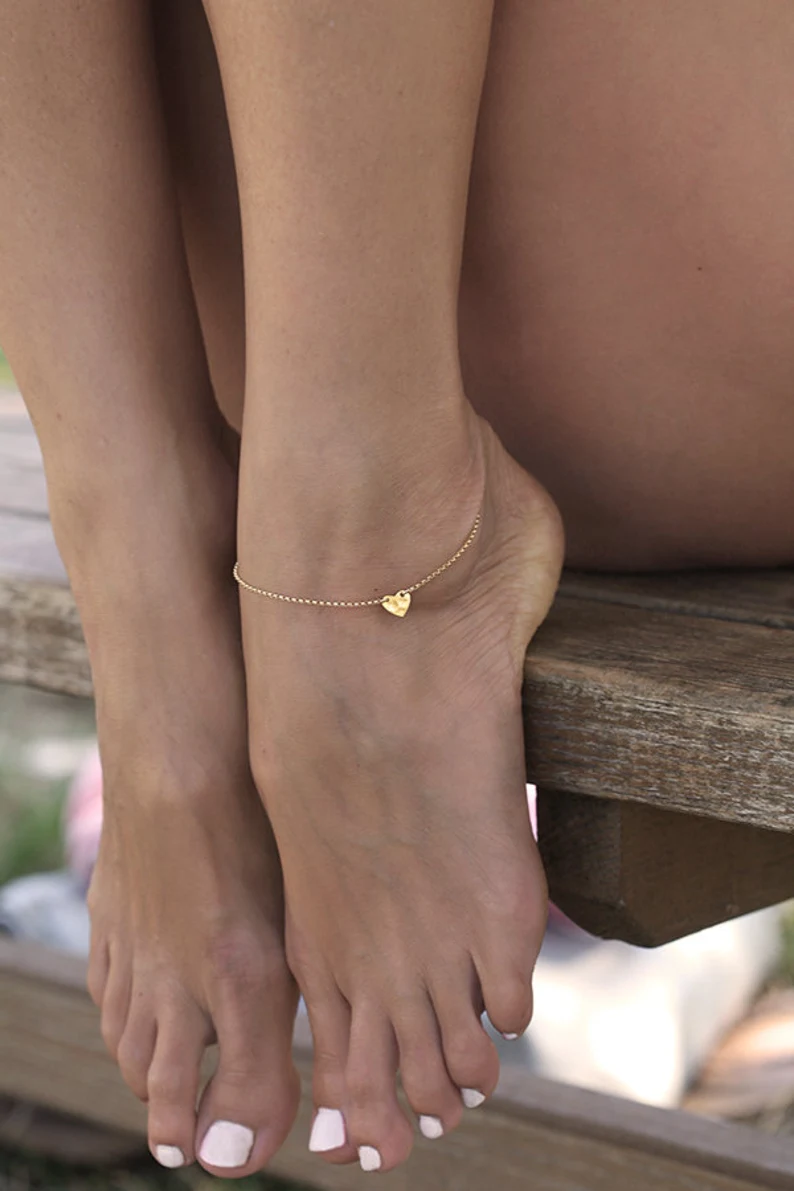 Gold Heart Anklet | Etsy
Dainty silver, rose/yellow gold filled or 14k solid gold heart anklet with a hammered heart pendant, personalized with a custom initial.
Check Price
We earn a commission if you make a purchase, at no additional cost to you.

Moon Charm Anklet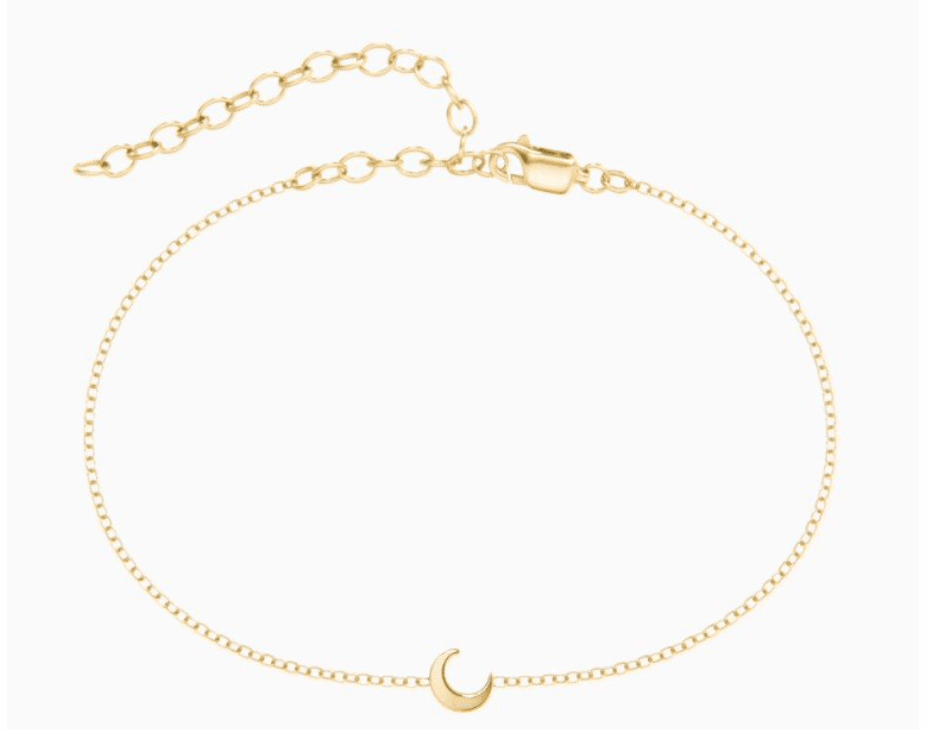 One sweeping theme I keep seeing? Celestial jewelry is trending, and this moon charm gold anklet is a great addition. This 10K gold charm anklet features a dainty half-crescent moon on an adjustable chain. It's also available in 14K gold. Select from rose, white and yellow gold; it's a smart choice for everyday wear. Priced from $239 to $319. Buy Here.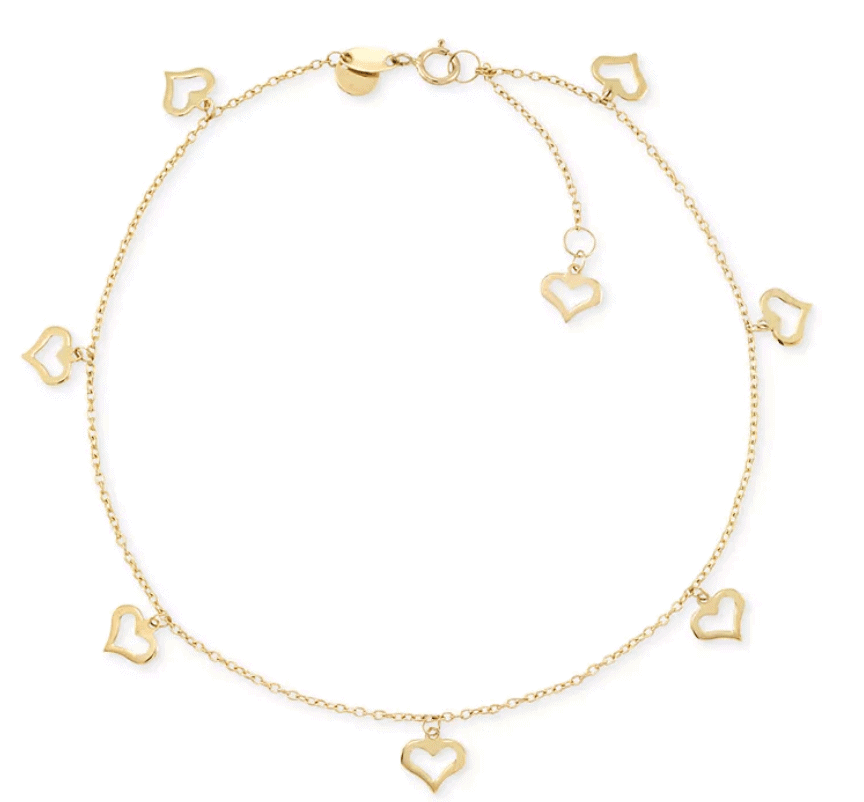 Perhaps as part of the trend towards personalized and expressive jewelry, heart motifs are also in style in 2022. This 14K yellow gold heart charm anklet features a simple chain with polished, modern charms. Priced at around $236. Buy Here.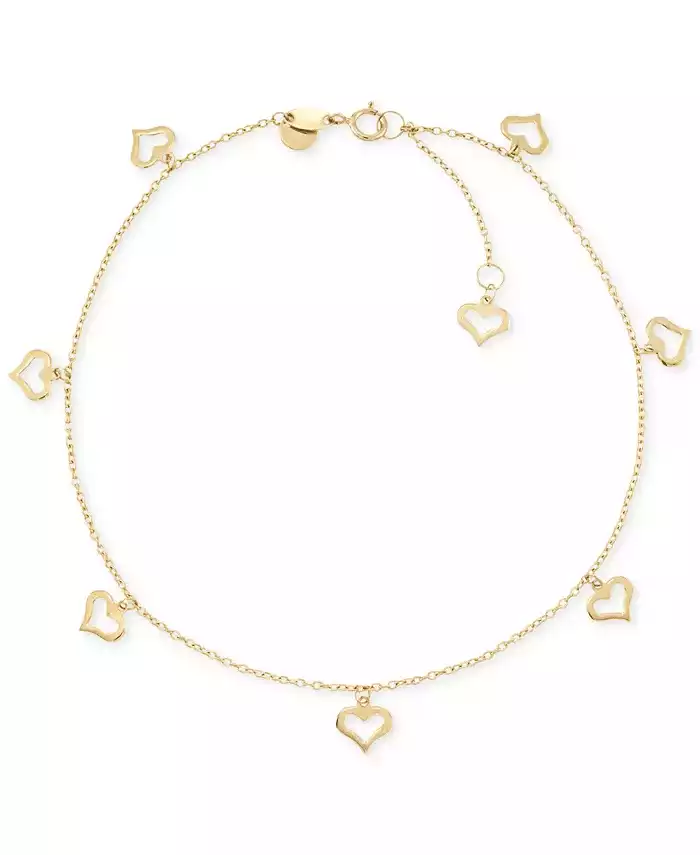 Heart Charm Anklet in 14k Gold | Macys
You'll fall in love with the pretty heart motif of this adorable charm anklet beautifully designed and set in 14k gold. Approximate length: 10 inches.
Check Price
We earn a commission if you make a purchase, at no additional cost to you.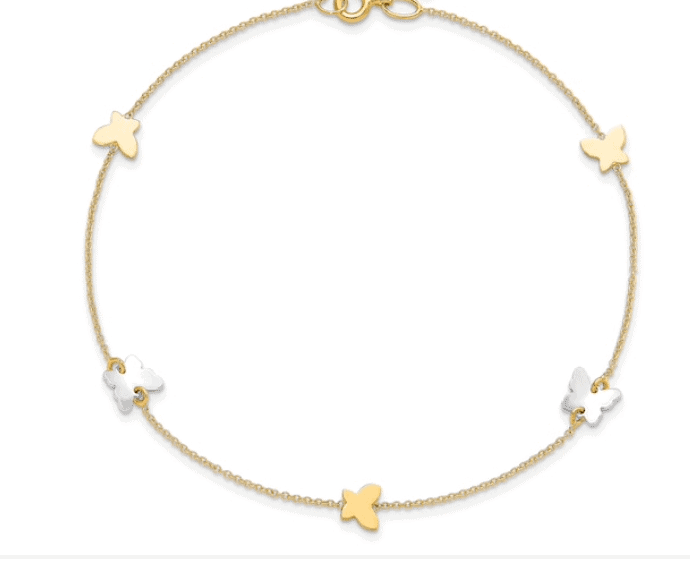 Butterflies are a symbol of transformation, hope, and rebirth. It's no wonder that we're seeing butterfly motifs in 2022, and this whimsical ankle bracelet is an excellent choice if it's within your budget. 14K white and yellow gold butterflies are set on a 14K yellow gold chain. Priced at around $530. Buy Here.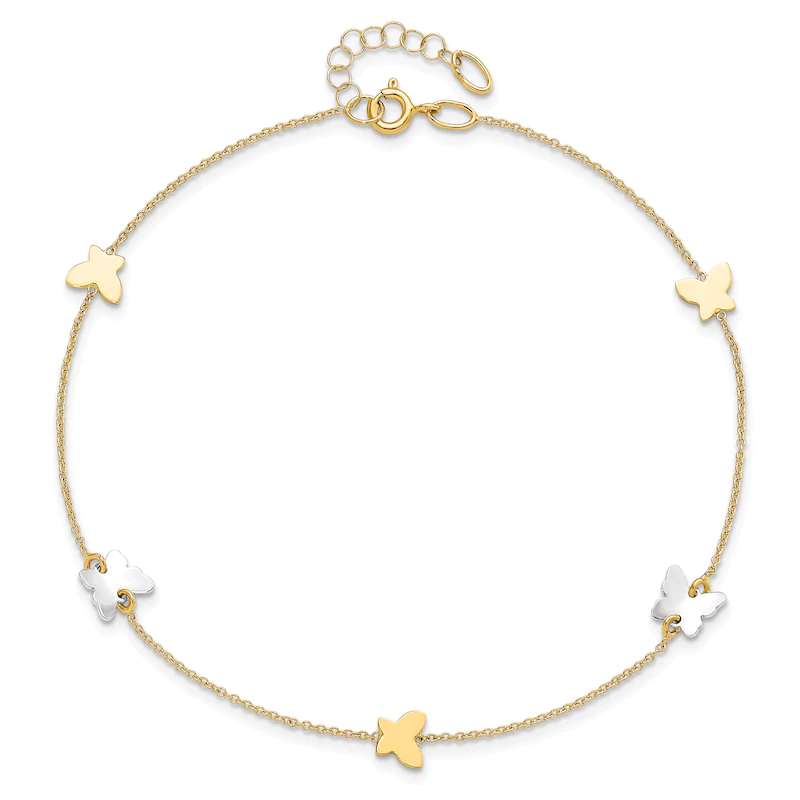 Butterfly Anklet | Jared
Add dazzling elegance to your ensemble with this stunning 14K yellow and white gold anklet. This 9-inch long anklet features sleek butterfly design charms and brilliant high polished finish for an everlasting shine.
Check Price
We earn a commission if you make a purchase, at no additional cost to you.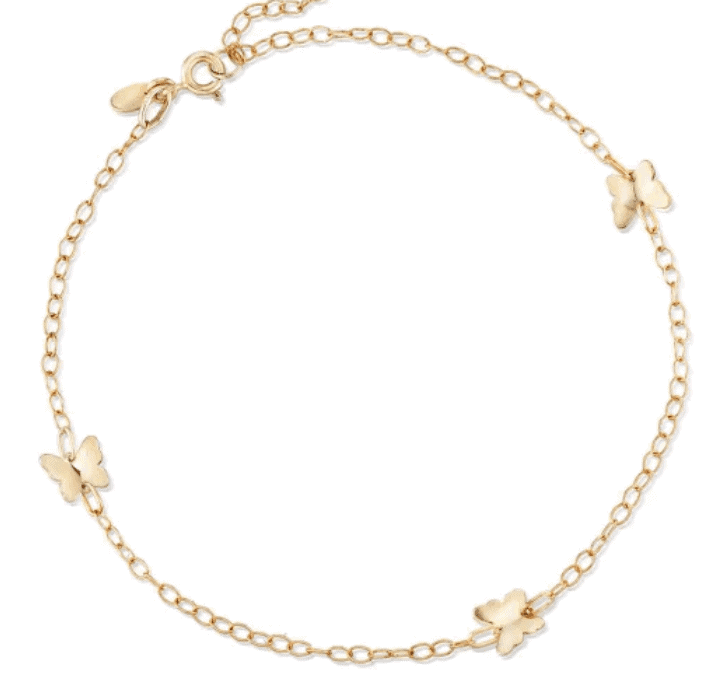 Want the butterfly look for less? Much as I love Jared's innovative two-tone style, this charming station ankle bracelet costs a portion of the price, at around $249. Reminiscent of 90s fashion, dainty butterflies sit on a delicate chain, all crafted in 14K yellow gold. Buy Here.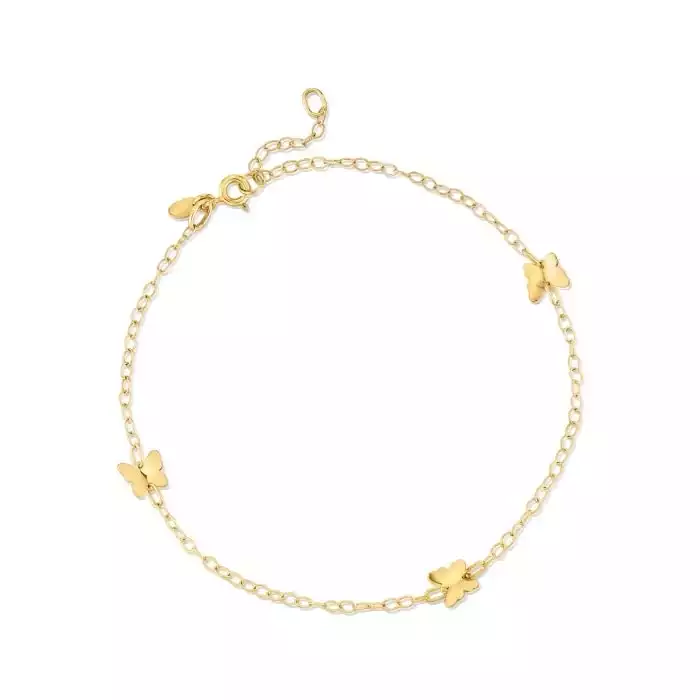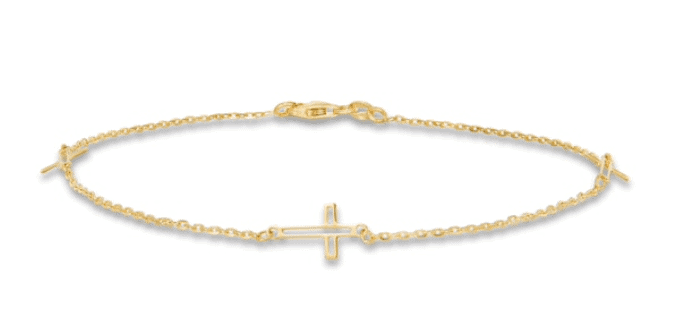 Worn by Christians and the general public alike, a sideways cross is a modern take on the traditional cross. Though sometimes associated with the connection between Earth and the Afterlife, for most, the sideways cross is just a different style. This beautifully crafted pendant is set on a 14K yellow gold chain. Priced at around $299; Buy Here.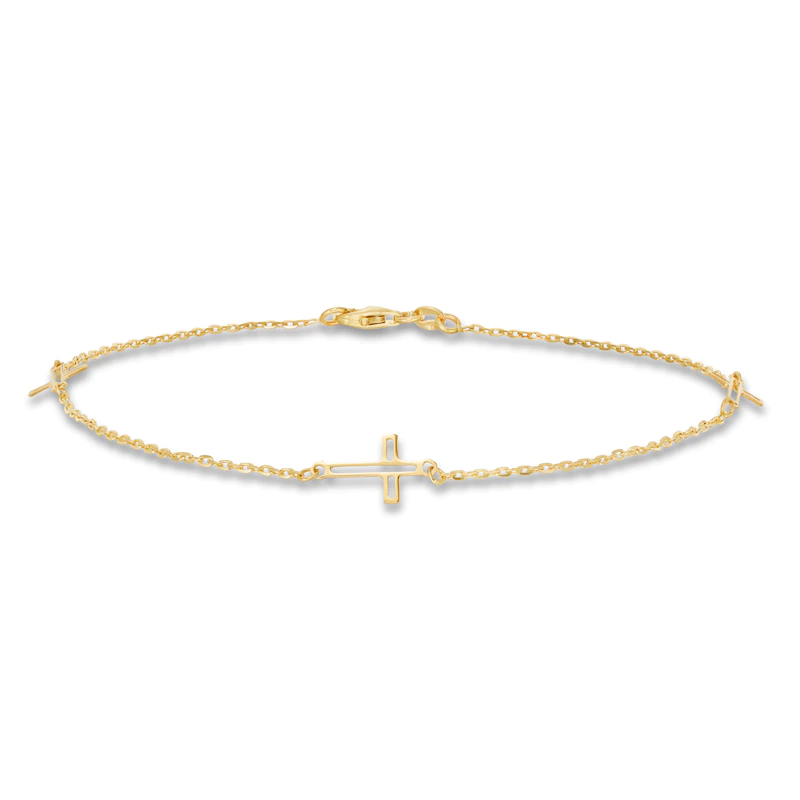 Cross Anklet | Kay
This faith-based anklet features a 14K yellow gold chain accented with openwork crosses.
Check Price
We earn a commission if you make a purchase, at no additional cost to you.

Diamond and Gemstone Gold Ankle Bracelets
While whimsical looks are trending, glamorous accents haven't gone away. Gold anklets are perfect for adding a bit of sparkle with diamond and gemstone accents. These ankle bracelets are perfect for an evening out– and can either be paired with a scintillating diamond or gemstone necklace or can simply be worn alone.
Classic stilettos look fantastic with gold diamond anklets. Some gemstone ankle bracelets can also be worn with boho outfits.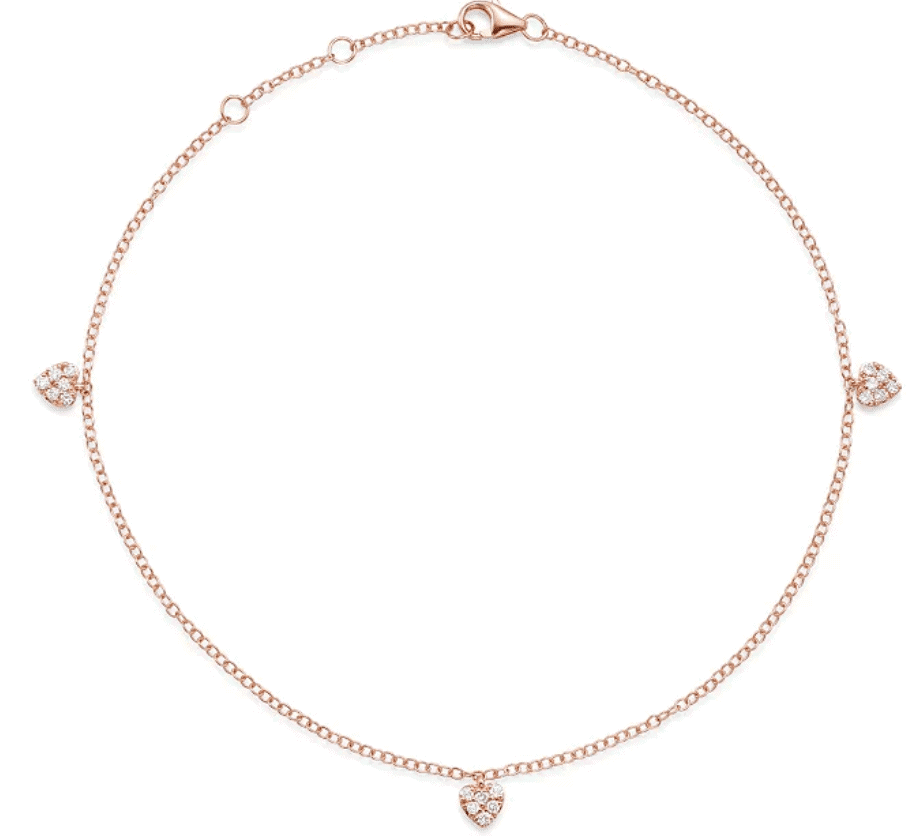 A Bloomingdale exclusive, this diamond heart ankle bracelet is an elegant take on a popular station anklet style. 0.15 carats of high-quality diamonds accent tiny heart pendants, all set in 14K rose gold. It's a dainty look that's also versatile. Priced at around $550; Buy Here.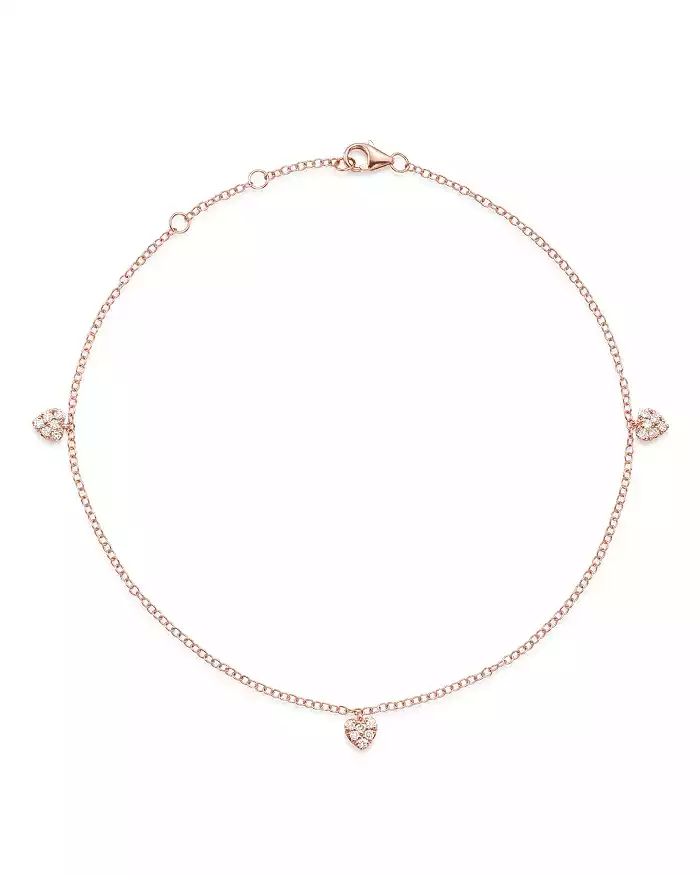 Starburst Sapphire or Diamond Charm Anklet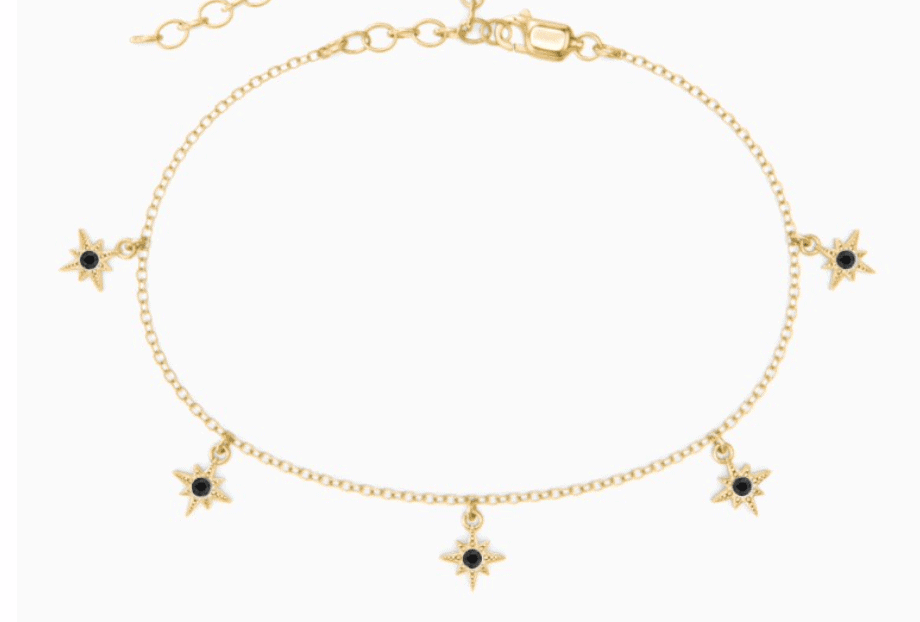 Crafted in 10K yellow gold, this diamond/ gemstone charm anklet is playful with sparkling accents. Following the celestial trend, gemstone studded star charms dangle from a fine chain. Select from white sapphires or lab-grown black or colorless or black diamonds. On sale for $354 to $381. Buy Here.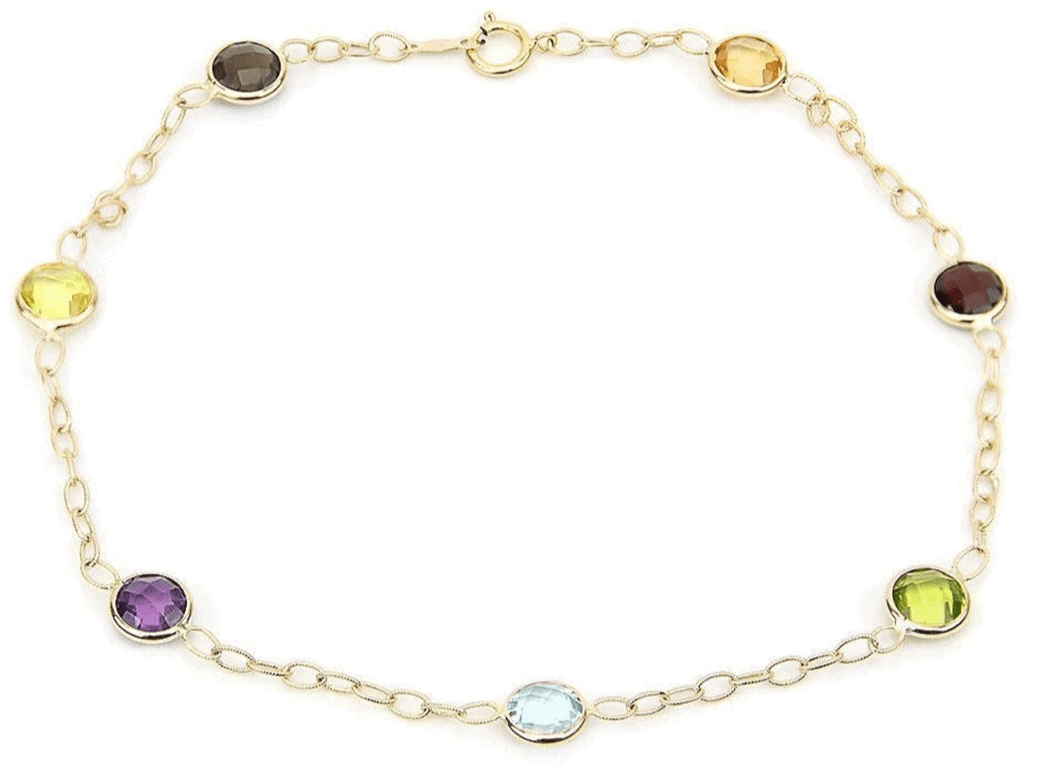 This handmade gold ankle bracelet embraces another trend: multicolor statement accessories. Jewel tones delight with blue topaz, citrine, peridot, garnet, and quartz gemstones. Each gem is bezel-set on a 14K gold corrugated chain. Priced from $246 to $251. Buy Here.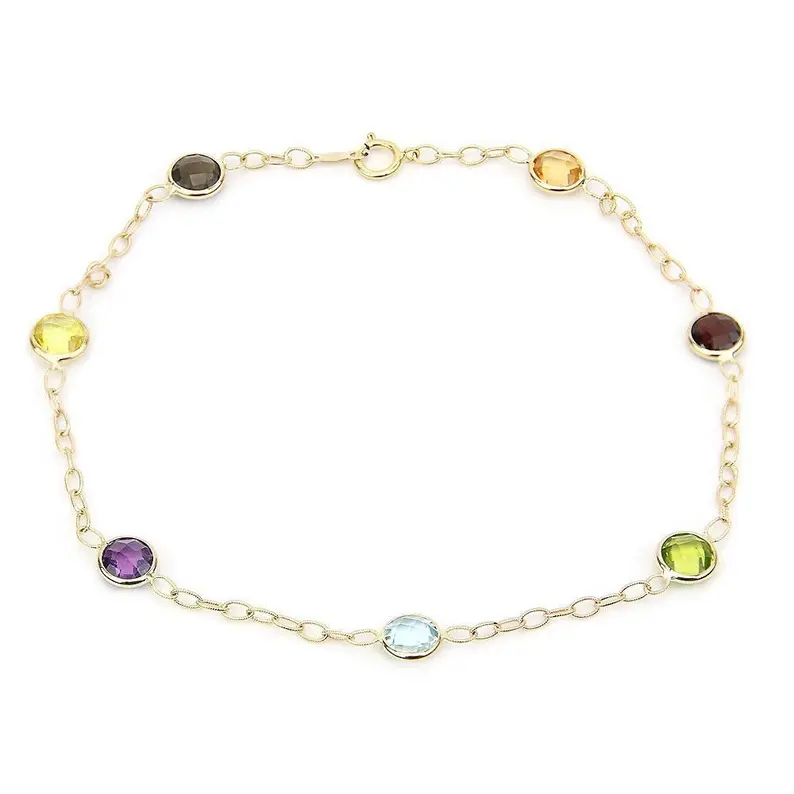 Gemstone Anklet Bracelet | Etsy
14k yellow gold gemstone ankle bracelet featuring blue topaz, peridot, citrine, garnet, lemon and smoky quartz which are hand set into gold bezels and connected by a 14K gold large corrugated open link chain.
Check Price
We earn a commission if you make a purchase, at no additional cost to you.

Diamond Bezel Droplet Ankle Bracelet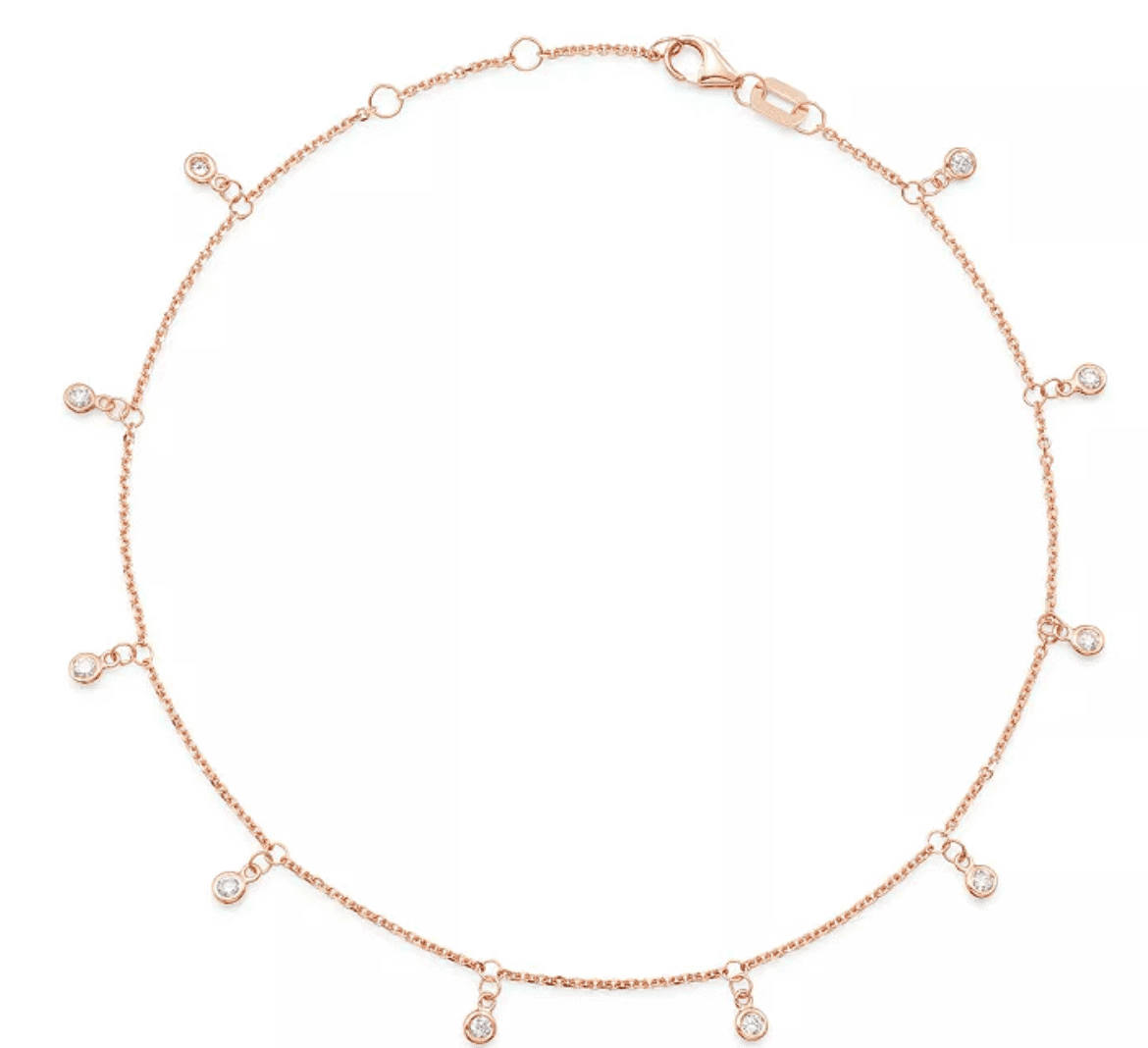 Another Bloomingdale exclusive, this is a playful yet sophisticated diamond ankle bracelet. 0.25 carats of bezel-set diamonds are set in a unique drop charm style. The 14K rose gold is a beautiful complement. Priced at around $675. 
Gemstone of Diamond Tennis Anklet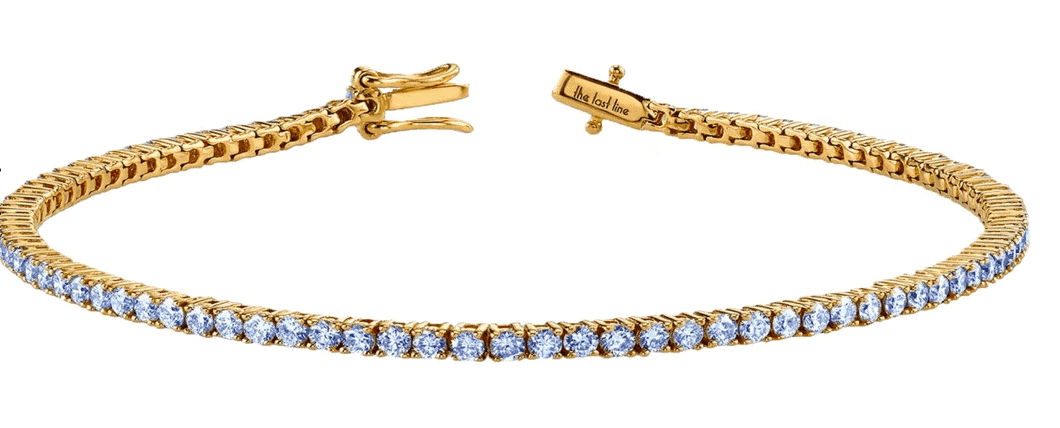 Tennis anklets feature dazzling gemstones or diamonds that sparkle around the entire perimeter. This trendy look is also stylish and glamorous and rendered beautifully here. Select from sapphire, emerald, diamond, or 'rainbow' (a mix of gemstones). All options are conflict-free stones, set on 14K yellow gold, and come with a two-year warranty. Priced from $1990 to $3,450. Buy Here.
Frequently Asked Questions
Question: Can you wear 14K gold in the shower?
Answer: 14K gold won't tarnish, so you can safely wear it in the shower. Just make sure to keep your anklet away from any harsh cleaning agents.
Question: Will yellow gold fade?
Answer: There are many types of yellow gold anklets, from gold-filled to gold plated to 10K gold and above. If it's real gold, then yellow gold should not fade. If you have an anklet with a gold finish but it's fading, chances are you don't have real yellow gold.
Question: Which gold is most expensive?
Answer: 24K gold is the most expensive and most valuable, as it is 100 percent gold. While it does offer a beautiful luster, it also is soft and should be worn with care.
Final Thoughts
Gold ankle bracelets add an unexpected finishing touch. While you can find cheaper options than my ideas here, my selections focused on quality and craftsmanship– so you can enjoy your anklet for at least a few years. Feel free to get creative with your style– you might even consider layering ankle bracelets.
| Product Image | | Primary Button |
| --- | --- | --- |
| | | |
| | | |
| | | |
Best Gold Charm and Station
Best Diamond and Gemstone