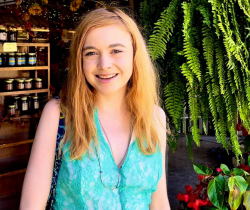 Latest posts by Erin Jamieson
(see all)
When it comes to making a jewelry statement, many think about glamorous options like classic or even black diamonds. But in 2022, influencers are finding inspiration in bold ideas– including butterfly earrings.
In a May article in The New York Post, Instagram stars shared jewelry shopping advice. A big theme? Tossing out classical conventions and opting for self-expression. Influencers and celebrities opened up about their first jewelry pieces, iconic fashion moments, splurges, and dream pieces.
Splurges included a Tiffany diamond cross necklace, a solitaire diamond pendant necklace, and a 24 karat gold wedding band. But influencers didn't just stick to precious gold jewelry and diamonds.
When it came to advice– and pieces that really made an impact– stars instead encouraged innovation. From wearing mismatched earrings to be open to different styles, it's clear that both classics and different jewelry types can be celebrated.
One stand-out piece mentioned? An oversized titanium butterfly earring.
Once seen as an option for younger shoppers, butterfly earrings are just one of the many ways 2022 means tossing out old rules and making them your own.
In this guide, I'll tell you what you need to know about butterfly earrings, outfit inspiration, and my favorite ideas of where to buy different types of earrings.
| Product Image | | Primary Button |
| --- | --- | --- |
| | | |
| | | |
| | | |
| | | |

What do Butterfly Earrings symbolize?
Butterflies are about as stepped as symbolism and you can get. That symbolism varies and is prominent in a Celtic and Native American culture, as well as within some religions and spiritual practices.
The most common meaning of a butterfly is well known. A butterfly represents transformation, renewal, personal growth, and a new phase in life. With these beautiful meanings, butterflies are often associated with hope, freedom, and a bright future. Of course, butterflies also very much evoke Spring.
Is butterfly jewelry childish?
While steeped in symbolism and undoubtedly a unique statement, I suspect many are wary of butterfly earrings because they may feel they are childish. Indeed, some past fashion experts have said as much. It is true that butterfly earrings are not uncommonly worn by children.
But things have changed. Butterfly earrings, especially quality ones and that is on the smaller side, can actually come off as sophisticated. The key is to know how to pair outfits and also when to wear them.
Regardless, the idea here is simple: going into 2022, the best fashion statements are not made based upon rules, but as modes of self-expression. If butterfly earrings speak to you, don't worry about what fashion experts have said in the past. There are many ways to pull off butterfly earrings, no matter your age.
What do you wear with butterfly earrings?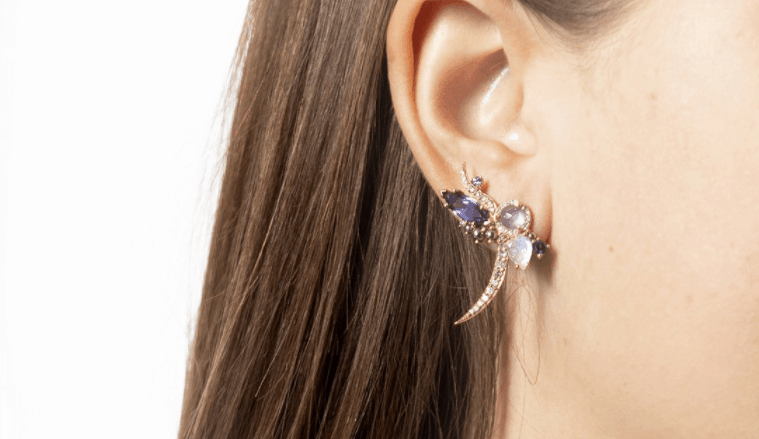 What you wear with butterfly earrings depends on your personal taste, but I recommend pairing butterfly earrings with a more subdued look. Either skip the necklace and bracelets, or pair with solid metal accessories that compliment your earrings.
Solid color and diamond butterfly earrings can pair with classic dresses and pantsuits, while a multicolored pair of butterfly earrings suits for boho and casual styles. Think flowy skirts, jeans, and flannel.
Butterfly earrings are perfectly paired with fairly plain outfits. If you are playing with textures, just be careful that they don't fight the earrings for attention.
When shouldn't I wear butterfly earrings?
Butterfly earrings can make a lovely fashion statement, but there are some circumstances where you might want to skip them. Most job interviews would not be the best time to wear butterfly earrings.
Butterfly earrings provide a more youthful and artistic look, so if you don't want this for a certain occasion, consider another type of earring. You can get by with butterfly earrings for formal occasions, but you'll want to stick to petite earrings in solid gold or with diamond accents.
How do I select butterfly earrings?
Selecting butterfly earrings is not all that different from buying other earrings. You need to consider the occasion, your personal preference, and your budget. For formal occasions, white gold and yellow gold or diamonds will be your best options.
But if you're looking for boho and casual looks, alternative materials can really open you up to new possibilities. Always buy from a secure website and make sure your purchase meets your needs. Note that in order to find butterfly earrings, you may have to think outside the box and think of different options.
Where can I buy butterfly earrings?
You can buy butterfly earrings from both traditional and independent stores. I've gathered the list of my favorite ideas so you can get inspiration for your own purchase. From Angara to Bloomingdale's and even Etsy, you can find everything from diamond to solid gold and colorful butterfly earrings.
Here are my favorite ideas for butterfly earrings, organized by style, and where to buy them. I've also been sure to include options for all budgets, from under $50 to a few thousand dollars.
Diamond Butterfly Earrings
From diamond-covered to subtle diamond accents, diamond butterfly earrings add formality you might not expect. The combination of glitz and the butterfly shape makes a perfect statement piece for a cocktail-like event, and maybe a special gift to mark a life milestone.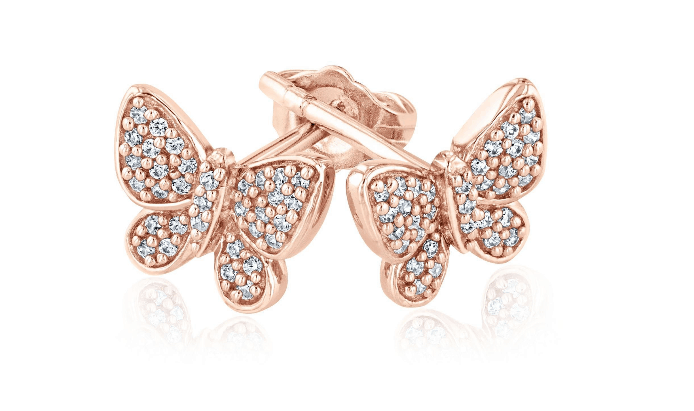 This beautiful set of butterfly earrings provides just the right amount of scintillation and warm color. 1.5 carats of diamonds are scattered across 10K rose gold for a dazzling but not too- in-your-face look. The earrings also come with an optional one or three-year care plan. Buy Here.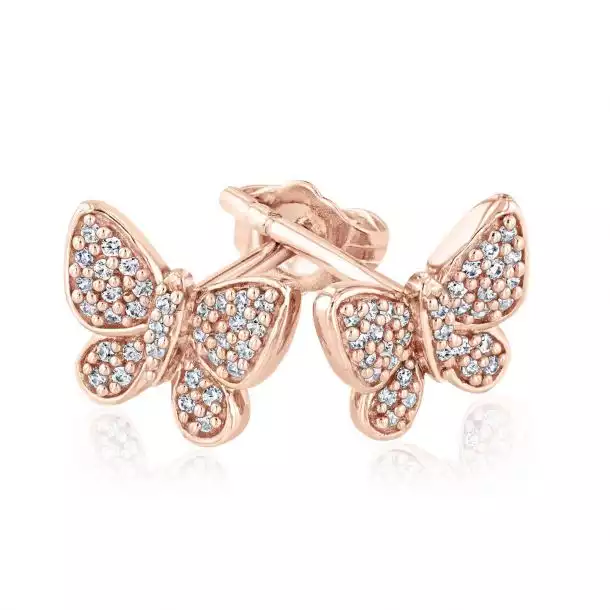 Aurora Diamond Butterfly Stud Earrings- Oak & Luna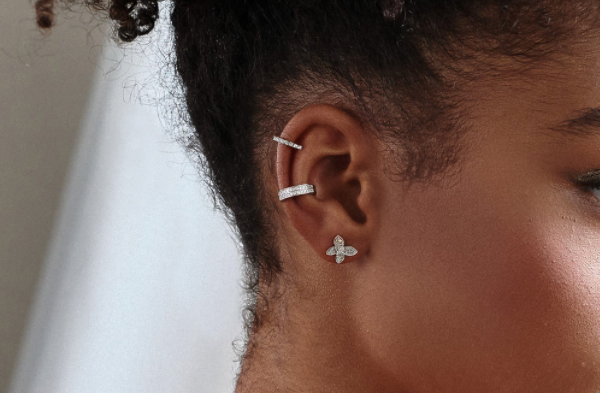 This classic look proves that butterfly earrings, properly styled, can be just the right touch to a semi-formal outfit. Diamonds are evenly dispersed across polished 10K white gold. They also sell necklaces and other accessories to complete your look. Buy Here.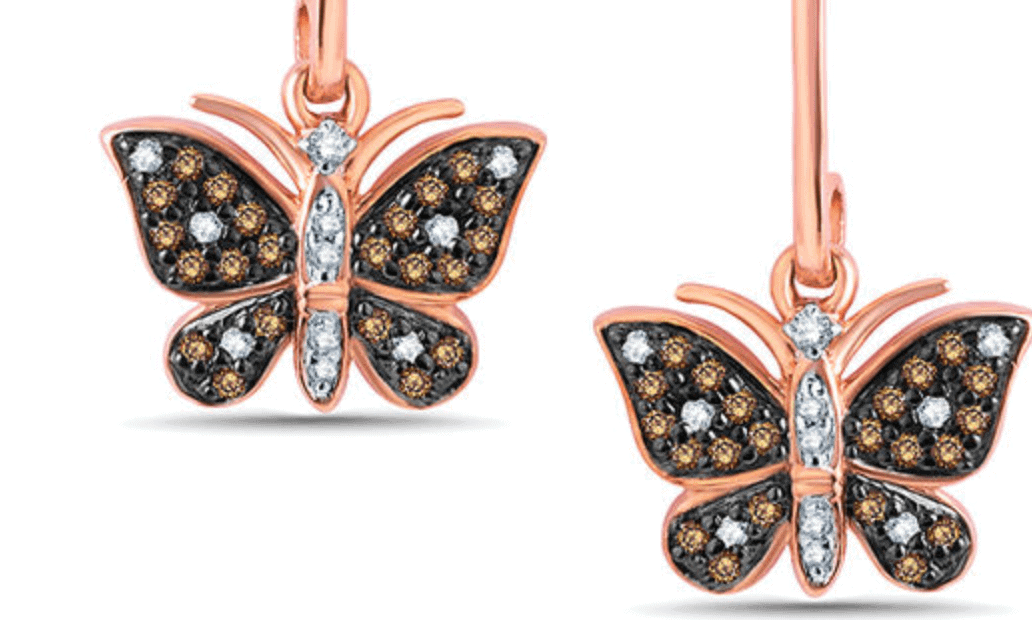 On the other hand, if you want to make an entrance-worthy statement, consider these eye-catching butterfly earrings. The drop earring style is made more dramatic with multiple colors. Champagne and white diamonds cover the wings, with a warm 10K rose gold backing. Diamonds are polished for optimal shine. Buy Here.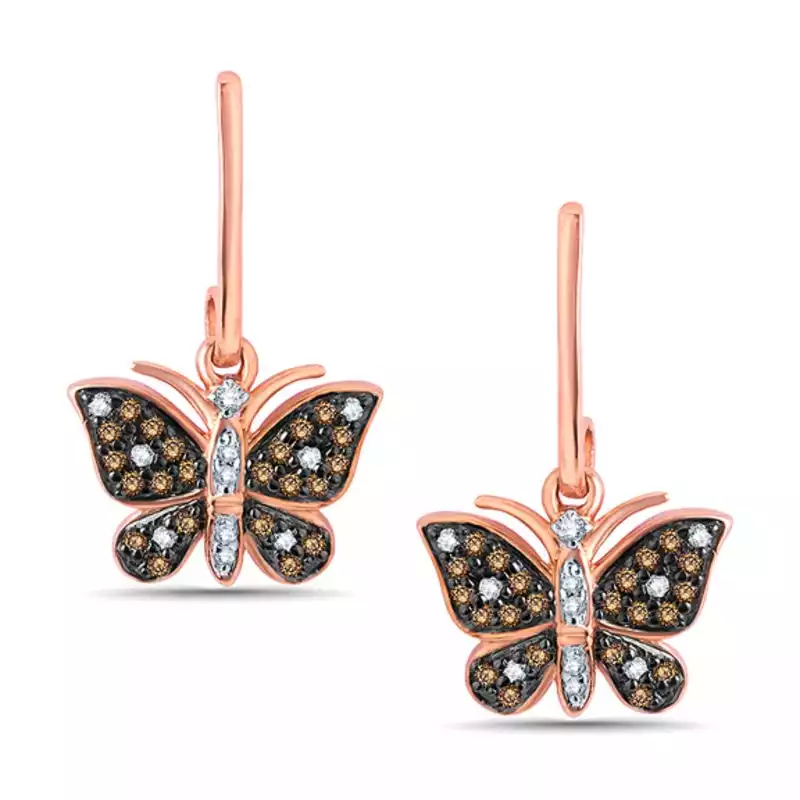 Champagne and White Diamond Butterfly Drop Earrings | Zales
Warm and whimsical, these breathtaking diamond butterfly drop earrings are perfect for everyday wear. Created in 10K rose gold, each brilliant butterfly features a white diamond-lined body and outspread wings adorned with rich and regal champagne diamonds.
Check Price
We earn a commission if you make a purchase, at no additional cost to you.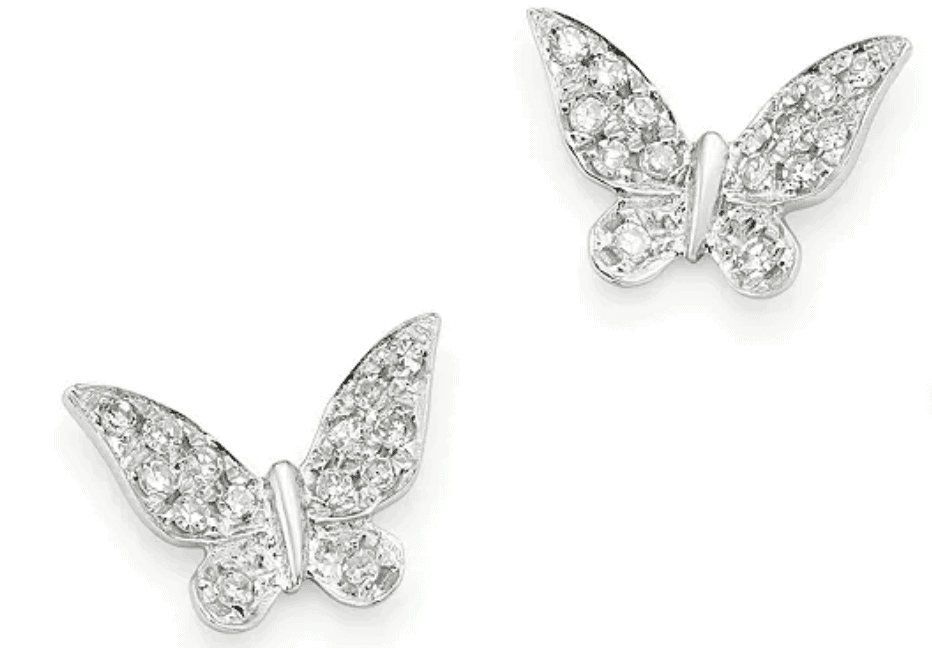 An elegant look for a special occasion, these delicate butterfly stud earrings feature white diamonds scattered across 14K white gold. Best suited for small ears or a more subtle look, they're almost more versatile than some other butterfly earrings. Buy Here.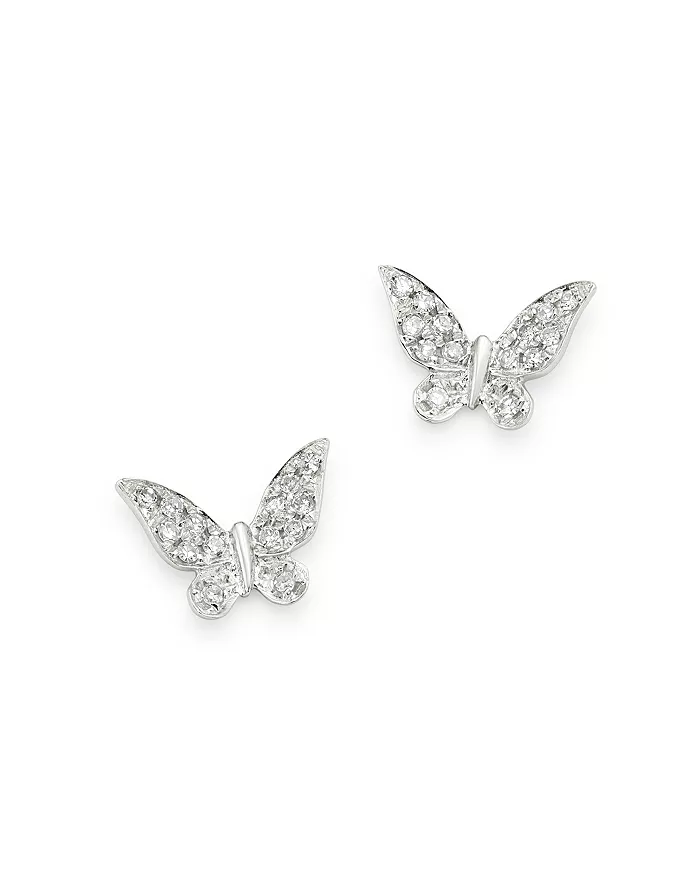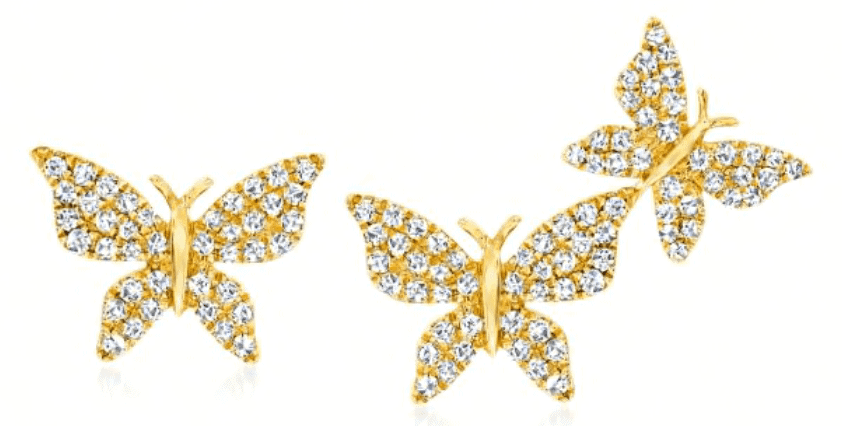 If you're looking for butterfly earrings that are both elegant and unique, consider this clever set from Ross Simmons. .35 carats of round, polished diamonds accents 14K well gold with a mismatched set that adds an artistic touch. Buy Here.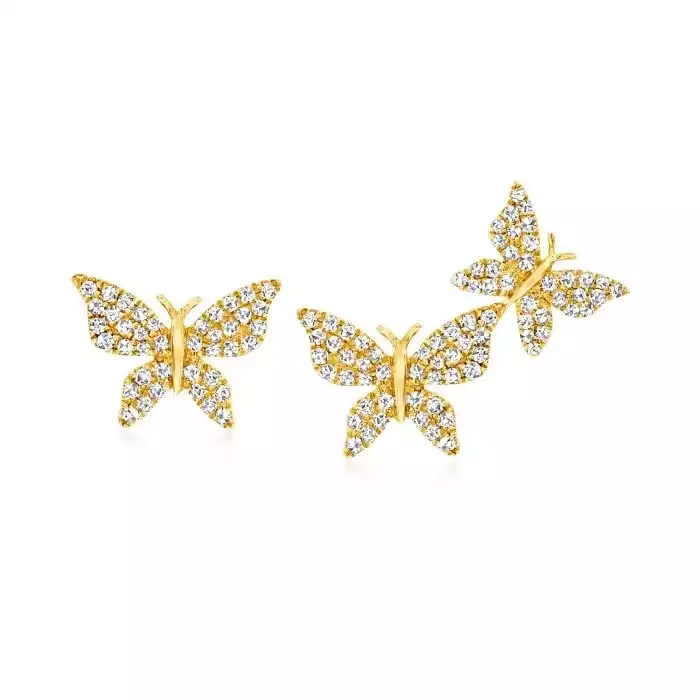 Diamond Butterfly Mismatched Earrings | Ross-Simons
Beautiful and unique, just like the creature they depict, these butterfly mismatched earrings sparkle with the light of .35 ct. t.w. diamond rounds in polished 14kt yellow gold.
Check Price
We earn a commission if you make a purchase, at no additional cost to you.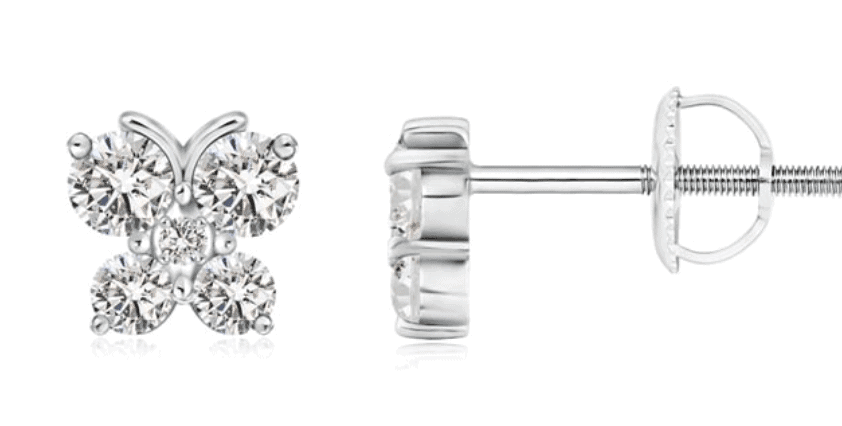 The Angara, a well-known name in the diamond industry, offers a pair of butterfly earrings meant to last. 10 round diamonds offer sparkle across 14K white gold for under $700. Buy Here.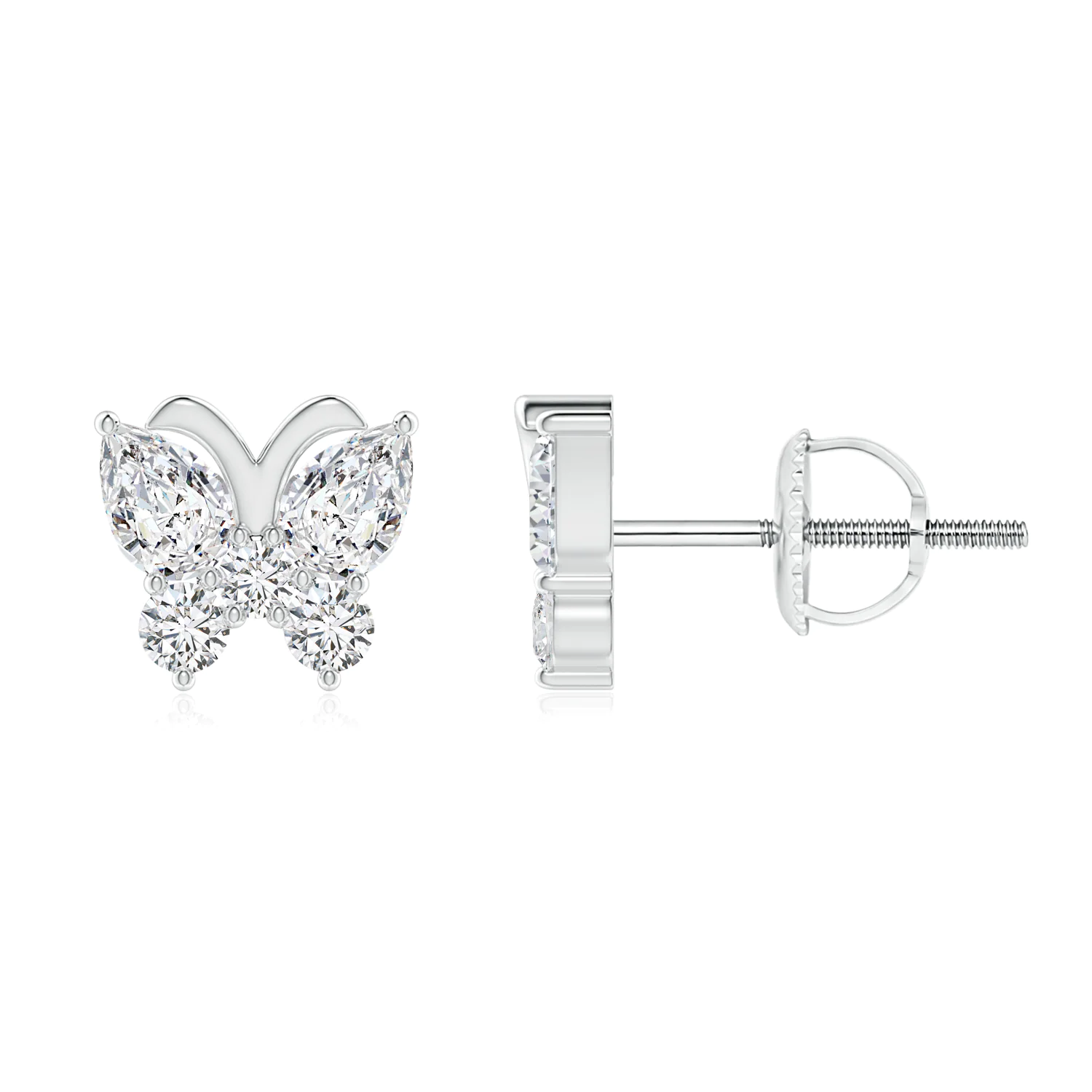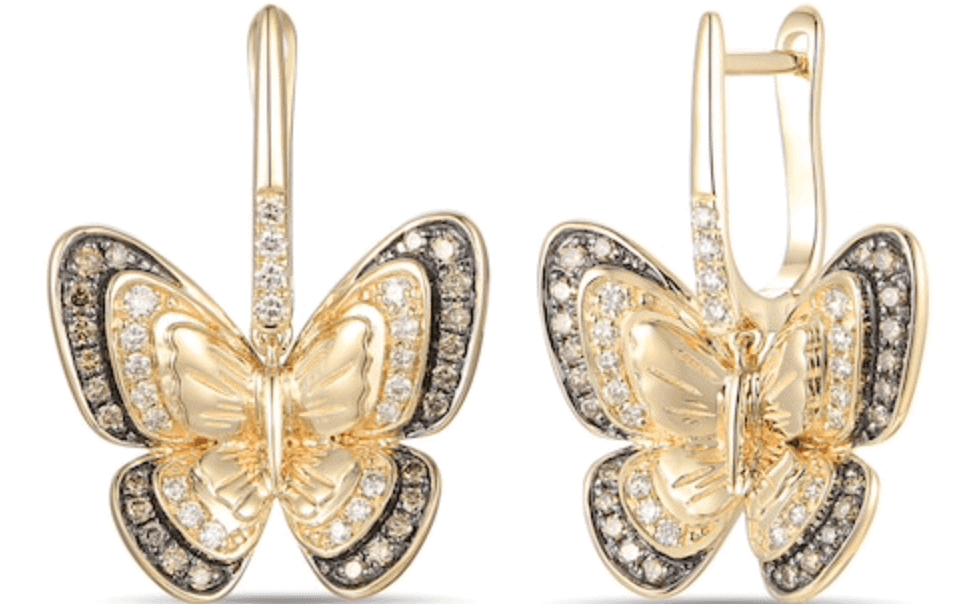 To make a statement, look no further than these bold but beautifully crafted diamond butterfly earrings. Kay, also known well in the diamond industry, presents unique butterfly earrings made with 14K honey gold and embellished with nude and chocolate diamonds. Buy Here.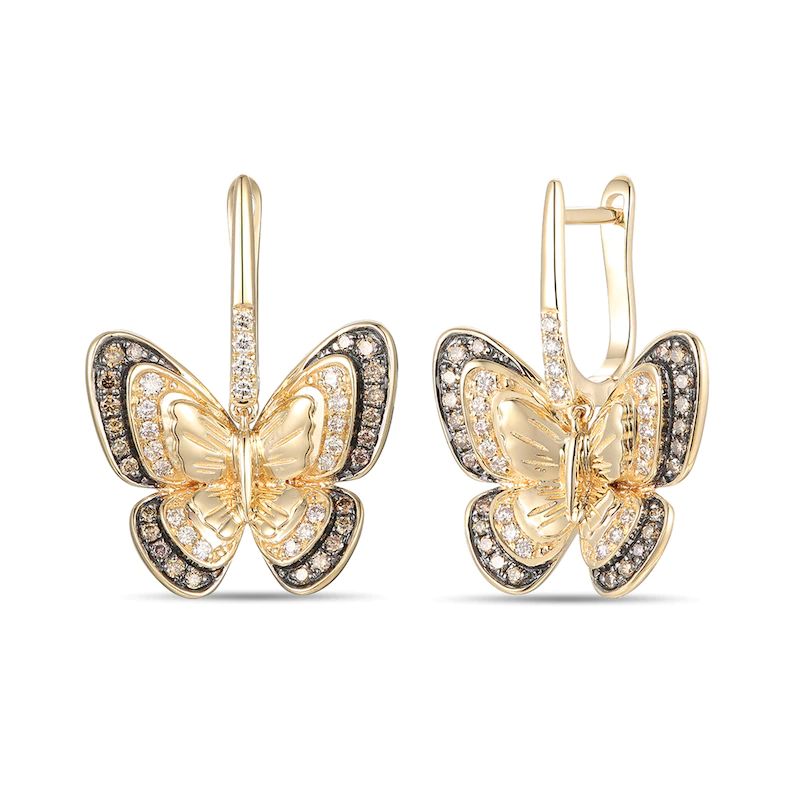 Fabric Butterfly Earrings
Fabric and glass butterfly earnings provide more of a casual and boho style. Both are out-of-the-box options that arguably match the unique design of butterfly earrings. You can even find handmade options that can make for a one-of-a-kind fashion statement, or even as a memorable gift. Plus, these are affordable options when you just want something extra.
Colorful Fabric Earrings- Earthbound Trading Company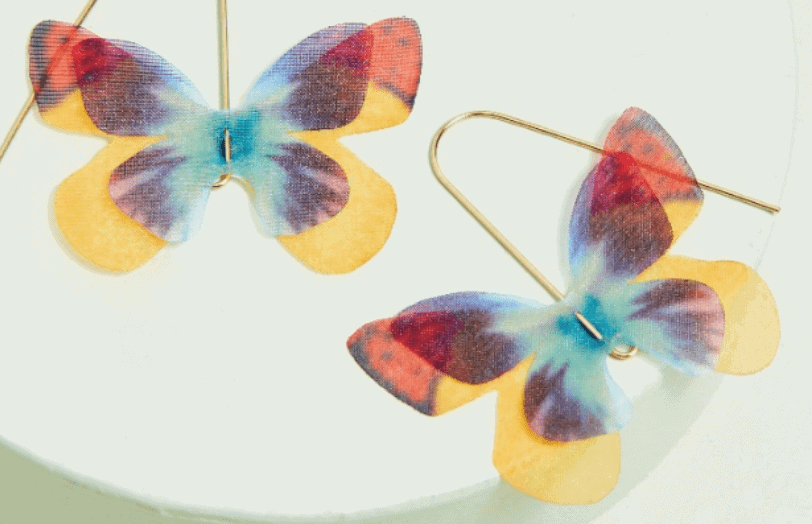 Celebrate butterflies in beautiful colors with these unique fabric beautiful earrings. Red, royal purple, sky blue, and gold offer a vibrant design with fish hook backs. It's an eclectic and boho-inspired look. Buy Here.
Mariposa Butterfly Earrings- Winnie's Boutique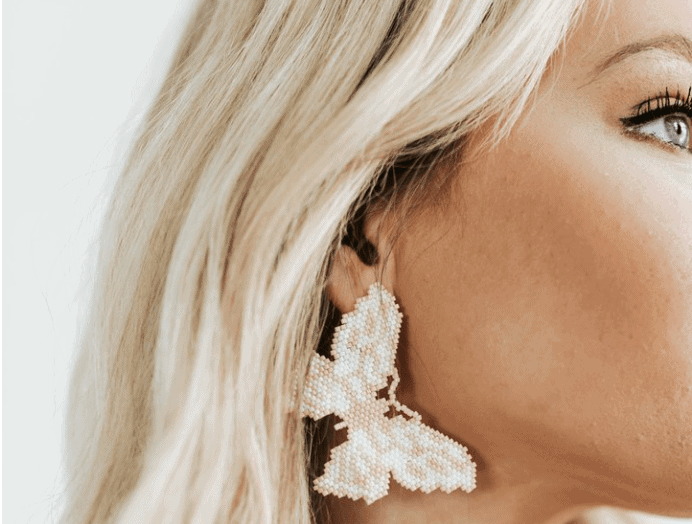 These butterfly earrings are not subtle by any means. In fact, the oversized look is a nod to what some influencers have been drawn to. Soft peach and white are set against gold plating. The butterfly earrings are made by hand from women artisans in Columbia. Buy Here.
Opal Butterfly Wings Earrings- Hamahandmade (Etsy)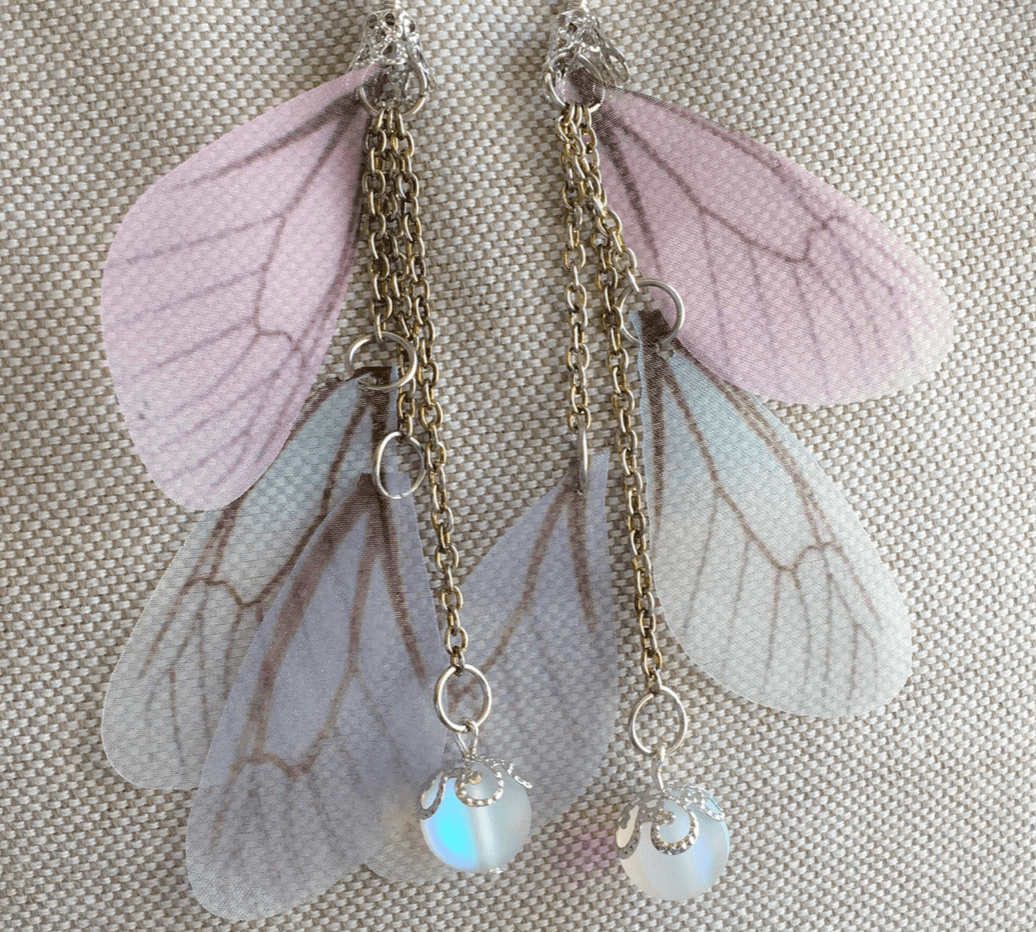 These butterfly earrings would make a great gift for someone younger, or anyone looking for an oversized, boho-inspired look. Transparent pastel wings are paired with opal orbs for a magical statement. 
Gemstone Butterfly Earrings
Not into diamonds? Gemstone butterfly earrings are a beautiful alternative. In fact, colored gemstones are a natural pairing for the butterfly shape. While multicolor gemstones or multiple gemstones can be an option, solid-colored gemstones can work as a diamond alternative for a formal occasion.

Select from 14K white, rose, and yellow gold for these thoughtfully crafted pink sapphire butterfly earrings. Round pink sapphires surround a small center diamond for a bit of sparkle that, from a distance, could also resemble petals. Buy Here.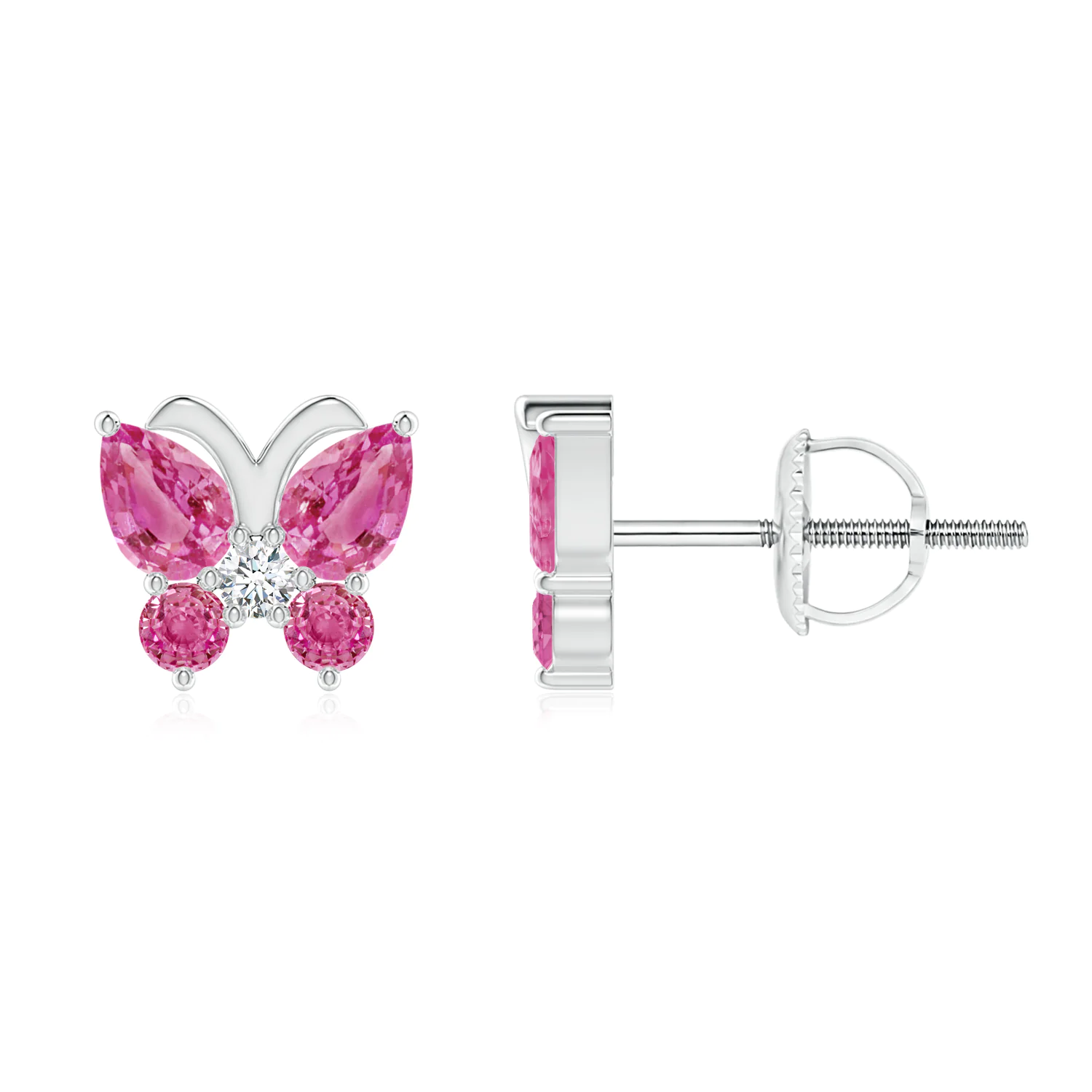 The Angara offers the same design, but with the vibrant red of rubies. A flash of color offers the same craftsmanship, complete with the center diamond. In addition to 14K gold options, you can also opt for a platinum finish. Buy Here.
Ruby Butterfly Stud Earrings with Diamond | Angara
Round rubies are arranged in the shape of a charming butterfly with a glimmering white diamond at the core. The diamond accents add a distinct contrast to the red gems.
Check Price
We earn a commission if you make a purchase, at no additional cost to you.

Chalcedony and Rainbow Moonstone Butterfly Earrings- Anne Shiefield (YLang)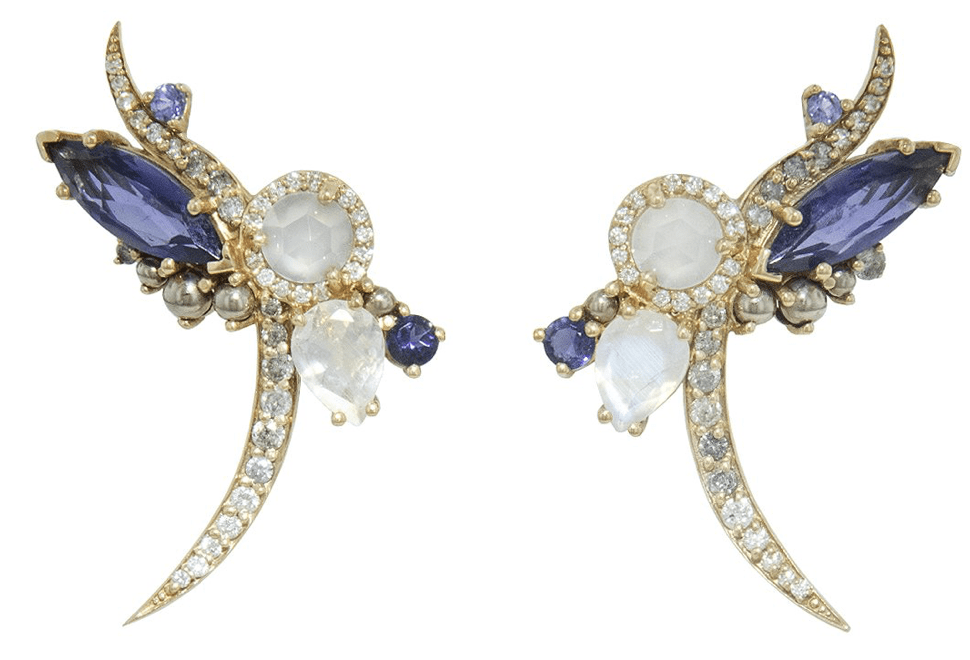 While these are the most expensive butterfly earrings on this list, they should give you some inspiration as to how beautiful and exquisite earrings in this shape can be. An elongated butterfly design dazzles with stunning detail. Ombre diamond paves cover the 14K rose gold earrings, but it's the gemstones that steal the show. On display: chalcedony, iolite, tanzanite, and rainbow moonstone.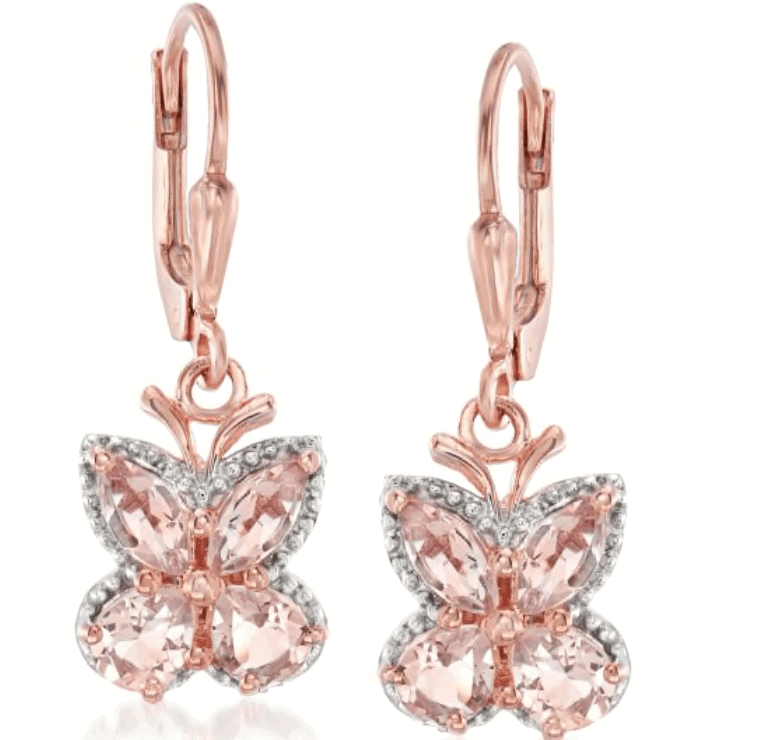 Whimsical, with touches of elegance, there's a fairytale style to these butterfly earrings from Ross Simmons. Meant to embody the transformative nature of butterflies, the wings feature morganite gemstones, set over rose gold and sterling silver with rhodium plating. The drop style completes the captivating look. Buy Here.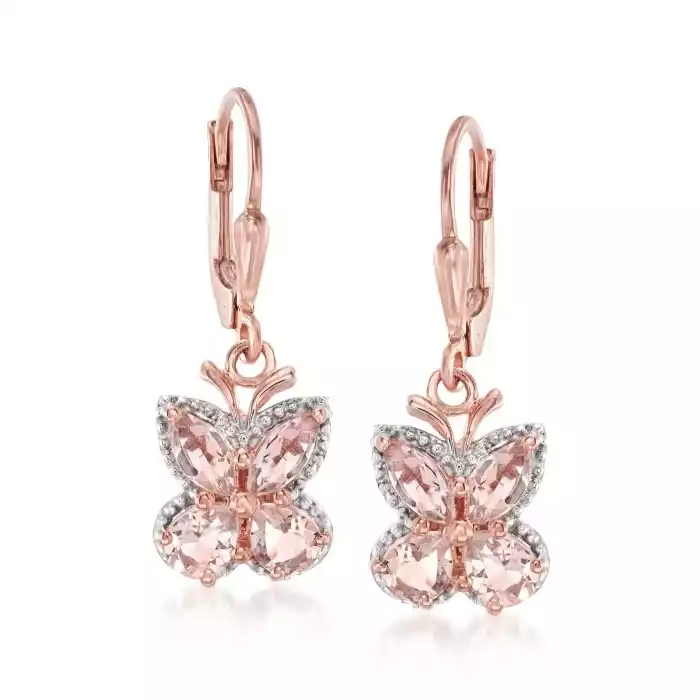 Opalite Butterfly Earrings- Island Fine Jewelry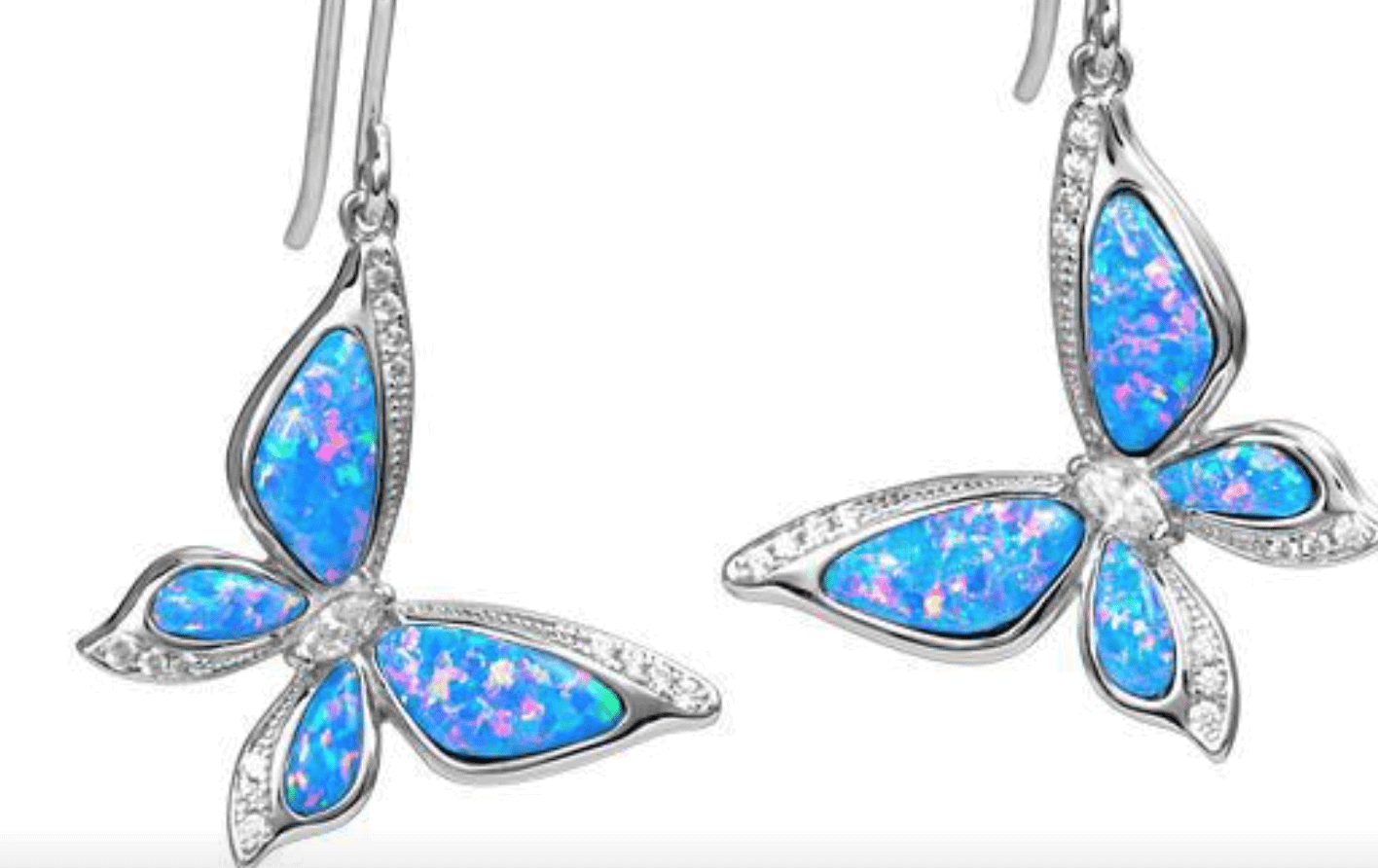 For a fun touch of blue and silver, this pair of butterfly earrings is a more affordable option. Priced at under $150, these butterfly earrings provide a boho style, with ocean blue opalite and splashes of colors. Cubic zirconia adds that extra touch of sparkle. Buy Here.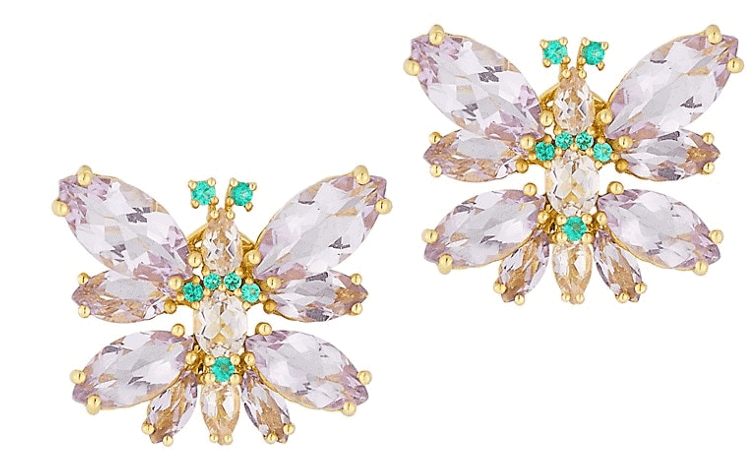 These designer earrings prove that the butterfly shape can be sophisticated. 16 amethyst, 6 oval cut morganite, and 14 brilliant-cut emeralds are dazzling on 18K yellow gold. Made in Italy, these earrings are an exquisite accessory. Buy Here.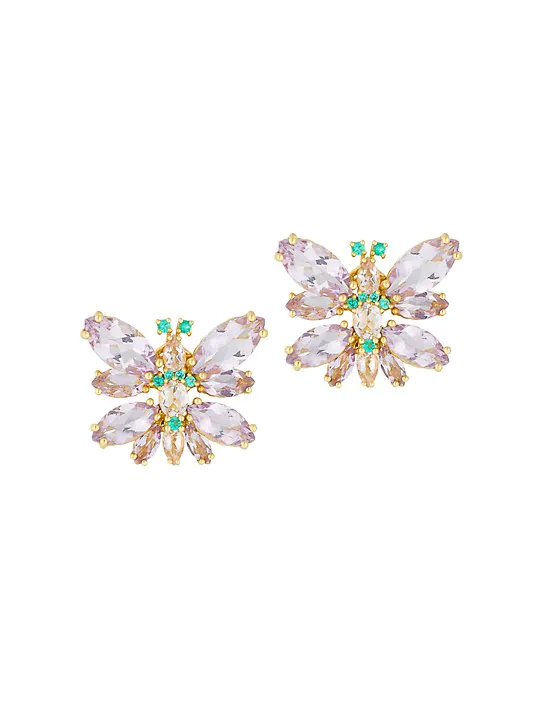 White Gold Butterfly Earrings
Solid or almost solid white gold butterfly earrings offer a similar feel to silver but are more durable. This is an option that's hard to go wrong with, and perfect for a more understated look. Pair with cool color tones.
Butterfly Screw Back Earrings for Girls- The Jewelry Vine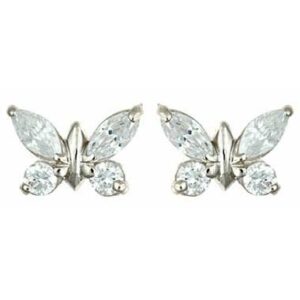 If you're shopping for a girl or young woman, these screw-back earrings are a fun but versatile choice. Clear cubic zirconia stones sparkle against polished 14K white gold. It's a look that will grow with them. Buy Here.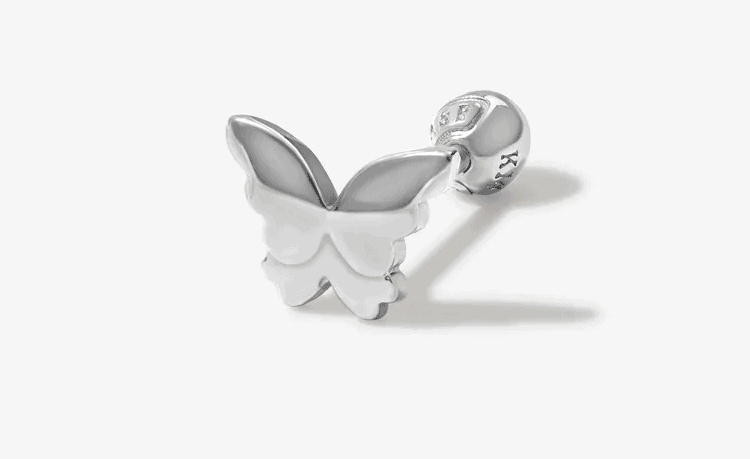 This modern take is perfect for multiple or upper cartilage piercings as well. A sleek minimalist design is shaped to your ear's natural curves. You can wear these 14k gold earrings in the shower. They're also available in rose and yellow gold; Buy Here.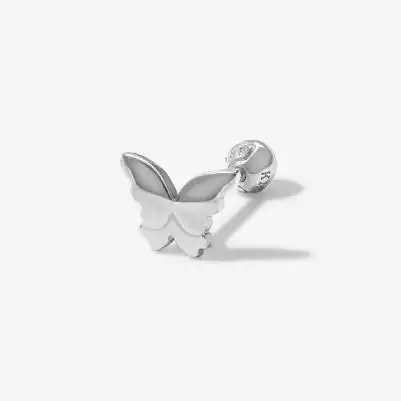 Quade Butterfly Piercing | Adornmonde
This sleek butterfly earring is our new favorite. Quade's minimal design, with sleek curves, attracts second glances to your ears.
Check Price
We earn a commission if you make a purchase, at no additional cost to you.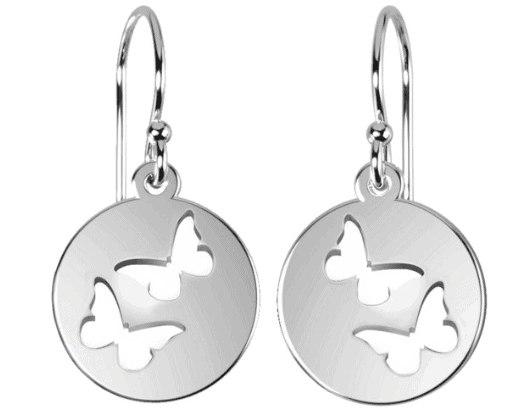 Great as a gift too, these earrings feature butterfly cutouts on disc pendants. The look is polished and unique, with a modern appeal in 14K white gold; you can also purchase it in yellow gold or sterling silver. Buy Here.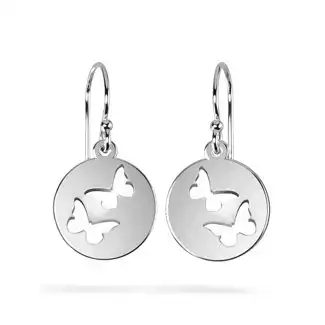 Double Butterfly Cutout Disc Earrings | Jewlr
Featuring two beautiful butterflies cut out in the center of a round 10mm disc pendant, these shepherd hook earrings are a gift any girl is sure to treasure.
Check Price
We earn a commission if you make a purchase, at no additional cost to you.

Handmade Butterfly Earrings with Diamonds- XMS Fine Jewelry (Etsy)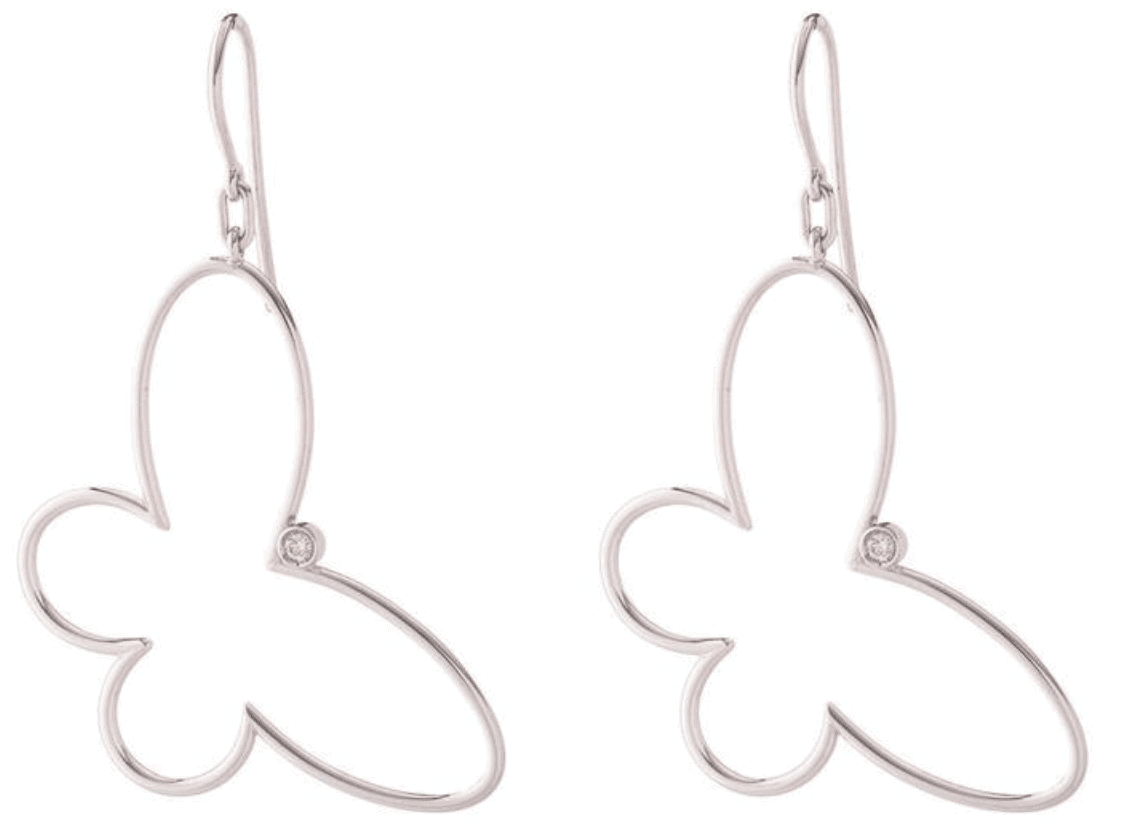 While these butterfly earrings do have diamond accents, they're small enough these fit into the category of solid white gold earrings. A minimalist hoop butterfly design is crafted in sleek 18K white gold with a single natural white diamond.
Yellow & Plated Gold Butterfly Earrings
Yellow gold is a classic but warmer statement. A yellow gold set of earrings brings to mind the sunny seasons where butterflies thrive and will pair well with warmer tone outfits. More solid gold options again lean a bit more modern and more subtle than gemstone or diamond-heavy butterfly earrings. However, I have included a more colorful option that didn't quite fit into other categories.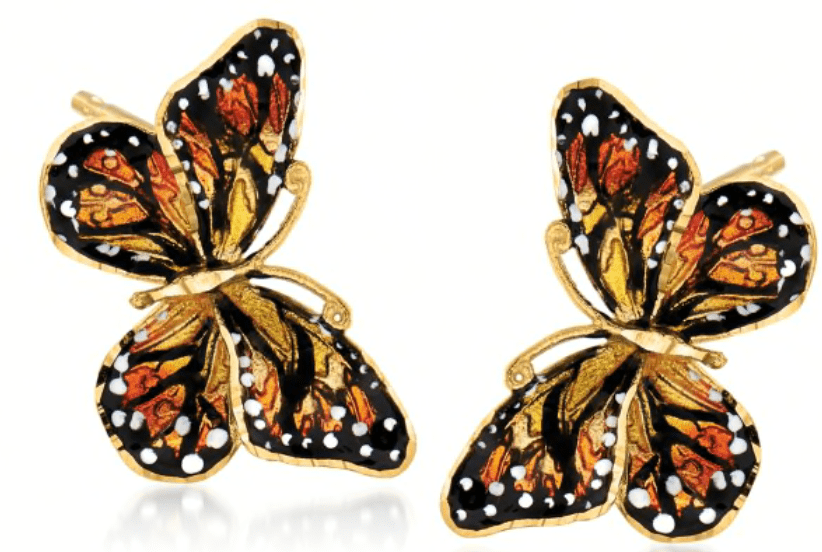 Featuring the coloration of a monarch butterfly, these nature-inspired earrings stand out. Aiming for a more realistic depiction of actual butterflies, this look may suit an artistic or natural event. 18K yellow gold is accented with orange, white, and black enamel details, complete with a post/ clutch. Buy Here.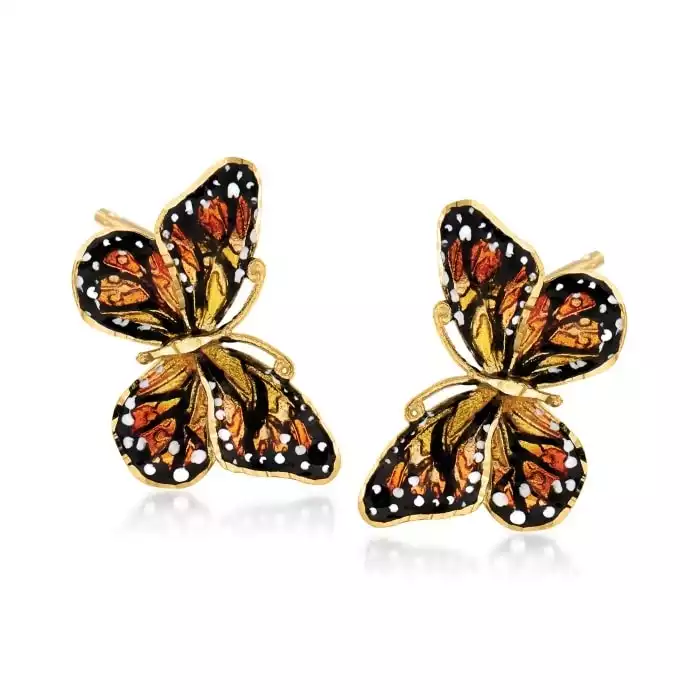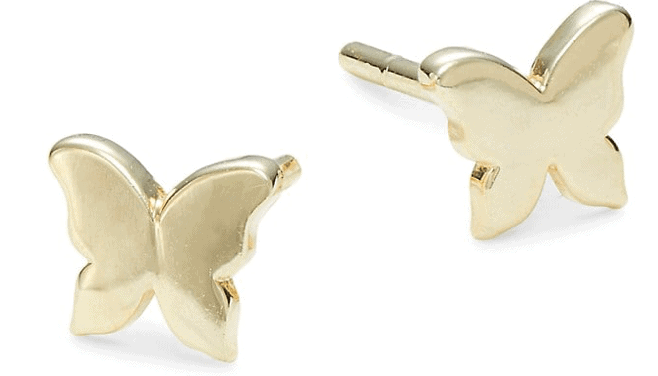 Now available for 50 percent off, these 14K yellow gold stud earrings can become a staple in your jewelry box. Simple, understated, and elegant, they are easily paired with other yellow gold jewelry. Buy Here.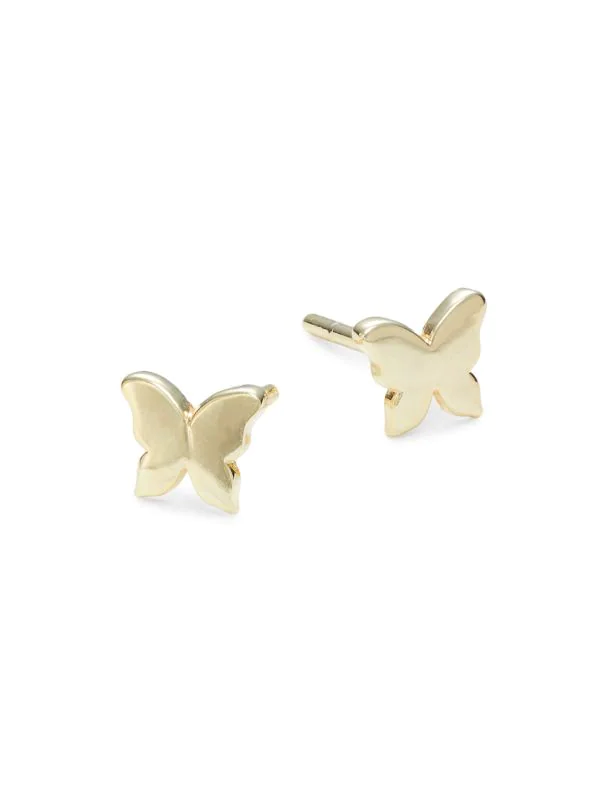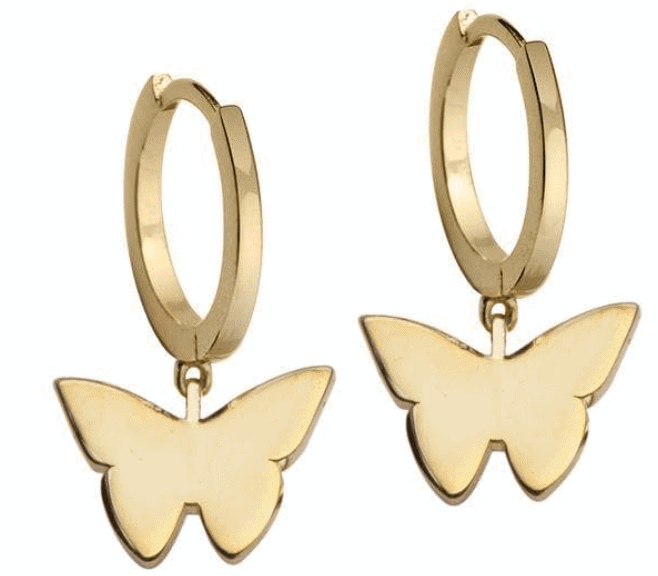 These are not technically solid yellow gold, but gold-plated silver. If you are buying just casual wear, or for whatever reason don't find a solid yellow gold option, these earrings give you the same look. The butterfly charm is whimsical and could work as a gift for someone younger– just note that silver tends to not be as durable as solid gold. Buy Here.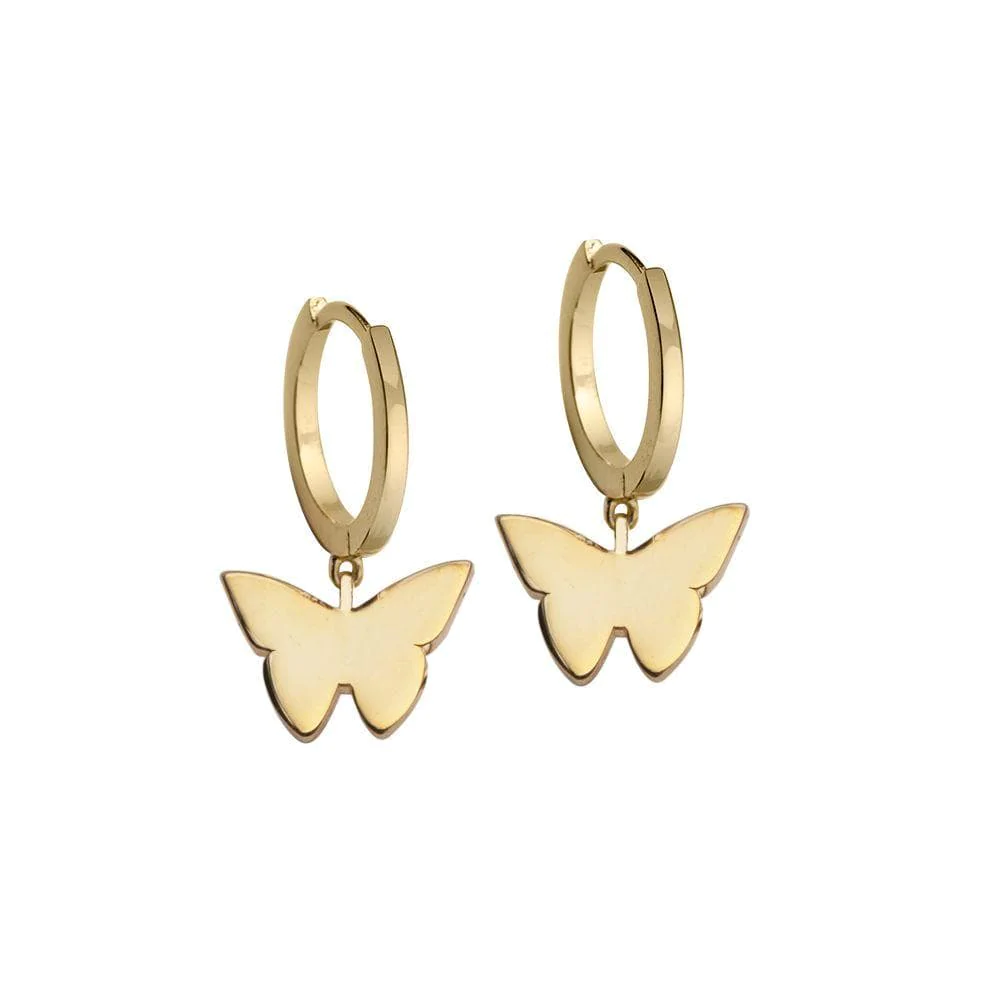 Celeste Butterfly Earrings- Bracha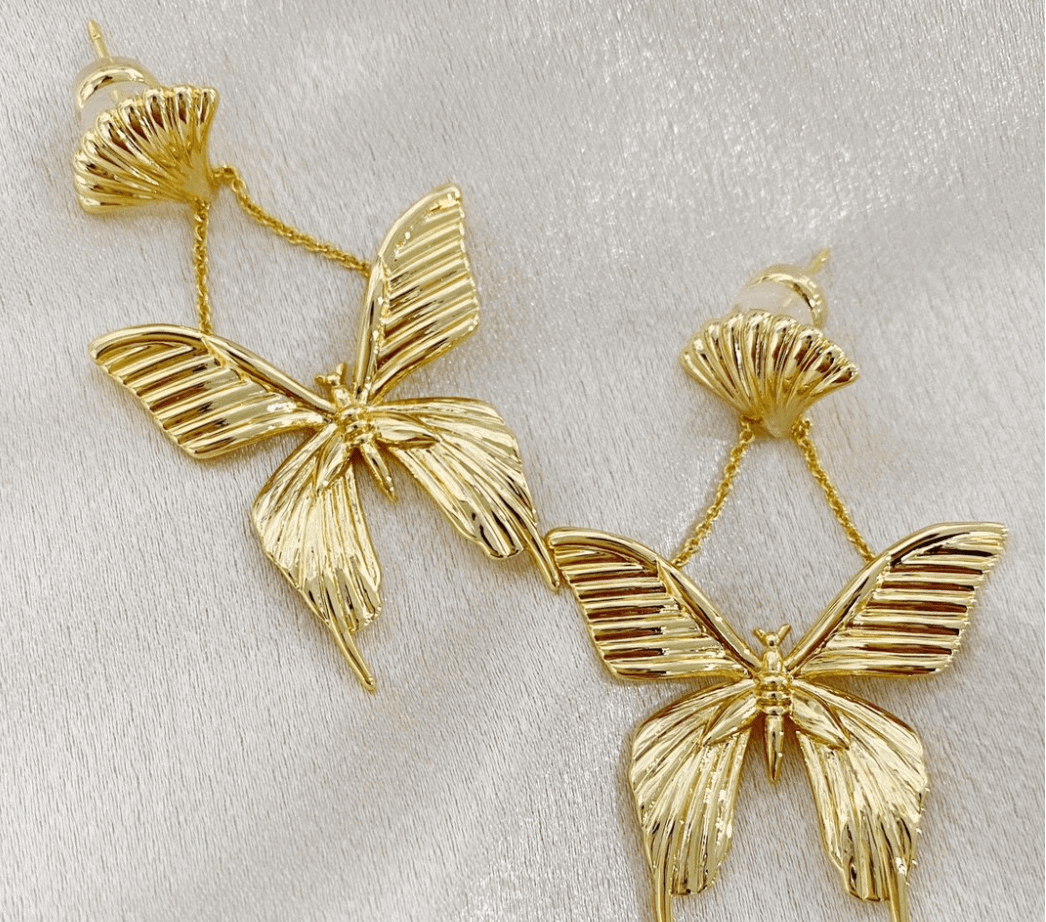 These artistic butterfly earrings are a standout for their detail. 14K gold is plated over sterling silver with ridges and unique craftsmanship. Bold in their own right, these would be best paired with a solid color dress or pantsuit. Buy Here.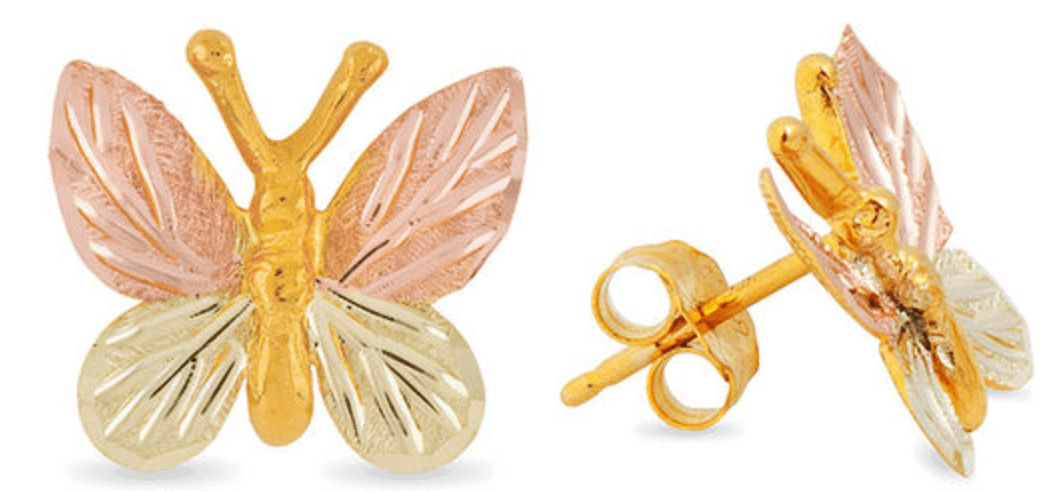 These warm tones butterfly earrings have exquisite details 10K yellow gold and 12k rose gold combined with green details. The earrings come with both certifications of authenticity and a guarantee against defects. Buy Here.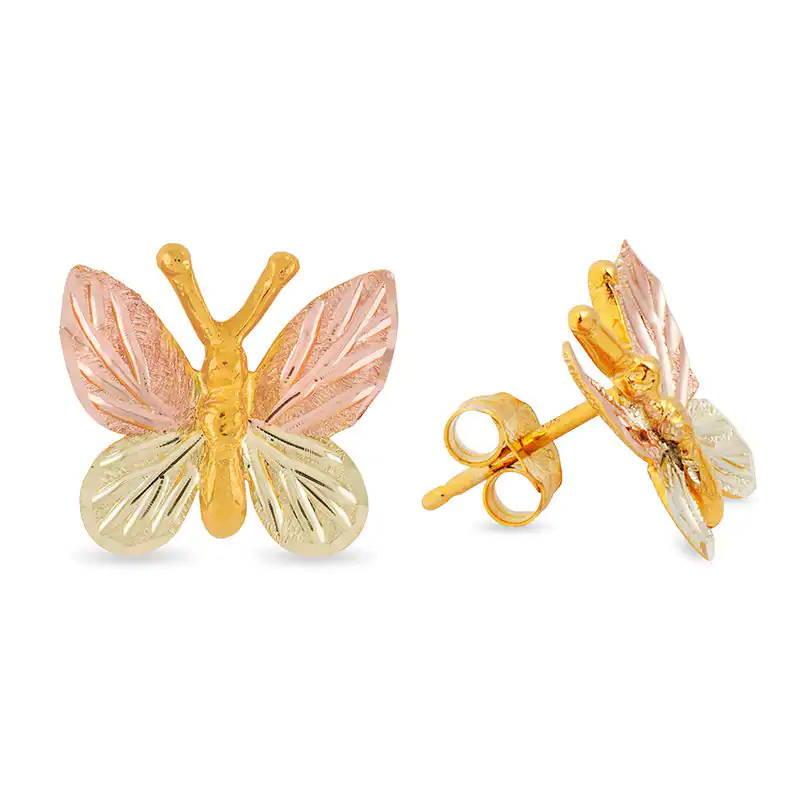 Black Hills Gold Butterfly Stud Earrings | Zales
Make her smile last a while with these darling butterfly stud earrings from Black Hills Gold. Created in warm 10K gold, each cheerful earring showcases a sculpted papillon with finely detailed 12K rose and green leaves as its wings.
Check Price
We earn a commission if you make a purchase, at no additional cost to you.

Midi Bitty Butterfly Stud Earring- Zoe Chicco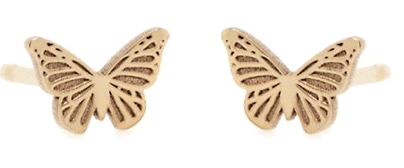 Have a single piercing? Want to mix and match? No problem. This tiny 14K yellow gold butterfly stud is perfect for just that. You can buy a single stud or a pair. The simple but well-crafted design adds a fun touch to any outfit. Buy Here.
Frequently Asked Questions
Question: What does wearing a butterfly mean?
Answer: Wearing a butterfly can mean different things in different cultures, but generally, it's a sign of transformation. Some may wear butterflies to represent new life, growth, and putting the past aside.
Question: Is a butterfly a good sign?
Answer: Butterflies are generally seen as a hopeful sign. In Native American cultures, there's a bit more nuanced. For instance, while black butterflies symbolize ill health, white butterflies indicate good fortune and yellow butterflies symbolize hope.
Question: What does a butterfly charm symbolize?
Answer: Butterfly charms in particular are seen as beginning a new cycle in life. Some see charms in general as jewelry that connects one to good fortune.
Final Thoughts
If nothing else, 2022 is a year for self-expression. Butterfly earrings can be worn by younger children, but also for adults. From dazzling diamonds to colorful gemstones, precious metals and even fabric, butterfly earrings can be an accent to many outfits.
| Product Image | | Primary Button |
| --- | --- | --- |
| | | |
| | | |
| | | |
| | | |