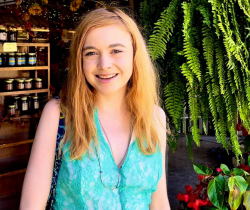 Latest posts by Erin Jamieson
(see all)
Classic gold stud earrings will always be in style. But in 2022, it's bright pops of color and playful designs from brands like Kate Spade that are providing some of the best ideas for vibrant earrings that look great on everyone. 
If you've ever read an article about fashion staples, the advice is probably familiar. Little black dresses, trench coats, and tailored jackets top the list. But a recent fashion guide by the Zoe Report added a few unexpected suggestions to the usual list– including Kate spade earrings. 
Many of Zoe Report's 33 Cult-Favorite pieces did include classic suggestions. But alongside the advice to invest in a great pair of mid-rise skinny jeans were also a few suggestions for accessories. Sparkling cuff earrings, a classic tote, and a pair of Kate Spade earrings topped the list.
The earrings of choice? Rounded crystal stud earrings with a splash of color to replace silver or gold studs. While many fashion staples remain classics, earrings and necklaces have seen a shift towards designs like Kate Spade. That is, more and more consumers are looking for more playful, expressive, and daring ideas. Check out our complete guide on the best types of earrings you can add to your collection.
And while Kate Spade has long been loved for its whimsical designs, is this brand right for you? In this article, I'll tell you about the pros and cons of the Kate Spade earring collection. Plus, I'll give you my favorite picks for stand-out earrings from the 2022 collection. 

Is Kate Spade a good brand?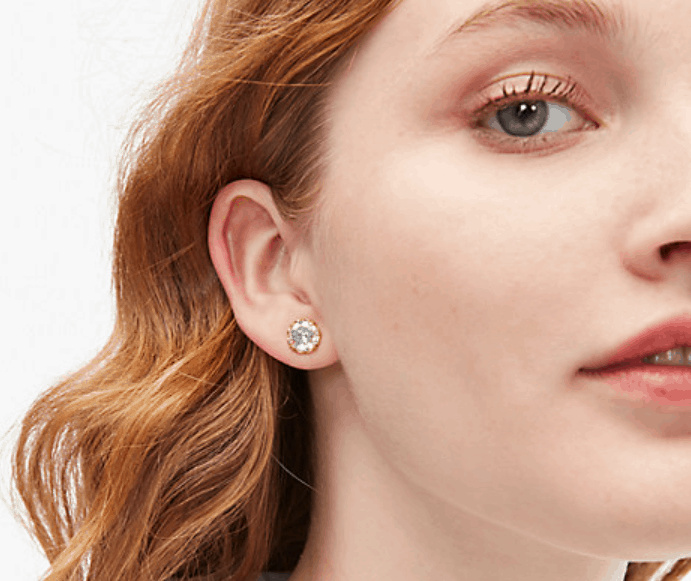 Kate Spade is a well-known brand and remains quite popular and valuable on the market. Of course, whether or not it's a good brand is a complicated question.
Kate Spade was founded in 1993, along with Jack Spade– the line designed for men. By 1996, Kate Spade and her husband Jack opened the first boutique in New York City. 
While the company started with no reputation or sales, it took off. 1998 saw Kate Spade expanding– with an estimated sales figure of around $27 million and $99 million by 2006. From 1999 to 2006, the Neiman Marcus Group began buying stakes in the company– up to a full 100 percent. 2006 saw just how popular Kate Spade has grown: a $134 million equity. 
Why is Kate Spade so popular?
Kate Spade remains popular today because of two reasons: innovation and brand origins. Brand origins take root from an originally female-owned fashion company, with staples like the classic tote. Kate Spade began creating products that would be classic staples– then built upon the collection with trendy, innovative designs. In this way, Kate Spade remains relevant today, but also keeps up with new fashion trends, especially with the jewelry collection.
Another reason is the price point. While more expensive than a generic brand, you'll see Kate Spade still sold within department stores like Macy's, often with sales or discounts. This allows more Americans to afford what is considered designer jewelry and clothing.
Is Kate Spade considered a luxury brand?
Though Kate Spade is considered a designer brand, it's not a luxury brand. You may see it being called a luxury fashion brand, but in my opinion, Kate Spade doesn't match that definition. For jewelry, a luxury brand must sell precious metals and use precious gemstones. Kate Spade jewelry does neither. Rather, Kate Spade offers designer jewelry with budget-friendly materials. 
Is Kate Spade environmentally friendly?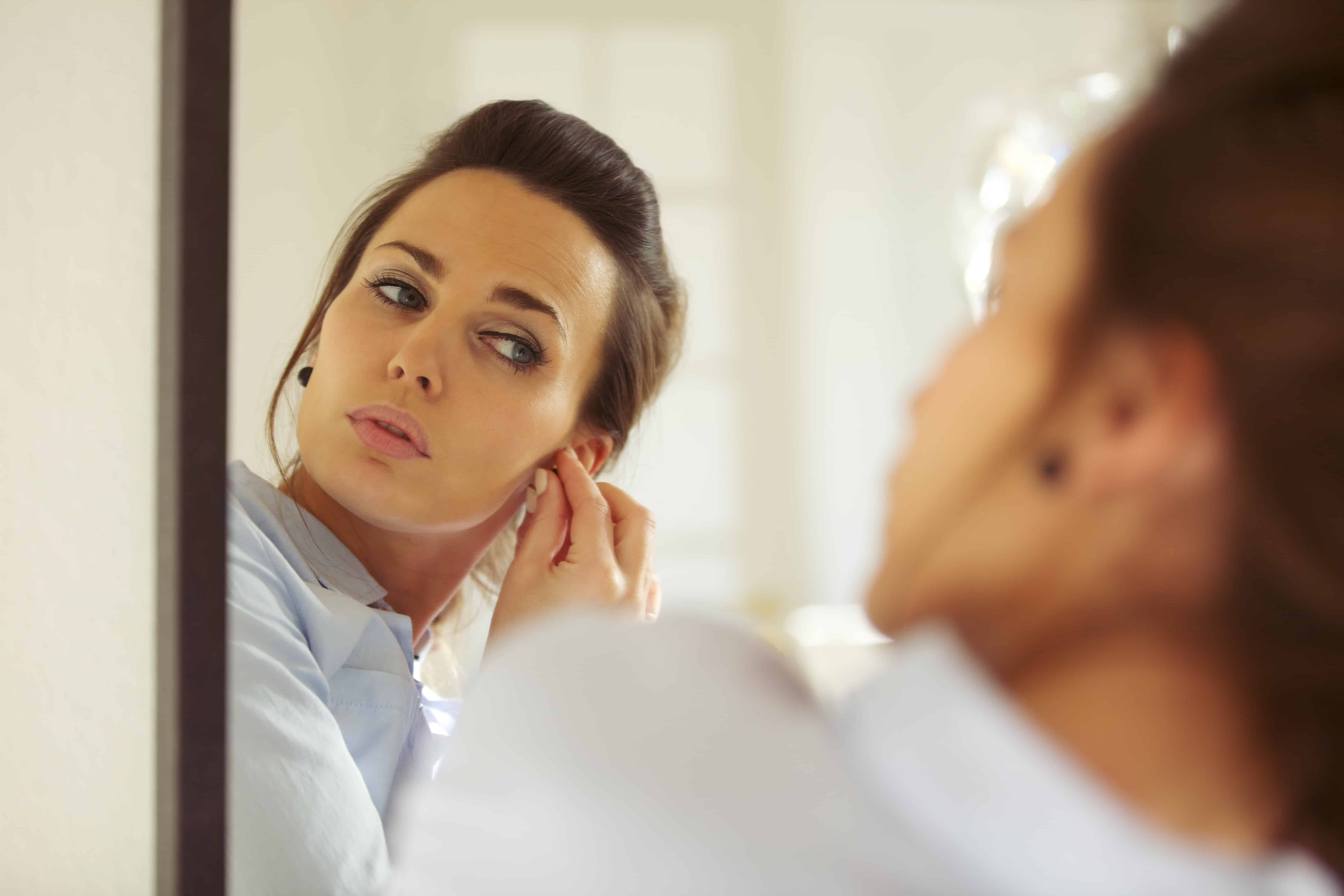 Kate Spade hasn't had the greatest history when it comes to sustainability. A non-profit organization that has worked with the United Nations to study and improve fashion brands rated Kate Spade in 2018. 
Kate Spade was found to have a very poor environmental rating (due to lack of transparency), a 'not good enough' labor rating (without codes to protect against labor abuses), and a 'not good enough rating for animals (they use leather, exotic fur, and hair). 
The good news is that Kate Spade seems to realize change is needed. While not all areas– such as labor practices– are being addressed– they are taking a step beyond competitors in terms of sustainability. By 2025, Kate Spade is committing to reducing its C02 emissions by 20 percent. They have reduced by 6.7 percent since 2017. 
Are Kate Spade earrings any good?
All in all, Kate Spade is not the best– or the worst brand– when it comes to quality and sustainability. But what about the earring collection? Bright, inviting, and with some noteworthy staples, it's easy to see why these earrings are popular. Here are a few questions to keep in mind before you shop.
Does Kate Spade use real gold?
Kate Spade doesn't use the same type of gold — 14Kor 18K– that you'd find from fine or luxury jewelry. Any gold-tone earrings are made with a form of gold plating or simply gold-tone finishes. Gold plating is not as durable or valuable and is made by pounding a fine layer of gold and placing it over a base metal. You can expect gold-plated earrings to last an average of 3 years. 
For other earrings, they rely on a few base metals and materials. Those include brass, enamel, and resin. There are some silver pieces as well. Unfortunately, Kate Spade provides precious little information about the quality of its materials. For instance, 'gold-tone does not tell us what was used to make that gold tone. 
Generally speaking, Kate Spade earrings use low cost and base metals. These are often used in costume jewelry. The pro is that they are more affordable than other designer earrings, and these materials are often fairly comfortable and easy to work with for fun designs. At the same time, these metals will tarnish and wear within a few years. They also cannot be worn in the shower or while swimming. 
Are Kate Spade earrings made with precious gems?
Kate Spade does have a few sparkling earrings–but they aren't diamonds. A few earrings feature cubic zirconia. CZ offers rainbow-hued sparkle and is actually fairly durable. CZ is hard to scratch and won't easily break. It's not valuable by any means, but a popular way to add sparkle without a heavy price tag. 
What styles of earrings does Kate Spade sell?
Kate Spade sells stud, huggie, and drop earrings. While you'll find a few classic designs, most are playful– from bright colors to floral motifs and funky designs, ranging from cars to Disney themes. There's a mix of everyday personalized looks and more glam earrings.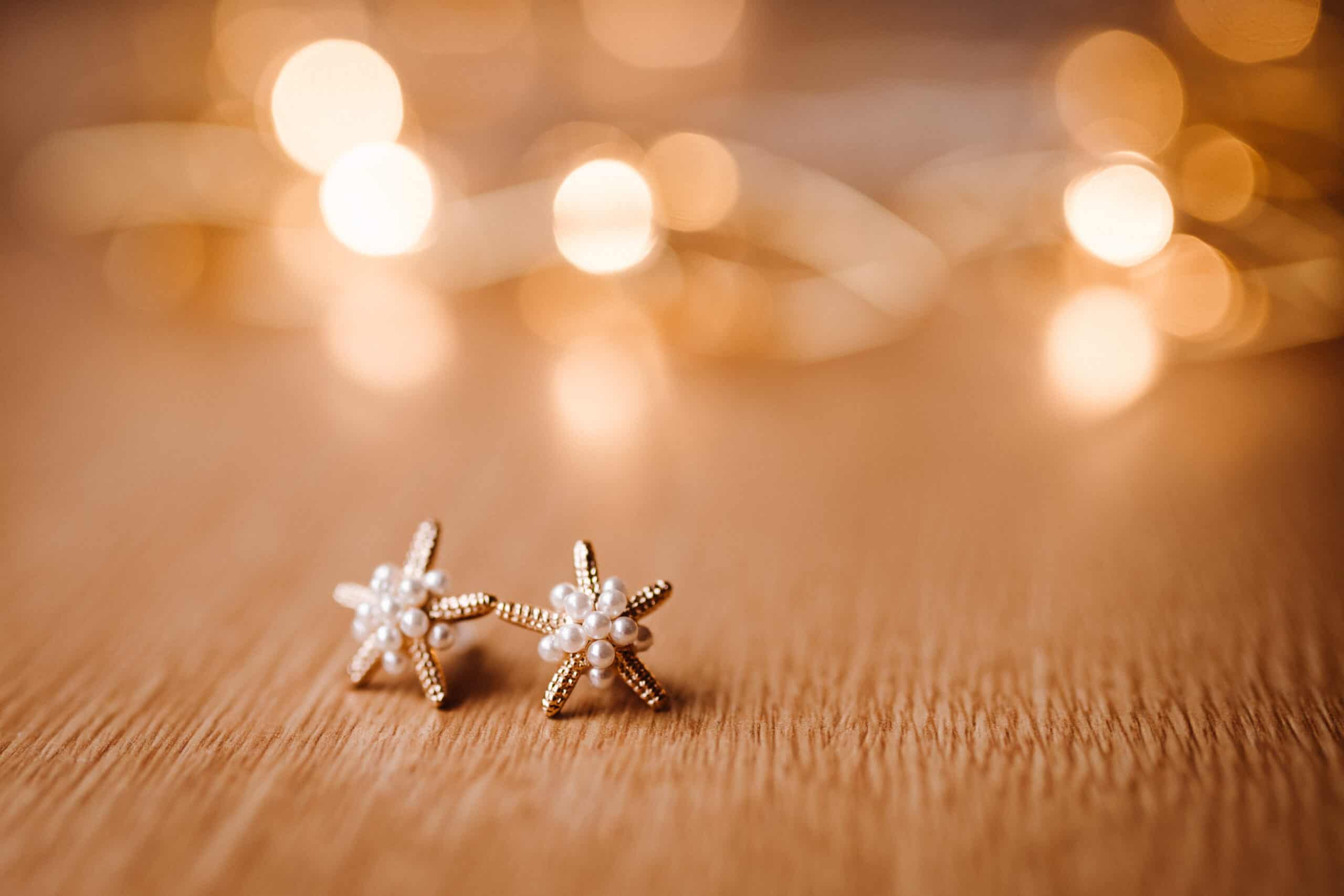 Kate Spade Earrings: My Picks
Now I'll give you my picks for my favorite Kate Spade earrings in 2022. Since the quality of these earrings is pretty even across the board– minus CZ being a bit more durable–I've selected my ideas based upon a style for the price offered. These styles are either highly versatile or unique to the Kate Spade brand. I've also sorted my ideas from least expensive to most expensive so you can find a pair of earrings that fits within your budget. Of course, if you want to see more earrings, you can Shop All Kate Spade Earrings Here. 
$50 and Under Kate Spade Earrings
For $50 and under, Kate Spade has some of the latest trends– with a twist. From asymmetrical earrings to Evil Eyes, and colorful crystals, $50 can buy you some of the most stand-out looks– and save you money. You'll even find a few versatile studs.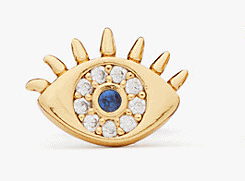 These unique earrings pair two popular motifs: hearts and Evil Eyes. The alternative, asymmetrical look pairs an evil eye on one ear and a heart on the other. Gold-tone metal is accented with clear crystals and a single blue crystal for the iconic evil eye. The evil eye is said to ward off ill will and be a form of protection.  Paired with the heart motif, and you have a pair of innovative, casual, but meaningful studs. Priced at around $38; Buy Here.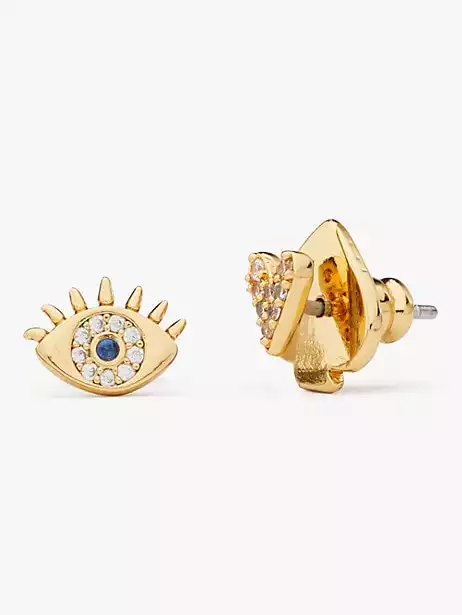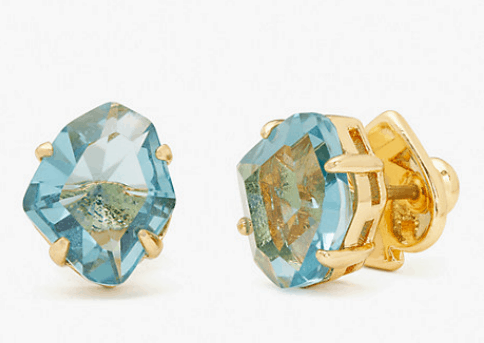 These delightful stud earrings are perfect for a celebratory occasion. Whether you opt for the vivid green of aquamarine crystals, there's something magical about these $38 stud earrings. Gold plating adds warmth, and the classic post-stud backs are easy to wear. Pair these earrings with a statement necklace, or dress them down with jeans. Buy Here.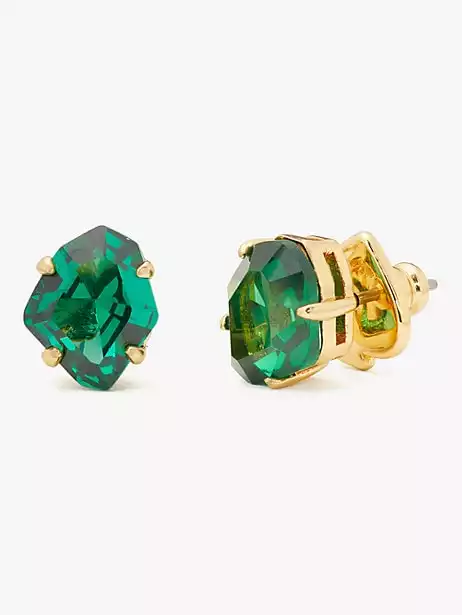 Treasure Trove Stud Earrings | Kate Spade
If we, hypothetically, were ever to come across a buried treasure chest...we bet we'd find something like these splendid gem-inspired studs inside.
Check Price
We earn a commission if you make a purchase, at no additional cost to you.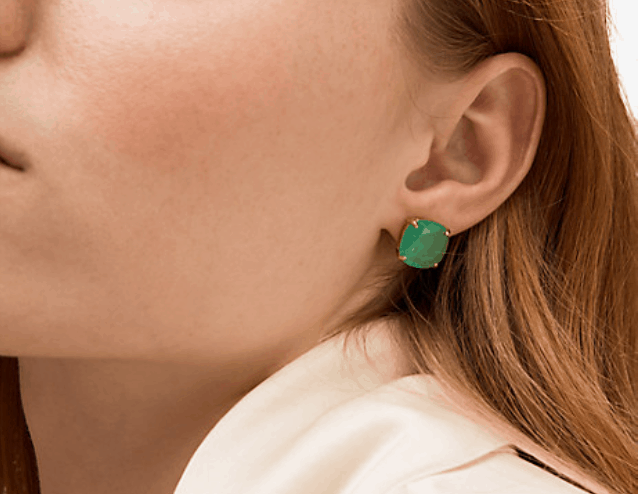 These earrings are the same style featured in the Zoe report. The "it" and staple earring from Kate Spade for 2022, these small square studs may not be for everyone– but they do stand out. A lively beryl green is set with gold plating. These earrings are summery and spring-like and bring life to a neutral or gold-toned outfit. Priced at around $38: Buy Here.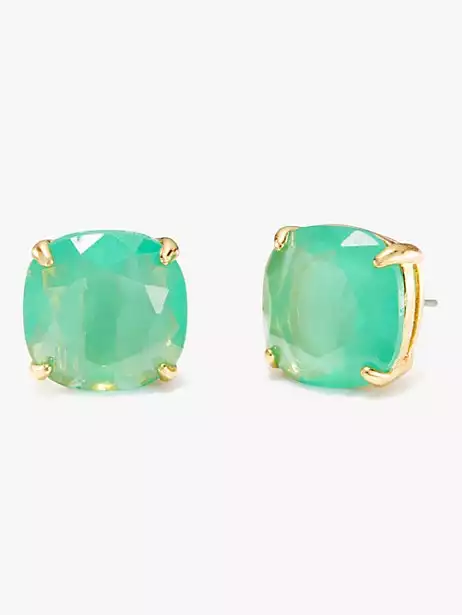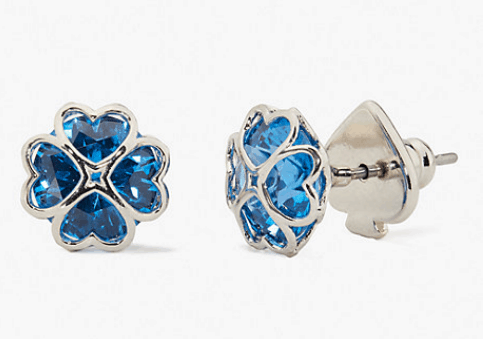 What could be more classic Kate Spade than spades? These sparkling stud earrings are priced at just $48 and available in a variety of colors– for casual and semi-dressy occasions alike. The pleasing spade design is unique but also classic. Choose from light sapphire, clear/silver, clear/ rose gold, or ruby. If you like one pair, you may very well want to buy a clear pair and a more colorful one. Buy Here.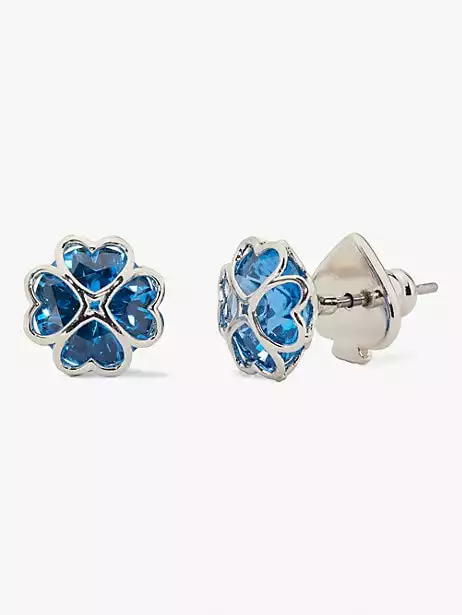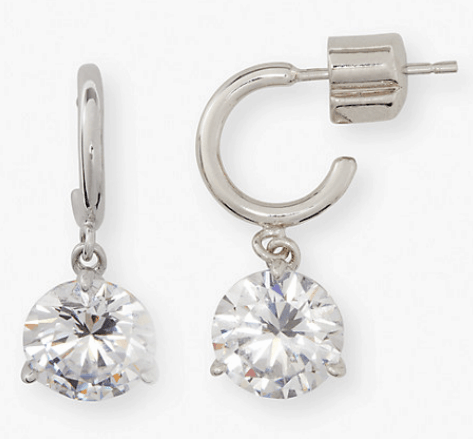 Shine with a clear crystal look with these Kate Spade huggie earrings. Huggie earrings hug closely to the earlobe that is often paired with other pieces of jewelry. That's why some of the best styles of Huggies are versatile, and this pair of $48 earrings fit the bill. Plated metal is paired with sparkling cubic zirconia crystals and sterling silver posts. For overall value, these are one of my favorite pairs of Kate Spade earrings. Buy Here.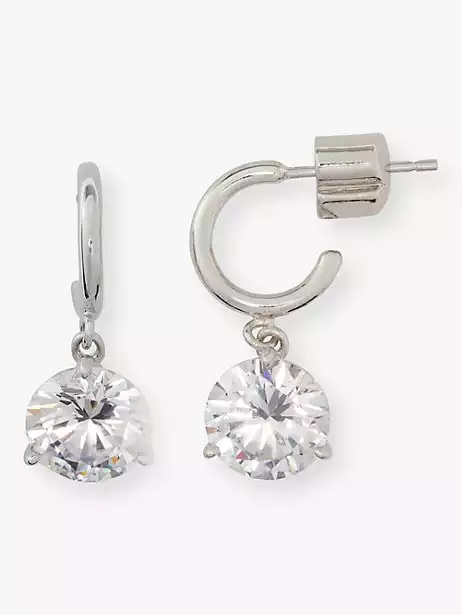 $50-$100 Kate Spade Earrings
For a little extra money, you can venture outside of stud earrings. These Kate Spade earrings also include dangle and drop styles– as well as some of the most creative styles Kate Spade has to offer, including apple stud earrings and the dashing beauty taxi set.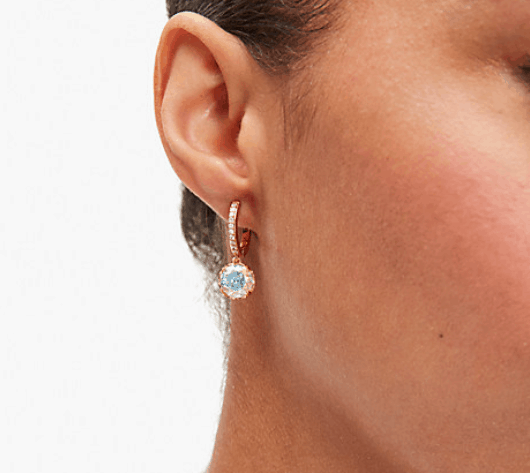 Versatile but also dazzling, these stylish hoops are priced at around $58. The mini hoops feature pavé accent crystals, along with a faceted crystal. Opt for silver and gold tones for a pair of earrings that add sparkle to almost any outfit. The cubic zirconia will exude multicolored light and also won't scratch as easily as Kate Spade's typical crystals– making this another of my favorites for overall value. Buy Here.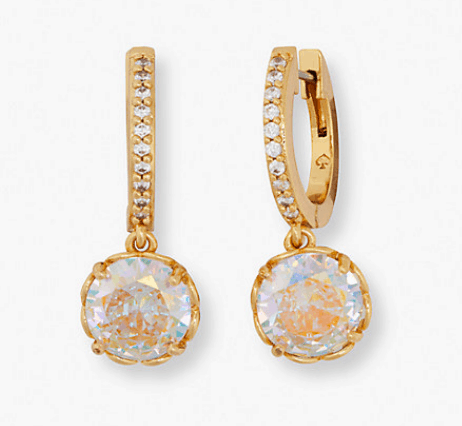 These aren't real pearls– but the synthetic pearls are still a beautiful look that exudes elegance. That elegant look is given a modern update with a geometric, double hoop style. Pearly white is paired with silver tones and sparkling cubic zirconia stones. I also like that they're secured with durable surgical steel post clutches– making this pair quite possibly my favorite earrings Kate Spade is selling. Priced at around $68; Buy Here.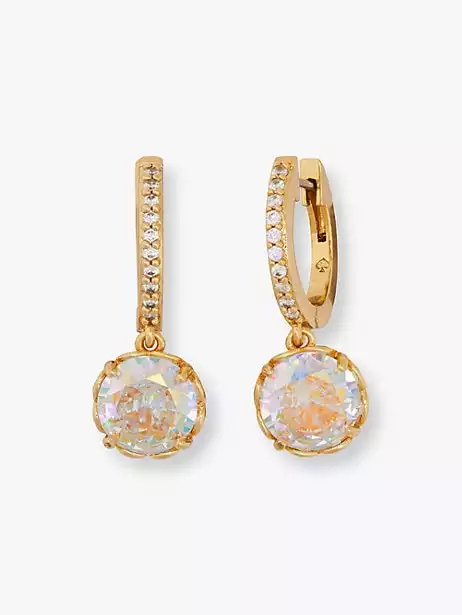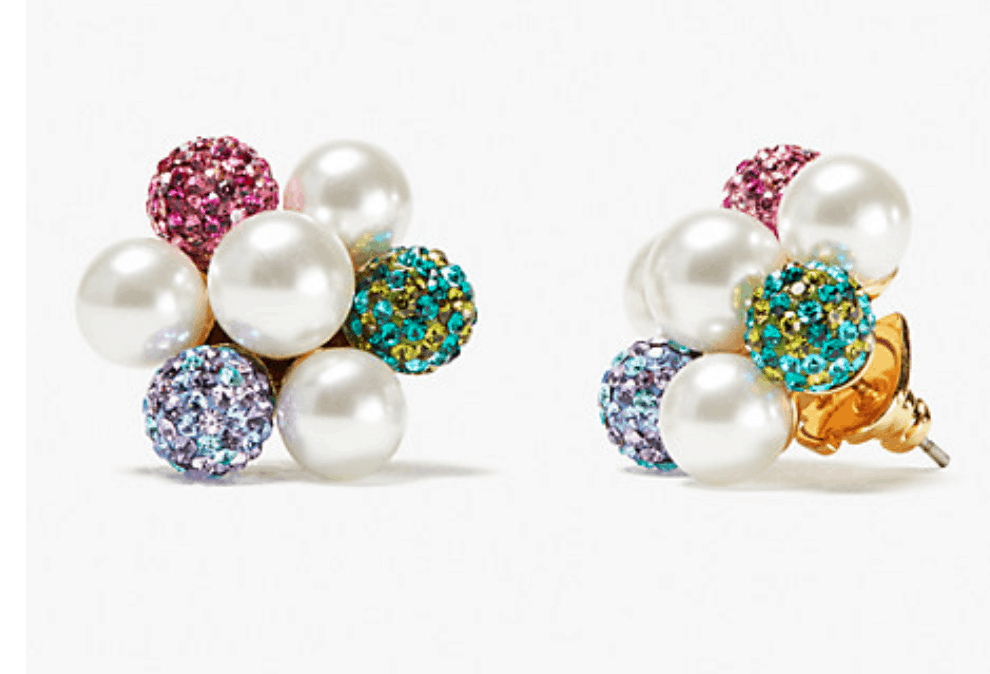 Looking for unique, artistic, and playful accessories? Look no further than these delightful pearl power cluster stud earrings. The colorful name matches the colorful design. Pearly white glass beads pair with sparkling lilac, pink, and turquoise sparkling acrylic beads. Wear for special occasions of a night out– no other accessories needed. Priced at around $68; Buy Here.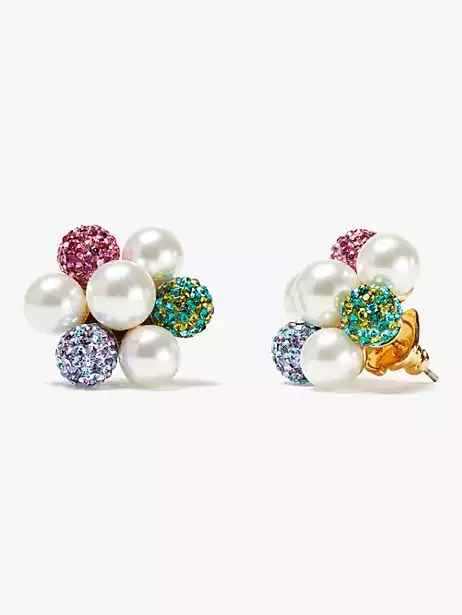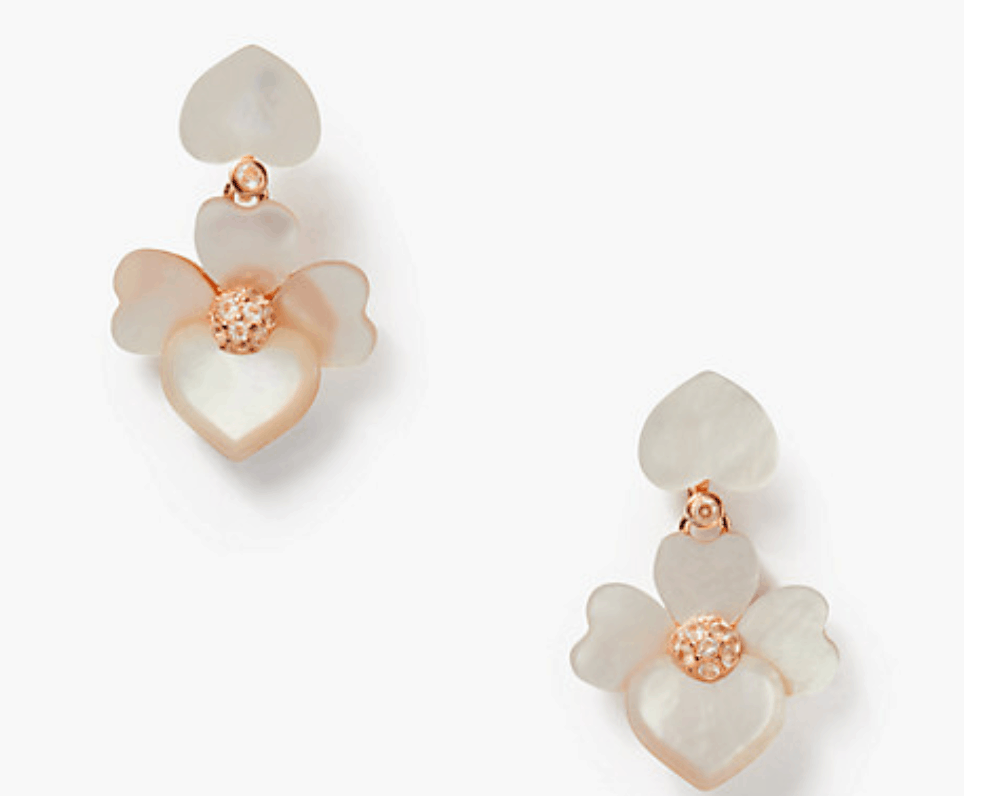 Kate Spade actually offers a few different styles featuring the pansy design, from small stud earrings to more dramatic dangle earrings. But these small drop earrings are perhaps my favorite. Priced at $68, these elegant and stylish earrings feature mother-of-pearl shells and cubic zirconia. The rose-gold plating adds an aura of romance to the heart-shaped flowers. Buy Here.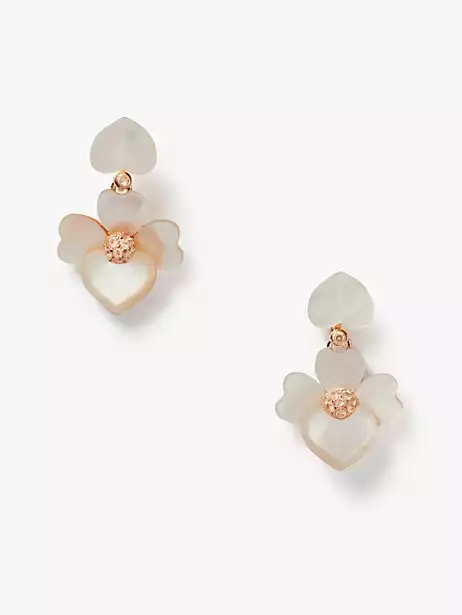 Precious Pansy Drop Earrings | Kate Spade
Handcrafted of rose gold-tone metal and mother-of-pearl shell, our precious pansy collection is true to its name. and these drop earrings are designed with lots of thoughtful details: like the sparkly crystal centers and heart-shaped petals.
Check Price
We earn a commission if you make a purchase, at no additional cost to you.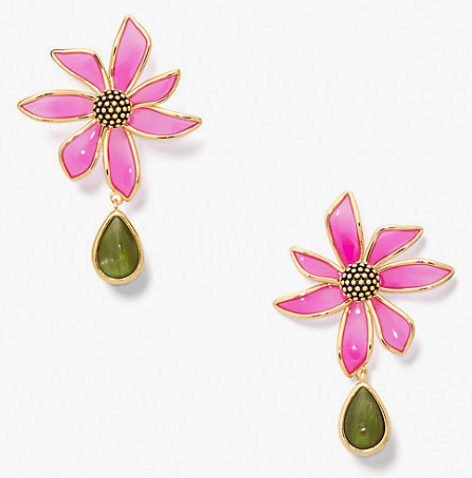 These crowd-pleasing earrings are perfect for welcoming spring or as a memorable gift. Priced at around $68, these Kate Spade earrings bring the popular floral theme for 2022 alive with bright pink and spring green. The colorful resin offers a glossy finish, paired with gold-plated sterling silver. This is the kind of design that Kate Spade loves to offer: classic, with lively, playful, and modern touches. Buy Here.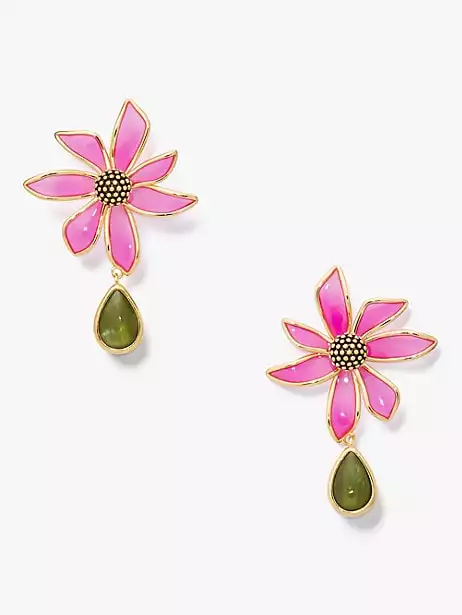 Wild Garden Drop Earrings | Kate Spade
Hey, you. We plucked these wildflower (drop earrings) from our garden just for you. Put them on and showcase their beauty.
Check Price
We earn a commission if you make a purchase, at no additional cost to you.

$100-$200 Kate Spade Earrings
For this price range, there are actually far fewer options– a mere three pairs of earrings. The good news is that you can buy almost all Kate Spade earrings for under $100- this earns its name as an accessible, affordable designer brand. And given that precious metals or expensive gemstones aren't really used, I think that shows that the price per value ratio is where it should be (if not a tad high). 
At the same time, the most expensive earrings, all priced at $128, live up to their name as 'statement' earrings. Artistic, elegant, modern, and eye-catching at once, these earrings pair much of what so many love about Kate Spade earrings for show-stoppers.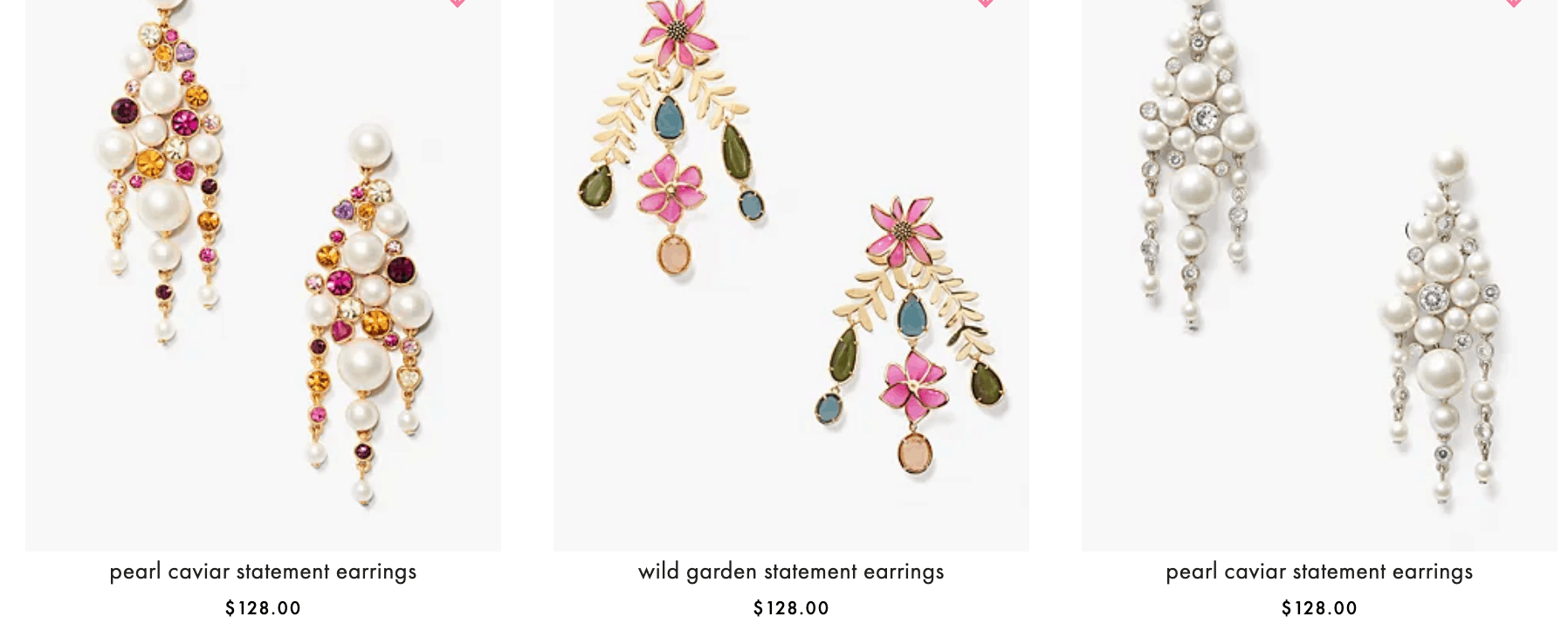 Select from multicolored pearl caviar earrings or the more classic silver and white pearl earrings in the same dramatic dangle style. For a boho-chic-inspired look, your third option is the whimsical wild garden statement earrings. Materials used to craft these earrings include: synthetic pearls, plated metal, glass, cubic zirconia, enamel, and resin.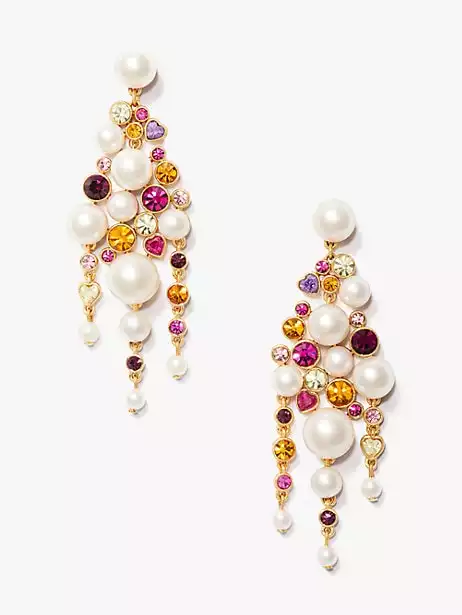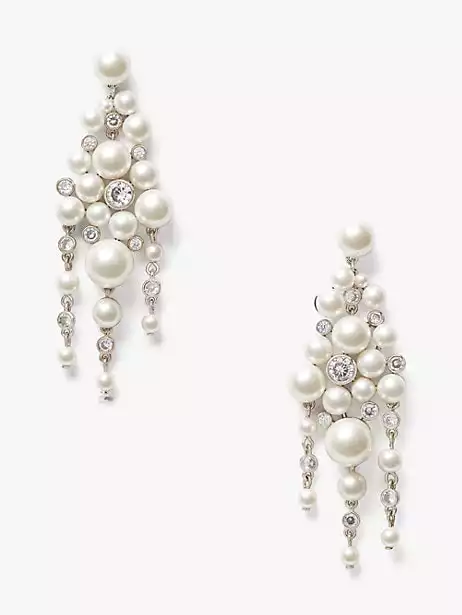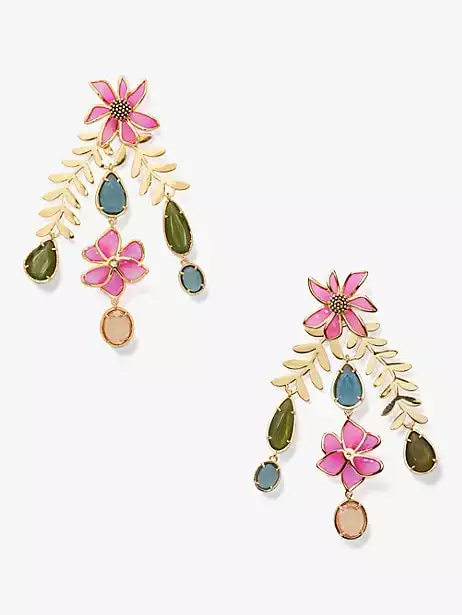 Frequently Asked Questions
Question: What age group is Kate Spade for?
Answer: Kate Spade can be worn by any age. While Kate Spade has been known to cater towards middle-aged women, the jewelry line is particularly youthful. Kate Spade pairs classic staples with bright looks to appeal to women ages 20 and up.
Question: Are David Spade and Kate Spade related?
Answer: David and Kate Spade were married and founded two lines together: Kate Spade and David Spade. David Spade offers a fashion line for men and Kate Spade for women. They were married a few months leading up to Kate Spade's death and remained close throughout her life, both personally and as fellow entrepreneurs. 
Question: Is Kate Spade owned by Coach?
Answer: Following founder Kate Spade's tragic death, Coach acquired Kate Spade in 2017. Before then, the brands had been frequently compared as accessible designers, made for a wider audience of consumers. 
Question: How much are Kate Spade bags worth?
Answer: Kate Spade is known as an affordable designer. You can expect to pay an average of $100 to $200 for Kate Spade bags. While popular, they don't offer, of course, as high of a resale value as compared to more expensive designers. 
Question: Are Kate Spade bags real leather?
Answer: One reason that Kate Spade bags have become iconic is that they last well. Kate Spade bags are mostly made out of saffiano leather. This fabric is water-resistant and scratch-proof, making it suitable for everyday wear. 
Final Thoughts & Alternatives
Kate Spade remains popular– an iconic in the world of everyday wear. From sparkling to bright colors, the earring collection is anything but boring. It's easy to see why the earring collection remains relevant– and will continue to– for years to come.
Looking for more affordable luxury collections? Michael Kors, Marc Jacobs, Guess, and Ralph Lauren are other popular brands that fit in the same space as Kate Spade. 

Further Read: