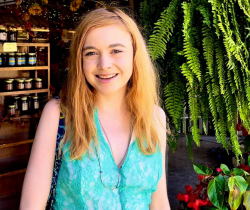 Latest posts by Erin Jamieson
(see all)
Many luxury brands, like Louis Vuitton and Chanel, focus on clean and classic designs. But Pandora has always distinguished itself with a sense of playfulness. And now the luxury brand is combining that playfulness with classic touches for its earrings in 2022.
No time is better than 2022 to find your favorite picks for Pandora earrings, with Disney-themed collections and whimsical designs.
Consumers were invited to experience childhood once more with the new Disney collection, which features iconic characters like Cinderella, Lady and the Tramp, and more. The whimsical looks are just another way that Pandora defies expectations when it comes to brand-name jewelry.
Even better, Pandora is more accessible than some of its competitors, with more affordable and practical options for everything from bracelets to earrings.
But if Pandora is so known for its charm bracelets, why the interest in their earrings? In this guide, I'll tell you what you need to know about Pandora earrings, and my picks for the best earrings you can buy online in 2022.
Is Pandora a good brand?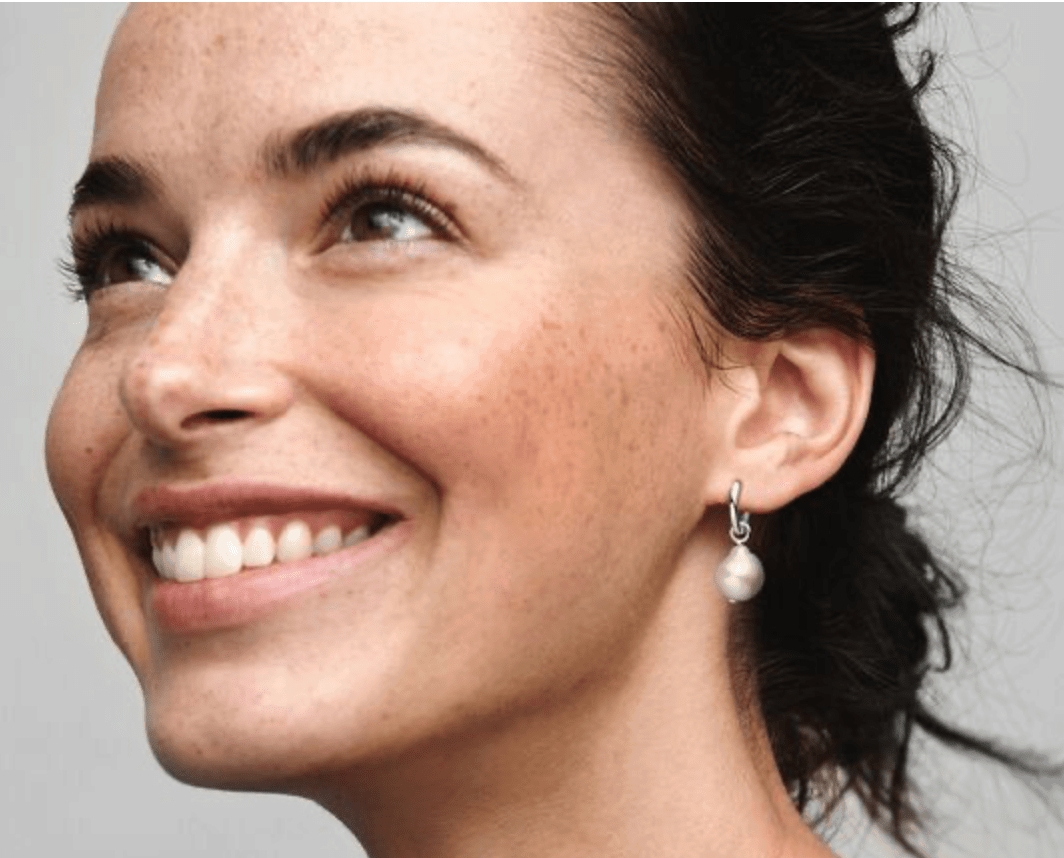 Pandora is a Danish jewelry designer that started as a family-operated business in 1982. As compared to other big jewelry designer names, it's known for a relatively affordable bracelet and earring options.
That is in part because it doesn't offer as many handcrafted designs. Production costs were kept low by teaming their in-home designers with manufacturing in Thailand. That alongside an efficient supply chain has allowed Pandora to offer lower-cost options– and is part of why it has become popular not only for charms but also necklaces, watches, rings, and more. Now, it is the third-largest jewelry maker in the world.
It has established itself as an affordable and unique jeweler– but there are some pros and cons.
Is Pandora Jewelry real?
When people ask if Pandora has real jewelry, they're often concerned about transparency– that is, selling cheaper materials that are posing as something else. Pandora uses a variety of materials depending on what you're looking at.
A large portion of their jewelry comes from sterling silver, but they also have 14K and 18K gold. Gemstones range from simulants to cultured pearls.
Pandora jewelry is real, but the value and quality of the materials do vary. For that reason, you should read each description carefully to understand what they are buying. They are a reputable company, but not all their options are the very most durable.
Are Pandora diamonds real?
All Pandora diamonds are real. In the past, sourcing information about their natural diamonds was unclear, but in May 2021, Pandora announced that it would shift towards lab-grown diamonds only in the future.
Lab-grown diamonds are not as valuable as natural diamonds, but they do not have imperfections (inclusions) prominently as do natural diamonds. They are also less expensive, and just as durable as natural diamonds.
However, Pandora also uses Cubic Zirconia. These are brilliant as diamonds, but not as valuable. CZ is commonly used as a lower-cost way to add sparkle to fashion jewelry.
Does Pandora clean your jewelry for free?
Another pro for Pandora is its customer service. You can take your jewelry to a Pandora location for free cleaning. Cleaning is important for the durability of your jewelry, especially if you purchased something that's sterling silver. They do offer other services– including piercings– at some of their locations. Not all services are free, but it's nice to have these options.
Should I buy Pandora earrings?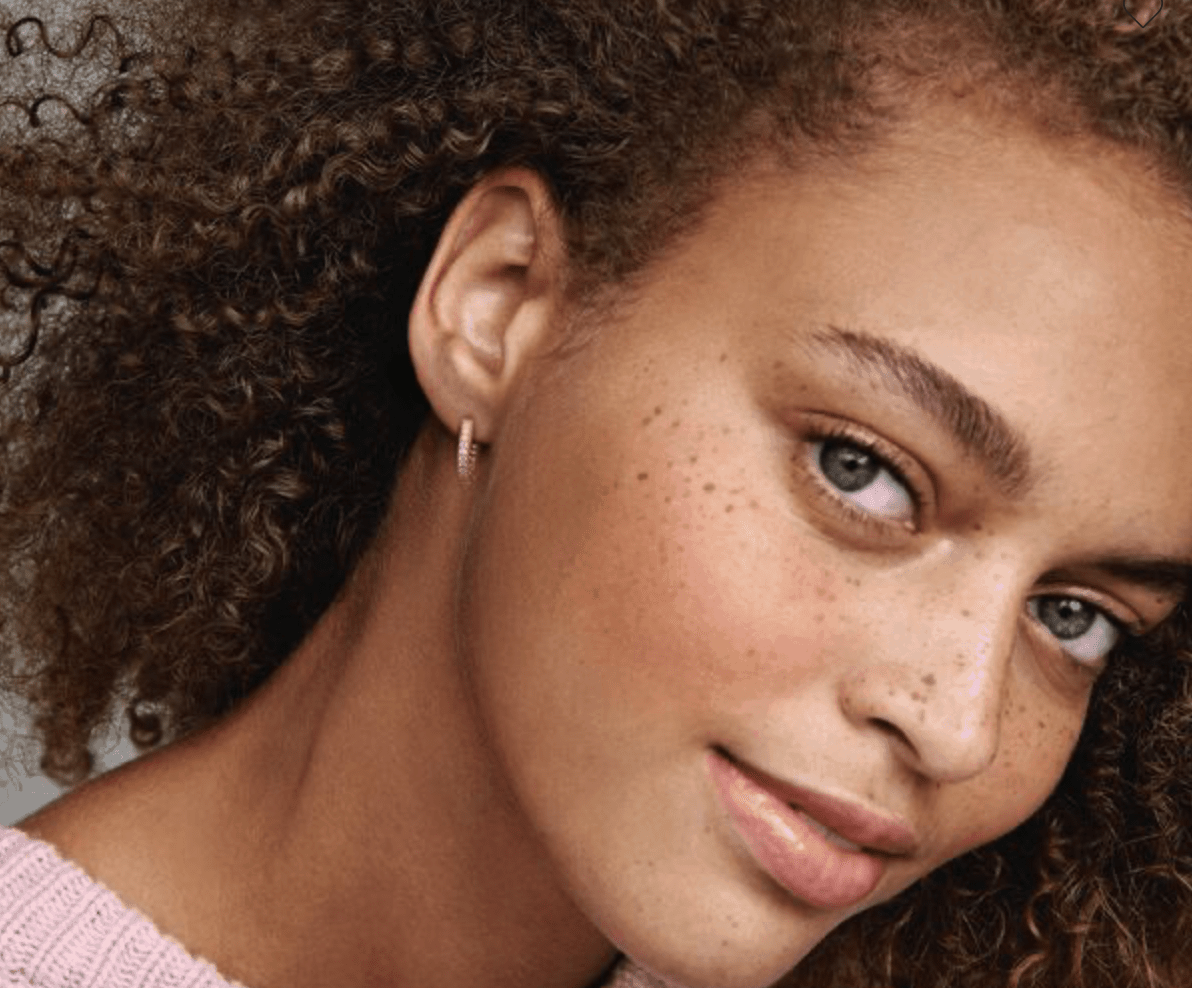 Pandora earrings range from casual to semi-formal, and many include designs you'd not find elsewhere. You'll immediately notice that Pandora earrings are relatively affordable– but do not have the same luxurious designs or classic feel as come competitors.
Pandora earrings make for fun casual accessories, and they can be a great way to show off your personality. For a well-known designer, Pandora also offers earrings at a fraction of the price. It is true that some Pandora earrings do not last as long as other options, and they are also not quite as valuable. While of decent quality, Pandora earrings are not the very best quality you can buy.
In other words, Pandora earrings are unique and charming– but it's always important to consider the pros and cons, and your main needs before buying. Some earrings are made with excellent materials, and others are meant for more casual wear.
Are Pandora rose gold earrings real?
Pandora rose gold, yellow and white gold earrings are all options. While it is possible to find a solid gold earring, most are gold plated. Gold plating is real gold, but it's not quite equivalent to solid gold. Gold plating consists of a thin layer of real gold, placed over another metal. In the case of Pandora earrings, that's sterling silver. Gold plating is suitable for casual and occasional wear and provides the same look as gold earrings at a fraction of the price.
Gold plating is beautiful, and affordable, but not as valuable or durable as would be solid gold earrings.
Are Pandora earrings real silver?
Many Pandora earrings are made from genuine, high-quality sterling silver. There are also some options for solid gold. The downside is that sterling silver can tarnish with time, and also needs to be kept away from moisture. In general, sterling silver earrings are beautiful but do not last as long as some other metals.
Can I wear Pandora earrings in the shower?
For this reason, it's important to avoid wearing any Pandora earrings that are sterling silver in the shower. I always recommend taking any earrings off when showering, bathing, or swimming, but this is especially important for sterling silver, which can corrode underwater.
Pandora Earrings: My Picks
Now that you know about Pandora and its earrings, I'll give you my picks for the best earrings you can buy in 2022. Pandora has collections for hoop, stud, and dangle/ drop earrings. Nearly all are sterling silver, with some options for rose gold plating.
I'm selecting my ideas based upon the overall value, and have also included some picks due to their unique design.
Pandora Dangle and Drop Earrings
If you're in search of dangle earrings, Pandora may leave you a little disappointed, aa they currently sell just two styles. It's unclear whether they will expand their offerings, or phase them out. In fact, one pair is listed as 'last chance,' meaning they likely will not be available for much longer. Still, both pairs of earrings are unique and thoughtfully designed.
Sparkling Stone Hanging Earrings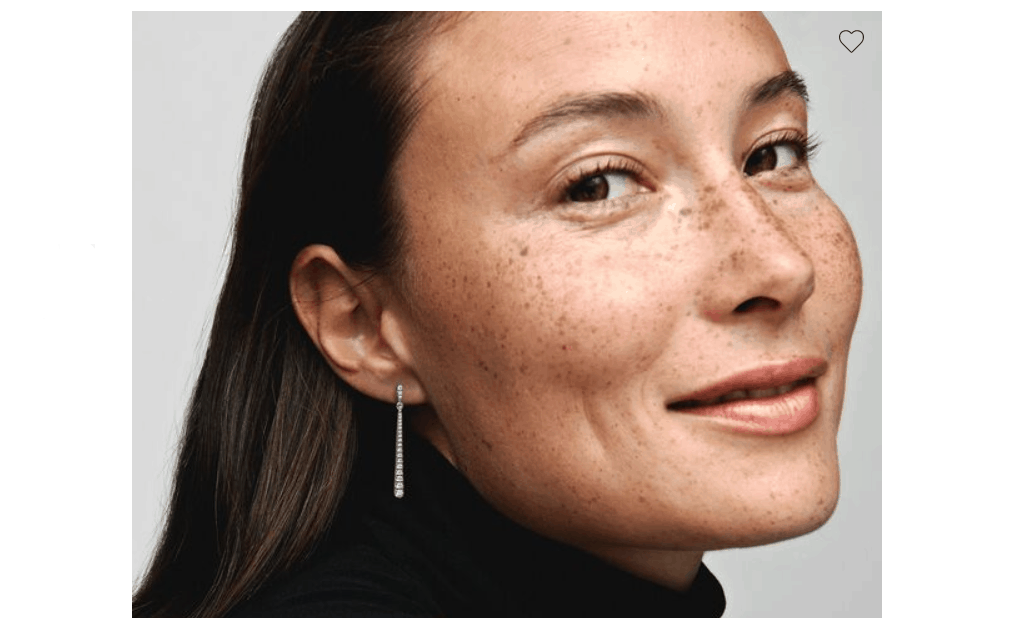 These last chance earrings are now on clearance for $62.99 (originally $90). From the Pandora Timeless Collection, graduated cubic zirconia stones make for a dramatic and sparkling statement, set on sterling silver. This pair of earrings would work well with a low, sweetheart, or v-shaped neckline for a formal occasion. Buy Here.
Turquoise Hearts and Feather Earrings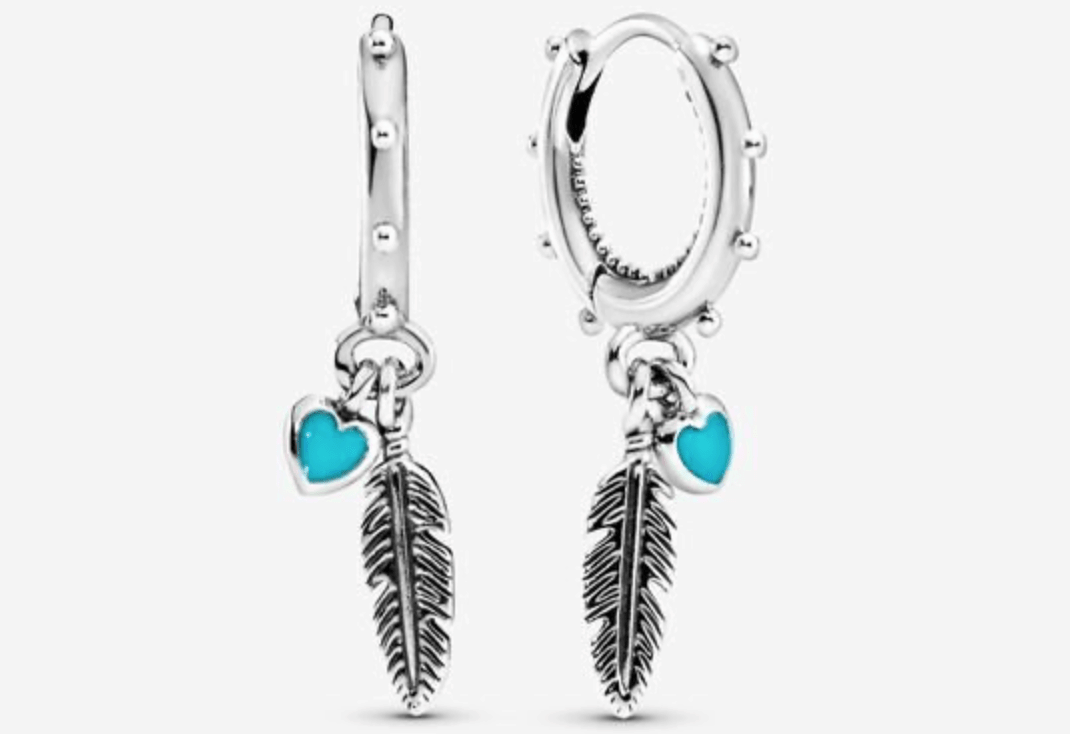 These spirited sterling drop earrings represent freedom. Priced at $65, consider pairing these earrings with boho or casual styles. Heart details and hand-painted turquoise enamel add signature touches. Buy Here.
Pandora Hoop Earrings
Pandora offers sterling silver hoop earrings, as well as sterling silver with rose gold plating. Asymmetrical, pave, and even a touch of baroque compromise the styles in this collection. Prices range from $45 to $115, with most hoop earrings retailing for an average of $50. Hoop Earrings are versatile, and can easily be dressed up or down.
Asymmetrical Heart Hoop Earrings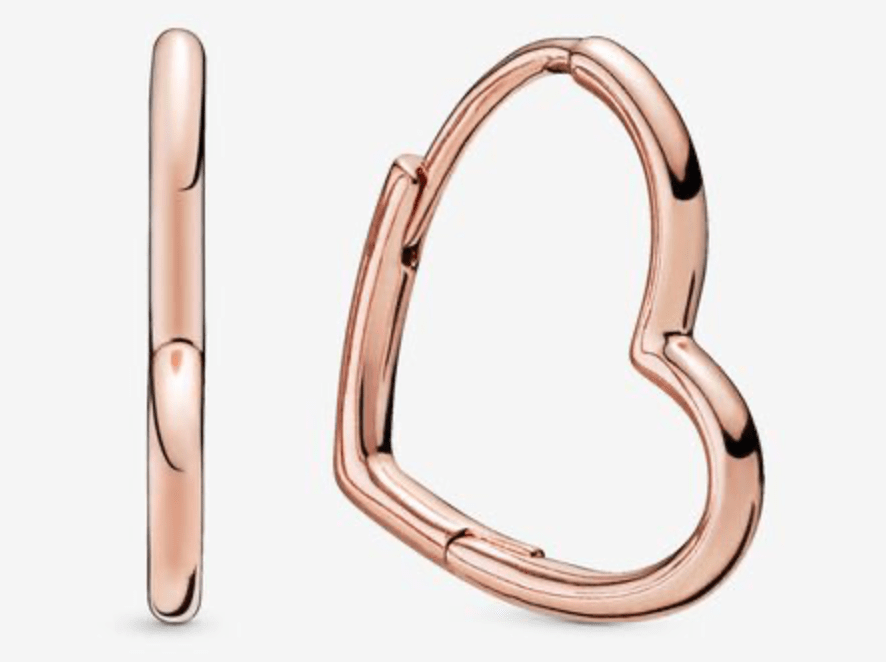 These hoop earrings are both modern and playful, showcasing whimsical asymmetrical designs. The sleek design and minimalist approach add an understated accent to casual outfits. Available in hand-finished sterling silver or sterling silver with rose gold plating and retails for $45 to $50; Buy Here.
Freshwater Cultured Baroque Pearl Hoop Earrings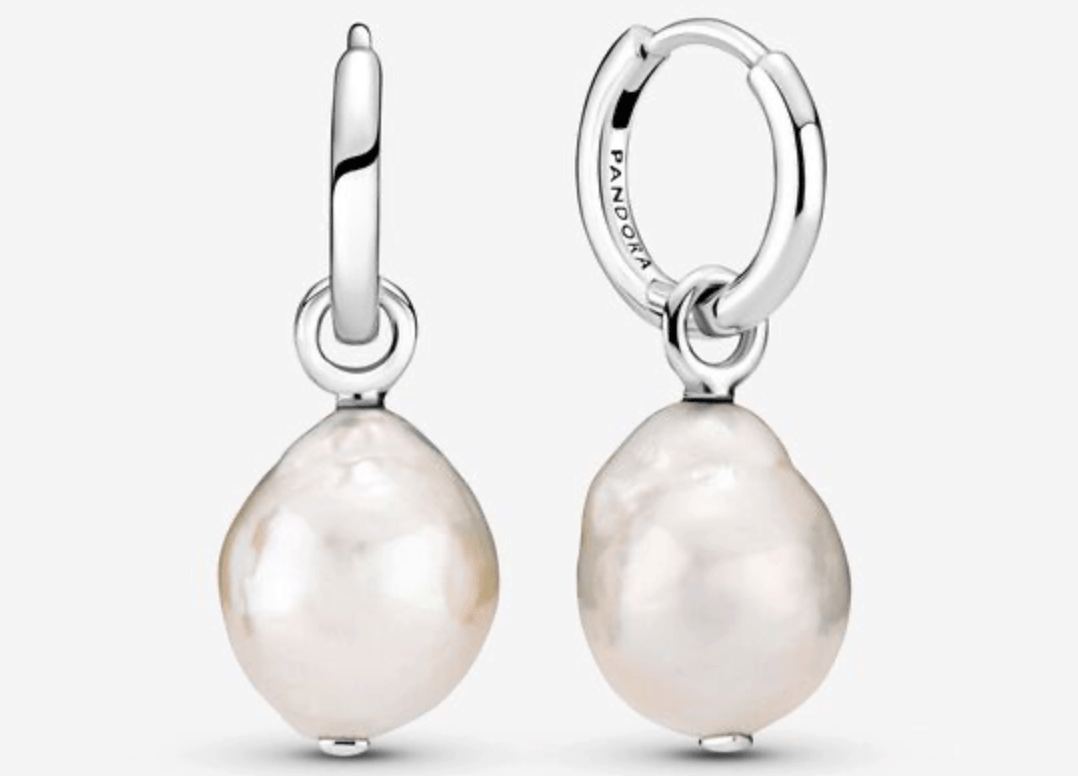 At $115, this is the most expensive pair of Pandora hoop earrings but also happens to be my favorite. A baroque style makes for a classic look that can easily be worn with casual and formal outfits alike. Real freshwater pearls are set on polished sterling silver hoops for a clean, updated classic. Buy Here.
Sparkle and Hearts Hoop Earrings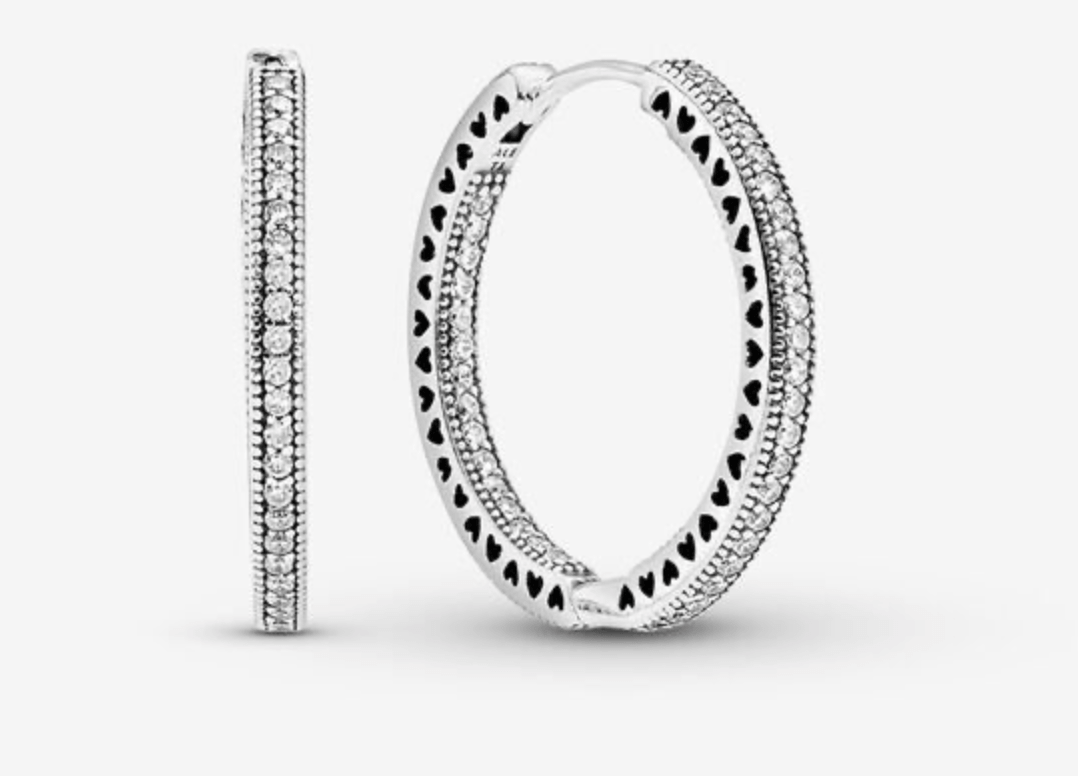 These bestselling Pandora earrings retail for $100. Oversized hoop earrings make a statement with sparkling cubic zirconia stones. Cut-out hearts nod to the Pandora brand. The cool tones do well to exhibit a bit of glamour for an outfit, without paying the price for diamonds. Buy Here.
Pavé Heart Hoop Earrings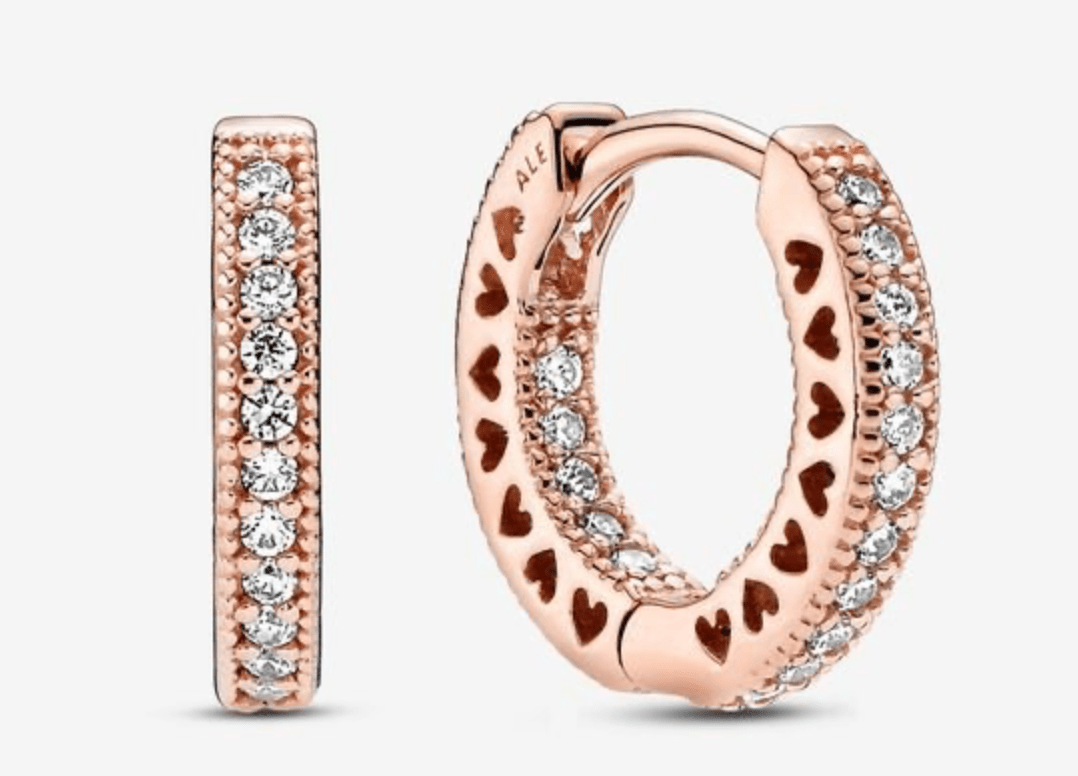 These best-selling Pandora earrings offer sparkle without the oversized look. Retailing for $90, this pair of earrings is a great alternative to the Sparkle and Hearts earrings if you want sparkle from cubic zirconia stones but in a more subtle way. The hand-finished 14K rose gold plating adds a romantic and unique accent to the pave stones. Buy Here.
Solitaire Huggie Hoop Earrings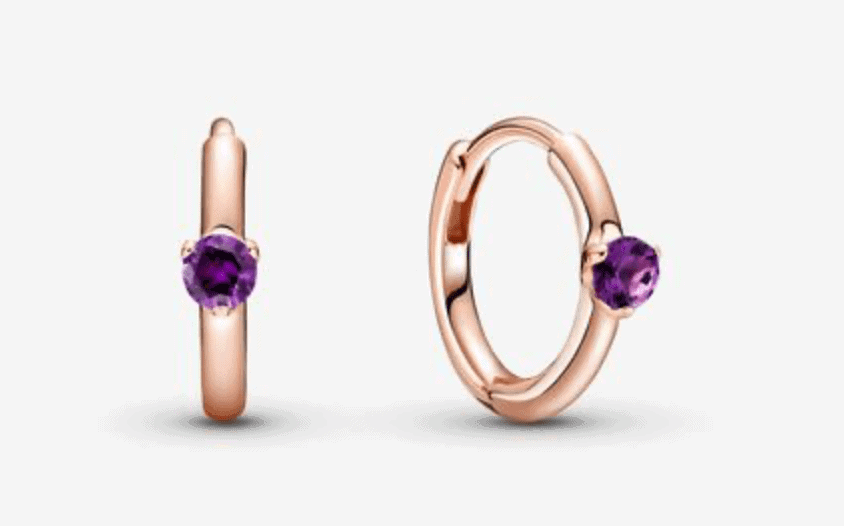 Huggie earrings are petite hoops that hug your earlobe. They can be worn alone or paired with multiple earrings. Pandora offers petite hoop earrings with a sleek 14K rose gold finish on sterling silver. Choose from blue, pink, or purple crystal simulants. These work for when you want a casual accent to other earrings or a statement necklace. Retails for $55; Buy Here.
Pandora Stud Earrings
You'll find plenty of sterling silver ideas in this collection, but also two-toned, gold plating, and a single pair of solid gold earrings. Single studs are offered alongside pairs. This collection really showcases Pandora's charm in the way the hoop earrings did not.
There's more of a daring playfulness, with options as diverse as a Disney Pumpkin Coach to studs with a family tree design. Sleek metal and plenty of sparkle carries this collection. Prices range from $20 to $375.
My Nature Single Stud Earring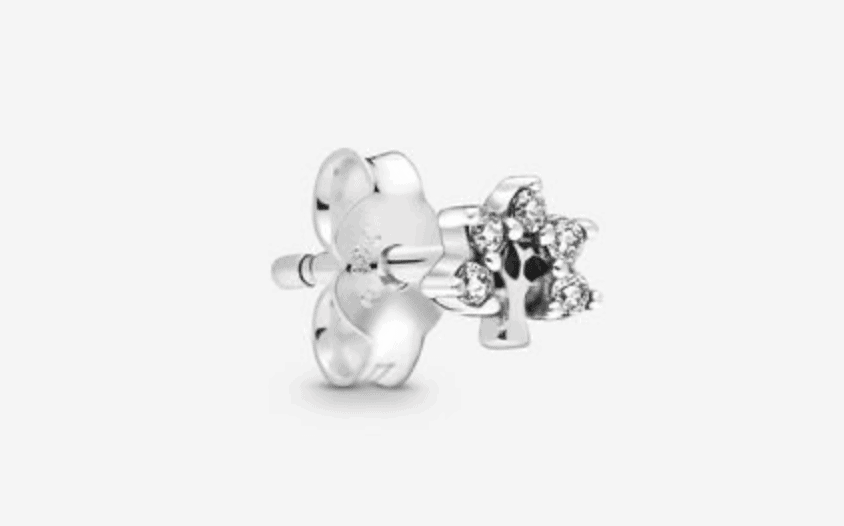 You have a choice of a few single stud earrings, all priced at $20, but this earring stands out as the most useful. A petite sterling silver shaped like the 'tree of life is given a touch of sparkle with five cubic zirconia stones. It's a symbol of family, strength, and personal growth, and subtle enough to go with about anything. Buy Here.
Sparkling Infinity Stud Earrings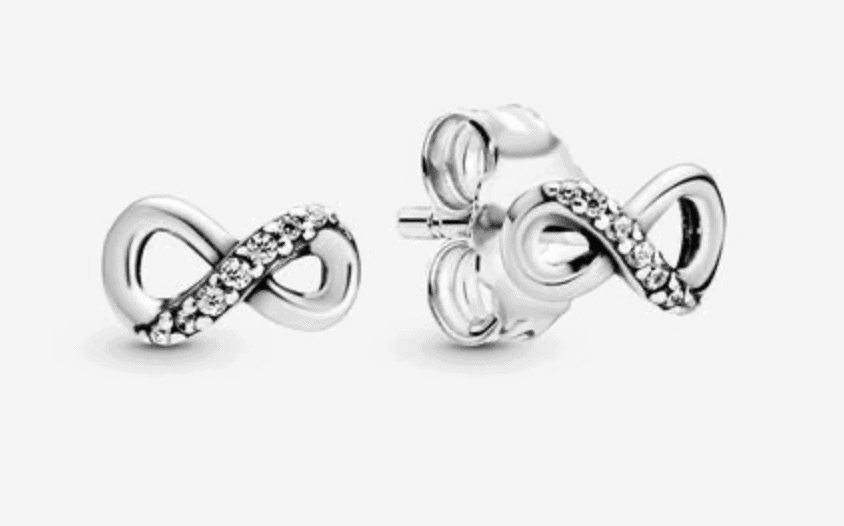 These bestselling Pandora earrings offer a timeless but modern appeal for just $35 to $55. Available in both plain sterling silver and sterling silver with a rose gold finish, these earrings represent eternal and enduring love. The infinity shape is studded with 8 round and 6 bead-set cubic zirconia stones. Buy Here.
Classic Bead Stud Earrings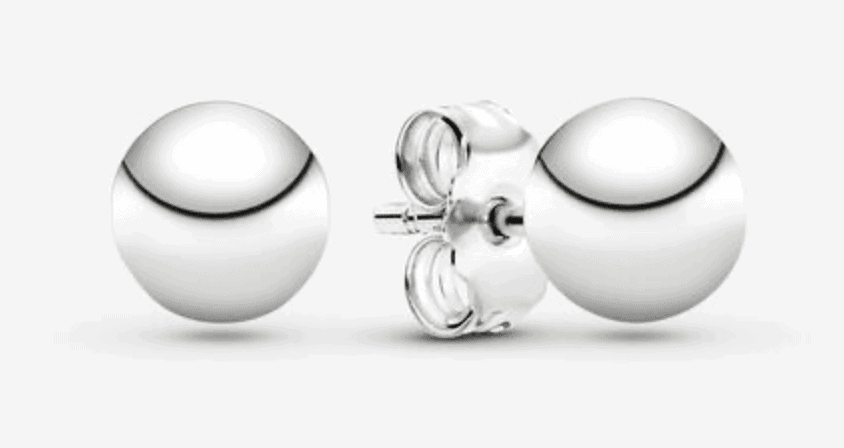 Want a polished sleek look that won't look outdated soon? These $45 Pandora stud earrings are one of the most versatile pairs in the collection. The spheres are well crafted, shining with sophisticated simplicity, no sparkle needed. The cool sterling silver complements the look for wearable, everyday earrings. Buy Here.
Rose Petal Stud Earrings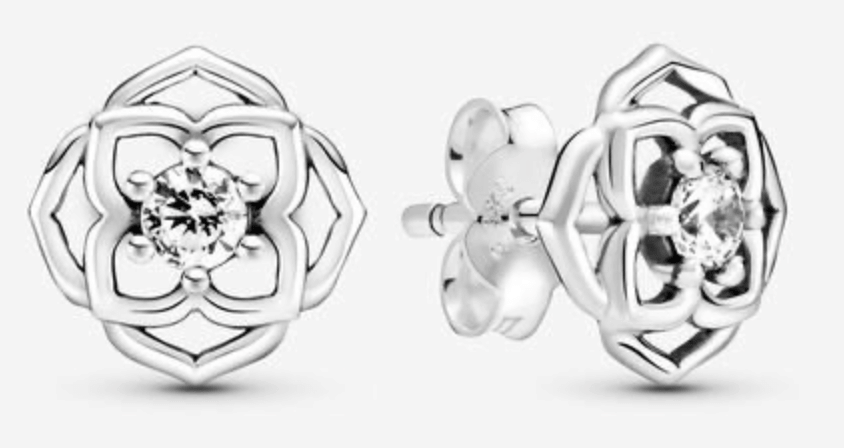 From the Pandora Timeless Collection comes a pair of rose petal stud earrings. Priced at $50, these best-selling earrings feature a convex open rose. Cubic zirconia stones add sparkle to a sleek sterling silver finish. These also pair well with the many floral-themed necklaces and bracelets Pandora sells. Buy Here.
Sparkling Daisy Flower Stud Earrings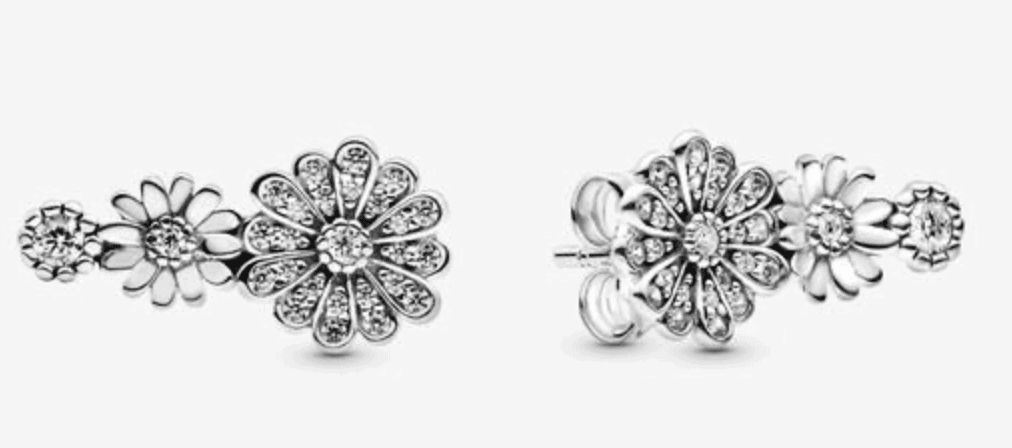 If you love the floral look but want to showcase your style in a more dramatic way, spend the extra $5 to buy these $55 stud earrings. A trio of cubic zirconia studded daisies provided a lively look, especially suited for boho styles. Meant to symbolize freedom, wear these earrings to welcome in Spring. Buy Here.
Sparkling Pandora Logo Stud Earrings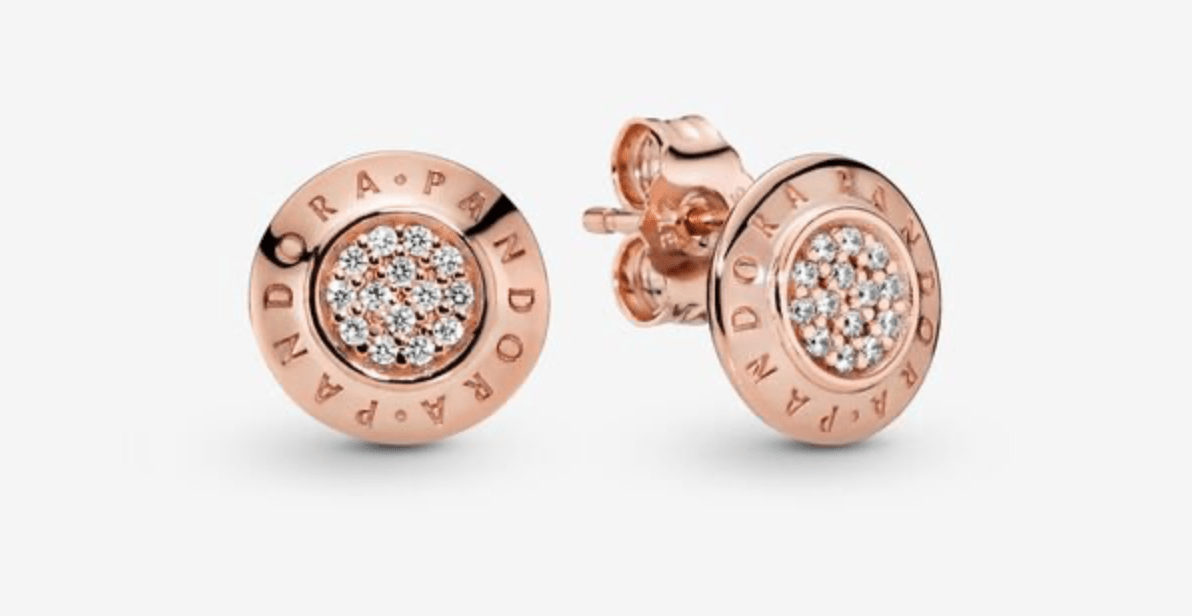 If you want a pair of Pandora earrings that you can wear with anything, why not start with these? Retailing from $60 for sterling silver or $90 with rose gold plating, these stud earrings won't soon go out of style. The Pandora logo is set on hand-finished metal, with pavé cubic zirconia stones adding sparkle. Buy Here.
Disney Cinderella Pumpkin Coach Stud Earrings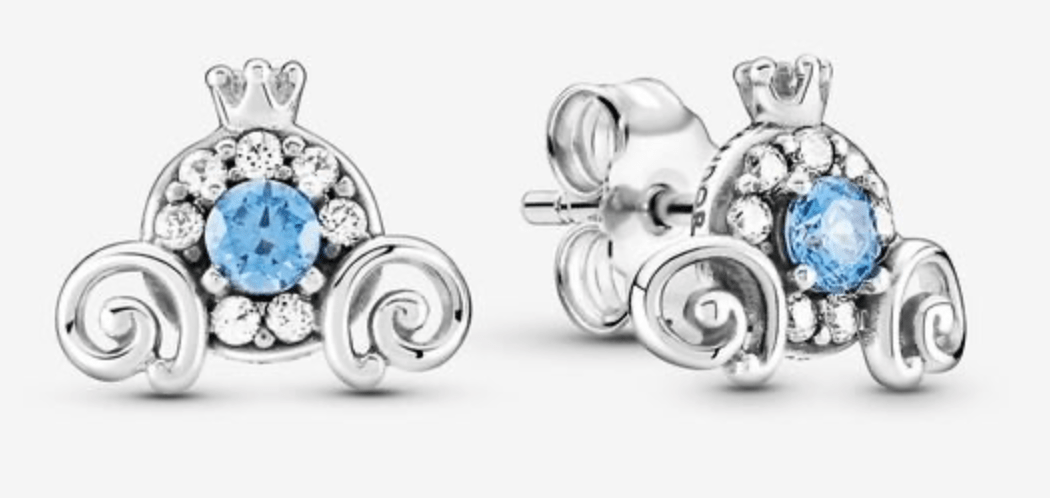 These earrings certainly aren't for everyone, nor are they particularly versatile, but I'd be remiss not to mention them. From the iconic Disney and Pandora Collection, these sterling silver stud earrings were made to celebrate the 70th anniversary of Cinderella. Earrings are shaped like the classic pumpkin carriage. Details like a blue crystal, a halo of cubic zirconia stones, and a 3D crown add a bit of magic to the design. Priced at $65; Buy Here.
Vintage Circle Stud Earrings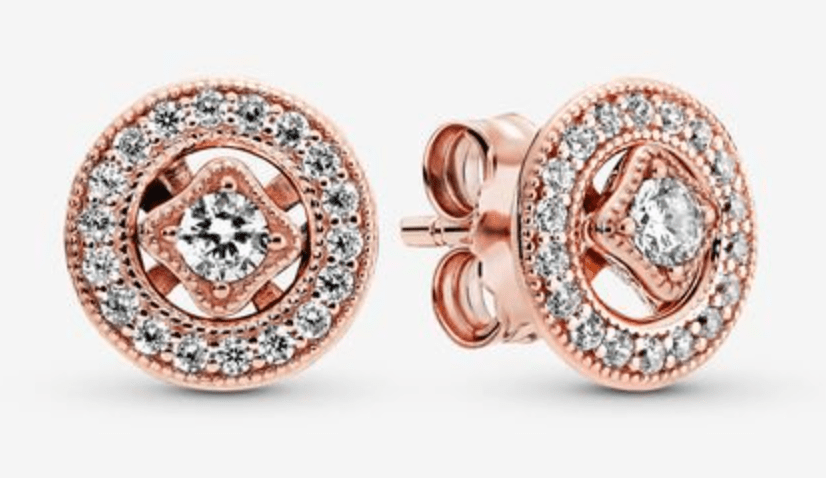 It's unexpected to find vintage-inspired earrings from Pandora, so these stud earrings stand out. Retailing from $75 to $100, the bestselling stud earrings dazzle with vintage glamour with a modern twist. The solitaire studs sparkle with a halo of cubic zirconia stones. Available in plain sterling silver or with rose gold plating; Buy Here.
Elevated Heart Stud Earrings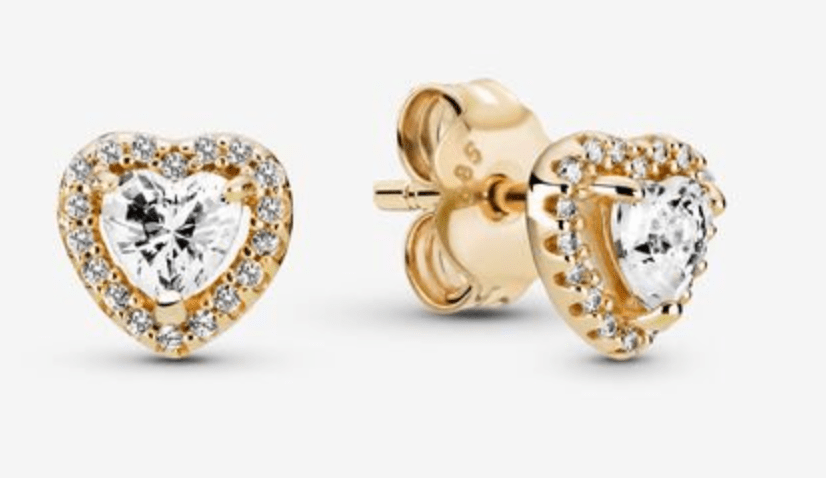 The $375 price point might turn some consumers off, but these stud earrings are one of the very few offered from Pandora that are made with solid gold. Of course, if you don't want solid 14K yellow gold, you can also opt for sterling silver ($65) or rose gold plating ($100). Either way, these best-selling earrings feature a classic, heart-shaped design, with a sparkling frame of generous cubic zirconia stones. Buy Here.
Frequently Asked Questions
Question: Do Pandora earrings come in a box?
Answer: Earrings, as well as bracelets and other accessories, come with a gift box that's packed with an anti-tarnish pouch.
Question: Does Pandora take their boxes back?
Answer: You can't return boxes alone, but Pandora does have a return and exchange policy for its jewelry. Items in their original condition can be returned within a 30-day window. If you receive an item with damages, you must return it by mail, rather than in-store. They do charge shipping fees for returns.
Question: What shipping does Pandora use?
Answer: If you order online, you have two shipping options. Regular orders ship via the US Postal Service (USPS) for free. You can upgrade to UPS ground shipping for $7.50. Alaska and Hawaii, however, do not have free shipping.
Question: How quick is Pandora's delivery?
Answer: Since Pandora is shipping via USPS, some depend on current delivery times, as well as where you live. In general, most can expect a delivery time of an average of 7 business days after purchase.
Question: Is Pandora made in China?
Answer: Pandora manufactures all of its products in Thailand, not China. Manufacturing moved to Thailand during the mid-1980s and has been there since.
Final Thoughts
Pandora may be known for its charms, but Pandora brings that same whimsical approach to its earrings. While not the most durable, the collections of hoop, stud, and dangle earrings offer fairly affordable options with iconic styles.
Like some of these picks but want more ideas? Shop all Pandora Earrings Here.