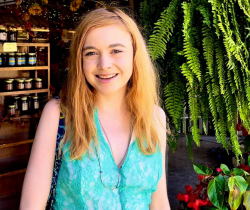 Latest posts by Erin Jamieson
(see all)
From dazzling colored diamonds to unique gemstones or even minimalist styles, we all want our earrings to be comfortable and last well. And while 14K gold is a great option for many, titanium is ascending as inspiration for a hypoallergenic and affordable alternative.
Titanium may not be the first metal type you think of when searching for earrings, but there are signs it may be becoming mainstream. In a recent feature of Southern Living , fruit-styled fashions– from floral rompers to poplin dresses and accessories were on full display.
But one piece that's especially eye-catching? The trendy and fun Kate Spade Tutti Frutti Lemon Statement Huggies. These bright and inviting earrings feature a lemon shape, perfect for the current trend, but also a titanium finish.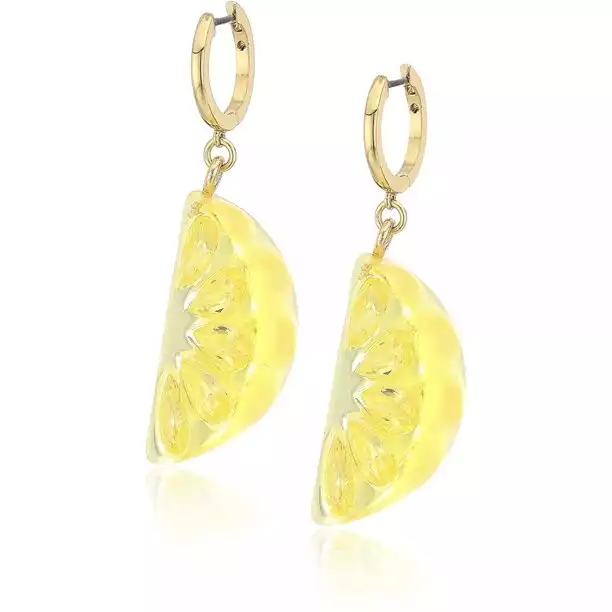 While the past titanium earrings fmay mostly come from less known companies, not only are brands like Kate Spade offering these options, but they're doing so in style. The titanium finish is plated in gold and resin in a way that pairs perfectly with the lemon hue of the earrings.
It's not just a trend, either. While it likely will never become more popular than some other options, titanium is here to stay for 2022 and beyond– and it's available in some of the latest trends, as well as classic styles.
But are titanium earrings right for you, and where do you buy them?
Consider this guide for titanium earrings. I'll tell you the pros and cons of titanium earrings, care ideas, and my picks for the best you can buy in 2022 and beyond.
| Product Image | | Primary Button |
| --- | --- | --- |
| | | |
| | | |
| | | |
Best Diamond Titanium Stud
What are the Advantages and Disadvantages of Titanium Earrings?
Titanium is known as a strong but lightweight metal, with a lustrous finish. It's especially known for its lightweight strength– meaning it holds up with less weight compared with some other metal types. In its natural state, it can be as strong as stainless steel, but it is less dense.
How Well does Titanium Jewelry Hold Up?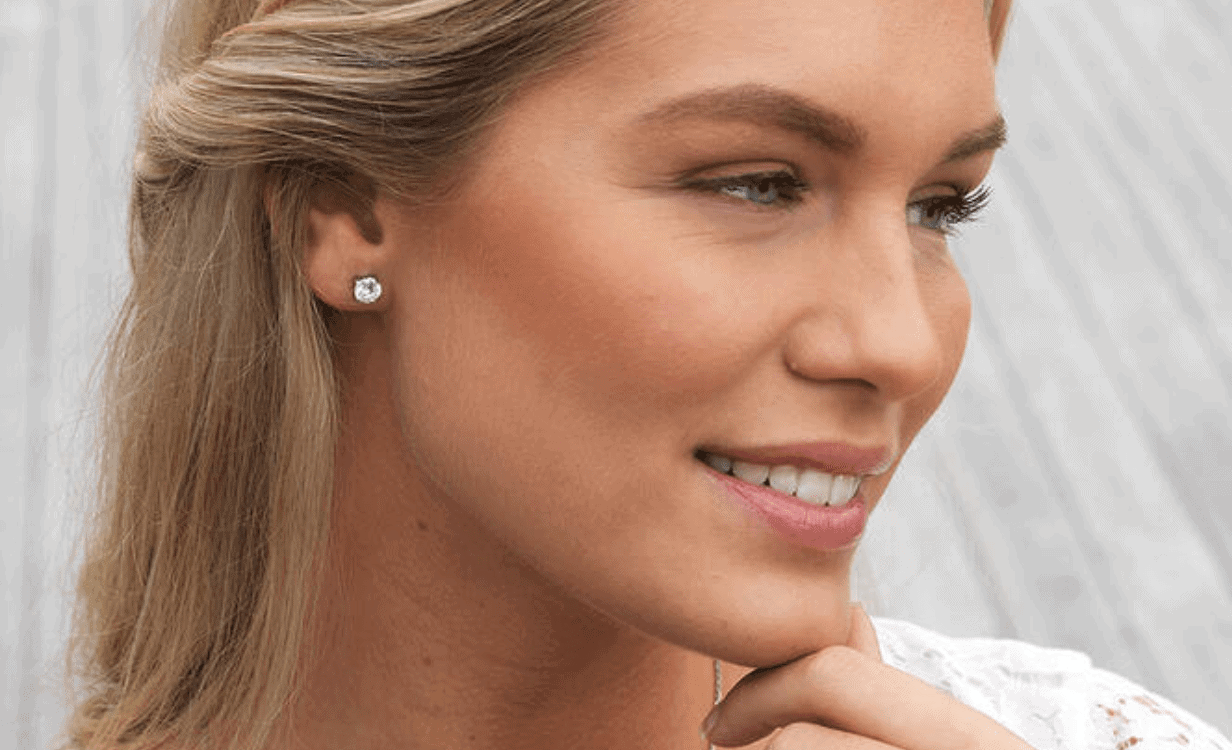 Titanium earrings are lightweight and strong, especially as compared to a softer 10K gold. Titanium generally does not corrode, and it is not prone to discoloration from tarnish, as sterling silver is.
Another great advantage of titanium is that it holds its shape. This is true even after multiple resizing. That said, I will caution that titanium is not scratch-resistant.
While a fairly hard and durable metal is it possible to scratch with heavy wear, as is the case with most metals. As a whole, titanium earrings hold up and do not require extensive care.
Are Titanium Earrings Hypoallergenic?
Titanium earrings are hypoallergenic and seen as an additional option or alternative to surgical steel earrings. Titanium is considered hypoallergenic because it's seen as a "pure" metal.
While surgical steel is low in nickel, a common allergen, titanium is nickel-free entirely– making it a great choice for anyone who has a history of reactions or especially sensitive skin.
Why are Titanium Earrings So Cheap?
Titanium is not rare, but actually very common, as the seventh most common metal on Earth. This adds to a lower price point, which is great for anyone on a tight budget. The downside, in some ways, is that your ring won't be considered as valuable as a ring in a precious metal like gold.
How Easy are Titanium Earrings to Find?
Perhaps the most significant downside to titanium is that earrings are hard to find. While it's true they've become more popular, and there still are some great options, you will have a bit less selection than you would have for some other metals.
This may mean shopping online or buying from someone new. That said, there are titanium earrings in about any style if you know where to look.
How do I Care for Titanium Earrings?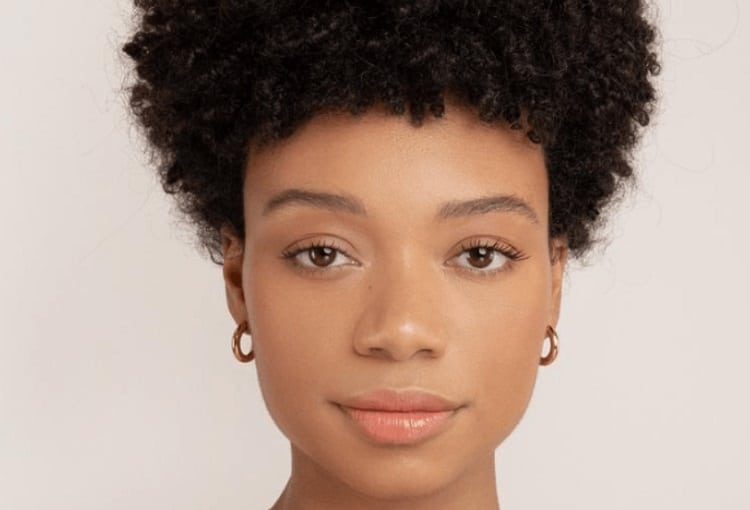 Taking care of titanium earrings is not too difficult, which is another reason why they're an excellent option for anyone needing hypoallergenic earrings, or even for someone who's on a budget but wants a high quality and durable choice.
Of course, there are certain factors you need to consider when it comes to wearing, and caring for, titanium earrings.
What Causes Titanium to Break?
While it's true that titanium earrings are generally known to be durable and great options for daily wear, it is possible to break them. The greatest risk to breaking titanium earrings has to do with exposure to extreme temperature fluctuations.
When very cold, titanium can become brittle and it is possible it will break apart when taken back to room temperature. Avoid extreme heat and cold.
What is the Best Way to Clean Titanium?
The good news about titanium is that it can be easily cleaned without cause for concern. Since titanium does not corrode or tarnish, you don't need to worry about much, except for avoiding harsh cleaning agents.
Use lukewarm water and everyday dishwashing soap. To clean completely, soak your earring for around five minutes and use a cloth to rub away any dirt. Leave it out to dry on a towel.
Can You Shower With Titanium Earrings?
You're also in luck with titanium earrings when it comes to showering or being out in the rain. Though I wouldn't recommend swimming in chlorinated water, titanium earrings, like gold, stainless steel, and platinum earrings, will do just fine in the shower.
In fact, the only metals you need to worry about when it comes to the shower are base metals, such as copper, bronze, and brass. Such metals will tarnish, and may even stain your skin green.
Where Can I Buy Titanium Earrings?
You can buy titanium earrings mostly through online retailers, as well as independent small companies. While you can buy titanium earrings from wholesale providers like Amazon, I prefer to buy from jewelers or independent artists through sites like Etsy.
Your main cost will be related to the style of the earrings– for example, diamond or gemstone accents– as opposed to the metal type.
And so long as it's solid titanium, you shouldn't have to worry too much about the grade of the metal or jewelry allergies.
Here are my picks and inspiration for stud earrings, hoop earrings, and dangle and drop earrings with a titanium base.
Gemstone & Diamond Titanium Stud Earrings
Buying for a formal occasion or just want to add classic elegance? Gemstone and diamond titanium stud earrings can add a formal accent but don't have to cost much.
While there are a few diamond options, more common are either precious gemstones or stimulants that offer scintillation, like cubic zirconia. Though less valuable, something like CZ can offer some brilliance at a fraction of the price.
Children's Birthstone Diamond Titanium Stud Earrings- Gemologica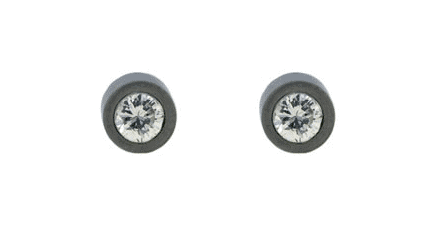 Kids can have especially sensitive ears, which is why I included these diamond titanium stud earrings, just for children. Bezel set diamonds are set on titanium with a matte finish. Post backings are secure and comfortable for even small ears. Buy Here.
Lab-Created Diamond Titanium Stud Earrings- Gemologica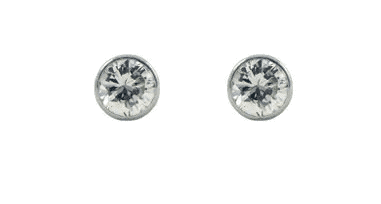 Lab-created diamonds are as durable as natural diamonds and cost a portion of natural diamonds. These stud earrings feature bezel set diamonds and titanium with a smooth and matte finish. Buy Here.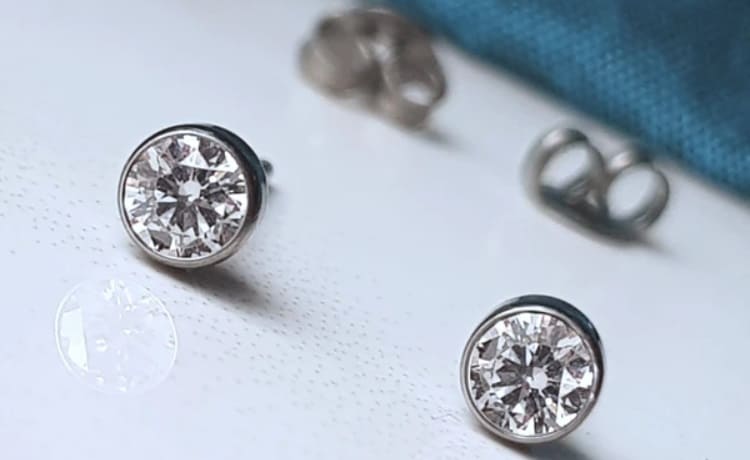 These beautiful lab-grown diamond stud earrings offer a classic modern twist. Beautifully crafted with a slightly luxurious but still minimalist design, the earrings feature two high-quality VS diamonds, set on verified titanium. Buy Here.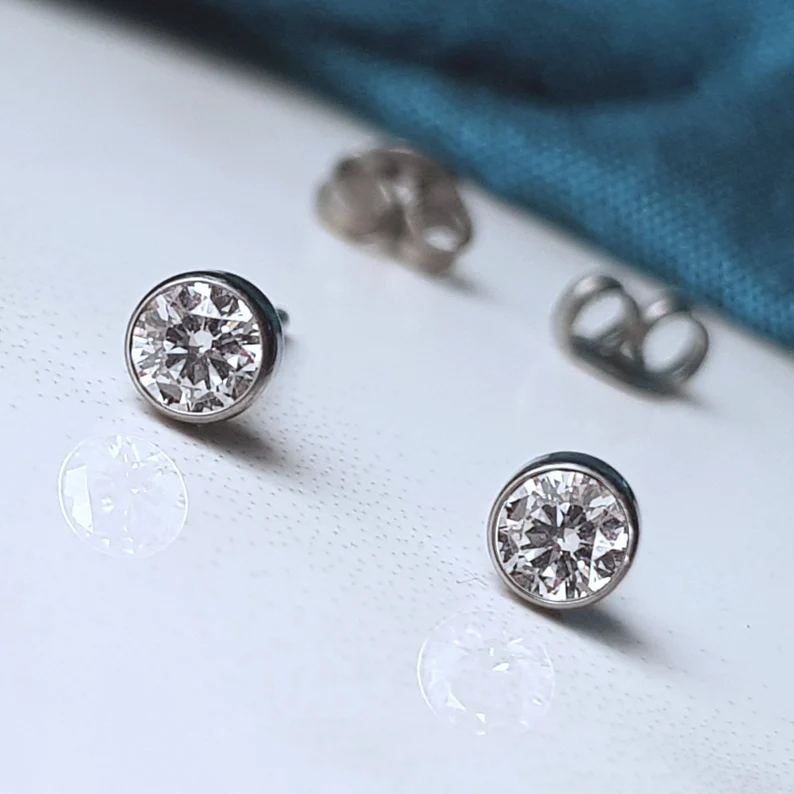 Titanium Prong Cubic Zirconia Stud Earrings- Body Jewelry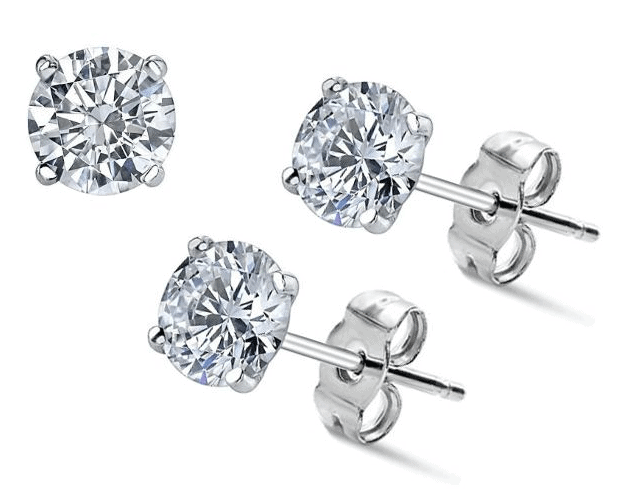 Suitable for cartilage, helix, and earlobe piercings, these studs cost just $15 and offer a touch of elegance. Lightweight, with medical-grade solid titanium, the post is adjustable, with a butterfly backing. Buy Here.
Octagon Gem Titanium Earrings Studs- Rebel Bod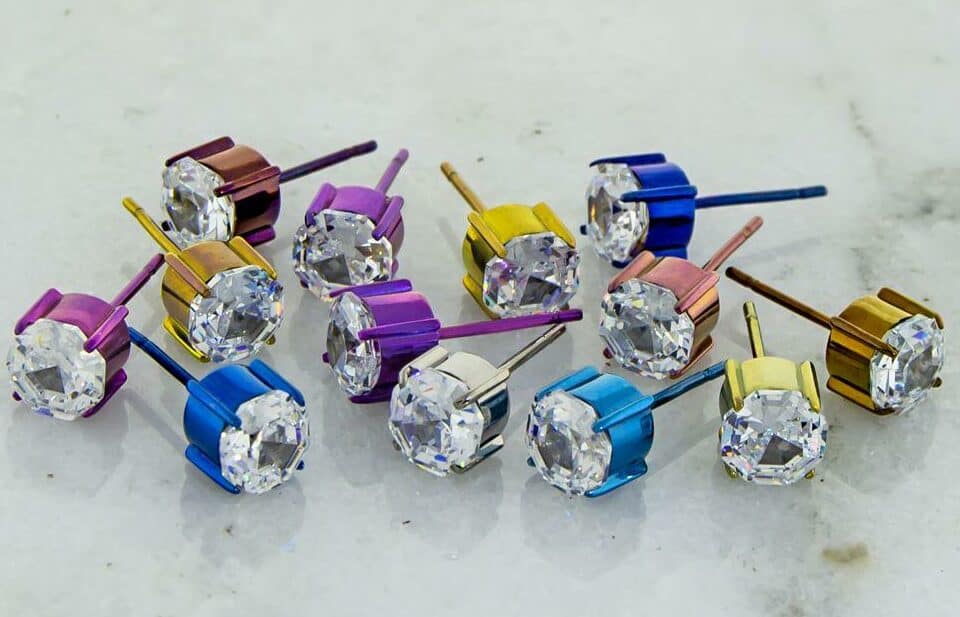 Available in sizes 3mm up to 10 mm, these titanium studs feature a prong setting and a modern octagonal-shaped Swarovski Zirconia. The earrings are priced at around $30 and under for a pair. Buy Here.

A modern classic with a minimalist design, this threaded flat-back titanium earring can be bought alone or as a pair. Sparkling cubic zirconia is featured on a prong setting and beautifully complements the titanium silver finish. Buy Here.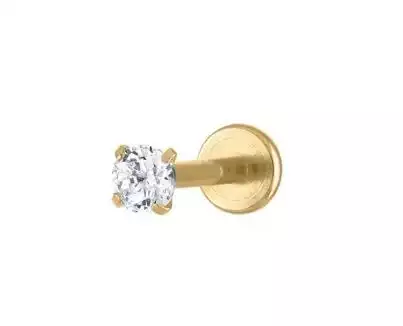 Silver Titanium Prong Set CZ Earrings- Blomdahl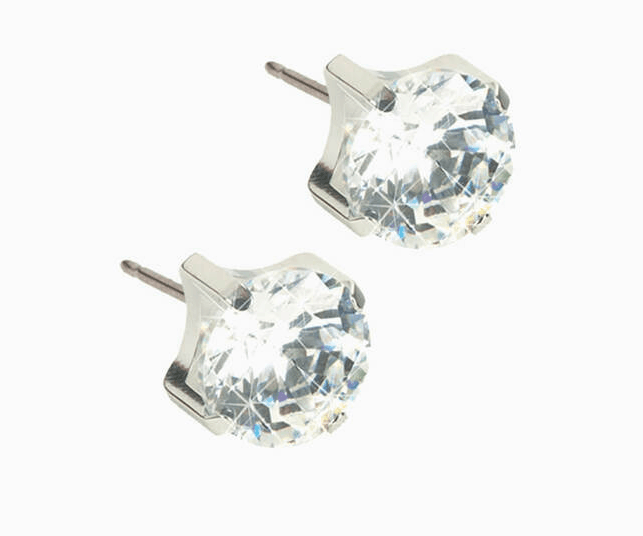 These highly rated titanium studs exhibit the luster of cubic zirconia. Set on medical-grade titanium, you have an option of sizes 4mm to 9mm. Buy Here.
Golden Titanium Light Rose Bezel Earrings- Blomdahl

If you need titanium but prefer a yellow gold look, consider these golden titanium earrings. The rose-colored cubic zirconia crystal is a nice accent to the gold finish, but they also offer turquoise, black, and clear colors. Buy Here.

This Etsy bestseller is handmade and can even be made to order. Stainless steel and titanium from the backing for and opal earrings that can be worn on the earlobe. The lavender color has an iridescent finish. Buy Here.
Lavender Opal Stud Earrings | Etsy
This listing is for a pair of lavender opals with multiple fiery flashes. These earrings are securely mounted on Nickel-free surgical stainless steel pads with CP-1 grade pure Titanium ear posts and ear nuts, great for sensitive ears.
Check Price
We earn a commission if you make a purchase, at no additional cost to you.
Titanium Hoop Earrings
Hoop earrings suit boho and casual cooks, but, with some embellishments, could even be used for more formal and classic looks. Titanium is a natural complement for hoop earrings, providing a sleek, modern, and sophisticated look.

This beautiful collection of titanium hoop earrings ranges from $45 to $75 and features sleek, modern, and beautifully versatile options. From simple thin hoops to geometric or even patterned, warm amber to gold finishes adds dimension to any outfit. Buy Here.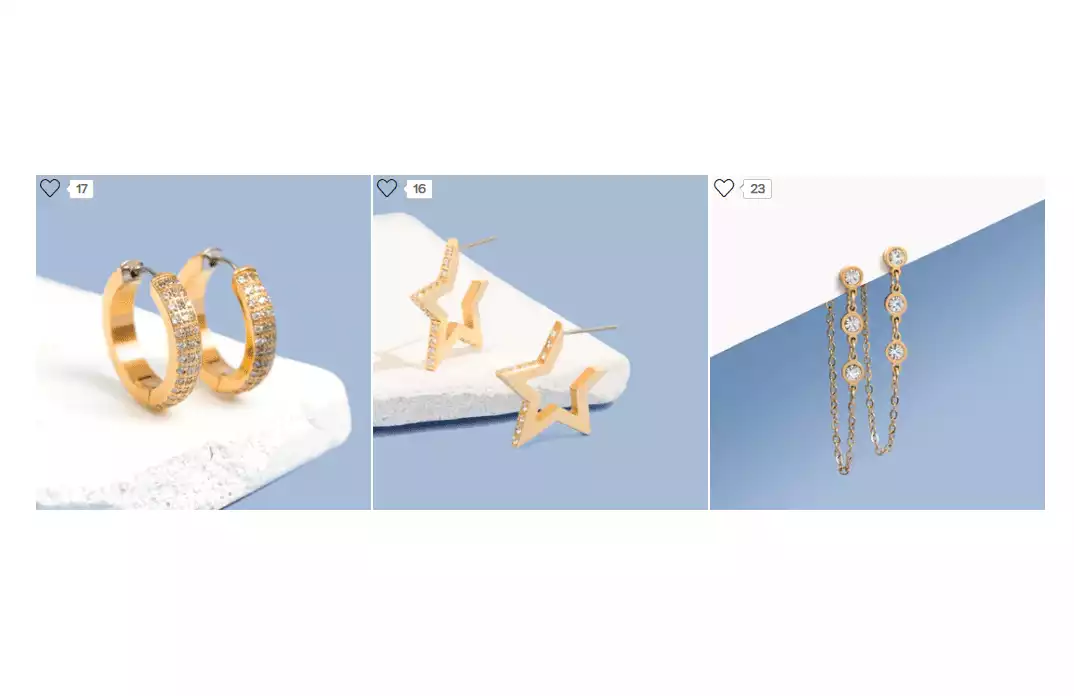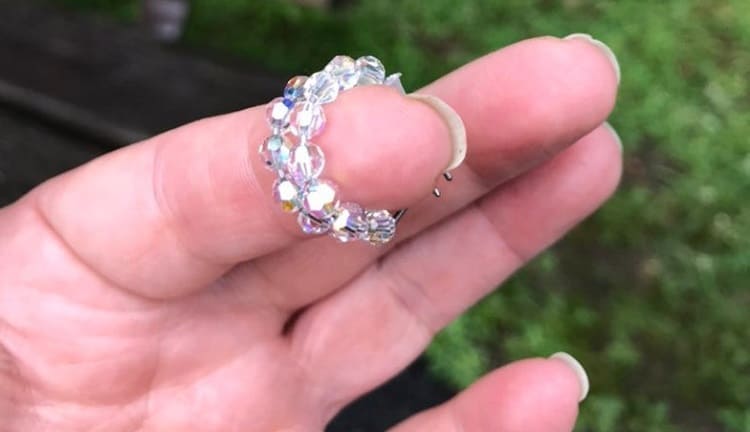 This handmade pair of hoop earrings features an ear wire enclosure and a minimalist style, with a bit of clear crystal beading for a casual touch of luster. This pair of earrings can be made to order and work with boho and casual looks alike. Buy Here.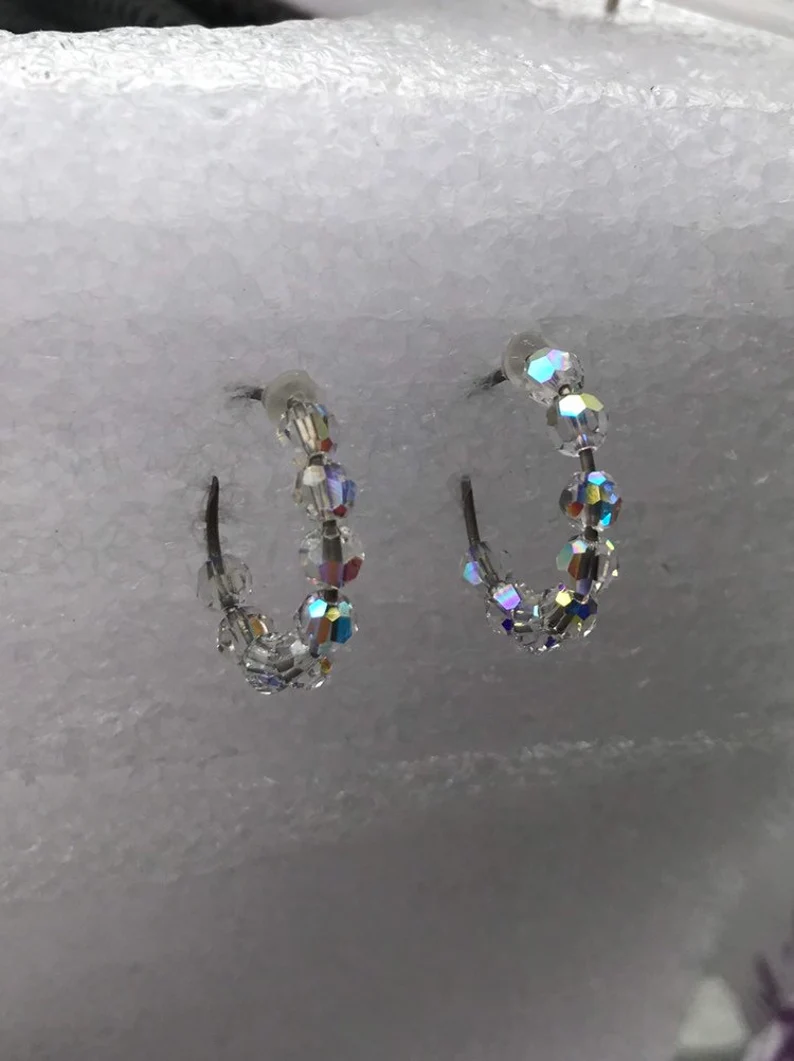 Titanium Crystal Hoop Earrings | Etsy
Featured here is a handmade pair of titanium hoop earrings made with some high-quality aurora borealis crystals. These earrings are perfect for your sensitive ears.
Check Price
We earn a commission if you make a purchase, at no additional cost to you.
Minimalistic Interlocking Hoop Earring- DearMumuCo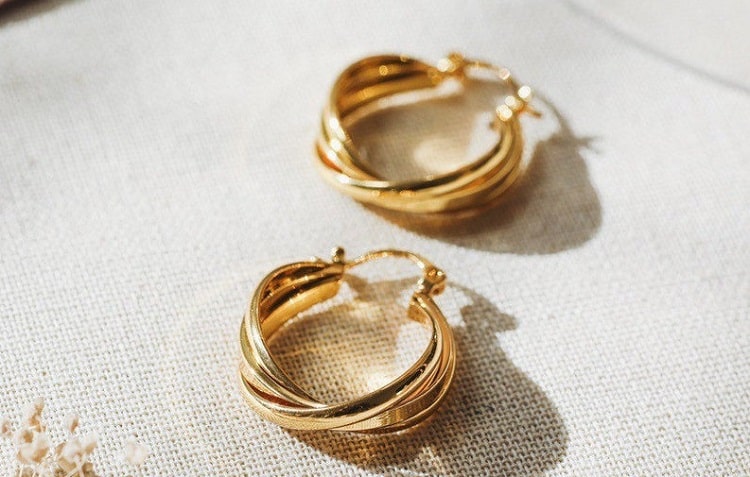 18K gold plated titanium makes for a truly elegant, effortless look. Intertwined bands add dimension to the plated finish for an expression for classic statement.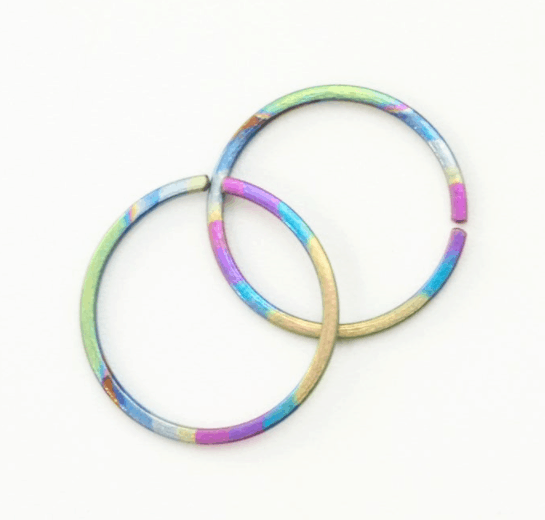 If you have a fun, vibrant titanium hoop earring for a casual occasion– or even as a gift, these handmade hoops are a great option. Select from twenty colors, from silver and bronze to peach, rose pink, and even vibrant purples, greens, and blues. Buy Here.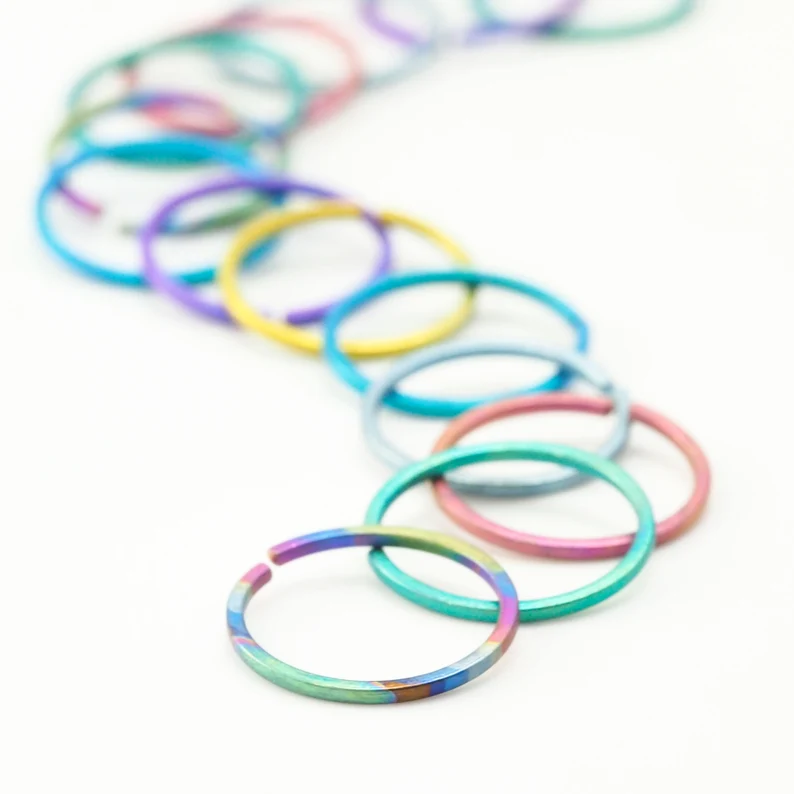 Colorful Hypoallergenic Simple Hoop | Etsy
These handmade square Titanium hoops are simply stunning. These hoops are perfect to wear for any occasion, day into evening and great to wear overnight and are perfect for sensitive ears.
Check Price
We earn a commission if you make a purchase, at no additional cost to you.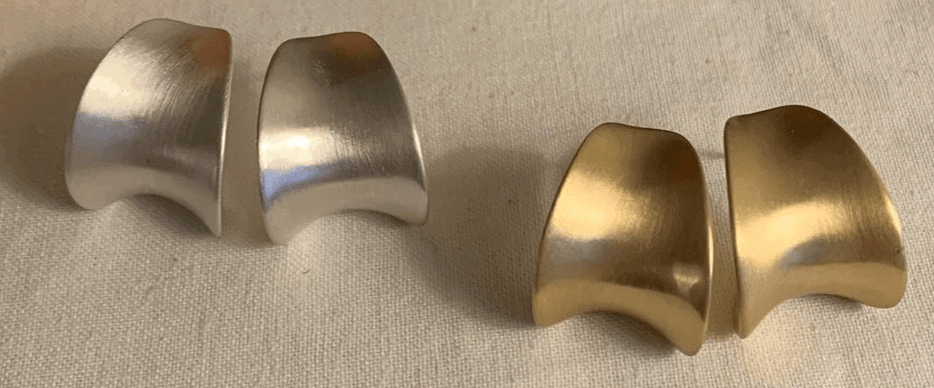 Large hoop earrings make a statement piece. These titanium earrings are handmade and feature a chunkier, playful look that can take an outfit from day to evening. These hoops are available in gold and silver finishes and have a push backing. Buy Here.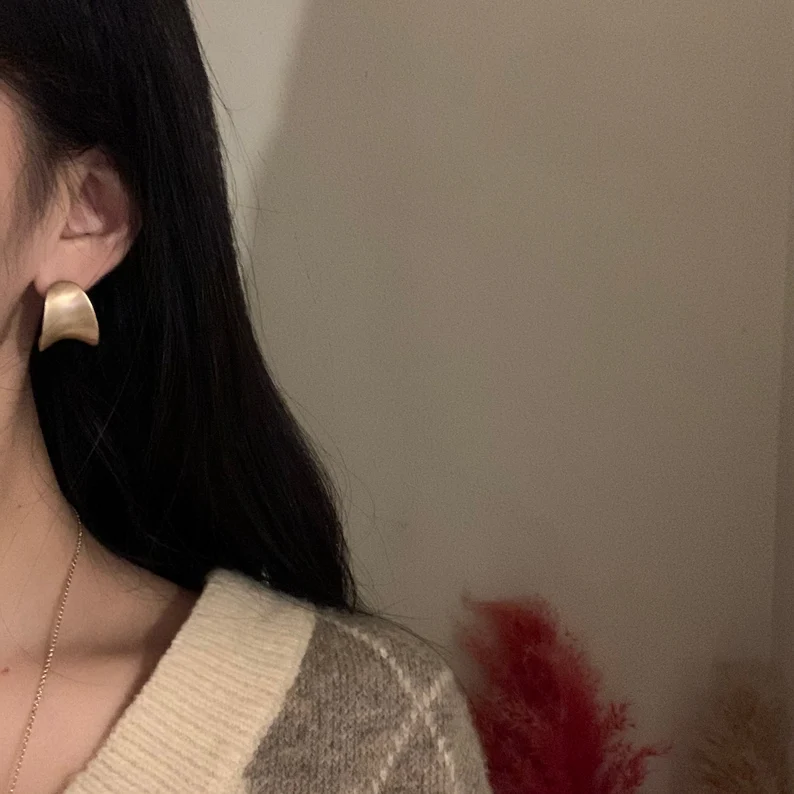 Chunky Curved Hoop Earring | Etsy
The post is made of nickel-free material plated with gold/silver, so it barely causes an allergic reaction. The customers who are even sensitive to gold or silver are satisfied with our earrings.
Check Price
We earn a commission if you make a purchase, at no additional cost to you.

Suitable for septum, cartilage, and daith piercings, this versatile V-shaped hinged earring costs under $15 and is handmade. The minimalist style is available in a gold or silver hue, with cubic zirconia gemstones. Buy Here.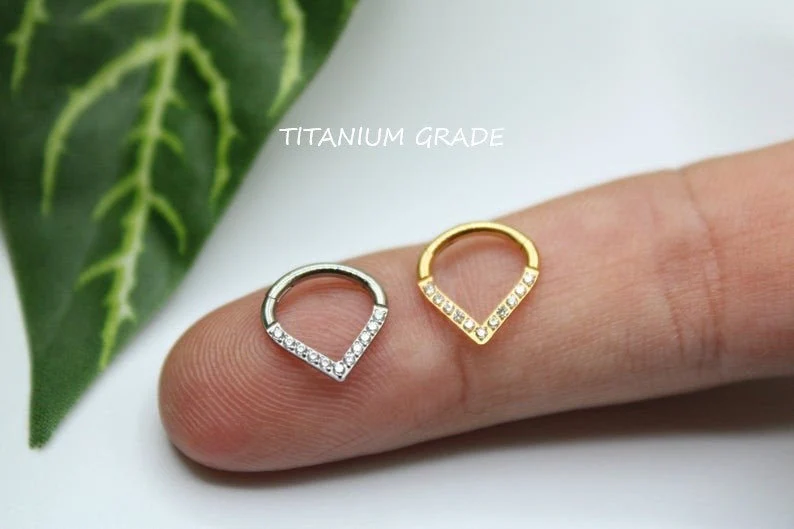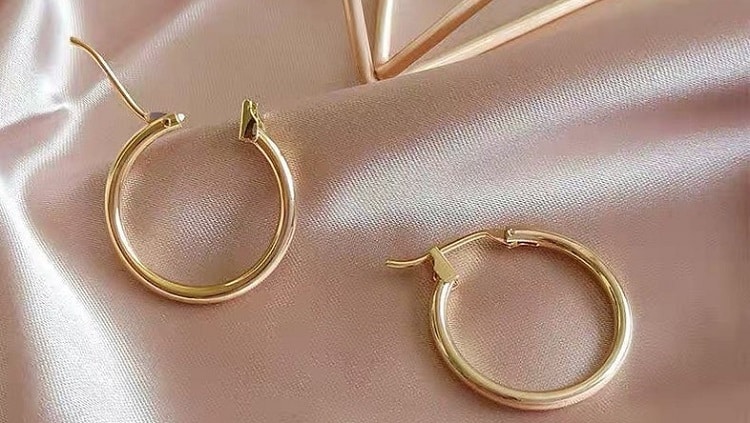 It's easy to see why these titanium hoop earrings are bestsellers. Nickel-free, with a dainty, minimalist look, they're available with an 18K gold or 925 silver finish. They're also available in multiple sizes and have a push-back closure. Buy Here.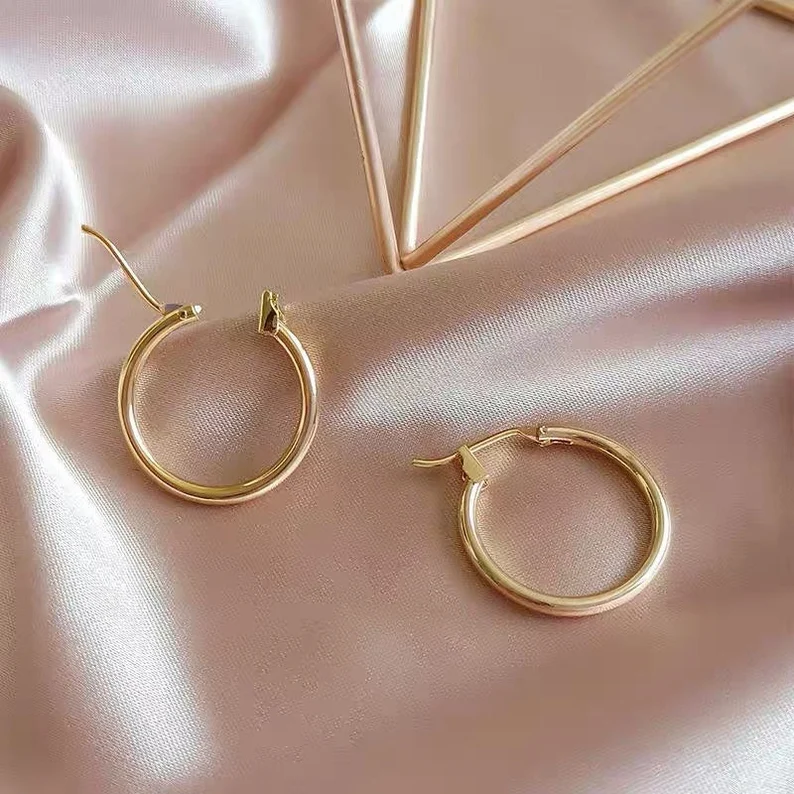 Titanium Gold Hoop Earrings | Etsy
Perfect every day Gold Earrings, made with a thick plating of 18k Gold to ensure that your earrings stay shiny and are hypoallergenic.
Check Price
We earn a commission if you make a purchase, at no additional cost to you.
Dangle/ Drop Titanium Earrings
Dangle and drop titanium earrings are a way to make a statement without needing the glitz or price of gemstones or diamonds. They can be modern, but also classic as well. While minimalist dangle earrings suit titanium, chunky looks work for boho and free-spirited styles.
Crystal Titanium Earrings- Simply Whispers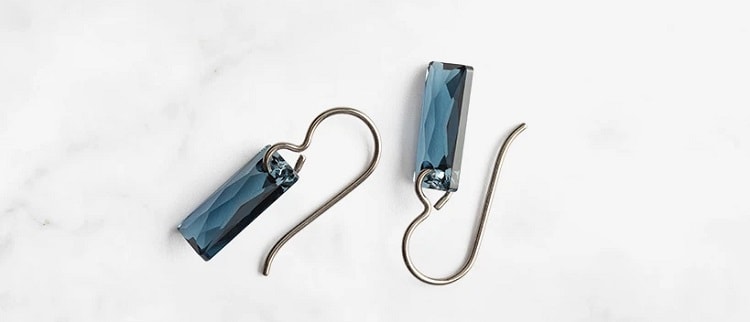 This collection features shaped crystal dangle earrings in blue, gold, pink, green, red, turquoise, and creamy white. Shapes include rectangles, teardrops, and oval. A simple and streamlined design makes an instant modern classic. Buy Here.
Edward Mirell Black Titanium Post Earring- Ice Carats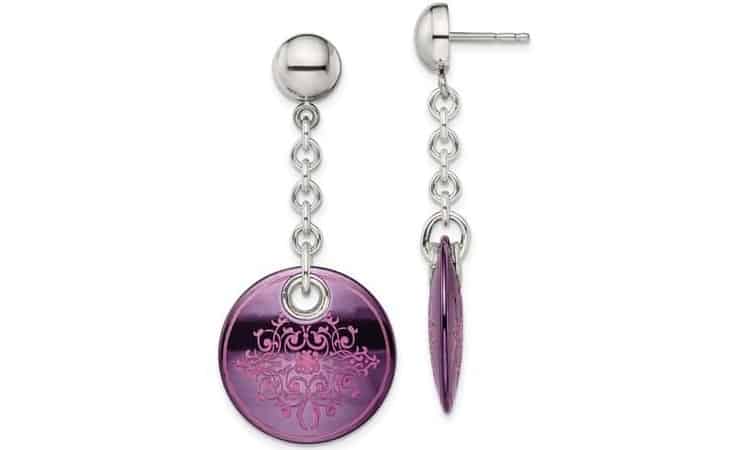 This post earring is made with both 926 sterling silver and titanium. Polished metal accompanies an alternative design, with a chain drop and colored pendant. The look is both unique and youthful. Buy Here.
Rose Gold Plated Titanium Chandelier Earrings- EurestiDesigns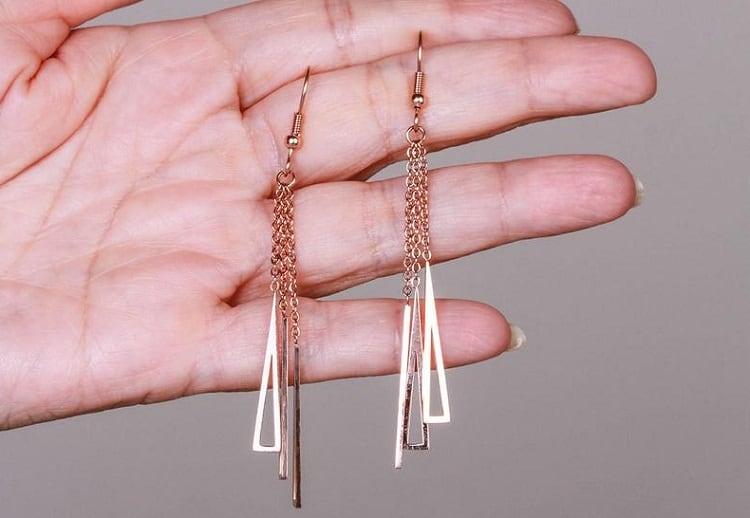 These handmade chandelier earrings feature lightweight elegance, complemented with quality 14K rose gold plated titanium. The ear wire design has a minimalist but beautiful style and can be worn on the ear lobe.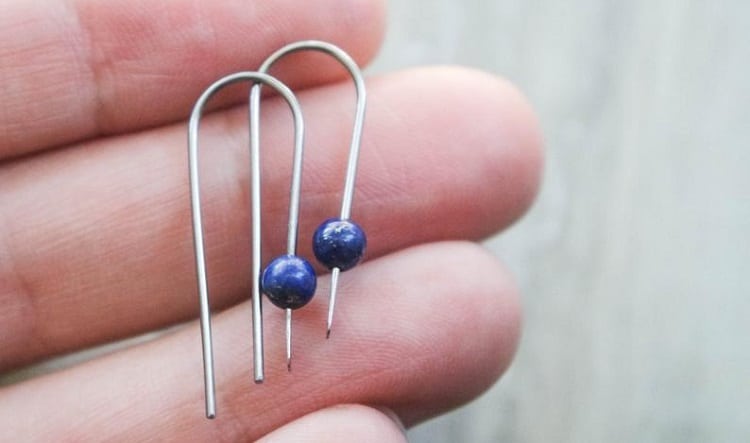 Perhaps the most truly minimalist and modern titanium earring from my picks, these are handmade. Thin wiring is accompanied by two gemstones– available not only in moonstone, but 23 options in total, from jade to quartz, opalite, and even lava rock. Buy Here.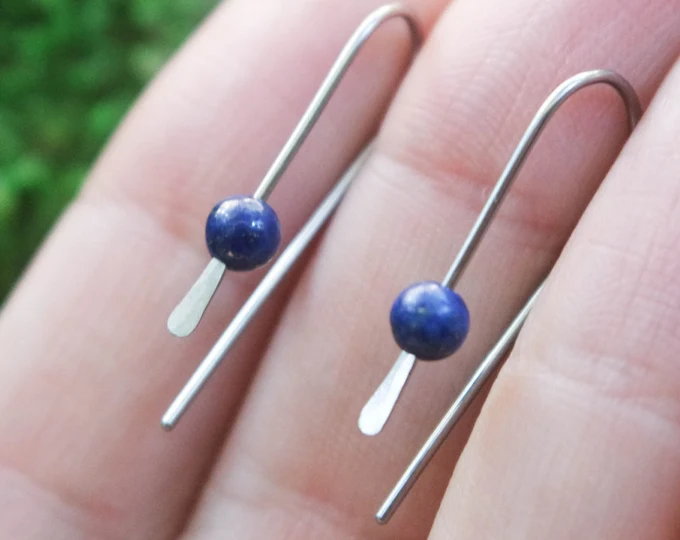 Titanium Moonstone Dangle Earrings | Etsy
These earrings are made from your choice of 20g Niobium (nonallergenic) or 20g Titanium (nonallergenic). They are filled smooth for comfort, and most importantly, will not bother your ears!
Check Price
We earn a commission if you make a purchase, at no additional cost to you.
Acetate Disc Earrings on Titanium Hooks- ElizabethQDesigns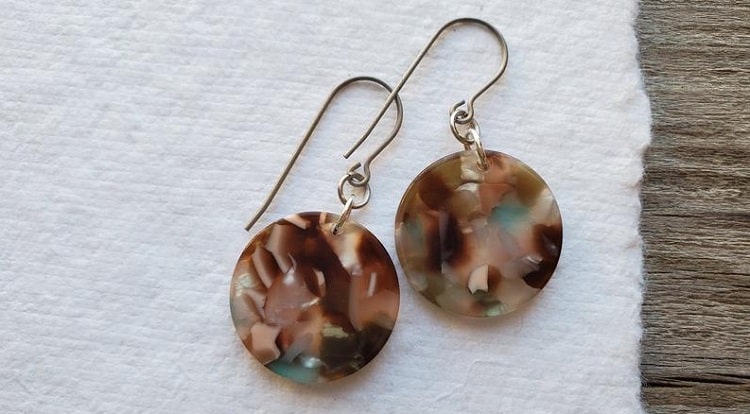 These titanium dangle earrings have a natural, earthy style to them. The acetate discs are lightweight and comfortable and have a unique pattern, well suited for everything from jeans to a casual dress. 
Titanium Celtic Filigree Dangle Earrings- OuhLaLaEarrings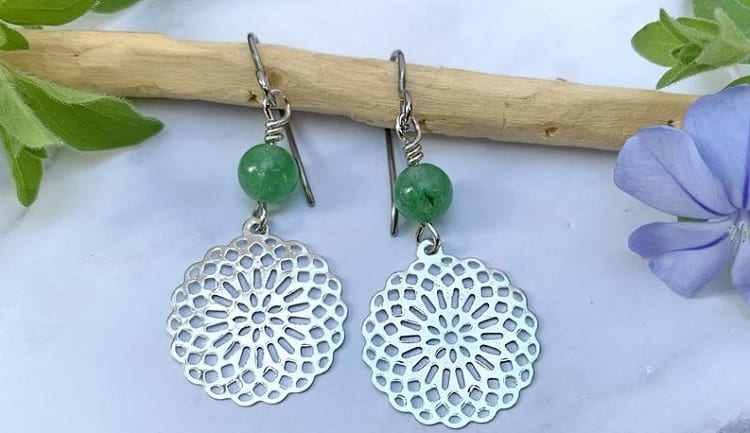 Filigree charms and lively green beads dangle for a beautiful nod to Celtic traditions. The pendant has a traditional pattern design and can even be customized or made to order. Niobium hooks and titanium wiring make a hypoallergenic option.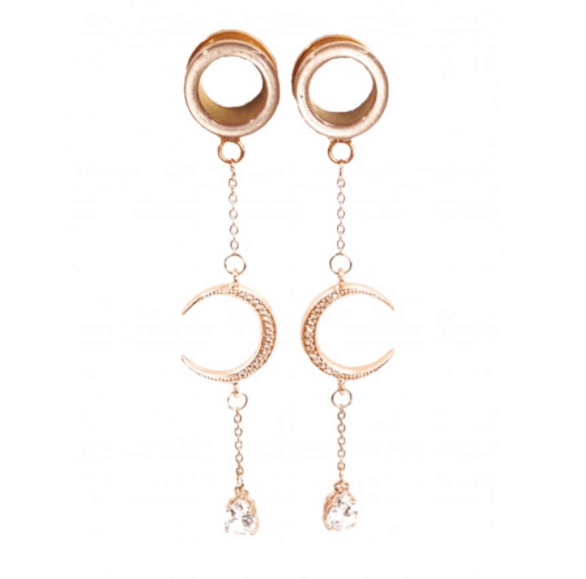 This earring can be worn as dangle plugs and ordered in multiple sizes. A satin rose finish is a beautiful accent, and the moon charm provides natural and celestial vibes. Buy Here.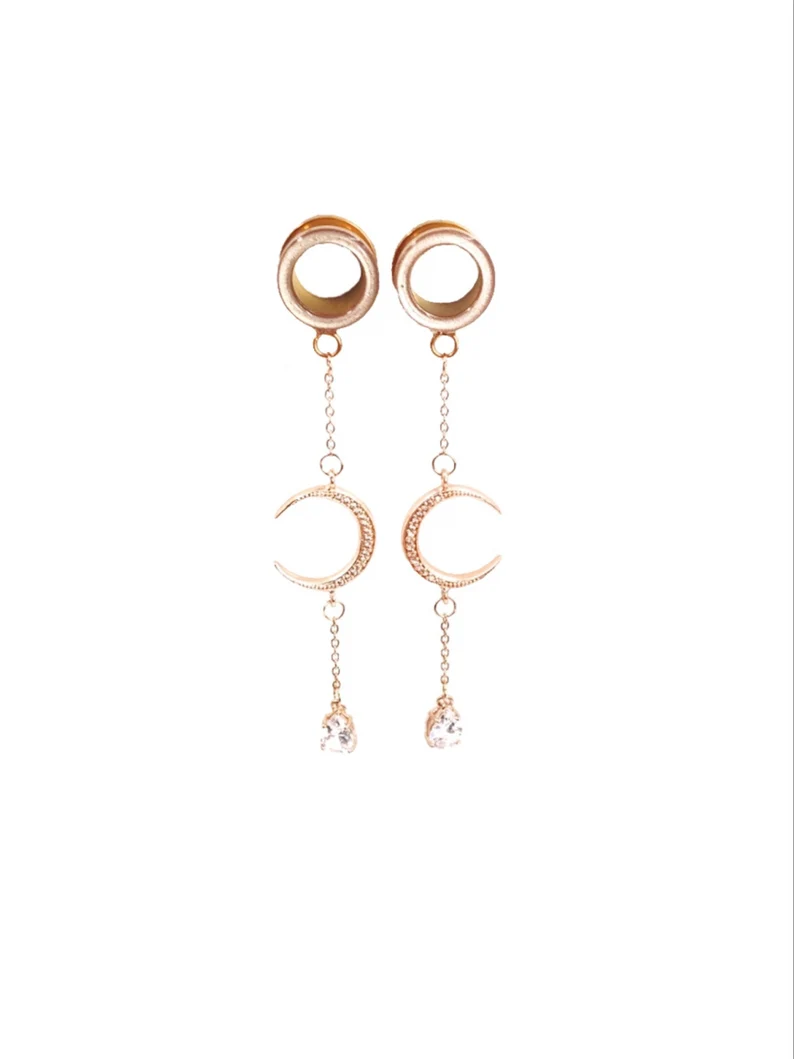 Satin Rose Tunnel Chain Drop Titanium Earring | Etsy
These rose gold satin tunnel plugs feature a matching rose gold chain drop that has a rose gold moon featuring small CZ crystals as well as a matching CZ teardrop crystal at the bottom.
Check Price
We earn a commission if you make a purchase, at no additional cost to you.

A deceptively simple, minimalist design is clean, modern, and polished. Ear wire enclosure and a swirled design make for a versatile and practical earring. You can pair this with both casual and dressy looks. Buy Here.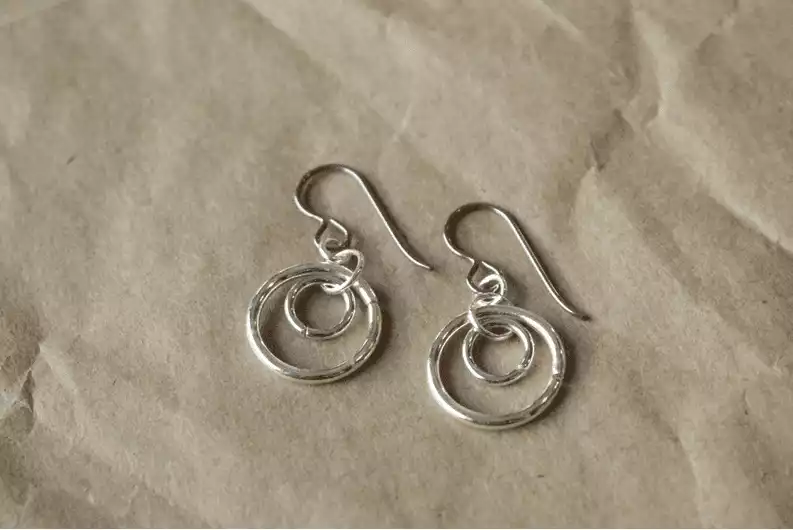 Shiny Brass Geometric Dangle Earrings- ElizabethQDesigns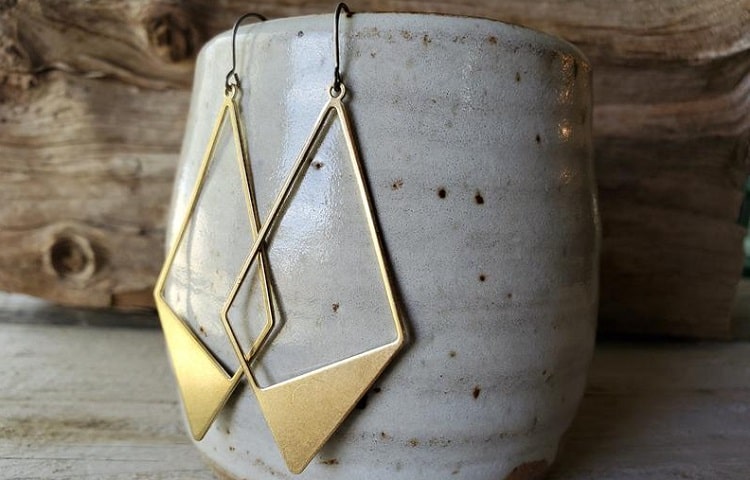 This geometric design of dangle earrings features a unique diamond shape and thin metal with a refined modern look. The Bestelling and handmade earrings are made of brass and titanium with an ear wire enclosure.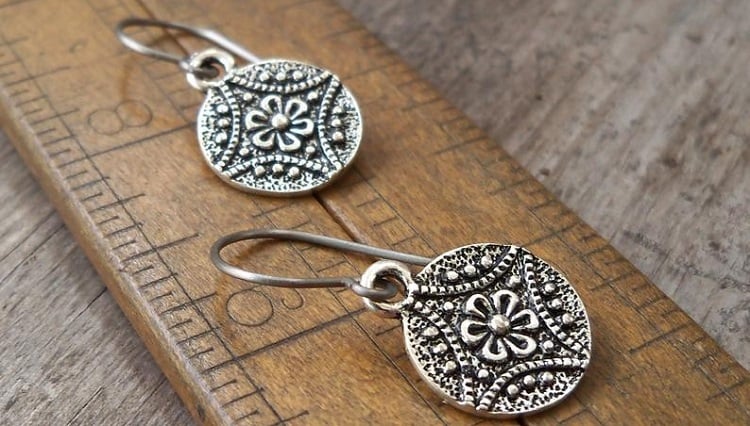 Everyday earrings with an understated but beautifully crafted look, these titanium dangle earrings are handmade, bestsellers, and under $15. Lightweight and polished, an intricate floral design adds interest to a modern style. Buy Here.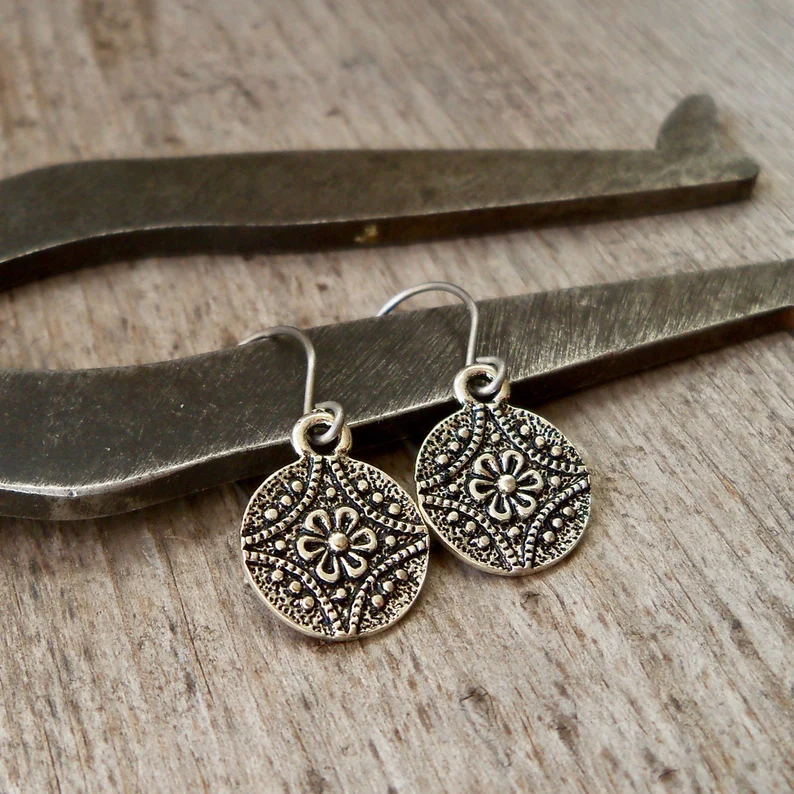 Titanium Dangle Floral Earrings | Etsy
These are the perfect everyday earrings. If you like something simple and comfortable that goes with anything, this is the answer.
Check Price
We earn a commission if you make a purchase, at no additional cost to you.
Frequently Asked Questions
Question: Do Titanium Earrings Turn Your Skin Green?
Answer: Green skin indicates an allergic reaction between your skin and the metal. This is most common in nickel heavy metals. Since titanium is nickel-free and hypoallergenic, you shouldn't worry about it turning your skin green.
Question: Is Surgical Steel Better than Titanium?
Answer: Surgical steel, or surgical stainless steel, is also a strong and durable metal that's considered hypoallergenic. It tends to be very low nickel, while titanium is nickel-free. It is a little heavier than titanium, but perhaps slightly more common for earrings. All told, I would not consider one better over the other.
Question: What is Better: Titanium or Sterling Silver?
Answer: For those with sensitive skin, titanium is typically the preferred option to sterling silver. Titanium is also more lightweight, more durable, and does not tarnish.
Final Thoughts
Titanium earrings are durable, lightweight, and normally quite affordable. Both those with sensitive skin and anyone simply in search of durable earrings may find this type of earring to be one of the best ideas for their lifestyle.
While your selection is limited vs solid gold jewelry, hopefully, my picks give you some inspiration on where to buy your own pair of earrings.
| Product Image | | Primary Button |
| --- | --- | --- |
| | | |
| | | |
| | | |
Best Diamond Titanium Stud