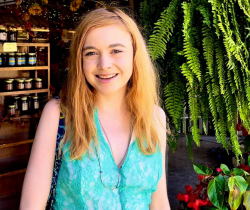 Latest posts by Erin Jamieson
(see all)
In 2022, jewel tones and bold hues are gaining popularity, as are statement necklaces with iconic gemstones. And Van Cleef is showcasing their best with their newest collection of classic high jewelry. 
In July, Van Cleef collaborated with the Muséum National d'Histoire Naturelle in Paris for a special exhibition showcasing the "journey of precious stones." This collection was designed to show the intersection of art and science– and place an emphasis on gemology. 
Far from just showing off beautiful styles, the Van Cleef pendants and accessories showed off the beauty of crafting gemstones into works of art. The idea of the exhibit was not merely to show Van Cleef's artisan work, but also to show how integral the connection between science and art is. 
This stunning showcase wowed with gold and gemstone pieces– but most importantly, in its scope. In many ways, Van Cleef is proving it's not only still relevant in 2022 but it renewed interest in how high jewelry is made. 
Of course, you don't have to be in Paris to enjoy Van Cleef's workmanship. In this guide, I'll tell you what you need to know about Van Cleef necklaces and provide some of my favorite picks for 2022. 
Bottom Line Up Front: In my opinion, the best Van Cleef necklace is the sweet alhambra necklace. It's a gorgeous pendant necklace that will never go out of style, and it's the most affordable on this list! 

What is Van Cleef?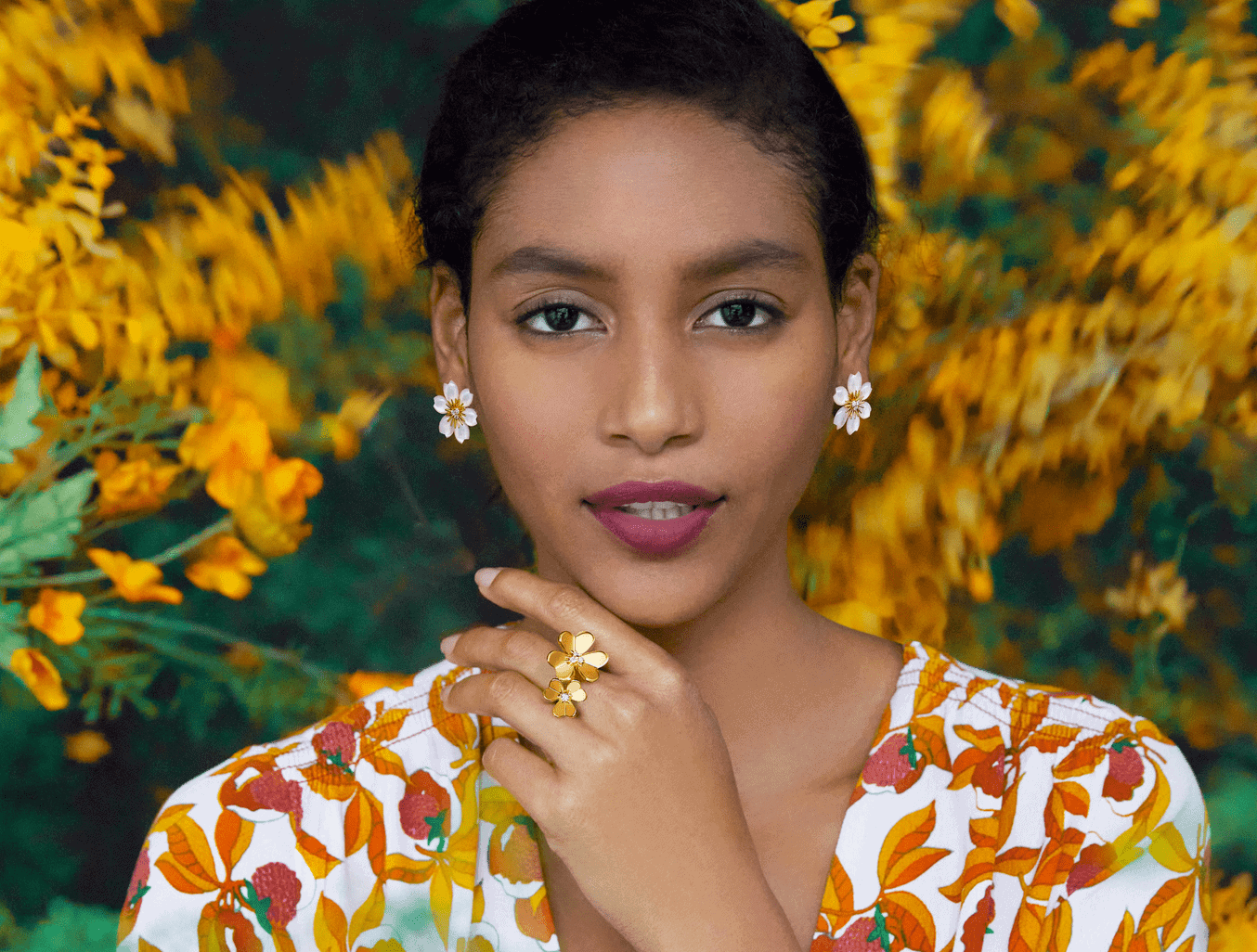 Van Cleef & Arpels, most commonly known simply as Van Cleef, is a French luxury brand. Though they're known for their jewelry, they also sell perfume and watches. Founded in 1896 by Alfred Van Cleef and father-in-law Salomon Arpels, the company was passed down generations and became prominent by opening stores within popular holiday destinations within France.
 But the crowning achievement that really put Van Cleef in high esteem wasn't until 1925, where a ruby and diamond bracelet was awarded top honors at the International Exposition of Modern Industrial and Decorative Arts. 
Where Is Van Cleef Made?
Van Clef is made in Paris, but they do have boutiques elsewhere. Some of the notable boutiques are located in Geneva, Munich, London, Zurich, Milan, Shanghai, and some locations within the Middle East and Southeast Asia. Notable American store locations include Houston, Chicago, Boston, New York City, Las Vegas, Beverly Hills, Naples, Aspen, and Palm Beach. 
They offer some online shopping, but for many pieces you need to call for availability or visit a store. 
Why Is Van Cleef So Popular?
Van Cleef is elegant and timeless. Their designs are crafted with classic nature motifs that never go out of style. They add to their collections year after year to keep things interesting and make a splash, but they stick to understated elegance instead of going directly after trends. Another reason is that many celebrities, royalty, and well-known figures in power have worn Van Cleef. This includes Princess Grace Kelly and Elizabeth Taylor. 
What Does The Van Cleef Clover Represent?
Perhaps nothing is more iconic from Van Cleef than the Van Cleef clover. In fact, the clover is a good part of why they remain popular– and an example of how the luxury brand has captured an elegant and timeless look. 
The clover, which is now one of the most popular motifs from Van Cleef, was introduced in 1968. It symbolizes exactly what you might imagine: fortune and good luck. The classic four-leaf clover design is also associated with success in love and good health. 
Why Is Van Cleef So Expensive?
When you're buying a luxury brand that's as popular as Van Cleef, expect to pay more than your average jewelry brand. You're paying for the iconic name, how desirable it is, and the fact that it's been worn, in part, by public figures. But that isn't the only reason.
As understated and elegant as Van Cleef pieces are, they also tend to include intricate details. These details set them apart from competitors and add classic touches. 
Is It Worth Buying Van Cleef Necklaces?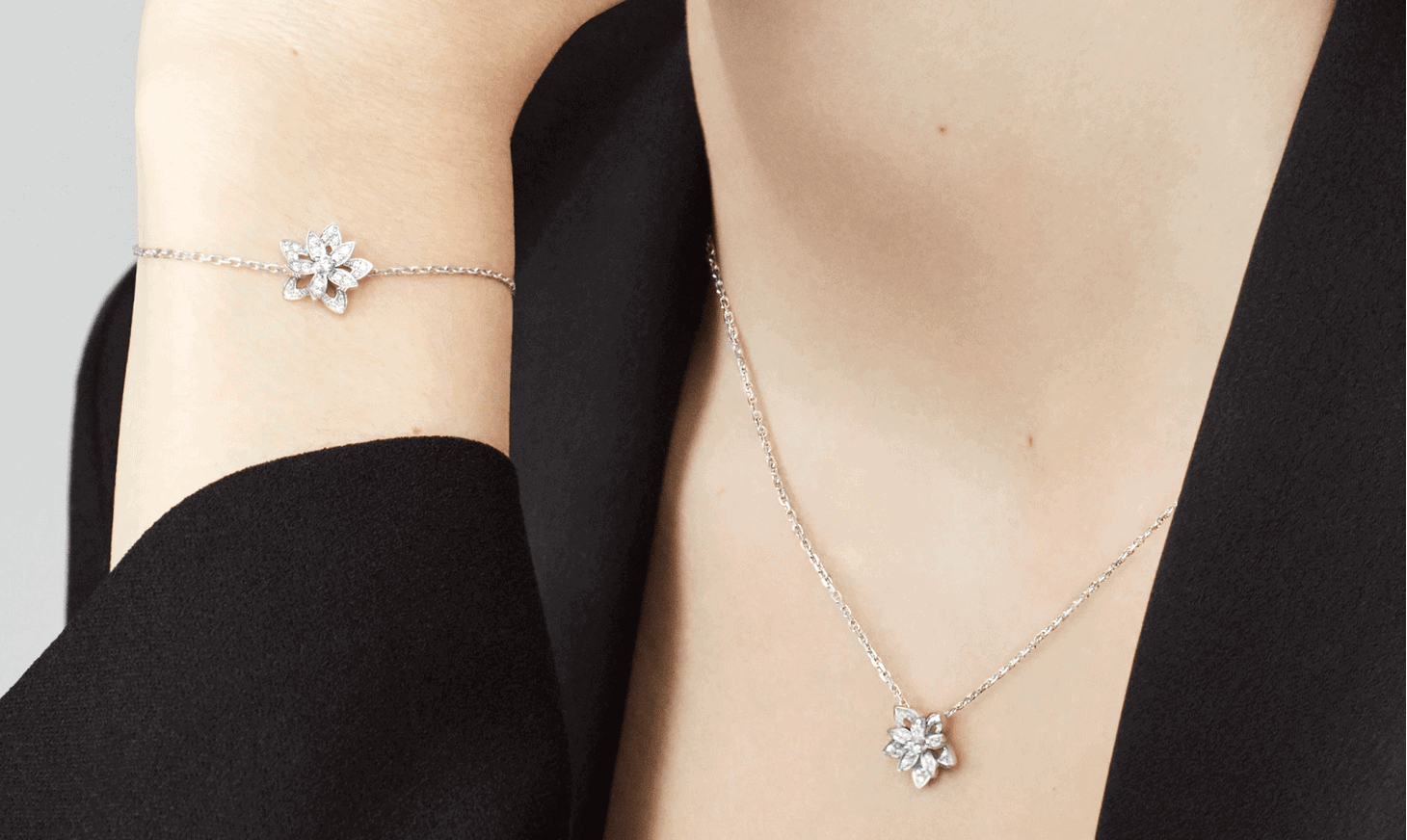 I never recommend buying any necklaces you can't afford. But even if Van Cleef is in your budget, are their necklaces worth buying? Already, the timeless designs, intricate details, and sheer elegance are great reasons to buy. But I also wanted to take a look at the materials used, style variations, and how well Van Cleef jewelry holds its value. 
Does Van Cleef Use Real Gold?
Van Cleef uses both 18K yellow gold and 18k white gold for its necklaces, bracelets, and rings. In fact, Van Cleef jewelry is stamped with "750", which means that their jewelry is a 75 percent gold alloy. 18K gold is frequently used in fine jewelry. While 22K and 24K gold has a more brilliant luster and is more valuable, 18K gold is an excellent choice. 
The higher the gold purity, the softer the metal type, and the easier it is to scratch. For this reason, I myself, and many others actually prefer 18K gold, especially for the jewelry you'll wear often. It's a great balance of durability and beauty. 
Does Van Cleef Jewelry Hold Its Value?
Van Cleef jewelry, and necklaces in general, hold their value, though not as much as some luxury brands. For the average jewelry brand, you can expect only a fraction of the original price to hold. The average Van Cleef jewelry piece can hold up around 50 percent of its value over time. If you want the very best value, the Alhambra collection tends to have resale value that well exceeds that. 
As a whole. Van Cleef does hold its value, but it depends on the piece how much resale value you'll get. With the brand's esteemed reputation, some necklaces may be worth even more in the future– especially those depicting the iconic four-leaf clover design.  
What Types of Necklaces Does Van Cleef Sell? 
Van Cleef has a stunning collection of necklaces that include diamonds and fine gemstones. Fine gemstones include malachite, mother-of-pearl, tiger eye, agate, chalcedony, turquoise, letterwood, carnelian, lapis lazuli, onyx, and sapphire. These include mostly pendants and station necklaces. 
The designs are elegant and classic, with pops of color and unexpected details. True to their name, a majority of pendants are nature-themed. Clovers, flowers, and butterflies are the most recognizable motifs. While Van Cleef excels in understated elegance, there is also a collection of Art Deco-inspired pieces that are lively. 
One thing you should know: Van Cleef favors yellow gold. You will find some options for 18k white gold, but you're going to find the most expansive selection of 18k yellow gold necklaces and pendants. 
How Much Do Van Cleef Necklaces Cost?
Van Cleef sells necklaces, pendants, and chains for necklaces. Between the three, the collection starts at $870 for a simple chain to $855K for a diamond snowflake transformable Van Cleef & Arpels necklace. Half of the collection is below $14.7K– making it a notably expansive collection. Whether the price is worth it depends on your financial situation and what matters most to you.
How To Save Money
They're undeniably beautiful and iconic, but also in the high price bracket. I personally recommend buying their most iconic designs and skipping the plain chain necklaces. Though the plain chains are the most affordable, and the only options under $1K, they aren't recognizable enough. 
You can buy a quality 18K gold chain from companies like Brilliant Earth. Blue Nile, Jared, or Ritani. Then, you can potentially use the money you saved towards purchasing a pendant. Van Cleef doesn't typically have sales, so that's your best bet to save money. 
Van Cleef Necklaces: My Picks under $10,000
Now that I've told you what you need to know before purchasing a Van Cleef necklace, here are my favorite ideas. To make my selections, I consider how unique the style of the necklace is if the style is likely to hold up over time, and the quality of the design itself. Rather than sorting my collection, I've made my choices from least to most expensive. With a brand as expensive as Van Cleef, it's important to understand pricing before falling in love with a design. At the same time, I also wanted to point out a diversity of styles, so you can see the breadth of what Van Cleef has to offer. 
Here are my ideas for Van Cleef necklaces/ pendants in 2022, sorted from least to most expensive. All of my picks are under $10,000- which can still buy you some iconic options. Of course, there are higher diamond and gemstone carats the more expensive you go. Click Here for Van Cleef necklaces over $10,000.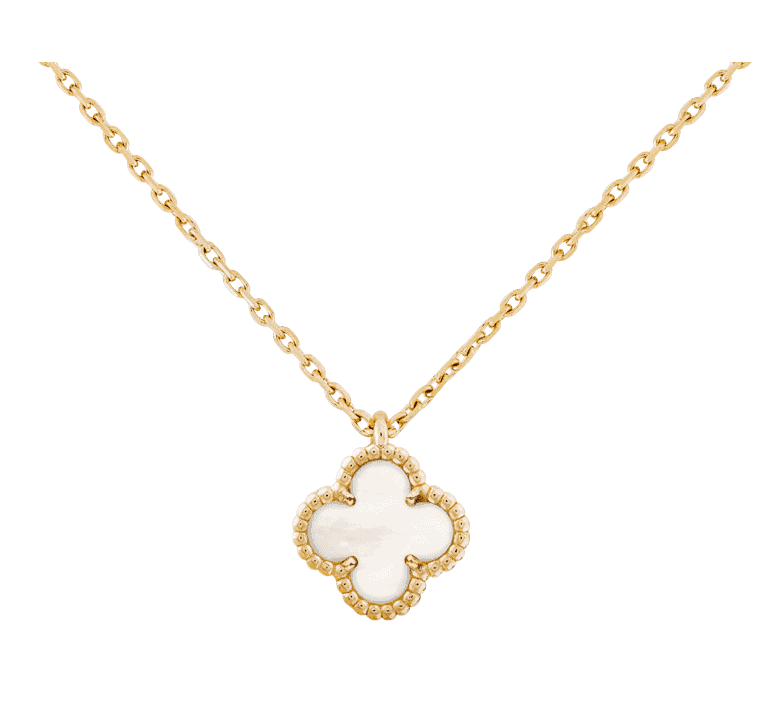 $1,450 will get you the most affordable pendant from Van Cleef. This light and sweet design are unlikely to ever go out of style, featuring a mother-of-pearl center stone with a yellow gold clasp. The petite design still makes a statement, but can easily be paired with pearl bracelets and earrings without making the style overwhelming. Available in the clover design or a butterfly motif. While not the most stunning pendant they sell, it may be the best value for the average customer. View the links listed.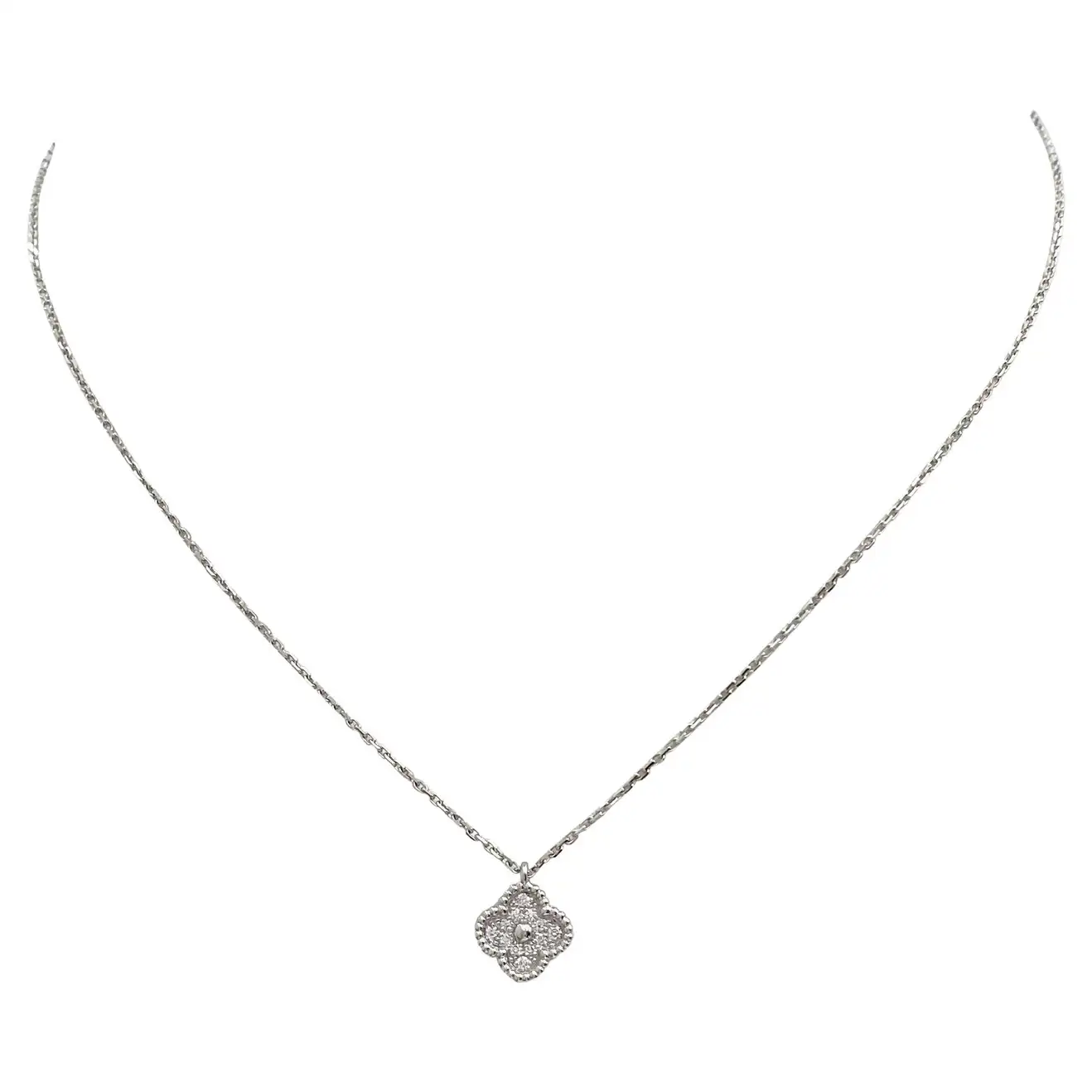 Sweet Alhambra White Gold Diamond Pendant | 1stDibs
Authentic Van Cleef & Arpels Sweet Alhambra pendant necklace crafted in 18 karat white gold and featuring a single clover-inspired motif pendant set with approximately .08 carats of round diamonds.
Check Price
We earn a commission if you make a purchase, at no additional cost to you.

Frivole Pendant, Mini Model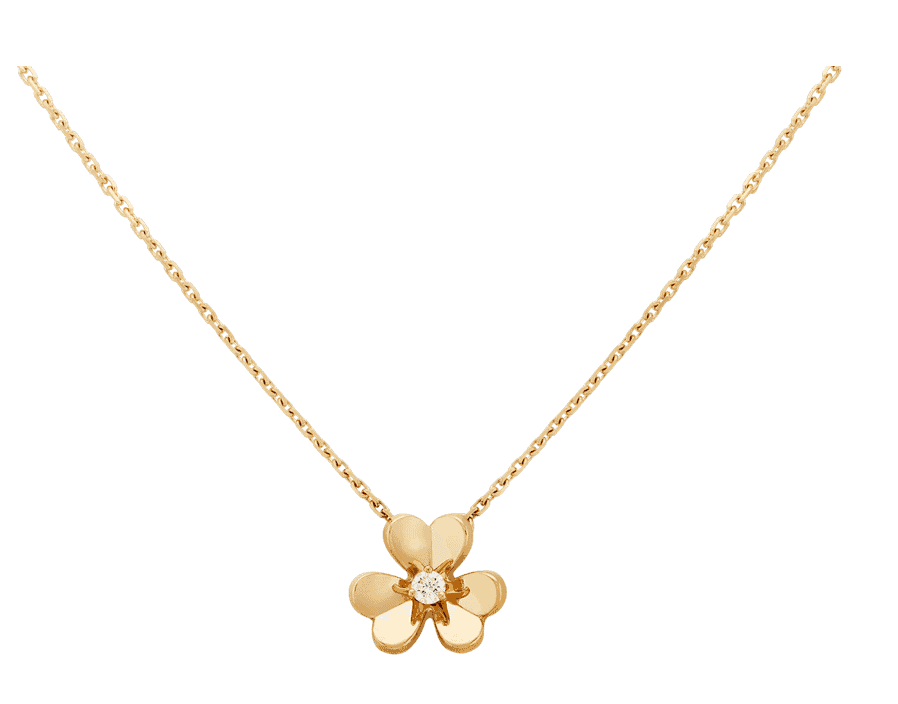 Yes, you can buy a large or regular-sized pendant of the same kind, but this Van Cleef pendant costs just $1,810, leaving you some money to spend on a chain for a beautiful pendant necklace. Meant to show the movement of flowers gently blowing in the breeze, mirror-polished gold exudes warmth, with beautifully crafted heart-shaped petals. The design includes a 0.05 carat, round cut accent diamond, set on yellow gold. View Here. 
Vintage Alhambra Pendant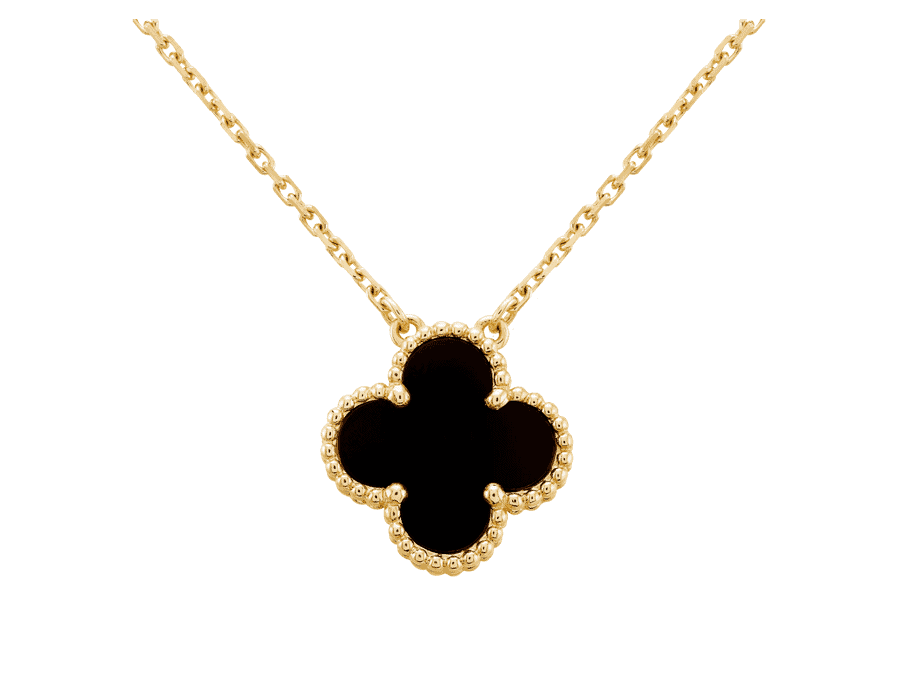 A bit more glamorous than the sweet version of this pendant, but still iconic, this pendant retails for $2,620. Available with an onyx or mother-of-pearl center stone, the classic clover motif is accented by yellow gold beads for luxurious, vintage-inspired detail. It's another excellent buy for its versatility, brand name recognition, and sense of timelessness. For a higher price point (averaging $2,900) I also recommend the same style with tiger's eye, carnelian, or malachite. View at links listed.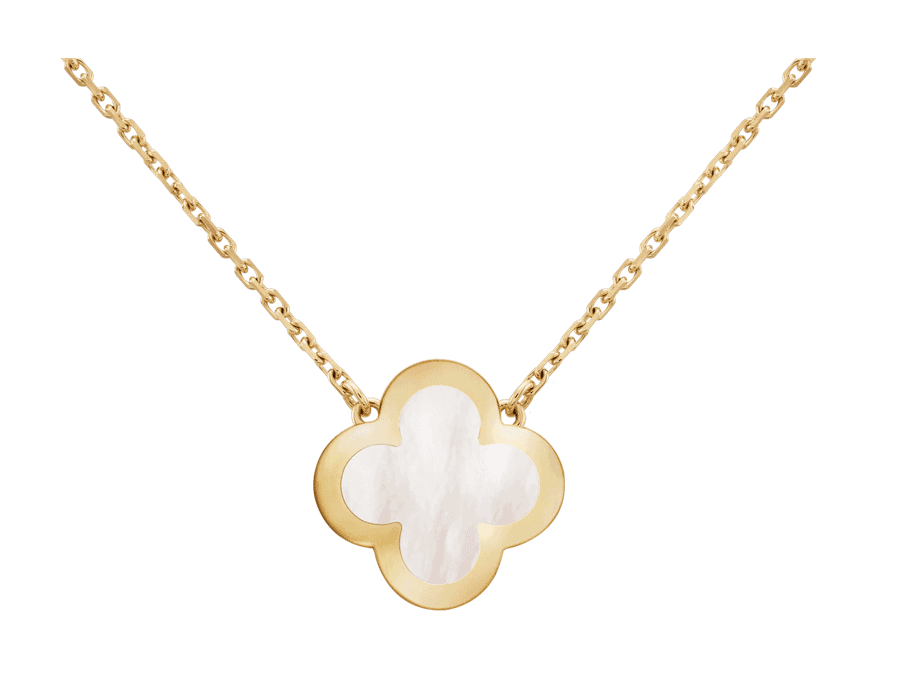 The classic clover motif gets a modern look with this $3,450 pendant. Polished yellow gold provides contemporary elegance and an iconic, smooth accent for the center stone. Purity and smooth lines are the focus of this pendant. Available with an onyx or mother-of-pearl center stone. View at links listed.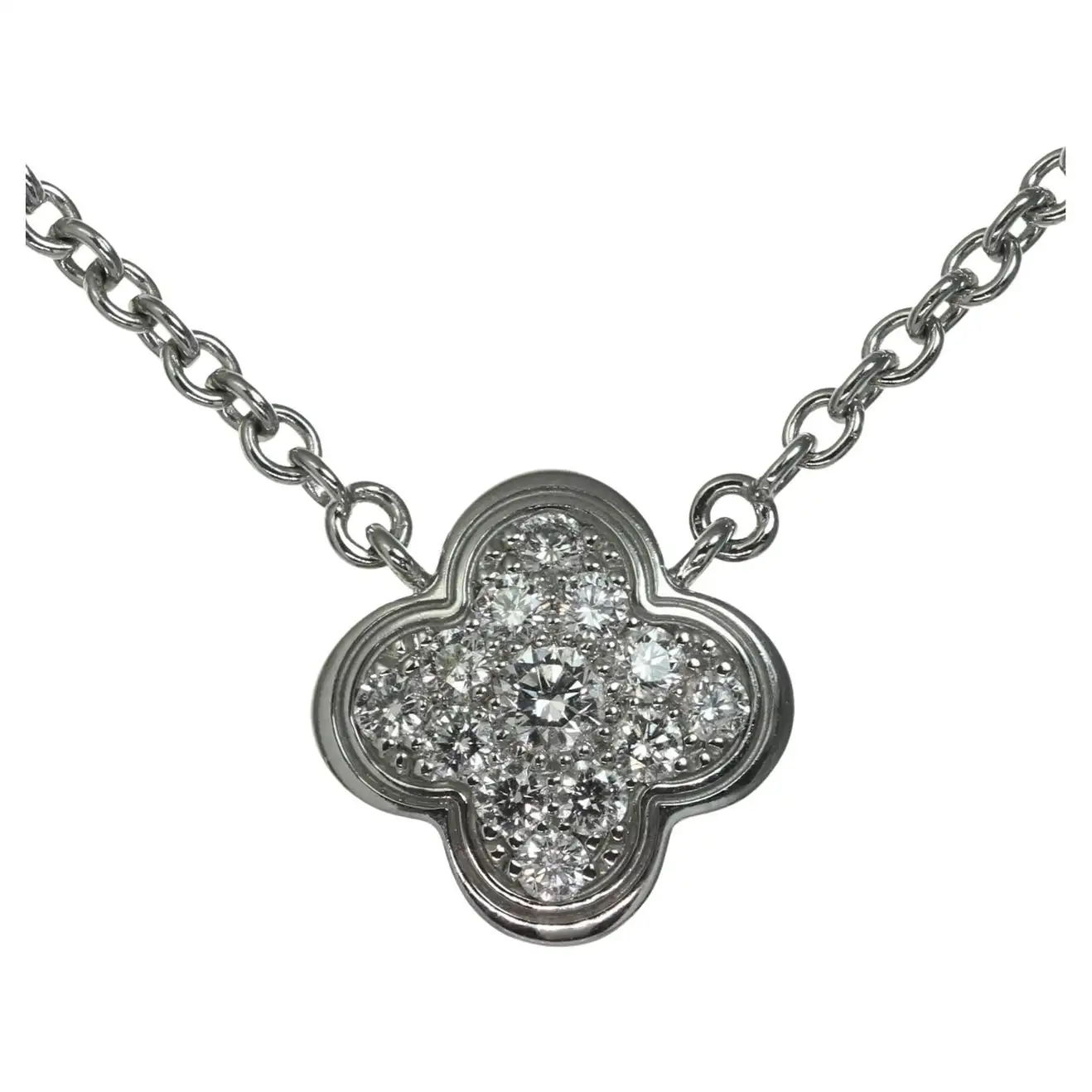 Pure Alhambra Pendant | 1stDibs
This fabulous Van Cleef & Arpels necklace from the iconic Pure Alhambra collection features the lucky clover pendant crafted in 18k white gold and set with D-E-F VVS1-VVS2 brilliant-cut round diamonds.
Check Price
We earn a commission if you make a purchase, at no additional cost to you.

3 Flower Frivole Mini Pendant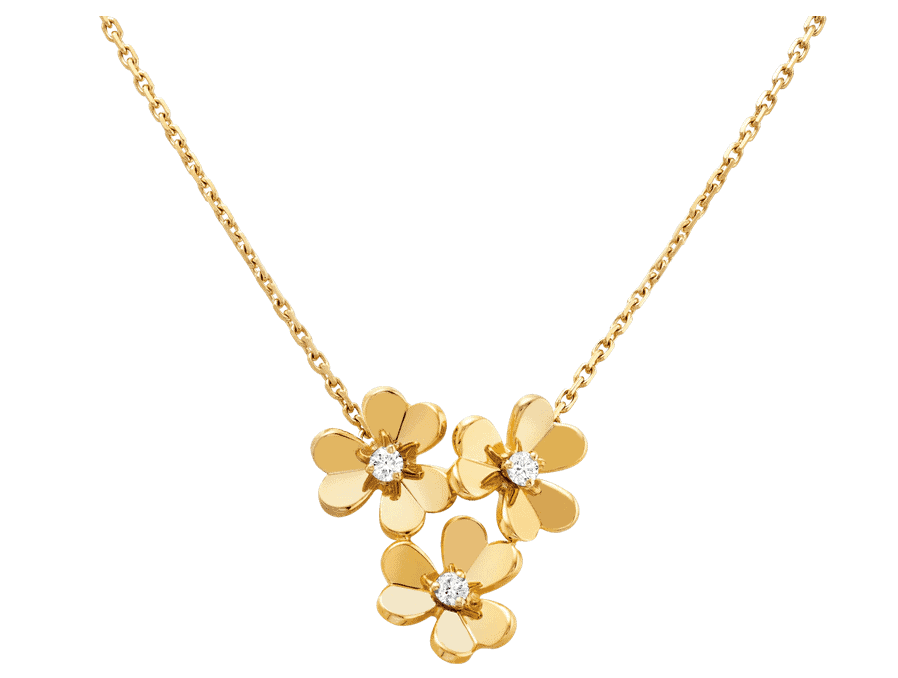 This pendant makes for a stunning, modern, and elegant statement necklace. Three flowers are crafted in yellow gold, with 3 accent round diamonds (0.16 carats). The polished gold and diamonds in a three motif pattern exude shine in the sunlight and can be worn for both casual and formal outfits. Priced at around $4,800; View Here. 
Perlee Diamonds Pendant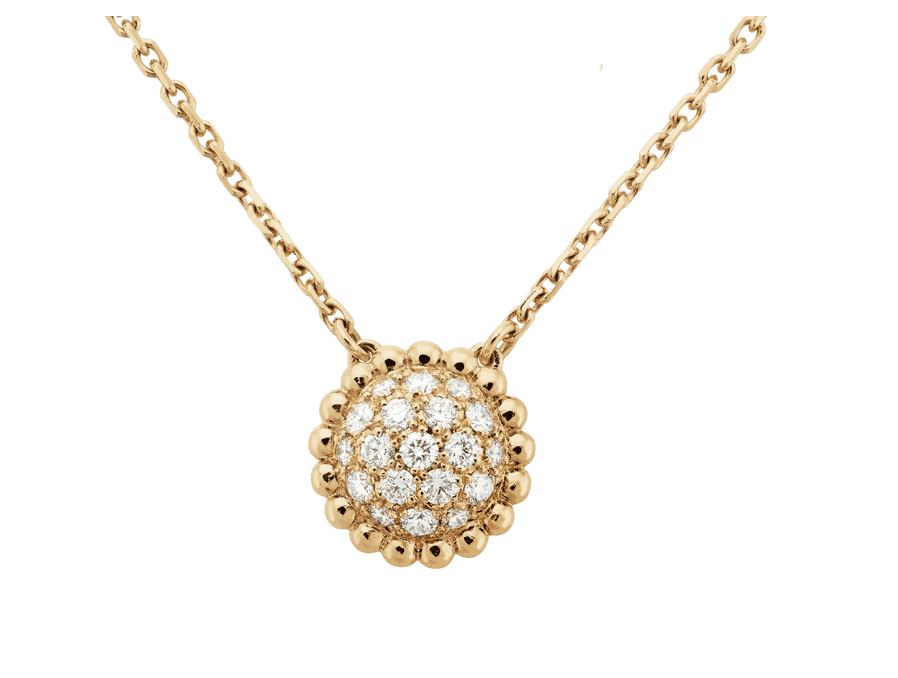 Longing for jewels? This $6,950 Van Cleef pendant is one of the more affordable diamond-forward options. 19 accent round diamonds (0.35 carats) accent the pendant. Contemporary ribbon designs are meant to highlight the brilliance of the diamond, along with beads accenting the perimeter. View Here.  (Also available in white gold for around $7,400).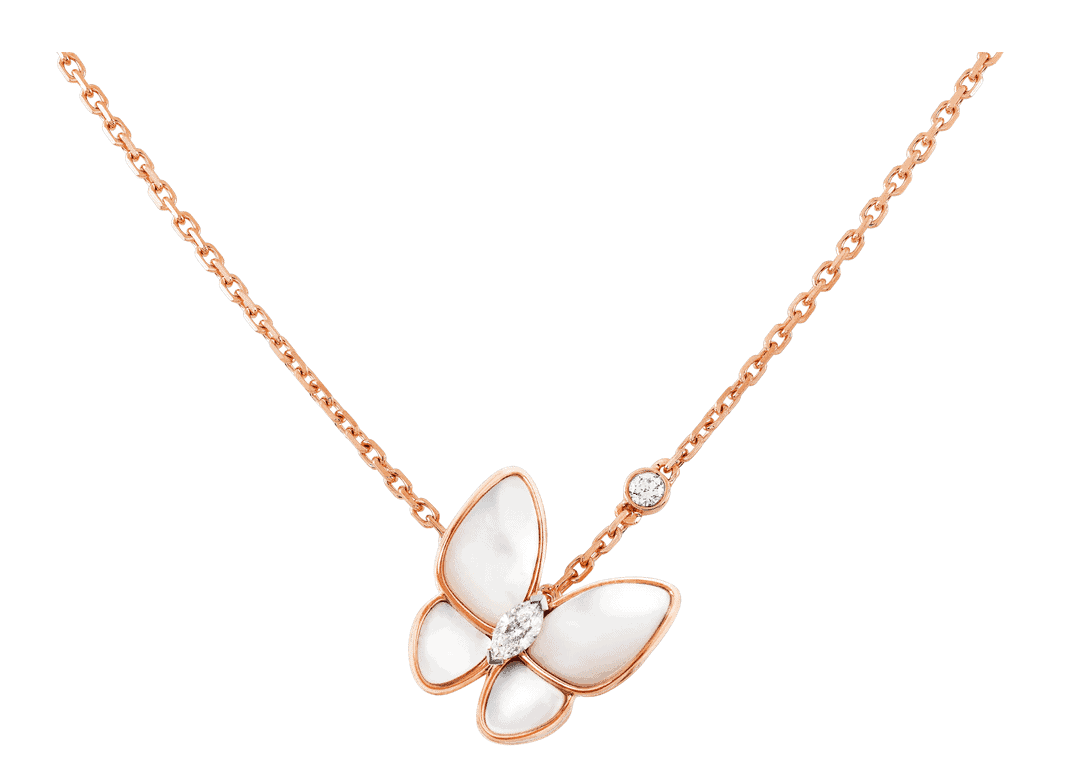 Butterfly necklaces are becoming more popular again in 2022, but with a designer like Van Cleef, they never truly go out of style. They make up one of the company's most popular thematic collections. This rose gold pendant is a beautifully crafted design, featuring an artistic tile, mother of pearl stones, and 0.2 carats of accent diamonds. The asymmetrical look provides a modern touch, without losing sight of classic craftsmanship. Priced at around $7,900; View Here.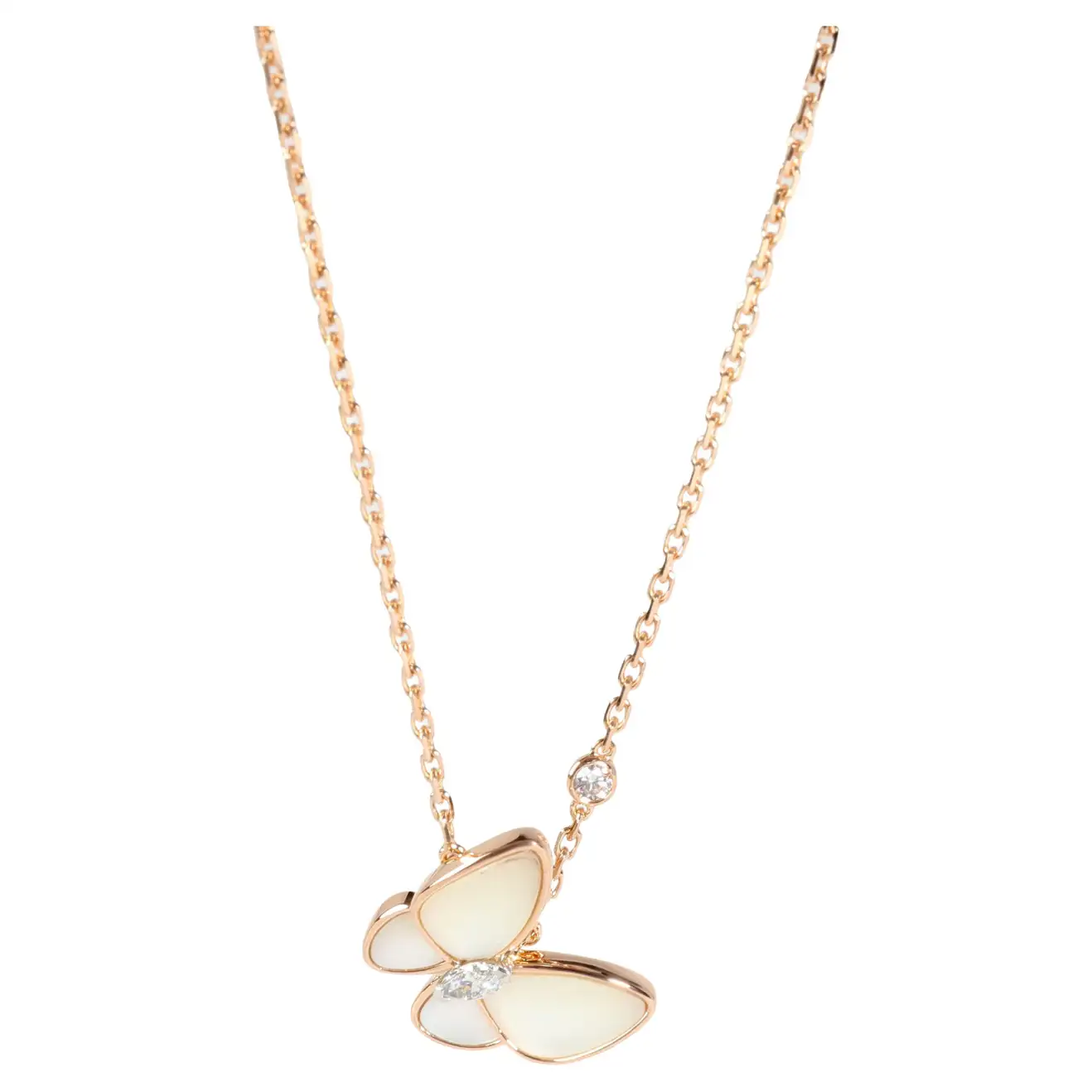 Two Butterfly Pendant | 1stDibs
These dazzling pieces combine color and asymmetry to reinterpret the grace and beauty of butterflies in flight.
Check Price
We earn a commission if you make a purchase, at no additional cost to you.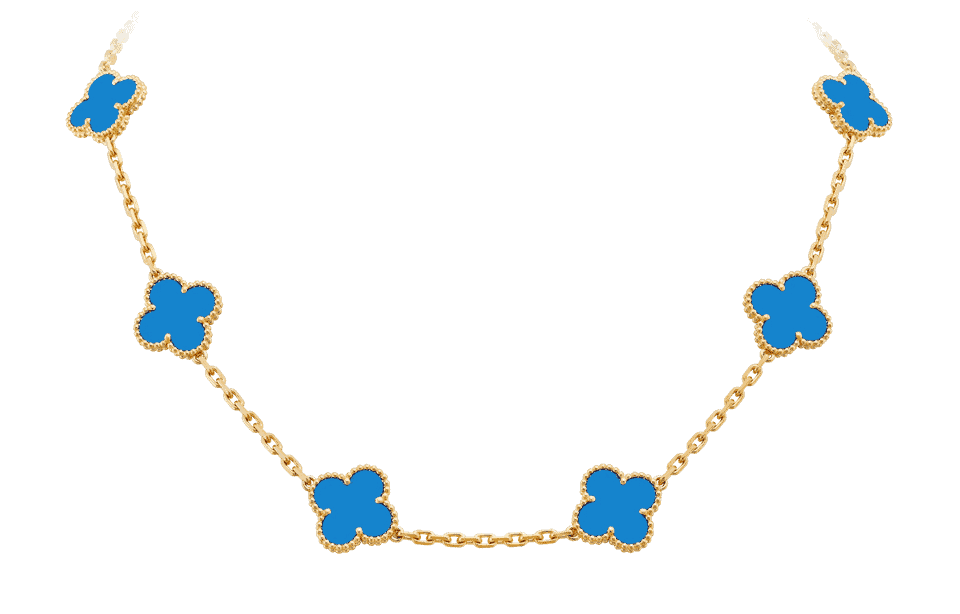 If you love the classic motif but want to make a bigger statement, consider this beautiful necklace from Van Cleef. 10 iconic motifs, with the beaded vintage details, make for a beautiful statement. Priced at $8,000 to $9050, you can select from onyx, yellow gold, mother of pearl, rose gold, carnelian, tiger's eye, and agate.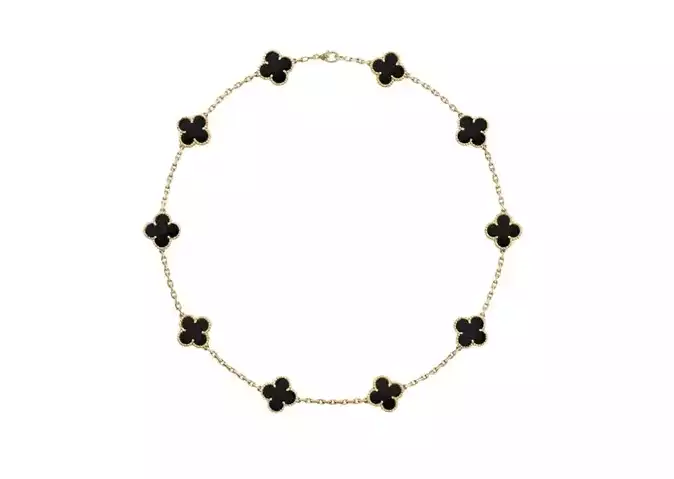 Vintage Alhambra 10 Motif Necklace | 1stDibs
Each design created in this style — which was crafted with great care and often made from Gold, 18k Gold and Yellow Gold — can elevate any look. In this selection of items, you can find a vintage example as well as a contemporary version.
Check Prices
We earn a commission if you make a purchase, at no additional cost to you.

Rose de Noel Pendant, Mini Model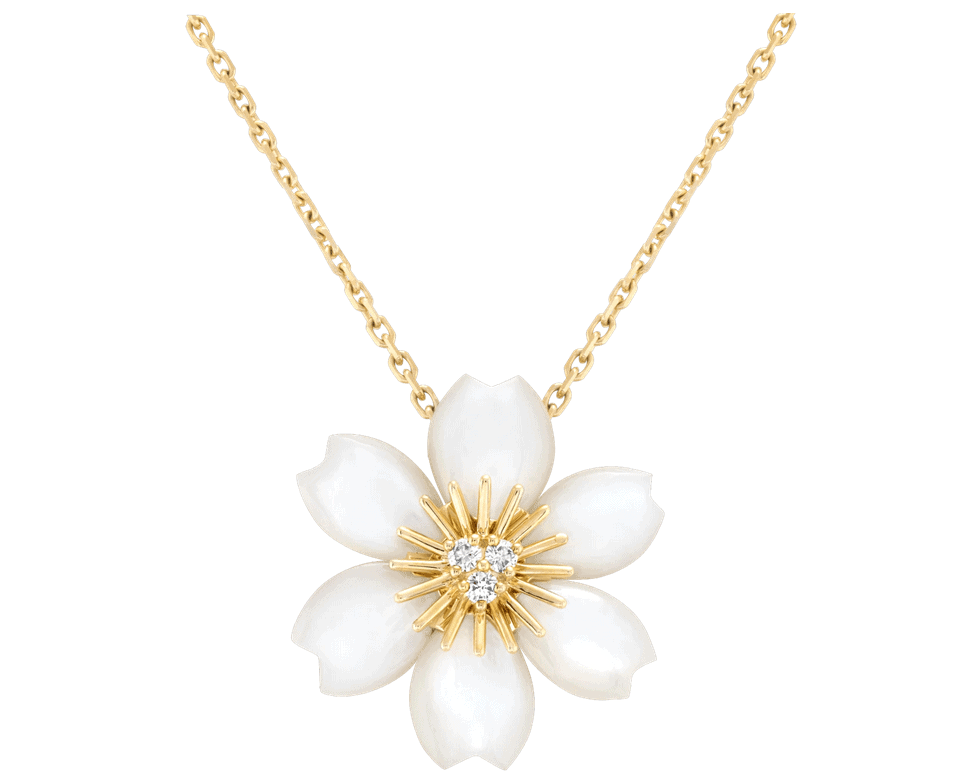 From the Rose de Noel collection, this exquisite $9,100 pendant is meant to express hope and promise. Designed originally as a Christmas collection, a mother-of-pearl bloom is accented with 0.11 carats of glittering diamonds and set on yellow gold. View Here. 
Magic Alhambra necklace, 6 Motifs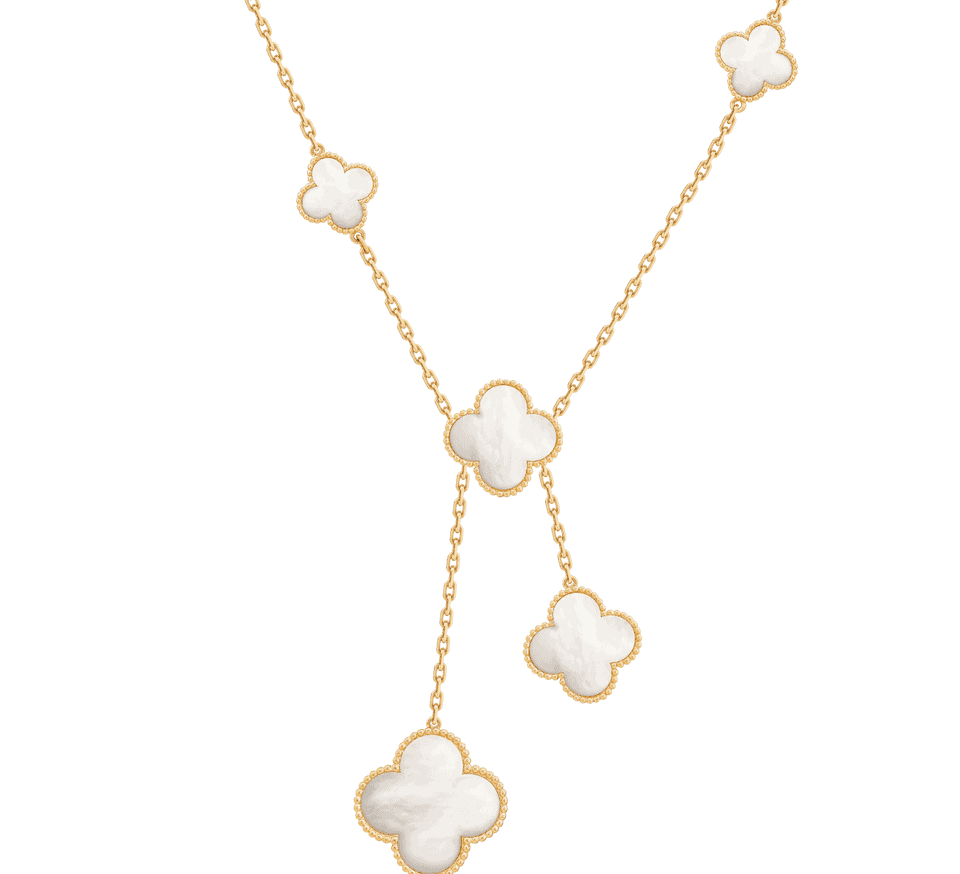 The iconic design is given an upgrade with this whimsical Alhambra necklace. Priced at $9.650, the necklace is again practicing in asymmetry, with 6 motifs of varying sizes. Mother of pearl stones is set on yellow gold and carefully constructed so that they almost appear to have motion. This artistic necklace is enchanting and playful at once. View Here.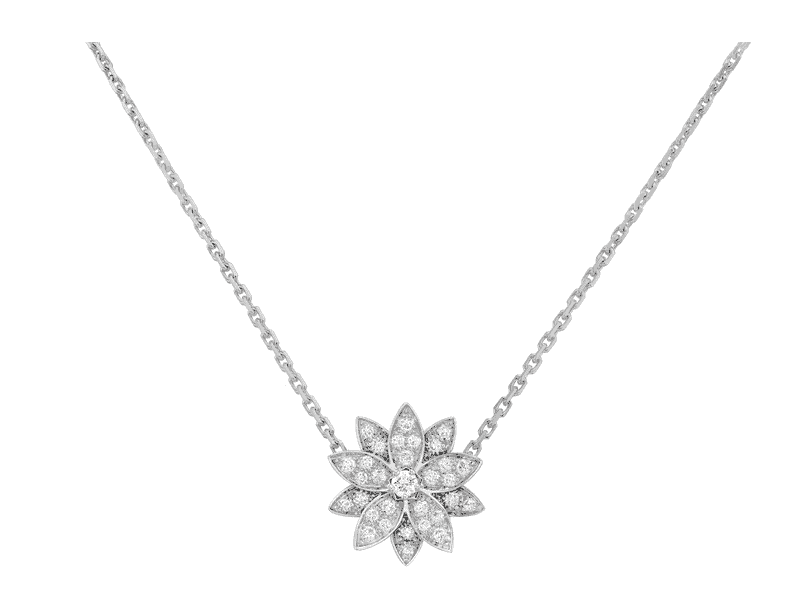 Technically this is just over $10,000, but it's close enough I wanted to include it in my more affordable picks from Van Cleef. This dazzling diamond necklace is set on white gold for a unique but still timeless option from Van Cleef. Designed to exude love, purity, and fulfillment, the pendant features high-quality round diamonds (31 stones, 0.46 carats) secured with a small Hallmark clasp. View Here.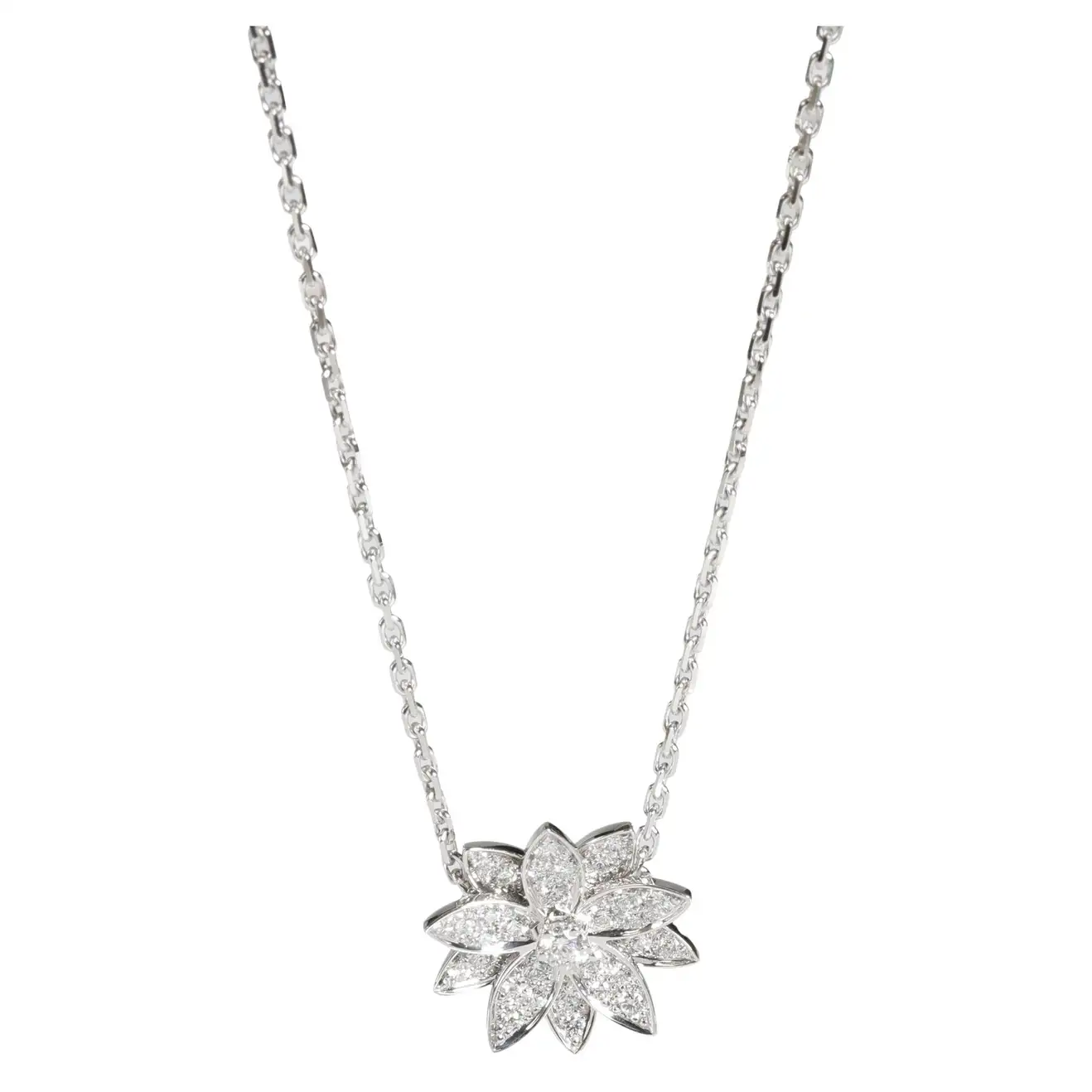 Frequently Asked Questions
Question: How can you tell a fake Van Cleef?
Answer: Your best way to avoid buying a fake Van Cleef necklace is to buy directly from Van Cleef. That said if you do buy from a third-party seller to save some money, be careful. A price that's too good to be true is a sure sign it may be a fake. I recommend checking out the current prices of Van Cleef necklaces and being wary of any listings below 50 percent of the current price. Check to see what condition it is in, then look for details that may point to it being a fake.
An easy way to tell? Van Cleef uses 18K gold, so it needs to be stamped with "750," which indicates the gold purity. Many fake Van Cleef pieces may be using cheaper materials, such as gold plating. Don't buy a Van Cleef unless you can clearly view that marking. 
Question: Is Van Cleef owned by Cartier?
Answer: You may be surprised to learn that other luxury brands that appear to be competing with Van Cleef are actually under the same group. The Richemont Group owns not only Cartier and Van Cleef, but also Montblanc, Lancel, and others. 
Question: Is Van Cleef a luxury brand?
Answer: Van Cleef is considered to be a luxury brand. Luxury brands are defined by their high-quality materials, signature designs, and often, other services that they provide. Of course, luxury brands also come with a hefty price tag. 
Final Thoughts 
Van Cleef no doubt has beautiful necklaces– and the cloverleaf motif and floral motifs won't go out of style. If you have a tight budget, there's nothing wrong with going for a smaller pendant– it still makes a statement and will hold its value. 
If you love the timeless look for Van Cleef but want other options that also exude elegance, I recommend the Cartier necklace collection. They aren't exceptionally cheaper, but they do have an extraordinary collection as well.