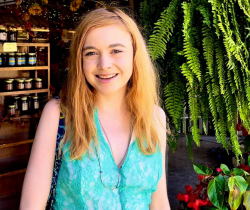 Latest posts by Erin Jamieson
(see all)
Sometimes jewelry is more than an accessory, and that's especially true for jade necklaces. In fact, a jade necklace is one of many ideas in 2022 to show how fashion can be used to symbolize something more.
Just how special jade necklaces are and jade rings can be is on full display at Boma Jewelry. This isn't just a jewelry shop, but one with a mission. Since its inception, the family-run business has focused on a mission of both sustainability and cultural heritage.
Their pieces are found in over 1,000 retail stores across the country, and they are members of multiple non-profit organizations, including the American Sustainable Business Council and the Sustainable Fashion Alliance.
But what's getting the most spotlight right now is their focus on celebrating heritage, culture, and tradition. Inspired by their own Asian heritage, the new Treasured Collection. It's a beautiful but also very personal collection, in honor of the CEO's late grandmother.
The collection features an agate stone necklace— but also jade gemstones. Jade, precious and rare in some colors, and steeped with tradition, is both a personal and eye-catching touch/ The Jade Harmony Pendant showcases how meaningful and beautiful this necklace-type can be.
But you don't have to have a personal connection to appreciate the startling beauty of a jade necklace. Consider this your guide to the best jade necklace ideas, and what you need to know about where and how to buy.
At a Glance: Most Beautiful Jade Necklace

What is a Jade Necklace?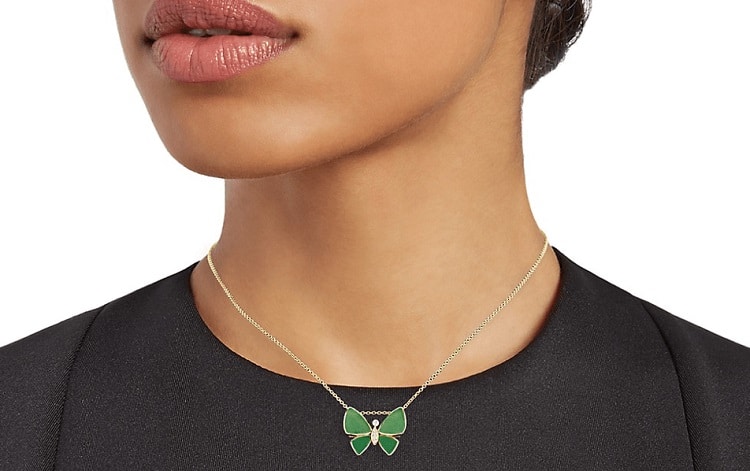 Jade necklaces, while beautiful and valuable in their most natural and desirable colores, may not be as familiar as other gemstone necklaces, such as emeralds.
Natural jade necklaces may be made of one of two gemstones: nephrite or jadeite. Both are metamorphic rocks and have relatively strong crystal formations. However, nephrite is based on calcium and magnesium, whereas jadeite has sodium and aluminum.
Nephrite Jade
Nephrite jade is less valuable and more affordable. It's known for shades from turquoise to pale green. Though durable, it's not as durable as jadeite. This is common and can be fairly easily found, even if it is not as popularly sold as other gemstones.
Jadeite
Jadeite is the most valuable and has the greatest range of colors. In fact, while Emperor Green is the most valuable color, you can find Jadeite in everything from turquoise to even black.
It's a bit more durable as well. Natural emperor green is so rare that it's considered a luxury, with asking prices above many diamonds. All of Jadeite is mined in only a few places worldwide.
Is it Okay to Wear a Jade Necklace?
Not only is it okay to wear a jade necklace, but a jade necklace can actually be a beautiful and durable option. However, there are many things you'll want to consider before wearing jade necklaces.
Can You Shower With a Jade Necklace?
Jade is known to be a fairly durable gemstone. Both treated and untreated jade necklaces can be worn in showers. In fact, you can even wear jade jewelry in chlorinated pools.
Though I personally never recommend swimming with precious jewelry, the point here is that you don't need to worry about your jade necklace tarnishing under wet conditions.
Can I Wear a Jade Necklace Every Day?
Beyond the shower, you won't have to worry too much about everyday wear, either. Jade does not break, chip, or shatter with normal use. This is especially true of Jadeite. When it comes to surface-level scratches, it depends.
Soft nephrite is closer to a 6 out of 10 on the Mohs hardness scale, while harder jadeite is closer to a 7 or 7.5. Neither scratches easily, but the softest jade necklaces would scratch some with use.
Avoiding harsh chemicals or extreme temperatures will improve the durability of your jade necklace. With proper care and regular cleanings, jade necklaces can easily be worn for special occasions– and perhaps even on a daily basis.
How do You Choose a Jade Necklace?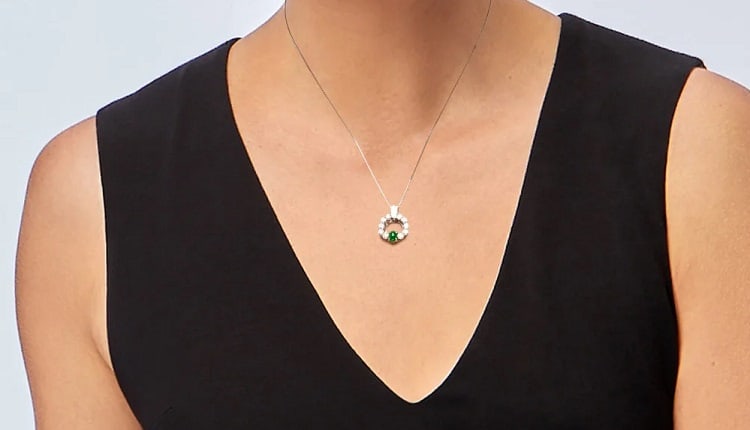 How you choose a jade necklace depends partially on your priorities. For some, a more affordable option may be a good trade-off. This is true if you're on the budget, and also true if you don't plan to wear it every day.
For others, they want the best and most valuable. The best step to take is learning a few things about jade necklaces so you can understand what you're buying– and when a deal is too good to be true.
What Color of Jade is Most Valuable?
The most valuable color of natural jade is Emperor Green– a deeply saturated medium green that is also quite expensive. It's also referred to as Imperial Green. Light green, common in nephrite, is among the least valuable but also quite popular. Some more rare colors are a bit more valuable but none so valuable as that signature green.
How Expensive are Jade Necklaces?
Jade necklaces range in price depending on the value and rarity of the gemstone. Jade necklaces range from around one hundred dollars to thousands, even hundreds of thousands.
This has mostly to do with the type of jade used, which includes the value of the color; the clarity; the cut, and the carat size. Other factors include metal type, designer, and if it has other details, such as diamond accents.
How do You Tell if Jade Is Real?
There are a few ways to tell if you're buying a natural jade necklace vs a less durable and valuable synthetic. First of all, if the necklace is exceptionally cheap, be wary. If the gemstone is not designated as natural jade, that's another bad sign.
An official GIA or AGS report with evaluation should be offered for expensive necklaces, though you may also request a report.
If you've already bought the jade necklace, there is another way to tell if you have a fake. Take a file or other metal surface and run it across the gemstone. If it scratches easily, you almost certainly have a fake, not a natural gemstone, on your hands.
What Else Should I Consider Before Buying a Jade Necklace?
You'll want to consider your budget: is it realistic for you to buy the very best? How often will you wear this necklace, or the person you're gifting wear it? Make sure to always buy from a secure site, and a reputable seller. You may want to think outside of the box– but make sure the seller has a history of positive feedback and sales.
Where do I Buy Jade Necklaces?
Now I'll tell you my favorite ideas and picks for jade necklaces. I've made sure to include options at all price points– for around or even a little under $100 to luxury prices for truly rare and exquisite necklaces.
I'm organizing them based on the necklace type, so you can find something to suit your occasion and style- whether that's casual boho or black tie affair.
Jade Bead Necklaces
Jade is often known for its elegance, but jade bead necklaces are a splash of fun. Perfect for any summertime and boho outfit, there's a beauty to the beaded look. The hues– from aquamarine to green– are reflective of the ocean and add a special something to outfits. Think flowing skirts, oversize shirts, and light fabrics.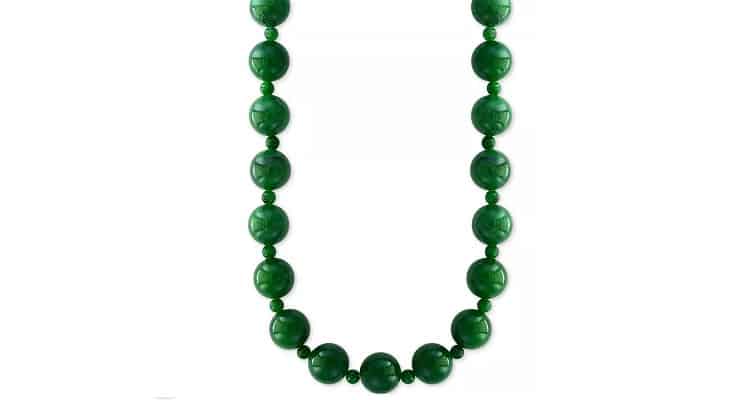 This is one of the first of many items from the Effy Collection. All-natural jade beads provide a statement with a medium green tone and a lobster clasp, complemented with 14K yellow gold. The strand is 20 inches long and is at once casual and elegant. Buy Here.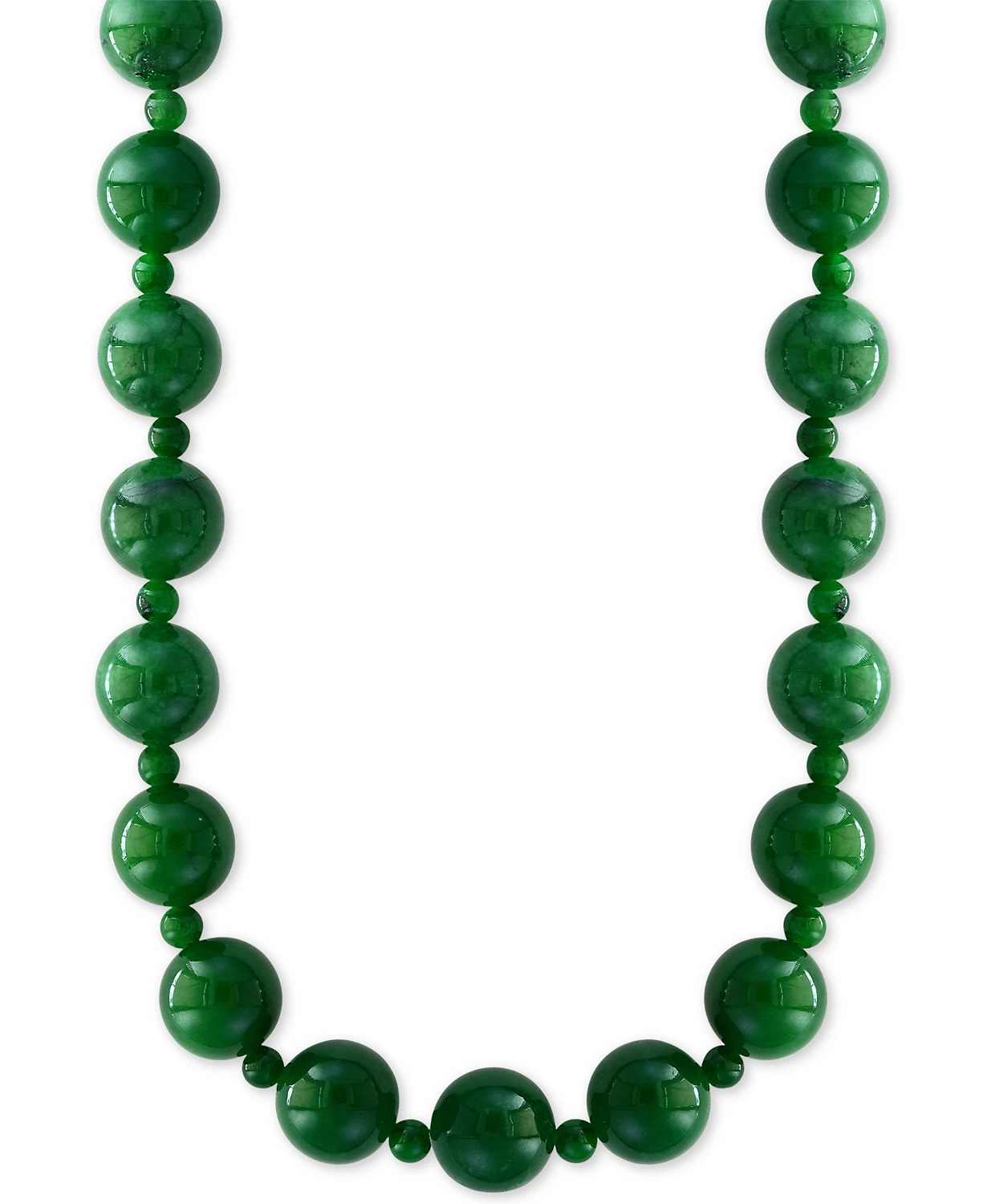 Effy Jade Statement Necklace | Macys
Exotic and elegant, beautiful jade beads alternate large and small on this unique statement necklace from EFFY with a gold clasp.
Check Price
We earn a commission if you make a purchase, at no additional cost to you.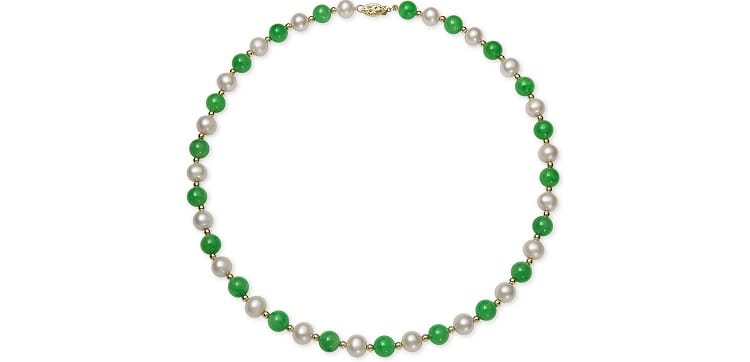 This beautiful pearl and jade necklace exude new beginnings and spring, with creamy white, vibrant green, and a beautiful pattern. Color-enhanced jade is set by freshwater pearls and connected with a 14K yellow gold strand. Buy Here.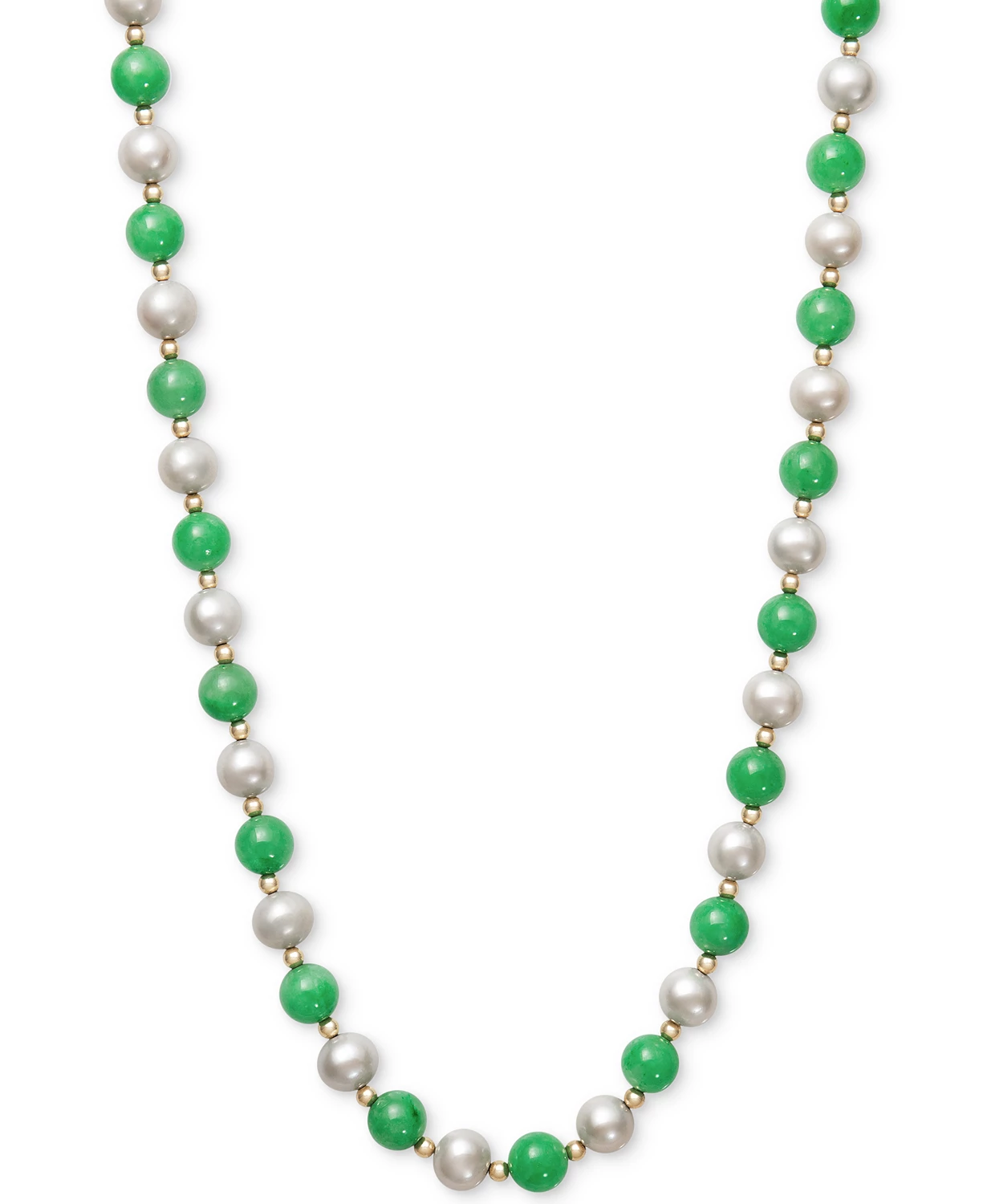 Canadian Jade Gold Necklace- Artful Home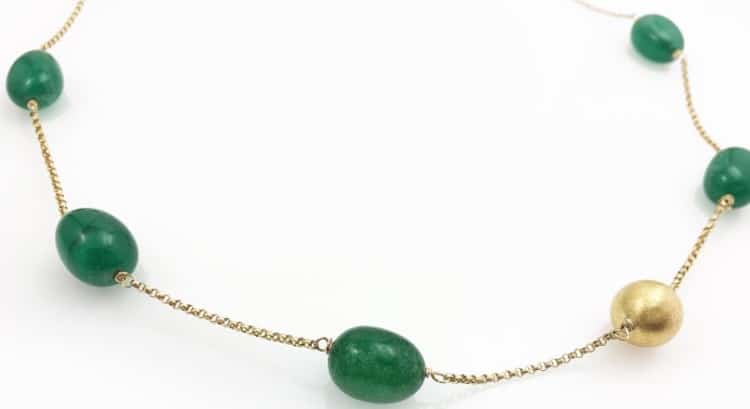 A more elegant and dainty take on a beaded necklace, this idea features a 14K gold chain. "Juicy green" Canadian jade beads are complemented by the 18K yellow gold plated over silver balls. Buy Here.
Faceted Light Green Jade Necklace- Jade Maya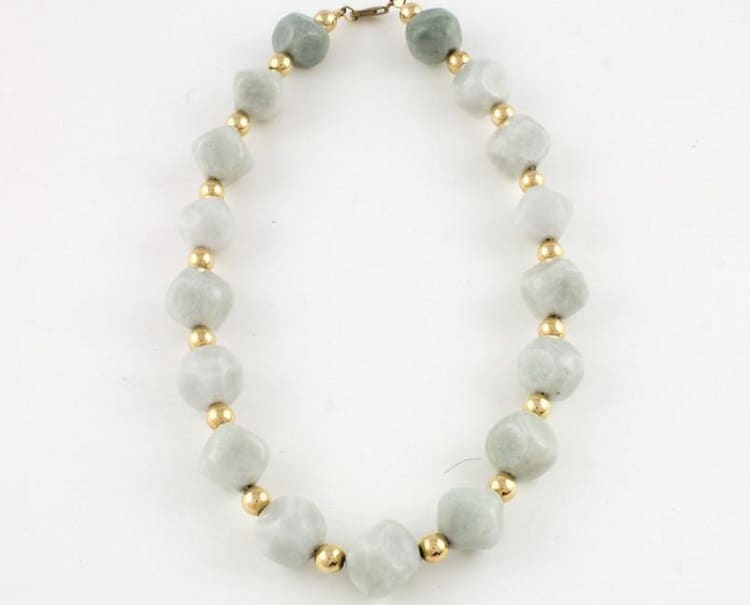 Faceted jade offers more brilliant luster. The light green shade may not be as valuable as a deep green, but it's undeniably delightful and a versatile option. Gold-filled beads provide a polished accent. Buy Here.
This natural jade necklace retails for under $250 and is beautifully crafted. Polished jade provides natural luster, set on an 18-inch sterling silver chain and secured with a lobster claw clasp. Buy Here.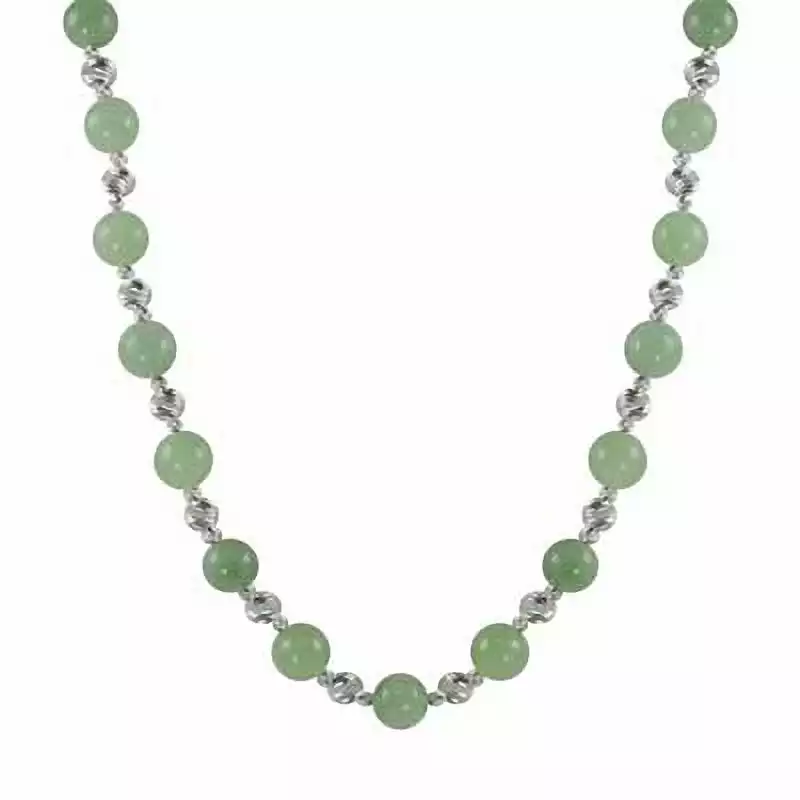 Jade and Brilliance Bead Necklace | Zales
Glimmer and luster together create a mesmerizing look for her. This exceptional look pairs alternating sterling silver Brilliance Beads with 8.0 - 8.5mm orbs of luminous pale green jade in a strand that elevates any attire.
Check Price
We earn a commission if you make a purchase, at no additional cost to you.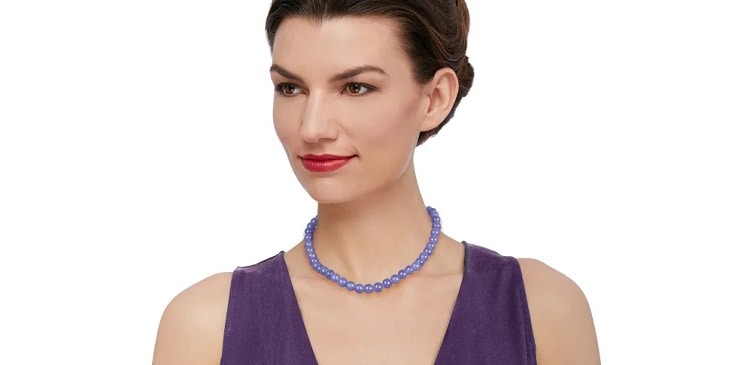 Who says you have to stick to green shades? This beautiful lavender beaded necklace proves just how beautiful jade can be in other hues. Lavender shade beads are set on a 14K gold chain. Even better? This necklace retails for under $200. Buy Here.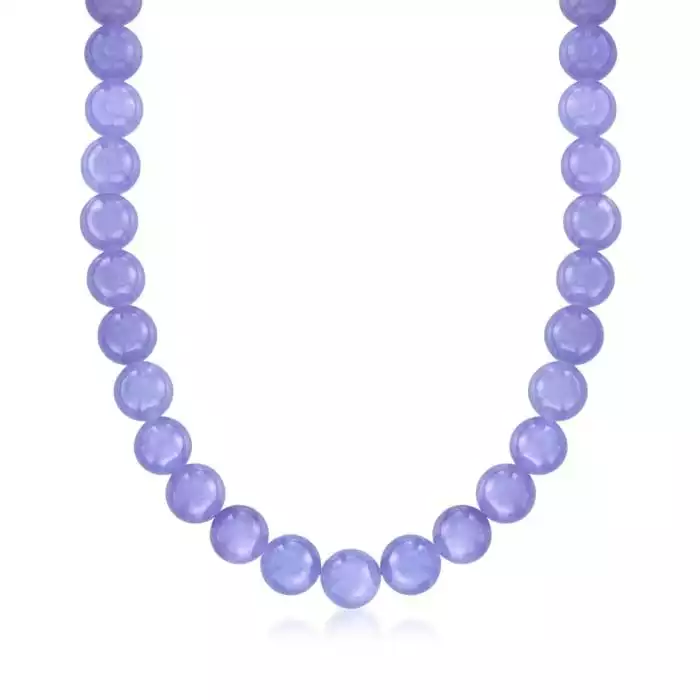 Lavender Jade Bead Necklace | Ross-Simons
On this necklace, smooth 10mm jade beads in a mellow shade of lavender grace the neckline with captivating beauty. The necklace fastens with a 14kt yellow gold fishhook clasp.
Check Price
We earn a commission if you make a purchase, at no additional cost to you.

Light Green Jade Beaded Necklace- Jade Maya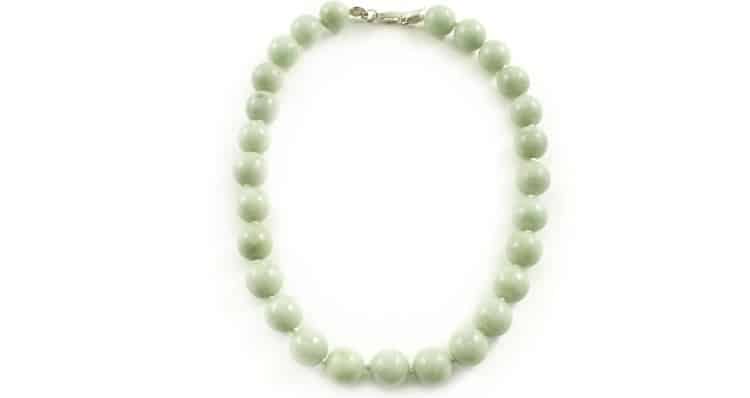 Mint green adds a bright pop to any outfit. The light green jade could easily take the place of a large pearl necklace for a little more color and closed with a silver clasp. Buy Here.

Priced under $150, this beaded jade necklace could work for both casual and semi formal occasions. Oval shapes, pale green jade beads are set beside freshwater pearls and secured with a sterling silver clasp. Buy Here.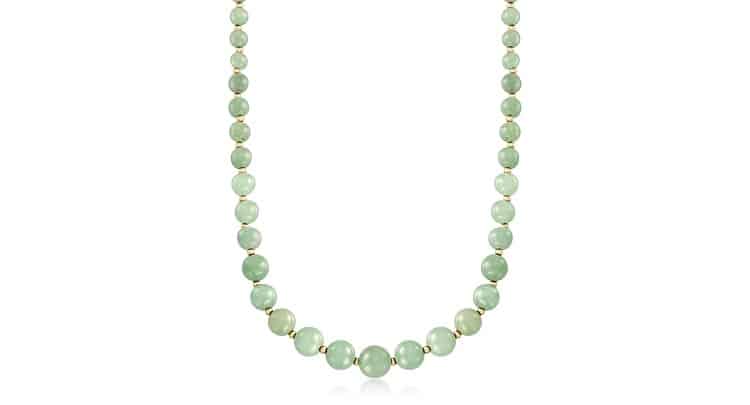 Priced at just over $250, this graduated necklace from Ross Simmons offers a classic look that can brighten solid color outfits but also would work for boho glam styles. Jade beads are set beside 14K yellow gold beads and secured with a fishhook clasp. Buy Here.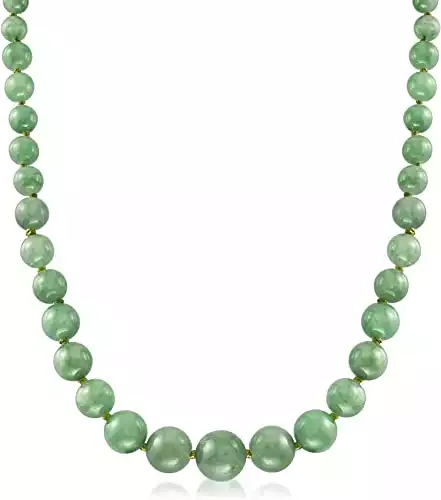 Jade and Diamond Necklaces
Jade is beautiful alone, but diamond accents add beautiful scintillation for an especially attractive and eye-catching look. Provided a formality for special occasions, jade diamond necklaces can be worn with any formal attire that complaints the color of the gemstone.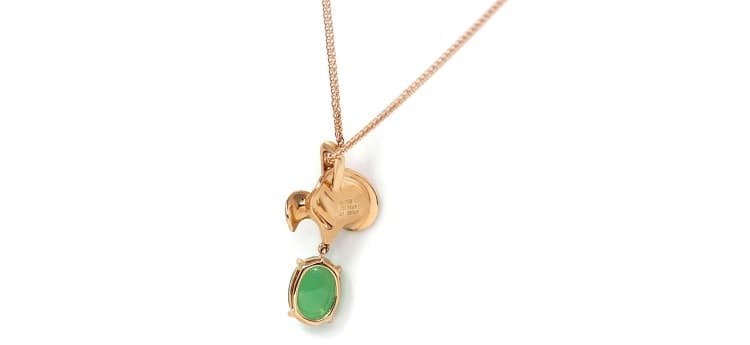 This beautiful jade necklace has a contemporary and artistic style and comes with a 100 lifetime guarantee of authenticity. An 18K rose gold flower is crafted with exquisite detail and accented with diamonds, alongside a natural jade gemstone with a quality color rating. Buy Here.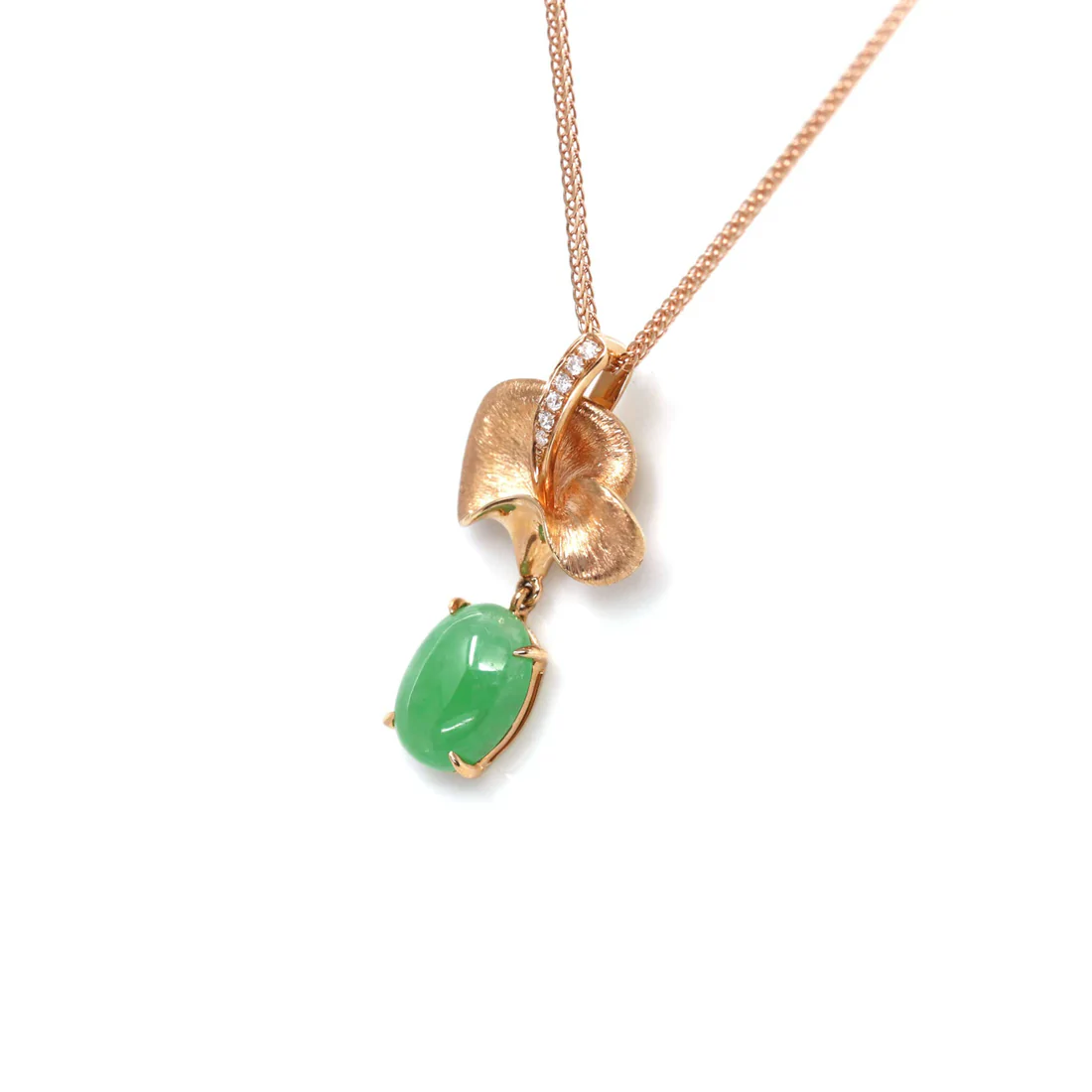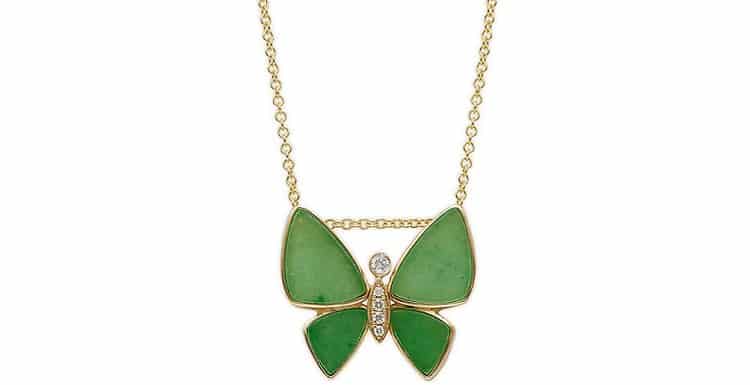 Now available for 70 percent off, this butterfly necklace is fun, nature-inspired, and an idea for casual and boho outfits when you want a little more sophistication. Inviting green jade gemstones form the butterfly wings, and 14K yellow gold fills out the rest, including the delicate chain. Buy Here.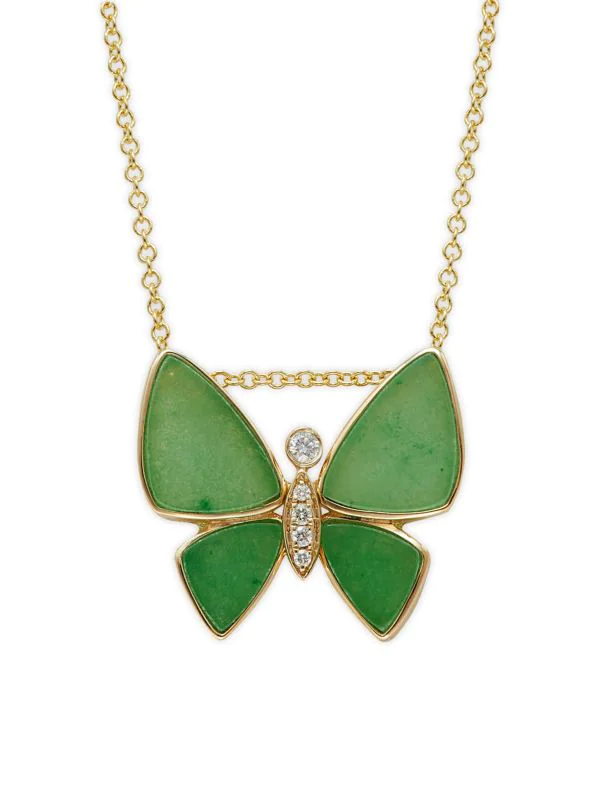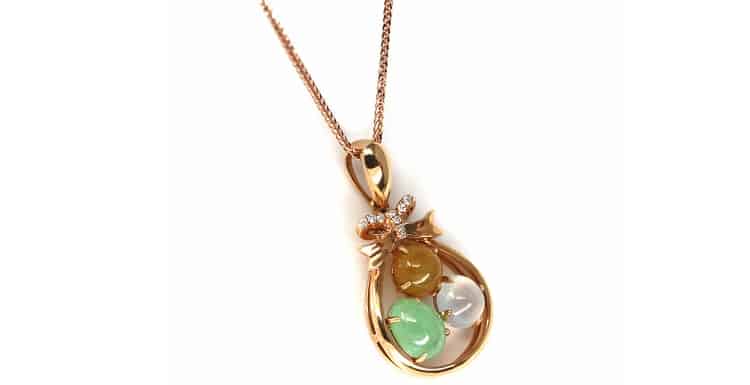 This unique diamond and jade pendant necklace is a truly captivating look, featuring icy white, pale green, and yellow. Natural jade gemstones are surrounded by 18K rose gold and just a touch of brilliance from the diamond accents. Buy Here.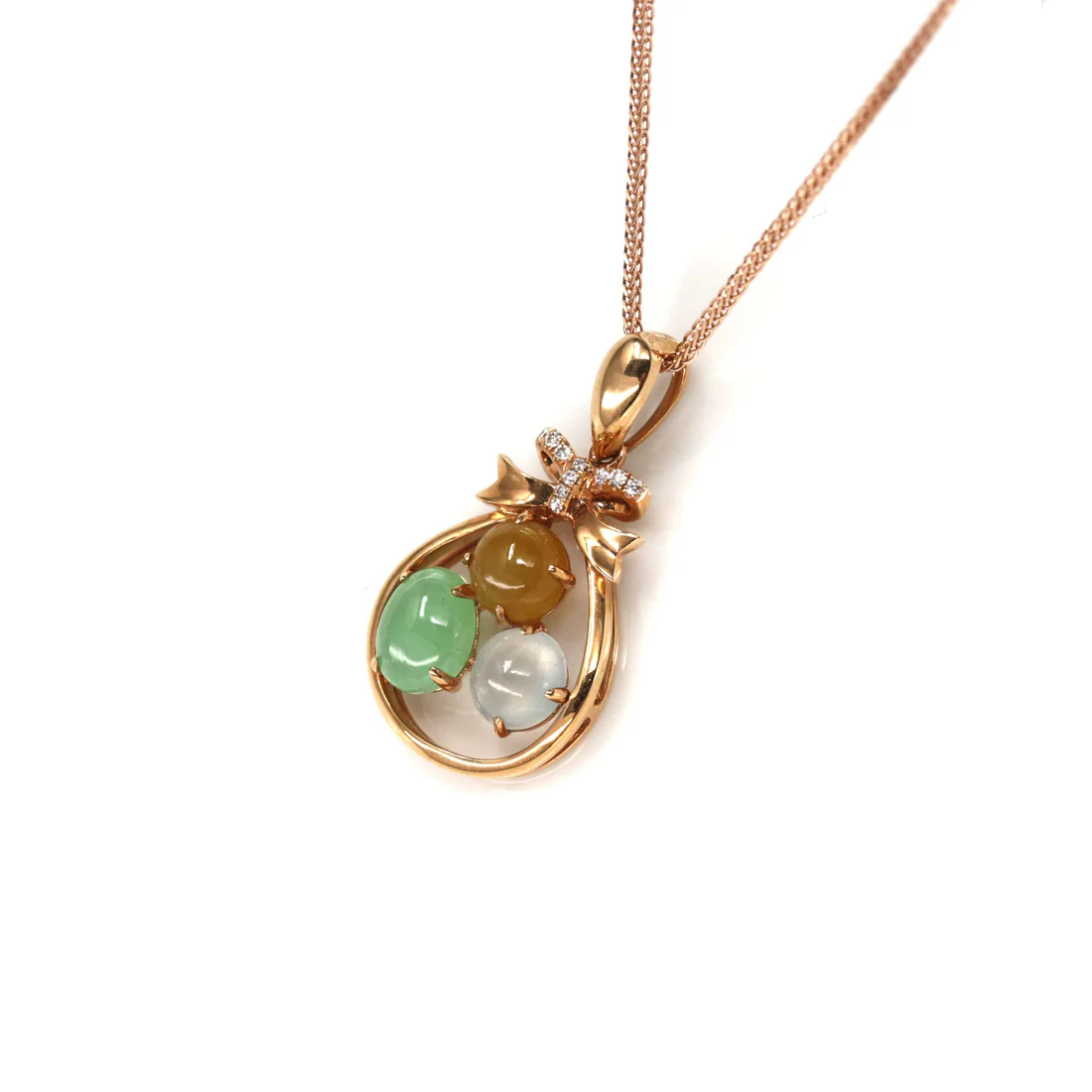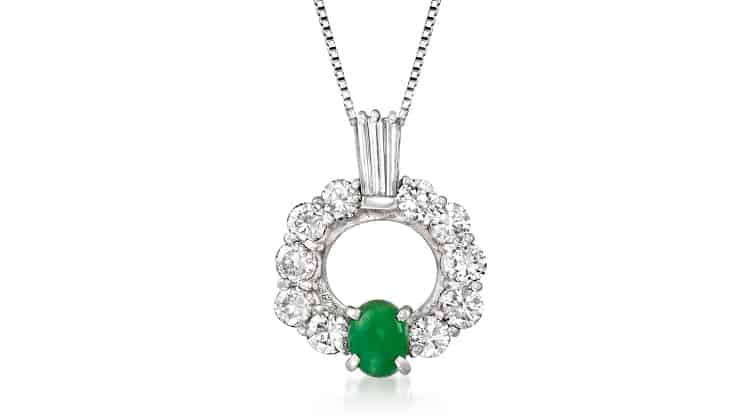 A vintage from 1990, this dazzling diamond pendant necklace is a great idea if you love diamonds and just want a touch of color. 1.5 carats of round cut diamonds are centered with an oval-shaped, cabochon cut jade gemstone for beautiful scintillation. Buy Here.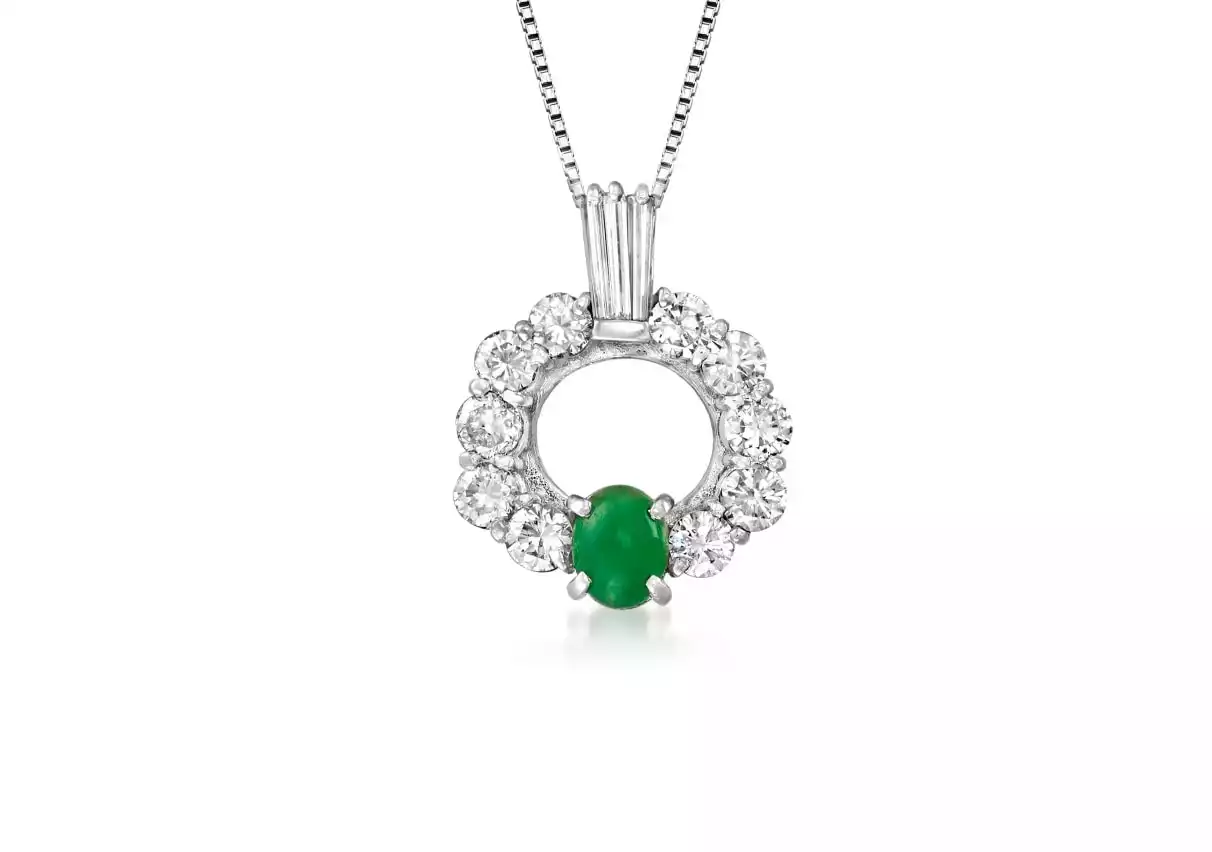 Jade and Diamond Necklace- Oliver Smith Jeweler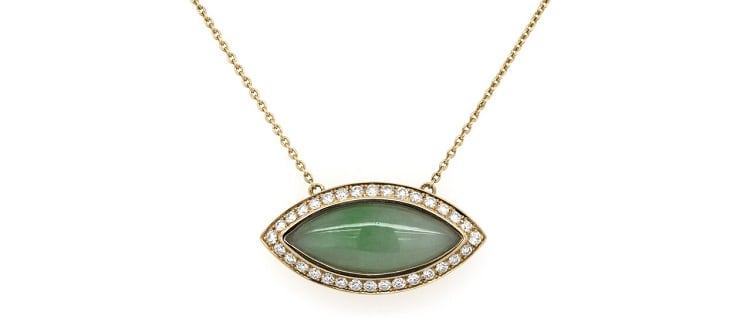 This special occasion jade and diamond necklace is stunning. 18K rose gold is paired with a center bezel-set 3.46-carat jade cabochon. The jade stone is surrounded by a halo of round brilliant cut diamonds. Buy Here.
Estate Platinum & 18K White Gold Diamond Jade Necklace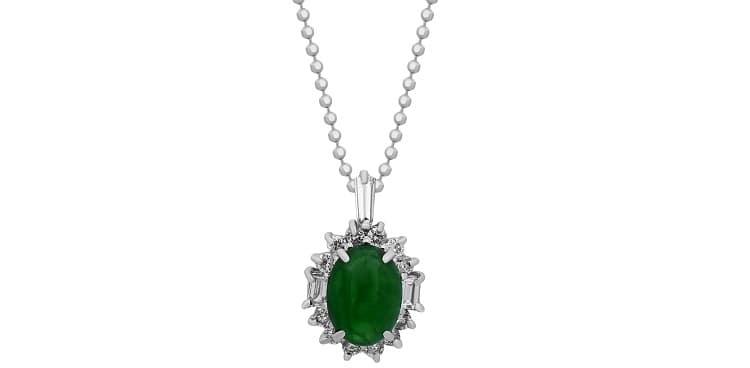 The vintage style necklace features 18K white gold and platinum and a 0.47-carat green jade center stone, with a unique setting. Pre Owned and in excellent condition, the necklace comes with a certificate of authenticity. 
Estate Jadeite & Diamond Necklace- JBHudson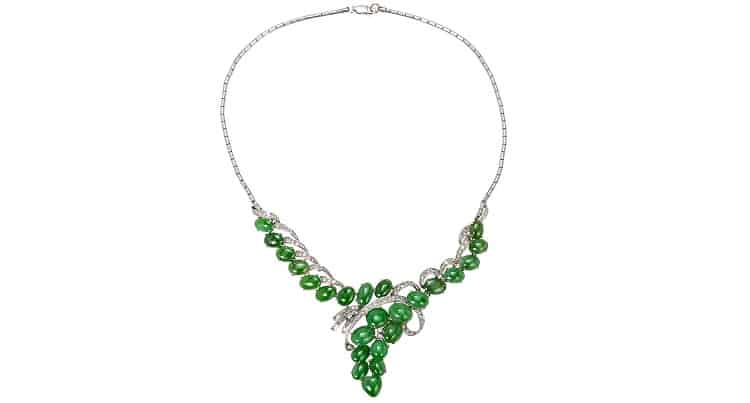 A unique, artistic design showcases the beauty of jade and diamonds for any formal occasion. 1.20 carats of single round baguette diamonds accompany 24 jadeite cabochons, set on an 18K white gold necklace. Buy Here.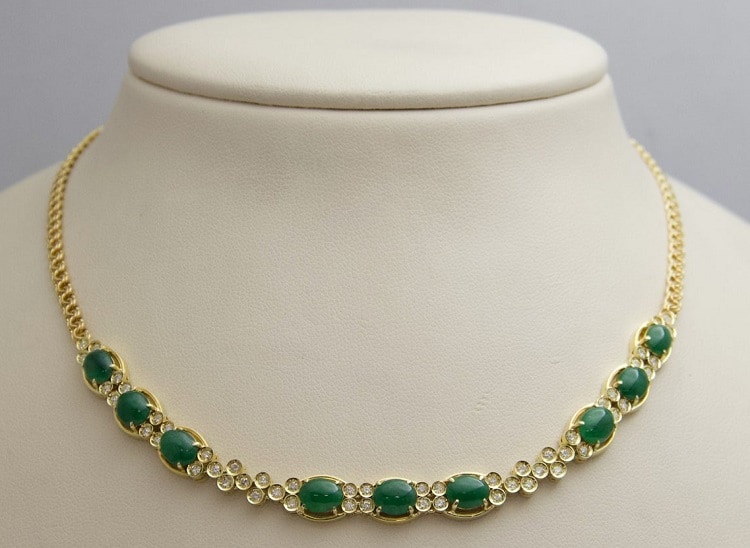 This vintage jade necklace features 1.04 carats of diamonds set beside jade gemstones on a 14K yellow gold chain. It truly does have a regal, classic feel to it that stuns with its beauty– and is a great idea for a black-tie affair. Buy Here.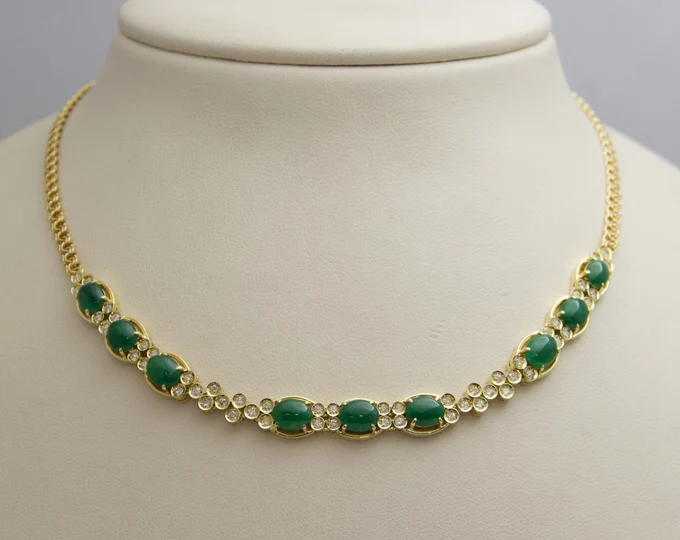 Jade Pendant Necklaces
Pendant necklaces are a classic for a reason. Jade pendant necklaces are modern, traditional, and even elegant or artistic, with a wide range of price points. Most lean from semi-formal to formal, but all can add a nice touch to most outfits.
Of course, some of the diamond jade necklaces I've already mentioned above would be classified as pendants.
Harmony Pendant Necklace- Boma Jewelry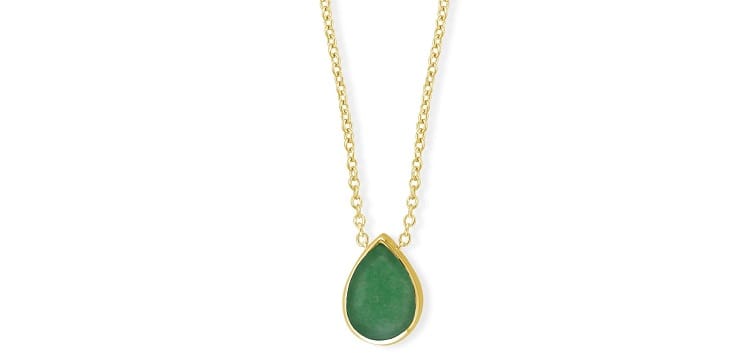 Priced at just under $100, this is one of the most affordable jade necklaces on my list. A 925 sterling silver with 14K gold plating is made out of recycled materials. The jade stone is a medium green, and the entire necklace is hypoallergenic. Buy Here.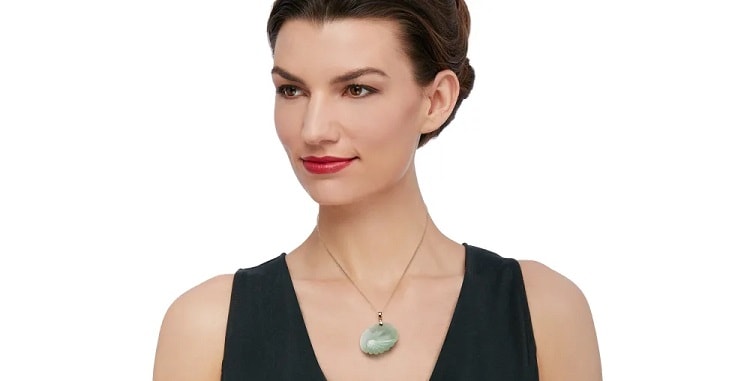 This close-out necklace is priced at under $200 and is perfect for boho and beach-themed outfits. A green shade oyster shell pendant holds a freshwater cultured pearl for a natural whimsical pendant. Buy Here.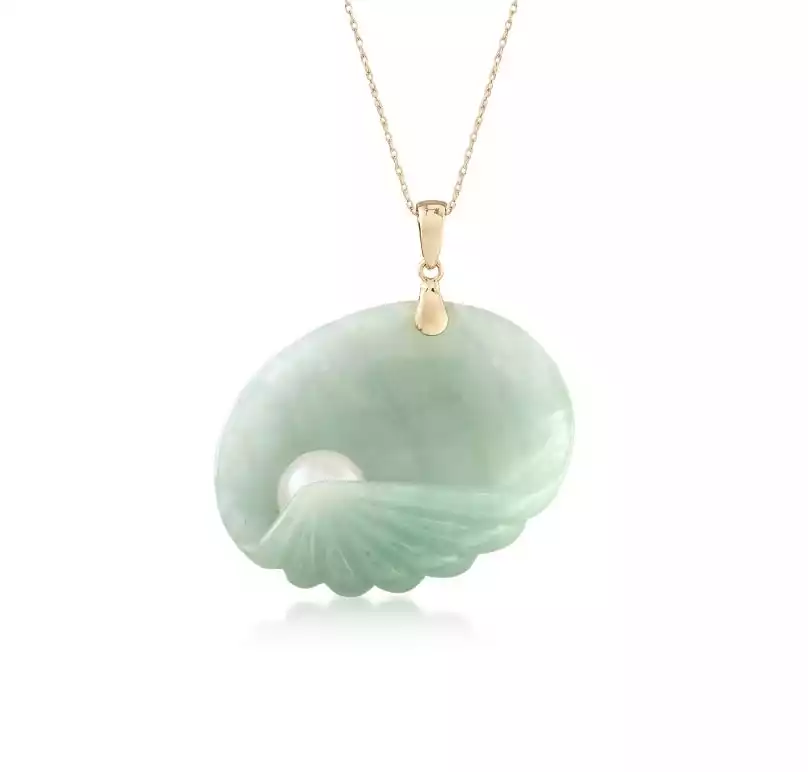 Auspicious Green Jade Pendant- Feng Shui Gallery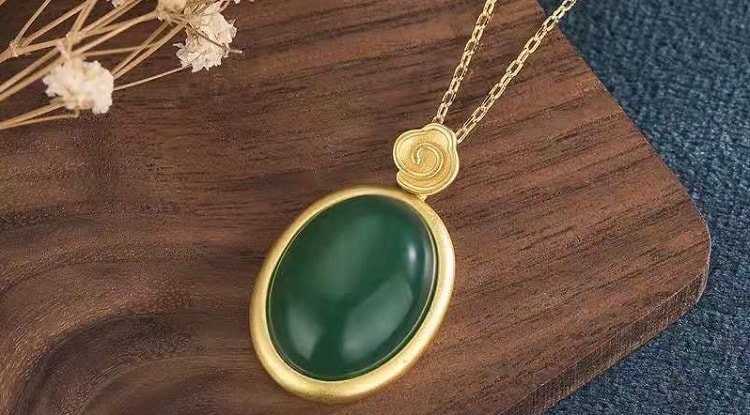 Originally priced at $78 and currently marked down for under $50, this natural jade pendant necklace is a true steal. Meant for fans of feng shui, it's meant to bring good fortune and features 24K gold plating. Buy Here.
High-End Imperial Jadeite Leaf Pendant Necklace- Baikala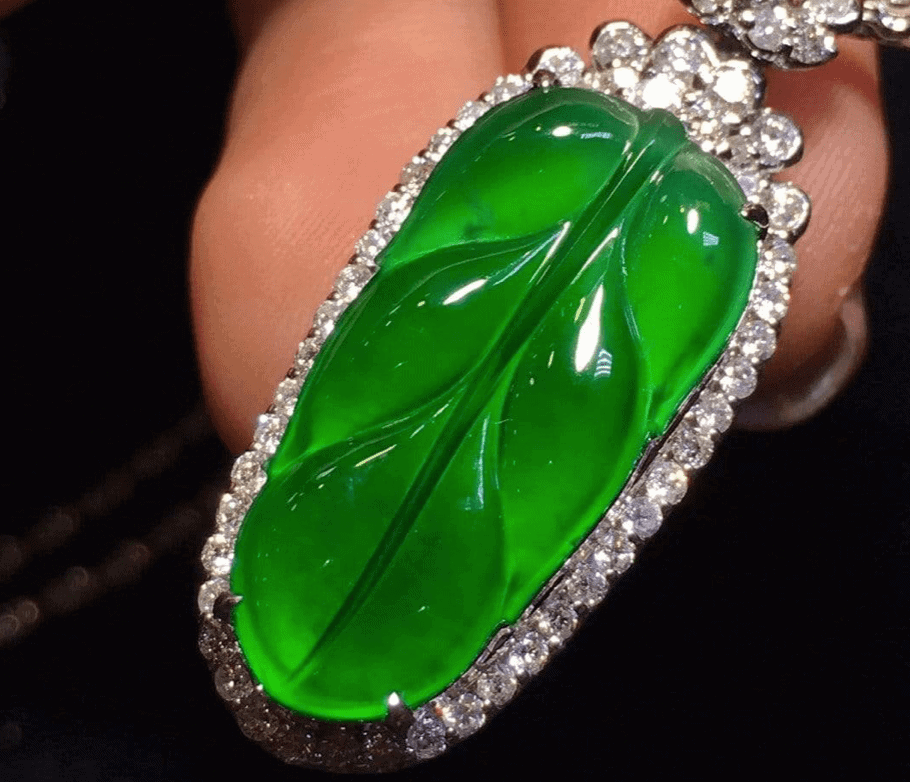 This luxurious pendant necklace may be out of your budget– but it can give you an idea of what to expect from the high-end, imperial jade. Imperial green Burmese jade offers a stunning hue and is shaped into an elegant leaf, surrounded by sparkling diamonds, and set on 18K solid white gold. This retails for a little over $11K.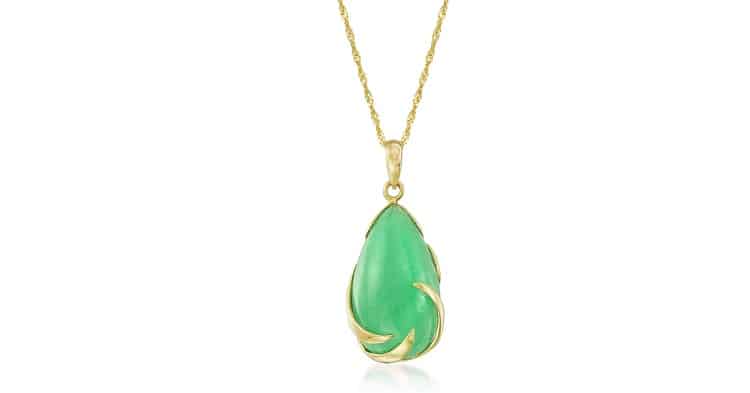 Priced at $300, this elegant natural jade pendant necklace offers a cabochon cut for luster. The pendant is sophisticated and set on 14K yellow gold, with an adjustable chain length that can even be made into a choker. Buy Here.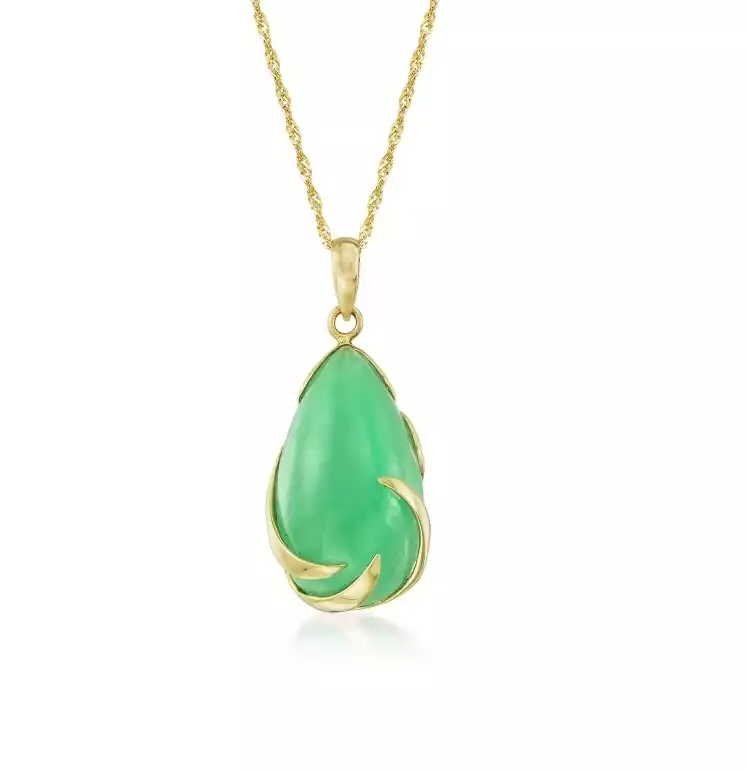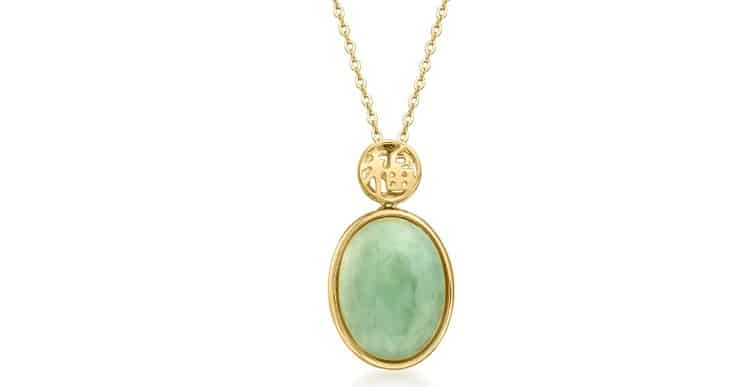 For under $100, this jade pendant necklace is meant to symbolize good fortune and can be worn with casual outfits, despite its elegance. An oval-shaped jade cabochon is in a creamy green hue, accompanied by 18K yellow gold over sterling silver. It also included the Chinese symbol for good luck, along with a spring clasp. Buy Here.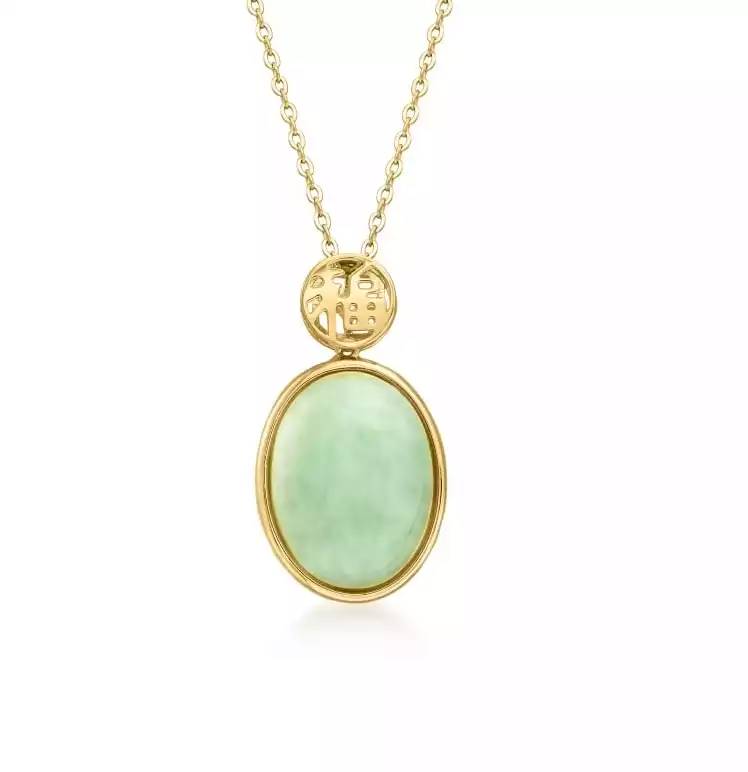 Jade "Good Fortune" Pendant Necklace | Ross-Simons
Visually interesting and so elegant, this unique pendant necklace features a smooth 16x12mm oval cabochon of creamy green jade framed in glossy 18kt yellow gold over sterling silver and topped with the Chinese symbol for "good fortune."
Check Price
We earn a commission if you make a purchase, at no additional cost to you.

Box Chain Jade Pendant- Heizberg Diamonds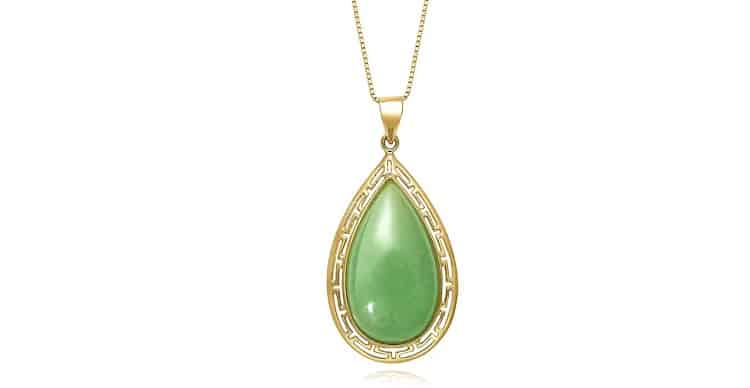 Discounted now for half off the original price, this elegant jade pendant necklace is a true classic. A pear-shaped medium green pendant is surrounded by 14K yellow gold and an intricate but deceptively simple design. Buy Here.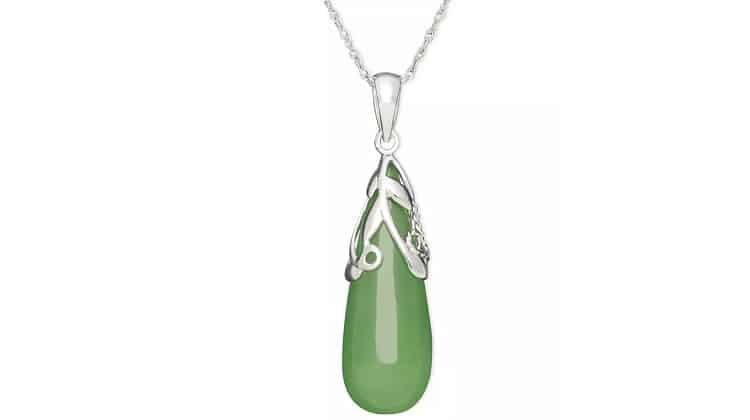 On sale for just $100, this jade pendant teardrop necklace is an affordable option for a casual jade pendant necklace. The design bridges traditional and modern styles and is easily styled with casual outfits as well as dressy casual. Buy Here.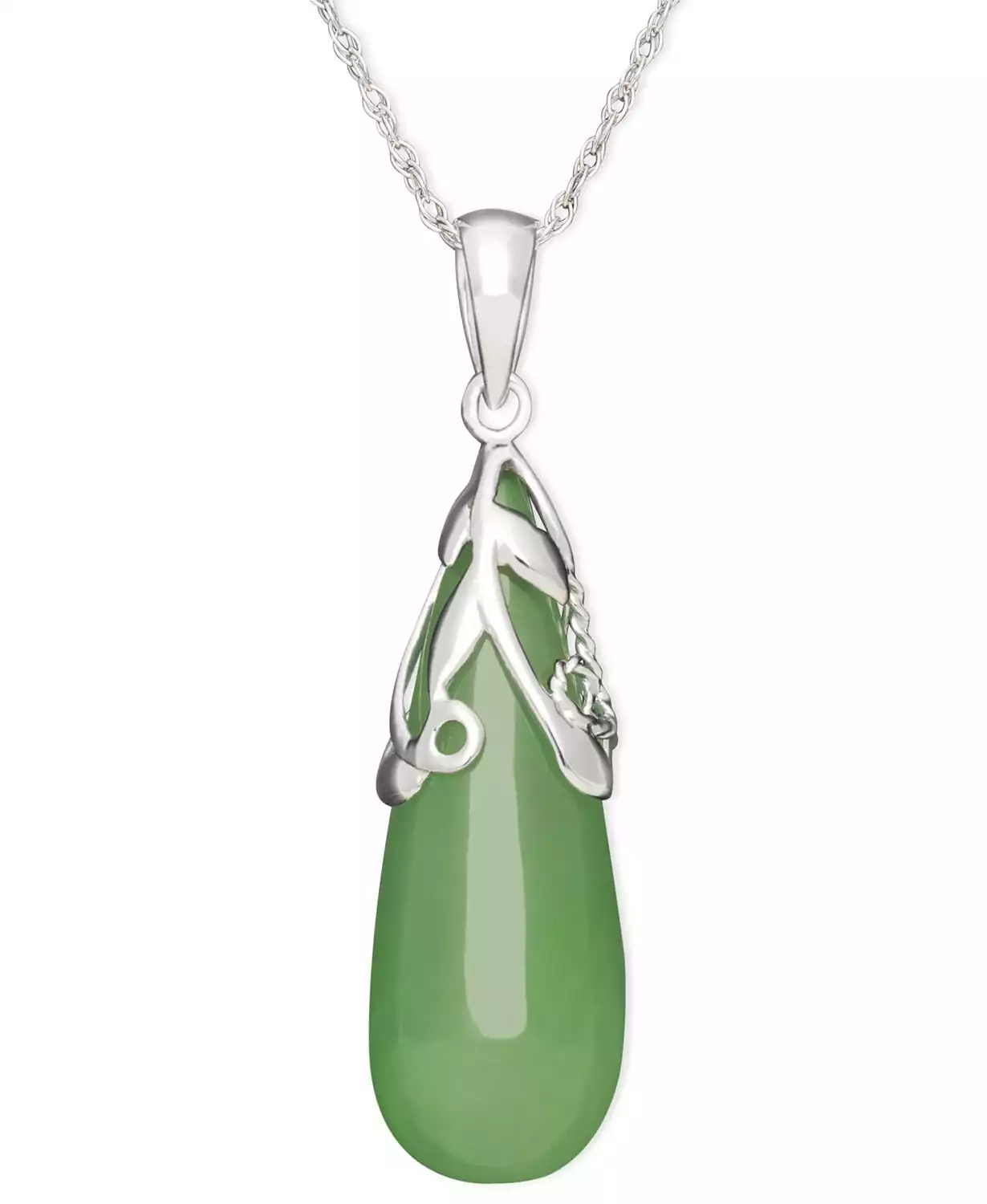 Jade Leaf Teardrop Pendant | Macys
The look of serenity, this peaceful style is both calming and cool. Crafted from a sold, teardrop-shaped jade (10mm x 25mm), a swirling sterling silver overlay and chain adds the perfect final touch.
Check Price
We earn a commission if you make a purchase, at no additional cost to you.

Frequently Asked Questions
Question: What is the benefit of wearing jade?
Answer: Jade has been used in feng shui jewelry. It's said that wearing jade can balance energy, and is most associated with calm and relaxation. Stability, balance, and overall well-being are commonly associated benefits of jade purported by those practicing feng shui.
Others see jade as a symbol of good luck and even prosperity.
Question: What is Grade A Jade?
Answer: Letter grades often are associated with color– that is the case for finding the best regular or even black diamonds. But for jade, Grade A instead refers to the level of treatment it's undergone before being sold.
Grade A refers to untreated, natural jade and is considered the most valuable. In my list, however, I've also included Grade C, which means the color has been added to enhance the jade. While less valuable, keep in mind that it does not mean that treated jade is of lower quality in terms of durability.
Question: How much is a carat of Jade worth?
Answer: Jade ranges greatly in terms of value. Some jade, especially nephrite, costs only a hundred to few hundred dollars per carat. Expensive jadeite can be more expensive than diamonds. In fact, the rarest of all can exceed a million dollars.
Final Thoughts
Jade necklaces are beautiful but can be expensive. Make sure you're buying natural, authentic jade, and clean with care. Treated jade is less valuable, but also more affordable and just as durable. And if you're looking for the most luster possible, consider a cabochon cut, or even a jade necklace with diamond accents.
To complete your look, add a jade ring or other accessory.