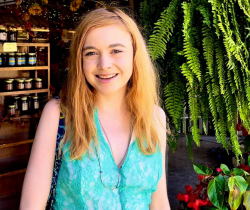 Latest posts by Erin Jamieson
(see all)
Finding the right pair of earrings can be challenging, but one amazing way to elevate your look? Picking from one of many innovative styles that move with you. In 2022, dangle earrings are getting an update, with stylish, sleek, and artistic, eye-catching designs.
It seems like a fitting time for dangle earrings to a spike in popularity. A century ago- during the 1920s– dangle earrings wowed with their elongated, attention-grabbing designs. And now, 100 years later, jewelers are once more fully embracing dazzling designs with elongated drops and sparkling, precious gemstones.
But it also means updating the look for modern allure.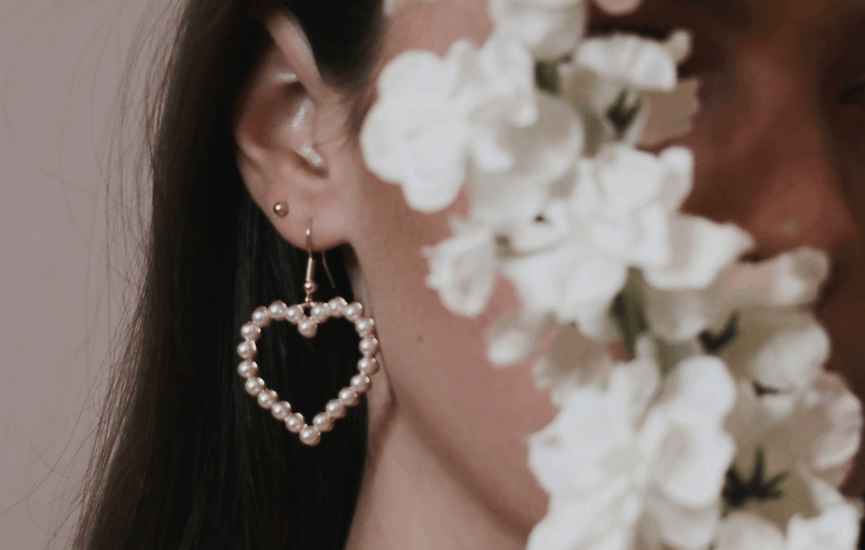 This was on display at the 2021 Givenchy Fashion Show, where models donned long dangle earrings with asymmetrical lines, often as single earrings. In fact, designers around the world– including Danish, French, and Asian countries are embracing the reimagining of dangle earrings. 
Whether that means opulent round cut diamonds or plays with symmetry, 2022 has been a marriage of modern and classic– for jaw-dropping styles. 
But what dangle earrings are right for you? Heading off the runway, I'll take a look at dangle earrings you can buy now. I'll provide my ideas for selecting the right pair, as well as some of my favorite picks for this year. 
| Product Image | | Primary Button |
| --- | --- | --- |
| | | |
| | | |
| | | |

What Do Dangle Earrings Mean?
Dangle earrings are often lumped together with drop earrings, but there's a difference in the way they feel on your ears. Dangle earrings also have unique symbolic meanings– and unique history– that separate them from classic drop earrings. 
What are Dangling Earrings Called?
One area of confusion that arises is the nicknames used for dangle earrings. Dangle earrings, as well as drop earrings, are sometimes called levers of latch backs. However, it's most common to simply refer to them as dangle earrings. 
What do Dangle Earrings Symbolize?
Dangle earrings represent something we all need in our lives: balance. Alongside balance, dangle earrings are also associated with energy and life. Thus, taken together, dangle earrings symbolize a balanced life, one that is enjoyed fully. 
Who Started the Dangling Earring?
Dangle earrings go back a long time, and it's difficult to trace their origin. Likely, the Ancient Greeks and Romans were the first to design such earrings, but it was during the European Renaissance that they truly started receiving attention. Because of the change in hairstyles– and ears being exposed– dangle earrings were now fully visible. During this time, dangle earrings often included elaborate details, such as tall coifs. 
Dangle earrings were a favorite during the reign of Queen Victoria, as well as amongst flappers during the 1920s. Though quite different to compare, in both instances, dangle earrings were used as statement earrings, adding opulence. Dangle earrings also made a big comeback during many other eras, including the 1980s.
What is the Difference Between Drop and Dangle Earrings?
Drop and dangle earrings may look similar, but there is a difference. Drop earrings stay in place, while dangle earrings move with you. Drop earrings are typically situated just below the earlobe, where they stay. Dangle earrings may be situated at different points and move as you walk. 
Are Dangle Earrings Right For Me?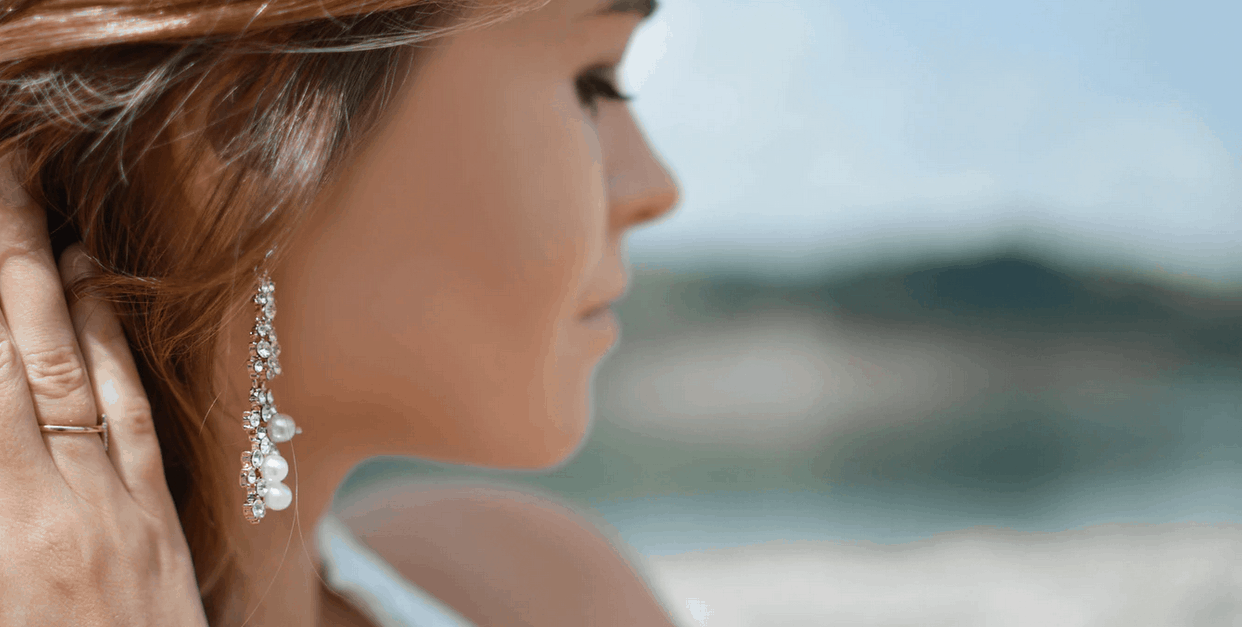 Dangle earrings offer a dramatic statement– even more so by their movement. This movement is especially flattering with diamond or gemstone earrings, as you'll catch light and "sparkle" as you walk. Of course, dangle earrings can be uncomfortable for some, and they may not suit use as an everyday earring. 
Are Dangle Earrings Still in?
Dangle earrings are very much still in style for 2022. Though dangle earrings in recent decades have never truly fallen out of fashion, they do have higher points. In 2022, they're popular again– as part of a broader trend towards more expressive, bolder accessories. 
When Can you Wear Dangly Earrings?
You can wear dangle earrings anywhere you like– but they're often worn for formal occasions. The dangle earrings style, and how it sways, is often favored for a shop-stopping statement earring vs every day. While you can wear them for casual wear, they can sometimes be distracting during a workday. It really depends on how comfortable you feel, and where you work. If you have an active job, stud earrings would probably be more practical. 
Can you Wear Dangly Earrings Right Away?
You do need to be cautious if you just had your ears pierced. For new piercings, follow the instructions given to you. Usually, you'll wear studs and leave them in for the first six weeks. Dangle earrings can be introduced after the piercing fully heals. 
Is It Bad to Wear Dangly Earrings Every Day?
In truth, some people wear dangle earrings every day and don't have too many problems. For some people, dangle earrings can be more uncomfortable than other styles. If this is true for you, then you may want to swap them for a comfortable style, such as studs or tiny hoops, every once in a while. 
Do Dangle Earrings Stretch Your Ears?
While it's not a myth that dangle earrings are capable of stretching your ears, it actually had more to do with the earring weight vs style. That is, any heavy earrings can stretch ears over a long period of time. To prevent your ears from stretching, wear lightweight earrings for the majority of the day, and opt for heavier earrings on occasion and for shorter periods of time. Also, remove your earrings– any kind– before bed. The exception would be when you get a new piercing. 
How Do You Pick the Best Dangle Earrings?
Select the best dangle earrings for you by paying attention to the quality of materials and style. From quality to weight, to styles, here's what I look about before I make my picks. 
What Kind of Metal is Best for Dangle Earrings?
Gold, gold plating, platinum, and sterling silver are the most common metals used for dangle earrings. Sterling silver and gold plating are the least durable, except for gold vermeil (a thicker type of gold plating). Both look beautiful but tarnish. Gold plated earrings, in particular, may fade, peel and tarnish within a few years. 
Platinum earrings are undeniably excellent quality and durable– but also pricey. Gold is a great option, but the karat will depend on your personal preferences. An unexpected option– stainless or surgical steel– may be a great option if you want earrings that are more lightweight, affordable, and hypoallergenic. 
What are the Styles of Dangle Earrings?
Dangle earrings range from vintage-inspired to modern. You'll find many dazzling gemstone dangle earrings, but also sleek modern looks that are highly versatile. In 2022, geometric lines, textures, and unexpected patterns can also be found. 
How Do I Select Diamond Dangle Earrings? 
If you plan on spending money on the diamond or precious gemstone dangle earrings, do so with care. For earrings, prize the color and clarity of the diamonds most. I argue you can be less picky than you would be for diamond rings, but diamonds of the poor color grade will have a yellowish hue– something most don't want.
Make sure your diamonds are lab-grown or natural, not stimulants. Check that they have been officially certified and rated, with color and clarity grading. Aim for no worse than slightly included diamonds (S12) and nearly colorless (K, on a scale from D to Z) if you can.
Dangle Earrings: My Picks
I've selected a few of my favorite ideas for gold, platinum, and stainless steel earrings. I'll explain my selections for each category– but my focus was on quality and style. You can rest assured that all of these earrings are made to last. 
Gold Dangle Earrings
Plays with geometry, intricate details, and beautiful craftsmanship make these versatile dangle earrings among my favorites, as well as gorgeous diamonds and gemstones. These earrings are crafted in 14K or 18K gold. You'll have a brighter shine than 10K gold while saving a little money vs 22K gold. These earrings are also less easy to scratch than 22K gold (the higher the karat, the softer the metal). And all of my picks come from fine jewelers, so you know you're buying earrings crafted with exquisite quality.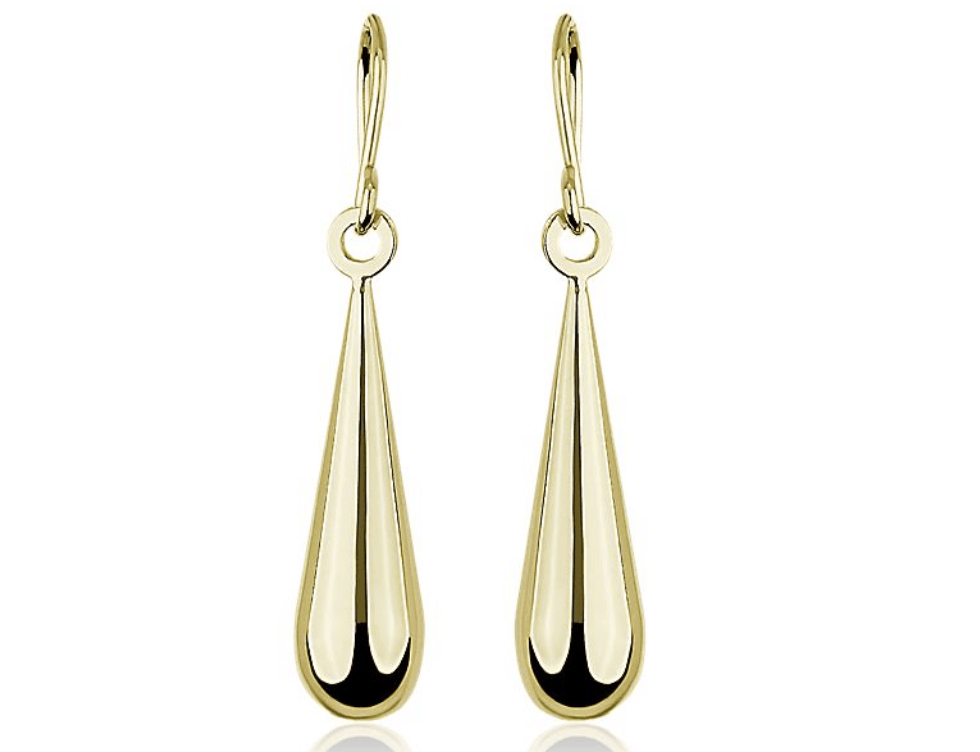 These gorgeous dangle earrings are priced at around $150– a bargain for this category. Sleek, 14K yellow gold sets the style for this modern look. The iconic teardrop shape is deceptively simple– with stylish detailing down the drop for a great balance of versatility and personality. Buy Here.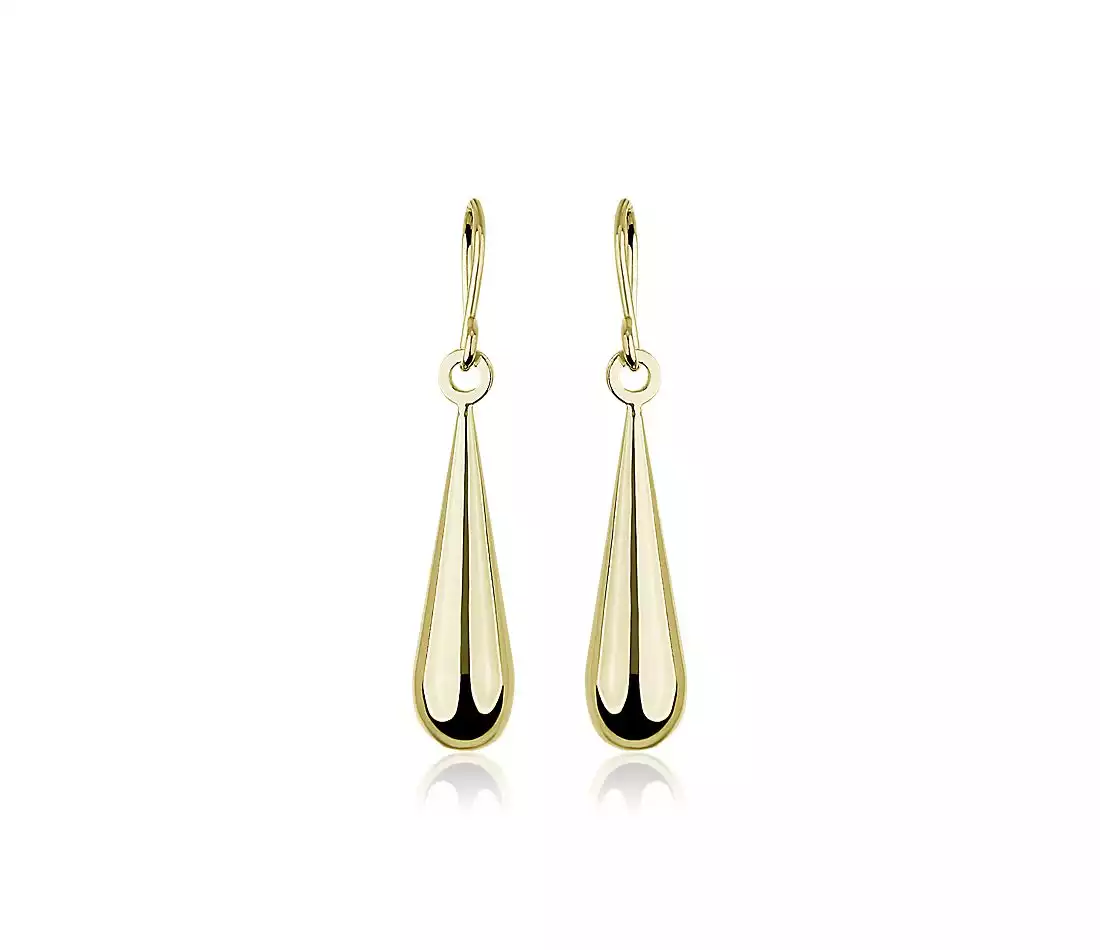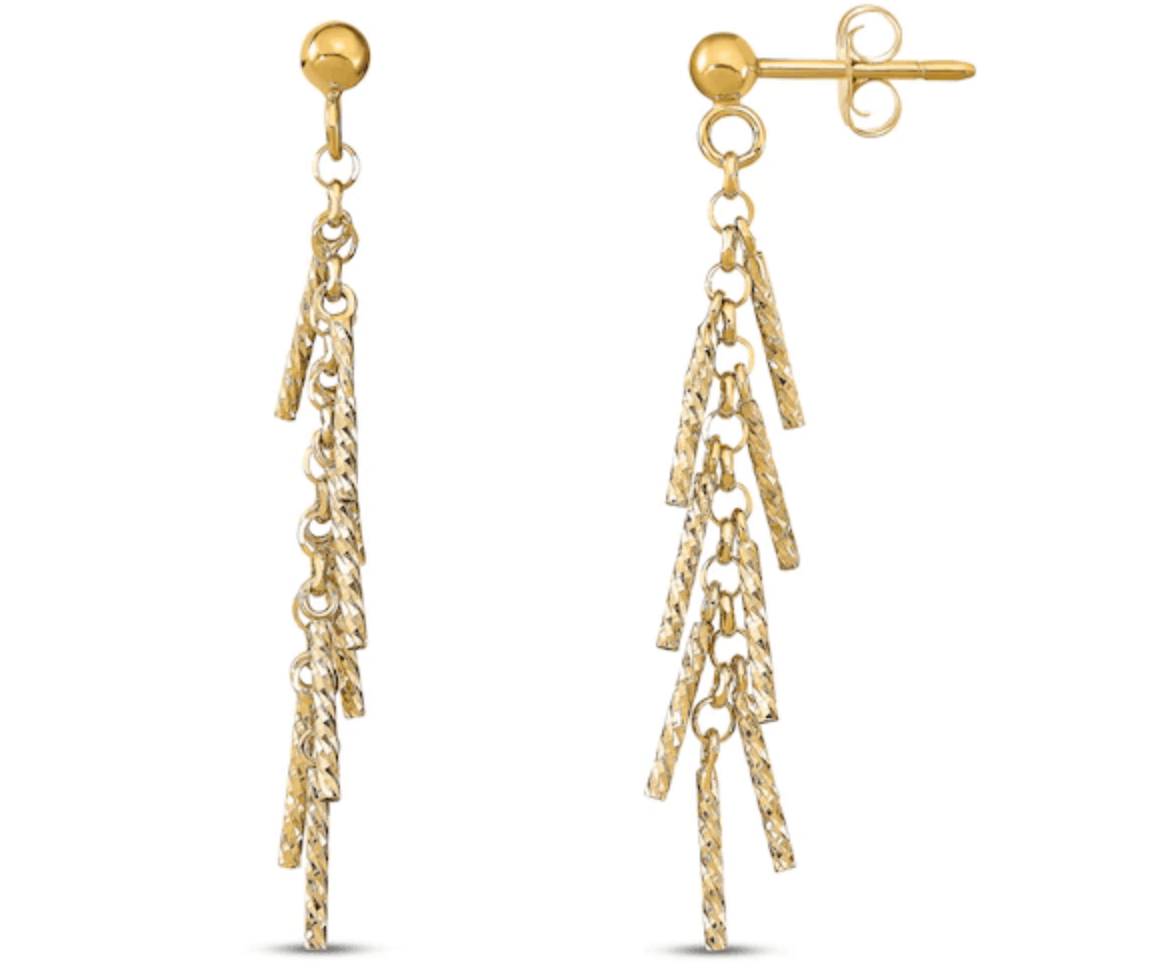 These festive diamond dangle earrings are crafted in 14K yellow gold and priced at around $999. The fascinating design pairs high polish metal with a diamond-cut finish. Post and push-back clasps make for easy wear. The sparkle and polish provide unique sophistication, no diamonds are needed. Buy Here.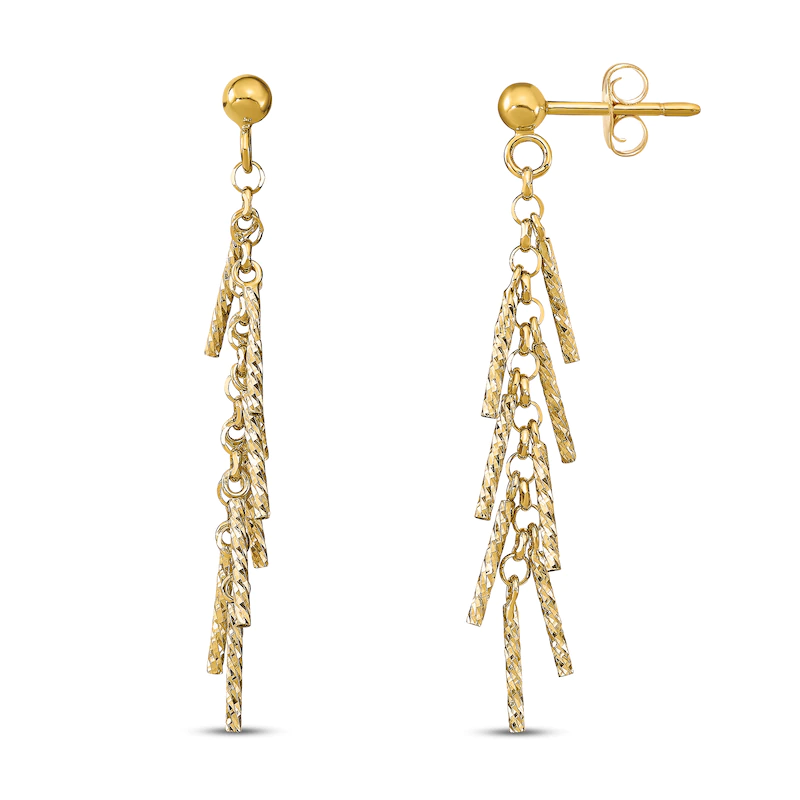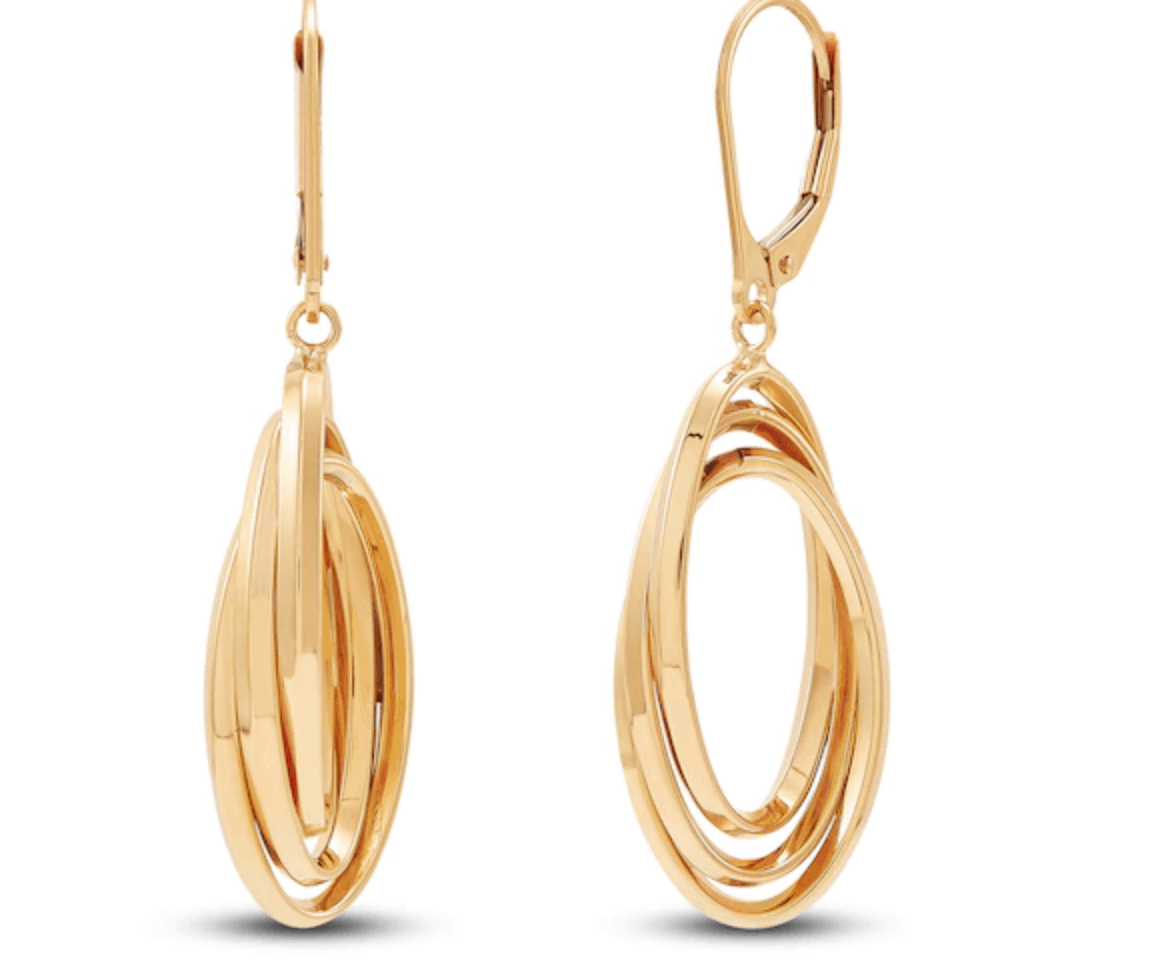 These gorgeous dangle earrings prove you don't need to have gemstones to make an impression. Warmth and luster exude from 14K yellow gold, with a modern design of interlocking hoops. Go from day to evening with this look– they pair with everything from jeans to suits or dresses. Priced at around $499; Buy Here.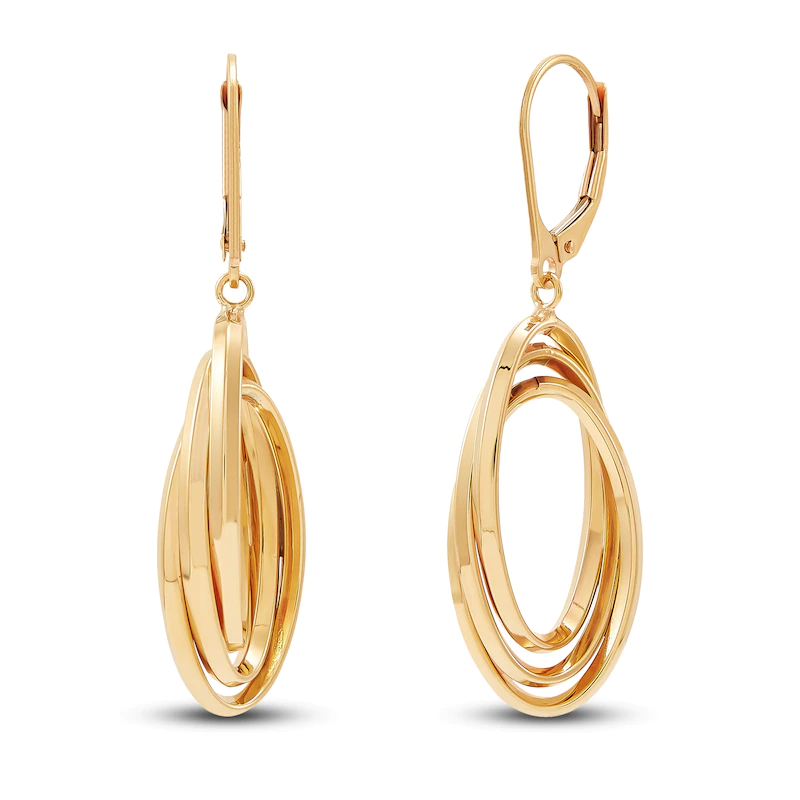 Interlocking Dangle Earrings | Jared
Three dynamic gold hoops entwine and interlock in these striking women's dangle earrings. Crafted in lustrous 14K yellow gold, the earrings are secure in place with euro wire.
Check Price
We earn a commission if you make a purchase, at no additional cost to you.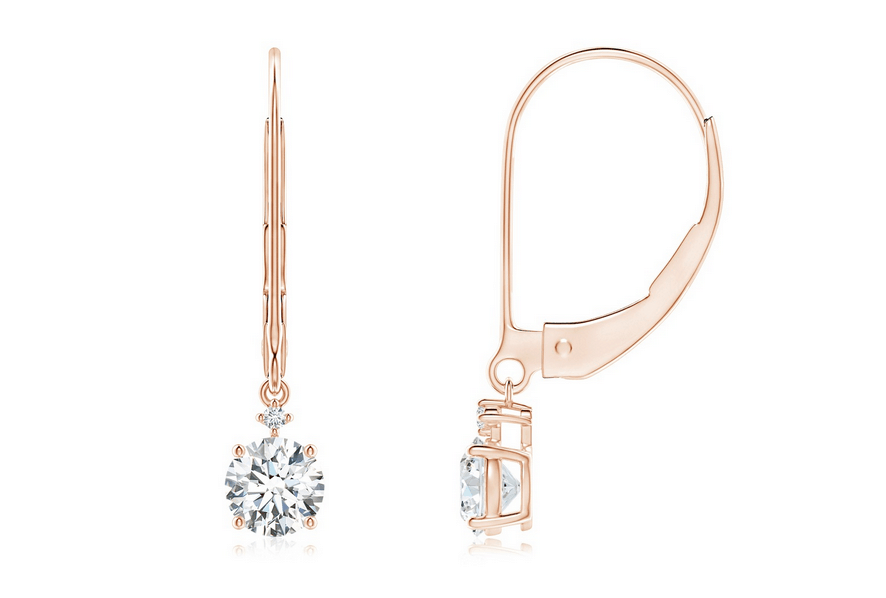 Diamond earrings are more common in drop styles, but these stunning dangle earrings are an excellent pick. The sheer customization is amazing: choose from ½ carat diamonds to a whopping 3 carats. You'll also have a choice of 3 diamond qualities, and between 14K rose, yellow or white gold (as well as platinum). Priced from $746 to a little over $31,000, these stunning dangle earrings will be your go-to for wear to come. The round diamond shines with brilliance, accented with smaller white diamonds near the prong setting. Buy Here.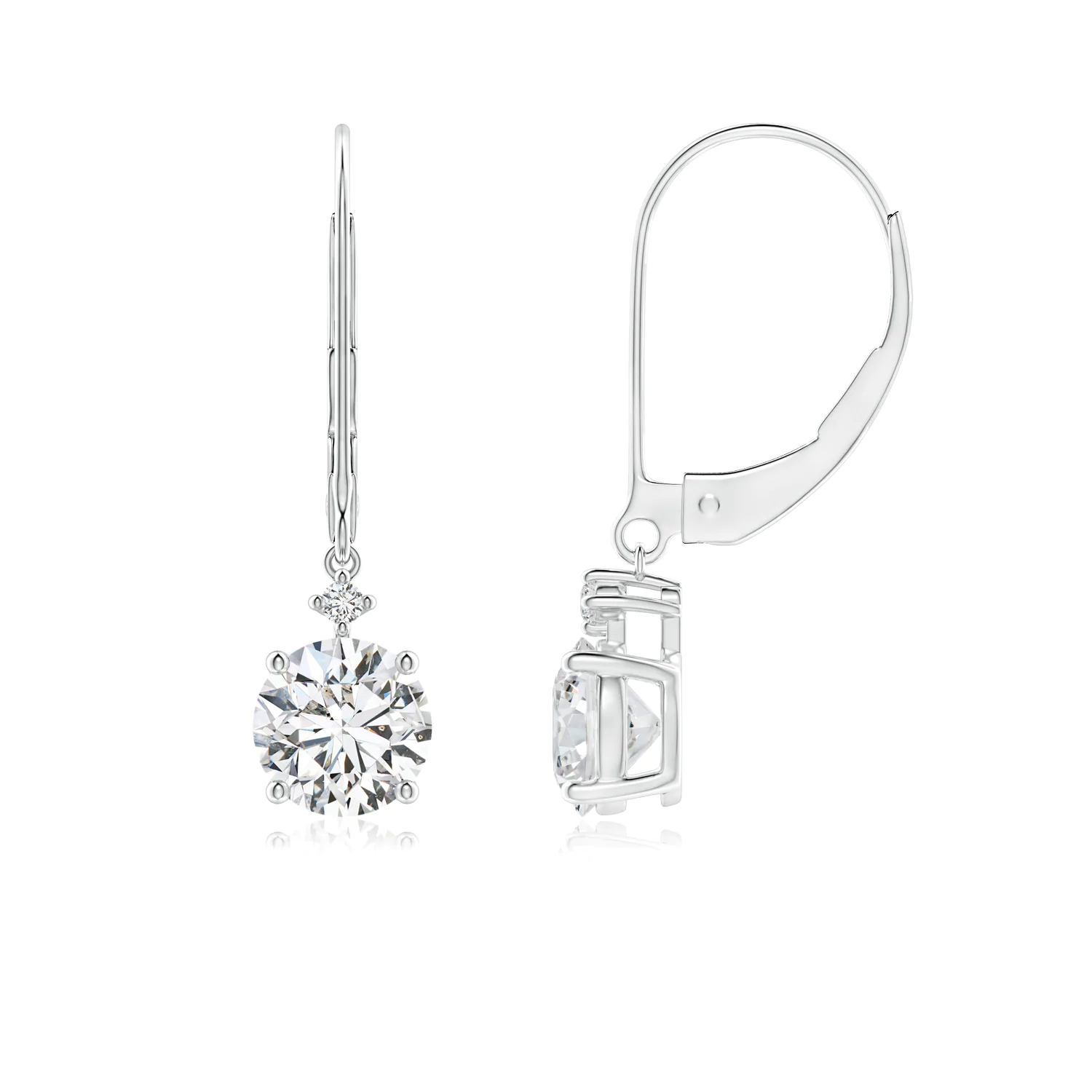 Solitaire Diamond Dangle Earrings | Angara
Mounted in a classic prong setting, the round diamonds shine brilliantly and attract attention for their distinctive beauty. They are set in 14K white gold and secured to lever back closures to hang gracefully in a delicate drop style.
Check Price
We earn a commission if you make a purchase, at no additional cost to you.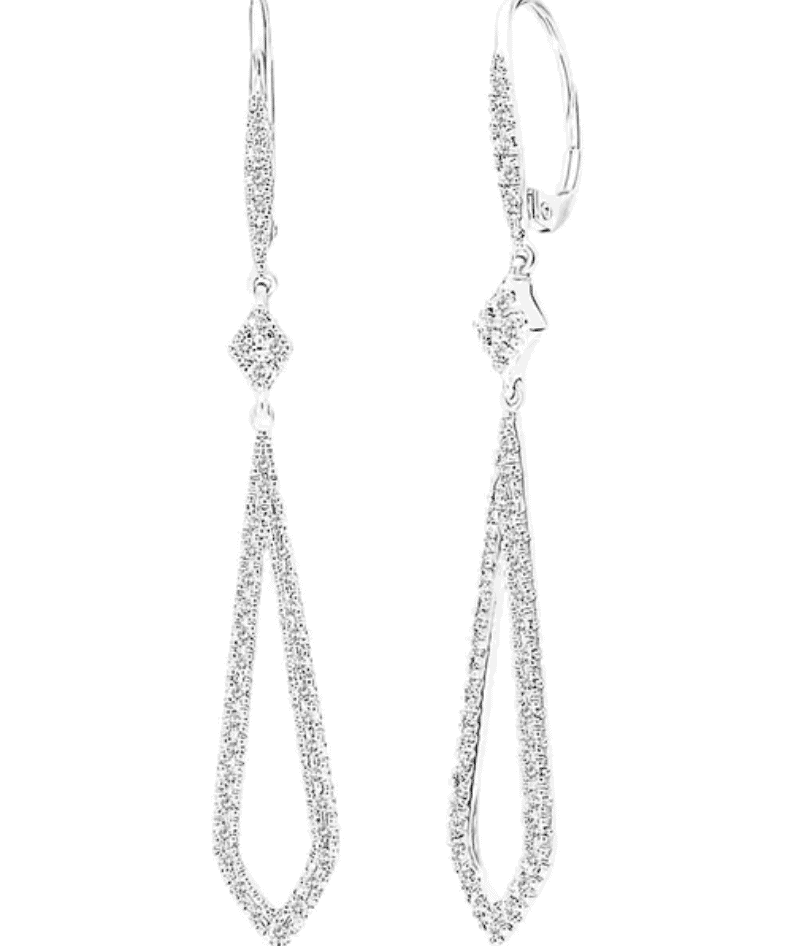 These stunning dangle earrings feature a more modern, minimalist allure. Crafted in 14K white gold, 0.4 carats of nearly colorless, slightly included natural diamonds sparkle from a dramatic teardrop shape. Beautiful but not overwhelming, these earrings are priced at only around $775 on sale. Buy Here.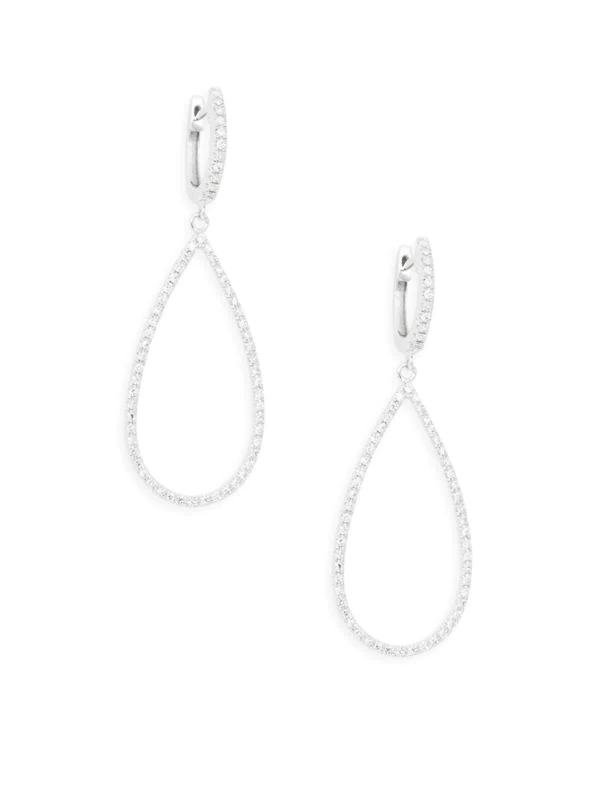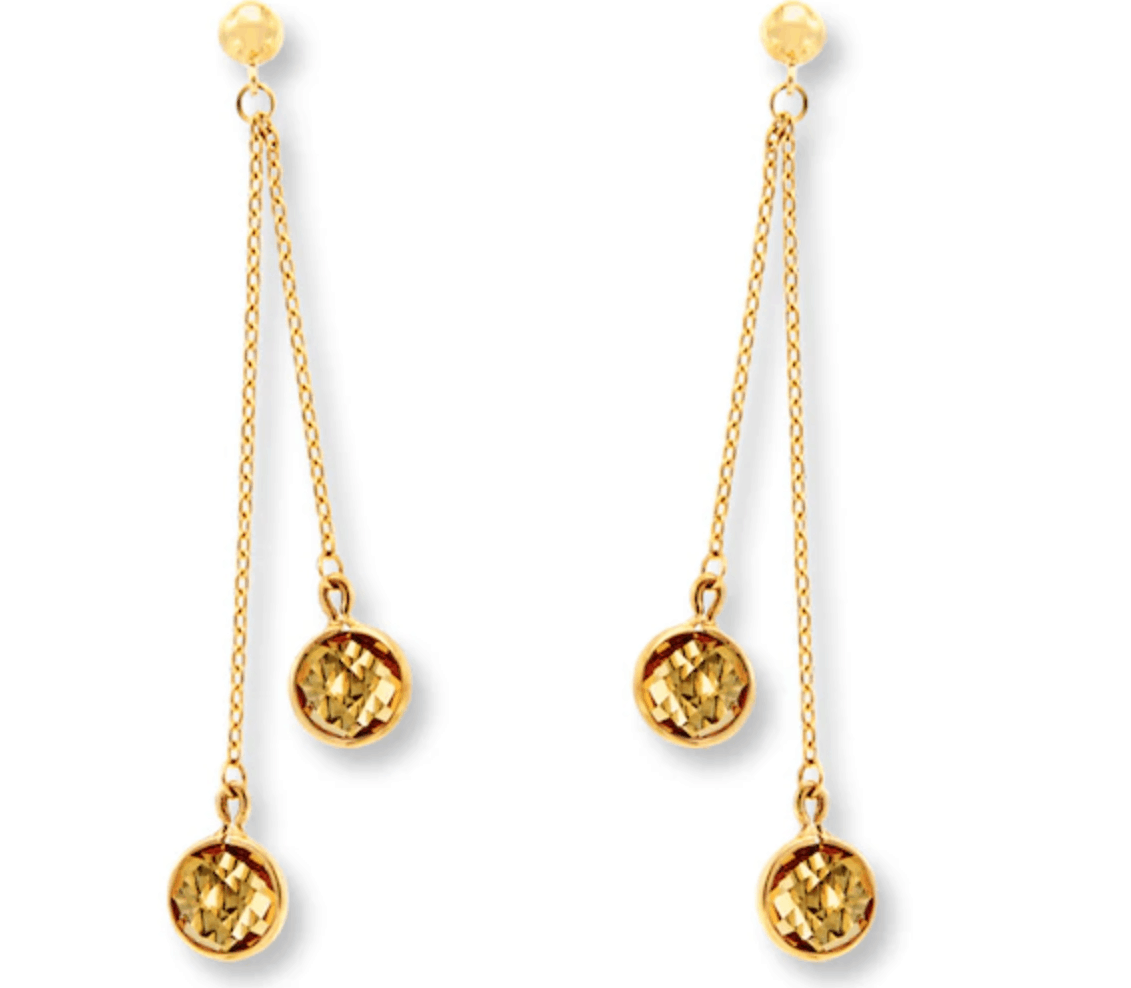 What better way to stand out than dangle earrings with a warm gemstone? These stunning citrine dangle earrings feature a double strand design and are crafted in 14K yellow gold. Four round, natural citrine gemstones are featured for a brilliant look. Priced at around $529; Buy Here.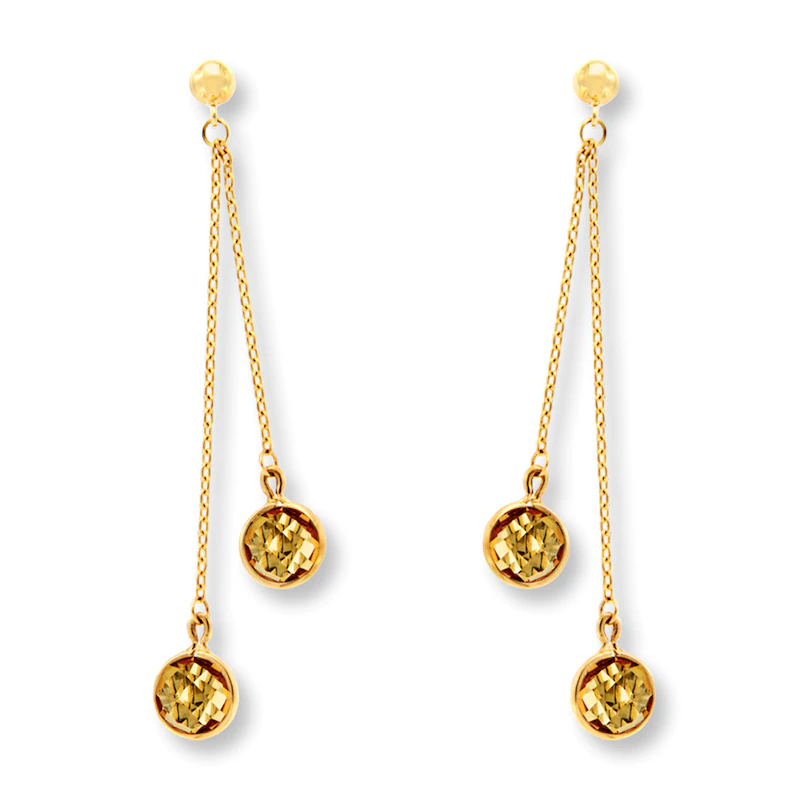 Citrine Dangle Earrings | Jared
These delightful earrings for her feature round citrines that dangle from 14K yellow gold chains. The earrings are secured with friction backs.
Check Price
We earn a commission if you make a purchase, at no additional cost to you.

Tiffany HardWear Graduated Link Dangle Earrings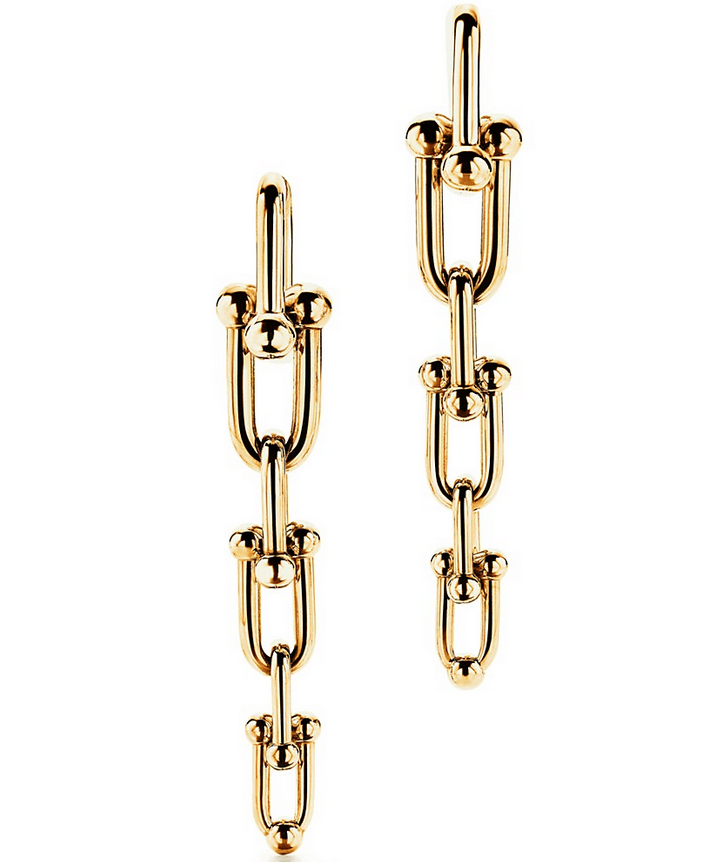 Tiffany & Co is a luxury designer known for elegant, modern designs with stunning craftsmanship and quality. Glossy 18K yellow gold provided sophistication to these modern link dangle earrings. Stradling between everyday wear and dressy, these earrings are gorgeous. Granted, they don't come cheap, priced at around $5,900; Buy Here. 
Platinum Dangle Earrings
Platinum features a white-silver hue and a gorgeous shine. Platinum earrings are less prone to wear and scratching than any gold earrings– though they come with a hefty price tag. These platinum earrings exude modern allure. If you like the hue, they're more durable than white gold earrings but provide a similar style.  Most platinum dangle earrings are paired with diamonds and other precious stones.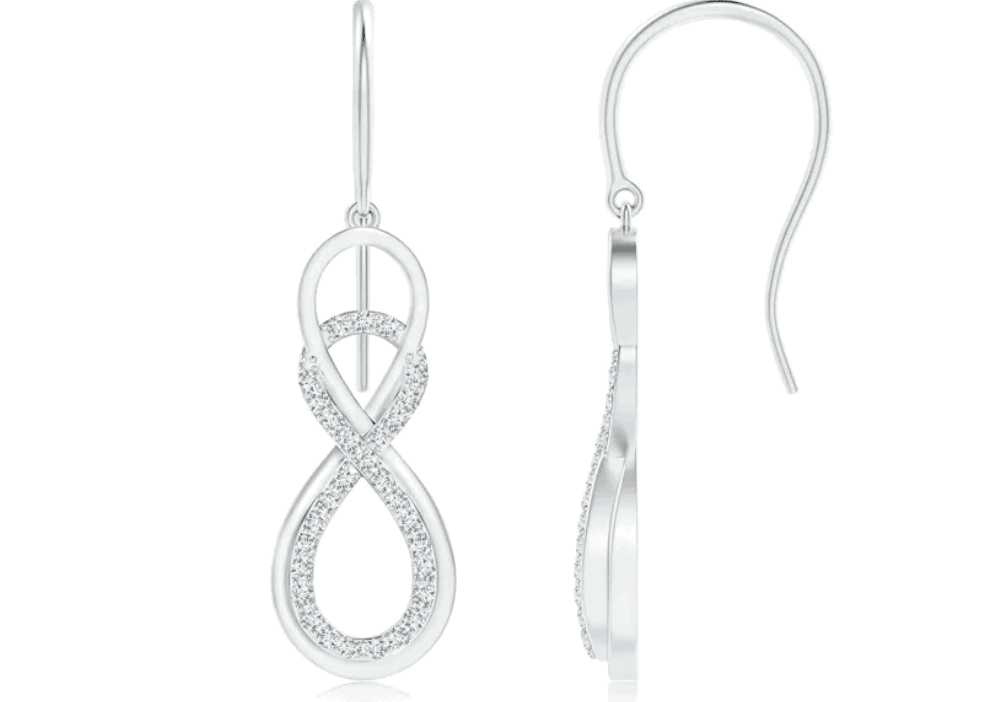 Infinity accessories are more popular than ever in 2022. A symbol of eternal bonds, endurance, and life itself, these platinum earrings are both stunning and meaningful. Glossy platinum sets the backdrop for a diamond-studded infinity motif. 60 round diamonds sparkle for a timeless look. Choose the diamond quality of your choice (also available in 14K gold). Priced from $1,223 to $1,646; Buy Here.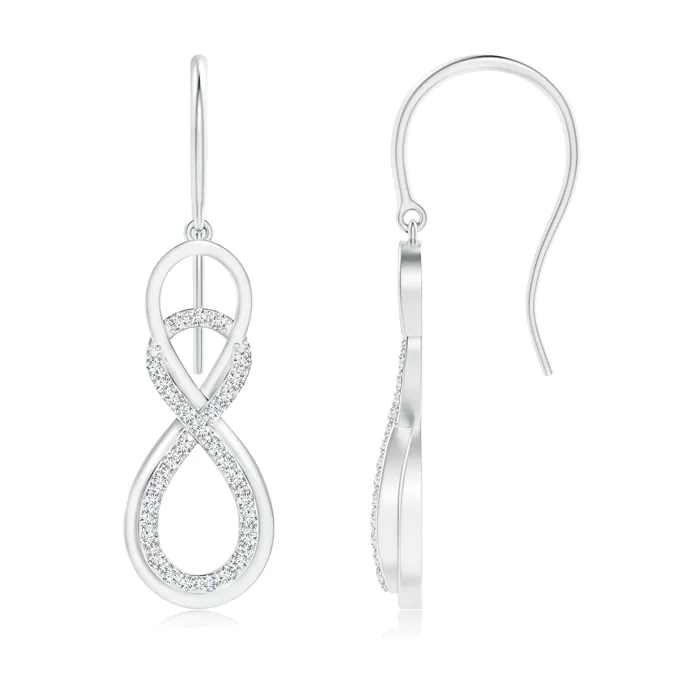 Tiffany Diamonds by the Yard Dangle Earrings
Round brilliant-cut diamonds spectacularly catch the sunlight. Statement-worthy diamond rings feature a clean, minimalist style, crafted in high-quality platinum. These diamond earrings come from the Elsa Peretti Collection, started in 1974 and long a special centerpiece of Tiffany since, with sculptural and sensual designs. Priced at around $2,900; Buy Here.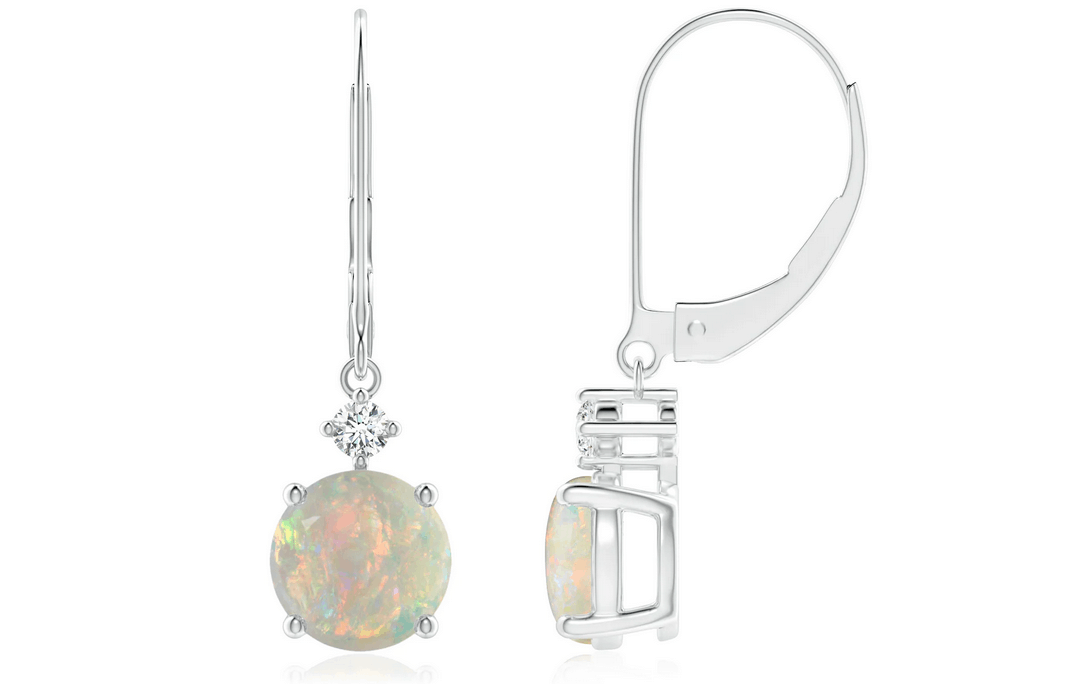 Believed by the Ancient Greeks to be protective against disease, opals are now known as symbols of purity, truth, and hope. These classic opal dangle earrings, available in platinum, are accented by white diamonds. Choose from good to heirloom quality and 0.34 to 1.59 carats. Platinum earrings are priced from $674 to $1,493 (also available in 14K gold); Buy Here.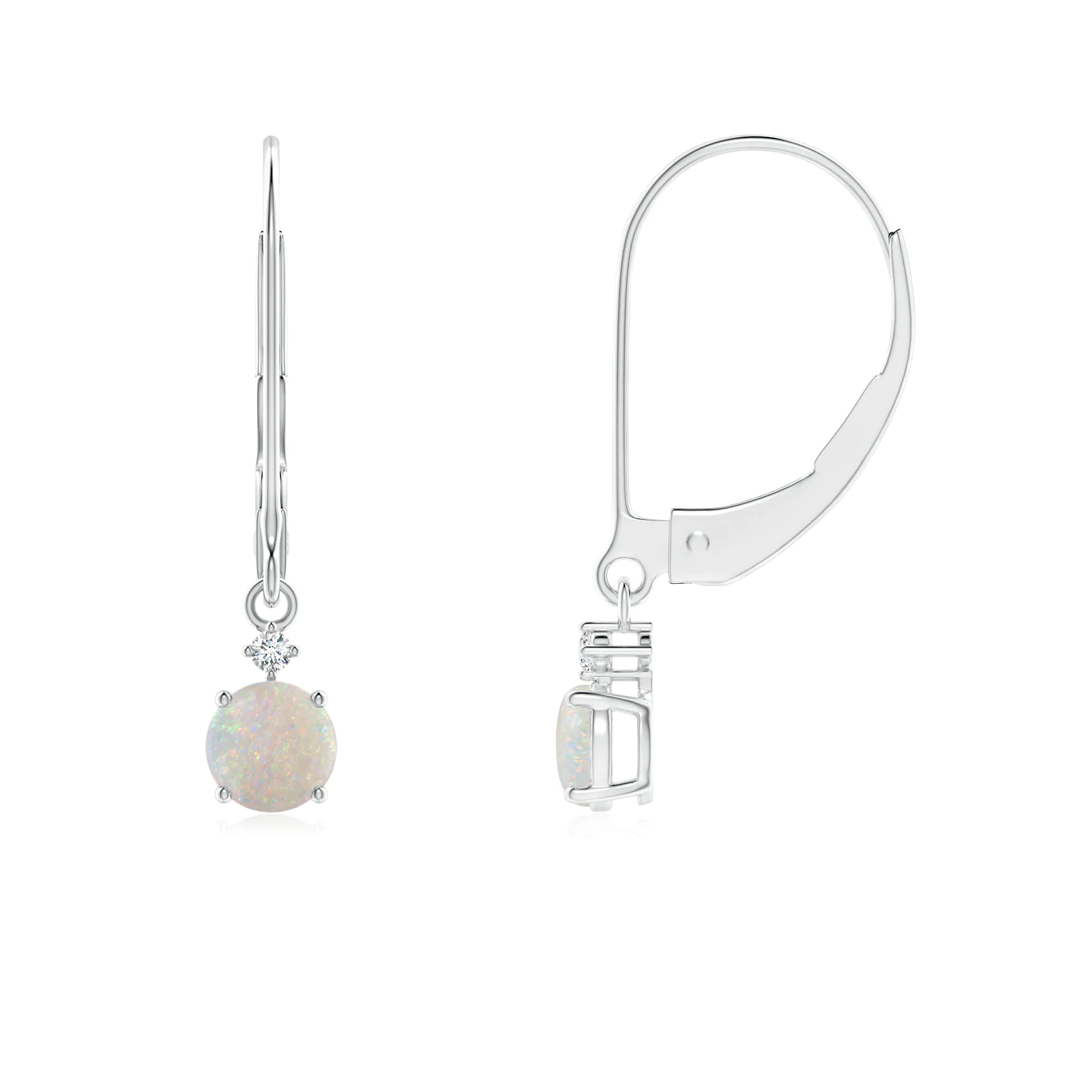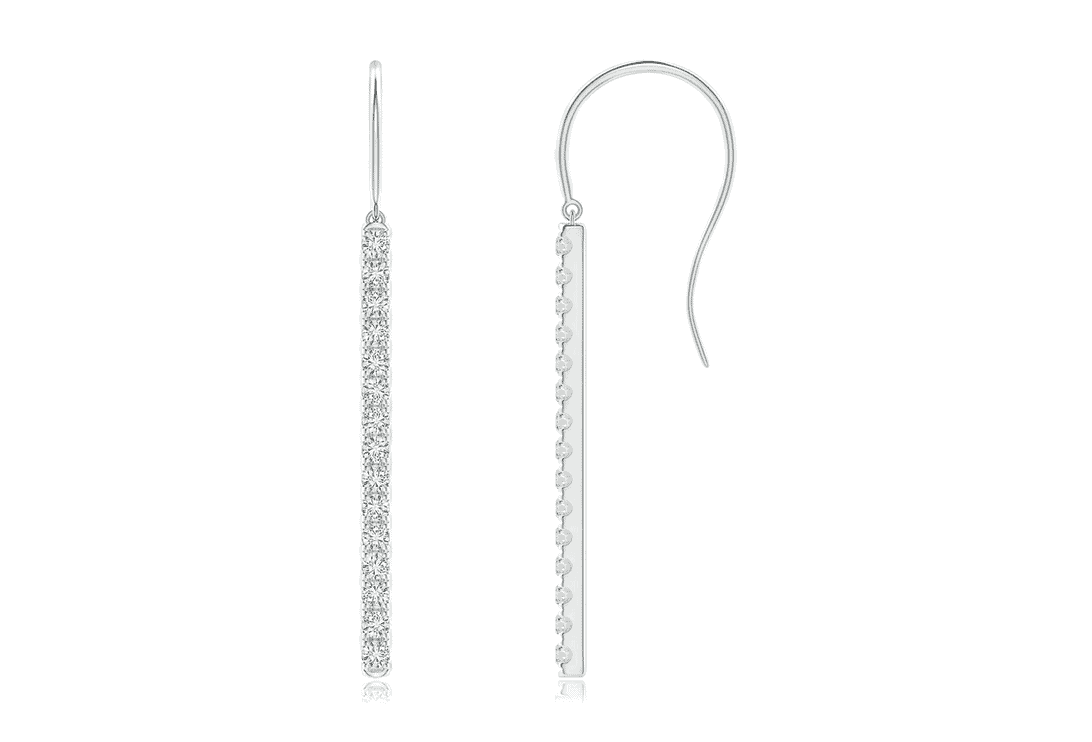 Timeless, elegant, but also stylish. These platinum earrings feature French wire shepherd hooks and vertical bars. 30 round prong-set diamonds add classic allure to any formal outfit. Select your diamond quality and from ¼ to ½ carat. Priced from $1,115 to $1,475 for platinum; Buy Here.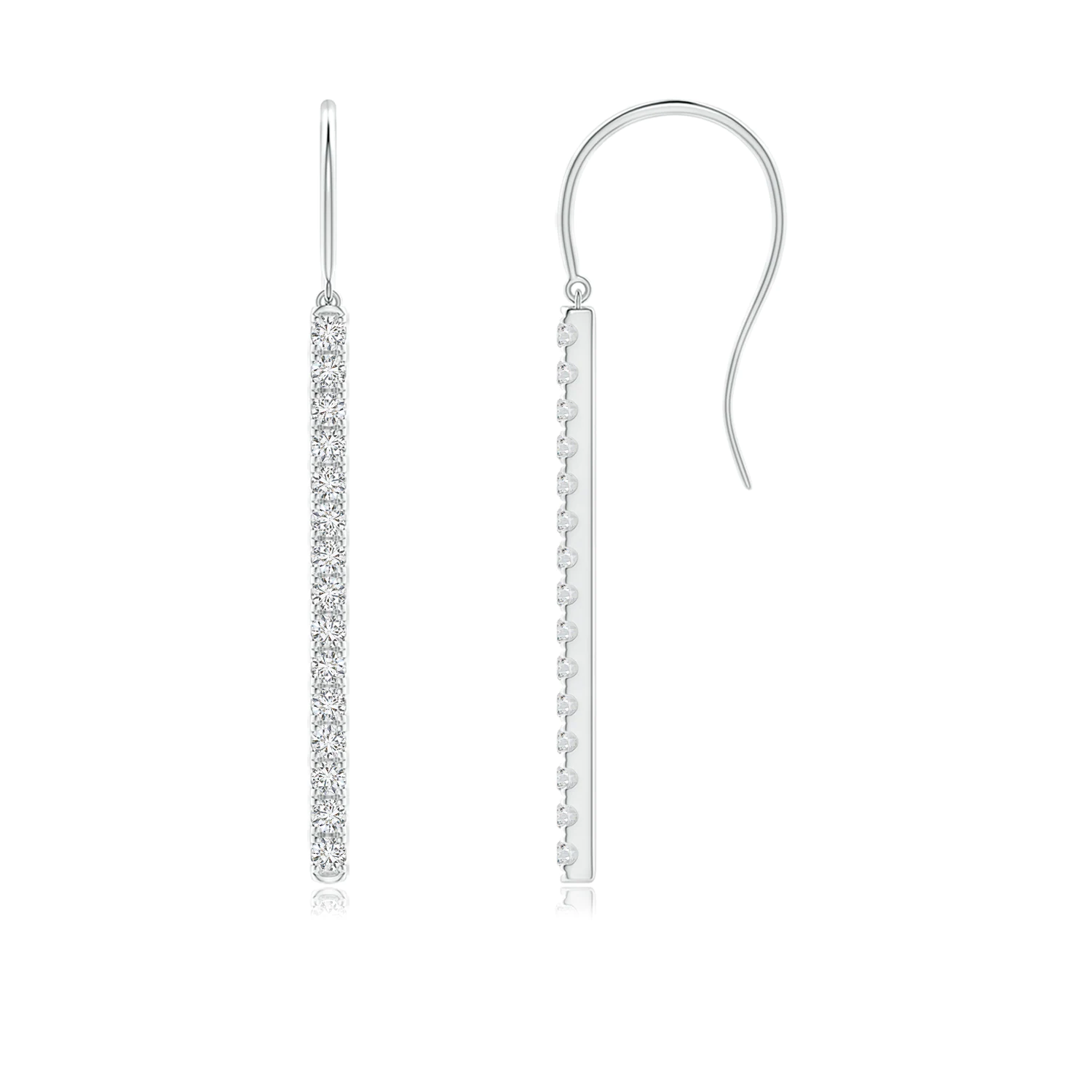 Shepherd Hook Dangling Diamond | Angara
Offering timeless elegance, these dangle earrings are crafted in Platinum. These diamond dangling earrings exude a highly sophisticated aura that is hard to miss.
Check Price
We earn a commission if you make a purchase, at no additional cost to you.

Stainless/ Surgical Earrings
Stainless and surgical steel earrings are usually hypoallergenic and lightweight. Even better, steel is a cheaper material than gold or platinum. The downside? Stainless and surgical steel may not have as high of shine. They also are much harder to find. My picks come from highly rated independent shops on Etsy. Most fine jewelers don't carry many stainless steel earrings (steel is less valuable) but it's highly durable. You won't need to worry about tarnish, scratches, or dents. I also love these earrings for casual, everyday wear. They tend to be more comfortable and more dressed down.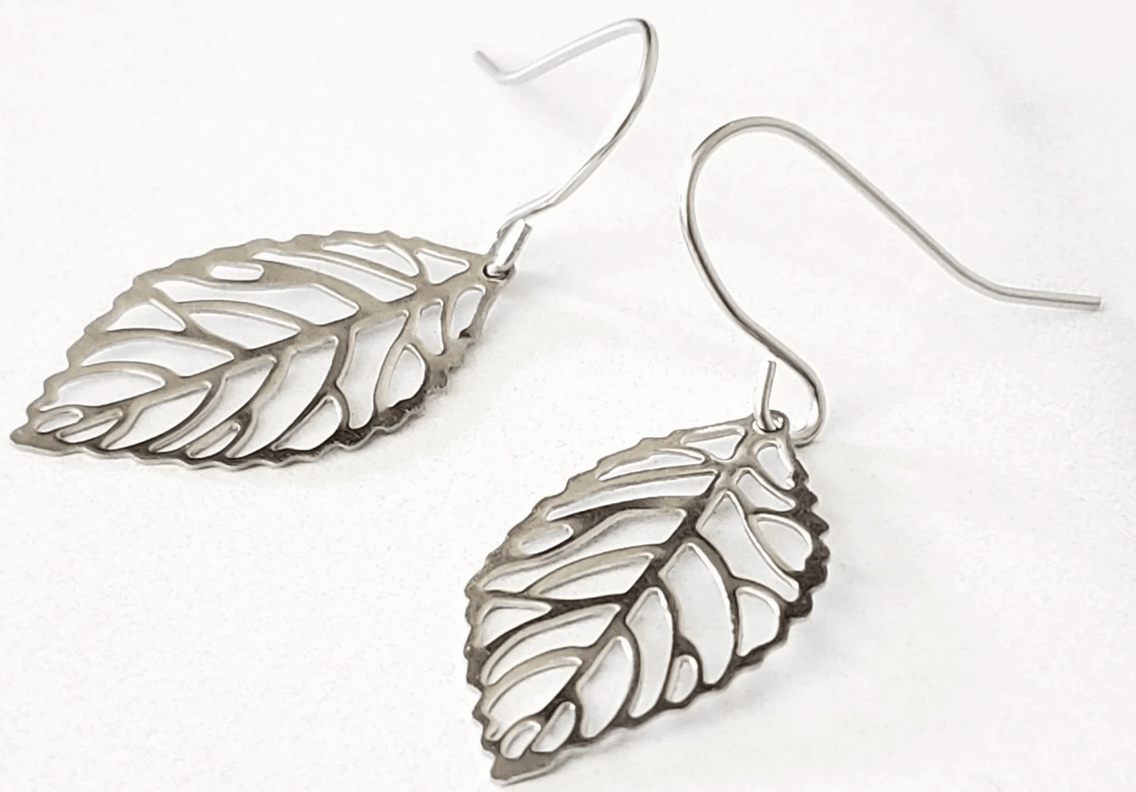 These hypoallergenic leaf dangle earrings are priced at around $18. The minimalist design is crafted into a classic leaf pattern, with a simple ear wire closure. Perfect for Fall, these earrings are festive but still versatile. Buy Here.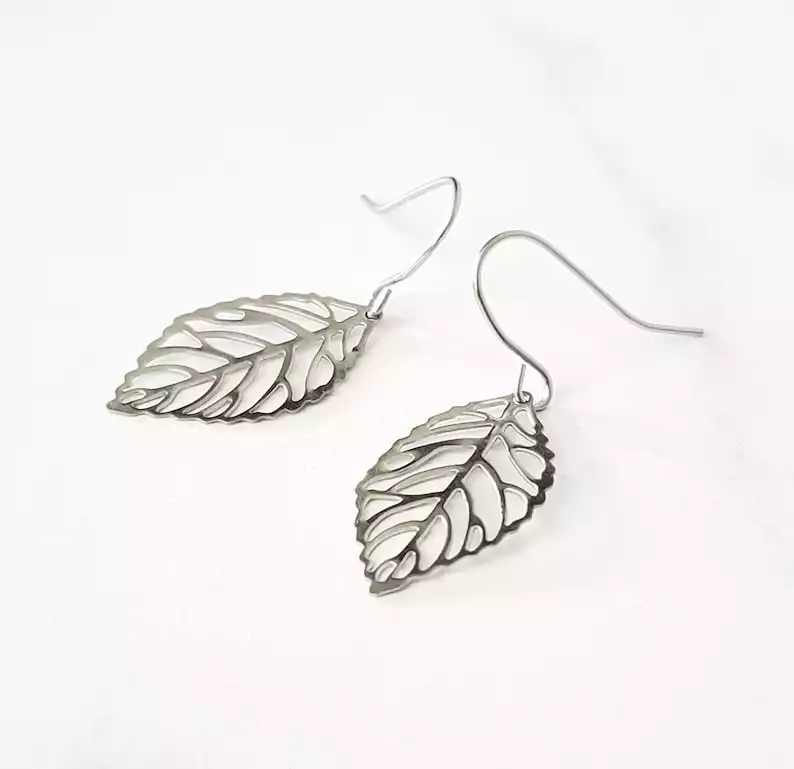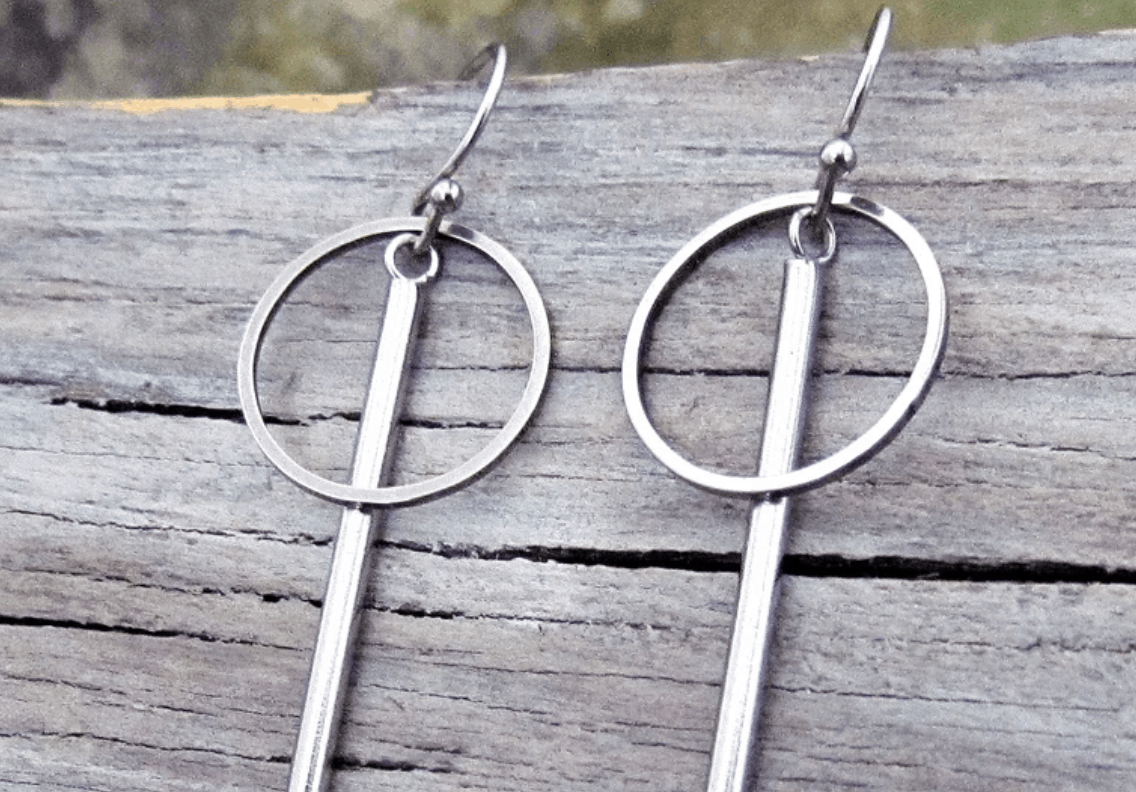 Simple and sleek. These hypoallergenic, handmade earrings pair a hoop and classic bar design so you can have the best of both. About as versatile as you get, wear these earrings with casual outfits and dress them up with statement bracelets. Priced at around $14.99; Buy Here.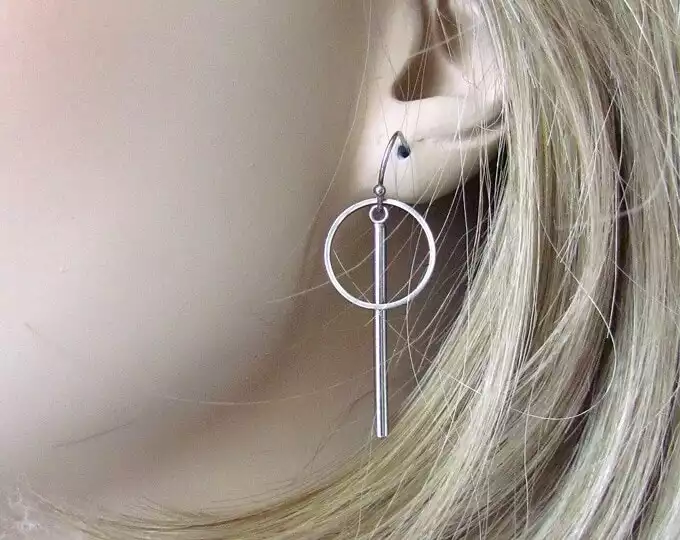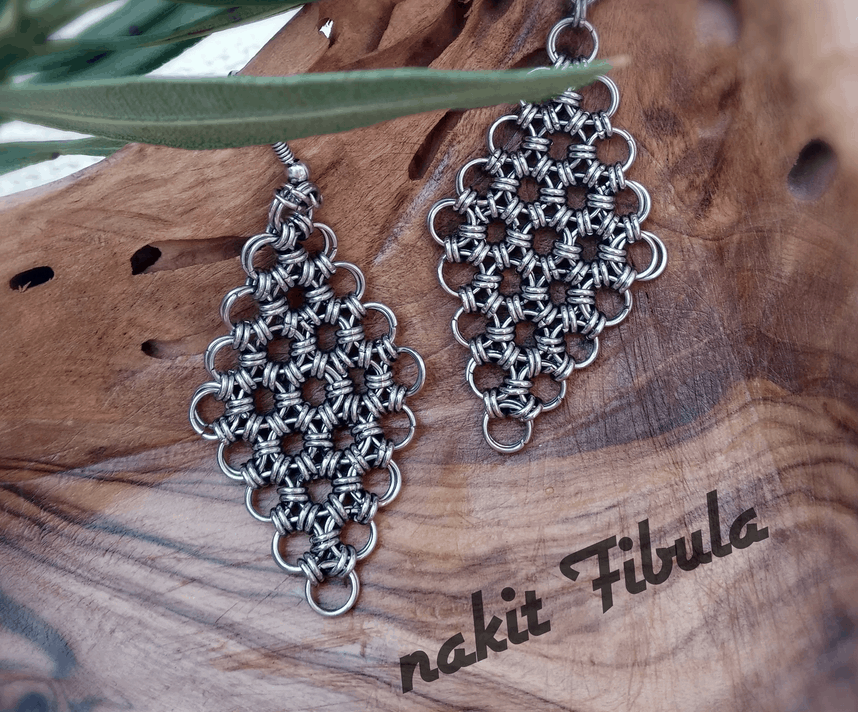 Rock a boho or boho-chic style with these stainless steel dangle earrings. The unique chainmail technique involves interlocking tiny circles for a geometric statement. The textured design is both versatile and unique. Priced at around $34.47; Buy Here.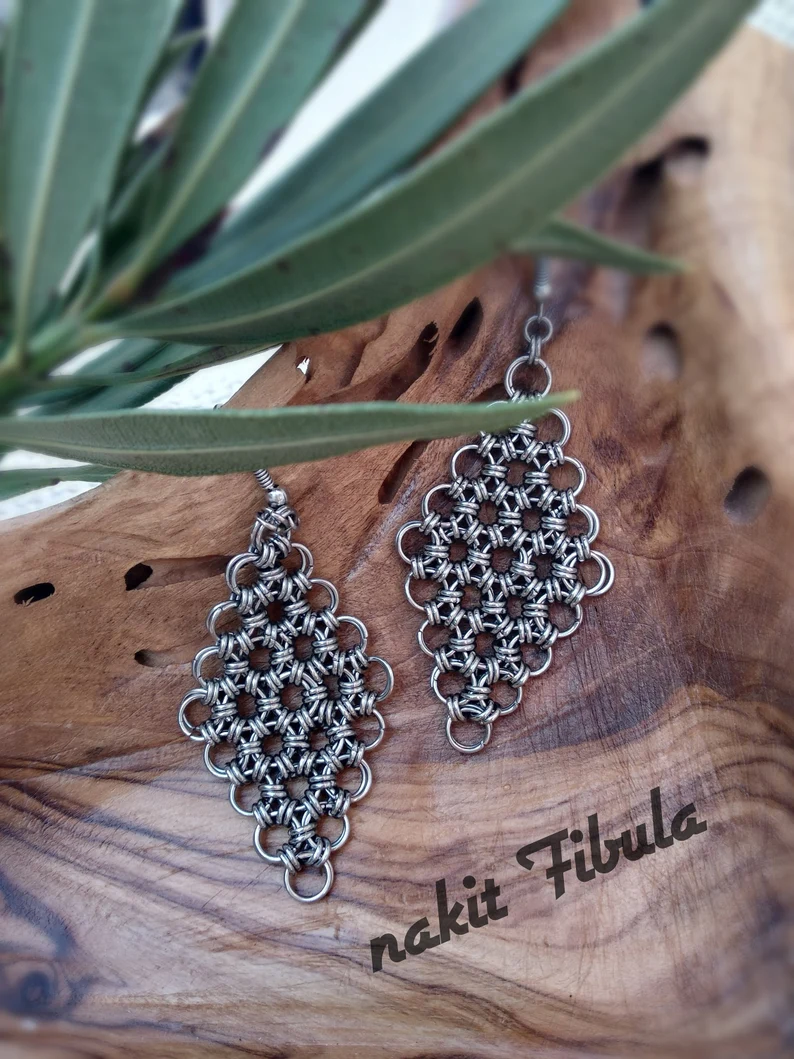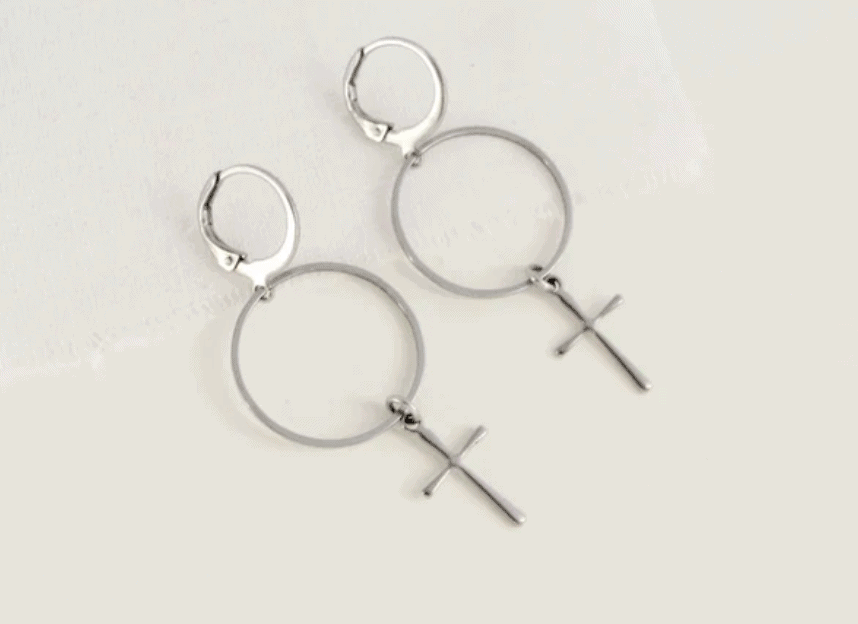 Pairing a dangle and hoop style, these meaningful stainless steel earrings are priced at around $19.69. Minimalist hoops are paired with cross pendants and made to order. Lightweight, personal, and at a great price; Buy Here.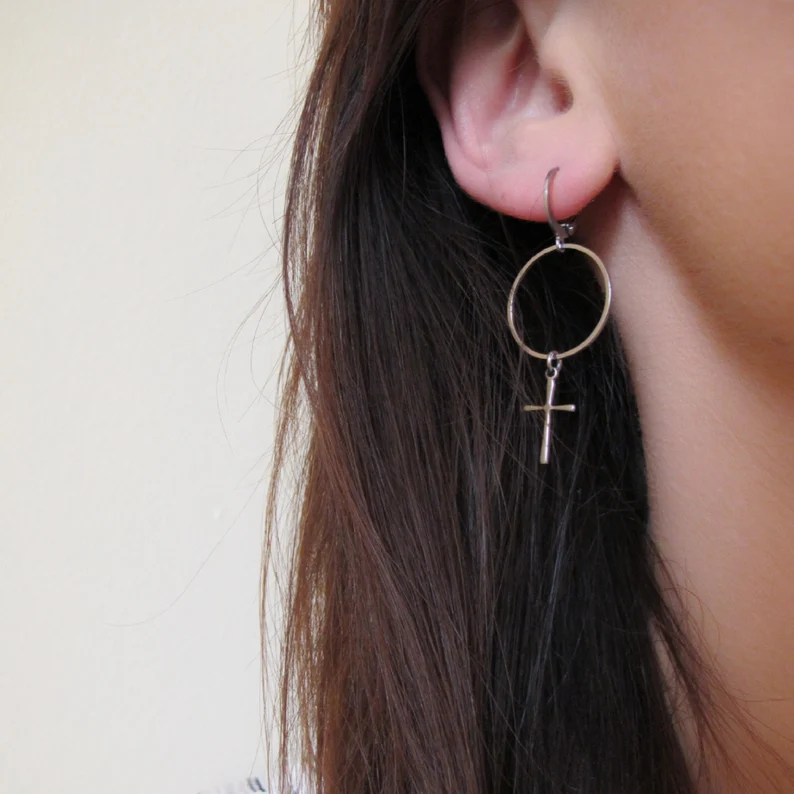 Rogers & Hollands Stainless Steel Fish Hook Dangle Earrings
If you feel more comfortable buying from a bigger jewelry store, consider these fish hook dangle earrings. Tiers of teardrop-shaped stainless steel provide a dramatic look for a more maximalist statement earring. Priced at around $79; Buy Here. 
Frequently Asked Questions
Question: What are Drop Dangle Earrings?
Answer: The term drop dangle usually is just combining the two earring styles– drop and dangle. Both drop and dangle earrings consist of a single chain (sometimes multiple chains) hanging from a stud, gemstone, or bead. These earrings can vary in length and shape. 
Question: Why do Dangle Earrings Hurt?
Answer: Those with sensitive ears can find dangle earrings uncomfortable if worn for long periods of time. The discomfort usually stems from heavy earrings. Thus, many find that opting for a lighter material, such as steel, may alleviate some discomfort associated with dangle earrings. 
Question: Can I Wear Dangly Earrings to Bed?
Answer: Aside from new piercings, I recommend removing all earrings before bed. Wearing earrings to bed/ 24-7 can cause ear irritation and accelerate earlobe stretching. Dangle earrings may disrupt your sleep and it's easy to damage them due to their length and construction. 
Final Thoughts
Dangle earrings make for amazing accessories. Whether you opt for a casual or glam style, dangle earrings are certainly occasion-worthy. Dangle earrings complement updos and short hairstyles most. They also look spectacular with v-necks, scoop necks, and sweetheart necklines. 
| Product Image | | Primary Button |
| --- | --- | --- |
| | | |
| | | |
| | | |