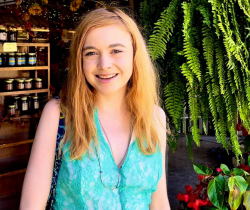 Latest posts by Erin Jamieson
(see all)
2022 has been an exciting year for earring trends, from bold, statement styles to clever asymmetric designs. But leather earrings are proving to be one of the most surprising trends.
The idea of leather earrings isn't new– but it turns out that 2022 has been a great year for both vegan and genuine leather earrings. Declared a Fall fashion trend for 2022, you may not see tons of people rocking leather earrings– but it is a way to stand out from the crowd and the look seems to be rising in popularity. 
In a unique fashion forecast for Fall 2022, leather earrings were perhaps the most surprising trend mentioned. Alongside glam diamond and gemstone necklaces and bracelets, it was leather that was chosen as the fabric of choice for statement earrings. 
The leather earrings are anything but ordinary. Upcycled Italian leather earrings are given a glam update with iridescent ruthenium coating– a sign that leather earrings are no longer merely offbeat and casual.
But what's behind this leather earring trend, and is it right for you? In this article, I'll give you my tips for selecting between leather and faux leather earrings. Plus, I'll give you my favorite ideas for leather earrings you can buy right now. 
At a Glance: Best Leather Earrings

Are leather earrings in style for 2022?
If you're merely looking for the trendiest earrings, leather earrings aren't the best pick. Mainstream trends include gold hoop earrings, statement earrings with gemstones, diamond studs, asymmetry, and personalized earrings. But leather earrings are gaining popularity in 2022. Once a relatively unknown trend, I've seen leather earrings featured in several fashion advice and showcase features this year. 
The upswing likely began in 2020– a year where many Americans sought new ways to express their individuality. This push meant more Americans embracing alternative looks and trying styles they wouldn't have before. So, in some circles, leather earrings are considered stylish– but they're also still unique. For many, this is a plus. 
What are the different styles of leather earrings?
Most leather earrings are casual, boho, or boho-chic. A few leather earrings include plating or other detailing that adds metallic hues, or even a bit of sparkle for a more dressed-up look. Many leather earrings are a dangle or drop style. The second most popular type of leather earrings is hoop earrings, followed by studs, which are a bit less common. Leather earrings are statement-worthy, but more subtly than glitzy styles of statement earrings. 
What kind of leather do you use to make earrings?
Earrings are made out of genuine or faux leather. Cowhide leather is the most common type of genuine leather used, usually with a semi-soft finish. It's fairly easy to get one's hands-on, and the soft texture makes it malleable enough to work with– while providing enough firmness to work for an earring. Leather earrings are often paired with sterling silver, and occasionally gold plating or gold for the earring wires and backs, though not always. 
How do I find the best leather earrings?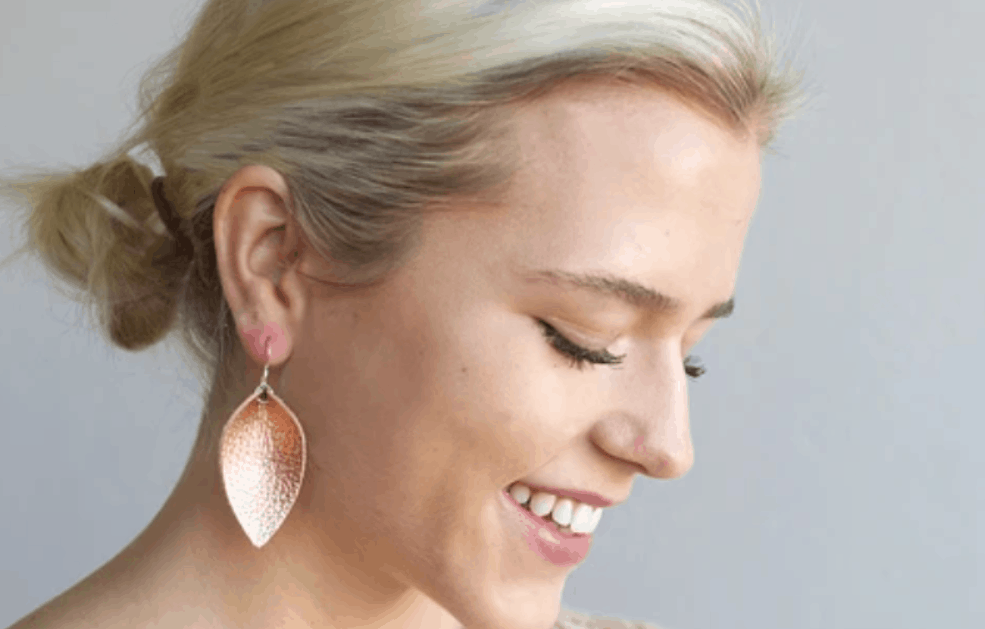 Leather earrings aren't sold by fine jewelers, and mostly not by well-named casual jewelers. Instead, you'll have to look for leather earrings from specialty stores and independent or small stores. Your selection is limited, so the biggest decision you'll need to make is where faux leather or genuine leather earrings are right for you. 
What's the difference between leather and faux leather?
Leather and faux leather are quite different. Genuine leather comes from an animal's hide— most commonly, in this case, cowhide (though it can also come from cattle, buffalo, and more). Faux leather, meanwhile, is usually made from a plastic base, which is then finished with treatment (wax and polyurethane). This treatment provides a soft coating and adds texture. While genuine leather can be dyed as well, faux leather must be dyed. 
What's the difference between vegan leather and faux leather?
Vegan leather and faux leather are terms that are used interchangeably and for good reason. They are the same thing– vegan is simply used to indicate that the leather is not derived from an animal. 
Does vegan leather last as long as real leather?
Vegan leather usually doesn't last as long as true leather. It can last a while, but genuine leather, when treated well, can outlast faux by many years.
 Faux leather tends to be thinner and prone to wear more quickly. However, unlike genuine leather, it doesn't crack and wears due to moisture build-up. If you get your earrings wet, synthetic leather will hold up, but genuine leather will become damaged over time. 
Does vegan leather look cheap?
How vegan leather looks are subjective. It certainly doesn't have the same rich texture as real leather. However, this is more noticeable for large pieces, just as leather jackets. You likely will notice the differences in appearance less in something small like earrings. 
Does faux leather scratch easily?
Another advantage to faux leather is that it actually scratches less, and those scratches may be less noticeable. Again, since I'm discussing earrings vs a full leather sofa, for instance, some of these differences may not play as large of a role. But generally speaking, while genuine leather lasts longer, looks more expensive (and is), and doesn't fade– faux leather is a little better about holding up to moisture and everyday scratches. 
What else should I consider when buying leather earrings?
You should always make sure you're careful– especially if you're shopping online. Buy leather earrings that suit your style and have a little fun with them. While I normally recommend only the most durable earrings, leather earrings, even genuine leather earrings, are quite cheap. You'll find that the majority of leather and faux leather earrings cost under $50. In other words: buy a pair from a trusted seller that fits your lifestyle. They don't need to last forever.
If you have allergies, something like surgical steel or other nickel-free metal backings would be wise. Sterling silver and gold plating– commonly used– can tarnish especially with moisture– though genuine leather can as well. 
Leather Earrings: My Picks
Here are my ideas for playful, whimsical, and unique leather earrings in 2022. I've included a small selection of both faux leather/ vegan and genuine leather earrings, all at affordable prices. From casual to boho to a little dressy, these are picks. 
Faux/ Vegan Leather Earrings
A little cheaper– though not substantially so– faux leather earrings appeal to many people. Though they aren't as durable, you'll notice fewer scratches every day. For those following a vegan lifestyle, this is the alternative, of course, to regular leather earrings. For faux leather, your best option is to shop at Etsy. Etsy has quite a collection of unique and classic faux leather earrings, all at budget-friendly prices. My picks come from shops with high ratings.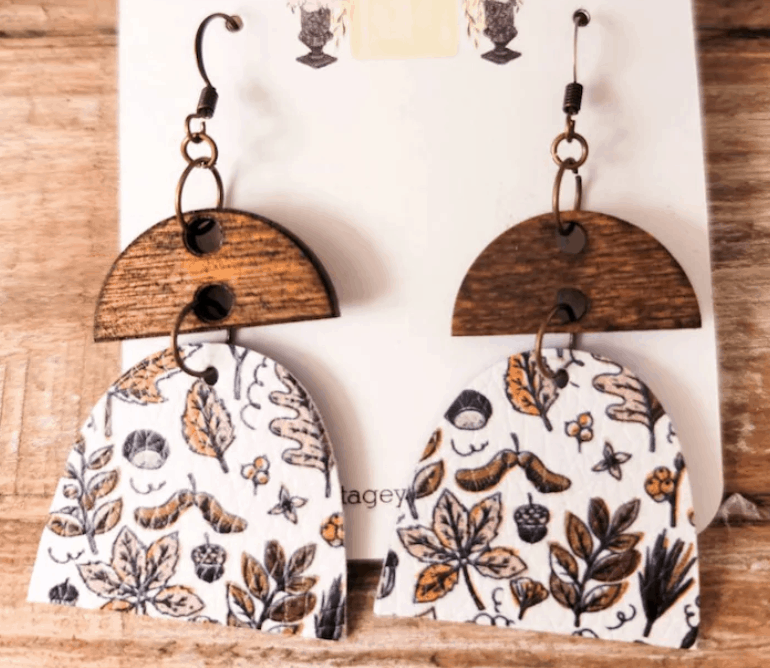 These unique earrings pair with gorgeous birch wood and faux leather. The wood stain adds a richer tone to these dramatic earrings. All wood and vegan leather construction add a playful woodland forest print (leaves, acorns, and mushrooms) for a full boho, fairytale-like look. The lightweight materials move with you. Priced at $12; Buy Here. 
Wooden and Vegan Leather Print Earrings | Etsy
These earrings are lightweight and move well when worn. There is a wooden half circle on top of bell-shaped vegan leather. The vegan leather has a beautiful natural, woodland pattern with leaves, acorns and mushrooms.
Check Price
We earn a commission if you make a purchase, at no additional cost to you.

Faux Leather Leaf Earrings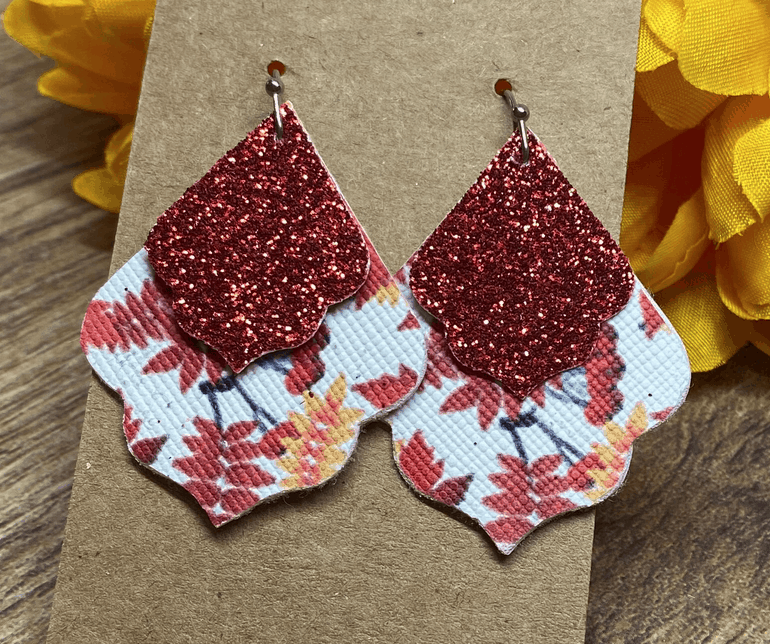 Maybe it's because my favorite season is Fall, but these vegan leather earrings are one of my favorites. Sparkling fall hues pair with a leaves print for a festive look. The earring backings are made out of stainless steel. A durable, lightweight fabric that's friendly to sensitive skin. Priced at around $8.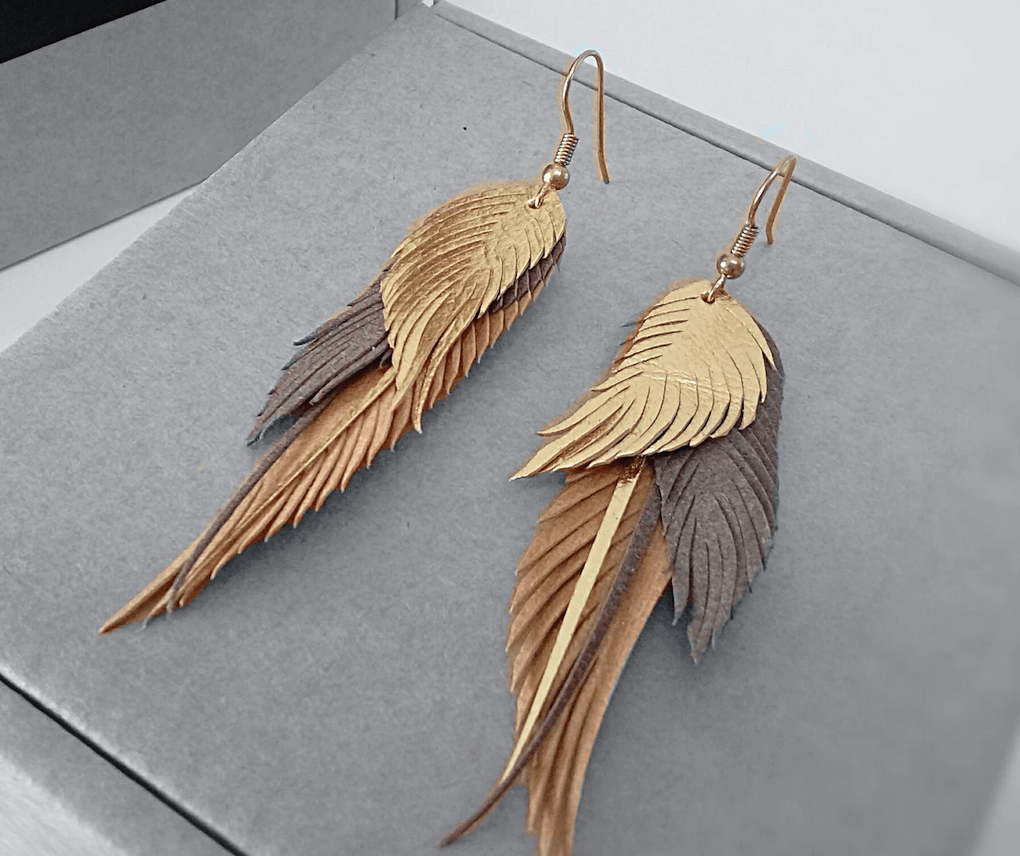 These faux leather earrings are surprisingly elegant, with a classic boho motif. These statement earrings feature overlapping faux leather feathers. The metallic hues add an expressive touch. These earrings are also washable and made out of recycled materials. Priced at around $17.28 for most styles; Buy Here.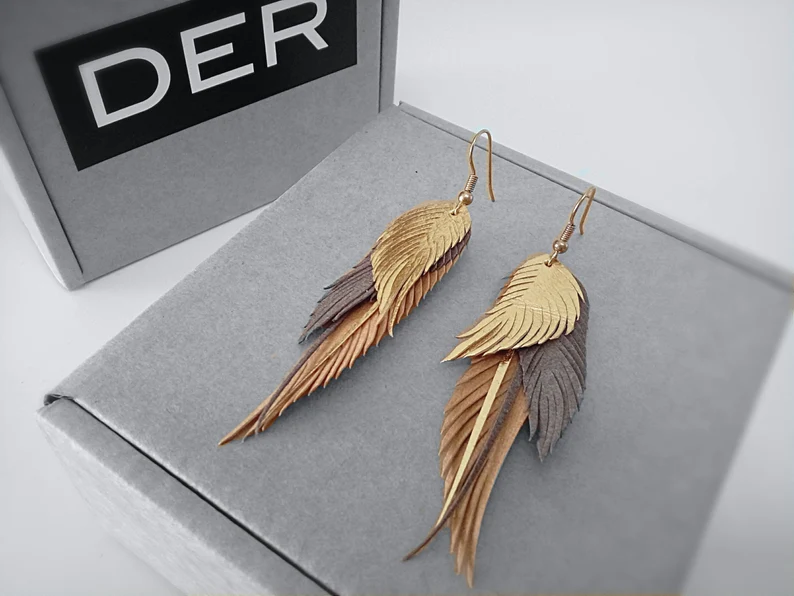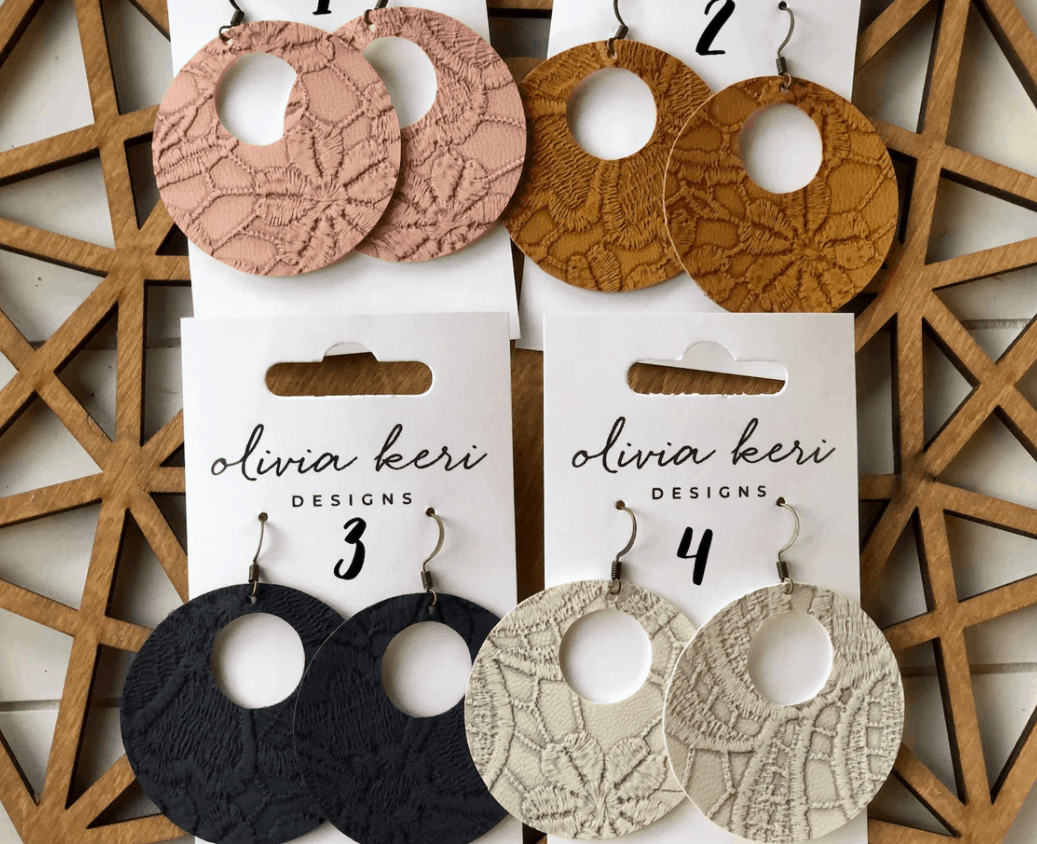 Now on sale for just $5 a pair, these versatile earrings can be worn with just about anything. Available in rose, dusky tan, black, and ivory, each design features subtle flower embroidery for understated beauty. These lightweight earrings pair with nickel-free, bronze earring backs. Buy Here. I also recommend looking at all OliviaKeriDesigns Earrings and more styles.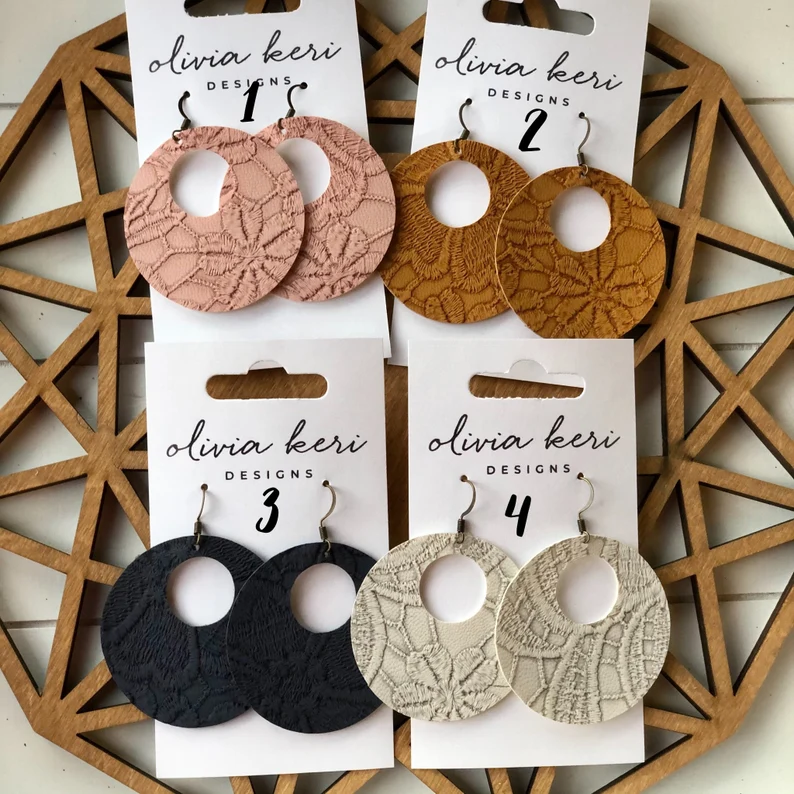 Diffuser Minimalist Vegan Earrings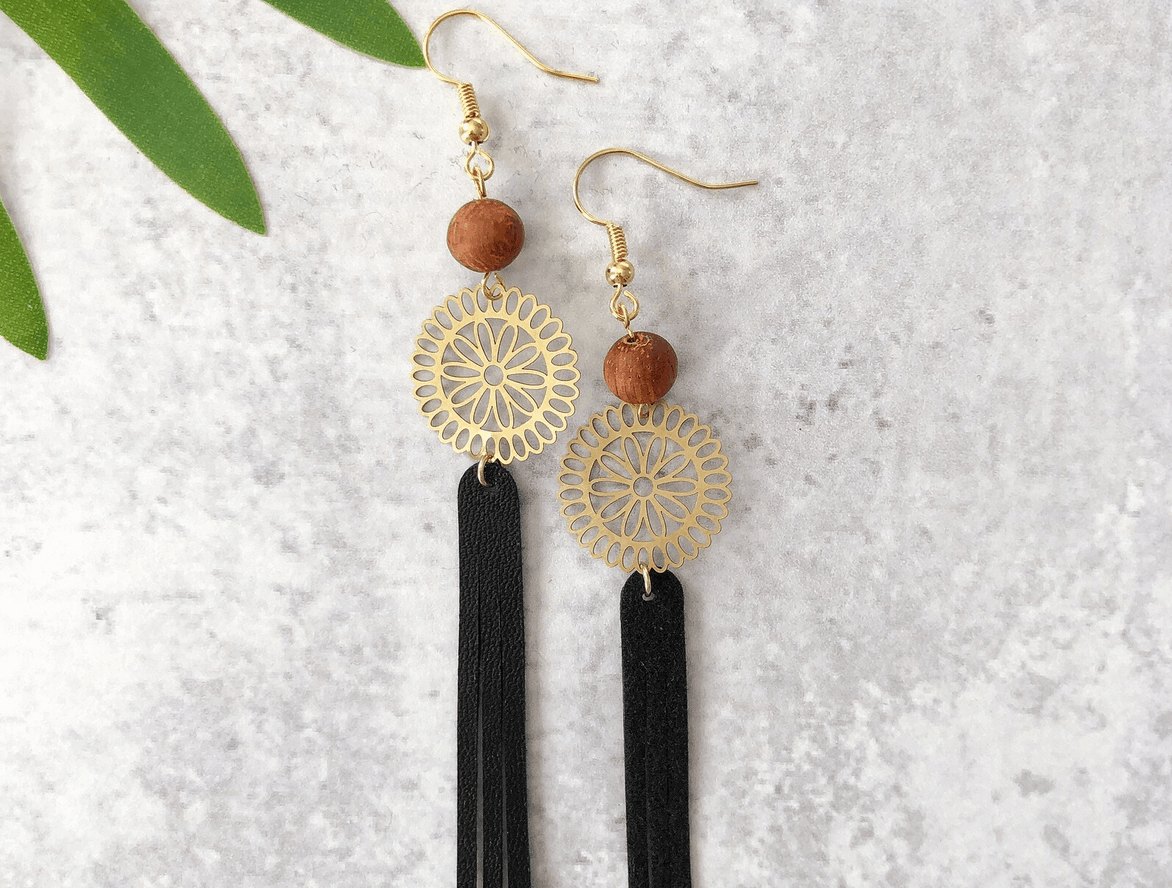 This exceptional pair of vegan earrings can also be used as a diffuser. Lightweight, the earrings are made with raw bayong and finished with a vegan leather tassel. A dreamy floral design and metallic hued backing (brass) add a touch of warmth. For the diffuser, you can apply a few drops of oil to the wood, but you should be careful not to drop on the brass.  Priced at around $19.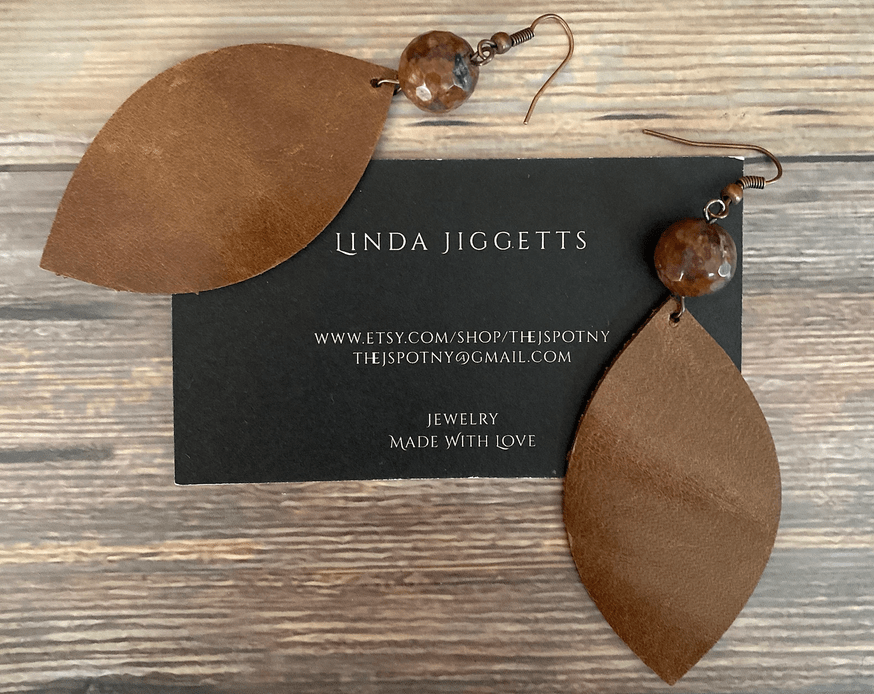 Since this is a relatively new seller– with just over 30 sales– this is a bigger risk. Still, this Etsy seller has an average of 5 stars for their products and these earrings are both beautiful and versatile. Brown faux leather is crafted into a leaf shape and paired with a brown bead for an autumn to a winter look. Priced at $15; Buy Here.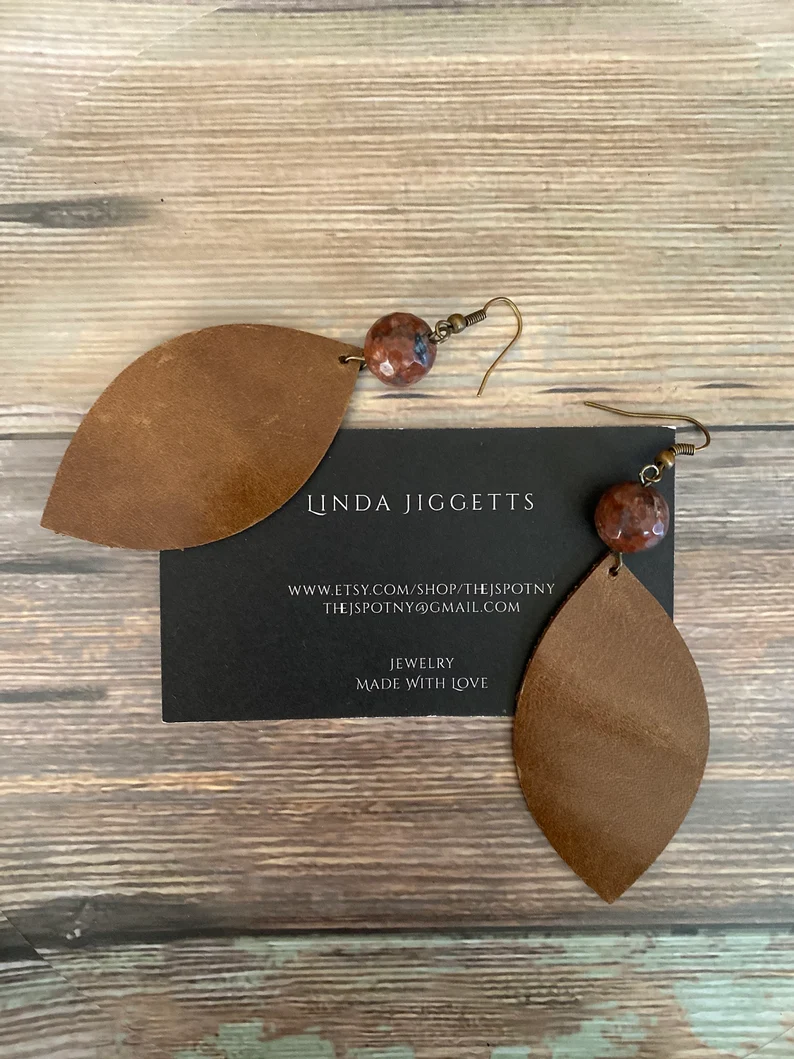 Genuine Leather Earrings
For genuine leather earrings, there are actually a few places you can shop. You can shop for independent artists on Etsy, or a collection of earrings from producers like Nickel and Suede and One Wild. All are relatively small companies, and all of these earrings are reasonably priced.
Genuine leather provides, of course, a more authentic and richer surface-level appearance. Some might also prefer how they feel– though generally, genuine leather earrings are slightly heavier than faux leather. They should last longer, provided you keep them away from rain and moisture. 
Nickel & Suede Genuine Leather Earrings
Looking for a collection of contemporary leather earrings? Nickel & Suede has been accredited through the Better Business Bureau for 7 years and holds an A-plus rating. Their collection of leather earrings is vibrant, with hues ranging from blue to auburn, white, rose, neutrals, prints, greens, and even patterns and metallic hues.
I also love that you can sort by how lightweight and flexible the earrings are, providing you more information for your perfect fit. Earrings are divided into lightweight and firm; lightest weight and soft; and lightweight but flexible.
Lightweight and Firm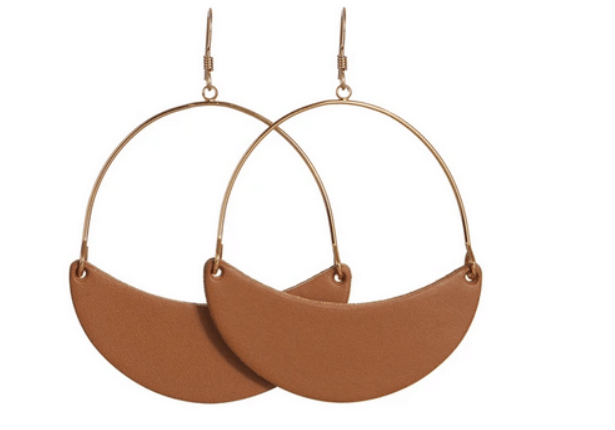 These are the heaviest (but still lightweight) and most firm. These leather earrings won't move with you but have a stiffer fit. Some of my favorites include the $42 London Asters (in tan, white, crimson, and soft sand); the versatile, double hoop drop  $42 London Sloanes (in black, tan, and white), and the playful white sundrops, also $42. 
Lightweight and Soft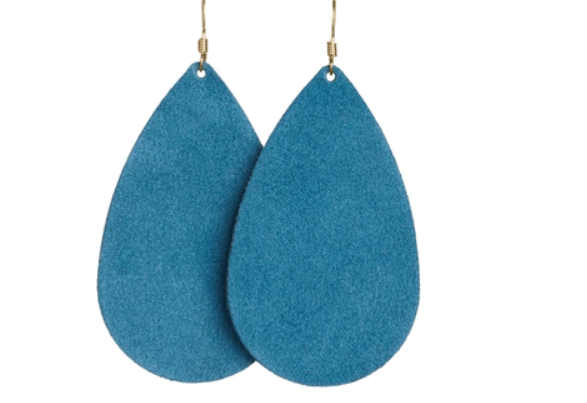 All of the lightest-weight leather earrings are the same classic teardrop style. Priced from $22 to $29, choose from solid colors (peacock, dark moss, tawny, and onyx) or camp print. The solid tones are earthy and easily complement other accessories.
Lightweight and Flexible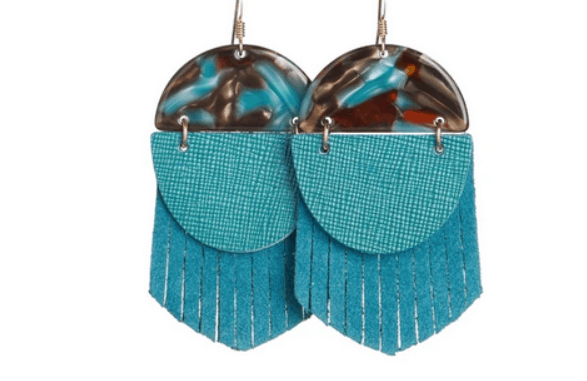 You'll have the most options for styles under this category, which makes sense. These earrings are a great mix of stability and flexibility, with a soft, firm finish. Some of my favorites include these  around $39 retro-inspired Flocked Lunas; this boho, mystical  around $45 Peacock Indie Fringe Earrings (also available in black). They also sell several sleek, metallic-hued earrings on this page.   
One Wild Leather Earrings
One Wild is a relatively new, small company with a beautiful message. All earrings are made with beautiful artisanal craftsmanship, all made in Colorado, and all US-sourced materials. These premium leather earrings are directed by artist and designer, Kerstin Stock, who previously worked a dozen years in the jewelry industry. All leather earrings go towards Project Wild, a non-profit designed to empower women by funding already existing organizations like Girls on the Run, the Cairn Project, and others. 
Gift Sets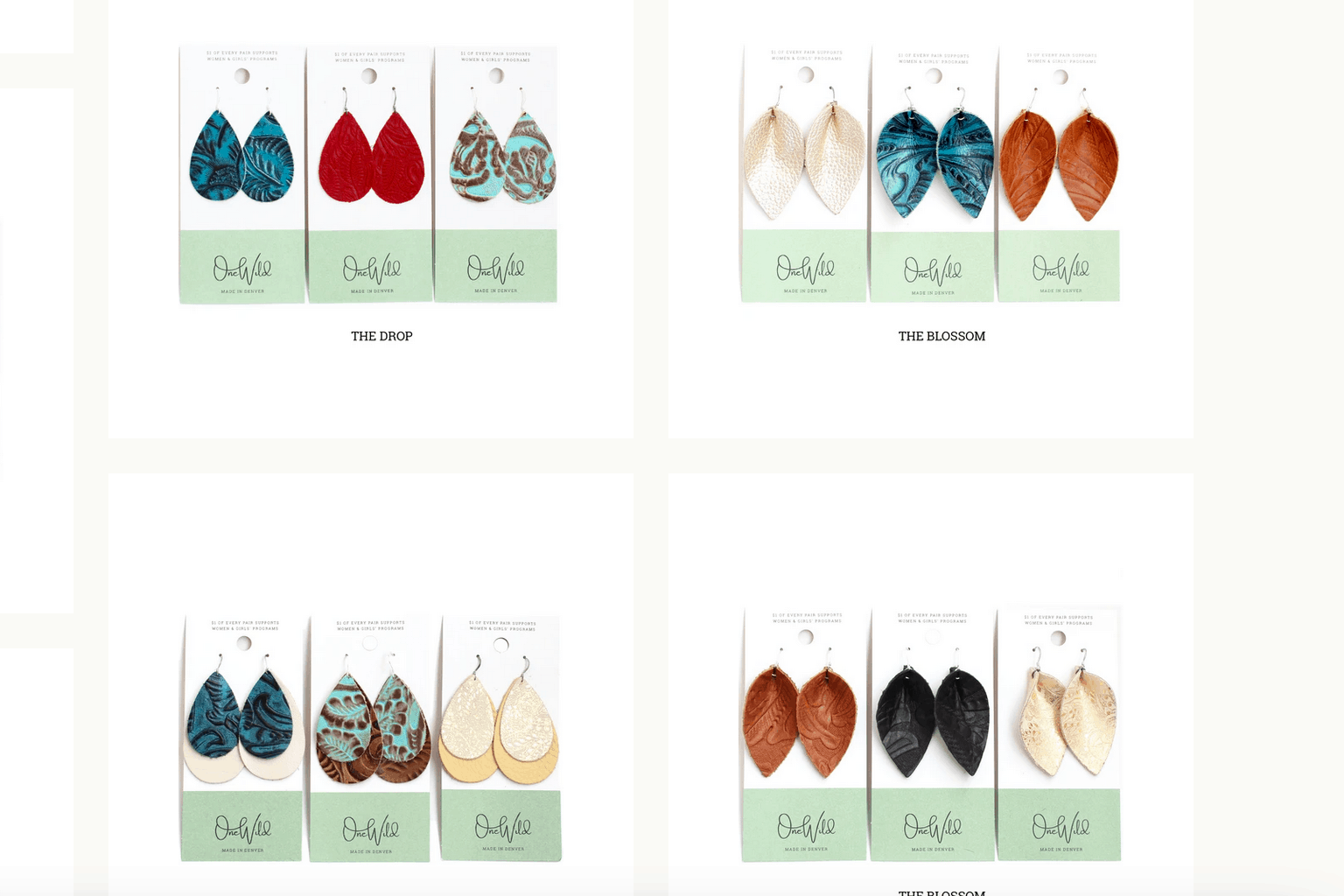 One wild sells their leather earrings through gift sets and a few individual pairs. Gift sets are priced at around $50 for three pairs and mostly feature teardrop shapes. Each set has a theme: the bright Sunset Collection; the blues and red of the Bright Collection; the versatile Denim and Leather Collection; the neutral Everyday Collection; the earthy tone and patterned Safari Collection, and the more dressed-up Metallic Collection.
Individual Earrings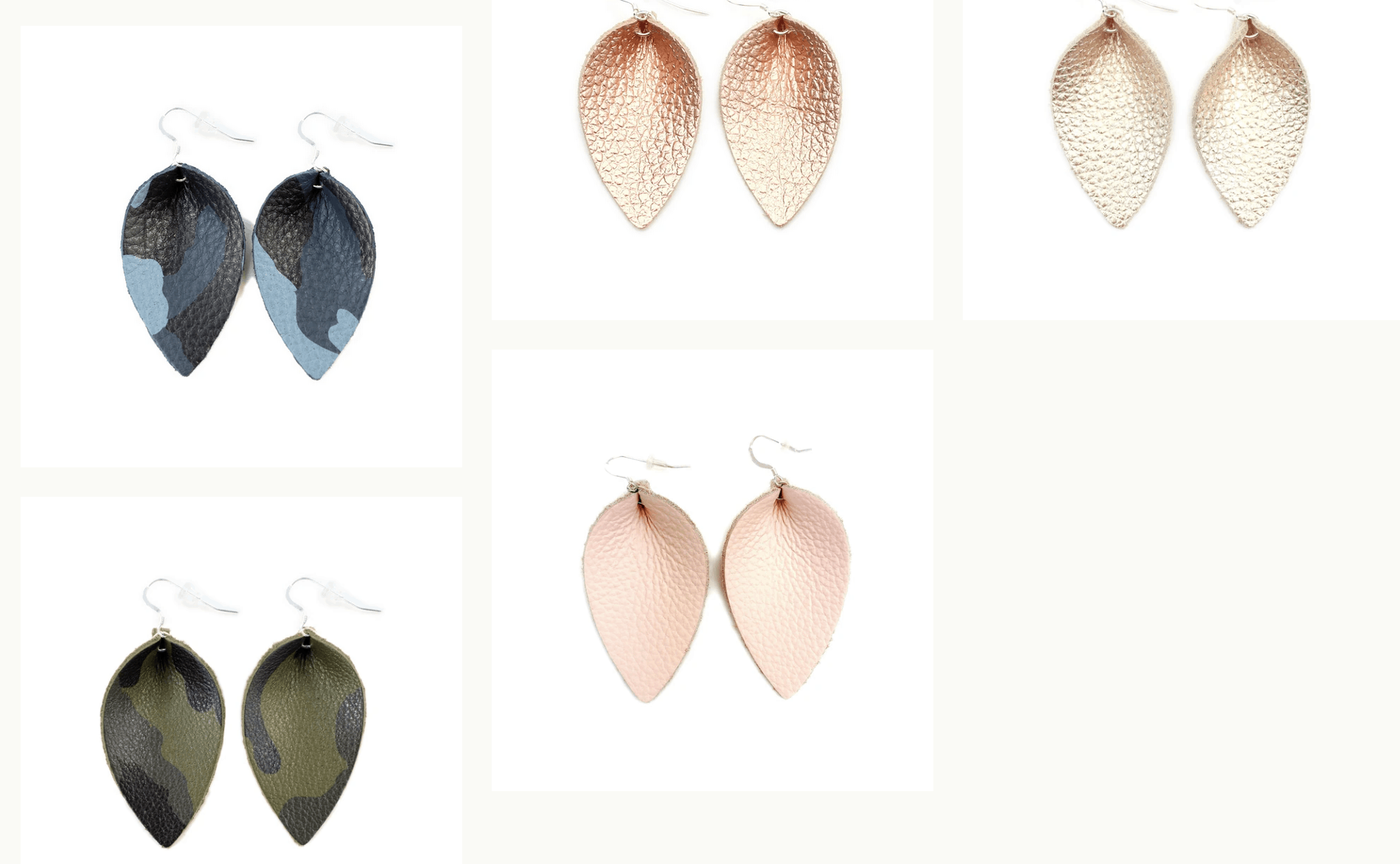 You'll have five sets of leather earrings to choose from, all priced at around $20, These have glossier finishes. Your options include Blue Blossom Camouflage; Blossom Copper Rose Gold; Blossom Gold Foil; Blossom Green Camouflage; and Blossom Millennial Pink. While the sets are a better deal, these individual earrings provide a little more room for selections. 
Frequently Asked Questions
Question: How do you make faux leather earrings with beads?
Answer: Beads are commonly used to add boho accents to faux leather. In fact, many make their own faux leather earrings– both on Etsy and just someone looking for a way to create their own accessories. Doing so takes a little attention to detail. Watch a tutorial to make your own here. 
Question: What glue do you use for faux leather earrings?
Answer: Faux leather earrings can be made with substantial craft glue. One blogger who regularly crafts faux leather earrings recommends glue with the serial code, E6000. They even make several faux leather earrings at once to improve productivity. Read about their process here.
Question: How do you make cute leather earrings?
Answer: Making leather earrings is tricky, but once you get the hang of it, making them cute takes a little creativity. Pair leather earrings with beads, metallic accents, and even sequins.
Boho shapes, like feathers and leaves, are also popular options for leather earrings. Add a touch of color, and even consider staining them for a different look. Of course, looking at other styles out there can provide you ideas for your own DIY leather earrings. But if you can't make them yourself, there are affordable options that are quite cute– both on Etsy and through small businesses. 
Question: What jewelry are Millennials wearing?
Answer: Millennials are wearing many of the major jewelry trends for 2021. This includes asymmetrical and geometric designs as well as unique gemstones. Yellow gold is especially popular, as is gravitation towards ethical and sustainable sourcing and materials. 
Final Thoughts
Leather earrings are an unexpected trend, and a sign, yet again, that 2022 is an exciting year for discovering new earring styles. Whether you decide genuine leather or faux leather earrings are right for you, select a style that reflects your personality. If you're shopping online, always make sure that you're only buying from a verified, secure website. 
For all leather earrings, even faux leather, I recommend removing them before showering or swimming. Store genuine leather earrings carefully, in a low-moisture environment if possible. This is also a good rule of thumb to follow if you have sterling silver or gold plated earrings. Some store such earrings in a plastic bag with a small piece of chalk, as chalk can reduce moisture build-up. Genuine leather benefits from leather polish when it starts looking faded or aged. 
Still, looking for more genuine leather earrings? You can shop for Etsy Leather Earrings Here. Just make sure to double-check the seller's ratings and reputations. While I prefer the leather earrings from the collections I already mentioned, you'll find some unique, handmade styles- still at affordable prices. For more ideas, check out our guide on the best Etsy earrings here.