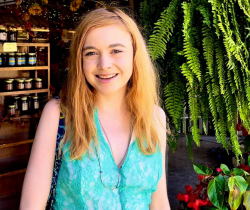 Latest posts by Erin Jamieson
(see all)
Statement earrings, whether they're cartilage earrings or even butterfly earrings, can add a special touch to any outfit. But now more are seeking inspiration- one connected to faith– is becoming more popular, in the form of cross earrings.
Cross earrings aren't just being worn in church. In fact, the cross earring trend was spotted on British actress Michelle Keegan to complete a streetwear look.
Middleton, Keegan paired on an off-the-shoulder crisp white crop top with balloon sleeves and a lace embroidered Zimmermann skirt. Complete with a wide-brimmed hat and oversized sunglasses, the look was boho chic.
But the focal point of the outfit was her Baroque style cross earrings, said to take inspiration from Kate Middleton. And you don't have to be a celebrity to appreciate the stunning earrings she wore.
Handmade in Italy, 24 gold-plated sterling silver covers an intricate design. Swarovski pearls add an old-world touch. But as beautiful as they are, they are also meaningful. Not only are they outward declarations of the Christian faith, but they also purposely included pearls. Pearls symbolize purity, innocence, and connection to one's faith.
Who are cross earrings right for? And what's in style for 2022? Consider this your guide to cross earrings– from what they symbolize to my favorite picks you can buy online.
What do Cross Earrings Symbolize?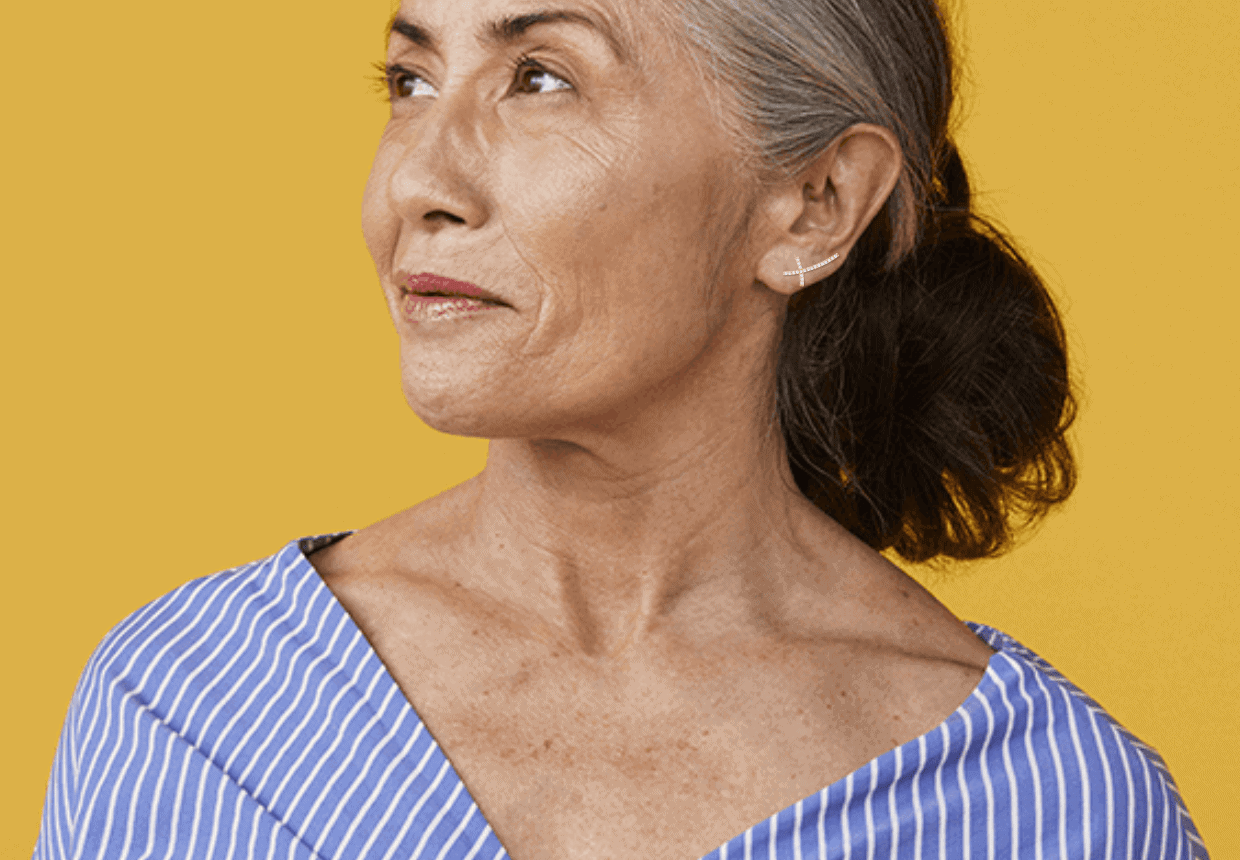 Cross earrings, like cross necklaces, are linked to a symbol of Christianity. Cross earrings depict the death and resurrection of Jesus Christ. Jesus Christ, whom Christians believe to be the Son of God, came to earth and was ordered executed on a cross, a common practice during the time of AD 30- 33 under the Roman Empire.
According to Christians, Jesus was buried in a tomb and on the third day was resurrected, showing the power of God to overcome all obstacles, even death. But Jesus' death is also meaningful for Christians because
He died for all of our sins. His death was meant to show God's ultimate love and mercy, as well as His gift of salvation to all who believe and accept Jesus Christ in their hearts.
Today, for many, including myself, cross jewelry is a symbol and declaration not only of God's promise, but also of faith, salvation, and hope.
Is it Disrespectful to Wear a Cross If You're Not Religious?
This really is a matter of personal choice. In some societies, it may be considered less respectful, but generally, it's not deeply scrutinized. The main reason wearing cross earrings or necklaces would be disrespectful would be if you're wearing it to purposefully mock Christianity.
Aside from that, feel free to wear a cross if you like the look– just keep in mind people who don't know you will assume you're probably wearing it because you believe in Jesus Christ. If you're fine with this, and you're not wearing it to mock, then you shouldn't feel barred from the style of earring.
What Does a Sideways Cross Mean on Jewelry?
A modern design of cross earrings and jewelry– and one trending into 2022–is a sideways cross. A lot of confusion has arisen over the sideways cross.
For most, a sideways cross is simply a modern take on cross jewelry and doesn't change the meaning. For others, it may symbolize both Jesus carrying His cross to his execution and also laying it to rest– reminding wearers of the burden Jesus carried for others.
What does a black cross mean in Christianity?
Another– but less common– style you may want to consider is a black cross. Black cross earrings do not imply a rejection of faith, as some may think. In fact, a black cross in Christianity symbolizes, in some cultures, the color of mourning. Hence, while many cross earrings showcase faith, hope and resurrection, a black cross is more a contemplative piece. It's meant to remind Christians of His ultimate sacrifice.
Other Color Symbolism
There are other colors, even less common, that are nonetheless meaningful. In fact, color symbolism is rich in Christianity.
Brown symbolizes humility and God's connection to the world; yellow symbolizes light, purity, and joy; orange symbolizes strength and endurance; green represents freedom from bondage; blue symbolizes both the sky and good health; purple is connected both to faith and faith practices, such as fasting; red symbolizes sacrifice and passion, and white, purity and innocence.
How Do I Find Cross Earrings?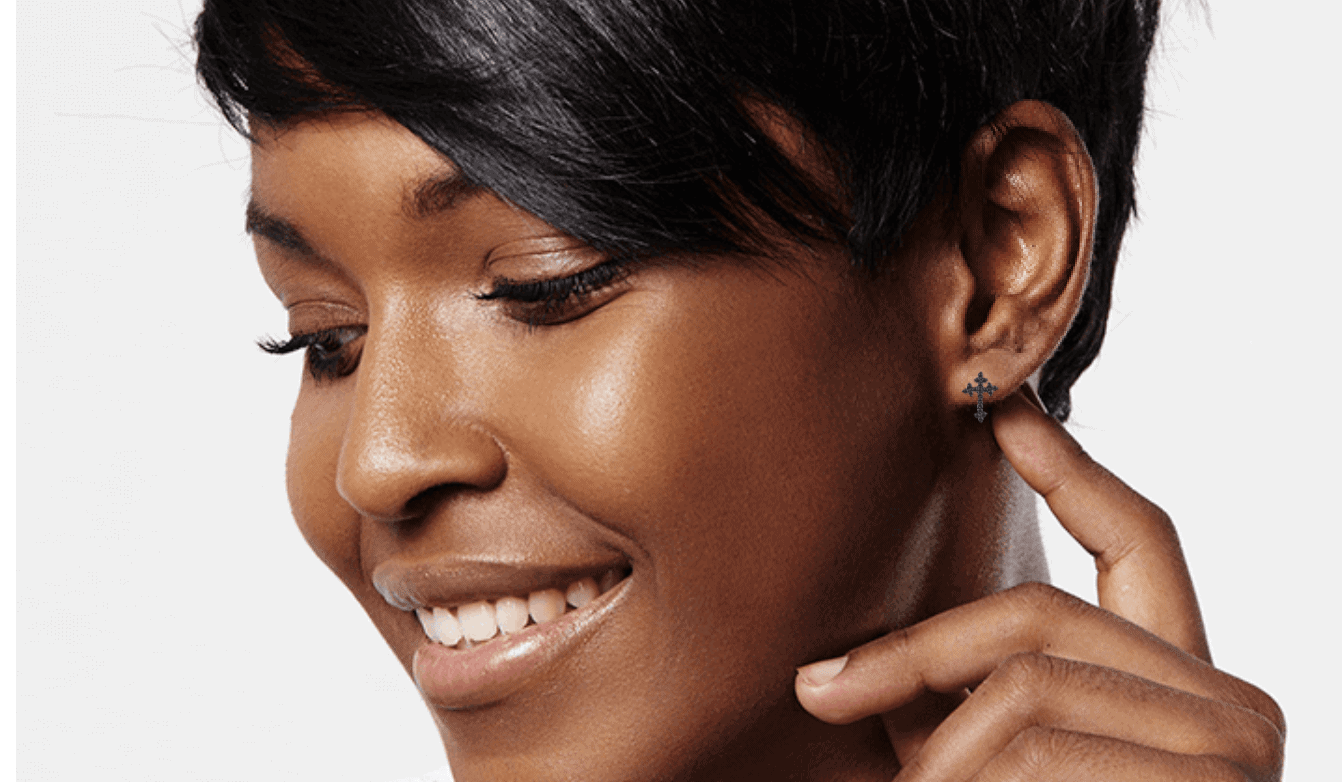 Cross earrings are very popular in countries where some form of Christianity is prominent. You can find cross earrings in some storefronts, including department stores like Macy's and also fine jewelry stores.
But there are also some excellent options to buy cross earrings online. Of course, there are some factors you should consider before buying any cross earrings.
Metal Type
The first factor you should consider is the metal type. The most common options include sterling silver, solid gold, and platinum, though it is not impossible to find a hypoallergenic option, such as surgical stainless steel earrings.
Sterling silver is the least expensive, but also the least durable. It's a beautiful metal that requires special care, and can tarnish over time. Sometimes it's treated, or bought with gold plating– which has the same look, but is not as durable as solid gold.
Solid gold of 10K or above is quite common. White, rose and yellow gold are all options. 12, 14, and even 18K are excellent options– the higher, the more durable. They are of course more expensive. Titanium, platinum, and surgical stainless steel are even more durable than many solid gold options.
Gemstones vs Solid
Precious gemstones and diamonds add value (assuming they are not stimulants), as well as sparkle. If you are buying a gemstone or diamond, you'll want to pay attention to the cut, clarity and color– as well as understand what you're purchasing.
Lab grown diamonds and gemstones share the same properties as natural diamonds and gemstones, and thus are just as durable. At the same time, they are less valuable. They don't have the imperfections that natural gemstones do.
Solid gold can be a great option for modem, minimalist, and understated jewelry.
Sellers
Since cross earrings are popular, you'll have a wide range of choices. If you're just buying for casual use, feel free to buy where you want, so long as the site is secure. But if you're looking for fine cross earrings, I recommend buying from a reputable seller that has a solid history of both sales and customer service.
Cross Earrings: My Picks
Now I'll give you my picks for my favorite dangle, hoop, stud, and unique cross earrings that you can buy online. Hopefully, some of these ideas will provide inspiration for your own purchase.
Cross Dangle/ Drop Earrings
Dangle and drop earrings are at once a statement and a classic. These suit classic, timeless, and even more ornate designs– including Art Deco and Baroque. I like dangle and drop earrings with V-necks, sweethearts, and illusion necklines.
Cross Dangle Earrings in 14K Yellow Gold- Jared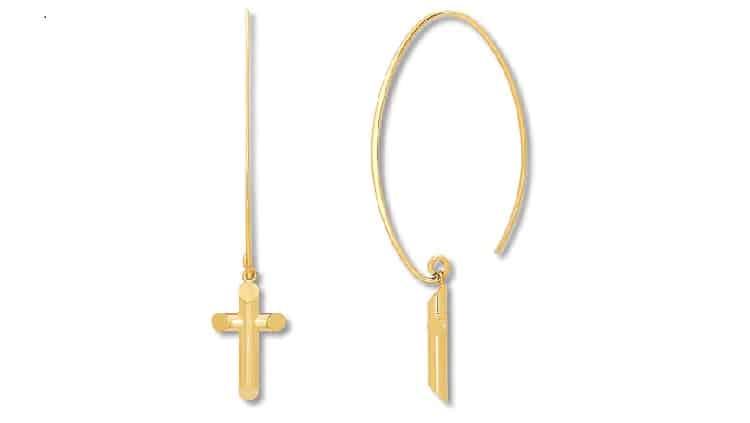 Simple, sleek, with a polished shine– these cross dangle earrings come in solid 14K yellow gold. They're not quite minimalist, but are versatile and can be paired with any outfit that is complemented with yellow gold tones. These retail for $299. They're also available in white gold. Buy Here.
Diamond Cross Dangle Earrings- Angara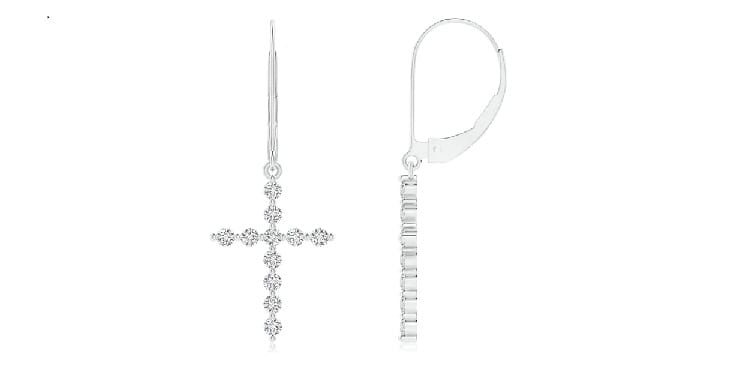 These diamond cross dangle earrings range from $593 to $953 depending on diamond color and clarity and are set on 14K yellow, white or rose gold. Round set diamonds offer beautiful brilliance in a uniform design for a classic shine. Buy Here.
Diamond Cross Infinity Drop Earrings – Zales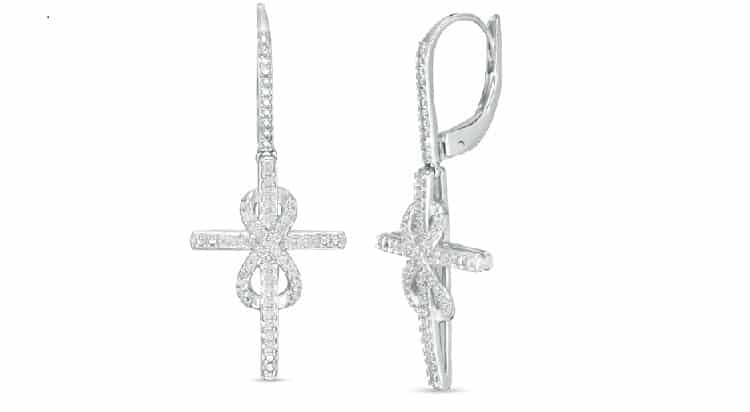 These sterling silver diamond cross drop earrings feature a unique infinity design, symbolizing the everlasting life offered through salvation from Jesus Christ. ⅓ carats of sparkling diamonds are evenly distributed and complement the polished metal. These retail for $429 on sale. Buy Here.
Cross Beaded Post Stud Drop Dangle Chandelier Cross Earrings- Ice Carats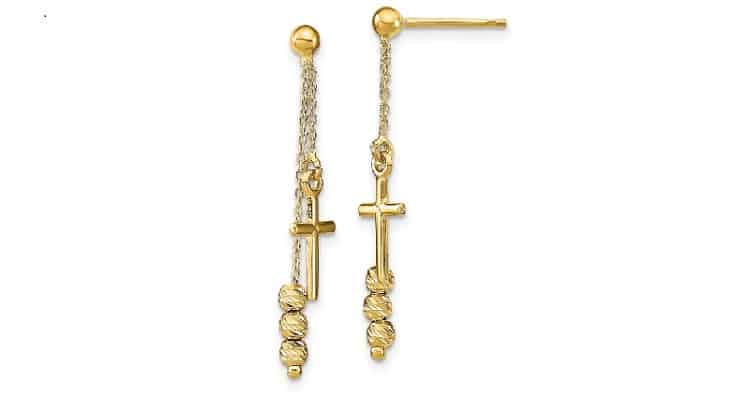 These earrings feature a modern take on cross drop earrings. One strand features post studs, set beside a cross for a minimalist and versatile look. These earrings retail for $234 on sale and are made with solid 14K yellow gold. Buy Here.
Diamond Dangle Cross Earrings- Saks Fifth Avenue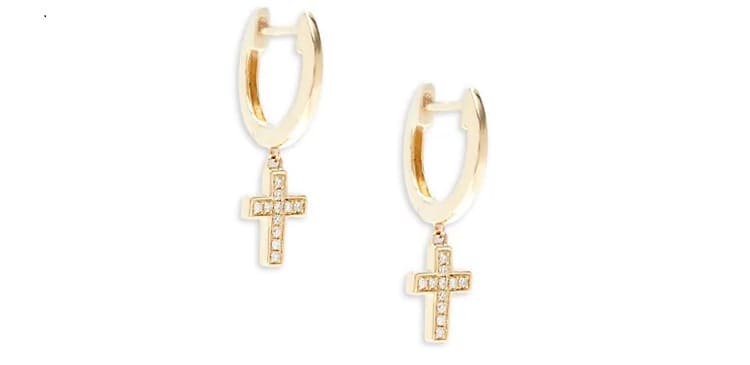 These 14K yellow gold earrings are studded with small accent diamonds and come up as refined and sleek– with just a touch of sparkle with being overdone. They retail for $325 currently, with a 50 percent off sale. Buy Here.
Sleek 14K White Gold Dangle and Drop Earrings- Daniel's
These sleek 14K white gold cross earrings pair with everything from casual outfits to formal ones, making them among the most versatile cross drop earrings on this list. Priced at $249 on sale, these earrings offer modern shine and polish. Buy Here.
½ Carat Diamond Cross Earrings- Parker Edmond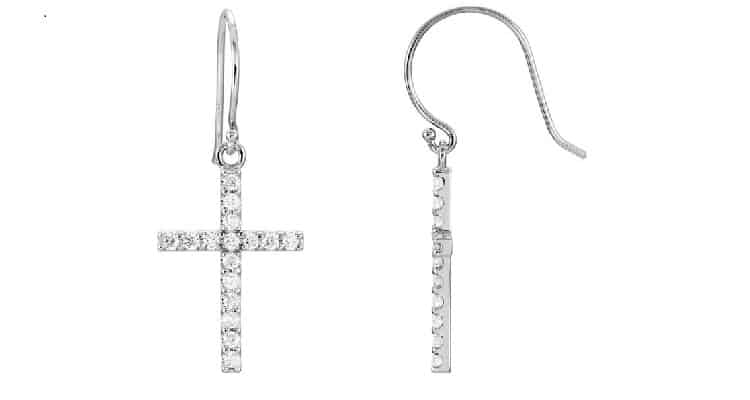 Available in 14K rose, white or yellow gold, these dazzling cross drop earrings from Parker Edmond will dress up any outfit and make a bold statement. 32 round clear diamonds offer brilliance. These retail for $1,610. Buy Here.
Diamond Cross Drop Earrings- Allurez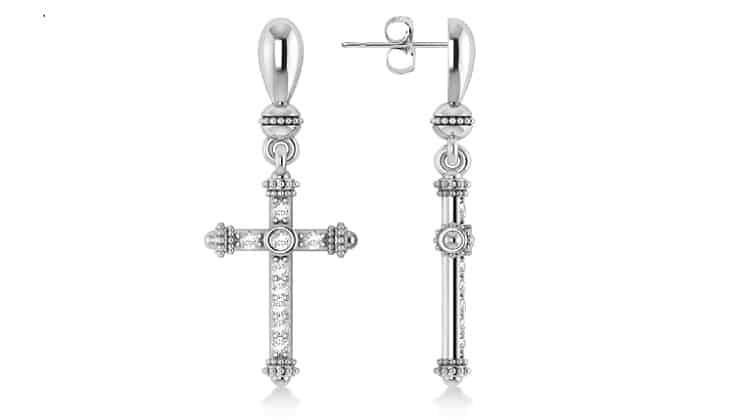 These diamond cross earrings have an old world, ornamented look that makes them stand out. Retailing for $784 on sale, these earrings are made with 14K white, rose or yellow gold and feature 0.25 carats of conflict-free, prong-set diamonds. Buy Here.
Cross Hoop Earrings
Who says you can't wear hoop earrings with a cross? The less common option is unexpected in a fun way. Large or bold hoop earrings mean you can skip the necklace– let them make the statement.
Sterling Silver Cross Charm Hoop Earrings- Danny Newfield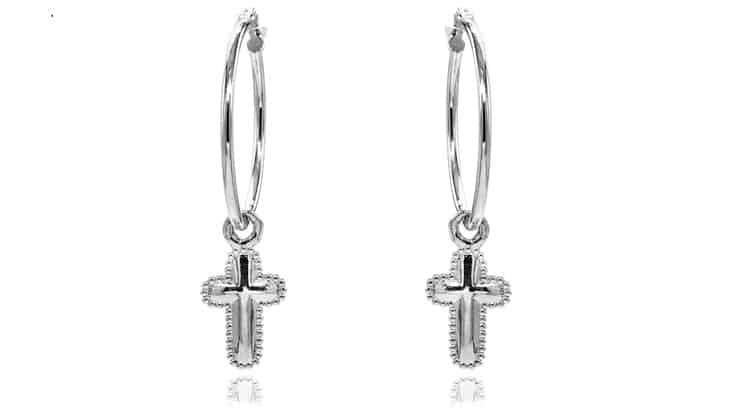 These 925 sterling silver cross hoop earrings retail for just $59 and also are available with rose gold or yellow gold finish. Rhodium-plated, sleek silver provides a modern look, with classic detailing around the border of the cross. Buy Here.
Diamond-Cut Cross Hoop Earrings – Zales
Now on clearance for $167, these dramatic yet minimalist hoop earrings feature a large, slim outer hoop and a dangling cross inside. The 10K yellow and white gold is beautifully polished for a bit of luster. Buy Here.
Prong – Set Diamond Cross Hoop Earrings – Angara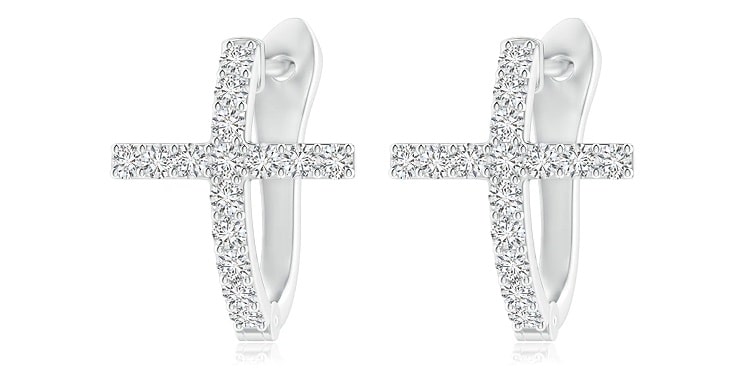 Retailing for $548 to $854, or from $890 to $1295 for platinum, these glamorous diamond-studded cross hoop earrings are truly stunning. These are available in polished 14K yellow, white, and rose gold or platinum. ⅓ or ¼ carats of round diamonds are beautifully displayed with a prong setting. Buy Here.
Sterling Silver Cross Hoop Earrings with Diamond Accents- Kay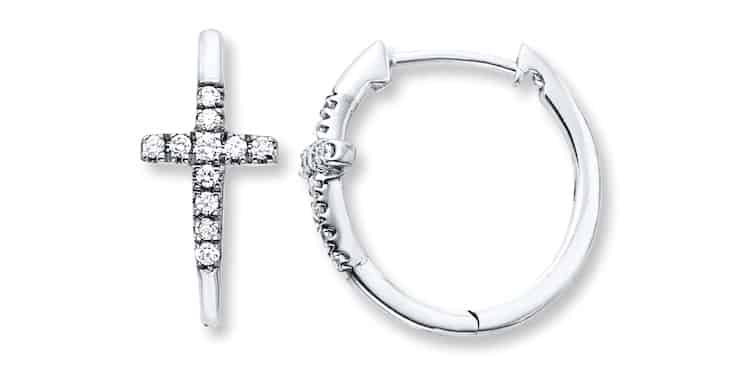 Priced at $299, these sterling silver cross hoop earrings offer a versatile but classic design. ⅙ carats of diamonds add a touch of sparkle and complement a polished look. Buy Here.
2.1 Carat Diamond White Gold Cross Hoop Earrings- Harry Chadent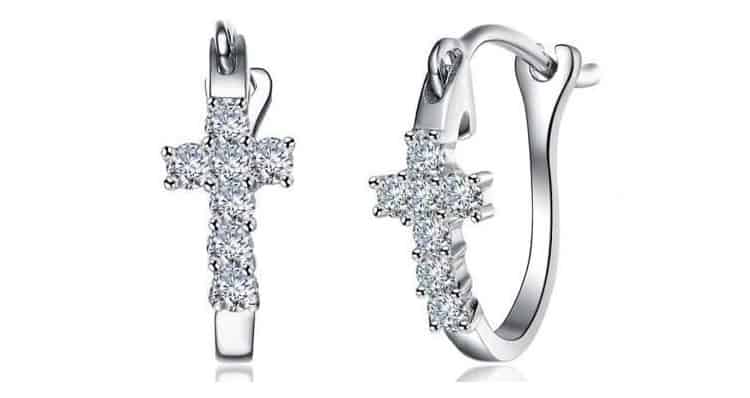 If you're looking for a statement, these cross hoop earrings offer plenty of sparkle and polished shine. A stunning 2.1 carats of round cut, natural diamonds cover the cross, and the hoops are available in 14K or 18K white, rose, and yellow gold, as well as platinum. The hoop earrings are priced at $1,957 to $2,957. Buy Here.
Cross Stud Earrings
Stud earrings are easy to wear and work especially well with higher necklines and pair with a statement necklace, bracelet, or ring. From simple to glamorous, cross stud earrings arguably offer a little more versatility than drop or hoop earrings.
Minimalist Gold Cross Stud Earrings – Gelin

A modern and minimalist statement, these cross stud earrings come in 14K solid yellow gold and are priced at $139. They're also 100 US sourced and handcrafted. Buy Here.
Diamond Cross Stud Earrings – Angara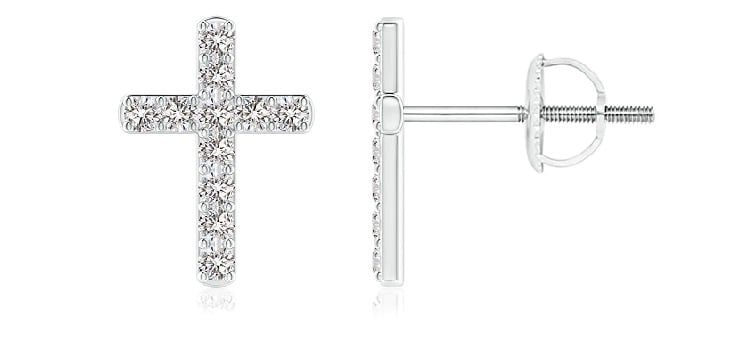 Angara shines again– literally– with these diamond studded earrings, priced at $419 to $908. Select your desired diamond color and clarity, and your choice of metal: 14K rose, yellow or white gold, or platinum. ⅕ carats of round-cut diamonds dazzle with a refined polish. Buy Here.
Bar – Set Baguette Diamond Cross Stud Earrings- Angara
Retailing for $819 to $1599 at a regular price, these diamond studded cross earrings are built to last and impress. The unique bar set baguette design is complemented by quality 14K rose, white and yellow gold, or platinum. The 10 baguette diamonds have a total weight of 12 carats. Buy Here.
David Yurman Cross Stud 18K Gold Earring – Neiman Marcus

This sleek and sophisticated single cross stud earring is actually made with men in mind, though there's nothing stopping any gender from wearing it. Solid 18K gold is polished for shine. Priced at $550 for a single earring; Buy Here.
Sterling Silver Simple Cross Stud Earrings – Lee Fiori

These simple sterling silver cross stud earrings are also affordable, priced at $59. Sleek, polished, and custom-made in Canada, these are a great option for everyday wear and go with just about anything. Buy Here.
Cubic Zirconia Curved Cross Stud Earrings – Piercing Pagoda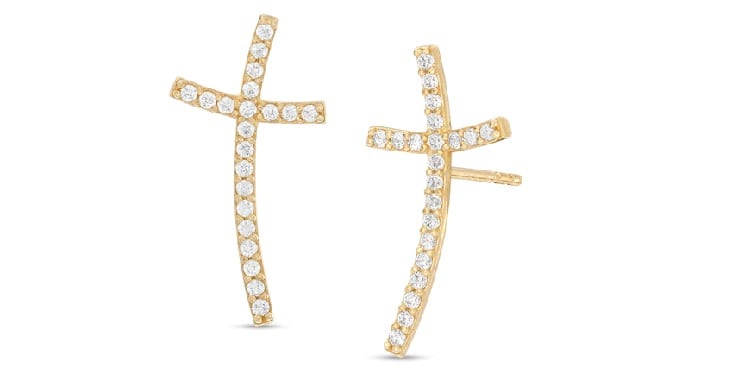 These curved cross stud earrings offer some of the sparkles of diamond studs, but are priced at a mere $45. 10K solid gold makes a dramatic but classic contrast between the sleek metal and the sparkling gemstones. Buy Here.
Unique Cross Earrings
'As much as I love classic or classic modern styles, that doesn't mean you shouldn't branch out every once in a while. These unique cross earrings feature colorful gemstones and designs that will make a statement personal to you.
Black Diamond Cross Earrings – Jared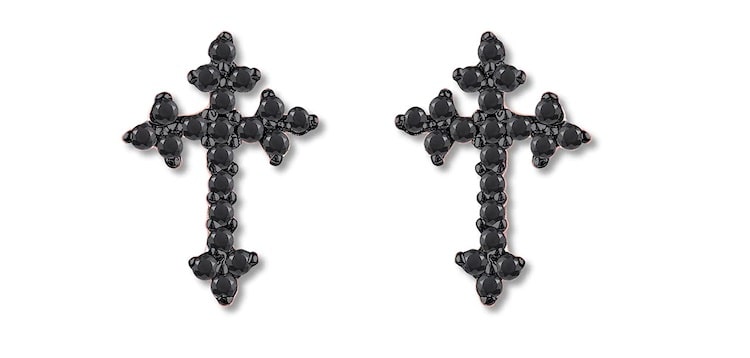 These black diamond cross earrings are priced at $299 and are sure to stand out from other cross earrings. ⅙ carats of black diamonds are set on a Gothic-style cross and 10K rose gold for an unexpected twist. Buy Here.
Semi-Precious Stone Cross Earrings – Nordstrom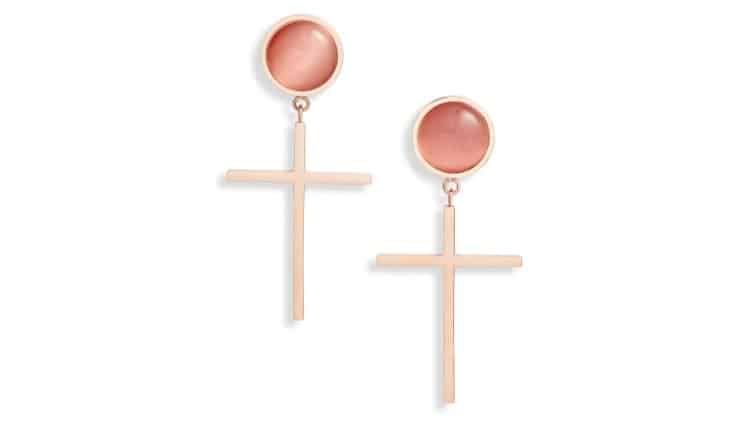 Stainless steel makes for a durable and modern finish– but also affordable. Rose gold and a small gemstone make for a fun and modern take on cross earrings, priced at $50. Buy Here.
Single Rainbow Gemstone Cross Earring- Social Value (Etsy)

This colorful cross stud earring is handmade and priced at $100. Perfect for both cartilage and earlobe piercings, sapphire gemstones add blue, purple, gold, and green tones, complemented with a 14K rose or yellow gold finish. Buy Here.
Tourmaline Cluster Cross Earrings- Timepieces International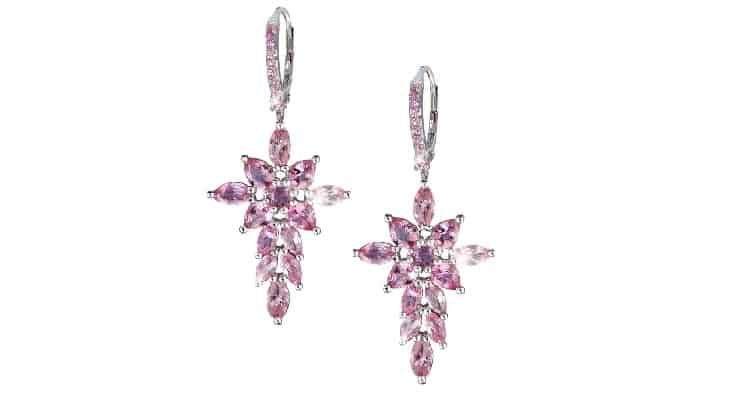 Priced at $159, these unique cross earrings feature pale pink Tourmaline gemstones set in 925 sterling silver. The earrings also come with a special presentation case. Buy Here.
Emerald Cross Earrings – Shay Jewelry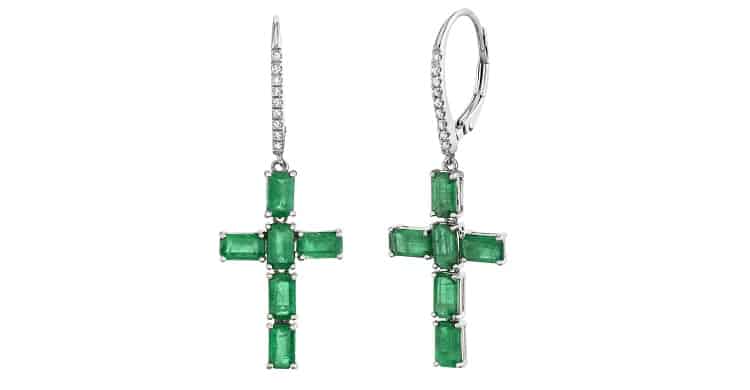 Priced at $3,800, these cross earrings are the most expensive– but also perhaps most eye catching from my picks. If nothing else, the brilliant green hue of the gemstones on 18K white or yellow gold may give you the inspiration to think out of the box. Buy Here.
Frequently Asked Questions
Question: Are cross earrings religious?
Answer: Cross earrings are associated with the death and resurrection of Jesus Christ, as seen as a symbol of Christianity. Some do wear cross earrings regardless, but for most, it's a symbol of their faith.
Question: Is it disrespectful to wear cross earrings?
If you're non religious, it's generally acceptable to wear cross earrings regardless. Some wear them also as a symbol of their family or culture, while others simply like the design. So long as they are not worn with disrespect meant, you don't have much to worry about.
Question: Why do Christians wear a cross?
Answer: Christians wear cross necklaces, earrings, and even types of bracelets to express their faith and belief in the death and resurrection of Jesus Christ, the Son of God. It's a tenant of the Christian faith, and thus the cross has become the most omnipresent symbol of Christianity.
Final Thoughts
For some, it's a declaration of faith. For others, the traditional design is appealing. Regardless of your reason, budget, or style, there are many beautiful options for cross earrings.