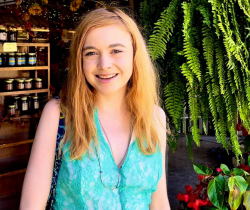 Latest posts by Erin Jamieson
(see all)
Every year, people tune into the Met Gala to see the most dramatic styles. But one trend from the 2022 Met Gala– drop earrings–may be one of the most useful ideas for everyday fashion. 
The Met Gala, officially known as the Costume Institute Gala, takes place every year. The goal of the ball is to raise money for the Metropolitan Museum of Art's Costume Institute of New York City. But it's mostly become known for lavish styles and its exclusivity.
A table for the Met Gala is said to cost around $275K, starting price, while individual tickets retail for $30K. And that's not to mention incredible fashion– so opulent many might see the styles as outlandish.
Every year, Vogue hosts an event with a specific theme. For 2022, that was "American Independence. As always, celebrities and public figures interpreted that to their own liking, from dresses featuring outright political messages to plays on the Statue of Liberty. But among the glamour and daring looks, one trend held: statement drop earrings.
Statement drop earrings were worn by K-Pop star Rose, Zoe Kravitz, Megan Fox, Kris Jenner, and countless others. From bold to more subdued, the accessory was among the most popular. And while some of those drop earrings were clearly opulent, it's actually a trend we see in 2022 for everyday fashion. 
Finding the best drop earrings doesn't require a celebrity budget. I'll give you my criteria and point you to the best drop earrings you can buy– within your budget– in 2022. 
Should I wear drop earrings?
First, of course, you need to decide if the drop earring trend is right for you. Drop earrings make for the perfect statement earrings and stand out more than stud earring styles. But what exactly are drop earrings, and how should or shouldn't they wear them?
What does drop mean in earrings?
Drop refers to the style of earrings. The drop usually consists of a single stud, connected with a strand or strands of material. Drop earrings fall below the earlobe, usually past the jawline. Drop earrings can be made with charms, beads, and gemstones- or simply solid metal. 
What is the difference between drop and dangle earrings?
Drop and dangle earrings are very similar. Chances are that if you like the style of dangle earrings, you'll like drop earrings. The key difference is how you react to your movement. Dangle earrings dangle– or sway back and forth– as you move. Drop earrings remain in a secure position. Dangle earrings may provide a more dramatic effect for sparkling gemstones, and they also may lean more boho. Drop earrings are just a tad more classic and sophisticated. However, some jewelers actually use the terms interchangeably, and you'll often find collections of dangle and drop earrings lumped together. 
How long after piercing can you wear drop earrings?
One consideration is if you have a new piercing. While you should follow the instructions given, the general rule of thumb is to wear original (stud) earrings following the piercing, for an average of 4 to 6 weeks. You shouldn't wear drop earrings until your piercings have healed. You also shouldn't wear them if they cause exceptional tenderness or discomfort. 
How do you wear drop earrings?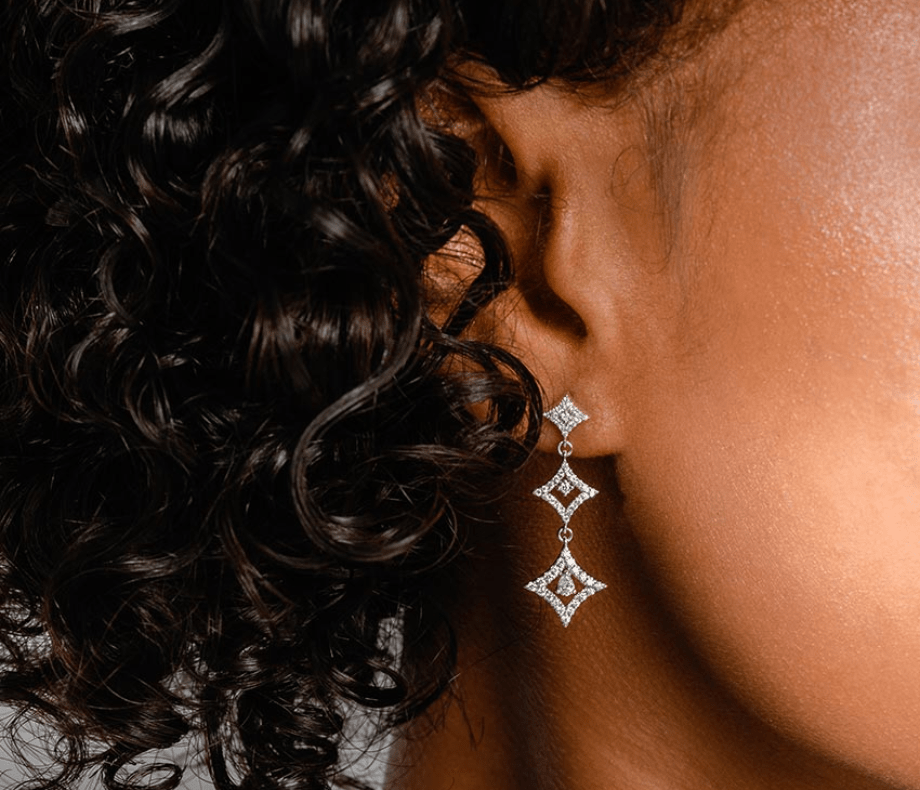 In 2022, you can wear drop earrings however you'd like. There are no real rules. However, there are certain ways to wear this fantastic type of earrings that make them really shine. 
What earrings do you wear with a ponytail?
One way to wear drop earrings? A simple ponytail. Drop earrings stand out as a versatile statement option for low-maintenance ponytails. Rock a solid metal look for a modern, casual style. Formal updos also look spectacular with drop earrings. Gemstones and any drop earrings with a splash of color truly complement updos. 
Can you wear drop earrings with short hair?
That said, you can also wear drop earrings with short hair. The key is to tuck your hair back a little– unless you prefer a subtle look, the drop earrings are 'peaking' a little bit. 
Can I wear drop earrings at work?
In the past, drop earrings were seen as only suited for special occasions. Drop and dangle earrings, as well as large hoop earrings, are sometimes seen as less professional. Certain professions– such as in food and health– may have some regulations as to what kinds of earrings you can wear, for health and safety concerns.
That said, drop earrings with a short drop and a more subdued style can be worn for other professions. They don't move like dangle earrings, and, if the length is short enough, they shouldn't interfere. It's up to you and your profession, but I'd recommend opting for plain, solid metal, or enamel drop earrings. A subtle look and a shorter drop should be fine for many places. 
How do I find the best drop earrings?
Then find the best drop earrings, pick a pair that will last. You can buy a cheaper pair of earrings, but sometimes it's a good idea to buy a staple. Of course, you need to consider how and when or where you'll wear them– and what will be most useful and flattering for you. 
How do I choose drop earrings to match my face?
No earrings look bad per se with different face shapes, but some frame your best features more effectively. Take a look at your facial features and outline the natural curves of your face. Earrings that are the opposite shape are said to be the most flattering. 
Oval faces look great with any style of drop earrings. Teardrop shapes flatter rounder and heart-shaped faces. Square faces look spectacular with rounded curves– you could opt for a drop hoop style.
What material is best for everyday drop earrings?
If you plan on wearing drop earrings daily, invest in materials that last. I recommend regular gold (not gold plating), stainless steel, and platinum. Sterling silver will work for a while– but it will also tarnish, especially with daily wear. Most importantly, opt for a comfortable material and suits your lifestyle.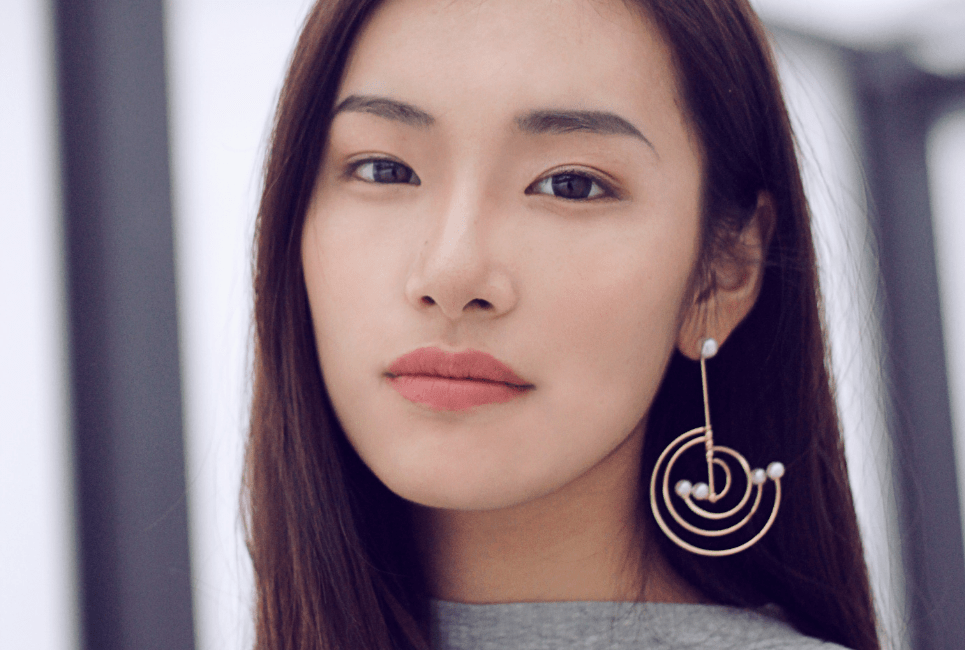 What is the best type of drop earrings for sensitive ears?
Have sensitive ears? Drop earrings can sometimes be uncomfortable. Opt for a lightweight metal if you can, such as stainless steel. If you have a copper allergy, surgical steel is an excellent option. Steel is lightweight, durable, and often hypoallergenic. 
What else do I need to consider?
If you're spending money on diamond or gemstone drop earrings, be cautious. Make sure the stones are genuine lab-grown or natural gemstones. For diamonds, opt for colorless or nearly colorless, and clarity of no worse than slightly included. These factors will greatly impact the brilliance and beauty of your earrings. For gemstones, opt for a grading that's good to acceptable. Always make sure you're buying earrings– especially expensive gemstone earrings– from sellers with a good reputation.
Drop Earrings: My Picks
Here are my picks for a few of the best drop earrings for 2022. These include gold, platinum, and stainless steel hoop earrings. Some are investment pieces and are meant for formal occasions. But I've also snuck in some more casual styles, too. All my earrings are made from excellent quality materials and reflect either classic or the latest trends. 
Gold Drop Earrings
Gold drop earrings are classic. Whether it's yellow, rose, or white gold you're after, the look can suit plain and gemstone studded earrings. If you love a glossier look, aim for 14K to 18K gold. This gold is much richer in appearance than 10K gold, but also not as soft as 22Kor 24K gold. If you do plan on wearing your earrings every day and tend to be hard on them, 10K gold could be a solution, but it won't have the same beautiful shine.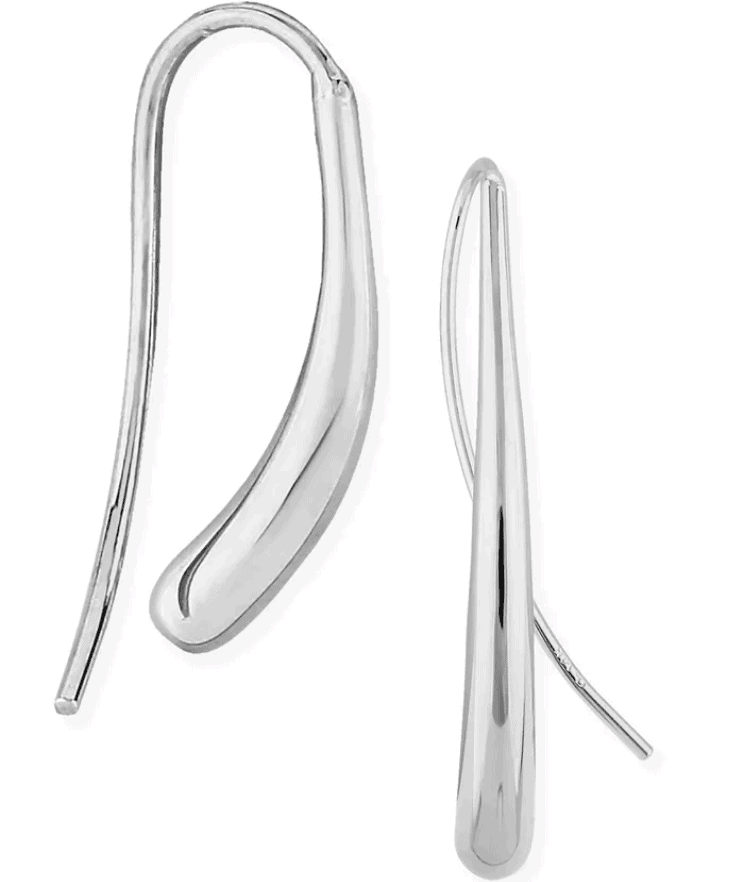 Select from 14K white or yellow gold for these simple but eye-catching drop earrings. On sale for around $270, these earrings are the kind that you can wear with everything from jeans to a suit. The fluid motion and geometric twist feel modern, but don't risk becoming outdated anytime soon. The simple wire threaded design is easy to take on and off. Buy Here.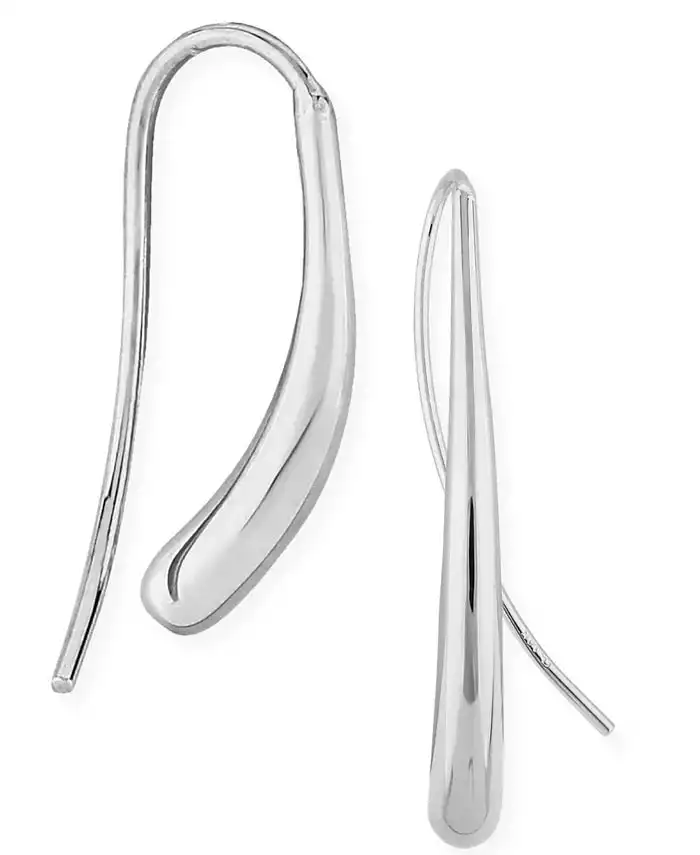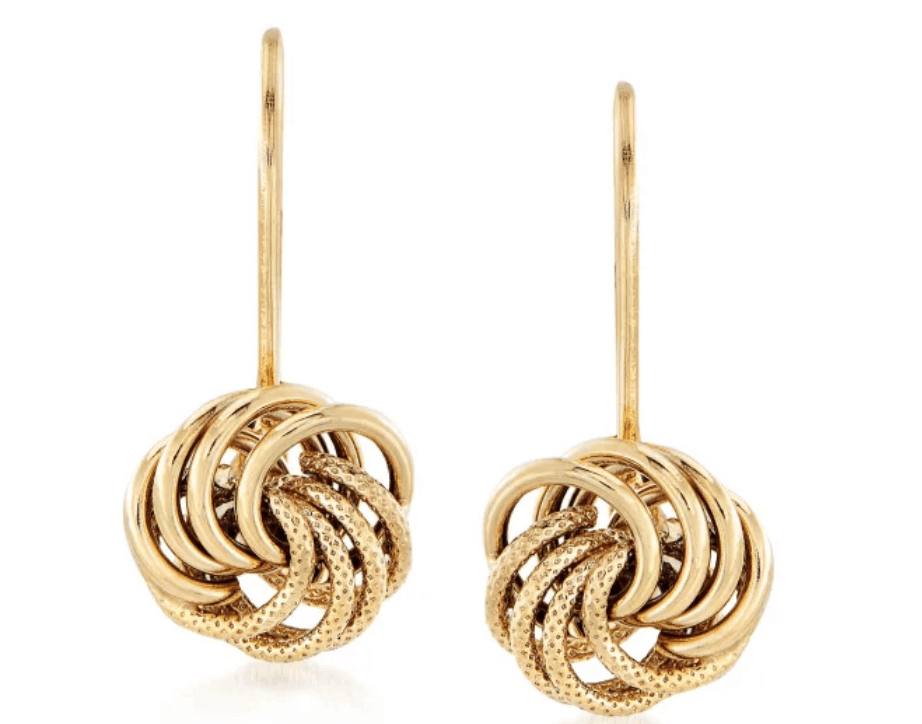 This enchanting style is dressy enough for an evening out. These drop earrings are crafted in rich 14K Italian gold, with signature craftsmanship. Polished rings of yellow gold interlock with textured rings for allure. Now on sale for around $171; Buy Here.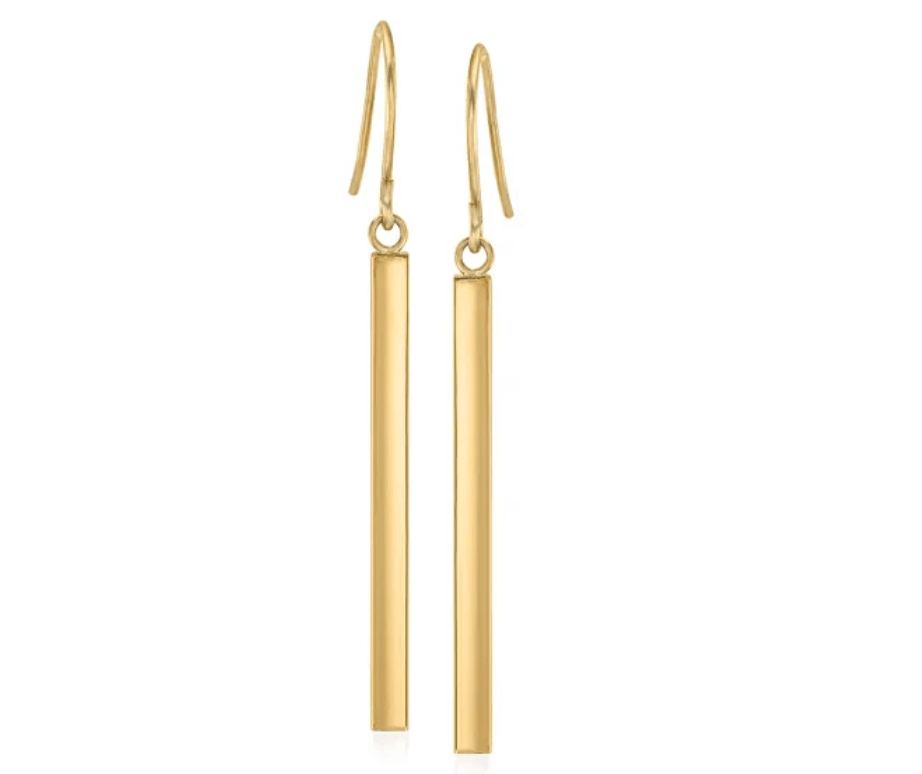 There's something to be said for a plain style. These sleek modern earrings feature a minimalist design, crafted in polished 14K yellow gold. The liquid-like polish adds shine and warmth to these subtle drop earrings. On sale for around $134; Buy Here.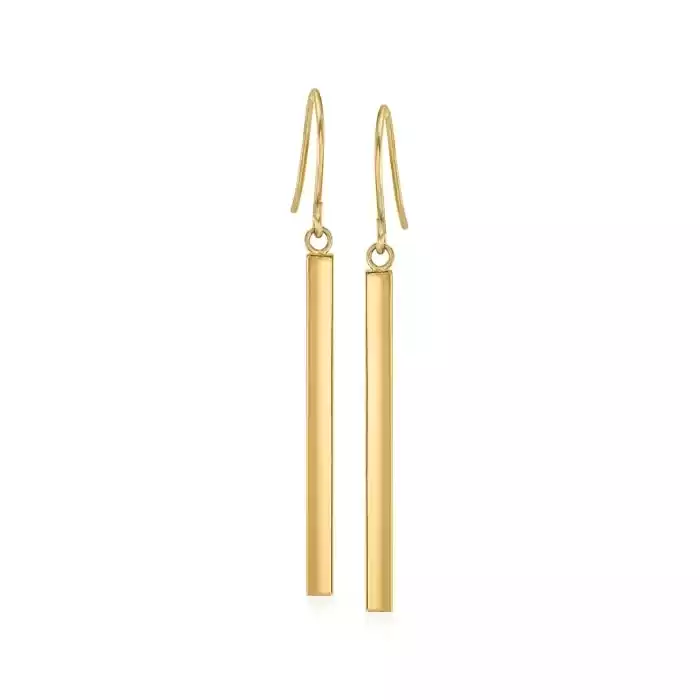 14K Rose Gold Teardrop Earrings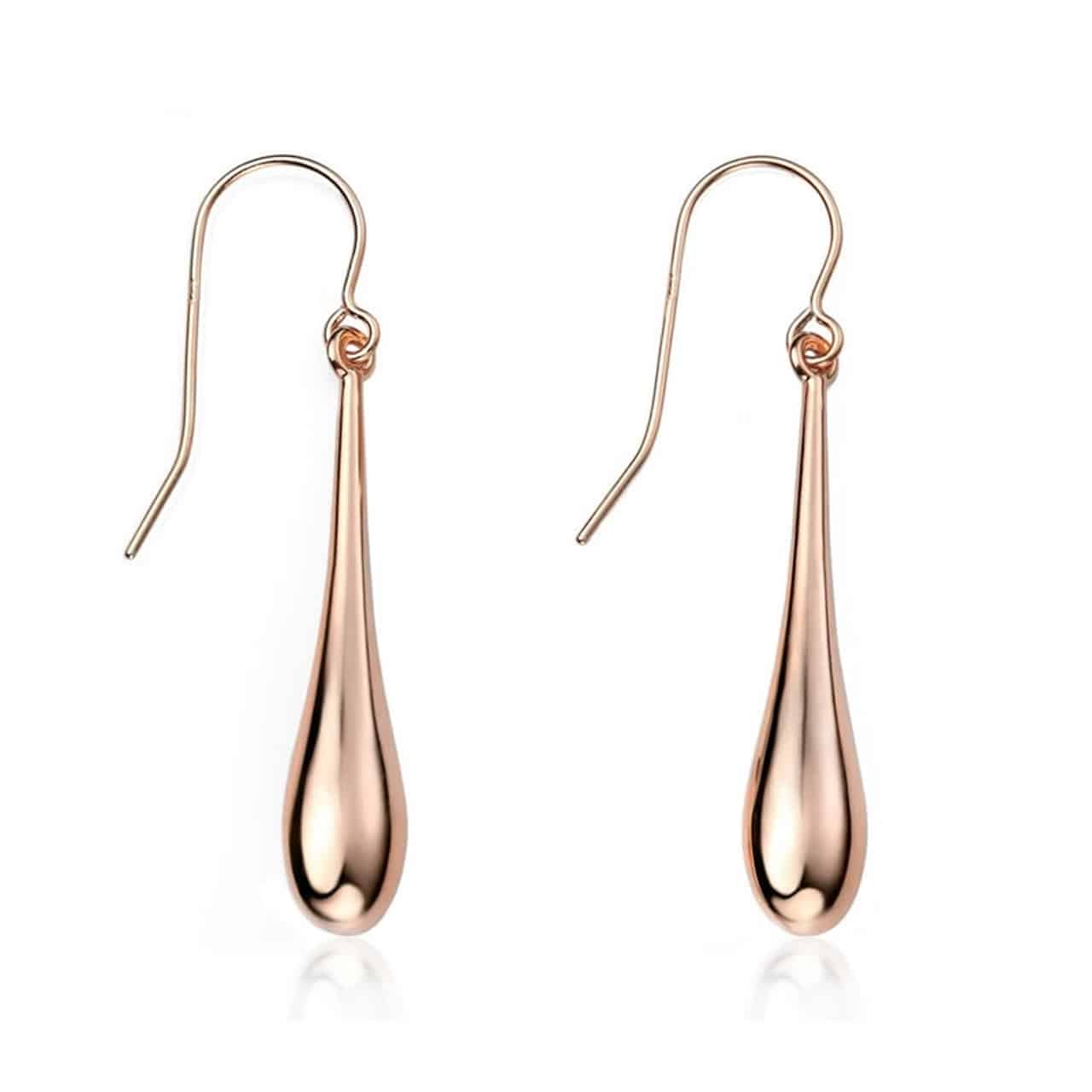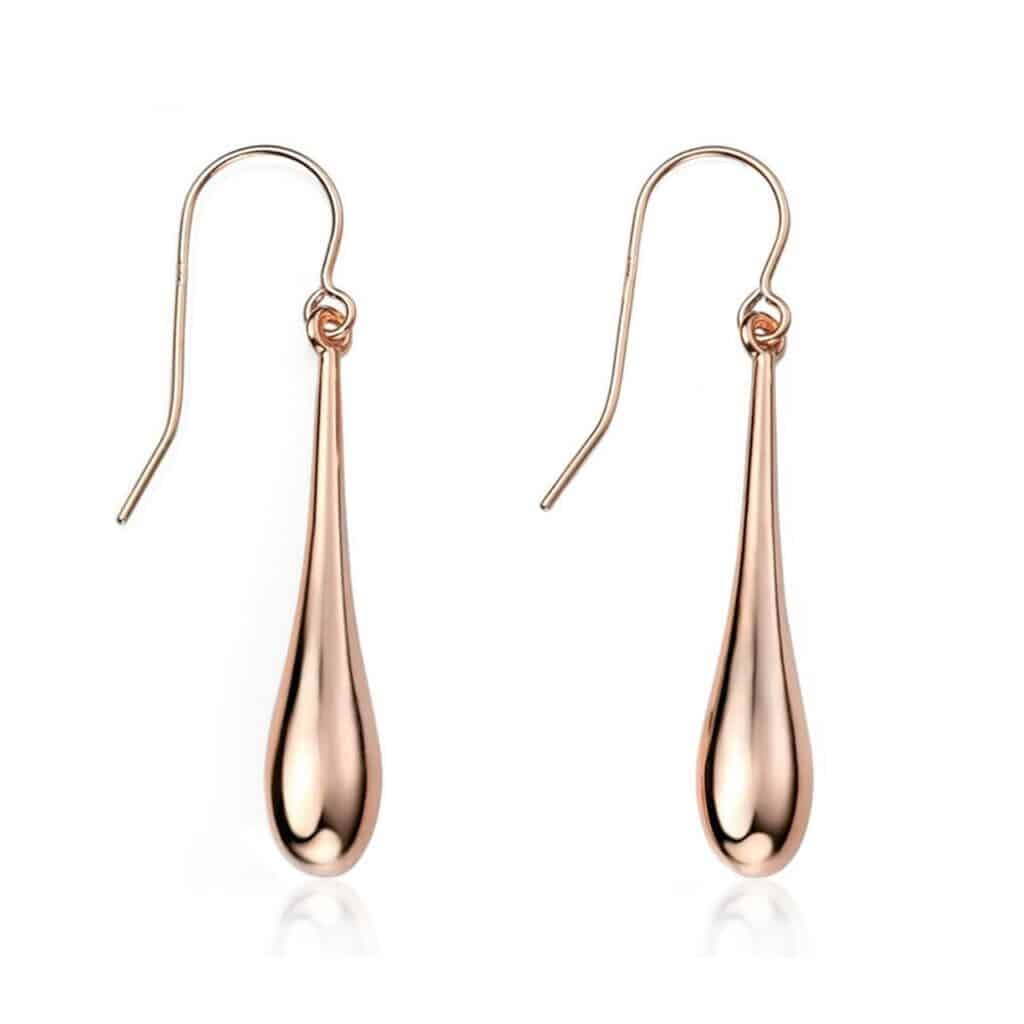 These teardrop earrings remind me of Tiffany earrings- but at a much lower cost. The sleek modern style features a classic teardrop shape, crafted in rosy 14K gold. The hue is subtle, romantic, and flattering to all skin tones. Priced at around $179.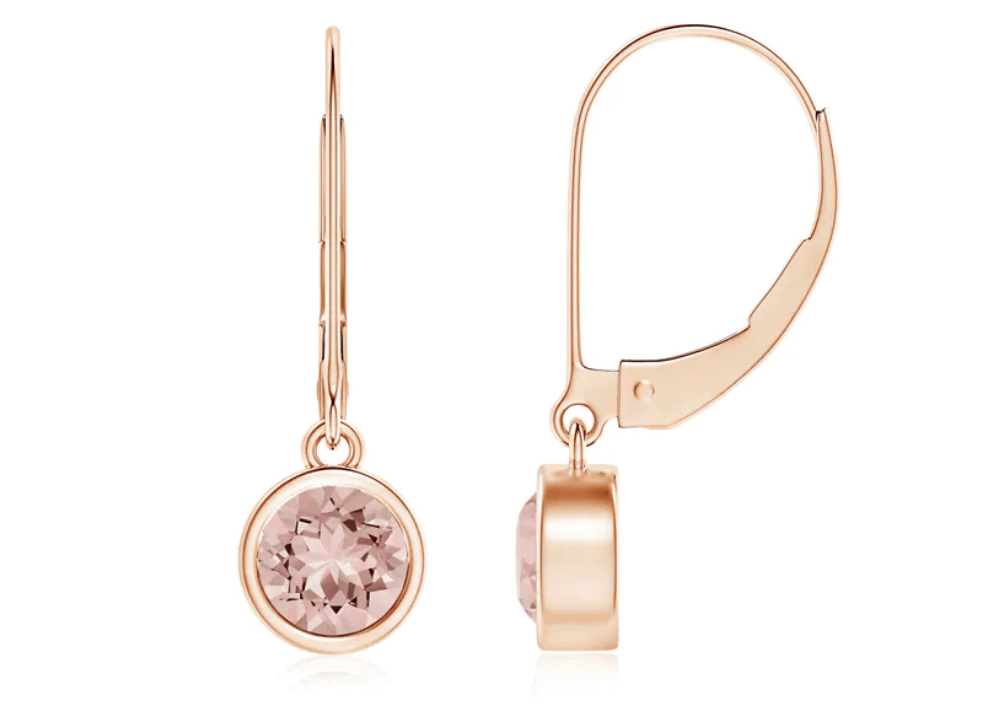 Morganite is seen as the crystal of love, clarity, and is sometimes said to reduce anxiety and stress. These beautiful drop earrings feature brilliant round morganite in a bezel setting, crafted in your choice of 14K white, rose, or yellow gold, as well as platinum. Gorgeous and unique, these earrings are priced from $409 to $485 for gold; Buy Here.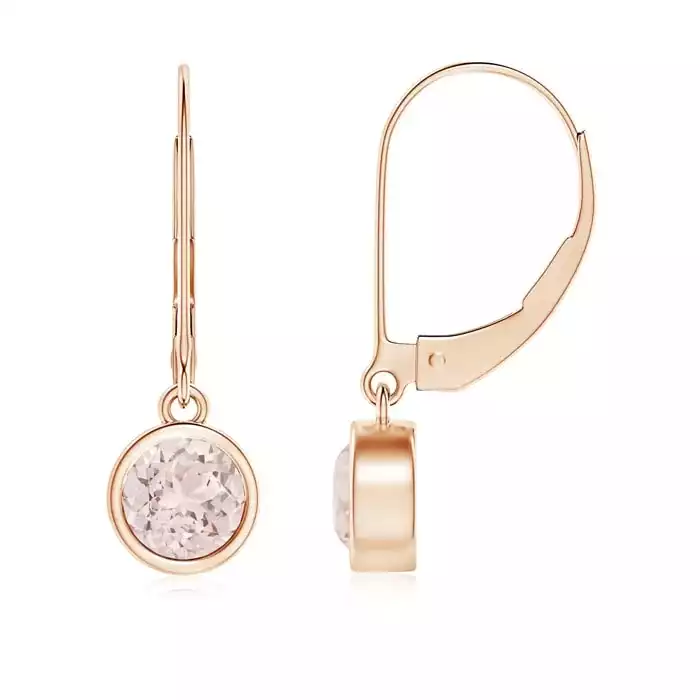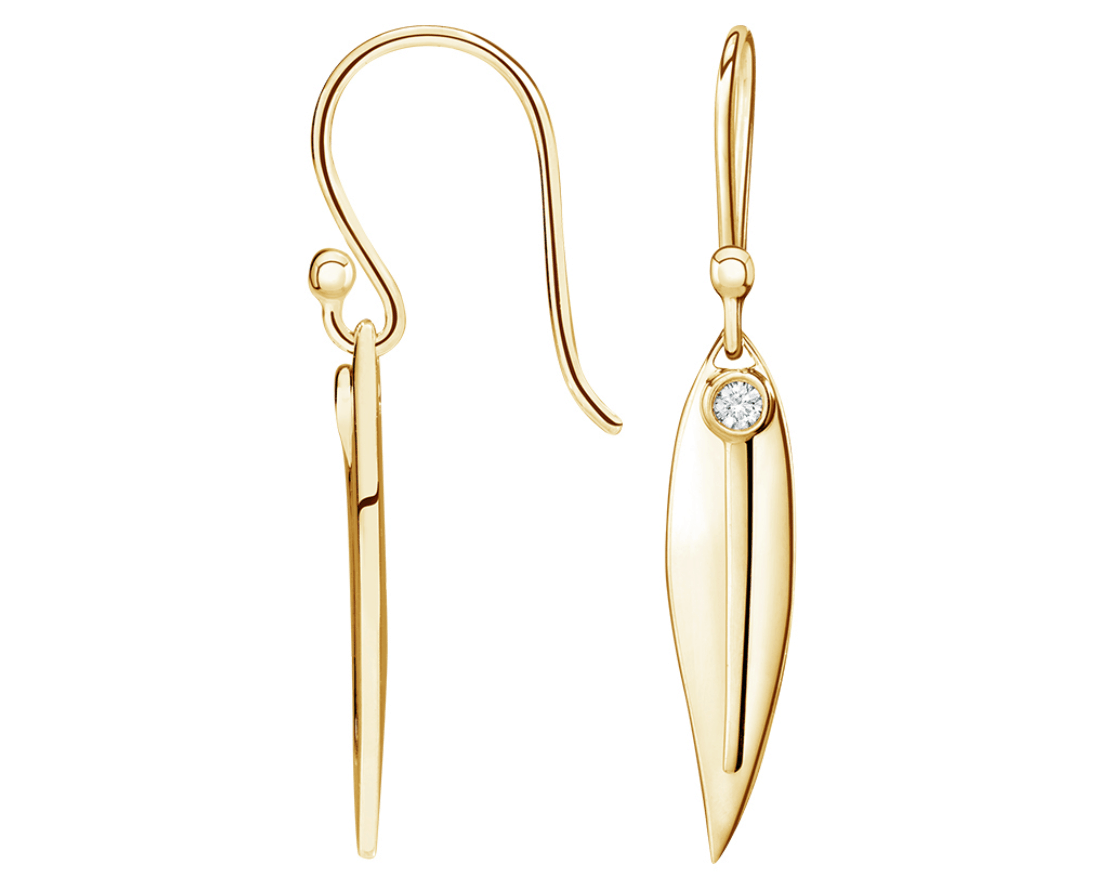 These diamond earrings feature a eucalyptus motif for a unique and meaningful look. The original symbolic meaning of eucalyptus is the marriage of the earth, underworld, and heaven. Some see it as purifying. The ridge metal leaves are accented by two bezel-set, ethically sourced diamonds. Choose from 18K yellow or white gold, priced at around $550; Buy Here.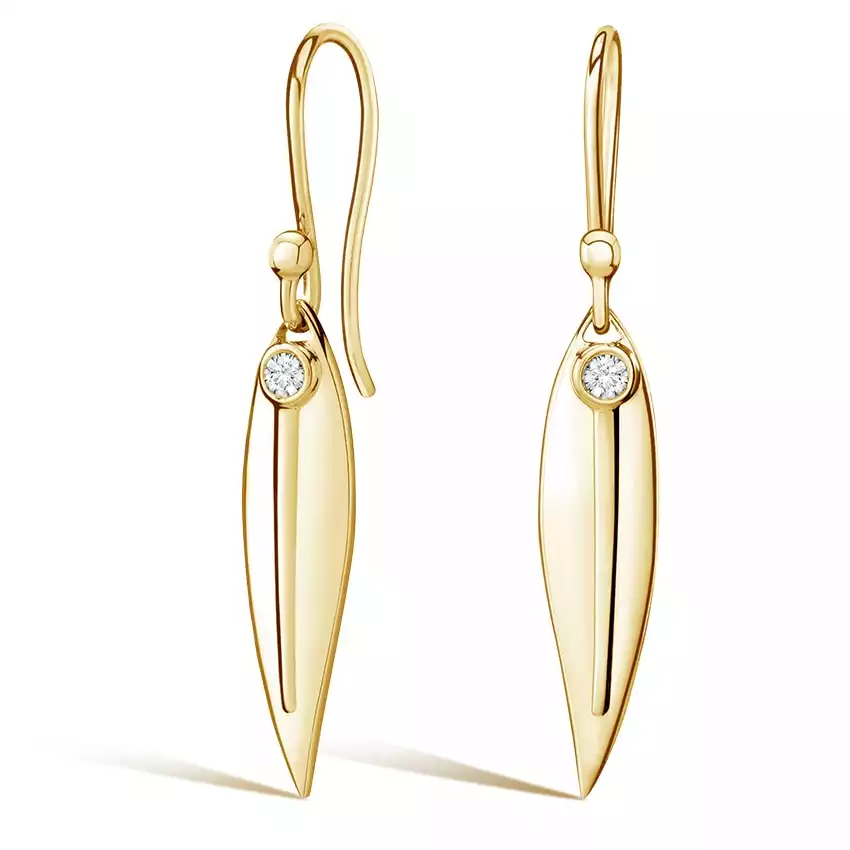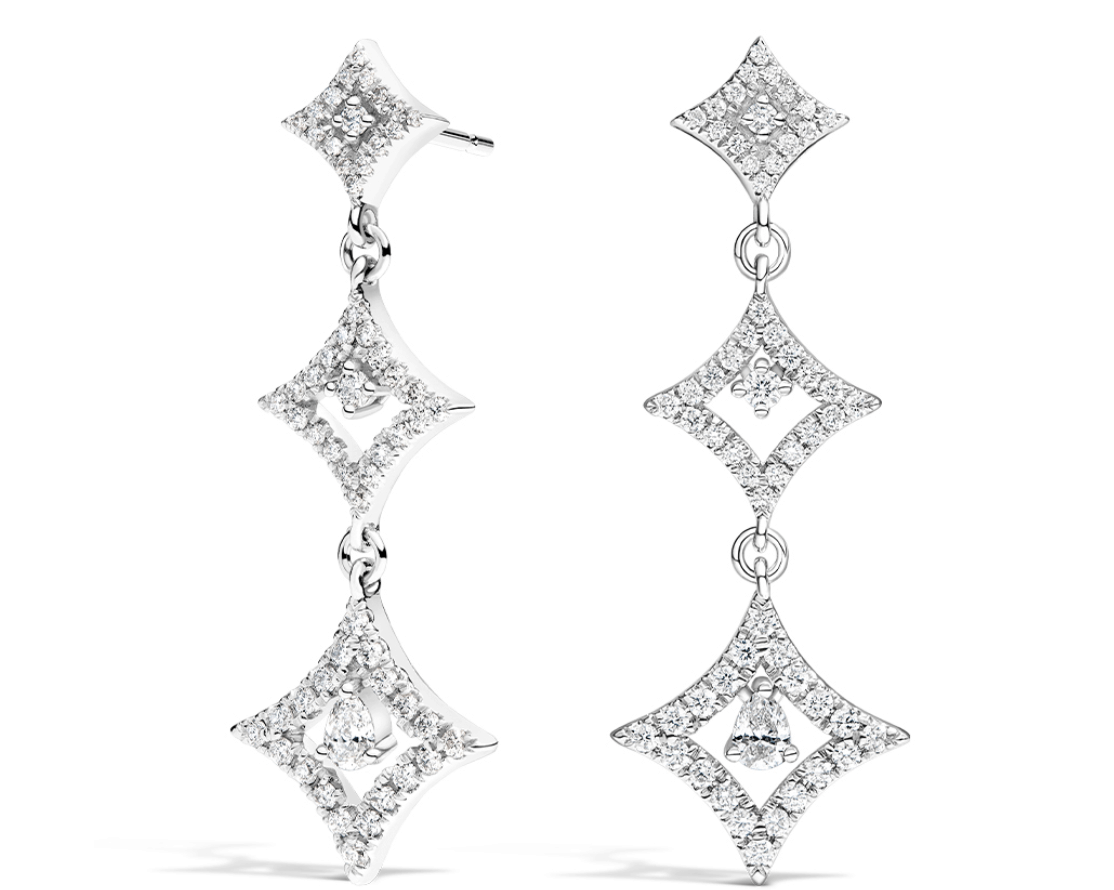 These statement earrings are dramatic and classic at once. Scalloped, pave-set diamonds are paired with pear-shaped diamonds for intricate detailing and sparkle. The long drop style makes an enchanting impression at first glance. Made with ethically and sustainably sourced materials and crafted in 18K white gold, priced at $1,990; Buy Here.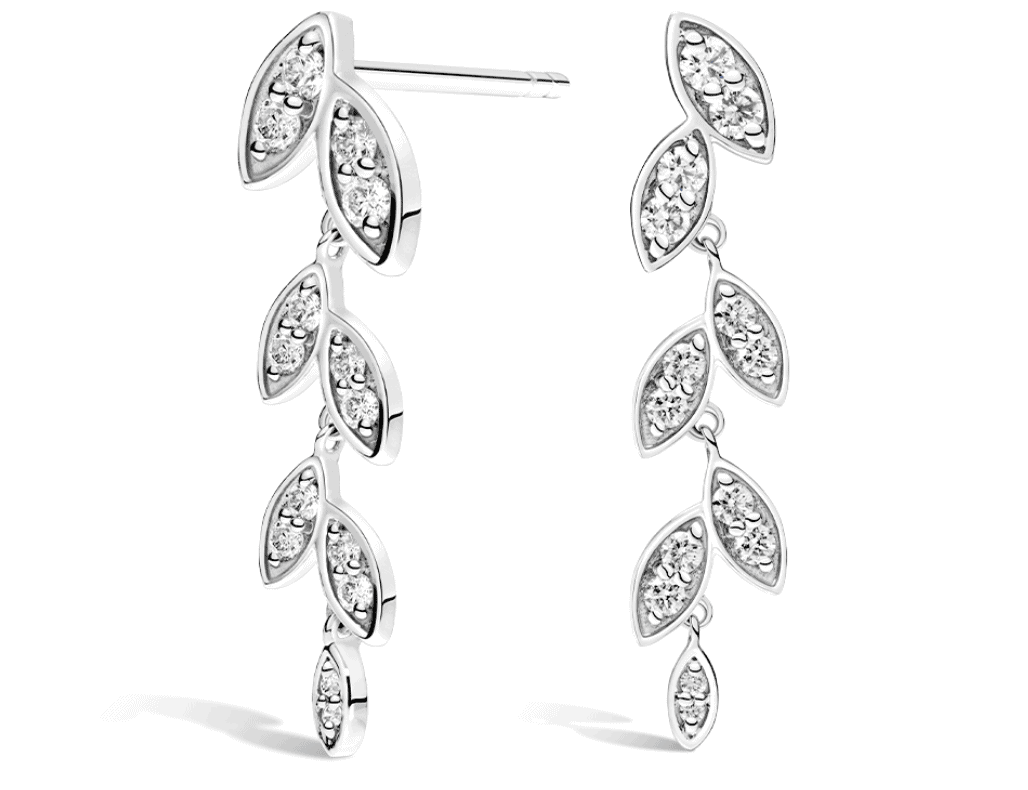 Diamond earrings with a more whimsical touch? These drop earrings manage to be both graceful and unique. Pave-set diamonds radiate brilliance in hinged leaf frames, all crafted in polished 14K white gold. Priced at around $1,350; Buy Here.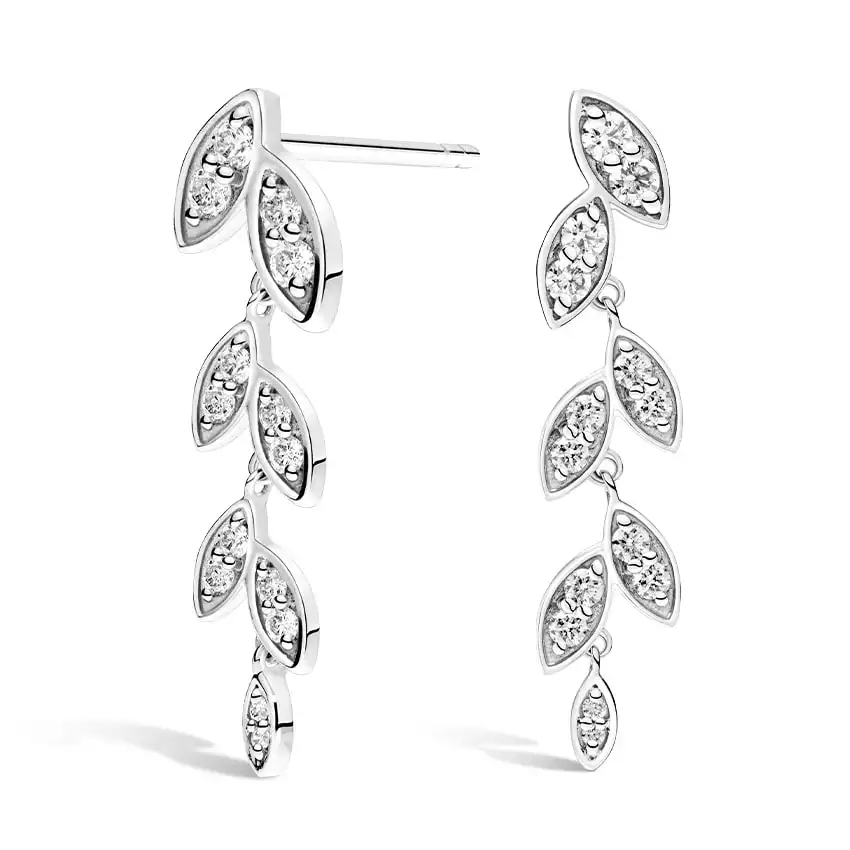 Wisteria Diamond Earrings | Brilliant Earth
Brilliant pavé-set diamonds are framed in individually hinged leaf shapes to give these earrings a delicate, graceful movement (2/5 total carat weight).
Check Price
We earn a commission if you make a purchase, at no additional cost to you.

Platinum Drop Earrings
Platinum drop earrings are gorgeous and modern. The hue is most similar to white gold– but platinum is a harder metal, and less prone to scuffs, scratches, and scrapes. Quite expensive, I'd reserve these for special occasions, investment earrings. Platinum sets the scene for dramatic, brilliant diamond drop earrings.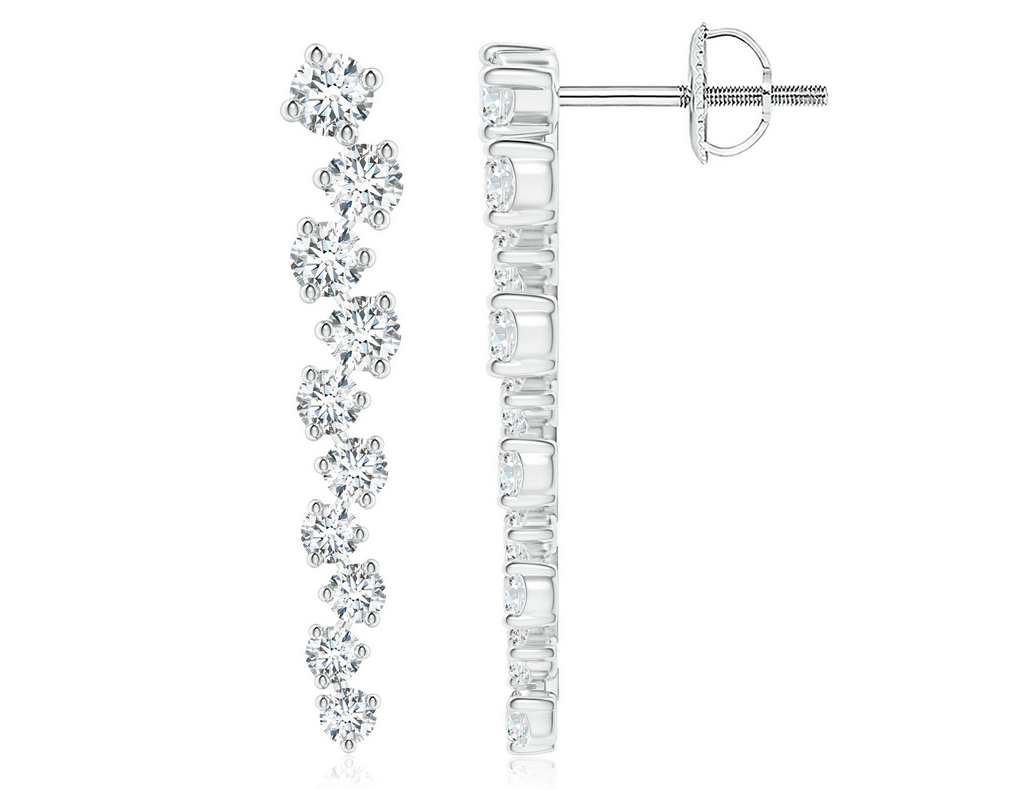 These platinum drop earrings are an instant classic. Available in ¾ to 1 carat, the enchanting design evolves movement and brilliant sparkle. Graduated round diamonds are arranged in a cascading pattern for an ethereal touch. Also available in 14K gold, the platinum earrings are priced from $1,718 to $3,426; Buy Here.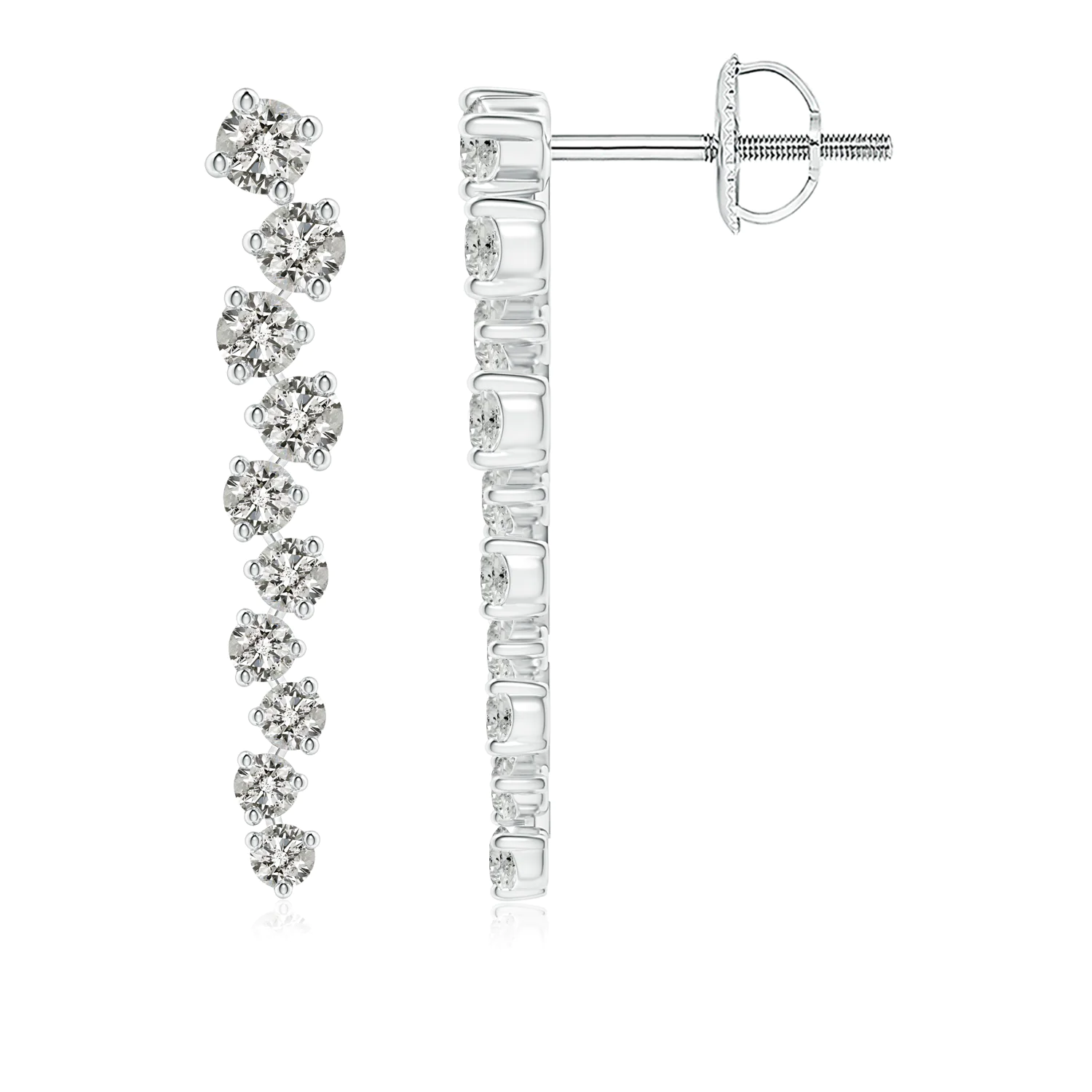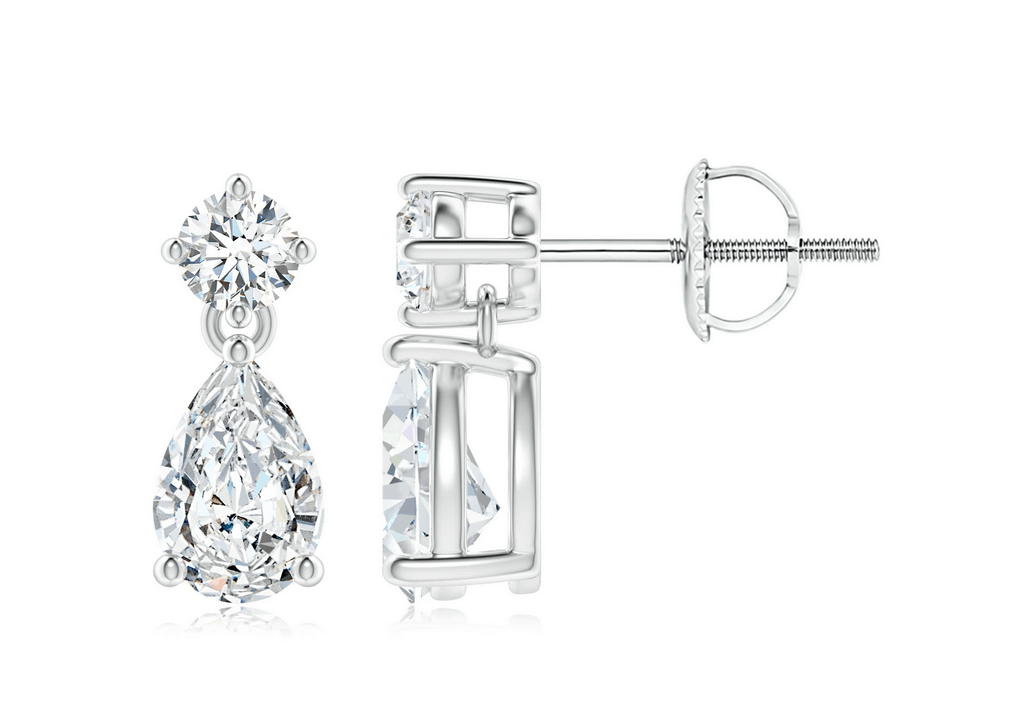 These pear and round diamond drop earrings would make an excellent anniversary gift. Pear-shaped diamonds are joined with round diamonds for a unique take on a classic look. Elegant and glamorous, select your diamond quality and ½ to 1-carat weight. Priced from $1,277 to $4,463 for platinum; Buy Here.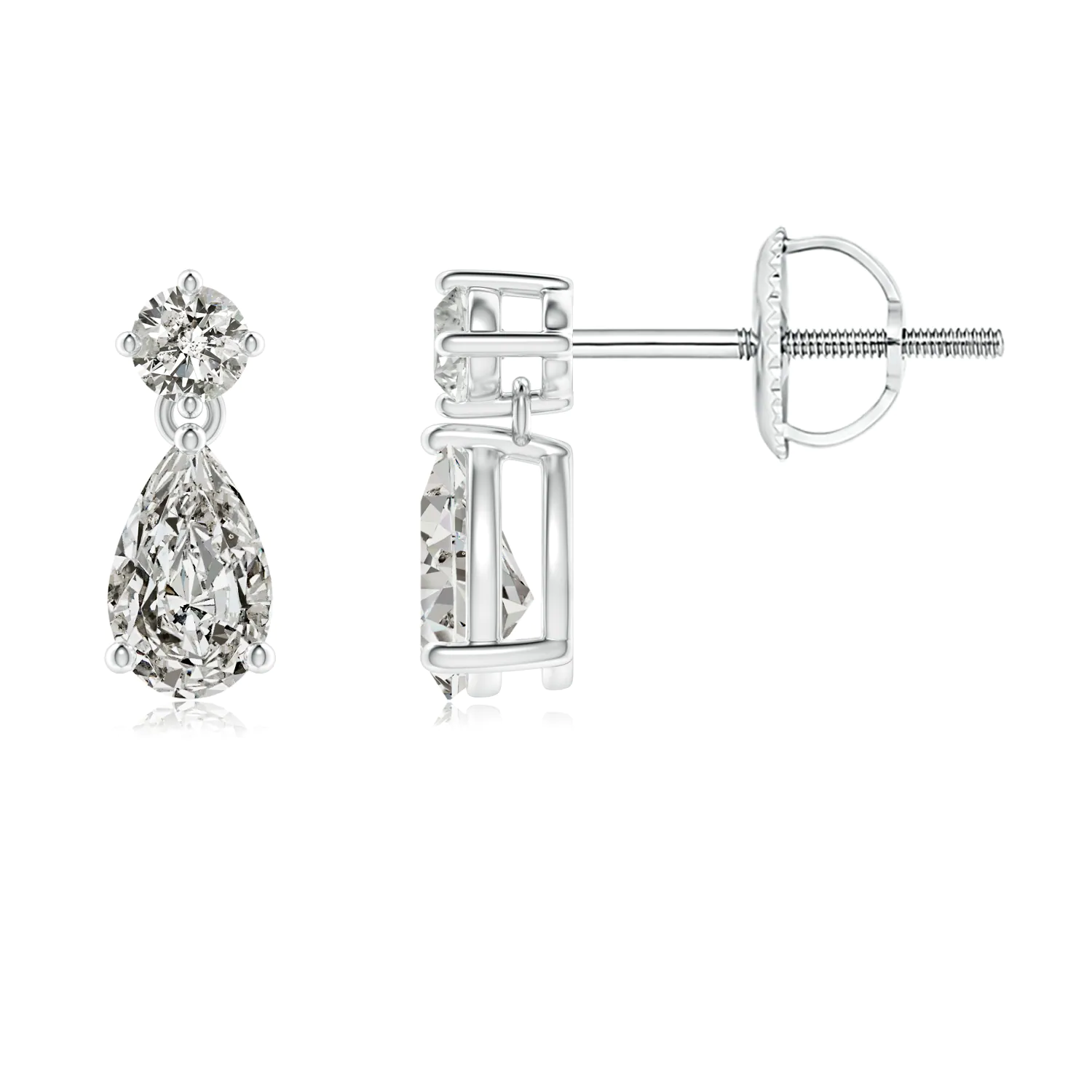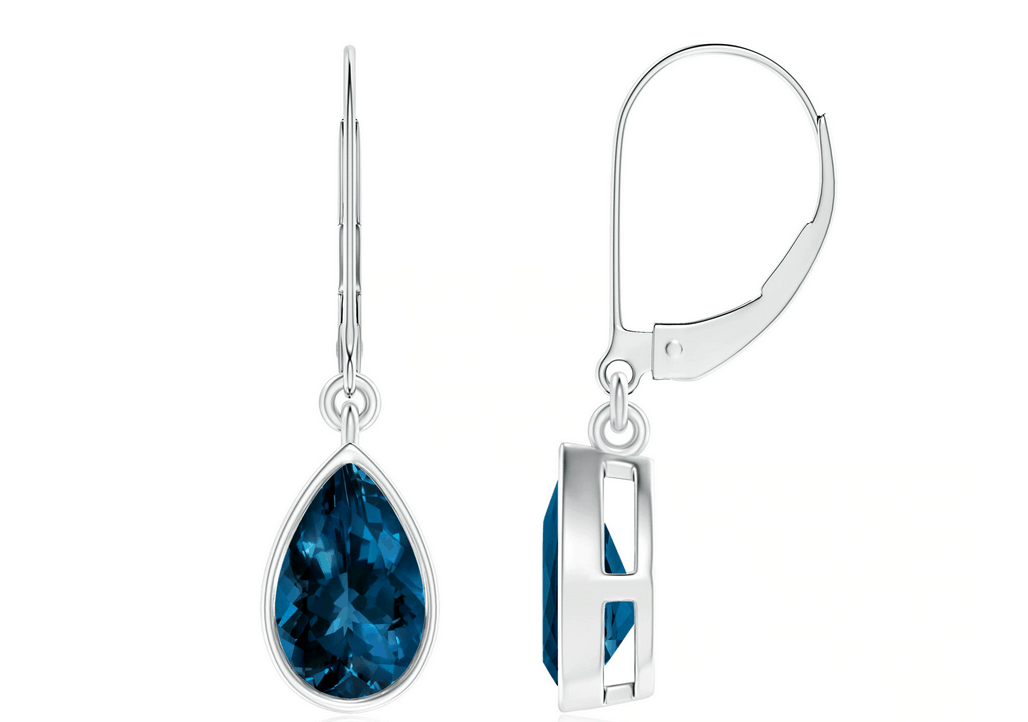 These eye-catching drop earrings are exquisite. Blue topaz symbolizes wisdom, success, and open communication. Available in good to heirloom quality and a stunning 2.9 to 3.30 carats, these gemstone earrings are unique and elegant. Priced from $620 to $1,043 for platinum; Buy Here.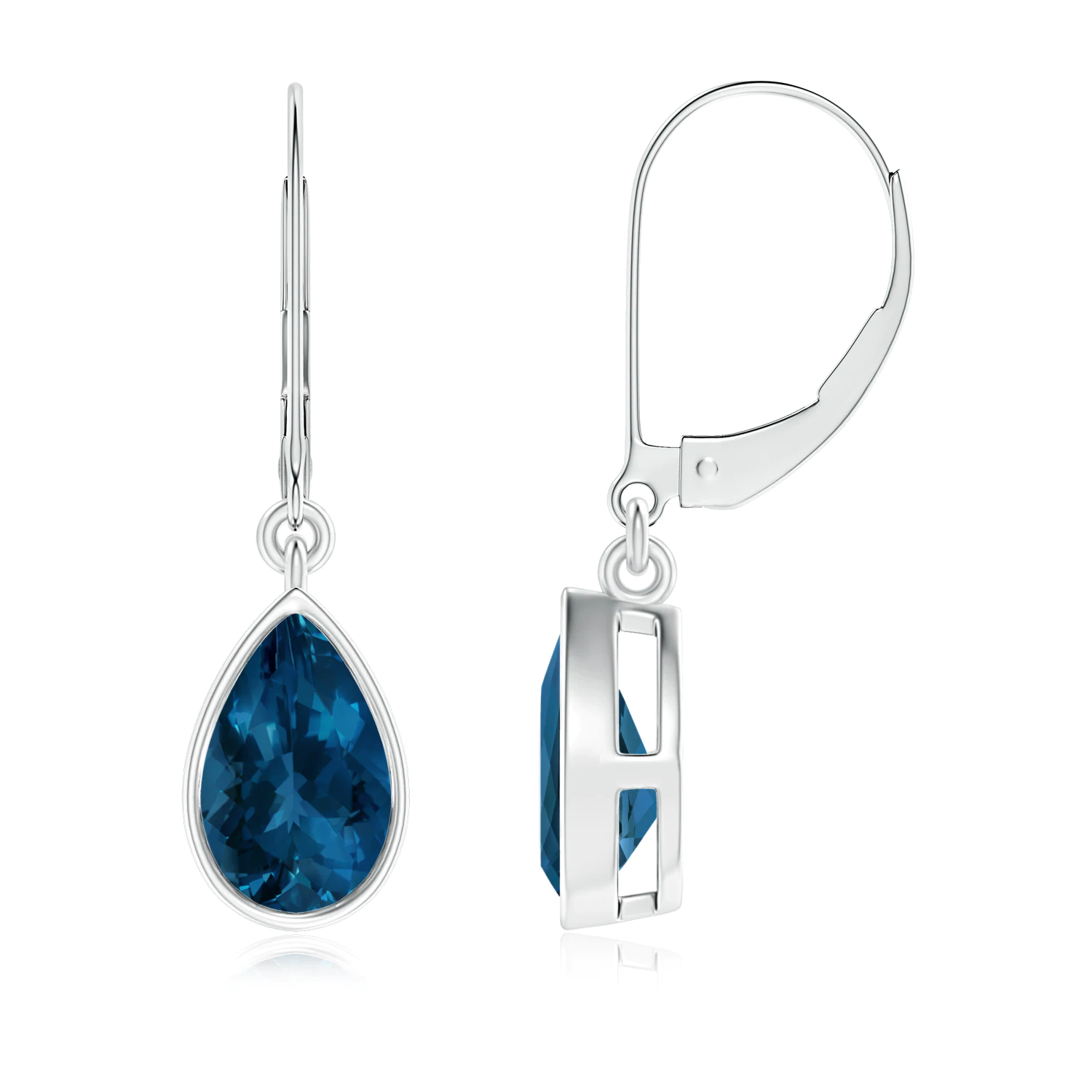 Tiffany Aria Drop Earrings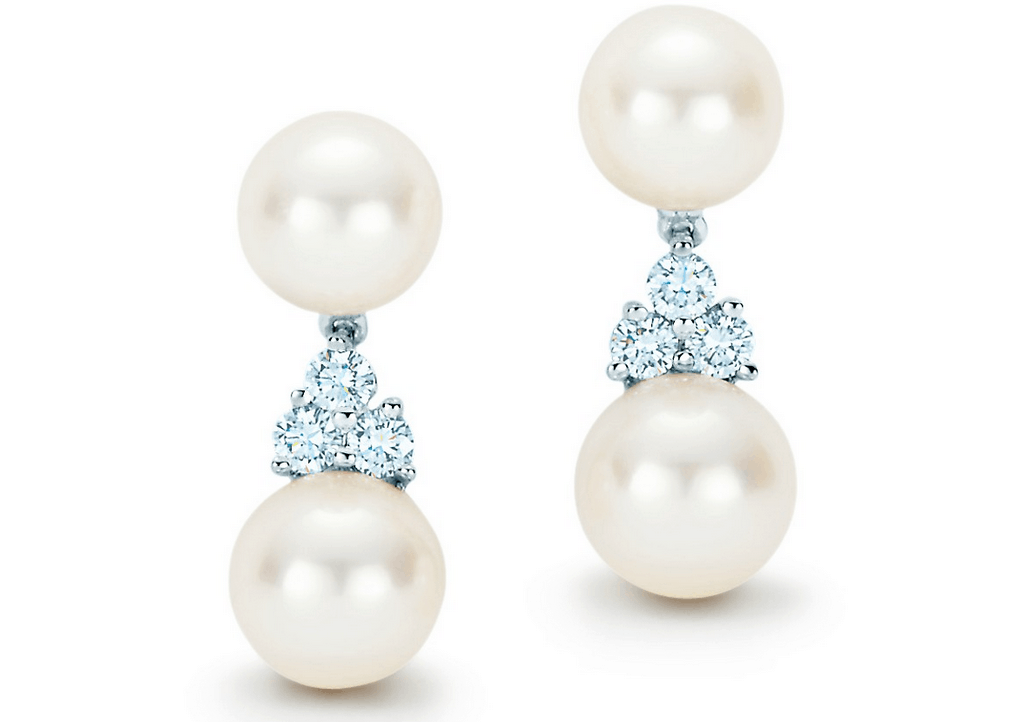 These elegant earrings from Tiffany & Co are timeless. Three round brilliant diamonds sit between Akoya cultured pearls. Expect fanciful sparkle, with the refined look of polished, genuine pearls. Priced at around $3,600.               
Stainless Steel Drop Earrings
Stainless and surgical steel drop earrings are unconventional– but that doesn't mean they aren't great options. Lightweight and durable, these unique earrings will withstand everyday wear and an active lifestyle. The downside? Budget-friendly as these earrings are, a bulk of jewelers don't offer much. Aside from one pick from Jared, I hunted down ideas from highly-rated Etsy sellers.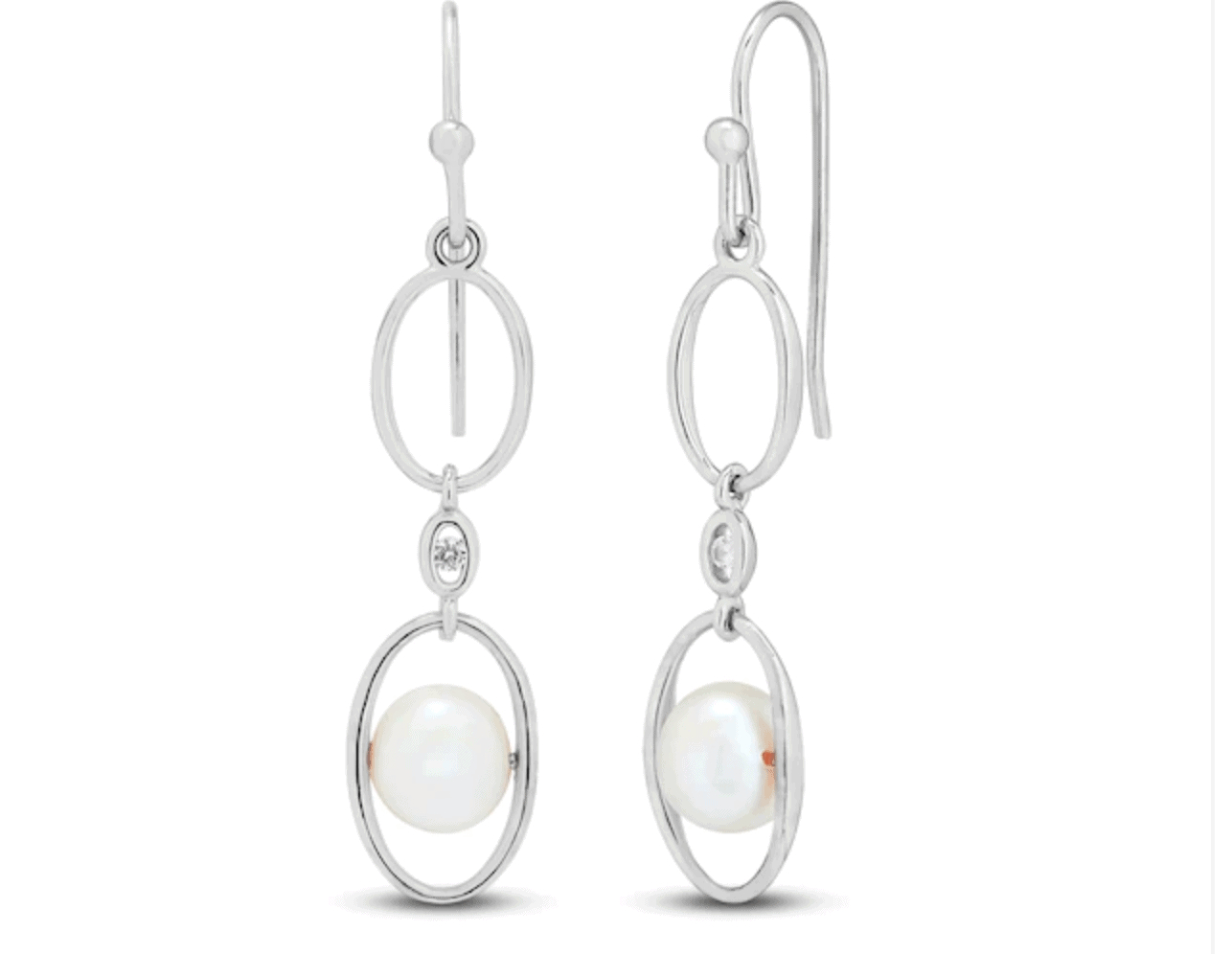 These unique earrings offer a fresh take on a pearl look. Freshwater pearls pair with lab-grown white sapphires for a modern take. The oval-shaped stainless steel rings provide an elongated, dramatic look. Priced at around $69; Buy Here.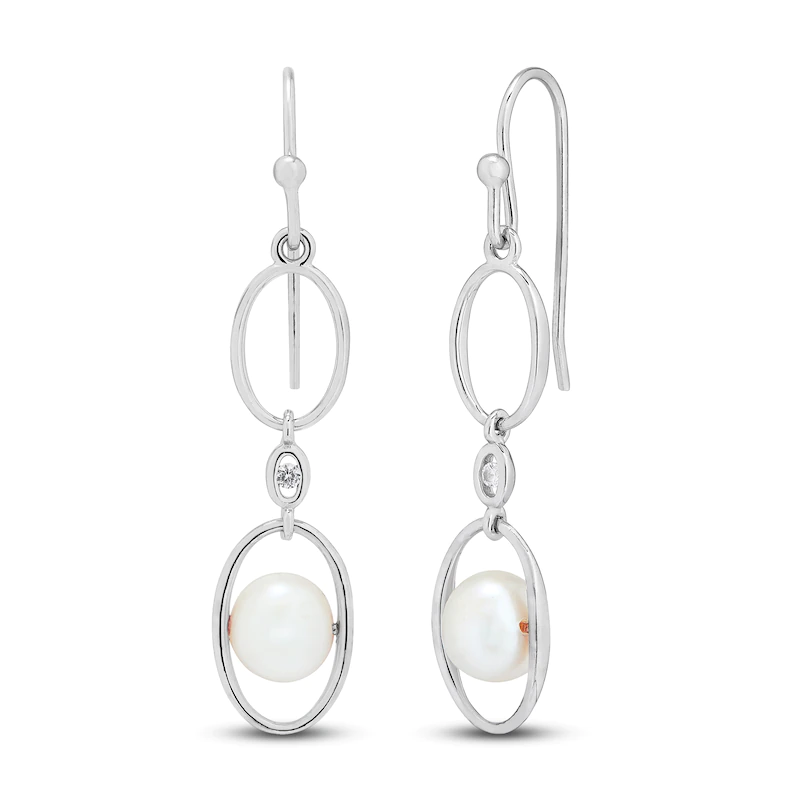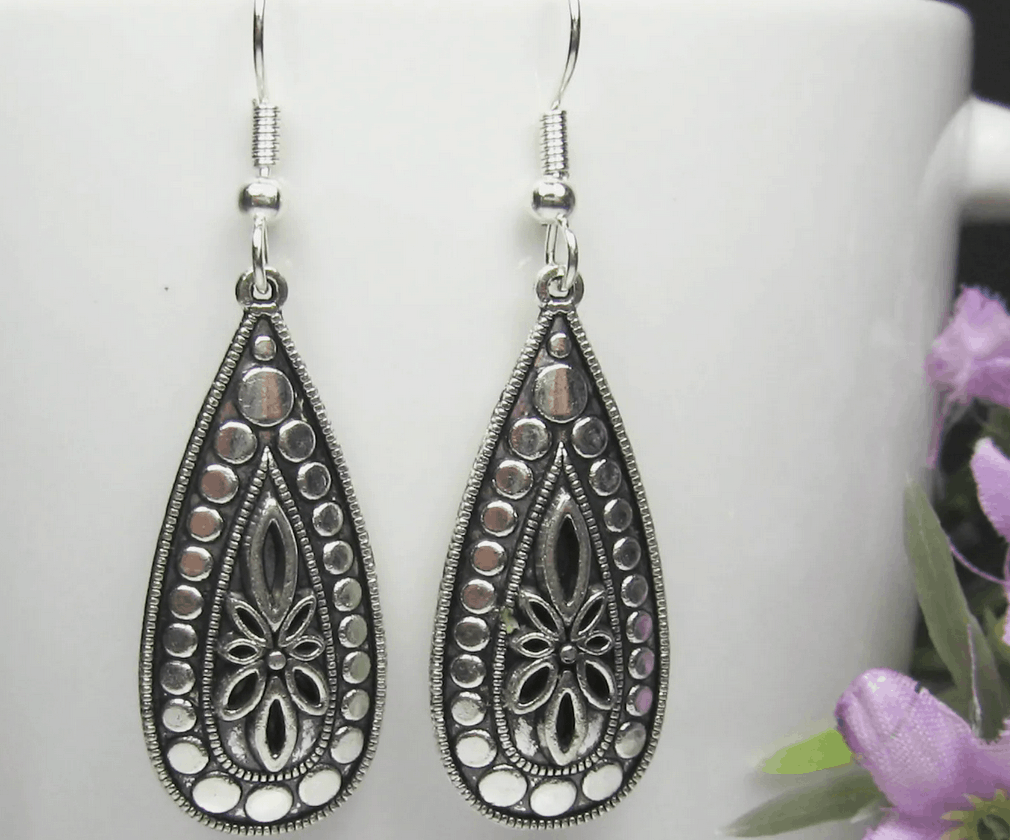 These handmade earrings are hypoallergenic and budget-friendly. Priced at just around $16, these are the kind of drop earrings you can wear any day of the week. These nickel-free earrings feature a floral motif, with detailing around the exterior for a classic boho design. Buy Here.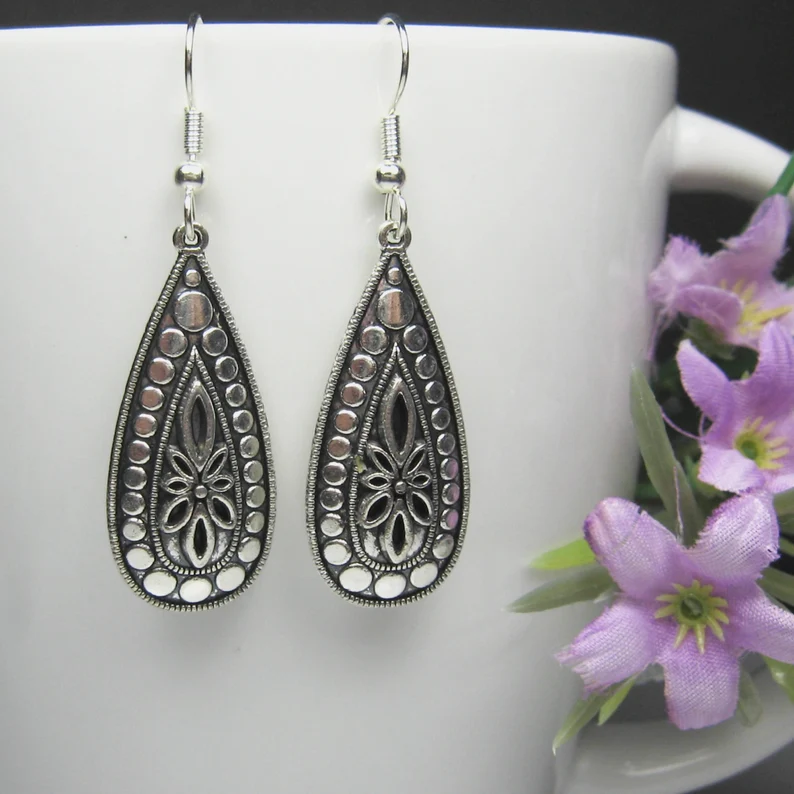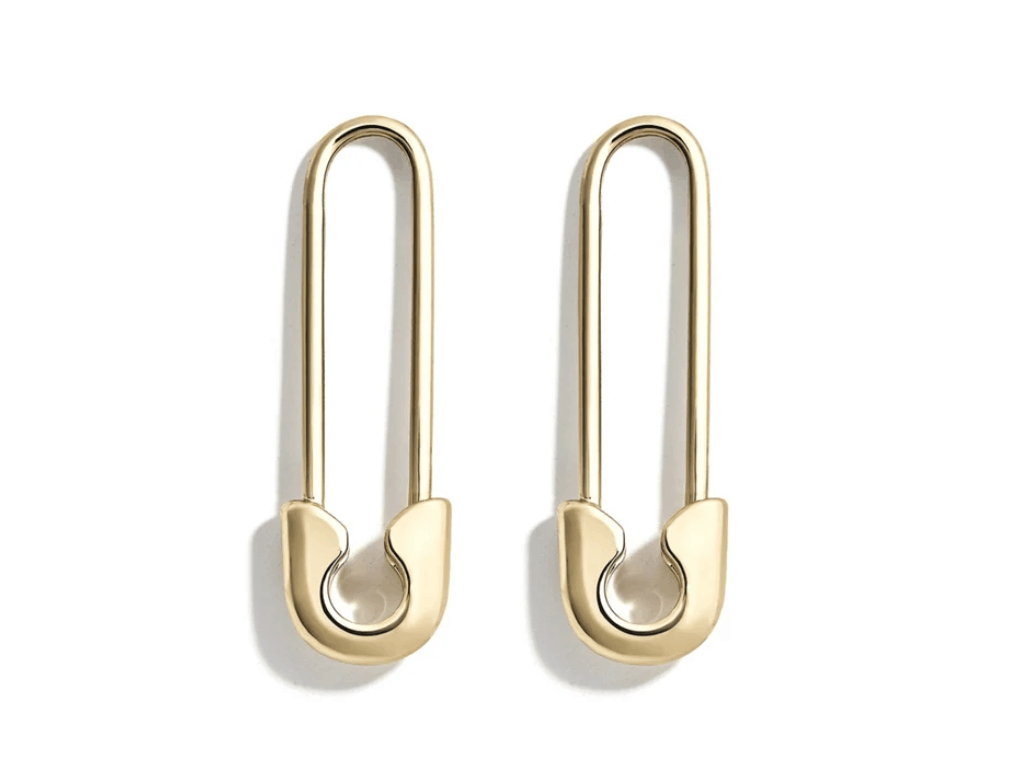 Looking for something unique and casual? Consider these safety pin earrings. Made with stainless steel, these best-selling earrings are clever and modern. Choose from gold, silver, rose gold, or black or white crystals. Priced from $12.98 to $28.87; Buy Here.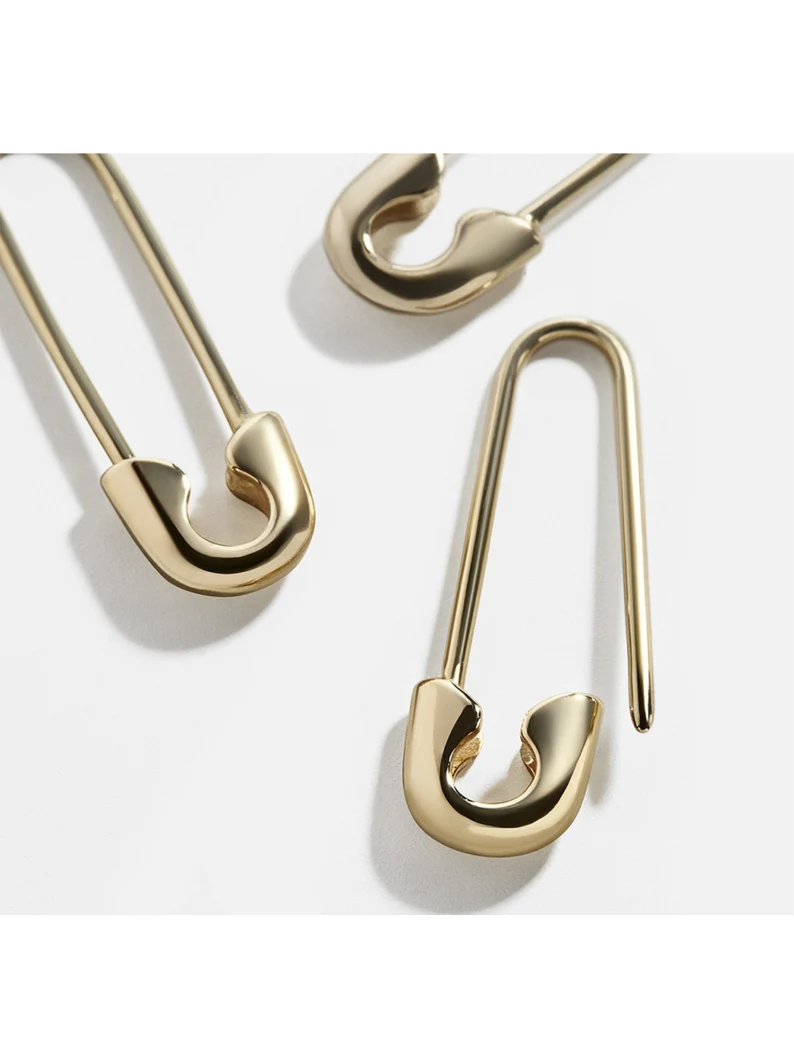 Safety Pin Earrings | Etsy
These creative earrings are an approx 43mm in length. Crafted from high-quality stainless steel and hypoallergenic, the earrings hook very comfortably through the ears.
Check Price
We earn a commission if you make a purchase, at no additional cost to you.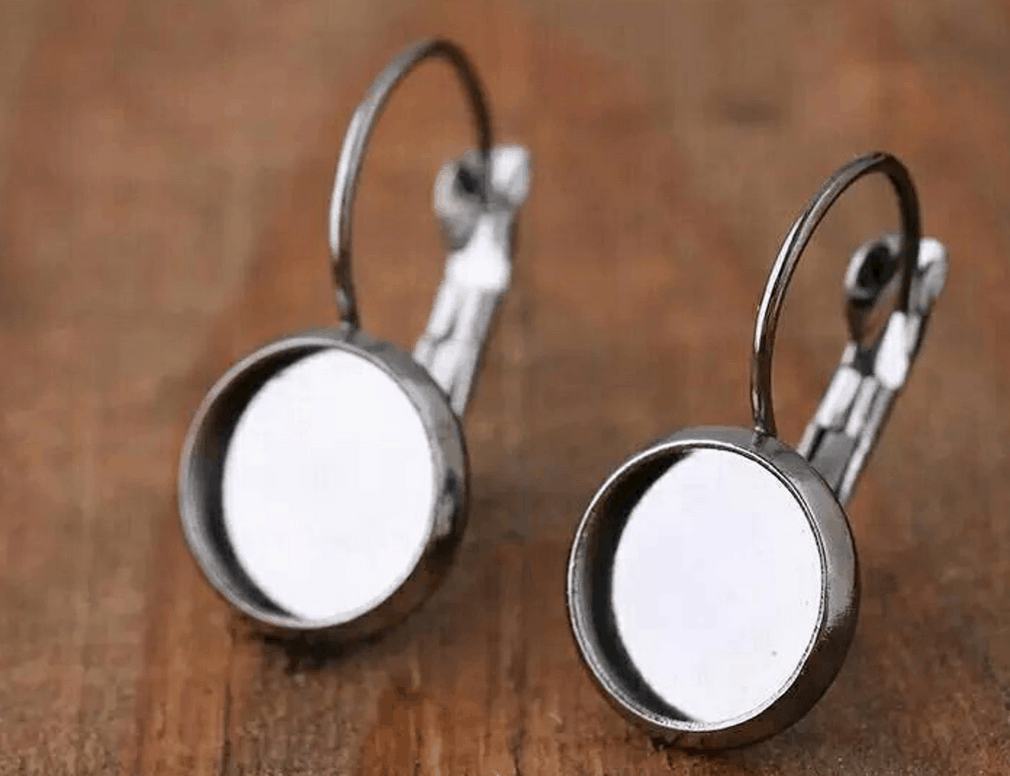 While these earrings are fairly plain, they're a great option for casual drop earrings for anyone with sensitive skin. Crafted out of surgical steel, these earrings are handmade for an Etsy shop with rave reviews for durable accessories. They also happen to be about as budget-friendly as you can get. Priced at around $11.53 for several pairs; Buy Here.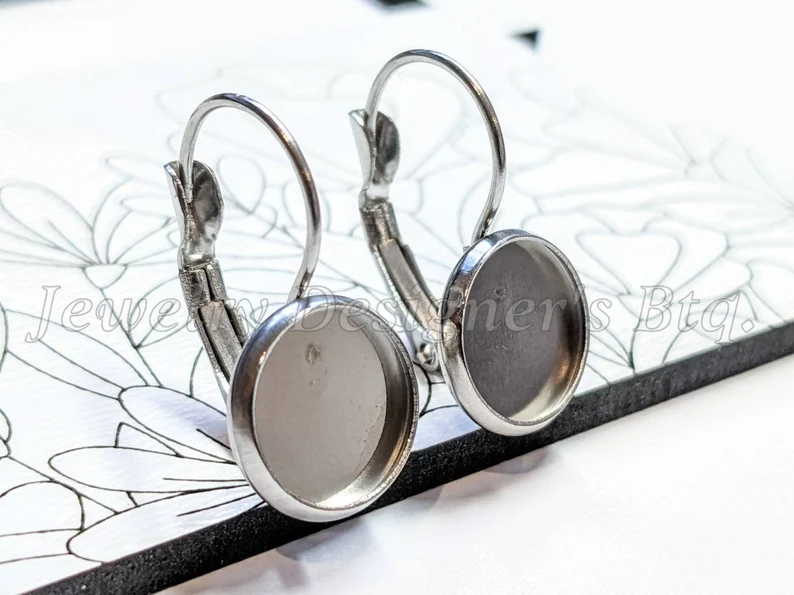 Frequently Asked Questions
Question: How do you make earrings drop?
Answer: Some make their own dangle and drop earrings– but I don't recommend tweaking a pair of earrings that you already own. Your best bet is to craft them from scratch. Start with beads or gemstones on a wire loop and join together two jump rings for your chain. From there, you can use gems or beads to attach to the jump rings. Click Here For All Steps. 
Question: What does drop mean in earrings?
Answer: Drop refers to the way drop and dangle earrings drop off below the earlobe. This style makes for a dramatic statement and can include solid metal, beads, gemstones, or diamonds. Both dangle and drop earrings feature the drop.
Question: What's the difference between length and drop length?
Answer: The drop length measures the ear wire or the length from the piercing site. The total length of an earring would also include measures from the top of the piercing. The drop length is helpful for understanding where the earrings will fall. 
Final Thoughts
Drop earrings are a fantastic way to make a statement. Whether that's one of the more glamorous ideas– with brilliant diamonds– or one of the more subdued styles, you can't go wrong. You can also buy inexpensive drop earrings, including tassels and other boho styles, on Etsy. And for a truly unique option, you could try a leather drop or dangle earrings.