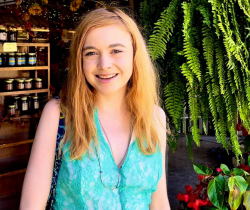 Latest posts by Erin Jamieson
(see all)
While some of the best earrings come from fine jewelers and luxury designers, the risk is they don't always feel unique. So in 2022, many are opting for more affordable, one-of-a-kind earrings pick from smaller sellers on Etsy.
2022 has been a great year for finding bolder and more personalized earrings. Even as I've seen classic trends like gold hoop earrings return, I've always seen a desire for express, meaningful, and unique pieces. And that is true for both consumers– and the incredible artists behind the earring designs. 
Jana Vrtělová Holbert is one such story. Born in the Czech Republic, Jana grew up surrounded by marionette dolls– handcrafted by her grandfather. Since her grandfather died before she was born, it was her true connection to him. While working– and still working– as a technician at the University of Idaho, Jana began crafting her own puppets, and, eventually, a line of earrings.
Just like her puppets, Earrings By Virtue Loutky, her Etsy shop, is meant to continue her grandfather's cultural tradition and share it with others. The iconic collection includes hand-carved and painted earrings with designs taken from traditional Czech puppetry. 
To be sure, there are simple, versatile earrings on Etsy as well– most at a fairly low cost, and mostly handmade.
The problem? With over 4.3 million unique sellers on Etsy as of 2020, it can be easy to miss earrings like Jana's. And earrings vary quite a bit in overall quality. This guide will point you to the best of what Etsy has to offer, and my recommendations for affordable earrings you can buy today. 
What is Etsy?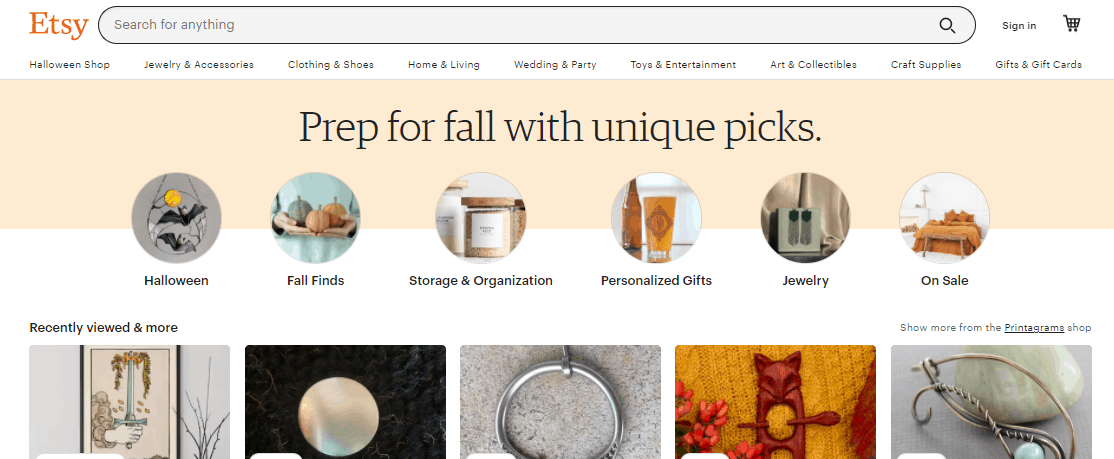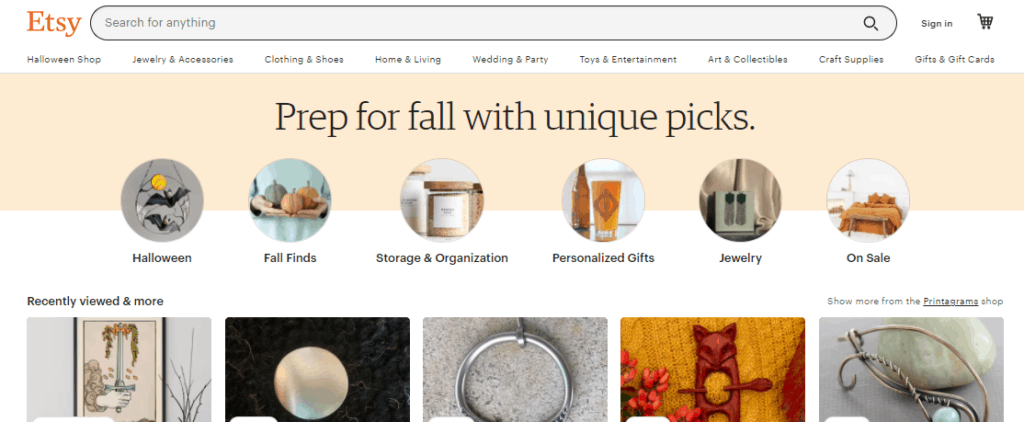 You've likely heard about Etsy– even browsed on shopped before, but it's important to understand a little more about the marketplace and how it impacts you as a consumer. Etsy is an e-commerce marketplace where independent sellers can post listings for everything from jewelry to clothing to decor, furniture, and– their biggest seller– crafts. You can also find less expected items, such as tools. With so many sellers, it's a very competitive market, and, as a consumer, it can be easy to miss some of the best listings– but the filters and knowing what you're looking for do help.
Why is Etsy so successful?
Etsy is so successful because it leans on the trend that has been rising for years– a desire for truly unique products, offered by small, independent sellers. The sheer variety of products offered is a big draw, and Etsy keeps things more organized compared to some other marketplaces that offer such variety. By offering vintage and handmade items, Etsy also is different from larger companies like eBay. It's become known as a more artistic, unique platform– a boom to both independent artists trying to get their work out there and for consumers in search of something outside of big-name jewelers. 
Is Etsy a good website?
Etsy is a secure site and allows shoppers a few secure methods for payment, including Paypal. I like how well organized Etsy is, with clear categories, and countless filters that make it easier to find what you're looking for. It's certainly not a bad website– but it's also not foolproof. 
Does Etsy have fake reviews?
Fake reviews are against Etsy's terms of service. Technically, a shop could be taken down for fake reviews. The problem is that fake reviews can be hard for Etsy to spot, and it's unlikely that the seller will be punished unless they receive many complaints which don't align with all glowing reviews. 
Generally, I'd say it's safe to trust reviews, with a caveat. If a seller has next to no information about their products, that's a bad sign. If the reviews simply leave 5 stars and have no details, that's also a bad sign. Look for customer reviews that discuss the product they bought– even better if they include pictures. And while aiming for top-rated products is a good idea, sometimes it's actually a good sign to see a few reviews below 5 stars– that makes it more likely that consumers are speaking freely about their experience. 
What earrings does Etsy sell?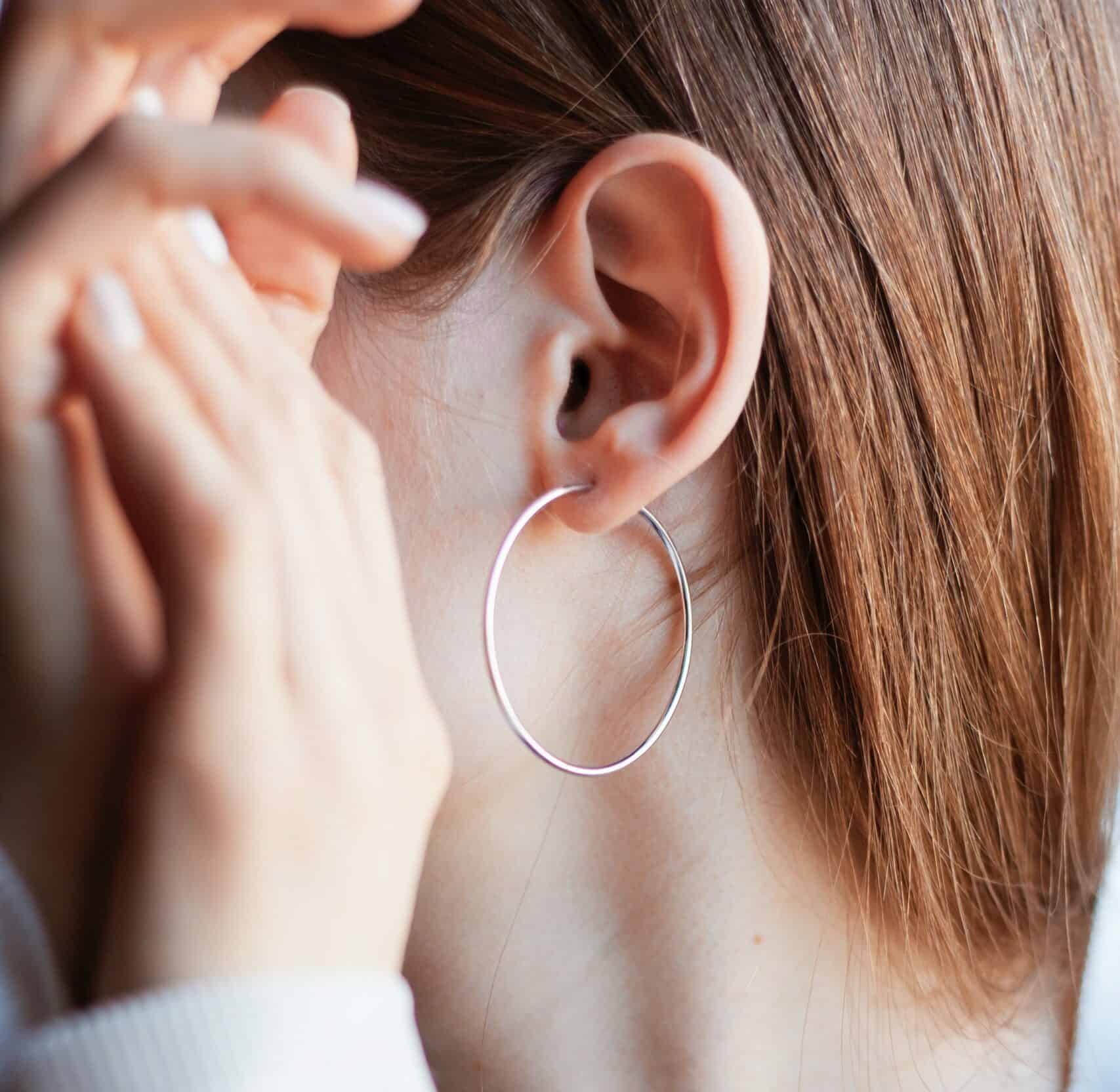 Etsy carries just about any style of earring you can imagine, not limited to: studs, clusters, drops, hoops, single piercings, Huggies, and more. You can find glam to minimalist, vintage to strikingly modern. Boho and alternative styles are quite popular. Etsy does also carry fine jewelry earrings– both vintage and handmade– that include precious gemstones like diamonds, emeralds, sapphires, and countless others. 
Are Etsy earrings new or used?
Most Etsy earrings are new and handmade. However, like all other categories, Etsy also sells vintage earrings. Per Etsy's guidelines, vintage earrings must be at least 20 years old. Per Etsy guidelines, no used earrings are technically allowed to be sold. Of course, it is possible someone shirks these rules. I recommend cleaning all earrings, regardless of what you buy, anyway, before wearing them. How do I pick the best Etsy earrings?
How do I spot a bad Etsy seller?
Not all earring sellers are the same. Red flags include little to no information about their earrings, or misleading information. The safest bet is to buy from a seller who already has a decent history of sales behind them. That isn't to say, of course, that a new seller isn't great– it's just more of a risk. Misleading information is fairly common– while not a deal-breaker for others, I usually steer away from sellers who say something is gold– only for you to have to dig to find out it means their earrings are gold-toned rather than made out of gold. Again, this is not a deal-breaker for all, but something to be cautious about. 
What are the best earrings to wear?
That leads into metal type. If you are only shopping for casual earrings to wear for a year or two, and don't have any skin sensitivities, feel free to open up your options. But my goal when shopping for Etsy earrings is to find the most durable earrings for the best price. 
I prefer stainless or surgical steel, 14Kor 18K gold, or platinum. None of these metals will tarnish, fade, or chip. If you get your earrings wet, they should still hold up. Stainless and surgical steel is a very hard metal and also cost-friendly. 10K earrings are a possibility if you don't mind a fuller look.
Keep in mind that this isn't the same as gold plating. Gold plating earrings are very common on Etsy and last about 1-3 years on average. Gold plating is gold pounded into a fine layer and lain over a base metal, often copper or silver. It can peel and tarnish fairly easily. 
What are the most popular earrings?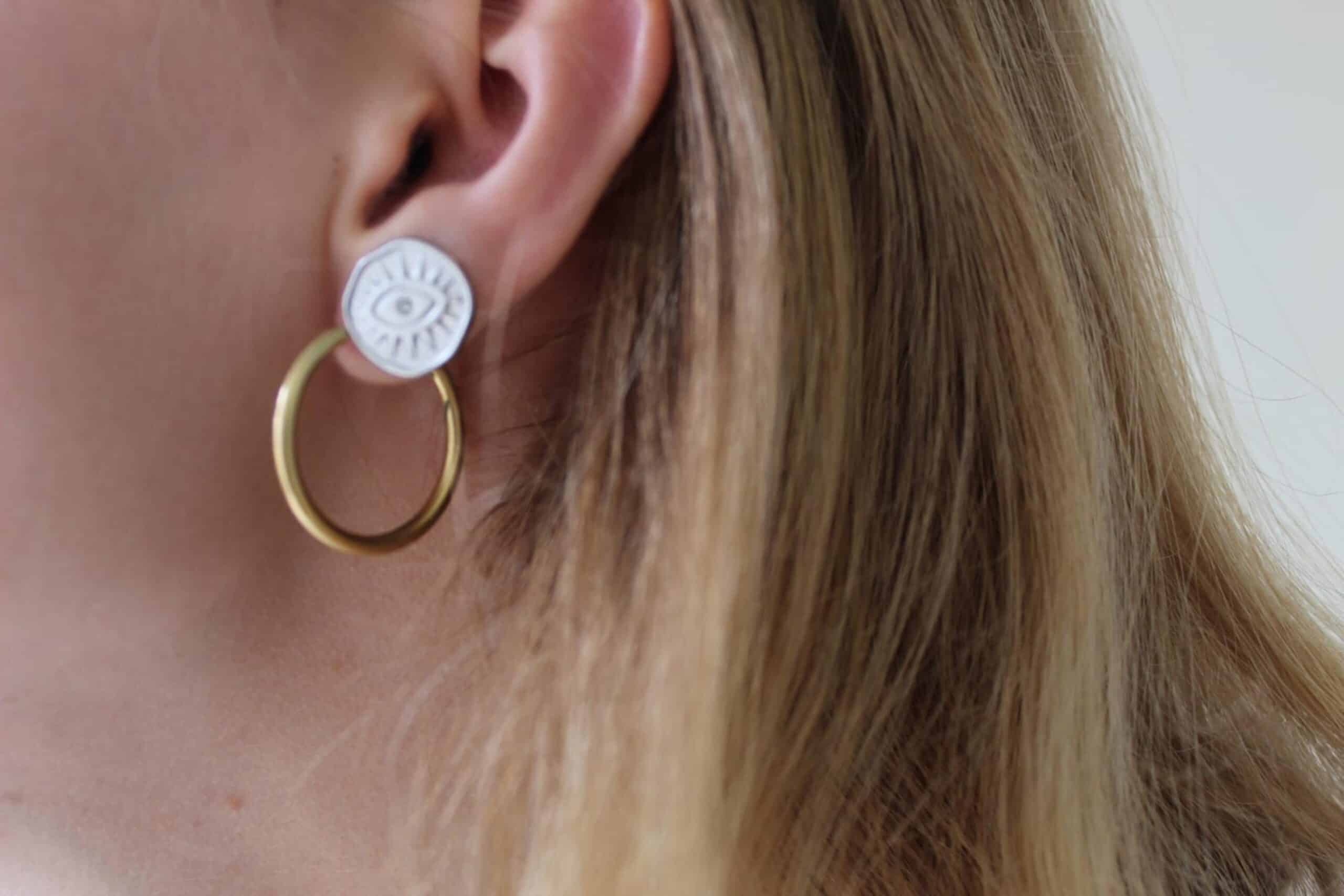 The most popular earrings right now are statement earrings. That calls for colorful hues, whimsical designs, and dramatic drop styles. That also includes classic hoop earrings and earrings with meaningful motifs. At the same time, minimalist looks are still prized for their versatility. 
Etsy Earrings: My Picks
A disclaimer: countless, wonderful earring ideas didn't make this list. What I've tried to do is select the earrings I feel represent the range of styles on Etsy, and at a fair price. I've made the decision not to include diamonds or expensive gemstones, as I do think, if you're going to pay that much, it may be safer to buy from a diamond jeweler in most (certainly not all) cases.
Instead, I've focused on versatile and statement earrings, made with excellent materials that should last, even if you wear them daily. These earrings include chandelier, dangle, hoop, and stud styles. Here are my picks for just a few of the best value earrings that Etsy has to offer. 
Chandelier & Dangle Earrings
Chandelier earrings are a dramatic type of drop earring that includes beads or jewels, or other materials connected to metal. The cascading shape is supposed to mimic the movement of a chandelier. These earrings are popular for boho-chic looks, but can also be formal and sophisticated. On Etsy, you'll find many boho and whimsical styles to choose from. 
Dangle and drop earrings look fantastic worn alone and with lower necklines. Drop and dangle earrings are situated below the earlobe and add fun to a sophisticated look. Dangle earrings are distinguished by moving with you.
Handmade Soutache Statement Earrings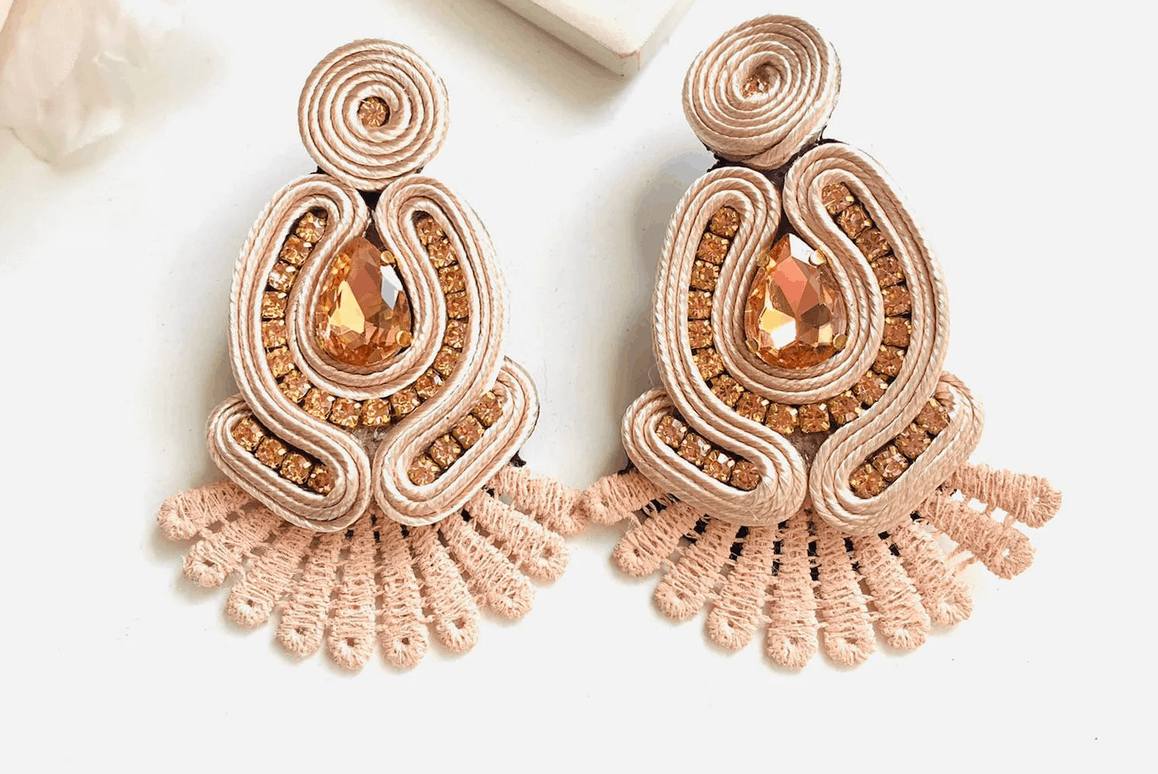 These incredible statement earrings are among the most unique on Etsy. Priced at just $35, these unique earrings are perfect for a boho-chic look. Rosy pink and gold undertones accent a beaded earring, set on stainless steel for a durable and cost-efficient style. These earrings sit comfortably on the earlobe with a push-back closure. Buy Here. 
Classic Monarch Wing Earrings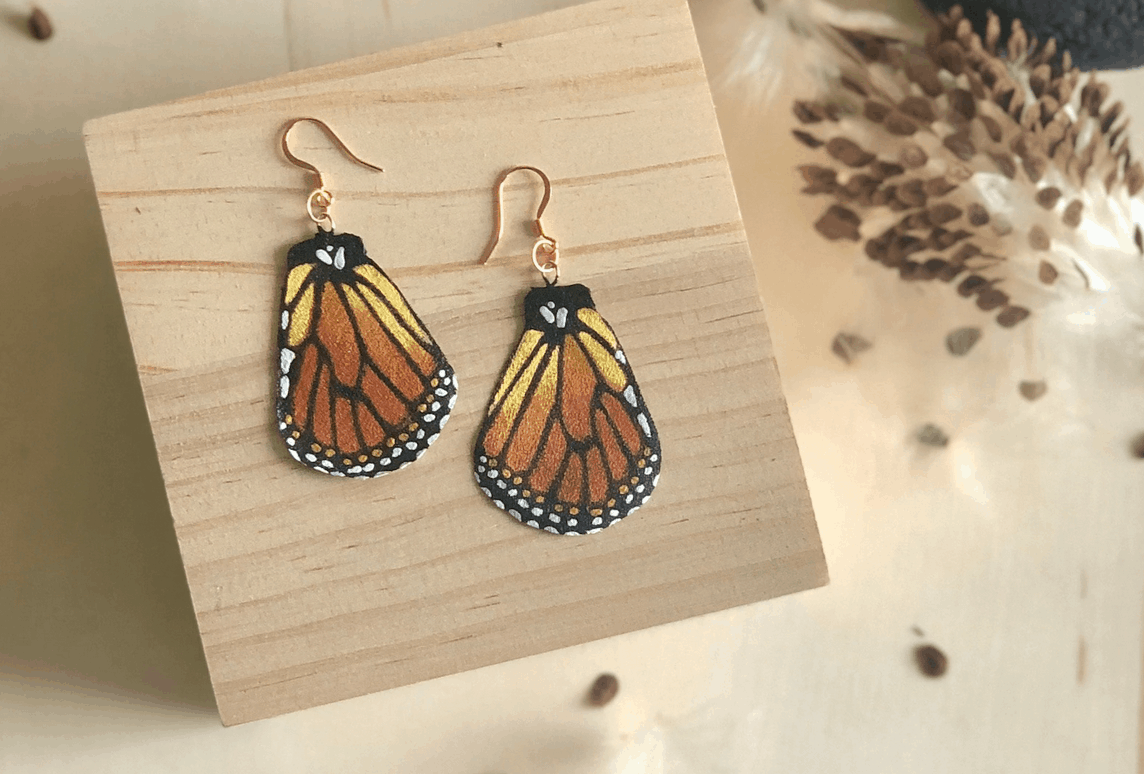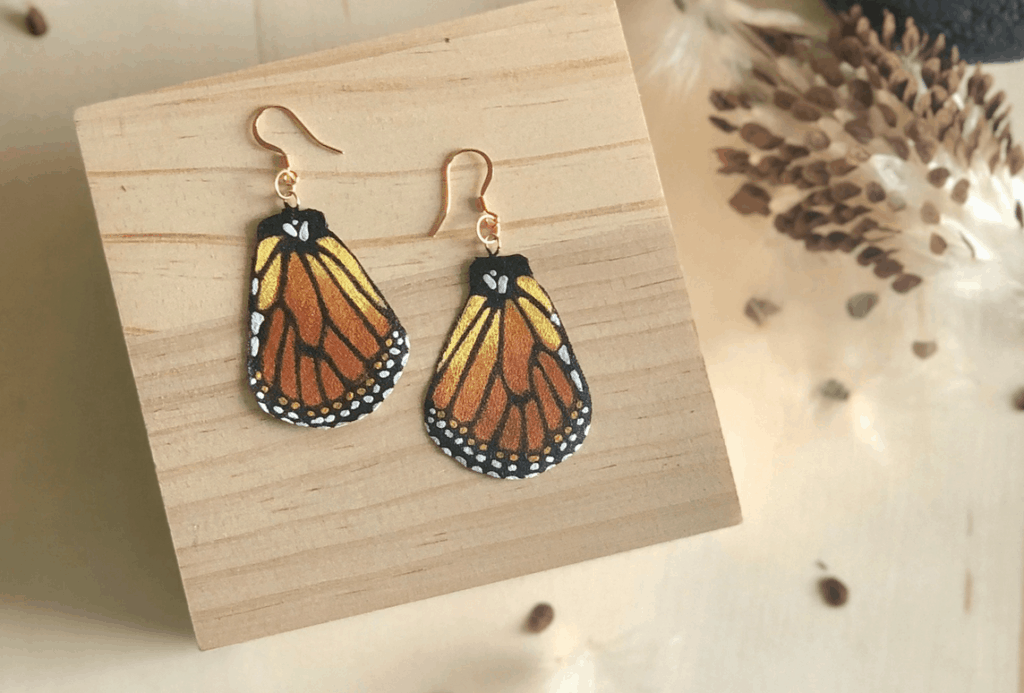 These show-stopper earrings feature sophisticated, nature-inspired designs. Beautifully designed, handmade monarch wings provide an unexpected look that works well against solid tops. I recommend ordering in stainless steel for the best durability. Priced at $75: Buy Here. 
Waterfall Mussel Shell Earrings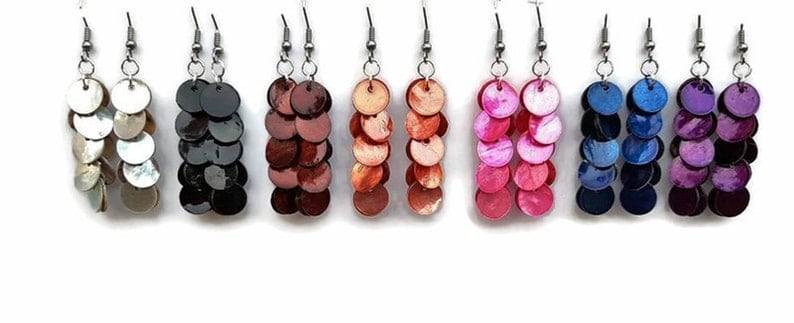 Colorful, boho, and bold: these mussel shell earrings are pure fun. Layers of bright hues shells make a vibrant and personalized statement. Wear it at the beach or for a day out. You'll have your choice of metal (stainless steel, sterling silver, and plating) and 17 colors– including a custom combination of colors. Earrings are priced from $26 to $28– I recommend stainless steel over silver. Buy Here. 
Walnut Wood Earrings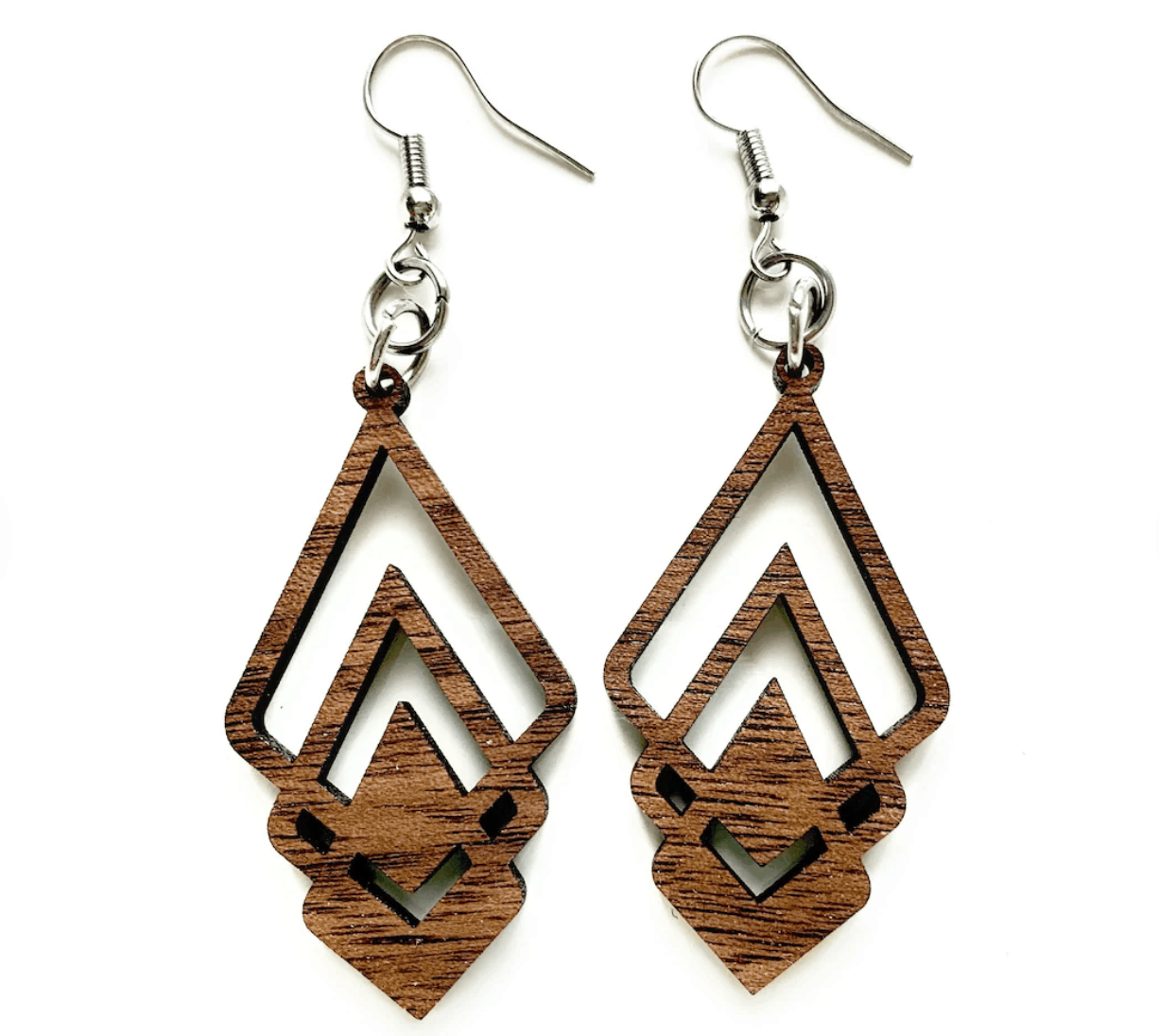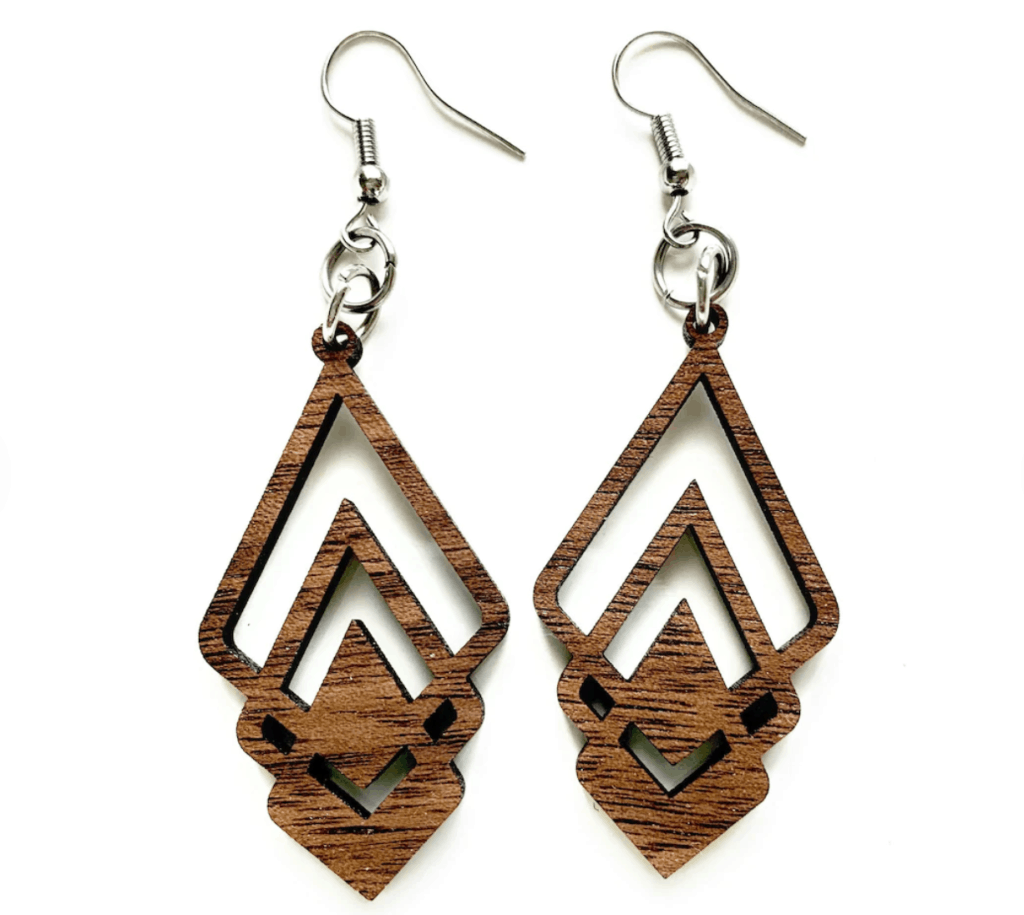 These quaint wood earrings include stainless steel backings. The natural look is boho– but also surprisingly versatile. Walnut wood is hand carved into a modern geometric design that looks updated and dangles with a classic touch. Priced at just $15; Buy Here.
Butterfly Dangle Earrings
These dangle butterfly earrings are crafted in stainless steel, with a gold hue applied. The dainty look features a handcrafted, minimalist butterfly. Pink and white cubic zirconia tones add enchanting sparkle to bring the butterfly life to the design. Butterflies are a symbol of growth, metamorphosis, change, and joy. Priced at a budget-friendly $15.91: Buy Here. 
14K Pearl Drop Earrings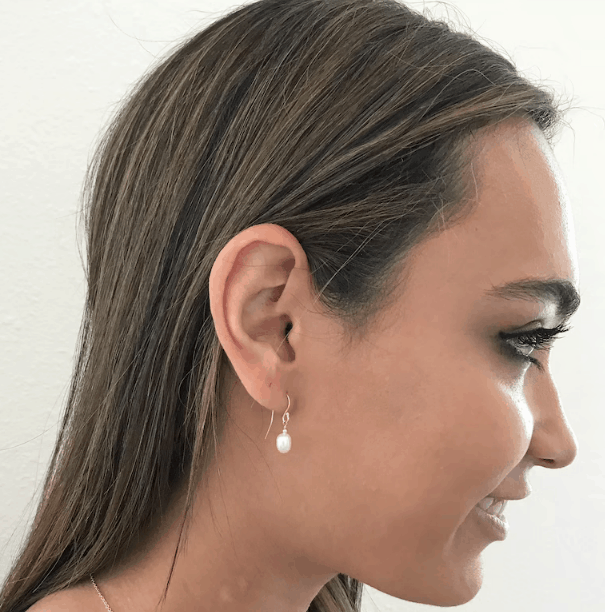 There's little more classic than pearl earrings, but they can also be pricey. If you need pearl earrings for an occasion and don't want to spend on the highest quality freshwater pearls, these may do the trick. Priced at $65, these bestselling, highly rated earrings are crafted in 14K gold for a dainty, classic look. Buy Here.
Hoop Earrings 
Hoop earrings can range from subtle hoops to oversized styles. A symbol of freedom, independence, and strength, hoop earrings are a fun accent to casual and semi-formal clothes, depending on the style. Hoop earrings are back in style in 2022, and these playful and versatile  Etsy earrings show that. 
Atrio Portugal Pattern Hoop Earrings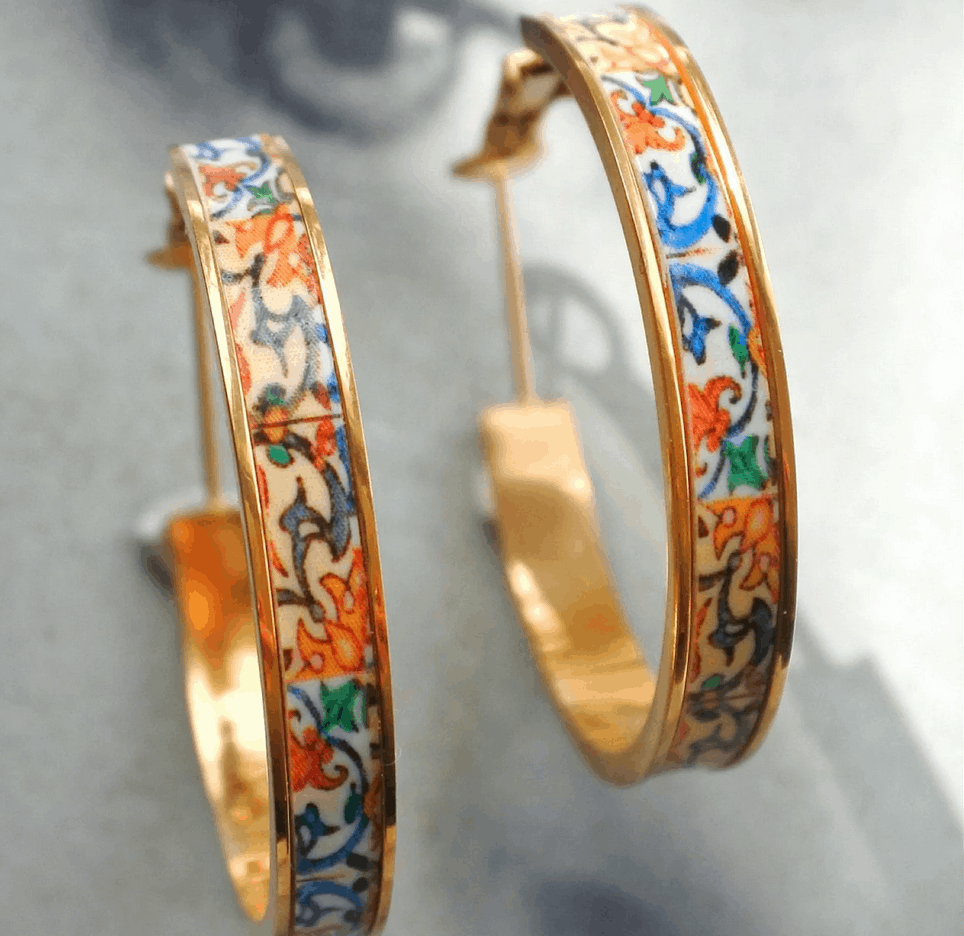 These beautiful stainless steel hoop earrings are bestsellers for a reason. Priced at $52.50, these hoop earrings feature a traditional Portuguese print, with bright blue and orange hues. Fitting for a boho style, the hoop earrings are certainly unique and sure to make a statement that goes beyond the typical hoop earrings. Buy Here. 
14K Solid Gold Hoop Earrings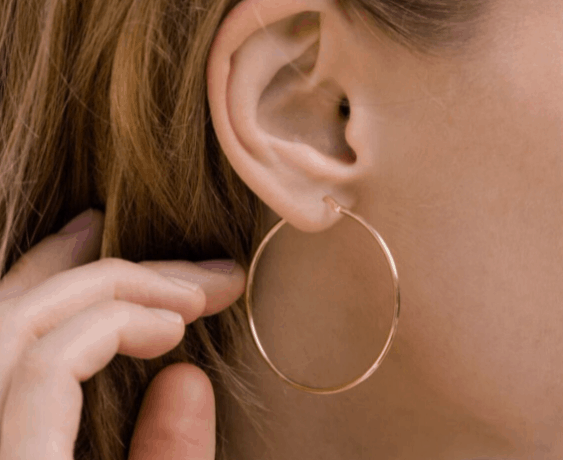 If you want a pair of classic, durable hoop earrings, these are one of your best options on Etsy. Choose from medium to large hoop earrings. The sleek, minimalist design is crafted in 14K yellow or white gold. These are earrings that you'll wear time and time again. Prices start at $101. Buy Here. 
Small 14K Gold Twisted Hoop Earrings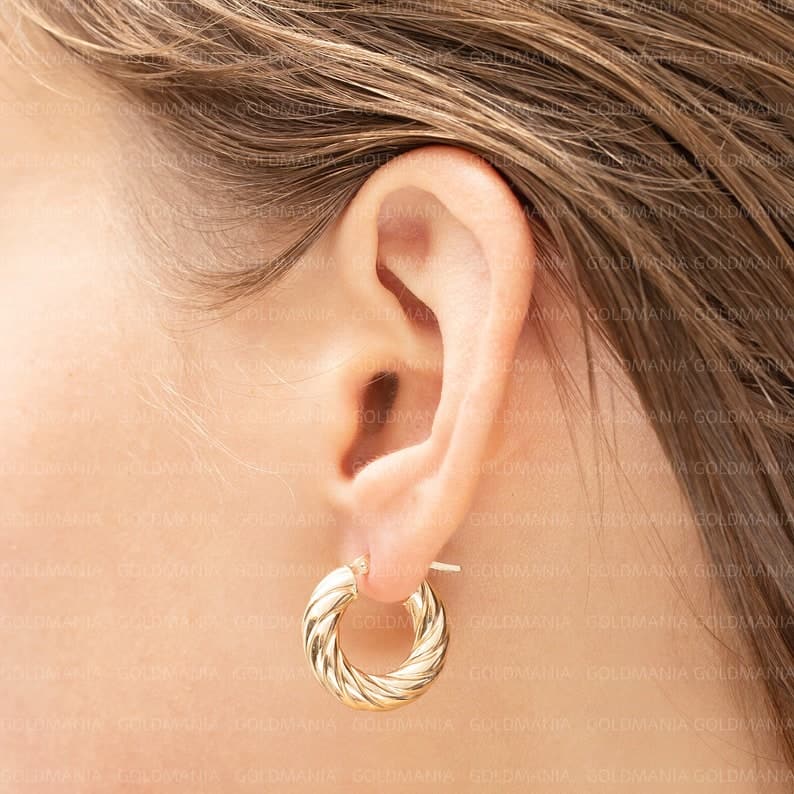 These earrings aren't cheap as my other options, but they're durable and sophisticated. Priced at $228, these Etsy hoop earrings feature an elegant, classic twist style with a latch back. The polished shine and versatile design make them perfect for wearing for work, day, and evening. Available in 14K yellow or white gold; Buy Here. 
Stainless Steel Hinge Hoop Earrings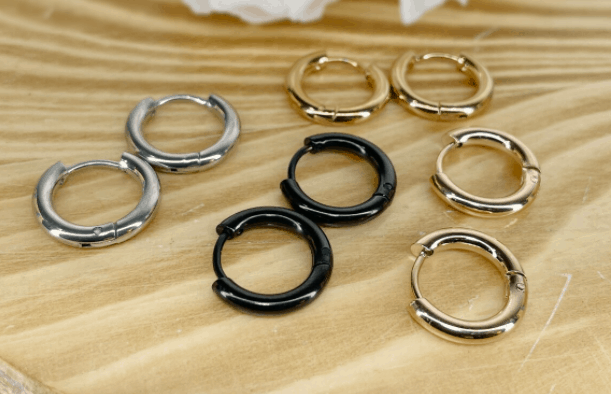 If you want durable, plain hoop earrings for less than $15, you're in luck. These Etsy best-selling earrings are made with stainless steel, and available in plain, black, and rose or yellow gold hues. The minimalist hinge hoop style truly goes with anything and can be used to accent statement earrings if you have multiple piercings– or just worn alone. Buy Here. 
Conch Piercing Nickel Free Hoop Earrings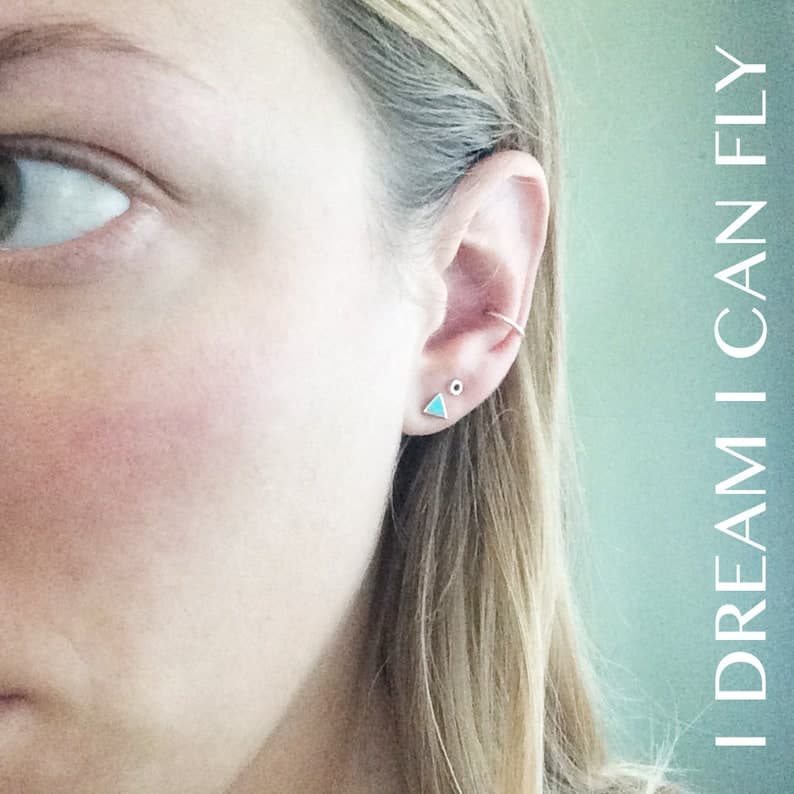 The most common metal allergy is nickel. These hypoallergenic hoop earrings are entirely nickel-free, made out of 14K white or yellow gold or palladium. All are beautiful, durable materials with a polished, modern finish. These earrings can be made to order but are specifically designed for middle ear piercings. Priced at $83 for a single earring, or up to $145 for a pair of earrings. Buy Here. 
Stud Earrings 
Stud earrings are as classic and as versatile as you can get. The subtle look makes for a perfect accent with other accessories, whether you're opting for a solitaire stud or a cluster look. Plain metal or accented stud earrings are both excellent options. 
14K Solid Gold Bee Earrings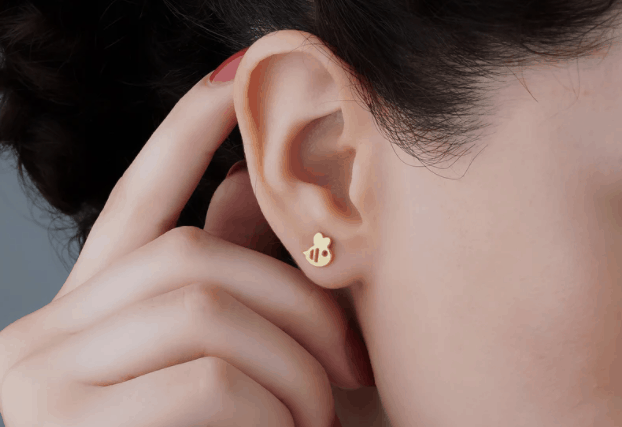 These dainty bee earrings are truly whimsical and make for a playful gift. Tiny bee stud earrings are crafted in your choice of 14K yellow, white, or rose gold. The delicate look adds some playful nature-inspired themes but is also minimalist, making it easy to pair with a gold chain necklace. Priced at $42 per earring, or $101.50 for a pair. Buy Here.
14K Solid Gold Bar Earrings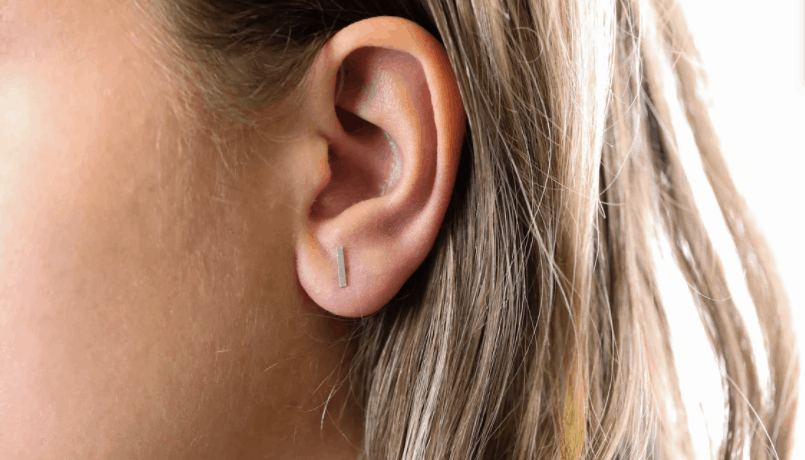 These sleek 14K rose or yellow gold earrings exude modern, everyday elegance. The classic bar design is minimalist and casual, but the polished gold adds a special touch. In fact, there's a sense of timelessness in the design. Priced at $51 for a single earring or $102 for a pair of earrings; Buy Here. 
Hematite Cabochon Stud Earrings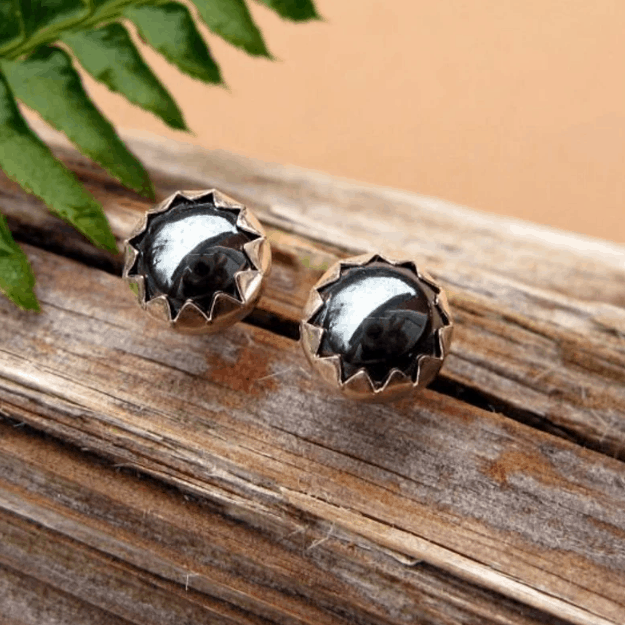 While I'd mostly advise against buying precious gems on Etsy, hematite is one of the most common stones and you can be a little less picky. A cabochon cut is ideal for showing off polished luster. You will have to be careful, as hematite is a soft stone. I recommend opting for 14K gold to finish this alternative, earthy look. Priced from $35 to $211. Buy Here. 
14K White Gold Ball Earrings
Sometimes you're just looking for a simple stud earring. These 14K white gold stud earrings can be worn with other piercings and accessories. Opt for a tiny size for a subtle accent, or go for a larger style if you want to wear them alone. Priced from $35.14 to $98.23; Buy Here.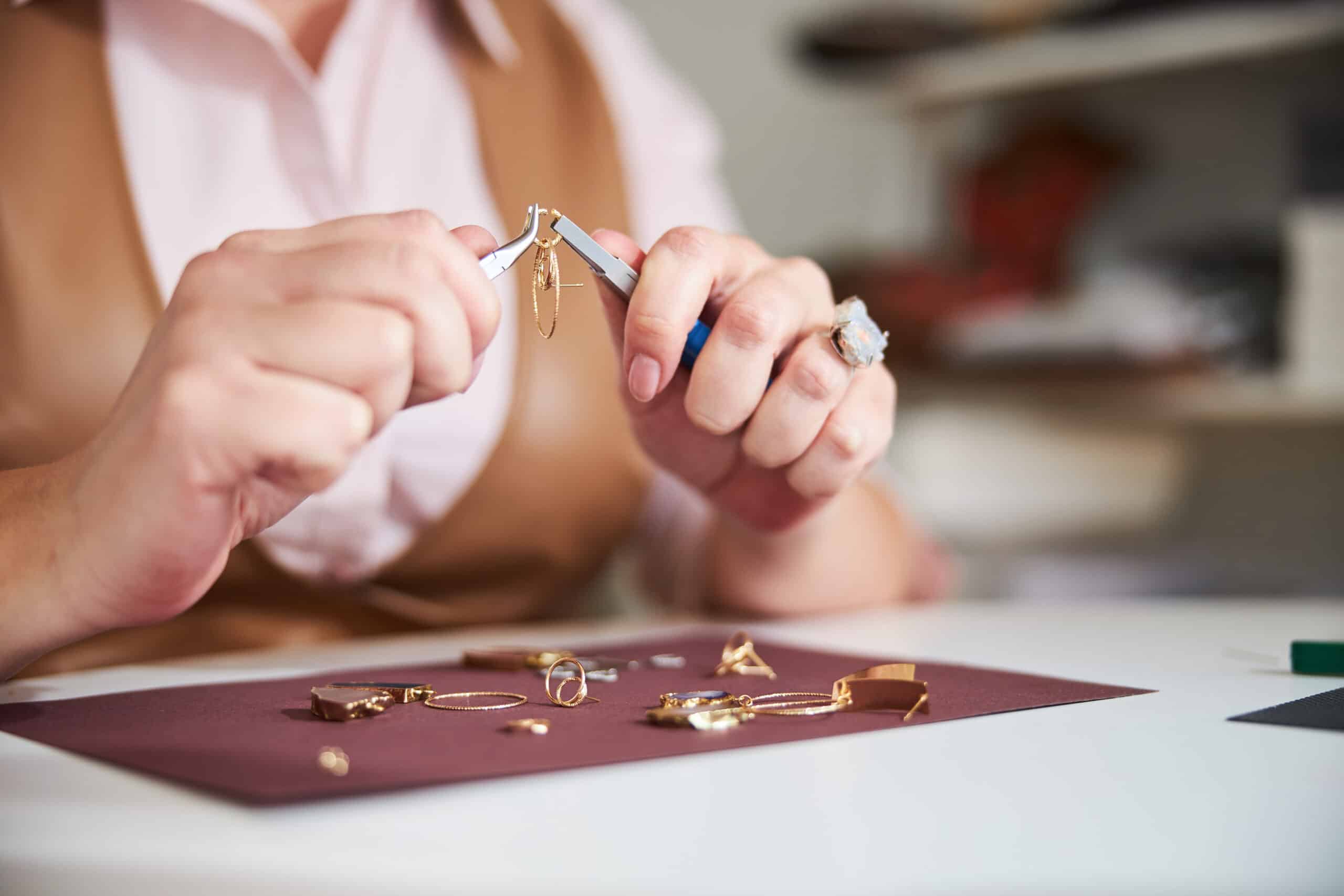 Frequently Asked Questions
Question: How much does the average person make on Etsy?
Answer: You can make next to nothing to quite a lot on Etsy. While the average income for Etsy sellers is around $56,000, that average is misleading. Averages can be thrown off by outliers. The truth is that upwards of 65 percent of Etsy sellers earn $100 or less per year. 
Question: What is the most popular thing on Etsy?
Answer: Esty is known for its jewelry in particular. It's also quite popular for wedding accessories and dresses, clothes, party supplies, collectibles, and home decor. Of course, what's most popular fluctuates quite a bit. 
Question: Is Etsy a Chinese company?
Answer: Etsy is an American, not a Chinese company. It is true, however, that there are many sellers from China, including manufacturers. 
Final Thoughts 
Etsy earrings really do range in terms of quality. You can find everything from earrings for under $5 to vintage estate earrings at luxury prices. If you do buy earrings with precious gemstones, I recommend seeing if they have information about where or how the gemstones were sourced and if they are natural or lab-grown. Preferably, they should have some way to prove diamond authenticity. 
Further Read: